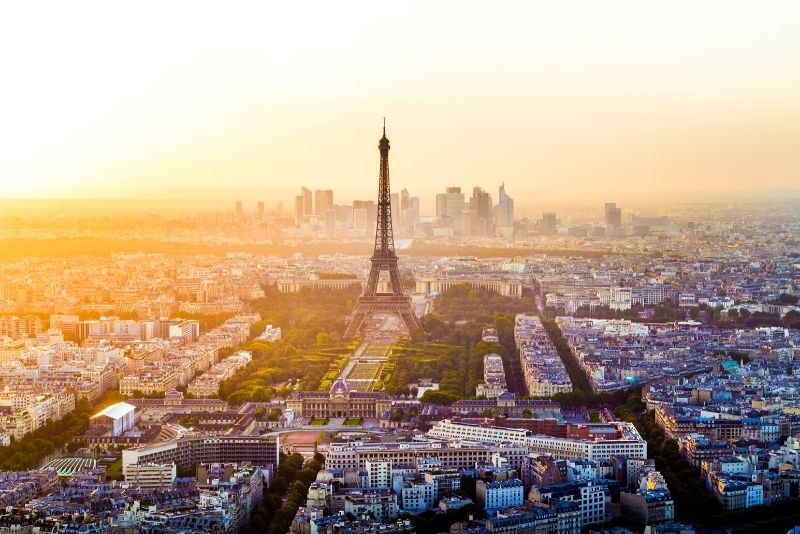 The romantic heart of Europe; the beacon of fine art; and the global leader in fashion and food, La Ville Lumière never ceases to amaze.
Spread into 20 diverse arrondissements, each with its own unique flair – some more tourist-focused, others gastronomy havens, and some with a more authentic local feel – Paris is the sprawling heartbeat of France that can delight any style of visitor;
Whether you're a history buff, foodie, romantic, or simply want to tick the French capital off your bucket list, you'll be spoiled for choice when it comes to wonderful things to do in Paris.
From world-famous museums like the Louvre, Musee d'Orsay, and Centre Pompidou, to iconic landmarks like the Eiffel Tower, Notre Dame Cathedral, and Sacre Coeur Basilica – not to mention idyllic parks, world-class shopping districts, and lively nightlife scenes (can't go wrong in the Marais) – Paris has it all.
And with lesser-known but no less impressive attractions such as the eerie underground Catacombs, picturesque Canal Saint-Martin, and quirky Montmartre district also on the list, you could easily spend weeks exploring everything the City of Light has to offer.
So grab your café au lait, practice your basic French phrases, and start planning what will surely be the trip of a lifetime!
1 – Start your trip at the Musée d'Orsay (and Gaze at Van Gogh's The Starry Night)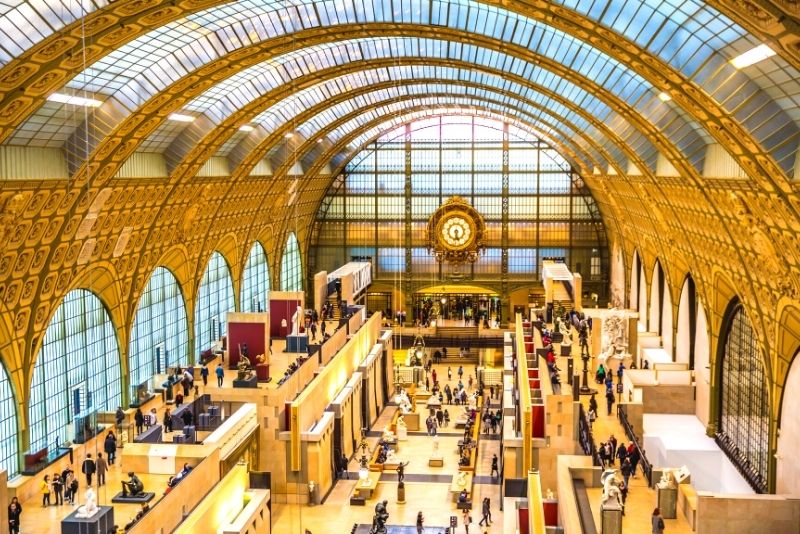 After getting past the museum's beautiful facade (formerly a train station), the Orsay Museum on the sparkling banks of the Seine is guaranteed to amaze with its stunning Impressionist and Post-Impressionist paintings and sculptures.
The galleries cover everyone from Van Gogh to Pissarro, Monet, Manet, and so many more. All up, you'll find over 3,000 paintings on display on 3 different floors, with occasional rotating temporary exhibits ensuring that no two visits are the same.
And, of course, The Starry Night is the highlight. Painted by Van Gogh while he was in an asylum in Saint-Rémy-de-Provence, this work is now one of the most iconic paintings in the world.
The building's large open spaces, cafes, and abundant natural light add to the already-magical experience.
2 – Tour the opulent Opera Garnier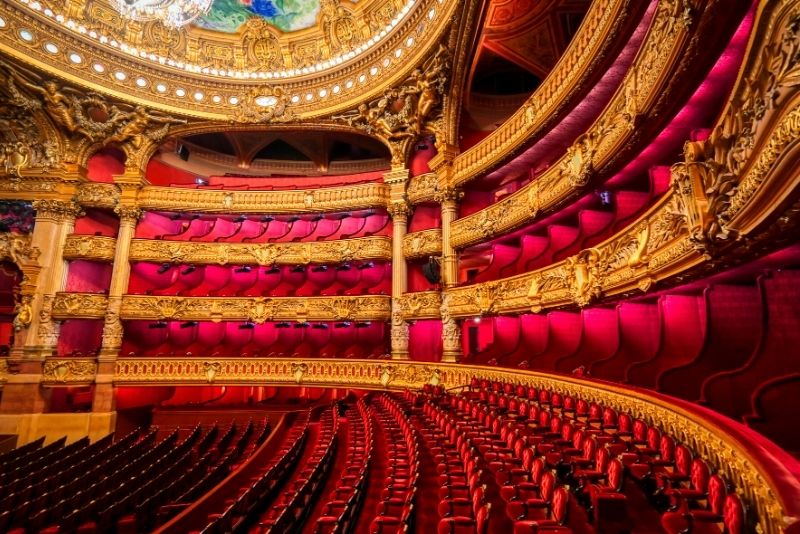 Easily one of Europe's finest music and ballet (mainly) venues, with decadent gold leaf decor and a stunning 7-ton Opera Garnier chandelier, the Palais Garnier (also called the Opéra Garnier) is an absolute must-see for first-time visitors to Paris.
This grand 19th-century opera house was designed by Charles Garnier and completed in 1874, giving it a history as rich as its interior.
Watching the opera here is a given for things to do in Paris, but no trip is complete without a tour! Expert-led tours (in English) help visitors learn all about the building's incredible history and design, wandering into some areas that are usually off-limits to the public, such as the artists' dressing rooms and exclusive balconies.
The flamboyant and varied artwork and sculpture that decorates the Opera Garnier is a glimpse into 19th-century French society — this opera house is a delight for the eyes and the ears!
3 – Spend a day at the Versailles Palace & Gardens (where the incredible Hall of Mirrors awaits)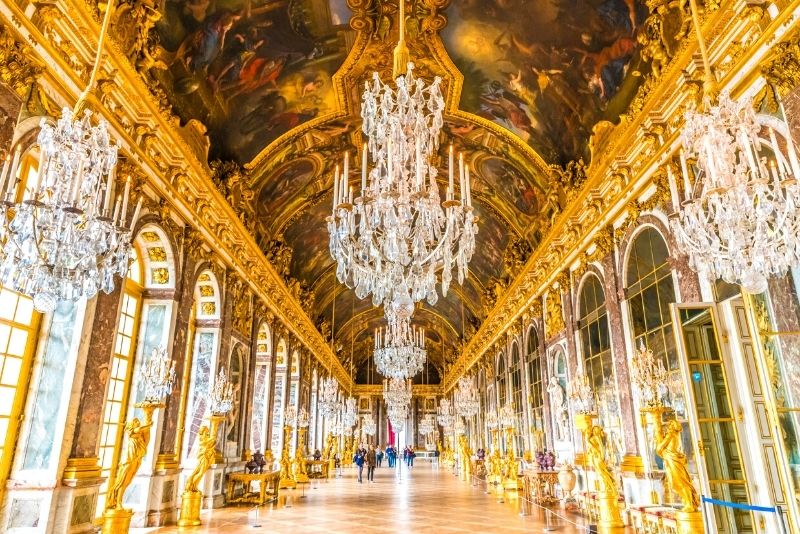 Easily one of Europe's finest music and ballet (mainly) venues, with decadent gold leaf decor and a stunning 7-ton Opera Garnier chandelier, the Palais Garnier (also called the Palais Garnier) is an absolute must-see for first-time visitors to Paris.
This grand 19th-century opera house was designed by Charles Garnier and completed in 1874, giving it a history as rich as its interior.
Watching the opera here is a given for things to do in Paris, but no trip is complete without a tour! Expert-led tours (in English) help visitors learn all about the building's incredible history and design, wandering into some areas that are usually off-limits to the public, such as the artists' dressing rooms and exclusive balconies.
The flamboyant and varied artwork and sculpture that decorates the Opera Garnier is a glimpse into 19th-century French society — this opera house is a delight for the eyes and the ears!
4 – See the infamous Notre Dame Cathedral up close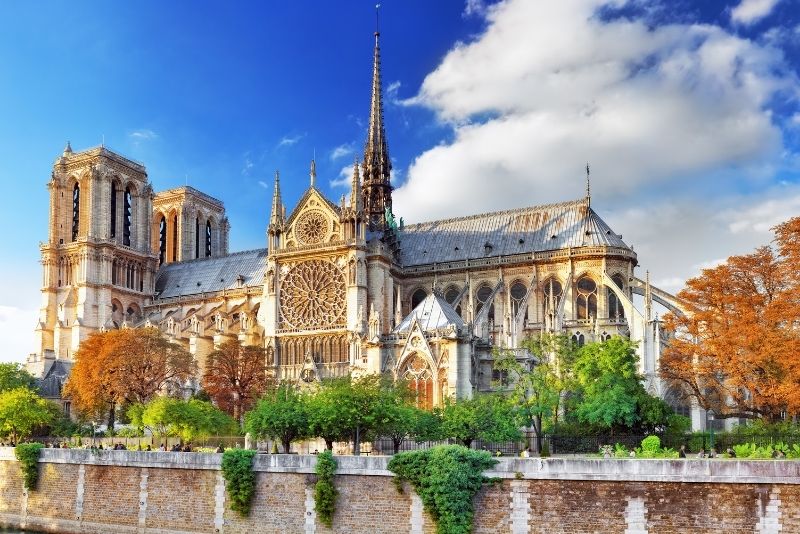 A Parisian icon that's stood tall since the 12th century, few buildings in the world are as instantly recognizable as Notre Dame Cathedral.
The Gothic masterpiece is one of the era's largest and most well-preserved churches in Europe, and its intricate exterior carvings and iconic twin towers (which soar 226 feet high above the Île de la Cité) have served as inspiration for many artists over the years.
While it's free to enter Notre Dame, you'll have to pay if you want to climb the 400+ steps to the top of one of the towers for panoramic views over Paris (yes, it's worth it). Although the fateful fire destroyed much of the cathedral's spire, most of it has been saved, preserved, and restored to its former glory (thankfully).
While you're in the area, head over to the Latin Quarter to see Notre Dame's little sister: The Church of Saint Severin, where the crowds are seldom and the beauty is plenty.
5 – Go underground; walk through the eerie Catacombs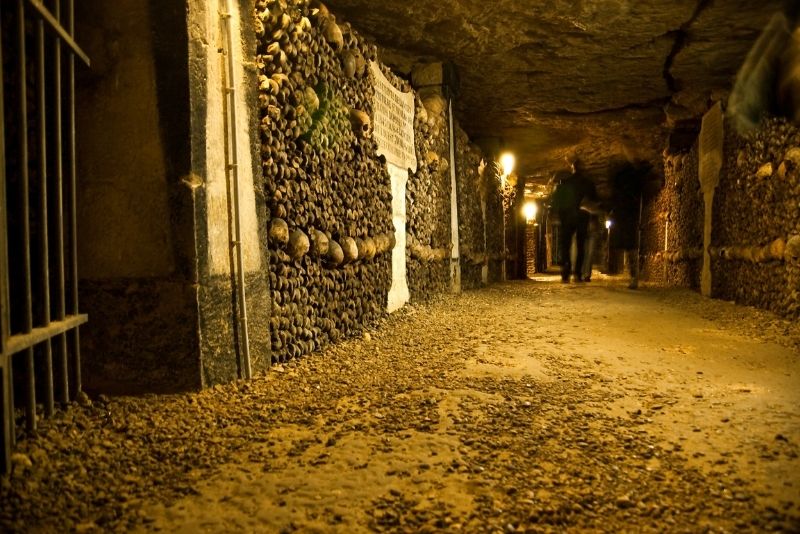 Beneath the streets of Paris lies a 200-mile labyrinth known as 'the Empire of Death'. Twisting and turning through the darkened tunnels are the remains of more than six million Parisians (including famous names like Robespierre and Rabelais), dating back to the late 18th century.
With its walls lined with real skulls and bones, it's an experience that's as historic as it is eerie! Don't miss the Sepulchral Lamp either: its flame remains kindled to reassure the living that there's enough air to breathe…
The Catacombs were created as a solution to overcrowding in cemeteries, and although they might seem like a macabre tourist attraction, they're actually quite fascinating (and not nearly as creepy as you might think).
This is definitely one of the more unique things to do in Paris, and you'll learn a lot about the city's history as you walk through the tunnels, which, in total, cover more than 2,000 acres (though only a small section are open to the public)
Read more about Catacombs Paris tickets price.
Sponsored placement
Enjoy a memorable apero boat journey on the Seine River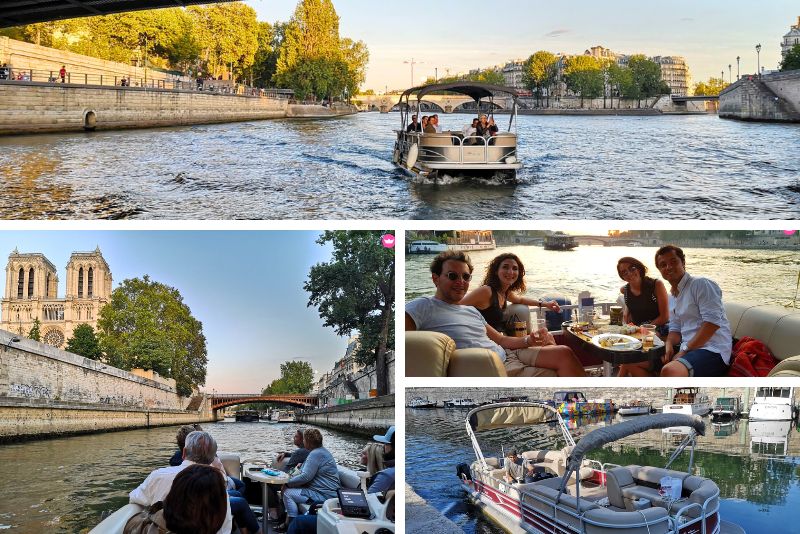 Take your experience of Paris to the next level by chartering a boat down the Seine! You can rent a spacious vessel for up to 12 people and revel in a journey that will take you past some of the top sights in the city.
With a skipper onboard, you can relax on the comfortable seating, enjoy a drink or a snack and admire major attractions such as Notre Dame as you float along. You have options between a 1.5-hour or 2-hour ride starting at either Boulogne or the iconic Louvre Museum.
This is an excellent opportunity for people wanting a more private experience, or to host a special event with friends and family you won't soon forget!
6 – Explore beautiful Sacré-Cœur and hilly Montmartre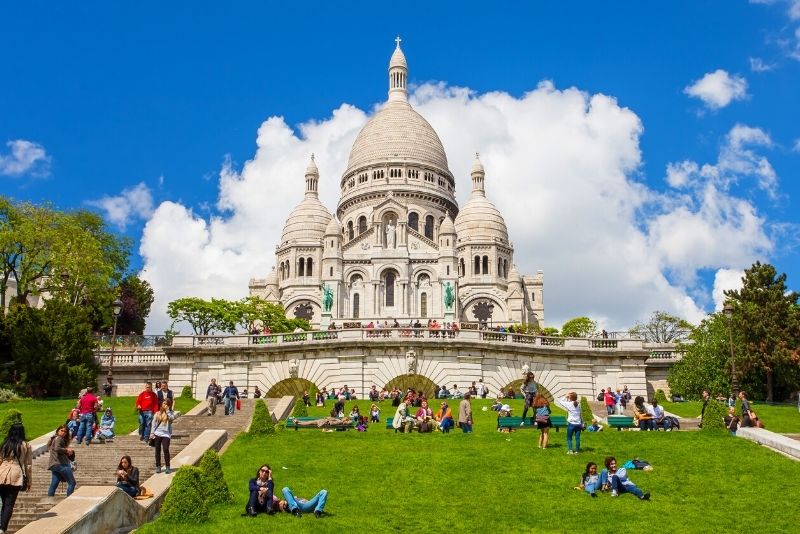 The charming, hilltop district of Montmartre is one of the most picturesque areas in Paris, and it's home to some of the city's best views.
One of the most popular things to do in Montmartre is to wander around Place du Tertre, where you'll find talented artists eager to sketch your portrait – not surprising considering it was the old-school Montmartre village where Van Gogh and Picasso once called home. When you need a break from the hustle and bustle, pop into one of the pretty cafes lining the square, or take a stroll through the cobbled streets to see how the locals live.
No visit to Montmartre is complete without seeing the Basilica of the Sacré-Cœur, whose majestic medieval dome sits at the highest point in Paris and offers stunning views over the seemingly endless city. Home of the world's largest mosaic, Admission to the basilica is free, but there's a small fee to climb the stairs to the top of the dome.
Hot tip: if you're arriving on the Metro at Abbesses or Pigalle, head over to Rue des Saules, where you'll find "Le Mur des Je t'aime" (the "I Love You Wall").
7 – Climb to the top of the Eiffel Tower for sweeping views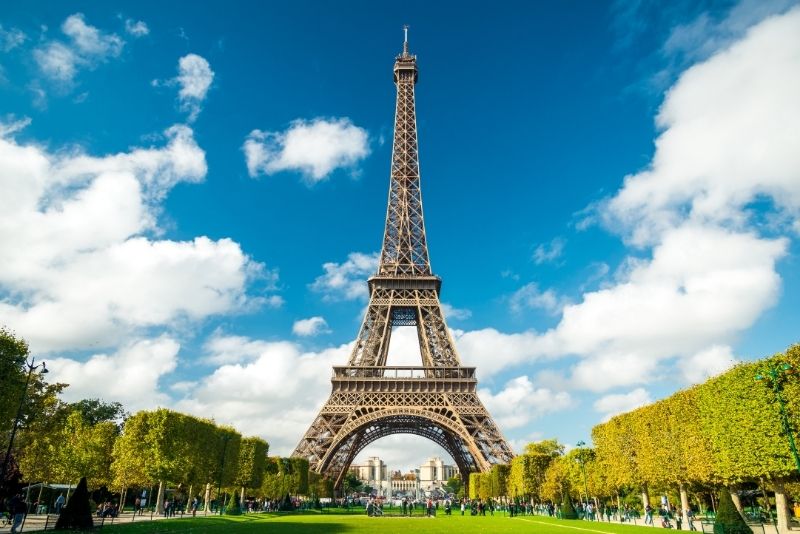 Finding itself on millions of postcards and Instagram reels, it's safe to say the Eiffel Tower (which, fun fact, was once painted yellow) is one of the most iconic landmarks in Paris (if not the world).
Built for the 1889 World's Fair, it stood for decades as the world's tallest building, and at 330 meters to the top, still remains Paris' tallest structure.
The best way to enjoy those incredible views of Paris is, of course, from the top! You can take a lift all the way to the top (it's pretty speedy), or if you're feeling active (and want to skip the potentially long elevator queues), you can walk up the stairs to the first and second levels.
Once you're at the top, make sure to wander around and take in all the different viewpoints – on a clear day, you can see for miles. And if you visit at night, when the tower is all lit up, it's truly magical.
Want to stay a little longer? Both the Michelin-starred Jules Verne restaurant and Bar a Champagne at the iconic tower's summit offer food and drinks served alongside the main course: views over Paris.
8 –  Check out the Arc de Triomphe (and pay respects at the Tomb of the Unknown Soldier)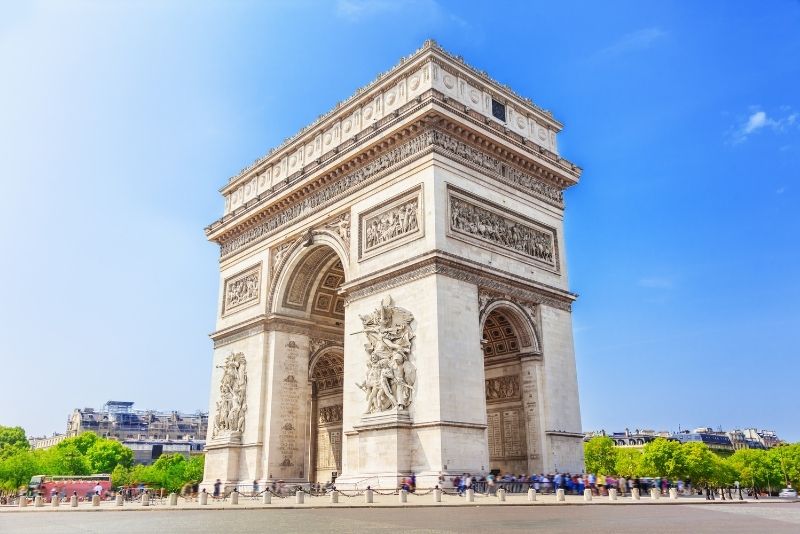 A beacon of Parisian pride, the Arc de Triomphe is one of the most famous monuments in the world.
Located at the end of the equally famous high-end Champs-Élysées, this regal archway was built to represent the victories of the French army under Napoleon, specifically during the French Revolution and the Napoleonic Wars
Historical significance aside, to call this intersection busy would be the understatement of a lifetime — 12 of Paris' major avenues converge at this focal point, made all the more chaotic by the hordes of tourists eager to get that perfect photo.
If you're feeling brave (and don't mind the crowds), make your way to the top of the Arc de Triomphe for some stellar Paris views. Alternatively, you can visit the Tomb of the Unknown Soldier, located underneath the archway, which pays tribute to the millions of French soldiers who lost their lives during World War I.
The arch displays intricate sculptures of French pride and military victory along with a small museum, but travelers also appreciate coming back after sundown for the tomb's nightly ceremonial lighting of the flame (6.30pm).
9 – Float through the heart of Paris on the Seine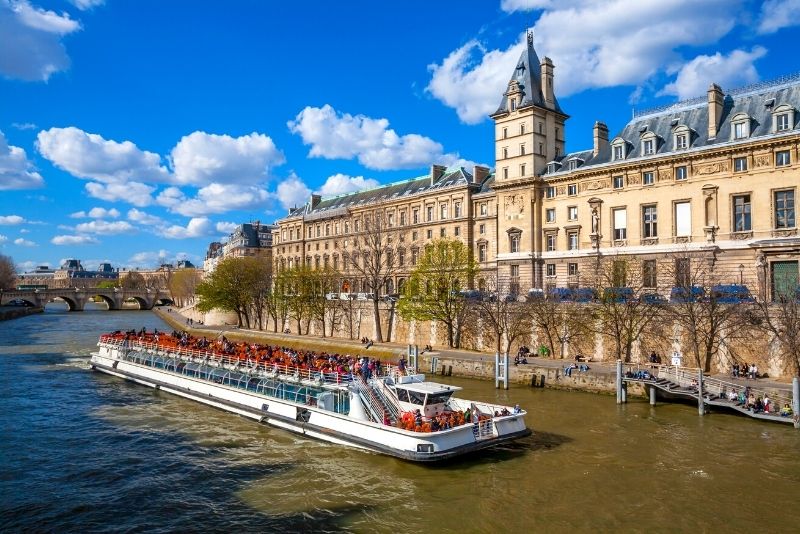 The sparkling river runs through the heart of Paris, symbolizing the allure, charm, and romance of the city like nothing else.
And what better way to take it all in than by cruising down the Seine where a leisurely sightseeing adventure will whisk you past iconic landmarks, twinkling city lights, and deliver some in-Seine-ly beautiful views…
Start at the foot of the Eiffel Tower and float by Paris' postcard-worthy attractions — from the Notre Dame gargoyles to the Louvre and the Grand Palais from the water — before tucking into an authentic French lunch or a hearty multi-course dinner, enjoying the live onboard entertainment while you sip aperitifs, or learning all about the city from the informative live narration (these are dependent on your tour of choice, of course).
Even if you opt to splurge on a private tour for that extra dose of luxury, regardless of which cruise you choose, there's no question about it: travelers fall in love with the City of Light when they hit the water.
10 – Follow in Zidane's footsteps at Stade de France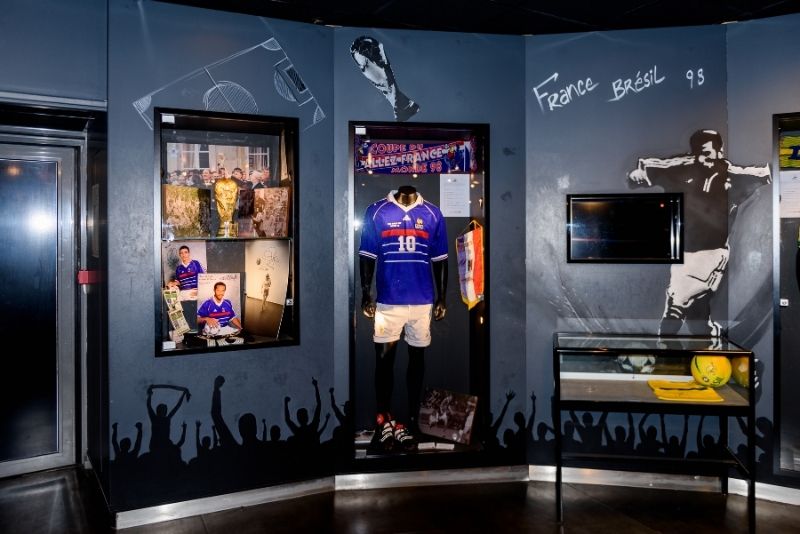 Sports fans, if you have the chance to see any event here, grab it with both hands!
The home of the France national football team (and national rugby team), Stade de France was built for the 1998 FIFA World Cup (which France won, in case you were wondering).
It's located just outside of Paris in Saint-Denis, and is the seventh largest stadium in Europe. With a capacity of over 80,000 people, it's also the largest (with the loudest, most enthusiastic crowds) in France.
The atmosphere in this modern-day coliseum, packed with passionate Parisians, is simply electric, – be it at a football match, rugby game, or one of the myriad packed-out concerts.
While most come to watch a match — whether that's football, rugby, or athletics — even if you're not a sports fan, a behind-the-scenes tour of this behemoth is an experience in itself. For something more educational, get a feel for the stadium's legendary status by taking the tour and visiting the museum, where memorabilia from bygone decades (trophies, jerseys, and more) line the walls.
Hot tip: visit for the 2024 Summer Olympics, if you can!
11 – Step inside the inspiring and architecturally brilliant Pantheon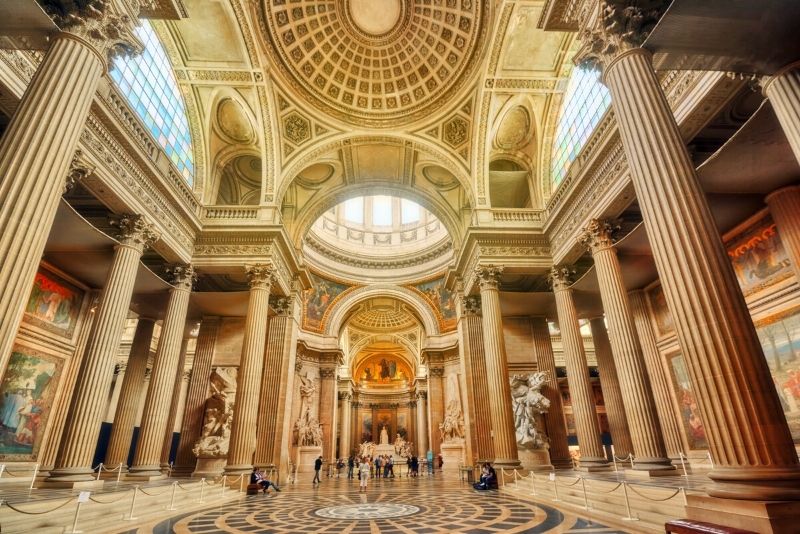 Originally a grand classical church, the Pantheon has retained its classical beauty and contains the final resting place of many esteemed French icons such as Marie and Pierre Curie, as well as famous authors including Victor Hugo, Alexandre Dumas, and Voltaire (Let them inspire you to sit at that cafe with your laptop and finish that draft!).
The imposing neoclassical building, which dates all the way back to 1790, is located in the Latin Quarter and features a vast central dome, with a 29-foot-wide oculus (or hole) at its apex that lets in a natural light show as the sun moves across the sky.
Make sure you take some time to appreciate both the decorated interior and imposing exterior of this national monument, which is free to enter for those under 18 – it's one of the most popular tourist attractions in Paris for a reason.
12 – Gaze over the Paris sky at the Montparnasse Tower Observation Deck
The observation deck evades a lot of travelers' lists of things to do in Paris, but as the second highest vantage point in the city behind the iconic Eiffel Tower, there's nothing quite like it!
Towering over the left bank of the Seine in the Montparnasse district at 210 meters high, this skyscraper opened to wild acclaim in 1973 and provides unbeatable views for anyone willing to pay the reasonable entry fee.
You can see all across Paris from its outdoor terrace of level 59 (the highest rooftop in Paris) – which you'll reach by zooming up the tower in Europe's fastest elevator.
If you're not one for heights, there are also indoor viewing areas on level 56, as well as a bar and restaurant should you fancy making an evening of it. Just make sure you book your tickets in advance to avoid disappointment!
As you admire the twilight sky over the magical city, looking out toward the Eiffel Tower and Les Invalides (with a glass of champagne in hand, of course), you'll be glad you made the effort to come up here.
13 – Soar over Paris (VR style) at FlyView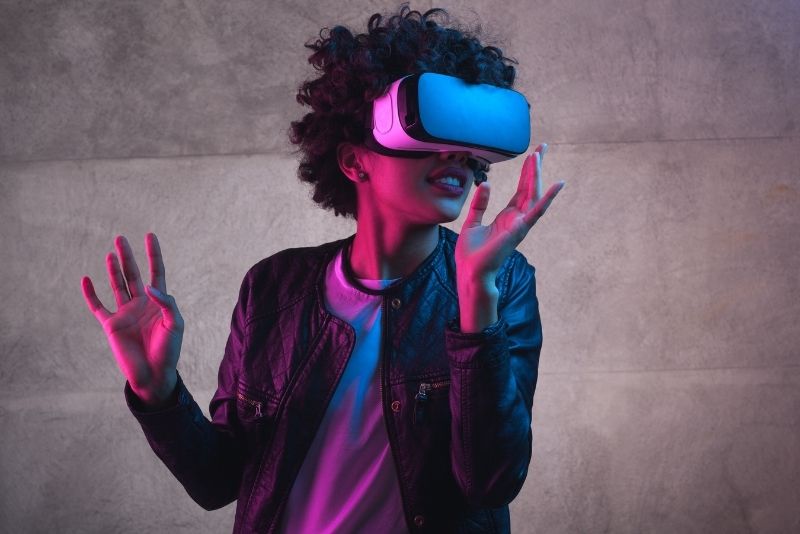 The best way to get a birds-eye view without having to jump in a chopper or journey up a tower, FlyView is an exhilarating and unique way to see the City of Light.
With its innovative design, state-of-the-art technology, and unrivaled (digital) views, you'll be blessed with an overview of everything this glorious city has to offer.
FlyView's startlingly realistic virtual reality experience lets visitors take to the skies of Paris and fly over her monuments, complete with real movement sensations! Look down at the Eiffel Tower and Arc de Triomphe, get a new perspective of Notre Dame Cathedral, or buzz around the Sacre Coeur – it's all possible with this one-of-a-kind technology.
Found In the heart of Paris, on Place de l'Opéra, this family-friendly activity is perfect for those who want to see Paris from a different perspective or simply don't have the time (or budget) to take a helicopter tour.
14 – See Monet's paintings come to life at Giverny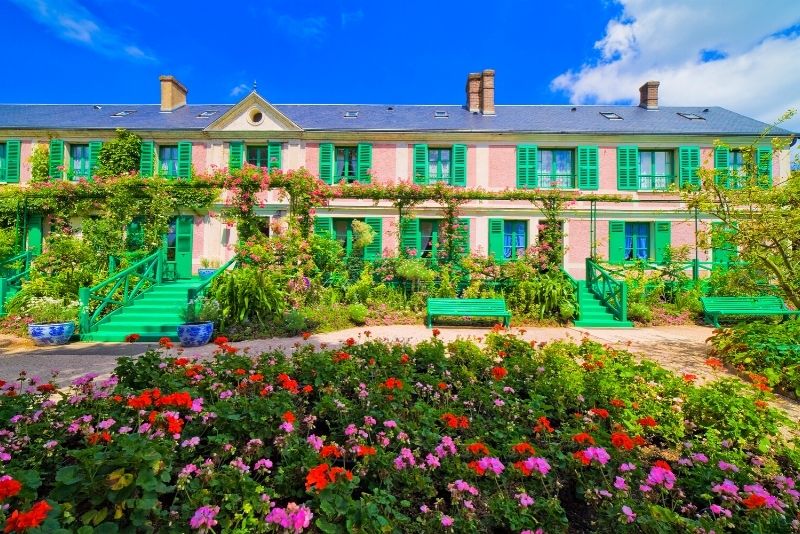 Easily one of the world's most celebrated painters, Claude Monet was the founder of French Impressionist painting and the main driving force behind the style's development and popularity.
Monet lived in the village of Giverny from 1883 until his death in 1926, and it was here – in the pink-plastered home in the quiet countryside – where he created some of his most famous works, including the water lily series paintings that are now on display at the Musée de l'Orangerie in Paris.
A visit to Monet's House and Garden is a must for any art lover, as it gives you an insight into the artist's world and his creative process. You'll see his bedroom, his studio, and of course, the beautiful gardens that served as his muse.
For art lovers, it's an absolute must, and you'll be sure to recognize that infamous Japanese bridge.
During your visit, you can also explore the charming village of Giverny with its pretty half-timbered houses, quaint church, and lovely river views. It's the perfect day trip from Paris.
Read more about Giverny day trip from Paris.
15 – Cheer on PSG and count the trophies at Parc Des Princes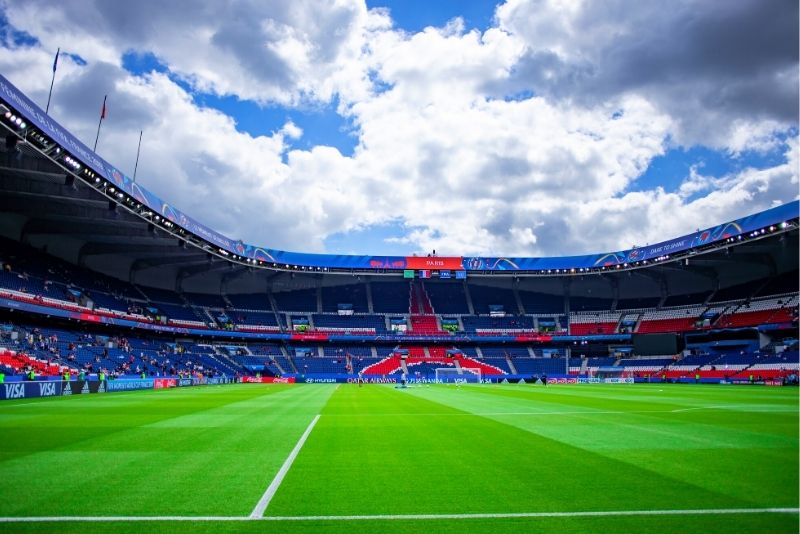 The stomping ground of one of Europe's powerhouse football clubs, Paris Saint-Germain (PSG), the Parc des Princes is a must-visit for any football fan.
With a capacity of over 48,000, it might not be the largest stadium in Paris (that accolade goes to the Stade de France), but as the fortress for PSG since 1974, the electric energy in this stadium is palpable.
If you're not lucky enough to catch a match during your stay (read: book tickets in advance!), you can still take a tour of the facilities, which includes stepping onto the pitch, walking through the changing rooms and the players' tunnel, and seeing the presidential boxes and trophy room – home to an impressive collection of Ligue-one titles! Plus, with the chance to immerse yourself in the VR Room, it's a hoot for visitors of all ages!
Found in the 16th arrondissement, the stadium is a stone's throw from the Bois de Boulogne gardens – at 2,155 acres, it's almost three times the size of New York's Central Park!
Read more about PSG experience stadium tour tickets.
16 – Tick off the city's highlights with a hop-on hop-off bus tour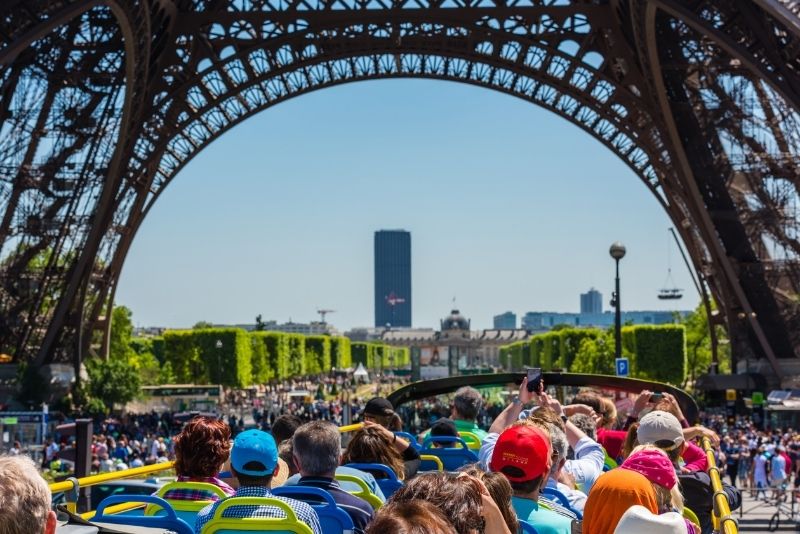 Since there are so many things to do in Paris, this open-top double-decker bus is a great way to get around! With three different routes to choose from, you can explore the best of Paris at your own pace.
Get comfy on the open-air top deck (or climate-controlled lower deck) for great views of the major sights like the Eiffel Tower, Arc de Triomphe, Notre Dame Cathedral, Les Invalides, the Catacombs, the Louvre Museum, and a whole lot more, or hop off at any of the stops along the way to explore further. With literally dozens of things to see, you can easily spend a whole day on this tour!
With an insightful audio guide waxing fun facts about the city and its landmarks, this is a great activity for first-time visitors who want to get their bearings.
Hot tip: opt for a Deluxe ticket which also comes with a bunch of extras, like a romantic river cruise down the Seine. And if you're traveling with kids, they'll love the fun audio commentary in multiple languages that's specifically geared towards tourists.
Read more about Paris hop-on hop-off bus tours.
17 – Glide through Paris' laneways on a Segway tour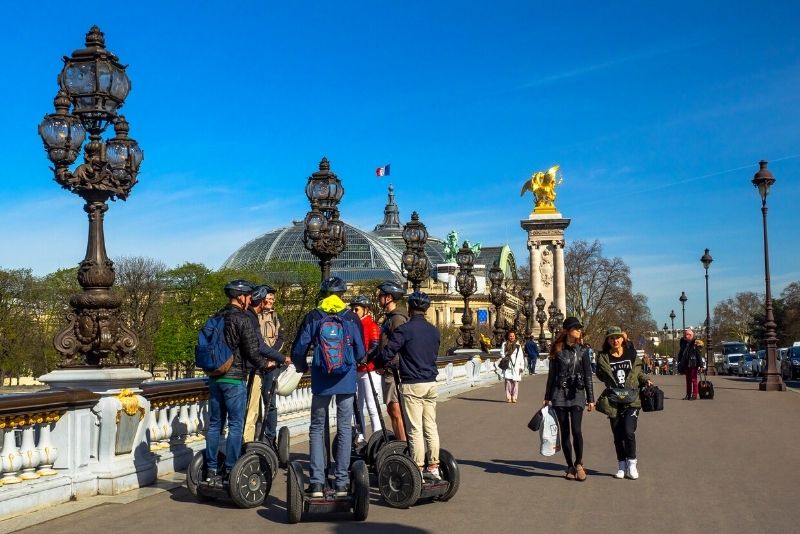 Don't feel like walking around town? Or short on time and want to tick off a few must-sees in one go? Then a Segway tour is perfect for you!
Not only is it great fun to zip around on these two-wheeled self-balancing electric scooters, but it's also a really efficient way to see the sights. And with a knowledgeable local guide leading the way, you'll learn all sorts of interesting facts and stories about Paris that you never would've known otherwise.
While you'll certainly explore some of the main haunts, like the banks of the Seine, as a city full of hidden gems, some of Paris' best sights are tucked away in lanes — and that's exactly where these tours venture to.
Typically lasting between one and two hours (making these easy additions to any day of exploring), the Segways are eco-friendly, surprisingly easy to balance on, and can wind those narrow Parisian laneways with ease! Just strap on a helmet and let your guide lead the way.
Want something a little different? Consider a sundown tour, which takes in all the sparkling magic that the City of Light is most known for.
18 – Get off the beaten track with a street art tour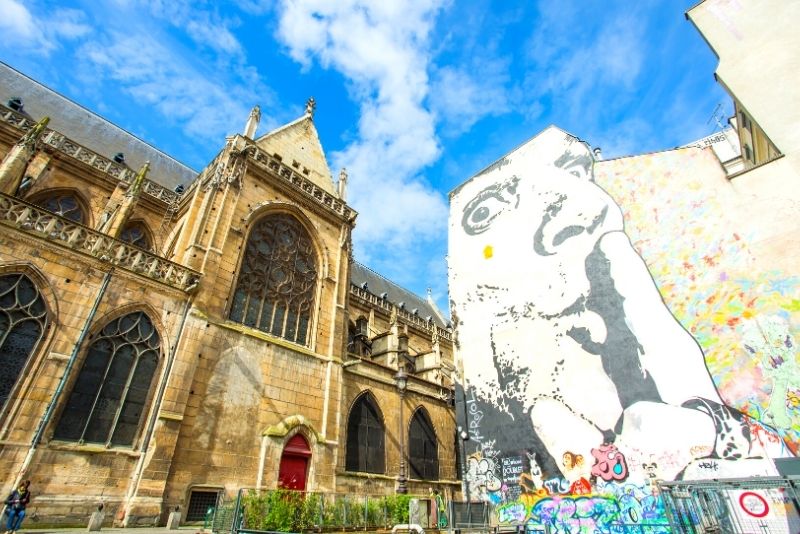 Although Paris is synonymous with fine art, the city has a bustling bohemian street art scene too!
Led by locals, graffiti tours will take you to some of the lesser-known parts of the city, giving unique insights into the minds and expressive works of the Parisian locals. Meandering through areas like Belleville, Canal Saint-Martin, and Oberkampf, you'll see first-hand how the city has been transformed by these talented artists.
Not only will you get to see some incredible street art up close (and maybe snap a photo or two), but you'll also gain an understanding of what goes into each piece and what message the artist is trying to communicate. With a street art tour, you'll see Paris from a whole new perspective!
Make sure you check out rue Denoyez, a photo-worthy street with graffiti-covered walls!
For those who want to explore the darker side of Paris, there are plenty of macabre and haunted walking tours available too…
19 – Crack the code (before time runs out) in an escape room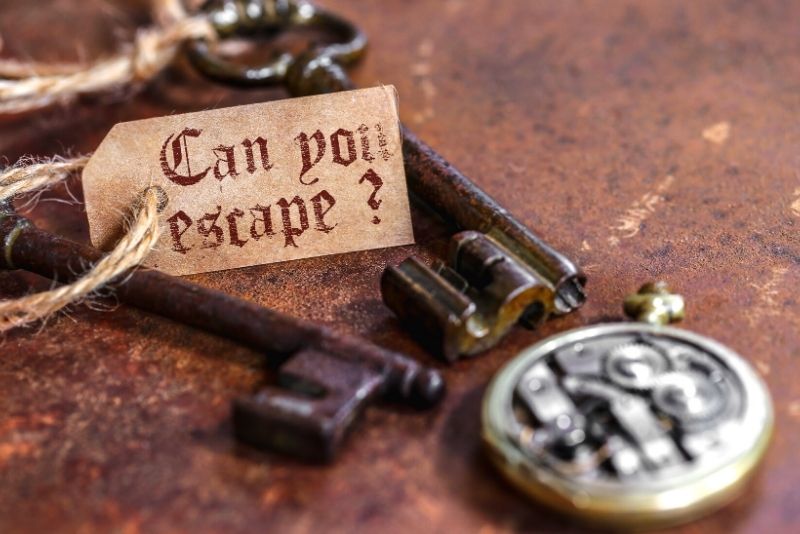 You walk through a corridor. The door bolts behind you. The timer starts, and you have 60 minutes to free yourself! Think you've got what it takes?
Feel your head race and your heart beat just a little faster as you are transported into an immersive adventure full of riddles and puzzles to solve and negotiate, as you race the clock for your freedom! With both indoor and outdoor options and so many themes to choose from — from classic Prison Break activities to Bank Heists, VR Time Travel options, and a whole lot more (including outdoor scavenger hunt-style activities) , there's an option for everyone.
With a range of locations around the city; an immersive, problem-solving, teamwork-harnessing escape game serves as a top activity for a rainy day.
20 – Tantalize your tastebuds with a wine and cheese tour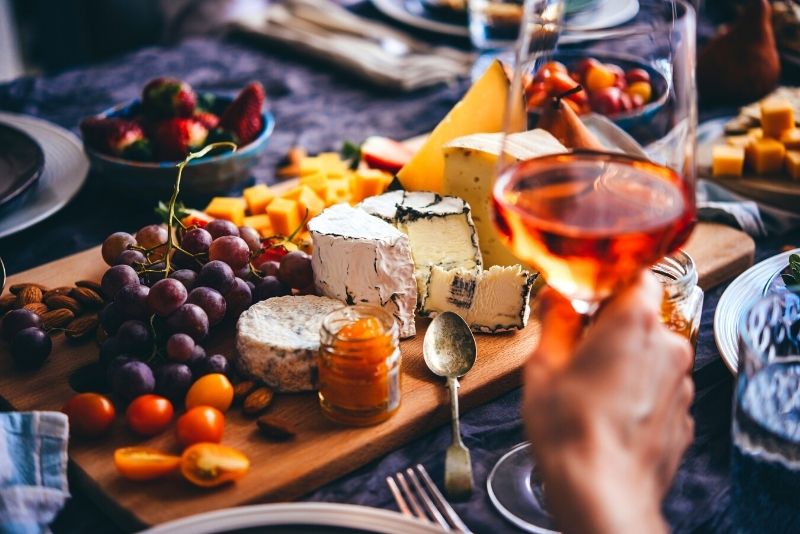 It's no secret that the French know a thing or two about food and wine. So what better way to experience Paris than by indulging in some of its tastiest offerings?
On a sumptuous wine and cheese tour, you'll not only get to sample some of the best produce that France has to offer, but you'll also learn all about the history, production, and methods behind it from a knowledgeable local guide.
With a range of different options to choose from, you're sure to find a tasty experience to fit in with your itinerary; some tours include visits to local markets (like the Marché d'Aligre) and producers, others wander around the lively Le Marais district or quaint Montmartre area, and a select few combine the gastronomic experience with a peppering of art and culture (and macarons).
As you learn first-hand from expert sommeliers – embarking on a taste-tour through France's wine and cheese regions with upwards of 10 types of Swiss and French cheese – your newfound expertise will be a hit at your next dinner party!
21 – Embark on a treasure hunt around Paris!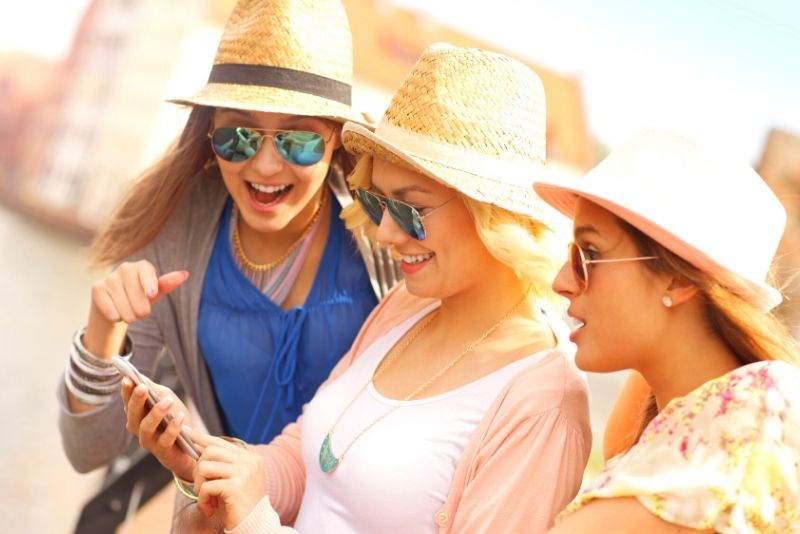 Fed up with slow-paced, touristy walking tours? Want to see the city from a different perspective? Then go on a treasure hunt!
A fun and unique way to explore the lesser-known parts of this beloved metropolis, a highly interactive treasure hunt will have you following clues and solving puzzles as you make your way around some of Paris' most famous (and most underrated) landmarks. With challenges suited for all ages and abilities, it's a great activity for families, groups of friends, or couples.
Not only is it a wonderful way to beat the crowds and see the city, but you'll also get some exercise and fresh air as you go!
Choose from an array of themes or areas, like the Louvre Museum, Luxembourg Gardens, Tuileries Garden, Montmartre, the covered passages of Paris, Saint Germain, or the Marais district (the options are nearly endless), and get ready for a fun-filled day of exploration! For traveling couples, check out the romantic Montmartre village hunt!
22 – Scale the underrated Château de Vincennes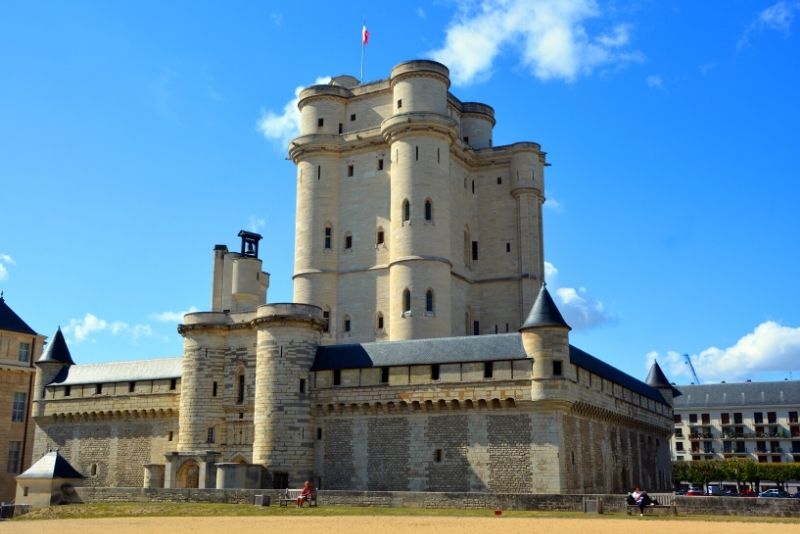 Lesser known than the Eiffel Tower or the Louvre, the Château de Vincennes is nonetheless just as impressive – and at a fraction of the price with a fraction of the crowds!
This imposing medieval castle, built in the 14th century, was once used as a royal residence by French kings such as Charles V and Louis XI. Today, it still holds the title of the tallest fortified castle keep in Europe, towering 52 meters high above the surrounding bois (forest).
One for the history lovers, the chateau's story contains many tumultuous tales of the French royal family who called it their home, and the prison it later became for famous free-thinkers, philosophers, and early leaders of the Revolution.
History aside, you can scale the keep for some of the most breathtaking views over Paris, explore the on-site museums and exhibitions, take a walk through the lush royal gardens, or even enjoy a picnic in the Bois de Vincennes park (the biggest in the city – where you'll also find a zoo and a botanical garden).
Thanks to its location on the eastern edge of Paris, if you're looking for a change of scenery from the bustling inner-city, this UNESCO-listed landmark should sit high on the list.
23 – Learn to make delicious French macarons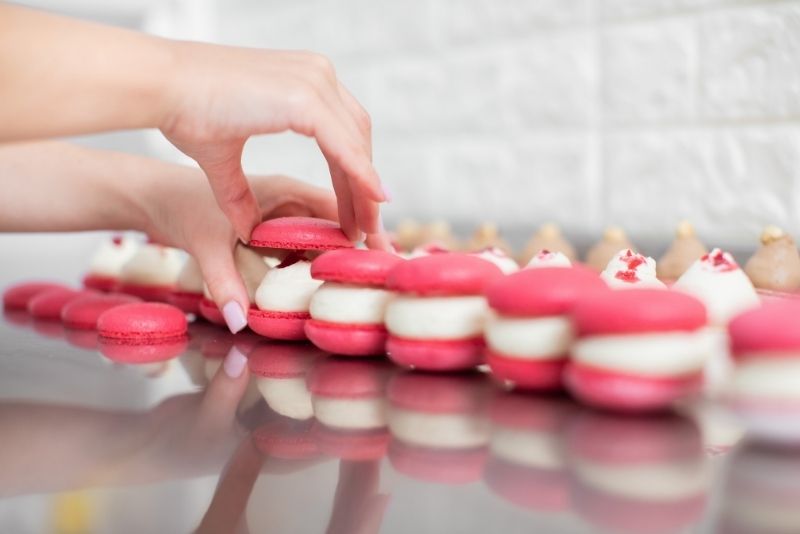 Infamous for its mouthwatering pastries and patisserie culture, Paris boasts a rare ability to delight sweet-toothed travelers. Case in point: the colorful, melt-in-your-mouth maracons.
If you just want to sample some of the city's finest, deservedly famous eateries like Ladurée, Pierre Hermé, or Carette are all worth a visit. But if you can't get enough of delicious French desserts, and you want to get stuck in and learn how to make these pretty little things yourself, there are plenty of classes on offer!
With a (usually) three-hour class led by a Parisian expert baker, guests are shown how to make the colorful and culinary classic, before learning the significance of the treats in French culture (while taste-testing your creations over coffee, of course).
Can't get enough of the formidable foodie scene? Consider a cheese and wine tour to add to the itinerary (see #20).
24 – Spend a day visiting castles and sampling wine in the Loire Valley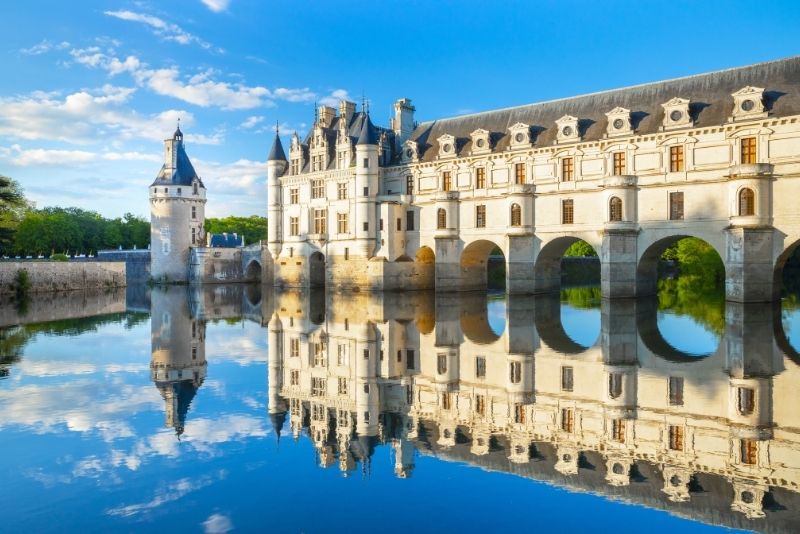 The Loire Valley in central France has over 300 towering, beautiful chateaux dating back to the age of Joan of Arc, alongside breathtaking gardens and one of the world's premier wine regions – boasting local wines (particularly Sauvignon Blanc) renowned for fruitiness with fresh, crisp flavors.
Among the plethora of highlights is the world-famous Château de Chenonceau, which spans the River Cher and was once owned by King Henry II's powerful mistress, Diane de Poitiers; Chambord, the largest castle in the Loire Valley with 440 rooms (decked out with all the extravagance you'd expect), built by King François I as a hunting lodge; and the imposing Azay-le-Rideau, a picturesque 16th-century château set on an island in the Indre River.
For all you thirsty travelers, a Loire Valley wine tour is a great way to explore the region's picturesque countryside while sampling some of its world-class wines (without worrying about driving too). Alternatively, take a leisurely bike ride or hike through the vineyards, past idyllic villages and fairytale castles.
Moreover, it's definitely worth a day trip or overnight stay to nearby Orleans.
Read more about the best Loire Valley Castles to visit from Paris.
25 – Meet Louis XIV, Napeleon, and Mbappe at the Grevin Wax Museum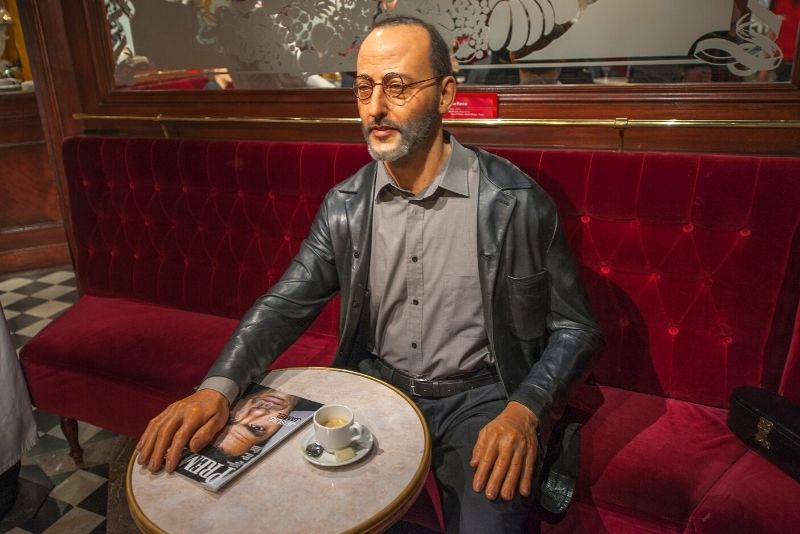 With over 200 historical and modern-day celebrities, there's no excuse to avoid a few selfies at the Grevin Wax Museum!
As well as the requisite shots with Napoleon Bonaparte and Albert Einstein, you can mingle with some of France's most famous exports including actors and performers like Johnny Hallyday; singers like Edith Piaf; soccer legends Zinedine Zidane and Kylian Mbappé; writer Victor Hugo; fashion designer Coco Chanel; chef Pierre Hermé… the list goes on.
The wax statues are remarkably lifelike, and are great listeners, but don't offer much talk back.
At the end of your visit, learn how the realistic wax models are made and get a souvenir!
The Wax Museum is located in the Grands Boulevards district, a short walk from the Opera Garnier.
26 – Sip REAL champagne in the Champagne region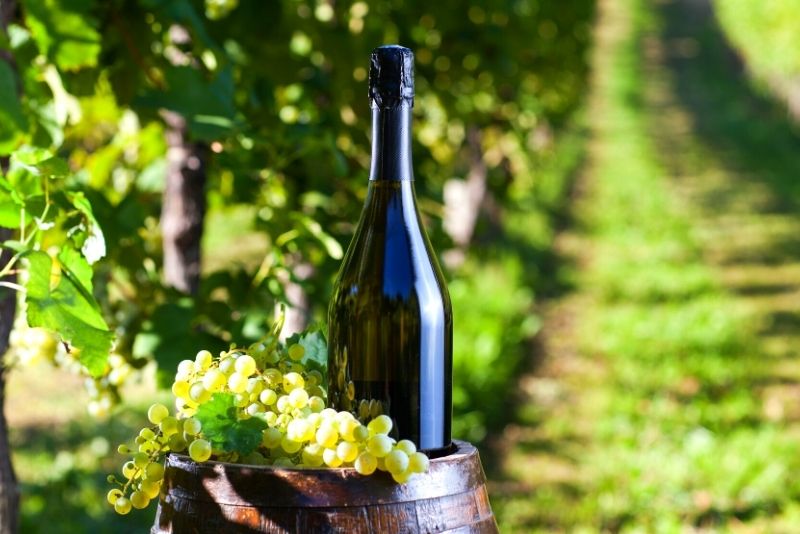 People commonly comment: 'it's not real champagne unless it's from THAT region in France'.
One-up them by touring Champagne itself! The area is as sparkling and beautiful as its famous beverage; for a fantastic day out, see the sea of vineyards and the famous Mumm Champagne house (with samples), as well as nearby Reims and its 13th-century Gothic Cathedral.
Located about a two-hour drive from Paris, the Champagne wine region is made up of five main villages (with 17 villages in total): Épernay, Reims, Ay, Troyes and Châlons-en-Champagne – with the former duo welcoming most of the visitors thanks to their reputation as the 'twin capitals' of the region.
The area is unsurprisingly picturesque, with gentle slopes of vines as far as the eye can see. The best way to soak in all the beauty, taste the bubbly, and learn about the process is of course, on a Champagne wine tour, the majority of which includes pick up and drop off from Paris.
27 – Discover your happily-ever-after at Disneyland Paris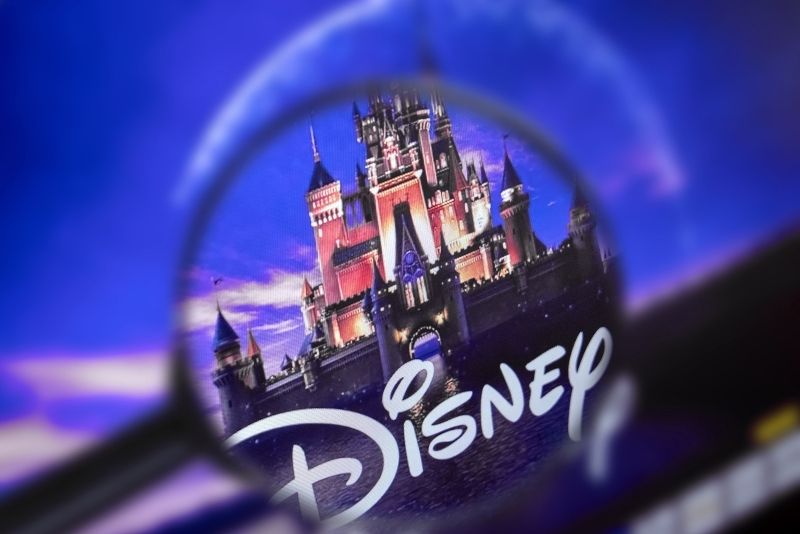 For travelers young of age and young at heart, Disneyland is heaven on Earth.
A theme park full of rides, attractions, and restaurants, there's truly something for everyone!
Kids love to shrink down to Remy's size and race to safety in an oversized kitchen, while the adults typically love a meal at Bistrot Chez Remy next door!
Thrill-seekers, on the other hand, make a beeline for the Tower of Terror or the Magic Carpet over Agrabah!
All up, you'll find close to 70 rides and attractions across the two parks: Parc Disneyland and Walt Disney Studios.
And of course, what would a visit to Disneyland be without seeing Mickey Mouse and co!
Catch a performance of the 'Disneyland Parade' down Main Street, U.S.A for a real slice of Americana – right here in the heart of Europe.
With themed eateries, the magical Fantasmic nightly fireworks display, no fewer than seven Disney-themed hotels on site, plus a golf course, you could easily spend a few days here!
Learn how to book cheap Disneyland Paris tickets.
28 – Witness Royal opulence at the Chateau de Fontainebleau…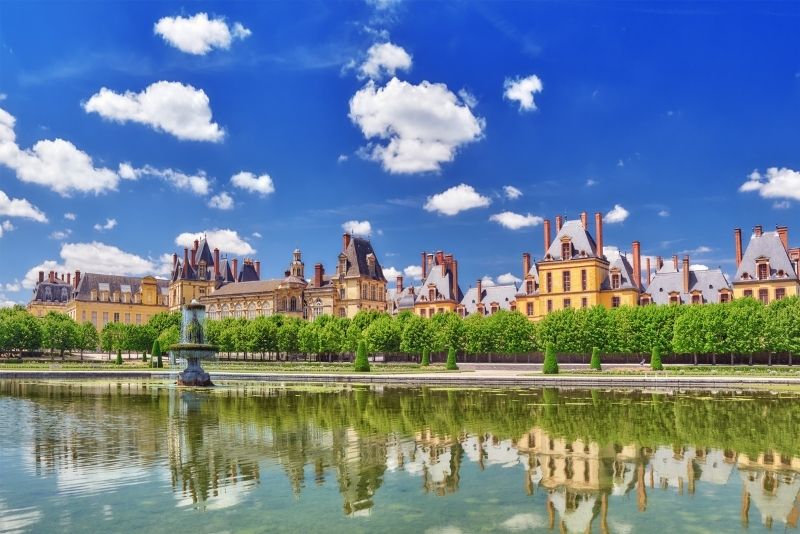 "The true home of kings", as described by Napoleon; this UNESCO World Heritage site estate has housed generations of royals, a Pope, and French Emperors to boot – living it up in the lavish palace that boats 1,500 rooms and 130 acres of lush gardens!
Dating all the way back to the 12th century, and having been continuously inhabited for more than 700 years, the castle is an interactive and dynamic timeline of French history, architecture, and folklore just waiting to be explored!
You'll find this architectural marvel about an hour's drive from Paris, in the eponymous town of Fontainebleau – a charming commune that's home to a number of other must-see sights including the bustling market, and the beautiful forest of Fontainebleau – perfect for a nature escape from the city!
29 – …and then compare it with the Chateau de Vaux le Vicomte!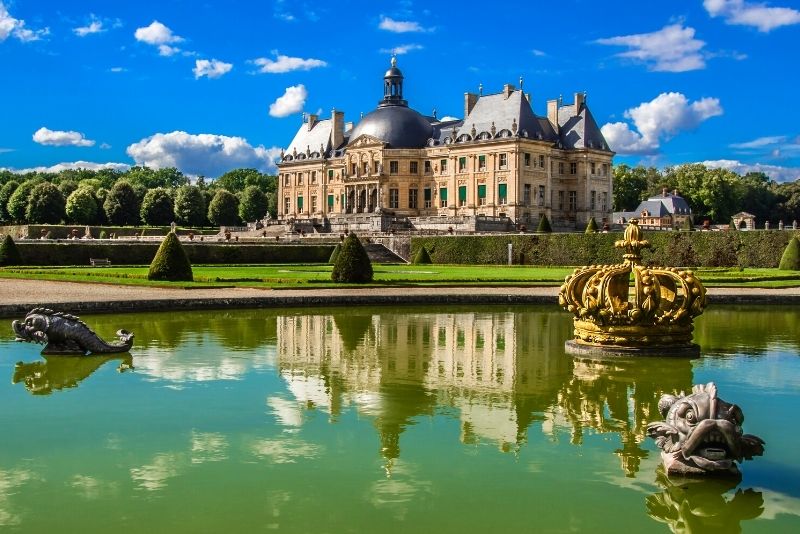 Near the marvelous Château de Fontainebleau, this castle quickly became the benchmark for the European castles that came after it — including the Palace of Versailles itself! Spanning an impressive 1,200 acres, the Château de Vaux-le-Vicomte is an undisputed masterpiece of French Baroque residential architecture, home to a beautiful French garden chock-full of boxwood trees, as well as an opulent interior that will take your breath away.
This particular castle was built for Nicolas Fouquet — the finance minister of King Louis XIV – back in the 17th century. Nearly 400 years later, it still stands as one of the most beautiful castles in all of France, with more than 100 rooms decored in only the finest of luxury.
Playing a significant role in French history, and being an underrated tourist attraction off the beaten path, the Chateau is definitely worth a visit if you find yourself in the area (or are looking for a less crowded alternative to Versailles)!
For that extra special experience, travelers typically love visiting in the evening when 2,000 candles illuminate the elegant palace!
30 – Grab tickets for a concert or match at AccorHotels Arena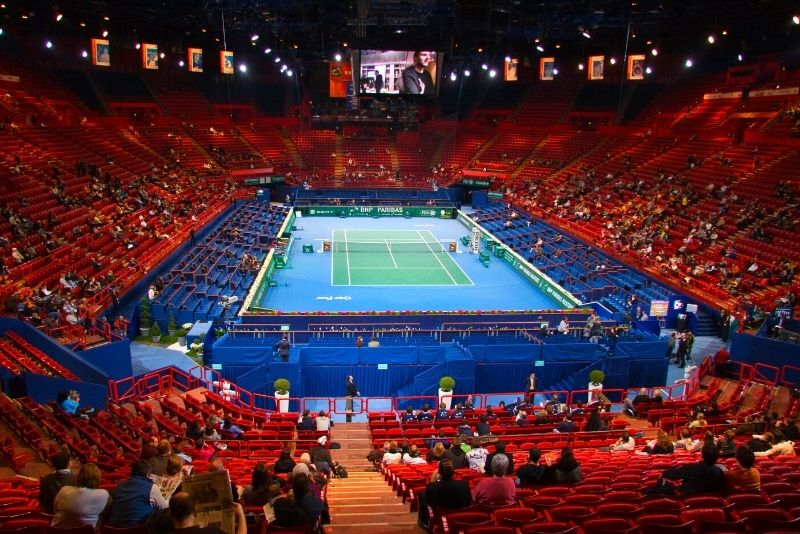 Found over in the 12th arrondissement next to Bercy metro station and right on the bank of the sparkling Seine, this pyramid-shaped entertainment venue is a mecca for Parisian sport and music.
Over the years, it has played host to world-renowned performers such as Madonna, The Rolling Stones, Beyoncé, Pavarotti, Sting, and Metallica – just to name a few – with all the latest technology ensuring one unforgettable night of toe-tapping (or head-banging) entertainment.
Music aside, the indoor arena also hosts a slew of major sporting events like boxing matches, tennis tournaments, and the 2024 Summer Olympics (as well as the League of Legends championship finals). With a capacity of close to 20,000 people, whether you're visiting for a show or a match, checking out the AccorHotels Arena is one of the most popular things to do in Paris!
The state-of-the-art venue hosts plenty of shows throughout the year, so check the calendar before you come to see what tickles your fancy.
31 – Follow your nose with a perfume workshop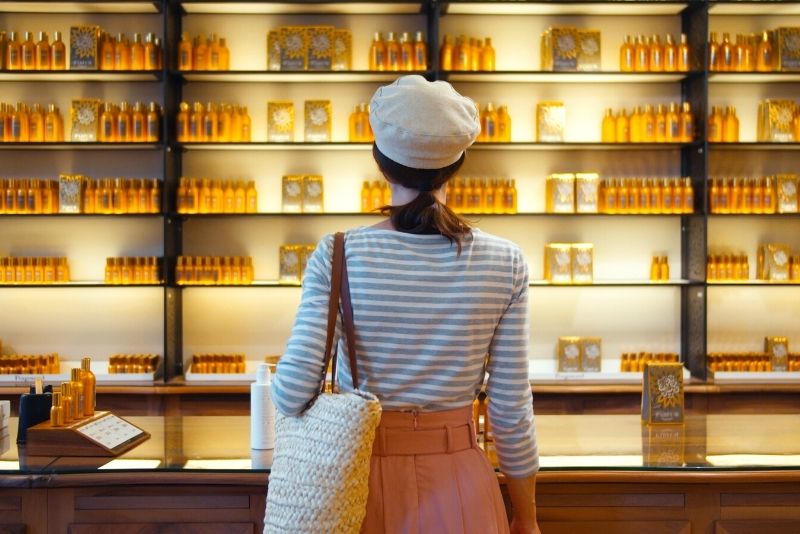 Looking for something a little more unique? Why not try your hand at making your very own perfume at a fragrance workshop in Paris!
During these intimate hands-on classes, you'll get to work with some of the world's finest perfume experts who will guide you through the process of creating a bespoke scent that's entirely your own. And what better place to do it than in the city of love and light, where some of the world's most iconic perfumes like Dior and Chanel were born?
Whether you're a perfume aficionado or simply looking for a one-of-a-kind activity to do in Paris, this is definitely an experience you won't want to miss.
You'll learn how to identify the notes and scents of perfume, understand the history and evolution of fragrance, and even get to take home your very own bottle of bespoke perfume! For a unique souvenir, a personal perfume scent is hard to beat.
32 – Find Marie Antoinette's cell at the historic Conciergerie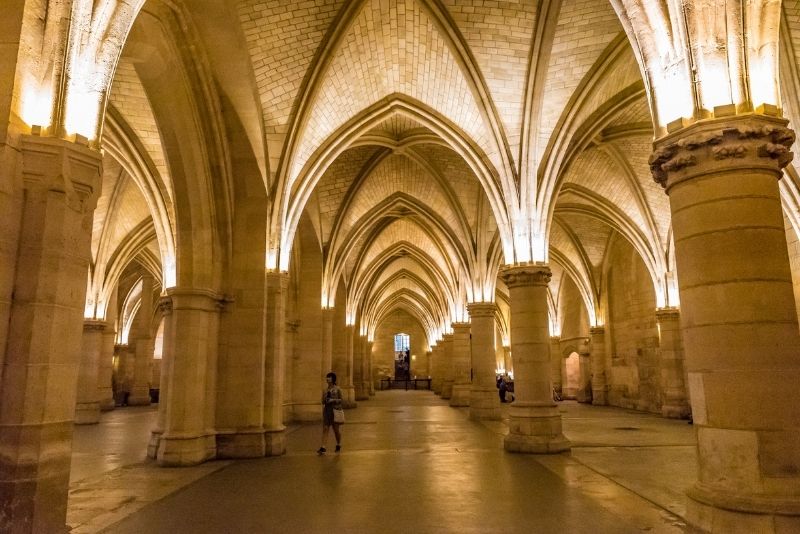 This old, elegant Gothic palace became an infamously macabre prison during the French Revolution, where none other than Marie Antoinette spent the last 10 weeks of her life.
A visit to the Conciergerie offers a unique glimpse into what life behind these bars was like for the Revolution's prisoners, while also displaying a collection of Marie Antoinette's personal items.
While Marie Antoinette's former prison cell is now open to the public as a chapel, many of the other cells still remain as they were during the Revolution, providing an eerie glimpse into the past.
If you're interested in French history (or simply want to see where Marie Antoinette spent her final days), a visit to the Conciergerie – which was built in the 1300s and sits on the Île de la Cité just around the corner from the Notre Dame Cathedral – is a must.
Open daily from 9.30am till 6pm, the building also houses the French Police and the Court of Justice.
33 – Explore Paris like a local: on a bicycle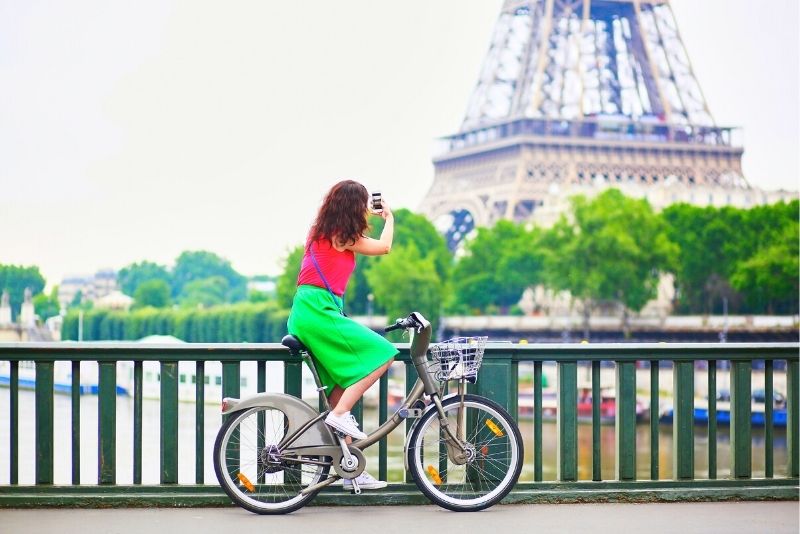 Since there are so many things to do in Paris, bicycle tours are a great option for discovering some of the city's hidden gems! Riding along the banks of the Seine is always a wonderful time, and with a local guide leading the way, you'll learn all about the trendy cafes and most underrated attractions! If the hills are too much, opt for an electric bike tour for a little extra help.
With myriad tours to choose from, spanning everything from the must-sees to more niche themes, there's definitely a bike tour in Paris for everyone. Embark on a locally-led adventure to the hidden gems, rolling your way through the charming backstreets; join a quintessential highlights tour that ticks of landmarks like the Eiffel Tower and Notre Dame; combine a leisurely ride with a sampling of local foods and wines; or venture around the city under the moonlight for a new perspective — as you can see, the options are endless!
Heading to Versailles? A bounty of bike tours operate in this popular day trip city too, often combing a visit to the iconic Palance with some bites at the local farmers market (plus transport to and from Paris).
34 – Snap a selfie with The Thinker at the Musée Rodin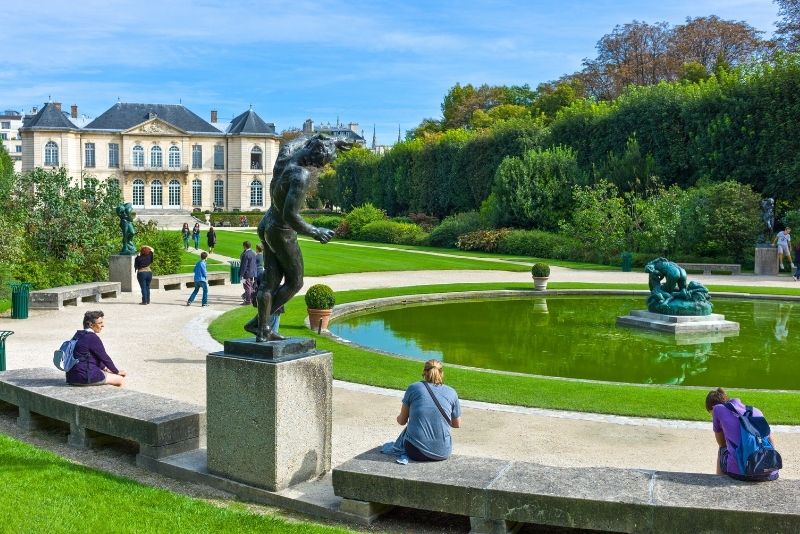 Beyond the poster boy museums – The Louvre, Orsay, Centre Pompidou – Paris is home to a plethora of world-renowned art galleries.
One such underrated (yet spectacular) destination for art lovers and culture vultures, The Musée Rodin in the heart of Paris next to Les Invalides should definitely be on your list! This stunning museum is located in the 18th-century Hotel Biron, and houses some of Rodin's most famous sculptures, like The Thinker, The Gates of Hell, and The Kiss.
Wandering through the manicured gardens is a delight in itself, and there are plenty of photo opportunities to be had. Don't forget to get a selfie with The Thinker!
Keep in mind: if you want to learn more about the sculptor, and see more of his impressive creations, the Museum actually has a second – just outside Paris, Villa des Brillants at Meudon in the Hauts-de-Seine region is not only an impressive museum, but also Rodin's old home.
35 – Go skydiving over the Parisian countryside!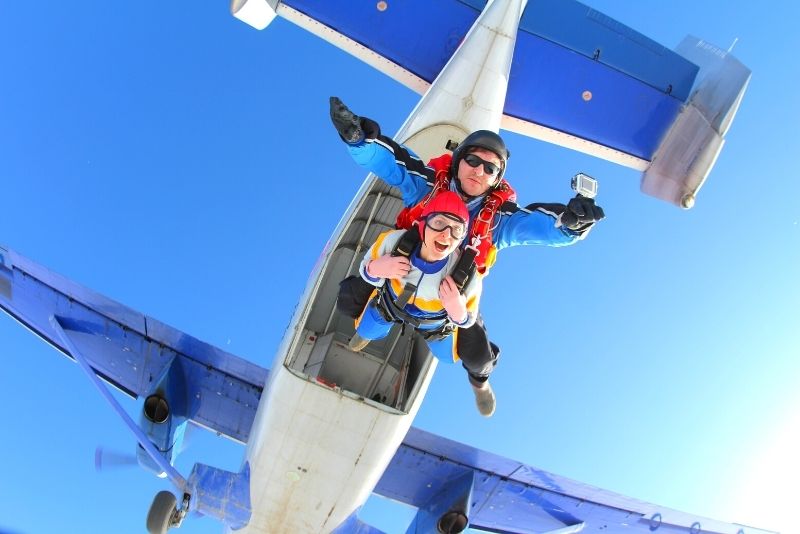 Adrenaline junkies will love this one! Head to nearby Peronne or St Florentin for a tandem skydive with 50 seconds of freefall over the stunning French countryside! The former is located about an hour and a half northeast of Paris, while the latter is closer to two hours, to the southeast. However, they (and the handful of other skydive locations) both deliver an absolutely majestic experience, with incredible views of the rolling hills and valleys, lush forests, and smattering of small towns in the distance
Whether you're a first-time skydiver or have done it before, this is an experience you won't want to miss. And what better way to see the French countryside than from above? After a safety briefing, you'll take up position in the plane and prepare for takeoff. Once you're at altitude, it's time to take the plunge! The views are unforgettable, but if you want to keep some souvenirs to show off, consider opting for the video and photo package upgrades.
For a more chilled-out experience, try indoor skydiving at iFLY — it's the equivalent of freefall skydiving, without the need to jump from a plane, and with a VR headset to transport you to Dubai, Hawaii, or California (although, of course, you can stay in Paris).
36 – Try your hand at wakeboarding in Verberie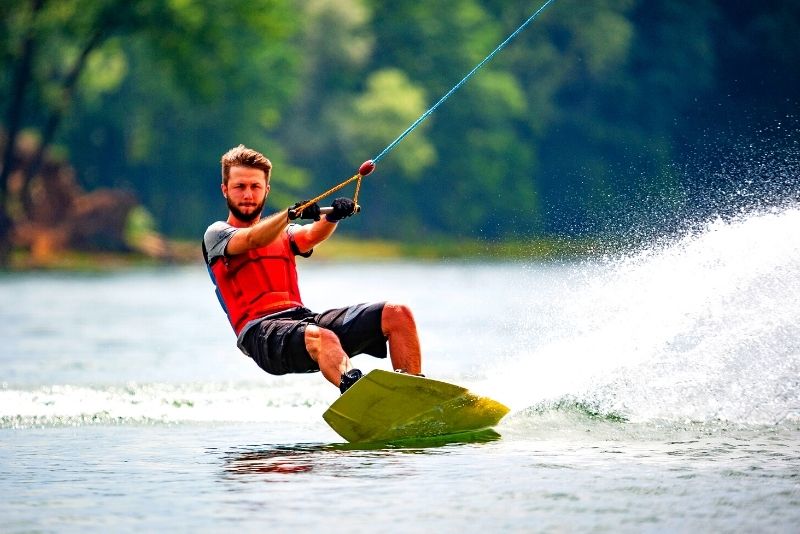 Get your aquatic Tony Hawk on! Strap in and ride the surfboard-esque apparatus, attached to a boat or jetski pulled by a motorized cable! A wonderful way to scratch that itch for adreniline, wakeboarding is a great choice for those who want to try something new, or just get outside and enjoy the sun.
Wakeboarding is actually a combination of water skiing, snowboarding, and surfing techniques – but make no mistake, it's harder than it looks! So it's the perfect activity for those who love the water and a good challenge. And what better place to try it out than in picturesque Verberie? Just 45 minutes from Paris by car, this small, history-rich town in the Oise department of northern France is as charming as they come.
You get to lightning speeds on the water — if you can stay balanced — before jumping and flipping through obstacles like the kicker, the fun box, and the slider!
Hot tip: after you've finished on the water, make sure to visit the Château d'Aramont, a stunning example of 13th-century architecture, or explore the hiking trails in Mont Pagnote.
37 – See the Mona Lisa at the world-famous Louvre Museum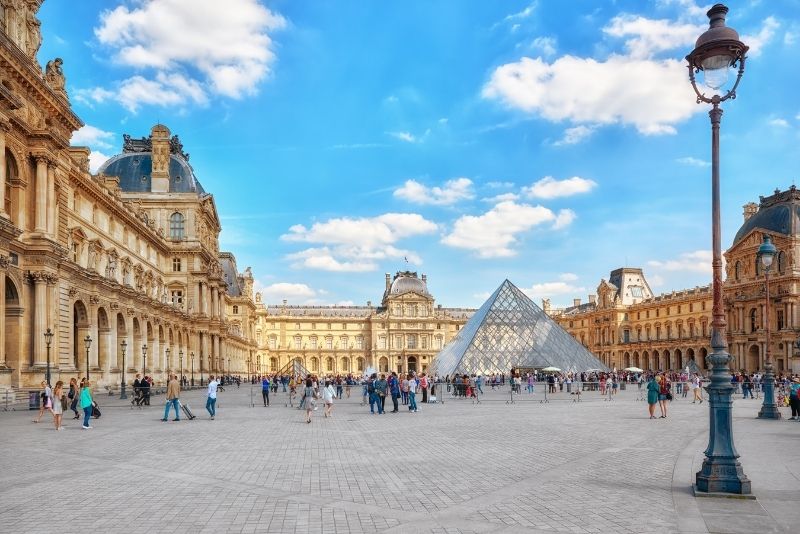 Looking for the best museums in Paris?
It's hard to argue: the Louvre, formerly a residence for the kings of France as well as a fortress, was turned into what is now considered to be simply the world's greatest art museum. With over 35,000 works of near-priceless art (and 380,000 objects in total) spanning from prehistory to the 21st century, spread across multiple floors and more than 60,000 square meters, you could spend months wandering the halls and still barely scratch the surface.
Visitors love the Mona Lisa and find themselves hypnotized by her smile, along with a plethora of famous masterpieces and historical artifacts like the Venus de Milo, The Wedding at Cana, The Winged Victory of Samothrace, the Portrait of Louis XIV By Hyacinthe Rigaud, and the Liberty Leading the People by Eugène Delacroix — but in reality, there are highlights around every corner.
So if you only have time for one museum in Paris, make it the Louvre! But be warned: lines can get long, especially during peak tourist season. Buy your tickets online in advance to avoid waiting in line for hours.
As both the largest and most visited museum in the world, the collection displayed in its maze of hallways and galleries is best appreciated on a guided tour – led by history and art experts, these tours will help you make the most of your time at the Louvre.
Read more about Louvre Museum tickets price.
38 – Travel back to the 13th century at Sainte Chapelle
Tucked away on the Île de la Cité, flanked by the River Seine on both sides, this foreboding Gothic chapel is known around the world for its spectacular collection of stained glass windows. Towering close to 140 feet high (not including the steeple), Sainte Chapelle was consecrated in 1248 by Louis IX, and, following some recent restoration work, is as colorful and breathtaking as ever.
So, if you're wandering through the touristy part of town, make sure to pop inside what some call the soul of Paris – where besides the awesome red and blue columns, the gothic chapel has 15 stained glass windows and a focal rose window — some of the most famous in the world.
The way the light travels through, offering a vista of color, is truly a sight to behold.
With plenty to see and do in the surrounding area – like the Notre Dame Cathedral, the Latin Quarter, and the Pont Neuf bridge – a visit to Sainte Chapelle can easily be squeezed into your Paris itinerary.
39 – Admire the ancient arms and armor at the Invalides Army Museum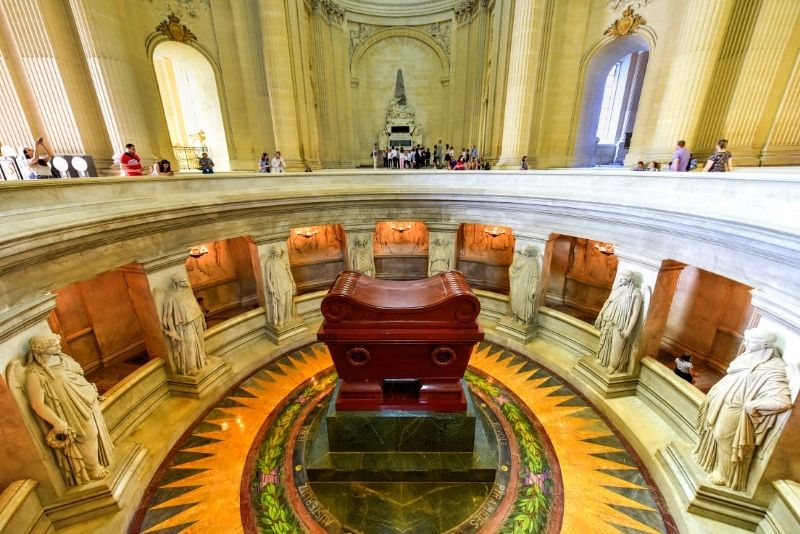 History buffs, pay attention.
One of the world's largest history and art collections is on display at the Invalides Museum.
With so much to see, you'll be spoiled for choice: browse through the armor and weapons dating back to the Middle Ages, those of the Kings of France, the personal effects of Charles de Gaulle, and visit Napoleon's tomb at the Dome Church with its 110-meter high golden dome!
Even the building itself is a work of art. The Invalides was originally built as a hospital and retirement home for disabled soldiers by order of King Louis XIV in 1670. Nowadays, it's one of the must-see sights in Paris, especially if you're interested in military history or architecture.
Want to visit the building, but not too keen on the military history? While the Army Museum and Napoleon's Tomb do require a ticket, the 15 courtyards, church, and well-manicured gardens are all free to roam.
Hot tip: you'll find the Army Museum in the 7th arrondissement, right next to the Rodin Museum and an easy walk to the Eiffel Tower, so it's easy to combine the three into one epic day of sightseeing.
40 – Appreciate a new artistic perspective at the Musée Picasso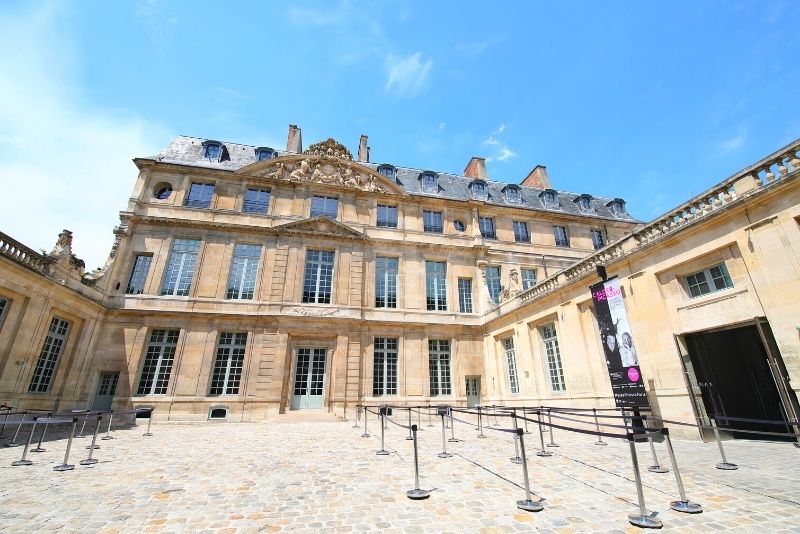 In this beautiful 17th-century hotel, the Picasso Museum has over 5,000 works on display from the man himself — not just those which the famed Spanish artist has painted, but also plenty from his personal art collection as well. Moreover, close to 200,000 archival items – drawings, photos, notes, and more – provide an overview of the man beyond the paintbrush.
Picasso's art was controversial in his time for mixing media and creating new, abstract styles — at this lesser-known Paris museum, you can see for yourself how his art transformed the cultural landscape, paving the way for future artists.
The museum is located in the heart of the historic Marais district, so after perusing the museum's halls, be sure to explore the rest of this vibrant neighborhood. With its quaint narrow streets, trendy bars and cafes, and charming boutiques, it's easy to see why the Marais is one of Paris' most popular neighborhoods.
Keep in mind: the museum is closed on Mondays.
41 – Head to the Musée de L'Orangerie (home of Monet's water lilies)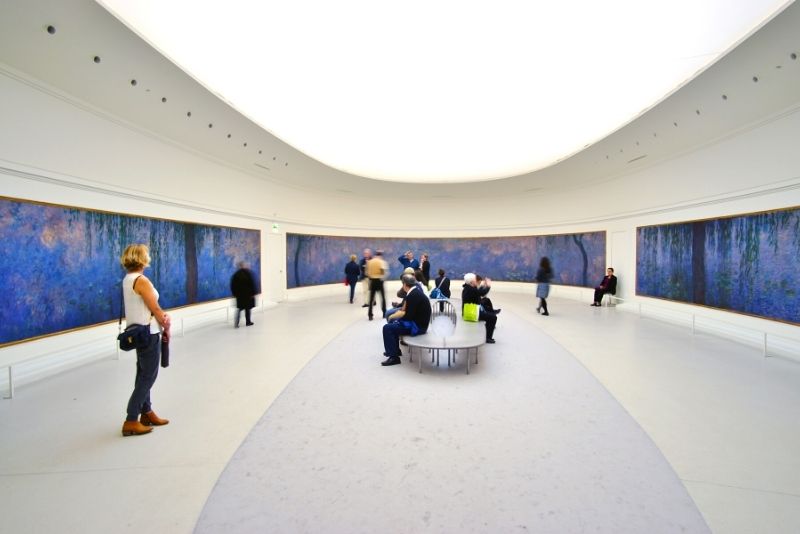 Another museum that doesn't get the limelight it deserves thanks to the Louvre and the d'Orsay stealing the bulk of the attention, the Musée de l'Orangerie – among its other noteworthy attractions – is most renowned for being the home to Claude Monet's famous 'Water Lilies' paintings.
These massive works of art are on display in two oval-shaped rooms that were specifically designed to showcase them – a gift donated by Monet himself at the end of World War I to the French State to celebrate the Allied victory.
On the banks of the Seine in the Tuileries Gardens, the rest of the museum's collection is also definitely worth its time – you'll find plenty of other Impressionist and Post-Impressionist paintings by the likes of Henri Rousseau, Derain, Henri Matisse, Renoir, Chaïm Soutine, and Cézanne.
Found within an impressive building noted for its striking Greek columns, this artsy attraction can be experienced within 1-2 hours.
42 – Soar over Versailles in a helicopter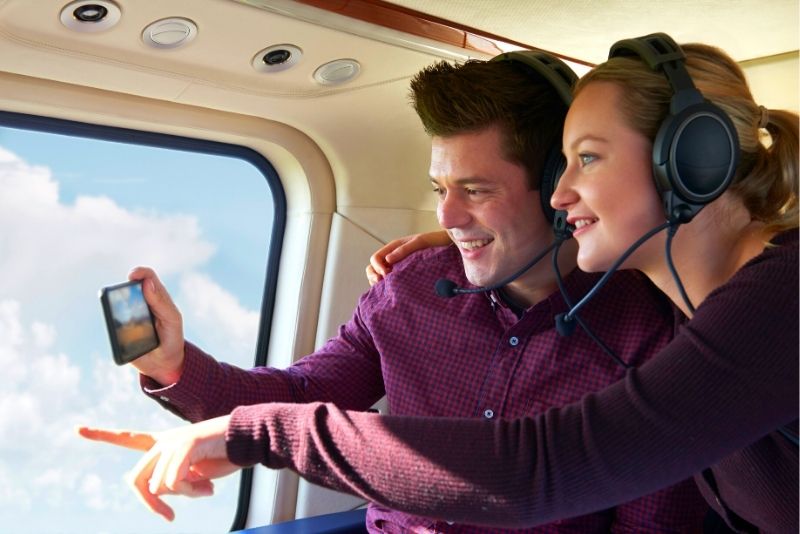 We've already dove into the beauty of Versailles from ground level – with its sprawling gardens containing over 50 fountains, impressive sculptures, and of course the iconic Palace itself – but there's another way to see this amazing site if you're short on time: by helicopter.
Flights leave from Paris in the morning, afternoon and evening, with a stopover at Saint-Cyr along the way! Have the camera battery charged; as you fly back into Paris, check out the stunning aerial view of the Eiffel Tower, the Seine, and Tour Montparnasse!
Of course, this is far from the only helicopter tour available; if you're looking to take to the skies and discover a new perspective on the region, you'll find adventurous flights over Toussus-le-Noble, the Château de Vaux-le-Vicomte, and, sparkling Paris itself.
Want to take it up a notch? Why not take part in a beginner flight lesson, and learn the basics of flying a plane or helicopter yourself?
43 – Step into a modern artistic paradise at the Centre Pompidou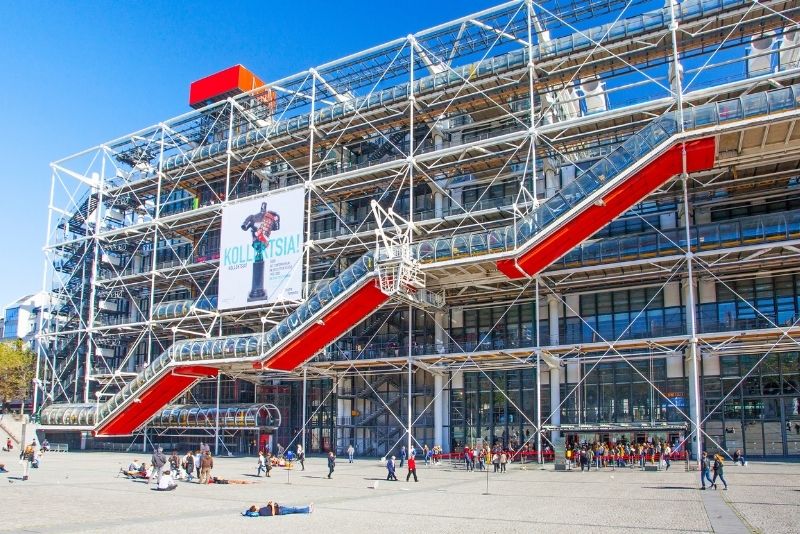 Among the fine art and architecture of Paris, Pompidou makes an architectural and existential statement! The mammoth, modern complex holds the best of contemporary art along with a library and music center. A Mecca for everything 20th and 21st century, the sprawling, multi-level museum showcases more than 100,000 works of art.
From world-famous names like Pablo Picasso, Salvador Dali, and Andy Warhol, to lesser-known contemporary artists, the Pompidou is a veritable who's-who of all things modern art. If you love art and want to see some thought-provoking (and sometimes controversial) pieces, this is the place for you.
The building itself – quirky and standing out in an otherwise very historical city – was designed by Renzo Piano and Richard Rogers in 1977, and (as you can see) has its skeleton uniquely exposed on the outside.
To round out your visit, visit the rooftop cafe and sip a cafe au lait with a great view of Paris!
44 – Organize a day trip to Mont Saint-Michel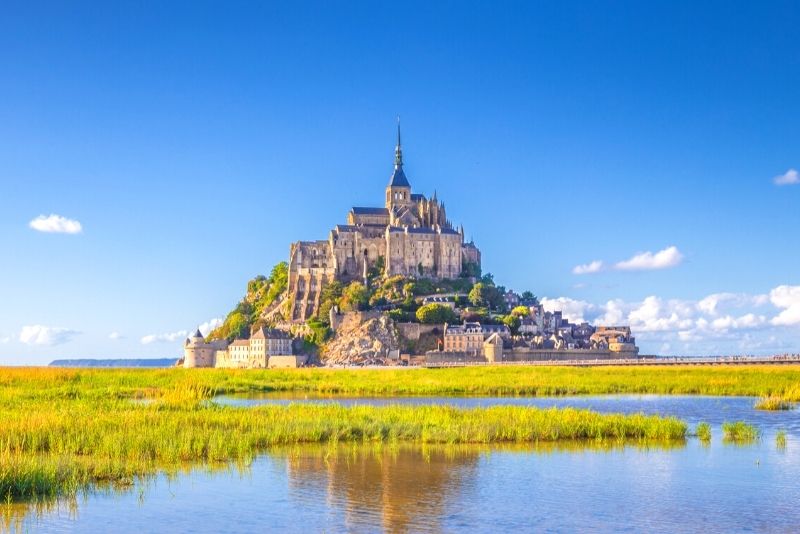 While now easily accessible, Mont Saint-Michel was once an imposing fortress – and despite constant attacks and violent tides in the Hundred Years War, it remains beautiful and standing today!
At its apex sits the abbey of Mont Saint-Michel, which, thanks to its surroundings of incredible architecture and romantic ramparts, offers an incredible insight into the 11th century.
Looking like something taken straight out of a Disney film or fairytale, the secluded islet is one of France's most picturesque coastal locations; and, as such, is unsurprisingly popular with tourists.
However, this isn't just some fabricated tourist hot spot – it's, contrary to popular belief, actually an operating village, with close to 50 permanent residents (mostly nuns and monks)!
Sitting on the border between Normandy and Brittany, about a third of the way up the French coastline, Mont Saint-Michel is definitely worth a day trip from the capital — and rather than organizing your own transport, most travelers prefer to avoid the hassle and book a guided tour that includes transport from Paris.
Hot tip: soak in the rare beauty by booking a night at one of the myriad hotels within the walls of Mont St-Michel.
45 – Browse the lesser-known Musée Jacquemart-André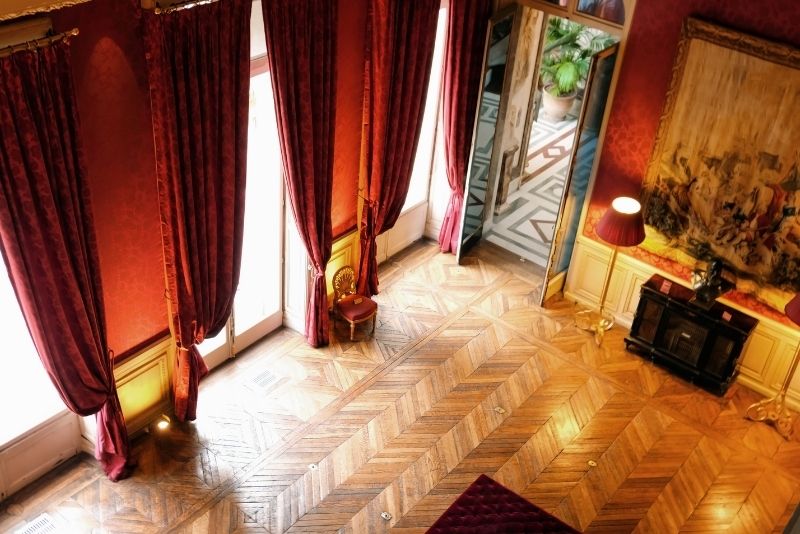 A chance to step into the lives of one of 19th century Paris' more affluent couples, this gallery holds the treasured, private (and mighty impressive) collection of married art-lovers Edouard Andre and Nelie Jacquemart.
Spread throughout the beautiful Belle Epoque mansion in the 8th arrondissement, the museum contains an eclectic range of paintings, sculptures, furniture, tapestries, and objets d'art. Spread across the ground floor are mostly Flemish and German paintings, while the first is dedicated entirely to the Italian Renaissance period.
Complement the beauty of the building itself, as well as the detailed ceiling fresco painted by Tiepolo, some of the museum's real highlights include breathtaking and meticulous works like 'The Supper at Emmaus' by Rembrandt, 'Vedute' by Canaletto, the 'Flight into Egypt' by Botticelli, and 'Ecce Homo' by Mantegna.
If you're interested in the lives of these avid art collectors, make sure to take a walk through Jacquemart's lavishly decorated apartments. And to recharge the batteries, wander over to the Jacquemart-Andre Tea Room for a spot of afternoon tea in what's arguably the most beautiful tearoom in Paris.
46 – Satisfy your sweet tooth at the Musee du Chocolat
Sink your teeth into this museum! At the beloved Musee du Chocolat on the Rue de Bonne-Nouvelle, you can learn all about the history as well as the medicinal qualities of chocolate (and how it's made) through delectable demos by chocolatiers, all while nibbling on no shortage of delicious samples.
This museum is a real treat for the senses, and even has a section where you can create your own custom box of chocolates. The best part? You don't have to be a kid to enjoy it.
If the mouth-watering museum worked up an appetite, make sure to grab a hot chocolate or chocolate bag to take home. Just around the corner from the Grevin Wax Museum (see #25), this appetizing attraction is definitely one of the sweetest things to do in Paris!
47 – Learn about fashion trends at Yves Saint Laurent Museum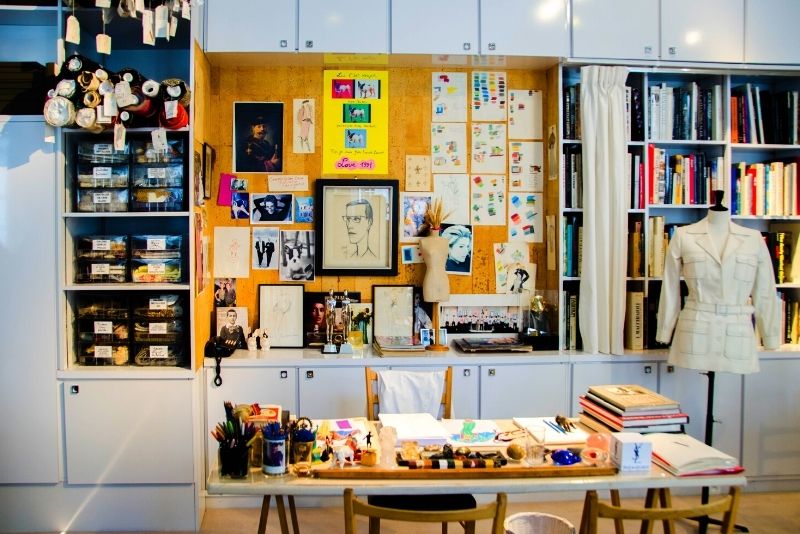 A beacon of high fashion in Paris, the Yves Saint Laurent Museum is an ode to one of the most prolific designers of the 20th century. The first permanent museum dedicated to a living designer, this fashion haven is your chance to step into the (very fashionable) shoes of one of the world's greatest fashion designers – holding over 5000 prototype garments, thousands more accessories, and countless sketches from the mastermind's iconic career.
This isn't your typical stuffy fashion museum either – the exhibitions are contemporary and the space itself is quite avant-garde. The museum is located in the designer's former atelier on Avenue Marceau, which he occupied from 1974 until his retirement in 2002.
To get an insight into the man behind the clothing, make sure to check out the short film, and browse the old photographs. Walk through his studio, a hub of haute couture while exploring his original sketches and workshop sheets — and discover how the famous designer married art with fashion, championed racial diversity, and was instrumental in pioneering the modern woman's wardrobe!
You can also purchase tickets to one of the temporary exhibitions, which have previously included tributes to Loulou de la Falaise and Pierre Bergé, to name just a couple.
48 – Book a romantic cruise along Canal Saint-Martin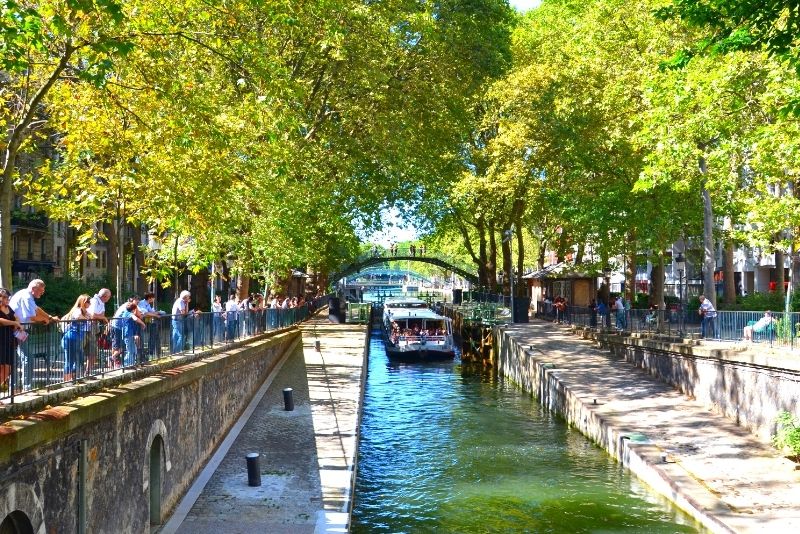 When evening sets over the City of Lights, there's no better place to be than the Canal Saint-Martin! Far less renowned than the River Seine, this charming and peaceful waterway is the ideal spot for a romantic outing.
Conveniently located in the heart of the 10th arrondissement, there are plenty of different ways to explore the canal: you could join a guided tour on one of the many glass-enclosed boat cruises (great for those chilly winter days!) or hop aboard an open-air bateau if you're visiting during the warmer months (in which case, cruise through the Bastille vault to see the sunlight dance in an underground world).
For something will a little spore love in the air, take a dinner cruise that includes many a glass of French wine and some live music, which you'll surely appreciate as your float your way past romantic footbridges, overhanging chestnut trees, and traditional fishermen.
If you're feeling more adventurous, you could even hire your own electric boat for a few hours — the perfect way to explore at your own pace and soak up the charming atmosphere of this picturesque corner of Paris.
49 – Join a tasty food tour of the Le Marais district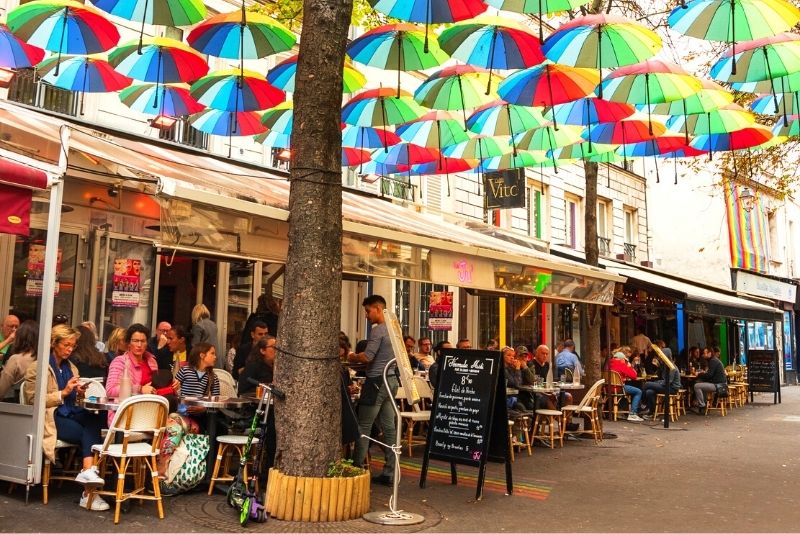 Ever so trendy and always exciting, the Le Marais district is one of the most popular places to visit in Paris — and for good reason! This bohemian neighborhood is brimming with character, from its quaint cobbled streets and pretty architecture to its many hip bars, trendy restaurants, and independent boutiques.
Start your exploration of this vibrant area at Place des Vosges, the oldest square in Paris and home to the city's chicest shops. Then, meander your way through the winding streets lined with quaint bakeries, vintage stores, and art galleries, stopping for a coffee or a spot of lunch at one of the many lovely cafes along the way.
When you've worked up an appetite, head to Rue des Rosiers for some traditional Jewish food — the falafel here is some of the best in the city! In the evening, enjoy a few drinks at one of the many bars or nightclubs (Yono Bar is a popular choice), or catch some live jazz at the Cave du 38 RIV'.
No matter what you do, you're guaranteed to have a good time in this vibrant and ever-evolving neighborhood!
Consider yourself a foodie? Get acquainted with the very best of Parisian culinary delights while trying cheeses, baguettes, wine, cured meats, chocolate, pastries, and more on a food tour, as your passionate local guide takes you off the beaten path.
50 – Take a day trip to nature-lovers Normandy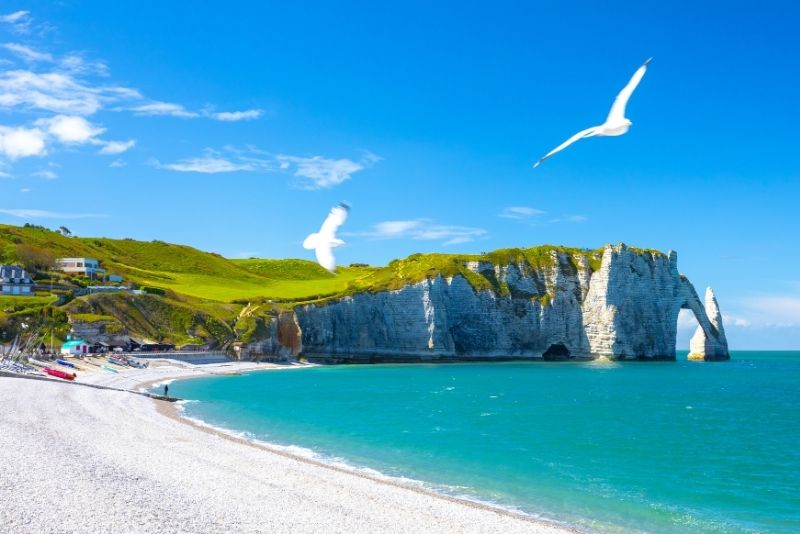 Belonging on a postcard, with its towering white cliffs, soft sandy beaches, and quaint seaside (and inland) towns, multifaceted Normandy is a beautiful region that's nothing short of a marvel, located just a few hours' drive or train ride from Paris.
Popular tourist spots include the World War II D-Day battlefields landing beaches of Omaha and Utah Beach (also the location of the Saving Private Ryan opening scene), as well as the picturesque island monastery of Mont Saint Michel. However, there's plenty more to Normandy than just these well-known attractions;
Those seeking a change of pace can check out the pretty harbor town of Honfleur, home to a vintage dock, cobblestone streets, and amazing seafood restaurants! Or meander over to the little-known but equally lovely towns of Bayeux or Rouen.
For nature-lovers, it's hard to go past the dramatic cliffs of Etretat, or the towering trees of the Forêt de Brotonne. And of course, no visit to Normandy would be complete without a stop in Giverny to see Claude Monet's beautiful gardens (just make sure you get there early to avoid the crowds!) And lastly, if you're feeling lucky, you could always try your luck at Deauville-Trouville's casino.
Want to experience all the highlights without too much planning? With myriad pre-arranged tours to choose from, it's easy to soak in all this diverse region has to offer with a day trip.
Read more about the best places to visit in Normandy from Paris and learn what are the best Normandy tours from Paris.
51 – Consider a chocolate tour in the Saint-Germain-des-Prés district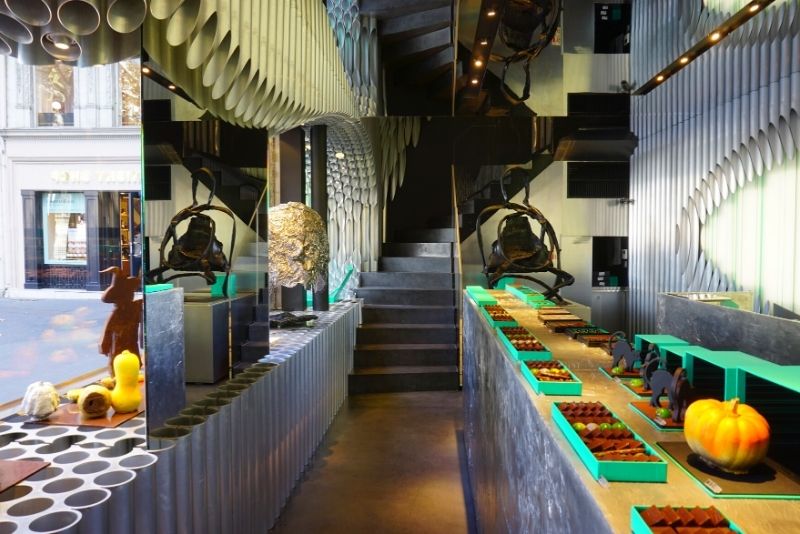 A stone's throw from the Seine and the Luxembourg Gardens, Saint-Germain-des-Prés is one of the most picturesque and historic neighborhoods in Paris. It's also home to some of the best chocolate shops in the city!
The always lively and chic Saint-Germain-des-Prés Quarter is brimming with cafes and restaurants with al fresco diners, at which chairs are facing the street, in typical Parisien people-watching style.
On dedicated (and delicious) chocolate walking tours, your expert guide will take you to close to half a dozen shops. You'll learn a little about the area's rich heritage from your local guide as your small group samples melt-in-your-mouth pastries, fresh bread, and rich chocolates from the neighborhood's best eateries (don't miss Patrick Roger) – both renowned names and hidden gems alike!
With macarons, hot chocolate, and a glass of wine typically featured on the menu too, this is a tour that's sure to satisfy your sweet tooth!
Keep in mind: tours are also available in equally noteworthy neighborhoods like Le Marias.
52 – Grab the popcorn for a film at Le Grand Rex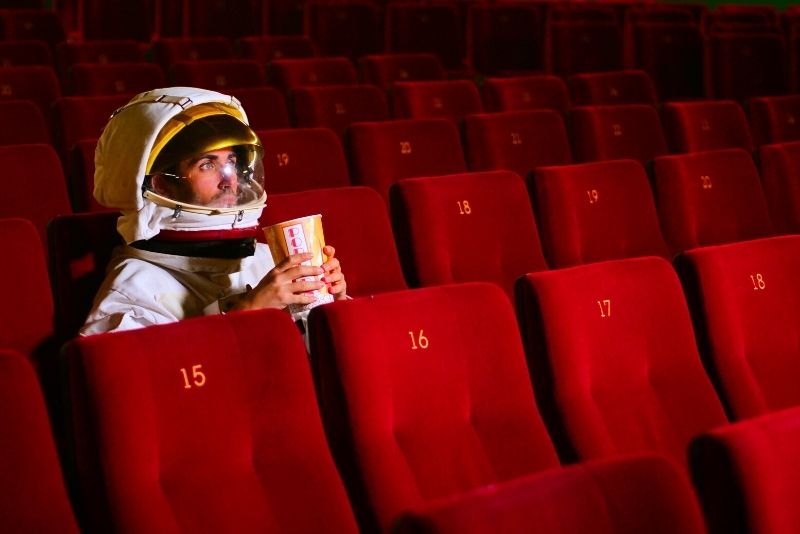 With its bright neon signs protruding from the street, you could not possibly miss this intimate concert hall (and Europe's largest cinema theatre!).
Standing tall and welcoming cinephiles since 1932, the Art Deco-style Grand Rex screens both classic and new releases, as well as hosts regular live music events.
With a capacity of close to 2800 people, it's one of the biggest cinemas in Paris – and definitely worth a visit for film buffs and architecture lovers alike! Located in the heart of the city in the Bonne Nouvelle area, a short walk from Les Halles and the Louvre (and right across the road from the chocolate museum – see #46), you can make a day of it by exploring some of Paris' other famous landmarks before or after your film.
Step inside and you'll discover decorations from classic fairy tales and water features, but when the show starts, that's when the magic really begins!
Hot tip: The six-day Jules Verne Adventure Film Festival each April is a local favorite and certainly worthy of a visit!
53 – Watch the Can-Can at the Moulin Rouge!

credit to Moulin RougeFind a night of Parisenne entertainment more iconic than that of the Moulin Rouge's dynamic and cheeky Féerie show – a quintessential spectacle housed at the most famous cabaret club in the world! Exactly, you can't.
This is where the modern-day Can-Can was born over 125 years ago, and it's still going strong today. With a ticket to the exuberant dancefloor spectacle, you'll be delighted by elaborate costumes and choreographed showgirls dancing to heart-throbbing music in a hypnotic and dramatic performance. All, of course, while you indulge in a fine dinner and no shortage of Champagne — it's, without a doubt, one of the most exciting things to do in Paris!
Make sure to snap a selfie in front of the famous windmill, and after the show comes to an end, take a few minutes to wander around the Moulin Rouge area of Pigalle, where you can find some great bars and nightclubs to keep the party going into the early hours!
While tickets aren't cheap, it's one of those bucket list activities that you can't put a price on.
54 – Do a little window-shopping at Place Vendome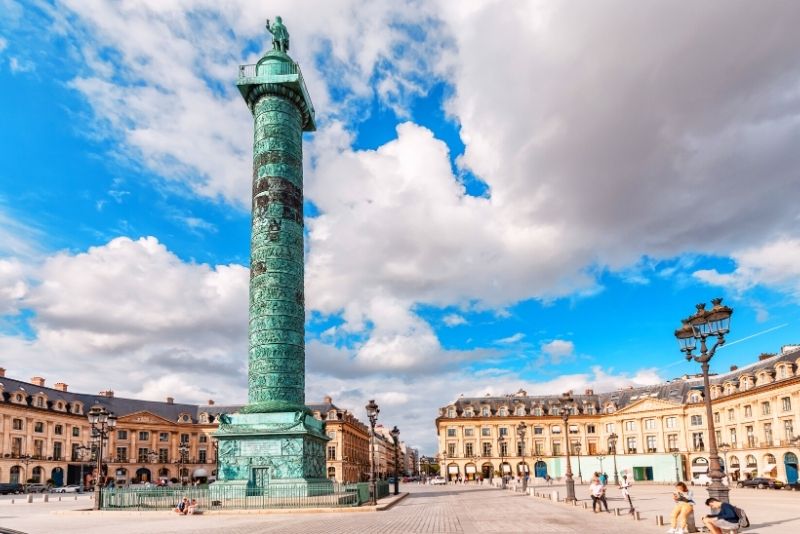 A shopaholic paradise, where more than just high-end brands are on display, Place Vendome is a circa-1,700s square located in the center of Paris' fashionable first arrondissement.
Famous for its luxury hotels and designer flagship stores, including Chanel, Dior, Hermes, and Cartier, to name just a few, it's definitely worth a visit even if you're not planning on buying anything.
And since this is a city for romantics, where better to buy that engagement ring than right here, in Place Vendome? With rows of neoclassical buildings showcasing the finest jewelry encrusted with diamonds, rubies, and emeralds, the perfect bling is waiting.
Not without its own coveted history (this is Paris, after all), a grand column with a statue of Napoleon stands in its center, looking over endless luxury goods shops, in a square that was once a symbol of royal and political power.
55 – Take the kids to the mermaid show at Aquarium de Paris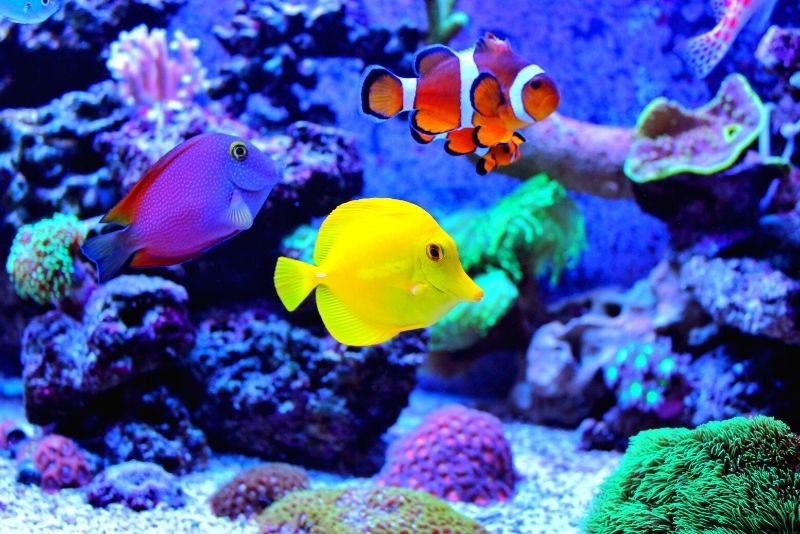 Looking for things to do in Paris on a rainy day, or something to keep the youngsters entertained? Then look no further than the Aquarium de Paris, located in the Trocadero area near the Eiffel Tower.
With over 13,000 sea creatures of all colors and sizes calling this place home, including sharks, penguins, and seahorses; and hailing from the Seine to the Pacific islands and everywhere in between, not only is this one of the world's oldest aquariums, but it's one of the best too!
Visitors particularly love the mermaid shows, animal-feeding shows, and touch tanks — meanwhile, the shark tank is guaranteed to send shivers down your spine!
Before you leave, make sure to pop into the 2-screen cinema – a wonderful opportunity to escape into a magical underwater world.
56 – Stay out late enjoying Paris' nightlife with a Latin Quarter pub crawl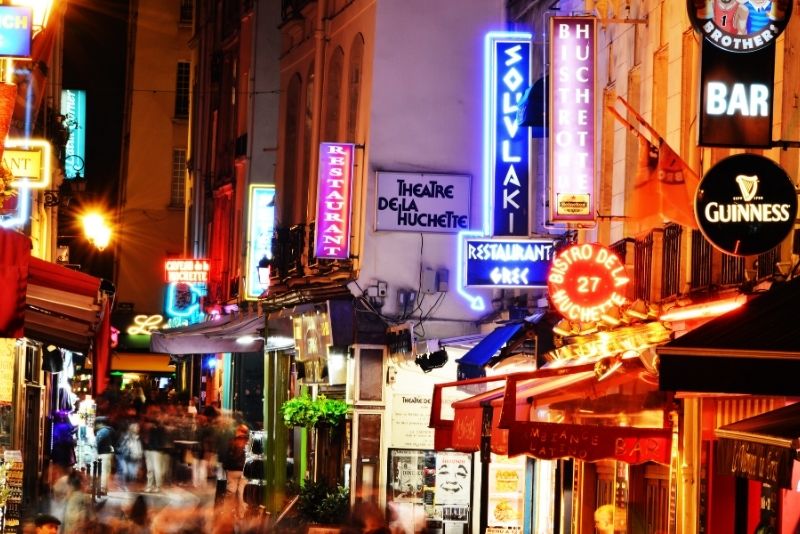 Who's ready to party? Get a feel of the famous Parisian nightlife on a pub crawl as you boogie through the bubbly Latin Quarter! By day, this inner-city area is known for its lively student population and countless quaint cafes.
But when the sun goes down, the real fun begins as the streets fill with people ready to paint the town red! This is one of the best areas in Paris for bar-hopping, as you can hop from Irish pubs to sports bars to cocktail lounges, all within walking distance of each other.
Some of the most popular places to hit up include Harry's New York Bar, a watering hole frequented by Ernest Hemingway and Humphrey Bogart back in the day; Caveau des Oubliettes, a rustic pub cross live music venue set within a cave; and Le Requin Chagrin, a local favorite that stays open till 5am on the weekends.
And while there's nothing wrong with your own ad-hoc adventure, if you're looking to uncover the hidden gems and meet some new friends from around the world along the way, a pre-organized pub crawl is hard to beat. Led by a local, you're sure to bond with fellow thirsty travelers over free shots and discounted drinks as you make your way between some of the Latin Quarter's most popular bars!
57 – Pay your respects at the Somme Battlefields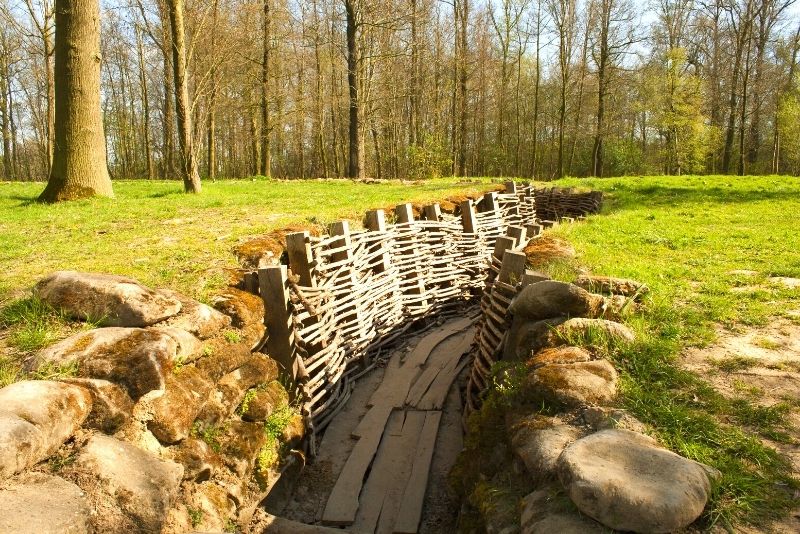 Here's one of the more moving and somber things to do in Paris; Some of history's bloodiest battles took place during WWI at the Somme, a landmark full of monuments and tributes to fallen Allied soldiers from across the world.
For eye-opening insights, see the well-preserved trenches and battlefields at the Beaumont-Hamel Newfoundland Memorial. Meanwhile, the Thiepval Memorial to the Missing of the Somme is the largest British war memorial in the world, commemorating over 72,000 soldiers with no known grave.
To better understand what life was like for soldiers during trench warfare, make sure to visit the Historial de la Grande Guerre museum in Péronne too. This is one of the most moving things to do in Paris' surrounding towns, and will give you a newfound appreciation for the sacrifices made by past generations.
While you can easily make the drive to the region – about 2 hours north of Paris – on your own, it's highly recommended to sign up for a guided tour led by an experienced and passionate local guide. Not only will they be able to share stories passed down from family members who fought in the war, but they'll paint a picture that will help bring the somber history to life.
58 – Shop till you drop at the La Vallee Village outlets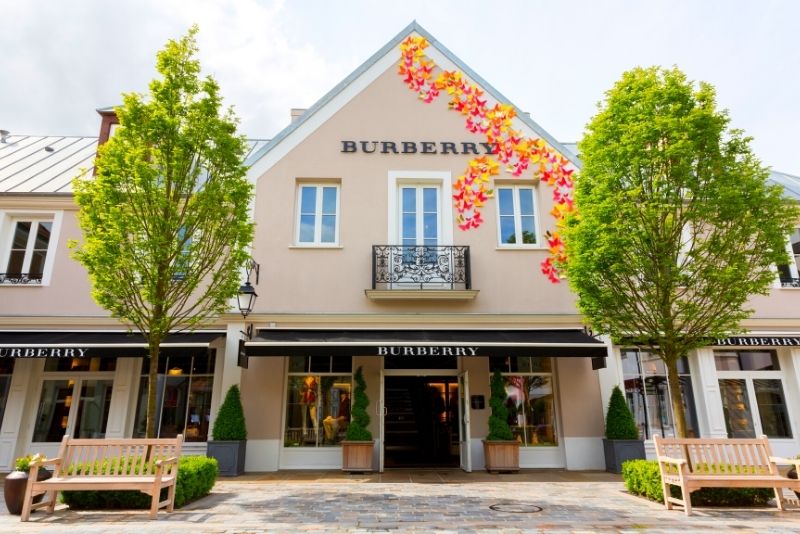 Calling all shopaholics!
Get your retail fix with luxury brands
and great discounts from boutiques like Givenchy, Gucci, Armani, BOSS, Coach, and Tommy Hilfiger in an outdoor outlet just outside Paris. All up, you'll find more than 110 stores at La Vallée Village, making it one of the biggest outlet shopping experiences near Paris.
This is the perfect place to go if you're looking for a designer handbag without the designer price tag, some new shoes, or a handful of high-end fashion and beauty products. You can easily spend an entire day here exploring all the different stores – but make sure you leave some time for lunch or dinner too, as there are plenty of great restaurants on site.
To get here, simply take the RER train from central Paris directly to Val d'Europe train station. Or, if you're feeling lazy, there are plenty of tour companies that offer round-trip transportation from Paris too: travel there and back from Paris in style by luxury coach, or step it up a notch with a chauffeured luxury BMW!
59 – Mix animals with history at Jardin des Plantes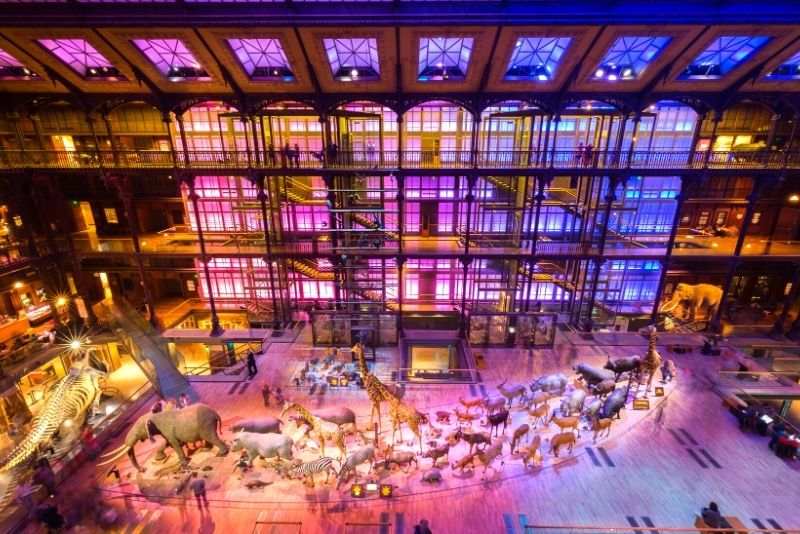 Owned by (and around the corner from) the National Museum of Natural History, the Jardin des Plantes is one of the largest botanical gardens in the world and home to some seriously impressive 19th-century greenhouses.
Spread across 28 hectares (68 acres), the 11 different sectional gardens ( alpine garden, an ecological garden, rose garden, rock garden, and more) feature more than 23,500 species of plants from around the world in both its indoor and outdoor collections.
As well as being a great place to relax and escape the hustle and bustle of Paris for an afternoon, it's also a top spot for kids – with a zoo, a mazy, and regular interactivities activities all on offer.
And while the diversity of flora always impresses, the real stars of the show are the 1,000+ resident animals in the Ménagerie (dating back to 1794), which include red pandas, tree kangaroos, tigers, and plenty
Capping off the attractions; The enormous Museum of Natural History covers taxonomy and geology like no other; the Gallery of Evolution puts animal and human life through a unique lens, and the views over the River Seine from Outdoor Sculpture Museum across the road are stunning.
60 – Take the family to locally-loved Jardin d'Acclimatation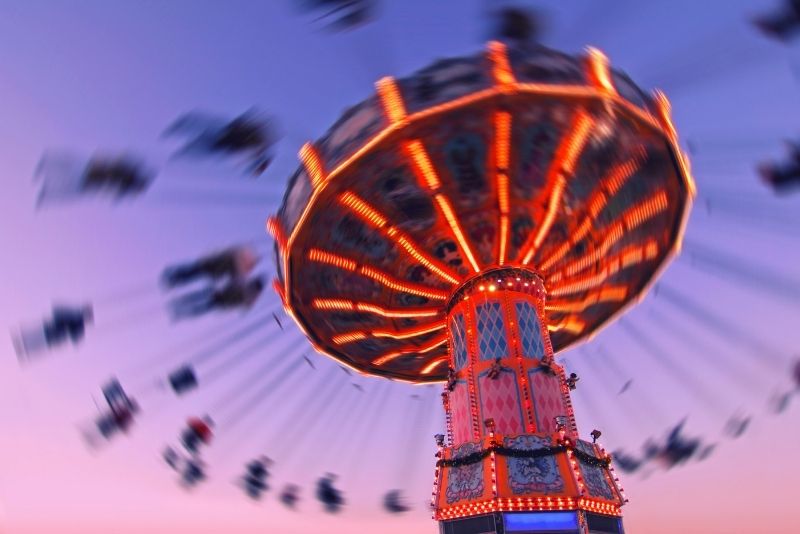 Travelers with kids, take note: if you're looking for things to do in Paris, stop by this historic amusement park – welcoming thrill and nature-seeking visitors since 1860, Jardin d'Acclimatation has long been a favorite among locals and travelers alike.
Set in the northwest corner of the Bois de Boulogne, this is one of the best things to do in Paris on a sunny day. With a smorgasbord of activities, more than 20 rides and attractions (including roller coasters, carousels, and water rides), as well as an adorable petting zoo, there's something for everyone here.
And if you need a break from the rides, take a walk through the lush gardens, meet the 400 furry and fluttery residents at the farm and aviary, or enjoy some traditional French snacks at one of the on-site cafes and restaurants.
Getting to Jardin d'Acclimatation is easy: it's just a short walk from the Les Sablons metro station.
Pro tip: allocate at least half a day to explore the sprawling Bois de Boulogne park. With miles and miles of walking paths, the Louis Vuitton Foundation, and boats for rent on the lake, the park has plenty to offer visitors of all ages..
61 – Sit front row for a Garden of Paradise cabaret!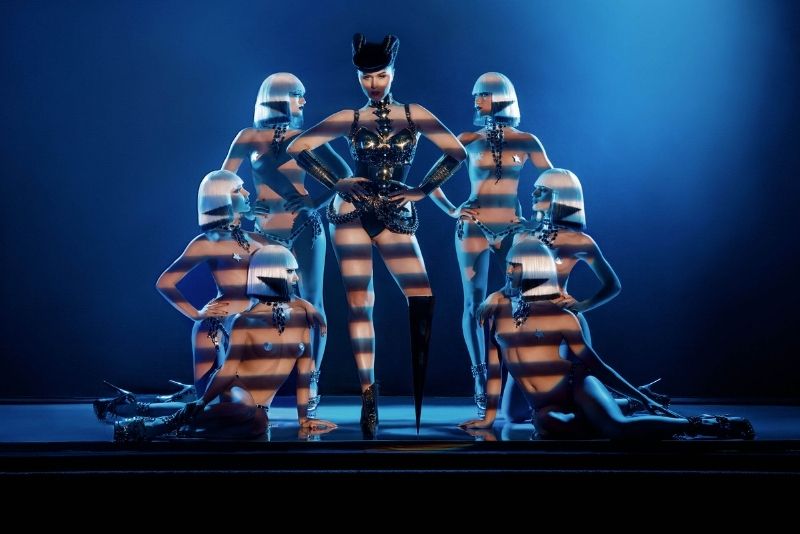 A spectacle that combines ballet with cabaret, that infamous Can-Can, and plenty of impressive acrobatics, Garden of Paradise promises a night of Latin Quarter entertainment unlike any other!
Indulge in champagne and platters of macarons while watching a performance that exudes sensuality, poetry, emotion, and humor – all combined to deliver an evening that's sure to leave you with a smile on your face. And the main menu, created by Guy Savoy, Michelin-starred chef, is an attraction in its own right.
The cabaret club has been a Paris institution since 1889 (making it the oldest European cabaret), and today the performances are as spectacular as ever. Soak up the electric atmosphere of the theater as you watch the 3-hour show, which tells the story of a waiter dreaming of ending up on stage – all within a theatre designed by none other than Gustav Eiffel (after the concept was thought up by Napoleon himself).
Thanks to its reputation, the spectacles here (namely L'Oiseau Paradis) are synonymous with the term "cabaret" across the world – and it's easy to see why. So whether you're opting for a daytime or a dinner show, make sure to book your tickets in advance!
Fun fact: the dancers, jugglers, and acrobats are led by former Miss Universe, Iris Mittenaere.
62 – Meet Asterix the Gaul (and ride heart-racing coasters) at Parc Asterix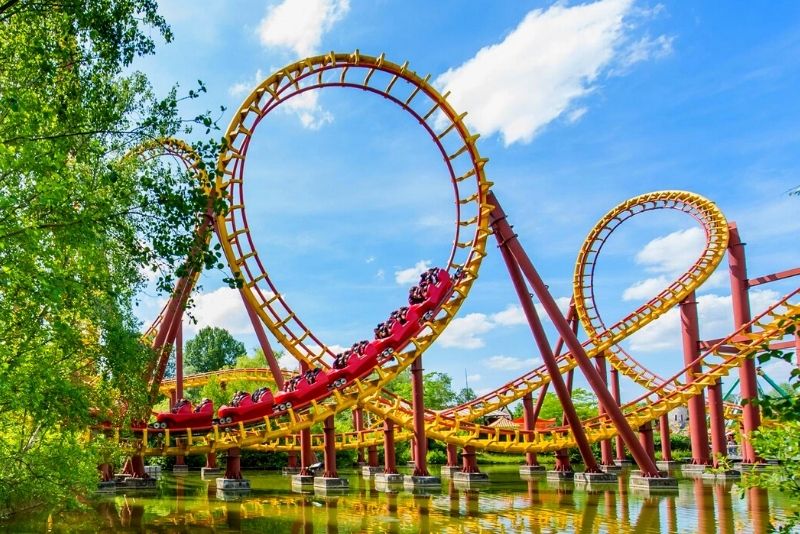 Looking for a fun family day out? Located about 40 minutes north of Paris, Parc Asterix is a must-visit for any traveler with kids in tow – behind only Disneyland, it's the city's most popular amusement park.
Based on the famous French comic book series (which has been running since 1959), this theme park brings the adventures of Asterix – who teaches children history in a light-hearted way – and his friends to life through thrilling rides, live shows, and interactive exhibits.
There are plenty of things to do here: take a journey through time at the Gaulish Village, visit the Roman Empire at its peak in The Great Divide attraction; loop all three loops on the inverted Anubis rollercoaster; meet the bubbly dolphins at Poseidon's Theater; get soaked on the Romus et Rapidus river rapids, or enjoy one of the many other adrenaline-pumping (or more relaxing) rides on offer.
And if you need a break from all the excitement, there are also several restaurants and cafes dotted around the park where you can refuel with themed eats.
Of course, with characters wandering around the park, opportunity is aplenty to snap selfies with all your favorite Gaul heroes!
63 – Embark on a safari at Paris Zoological Park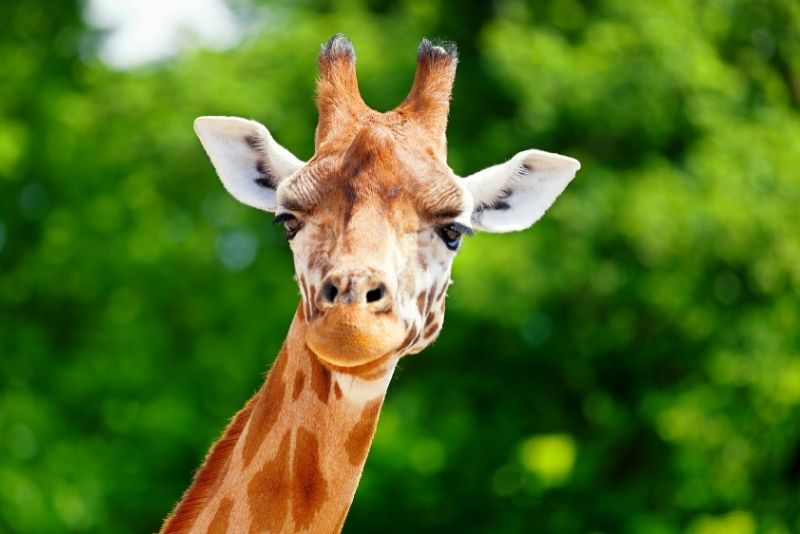 Get your binoculars and your camera! This expansive, 14.5-hectare zoo, which you'll find over in the 12th arrondissement within the enormous Bois de Vincennes gardens, is well worth a visit for anyone who loves animals.
Home to over 2,000 animals from just shy of 200 species, the diverse zoo offers plenty of chances to see some impressive wildlife up-close – from sea lions and monkeys to red pandas, jaguars, lions, zebras, and the Scandinavian lynx (to name but a few). Plus, there are several feeding times throughout the day where you can watch the animals being fed (a great photo opportunity!).
Split into five biozones, a visit here genuinely feels like you're trekking through Europe, Africa, and South America, without leaving the city! The zoo's apex (literally) is Big Rock, a 65-meter mountain towering above the lions, rhinos, giraffes, lemurs, and other Savannah creatures!
You can also learn more about endangered species and what's being done to protect them; take part in the carer for a day program, or wander through the aquarium and Tropical Rainforest dome for something a little different.
64 – Appreciate international cultures' art at Quai Branly Museum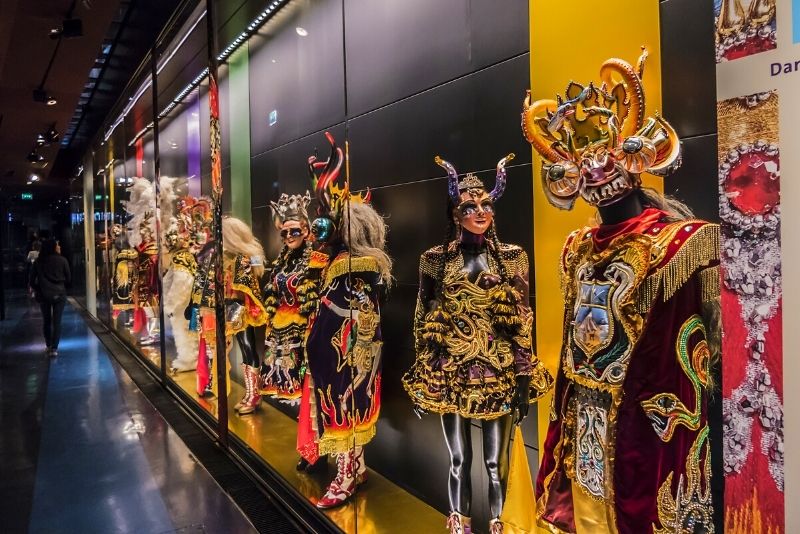 A little-known museum that always positively surprises, the Quai Branly Museum (or Musée du quai Branly – Jacques Chirac, to give it its full name) is dedicated to the indigenous arts and cultures of Africa, Asia, Oceania, and the Americas.
Housed in a stunning building overlooking the Seine (not too far from the Eiffel Tower) – with stunning gardens spilling out over its ground – the museum's interior is just as impressive, with each of its sections representing a different continent.
All up, over 350,000 works are on display (and many more in storage), meaning that the international cultural insights are near endless – whether you're admiring the totem poles from Canada's First Nations people, admiring ritual masks from India, or marveling at the fine details of decorated cars from Mexico.
There are also several rotating exhibitions, which means there's always something new to see, and the museum regularly hosts live music and dance performances, as well as film screenings, workshops, and conferences.
Fun fact: Quai Branly Museum was designed without railings. Why? So that the locals and visitors can 'break barriers' and experience different cultures, making this museum a totally immersive experience compared to many other art institutions.
65 – Book a romantic dinner cruise on the Seine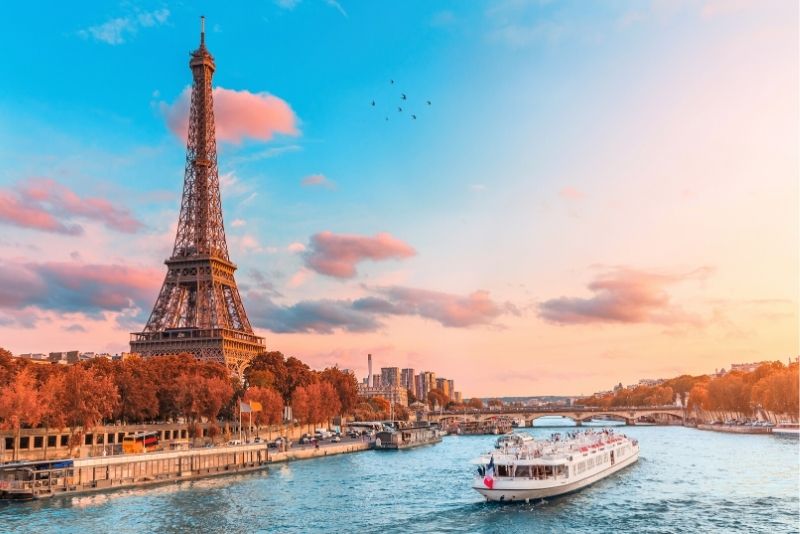 A night promising beauty and romance unlike any other, an a-la-carte dinner on the river that flows through the City of Light is nothing short of spectacular. After boarding the cruise, you'll be met with live music, plenty of serene views, and that typical Parisian magic.
Epitomizing the notion of French romance, these river dinner cruises come highly recommended. What could be more picturesque than enjoying an exquisite meal while taking in the amazing twinkling lights of the Eiffel Tower, Notre Dame Cathedral, and other significant landmarks?
With a variety of options – including open bar cruises, those with live entertainment, and even those with a more gourmet focus – there's bound to be one that tickles your fancy.
During summertime, dinner cruises run every night between April and October. You can also find lunchtime and Sunday brunch cruises, which are perfect for those who prefer to admire the riverside attractions by day.
66 – Plan a cute picnic at the Parc de Sceaux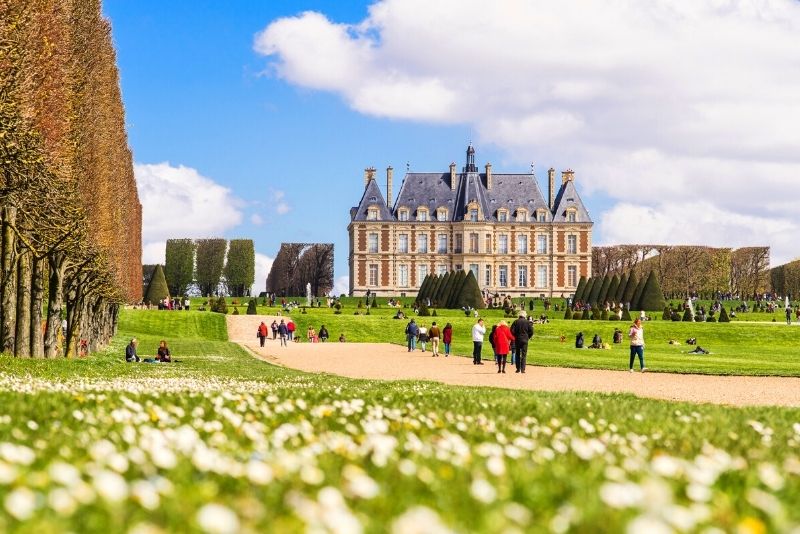 A wonderful chateau and gardens rivaling Versailles, yet only 30 minutes from central Paris by the metro (RER B line), Parc de Sceaux is a highly worthwhile attraction!
While a little less famous and a little further out than most A-list landmarks, it's the perfect green patch to relax with a book and a snack. Covering some 82 hectares, the park is one of the largest in the Paris area – and, thanks to its esteemed history and reputation, undeniably one of the best manicured.
The beautifully kept gardens feature a bounty of impressive sculptures, hedges, ponds, streams, waterfalls, and flowerbeds; all sitting in the shadows of the main event – the mid-1800s castle. Step inside the Château de Sceaux and you'll discover a museum full of art and ceramics. It's a great opportunity to learn about the grandiose State Apartments of bygone centuries, and admire the detailed period furnishings.
Hot tip: before you go, make sure to check for events first; the park hosts outdoor chamber music concerts and evening candle-lighting sessions.
67 – Hear the Paris Philharmonic (and watch an IMAX show) at Parc de la Villette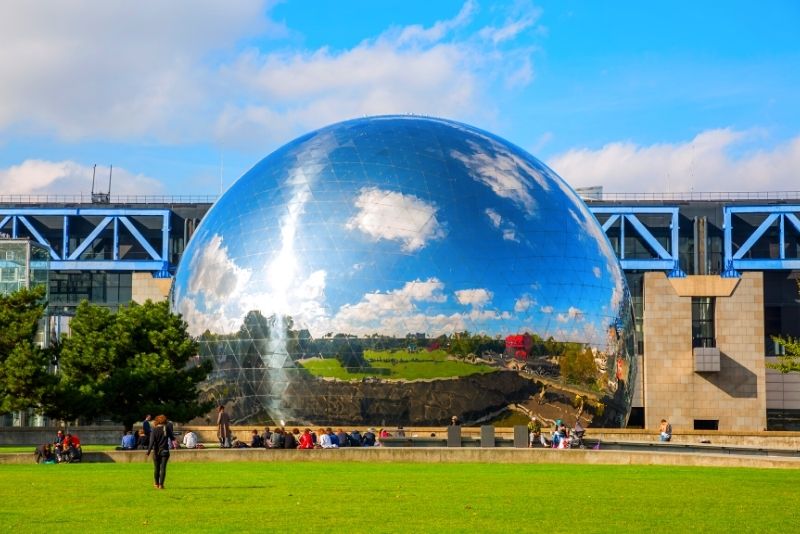 Flanked by the lovely Canal d'Ourcq, this picturesque 130-acre park is an entertainment haven.
With an IMAX theater, the Grande Halle (which hosts concerts from the Philharmonie de Paris), the interactive City of Science and Industry, and a music academy, there's no shortage of activities.
The theater shows a mix of blockbusters (with English subtitles) and more experimental works from around the world, so there's definitely something for everyone. Meanwhile, the Grande Halle is one of the most prestigious concert halls in Paris – and with good reason. The stunning glass-and-steel building has excellent acoustics, making it the perfect place to catch live music. And the City of Science and Industry, with both permanent and temporary exhibits, is guaranteed to spark curiosity for youngsters and adults alike.
The park is full of concealed gems, treasures, and entertainment (including a planetarium) sure to bring you back.
Hot tip: The Science Festival that takes place here in October every year, so time your visit if possible.
68 – Stroll through the oddly picturesque Père Lachaise Cemetery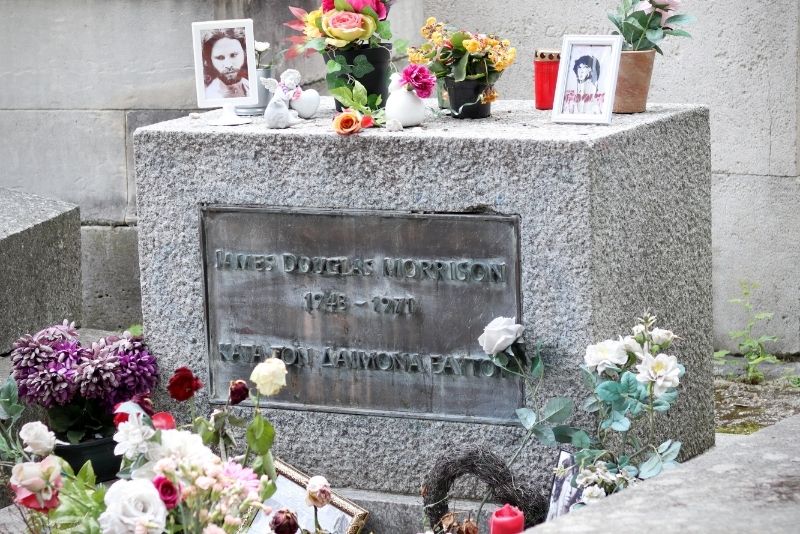 The remarkable cemetery is romantic and beautiful in a way only Paris can pull off.
As the largest cemetery in Paris, and one of the most famous cemeteries in the world, Pere Lachaise is unsurprisingly vast. With over 110 acres( 44 hectares) of land, more than 5,000 trees, and estimates of close to 1,000,000 graves, it's easy to get lost among the tombs. But that's all part of the allure – as you wander, you'll find plenty of hidden touches among what's officially the largest cemetery in Paris.
There are a few must-sees inside the cemetery, including the graves of Oscar Wilde, Jim Morrison, Edith Piaf, Georges Méliès, and Chopin. But even if you don't know who any of these people are, the cemetery is still well worth a visit for its unique atmosphere.
A guided tour of the sprawling maze will not only prevent you from getting lost, but the guide will also point out the funerary art sprinkled throughout its grounds, as well as share legendary stories of the people resting therein.
69 – Check out La Fee Electricite at the Paris Museum of Modern Art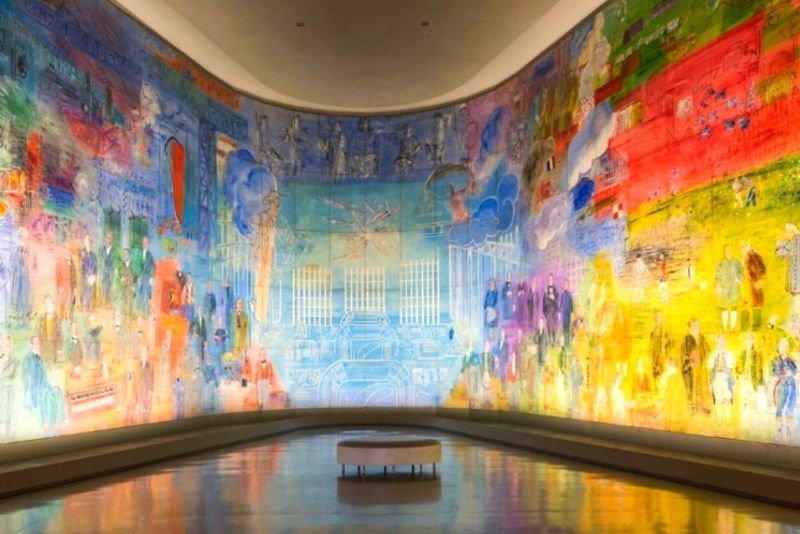 Art-lovers clearly have no shortage of things to do in Paris!
This museum, located in the gorgeous Palais de Tokyo, has almost 13,000 works from the 20th and 21st centuries' major artists and artistic movements. Diving into the world of Picasso, Matisse, and Modigliani has never been easier – or more beautiful.
The museum is spread across two floors, with a cafeteria on the top floor that offers excellent views of the Eiffel Tower (be sure to snag a table by the window).
A certain highlight, visitors love Dufy's La Fee Electricite, an electric 600 square-meter fresco about electricity starring Zeus and Benjamin Franklin!
While you're in the area, consider popping into the Musée Yves Saint Laurent Paris (see #47) before making your way over to the Jardins du Trocadéro to snap some iconic Eiffel Tower selfies.
70 – Explore old-school Paris on a vintage motorcycle sidecar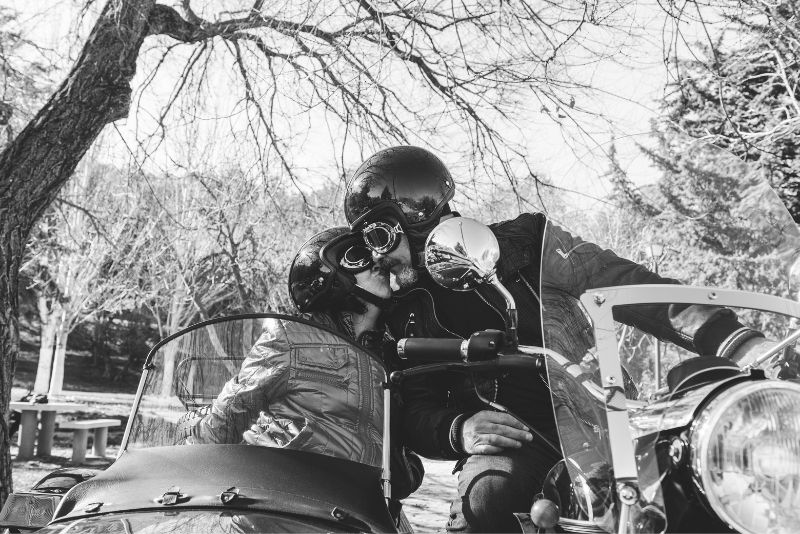 For a totally unique way of exploring Paris' romantic streets, and uncovering its hidden charms, consider taking a tour on a vintage motorcycle sidecar.
Your expert driver and guide will whisk you away to all the must-see sights, as well as some lesser-known ones too, providing commentary along the way. You'll learn about the history of Paris while getting an intimate look at its present day.
And with a handful of different itineraries to choose from, there's something to suit everyone: The Retro Classic tour will take you to both major monuments like the Champs Elysées, Arc de Triomphe, Eiffel Tower, and Champs de Mars, and some hidden heritage sites; the Great Escape lets you choose between different themes for a deep dive into either Bohemian Paris, Ile de la Cite, or the Latin Quarter; and the Retro Night tour is a romantic ride under the Parisian street-lights.
71 – Spend the afternoon shopping on the Champs-Élysées!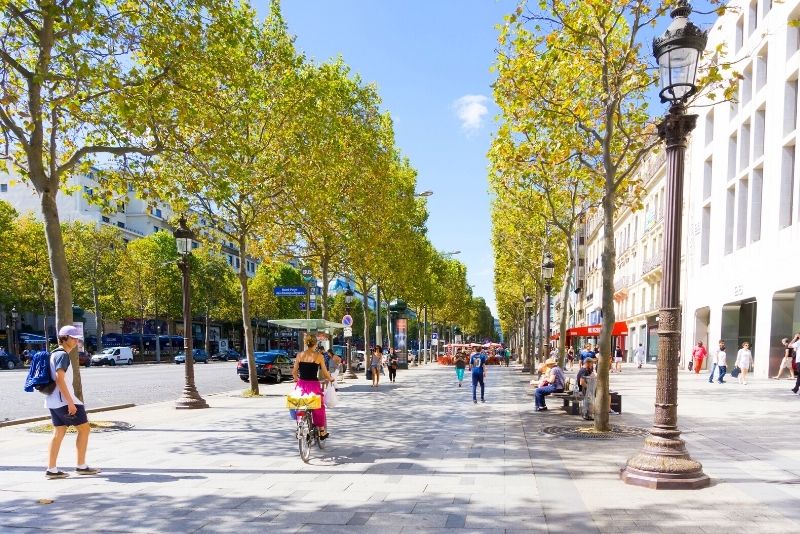 Probably the most famous street in Europe, the Champs-Élysées has an incredible, if not eclectic range of fashion boutiques!
Catch the Banana Republic's mini-boutiques serving coffee and champagne as you browse, check out the DJ sets and artworks at Levi's, meet personal shoppers who'll guide you through Hugo Boss, and why not stop for a spot of lunch at Fouquet's?
There are also plenty of high-end designer stores to window shop at, even if you can't quite afford the price tags. Think: Louis Vuitton, Guerlain, Cartier, Tiffany & Co., and Longchamp.
And if you need a break from all the shopping, the Champs-Elysees is also home to some of Paris' best museums and attractions, including the Arc de Triomphe, Petit Palais, and Grand Palais; not to mention regularly entertainment in the form of live music and street performers. Clearly, there's something new and exciting here each and every day.
Hot tip: feeling pecking, head to Laduree for a sweet treat, or pop into Fouquet's for lunch.
72 – Make your way over to the Domaine de Chantilly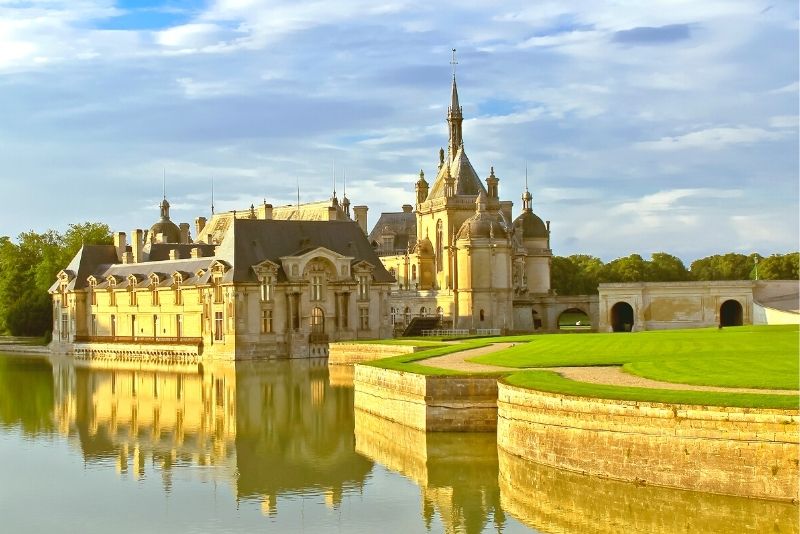 Looking like something from a Harry Potter novel, this Hogwarts-esque chateau is gorgeous, but what really sets it apart from the rest is its setting and museum.
A 7,800-hectare estate, Chantilly is surrounded by French forest with 17th-, 18th- and 19th-century gardens inspired by different parts of the world! As you stroll through, you'll find everything from the main French-style garden with fountains and water features aplenty; the Anglo-Chinese Garden, which houses the Hameau de Chantilly – a little village of seven historic homes; and the English Garden where impressive sculptures and statues, including The Temple of Venus await.
Several museums on the grounds ensure you don't leave without learning a thing or two as well, including the Living Museum of the Horse (unsurprisingly dedicated to equine art and culture), and a particularly popular attraction, the Conde Museum, which sports over 800 paintings and a beautiful, antiquated library.
Found at 50km north of pairs in the quaint town of Chantilly, this slice of living history is definitely worth the visit, best explored with an expert guide on a tour.
73 – Learn to bake oh-so-buttery croissants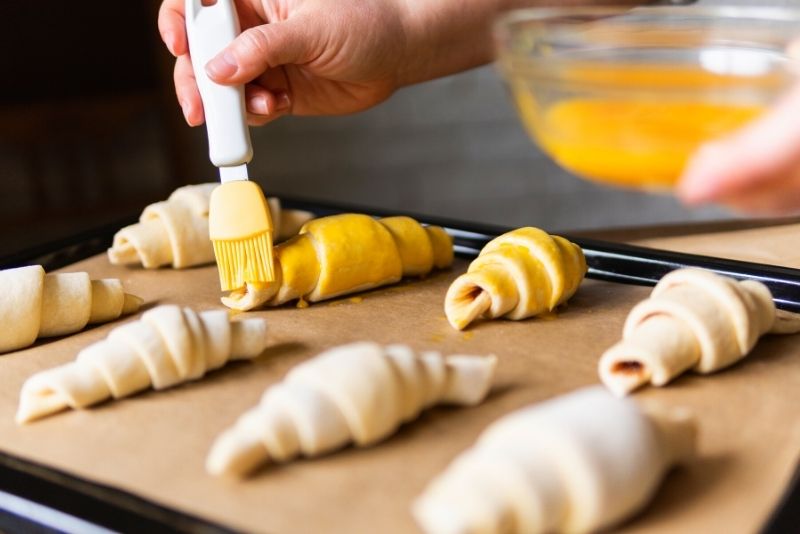 Looking for a souvenir that lasts a lifetime? How about a recipe?
The signature dish from one of the world's gastronomic capitals has to be the croissant. Steeped in history and bursting with buttery, flaky goodness, these pastries are a non-negotiable menu item in Paris.
And what better way to remember your time in the city of love than by learning how to make them yourself? You'll be surprised at just how easy it is (albeit a little messy) to whip up a batch
Take an intimate cooking class, led by a professional chef in a relaxed setting, and by the end of it you'll have all the insider tips and tricks to make these pastries at home.
Classes typically include a trip to the local market for supplies, some hands-on baking time, and of course, tasting your creations with some coffee, or a glass of wine or Champagne! You" learn every step of the recipe including the mix between the raised dough and puff pastry (which is what makes it so special) and even make a few new friends along the way.
74 – Splurge a little at the famous Parisian department stores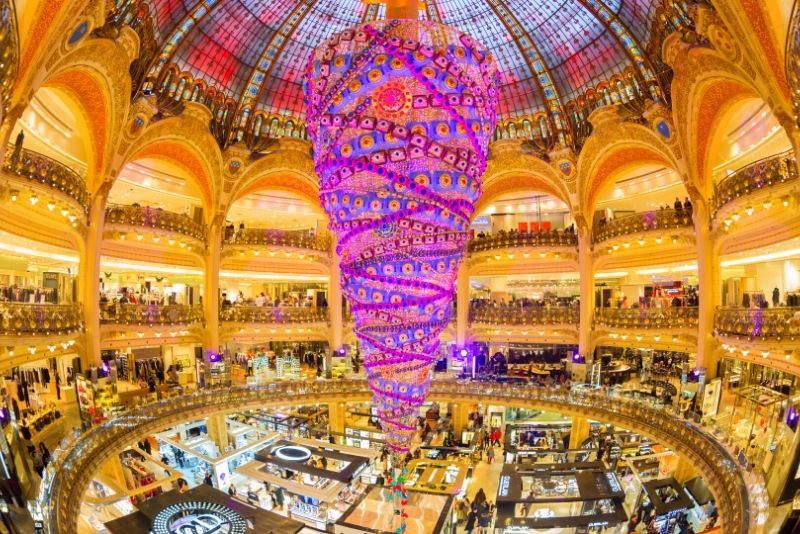 As a city famed for its fashion (and its food), it's only natural that Paris would be home to some of the world's most iconic department stores.
Printemps, Galeries Lafayette, and Le Bon Marche are all worth a visit for their sheer size and grandeur alone – not to mention the range of products on offer, from clothes and cosmetics to homewares and haute cuisine.
But these department stores are so much more than just a place to shop. They're an experience in themselves, with beautiful architecture, stunning displays, and plenty of opportunities to people-watch.
And if you need a break from all the shopping, most of them also have excellent restaurants, cafes, and bars on site.
Galeries Lafayette Paris Haussmann (founded in 1912) has both high-end and more affordable brands, with wedding dresses and an incredible restaurant; while Le Bon Marché has a hidden bookshop and is adored by style-conscious locals!
Before you go, check the VAT tax refund process to get 12% off your shopping bill!
75 – Zip through Paris's streets in a Citroen 2CV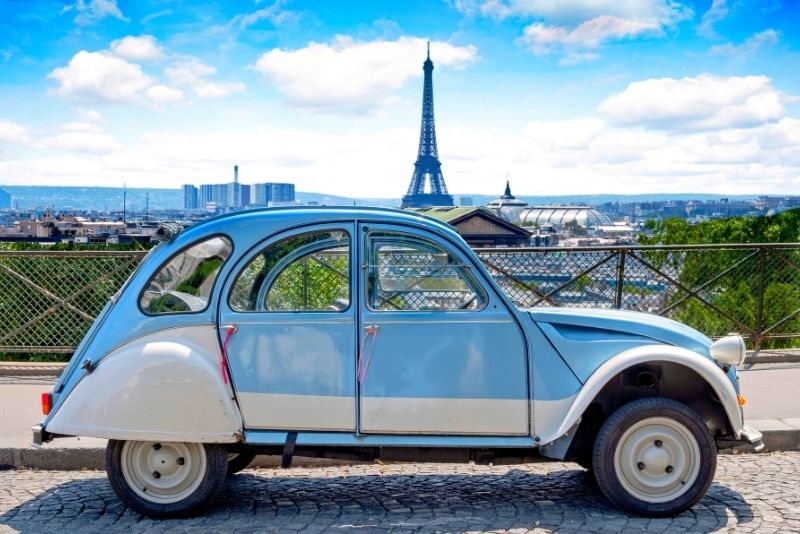 Time to experience the old-world charm of Paris in a unique way – by zip-lining through it in an original Citroën!
The three-hour tour is a great way to begin your Paris trip — you'll zoom past some of the city's major highlights, including the Eiffel Tower, the Arc de Triomphe, and Notre Dame Cathedral.
And, with your local driver's anecdotes and recommendations of extra things to do in Paris, you'll learn a lot too. While it's easy to opt for a pre-planned route, if you have any particular interest, you can also request a theme of your choice and create your very own tailor-made tour!
As you ride shotgun in an iconic French car will make you feel like a proper Parisian, this isn't just one of the more unusual things to do in Paris, but also one of the most fun.
76 – See all of France in one afternoon at France Miniature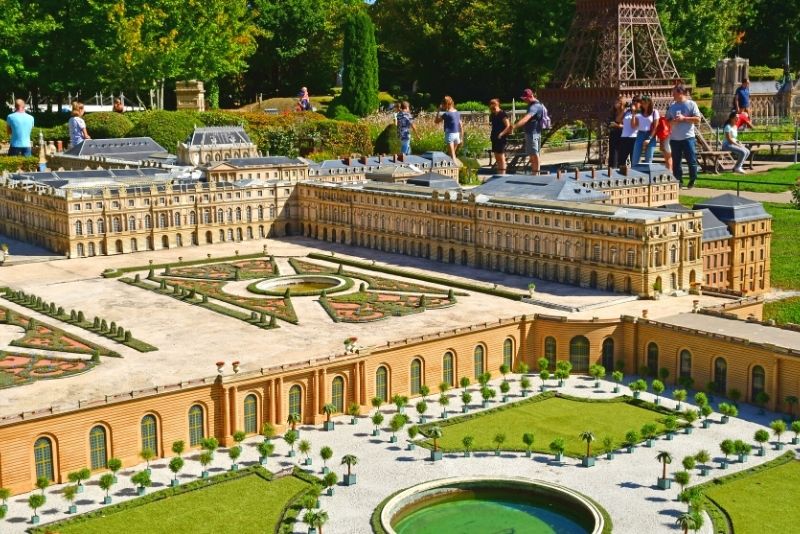 Fit all of France into one afternoon and just five hectares!
With 117 monuments at a 30:1 scale, you can get those perfect pictures with all of the iconic sites (though you will look a bit taller).
You'll be able to appreciate (small versions of) the Eiffel Tower, the Champs-Elysées, the Arc de Triomphe, Notre Dame Cathedral, and more. And if you want to see what's outside of Paris, they've got that covered too – from the Palace of Versailles to the vineyards of Burgundy and the fairytale-esque Mont Saint Michel.
This is a great activity for families with kids as there are plenty of photo opportunities, as well as a popular place to kickstart your trip and find what to do in Paris as you hear the stories behind every landmark!
You'll find the attraction off the beaten path in Elancourt, about 45 minutes west of the city, and it's easily accessible by public transport. Keep in mind, however, that the theme park is closed during winter.
77 – Get in touch with nature at Thoiry ZooSafari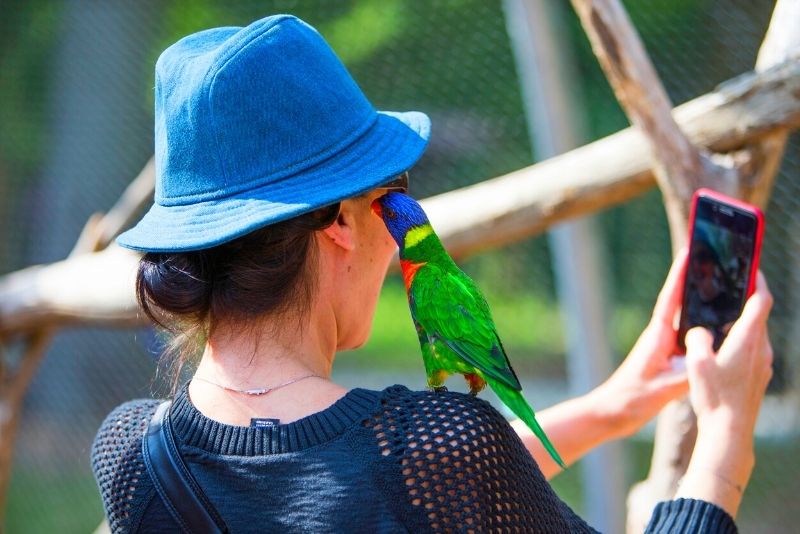 Take a day out of busy Paris to spot the lions, tigers, rhinos, elephants, and hippos on a safari that's just a short drive away. With 1,200 animals from more than 100 unique species, unlike most zoos, this one is designed to resemble the animals' natural habitats as closely as possible – vast sections of land explored in your own vehicle.
You can even overnight in one of the wooden lodges on stilts; as you wake up to the sounds of the animals and watch the giraffes stroll past your window, you'll feel like you're on an African adventure!
Thoiry ZooSafari is located in Thoiry, about an hour's drive from Paris. If you don't have your own transport, there are a few tour companies that run day trips from the city too. If you're looking for things to do with kids in Paris, this is a great option as they offer educational workshops and programs too.
After meeting the furry residents, stroll through the Botanical Garden and lose yourself in the maze filled with fragrant flowers, then visit the Renaissance-style Thoiry Castle where the staff and the guides dress in period costumes and share its secrets!
78 – Dive into the surreal at the Dali Paris Museum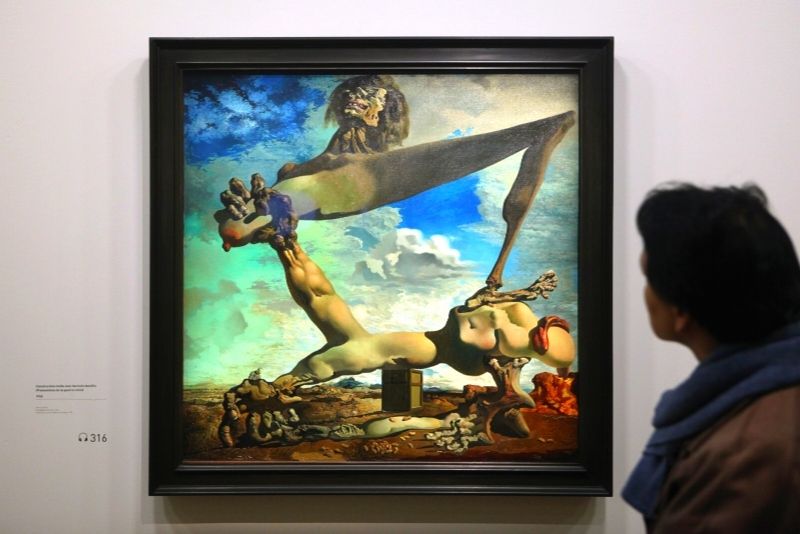 The talented Mr. Dali's works displayed here include 300 original paintings, sculptures, furniture pieces, and illustrated books, spanning everything from Alice in Wonderland to the Bible!
Dali was known for his Surrealist art, and the museum showcases some of his most famous pieces including 'The Persistence of Memory' (with its melting clocks). On the flip side, there are also little-known gems. Case in point: a film called Destino that blends Disney with Dali in a rare, eye-opening fashion – a collaboration with the great animator that never saw the light of day.
This underrated museum is one of the coolest things to do in Paris — you'll get a real sense of Dali's unique imagination and talent; and you'll scratch the surface of both the artist's complex life and plethora of interests, from atomic science to religion to antiquity. It's fair to say this is not your average art gallery!
The museum is located in Montmartre, one of Paris' most picturesque neighborhoods. After exploring the museum, take some time to wander the streets and get a cliché caricature at Place du Tertre before visiting the Sacré-Cœur Basilica, and enjoying the views from what is the highest natural point in Paris.
Hot tip: it's part of the Paris Pass, if you want to save a few bucks.
79 – Add the Musée de la Monnaie to the rainy-day list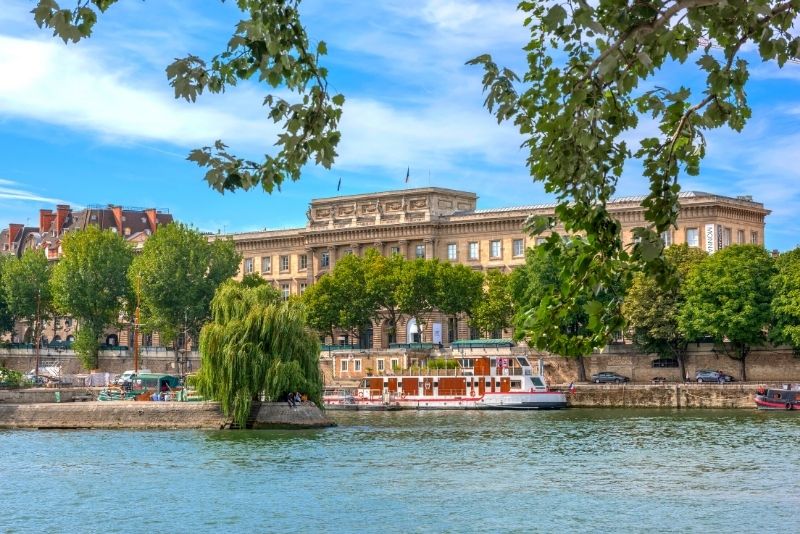 This captivating coin-making and casting museum has also been the French mint since 864 AD. Step inside and you'll uncover close to 12 centuries worthy of coin-making secrets with interactive exhibits on just how that coin ended up in your wallet. Full of artifacts, diagrams, and multimedia displays in English, it's one of the most informative museums in Paris.
And once you've wrapped up your engineering and history lesson, it's time to step up to the screw press to make your own coin — a perfect souvenir for your visit!
Located over in the Latin Quarter on the banks of the Seine, this centrally located institution holds the title of the world's oldest continuously running minting institution. Once you're wallet's stuffed, and while you're in the area, check out some of the nearby attractions too like the Luxembourg Gardens and the Pantheon.
80 – Go wine-tasting in beautiful Burgundy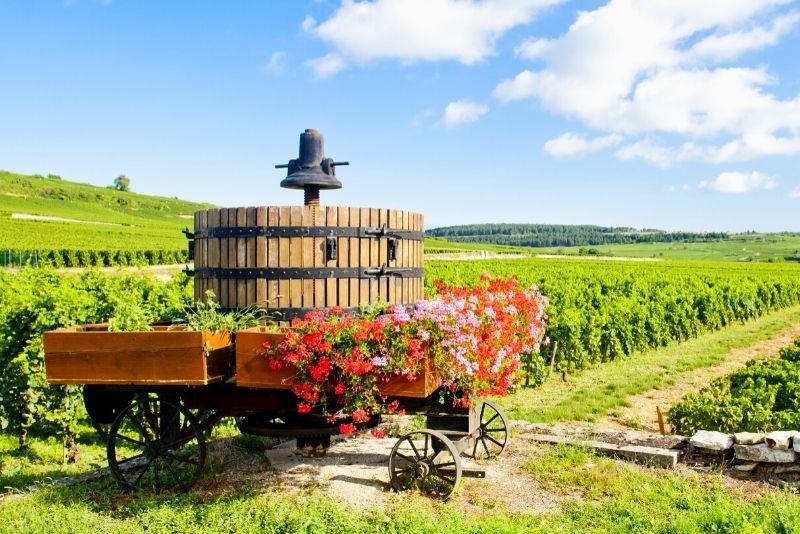 You're on vacation, after all, and nothing quite says vacation like a spot of wine-tasting in the French countryside. And what better place to do it than in Burgundy, one of France's most prestigious wine-producing regions?
The Burgundy wine region creates some of France's favorite wines — their reds are notorious for their glistening ruby color and fresh cherry aroma! And while there are literally dozens and dozens of wineries to choose from, Noyers is a must. This family-run winery, spearheaded by a 21st-generation winemaker, has been operating since 1453!
After sampling all of Burgundy's best on a tour, don't forget to buy a bottle to take home!
Depending on your travel style, there are plenty of ways to get your oenophile fix — you can join an organized group tour, hire a private driver for the day, or even just hop on a train from Paris and explore the region on your own.
81 – Visit the quirky Fondation Louis Vuitton building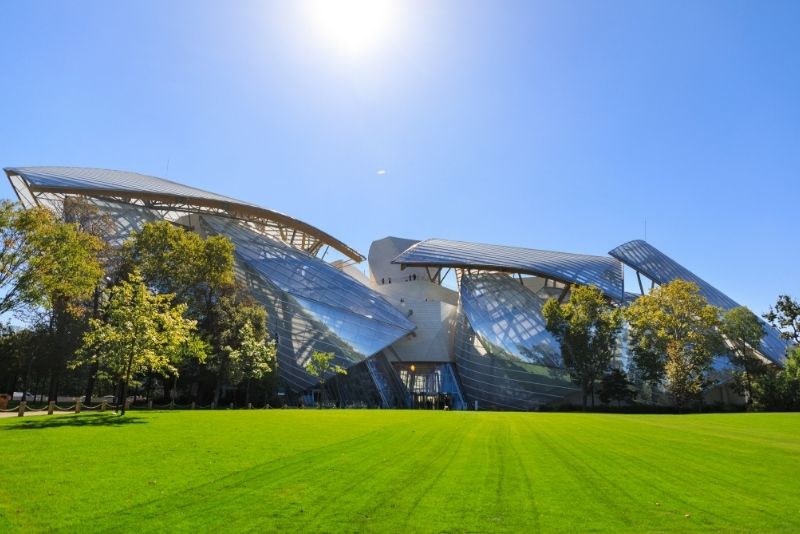 Standing out in a city full of Gothic and Renaissance architecture, the Frank Gehry-designed Fondation Louis Vuitton is one of Paris' most modern buildings. And it's a total marvel.
The building houses an art gallery with rotating exhibitions, and a permanent collection that includes works by some of the world's most famous artists, including Warhol, Hockney, and Picasso. The contemporary art collection stretches even further, containing famous works from Jean-Michel Basquiat and Jeff Koons, but visitors especially love Villar Rojas' water tank of lost objects — a unique piece incorporated into the building's structural design!
But even if you're not interested in art, the building itself is worth a visit. Thought to resemble a ship's sails, a shiny cloud, or a glacial iceberg, the Fondation Louis Vuitton is one of Paris' most unique buildings — whether you love art or not, it's something a little different from your typical Parisian postcards.
82 – Watch the beloved Bluebell girls at Lido de Paris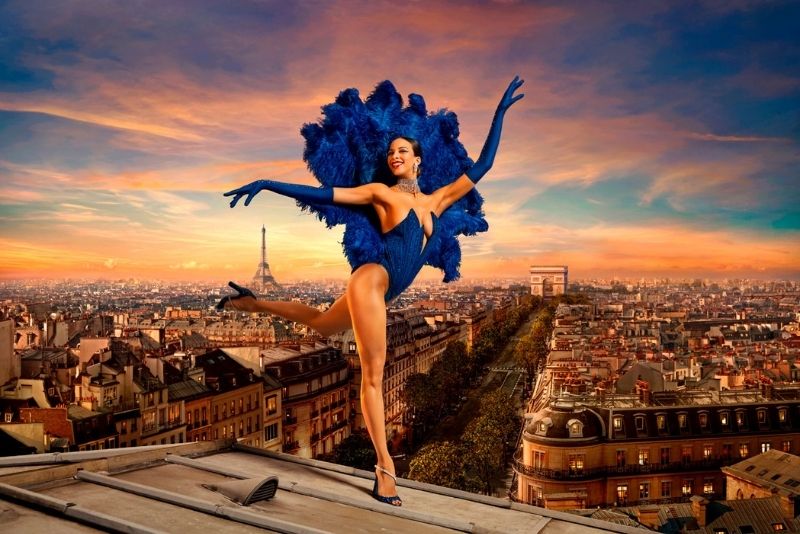 This Paris cabaret on the Champs-Elysees is relatively new to the entertainment scene, but definitely dazzles the senses! This spectacle of dancing, high-kicking Bluebell girls with engulfing music, twinkling lights, and state-of-the-art special effects – with free champagne thrown in – produces a Parisian show where fiction marries fantasy.
To cap it all off, a delectable three-course meal is included too (depending on your ticket)! And while the nightly entertainment is far from cheap, it's definitely a once-in-a-lifetime experience that shouldn't be missed.
Just a couple hundred meters from the Arc de Triomphe The Lido has been entertaining Parisians and visitors to the city since 1946, and, when combined with a pre-show stroll down the Champs-Élysées, is a surefire way to leave a mark on the memory.
83 – Wander around the Petit Palais…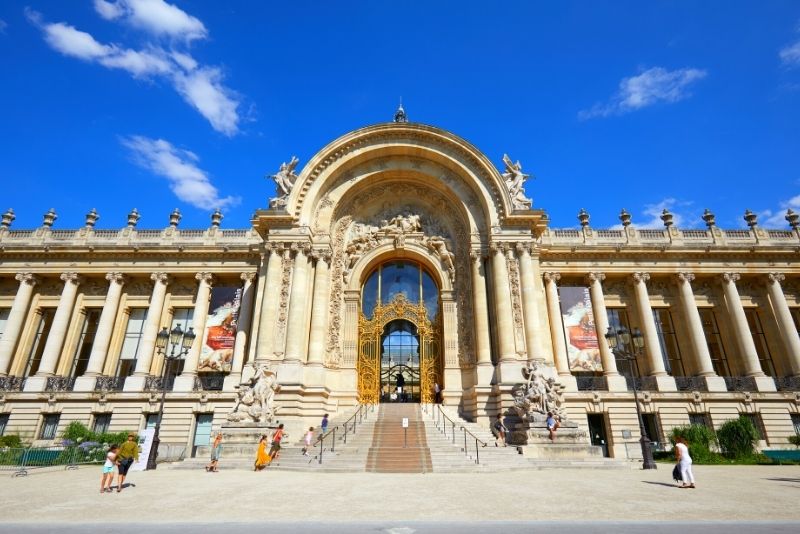 Sitting in the shadow of its big brother, the Grand Palais, the Petit Palais is often overlooked – yet purely to the detriment of those who chose to do so!
Deserving of being on a postcard if, for not what sits inside, for its Beaux-Arts style facade, the building itself merges classical and contemporary like no other. Step inside, and the allure is turned up a notch: the array of art on display is a mixed landscape ranging from ancient and medieval collections to Renaissance paintings, 19th-century sculpture, and some modern art too; while the features of the building (grand staircases, airy atriums, and a light-shooting glass roof) are as captivating as the exhibitions.
Sitting at the bottom end of the Champs-Élysées, the Petit Palais (Small Palace) is one of Paris' most underrated museums. Founded in 1900 for the World Fair, this stunning museum was designed to house fine art like paintings and sculptures, and, as such, its collection has grown over time.
Today, it's expanded to include a range of artifacts from different periods in history, but the focus is still very much on the arts. And, as an added bonus, the museum is free to enter!
84 – …and then pop into the Grand Palais (home of the Leviathan)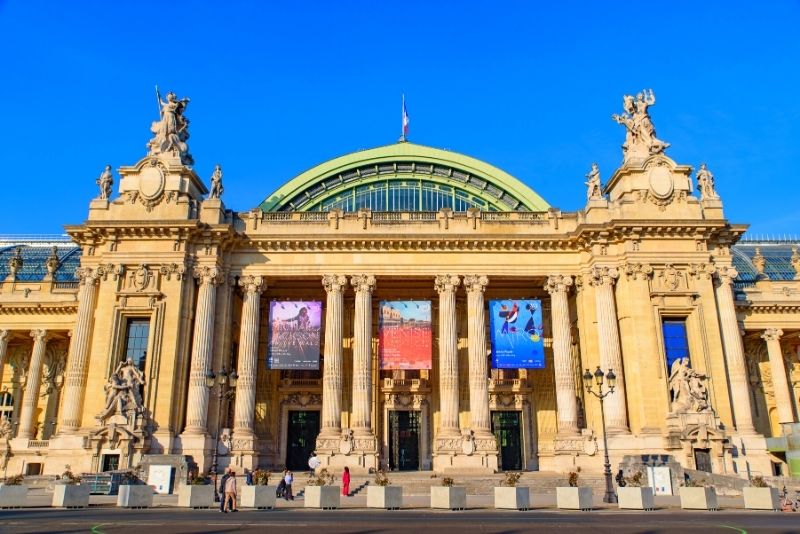 The more modern-looking brother of the underrated Petit Palais, the impressive  Grand Palais
is up there among Paris' must-see free attractions. More than just a gallery, the venue showcases an eclectic history as a military hospital, truck depot, fashion catwalk, and equestrian venue to boot.
The museum welcomes a range of temporary exhibitions, which have included everything from fashion to ancient artifacts, but the real star of the show is the building itself. With a massive glass roof and a vast central nave, as well as the National Galleries (where art exhibitions are held), and the Palais de la Découverte (science discovery museum), the Grand Palais is a veritable powerhouse of Parisian culture.
Even if you don't go inside, it's definitely worth a walk past to see the imposing building and, if you're lucky, one of the many free art exhibitions that are often held in the open-air courtyard. Thanks to its location between the Seine and the Champs-Elysées, odds are you'll be wandering past it at some stage anyway!
In terms of art, the Leviathan is massive in both its size and its cultural impact — certainly one of the world's most popular pieces on display.
85 – Relax by the fountains at Jardin du Luxembourg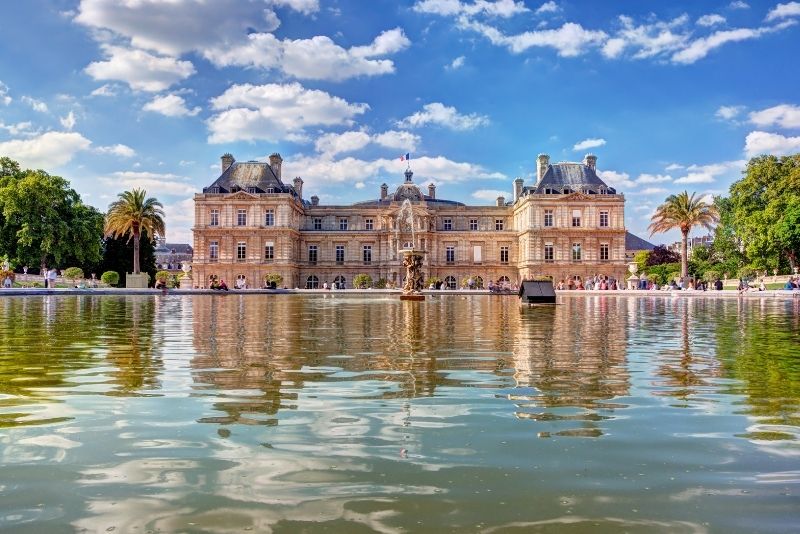 A meeting place for students, tourists, and Parisians alike, the Luxembourg Gardens (Jardin du Luxembourg) is one of the French capital's most beloved green spaces.
The gardens were first built in 1612 for Marie de Medici, the widow of King Henry IV, and they've been open to the public since 1789. Today, they span 23 hectares (57 acres) and are home to a number of attractions, including the Luxembourg Palace (Palais du Luxembourg), the Senate, an orangerie, several museums, an apple orchard, bee-keeping apiary, and – most famously – the Luxembourg Garden's fountains.
The fountains are a particular highlight in the summer months, when the gardens are thronged with locals and tourists alike, all seeking a respite from the heat of the city.
The lush green space, which you'll find in the 6th arrondissement, is split into French and English gardens, with 106 statues scattered throughout; making the centrally-located park a favorite spot to take photos and read a book, or just for a casual stroll.
86 – Opt for a brunch date at Place des Vosges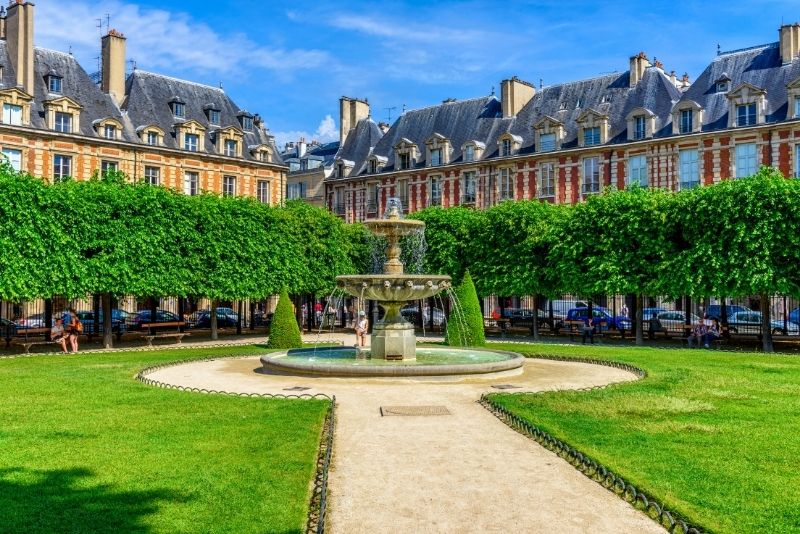 The crown jewel of the fashionable Marais district is Paris' most elegant and well-kept historic square, with fountains in a central green area lined with red-brick mansion houses: the Place des Vosges.
Sporting a history that dates back to the 15th century, this was where the Hôtel des Tournelles held royals, and which continues to wiled the title of the is the oldest planned square in Paris.
Nowadays, the area surrounding the Place des Vosges is one of the most sought-after addresses in Paris, with high-end boutiques, galleries, and some of the city's best-rated restaurants calling it home.
If you're looking for a bite to eat, brunch is the perfect meal to have here: but before indulging in a bite and a glass of wine on the terraces looking out over the square, consider browsing through the nearby art galleries too.
87 – Walk in the footsteps of a great the at Maison de Victor Hugo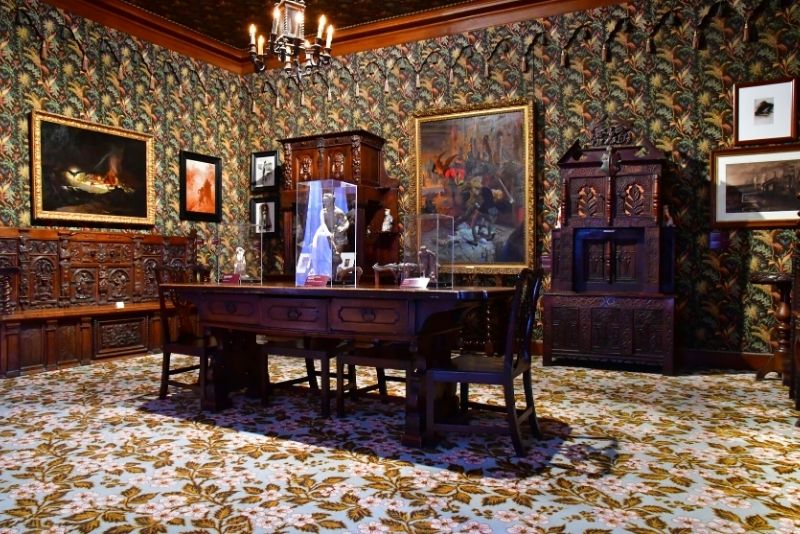 One of literature's greatest minds and most important political figures once called this building home, and today it stands as a monument to both his life and work.
The Maison de Victor Hugo is located in the Place des Vosges (mentioned earlier), which just so happens to be where the writer lived for 16 years, from 1832-1848.
Whether you walk around on your own time, or join a walking tour of the area, it's hard to pass up the chance to see the house where Hugo wrote most of Les Miserables! Looking around his apartment in fashionable Marais, visitors can notice the furniture and decor representing the stages of his life: before, during, and after his exile.
And, thanks to the informative displays, you can learn all about Hugo's life as he brought forth the Romantic literary movement before transitioning into politics.
88 – Catch a unique show at Versailles Academy of Equestrian Arts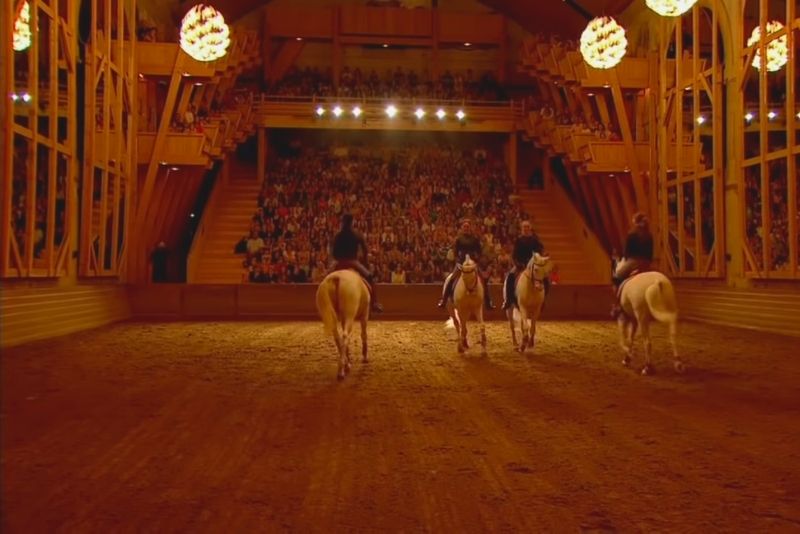 More than just a horse-and-pony show, this corps de ballet combines equestrian dressage with song, dance, fencing, and Japanese archery for a truly once-in-a-lifetime experience.
No show is complete without meeting the stars of the show — the horses — with a tour of the stables. Don't forget to say 'hay'…
Of course, thanks to its location within the Royal Stables, spending the day wandering around the city and the Palace of Versailles (famed for its extravagant gardens and chandeliered Hall of Mirrors) is a non-negotiable.
89 – Conquer the Ferris wheel at Le Jardin Des Tuileries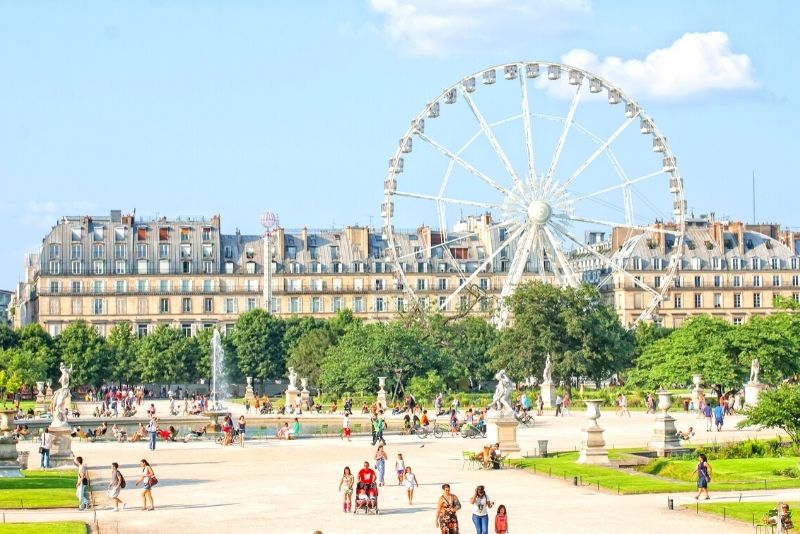 Looking to beat the crowds, escape the chaos, and enjoy a bird's eye view of some of Paris' most famous landmarks?
The 160-foot tall Ferris wheel in Jardin des Tuileries will give you just that. Situated in the heart of Paris near the Louvre Museum, the Tuileries Garden is one of the largest public parks in the inner-city area; and despite its central location, it still delivers a healthy dose of fresh air.
These perfectly manicured Parisian gardens are a peaceful place to relax by the pond and read a book, but they come alive during the summer fête and Christmas markets!
The views from the Ferris wheel of the nearby Louvre and Place de la Concorde, are astounding. Meanwhile, the 1900s merry-go-round, complete with wooden horses, takes visitors back to a simpler time.
90 – Eat (too much) ice cream at Berthillon on Ile St Louis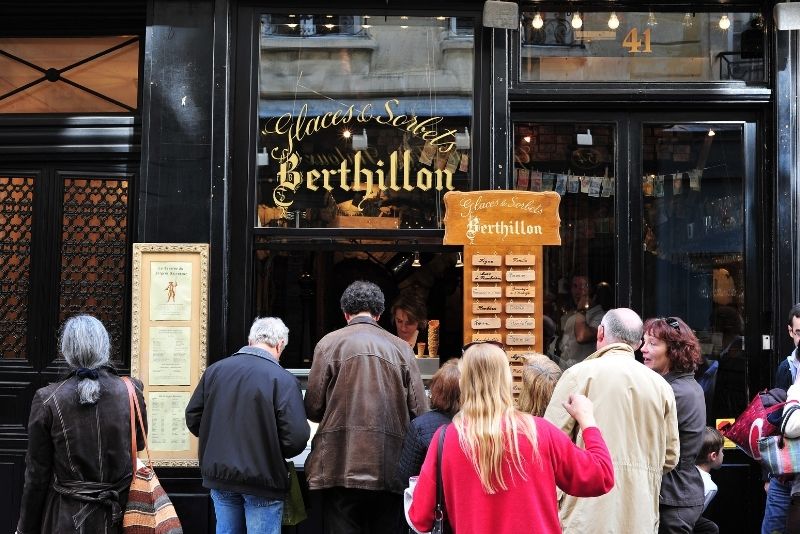 This ice-cremerie and tea room, owned by the same family since it was founded in 1954, makes arguably the best sweet treat in town (sorry, Laduree, not this time).
The all-natural fruit sorbets are a summer icon, while the richer ice creams – covering all of the flavors under the sun, from chocolate and vanilla to more unique options like mint and mango – will have your taste buds tingling.
The lineups can be long at the flagship store, but it's definitely worth the wait to enjoy a scoop (or two) of this creamy goodness in one of their quaint little cafes.
Grab a cup or cone to go, and then take a moment to slow down and watch the nearby boats as they float down the Seine around the Île St Louis.
91 – Pop into the Cluny Museum (where you'll find 'Lady and the Unicorn')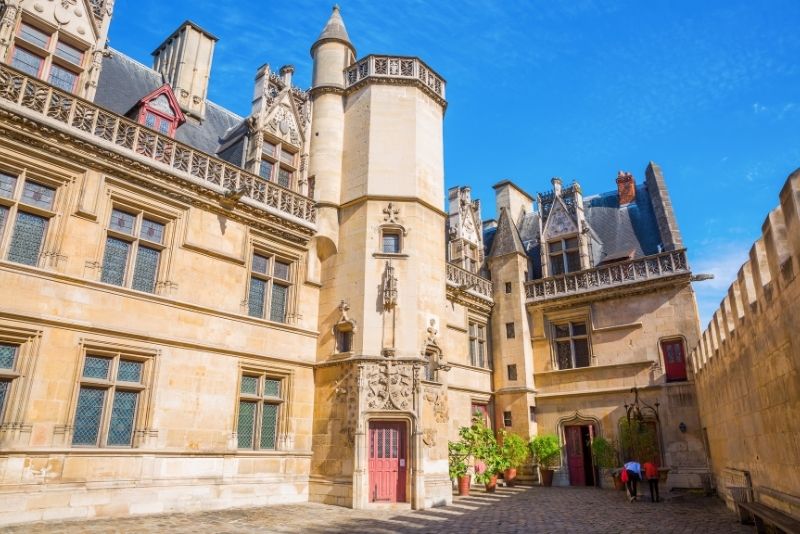 The National Museum of the Middle Ages – also known as the Musée de Cluny – is considered to be the leading art and history museum devoted to the Middle Ages in France.
The 'Lady and the Unicorn' tapestry is the Mona Lisa of its time, but it's far from the only notable work; the well-preserved Roman baths, glimmering jewelry, stained-glass windows, and tombstones each bring history to life!
Found over in the Latin Quarter near the Sorbonne, the Cluny is a must-visit for anyone interested in learning more about Paris' rich past. And, dating back to 1843, it serves as a piece of history in its own right; its medieval abbey finding itself on many a postcard.
92 – Cheer on your lucky number at a horse racing event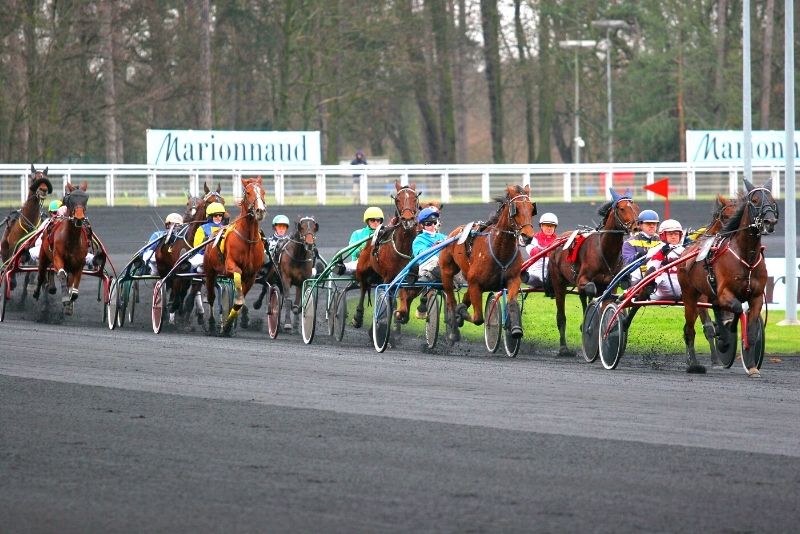 While Paris is famed for its food, its romance, and its fashion, it would be remiss to not give a nod to its equestrian and horse racing culture.
Competitive horse racing has been popular in France since the 18th century, with the first official races taking place at the Hippodrome de Longchamp in 1857.
These days, you can catch a live race almost any day of the year. The ParisLongchamp hosts more than half of the country's Group One races, with the Prix de l'Arc de Triomphe in October attracting international horses and jockeys, and some serious ballers looking to make a few bucks.
Auteuil, on the other hand, which you'll find in the sprawling Bois de Boulogne, hosts modern steeplechase events and has the claim to fame of holding equestrian events back in the 1924 Olympics. Last but not least, the Hippodrome de Vincennes (on the southern side of the Bois de Vincennes) specializes in harness racing.
93 – Get lost in the beauty of South America at Parrot World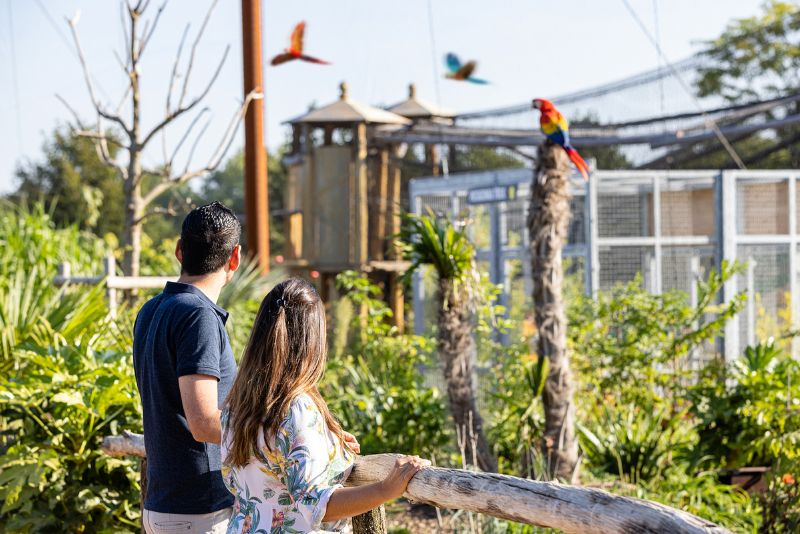 Embark on a thrilling journey to South America at Parrot World – the first immersive wildlife park dedicated to the wonders of this continent.
Embark on an adventure like no other with the Amazonia Trek, where you can immerse yourself in the wonders of one of the largest aviaries in Europe. Behold the awe-inspiring parrots and other exotic creatures that call the Amazonian forest their home. Along the way, be on the lookout for the regal jaguars, charming giant otters, striking red ibis, and striking pink flamingos that roam the park.
Meanwhile, the Patagonia Trek offers a glimpse into the enchanting world of Patagonia and its magnificent wildlife. Get an up-close look at the Humboldt penguin colonies as you observe their behavior at the pool's edge. Encounter the guanacos and rheas, rare species that are exclusive to the region and cannot be found anywhere else in France.
Ready to swing into adventure? So come and be a part of this amazing journey and discover the beauty of South America's landscapes and its incredible wildlife.
94 – Stop to smell the roses at Parc de Bagatelle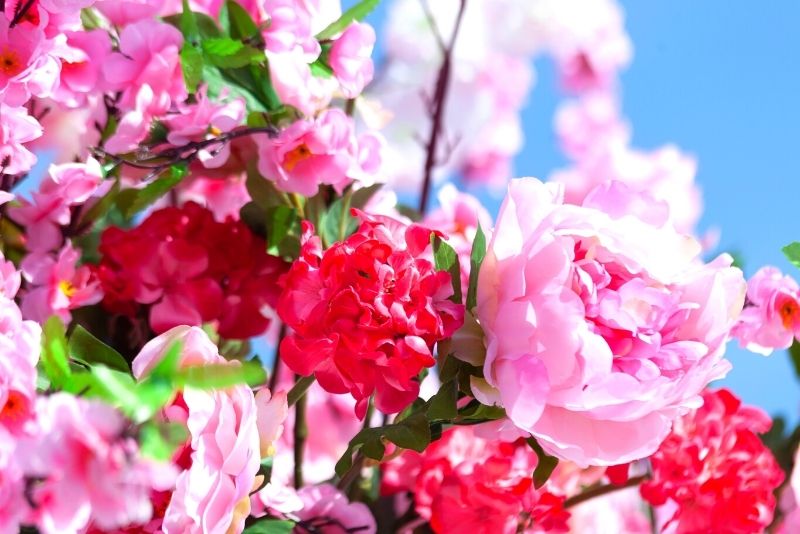 The 18th-century park and chateau were built after a wager between Marie-Antoinette and her brother-in-law — quirky history aside, it's impossible not to love the charming gardens for their over-the-top decoration.
The 19th-century, Chinese pagoda, Roman ruins, grottoes, and artificial waterfalls make for an eclectic Instagram feed, but the real showstopper is the rose garden.
Over 10,000 roses of hundreds of different species bloom from May to October; if you're visiting during peak season, the floral scent will be intoxicating as you stroll around this beautiful oasis in the 16th arrondissement (within the Bois de Boulogne).
Although it hosts classical music concerts in summer, the park itself is worth exploring regardless of what's on.
95 – Jump in the world's biggest hot-air balloon (and fly over Parc Andre Citroen)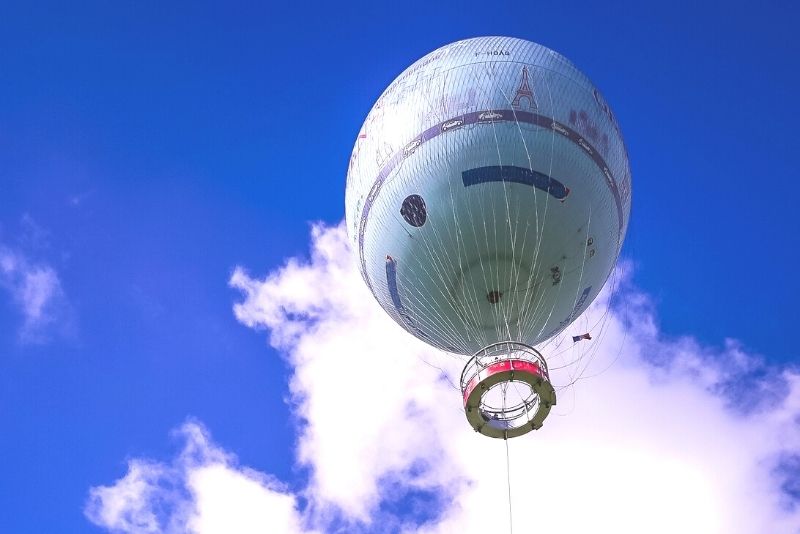 Ready for lift-off? A bucket-list activity for thrill seekers; after braving the pre-dawn alarm clock, getting a quick safety briefing, and climbing aboard the aircraft, you'll soar to 150 meters on the Ballon de Paris and float above one of the most beautiful cities in the world, so don't forget to bring (and hold tightly onto) that camera!
The balloon (which, measuring 22 meters or 72 feet in diameter, is the biggest on the planet) launches from and lands in the modern Parc Andre Citroen on the bank of the Seine. On a clear day, you'll be treated to 360-degree views of the Eiffel Tower, Notre Dame Cathedral, Sacré Coeur Basilica, and a whole lot more.
96 – Get behind the wheel of a Ferrari
Ready to put the pedal to the metal?
If you've always dreamed of owning (or, at least, driving) a supercar, then a hot lap at one of Paris' many racetracks is about to be a dream come true.
Choose from a Ferrari 458 or 488, a Ferrari California T, or even diversify with a revved-up Lamborghini, powerful Audi, or lavish Porsche as part of a package deal.
With a handful of tracks to choose from – including the Circuit de La Ferté Gaucher, Circuit de Trappes, and Circuit de Montlhéry – spread around the city, you can easily find something that suits your plan.
Of course, if you don't want to get behind the wheel, you can always ride shotgun – arguably an even more intense experience!
97 – Eat at one of many Michelin-starred restaurants!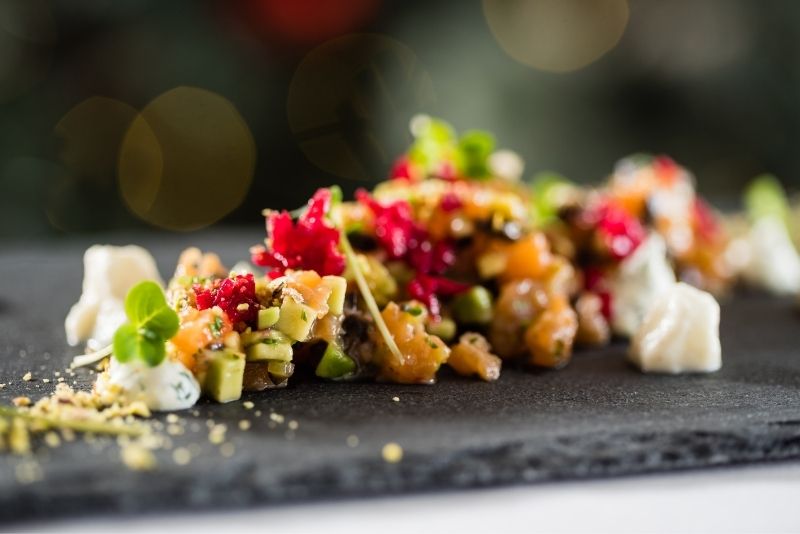 Around 150 Michelin stars have been given to Paris' restaurants — just let that sink in. To enjoy a 3-star restaurant on the cheap, head to Pierre Gagnaire and order the tasting menu, or try Le Pre Catelan's lunch menu.
Otherwise, Palais Royal has a sunny outdoor terrace and wine workshops, while Frenchie is competitively priced with a menu rotating every fortnight.
Epitomizing the notion of fine dining, names like Arpège (the premier vegan restaurant in Paris), Frenchie (feeling like a trendy hipster café with a 5-course tasting menu), La Tour D'Argent (with views of Notre Dame), Le Cinq (the go-to for seafood, at the Four Seasons Hotel George V), and Le Jules Verne on the upper levels of the Eiffel Tower, should all be on your foodie bucket list.
Who says incredible food has to break the bank? Quinsou, Auberge Nicolas Flamel, Pantagruel, and Granite are restaurants with stars where you can dig into a spot of award-winning lunch for less than €50-€60.
98 – Embrace the atmosphere of a jazz club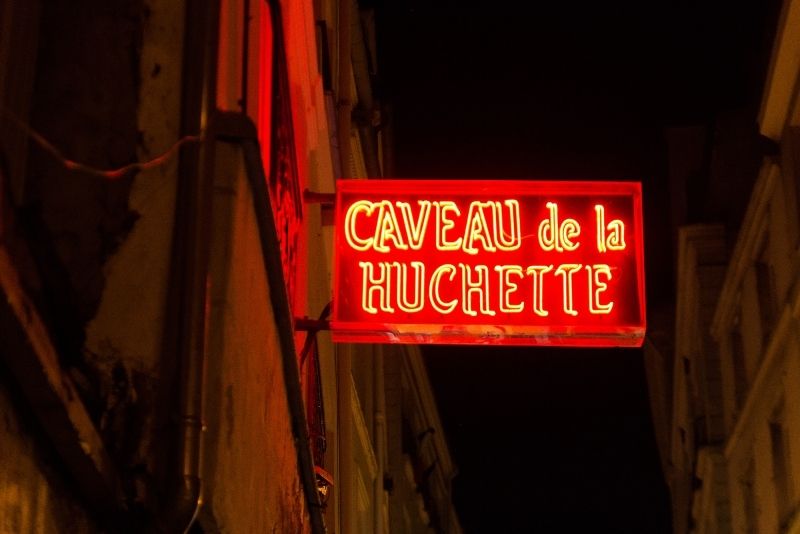 A city where melodies echo throughout the cobblestoned laneways, Paris is unquestionably the center of European jazz. Spread all over the city, from the Marais to Saint-Germain-des-Prés and beyond, are a plethora of atmospheric bars and clubs cranking out tunes every night of the week.
For an authentic speakeasy experience, check out Le Baiser Salé in Les Halles (next to Châtelet metro); this place oozes cool with its exposed brick walls, neon signage, and jazz bands playing live until the early hours.
If you can find the hidden, underground Caveau de la Huchette, it focuses on 1920s jazz – so come dressed for the part. The intimate and modern Duc des Lombards is also a great jazz venue, while the relaxed Caveau des Oubliettes offers soul and blues too!
Other notable spots include Les Deux Magots and Café de Flore (both immortalized by Hemingway), and La Chope des Puces (a local favorite in Saint-Ouen).
99 – Book a sultry cabaret show at Crazy Horse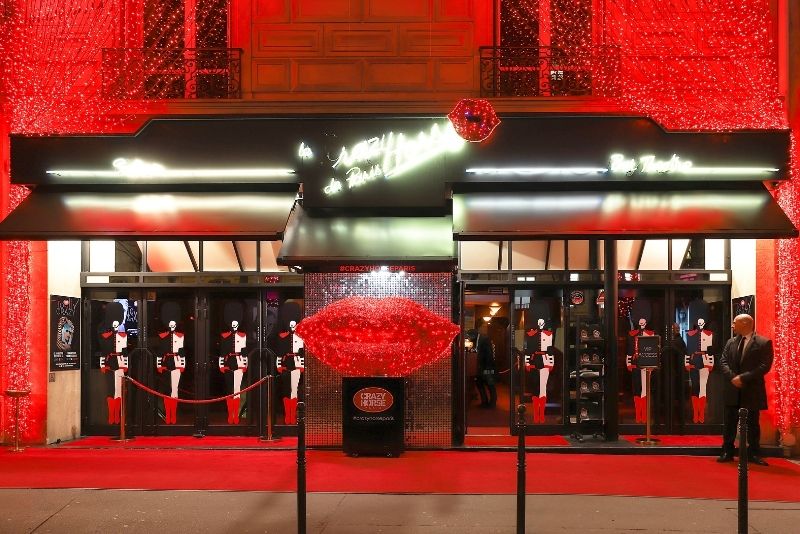 For a titillating night out, book your tickets to the world-famous Crazy Horse – an iconic Parisian cabaret (inspired by American saloons) that's been dazzling audiences with its raunchy shows since 1951.
With its signature red velvet seats and stage bathed in pink light, the theatre oozes sensuality. The current show, Désir, features a bevy of beautiful dancers wearing little more than strategic body paint and feathers, as they perform choreographed routines for 90 minutes to the music of famed international names.
The provocative yet tasteful cabaret is not just an artistic marvel, it is a celebration of femininity — just sit back in your velvet armchair, have some champagne and canapes, and enjoy your evening
100 – Drift around corners at Paris Kart Indoor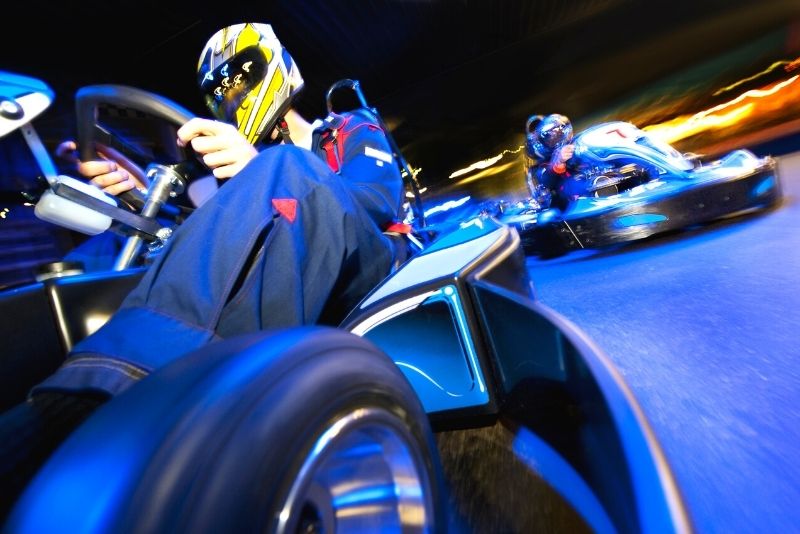 If the local traffic is taking its toll, add this heart-racing experience to your list of things to do in Paris!
At Paris Kart, which wields the title of France's largest indoor karting track, you'll be speeding through 700 meters of adrenaline-pumping indoor track, twisting around corners, over hills, and navigating tricky hairpin turns.
Complete with multiple levels and shock absorbers, it's real-life Mario Kart without the annoying banana peels.
101 – Check out the Insta-worthy views from the Trocadero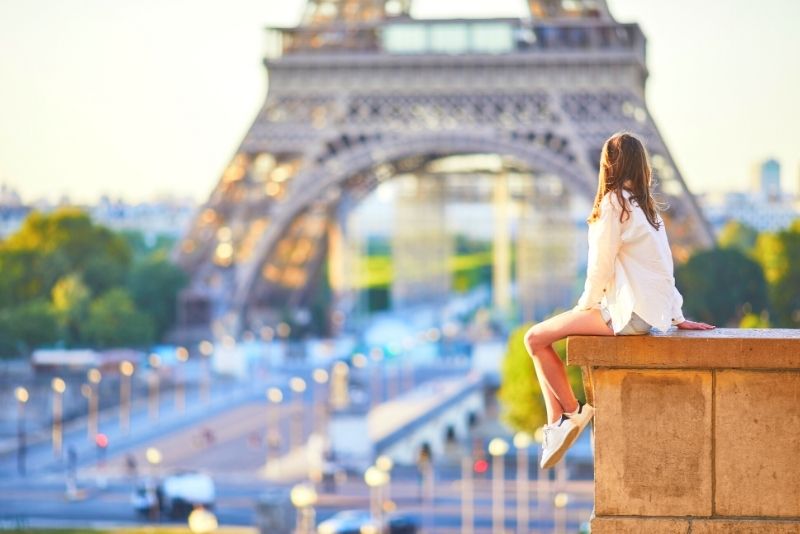 Home to some of the most iconic views of Paris, across the Seine from the Eiffel Tower, Trocadero is unmissable! Always buzzing with tourists, photographers, street performers, food carts, tour groups, and more, there's never a dull moment at this popular haunt.
As for its features, the beautiful, Moorish Trocadero Palace looks out of place (in a good way, arguably), while the grandness of Palais de Chaillot and its nearby gardens are awe-inspiring. And if you put on your artist hat, the building's giant wings, a notable element, look like a majestic bird, rising from Paris.
If you embark on a walking tour of the area, odds are you'll pass by this outdoor tourist magnet – if not, pop it on the list for a solo wander.
Looking for a Paris hotel?
From rustic palaces to chic boutique hotels, Paris has a place to stay for every type of traveler.
If you're looking for all-out luxury, then consider the Four Seasons Hotel George V (where Michelin-starred restaurants await), La Réserve Paris, Ritz Paris, the Grand Hotel du Palais Royal, or the Hôtel Plaza Athénée, where you'll be blessed with unbeatable views of the Eiffel Tower.
For something with all the bells and whistles that fits into more appropriate budgets, take your pick from the Hotel Saint-Germain, Hotel Bienvenue, Hotel Gustave, or Le Sénat, to name a few.
Of course, you'll find no shortage of penny-pinching hostels too – none more renowned than St Christopher's Inn.
Where to next?
Thanks to its location in the heart of Western Europe, Paris is a short flight (or train ride, or road trip) to a slew of noteworthy destinations. Across the pond, London oozes its own brand of charm, while Barcelona (a 2-hour flight) will have you fawning over Gaudi's architecture and stunning Mediterranean coastline. If you're looking for an alpine escape, consider Geneva or Zurich. And if beaches are more your speed, Nice and Cannes in southern France are picturesque seaside towns that embody the go-slow Riviera lifestyle!
Within the border, all of Lyon, Marseille, and Bordeaux are a short train ride away (allowing you to tick off the best places to visit in France ), while both Brussels and Amsterdam make for easy weekend getaways.
Final thoughts
Thanks for checking out our collection of things to do in Paris!
If you have anything you'd like to add to the list, feel free to leave a comment below. As always, happy travels! Or as the locals say… Bon voyage!