Skydiving in Paris is the ultimate way to experience the countryside surrounding the City of Lights. Thrill-seekers can put their courage to the test and take the meaning of sightseeing to dizzying new heights.
Leaping from the sky at 4,000 meters takes nerves of steel, but the adrenaline rush makes it worth the effort. So, once you've ticked off the main city sights, why not add a Paris skydiving tour to your schedule?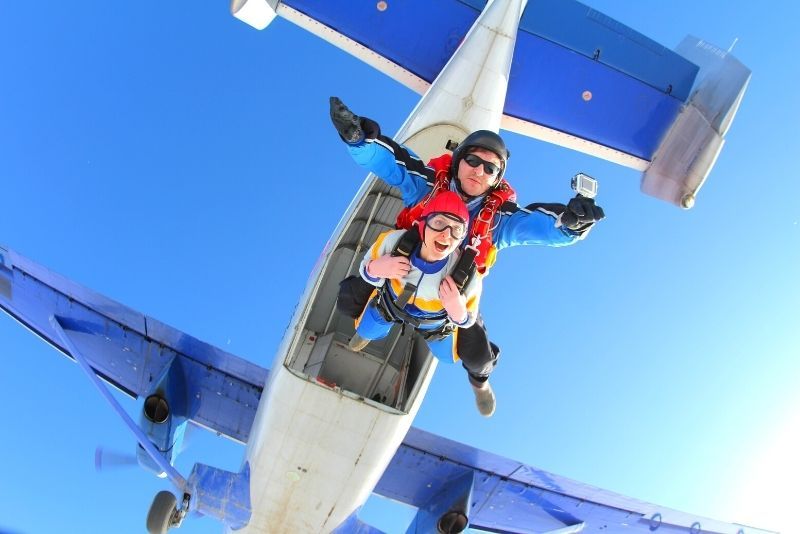 What are the best skydiving tours in Paris?
Skydiving in Paris takes place outside the capital, giving you a unique taste of the French countryside. You can choose from a tandem experience with an instructor, or a static line jump if you prefer to go solo. Either way, this is an incredible outdoor adventure in Paris.
Tandem Paris skydiving tours
The most popular skydiving experiences in Paris are the tandem jumps. These are suitable for beginners as you'll be attached to a qualified instructor who will control your descent. Tandem jumps take place in both Péronne and St. Florentin – the itinerary follows the same format.
Once you have arrived at the aerodrome there will be a 15-minute briefing and time to get kitted up. Then you'll board the plane and ascend to around 4,000 meters, ready for your jump.
Enjoy the views before plunging out of the door, attached to your instructor. Scream in delight as you free fall for around 50 seconds, feeling the rush of adrenaline coursing through your body. Finally, the parachute will open, and you can catch your breath during a leisurely glide back down to earth.
After your jump, you'll head back to the aerodrome to de-kit and prepare for your onward journey.
Static line skydiving in Paris
For an extra burst of adrenaline, you can do a solo skydive, even if it's your first time. You'll be jumping from the plane using a static line, which means the parachute will open automatically, just at the right moment.
After making your way to the starting point near Péronne, you'll be given a training session on the ground. Your instructor will explain the techniques used during a free fall, and how to fly the canopy once it has unfurled.
Then it's time to head up into the clouds. The flight takes about 10 minutes to reach 1,100 meters, at which point you'll be attached to the static line. The doors will be flung open, and the instructor will tell you when to jump.
Enjoy up to eight seconds of free falling before the canopy opens, then relax as you gently descend for a further 10 minutes. You will be given directions via radio toward the landing site.
When your feet are firmly back on the ground, take a moment to celebrate your achievement. Then unclip from your harness and get ready for your journey back to Paris.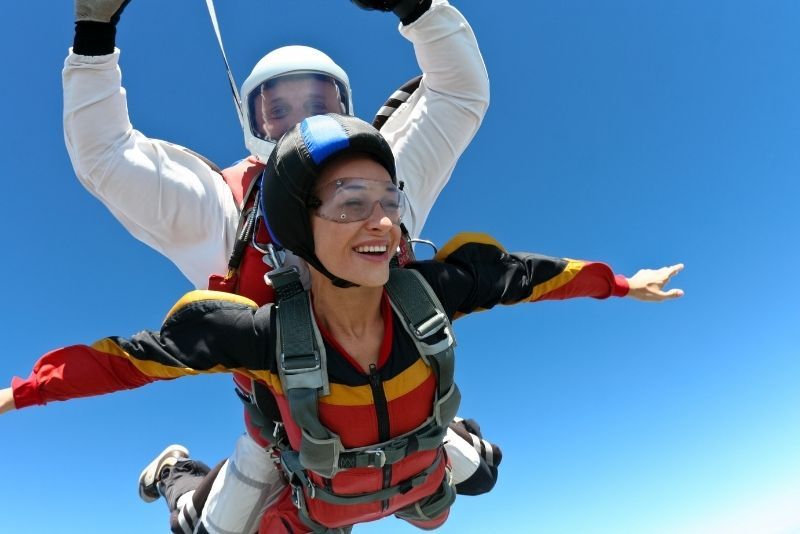 How much does skydiving in Paris cost?
Paris skydiving tours in Péronne cost €260 per person and include a tandem jump with an instructor. Meanwhile, the St. Florentin experience is priced at €255 per participant.
The static line jump in Péronne is a bit cheaper at €215 per person. This is a cost-effective way to achieve the same thrills as you would during a tandem experience.
What is included in a Paris skydiving tour?
All necessary skydiving equipment and safety gear
Fully qualified instructor
Flight from the aerodrome
Some Paris skydive experiences include a video of your jump
None of the tours include transfers from Paris so you will need to make your own way to the departure points.
Where do skydiving tours in Paris start?
Skydiving experiences in Paris take place at the aerodromes in either Péronne or St. Florentin, both of which are some distance from the city.
St. Florentin lies 170 kilometers southeast of Paris in the Burgundy region and Péronne is 150 kilometers to the north. The best way to reach these countryside locations is by car.
How long do skydiving tours in Paris last?
Skydiving in Paris usually takes a couple of hours, including training and flight time. The jump itself comprises up to 50 seconds of free fall, followed by around 10 minutes of controlled parachute descent.
These tours take place outside Paris, so don't forget to factor in your travel time to the departure point. Allow at least half a day for most experiences.
When is the best time to go skydiving in Paris?
Skydiving in Paris takes place in both the morning and afternoon, so you can choose a time slot that fits in with your schedule. Summer is the most popular season therefore advance reservations are a must! Some operators offer jumps over winter too – this is mostly at weekends.
It's best to book the experience towards the beginning of your trip. This way you'll have time to reschedule should the weather decide not to play ball.
Is it safe to go skydiving in Paris?
A decent level of fitness is recommended for skydiving tours in Paris as this is quite a physical undertaking.
Skydiving is not advisable for those with heart conditions or vertigo, and you should always speak to your doctor before embarking on this activity.
Participants must present a medical certificate less than three months old to prove that they can take part in the jump. The weight limit for most experiences is 90 kilograms including clothing and shoes.
Are children allowed to go skydiving in Paris?
For safety reasons, the minimum age for Paris skydiving tours is 15 years. All participants under the age of 18 must be accompanied by an adult.
What happens in case of bad weather?
Skydiving trips in Paris are weather dependent, so if conditions are unfavorable, your tour will be canceled. Your operator will usually be in touch the day before to confirm whether the trip is going ahead.
You can postpone to another date or receive a full refund.
Which other outdoor activities can be experienced in Paris?
Travel tips
Paris Skydiving experiences sell out during peak times so it's a good idea to book well ahead. Compare prices online for the best deals.
Wear comfortable outdoor clothing and flat-soled trainers suitable for landing in a field. Take a fleece or thin jacket as it will be cold up at altitude.
As these experiences take place outside of Paris, you might want to take some water and lunch. Just save the eating until after your jump!
If you want to go slower, you can even have an incredible indoor skydiving experience in Paris.