Take to the skies on a hot air balloon flight in Paris and discover a different side of the city. These aerial observation decks are among the largest balloons in the world – they're tethered to the ground for a smooth experience.
Paris hot air balloon rides are perfect for adventurers, photographers and romantics. You'll enjoy views of iconic landmarks from your lofty perch, so don't forget your camera.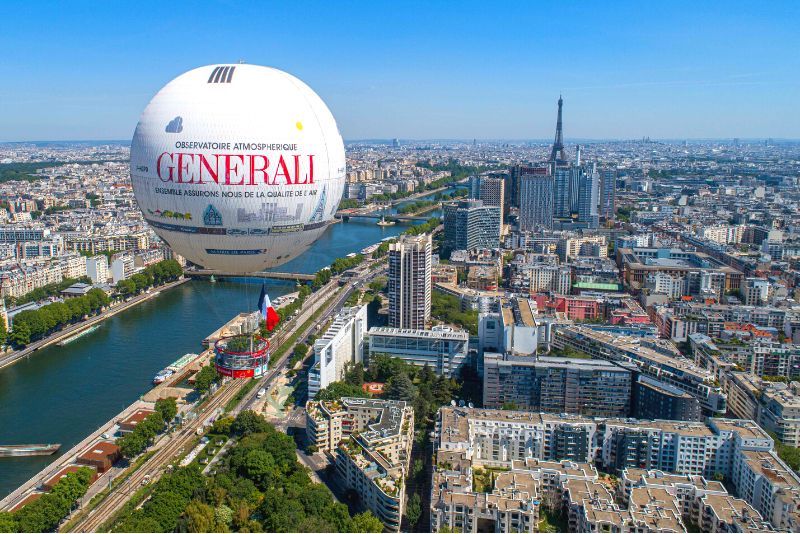 What are the best hot air balloon rides in Paris?
Parc André-Citroën hot air balloon ride in Paris
On these hot air balloon rides in Paris, you'll be treated to some of the best panoramas in town, as the balloon is attached at the ground of Parc André-Citroën. You'll have ample opportunity to soak up the views from all angles, with The Eiffel Tower and the River Seine creating the perfect backdrop.
The flights are offered on a first come, first served basis, so you may have to wait in line for your turn. Once you arrive at the front of the queue, it's time to climb into the basket.
When everyone is on board the gondola, you'll begin your gentle ascent to 150 meters. After several minutes in the sky, the balloon will slowly descend back down to earth. Exit the basket and take a few close-up photos before heading off on your next outdoor adventure in Paris.
Disneyland Paris hot air balloon flight
On this PanoraMagique Paris hot air balloon experience you'll be floating high over Disney Village. When it's your turn to climb into the gondola, make sure you bag a prime viewing spot by the rail.
The ascent to 100 meters is seamless, and you'll be high in the sky before you know it. You'll have six minutes to enjoy this unique bird's-eye-view of the Disneyland Parks and the Walt Disney Studios. On a clear day you can see up to 20 kilometers!
There will be up to 30 passengers in the gondola, which is huge so there is no need to jostle for space.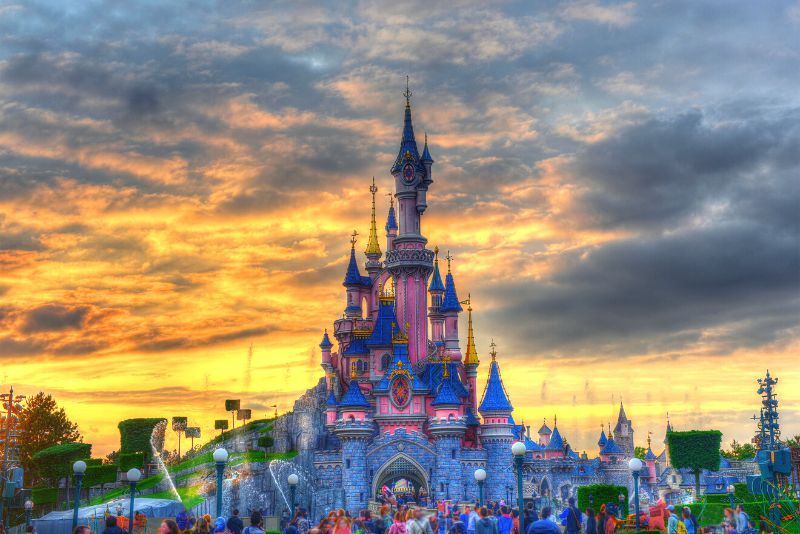 How much do hot air balloon flights in Paris cost?
The tethered city hot air balloon rides in Paris cost €15 per adult, and €8 for children aged between 3 and 11 years. Children under 3 years can enjoy the ride free of charge.
For the PanoraMagique balloon flight at Disney Village expect to pay €18 for passengers over 12 years. Children aged from 3 to 11 years cost €12, while those under 3 years are free.
What is included in a hot air balloon ride in Paris?
A short safety briefing and a panoramic flight are included in these Paris hot air balloon experiences. No equipment is required, just a sense of adventure.
It makes sense to combine the PanoraMagique balloon ride with a day out at Disneyland Paris. Tickets for the parks can be purchased separately.
Hotel pickups are not provided for either experience so you will need to arrive at the sites under your own steam.
Where do hot air balloon rides in Paris start?
The most popular hot air balloon ride in Paris is the tethered experience in the city. This can be found in the Parc André-Citroën. To arrive there by train, hop on Line C and get off at either the Javel or Boulevard Victor stop.
The PanoraMagique balloon can be found beside the lake in Disney Village. You can visit during a day trip to Disneyland.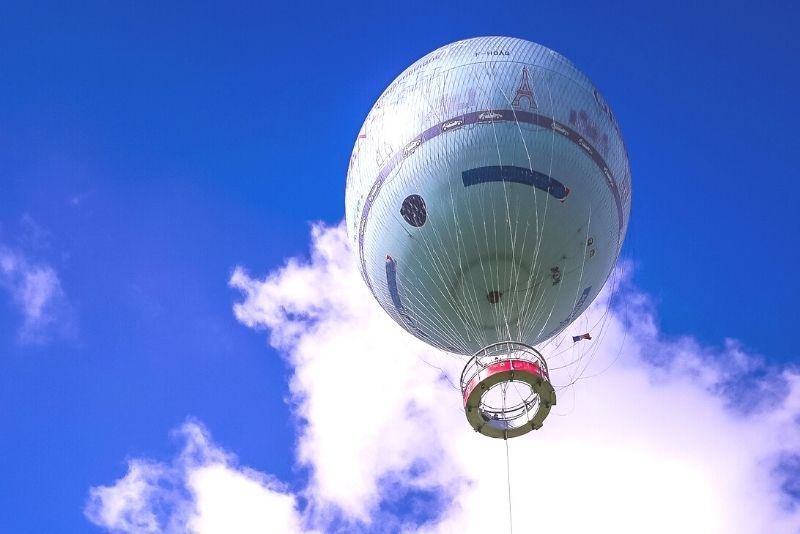 How long do hot air balloon rides in Paris last?
On the city hot air balloon trips in Paris, you'll spend several minutes up in the sky. This is plenty of time to soak up the views and take photos of the historic center from above.
The Disney Village balloon flight lasts six minutes, including the short ascent and descent time.
When is the best time for a hot air balloon ride in Paris?
Tethered city hot air balloon rides in Paris are available from 9 AM until half an hour before the park closes. As time slots cannot be pre-booked, there can be a long wait during crowded periods. Come in the morning on a weekday for shorter queues.
The Disneyland PanoraMagique flights are in operation between 9 AM and 11 PM in summer, and 10 AM and 8 PM during winter. To avoid a long wait, get there first thing in the morning or later in the evening.
Is it safe to take a hot air balloon ride in Paris?
Absolutely! The balloon will be anchored to the ground by a strong cable so there's no danger of it floating off into the city.
If you have a serious health condition or suffer from vertigo, hot air balloon flights in Paris are not recommended. Consult your doctor beforehand if you have concerns.
Are children allowed on a hot air balloon flight in Paris?
As these Paris balloon rides are tethered to the ground, they're safe and suitable for children of all ages.
The large gondola remains stable throughout the experience, making the sky accessible for families.
What happens in case of bad weather?
As with all hot air balloon flights, Paris's tethered experiences are weather dependent. Participants are advised to call the provider the day before to check their flight is going ahead.
In the event of a cancellation, you will be given a full refund if you are unable to reschedule. It's a good idea to book a balloon ride toward the start of your trip, just in case it has to be postponed.
Which other air activities can be experienced in Paris?
Travel tips
Tickets for hot air balloon rides in Paris are valid indefinitely – you do not need to stick to a specific date.
Booking ahead means you will avoid the hassle of having to purchase tickets on the day.
Lines may be long during the peak summer season and at weekends so factor in some waiting time.
For safety reasons, pregnant women are not permitted on these Paris balloon flights.
Make sure your camera batteries are fully charged – the views are incredible!