Escape from Paris and dive into the magic of Loire Valley. Known for its world-famous vineyards, châteaux (castles), medieval towns and its bustling markets, the Loire Valley is a must-visit region for France first-time visitors.
Enjoyed by the Kings of France in the past, the Loire Valley is nowadays highly appreciated by tourists. Included in UNESCO's world heritage list, the Loire Valley is known as the "garden of France." The Loire Valley is a short train journey and an easy drive from Paris. Book a day trip to Loire Valley from Paris and discover a magnificent region full of history.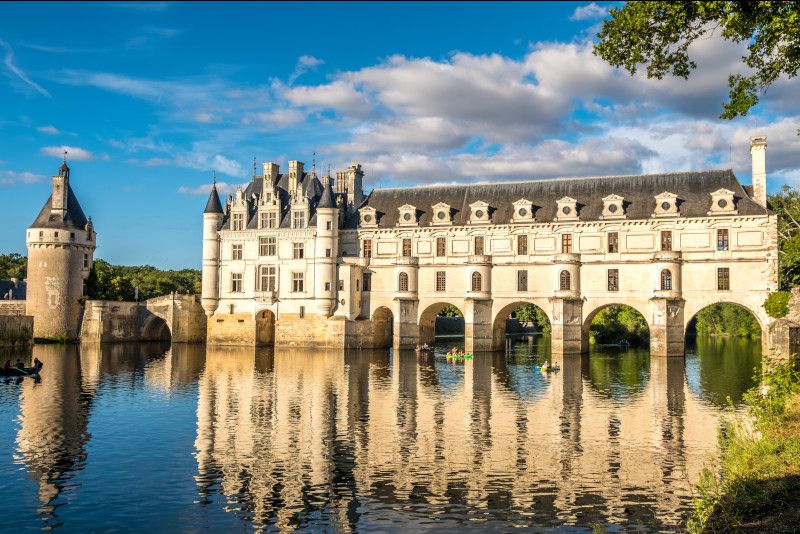 Here's all you need to know about Loire Valley, one of the most exciting day trips from Paris.
What are the most popular Loire Valley tours?
Amazing castles and stunning vineyards are the two main highlights of the Loire Valley. You may either choose to visit castles, go on a wine tour, or enjoy both.
Loire Valley castles tours
The valley is a hallmark for its splendor and architecture. The region has been a source of conflict for centuries as rulers fought over its domain. As a result, it is a place of ancient luxury as many castles dot its landscape.
Some of the most prized estates in France are in Loire Valley. Legendary towers, cupolas, and banquet halls decorate the landscape along with lush green land that surrounds the buildings.
With over 100 castles to choose from, it can be hard deciding which ones to see.
The most famous Loire Valley castles to visit are:
Château de Chambord
Château de Chenonceau
Château de Chinon
Château de Blois
Château de Loches
There are also numerous iconic places to visit inside (or around) lively cities like Tours, Orleans, Angers, and Blois to name a few.
Loire Valley wine tasting tours
Even though the architecture is important, it is the fertile land that drove multiple nationalities to want to control its domain. The Loire River flows through the middle of the valley and therefore supports a wide range of vineyards that are perfect for wine tastings, and other types of farms with fresh produce.
If you love to drink wine and taste fresh fruits and vegetables, it is difficult to find another place in Europe with such a rich history and reputation in agriculture. Rich vineyards are everywhere in the region and represent some of the more prestigious in a country known for its wine. All types of wine (white, red, rose, and sparkling) are grown in the valley. The "Garden of France" also produces several herald crops like cherries, artichoke, and asparagus.
Be sure to visit several vineyards during your journey and schedule transportation, so you don't have to worry about driving.
Loire Valley multi-day tours
If you wish to spend more time exploring this beautiful region, there are also multi-day tours available — 2-day tours and 3-day tours are great to see Loire Valley castles, experience wine tastings and admire other important landmarks.
The entire Loire Valley is a designated UNESCO World Heritage Site. You can easily spend multiple days if you have the time. Its combination of scenery, wine, food, and history is hard to match elsewhere.
Some multi-day tours also combine a trip to Normandy and a visit to the breathtaking Mont Saint Michel.
How much do Loire Valley tours cost?
Loire Valley is one of the most popular places to visit in France outside Paris. The legendary "Cradle of the French" has many ways to experience its brilliant past and world-famous scenery.
Though you can take a self-guided day trip to Loire Valley, we recommend something more in-depth. There is an abundance of guided tours available from Paris to Loire Valley. It not only takes the hassle of traveling to Loire Valley out of the equation, but you'll get a more personable and intriguing experience through a tour.
Guided tours include transportation, tickets and tours of castles, wine tastings, and lunch.
Tours can range from €150-€250 depending on the type of excursion. When you consider all the features you get to see and the included transportation and/or meals – it is well worth the cost!
If you wish to go on a multi-day tour, count around €400 for a 2-day tour, and €600 for a 3-day tour.
There are many online travel agencies offering Loire Valley tours. Use our search engine, compare all the different deals available and pick the tour that fit best your needs and budget.
How long does it take to get to Loire Valley from Paris?
Loire Valley is convenient to visit on a day trip from Paris as the journey only takes a few hours, depending on the method of travel.
Overall, the distance between Paris and the Loire Valley is approximately 200 km. Traveling in a personal vehicle can range anywhere from two-and-a-half hours to nearly three hours. Train rides are approximately an hour-and-a-half in time. It is easily the fastest and most convenient method of travel.
What is the best time to visit Loire Valley?
With its continental climate, the Loire Valley weather is pretty warm and sunny in summer, and a bit chilly in winter. From June to August, it can get hot and busy (peak season), meanwhile from March to June and September to November are great months if you wish to avoid the crowd and enjoy cooler temperatures.
What other day trips are there from Paris?
Travel Tips
There are a few things you should consider before visiting the Loire Valley from Paris:
Plan in advance. Loire Valley is a popular destination in France, so you want to make sure you prepare for the journey. What do you plan to see? How do you plan to reach the Loire valley? Make your research and book a tour that include all the places you wish to visit.
Consider the length of the tour. If you are participating in a tour, first, make sure you book in advance. Tours can fill up fast, especially ones that visit popular chateaus or castles. Also pack accordingly with plenty of water, comfortable clothes and shoes, and sunscreen.
Never drink and drive. If you plan to indulge in more than one glass of wine, consider your transportation home. There are several ways to get home (bus, train, ride-shares, etc.) that don't involve you getting behind the wheel. Stay safe during your vacation!