If you're a fan of great art and the wonders of nature, go on a day trip to Giverny from Paris. This small village was the home of the Impressionist painter Claude Monet and where he created some of his most famous works. You'll get to see his studios and walk in the sumptuous gardens he cultivated. Read on to find out about our range of tours, what you will see, when to go and how much they cost.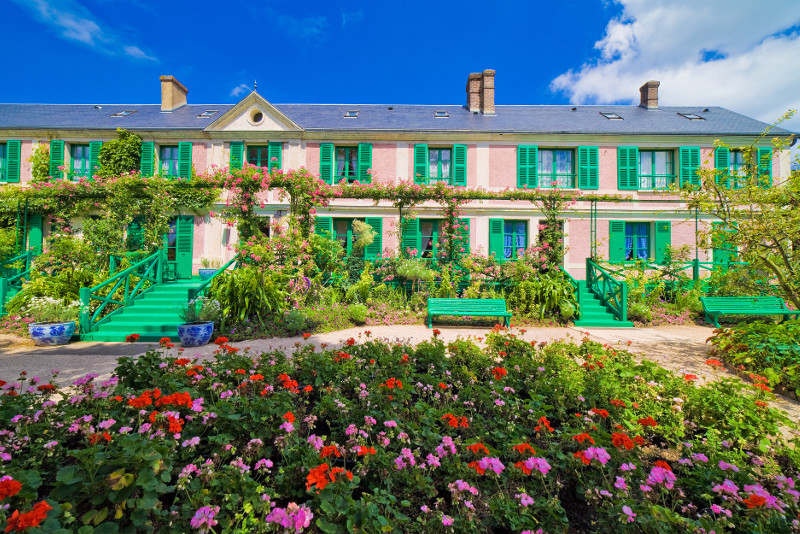 Here's all you need to know about Giverny, one of the most exciting day trips from Paris.
What will you see during your Giverny day trip?
Here are the key sights and attractions that await travelers who embark on day trips from Paris to Giverny.
The House of Claude Monet
The founder of the French Impressionist painting Claude Monet lived in this lovingly restored home in Giverny from 1883 until his death in 1926. Wander through rooms that have been faithfully restored to how they would've looked during Monet's time in the 19th century.
They include the yellow dining room and the blue kitchen. Among the many other highlights are the private rooms on the first floor, such as Monet's bedroom. Visitors can also see the artist's studios, which are filled with reproductions of his works.
The Gardens of Claude Monet
The gardens that Monet created and from which he drew inspiration are brightly colored spaces of great beauty. He painted some of his most famous creations here, including his water lily and Japanese bridge paintings.
The gardens are divided into two parts: the flower garden and its tulips, poppies, and irises in front of the house, and the water gardens on the other side of the road. Visitors can stroll freely through both. In addition to the blooms, the water garden has a replica of the Japanese bridge that featured in the artist's paintings.
A trip to both the house and the gardens provides visitors with an exciting immersion into the life of one of France's most famous artists.
The Museum of Impressionism
This must-see art museum provides rich insights into Impressionism, the 19th-century artistic movement that is characterized by small, thin brush strokes and accurate depictions of light. Browse exhibitions and learn about the development of this style of painting and its forerunners and legacy. The museum also hosts workshops for children and adults.
After your visit to the museum tour its gardens. These are small, flower-filled spaces enclosed by hedges.
What other places can be visited on tours from Paris to Giverny?
Some of the excursions take in other fabulous destinations that lie close to the village that Monet once called home. They include the Palace of Versailles, the opulent former royal residence and Auvers-Sur-Oise. Many 19th-century painters lived and worked in this town such as Paul Cézanne and Vincent van Gogh. Some trips also include Honfleur, a Normandy town with lots of attractions such as homes from the 16th to 18th centuries lining its old harbor.
How much does an excursion from Paris to Giverny cost?
There is a very wide variety of choices of day trips from Paris to Giverny that attract different prices. Many of the excursions are priced below €100 per person, and several come in at €60 or below, such as the Monet's House and Garden's Skip-the-Line Tour. This costs just €48 per person.
The price of some tours includes entrance tickets to attractions and food and refreshments such as a delicious three-course lunch.
Private tours attract the largest prices as these are for limited numbers in a group.
How do you get from Paris to Giverny?
Tour participants typically travel from Paris to Giverny in a comfortable coach, air-conditioned minivan or bus driven by licensed professional drivers. There is also an option to make the journey in a luxury private car such as a Mercedes E-class or equivalent. Guided bike tours are available too.
The small and attractive village of Giverny is located approximately 80 kilometers west of the French capital. You can also get there by rental car, a journey that takes about one hour to 90 minutes from the center of the city.
Another easy and convenient method of transport is to take the train from Gare Saint-Lazare to Vernon. This is the nearest station to Giverny. The journey time is approximately 45 minutes, and once you arrive at Vernon, you can take a taxi or shuttle bus for the three-mile trip to the village. Alternatively, walk or cycle from the station.
How long are the day trips from Paris to Giverny?
There are lots of different day trips from Paris to Giverny with varying durations. On average, they tend to be five hours, but numerous tours are longer such as full-day tours that last for 10 and 11 hours. The shortest trips are the four-hour half-day private guided excursions from Paris to Giverny.
When is the best time to visit Giverny?
If one of your reasons to visit Giverny is to explore Monet's garden, the best time to visit is from April to October. During these months, many of the flowers will be in full bloom and the garden will look at its amazing best. October is another good time to visit because there will be smaller crowds after the peak summer months.
Are there any tours to Giverny from other cities in France?
Yes, there are tours departing from another city in France:
Travel Tips
Here is a handful of essential travel tips to ensure your excursion from Paris to Giverny runs smoothly.
Some of the tours involve a fair amount of walking, so make sure you have a comfortable pair of shoes with you.
Due to the amount of walking on some tours, travelers should have at least a moderate fitness level.
Bring bottled water with you to keep you hydrated during your tour. You may also need a few snacks if your journey from Paris doesn't include refreshments.
A camera is a must, especially to take close-up snaps of the exquisite flowers and plant life in Monet's garden.
If your tour is during the summer, apply sunscreen and wear sunglasses.