From magical attractions to amazing shows, there's plenty to explore at Disneyland Paris. Enjoy thrill rides and let your imagination roam free watching awesome parades featuring your favorite Disney characters. If you are traveling to Paris, a day at Disneyland Paris is an absolute must. It is a terrific place to bring the family for a memorable vacation.
Located in Marne-la-Vallée in East Paris, Disneyland Paris is one of the most popular visited attractions in France. The massive resort offers two theme parks (Disneyland Park and Walt Disney Studios Park) in addition to a wealth of dining, shopping, and lodging options. The park receives nearly 10 million visitors a year which makes it the most visited theme park in Europe. Get your Disneyland Paris tickets to be one of them!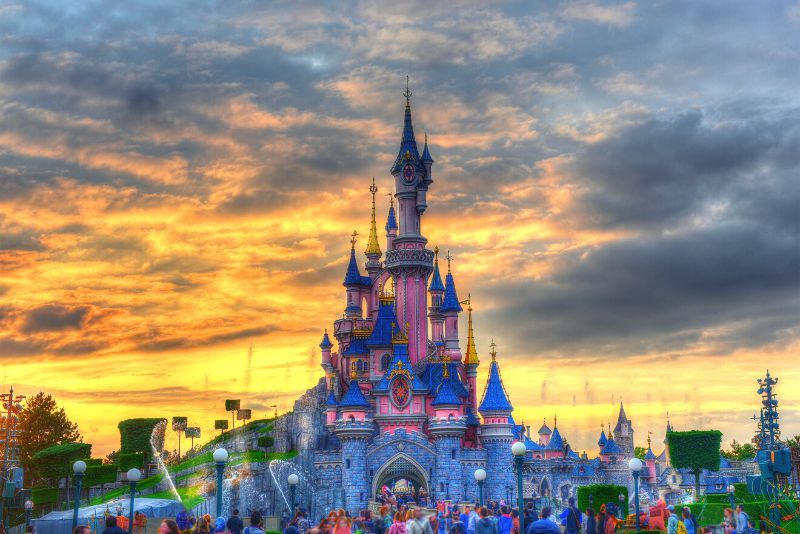 Here's all you need to know about Disneyland, one of the most exciting theme parks in Paris.
How much do Disneyland Paris tickets cost?
There are several ways to experience Disneyland Paris, depending on how much you would like to see and do, and how many days you plan to visit the parks.
The prices of tickets vary widely depending on several factors:
How many parks do you want to see? There are two different parks at Disneyland Paris: Disneyland and Walt Disney Studios.
How many days do you plan to visit? Disneyland Paris tickets are available for a single day, two days, or multiple days (3-4). Multi-day tickets don't require you to visit on consecutive days, unlike two-day passes.
What date(s) do you plan to see Disneyland Paris? The date(s) you select can influence the cost of the tickets. There are three different pricing periods: Mini (the most affordable, usually weekdays), Magic (summer and specific weekends), and Super Magic (holidays and specific weekends).
How much time do you have to see the shows and rides? If your time is limited, you may want to consider a fast track option. Skip the line attractions are optional but allow you to receive priority access to rides with long lines. You can either select a fast track option for a specified number of rides or all attractions.
Do you need transportation to Disneyland Paris? If so, the resort offers its shuttle service, but it costs extra.
Here is a general idea of what you may pay for Disneyland Paris tickets though keep in mind the costs of your tickets could fluctuate based on one or more of the factors mentioned above:
1 Day/1 Park: Adults - €56/ Children -  €52
1 Day/2 Parks: Adults - €81 / Children -  €77
2 Day/2 Parks: Adults - €142 / Children -  €132
3 Day/2 Parks: Adults - €201 / Children -  €186
4 Day/2 Parks: Adults - €236 / Children - €220
The tickets provide admission to all the rides yet do not include any food or beverages. As previously mentioned, fast track options and shuttle service are available but also sold at an extra cost.
How do you book discounted Disneyland Paris tickets online?
Disneyland Paris tickets are available through the official website though it is not the best venue if you are looking to get the best price. Disneyland Paris rarely discounts its tickets or offers promotions. On the other hand, third-party travel websites like Viator, Klook, Getyourguide and Headout do offer discounted tickets on a regular basis.
Use our search engine to compare offers from those websites so you can get the best price. We realize Disneyland Paris tickets are far from cheap. We do our best to make the trip affordable by finding the best discounted tickets so you can have fun without going bankrupt.
What will I enjoy?
Disneyland Paris park is a must-visit for families and group of friends holidaying in France. The immensely popular resort gets modeled after the original Disneyland park in California.
The theme park offers several thrilling rides, shows and events all year long. Furthermore, the second theme park (Walt Disney Studios Park) is a cinema themed attraction park also offering amazing rides and fun parades.
The rides at Disneyland Paris vary from thrilling and adrenaline-seeking to more laid-back and children-friendly opportunities. Some of the most popular rides at the parks include Hyperspace Mountain, Alice in Wonderland's Labyrinth, Pirates of the Caribbean, Big Thunder Mountain, and Buzz Lightyear's Astro Blasters.
What is the best time to visit Disneyland Paris? How to avoid the crowd?
Disneyland Paris is open year-round. Like most theme parks, the busiest times of the year are seasonal. Summer time receives the highest volume of foot traffic because of the ideal weather. If you don't mind toughing it out in some colder weather, you can avoid the crowds by visiting during the off-peak travel season.
It is also best to avoid public holidays and weekends if possible. Disneyland Paris is an extremely busy attraction, so you are only going to spend more time waiting in lines and doing less if you visit on a more crowded day. The other option is to consider a fast track option to skip most of the lines.
What are the Disneyland Paris opening hours?
Disneyland Paris features two different parks, and the hours are subject to change. Check before your visit.
Disneyland Park is typically open daily from 9.30 AM to 8 PM and sometimes until 10 PM.
Walt Disney Studios is open daily from 9.30 AM to 7 PM and sometimes until 9 PM.
Which other theme parks can be visited in Paris?
Travel Tips
Avoid buying Disneyland Paris tickets through the official box office: The tickets rarely get discounted and are expensive. You can find a better deal by shopping through several online resellers.
Download the Disneyland Paris app beforehand. The app is your best friend during your time at the theme parks. It provides estimated wait times, event schedules, and maps of the park.
You want to skip the line and not waste your precious holiday time? Book the Fast Pass and reduce attractions wait time.
Disneyland Paris Family Services makes life easier. For example, parents with babies may use the Baby Switch to take turns holding the baby without having to exit and return to the queues. There are also baby centers, high chairs, bottle warmers, and other baby amenities available.