Located in the Trocadero gardens in the center of Paris, the Aquarium de Paris offers a breath-taking deep-water dive. Spend a magical day with your family or friends and learn more about the spectacular underwater life.
Discover a stunning display of the wonders of the marine life from domestic to tropical waters. Visit sixty tanks and admire more than 13,000 fish and invertebrates of all the seas of France. Penguins, amazing starfish, beautiful rays and an underwater tunnel full of sharks awaits you.
If you want to see a historical and impressive sight of France that is home to a plethora of wildlife, look no further! Book your Aquarium de Paris tickets and enjoy an underwater excursion full of surprises.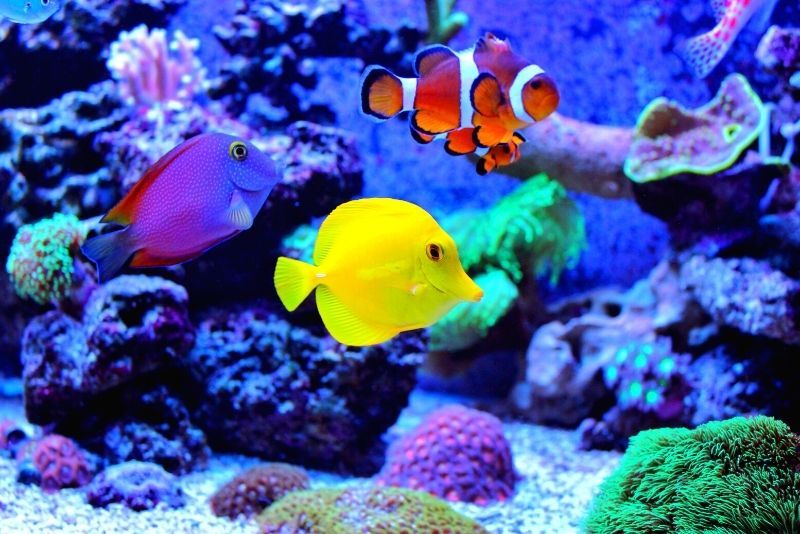 Here's all you need to know about Aquarium de Paris, one of the most exciting theme parks in Paris.
How much do Aquarium de Paris tickets cost?
General admission Aquarium de Paris tickets price is €20.50 for adults and €14.50 for children aged between 3 to 12 years old. These prices may increase depending on the date and time you select. Toddlers below 3 years old enter the Aquarium de Paris for free.
How do you book Aquarium de Paris tickets online? How do you skip the line?
If you wish to skip the line at the entrance of the Aquarium de Paris and avoid queuing up, you must book your tickets online ahead of time.
Aquarium de Paris tickets are available through the official website and online travel agencies such as Tiqets, Viator and Getyourguide to name a few. Use our seach engine and compare prices, some agencies sometimes offer discounted tickets.
What will I see?
Dating to 1876, the Aquarium de Paris is the oldest aquarium in the world. Though it closed its doors in 1985 for over two decades, the aquarium once again opened to the public in 2006. Since then, it has welcomed millions of visitors.
Aquarium de Paris offers an unforgettable time with family and friends exploring the exhibits. The unique aquarium offers memorable experiences for both children and adults alike.
Aquarium de Paris features 60 different tanks and pools on it grounds. There are over 13,000 sea creatures, including nearly 50 sharks of seven different species. The shark tank alone contains three million liters of water, making it the largest shark pool in France. All the aquatic life at Aquarium de Paris is native to France and its territories.
The aquarium also recently added the largest jellyfish exhibit in Europe with over 2,500 jellyfish to admire. The Polynesian tank features 705 corals. The second-largest artificial pond in France contains all the native sharks of France. Don't miss the Aquastudio tank - a popular exhibit featuring a fun multi-sensory show.
Visitors will also enjoy a broad selection of interactive activities and fun events. Watch dancing pirate shows and take part in treasure hunts. Don't miss the fun fish themed workshops if you are traveling with kids.
Are Aquarium de Paris tickets included in any attractions city passes?
Yes, general admission to Aquarium de Paris is currently part of the Paris Pass. The city pass features entry to numerous attractions, tours, and experiences. It is worthwhile to consider if you have a planned longer stay in Paris with plenty of time to see multiple attractions.
What is the best time to visit the Aquarium de Paris? How to avoid the crowd?
Like most exhibits, it rewards you for avoiding weekends and holidays, if possible. Generally, early morning hours (9 AM - 11 AM) Aquarium de Paris received smaller crowds. The aquarium is also usually not too busy the final few hours of closing (6 PM - 9 PM).
What are the Aquarium de Paris's opening hours?
Aquarium de Paris is open every day from 10 AM to 7 PM all year round. On Saturday evenings it is open for night visits until 9 PM. Please note that the last admission of the day is at 8 PM.
Which other theme parks can be visited in Paris?
Travel Tips
Purchase tickets ahead of time. It is convenient and time saving to purchase the Aquarium de Paris tickets in advance. You save time waiting at line for the box office and can get to the tanks quicker.
Consider attending a night visit. Every Saturday night, the Aquarium de Paris hosts a night visit. The night visit takes place from 7 pm to 10 pm and is a family-friendly event. The night tour features a unique look at the aquarium and its species, along with a glass of champagne for adult guests.
Check the daily schedule upon arrival. Make sure you allow enough time to attend some of the interactive shows for all ages, along with live feedings and demonstrations.
Aquarium de Paris is accessible for wheelchairs.
If you wish to spend the full day at Aquarium de Paris, you can have lunch at the Aquarium Restaurant.