Discover the Catacombs of Paris — a macabre and fascinating underworld below the City of Lights.
By the late 18th century, Parisian cemeteries were simply too full and were becoming a public health problem. The solution was to transfer the contents to the former Tombe-Issoire quarry under Montrouge.
The spectacular and curious ossuary features impressive architecture to match. Get your Catacombs of Paris tickets and go on a tour 20 meters below ground to explore this subterranean world of skeletal remains, and experience a grotesquely beautiful monument to Paris's dead.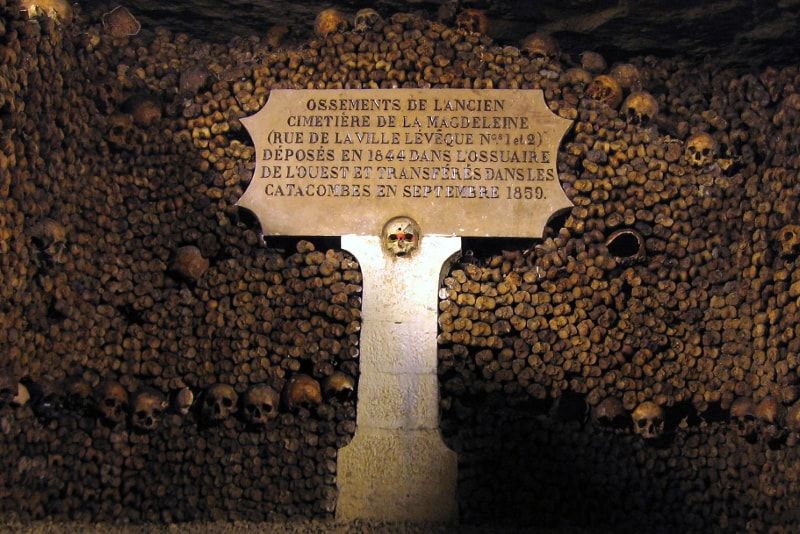 Here's all you need to know about the Catacombs, one of the most fascinating attractions in Paris.
How much do Paris Catacombs tickets cost?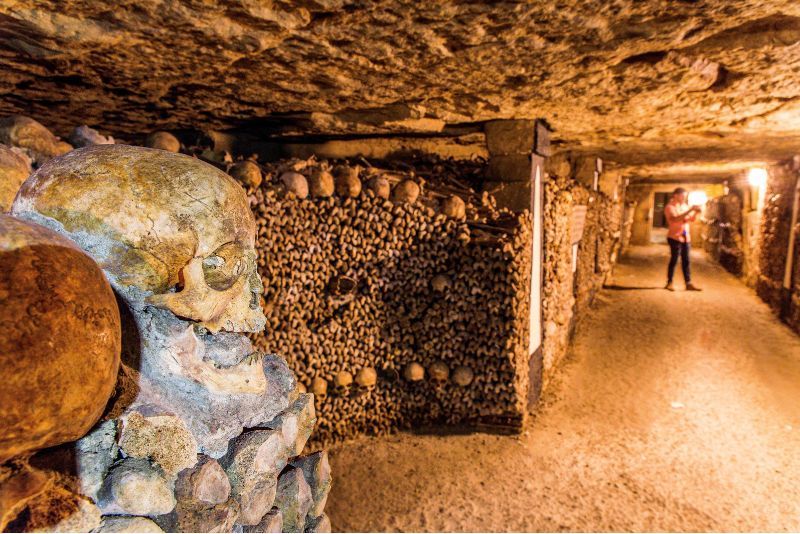 It is recommended that you book your tickets to the Catacombs online, but children and people applicable for free access must buy their tickets at the desk. The prices are also subject to change dependent on the timing of your booking.
Advanced booking ticket
Reduced rates: €27
Child (4-17 years old): €5
Last minute ticket (available online same day)
Adult: €18
Reduced rates: €16
Child (under 18): Free
Who are eligible for discounts?
Reduced ticket prices are available for students, teachers, individuals between 18 and 26 years old, members of certain French societies and holders of specific passes. You will need to present your relevant ID to qualify.
Is it possible to visit for free?
While it is not possible to visit the Catacombs of Paris for free, some people do qualify for free access. This includes youth under the age of 18 (on the same day only), people with disabilities and their companion, job seekers and others.
Should you book in advance?
The Paris Catacombs are known for their long waiting lines. Only 200 people maximum are allowed to get in the Catacombs at the same time, meaning tickets can also sell out quickly.
If you do not want to queue or miss out on tickets, we strongly suggest you book your tickets online in advance. You can buy tickets up to seven days in advance of your desired visit date.
While advance tickets cost more than same-day tickets, tickets purchased on the day are subject to availability and are not always guaranteed.
Other benefits of tickets bought in advance is that they automatically include an audioguide, and you can choose from a range of time slots to enter the catacombs.
What are the best Catacombs of Paris tours?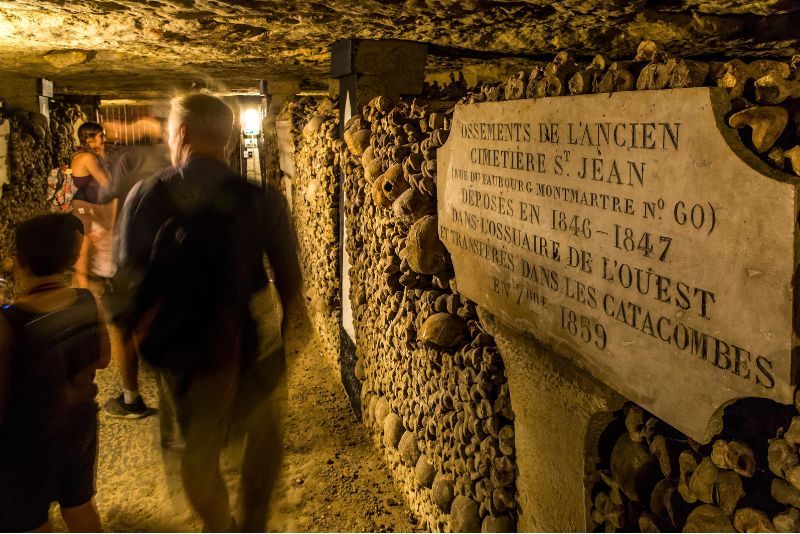 Guided tours of the Catacombs of Paris are available through both the official site and tour operators. With a guided tour, you'll definitely hit all of the high points of the catacombs and you won't miss anything important.
Booking through an agency means you can skip the line and save time during your visit. You'll have the opportunity to get answers to questions you've always wanted to ask. The official guided tours are in French, so you'll want to look for a travel agency for guided tours in English or other languages.
These are some of the types of tours you can book:
Audioguided tours
If you'd prefer to explore the Catacombs of Paris at your own pace while still gaining valuable information, you can opt for an audioguided tour. This is automatically included in the price of a ticket bought in advance. If you buy the audioguide separately, it costs €5.
The audioguided tour lasts for 1 hour, and is available in English, French, German and Spanish.
Guided tours
As previously mentioned, the official guided tours of the Catacombs are available in French only. If you're looking to do a tour in English or another language, there are numerous tour operators who offer guided tours.
Guided tours are especially insightful as an expert guide will show you through the catacombs and will be able to answer your questions immediately. While sharing the history of the catacombs and interesting facts, your guide may also take you to restricted areas you may not otherwise access on your own.
Semi-private tours
On a semi-private tour of the Catacombs of Paris, you'll enjoy all of the benefits of a guided tour but with a much smaller and more intimate group. You'll have access to restricted areas and you'll be able to ask many more questions of your guide.
While in the darkened and macabre underground, you'll receive VIP treatment.
What will you see inside?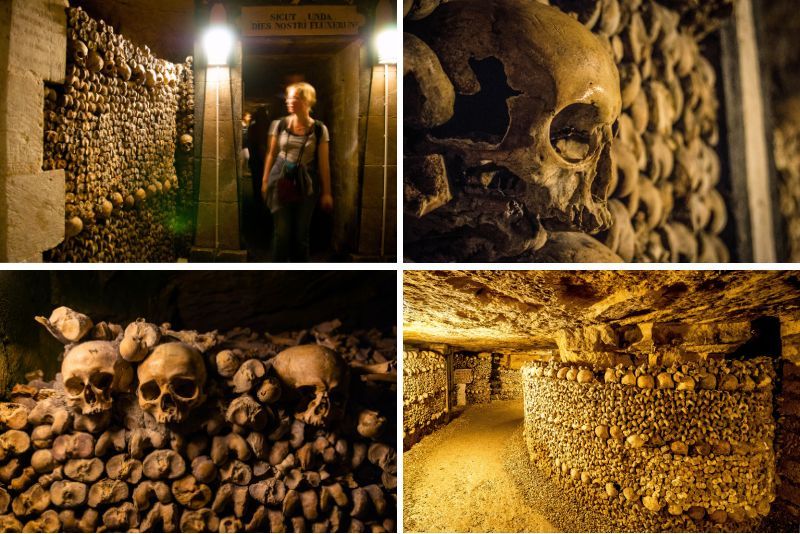 The most prominent thing you will see inside the Catacombs of Paris is, of course, millions of bones. The catacombs contain the remains of over 6 million Parisians, which have been carefully placed throughout the ossuary.
Overcrowded Parisian cemeteries and related public health concerns led to their relocation to this former quarry in the late 1700s. The catacombs were opened to the public in 1809 by appointment, and the site has been a marvel ever since for locals and tourists alike.
Originally, these tunnels were mined for limestone since the 14th century before housing remains. While the quarries span nearly 11,00 square meters, only a small part of this consists of the catacombs.
Today, 1.5 kilometers of the catacombs are open for visitors, and it will take you approximately one hour to cover the area. To access the catacombs, you have to walk down 131 steps. On return, you'll climb 112 steps.
On entering the catacombs, you will see plaques with the former names of the streets located directly above, known as the 'Copy of Paris,' as well as the inscriptions engineers used to track the progress of the quarry.
At the entrance to the ossuary, you can see a sign located above, reading "Stop, this is death's empire!" From here, you will encounter the millions of bones and skulls that have remained underground for centuries.
These bones have been arranged in the tradition of a medieval ossuary, and signage indicates which cemeteries they are originally from. Arranged by Héricart de Thury, there are also religious and poetic texts which encourage reflection by visitors.
You can even see skulls arranged in the shape of a heart, and in the Crypt of Passion, the famed "Barrel." This pillar is covered in skulls and tibias, and in 1897, a midnight concert was hosted in the crypt.
Other notable features you will encounter include the fountain "de la Samaritaine," which was in fact a water well, and the Sepulchral Lamp, originally used by quarry workers. You'll also find signs referencing the French Revolution, as many bodies from combat were brought here temporarily.
A unique aspect of the Catacombs of Paris that you may only access on a guided tour is the sculptures of Décure. Décure was a quarry worker who carved intricate miniatures from the rock, reflecting locations from his past, including the jail where he was once held as a prisoner.  
But the history of the catacombs doesn't end there. On a guided tour, you'll learn about how they were used during the second world war, as well as how cataphiles today have entered the tunnels to host illegal events.
How to get there?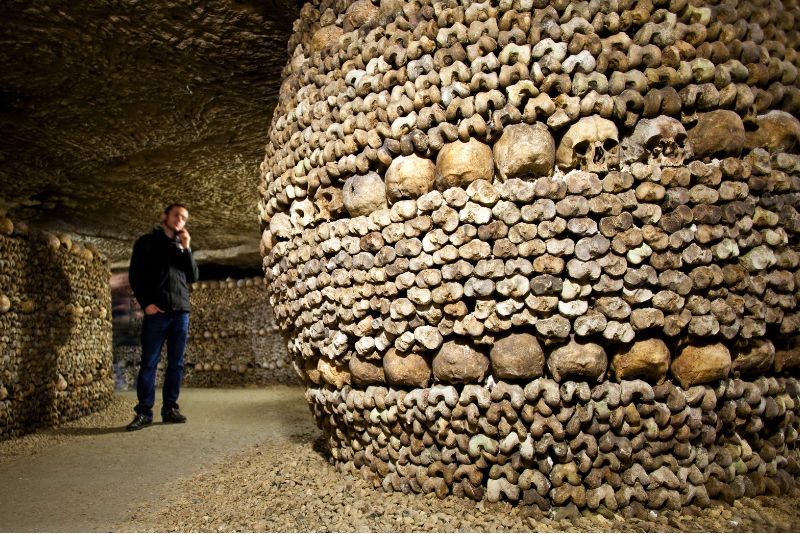 The catacombs are centrally located in Paris near Montparnasse, and the entrance is at 1, Avenue du Colonel Henri Rol-Tanguy. You can reach the catacombs by car, metro, bus or bike.
If you are traveling by car, you can park at Boulevard Saint-Jacques, but you will have to pay.
If you are using the metro, the closest station is Denfert-Rochereau. You can also travel to the catacombs by bus on the 38 or 68 lines.
There are also Velib' stations located nearby should you travel by bike.
When is the best time to visit the Paris Catacombs?
While the Catacombs of Paris can be visited all year round, we recommend that you avoid visiting during school holidays and weekends if possible. Opt for an early morning or evening visit to avoid major crowds.
What are the opening hours?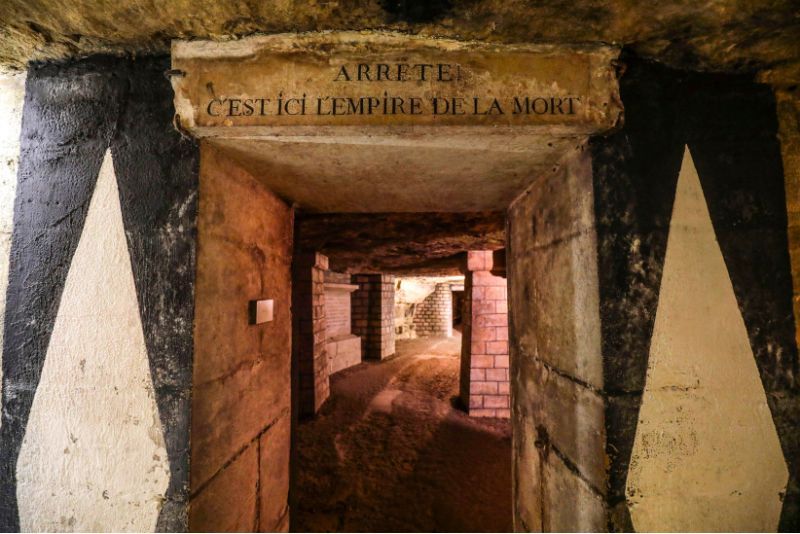 The Catacombs of Paris are open from Tuesday to Sunday from 9:45 AM to 8:30 PM. The last admission is at 7:30 PM.
The catacombs are closed Mondays, Jan. 1, May 1 and Dec. 25.
What other attractions can be visited in Paris?
Travel tips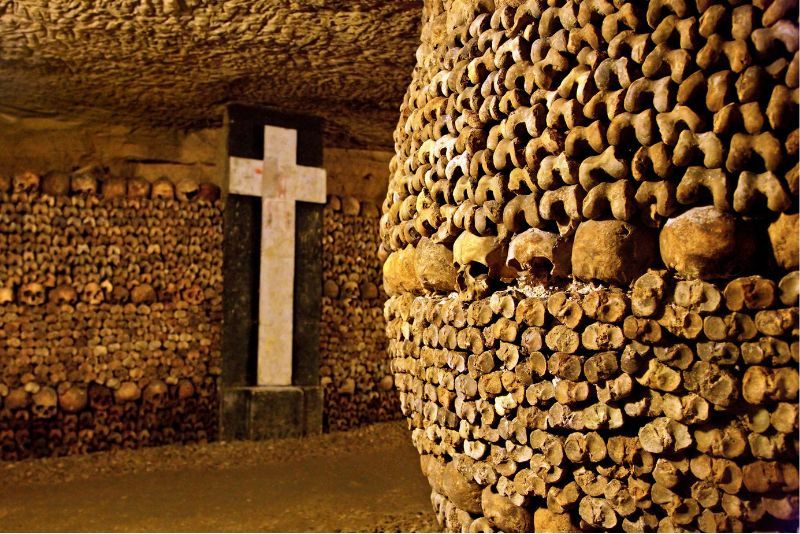 The catacombs have stairs to climb up and down, many of which are uneven and slippery. It is not wheelchair accessible and is not recommended for people with mobility issues.
Youth under the age of 14 must be accompanied by an adult.
The temperature in the catacombs remains a constant 14 degrees Celsius. Wearing layers is recommended.
Due to the nature of the catacombs, the tour is not recommended for pregnant people, claustrophobic individuals, people who might be sensitive to the content (including young children), and people with cardiac or respiratory issues.
The bones may not be touched, including by people with vision impairments.