Normandy is a popular tourist region located in the north of France with over 600 kilometers of coastline bordering the English Channel.
D-Day beaches surrounded by towering cliffs are the center of attention of any day trip to Normandy from Paris. Visitors can learn about the significance of this area during World War II and get to know this unique region of France.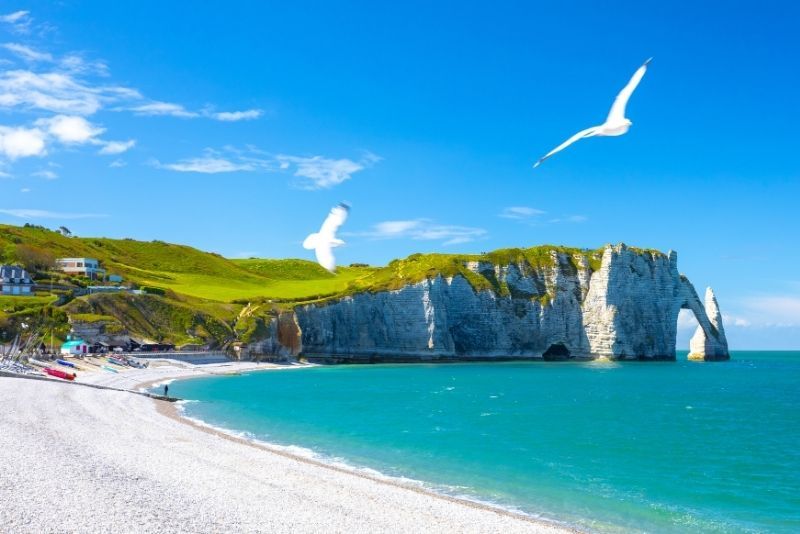 Here's all you need to know about Normandy, one of the most insightful day trips from Paris.
How to get to Normandy from Paris?
The borders of Normandy lie less than 100 kilometers northwest of France's capital Paris. However, the region stretches across close to 30,000 square kilometers, making it the ideal location for a day trip.
From Paris to Normandy by car
Driving from Paris to Normandy by car will take anywhere from two to four hours, depending on the exact destination. Keep in mind that Paris is often congested and the city traffic might add to your travel time, especially during rush hour. Take highway A-13 to reach the most important places in Normandy.
From Paris to Normandy by bus/public transport
France's SNCF train network provides a fast and comfortable journey between the central transport hub Paris and several destinations in Normandy. Head to Cherbourg, Le Havre, Caen or Rouen in two to five hours. Long-distance buses are available for destinations outside the train network but tend to be less convenient.
Guided tour to Normandy from Paris
Visitors can enjoy a wide selection of guided day tours or excursions from Paris to Normandy. Transport in air-conditioned vans or buses is the norm and tours will take eight to 12 hours depending on the itinerary.
While it may be possible on request, most tours do not offer hotel pickups but rather provide a meeting point in Paris.
What is the typical itinerary of a day tour to Normandy from Paris?
Typically, you will meet your tour group somewhere in the city center of Paris, close to a metro station. After a three to four-hour bus journey to Normandy, the tour will take you to places of interest, such as the Utah Beach Museum, the Pointe du Hoc Battlefield, Omaha Beach and the Normandy American Cemetery.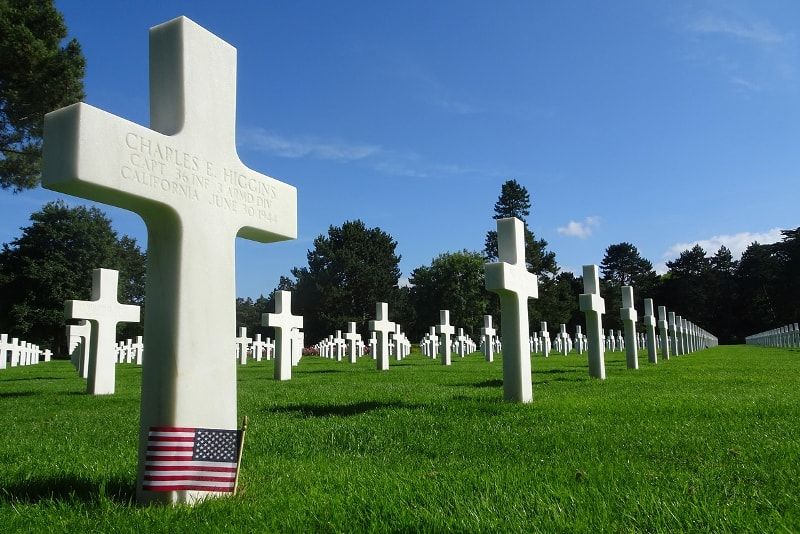 Some tours also include a cider tasting at a local apple orchard or farm. The majority of day tours to Normandy from Paris will also give insight into the history of the many battlefields in the area. An English-speaking guide is provided.

Lunch is served at a traditional French restaurant and can include anything from a quick snack to a more elaborate meal. In the early evening, you will return to the pickup location in Paris after your fun-packed day trip to Normandy.
What kinds of tours are available to go to Normandy?
Normandy is a large region of France and it goes without saying that there are far more places to discover than you could see on a one-day jaunt. The majority of tours from Paris to Normandy will be day trips lasting between 10 and 14 hours.
Two-day excursions are also available and might include additional destinations outside of Normandy.
Guided tours to Normandy from Paris
A guided day tour from Paris is the perfect way to discover Normandy if you're short on time. Join a group of 20-30 people and head to France's northern beaches.
Enjoy trying local snacks and drinks, and learning about the area's fascinating history while you are there.
Small group guided tours of Normandy from Paris
If you're looking for a more personal experience, you might enjoy visiting Normandy as part of a small group. Spend the day with only five to eight other visitors and enjoy the full attention of your guide.
Private tour to Normandy from Paris
A private excursion from Paris to Normandy is highly recommended for larger groups of friends or family. Have a say in your itinerary and enjoy private transport throughout the day.
Many private tours are tailored to American or Canadian travelers who are looking to visit specific cemeteries in Normandy.
2-Day tour to Normandy from Paris
To enjoy more time in Normandy and northern France, visitors should consider booking a two-day tour from Paris. Itineraries will vary but might also include nearby attractions such as Mont-Saint Michel or Saint-Malo.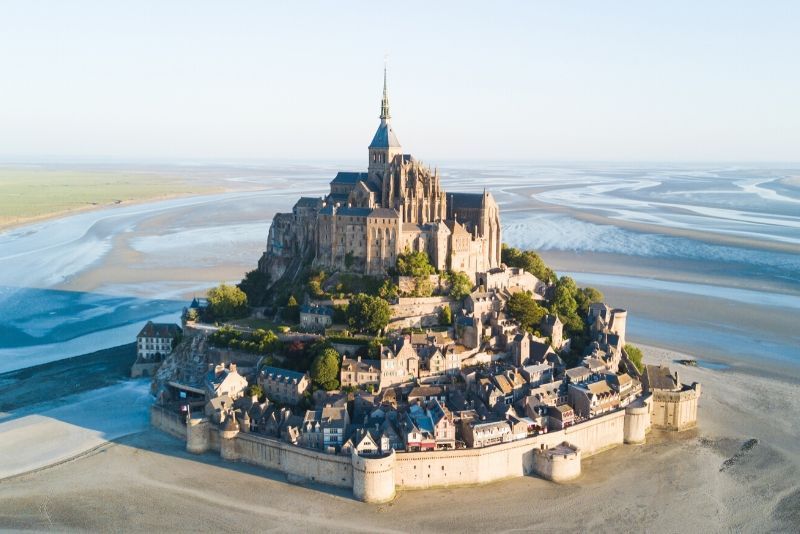 How much does a tour to Normandy from Paris cost?
A full day tour from Paris to Normandy will cost somewhere between €170 and €200 per person. In most cases, this includes transfer in a shuttle bus, entry fees for attractions as well as a local lunch.
Tours with small groups of eight people or less are priced between €200 and €250 per person while private tours lie close to €700 to €800. A two-day trip to Normandy, Mont-Saint Michel and Saint-Malo costs approximately €450 per person.
What will you see and do on a day trip to Normandy?
Omaha Beach
One of the most famous D-Day beaches, Omaha Beach, is one of the highlights of any Normandy excursion. Explore German bunkers and listen to stories about how this beach changed the course of battle during World War II.
Pointe du Hoc
This impressive cliff overlooks the English Channel and provides breathtaking views. There is more to Pointe du Hoc, though, than panoramic vistas. It also used to be a major German defense point and several massive bomb craters still attest to this today.
American Cemetery Colleville-sur-Mer
Many American visitors come to Normandy to pay their respects at the American Cemetery in Colleville-sur-Mer. With close to 10,000 graves, this memorial and burial ground is a staple on most day trip itineraries to Normandy.
Utah Beach Museum
The Utah Beach Museum was constructed in the exact location where American troops landed on D-Day in 1944. It recounts the story of the battle, how it was planned and how it ended. If you're interested in World War II history, this is a must-see during your day tour to Normandy.
Apple cider tasting
While many attractions in Normandy are war-related, there are also more lighthearted activities available. Visiting a French apple orchard and trying local apple cider is a fantastic way to get to know local specialties.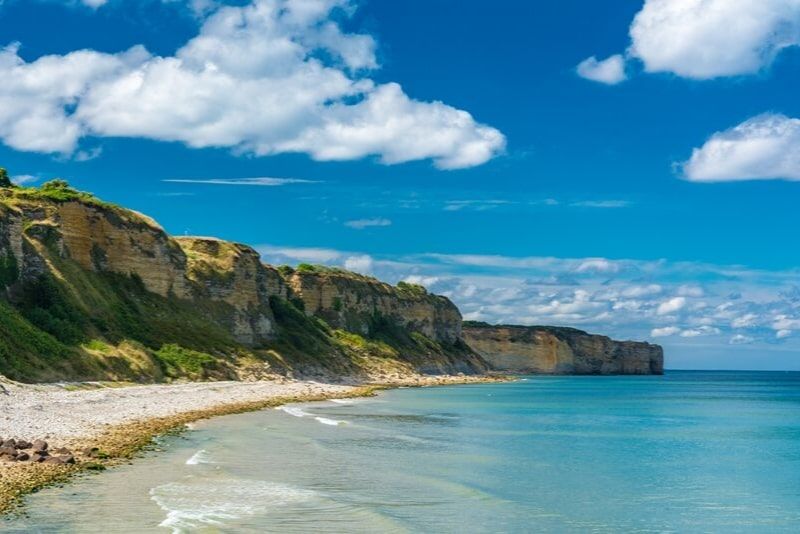 When is the best time to visit Normandy?
You can visit Normandy year-round, however, the weather will be most favorable from June to September. Winter in this part of France can be cold and extremely windy, so planning your trip during the warmer months is recommended.
July and August are most likely to have warm days and plenty of sunshine.
Are there any tours to Normandy from other cities in France?
Yes, there are other tours departing from other cities in France:
Travel tips for day trips from Paris to Normandy
Remember that gratuities are not included in guided tours. It's a good idea to tip your guide, as well as waiters or service staff during your trip.
The weather in Normandy can be unpredictable. Expect some rainy and windy days even during the summer months, so pack a rain jacket.
If you're visiting Normandy on a day trip from Paris, you'll be spending six to eight hours on a bus. Download a movie on your phone or take a book to keep yourself entertained.