Just outside of Paris sits the comic-inspired Astérix Park, where you won't look out of place in a Viking hat. Inspired by the French cartoon Astérix, the park is home to almost as many rides as Disneyland and has over 2 million annual visitors. It's a popular choice for Paris locals and tourists alike.
Located in Plailly, France, the park opened in 1989 and continues to attract millions of families every year. Grab your Astérix Park tickets for a thrilling day out.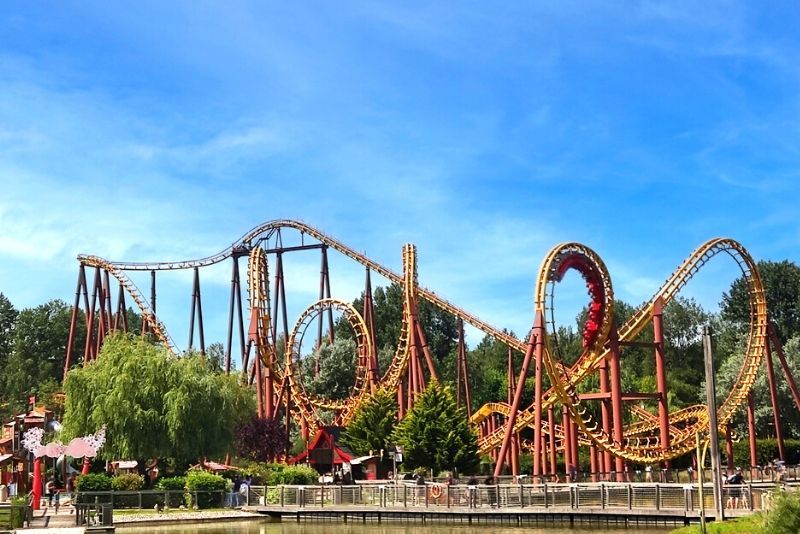 Here's all you need to know about Astérix Park, one of the most exciting theme parks in Paris.
How much do Astérix Park tickets cost?
Compared to many theme park tickets, the Astérix Park entry fee is reasonable, making it an affordable place to spend a day in Paris. There are several options depending on age and budget when it comes to buying your Astérix Park tickets.
Standard Astérix Park ticket prices
Adults(12-59): €55
Seniors (over 60): €52
Children (3-11): €47
Discounted Astérix Park rates
The park does offer some discounted rates for families of over five, 2-day admissions, and there are also half-day Astérix Park rates. Below you can see the discounted Astérix Park ticket prices.
Large families
Adult (12-59): €51
Children (3-11): €42
2-day admission
Adult (12-59): €104
Children (3-11): €84
Half-day tickets (from 2 PM)
Adult (12-59): €42
Children (3-11): €42  
Season passes start from €124 per adult and include unlimited access for 134 days, excluding Saturdays.
Who is eligible for discounts?
Guests over 60 years old can enjoy a discounted rate of €52 on their Astérix Park visit. Persons with disabilities also apply for special rates. The accompanying person can purchase a ticket for the same discounted rate.
Anyone who books online can benefit from special offers on Astérix Park tickets, which are sometimes advertised on the website. These include weekday discounts or large group discounts. Those booking select hotel and park tickets at the same time can enjoy a further discount.
Are there any combined tickets or tours including Astérix Park and other attractions?
If you are a theme park fanatic, you may consider opting for combined Astérix Park tickets that grant entry to multiple parks. Combined tickets save you time and money, and allow you to pack more fun into a couple of days.
With a pickup from your hotel by a private driver in an air-conditioned minivan, you'll be dropped off for an unforgettable day at Disneyland Paris. The driver also escorts you from Disneyland to Astérix Park to enjoy all of the thrills of the Gaul-themed park, and back to your hotel afterward.
While at Disneyland, you can experience the 54 rides in the park, including Hyperspace Mountain and Big Thunder Mountain.
Astérix Park and Disneyland Paris: Visit both theme parks and enjoy unlimited rides, catch a glimpse of your favorite characters, and relax with a private driver to escort you between the two.
Should you book Astérix Park tickets in advance?
Astérix Park can get busy, especially on the weekends, which is why it's advisable to book tickets in advance. Another reason to book your Astérix Park ticket online beforehand is to skip the queues at the ticket counter. This is especially useful if you have little ones eagerly awaiting the opening gates.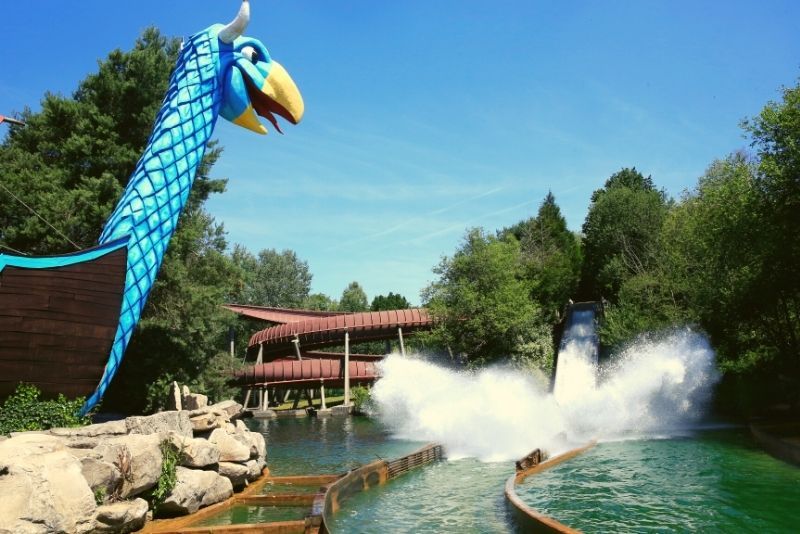 What will you see inside Astérix Park?
The theme park is centered around the comic book series "Astérix & Obelix," a historical cartoon set in Ancient Greece and Rome. The rides are inspired by the comic series and the character that defines Astérix Park is the Gaulish warrior, Astérix.
The park is the second-largest theme park in France and features over 40 rides and four different shows.
Split into three sections: Astérix Park which features a "fun for all the family" zone, a "thrillseekers" zone for adrenaline junkies, and a "young Gaul" zone — mostly for young children to experience the delights of the park.
There are seven stomach-dropping rides in the park, including Oziris, Pégase Express and Tonnerre de Zeus.
Family-friendly attractions include Discobélix, Carrousel de César and Le Grand Splatch boat ride.
The fun doesn't stop with the rides — the shows include the "Reverence" water show which features dolphins and sea lions. Another show that's available to watch is "Gauls vs. Romans: The Match," a gladiator-style challenge between the Gauls and Romans.
How to get to Astérix Park?
Astérix Park is situated 35 kilometers north of Paris and takes just 30 minutes by car along the A1 motorway towards Lille. There is a specific exit for the park between J7 and J8. Parking in the park costs €15 per day.
There is also a bus directly to the park from Bercy Seine which takes just over an hour and departs every two hours.
When is the best time to visit Astérix Park?
Astérix Park is open depending on the season. In spring and summer it is open daily from 10 AM to 7 PM. On some specific days and during Gaelic summer it is open until 10 PM. Arriving before 10 AM will enable you to beat the majority of the queues. If you want to visit when it's quiet, consider planning your trip for a Wednesday or Friday.
Which other theme parks can be visited in the Paris?
Travel tips
Booking online enables your Astérix Park tickets to be delivered to your smartphone, allowing you to skip the queues upon entry.
Take a spare set of clothes if you intend to go on the L'Oxygenarium river rafting ride.
When booking your Astérix Park tickets, purchase a weekday ticket if you can, for shorter wait times for rides.
Download the free Park Astérix app before you visit to get a rough guide on the number of visitors, weather, and updates.