If you fancy feeling the thrill of free fall without having to set foot in a plane, then indoor skydiving in Paris is a must. It can easily be slotted into your sightseeing schedule, and you don't need to worry about the weather!
Paris indoor skydiving offers the ultimate adrenaline rush in a safe environment. It's a great way to get a feel for the activity before having a go at the real thing.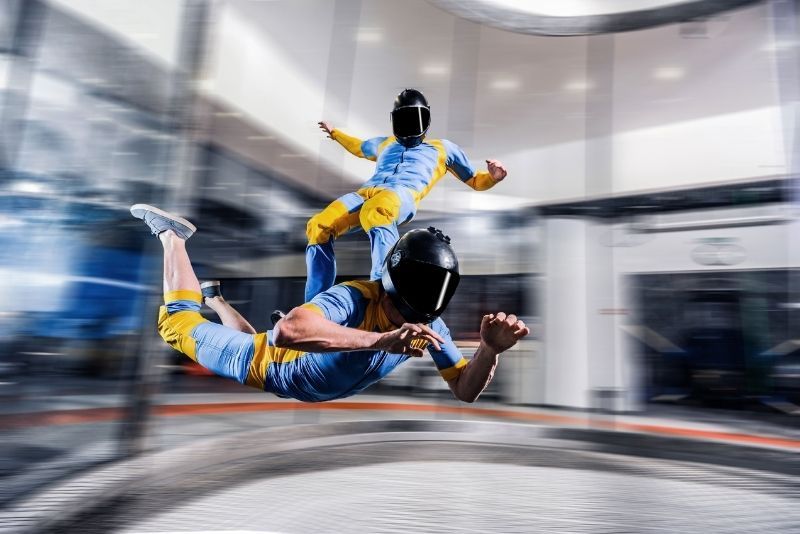 You will find below everything you need to know about indoor skydiving, a thrilling sports activities in Paris.
What can I expect from an indoor skydiving experience in Paris?
Indoor skydiving session for beginners
These indoor skydiving experiences in Paris can be enjoyed solo, or with friends and family. On arrival at the venue, you'll be given a short training session, so you will know exactly what's going to happen. Slip the jumpsuit over your clothes and put on your helmet and goggles in preparation.
Then it's time to take on the vertical wind tunnel! The group sessions will have up to 12 participants, but the flight itself will be just you and the instructor. You'll enjoy a couple of skydives, each of which will last around a minute. It'll feel just like free falling from 4,000 meters, just without the daunting jump!
You'll learn the ropes on your first flight, then on the second one you can attempt a solo vertical take-off if you dare. Test your balance and show off some moves, with your instructor nearby to assist when needed. A Virtual Reality headset makes it feel like the jump is the real deal, with 360-degree views of places like Dubai or California.
Don't forget to smile for the camera before gently floating back down to the ground. After de-kitting and collecting your photos, you can venture back out to continue your sightseeing in Paris.
How much does indoor skydiving in Paris cost?
Indoor skydiving in Paris is a cost-effective way to experience the sensation of free fall without the big budget required for the real thing.
It costs €70 per participant for a standard 1.5-hour session. If you want to include the Virtual Reality headset, the experience costs €125. There will be up to 11 other people in your group, but the flight itself will be solo with an instructor.
Photographs and videos of your jumps can be purchased for an additional fee. These start at €8 for a digital photograph, €9 for a print and €17 for a video clip. A full photograph and video package costs €20 per person.
What is included when indoor skydiving in Paris?
Jumpsuit
Helmet and goggles
Fully qualified instructor
Two flight sessions, each lasting a minute
Virtual Reality headset if option is selected at booking
Photographs and videos can be purchased as an add-on
Hotel pickups are not provided for indoor skydiving tours in Paris, so you will need to make your own way to the venue.
Where can you go indoor skydiving in Paris?
Paris indoor skydiving experiences take place in the Vill'Up shopping mall in the Cité des Sciences. You'll find this museum complex in the Parc de la Villette.
The easiest way to get there by metro is on Line 7 – you need to alight at the Porte de la Villette station. You can also take buses 139, 150 or 152 to the Porte de la Villette stop.
If you are arriving by car, exit the Paris ring road at Porte de la Villette. There is paid parking on site.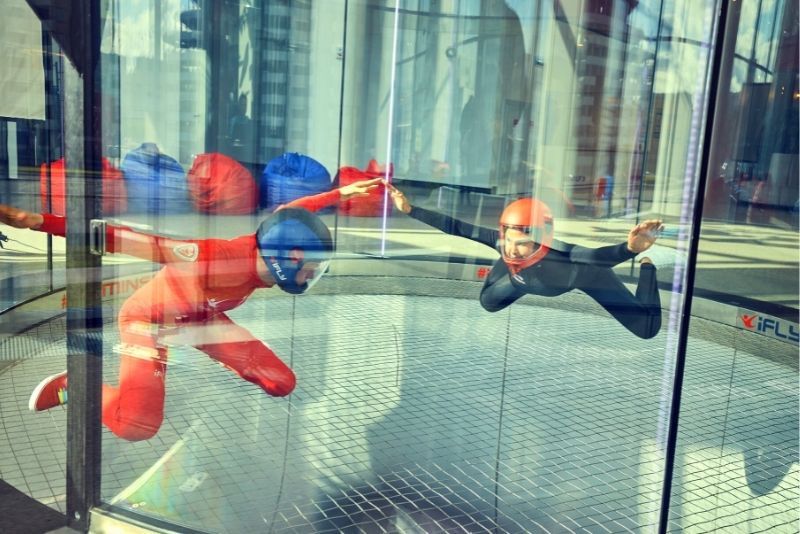 How long does indoor skydiving in Paris last?
The whole indoor skydiving in Paris session lasts 1.5 hours. This includes training time and waiting while other group participants have their jump experiences.
You will have two individual flight sessions in the vertical wind tunnel – each one lasts around a minute.
When is the best time to go indoor skydiving in Paris?
One of the benefits of indoor skydiving sessions in Paris is that you don't have to contend with the weather. This means that you can enjoy it at any time of year.
You can book slots between 10 AM and 11:30 PM to fit in around your sightseeing schedule. Weekdays are often quieter than weekends, but it's always a good idea to book in advance if you have a particular date in mind.
Is it safe to go indoor skydiving in Paris?
Paris indoor skydiving is the safest way to experience free fall – you will only be a short distance off the ground.
Anyone with reasonable levels of fitness can have a go, but those with serious health conditions should consult their doctor before taking part. The maximum participant weight is 115 kilograms.
Are children allowed to go indoor skydiving in Paris?
Yes! The minimum age for indoor skydiving in Paris is 5 years, which means this is a great activity for families to try. Participants under 18 years must be accompanied by an adult.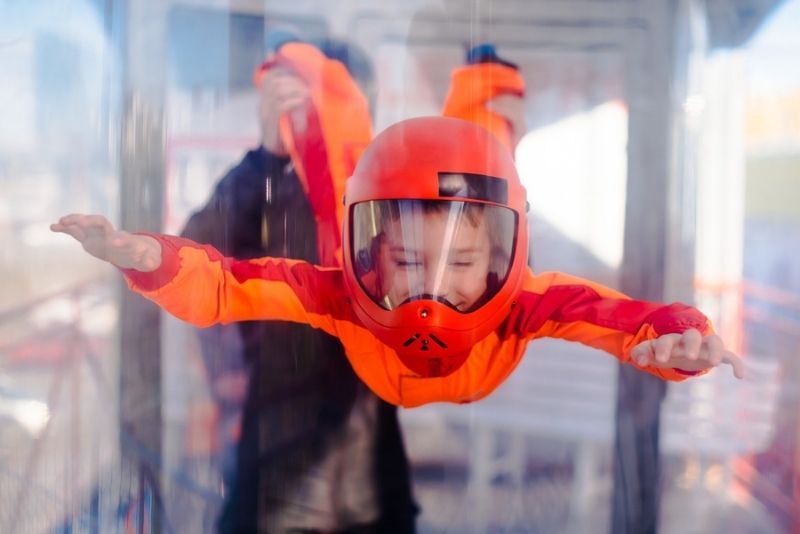 Travel tips
You will need to arrive one hour before your indoor skydiving session in Paris begins.
Participants will be asked to sign a statement of risk waiver in advance of the activity.
Wear tie-up shoes and comfortable clothing without a collar. Hair must be tied back for safety reasons.
Sessions are available for persons with disabilities – contact the provider to discuss your requirements and see how the experience can be adapted.
If you're looking for a real adrenaline, try the skydiving in Paris.