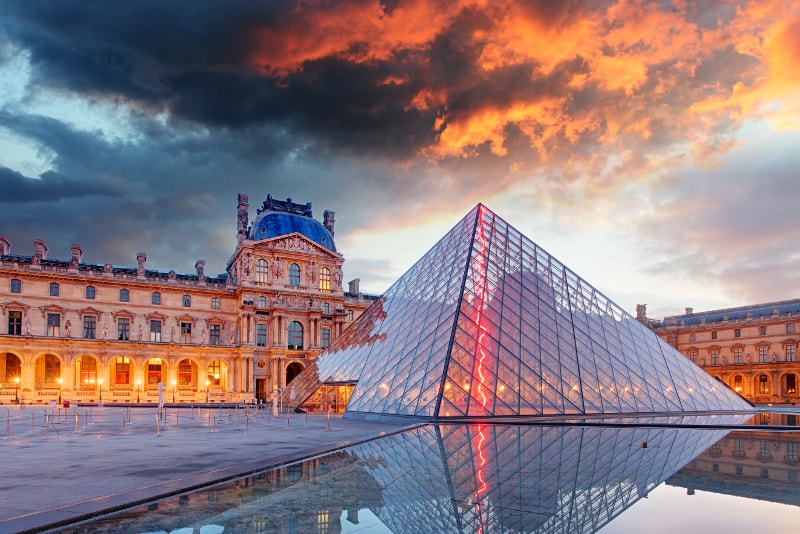 Want to know the best way to get your Louvre Museum tickets? Find out all about how much they cost, how to skip the line, who is eligible for discounts, special combos including other attractions and more!
On this page, you will find a comprehensive guide to getting tickets for the Louvre Museum, including:
Updated information about the reopening of the Louvre after COVID-19 closure
We are happy to announce that the Louvre Museum has reopened after several months of closure due to COVID-19. Safety measures are in place to guarantee a safe visit. Please note that all visitors will be required to book online a time slot.
Visitors on the premises will be required to follow the social distancing measures and wear a mask at all time.
Take the chance to visit the Louvre Museum now that the number of visitors per day is more limited and you can enjoy a more private and exciting experience.
How much do Louvre Museum tickets cost?
Tickets to enter the world-famous Louvre Museum vary slightly depending on the specific option chosen and whether you wish to enjoy a guided tour as part of your visit in order to obtain additional information and insight. Fortunately, a visit to the Louvre is a fun and informative day out that does not break the bank.
Updated information about Louvre Museum tickets after COVID-19 closure
The price of the Louvre Museum has remained unchanged. However, as a result of the provisions against the spread of the COVID-19 pandemic, all visitors are required to book online tickets.
Standard Ticket – Purchasing a ticket at the museum entrance costs 15 € per person. If you opt to buy the ticket online, it is 17 €. It sounds tempting to opt for the lower cost option however it should be noted that queues at the entrance are often incredibly long and so it is advisable to book your ticket in advance. You can book the ticket on the official website. Sometimes, during public holidays and peak season, the tickets can be sold out. However, there are several websites that still sell for a slightly higher price (usually 2-3 Euro more). You can compare the prices through TourScanner.
Audio Guides – An audio guided tour of the Louvre costs an additional 5 euro per person on the official website of the Louvre. This is a nice option for those travelers who wish to receive a little extra information about the exhibits they are viewing.
Guided Tours – A visit to the Louvre is often a once in a lifetime opportunity and so it makes sense that those with some level of interest in history or the arts would like to enjoy the expertise of a licensed guide whom they can ask questions to. There is a plethora of guided tour options available. Standard and express tours lead groups of tourists around the museum's most notable highlights, private tours offer personalized, bespoke options and themed tours offer different perspectives and focuses on classic pieces. Those traveling with children also have the option of doing a family tour which makes the experience more entertaining for little ones with short attention spans.
There are numerous websites and tour providers available that offer Louvre museum tickets. Depending on the time of year, it is also possible to obtain deals on these tickets, so it is worth shopping around and comparing prices before making a purchase.
Who are eligible for discounts?
People of certain ages and occupations are eligible for discounted or free entry to the Louvre.
These people are:
Children and anyone under the age of 18
Disabled individuals and those traveling with them
Residents between the ages of 18-25 who live in the EU
Individuals who teach art or history to any level (proof may be required)
Teachers at French public schools (primary and secondary levels).
Unemployed individuals or those claiming income support (proof may be required)
Individuals that hold membership passes to the permanent collections (though travelling exhibits may warrant a small additional fee).
ICOM/ICOMOS card holders.
It should be noted that proof of ID is required if you are fall into the above categories and are trying to receive free Louvre museum tickets, and visitors will typically be asked to show this upon arrival at the museum. There is an information desk situated under the pyramid structure at the museum entrance where you can check that you have the right details before getting in line if you have any concerns or uncertainties. You can check the official information on the Louvre's own website for reference and additional information.
Is it possible to visit the Louvre museum for free?
Fortunately, it is possible to visit the Louvre for free if you travel at certain times, even if you do not fall into the above categories. You should try to get to the museum early, and be prepared to fight through the crowds, however free entrance is possible at the following times:
July 14th (Bastille Day) – Louvre museum tickets are free for all visitors.
Fridays from 6pm onwards – Admission is free to citizens of all nationalities that are under 26 years of age provided that they show a valid proof of ID.
The first Sunday of the month from October through to March, admission is free for all visitors to the Louvre.
It should be noted that the free Louvre museum tickets during these specific dates and periods only cover the basic free admission to the museum and do not include extras like audio tours or the use of a tour guide.
What is included in the Louvre Museum ticket? What will you see?
The Louvre museum ticket includes access to the permanent collections at the museum. By "permanent collection", this means exhibitions and displays that are constantly present on site. Occasionally, the museum also hosts non-permanent collections which are exhibits that travel the world stopping by the most notable museums.
Many people simply associate the Louvre with the Mona Lisa and outside of peering at this infamous painting, they are not sure of what else to do while visiting. The louvre is home to over 380,000 exhibitions that are divided into different collections across art and history.
Some of the most notable collections that may be of interest during your visit to the Louvre are:
The Egyptian Collection
Containing over 200 pieces, the Egyptian collection of artefacts on display at the Louvre is one of the largest of its kind in the world. The ancient items on display here range from elaborate sarcophagi to important stone sculptures and obelisks and date as far back as the late prehistoric era (4000bc). The exhibition is organised in chronological order, taking the visitor along a timeline of Egyptian history and almost bringing ancient Egypt back to life.
Paintings and Artwork
Dating from the 13th to the 18th century, the painting collection displayed at the Louvre contains works from some of the most important artists in European art history. The collection here displays world renowned masterpieces by leading Italian, French and Spanish artists including Michelangelo, Leonardo da Vinci, Murillo and Le Sueur.
Greek and Roman Antiquities
Contain over 500 impressive and incredibly well-preserved marble sculptures, in addition to a number of accompanying artefacts and art pieces, the expansive Greek and Roman antiquities collection on display at the Louvre dates back to Neolithic times. This exhibit offers great insight into the history of two of the world's most important ancient civilizations.
How do you book Louvre Museum tickets in advance? How do you skip the line?
You should aim to book your Louvre Museum tickets online in order to avoid having to wait a long time at the entrance. The Louvre is one of Paris' busiest tourist attractions and queues can get incredibly long during the day – often meaning that you are standing around for hours before you even get inside.
Visitors to the Louvre can either book their tickets online from the official Louvre website or from an online travel agency. When booking Louvre museum tickets, you can opt for either the standard ticket or a guided/audio tour. It is best to compare prices between a few providers before making a purchase as discounts and deals are sometimes available and can save you some money.
Cancel/modify your Louvre Museums tickets?
Standard Louvre museum tickets cannot be altered or modified and so you should take care when purchasing your ticket to make sure that you are happy with the date.
If you decide to book a guided tour for the Louvre instead of a ticket for basic admission then you may be eligible for a refund or the ability to change your ticket, depending on the specific terms held by the provider you chose.
Is the Louvre museum ticket included in the Paris Pass?
Yes. If you decide to buy the Paris Pass, it includes a Louvre Museum Ticket, in addition to access to some of the French capital's other most notable tourist attractions. This is a good way to save money, since most travellers will indeed visit other sites such as the Eiffel Tower or the Notre Dame while they are in town. It should be noted however that the Louvre museum ticket included within the Paris Pass only includes access to the permanent exhibitions at the Louvre and not the temporary collections.
There are three different passes in Paris that you can choose from depending on your specific interests and plans while in Paris:
Paris Pass
A general Paris travel pass contains entrance to dozens of attractions around the French capital. Variations of the pass are available depending on budget, specific interests and trip duration. The Paris Pass often includes a hop-on, hop-off bus pass for ease of getting around the main touristic sites, as well as admission to the most notable attractions such as the Eiffel tower and the Louvre. Passes to major attractions, including the touristic buses are priced at upwards of 100 euros per person.
Paris City Pass
The Paris city pass contains entrance to over 50 museums and attractions, skip the line perks at Versailles and the Louvre, unlimited transportation use around the city, in addition to discounts at various eateries and entertainment options around the city.
Paris Museums Pass
If you consider yourself a history buff, an art aficionado or a culture vulture then the museums Paris pass may be right up your street.  With prices ranging from around 50-60 euros per person (varies depending on the length of pass you wish to purchase), the Paris Museums pass is great for those who want to focus their Paris trip on educational experiences. This pass contains admission to over 60 museums and monuments in Paris – including the Musee National d'Art Moderne, the various crypts and exhibitions of Notre Dame and of course, a ticket to the Louvre Museum.
Paris travel passes are a great way to save money during your time in Paris and they work out much cheaper than purchasing the various attraction admissions separately. People that purchase Paris Passes also get additional complimentary information provided to them that is useful to their trips – such as area maps, further discounts in the city, and a handy guide to the city. Paris passes can be purchased online or via the various tourist information offices scattered around the city.
What are the Louvre museum opening hours?
The Louvre Museum is open every day of the week except Tuesdays. The specific daily opening times vary day by day but are summarised below:
Monday: 9 a.m.–6 p.m.
Tuesday: Closed.
Wednesday: 9 a.m.–9:45 p.m.
Thursday: 9 a.m.–6 p.m.
Friday: 9 a.m.–9:45 p.m.
Saturday: 9 a.m.–6 p.m.
Sunday: 9 a.m.–6 p.m.
Rooms and exhibitions begin closing approximately 30 minutes before the museum closure time so it is advisable to allow enough time and not arrive too late in the day.
Avoid the crowd – What is the best time to visit the Louvre museum?
If you want to miss the crowds and you plan on visiting the Louvre independently without a Tour Guide, early mornings or evenings are a good time to go, just make sure that you allow sufficient time to see everything before closing.
You also have the option to participate in a morning or evening guided tour that enables you to skip the majority of the tourist hordes.
Are there any combos available including Louvre museum tickets and other Paris attractions?
There are a number of combination options available that enable you to visit several Paris attractions at a discounted price. As mentioned, you have the option of the Paris Pass, however if you wish to combine a small handful or pairing of attractions, there are other more affordable options available.
For inspiration on the best attractions to see in Paris, or for guidance on the combination options available, check out our available options for Louvre Museum Tickets that are paired with other options such as the Eiffel Tower, a scenic Seine river cruise or admission the Notre Dame.
On TourScanner, you can compare thousands of things to do in Paris!
Share it on Pinterest 🙂