Located in the heart of Paris, in the Beaubourg area of the 4th arrondissement, Centre Pompidou is the largest modern art gallery in Europe, featuring the works of many legendary artists such as Picasso, Matisse and Ernst to name a few.
Often referred to as Europe's MoMA, Centre Pompidou offers an impressive collection of more than 50,000 works of art.
Discover stunning art collections with masterpieces dating from the 19th and 20th centuries and learn more about several significant art movements such as Fauvism, Surrealism, Cubism and Abstract Expressionism.
This leading museum welcomes more than 4 million visitors each year. Book your Centre Pompidou tickets to ensure your spot.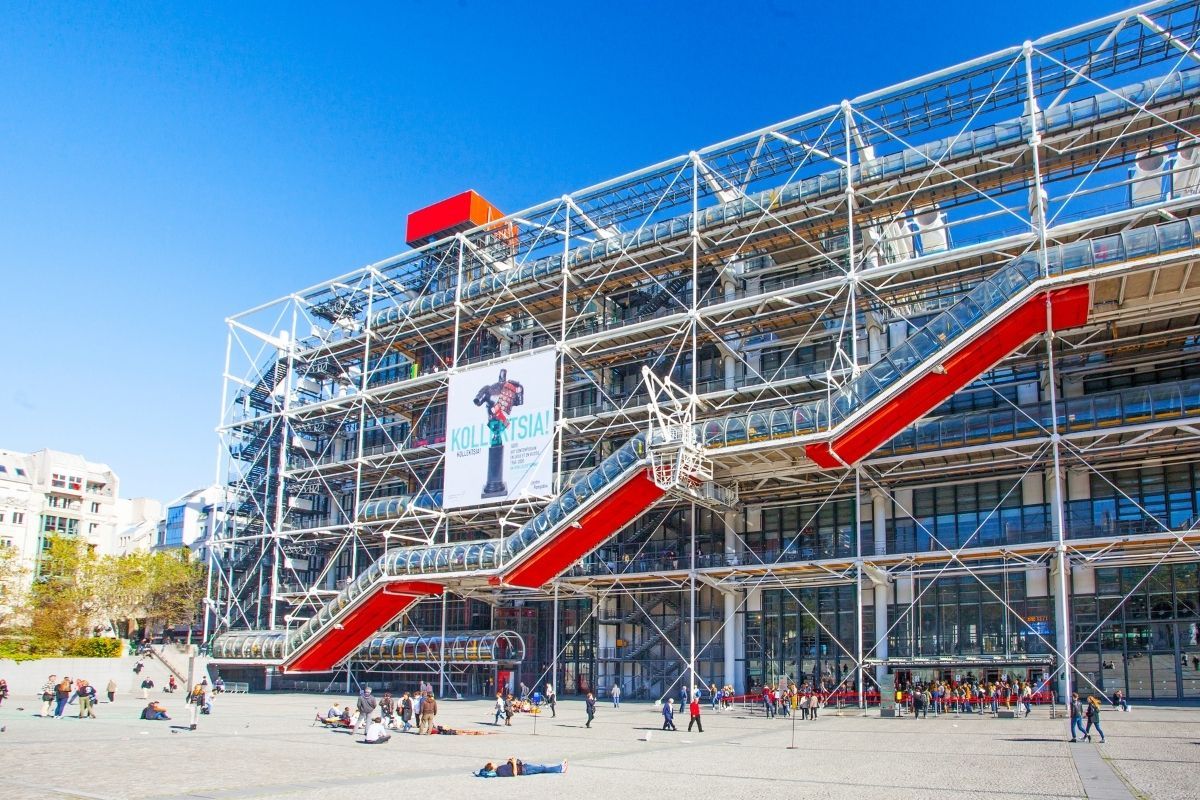 Here's all you need to know about the Centre Pompidou, one of the most famous museums in Paris.
How much do Centre Pompidou tickets cost?
Please find below Centre Pompidou ticket price and inclusions.
Centre Pompidou ticket
Centre Pompidou ticket costs €15 for adults. Entry is free for visitors aged under 18 years old, EU citizens aged under 26 years old, and disabled visitors.
Centre Pompidou ticket include the access to the museum along with Galleries 3 and 4, the Kids Gallery and the View of Paris (Centre Pompidou rooftop).
How do you book Centre Pompidou tickets online? How do you skip the line?
If you wish to skip the line at the entrance, make sure to book your tickets online ahead of time.
Centre Pompidou tickets are available through the official website and online travel agencies such as Tiqets, Viator or Getyourguide. Use TourScanner search engine and compare all the deals available for your desired date.
Are there any Centre Pompidou guided tours? Are they worth it?
Yes, absolutely. Centre Pompidou guided tours offer many advantages:
Save time. Book your tour in advance and skip the line, no need to queue up. Your tour guide will be waiting for you at the entrance. Centre Pompidou is one of the most sought-after museums in the world, so it doesn't take long for lines to build.
Learn more. You get to learn more and ask all the questions you may have during your visit. Who like googling every 10 minutes?
See all the important artwork. With a guide, you are sure that you are hitting all the most important spots of the museum.
Is it possible to visit the Centre Pompidou for free?
Centre Pompidou is open the first Sunday of every month for free for all visitors. However, be aware that the museum does get very busy during that day and expect a long queue at the entrance.
What will I see?
Centre Pompidou is one of the most impressive places to visit in Paris. Located in the Beaubourg area and designed by architects Renzo Piano and Richard Rogers, Centre Pompidou is probably the most iconic modern building and a must-visit for every modern art lovers. With its unique architecture, Centre Pompidou can be described as a building turned inside-out. The utilitarian features such as cables, air vents and plumbing form part of the external façade.
The Museum
The masterpieces proudly displayed at Centre Pompidou include works of art by legendary artists like Marcel Duchamp, Max Ernst, Joan Miro, and Pablo Picasso. It features many of the most prized works of art from the 19th and 20th century. All in all, the collections and galleries combine to feature over 50,000 works of art.
Centre Pompidou displays 6 different collections:
The Modern Art Collection
The Contemporary Art Collection
The Design Collection
The New Media Collection
The Photography Collection
The Cinema Collection.
The Library
In addition to the museum, the Centre Pompidou also features a massive public library. This is a great place if you wish to take some time to work.
View Of Paris
View of Paris is an exciting opportunity to see Paris from the upper floor. Use the elevators and enjoy a breathtaking view of Paris. Gazing out onto the rooftops of Paris, the Eiffel Tower and the Sacré-Coeur Basilica is an experience not to be missed.
Are Centre Pompidou tickets included in any attractions city passes?
Fortunately Centre Pompidou tickets get included with several passes, including the Museum Pass and the Paris Pass.
Attractions city passes are ideal for travelers looking to visit several attractions during their stay in Paris. By bundling entry fees to some of Paris's most popular attractions, you will save time, money and stress.
What is the best time to visit Centre Pompidou? How to avoid the crowd?
Centre Pompidou is the third most visited museum in Paris, therefore it is often busy. Your best opportunity to visit Centre Pompidou with fewer people is early in the morning on weekdays. The museum and library are especially busy on weekends and holidays.
What are Centre Pompidou opening hours?
Centre Pompidou is open every day from 11 AM to 9 PM except Tuesdays and May 1.
Which other museums can be visited in Paris?
Travel Tips
Book online and skip the line. Centre Pompidou can be very busy during peak season and weekends.
Don't miss the spectacular panorama from the Centre Pompidou rooftop.
The cloakroom is free on presentation of a Centre Pompidou ticket. Big bags and suitcases aren't allowed inside the museum and must be left in the cloakroom.
Last admission is 1 hour before closing time.
Bookshops can be found on several floors of the Centre Pompidou.
If you wish to visit several attractions in Paris in the same day, note that Centre Pompidou is located within one kilometre of Notre Dame and the Louvre Museum.