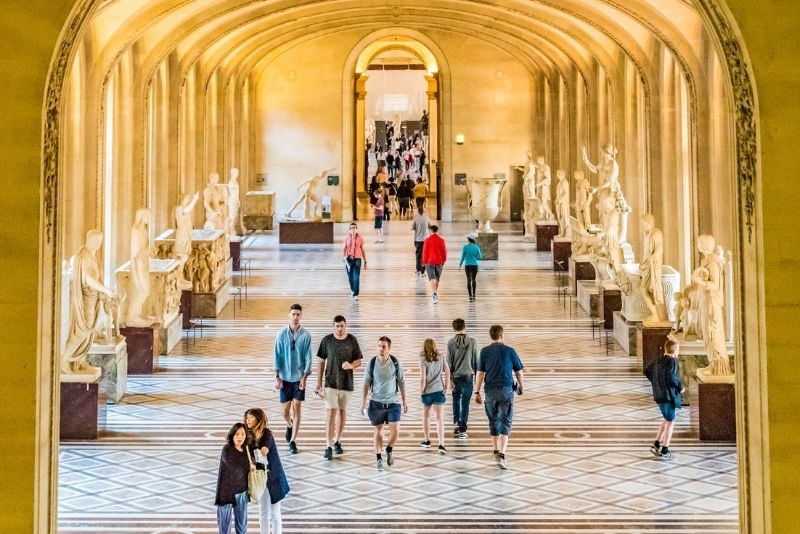 Paris is home to some of the world's most famous museums. With over 150 of them dotted across the City of Lights, you would need weeks to truly explore them all. In fact, some of them are so large – at over 60,000 square meters, the Louvre is the largest museum in the world – you could easily lose yourself in the labyrinth of galleries for an entire day or two and still not see everything.
But there is, of course, much more to see than the very famous Louvre. Whether you're looking for contemporary art, homages to famous names like Picasso or Rodin, or more unique collections of antique weapons or "tiny" dinosaurs, Paris has something for you.
Want something fun? The Grévin Wax Museum offers a unique twist on wax figures. Want to explore stunning architecture? Many of Paris' museums – including the Cluny Museum and the Grand Palais – are housed in stunning palaces fit for a king.
We know there's much to see, do and try when you're in Paris, so deciding what museums are worth including in your itinerary can be a challenge. Not to worry. We've compiled a list of the best museums in Paris so you can choose a few top-class museums, galleries, and cultural institutions in between visits to the Eiffel tower and your favorite cafes.
1 – Louvre Museum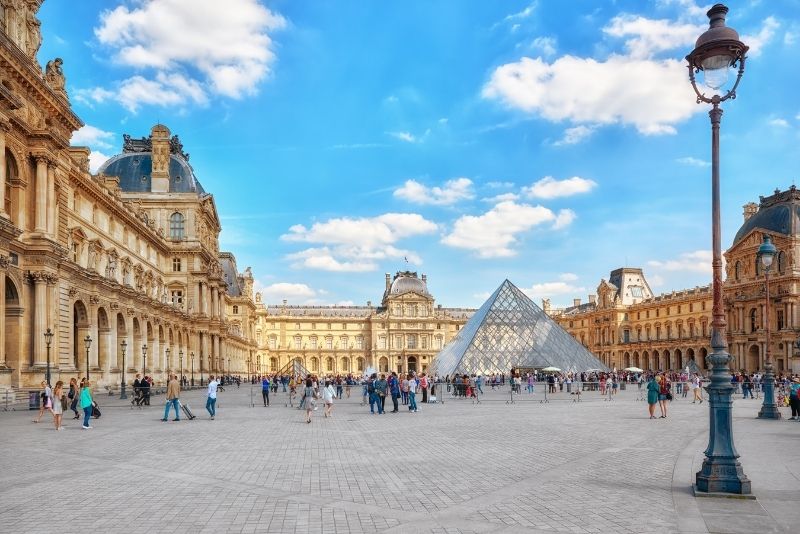 The world's most-visited museum is also Paris' heart and soul. Located right by the river Seine, the Louvre Museum occupies over 70,000 square meters, with over 38,000 objects being exhibited at any given time (this is about 10 % of the museum's full collection). Millions make their way every year to the 13th-century palace that now houses the museum.
Here, eight different spaces feature everything from Egyptian antiquities and Greek and Roman art, to Paintings, decorative arts, and drawings. There are even full rooms from the state apartments of Napoleon III featuring furniture, tapestries, and works of art.
The museum's most famous pieces – the Mona Lisa and the Venus de Milo – are also the most visited, but the museum boasts many other artifacts and masterpieces that are also worth a look. Keep in mind that the museum is massive and seeing it all would likely take several days.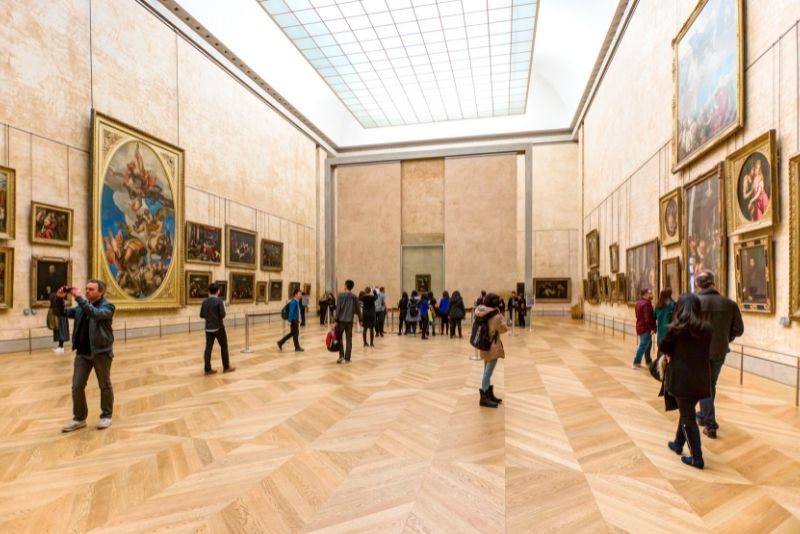 If you only have one afternoon to explore, stick to the top sights, which include stunning paintings like Théodore Géricault's The Raft of the Medusa, the stunning The Winged Victory of Samothrace statue, and the museum's only preserved mummy on display.
The outside of the museum, with its beautiful 21-meter high glass and metal Louvre Pyramid, is just as stunning as the inside. The pyramid was designed for a practical purpose (to serve as the museum's main entrance) but it has become also one of its biggest attractions.
To find out more about Louvre Museum tickets price or what else there is to see and do at the beautiful historical destination, don't forget to check out the museum's official website in advance of your visit.
2 – Petit Palais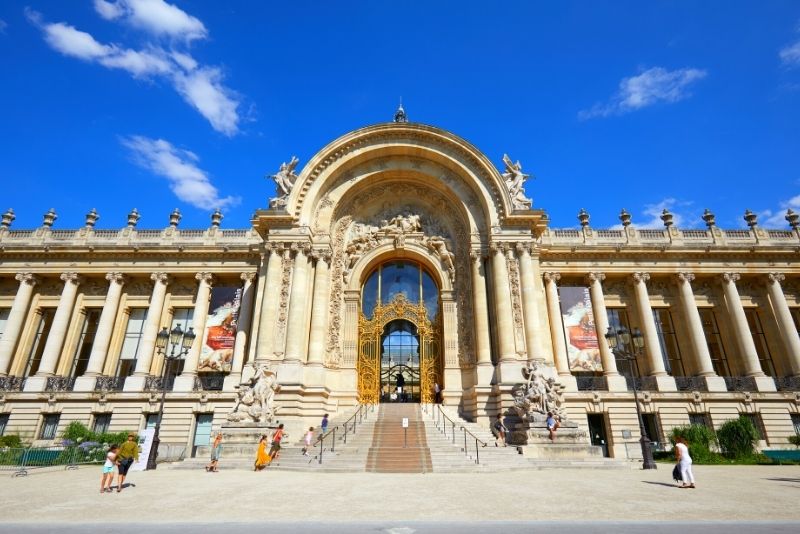 Don't let the name fool you. The Petit Palais (literally, Small Palace) is anything but small. Originally built for the 1900 Paris Exposition world fair (the Grand Palais and the Gare d'Orsay railroad station were also built for the same reason), it now houses the City of Paris Museum of Fine Arts.
Compared to the vast galleries of the Louvre, this museum definitely feels more manageable, though. It's less busy, it's free, and you only need a few hours to explore the four wings that make up the exhibition space.
As it's the case with many museums in Paris, the building itself is just as beautiful as the art inside. The Beaux-Arts architectural style used in the palace combines modern elements such as glass and iron with elaborate classical building decoration (think Roman gods), overscaled details, and lots of beautiful arches, pilasters, and balustrades.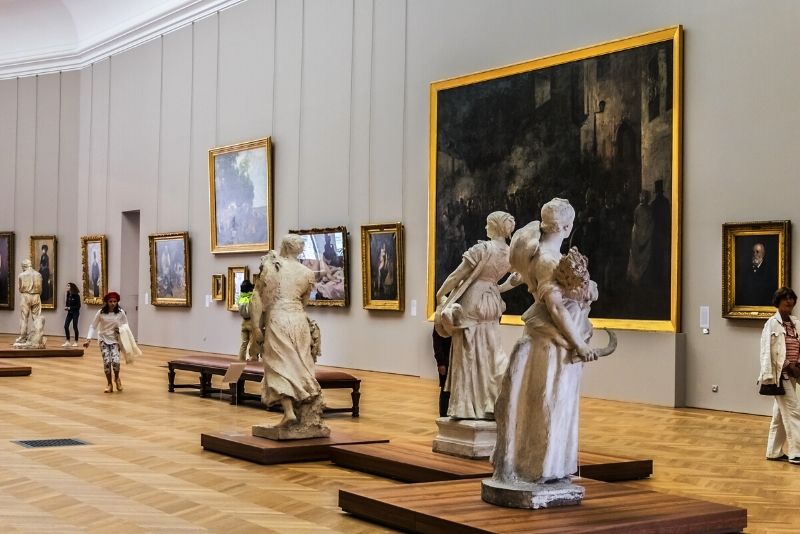 Inside, the museum's collection covers everything from the classical world and the Middle Ages to the Renaissance, and the 17 to 19th centuries. There's a special section of the collection that focuses on the 1900s Art Nouveau, with works from Emile Gallé, Rene Lalique, and Georges Fouquet. There are not only paintings in this collection, but also jewelry, porcelain, tapestry, and metalwork. There's even a remarkable collection of Christian icons.
The museum's semicircular courtyard offers a great place to relax (and sit down if you've been walking around the museum for a while) or have some tea or coffee in the garden cafe.
3 – Louis Vuitton Foundation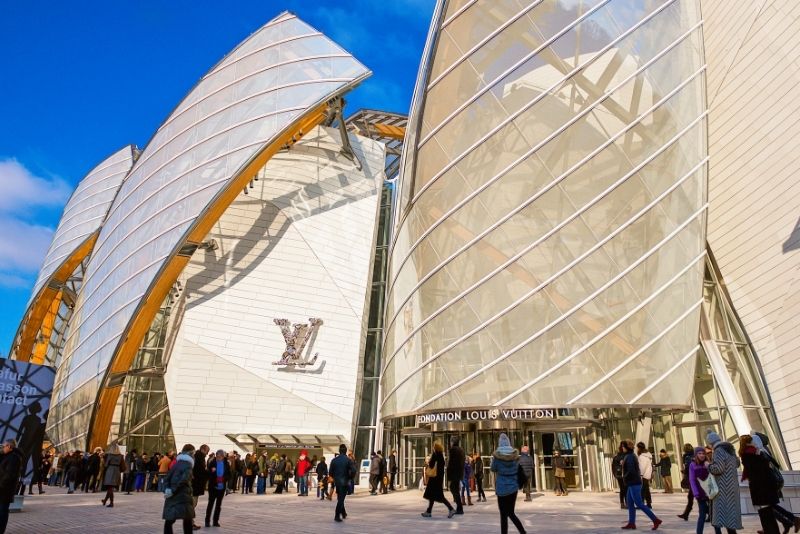 Built in 2014 as both a French art museum and a center for the promotion of art and culture, the Foundation Louis Vuitton Museum is designed to look as a glass boat covered by sailboat sails.
The museum is home to 11 galleries, an auditorium, and a number of roof spaces for temporary exhibits and art installations. Collections include not only paintings, but also sculpture, music & sound, and photography. Works by Jean-Michel Basquiat, Jeff Koons, and Janet Cardiff, among many others.
Many of the works of art in the museum were actually commissioned. These have encompassed a mix of light and sound installations, films, design and sculptures, and even living sculptures. An example of the last one is the beautiful "Where the Slaves Live," a giant water tank-like piece filled with layers of organic materials and found objects that are constantly growing and changing the sculpture.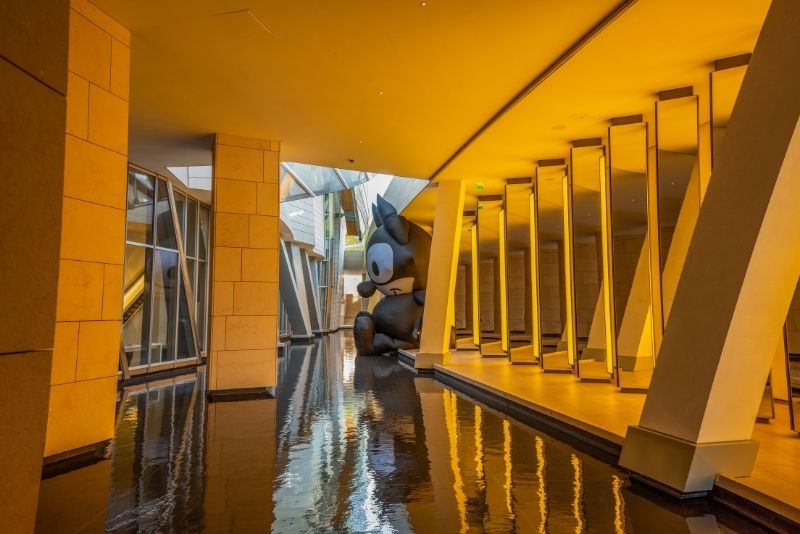 Other commissioned works include 43 illuminated yellow columns placed along a corridor and hanging Formica and wood fish lamps.
The museum also holds temporary exhibits and an extensive program that brings together musicians and artists, as well as conferences and debates. The auditorium has hosted many renowned artists, including piano concerts, solo artists, and international orchestras.
4 – Musée d'Orsay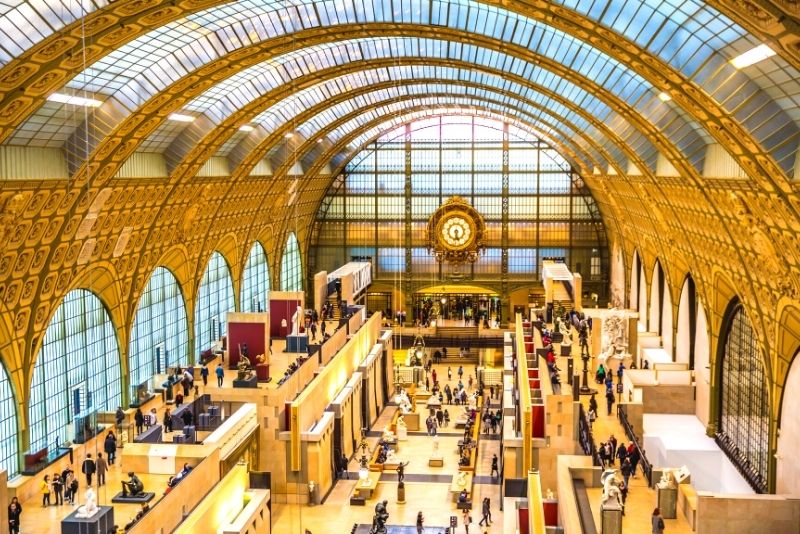 This charming French art museum takes its name from the former Gare d'Orsay railway station that now serves as its home. The station opened in 1900 but it was already obsolete by 1939, as the tracks would no longer suit the trains of the time. After that, it was used during WWII to move prisoners of war and as a film location for many major European movies, including some directed by Orson Welles and Bernardo Bertolucci.
Musée d'Orsay, which opened in December 1986, retains the original (and still in working condition) station clock in the main hallway. Today, the museum's collection is focused on French art from the period between 1848 and 1914, with a large number of works representing Impressionist and post-Impressionist artists. Painters like Monet, Renoir, Cézanne, and Van Gogh are all well represented here.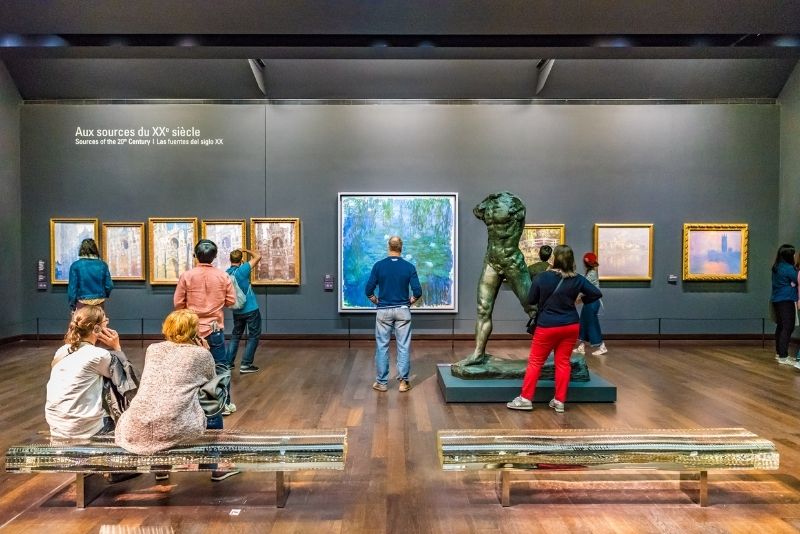 Of the 3,000 art pieces on display at the museum, many are unique, such as a 1:100 scale model of the Paris Opera and the neighborhood around it, set under a glass floor that visitors can walk on.
The museum also has an important sculpture collection, including pieces like Auguste Rodin's massive The Gates of Hell, which is made of bronze and stands six meters high. There's also a significant number of photographs and architecture and decorative art pieces in the collection.
Before visiting, make sure you check out the Musée d'Orsay tickets price for special skip-the-line offers or guided tours.
5 – Museum of Decorative Arts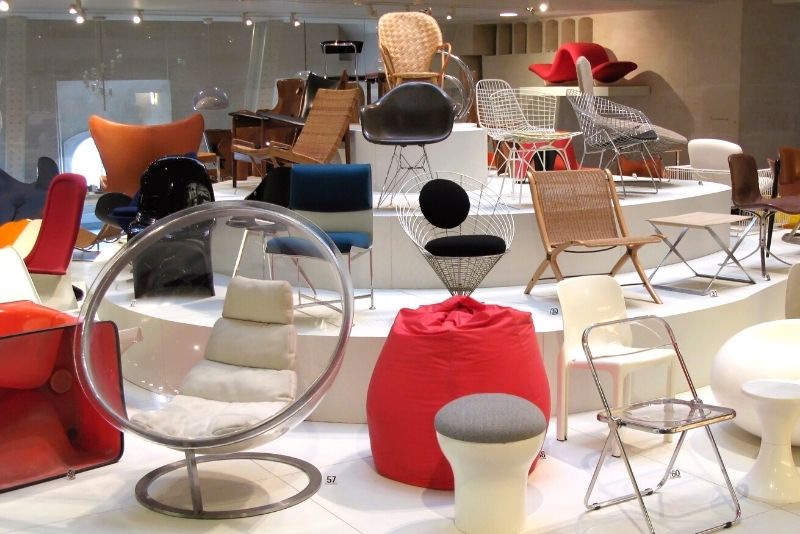 Housed in one of the wings of the stunning Louvre, the Museum of Decorative Arts holds the largest collection of its kind in Europe. In addition to furniture, tapestries and carpets, and porcelain, the museum's permanent collections also focus on glassware and even toys. Some of the pieces go back to the Middle Ages, but modern objects are also well represented in the museum.
The museum's most popular exhibits are its period rooms, which include the 1752 Gold Cabinet of Avignon, sections of the 1920s home of haute couture fashion designer Jeanne-Marie Lanvin, and the 1800s bedroom of courtesan Lucie Delabigne, which might have been the inspiration for Emile Zola's most famous novel, Nana.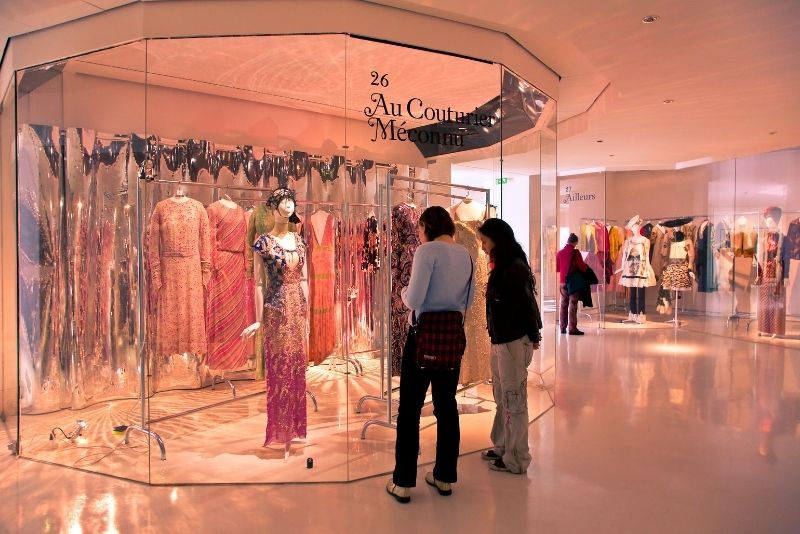 More modern pieces include designer furniture, toys from the 60s, and stained glass windows recovered from buildings. There are also beautiful examples of Lalique glass, Sèvres porcelain, and Aubusson carpets.
Guided tours and temporary exhibits (on topics as varied as contemporary jewelry, the history of footwear, and Cuban cinema) are available, and the museum also has its own auditorium where conferences, courses, and special photographic projects are presented.
6 – Musée Marmottan-Monet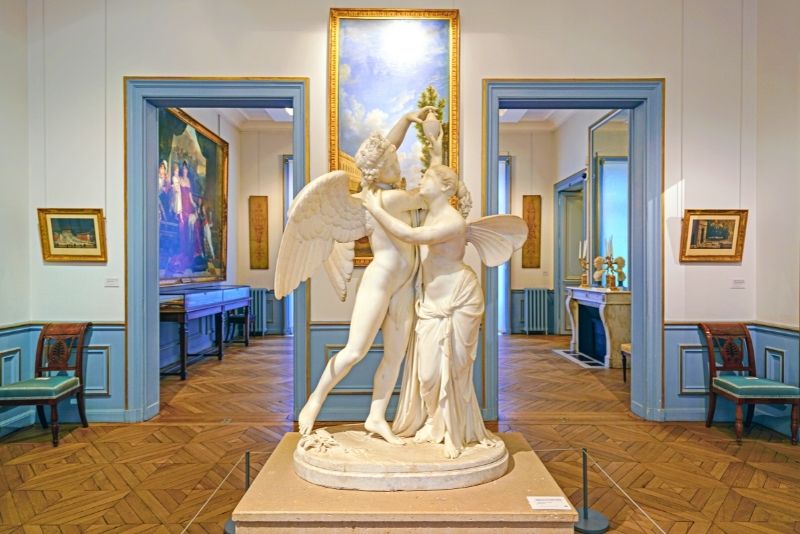 The beautiful mansion that houses the museum was once part of a chateau before it became a private property owned by Paul Marmottan, a collector and art historian. Marmottan amassed a significant number of neoclassical landscape paintings as well as material from the Napoleonic Era., much of which was donated to different museums and institutions throughout his life.
Upon his death, Marmottan left his home and the art within it to the Academy of Fine Arts, which then created the Musée Marmottan-Monet within the property.
While the original museum was mostly focused on art from the First Empire (the time also known as Napoleonic France) because this is what Marmottan mostly collected, a shift happened over the following years. Two major donations provided the museum with a significant number of Monet works. The first came from the son of Monet's physician, the second from Monet's son himself.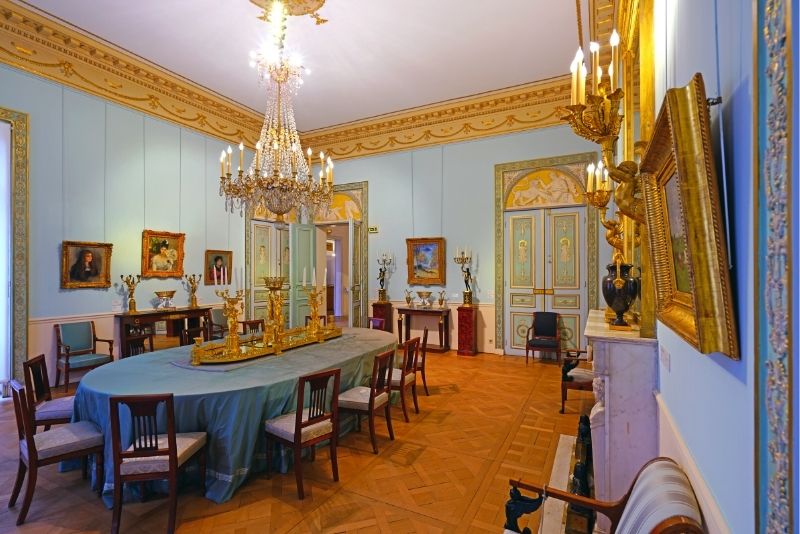 Monet's works now take up an entire exhibition space, but the museum also showcases work by other painters, including Paul Gauguin, Renoir, and Camille Pissarro. The original furniture and art that was in the house, most of which represent the First Empire times, are still in the house and are part of the collections as well.
The museum organizes special workshops for both children and adults, temporary exhibits around special themes, and event nights throughout the year.
7 – Centre Pompidou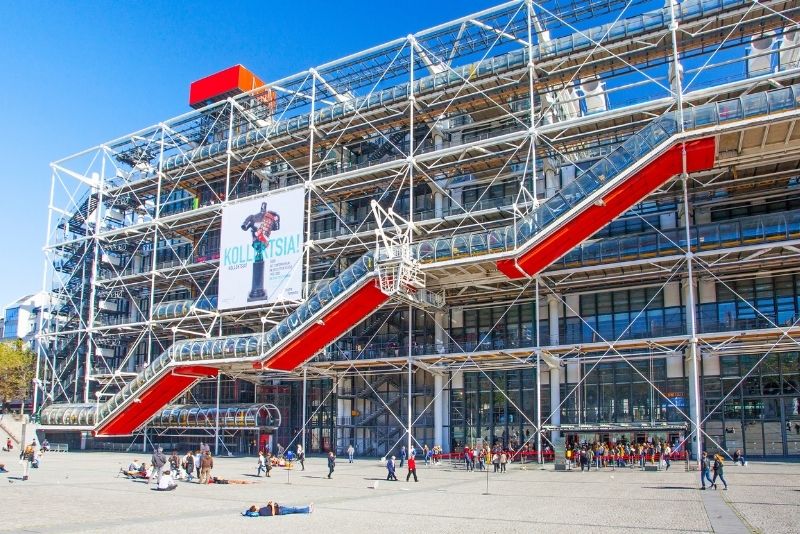 This modern art and cultural center is one of the best museums in Paris, just as famous for its building as for the collections it holds. Designed in a high-tech, modernist style, the building has its structural, electrical and mechanical systems on the outside of the building. This is sometimes known as an "inside-out" building – a design that allows you to fall in love not necessarily with the final look of the structure but with the uniqueness of it.
The museum's collection covers the visual arts, drawing, photography, film and new media, and design and architecture. The design and industrial prospective collection at the museum holds several pieces of furniture that in some cases almost double as architectural pieces of art.
When it comes to film, the Centre Pompidou has become the go-to place for experimental art films, video installations, and artistic cinematography.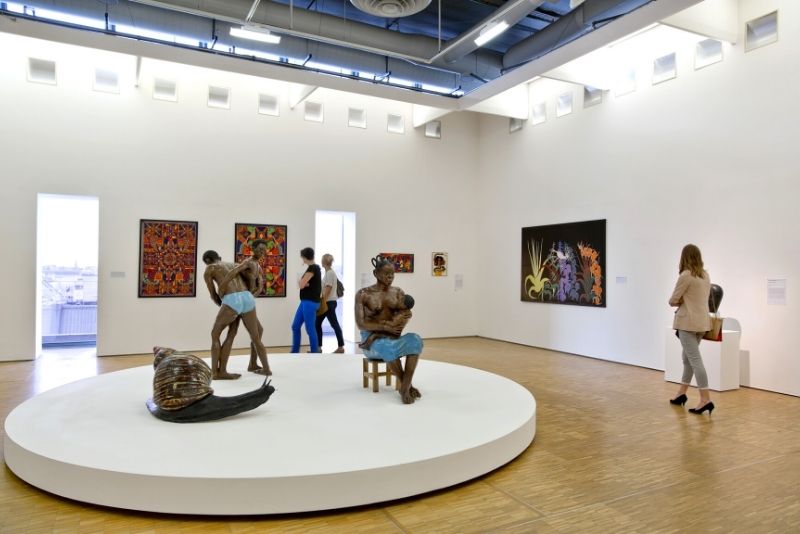 Thematic exhibitions include everything from retrospective collections of unique artists to multidisciplinary exhibitions from different artists within a time period to screenings and discussions around contemporary spy series.
The center also runs the Brancusi Studio, an exact recreation of the studio once used by Romanian sculptor, painter and photographer Constantin Brâncuși. The studio now houses Brâncuși's extensive collection of works, with over 1,600 original prints, sculptures, drawings, and paintings.
8 – Grand Palais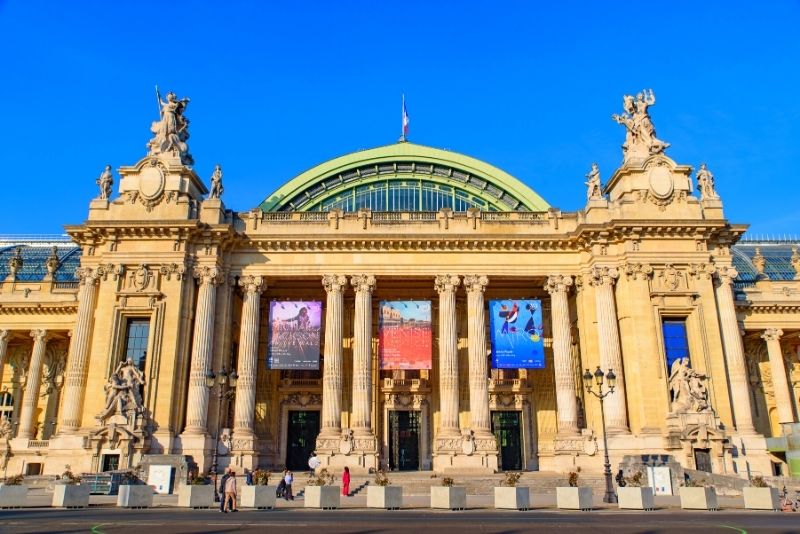 This massive complex located close to the Champs-Élysées consists of three major buildings: the Nave, the Palais de la Découverte children's science museum, and the National Galleries, home to a large collection chronicling the history of art.
Built for the 1900 Universal Exposition in a Classical and Art Nouveau style, the beautiful iron and glass structures that make up the Grand Palais have been used for different purposes. The Nave itself, the largest of all three spaces at 240 meters long, often hosts fairs and expos, horse riding events and large art exhibits.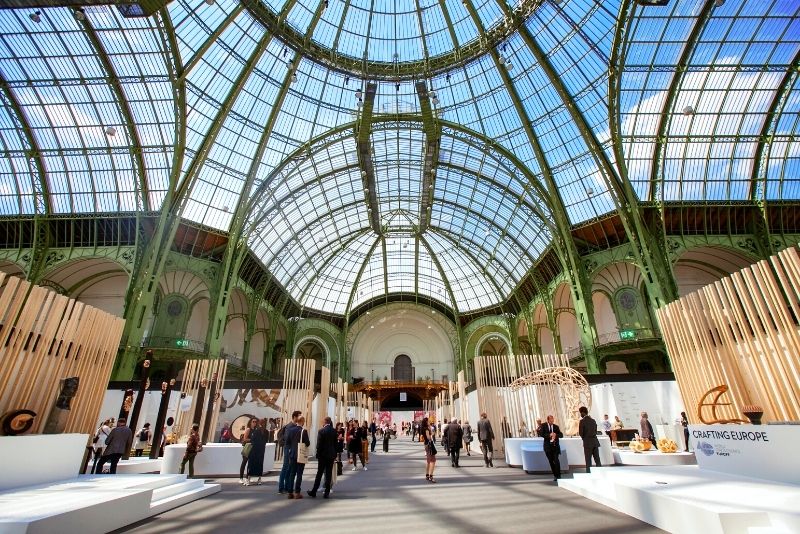 For those visiting with kids, the massive 25,000 square meters Palais de la Découverte is a must-see. In addition to a planetarium, the museum also hosts permanent interactive exhibits on physics, biology, astronomy, and more. There's a room to experiment with sound and one to learn about energy, with extra spaces to look into DNA and even opportunities to try a number of simulators using computers.
The National Galleries at the Grand Palais focus on major art exhibits – from immersive exhibitions offering interactive and sensory experiences to artists in the Paris of the roaring twenties, this is the place to be in Paris for a different way to experience art in all its forms.
9 – Bourdelle Museum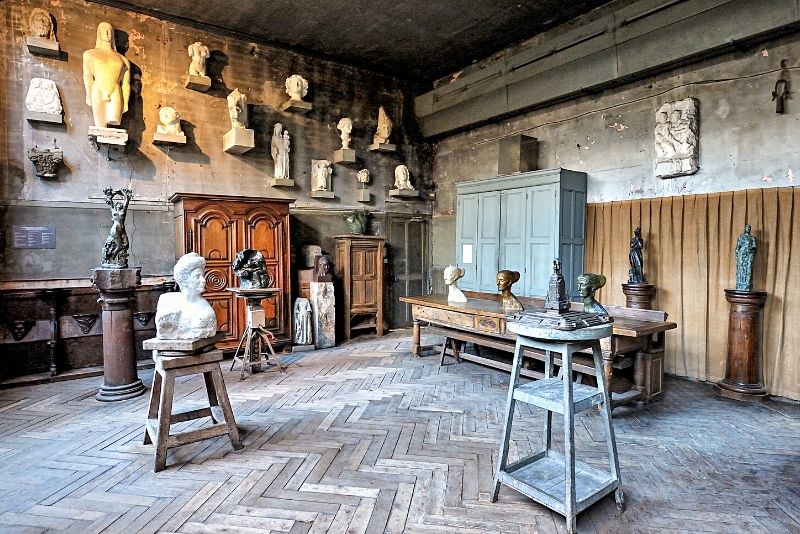 Sculptor Antoine Bourdelle played an important part in the Art Deco movement in France, but he was also famous for working with Rodin and Matisse, both as a student and teacher.
Back in the 19th century, Bourdelle maintained an atelier in Paris, which he himself worked on converting into a museum later in his life. That's exactly where the Bourdelle Museum is today, in a beautiful space where Bourdelle's original large wooden work tables and turntables sit exactly as they were many years ago.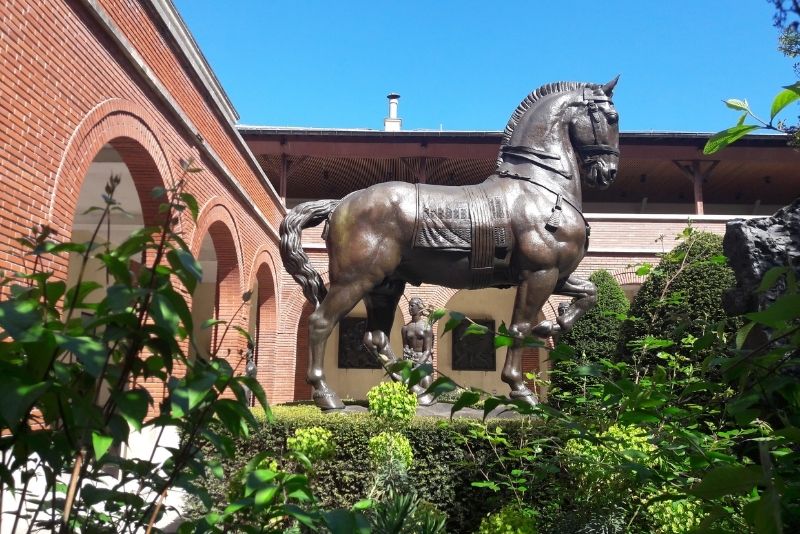 Over 500 of the artist's works now call the museum home, including marble, plaster, and bronze statues, paintings, fresco sketches, and sculptures made up of plaster, bronze, and marble. Most of the large bronze statues are actually in the museum's gardens, mixing with serene green spaces and hidden corners. Bourdelle learned to draw long before he was a sculptor, and many of his early sketches – done in pencil, pastel, and ink – are displayed at the museum.
Bourdelle himself was an avid collector and much of what he obtained during his lifetime is also displayed at the museum. This includes beautiful art by Rodin, Monticelli, Van Gogh, and Eugène Delacroix, as well as engravings, plaster molds, and antiques. There's also a large collection of photographs showcasing his work and life.
10 – Cluny Museum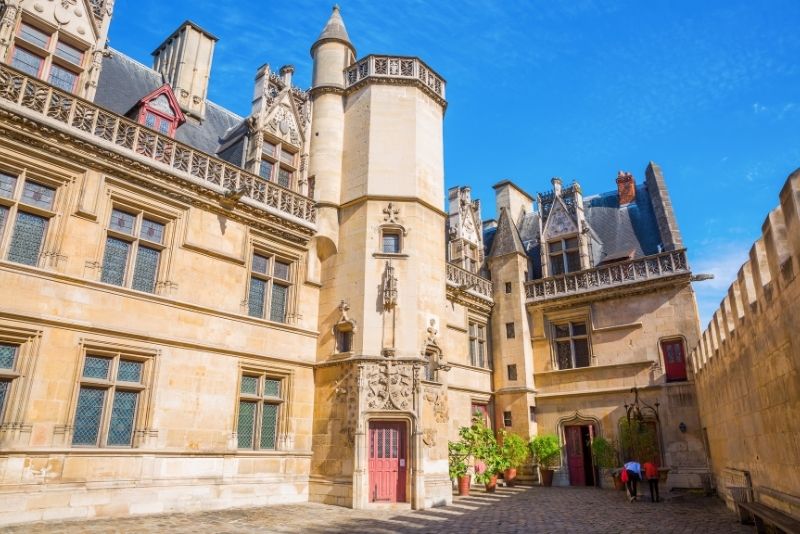 Paris' only museum dedicated exclusively to the Middle Ages is housed in the 15th century Hôtel des Abbés de Cluny and is directly connected to the next-door ruins of the Thermes of Cluny, ancient Gallo-Roman baths that were constructed around the 3rd century. With such grand structures and over 6,000 square meters of museum space, it's no surprise that the Cluny Museum is one stunning set-up.
About 10 percent of the museum's 23,000 artifacts are in exhibition at any given time. The collections – which cover the time from the Gallo-Roman period to the Early Middle Ages – are spread between the Hôtel de Cluny building and the Frigidarium (a large room that once held a cold pool at the Roman baths).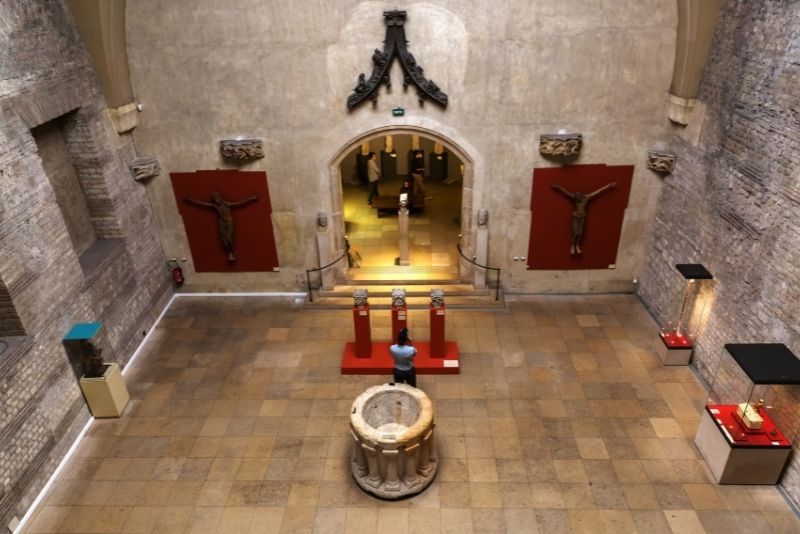 The ancient collections include art of the Byzantine-Greco-Roman Egypt era (including religious art) and Byzantine Art as far back as the founding of Constantinople. Beautiful examples of this era include a 7th century Visigoth gold crown adorned with pearls and sapphires, and an ivory statuette of a mythological figure made in Constantinople.
The museum also has a significant collection of Romanesque Art, which includes many religious sculptures, and a significant number of beautiful tapestries, including a series of six tapestries known as The Lady and the Unicorn. Dating back to the 1500s, the tapestries weren't discovered until three centuries later. Gothic art, 15th century art, and a number of pieces from the gold workshops of Limoges complete the collection.
11 – Musée de L'Orangerie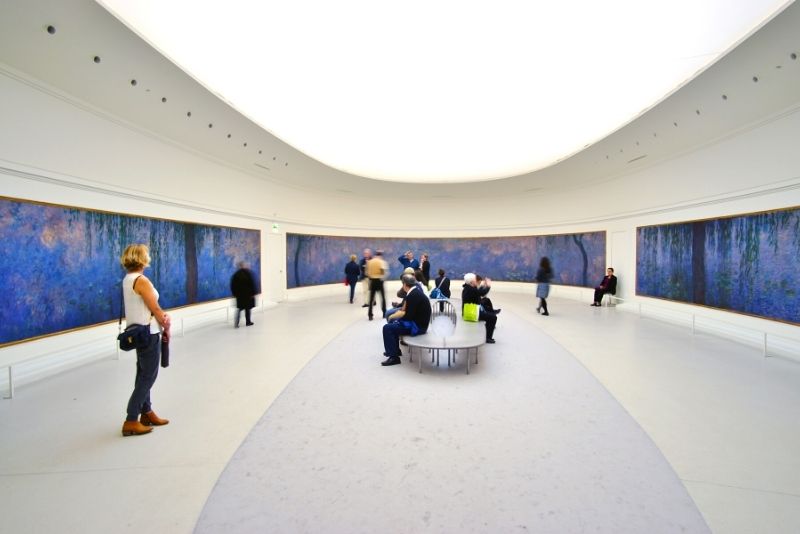 The museum is housed in an old orangery, a sort of greenhouse used to store fruit trees during the winter to protect them from the frost. The Musée de L'Orangerie was built to house the trees from the Tuileries garden during the early 19th century.
Years later, the building was used for public events until it became a space for art exhibitions in 1921. Dedicated to impressionist and post-impressionist painting, the museum opened with a series of paintings by Monet, who not only donated his Water Lillies series to the Orangerie, but also requested skylights were added to the rooms to provide natural light to enhance the viewing experience.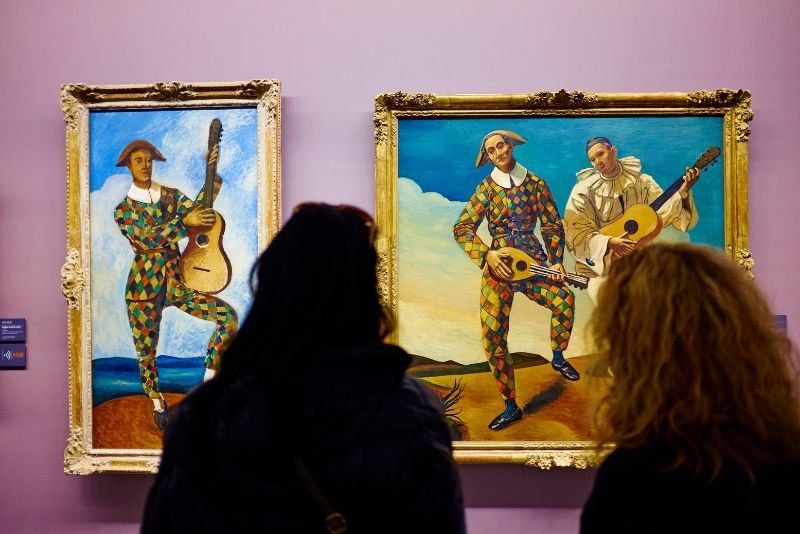 For years, the Orangerie hosted temporary exhibits by many master painters, including Rubens, Arno Breker, and a number of Impressionist artists. As the museum continued to acquire larger collections and the building expanded and redesigned, new exhibition rooms were added, as well as a library and an auditorium.
Today, this is one of the best museums in Paris, holding works by Paul Cézanne, Marie Laurencin, Matisse, Monet, Modigliani, Picasso, and Renoir, among many others. There are also some sculptures from Africa and Oceania, which were acquired as part of the Paul Guillaume collection, as well as a number of functional sculptures by artist Agnès Thurnauer.
12 – Carnavalet Museum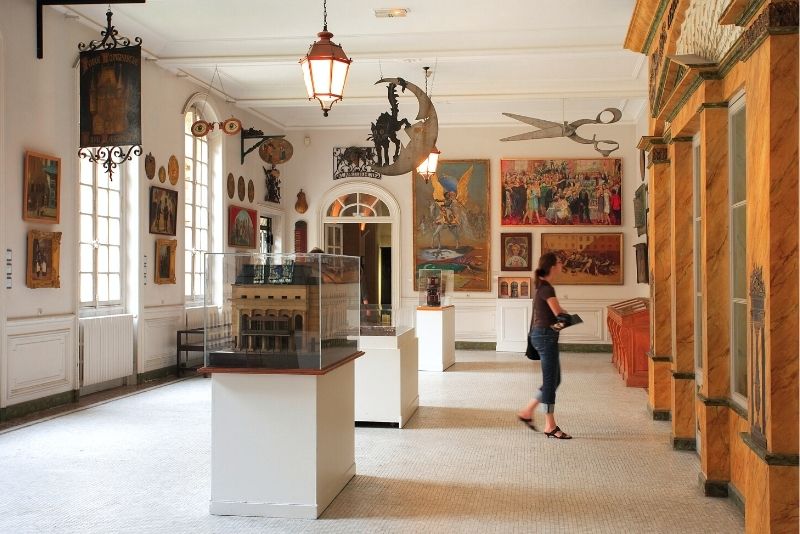 Paris' oldest museum is appropriately dedicated to chronicling the history of the city. Already popular when it opened in 1880, the Carnavalet Museum has continued to expand and it now occupies two buildings: the Hôtel Carnavalet and the former Hôtel Le Peletier de Saint Fargeau.
The museum's collection includes over 2,600 paintings, more than 150,000 photographs, thousands of drawings and engravings, and over 2,000 pieces of sculptures. There are also unique pieces of furniture, signs, ceramics, and even coins. As part of its effort to record the history of the city, the museum not only holds pieces that showcase how Paris has changed over the years, but also portraits of different people who have played a role in those changes.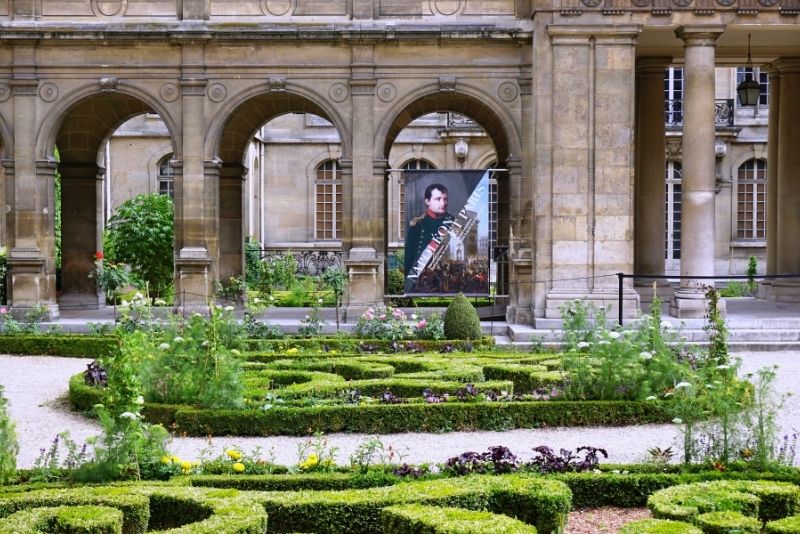 Painters from the Renaissance to today include Jacques-Louis David, Étienne Aubry, Pierre-Antoine Demauchy, Jean-Louis Forain,  and Paul Signac. Plus, unique pieces at the museum include unique items like a 4th-century perfume bottle, a 13th-century ornate chest, paintings depicting the French Revolution, a case of toiletries that belonged to Napoleon, and the cradle where Louis Napoleon Bonaparte slept as a baby.
There are also many personal belongings of important Paris-based figures such as Robespierre, Marie-Antoinette, and Émile Zola.
In addition to temporary exhibits, the museum also offers workshops, lectures, and even a series for young visitors.
13 – Paris Museum of Modern Art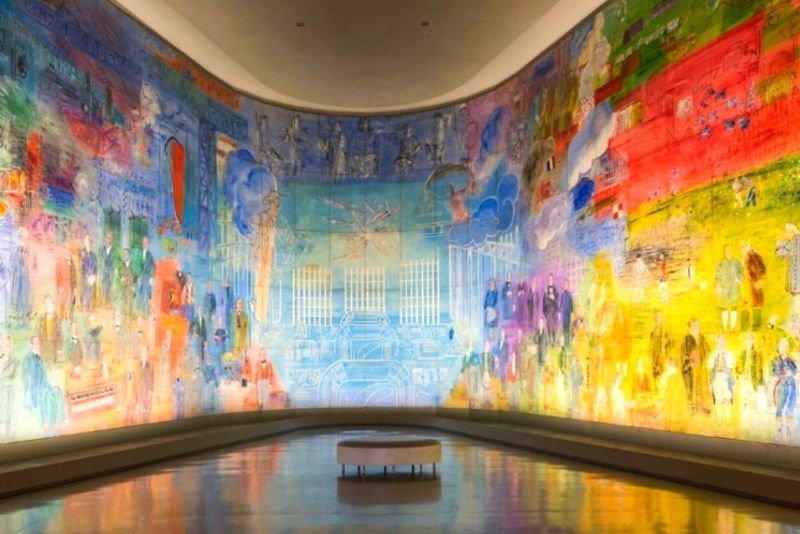 With more than 15,000 works of art from the 20th and 21st centuries, the Paris Museum of Modern Art is a great place to understand today's art scene. Works by some of the most significant modern and contemporary artists – including Picasso, Juan Gris, Van Gogh, Henri Matisse, and Cézanne – are an essential part of the collection, but so are works representing the Fauvist and Cubist movements, New Realism, and the School of Paris themes.
The must-see works in this museum, however, all have something in common: their massive size. La Danse by Henri Matisse consists of three separate oil on canvas panels that cover much of the wall in the Main Room at the Museum. La Fée Electricité by Raoul Dufy was originally commissioned for the 1937 International Exposition in Paris and it's so big (600 square meters) that it curves over three walls inside the museum. It's still one of the largest paintings in the world.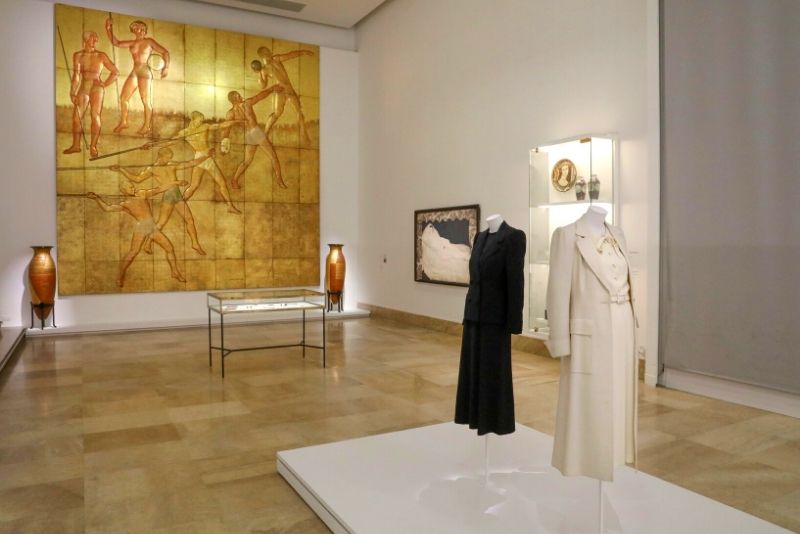 In addition to permanent exhibitions, the museum also hosts new temporary exhibits every six weeks. Past ones have focused on single artists, as well as group shows (African artists or winners of the Marché de l'Art Prize). Although there's an entry fee to see the temporary exhibits, general entry to tour the permanent collection is free.
The museum's bookshop, considered one the best art bookshops in Paris, offers rare books like artist monographs, exhibition catalogs, and specialist journals.
14 – Invalides Army Museum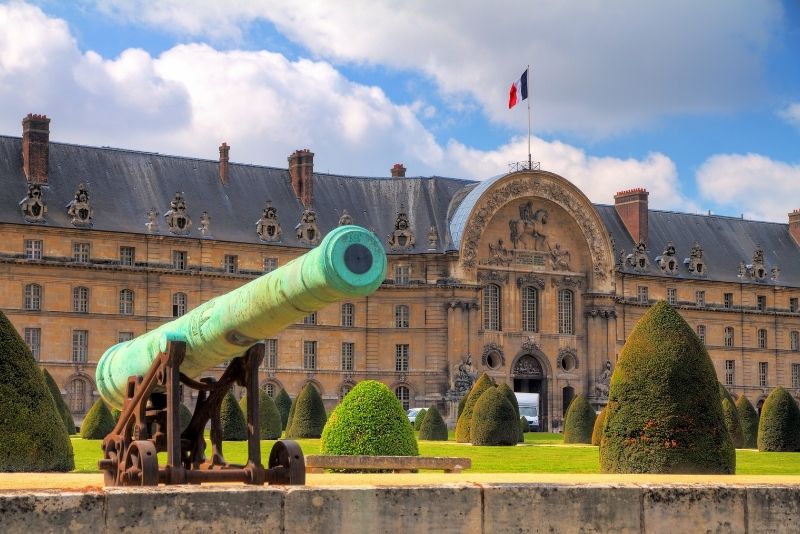 Part of the Les Invalides, a complex of military museums and monuments, the Army Museum houses a massive collection. It's the country's largest museum of military history but also one of the most extensive, covering the history of war from antiquity to modern times.
The collection is divided into six areas. Four of the areas are dedicated to displaying items from the collections and include the room for the armor and weapons from the 13th to the 17th century, the modern department (from the mid-1600s to the late 1800s), the contemporary department (which includes the two World Wars), and the artillery collection.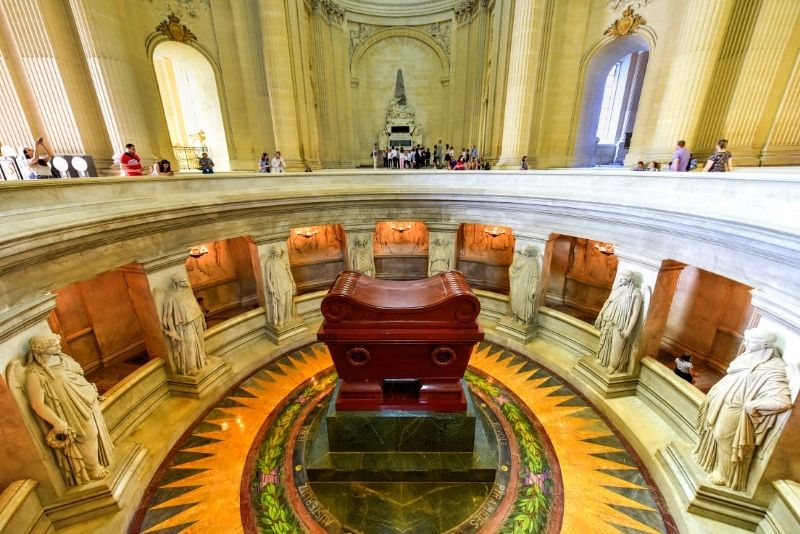 There are also two additional spaces: the Charles de Gaulle Monument multimedia space chronicling the general's campaign against Nazi Germany, and a special area dedicated to unique collections, including toy soldiers and military music instruments.
The collections feature uniforms, ceremonial swords, antique armament, canons, howitzers and mortars, battle armor for both humans and horses (including the armor worn by future Henry II), a 1916 rapid-fire infantry cannon, and four pistols belonging to Napoleon.
Other buildings in the complex include the Cathedral of Saint-Louis des Invalides, the Musée de l'Ordre de la Libération, and the Musée des Plans-Reliefs, dedicated to military models dating as far back as the 1600s.
15 – Metiers Art Museum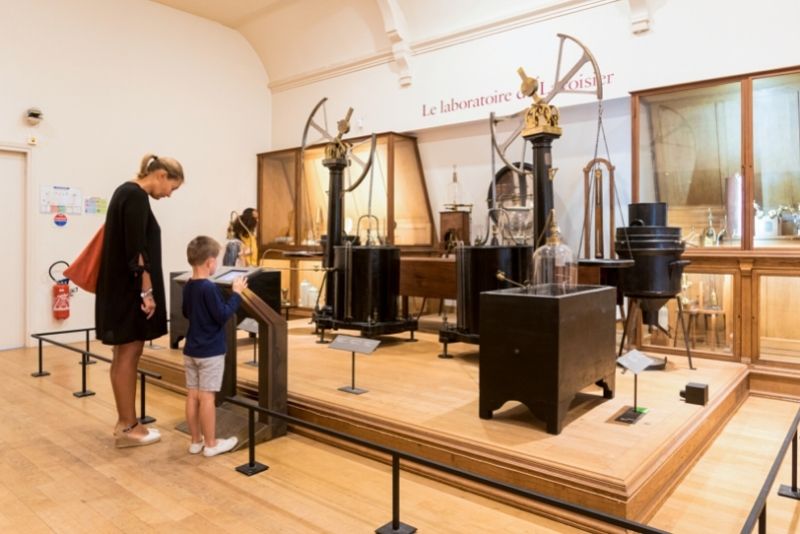 This unique industrial design museum, Metiers Art Museum, is home to a large collection of technological innovations, scientific instruments, and mechanical objects. About 2,500 pieces are in exhibition at any given time, though the museum's collection contains almost 100,000 objects.
Perhaps the best thing about this museum is that you really cannot guess what you'll find anything. The museum's five distinct collections cover everything from transportation to construction to energy, which results in a very eclectic mix of items.
For example, you'll find the original model for the construction of the Statue of Liberty, as well as the first mechanical calculator (designed by Pascal), a 1985 Supercomputer Cray-2, an 1835 drawer camera for daguerreotyping, and the original Foucault pendulum.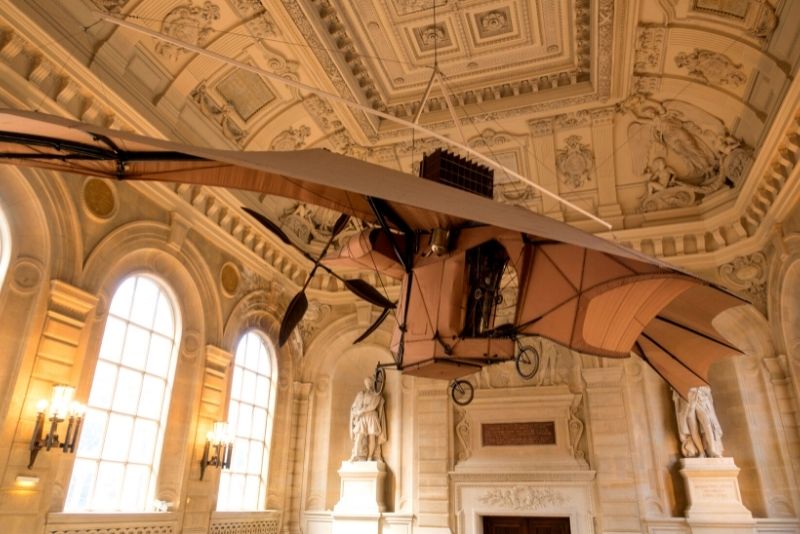 Other interesting objects include a beautiful 1909 Blériot XI airplane and a number of automatons, such as a 1785 singing birdcage, a 1934 acrobat, and a number of music boxes from the 1800s. There's also a significant collection of objects connected to energy, such as hydro turbines, gas engines, an 1881 Gramme system dynamo-electric machine, and a pendulum steam engine which was used in mines to scoop water out.
Temporary exhibits and events also cover a wide variety of topics, including music and vinyl, moving pictures, the Belle Epoque, and live demonstrations of Foucault's Pendulum at work.
16 – City of Science and Industry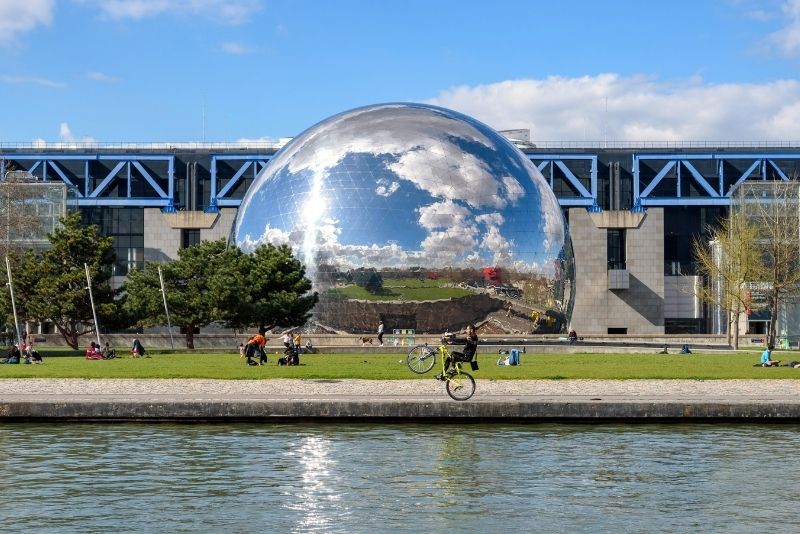 As the biggest science museum in Europe, you wouldn't expect the Cité des Sciences et de l'Industrie to also have the title of one of Paris' biggest green spaces. But this unusual and unique museum is also home to three massive 32-meter-high greenhouses facing the park at the entrance of the museum.
Once you step inside, you'll find permanent exhibits on the topics of transport, energy, the history of the universe, mathematics, sounds, and space. Try an eco-driving simulator, see a map of air traffic over 24 hours, test yourself using interactive stations designed to show you how the brain works, and see how much energy is consumed around the world on a daily basis.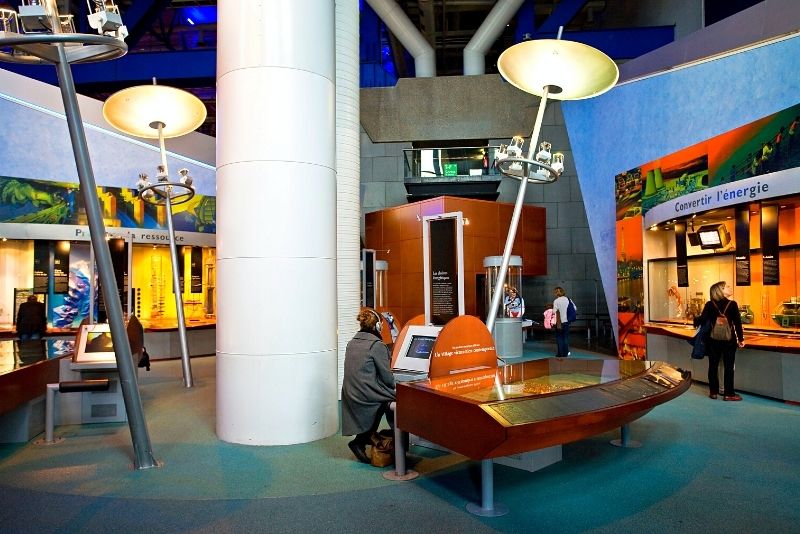 In addition to a planetarium, the museum also houses an IMAX theater built inside a mirrored geodesic dome known as La Géode. Here, films, live broadcasts and concerts are projected on a 1,000 square meter hemispherical screen, often in 3D, for an intense experience that engages all senses.
The decommissioned Argonaute (S 636) submarine (which sits outdoors in the Parc de la Villette) is also part of the museum, and visitors can climb inside to learn more about the history of submarines, learn what daily life inside the Argonaute was like, and see historic photographs.
17 – National Museum of Natural History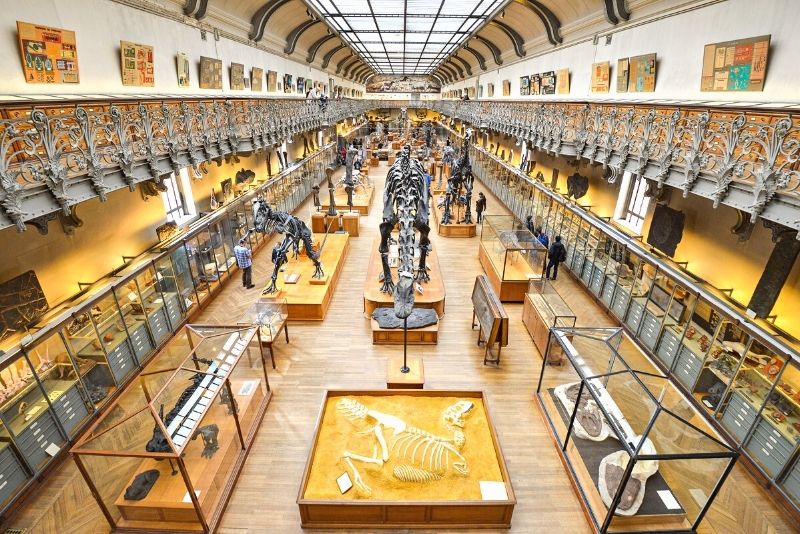 The Museum of Natural History started its life back in the early 1600s, when it served as King Louis XIII's royal garden for medicinal plants. During the French Revolution, it became the first version of the museum it is today – though much of its collection was added a few years later thanks to Napoleon, who traveled to Egypt with more than 150 scientists and brought back a large number of specimens for the museum.
Today, the museum's collection includes over 67 million specimens, including 7.5 million plants, over 1000 skeletons retracing evolution (including one of a Compsognathus, one of the smallest dinosaurs ever), cultural artifacts and archaeological remains, and even meteorites. The museum's insect and mineral collections are also very large.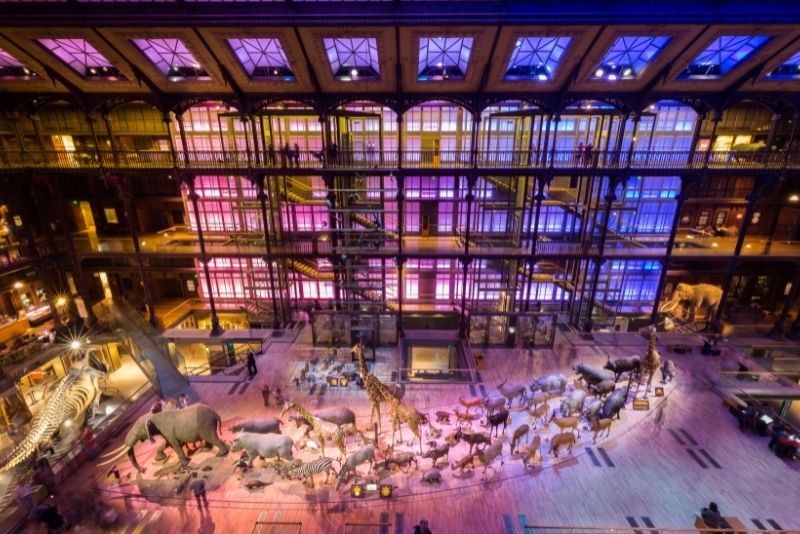 In addition to the main museum building, there are 13 other sites holding specific collections that are part of the museum, including the anthropologic Museum of Mankind, the Pataud Shelter (an on-site prehistoric excavation site), the Harmas de Fabre (a herbarium and museum), and four scientific sites. Three zoological parks (including La Ménagerie, one of the oldest zoos in the world) and three botanical gardens are also run by the museum.
18 – Grévin Wax Museum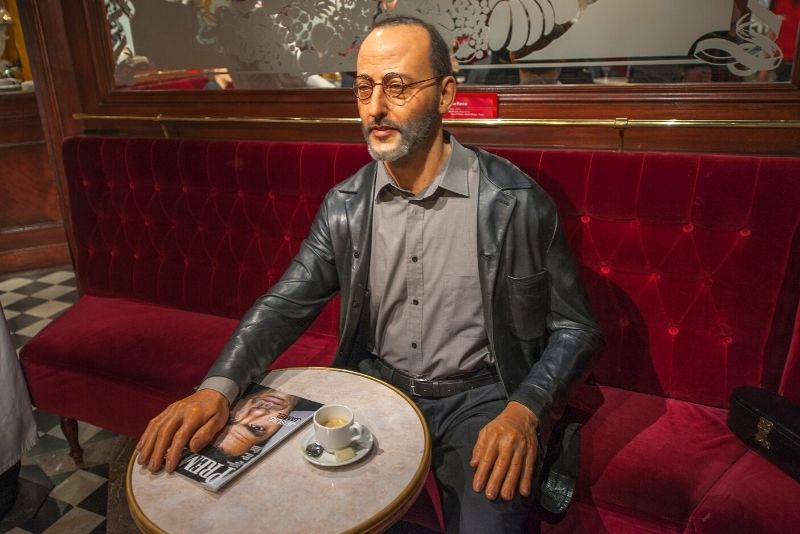 Founded by French newspaper director and journalist Arthur Meyer, Grévin Wax Museum is somewhat modeled after Madame Tussauds. A significant part of their collection is focused on figures that have made a mark in the history, culture and spots of France.
There are special scenes with wax figures fighting the French Revolution, and you can see the actual scene of the murder of French political theorist and journalist Jean-Paul Marat (including the real bathtub where he was found dead).
Modern French figures include former football player Zinedine Zidane, actress and singer Isabelle Adjani, and actor and comedian Jean Dujardin. Other famous stars from Europe, including Italian actress and model Monica Bellucci, are also featured here.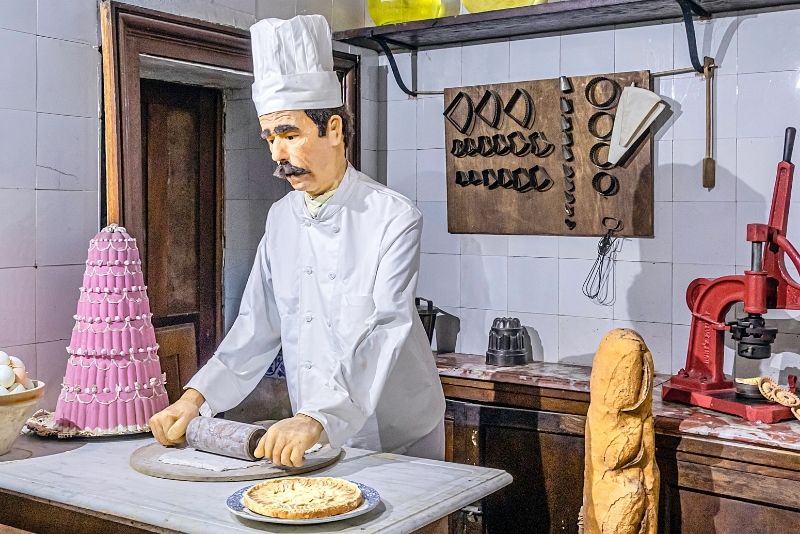 The museum also features wax statues of personalities from around the world, many of which are set in interactive environments. You can pose with Einstein, have coffee with Picasso, or sip champagne with George Clooney. You'll even find Napoleon sitting on a camel during his campaign in Egypt.
The museum also houses an Italian-style theater, where you can attend shows, concerts, and special events. There's also a Hall of Mirrors – which feels more like a giant kaleidoscope featuring a show of music and lights once you step in – originally designed for the 1900 Paris Exposition.
19 – Homme Museum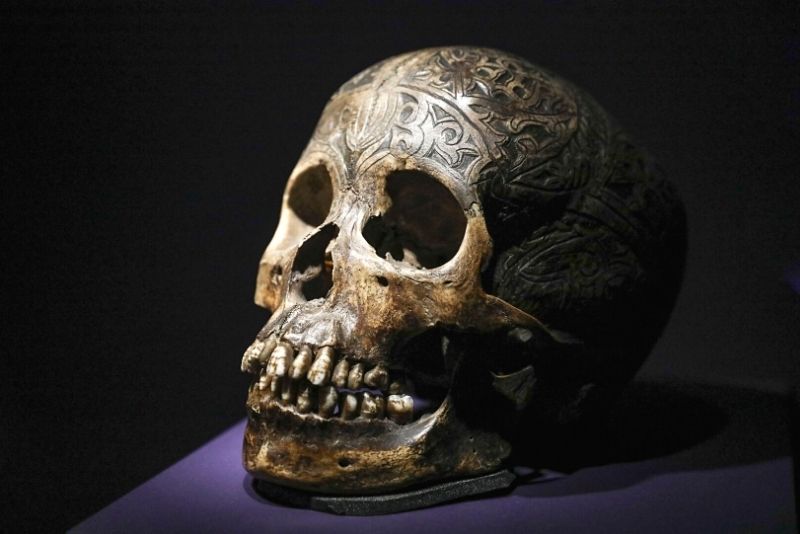 The Museum of Mankind (or Museum of Man) is an anthropology museum that was originally created for the 1937 International Exposition of Art and Technology in Modern Life. It originally included only random pieces obtained from a "cabinet of curiosities," small collections of strange objects held privately by scholars or historians as far back as the 16th century.
These included everything from ethnographic specimens to bones, skeletons, many animals and plants, and even special things like a dragon's egg or blood collected when it rained down on some faraway island.
Besides the obvious fakes, the museum eventually also removed any specimens that weren't connected to the human species and focused on the history of humanity and its evolution. Today, the museum focuses on answering the question, "where do we come from" through human fossils, ancient art, and artifacts.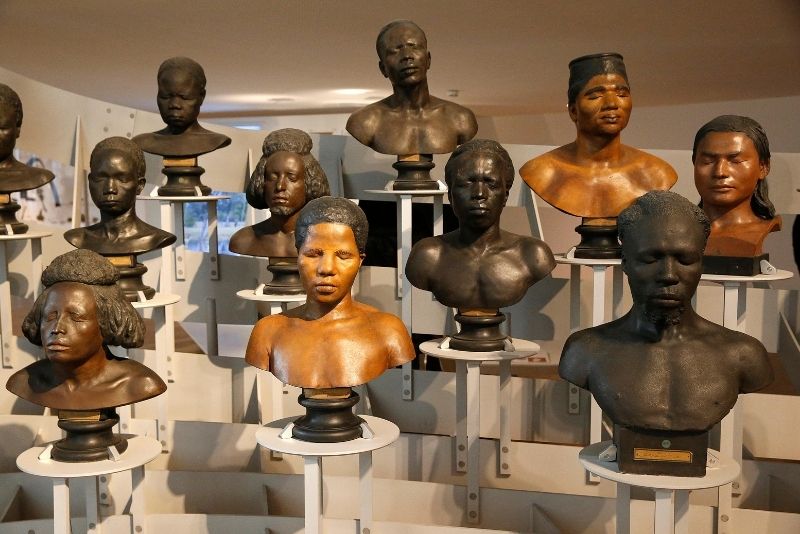 Notable items in the collection include the real skull of philosopher and mathematician Rene Descartes, an ancient crystal skull carving, and a series of anatomical representations of human diversity.
There are even interactive exhibits like an original 1960 bus that once ran in Senegal and now offers a virtual ride through history, and recreations of typical homes of five very different families around the world, from a pygmy in Gabon to a Sami in Lapland.
The "Where Are We Headed" gallery of the museum focuses on globalization and its impact on diversity, the planet's condition, and the impact humans are having on the planet.
20 – Rodin Museum
The founder of modern sculpture and a master of naturalism, Rodin was already drawing by the age of 10, but it wasn't until he was 24 that he had his first sculpture exhibited, and not until 16 years later that his work started to be recognized. He spent the next four decades working on what would end up being his unfinished masterpiece, the six meters high and four meters wide sculpture known as The Gates of Hell, which is now the central piece at the Rodin Museum.
Among the best museums in Paris, Musée Rodin consists of two sites: the main location in central Paris where Rodin once had his workshop, and Rodin's old home just outside the city. If you can only visit one place, the Paris location offers the best of his work and a significant portion of the massive collection, which includes 8,000 drawings and over 6,000 sculptures.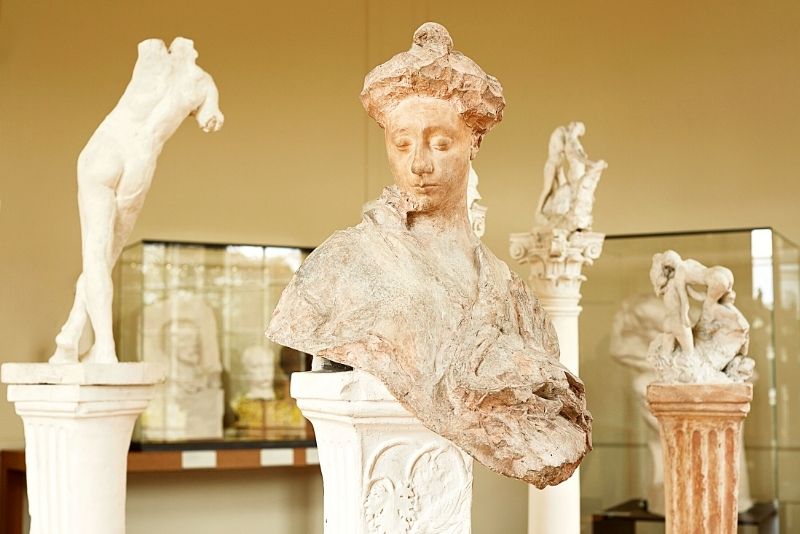 There are also a significant number of photographs in the collection, as well as an entire room dedicated to the work of sculptor Camille Claudel, which whom Rodin had a relationship later on in his life.
Rodin's most significant works, including The Thinker, The Age of Bronze, and The Kiss are at his museum.
Rodin was an avid collector of photography and ancient works of art, with much of those collections now available to see at Musée Rodin. He also owned works by Théodule Ribot, Jules Dalou, Van Gogh, and Monet.
21 – Musée du Parfum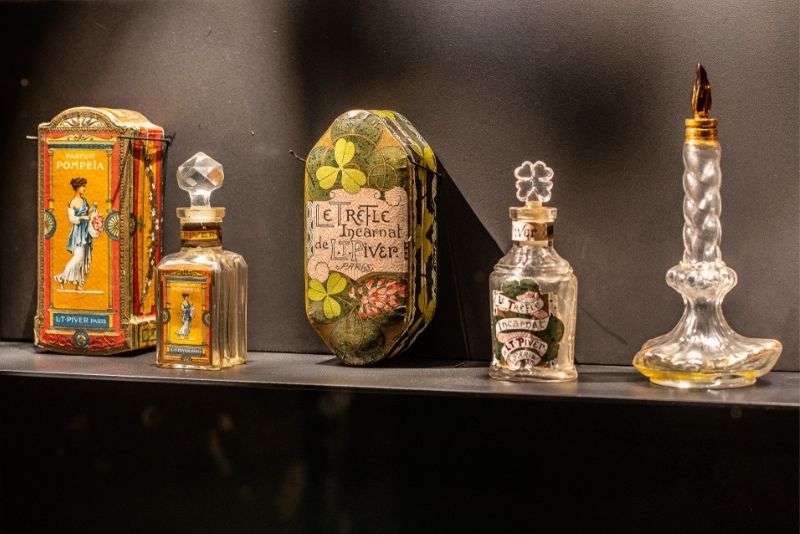 This small museum was established in the early 1900s by Fragonard Parfumeur, a perfumery still in operation today. Although the Musée du Parfum has some objects representing Fragonard, the main part of the collection focuses on the history of perfumery through rare objects that come from all around the world.
Some of the most important examples include distillation equipment and objets d'art, beautiful bottles and containers to store perfume, some of them dating back hundreds of years.
Two of the oldest items in the museum are a Mesopotamian vase used to hold perfume around circa 3000 BC, and a Greek ceramic vase from circa 470 BC. There's also a number of unusual perfume-related items, such as pomanders (smelling boxes), which carry strong perfumes in solid form for more medicinal purposes – such as repelling the Plague during the Middle Ages.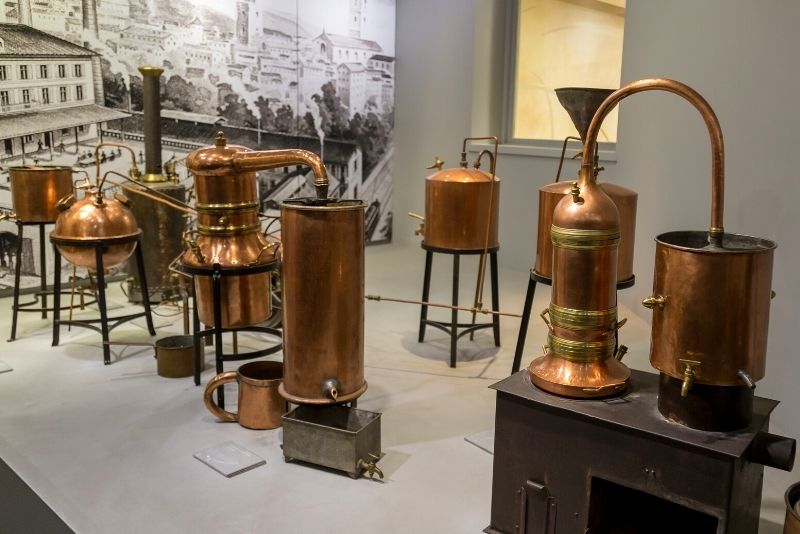 Perfume burners used during Louis XIV's reign and bottlers by jeweler designer Karl Fabergé – including one specifically for the Tsar's wife – are some of the museum's most beloved items. There are also bottles decorated with gold and diamonds, ring flasks to hold perfume instead of drinks, and perfume bottles shaped into almost anything you can think of.
The museum offers free guided tours that include a look into the techniques used to produce perfume through history plus a free "olfactory game" at the end of the tour. Every Saturday, the museum also offers perfumer's apprentice workshops where you can create your own essence under the guidance of a perfumery expert.
22 – Picasso Museum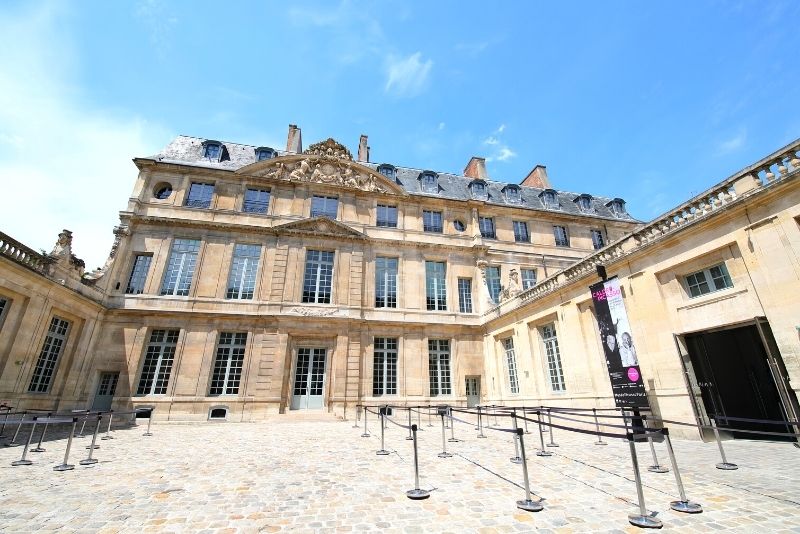 Just as the name implies, the Picasso Museum is dedicated to the work of the famous Spanish painter and sculptor. Picasso was a prolific artist who was always in the midst of creating something new, and you can clearly see that in the museum's large collection, which includes over 3,000 drawings and hundreds of paintings, sculptures, and engravings.
In addition, the museum also holds most of the artist's preliminary studies and a number of three-dimensional works, such as relief paintings and steel cut-outs.
About 400 of those works are exhibited at one time in the museum, including many large sculptures placed in the garden.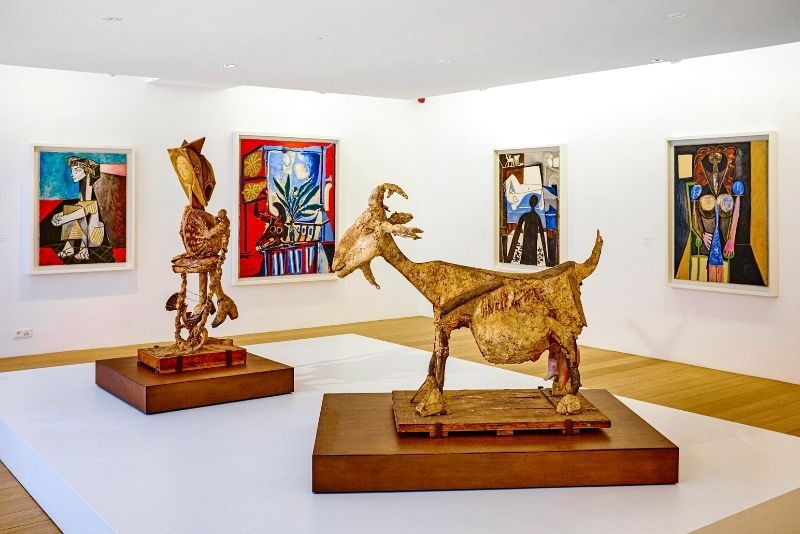 Some of the most significant works in the museum include the elf-portrait and La Celestina paintings, large Cubist paintings, wire-framed models like Plans for the Monument to Apollinaire, the famous The Goat sculpture, and a written archive that includes personal papers, letters, press clippings, and more.
The museum also exhibits a photographic collection that captures not only the work but also the life of the famous artist, as well as many works on paper created by Picasso – from historic mementos to charcoal sketches to icons and allegorical drawings.
23 – Cartier Foundation for Contemporary Art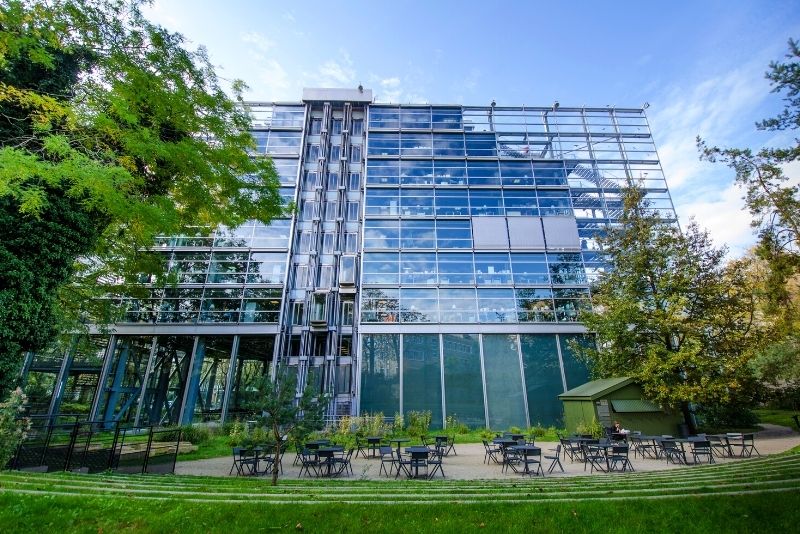 The luxury goods conglomerate Cartier might be best known for its exquisite jewelry and watches, but the Cartier Foundation also runs this impressive center dedicated to both established and young artists.
Since its opening in 1984, the museum has put an emphasis on building an impressive collection that now includes over 1,500 pieces by contemporary artists from around the world. Some great examples include Belgian neo-conceptual artist Wim Delvoye (famous for his shocking and controversial installations), visual and performative artist Gerard Garouste, and conceptual and performance artist James Lee Byars, who focused his work on esoteric motifs.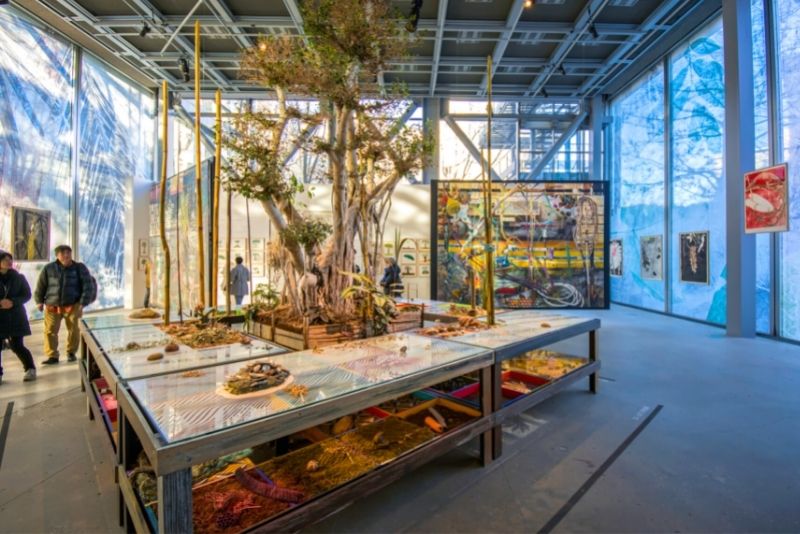 In addition to its permanent collection, the center also hosts temporary exhibits that cover everything from painting and sculpture to photography installations and video and film. The Cartier Foundation for Contemporary Art prides itself on being a multidisciplinary space that also looks into modern issues like migration, environmental concerns, and philanthropy.
Live performances are an important part of the foundation's very popular Nomadic Nights, where the emphasis is put on the performing arts and younger artists. The foundation's other live event is the ongoing Nights of Uncertainty, which features discussions with some of the artists currently exhibiting at the center.
Guided tours are available from Tuesdays to Fridays and are a great way to get a deeper understanding of the collections and artists that call this place home.
24 – Quai Branly Museum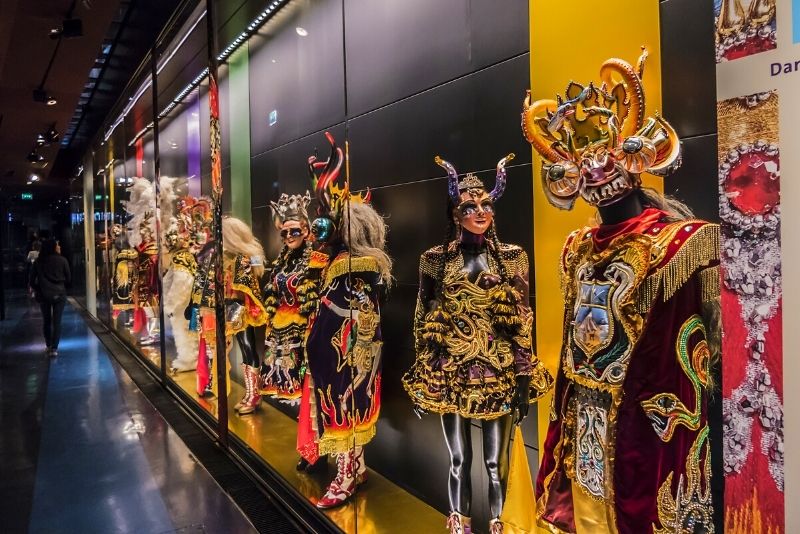 Over almost 370,000 works of indigenous art representing four corners of the world (Africa, Asia, Oceania, and the Americas) make this one of the most impressive museums and cultural sites in Paris. Although the collection itself focuses mostly on traditional art, the design of the building and exhibits combine modern technology, lighting and sound to create a living environment around the pieces.
Many of the original pieces here come from private collections and cabinets of curiosities kept by educators and rich collectors for centuries. By the end of the 1800s, however, these collections started to find their way into museums, where they could be cataloged and preserved properly.
The brand-new Quai Branly Museum, opened in 2006 to house the ethnology collection that once belonged to the Museum of Man, plus a number of objects from the former National Museum of the Arts of Africa and Oceania.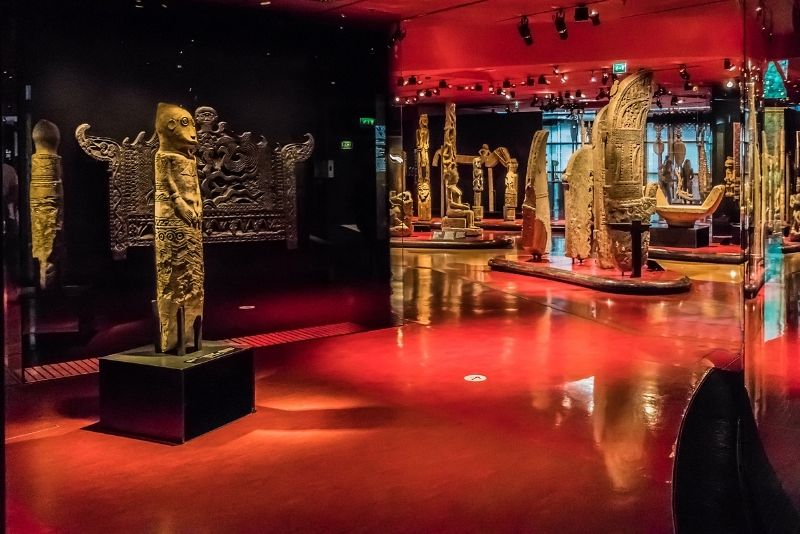 Over 10,000 new objects have been added to the collection after the museum opened, including documents, photographs, and textiles. There are also numerous objects connected to the French colonization of Canada, Aboriginal Australian art, funerary ritual objects from Oceania, and sculptures from pre-Hispanic America.
Temporary exhibits have covered a wide variety of topics – from the history of tattoos to the Vietnam War posters and propaganda. The museum also organizes shows and concerts, festivals and events throughout the year. These can include things like live concerts using unique tribal instruments, science fairs, lectures and readings, and family Sundays.
25 – Musée Maillol
This relatively small art museum is dedicated to the work of painter and sculptor Aristide Maillol. It was established by Maillol's main muse and model, Dina Vierny, after his death. Vierny herself eventually became an avid art dealer and collector and was inspired to bring Maillol's main works – which include paintings and sculptures, engravings, tapestries, terracotta and plaster designs – together under one roof.
Later on in his life and career, Maillol focused almost exclusively on sculptures representing the female form. He modeled some after his wife, but Vierny eventually became his only muse. Although many of these sculptures are currently in other museums around the world (and 20 of them reside in the Tuileries gardens), the Musée Maillol also holds beautiful examples of his detailed work.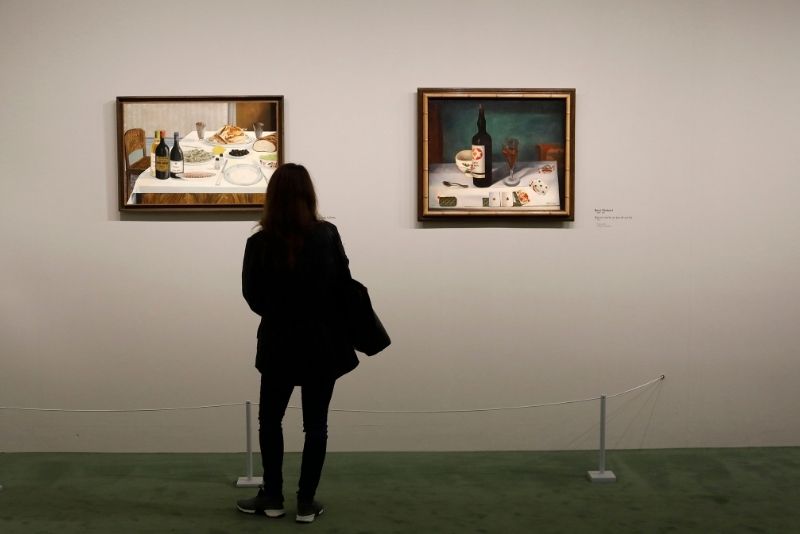 The museum also showcases pieces that once belonged to Maillol's personal collection – from drawings by Cézanne and Matisse to sculptures by Rodin and woodcuts by Paul Gauguin.
Temporary exhibits have covered everything from pop art to painting in the roaring 20s, to avant-garde artists.
Art workshops for children and a bookshop specializing in modern and contemporary art complete the offerings here. If you're stopping by the bookshop, look up their large selection of Maillol-inspired gifts and souvenirs.
26 – Jacquemart-André Museum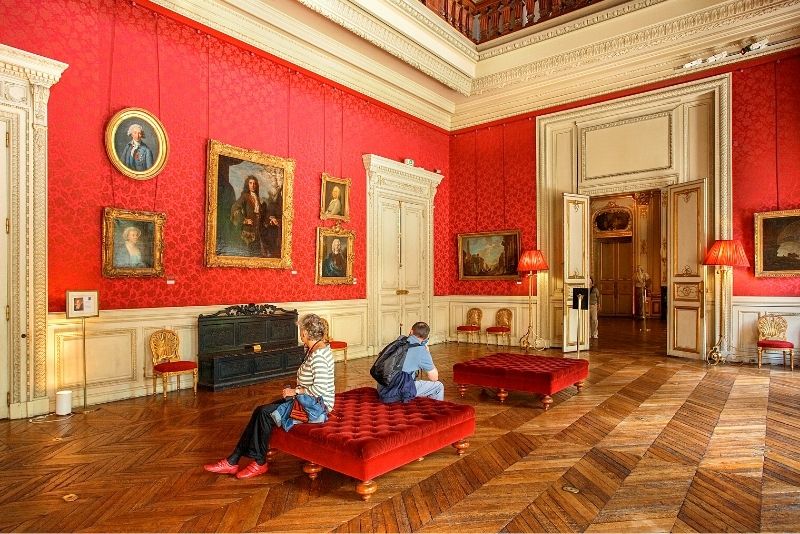 Back in the mid-1860s, French banker and politician Édouard André and his wife, painter Nélie Jacquemart, amassed a significant art collection – which they exhibited in their own mansion. Much of it came from their own travels in Italy, but after André's death, his wife also started traveling to the Orient to bring more pieces. Their mansion is now the Musée Jacquemart-André, showcasing not only the couples' amazing art collection, but also their own treasures.
The museum is divided into five sections based on the actual areas of the mansion. The State Apartments, which the family used for formal receptions, now house 18th-century art, while the Informal Apartments showcase the couple's personal possessions and furniture. The informal apartments consist of several rooms, displaying tapestries, a library filled with Flemish and Dutch paintings, and a beautiful study.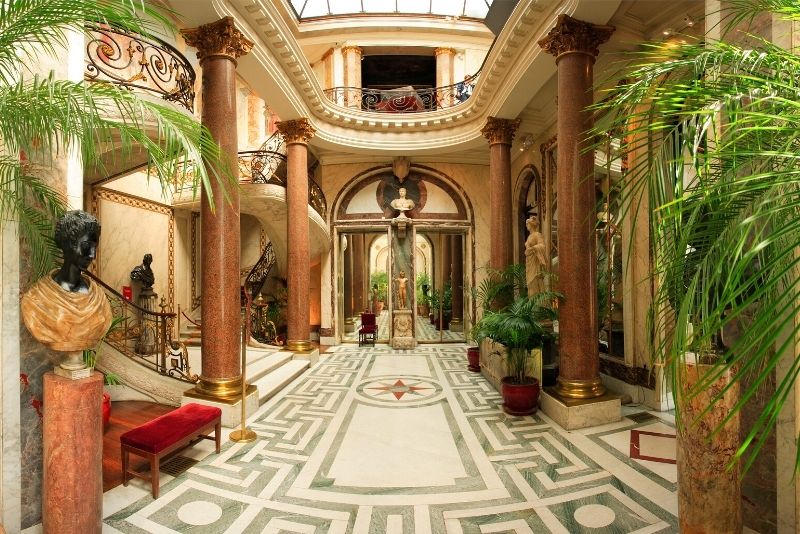 There's also the Private Apartments (decorated in a Louis XV style) and the Winter Garden (a beautiful green space decorated with sculptures), as well as an area known as The Italian Museum, which houses 15th- and 16th-century sculptures and paintings, including pieces from Botticelli, Donatello, Carpaccio, and  Perugino.
The museum's temporary exhibits often showcase the work of one of the masters, such as the creative genius of Botticelli or the stunning watercolors of Joseph Mallord William Turner.
In addition to beautiful coffee table books, the museum's bookshop also sells ornaments, jewelry, and educational books and games.
27 – Jeu de Paume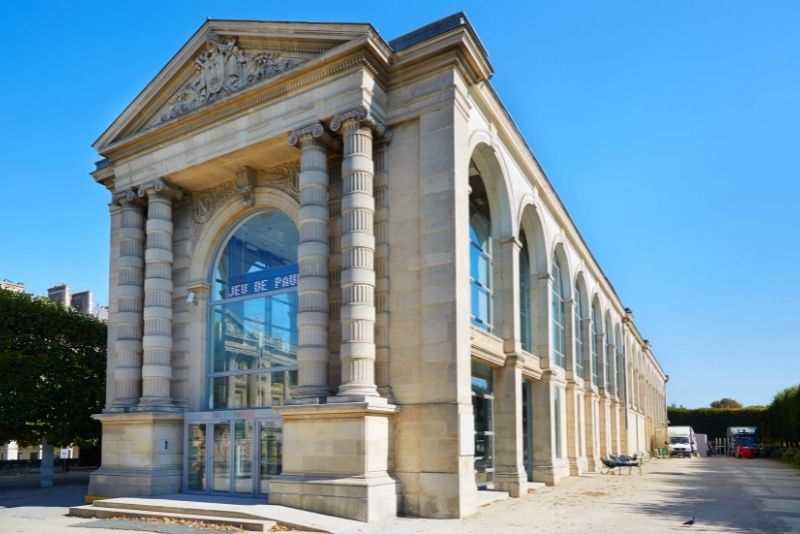 Dedicated to modern photography and media, this gallery and association sits in the Tuileries garden, right next to the Place of the Concorde, Paris' largest square.
It's a beautiful location for an equally beautiful building that was once used to play "jeu de paume" (indoor court tennis). When the sport fell out of favor, the space was renovated as an exhibition space and eventually became a gallery in 1922.
After a hard time during the war (Nazis confiscated all modern art – deemed unworthy of being shown in state-owned museums – and stored it here), the gallery went through a series of changes and it finally became the Jeu de Paume gallery of contemporary art in 1991.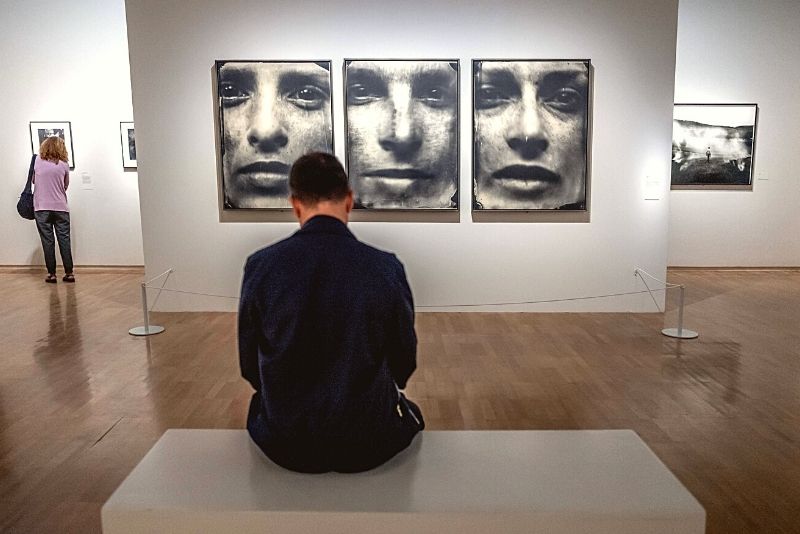 Today, the gallery operates mostly as a temporary exhibit space for photography, video, digital and multimedia art. Past temporary exhibits have included the work of established and up-and-coming figures from around the world, including photographers Diane Arbus and Joel Meyerowitz, video artist Omer Fast, and filmmaker Marine Hugonnier.
As a unique offering, Jeu de Paume also hosts online art exhibitions, which consist mostly of collaborations between filmmakers and visual artists.
28 – Musée de la Vie Romantique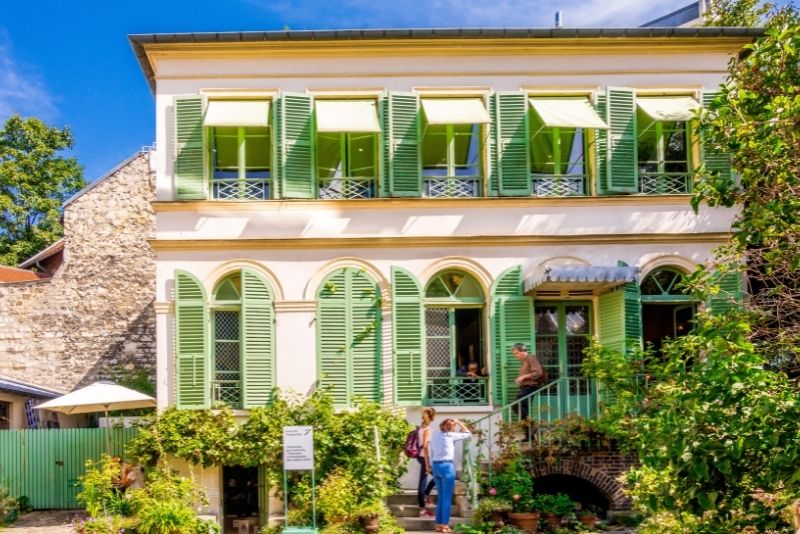 The Museum of the Romantics is appropriately housed in a charming 1800s hôtel particulier (a type of townhouse). Once the home of Romantic painter Ary Scheffer and his daughter, the building first became famous for its grand evening salon events, which everybody from Frédéric Chopin to Charles Dickens used to attend.
When the building became a museum in 1982, a decision was made to focus the collections on the Romantic movement in general, but especially literature. As a result, the Musée de la Vie Romantique holds one of the most important collections connected to George Sand (the pen name of French novelist Amantine Lucile Aurore Dupin), which includes some of her writing, family portraits and possessions, and even watercolors she painted.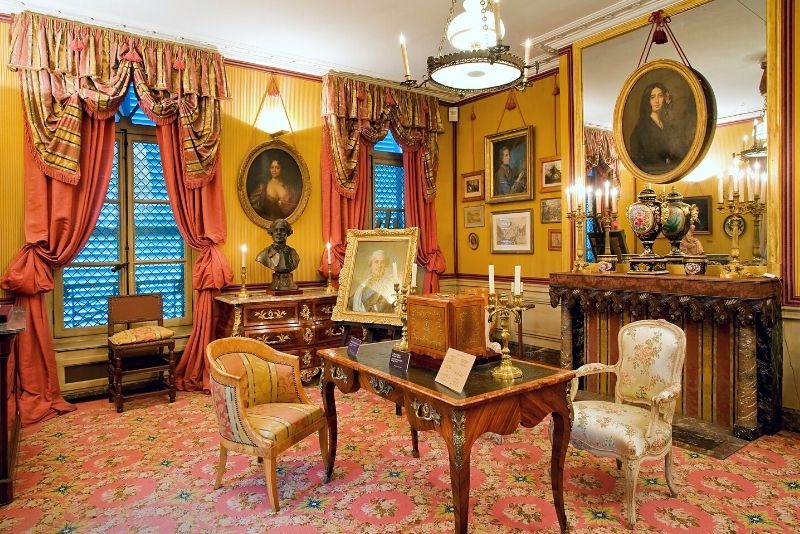 There are, of course, many paintings by Scheffer himself, plus works by some of his contemporaries like Redoute. In addition to paintings, sculptures, and graphic arts, the museum also has furniture and some memorabilia items, including a cast of the arm and right hand of George Sand, as well as a music box that belonged to her grandparents.
Temporary exhibits at the museum often focus on topics that somewhat relate to the Romantic movement, such as Romanticism in contemporary art, the importance of literary salons during the Romanticism, and the work of specific artists of the time. Visitors can also step into the museum's greenhouse and gardens to access the tea room.
See also: Romantic things to do in Paris for couples
29 – Dalí Paris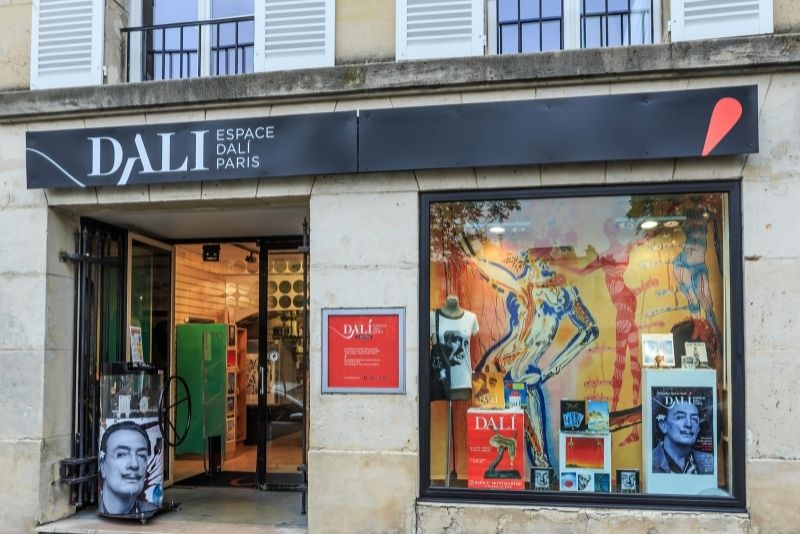 For fans of the Spanish surrealist artist, Dalí Paris is the best museum to visit in Paris, with a must-see permanent exhibit space dedicated to his works. Over 300 pieces are spread in the well-designed, beautiful 600 square meters of Dali Paris' exhibition space –including the largest collection of Dali sculptures in the country.
One of the most notable sculptures available to see here is the death mask of Napoleon, which Dali sculpted over the original molding created after Napoleon's death. Dali added horns to the face to represent the rhinoceroses-like strength of Napoleon. There are also sveral pieces representing his Dance of Time (melting clocks) series, as well as his Surrealist Piano sculpture, representing a dancing female on tiptoes on top of a piano.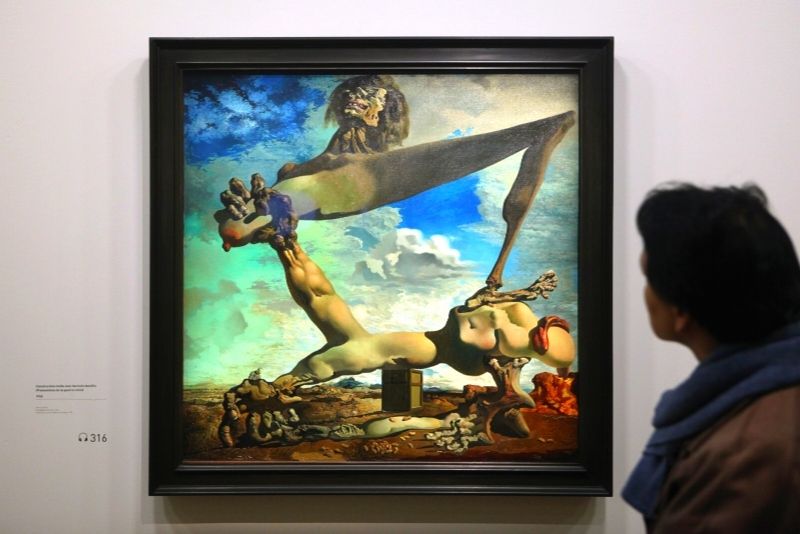 Paintings, etchings, and rare hand-signed graphics and drawings are also part of the exhibition. These represent some of the best graphic artworks Dali ever created, showcasing his fascination with mythology, religion, and allegories.
The museum also hosts temporary exhibits featuring guest artists and special themes (like the techniques and methods behind street art). There have also been special Dali exhibits organized in the past, including one on the collection of jewels designed by Dalí in the 1960's.
30 – Palais de Tokyo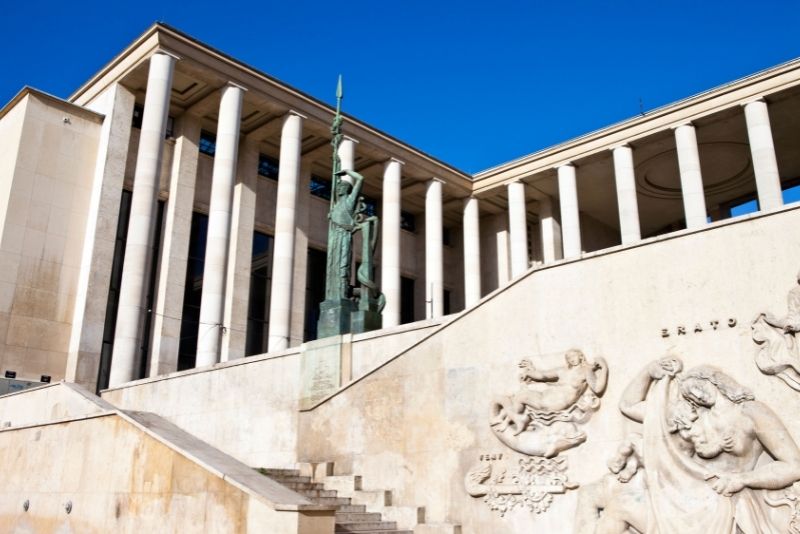 Built in 1937 for the Paris International Exhibition dedicated to Art and Technology in Modern Life, this palace-like building now houses two museums: the Paris Museum of Modern Art on one end and the Palais de Tokyo on the other half. Named after Avenue de Tokio (now Avenue de New York), the palace is the largest center for contemporary art and creation in Europe.
Although technically a museum, it holds no permanent collection and only showcases temporary and rotating exhibits especially curated for the space. Past exhibits have covered wide themes like the art of vinicultural practices, the work of Tunisian artist Aïcha Snoussi, and a living ensemble featuring old olive trees from Lebanon and blinding white light.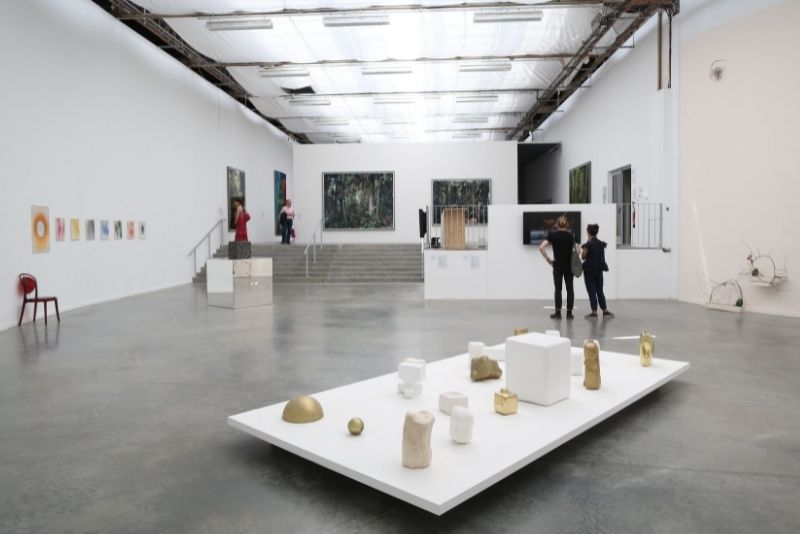 In addition to contemporary art, it also hosts film screenings and live events. It's also home to one of the largest art bookstores in Paris, offering a selection of art-related books, magazines, and gifts from all around Europe, as well as two restaurants serving traditional products and Italian delicacies.
True to its goal of offering a unique scene for contemporary artistic expression, the Palais de Tokyo also hosts the Yoyo, a venue offering musical events, visual programs, and even fashion shows.
31 – Yves Saint Laurent Museum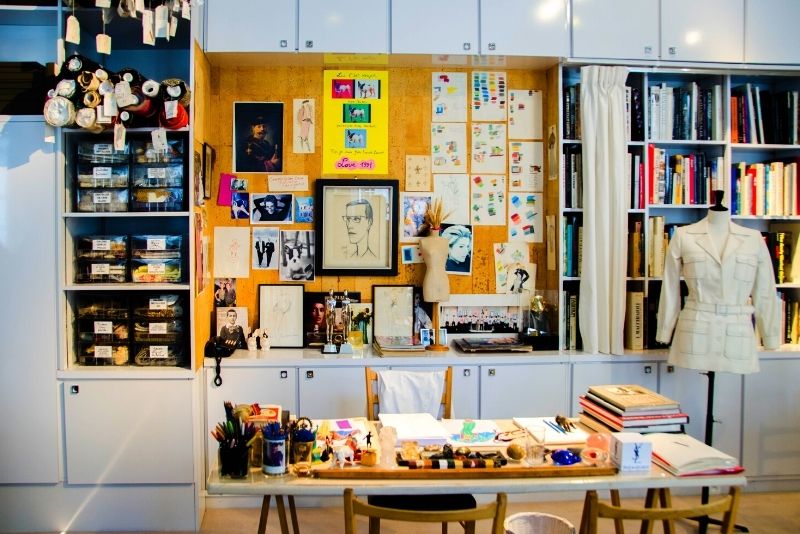 Set in the very same studio atelier where fashion icon Yves Saint-Laurent worked for many years, the YSL Museum chronicles the history of the legendary designer, but also showcases his love for art and the art that inspired him. An impressive look into the world of fashion, there's also a bit of nostalgia to the museum's setup, which also tells the story of how haute culture shaped the 20th century.
The collection goes all the way back to 1962, when YSL had its first fashion show. It offers a look at original costume sketches and photos, multimedia presentations, and snapshots into the brand's extensive portfolio. Over 5,000 garments and thousands of accessories are exhibited here, many of which were worn by fashion model and YSL's muse Betty Catroux.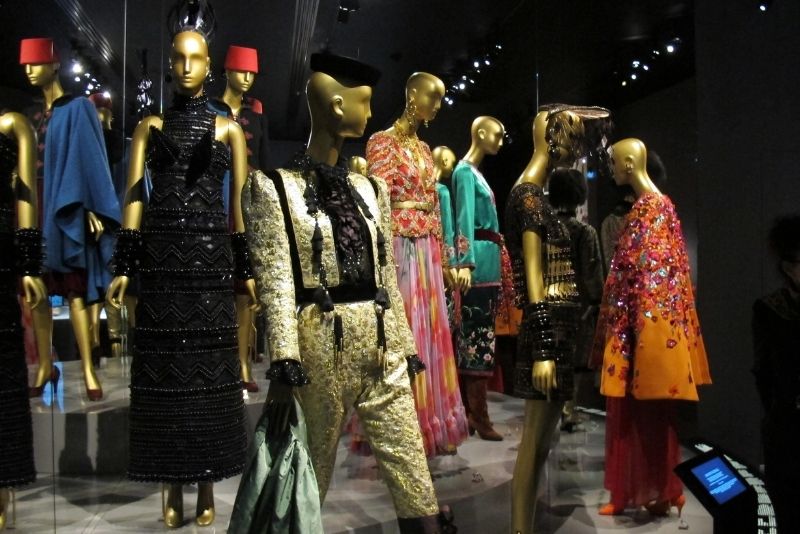 Visitors also get to see the designer's own desk and working space and some of his favorite artists, including a Picasso.
The museum is open every day, but an online ticket reservation in advance is needed to visit on weekends. Make sure to stop by the museum's gift shop to grab a couple of mementos of your visit.
32 – Musée Guimet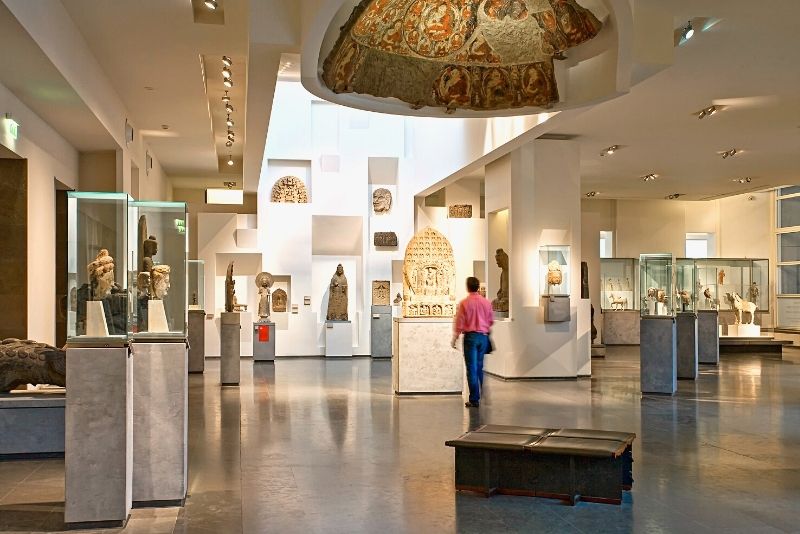 The Guimet National Museum of Asian Arts was founded in the late 1800s by Founded by Émile Guimet, an industrialist with a passion for travel to faraway lands. Guimet spent much of his time in the study of Oriental civilizations, so when he decided to set up a museum, it made sense his focus would be on Asian art and culture.
In fact, many of the objects in the museum were brought back to Paris by Guimet himself, including porcelain collections from Japan. Today, the museum displays items from ancient Greece, Rome, and Egypt, Buddhist art, artifacts from Khmer culture, Chinese pottery from the 8th century, Serindian art from the western region of China, and sculptures and reliefs from India.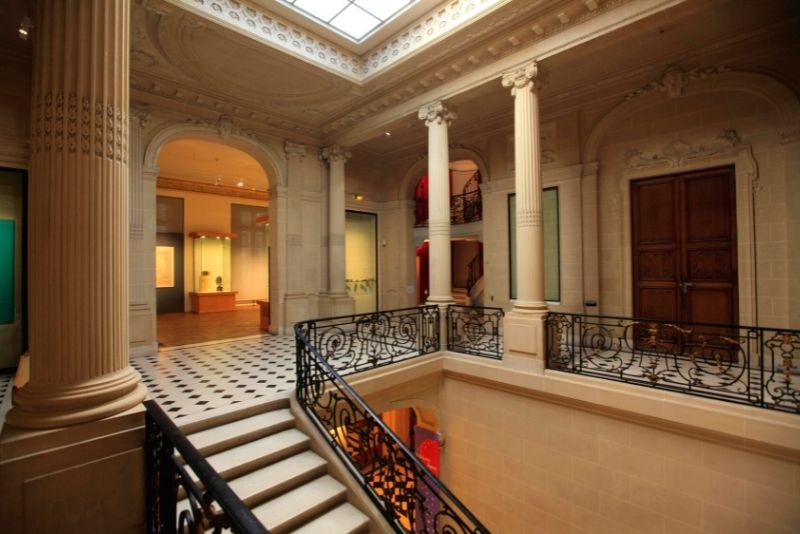 The Himalayan collection, which consists of about 1600 pieces, is one of the most significant ones in France. Special pieces include paintings, metal sculptures, wooden images and Buddhist objects. There's also a large textile collection, which includes dyed, printed and painted fabrics, kesa sets from Japan, embroidery pieces from China, batiks from Java, and much more.
Guided tours of the museum are available, and visitors can also participate in workshops to create a sand mandala, learn Chinese painting, try your hand at Nihonga (Japanese painting techniques), or create a bonkei, a miniature garden. There are film showings, cultural activities and lectures, and a cycle of readings featuring intellectuals and historical experts.
33 – Musée de la Monnaie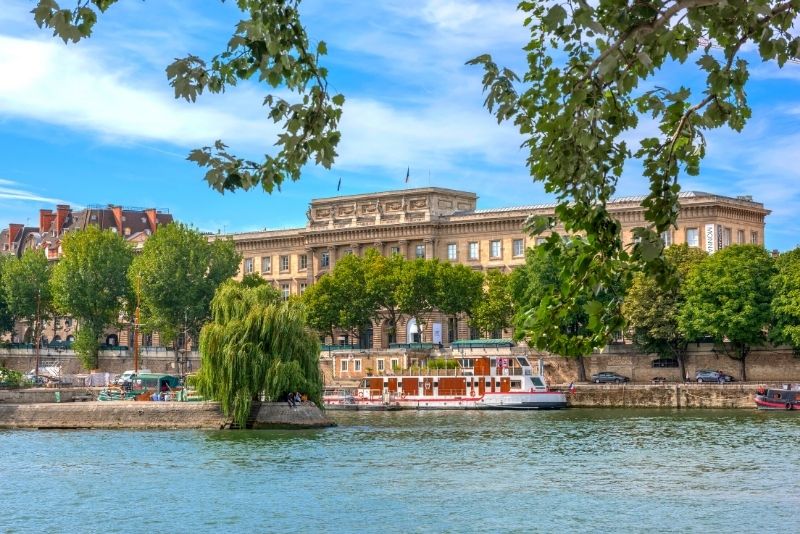 The Musée de la Monnaie chronicles the history of the production of coins in France through a massive archive that goes all the way back to the 15th century. Exhibits include a number of machines and tools used to cast, stamp, and engrave not only coins but also jewelry. There's also a significant numismatics collection inside the museum.
The best part? The museum has been built so most of your senses are involved as you walk through the exhibition. Special olfactory devices ensure that you can experience what a manufacturing workshop smells like. And there are recorded testimonials and interviews (as well as recorded noises from an original factory) so you can hear straight from experts and workers what it's like to mint a coin. You can even forge your own token coin to take home.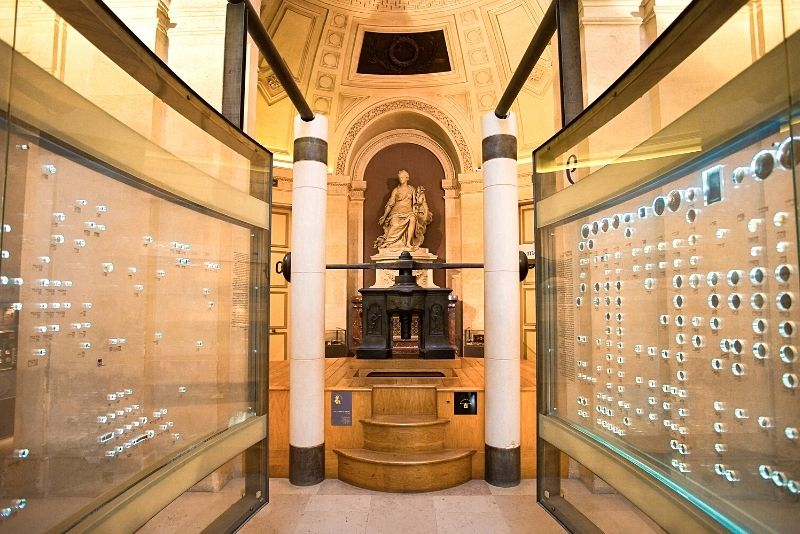 The Musée de la Monnaie is also a working factory, where you can see the process of minting in action through large glass windows that open up over the Foundry. In the museum itself, you can also catch engraving demonstrations and use interactive devices to play with minting techniques yourself.
Final Thoughts
With so many incredible options for things to do in Paris, we can't blame you if you're having a hard time narrowing down which museums and galleries to visit. We hope our list of the "best of the best" provides a good starting point for a trip filled with exciting discoveries.
If you're a big fan of museums, however, you might feel the pinch after a while – after all, most museums charge an admission fee, and cost adds up quickly if you're in town for several days.
For the best bang for your buck, consider getting a Paris Museum Pass, which allows free entry to over 50 museums and tourist attractions over a period of 2, 4 or 6 days. Just pay once and you'll also get added benefits like skip-the-line and fast-track entry.
Do you have any other must-see museums to suggest? Let us know in the comments!