Boat tours in Paris are a fun way to sightsee in the City of Lights. Whether you journey along the River Seine by day or prefer the romance of night, the landmarks never fail to impress.
Tick off major monuments like the Eiffel Tower and Notre Dame Cathedral, while learning a bit about the city's history. Choose a lunch or dinner cruise for the ultimate meal out or go after dark for the illuminations.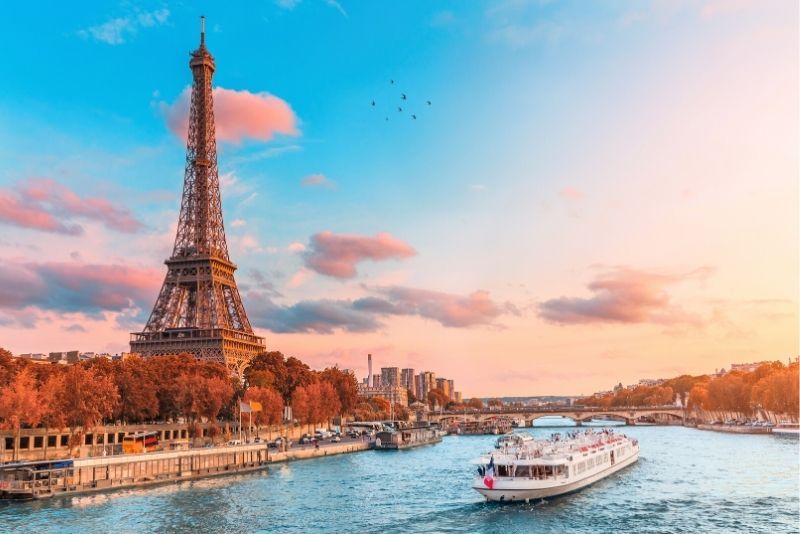 You will find below everything you need to know about boat tours, one of the most charming outdoor activities in Paris.
What are the most popular boat tours in Paris?
Paris boat trips come in all shapes and sizes, with something to suit every type of traveler. Shared sightseeing cruises are the most popular, while private tours are a must for special occasions.
River Seine sightseeing tours
See the city in a new way on a cruise along the Seine River. These shared boat tours are a cost-effective way of taking in several Paris historic attractions from the water.
Most of these Paris sightseeing trips take place on larger boats like the Bateaux Mouches, with each following a similar route.
Lunch and dinner river cruises
Combine sightseeing with a slap-up meal for an indulgent river trip. Lunch and dinner cruises take place on panoramic boats, so you won't miss a thing as you float down the Seine.
Enjoy views of the Eiffel Tower and Notre Dame Cathedral while tucking into a three-course à-la-carte meal. Wine pairing is also offered. There will be live commentary and onboard entertainment throughout these special boat tours in Paris.
River Seine boat tours by night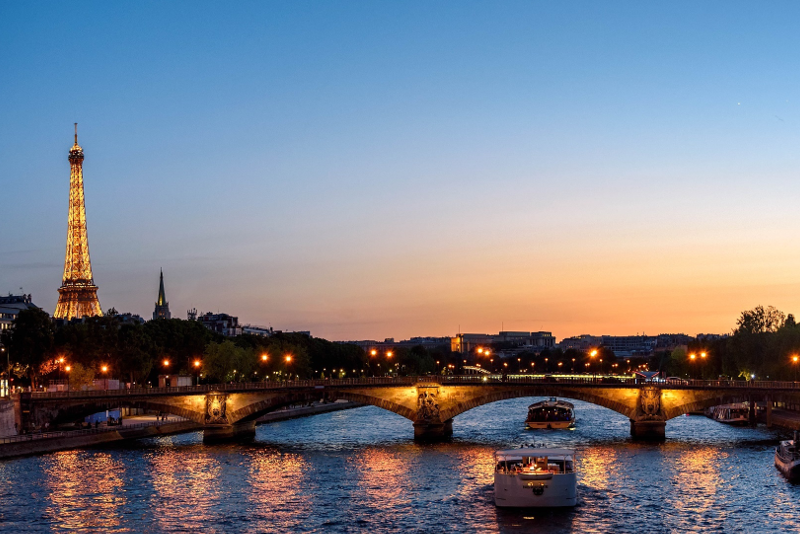 These romantic nighttime boat trips in Paris show you a different side of the city. As you cruise along the Seine, admire floodlit monuments and illuminated streets. Some say that Paris is at its most beautiful at night!
Audio commentary is available if you want to know more about what you're seeing, otherwise sit back and enjoy the ride.
Private boat tours on the River Seine
Private Paris boat excursions are an exclusive way to see the sights. You'll receive the whole red carpet treatment with an intimate vessel and a private skipper.
Many tours include wine and snacks to elevate your experience, which you can enjoy while lounging on the sun deck. You are welcome to take a picnic on board, or order food from the provider.
How much do boat tours in Paris cost?
River Seine sightseeing cruises start at €15 per passenger on one of the larger boats. This includes audio commentary and a route map.
Lunch trips cost €70 per person, with a three-course meal, wine, water and coffee provided. You can purchase additional drinks at the bar if required.
Paris dinner cruises are priced at €110, and the tour is half an hour longer than at lunch. The meal, a glass of Champagne plus some appetizers are included in your ticket.
Private boat tours in Paris start at €100 per person for an exclusive vessel. Some tours will provide complimentary wine, soft drinks and water on board. Blankets are provided in winter, and you can purchase food for an additional fee.
Night-time illumination boat tours cost €15 per person, with audio commentary available if required.
Which places are seen on a boat tour in Paris?
Eiffel Tower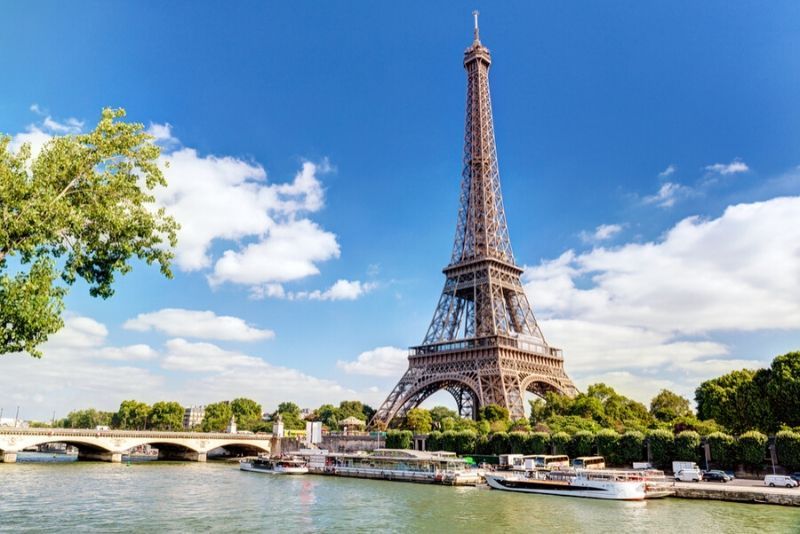 Seeing the Eiffel Tower from the water is one of the highlights of a boat tour in Paris. This wrought-iron monument looms above the city and was once the tallest building in the world.
Constructed by Gustave Eiffel for the Paris World's Fair in 1889, the tower is a powerful symbol of France.
Notre Dame Cathedral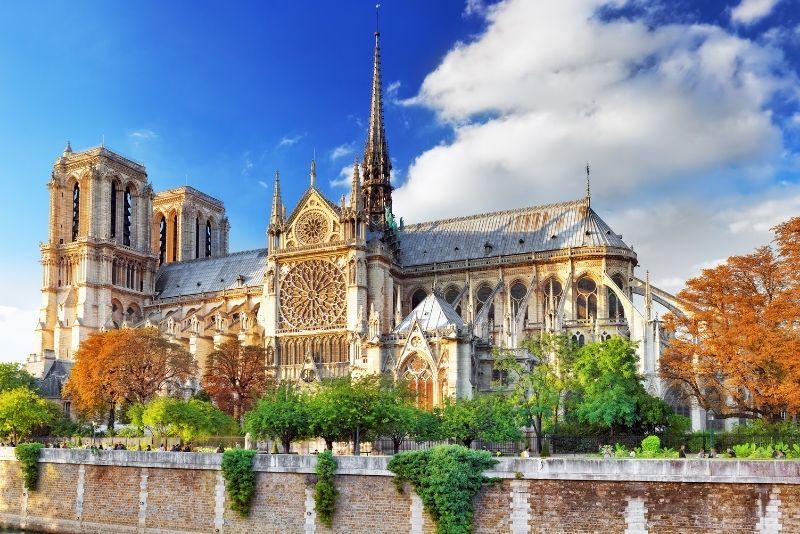 Notre Dame Cathedral is the centerpiece of the Île de la Cité - it's one of the most recognizable landmarks in Paris. With a heritage dating back to 1163, Notre Dame took 200 years to build and is a magnificent example of Gothic architecture.
Eagle-eyed passengers might spot the famous gargoyles that have kept watch over the cathedral for centuries.
Statue of Liberty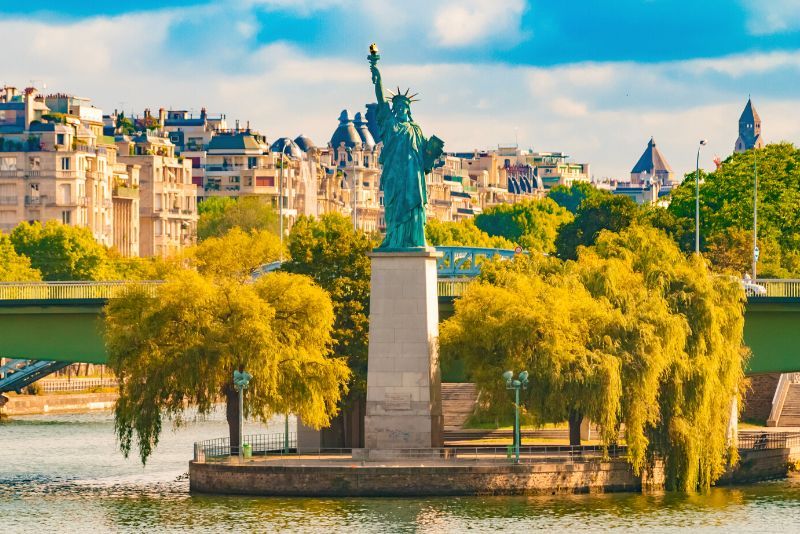 Yes, you read that right, New York isn't the only city with a Statue of Liberty! This Parisian monument is a quarter of the size of her American cousin and stands proudly on the Île aux Cygnes.
The statue was a gift from the United States in 1889 to commemorate the French Revolution centennial.
The Louvre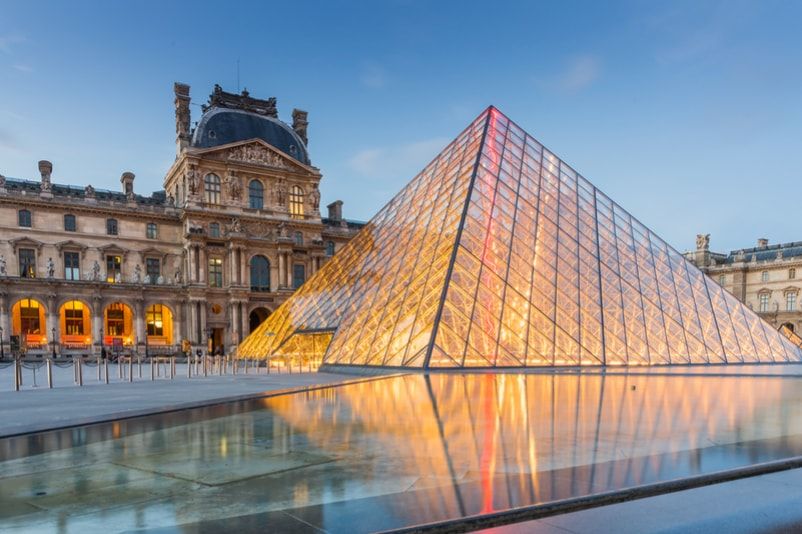 The Louvre is another Paris icon that you'll see while cruising down the Seine. Some of the world's most famous artworks can be found in this renowned museum, including the Mona Lisa and the Venus de Milo.
This former palace is impressive from the outside too, so keep your cameras handy as you pass by during your Paris boat tour.
Pont Neuf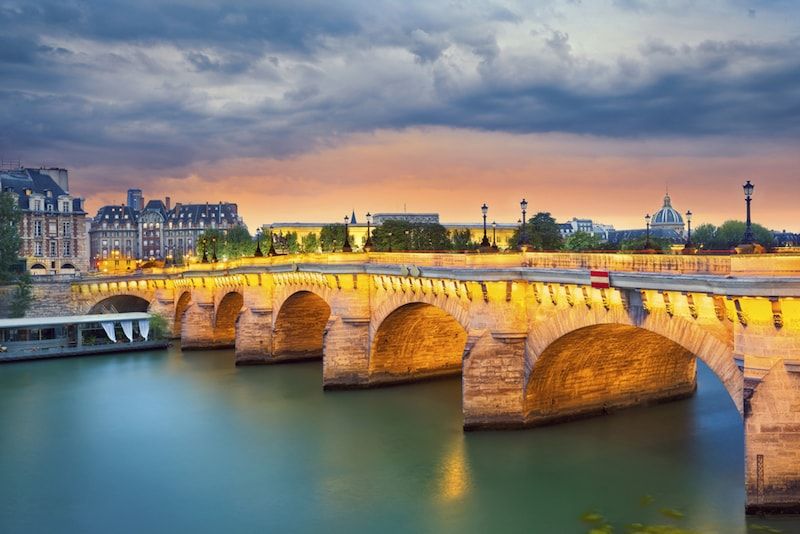 Spanning the Seine near the Île de la Cité, Pont Neuf is the oldest stone bridge in Europe. It's been in use since the 1600s and is the most photographed bridge in Paris.
During your River Seine boat tour, you'll cruise beneath the arches and enjoy a privileged glimpse of Point Neuf from a unique angle.
How long does a boat trip last?
Sightseeing boat cruises in Paris tend to last around an hour, with ample time to take in the major sights. Lunch and dinner boat tours are a little longer – allow up to 2.5 hours for these.
The evening illuminations boat trip is also an hour long, so it's easy to fit in either before, or after, dinner.
Where do boat tours leave from?
Sightseeing boat excursions in Paris depart from several points along the River Seine. Check your joining instructions carefully to make sure you're heading to the right spot!
Popular meeting points include the Bateaux Mouches pier at the Port de la Conférence, and the Port de la Bourdonnais, near the Eiffel Tower. Port Javel Bas near the Pont du Garigliano is another common starting place.
Hotel pickups are not included on most boat excursions in Paris. However, you can easily reach the departure locations by taxi or public transport.
When is the best time for a boat trip in Paris?
Boat tours in Paris can be enjoyed throughout the year but are especially popular in summer. Get ahead of the crowds by booking an early morning or late afternoon trip.
Weekdays are often quieter than weekends but reserving tickets in advance is key no matter when you visit.
For dinner cruises, you'll need to book an evening tour – these usually depart at 8:30 PM. The illumination excursions run throughout the day but for the best experience, join a trip after dusk.
Which other outdoor activities are available in in Paris?
Travel tips
Boat trips in Paris are popular so to guarantee a seat, make sure you book tickets well in advance.
You can take your own food and drink on board many of the cruises.
Some Paris boat tours may require ID to be presented on arrival, so remember to carry this with you.
The trips take place year-round, with air-conditioning in summer and heating in winter. There are covers in case of rain.