One of the best ways to explore Paris is on two wheels. So, hop on your bike and discover a unique side to this much-loved city.
Bike tours in Paris swing by secret haunts known only by locals as well as popular landmarks like the Eiffel Tower. For something a bit different, book an excursion to Versailles Palace and cycle in the footsteps of royals and revolutionaries.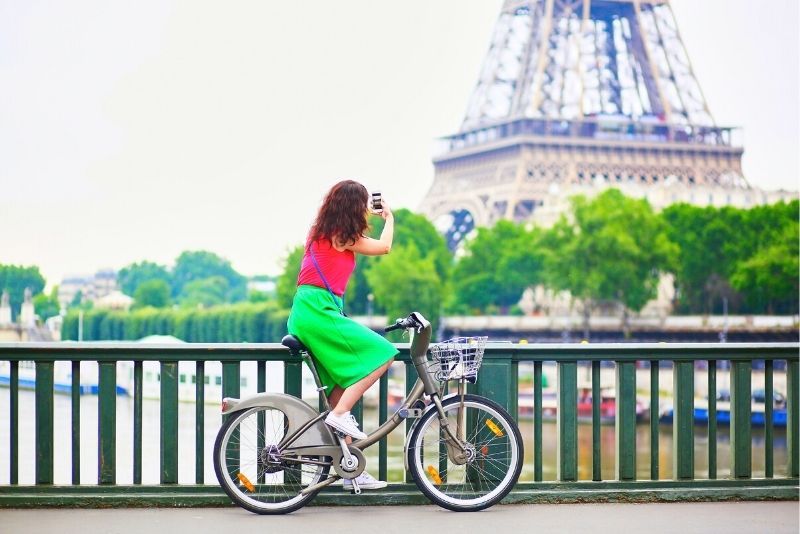 You will find below everything you need to know about bike tours, one of the most delightful outdoor activities in Paris.
What are the best bike tours in Paris?
Paris highlights bike tour
If you want to tick off several Paris attractions in a short space of time, then this is the excursion for you. It's a great way to get your bearings so try and book it for your first day in the city. These tours can be enjoyed on a small group basis or as a private excursion.
On this cycling tour around Paris, you'll pedal down the Champs-Elysées and pass the famous Ile de la Cité. Stop for photos at the Louvre Museum, Notre Dame Cathedral and of course the Eiffel Tower along the way.
Other highlights include the Musée d'Orsay, the Rue Cler Market and the former hospital of Les Invalides.
Once you've seen the major sights it's time to step off the beaten tourist trail and discover the hidden side of the city. These Paris cycling excursions take you far from the crowds to places known only by locals.
You'll follow your guide through Saint Germain des Prés and into the heart of the Latin Quarter. The pace will be leisurely, so you won't miss a thing as you cycle along the quiet side streets.
The medieval Marais area is famed for its historic Jewish neighborhood. Ancient buildings rub shoulders with trendy cafés giving an eclectic Parisian vibe.
Bastille Square, the Seine River and the Sorbonne University also feature on this off-beat Paris bike tour.
Paris by night bike excursion
Paris comes alive at night, and what better way to experience the sights than on an evening bike tour? Cycling through the Parisian streets you'll see illuminated monuments and floodlit buildings. It's enchanting and romantic in equal measure.
During the ride, you will stop at several major attractions for photos. The Eiffel Tower, the Champs-Elysées and the Louvre all make an appearance on the itinerary.
Your guide will regale you with tales of the city's history and some of its more notable residents. This is your chance to get to know the real Paris, from the viewpoint of a passionate local.
If you're concerned about riding in traffic, then this Paris night bike tour is ideal. The roads are much quieter than during the day, making for a relaxing experience.
Evening Paris bike ride and river cruise
Want to combine two experiences in one tour? After your evening sightseeing cycle around the historic center, get onboard for an hour-long cruise on the River Seine. You'll see the "City of Lights" at her finest, with illuminated attractions lining the riverbanks.
Some tours also stop at a traditional ice cream parlor for sweet treats to keep your energy levels high.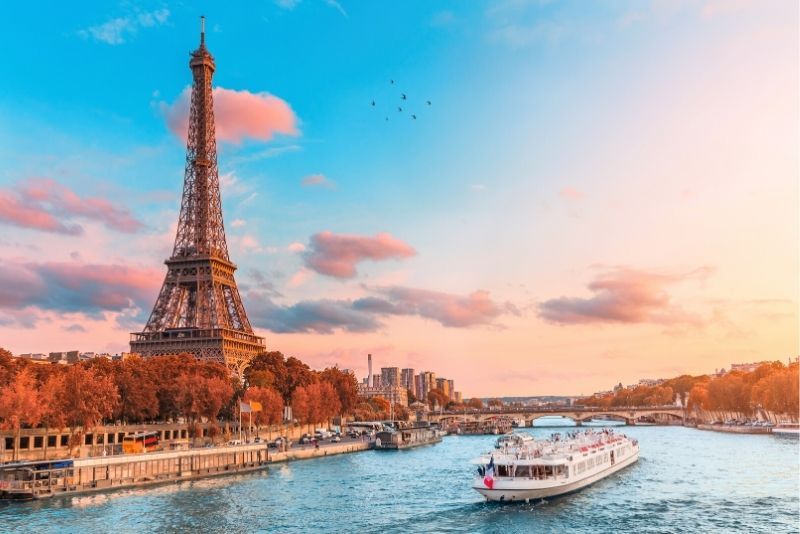 Versailles Palace bike trip
These leisurely Paris bike tours whisk you away from the city into the Versailles countryside for a thrilling journey back in time.  You'll meet your guide outside the train station in Paris and travel to Versailles by rail.
On arrival, it's time to jump in the saddle and start exploring. You'll cycle through the Versailles parks and see the famous fountains and forests. Stop at the Farmer's Market before enjoying a picnic lunch beside the Grand Canal.
The premium tours stop at Marie Antoinette's Private Farm Village, and the miniature châteaus of Le Petite Trianon and Le Grand Trianon.
Finally, explore the Palace of Versailles where the Hall of Mirrors and state apartments will take your breath away. Return to Paris by train at the end of the excursion.
How much do bike tours in Paris cost?
Sightseeing bike tours in Paris that take in the major highlights start at around €40 for a 4-hour ride. This is on a small group basis. Private city bike tours cost €65 for a 3-hour trip.
The hidden gems group cycling excursions in Paris are priced at approximately €40 for 3 hours and €60 for 4 hours.
For the night cycling tour, the price is about €40 per rider for a 3-hour jaunt. If you want to add a river cruise to your evening adventure, the cost rises to €50 for 4.5 hours.
Full-day Paris bike excursions to Versailles Palace cost between €100 and €145 depending on tour inclusions. The premium options include entrance tickets to outlying buildings around the palace complex.
What is included in a bike tour in Paris?
Paris sightseeing bike tours
Local guide
Bike and helmet
Child seats
Versailles Palace cycle excursions
Standard inclusions:
Round-trip train fare from Paris
Local guide
Bikes, helmets and child seats where required
Skip-the-line entry to Versailles Palace
Premium inclusions:
All of the above
Tickets to Petit Trianon
Entry to the Private Farm Village
Rain jackets
Food and drink are not included on these Versailles tours. You can purchase lunch at the farmer's market.
Where do bike tours in Paris start?
Sightseeing bike tours in Paris begin at several places throughout the historic center. Common spots include Place Saint-Michel and the Place de l'Hôtel de Ville.
Night cycling trips start near the Arc de Triomphe at the Parking Etoile-Foch. The evening ride and river cruise tour starts on Rue Edgar Faure, near the Champ de Mars.
The Versailles bike tours begin at either the Montparnasse train station or Gare Saint-Lazare on Rue de la Pépinière.
How long do bike tours in Paris last?
Paris cycle trips within the city last around 3 or 4 hours, which is ample time to tick off some iconic sights.
The Versailles bike excursions take up to 9 hours, including time for train transfers from the city. You will return to Paris before dinner.
When is the best time for a bike tour in Paris?
The Versailles cycling trips last a full day so expect to depart around 8 AM to make the most of your time.
Other bike tours in Paris are shorter and can be enjoyed in the morning or afternoon. Some excursions operate in the evening so if you want to see the illuminations, this is the time to come.
The streets tend to be quieter in the mornings, so book an early slot to avoid the crowds.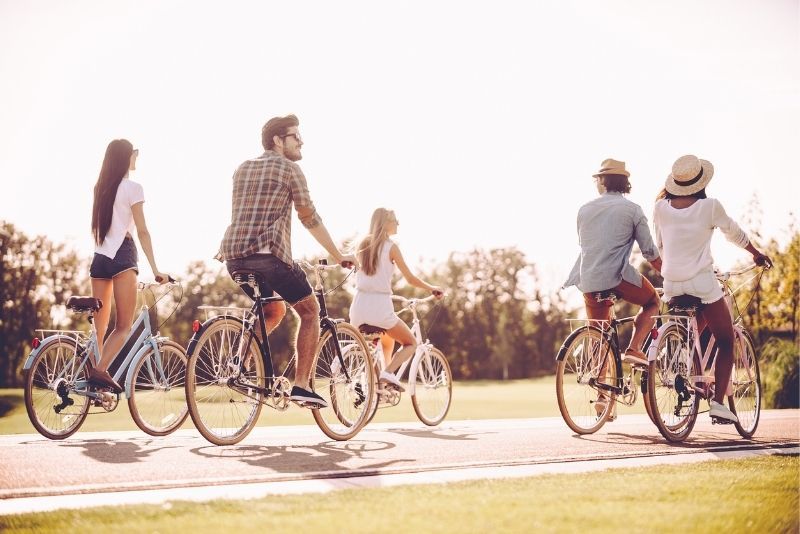 Are there any combo trips available with bike tours in Paris?
Evening cycling tour plus a river cruise
These Paris bike rides combine two of the city's best activities in one hassle-free excursion. First up, you'll cycle around the "City of Lights" at night, enjoying the illuminations. The Eiffel Tower, the Louvre and Notre Dame Cathedral look even better when they're lit up after dark.
After your ride, you'll enjoy a boat cruise on the River Seine. Relax with a complimentary glass of wine as you float past the Ile de la Cité and the Latin Quarter.
Are children allowed on a bike tour in Paris?
Most bike rides in Paris are suitable for all ages, so this is a great activity for families. Some operators do ask for a minimum age of 13 years so do check before booking.
Child seats are available for participants aged 4 years and under, while tandem cycle attachments can be used for children aged up to 9 years.
Adventurers over 9 years of age must be able to ride solo.
What happens in case of bad weather?
Cycle tours in Paris run come rain or shine so make sure you come prepared. If it looks like the day will be wet or cold, remember to take a jacket with you.
Some operators provide raincoats as part of the tour package so check your joining instructions before leaving.
Which other outdoor activities can be done in Paris?
Travel tips
Bike tours in Paris sell out fast in summer so book your place well in advance.
Most rides are easy with participants of all fitness levels being welcome.
Bike excursions usually have a maximum of 12 riders to keep the experience intimate.
Wear comfortable clothing and flat-soled shoes suitable for cycling.
You may wish to wear a backpack to carry personal items like water and a camera.