Paris is the epicenter of one of the world's most desirable cuisines. Synonymous with decadence and luxury, French food culture has found ways to elevate staples and even second-rate meats to culinary masterpieces.
With quick access to regional products, a dinner in Paris is the ideal occasion to taste France's gustatory marvels.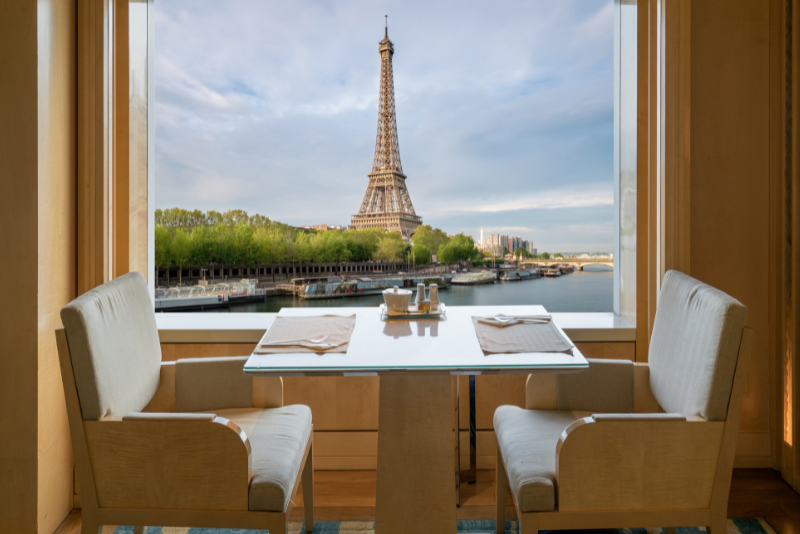 Here's all you need to know about dinners, one of the most captivating gastronomic experiences in Paris.
What are the best dinners in Paris?
Restaurant dinners
Dine in award-winning restaurants, savor dishes prepared by a Master Chef winner, visit several restaurants on a food tour or have an unforgettable meal at the Eiffel Tower. Many tours have sommeliers perfect the chef's artistry with expert wine pairing or tastings.
Experience everything from cutting-edge takes on the classics and culinary traditions of the city's immigrant cultures to a meal of French favorites. Opt for quaint eateries in famed neighborhoods to riverside bistros boasting walls of windows.
Cooking classes
Immerse yourself in France's food culture with a Parisian cooking class concluded by a feast of your creations. Choose 4- to 6-hour classes, or shorter classes where you prepare three courses.
Six-hour classes start with shopping for high-quality local ingredients at markets and specialty shops with the guidance of your instructor.
Dinner cruises
Combine the fun of an evening boat tour on the Seine with a delectable meal. Starting at the Eiffel Tower, float past the Louvre, Notre Dame, the Conciergerie, the Jardin des Tuileries and much more as an audio guide narrates the scenery. Dinner cruises end with a return to your starting point.
Depending on your tastes and your hunger level, book a 3- or 4-course dinner with or without dessert or alcoholic beverages. For extra luxury, book a VIP table with champagne, or save some money by booking an early dinner cruise starting in early evening and lasting around 1.5 hours.
Dinner bus
Get ready for an unusual dinner out with a gourmet meal served in a double-decker bus tour. With the kitchen on the first level and guest seating above, you and a small group of fellow diners will delight in cuisine prepared on-site as you take in views of the "City of Light" from a height of four meters above the streets.
As you work your way through several courses, pass by Paris's major draws while learning the background of each. Take advantage of a tablet guide at each table that unobtrusively informs you about the attractions you pass.
Dinner shows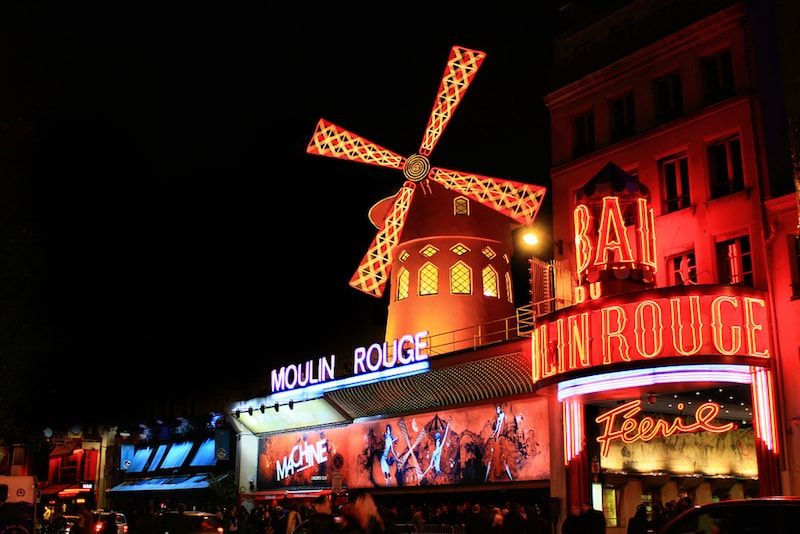 Paris is home to the famed Moulin Rouge and a collection of other cabaret venues, and you can combine dinner with one of the city's most famous spectacles.
A dinner at the Moulin Rouge begins with a meal crafted by the chef followed by the show. Possible performances you may see are "La Belle Epoque," "Toulouse" or "La Feerie."
For dinner packages including shows at Paradis Latin or Crazy Horse, you will dine at a separate restaurant such as Ginger or a similar eatery near the theater.
While most cabarets put on racy, glittery shows, a dinner with tickets to Au Lapin Agile affords you a cabaret outing closer to how the genre began.
Performances take on a concert-like style, consisting of singing accompanied by acoustic instruments. Enjoy a show here in a private trip with a walking tour in Montmartre and a meal at a separate restaurant.
What will you do?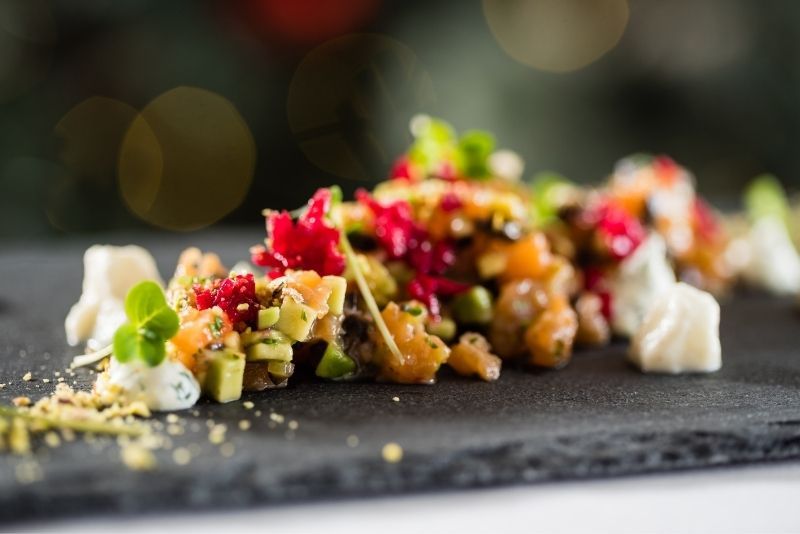 Enjoy a three- to four-course dinner with beverages during your meal steeped in Parisian ambiance. Dinner cruises and dinner buses offer audio guides and/or interactive tablets in multiple languages that inform you about the sites you pass while you dine.
You may indulge in seafood, poultry or meat enhanced with legendary French sauces; relish an ethnic or French-fusion meal or delight at innovative vegetarian creations featuring classic French flavors. Popular dishes on many menus are coq au vin, salmon tartare, poultry "supremes" and grain, vegetable and plant protein concoctions for vegetarian diners.
Sample regional French delicacies in cheese tastings and wine tastings chosen to accompany the dishes, and conclude your meal with a dessert like profiteroles, chocolate pear cake, "calisson" cookies or a creamy "ile flottante."
How much do dinners in Paris cost?
Restaurant dinners in Paris cost from €30 per person to €250 per person, depending on the number of courses served.
Lower cost meals have fewer courses and often do not include alcoholic beverages. The higher-cost meals highlight luxury ingredients like truffles and caviar.
Restaurant-hopping food tours cost €170 per person and assemble a full meal with visits at three restaurants.
Dinners at Madame Brasserie, a restaurant perched on level one of the Eiffel Tower, cost €100 per person to €185 per person, depending on the amount of courses served.
Cooking classes cost from €160 per person to €200 per person, depending on the amount of courses you prepare.
Dinner cruises cost from €85 per person to €155 per person depending on the time of the meal, the number of courses and whether alcoholic beverages are included. High-end packages have VIP benefits like a guaranteed table by a window, champagne and live music.
Dinner bus tours cost from €100 per person for a three-course meal to €460 per person for a six course-meal. The highest-cost tours include hotel pickup.
A dinner show at the Moulin Rouge costs from €210 per person to €430 per person for VIP seats that include a gift bag of chocolates or macarons.
What is included?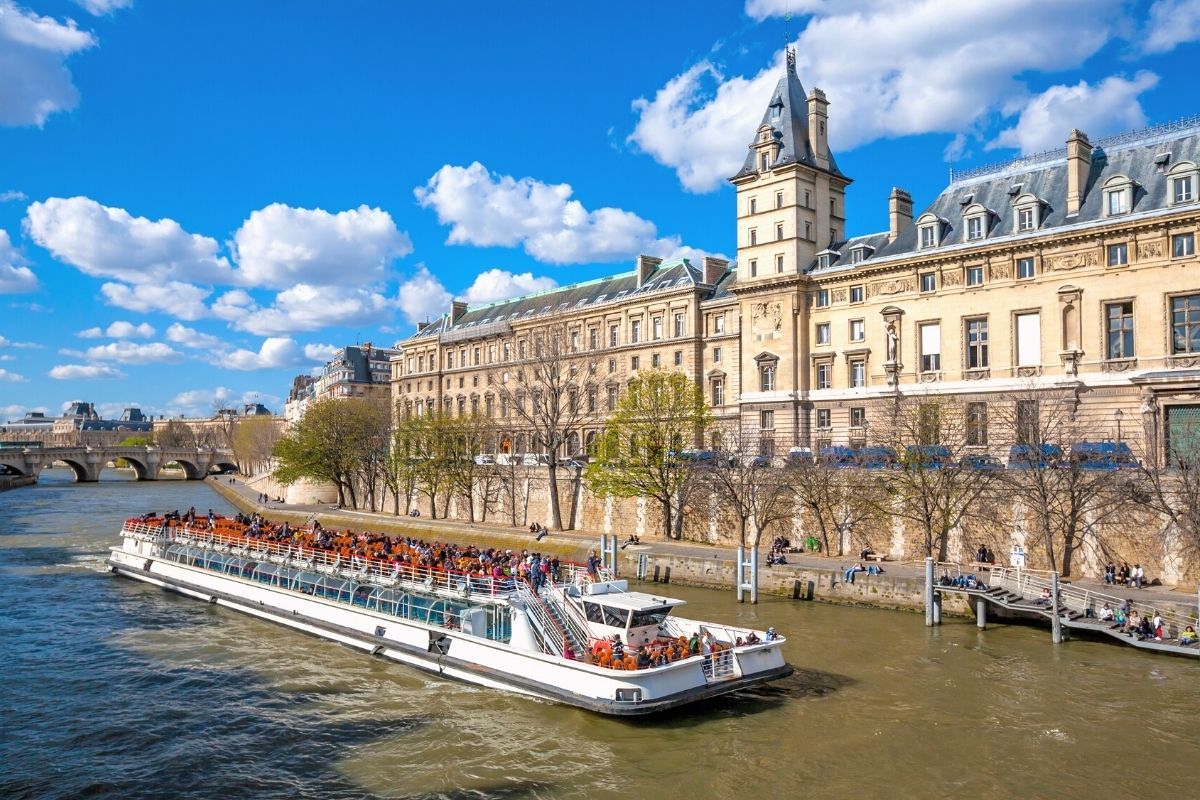 Every meal includes at least two courses with most comprising three to four courses. Choosing a higher-cost dinner will assure that dessert and alcoholic beverages come with the meal. Dinner bus and Seine cruises with dinner provide guided sightseeing during the meal.
Cooking classes supply all the ingredients, equipment and instruction you'll need to whip up a multi-course dinner. Indulge in wines, liqueurs, mineral water and coffee to complement the repast. Come away from your class with improved techniques, cultural insights, recipes and a full stomach.
Every dining experience is enhanced by discoveries about French culture, from the order of courses to the culinary history and the unique flavors only found in France.
Where does it start?
Dinners in Paris start at centrally-located spots in town. Restaurant dinners take place at the designated restaurant or nearby spot where a guide escorts you to where you will be eating.
Dinner cruises meet along the Seine by the Eiffel Tower. Some private tours arrange pickup from hotels in the city.
Dinner bus tours meet along the Champs-Elysees. Cooking classes meet at a professional kitchen or private apartment.
How long does it last?
Most Paris dinners last around 2 hours. Dinner cruises last from 1.25 to 3 hours. Dinners paired with other activities like a cabaret show or sightseeing last from 4 to 8 hours.
When is the best time for a dinner in Paris?
While you can book a dinner in Paris at any time of the year, it's advisable to avoid crowds by planning a dinner outside of the summer months.
Dinners with sightseeing are great at the start of your visit, as they orient you to the city and can help you decide how to fill the rest of your stay in Paris.
Are there any combos available with dinners in Paris?
Dinners plus sightseeing tours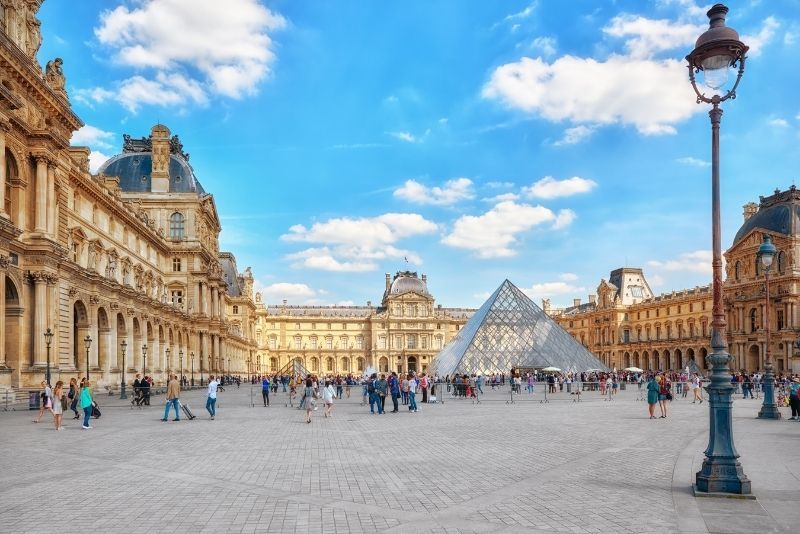 Pair a visit to top Paris destinations with dinner. Roam Montmartre or Le Marais with a guide or take in the vast halls of the Louvre with an expert. Luxuriate in a driving tour of Paris in a bus or private car that transports you as far as Versailles, or hop on a tour boat or bus before relaxing over a meal at a renowned restaurant.
Depending on which inclusions come with your tour, you may spend from 2 to 8 hours with tours costing from €50 per person for shorter excursions up to €270 per person for longer excursions.
Dinner cruises plus two or more activities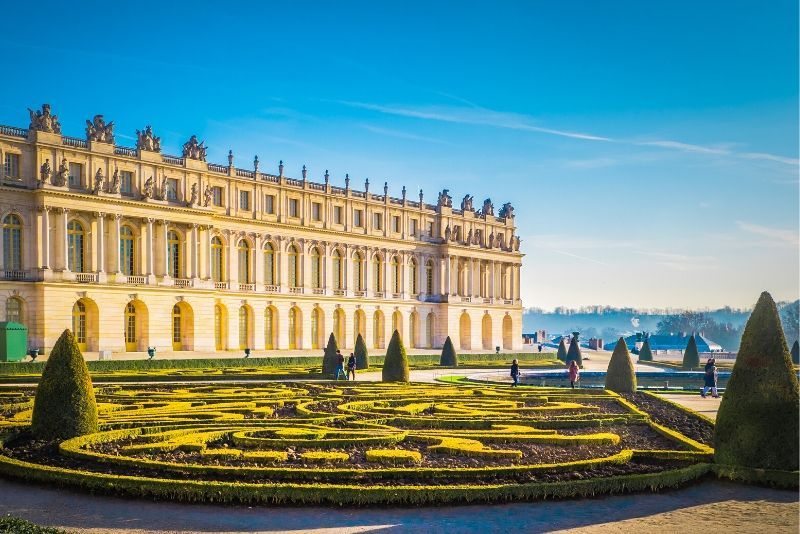 Options abound for packages that include visits to the Louvre, Eiffel Tower, Versailles, a cabaret show and/or on walking or driving tours, a sightseeing cruise plus a meal at a restaurant or the Moulin Rouge.  
Among the combo tour choices are 7-hour dinner cruises with skip-the-line admission to the Eiffel Tower plus a show at the Moulin Rouge costing €275 per person.  
Also available are full-day private combo tours with a guided visit to Versailles and Saint-Germain-des-Prés, ending with a dinner cruise for €990 per person to €1,250 per person, depending on group size.
Dinner plus Eiffel Tower visit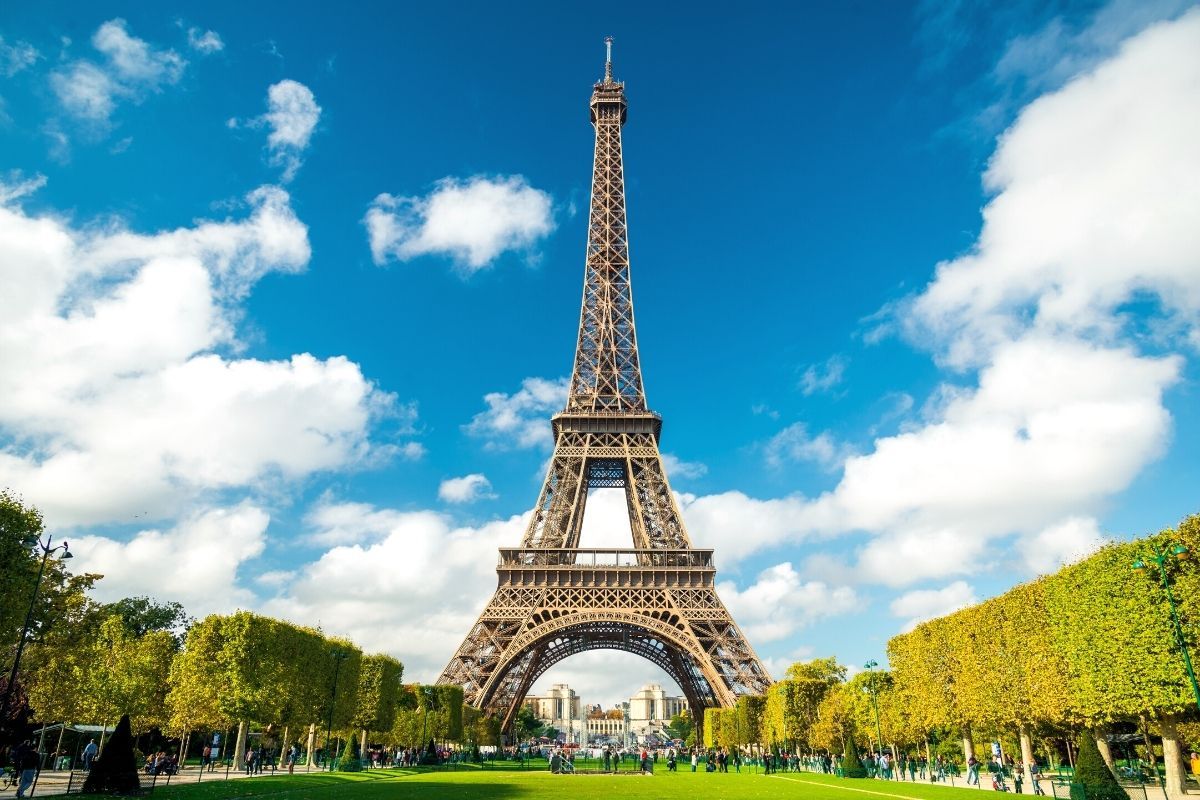 Book a convenient package that gives you dinner and skip-the-line admission to the Eiffel Tower. Dine on a Seine river boat, in an intimate cafe, or in the Eiffel Tower itself before moving on to a sightseeing cruise.
Tours last around 4 hours and cost €180 per person to €1,000 per person. More expensive tours are private and offer pickup from Paris hotels.
Dinner plus Eiffel Tower and cabaret
Fit many of the Paris "musts" into an evening with an outing to the Eiffel Tower and a Moulin Rouge show including a meal at the famous club or on a dinner cruise.
These combo tours last from 7 to 8 hours and cost €265 per person to €320 per person, depending on which level of Eiffel Tower tickets you choose.
What other gastronomic experiences can you enjoy in Paris?
Travel tips
Book early as some tours are likely to see out.
Let your tour provider know of any dietary restrictions at the time of booking.
Most French dining experiences ask that you avoid wearing jeans, shorts and athletic wear.
You are not permitted to bring large bags on board dinner cruise boats.