Located at at number 28, rue du Cardinal Lemoine, the Paradis Latin is the most Parisian — and the most authentic — of all of the great Cabarets.
While it might not be the first attraction to come to mind when considering a trip to Paris, it should be somewhere on your itinerary. And since it's located in the Latin Quarter, very close to Notre-Dame, the Panthéon, the Tour d'Argent restaurant, there's a good chance you might be planning to be in the area already.
The theatre was originally built in 1803 on the rue des Fosses-Saint-Victor, and at the time was known as the Théâtre Latin.
In 1870 the building was razed by fire only to be rebuilt more than a decade later. Between 1887 and 1889 it was rebuilt the rue du Cardinal Lemoine by Gustave Eiffel, the French civil engineer best known for building the Eiffel Tower. At that time, it was renamed Paradis Latin.
Unfortunately, the new theatre didn't remain open long and was closed sometime around 1900. It wasn't until the early 1970s that rehabilitation once again commenced on the building, with it finally reopening for the third time in 1977 as a cabaret. The theatre is currently owned by Walter Butler, a French businessman.
Interestingly, it was a real estate developer named Jean Kriegel who bought the building in 1973 with plans the change the building into apartments. But as he took a walk through the building and as work begins, surprises are revealed.
When the false ceiling was demolished the metal structure of the Eiffel is revealed, along with a Paradis Latin poster. Workers continue to discover more wonders and finally Mr. Kreigel decides to reconstruct the theater according to Eiffel's original plans.
Since then, millions of spectators have visited the Paradis Latin. Get your Paradis Latin tickets in Paris to be one of them!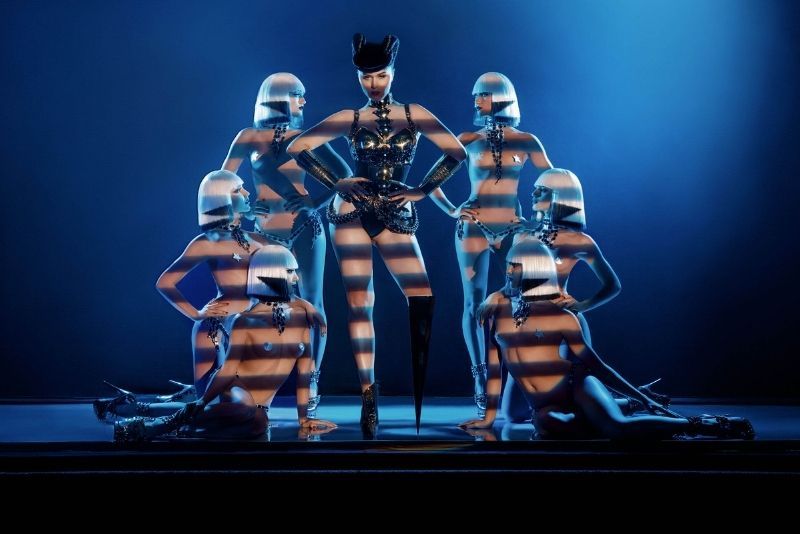 Here's all you need to know about Paradis Latin, one of the most captivating shows in Paris.
How much do Paradis Latin tickets cost? Are there any discounts?
Overall prices depend on whether you are choosing to see just the show, or buying tickets for a show and a meal, or a show and drinks.
Current Paradis Latin prices are as follows:
Paradis Latin Show tickets: starting from €80
Paradis Latin Show with Champagne tickets: starting from €90
Paradis Latin Soirée Gustave Eiffel tickets: starting from €175
Paradis Latin Dinner & Show prestige tickets: starting from €200
Going for a VIP deal includes skip-the-line entry and fabulous seating that will provide you with excellent views of a fabulous show full of lavish costumes, brilliant tap dancing and the one of a kind cancan.
If you are looking for Paris Latin discounted tickets, make sure to compare all the deals available on TourScanner. Sites like Viator or Getyourguide offer discounts on a regular basis.
How to get there?
The Paradis Latin is located at 28 rue du Cardinal Lemoine, Paris.
If you are visiting the city, the best way to get to the theatre is via public transportation.
The closest stops and stations to Paradis Latin are:
Cardinal Lemoine – Monge
Cardinal Lemoine
Saint-Germain - Cardinal Lemoine
Institut Du Monde Arabe
Monge - Mutualite
You can travel to Paradis Latin by either Metro, Bus or RER. The nearby lines and routes that have nearby stops are:
By Metro:
By Bus:
Bus – 24
Bus – 47
Bus – 63
Bus - 67
What time should I arrive at the Paradis Latin?
Now that you have your Paradis Latin tickets in hand, what time should you be there to enjoy the show?
The theatre asks that you please come at 7:30 pm for dinner shows and between 9 pm and 9:20 pm for the review shows.
Note that your seats are assigned beforehand, so the time in advance you get there won't impact where you are seated.
What other shows are playing in Paris?
Travel Tips
Here are a few quick points to consider:
There is a coatroom but there is a charge of 2 Euros per item. Note that use of the coatroom is mandatory. If you have a coat you cannot take it to your seat. Large items of luggage are prohibited.
At the very least, you should be dressed smartly, but the management prefers elegant dress.
City shoes and classic jeans are tolerated. Sportswear, flip flops, and tank tops are not.
The show is approximately 90 minutes long.
Taking pictures or video is prohibited.
The Paradis Latin is accessible for those with limited mobility