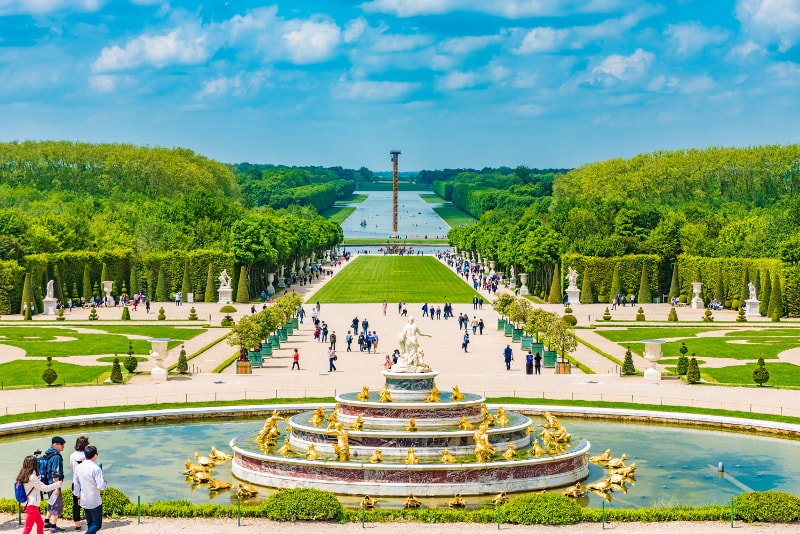 Are you wondering which of the many Versailles Palace tours is right for you? Here you will find a comprehensive guide to Versailles Palace tours, from private tours to group tours, kid-friendly tours, audio-guided tours and many more.
If you already know what you want, you can go ahead and already book your Versailles Palace tour or Versailles Palace ticket. Otherwise, scroll down to explore which tour best fits your needs and interests.
Versailles tours – is it worth taking a tour?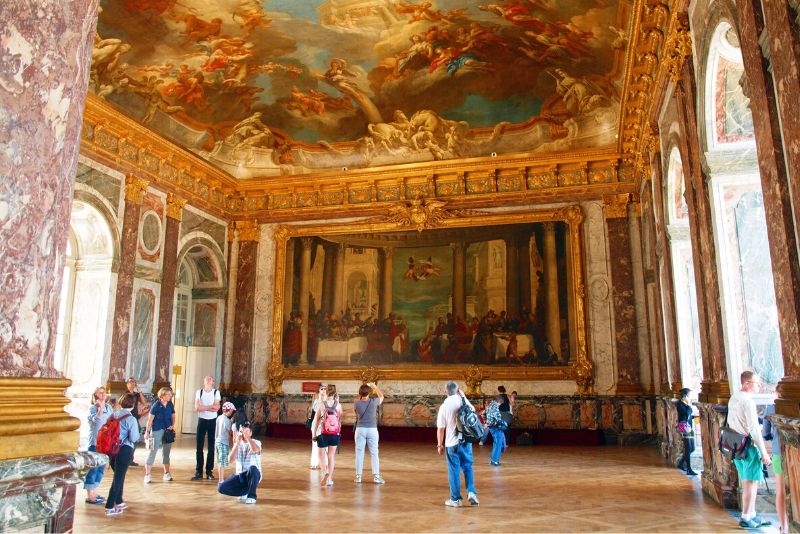 The Palace has 2,300 rooms spread over 63,000 square meters. You will find secrets around every corner in this labyrinth of massive rooms, hidden passages, private apartments and beautiful bathrooms covered in priceless artwork.
Versailles Palace is a symbol of French absolutism and will immerse you in the royal lifestyle of legendary figures like Louis XIV, humbly known as the Sun King. Exploring the palace will give you a sense of how the kings, queens, princes, princesses, mistresses and courtiers lived day in and day out in decadent luxury.
Touring the entire palace, with some breaks in between, can take from four to six hours. You have the option to:
Visit the museum on your own at your own pace.
Join a group tour and learn more about Versailles Palace's rich history.
Is the tour worth it?
While you do have the option to wander around the palace on your own, a guided tour has plenty of benefits, even for those of us who would normally prefer more independence. These include:
Ease – You will not have to stand in line to get your ticket. The tickets are included in the guided tours.
Know What to See – You will not miss any important sights when you are on a guided tour. Such tours are carefully designed to ensure that you visit all must-see sections and do not end up wasting time or getting too exhausted.
Get Answers to Your Questions – You will have a guide to not only introduce you to the history of the Palace but also to answer any related questions you may have. If you're a history lover, it will ensure a more enriching experience.
Versailles Palace tours – which one is right for you?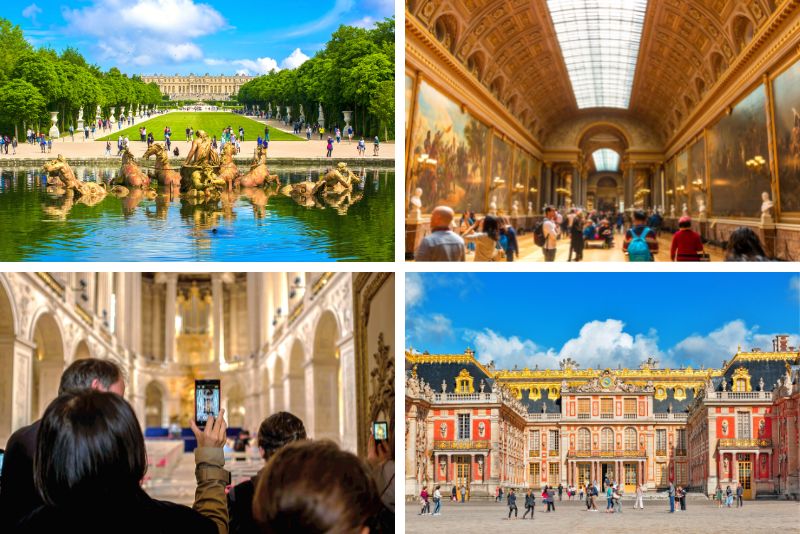 So, you have decided to go on a guided tour, but you don't know which one to choose. They all look so similar! How will you ever pick the right one?! No need to fear, because I'm here to help.
Here is a breakdown of the most common tour options:
Audioguide tours
Private tours
Group tours
Guided tours of the King's Private Apartments
Kid-friendly tours
Morning tours
Musical Gardens tours
Musical Fountains Show tours
Bike tours
Gastronomic tours
Motorcycle sidecar tours
Amphibious minibus tours
Helicopter tours
1. Audioguided tours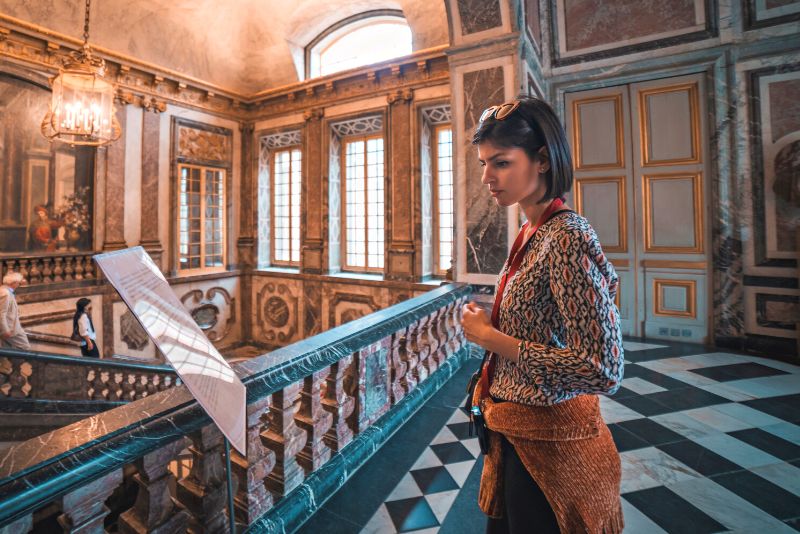 Are you an independent explorer and prefer to hear descriptions of the palace in your native language? Audioguide tours are available in 12 languages: Chinese, English, French, German, Italian, Japanese, Korean, Polish, Portuguese, Russian, Spanish and Ukrainian.
They will provide you with a good amount of information and only cost €5. However, it won't substitute the quality and adaptability of a human guide who will be able to answer specific questions and add more to the overall experience.
2. Private tours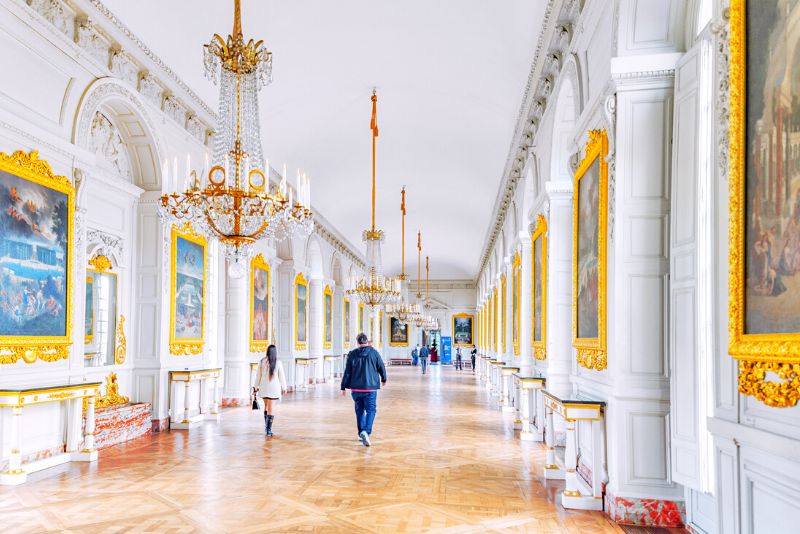 I personally prefer private Versailles Palace tours despite them being more expensive for several reasons.
Make Your Own Itinerary: A private tour allows you to explore Versailles Palace at your own pace. If you're enjoying a certain piece of art or section of the palace, you can stay there as long as you like without any worries. Also, you can skip areas that are less interesting to you.
Skip the Line: The queues for tickets and to enter the Palace can be quite long at times. You can avoid the hassle as most private tours come with this great benefit.
Get Answers to All Your Questions: As you're the only group that needs attending, you will get the complete attention of your guide, who will cater to all your needs and answer any questions you may have during the tour.
Pick Your Language: French and English tours are the most common, but if you speak a different language (Arabic, Chinese, Hindi, etc.), you might have to consider a private tour, as it allows you to choose your own language. Nearly all popular languages are covered.
Optional Services: Some private tours may also offer additional services such as (1) hotel pickup and drop-off, (2) snacks and beverages and (3) photography. While some of these services are included in the total fee, you might have to pay an additional fee in some cases.
Privacy: This is obviously the biggest benefit of a private tour. You do not have to share the space with anyone, as it will only be you and your friends or family.
3. Group tours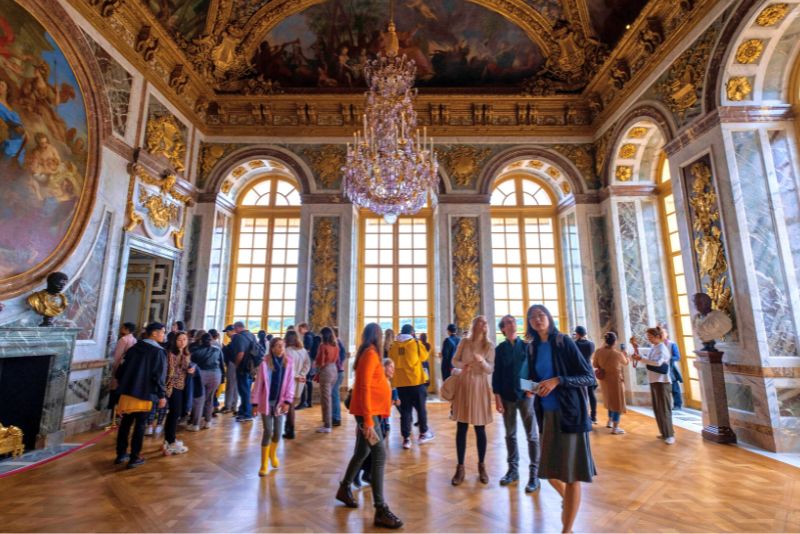 Many people opt for group Versailles Palace tours. Some of the benefits are the same as a private tour. You get to skip the line, have a knowledgeable guide to answer your questions (multiple languages may be available), and some even offer additional services (such as pickup and drop-off from your hotel) for an extra fee.
Most groups consist of 20 to 30 people. You will be given noise-canceling headphones to reduce the interference of other tours going on at the same time.
It's a good option if you don't mind sharing your space and the attention of the guide with other people.
4. King's Private Apartments tours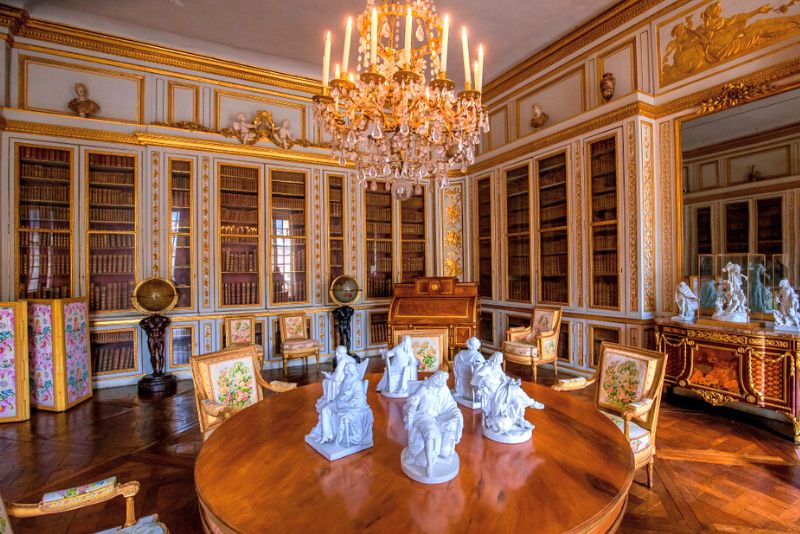 If you're visiting the interior of Versailles Palace, then make sure to check out the King's Private Apartments as well. The general public is not allowed to enter these rooms, as you can only visit with a guided tour. This more exclusive experience is certainly worth the time and effort.
The King's Apartment is composed of the King's Guard Room, the Antechamber of the Great Dining Room, the Council Room, the Bull's Eye Antechamber and the King's Chamber. However, those last two rooms are temporarily closed to the public due to restoration works.
Here you will find a relatively understated style compared to the State Apartments. You will see how the decor reflects the change in the king's tastes. Now you have white ceilings and gold woodwork instead of rich marble panels and extravagantly painted ceilings.
The King's chamber is the most important and symbolic room in the apartment. This is where dozens of courtiers would assist in the king's "getting up" and "going to bed" ceremonies. This is also where Louis XIV passed away on 1 September 1715 after a 72-year reign.
Louis XIV personally chose the paintings that you see hanging in this chamber, which include Boulogne's The Tribute to Caesar, Lanfranco's Hagar in the Wilderness, Caracciolo's Saint John the Baptist and Zampieri's Mary Madeleine, among others.
The tour lasts about one and a half hours, and tickets can be booked online for the price of €10. Please note that children 10 years and under have free admission for this tour.
Tours can be booked online through Expedia, Viator and other platforms. I suggest that you compare different options through TourScanner and pick one that fits your requirements.
5. Kid-friendly tours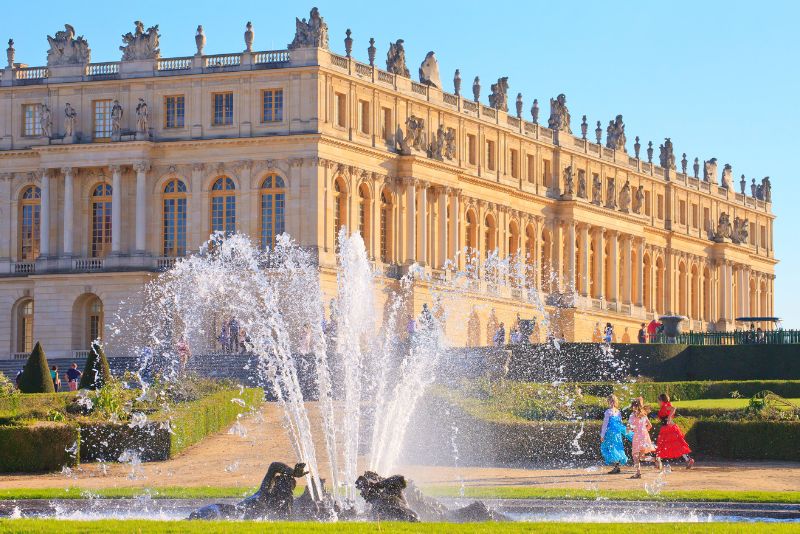 Are you looking for a fun and educational way for your children to visit Versailles Palace? If so, there are private and group tours specially adapted for families with kids from 7 to 17 years old.
Energetic guides will turn the visit into a treasure hunt! Your little detectives will need to get creative and use deductive reasoning to uncover the mysteries hidden throughout the castle by the Sun King and his cohorts.
Kid-friendly tours are the perfect option for when you're traveling with the whole family. They are typically less exhaustive and are sensitive to the needs of young children (and the older ones too!). Many families choose private family tours, but group family tours are also a popular option.
Compare available kid-friendly Versailles Palace tours through TourScanner and pick the one that best fits your needs.
6. Morning tours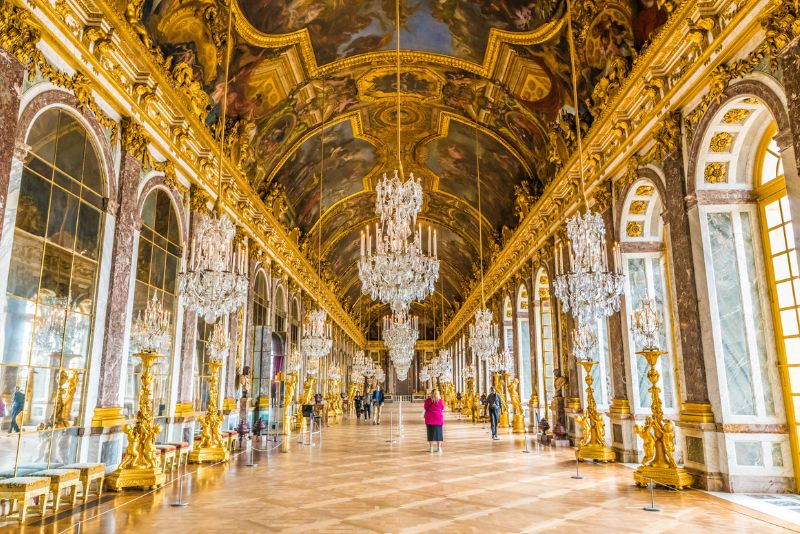 Are you a morning bird and looking to beat the crowds? Morning Versailles Palace tours allow you to leave Paris with the sunrise and be back in time for lunch. If you have limited time and want to conquer Versailles in half a day, this is the perfect tour for you.
About three million people visit Versailles every year. If you are like me, you would not like to be surrounded by such a mass of moving bodies. A good option to avoid the crowds is to opt for an early morning Versailles Palace tour.
Compare early morning Versailles Palace tours on TourScanner to pick the most suitable one for you.
7. Musical Gardens tours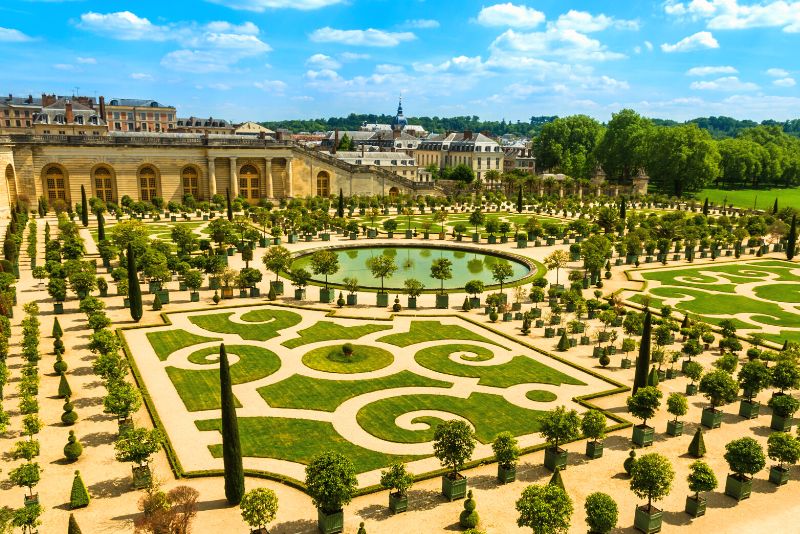 If you're visiting Versailles Palace, then I would suggest that you take the whole day and enjoy everything that this amazing place has to offer.
In the over 830 hectares of gardens surrounding the palace, you will find an assortment of immaculately-arranged trees and bushes. Among these are dozens of ornate fountains and hundreds of statues that are equally as elaborate and impressive as the interior of the palace.
On select days of the year, the sound of orchestral strings provides an idyllic backdrop for your wanderings among the neatly-pruned, geometric bushes on a Versailles Palace and Garden tour.
With or without music, these tours allow you to appreciate the timeless designs of master gardener André Le Nôtre and court painter Charles le Brun. You will see how their design extends the opulence of the palace into the lawns.
On Tuesdays, Thursdays and Fridays from April to October, your exploration of the gardens will be accompanied by a selection of baroque pieces. Allow yourself to drift away to the same music Marie-Antoinette would have hummed along to.
There are some exceptional dates, so be sure to check the official schedule before planning your visit.
The Gardens themselves are normally free to visit, but on Musical Gardens days, you must either buy an all-inclusive Passport ticket or a ticket only for the Gardens. Keep in mind that any guided tours would have this cost included in the price.
No trip to the palace would be complete without a walk through the gardens, so compare your Versailles Palace and Musical Garden tour options on TourScanner.
8. Musical Fountains Show tours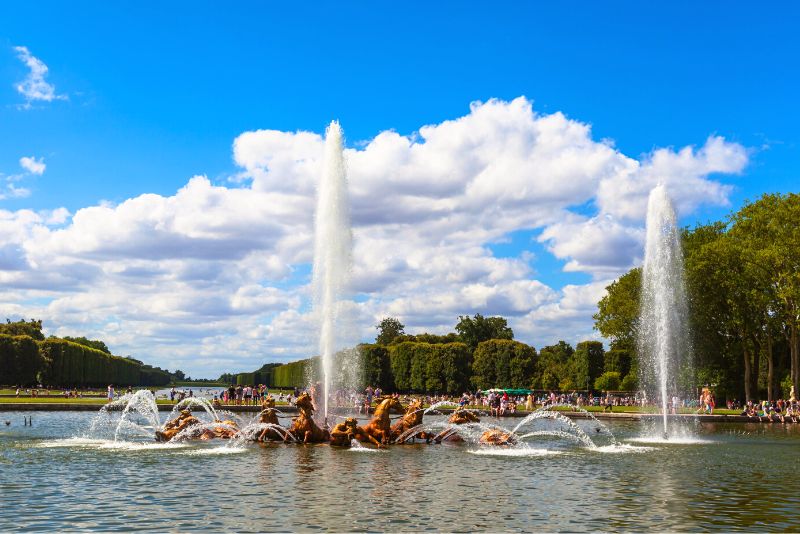 On select days of the year, you can take a Versailles Palace Musical Fountains Show tour and witness the water dance to classical music in over 15 fountains throughout the estate — a testament to over three centuries of French engineering and garden design.
These marvels of architecture and engineering required no electricity when first built. Hydraulic wheels redirected millions of liters from the Seine River, and innovative pipe designs supplied the pressure to pump water through dozens of intricately-designed fountains.
The Four Seasons Fountains stand at the crossroads of The Royal Way. Each is named after a season of the year and is represented by a Greek deity — Spring and Flora, Summer and Ceres, Autumn and Bacchus, and Winter and Saturn.
The Fountains of the Fight of the Animals are west of the Water Parterre on either side of the central axis. The Evening Fountain features lions bringing down a wolf and wild boar. The Daybreak Fountain features a tiger and bloodhound hunting a bear and stag.
The Dragon Fountain is at the end of the Water Walk and is the tallest of all the fountains — its water jets reach over 27 meters high! The fountain portrays young Apollo killing the serpent Python with an arrow shot.
The Neptune Fountain has the biggest and the most variety of water jets. The fountain requires a complex hydraulic system to stream water from its 99 jets.
Latona's Fountain recounts the myth of the peasants of Lycia who hurled insults at young Apollo and Diana. Their mother, Latona, pleaded with Jupiter for vengeance. He complied by turning the peasants into lizards and frogs, which you can see delicately placed in and around the fountain.
The Musical Fountains Show takes place every Saturday and Sunday from April to October, plus every Tuesday from May to June. The Musical Fountains Show sometimes occurs on other days, so be sure to check the official schedule before planning your visit.
Musical Fountains Show days are the only times when you can see the fountains at their full glory. For most of the year, the fountains serve only as pools with elaborate monuments as their centerpieces.
So, if you plan to be in Versailles at the right time of the year, check out the different options for Versailles Palace Musical Fountains Show tours on TourScanner.
9. Bike tours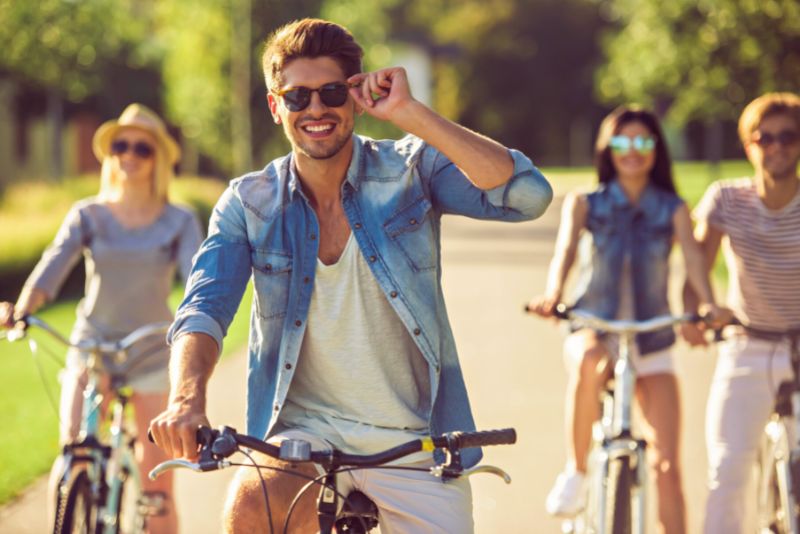 Are you a cycling enthusiast and prefer to pedal around the palace grounds on two wheels? Traditional and electric Versailles Palace bike tours allow you to whiz around Marie-Antoinette's Hamlet and the Petit and Grand Trianons. When you need a break, you can stop for a picnic lunch on the banks of the canal.
If you have the endurance, you can cycle all the way from the center of Paris to Versailles. For a more leisurely day, most tours start near Versailles Palace or even include train travel from Paris to Versailles.
They can be a lot of fun, and most even come with skip-the-line entrance. However, you will not be allowed to take your bike inside the grounds of the Palace or Gardens. Bikes are only allowed in the Estate of Trianon and the Park.
Also, most of these tours are full-day tours. Compare Versailles tours by bike on TourScanner and pick one that fits your budget and schedule. Many tours also include a picnic! After working up an appetite all day, you will be able to sit back on the lawns near the palace to nibble on some French cheese and pastries.
Note: Most Versailles bike tours are group tours
10. Helicopter tours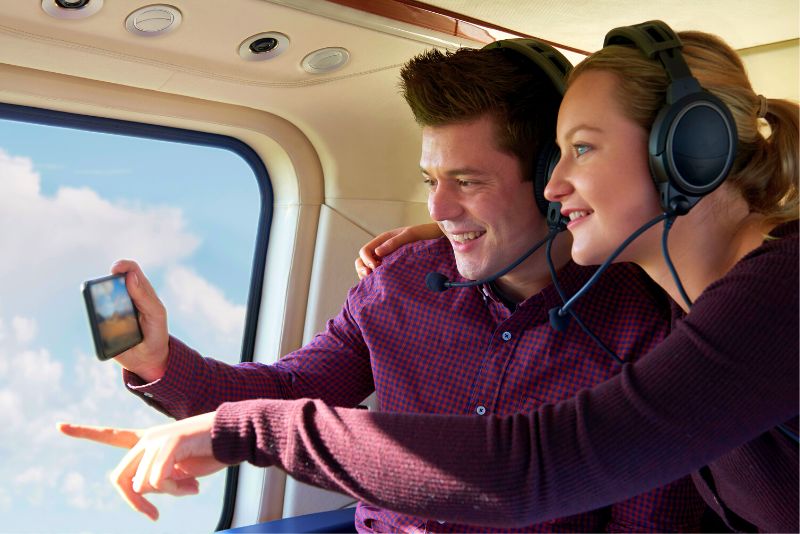 Seeing the City of Love at ground level is nice, but how about a bird's eye view? On a helicopter tour, you will soar above all the must-see landmarks on a round-trip to Versailles Palace from Paris.
Choose a morning, afternoon or evening departure. Then, prepare yourself for breathtaking aerial views of the Eiffel Tower, Montparnasse, La Défense and the Seine River before landing near Versailles Palace.
This is a good option for observing Paris and Versailles from the air. As you can imagine, these tours aren't cheap (starting at €200), but you will be able to fly in style, land near Versailles Palace and enjoy a welcome drink overlooking the palace grounds.
At certain times of the year, you might be able to find a good deal on Versailles Palace helicopter tours. Check out TourScanner to compare different tours.
Tips for booking guided tours of other attractions in Paris – combo tickets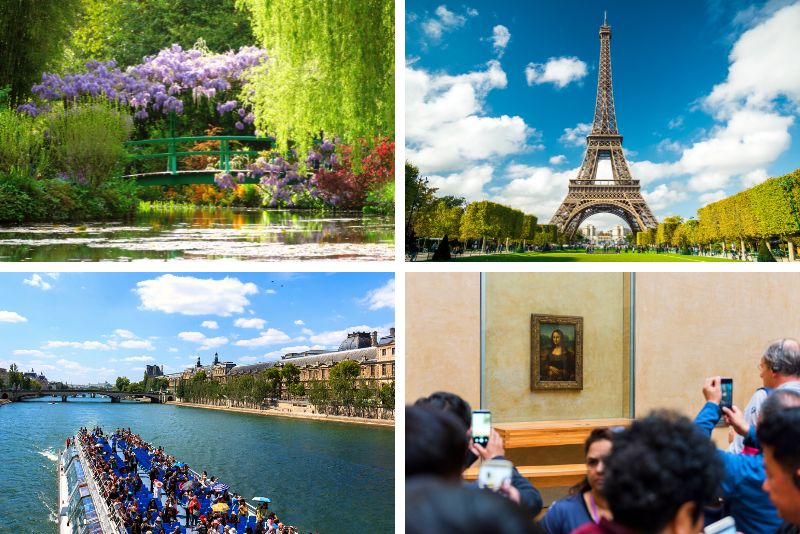 If you do not wish to spend the whole day at Versailles Palace, then consider booking a combo tour. Such tours allow you to explore more in less time and save quite a lot of money.
You can mix and match all kinds of attractions in Paris, with combo tickets from the Eiffel Tower to a river cruise to the Louvre museum. You might even be able to get a customized tour with all that you wish to see in the beautiful city of Paris.
However, be very careful when booking such tours, as prices vary from provider to provider. I suggest that you use a tool like TourScanner to compare different packages.
Here are some of the best combo ticket options.
Are there any free Versailles Palace tours?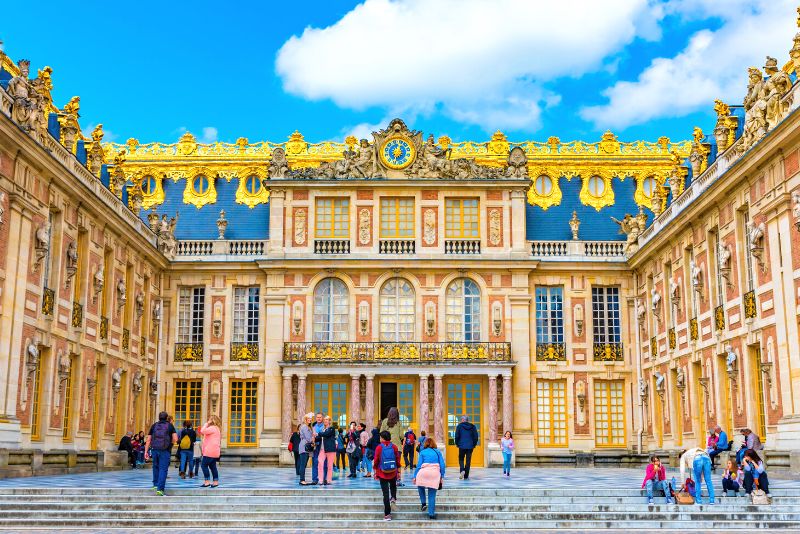 No. There are no free guided Versailles Palace tours. However, you can get free entry into the Palace if you are:
Under 18 years of age
An EU resident under the age of 26
A student
Teacher in a local establishment with a Pass Education
Disabled (+ one accompanying individual)
A job seeker in France
A recipient of minimum social benefits
You will need to provide proof to enjoy free access.
Can I cancel or modify my Versailles Palace tour?
This depends on the provider. Some allow free cancellations, while others charge a cancellation fee depending on how far in advance you cancel the tour.
Changes are not normally allowed, and most tickets are dated, so make sure to carefully read the conditions.
Are any Versailles Paris tours included in the Paris Pass?
No. The Pass only gives you access to the Palace. No tours are included except for the audioguide tour.
I hope I have answered all the questions you have regarding Versailles Palace tours. Wishing you a great visit to Versailles Palace. May you have a royally good time! 👑
Share it on Pinterest 🙂