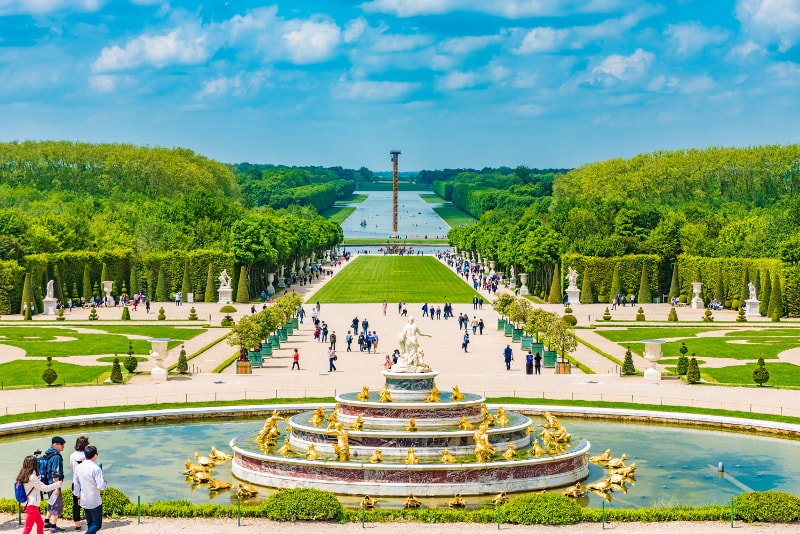 Wondering which of the many Versailles tours is right for you? On this page, you will find a comprehensive guide to Versailles Tours, including: private tours, group tours, tours for kids, audio guided tours and more.
Are you ready to book your Versailles Tour right now?
Don't feel like reading ahead? Click here to book your Versailles tours or just an entrance ticket.
Versailles Tours – Is it worth taking a tour?
The Palace spreads over 63,154 m2 with 2,300 rooms. With its massive rooms, secret passages, private apartments, beautiful bathrooms and other hidden corners, it's a treasure one must delve into.
The Palace is a symbol of French absolutism and can bring you close to the royal lifestyle. Get to know how kings, queens, princes, princesses, mistresses and courtiers lived in this artistic beauty.
Touring the whole palace can take four to six hours with a little rest in between. You have the option to:
Visit the museum on your own at your own pace.
Join a group tour and learn more about the Palace's rich history.
Is the Tour Worth It?
While you have the option to take matters in your hands, a guided tour is typically a better choice due to the benefits. These include:
    Ease – You will not have to stand in queues to get your ticket. The tickets are included in the guided tours. 
    Know What to See – You will not miss any important corner when you are on a guided tour. Such tours are carefully designed to ensure that you visit all important sections and do not end up wasting time or getting too exhausted.
 Get Answers to Your Questions –  You will have a guide to not only introduce you to the history of the Palace but also to answer any related question you may have. If you're a history lover, it can be a good way to know things better.
Versailles Tours – Which one is right for you?
So you have decided to go for a guided tour, but you do not know which one to choose. They all appear so similar, it can often get difficult to pick the right one.
Here are some common tour options:
Audio guided tours
Versailles Private tours
Versailles Group tours
Guided Tours of the King's and State Apartments
Versailles Tours for kids & family
Early morning & evening tours
Versailles Guided Tours including musical gardens, fountain night show & fireworks
Versailles Tours by bike
Murder & Mystery Versailles Tours
Helicopter Versailles tours
1. Audioguided Versailles tours
If you are low on budget then go for this one. Audio books are available for free and are also very easy to use. Pick one at the entrance and you're good to go.
They will provide you with a good amount of information but cannot substitute for a human guide who will be able to answer specific questions and add more to the overall experience.
2. Private Versailles Tours

I personally prefer private Versailles tours despite them being more expensive. Their benefits include:
Make Your Own Itinerary: A private tour allows you to explore the Palace at your own pace. You may spend as much time as you'd like to in one corner without any worries and skip areas you wouldn't want to see.
Skip the Line: The queues for tickets and to enter the Palace can be quite long at times. You can avoid the hassle as most private Versailles tours come with this great benefit.
Get Answers to All Questions: Since there are no other parties you will get the complete attention of your guide who will cater to all your needs and answer all questions you may have about the tour.
Pick Your Language: French and English tours are pretty common but if you speak a different language (Arabic, Chinese, Hindi, etc.) you might have to consider a private tour as it allows you to choose your own language. Almost all popular languages are covered.
Optional Services: Some private tours may also offer additional services such as (1) hotel pick-up and drop (2) snacks and beverages (3) photography. While some of these services might be included in the total fee, you might have to pay an additional fee for some.
Privacy: This is obviously the biggest benefit of a private tour. You do not have to share the space with anyone as it will only be you and/or your friends.
3. Group Versailles tours
A lot of people opt for group Versailles tours. Some of the qualities are same as a private tour. You get to skip the line, have a knowledgeable guide to answer your questions (multiple languages may be available), and some even offer additional services (pick and drop, etc.) for additional charges.
Most groups consist of 20 – 30 people. You will be given whisper headphones to cut the noise since there are several other tours going on at the same time.
It's a good option if you are comfortable with being around people.
4. Guided tours of the King's and State apartments
If you're visiting the Palace then make sure to check out the The King's and State Apartments as well. The Apartments consist of seven rooms with classic Italian decoration. Since the Apartments are comparatively smaller, you can only visit with a guided tour, but it's worth the effort.
Tours can be booked online through Expedia, Viator and other platforms. I suggest that you compare different options through TourScanner and pick one that fits your requirements.
You will get to see painted ceilings and marble panelling here. The Apartments were of huge importance during the time of Louis XIV who used to hold gatherings here.
It's a magnificent piece of architecture but if you want to get closer to the lifestyle of kings, then visit the Private Apartments of the Kings and also King' favourites (Madame Du Barry and Madame de Pompadour had rooms next to the chambers of King Louis XV).
The tour lasts for about 1.5 hours and can be booked online for a cost of '10 Euro + admission'(Kings' Apartments) and '7 Euro + admission' for king's favourites.
5. Versailles tours for kids & family
If you're going with your family then opt for kid friendly tours. Such tours are designed for families and are typically less exhaustive. Many families opt for private family tours but group family tours are also there.
Compare available Versailles tours for kids & family through TourScanner and pick on that fits you the best.
6. Avoid the crowd – Early morning & late afternoon Versailles tours
About three million people visit Versailles every year. If you are like me, you would not like to be surrounded by so many moving bodies. A good option to avoid the crowd is to opt for early morning and late afternoon Versailles tours.
Compare early morning & late afternoon Versailles tours on TourScanner to pick the most suitable one.
7. Versailles guided tours including musical gardens, fountain night show & fireworks
If you're visiting Versailles then I would suggest that you take the whole day out and enjoy everything that this amazing place has to offer.
While the Palace is the main attraction, there is a lot more to see and enjoy here. Explore the groves and fountains with the water dancing to the rhythm. The aura is amazing and you will definitely have a good time here. However, these shows are presented on specific days so find out the schedule.
Current Schedule (31 Mar-28 Oct) : Saturdays and Sundays
Note: There might be some additional dates as well
Explore the gardens as well. The gardens are huge and mesmerizing. You will have to buy tickets separately for the gardens but some individuals may be exempt or get a discount so make sure to inquire about the matter.
Other than this, you may also get to enjoy fireworks at the end of the day. I suggest that you opt for a full-day tour that includes everything from the palace to the fountain show with musical gardens. Compare your options on TourScanner.
8. Versailles tours by bike
If you enjoy biking then go on a ride from Paris and explore Versailles. Many websites offer bike tours. They can be a lot of fun and most come with skip-the-line entrance. However, you will not be allowed to take your bike inside the Palace.
Also, most of these tours are full-day tours. Compare Versailles tours by bike on TourScanner and pick one that fits your budget and schedule. Many tours come with a picnic and some may include train travel from Paris to Versailles.
Note: Most Versailles bike tours are group tours
9. Murder & Mystery Versailles Tours
The Palace is full of history and mystery. It has seen murders, conspiracies, weddings and what not. Relive the mystery of the palace with Murder & Mystery Versailles tours. These are perfect for lovers of drama and politics.
You will get to know about all that has happened in the Palace from horror stories to spine-chilling tales of love and deceit.
10. Helicopter Versailles Tours
This is a good option to discover Paris and Versailles from the air. However, these tours are very expensive (starting at 200 Euro) and do not include a trip to the Palace. You will only get to see the Paris from the sky, but it's a nice experience because the view from there is quite exotic.
You might be able to get a good deal on helicopter Versailles tours. Check TourScanner to compare different tours.
Tips for Booking Guided Tours of Other Attractions in Paris – Combos
If you do not wish to spend the whole day at the Palace then consider some combo tours. Such tours can allow you to explore more in less time without having to spend a lot of money.
You can mix and match all kinds of attractions with combo from the Eiffel Tower to a river cruise to the Louvre museum. You might even be able to get a customized tour with all that you wish to see in the beautiful city of Paris.
However, be very careful when booking such tours as prices vary from provided to provider. I suggest that you use a tool like TourScanner to compare different packages.
Is there any free Versailles Tours?
You can get entry into the Palace for free if you are:
Under 18 years of age
An EU resident under the age of 26
A student
Teacher in a local establishment with a Pass Education
Disabled (+ one accompanying individual)
A job seeker in France
A recipient of minimum social benefits
You will have to provide proof to enjoy free access. However, the tours are not free except for Versailles audio tours.
Cancel/Modify Your Versailles Tour?
This depends on the provider. Some may allow free cancellations while some may charge a cancellation fee based on when the tour was cancelled.
Make sure to read the descriptions carefully.
Are any Versailles Tours included in the Paris Pass?
No. The Pass only gives you access to the Palace. No tours are included except for the audiobook tour, which is anyway available for free.
I hope I have answered all the questions you may have regarding Versailles tours. Wishing you a great visit in Versailles. Have fun !
Share it on Pinterest 🙂