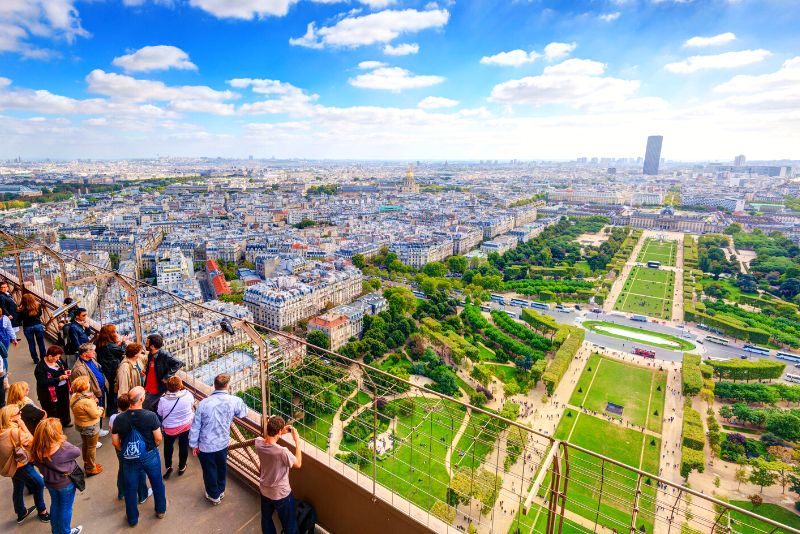 Are you looking for the best Eiffel Tower tours in Paris? You've come to the right place.
Below, you can find a comprehensive guide to the numerous Eiffel Tower tours available, including group tours, private tours, audioguide tours, night tours, combined tours and more!
Find out which Eiffel Tower guided tour suits best your travel needs and make the most of your time in Paris.
If you already want to book your Eiffel Tower tour right now and don't want to read ahead, click here to book your Eiffel Tower tour.
Eiffel Tower tours – Is it worth taking a tour?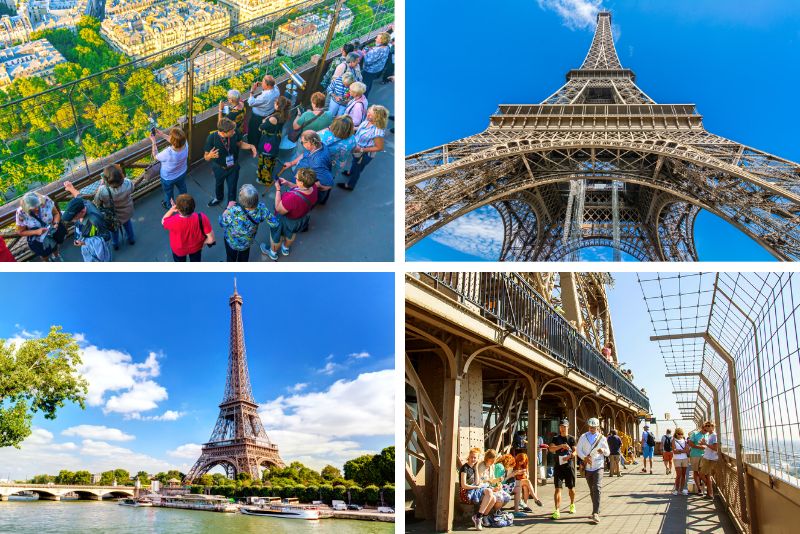 It is absolutely worth it to take a guided tour of the Eiffel Tower! From fast entry to the monument to enjoying an informative experience, there are numerous benefits to a guided tour.
With a guided tour, there is no need to worry about waiting in long queues as your tickets are bought in advance as part of your tour. All you need to do is show up and meet your tour guide, who will be waiting for you with your Eiffel Tower tickets so you can skip the line.
Moreover, a tour guide will be able to offer you a highly insightful experience that you may not otherwise enjoy on your own. When you have a tour guide with you, there is someone to answer any questions you may have. On a guided tour, you will no doubt see things you would have overlooked on your own. It is considerably advantageous to have a knowledgeable guide who can explain to you just what you want to know.
By going on a guided tour, you may be able to combine your visit to the Eiffel Tower with visits to other notable attractions and even other experiences. Your guide will also be able to provide further ideas of what you shouldn't miss during your time in Paris.
Eiffel Tower – Second floor or summit?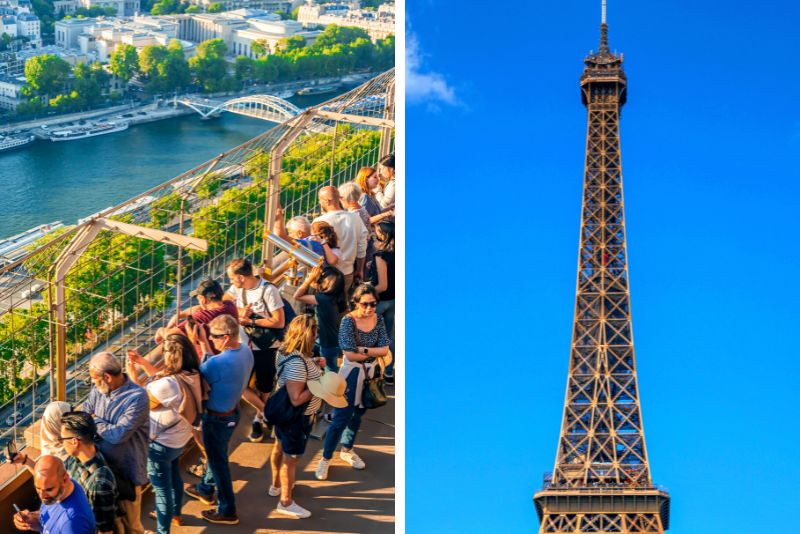 The Eiffel Tower has three levels: the first floor, second floor and summit, or third floor.
When booking your Eiffel Tower ticket or tour, you'll need to choose whether you want to visit only up to the second floor or go all the way to the summit. All tickets include access to the first floor, and summit tickets include access to all three floors.
For budget travelers, we recommend that you book tickets that go to the second floor of the Eiffel Tower tickets as they are cheaper. You can also opt to go by the stairs or the lift, depending on your preference.
Going to the second floor offers a stunning perspective of the city, and you'll still be able to make the most of the restaurants, stores and attractions of the first and second floors.
Eiffel Tower tickets to the summit take you 276 meters up in the air, where you will find panoramic views, a champagne bar and Gustave Eiffel's old office. The summit of the Eiffel Tower can only be accessed by lift, but you can also get tickets that include stairs access to the first and second floors if you'd like a cheaper price.
See also: Eiffel Tower Tickets Price – All you Need to Know