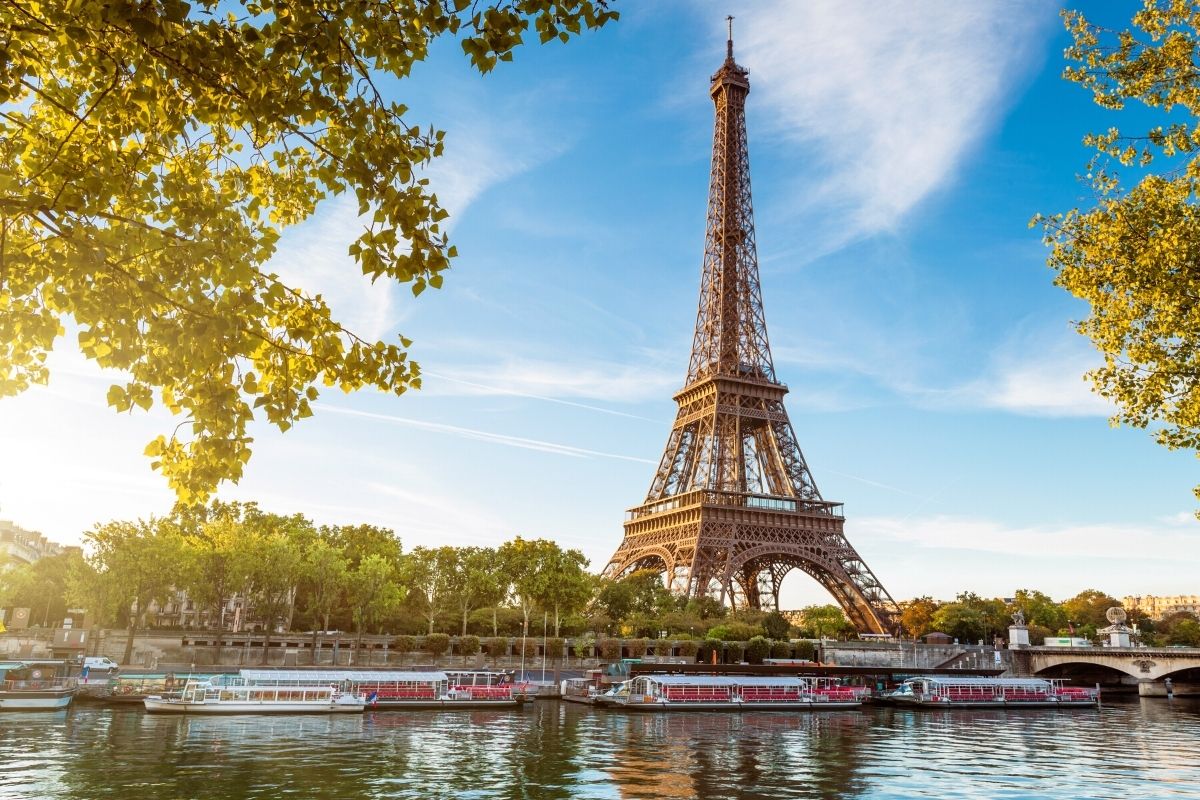 Ah, Paris.
Just the name conjures up joyful, romantic FIX images: the Eiffel Tower, the Arc De Triomphe, lingering at sidewalk cafes for hours, wandering through the streets where art and history were made.
And the City of Light undoubtedly lives up to its reputation, with incredible museums, world-class art, charming neighborhoods, and some of the most renowned monuments on the planet.
If you're looking for more unusual adventures, you can take a peek at old circus antiques, get happily lost in one of the world's largest flea markets, or see some of the city's most talented performers strut their stuff at a burlesque show.
You can even go to Disneyland! So grab a map, brush up on your French, and check out the best tourist attractions in Paris.
1 – Louvre Museum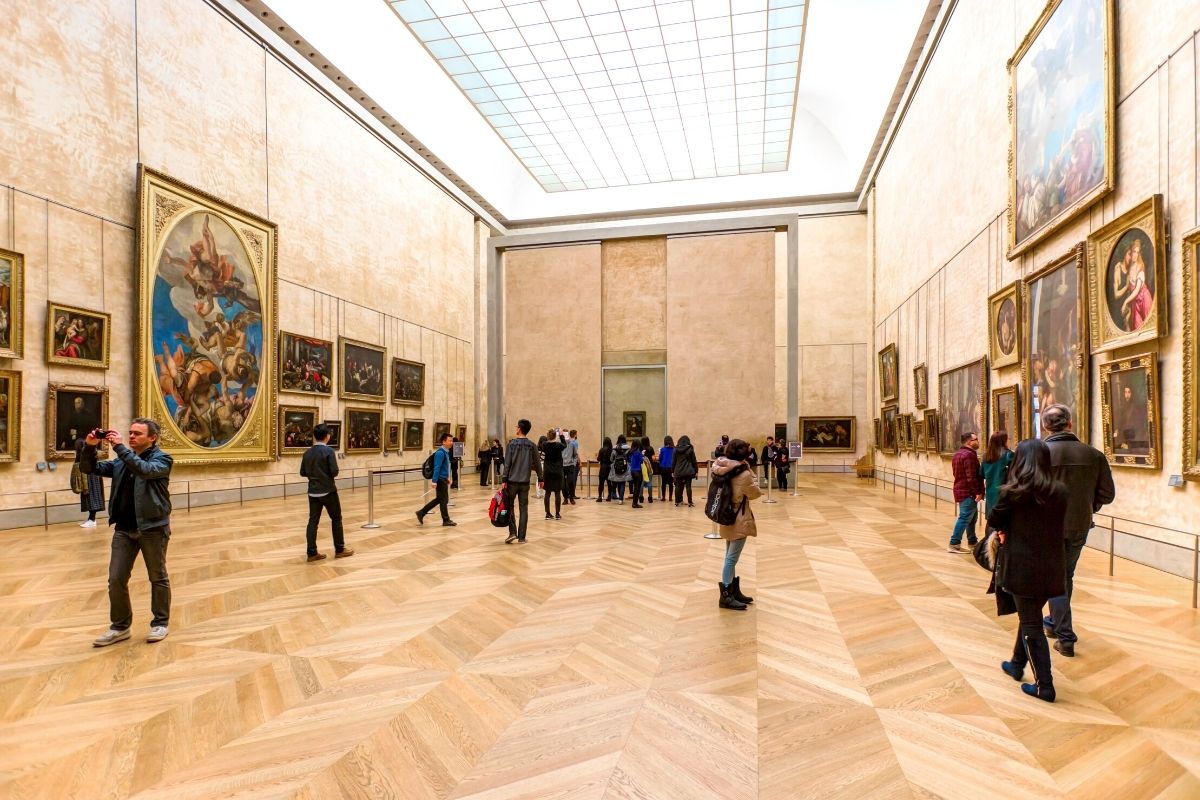 The Mona Lisa, the Venus Di Milo, and some French revolutionaries show up in some galleries… you must be at the Lourve! This beloved institution is the largest museum on the planet, and it holds thousands of works of art across various mediums.
Along with the aforementioned masterpieces, you can see tons of other amazing creations, including Greek and Italian sculptures, globes and glasswork from the Middle East, and antique objects from Ancient Egypt.
And, of course, there are plenty of phenomenal French works as well, showcasing such significant eras as the Revolution and the reign of Napoleon.
Outside, take some time to admire the spectacular Louvre Pyramid, an I.M. Pei-designed structure that has become one of the crown jewels of the city. Standing 71 feet tall, this modern glass-and-metal triumph not only serves as the entrance to the museum, but also as an artwork in its own right.
With several days' worth of treasures to see and a remarkable perspective on world history, you're bound to find some new favorite pieces at one of the best museums in Paris!
Read more about Louvre Museum tickets price and Louvre Museum tours.
2 – Cathedral Notre-Dame de Paris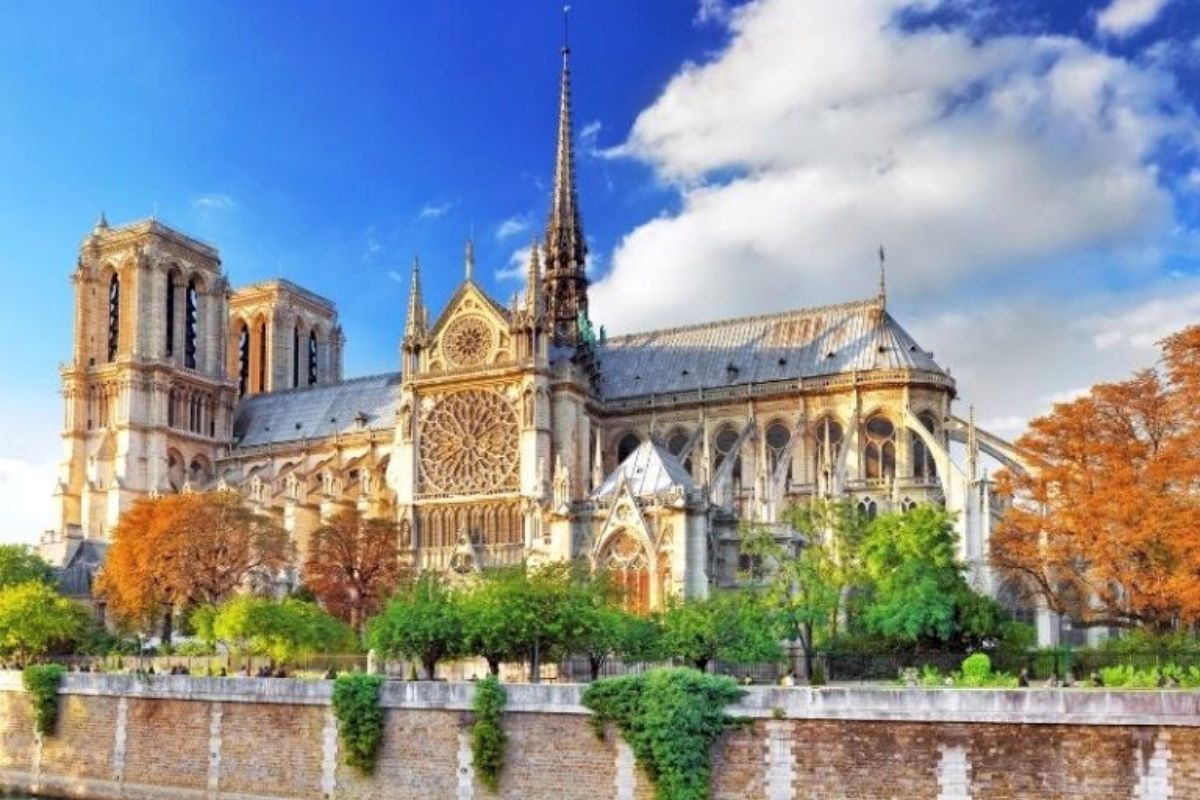 With its distinctive facade, thundering bells, and gorgeous stained glass portraits, Cathedral Notre-Dame de Paris stands out amongst the many excellent tourist attractions in the area.
Although construction on this gorgeous church started in the 1100s, it took another three centuries for the work to be finished. It has long served as a symbol of the city, and as a unique piece of French religious history.
You can see some of these fascinating details even before heading inside; the exterior is a beautiful mishmash of different architectural styles, reflecting the lengthy construction process.
Although a major fire in 2019 has left the building closed for renovations, you can still stroll around the outside and admire its gorgeous architectural details, and learn all about the cathedral's prestigious history.
3 – Eiffel Tower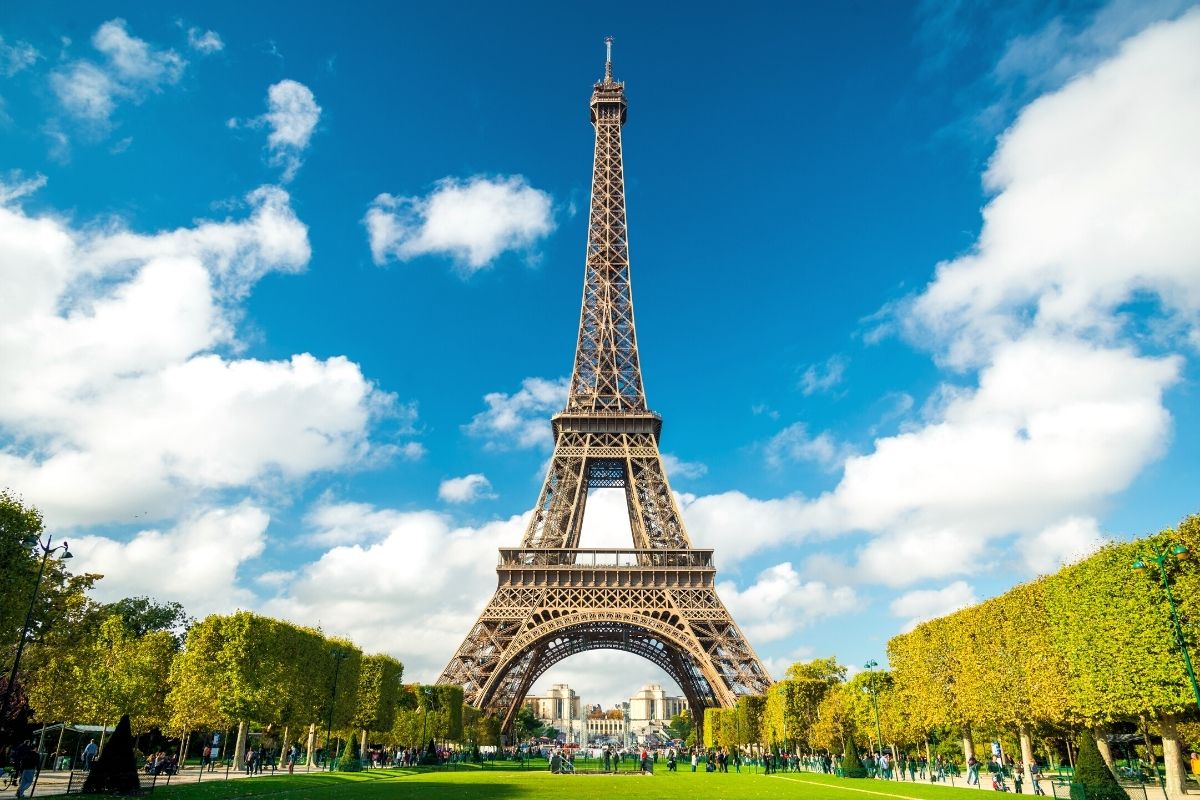 When you think of Paris attractions, the Eiffel Tower's iconic silhouette quickly comes to mind. A key feature of the city skyline since 1889, the beautiful structure has long been one of the most popular places to visit in Paris.
While the tower is certainly wonderful when viewed from the ground, it's well worth taking a trip to the top of the spire, where you can explore a small museum dedicated to the tower's fascinating history.
Explore the apartment where Gustave Eiffel, the structure's creator, once lived, and learn all about the construction process for this beloved attraction.
You can also enjoy phenomenal views of the city from the top, and it's an even more memorable experience at night when the tower and the town both transform into electric wonderlands.
You'll soon see how the metropolis earned the nickname, "The City of Light"!
Read more about Eiffel Tower tours and Eiffel Tower tickets price
4 – Champ de Mars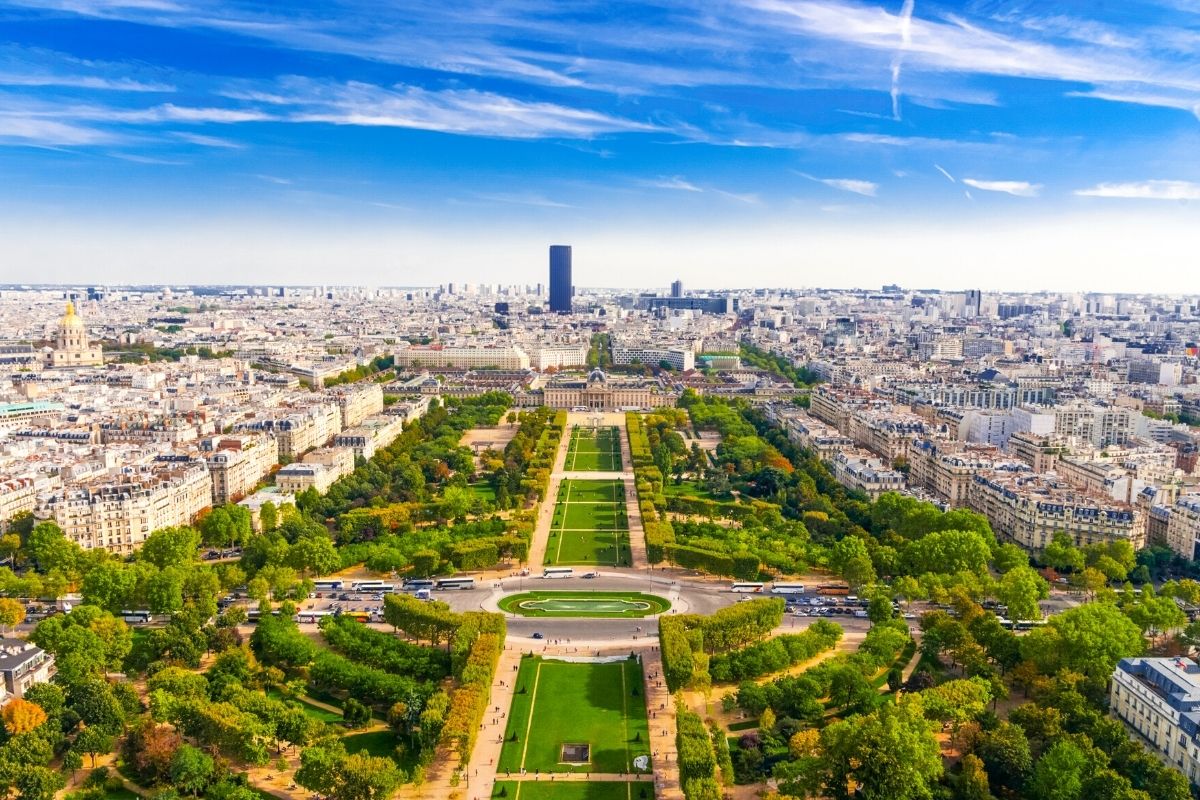 If you're trying to get some nice viewing and photo opportunities at the Eiffel Tower, you're probably doing so in Champ de Mars, a gorgeous park that's almost as popular as the building it houses.
This lovely green space has long been a favorite destination for visitors, offering a healthy dose of tranquility right in the midst of the city. Stroll along the peaceful paths, enjoy a picnic on the lawn, or let the kids cut loose on the playgrounds.
If you happen to be near the park in the evening, it's a great place to check the nightly light show at the tower, with its amazing display of different colors and designs. And of course, you can always take some time to just sit and people-watch the same way that locals and tourists have since 1780.
It's the perfect place to drink in the Parisian atmosphere!
5 – Trocadero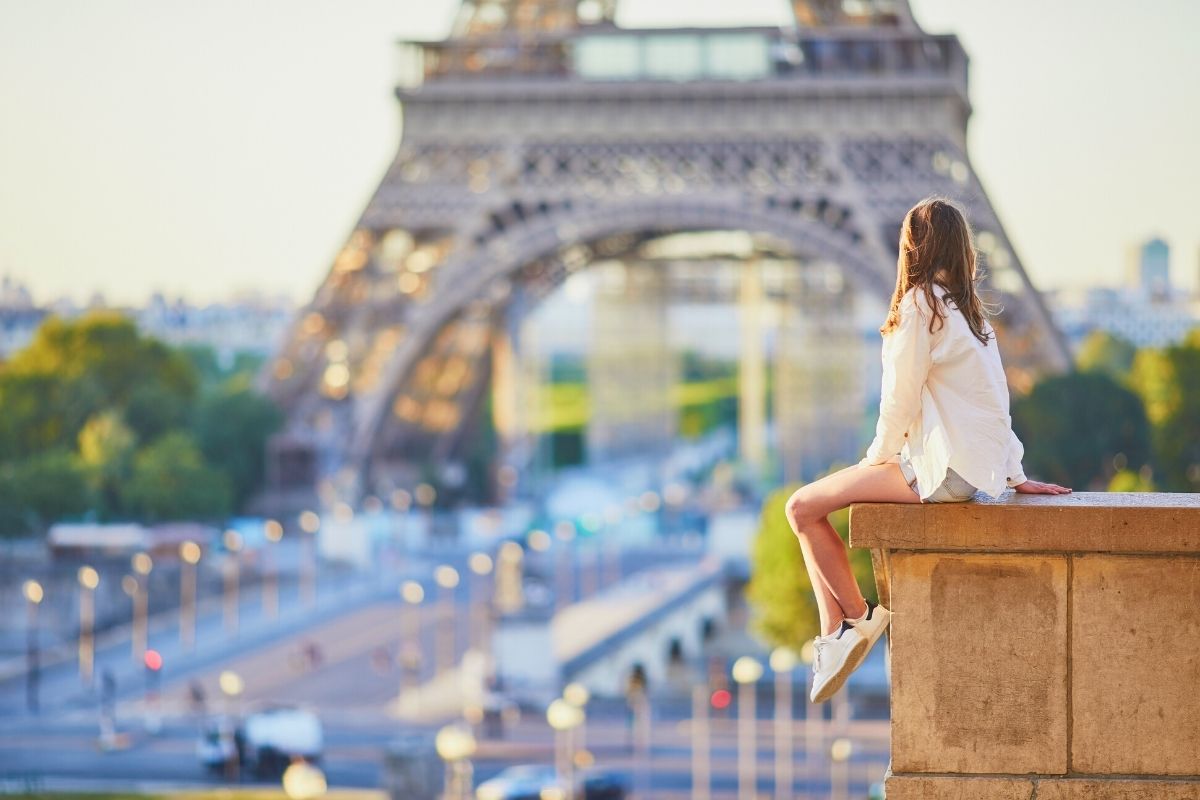 Directly across the Seine River from Champs de Mars and the Eiffel Tower, Trocadero is a bustling area filled with arts and culture. The Trocadero Square is a lovely attraction in and of itself, with plenty of open fields and great viewing points to take in the surrounding areas.
Then, you can take a stroll through Trocadero Gardens, which boast more than 100,000 square of gardens and artworks, including the Warsaw Fountains, a series of 20 choreographed water cannons.
On the cultural side of things, you can check out the fascinating anthropological exhibits at the Homme Museum, which covers everything from prehistoric tools and ancient civilizations to modern cultural studies.
Then you can explore the other wonders of the Palais de Chaillot, including the National Navy Museum, the Chaillot National Theater, and the wonderful designs of the architecture museum.
There's something for everyone at this fabulous park!
6 – Catacombs of Paris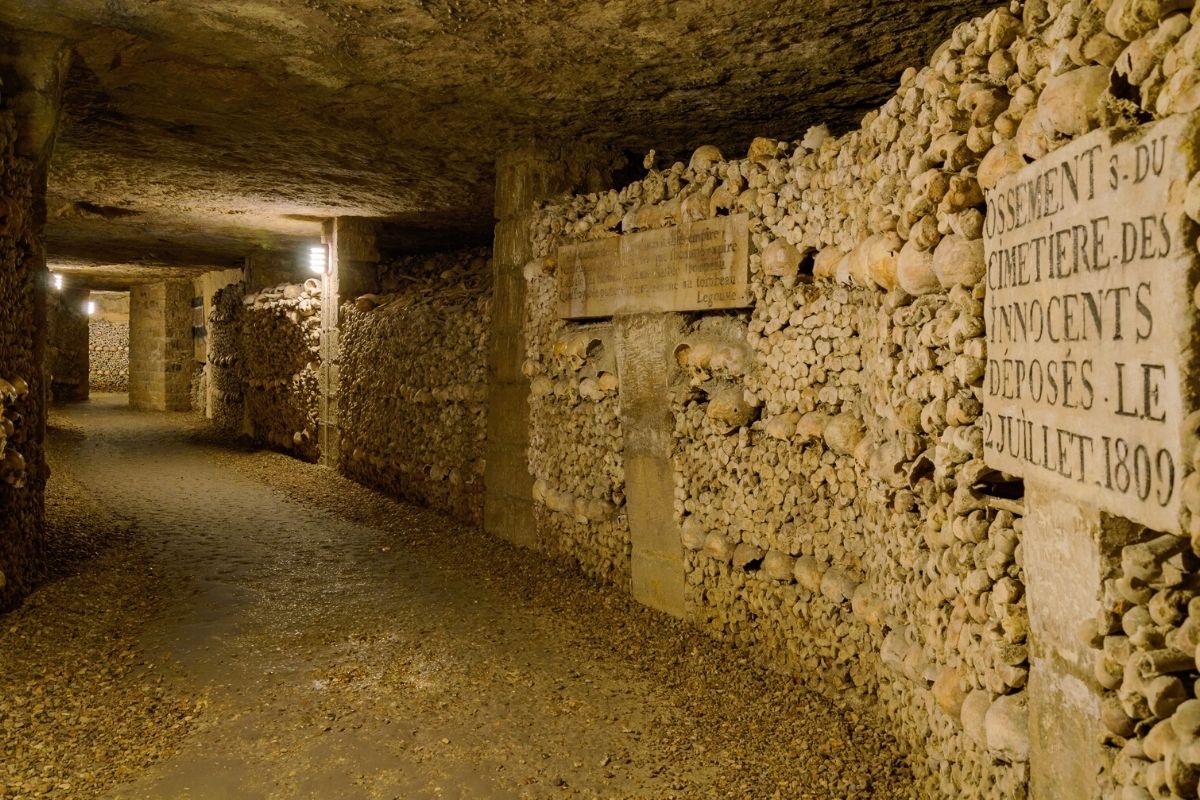 They may seem unsettling at first glance, but the Catacombs of Paris are among the city's most fascinating tourist attractions.
These intricate underground tombs were originally built to help ease the burden on the crowded local cemeteries, and the walls are still lined with the bones and skulls of over 6 million citizens.
Descend 65 feet below the street, and follow the winding paths through this former quarry, passing through corridors full of carefully displayed remains, many arranged in elaborate decorative designs.
It's one of the most memorable and unique sites in town, with a little bit of eeriness to keep things interesting.
Hot tip: Catacombs Paris ticket price – Everything you need to know
7 – Versailles Palace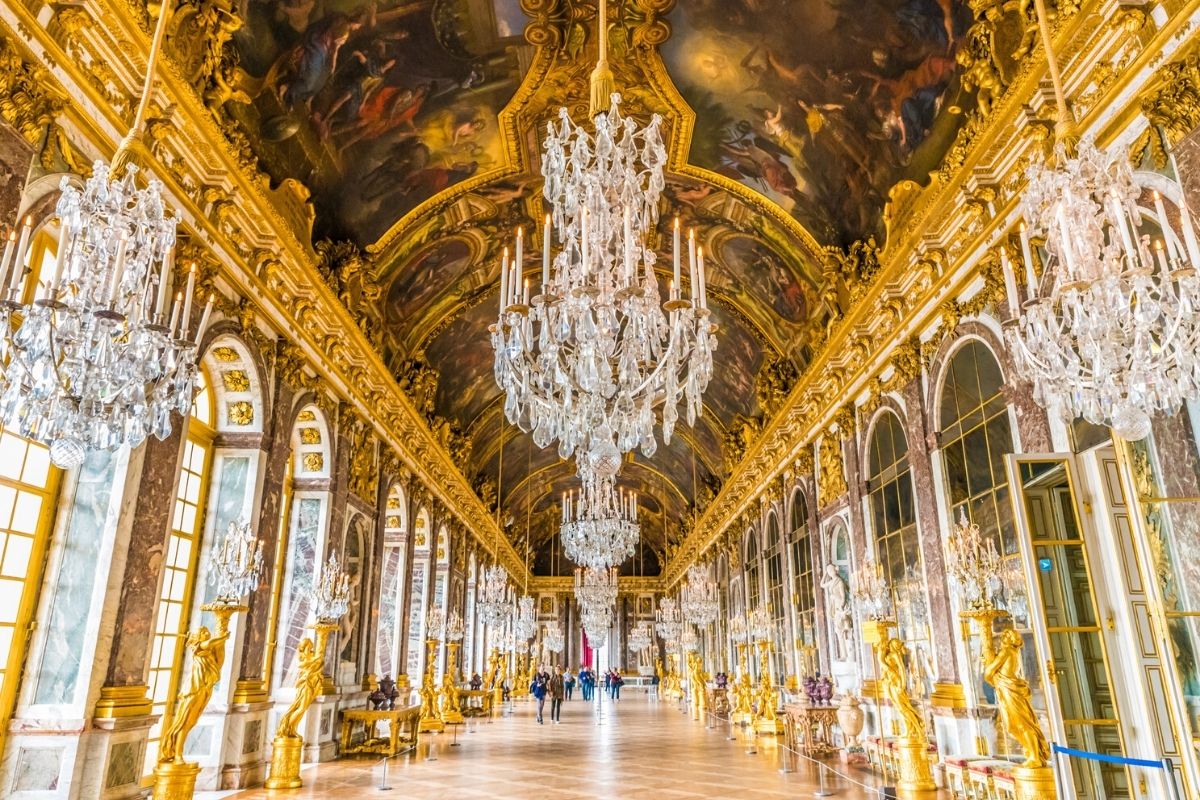 Just half an hour from the city, Versailles Palace is a monument to the opulence of French royalty in the 17th century.
After 100 years of construction by various monarchs, the former hunting lodge was turned into a massive estate whose beauty has remained a source of fascination long after the monarchy was abolished.
A visit to this sprawling estate is certainly one of the most fun things to do in Paris, with a seemingly unending array of areas to explore. Wander through the 2,300 rooms of the main palace, which is listed as a UNESCO World Heritage Site.
Don't miss the renowned Hall of Mirrors, a spacious and ornate corridor with remarkable views that was frequently used for formal events and meetings. Then amble through the magnificent gardens outside, with their beautiful statues and vibrant plant life.
This massive complex is a must for history and design fans, and anyone that wants to better understand the country's intricate political background.
Learn more about Versailles Palace tickets price and the best Versailles Palace tours.
8 – Le Bon Marché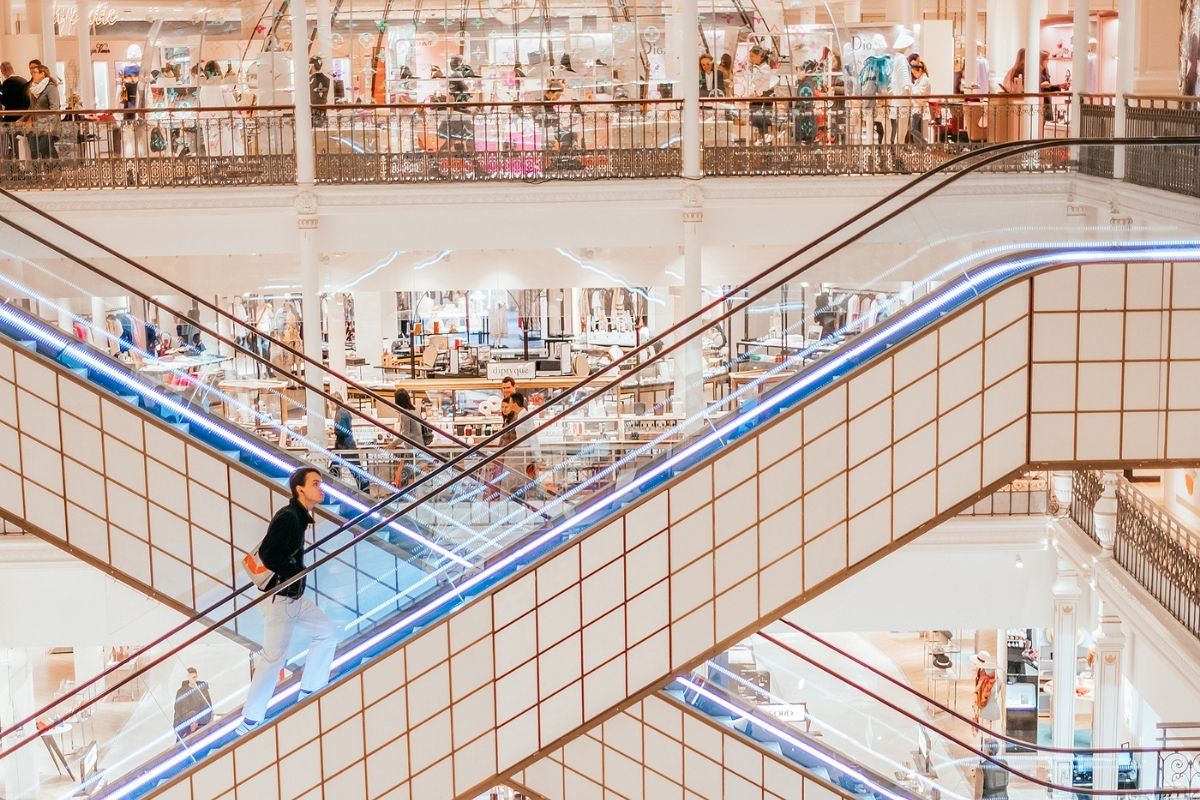 When you're ready to shop until you drop, head over to Le Bon Marche, the world's oldest department store.
With a staggering selection of goods ranging from dresses and perfumes to records and desserts, this magnificent building lives up to its rich legacy.
This is the perfect place to score a high-end souvenir, but you can have plenty of fun just by exploring its many floors and enjoying its unique designs.
9 – Le Marais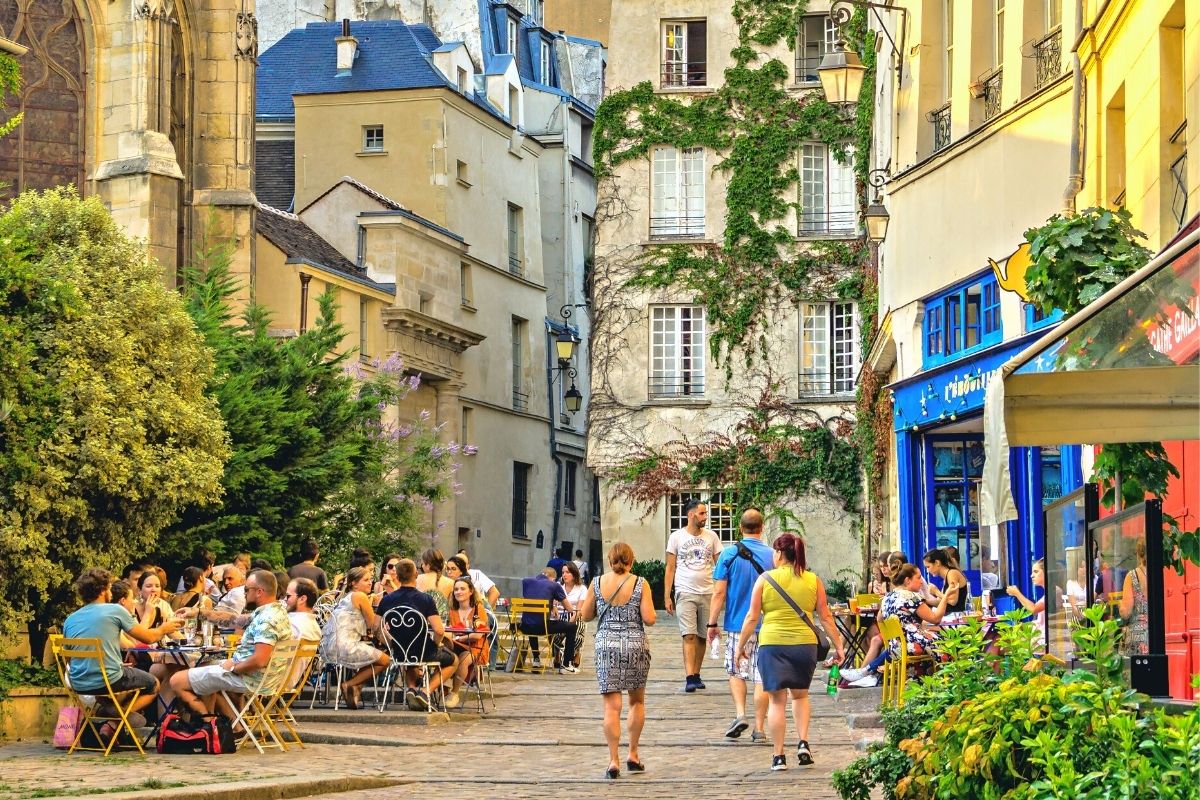 One of the best activities in the City of Light is simply strolling through its many lively neighborhoods, and Le Marais is one of the best to visit. This beautiful district is best known for its jaw-dropping historic buildings and religious structures, some dating back to the 13th century.
While you're there, be sure to stop by the Museum of Jewish Art and History to admire its fantastic collections, and learn more about the long legacy of Judaism in the country.
There are plenty of other excellent cultural institutions nearby, including Musee Picasso and the Pompidou Center, as well as some top-notch art galleries. And if all of these adventures make you hungry, you can snag any kind of food, from pastries to falafels, along with some of the finest regional cuisine in town.
For a really unique dinner, stop by Bel Canto, where every meal comes with a particularly memorable soundtrack: live opera performances! Artsy, trendy, and classy, Le Marais will capture your heart right off the bat.
10 – Arc de Triomphe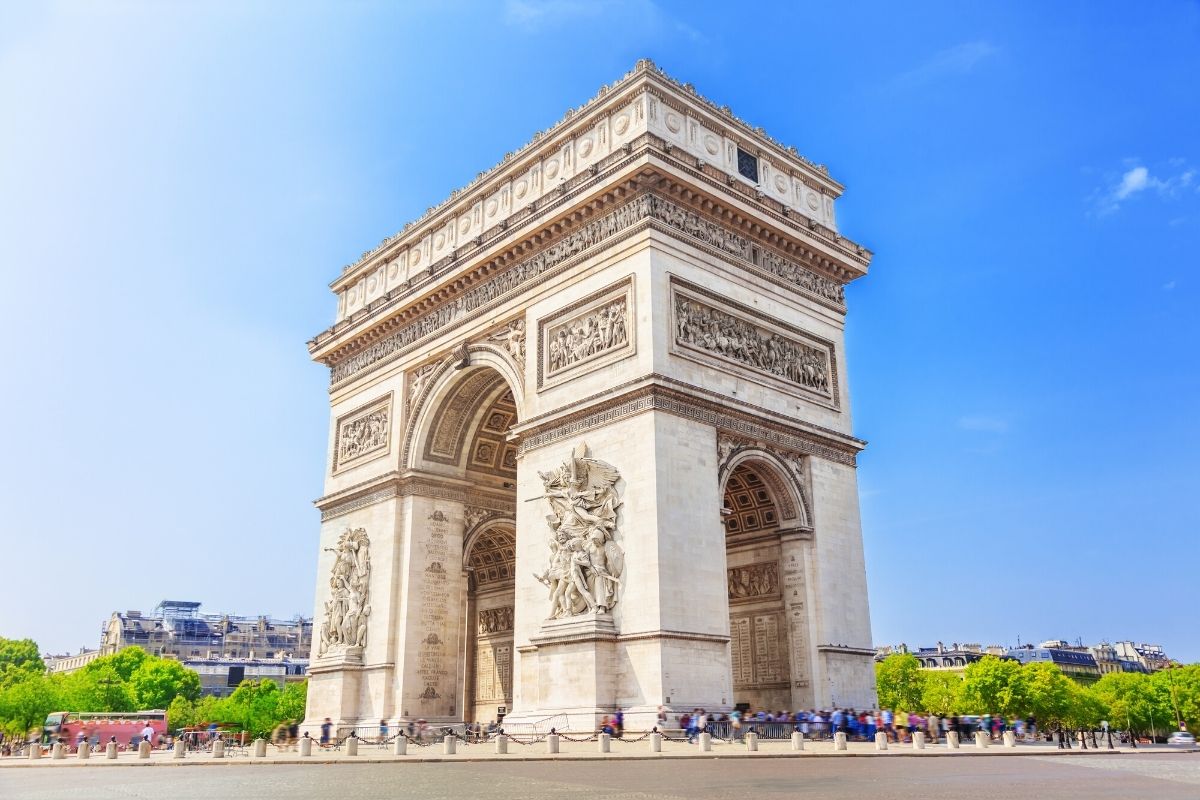 Ever since it was built as a monument to Napoleon's military victories, the Arc de Triomphe has been beloved by Parisians and visitors alike.
Its magnificent statues and towering gateway serve as an anchor point to the Champs-Elysees, which is an iconic part of the landscape in its own right. During your visit, be sure to check out the many monuments at the base, including the Tomb of the Unknown Soldier, which honors those that died in World War I.
Then head to the top of the arch to check out some exhibits detailing how the structure was built, before going to the observation deck to see the city from a new vantage point.
It's one of the greatest tourist attractions in Paris!
11 – Champs-Élysées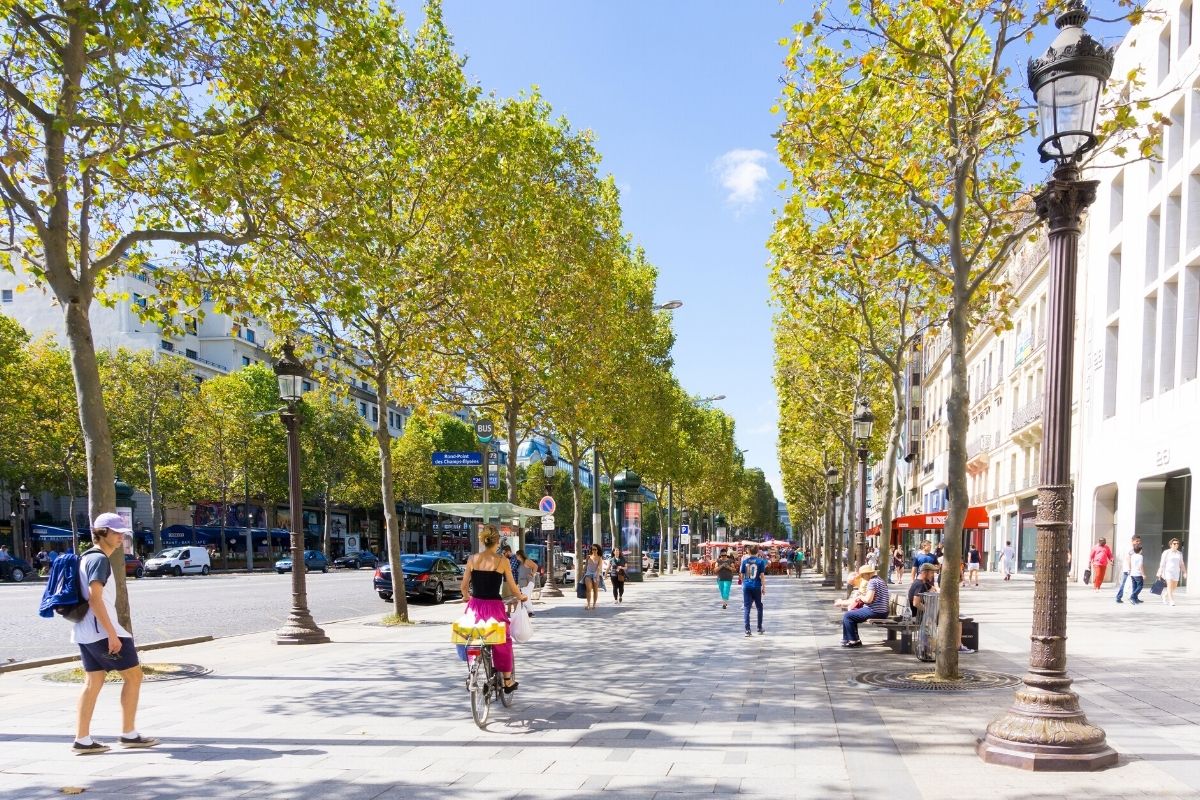 Before or after you visit the Arc, take a nice, long stroll down Champs-Elysees, one of the city's most beloved avenues. With tons of businesses packed along its 1.18-mile route, there's something for everyone to enjoy here.
From world-class dining and nightclubs to renowned theaters and shopping options, you'll find plenty to do as you make your way down the road. And, of course, it has plenty of famous Paris attractions along its path, including the arch and the Place de la Concorde.
Get your best walking shoes, and enjoy a stroll along one of the world's most famous streets!
12 – Disneyland Paris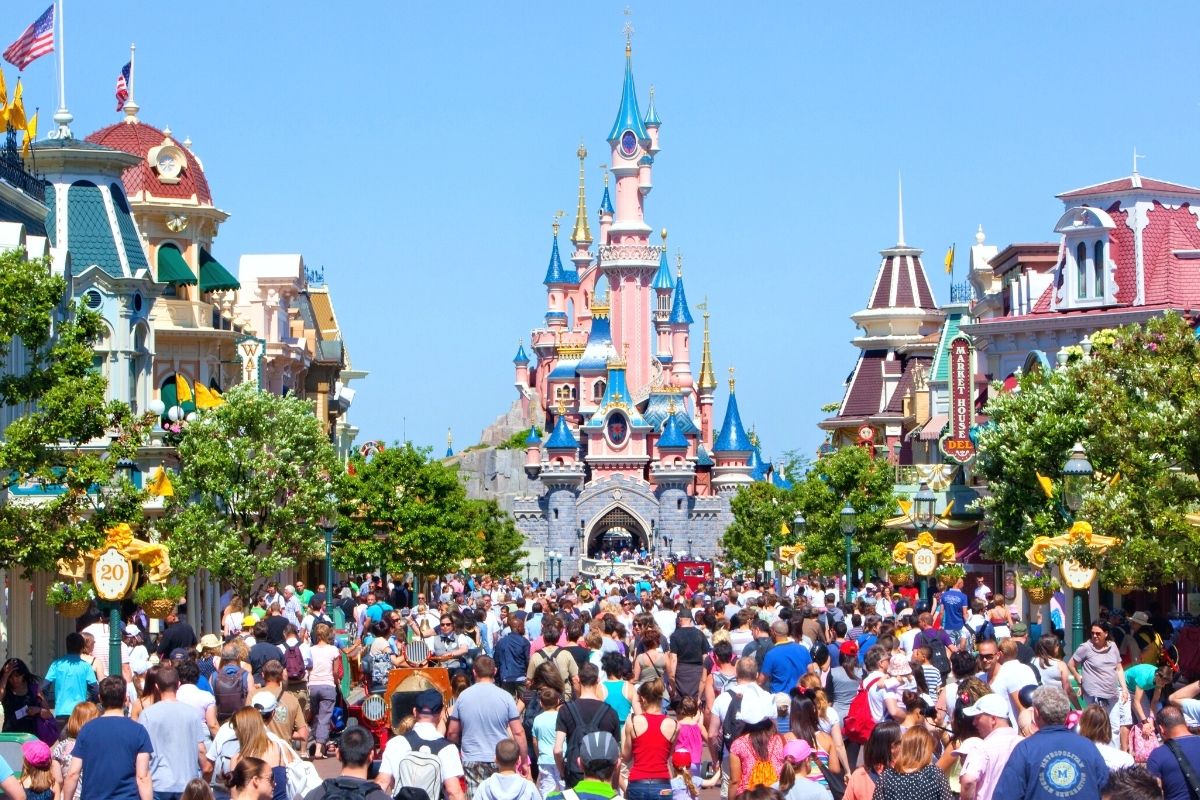 For the young and the young at heart, there's nothing like a day at Disneyland. And the City of Light has its very own version of the famous park, with its own distinctly European sensibility.
Just a 30-minute trip from the city, you can hurtle through the Wild West on Big Thunder mountain, take a thrilling trip to a haunted hotel on the Tower of Terror, learn a new skill at the Animation Academy, or take a trip to Neverland on Peter Pan's Flight.
In between rides, you'll find plenty of awesome experiences throughout the parks, from high-energy shows to meet-and-greets with beloved characters. Whether you want thrilling attractions, kid-friendly favorites, or a nice dose of nostalgia, Disneyland Paris has got you covered!
Hot tip: Cheap Disneyland Paris Tickets – How to Save up to 45%
13 – Musée des Arts et Métiers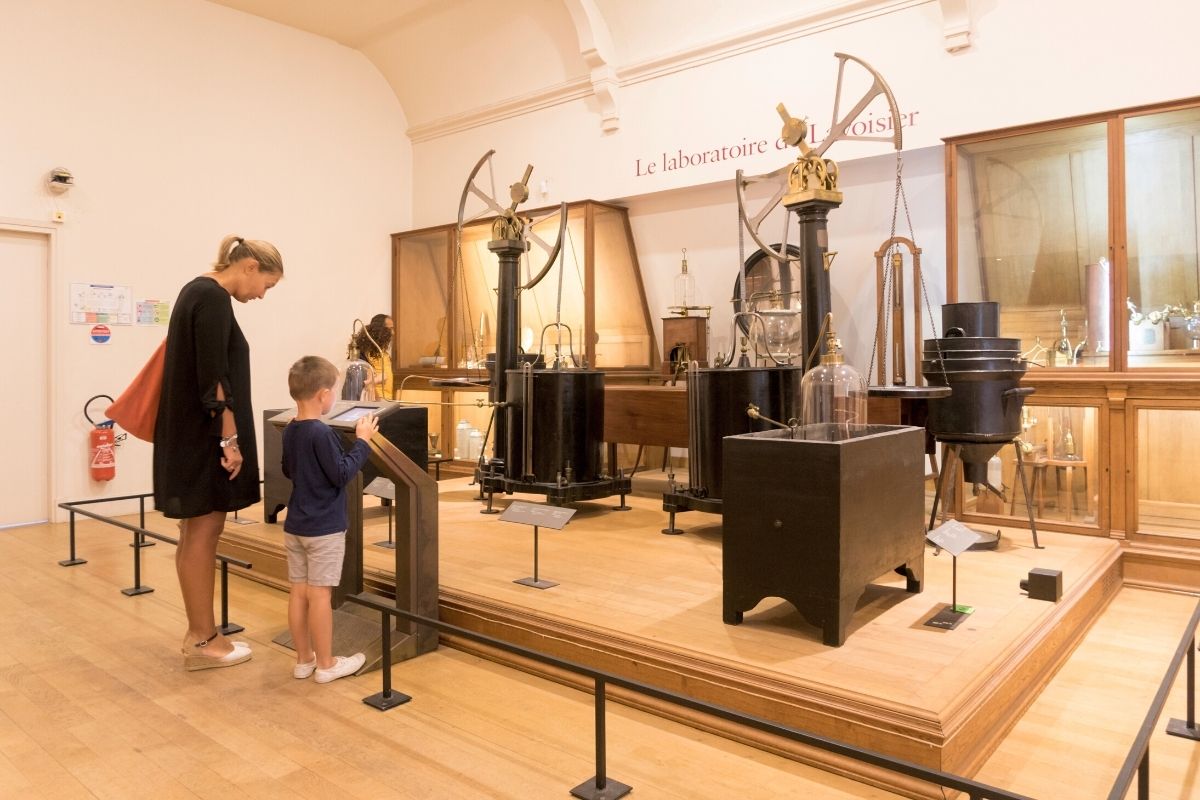 Museums have always been some of the most renowned Paris attractions, and Musee des Arts et Metiers (the Museum of Arts and Crafts) offers one of the most unique and comprehensive collections in town.
Spread across seven galleries touching on themes such as transport, communication, and scientific tools, this impressive institution is the perfect destination for curious minds. You'll be able to get an up-close look at remarkable devices like 19th-century cameras, early flying machines, and a Foucault pendulum.
You can also see some more unique items, including a Volta battery, a 19th-century ancestor of the automobile, and the first model of the Statue of Liberty. This exciting museum is sure to spark your sense of wonder.
14 – Bateaux-Mouches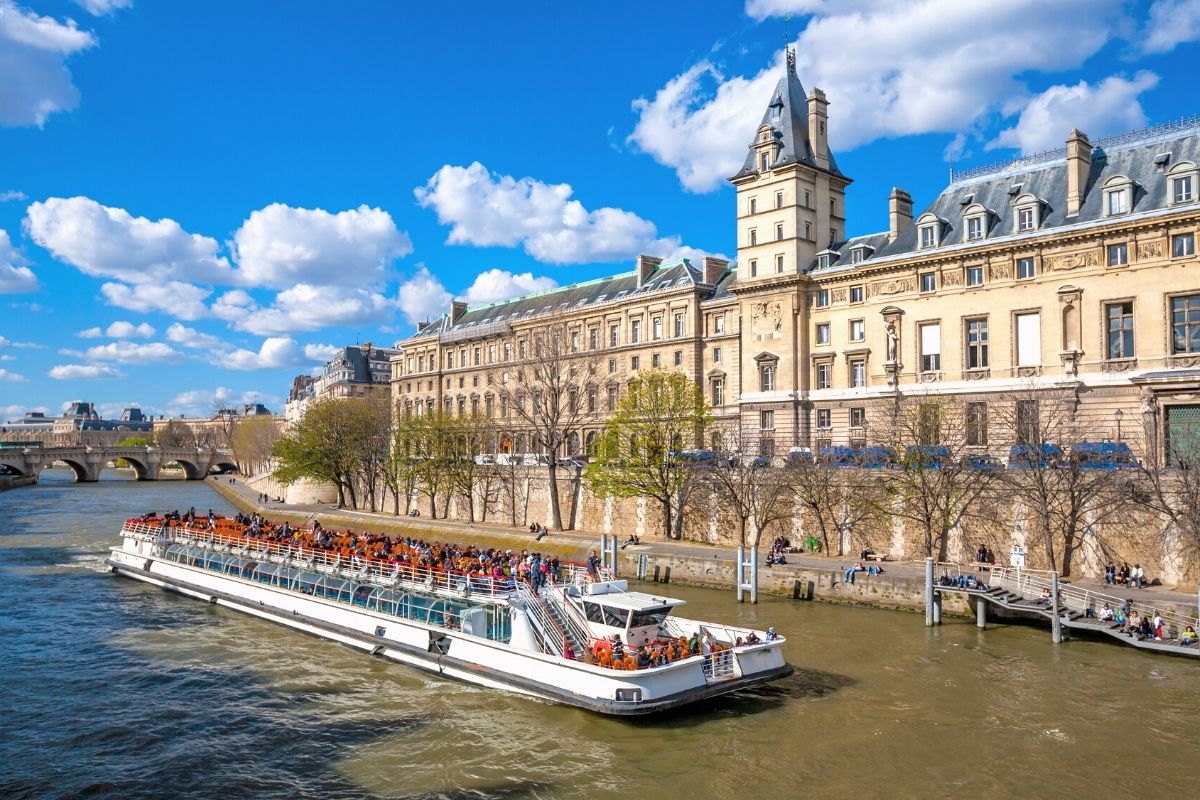 Running through the middle of the city, the Seine River is as much a part of Paris as its monumental buildings.
You can see the water in all its glory aboard a Bateaux Mouches, the large, open-air boats that have been taking guests on river cruises for decades.
Your journey will take you past some of the best sites in town, including Notre Dame and the Eiffel Tower, all accompanied by audio commentary in multiple languages.
It'll be an afternoon – or evening – to remember.
Hot tip: Compare Seine River Cruises in Paris – Which One is Best?
15 – L'église de la Madeleine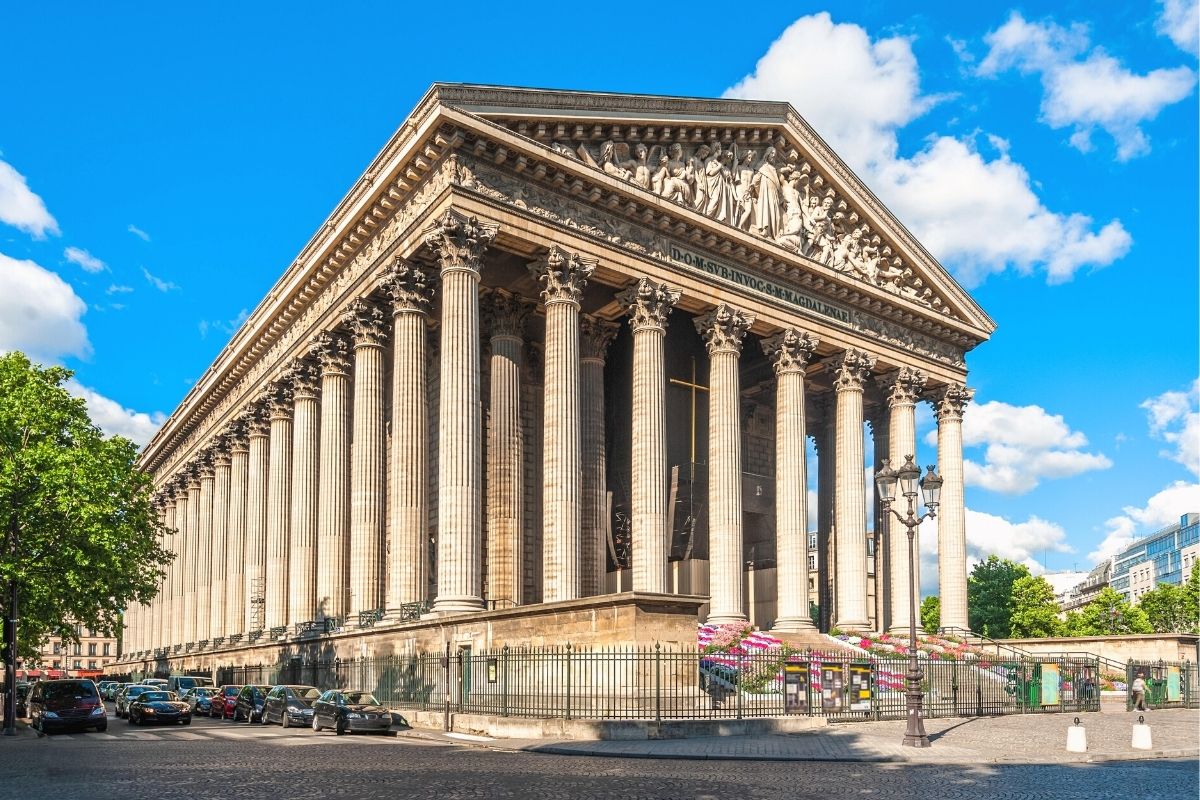 It's not every day that you find a church built in the style of a Roman temple, but hey, that's Europe for you! L'eglise de la Madeleine, which is devoted to Mary Magdalene, has been a cornerstone of Roman Catholicism for over two centuries.
It's known for its unique Neo-Classical style, and still offers a busy schedule of services, including standard sermons and holiday celebrations.
Whether you're religious, an architecture buff, or just curious to learn more about the city, this is one of the coolest places to visit in Paris!
16 – Grévin Wax Museum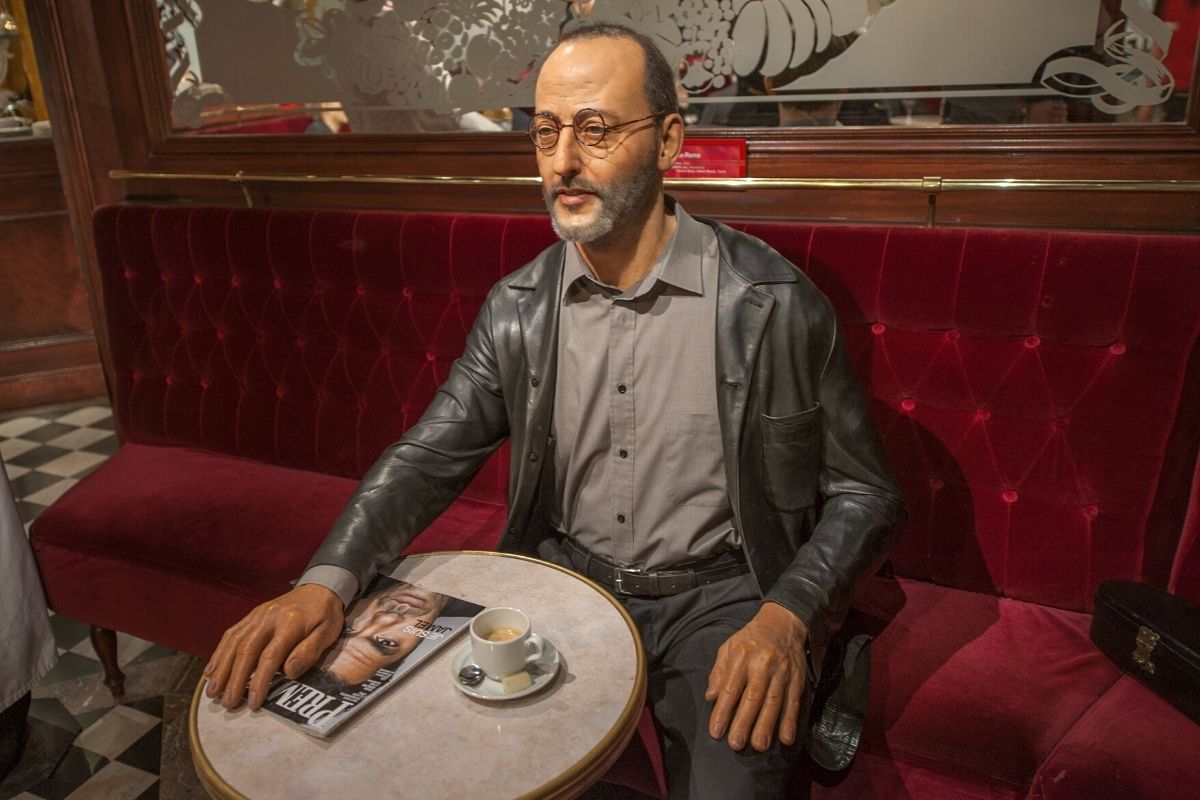 Where can you catch up with the Little Prince, rub elbows with Oscar winners, and hang out with the Pope? The Grevin Wax Museum, of course!
This delightful tourist attraction features over 200 figures from across the entertainment spectrum, including fictional characters, sports stars, politicians, and more.
While the figures themselves are impressive, the interactive sets are equally amazing; you can pop onto a (fake) red carpet, hang out with Louis XIV in Versailles, or pose alongside Allied soldiers at the Liberation of France.
Enjoy some great photo ops, and see just how realistic these models of famous faces can be!
17 – Musée d'Orsay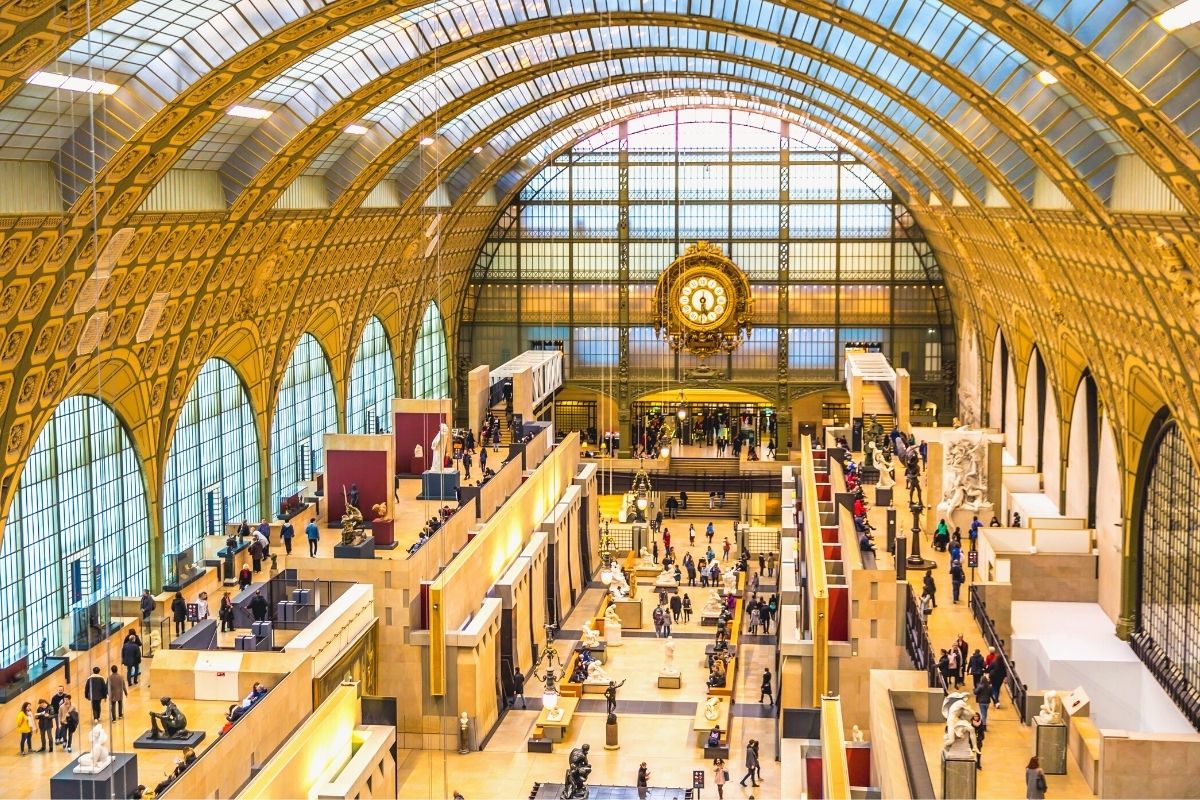 With its spectacular collection of Impressionist and Post-Impressionist art, it's little wonder that Musee d'Orsay is considered one of the best museums in Paris. Housed in an ornate former railway station, it boasts an astounding array of collections across mediums and eras.
From classic Van Gogh paintings to decorative furniture, and antique photos to tools from the earliest days of cinema, the museum is an incredible monument to the artistic movements of the late 19th and early 20th centuries.
You can easily spend several hours roaming around the galleries, taking in the broad spectrum of creativity on display. Don't miss the chance to see these spectacular works in all of their glory.
Hot tip: Learn more about Musée d'Orsay Tickets Price
18 – Place de la Bastille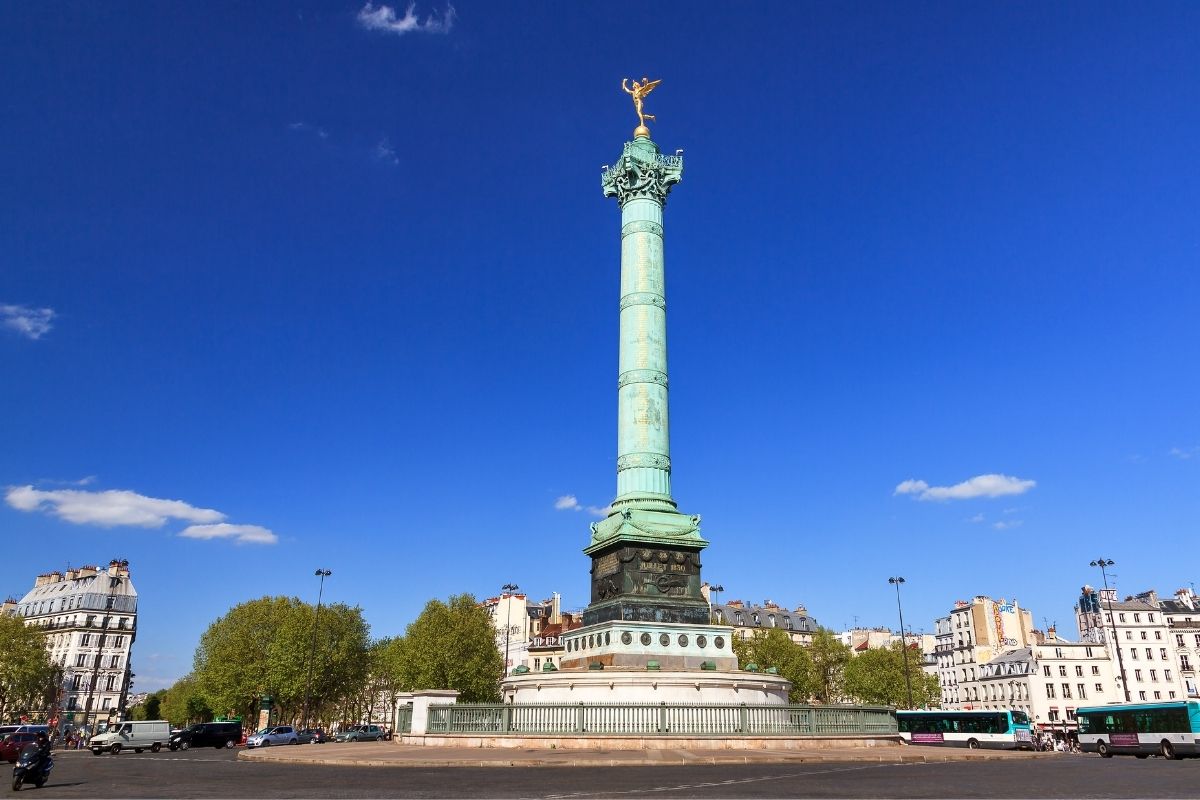 Another serious notch in any history fan's scabbard, Place de la Bastille is one of the most fascinating Paris attractions. This large public square once housed the infamous Bastille prison, whose destruction was considered a key moment in the French revolution.
In addition to its fascinating history, the area is now a popular spot for public events, including concerts and street fairs. Check the calendar to see what's on during your visit, and take some time to stroll around this significant area, absorbing the stories of its past.
19 – Musée Marmottan Monet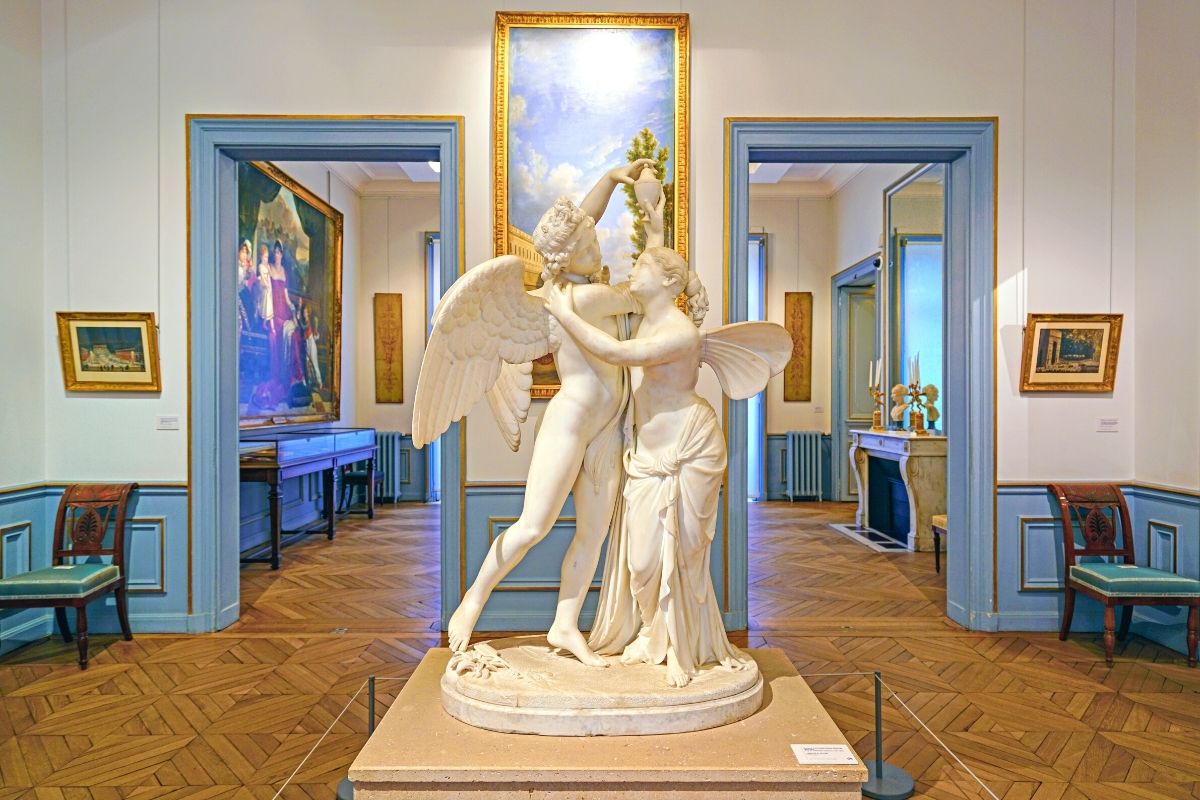 Claude Monet was undoubtedly one of France's most famous artists, and you can see a wonderful showcase of his talent at Musee Marmottan Monet.
The museum is filled with works by the late Impressionist artist, from his earliest works to pieces that weren't debuted until after his death. You can even see the piece that inspired the name of the artistic movement: Impression, Sunrise.
With over one hundred of his works on display, the museum is the perfect place to appreciate Monet's signature style firsthand, and to learn more about how the Impressionist style grew and flourished in France.
There's also a series of exhibitions on art from the Middle Ages and the various empire eras, as well as an extensive collection of works by some of Monet's most famous contemporaries, such as Rodin, Gauguin, and Degas.
20 – Bourdelle Museum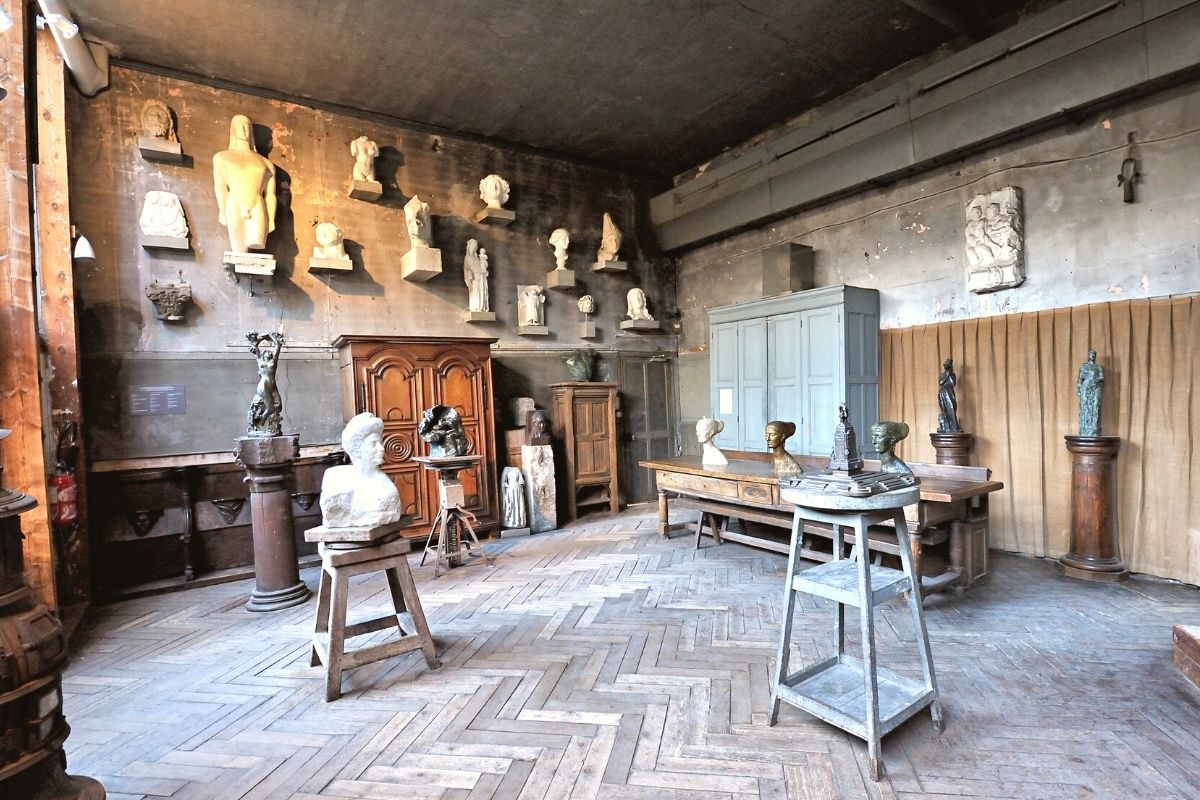 At the Bourdelle Museum, you can enjoy the finest works of one of the 19th century's finest sculptors. The pieces created by the late Emile-Antoine Bourdelle – who studied under Rodin – vary in size and form, but they all showcase his tremendous talent and sense of style.
Along with full-size creations in stone, marble, and wood, the museum features almost two thousand bronze statues and plaster casts, all with incredible attention to detail.
In addition to these amazing works, you'll be able to see a wide variety of other pieces by the artist, including sketches and photographs that were used as inspiration.
21 – Luxembourg Gardens
If you're seeking some finely cultivated scenery, take a stroll through the beautiful Luxembourg Gardens. This gorgeous splendid space was built in 1612 and has some wonderful amenities for the whole family to enjoy.
Explore the two beautifully decorated gardens – one based on English designs, and the other on French styles -, and check out the other unique features, such as an apple orchard and a greenhouse.
Kids and adults alike will enjoy the other activities on-site, from tennis and remote control boats to slides and puppet shows.
Be sure to stop by the Luxembourg Palace during your visit; this ornate building has housed both royals and revolutionary prisoners and also features an incredible library with 450,000 volumes to admire.
You'll soon see why a visit to this entertaining and elegant space is often considered one of the most fun things to do in Paris!
22 – Canal Saint-Martin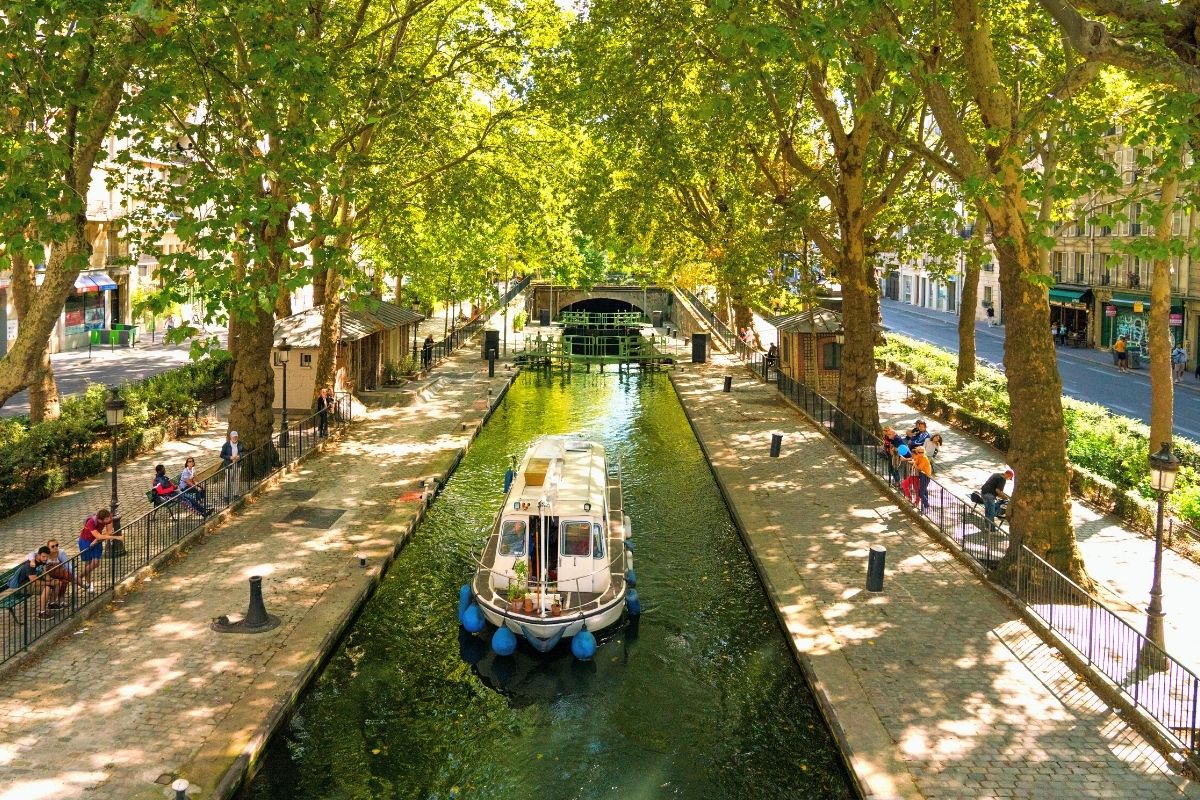 With its lively people-watching and phenomenal sightseeing opportunities, a tour of Canal Saint-Martin is among the finest Paris attractions.
Hop aboard a boat and spend some time floating past some of the city's hotspots, starting at the Musee d'Orsay and ending at the Parc de la Villette. Along the way, you'll see plenty of other fantastic sights, including two swinging bridges and a vault that lies directly beneath the Bastille.
The area that you'll be cruising through is sometimes known as "Old Paris," and its many charms are even better when experienced by boat. And with its beautiful scenery and engineering marvels, a trip on the canal is an adventure in and of itself.
23 – Cartier Foundation for Contemporary Art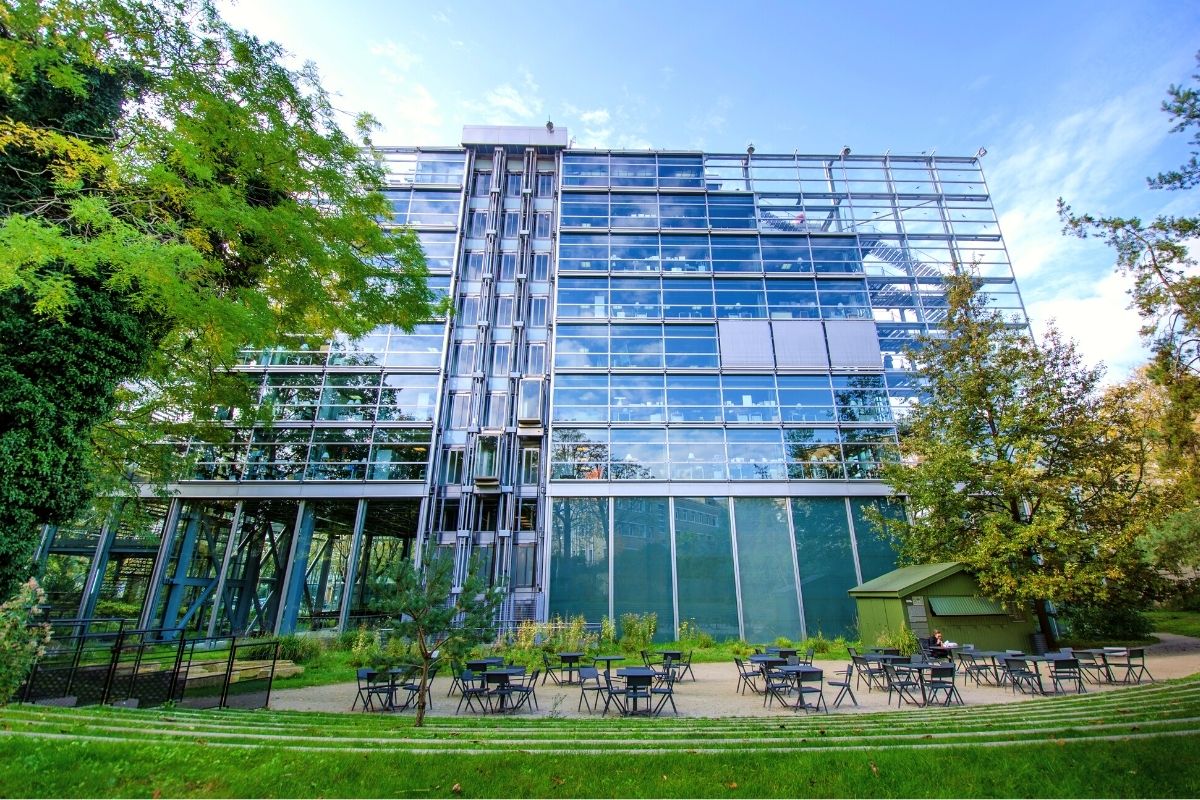 For a more modern approach to the city's rich artistic scene, spend some time amongst the unique collections at the Cartier Foundation for Contemporary Art. Since 1994, the institution has served as a home for modern works, as well as a place for artists to engage with the public on a deeper level.
With everything from photography, sculpture, and painting to live performances and experimental film, there's no end to the fascinating art that you'll see here. Check out nearly 2,000 innovative and intriguing works in the galleries, including pieces by such avant-garde artists as Takeshi Kitano, Alair Gomes, and David Lynch.
There are also plenty of wonderful live performances throughout the year, including two regularly recurring events: Nomadic Nights, where participating artists install massive interactive projects around the grounds, and Nights of Uncertainty, which features lively talks between artists and intellectuals from other disciplines.
Don't miss this tribute to creativity in all of its forms!
24 – Hôtel de Ville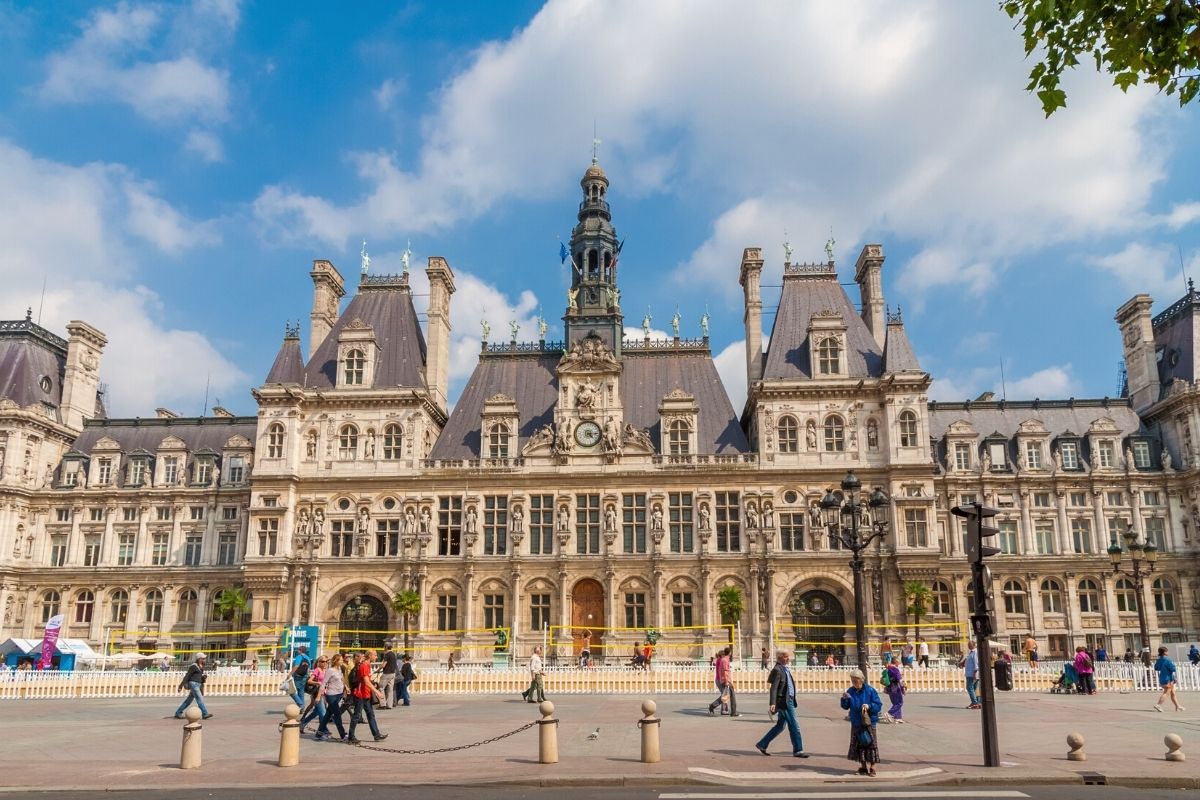 In a town as elegant as Paris, even the city hall looks classy! Hotel de Ville is a wonderful monument to Renaissance architecture, and it's filled with fascinating relics, including hundreds of statues and some excellent historical exhibits.
If you tour the interior, keep an eye out for the magnificent murals; these detailed works were created by some of the finest artists of the late 1800s, and include everything from stunning scenescapes to gorgeous tributes to the arts and sciences.
This stunning building was also a key part of many of the city's most significant moments, including political uprisings and the liberation of France during World War II. In recent years, it's become even more popular for the numerous public events that take place there throughout the year, from street carnivals to ice skating.
Stop by for the beautiful designs and stories, and stay for the lively events!
25 – Galerie Vivienne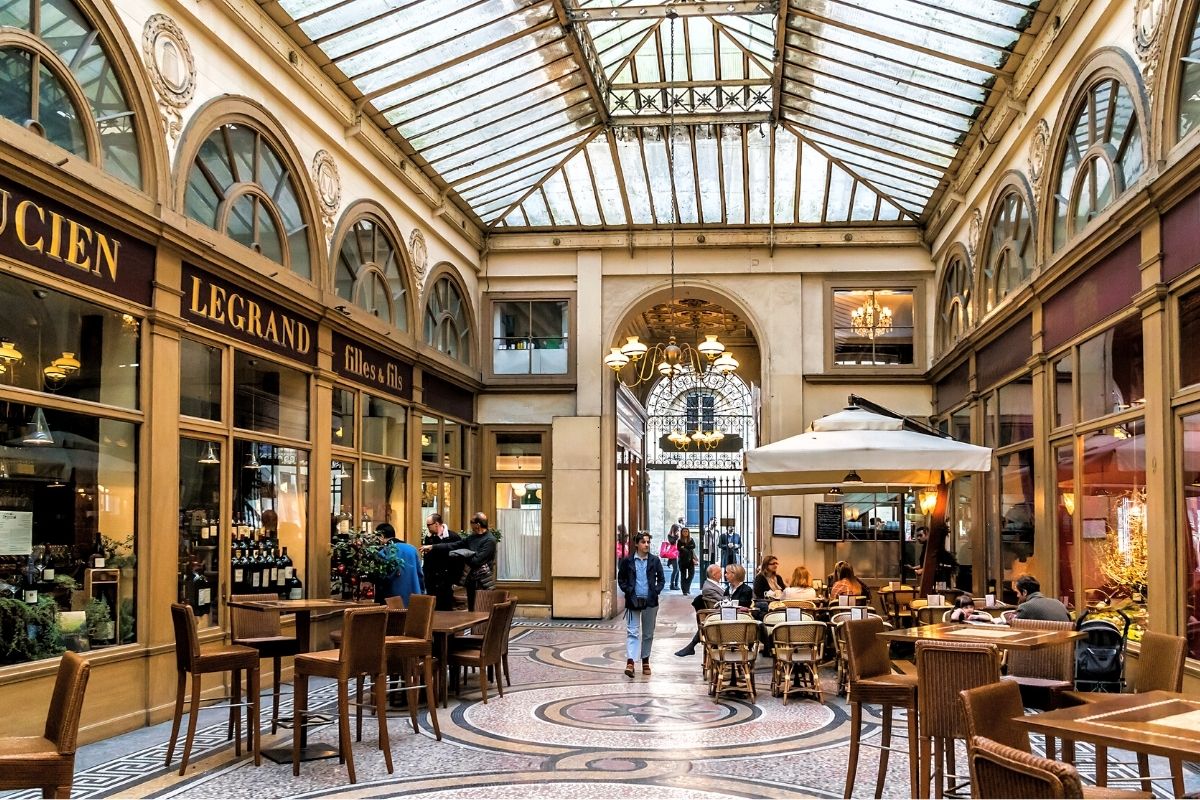 In the City of Lights, even a walk down the street can turn into something magical. Galerie Vivienne is one of the loveliest Paris attractions, with intricate mosaics and a stunning glass roof framing a charming walkway.
Originally built in 1823, it also features several high-end stores selling everything from fashionable clothes and footwear to books, toys, and novelty gifts. You can even try out a new hairdo at the salon!
This is the perfect place to indulge in the time-honored tradition of an afternoon stroll – with a little bit of shopping thrown in.
26 – Centre Pompidou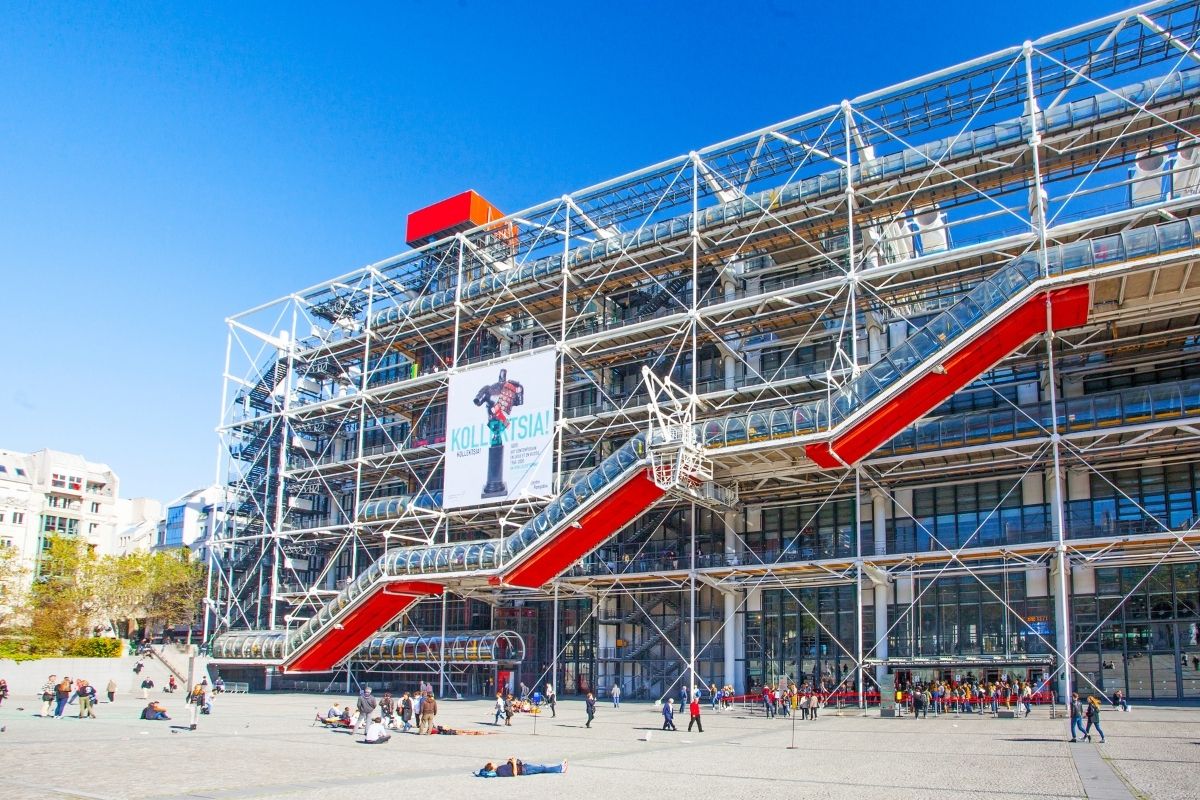 Looking for a museum whose exterior is just as fascinating as its interior? Take a trip to Centre Pompidou, long considered one of the best museums in Paris and a world-class institution for modern art.
The building is a masterpiece in and of itself, with metal and glass elements seamlessly melded together to create an artistic depiction of a living organism
And the collections inside are equally impressive, with paintings, photography, and drawings, as well as an astounding collection of items from new mediums such as film and industrial design.
Be sure to check out the Kandinsky Library, which holds over 18,000 prints by and about modern artists, and Brancusi's studio, a recreation of the workspace of the late Romanian sculptor. This broad-ranging collection is a must for fans of the experimental.
27 – Parc Zoologique de Paris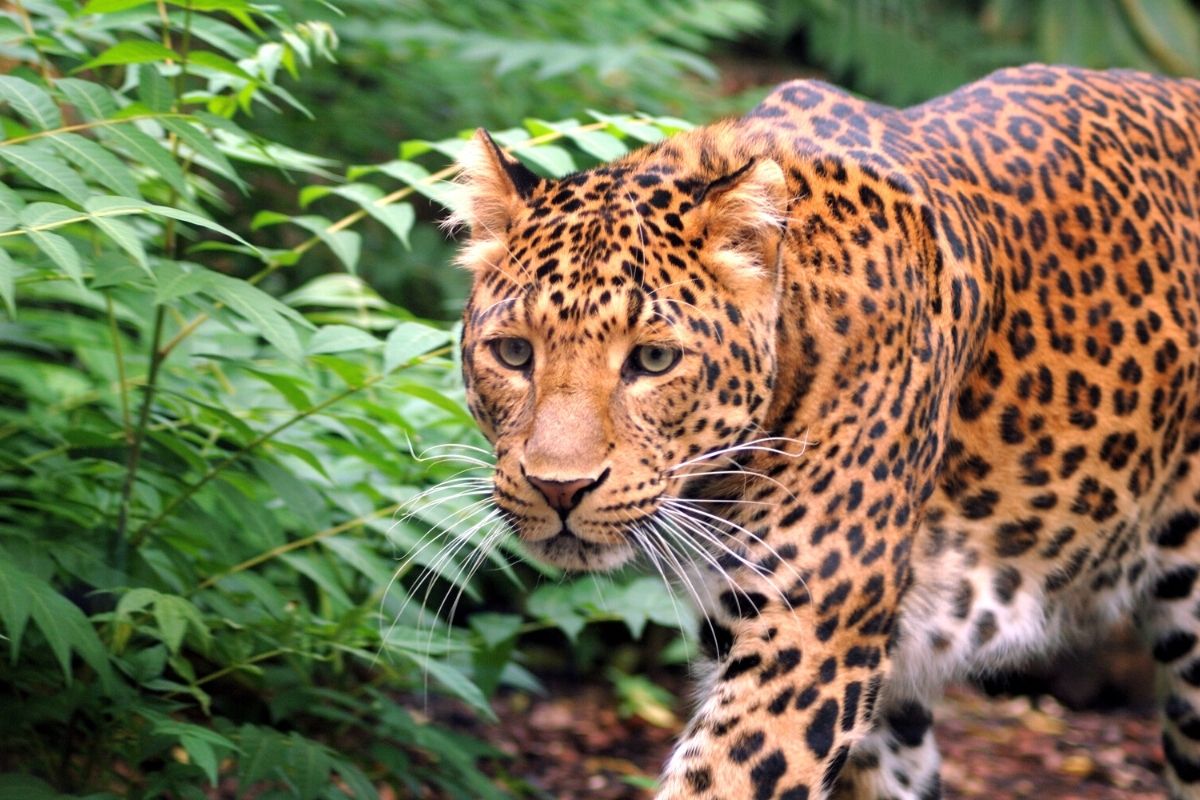 For animal lovers, Parc Zoologique de Paris offers acres of fun! You can visit over 3,000 different animals representing all the beautiful biomes of the world, from the tropical rainforest to the African savannah.
This is also a great place to see some unique species up close, from white rhinos to manatees. And with a strong focus on conservation, you can be sure that your visit will include plenty of opportunities to support wildlife in need.
Take some time to enjoy the wonders of nature, without ever leaving the city!
28 – Parc Monceau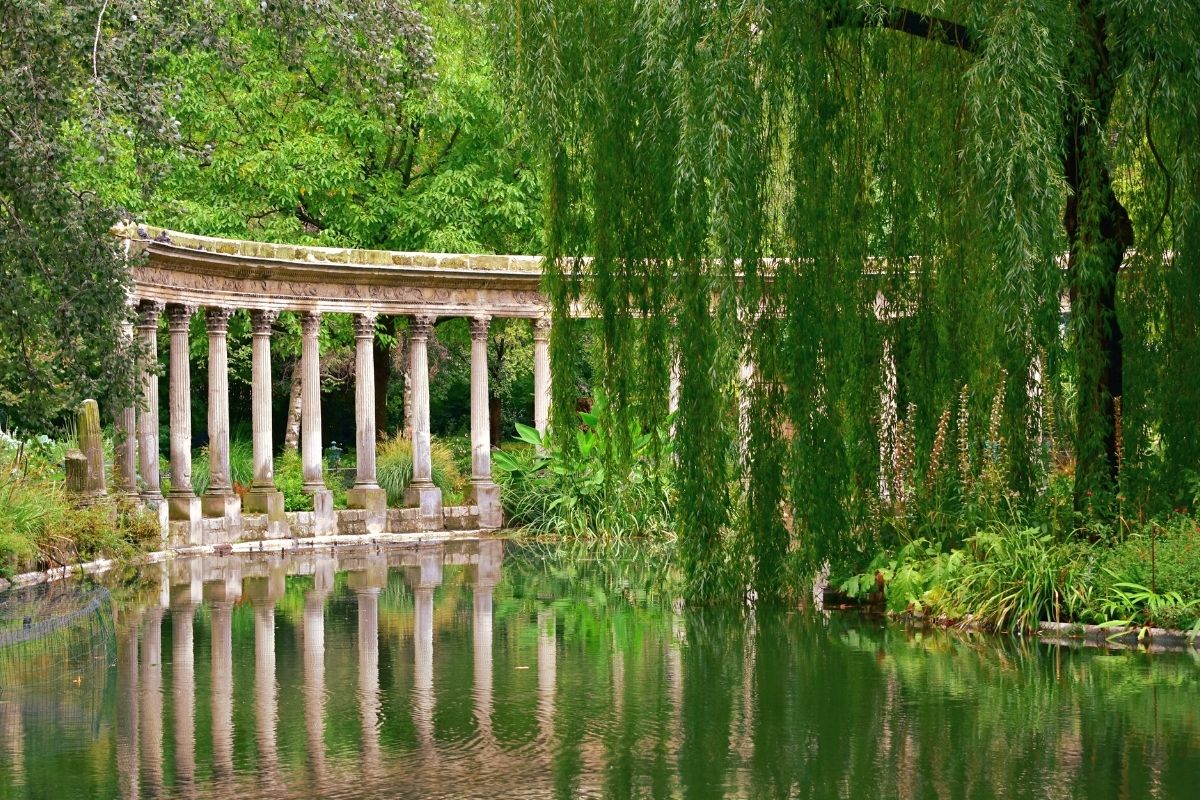 With its lovely collection of mansions and sculptures. Parc Monceau is the perfect place to spend an afternoon. This splendid public park was originally created in the 17th century and continues to draw visitors with its stellar combination of natural beauty, historic homes, and gorgeous public artworks.
The structures around the garden are something of an architectural free-for-all, featuring models of Corinthian columns, a windmill, and even an Egyptian pyramid! Keep an eye out for the statues while you wander around; they depict a who's who of famous French citizens, including Ambroise Thomas and Fredric Chopin.
The park is also home to the Museum of Asian Arts, which features an incredible collection of artifacts from across the continent. Whether you want to admire the artwork, go for a long walk, or just kick back and relax in the grass, you'll find this park to be among the great underrated Paris attractions.
29 – Pont des Arts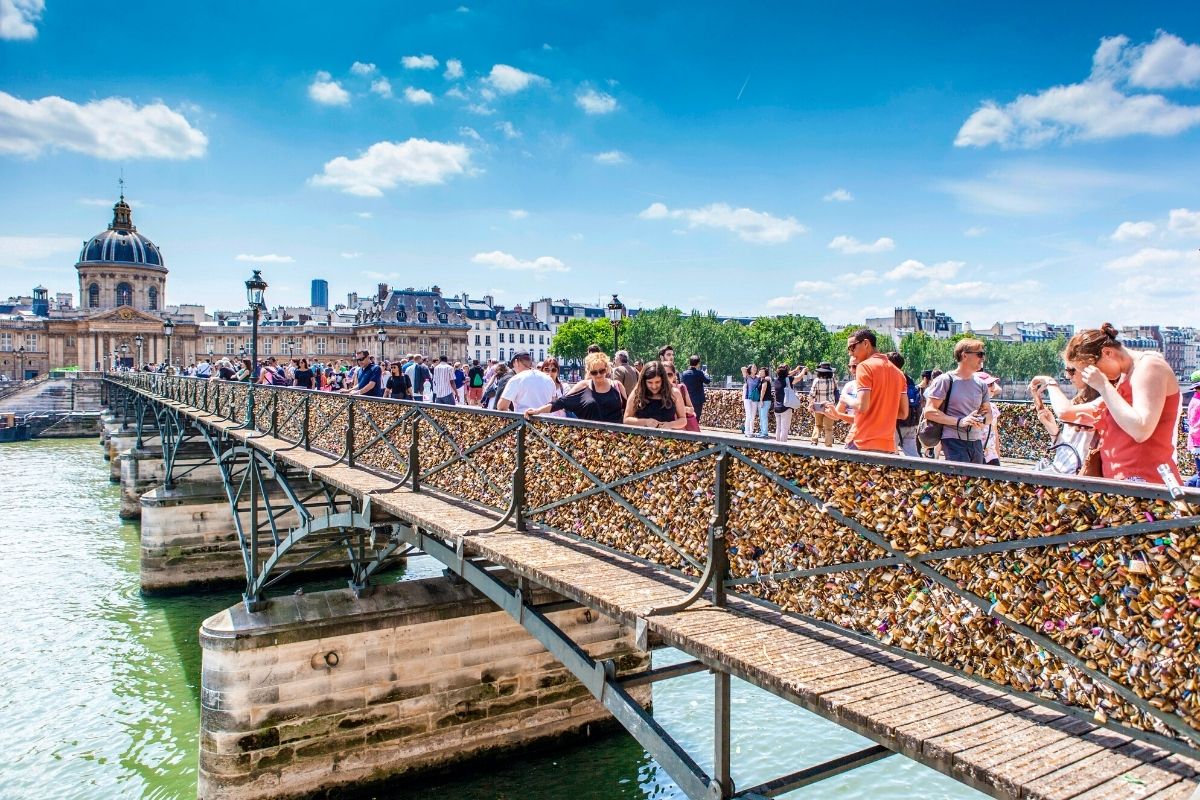 Take a walk like the locals do along the pathways of Pont des Arts, the first iron bridge in the city.
This lovely piece of infrastructure is known for its pedestrian-friendly walkways, wonderful views of the Seine, and striking appearance, which has made it the star of many films over the years.
Romantics may recognize it as the home of the famous "love locks": hundreds of padlocks that have been chained to the bridge's side by visiting couples. Legend has it that if you and your partner leave a lock here and throw out the key, your union will last forever.
Take a walk along the length of one of the city's most beloved tourist attractions… and if you're with a special someone, you can even leave a souvenir!
30 – Place des Vosges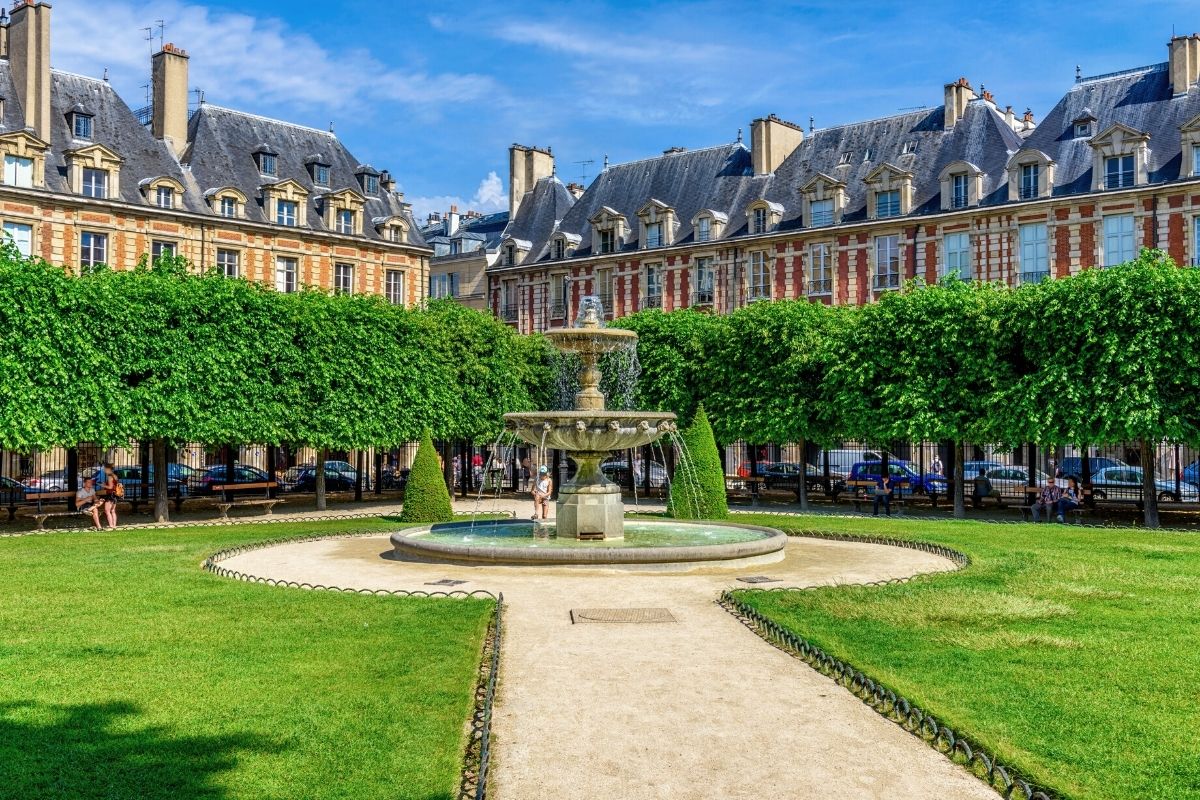 While you're exploring the city's fourth district, be sure to swing by Place des Vosges. This 17th-century complex once housed members of the French aristocracy and is the oldest planned square in the city.
It's played host to a number of prominent figures over the years and served as a meeting place for royals in the pre-Revolution era.
The area also has a distinguished literary pedigree; you can pay a visit to Maison de Victor Hugo, the elegant apartment where the beloved writer lived for 16 years and produced some of his most famous stories, including large portions of "Les Miserables".
With its classy pedigree and beautiful buildings, this is the perfect place to soak up some Parisian history.
31 – Musée des Arts Décoratifs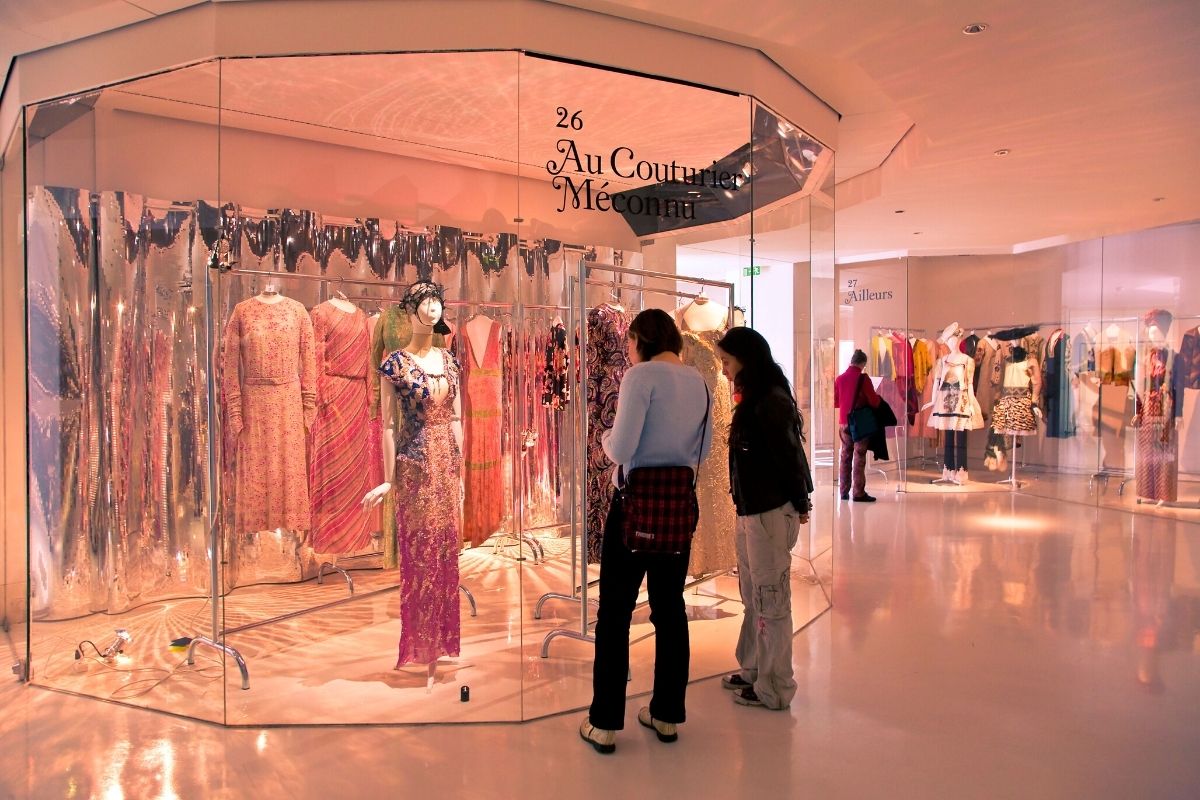 Fashion and France go hand in hand, and at Musee des Arts Decoratifs, you can indulge in some of the finest styles the country has to offer. Spread across three sites around town, this innovative institution is devoted to the many decorative items that have shaped human society over the years.
You'll get to see a remarkable showcase of fashion and design, with advertising posters, finely crafted textiles, and contemporary furniture all displayed in conjunction with each other.
It's a wonderful glimpse into the art forms that influence us each and every day, even when we don't think of them. After your visit, be sure to stop by the boutique, which features a whole range of amazing products to commemorate your visit.
32 – Galeries Lafayette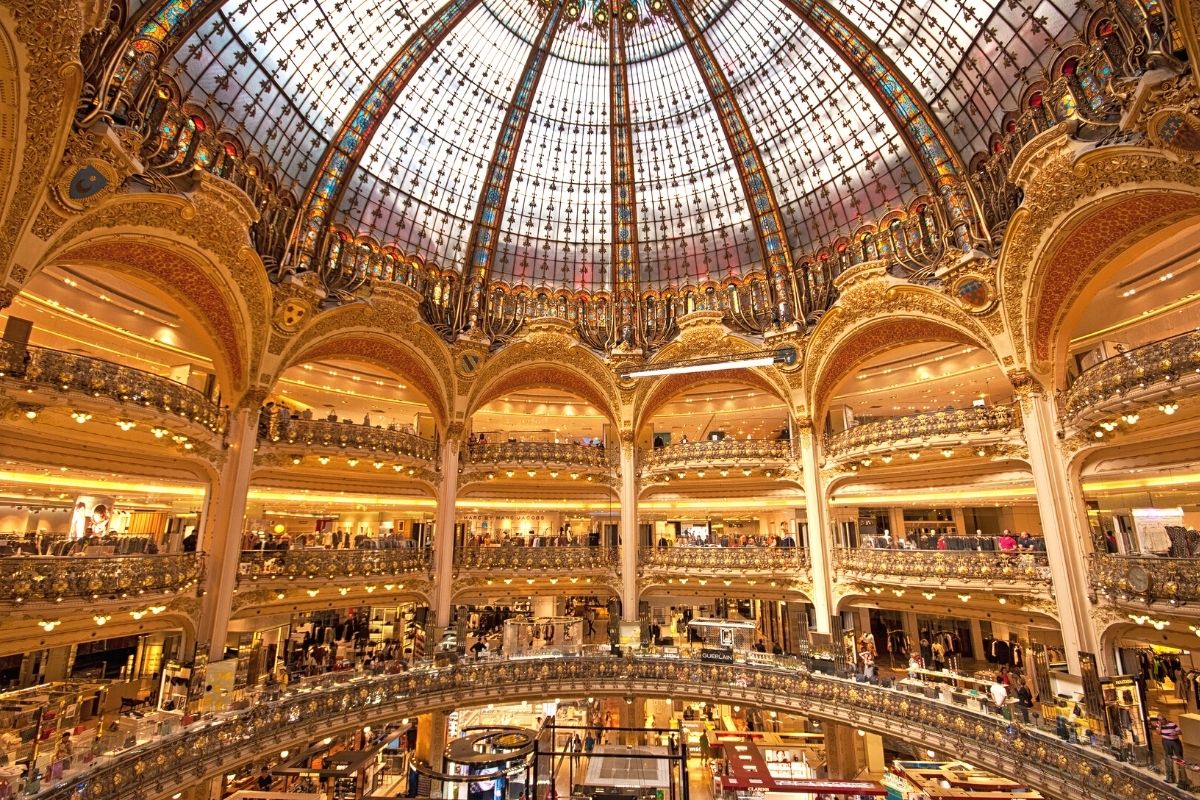 Shop with style at this spectacular mall, which blends elegance with innovation. This purchasers' paradise is home to some of the world's most renowned brands, from Armani and Prada to Hermes and Chanel.
There are also plenty of other shops at Galeries Lafayette carrying beauty products, outdoor apparel, household items, and jewelry, along with dozens of other unique items.
In between buying sessions, you can enjoy the opulence of the building itself, with its unique art installations and towering cupola overhead. Be sure to check out the Wellness Gallery during your visit; this fantastic space offers 32,290 square feet of amenities, from health products to a full-fledged gym.
It'll be a day at the mall that you won't soon forget!
33 – Sacré-Cœur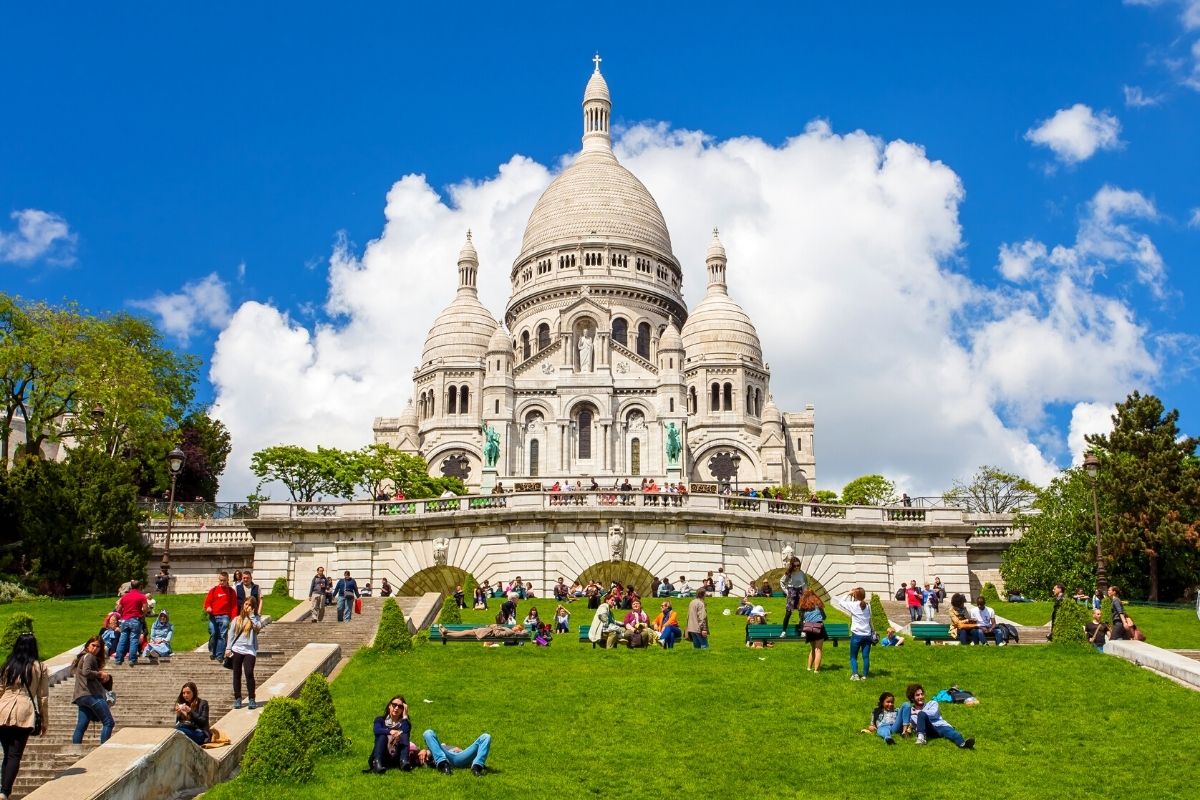 Jutting up over the streets like an ancient temple, Sacre-Coeur Basilica makes quite the impression. And as if the structure itself weren't impressive enough, you can also enjoy some phenomenal views from the top!
This magnificent church is actually the second-most visited religious tourist attraction in the city, after Notre Dame. And with its striking Roman-Byzantine structure and lofty perch above the city, it's easy to see why!
The basilica is also home to the largest mosaic in France, which depicts Jesus, the Virgin Mary, St. Michael, and other religious icons.
After exploring the terrific interiors, step back outside to enjoy some breathtaking scenery, then continue exploring the Montmartre neighborhood, famed for its phenomenal arts and culture scene.
34 – Wall of Love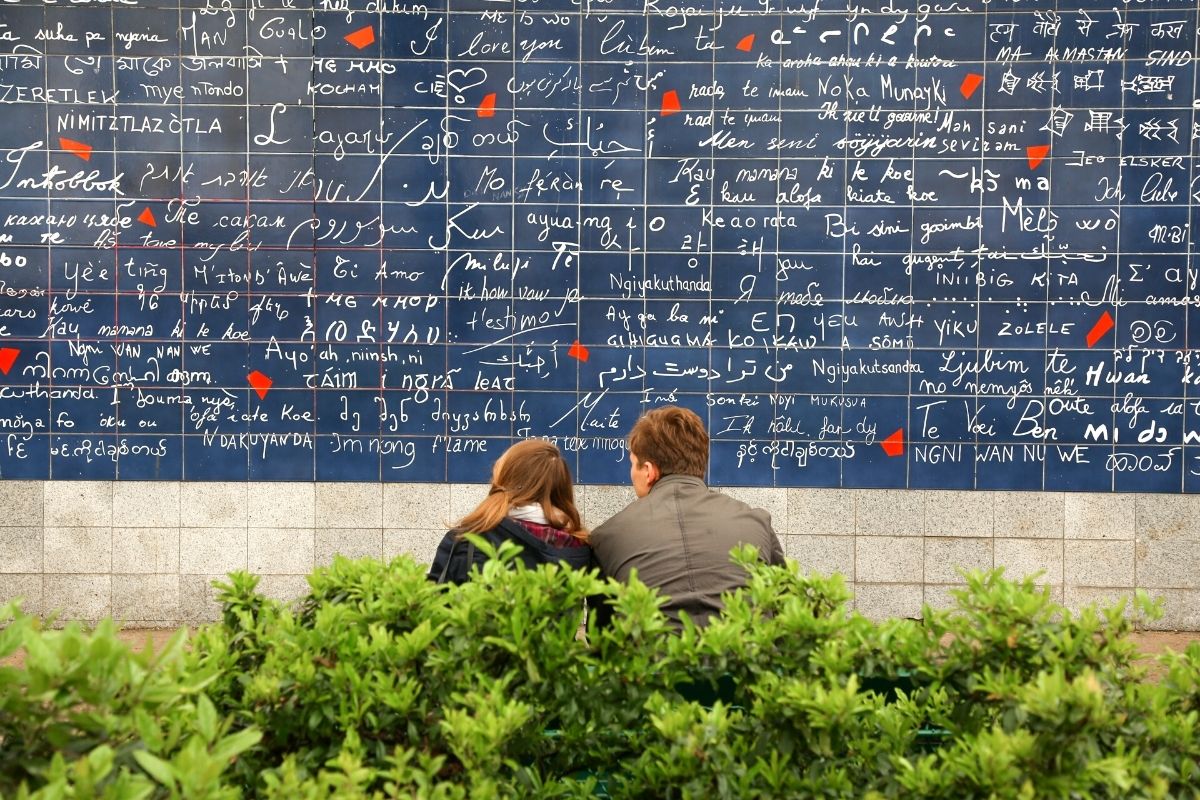 Sacre-Coeur isn't the only amazing tourist attraction that you'll find in the Montmartre neighborhood. The vividly named "Wall of Love" is a public art project that's sure to appeal to romantics and creative types alike.
The installation is made up of 430 square feet of lava rock tiles, all covered in the words, "I love you" in 311 different languages.
Alongside the primary languages of every U.N.-recognized country, you can see the phrase rendered in such unique dialects as Esperanto and Navajo. It's by far one of the most beloved and unique places to visit in Paris!
This beautiful spot is a frequent stop on Montmartre tours, and it makes for both an awesome photo opportunity and a particularly fun linguistics lesson. Stop by to see this stunning piece for yourself, and learn a little bit as part of the bargain!
35 – Place du Tertre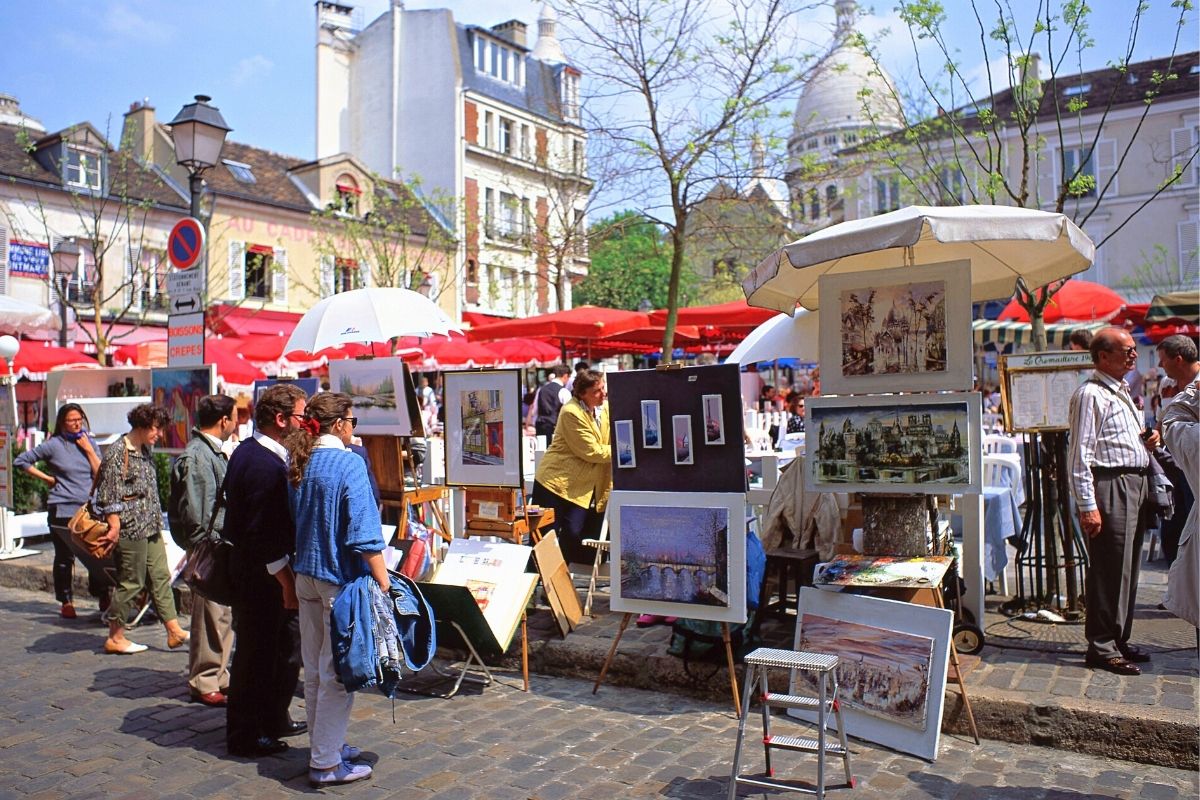 For another spectacular viewpoint with some creative flourishes, head over to Place du Tertre. This lovely hilltop square – which is the tallest slope in town, at 426 feet tall – is more than just a nice lookout point; it's also a thriving cultural hub.
While away the hours at one of the many charming sidewalk cafes, including La Mere Catherine, which is rumored to be the birthplace of the word "bistro."
Or wander through the rows of resident artists, whose paintings capture incredible perspectives of the city. It's all part of a typical day in one of the town's most gorgeous public spaces.
36 – Château of Vincennes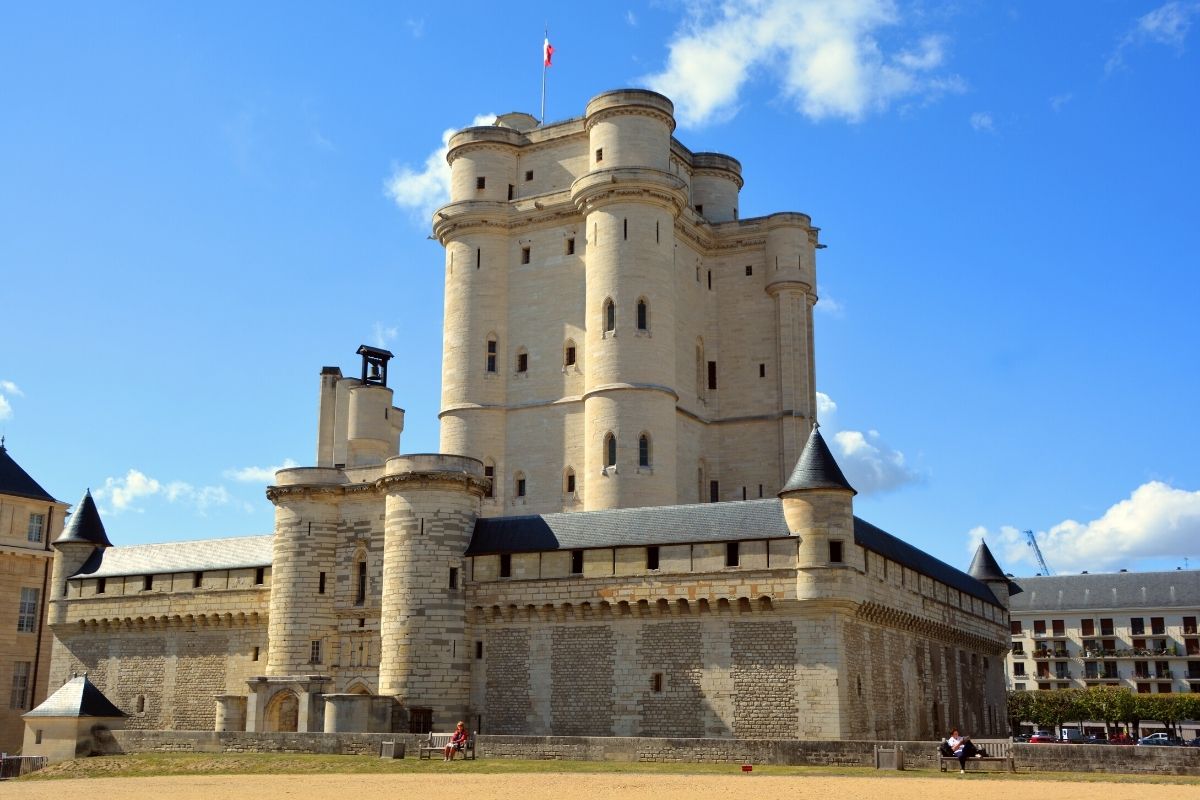 What's a trip to Europe without a castle? Chateau de Vincennes is a perfect specimen, with its 52-foot tall fortified tower (the highest of its kind in Europe) and remarkable history.
The fortress dates back to the 1100s and has served numerous roles over the centuries. It once served as a prison holding such famous inmates as the Marquis de Sade and was also the death place of King Henry V.
You'll have to cross an authentic moat to enter the fortress, but don't worry – they've got a drawbridge! There's also a splendid cathedral on the grounds, which once held priceless religious relics, and still features some gorgeous stained glass windows that are well worth a visit during your tour.
You can even ascend the tower itself to see the city from the same vantage point that royalty once did!
The entire complex offers a wonderful chance to explore an authentic castle in all of its intricate glory, and the many roles that it has played in the town's past help shed some light on its evolution into the present day.
And best of all, it's located within 15 minutes of the city center, making it easily accessible from other Paris attractions.
37 – Palais de Tokyo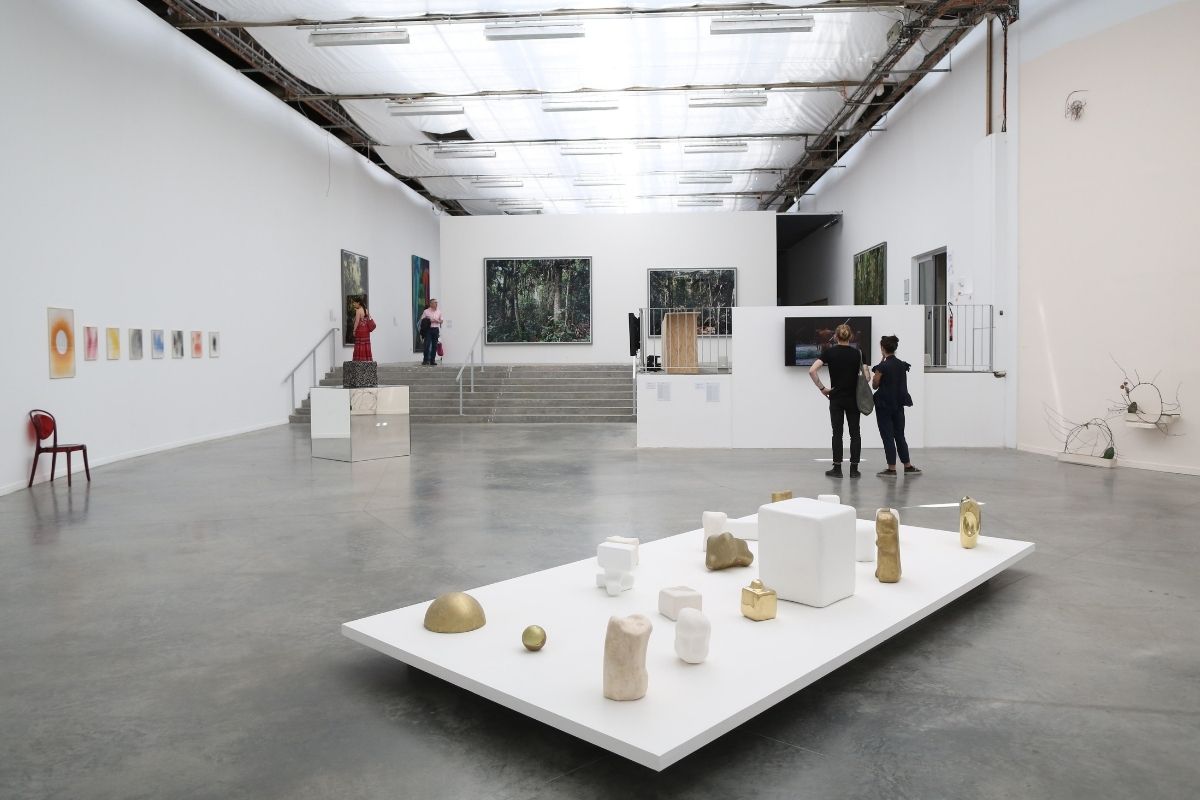 One of the most stylish attractions in Paris, Palais de Tokyo is the ideal destination if you want to dive further into the city's rich contemporary creative scene.
This innovative space is filled with multidisciplinary, ultramodern works, and its regularly rotating exhibitions offer guests the chance to engage with some of the finest minds in the art world today.
While some installations have more of an abstract feel, many of them use creative works as a means of addressing current social issues, from climate change to immigration. It also features a jam-packed roster of live events, including the Do Not Disturb Festival, which features several days of participatory performance art.
It's a one-of-a-kind place to experience some one-of-a-kind works!
38 – Pont Neuf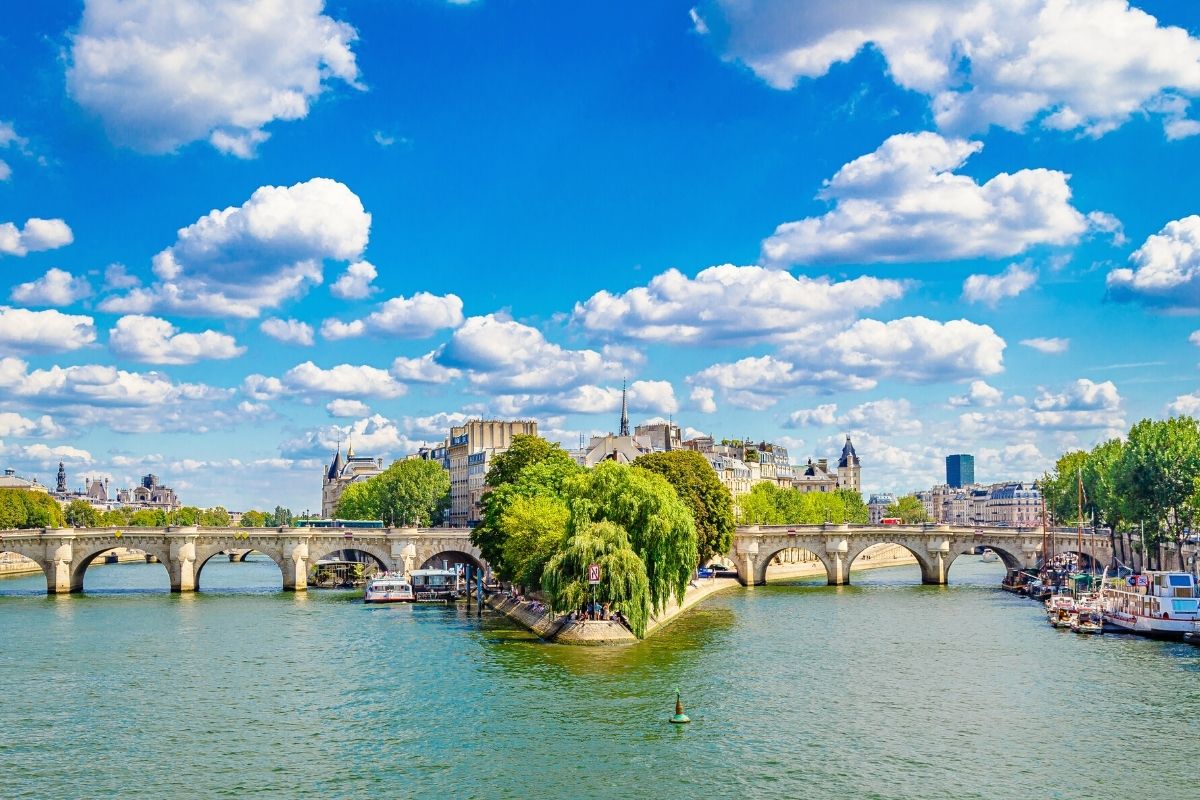 Another fabulous bridge in the city, Pont Neuf, has been a fixture of the landscape since 1607. It was originally commissioned by King Henry III and completed by King Henry IV, and is chock full of awesome design details, including decorative arches and faces carved from stone.
Even the design of the structure is distinctive, buoyed by twelve arches – seven connected to the Right Bank, and five to the Left Bank.
As the oldest bridge across the Seine that's still standing, Pont Neuf has long been a gathering place and hub of activity in the city, and you can still get a feel for that busy atmosphere as you walk along the paths.
Its unique history and beautiful views make it one of the most beloved places to visit in Paris, and it's also a great way to get to and from other popular tourist attractions, such as the Notre Dame and the Louvre.
39 – La Villette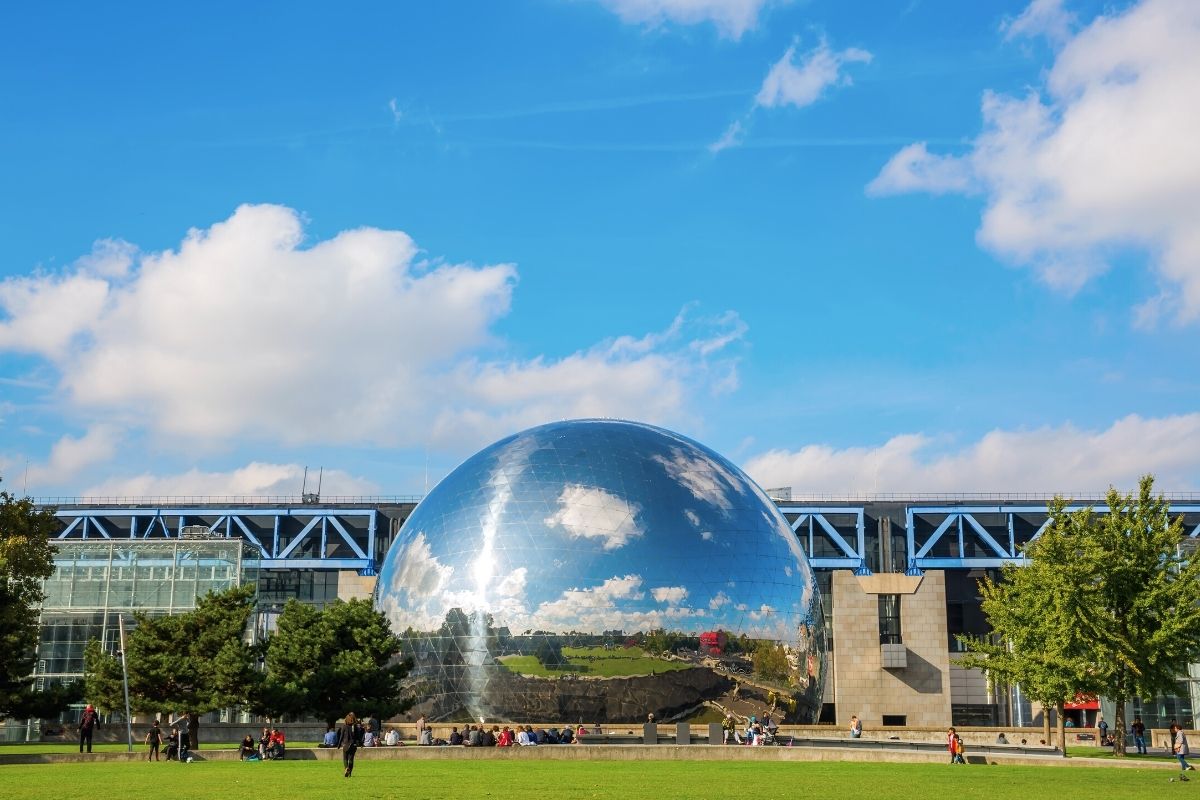 When you're ready to explore some more fantastic public parks, head over to La Villette, which boasts a wonderful mix of cultural and natural attributes, and its 86 acres of gardens offer a stunning array of plant life, both native and international.
As if all of the fantastic flora weren't enough, you can enjoy a whole smorgasbord of entertainment options, from children's museums and abstract sculptures to artificial beaches and circus schools.
The park is also home to several renowned music halls, including the Philharmonie de Paris, a massive space known for its impressive lineup of classical and jazz performances and its distinctive aluminum exterior, which is shaped somewhat like a craggy mountain.
No matter what time of the year you visit, you're likely to catch some sort of awesome concert series, festival, or unique exhibition. Don't miss out on this beloved fixture of local life!
40 – City of Science and Industry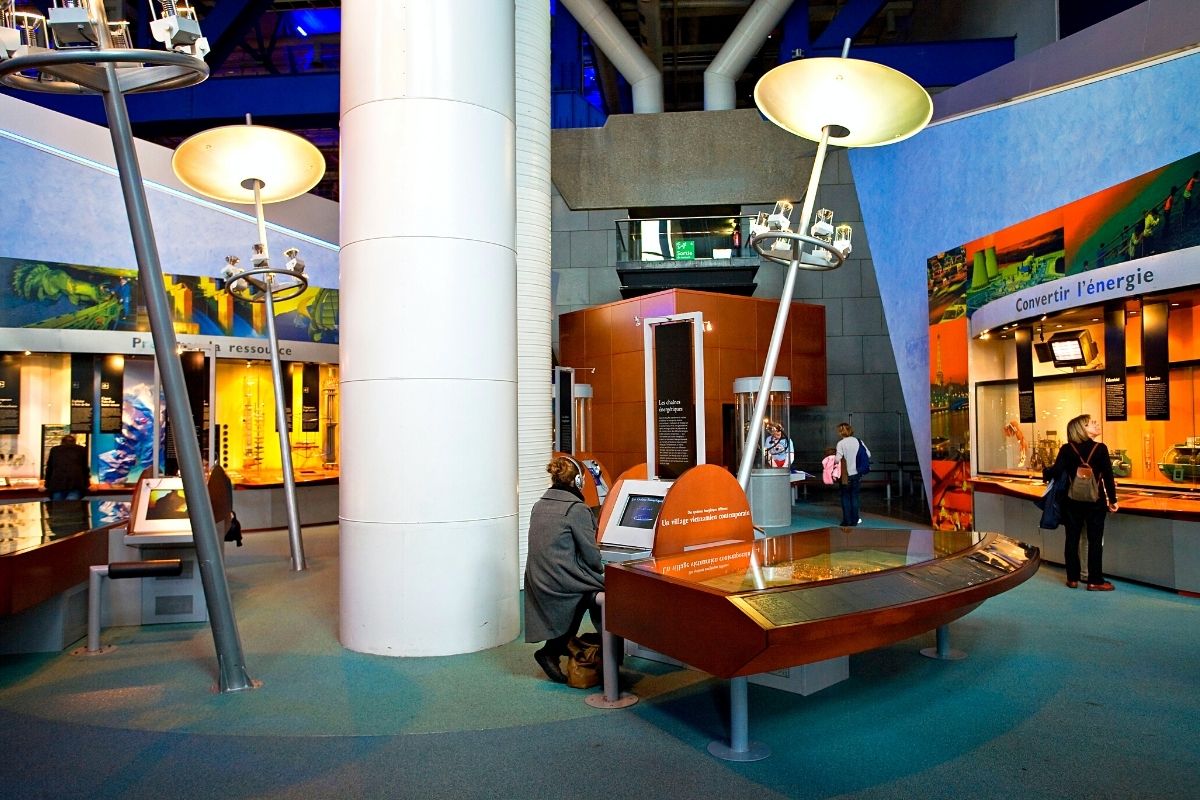 Located in La Villette, the City of Science and Industry is one of the best museums in Paris for curious minds.
Explore the workings of the human brain, follow the evolution of the universe, astound your ears with sound experiments, and drive, fly, and sail your way through a range of games covering the history of transportation.
It's also well worth stopping by the planetarium, where you can sit in awe as the mysteries of the solar system and the wonders of the cosmos play out on 360-degree screens.
Dive into the weird, wonderful world of the sciences at this spectacular establishment – you'll learn and have fun all day long!
41 – Tuileries Garden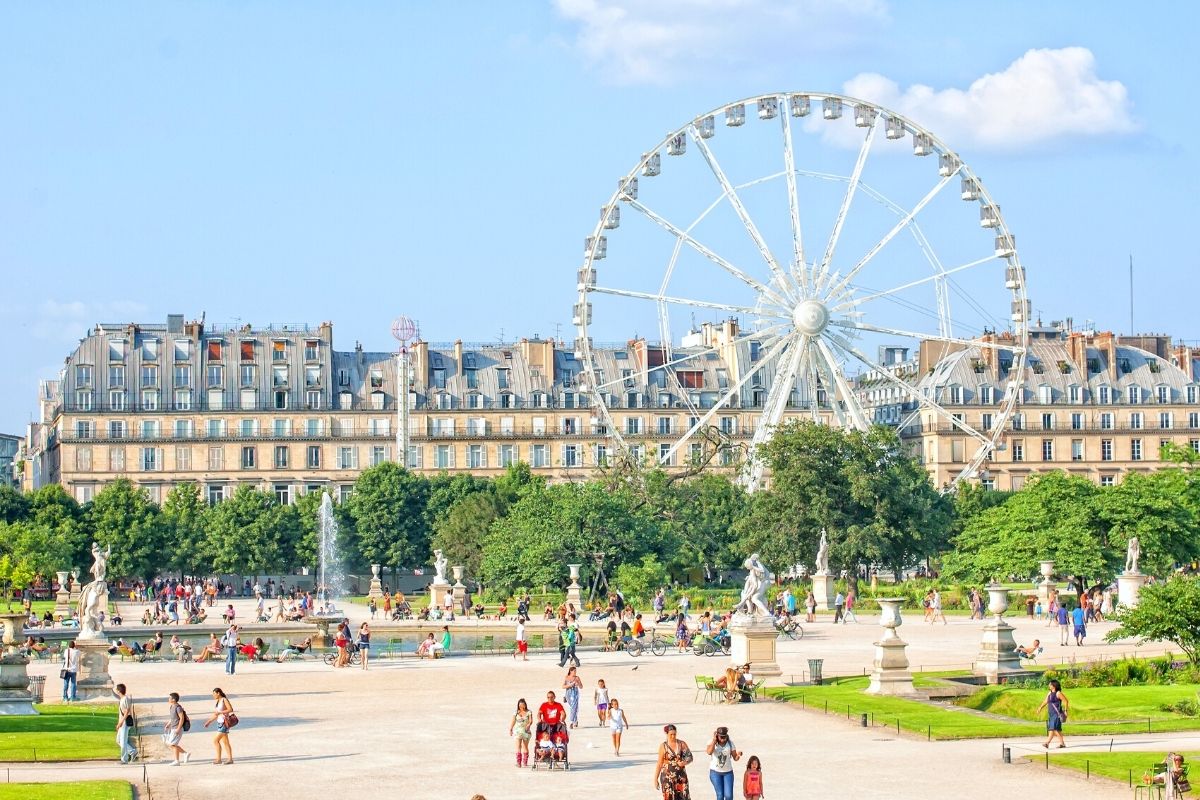 As you stroll through Tuileries Garden, you may be mistaken for thinking that you've stumbled into the French countryside. That's because this former royal enclave has all the serenity and charm of a rural village, even though it's within easy reach of the hustle and bustle of the city.
Amble along the finely manicured paths, admire the nearby palatial residence and inhale the soothing scents of the abundant flowers. You'll easily see why this was a favorite playground for young princes of the past!
Then check out all of the other awesome tourist attractions around the property, including an open-air sculpture garden and remote-control boat rentals.
Don't miss the Jeu de Paume, a marvelous art gallery with a focus on photography and contemporary works. It's the perfect way to wrap up your visit to this tranquil area!
42 – Bourse de Commerce – Pinault Collection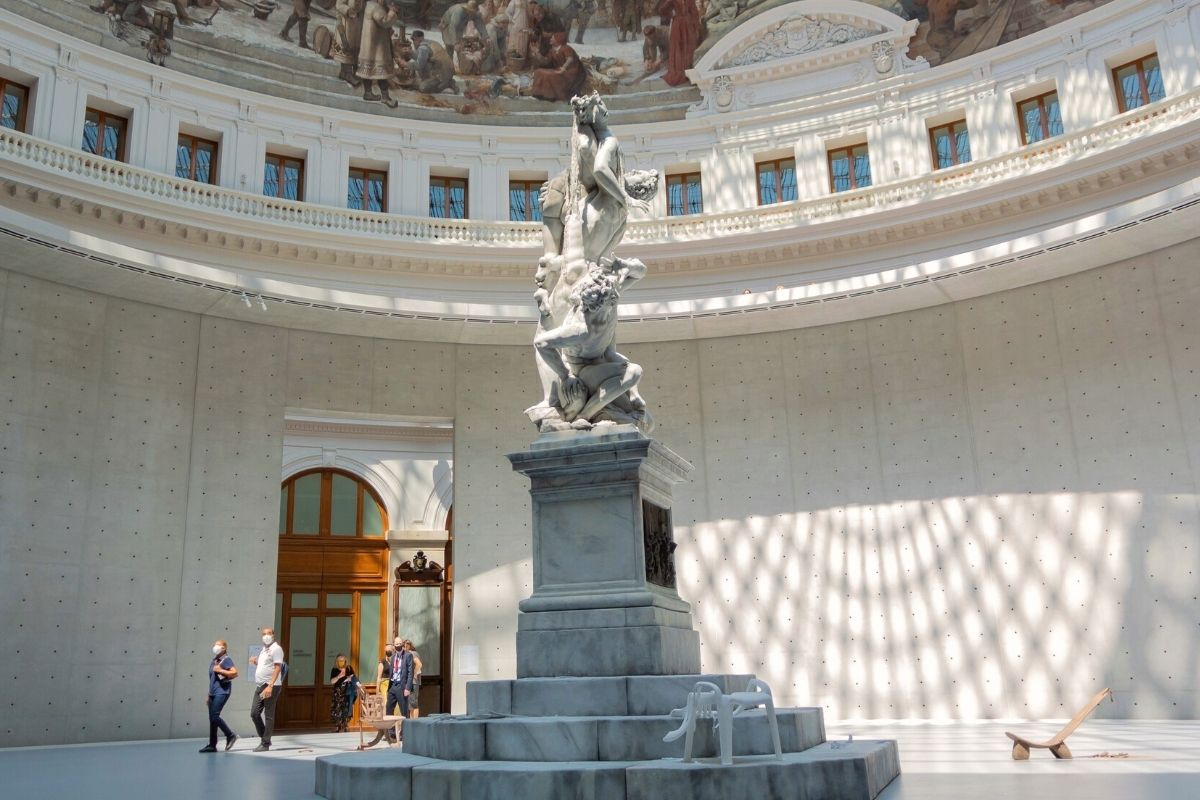 Even by the high cultural standards of Paris, Bourse de Commerce stands out. This fabulous assortment of modern art is best known for the Pinault Collection, which also has a counterpart in Venice.
With a staggering 10,000 works from the 1960s to the present day, this is the perfect place to compare and contrast contemporary movements in mediums such as audio works, sculptures, and performance art.
Along with the excellent displays, the center focuses on public engagement; there are conferences, educational events, and talks throughout the year, all designed to get people more closely involved with the art.
There are also free tours available, where you can explore the highlights of this spacious facility alongside museum employees. From stunning photographs and colorful paintings to genre-bending installations, this is one of the best attractions in Paris to explore the avant-garde.
You may even see a new art movement in the making!
43 – Jardin des Plantes de Paris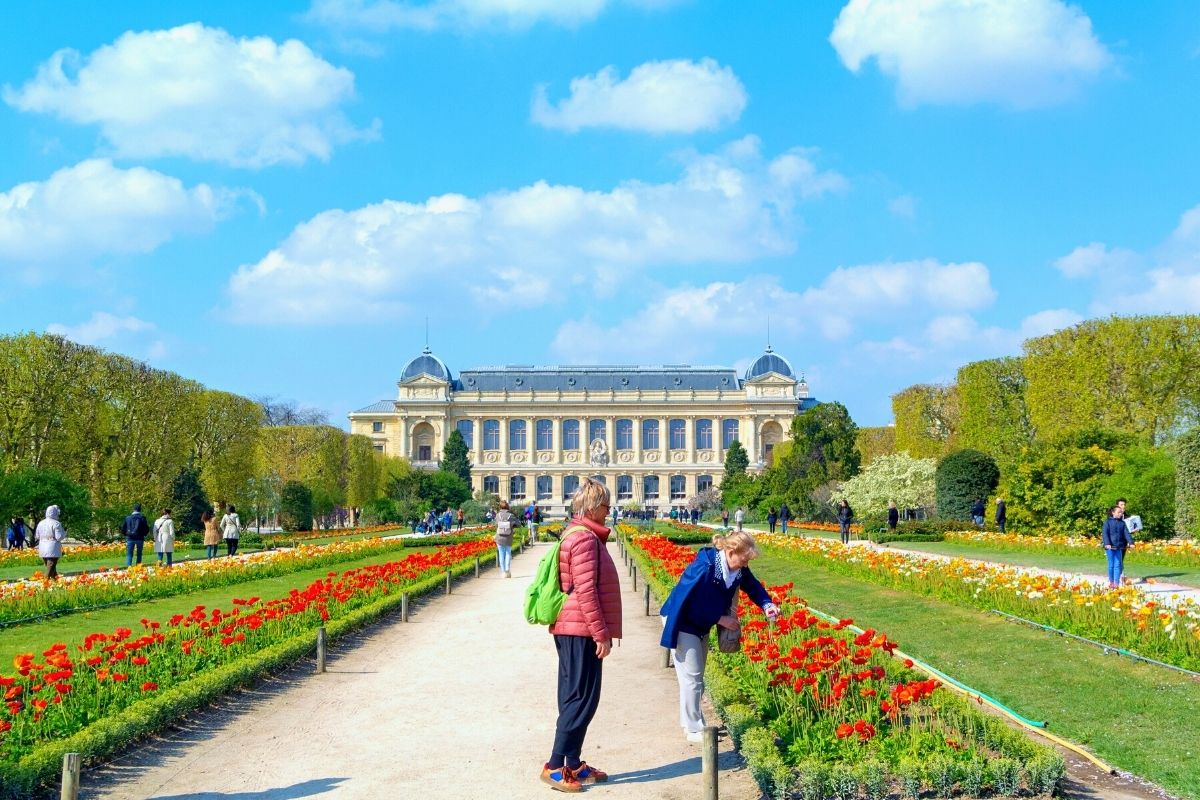 Want to get joyfully lost in a maze, visit a slice of the alpine, and learn about the ecology of the region? Then head over to Jardin des Plantes de Paris, one of the perfect tourist attractions for the whole family.
With eight different areas to explore, there's something for everyone to enjoy.
Admire the beauty of irises, roses, and perennial flowers; learn about the usefulness of medicinal plants; and see amazing specimens from all over the world, from the highest mountains and deepest jungles to Parisian's own backyards.
Be sure to leave some time for the labyrinth, which features some excellent sculptures and a lovely iron gazebo that add a little flair to the journey.
44 – National Museum of Natural History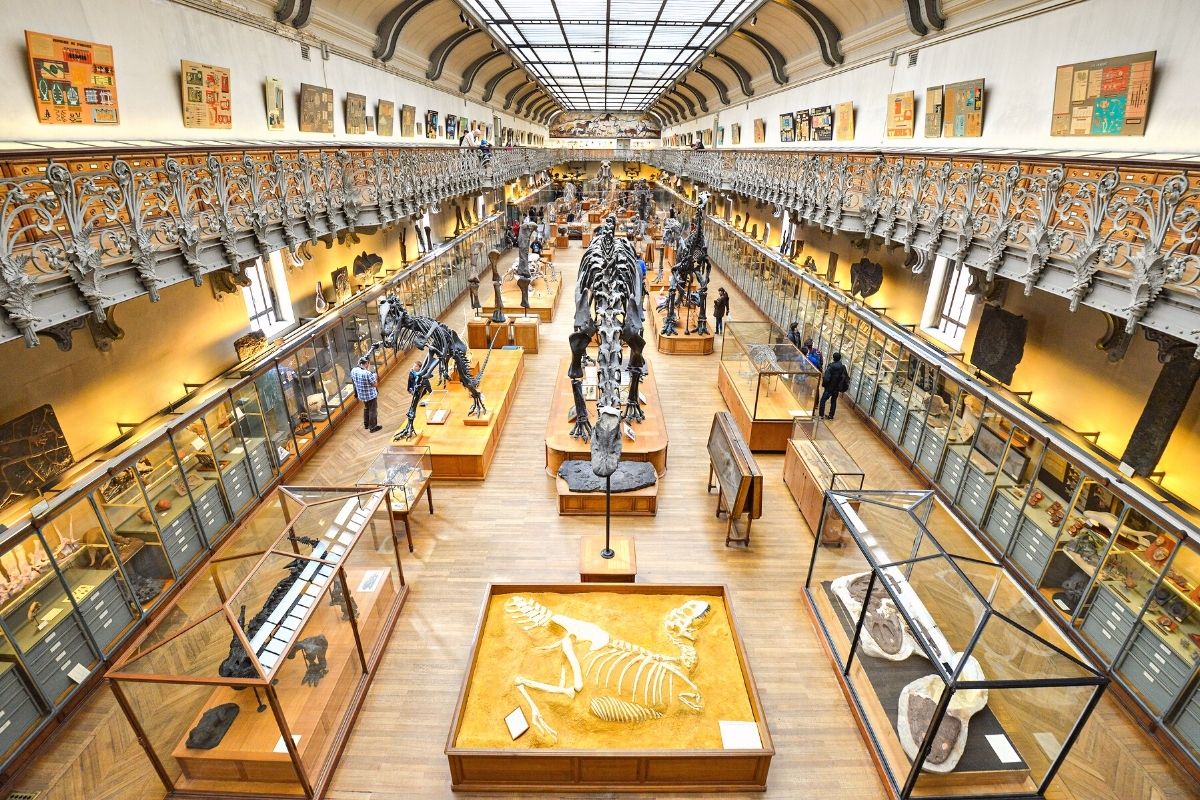 After some quality time in the gardens, head over to the National Museum of Natural History, which is packed with paleontological goodies.
This spectacular spot is one of the best museums in Paris for learning about the world's earlier eras, featuring more than 67 million specimens representing every corner of the world and millions of years of history.
The fossils are a big draw here, including some incredible reconstructions of various dinosaurs. But there are tons of other exhibitions to check out as well, from showcases of rocks and minerals to dioramas depicting the evolution of humans.
And if you're looking for some more modern specimens to admire, check out the wide variety of colorful insects, or stop by the herbarium, which features the largest collection of dried plants in the world.
You'll see the story of life on Earth in a totally different way!
45 – Ménagerie du Jardin des Plantes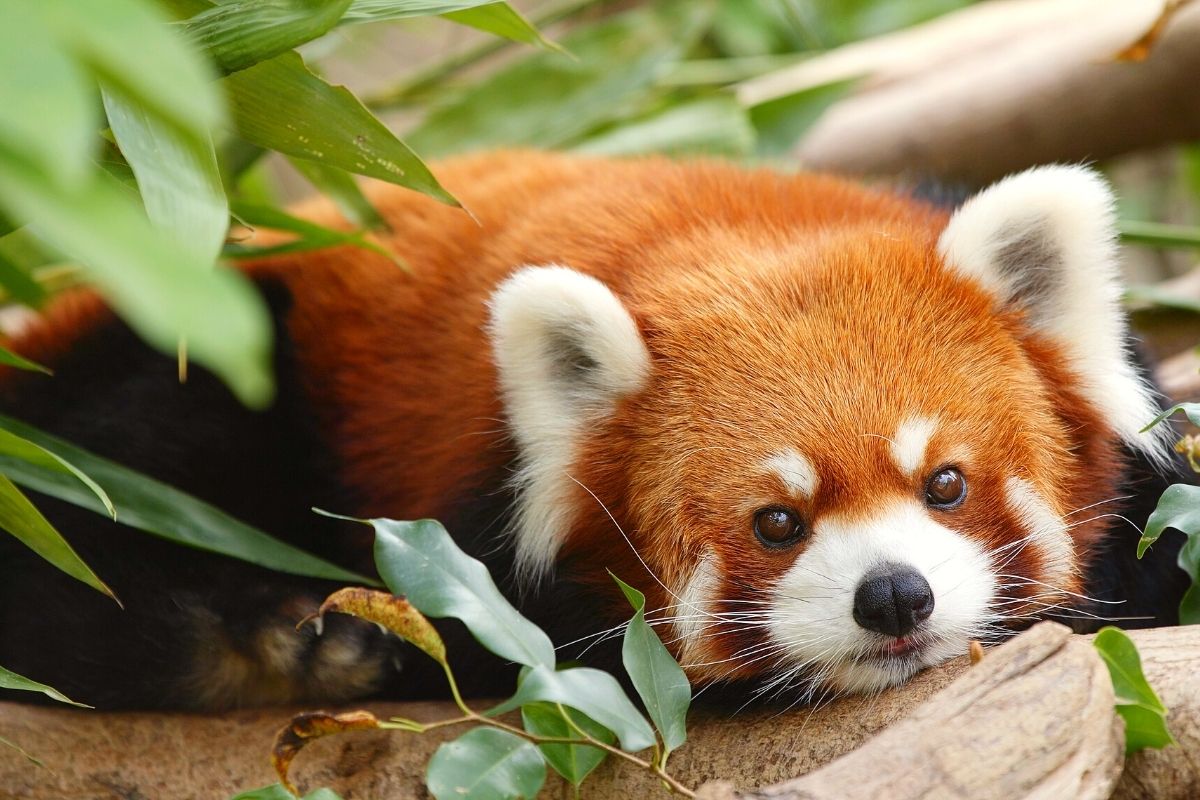 Ok, you've seen plants, you've seen fossils… time for some animals! Menagerie du Jardin des Plantes is a world-class zoo with a focus on endangered species, and it's one of the many excellent Paris attractions within the national museum collection.
The possibilities are endless at this nature-filled wonderland: you can hobnob with over 600 mammals, birds, and reptiles, including lively orangutans, neon-colored frogs, and the ever-adorable red panda.
It's the perfect place for animal lovers, with ample opportunities to see some of the world's most dynamic species – and plenty of chances to learn how to help protect them!
46 – The Pavillons of Bercy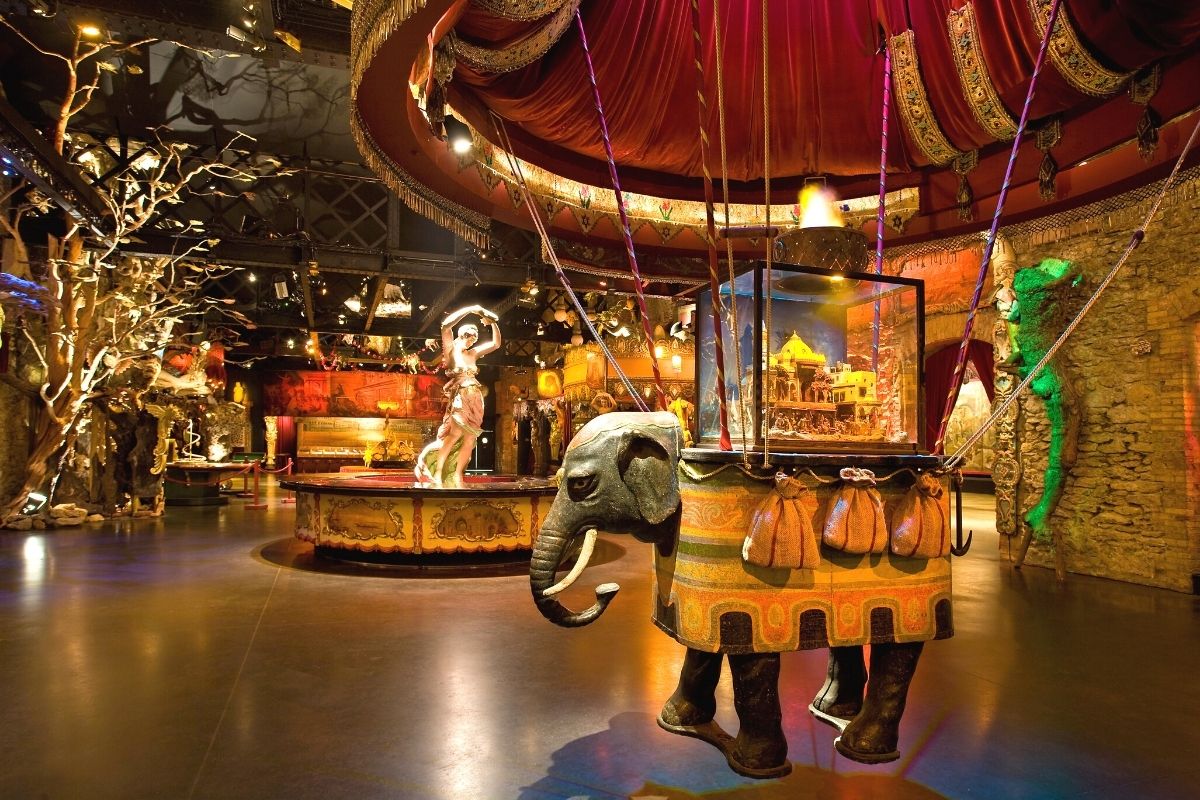 Weird, wacky, and wonderful, the Pavilions de Bercy is a tribute to imagination at its finest. The museum is devoted to the art of live entertainment: carnivals, fairs, and other themed environments.
From carousel horses and circus posters to fairground games and antique oddities, there's a whole world of whimsy to explore behind these walls.
The tours of this fascinating space are almost as fun as the exhibits themselves; the guides are trained to be equally informative and entertaining, embodying the playful spirit and comedic timing of the performers of old.
Best of all, guests get to join in the fun, acting out different roles in each of the hyper-creative displays along the route. And unlike most museums, you'll actually get a chance to interact with some of these artifacts. You can even take a spin on the historic merry-go-round!
This unique tourist attraction is a wonderful tribute to an underrated entertainment form, and every visit is like a trip to the world's coolest circus.
47 – Sainte Chapelle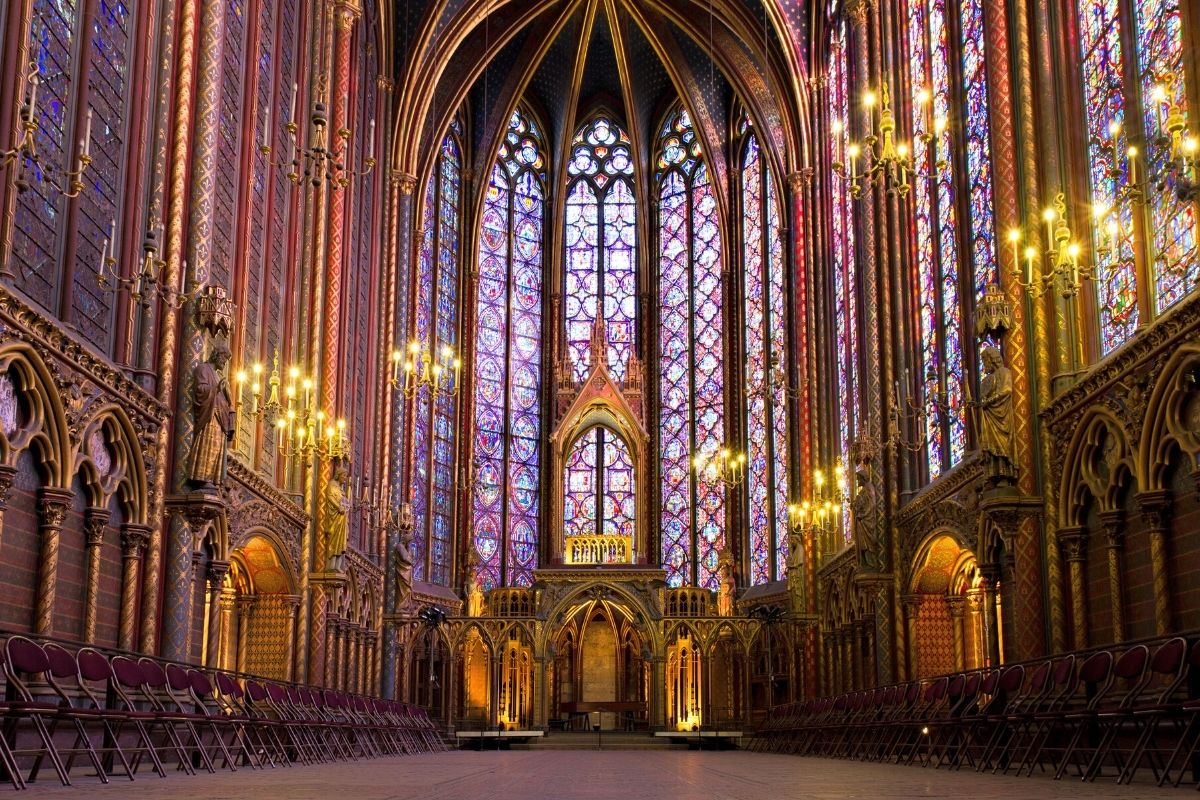 If the beauty of stained glass takes your breath away, you'll love the incredible designs at Sainte Chapelle.
While there are plenty of great tourist attractions in Paris for architecture enthusiasts, this Gothic marvel is probably the best place to admire this renowned religious artform up close.
Check out the 15 massive windows depicting thousands of Biblical and historical scenes, then take some time to explore the rest of this historic church, which was originally designed to hold significant religious relics.
48 – Conciergerie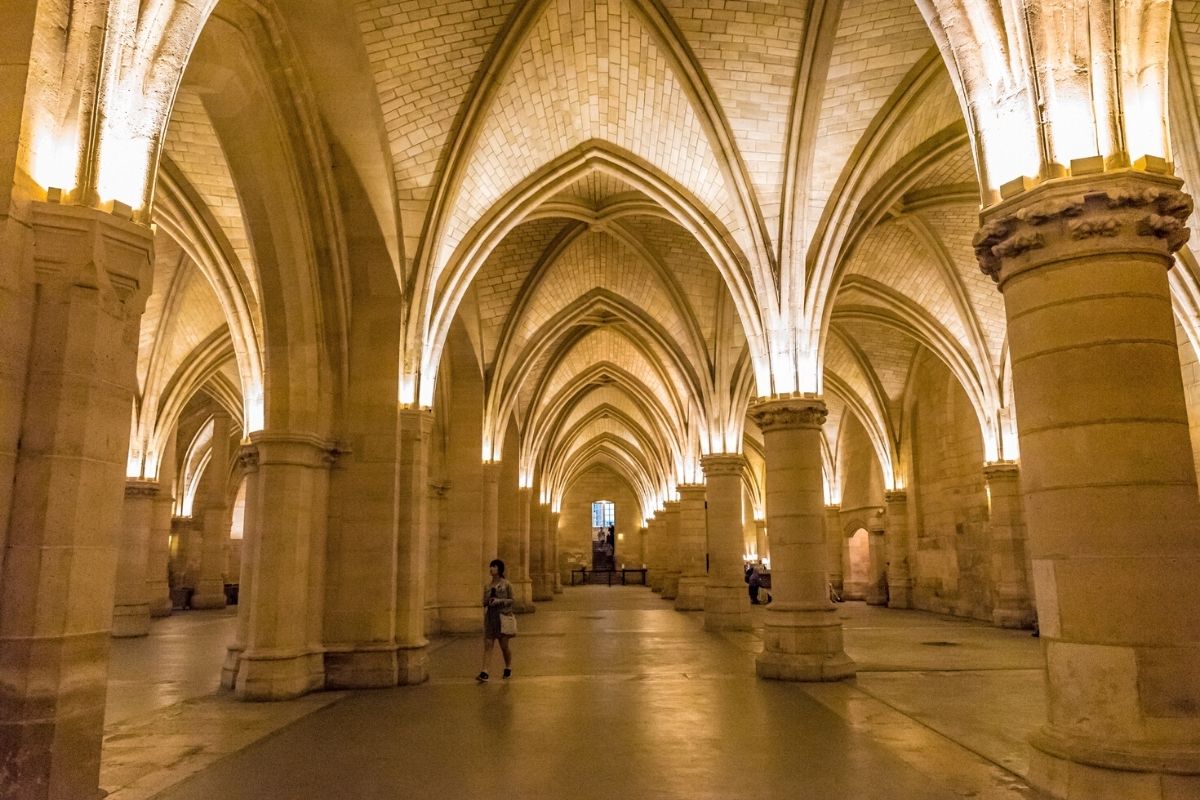 Like all of the great historical attractions in Paris, Conciergerie makes a vivid impression from start to finish. This magnificent palace was originally built in the Medieval era and later became famous as the place where Marie-Antoinette was imprisoned.
This is also the home of Salle des Gens d'Armes, the biggest medieval hall in Europe. Take some time to explore this vast room, and imagine its glory days as the dining hall for thousands of royal employees.
There are plenty of other intriguing sights to see during your tour, including an actual guillotine blade – a gruesome but powerful artifact! Take a tour through this impressive residence, and learn all about its complex history and famous former tenants.
49 – Église Saint-Sulpice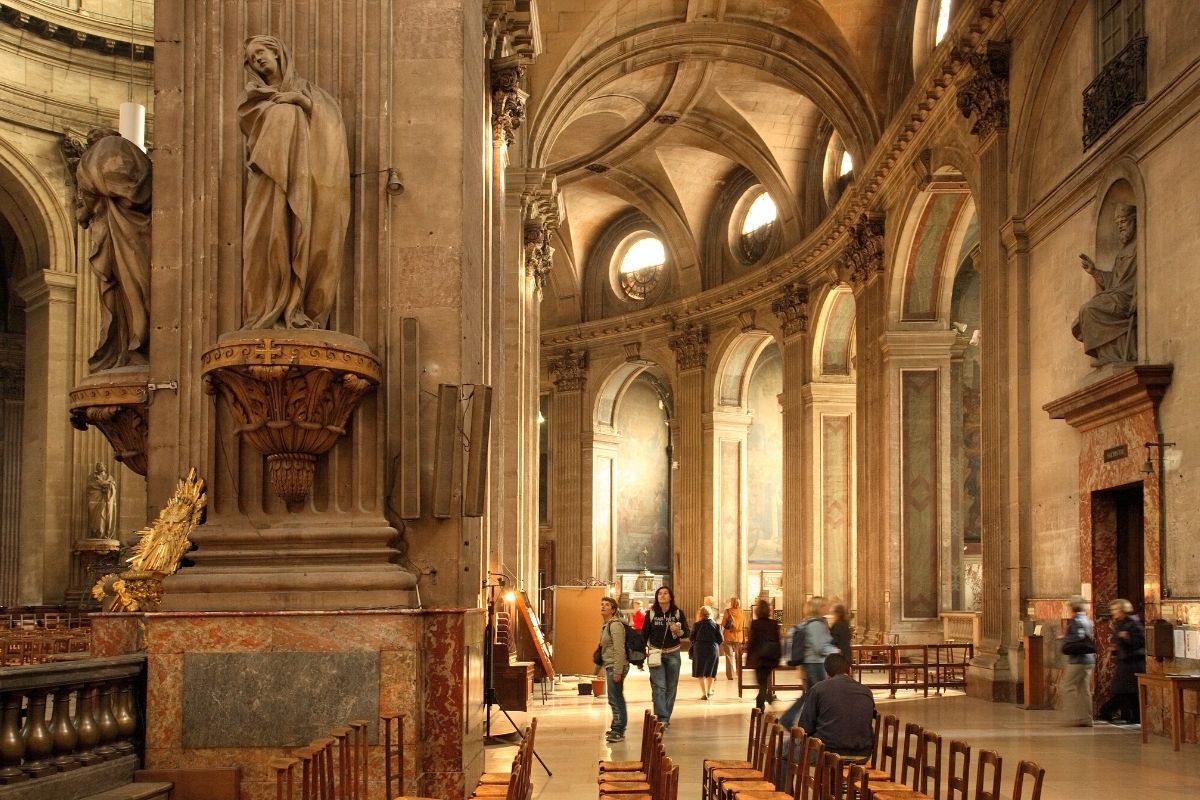 If you like a little bit of pizzazz with your religious experience, head over to Eglise Saint-Sulpice. The parish was built in the 17th century and has been a cultural and religious fixture ever since.
It's the second-largest church in town (behind the Notre-Dame), and with incredible works of art and remarkable construction details throughout, it's a must for any architecture fan.
Music lovers will thrill to the sounds of the historic organs, which have provided the soundtrack to sermons for over three hundred years. The church also holds regular services throughout the week, so religious visitors can worship in a truly distinctive venue.
50 – Montparnasse Tower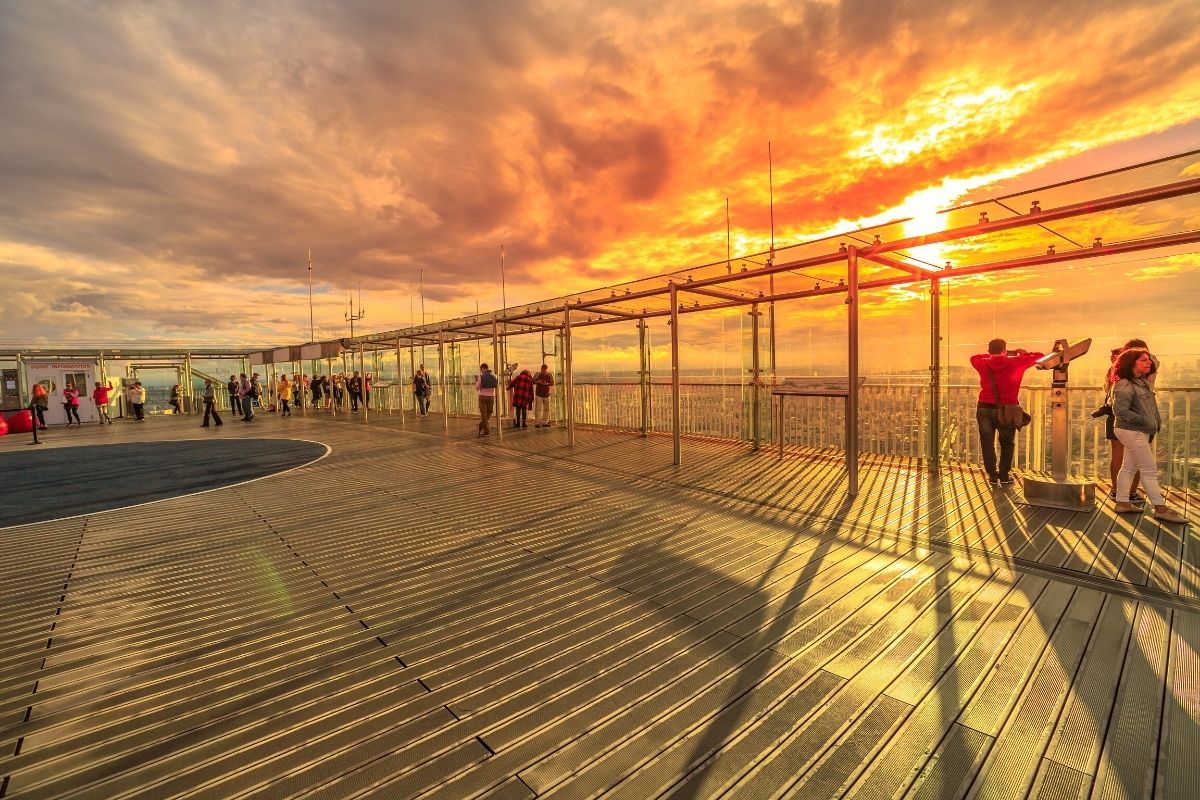 With fantastic views and a striking visual profile, Montparnasse Tower is one of the coolest places to visit in Paris.
At a lofty 656 feet (200 meters) high, the building has often been called "Top Of The City" – and for good reason! It's the ideal location for sightseeing, with spectacular views of the Eiffel Tower, Notre Dame, and the rest of the city's famed skyline.
Day or night, it's an unforgettable view, so book your trip to the top, and get your camera ready!
51 – Parc des Princes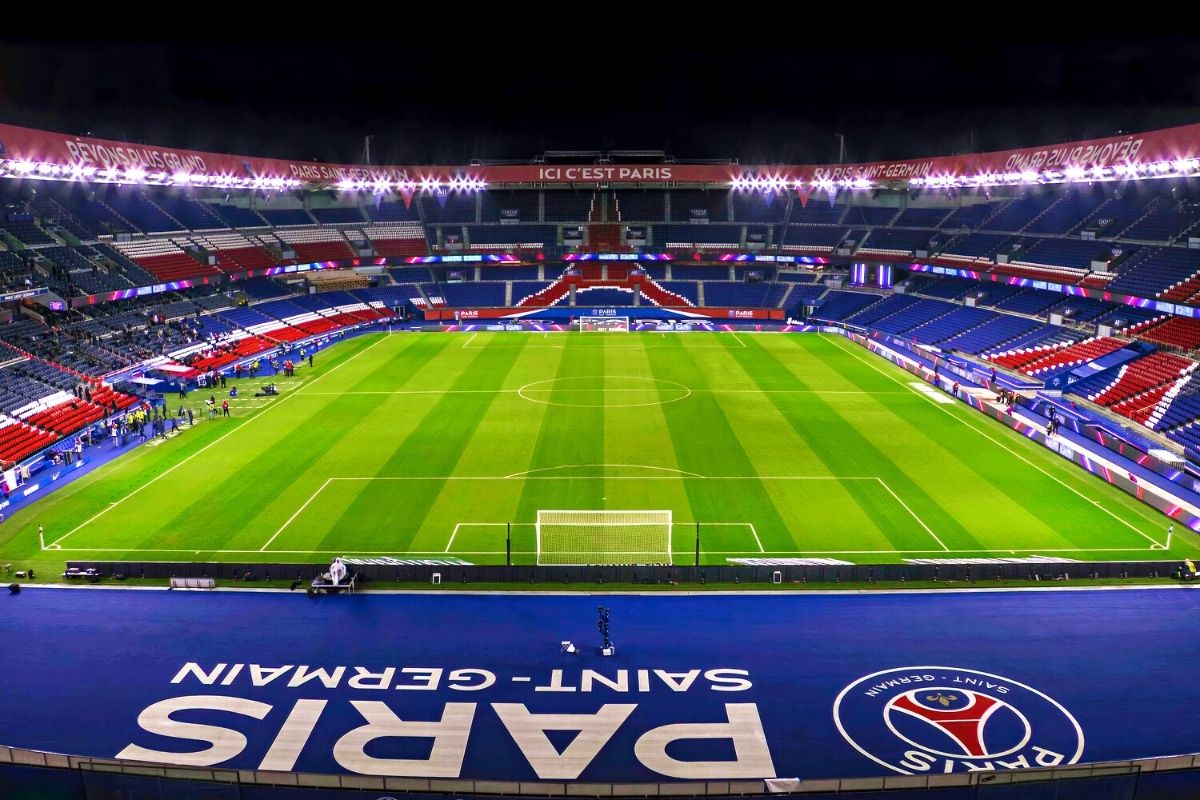 When you're ready for some adrenaline, put on your favorite jersey and get ready to cheer with the crowds at Parc des Princes.
A longtime fixture in the international football scene, this beloved stadium holds over 45,000 fans and hosts a packed schedule of matches featuring their resident team, Paris Saint-Germain.
Even if you don't make it to a game, it's well worth taking a tour of the grounds, where you can learn all about its decades of distinguished sports history, and walk on the same pitch that so many legends have trod before.
Hot tip: PSG Experience Stadium Tour Tickets – Everything you Should Know
52 – Place de la Concorde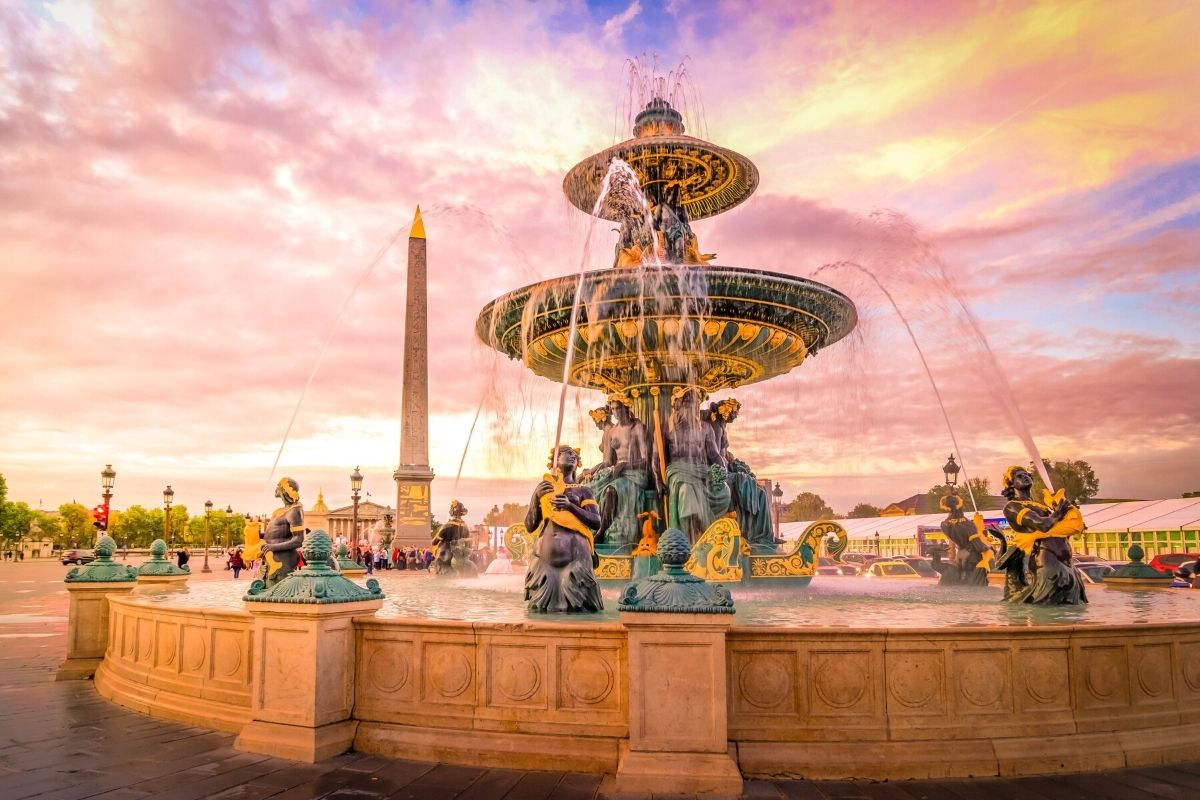 Once you've enjoyed all of the marvelous tourist attractions along the Champs-Elysees, you'll be treated to a spectacular reward: Place de la Concorde.
This visually striking square had a somewhat gruesome start as a public execution site during the revolution. But in the 1800s, it got a significant overhaul, and today, it's also known for its wonderful architectural offerings.
Enjoy the lively displays of the two decorative fountains, and take in the beauty of the Luxor Obelisk, a 3,300-year-old structure that was brought to the city directly from Egypt!
After admiring the scenery, head over to some of the popular sites nearby, including Hotel Crillon, the Orangerie Museum, and the Tuileries Garden.
53 – Cluny Museum
With a staggering 23,000 objects in its inventory, the Cluny Museum is an art enthusiast's dream. It's also one of the best museums in Paris to explore the Medieval history of France, with a particular focus on the creative works of that time period.
The tapestries are particularly notable, with bold colors and intricate designs that showcase some of the most prevalent creative themes of the era. Don't miss "The Lady and the Unicorn", a collection of ornate 16th-century tapestries that are considered some of the most popular pieces of the era.
54 – Paris Flea Market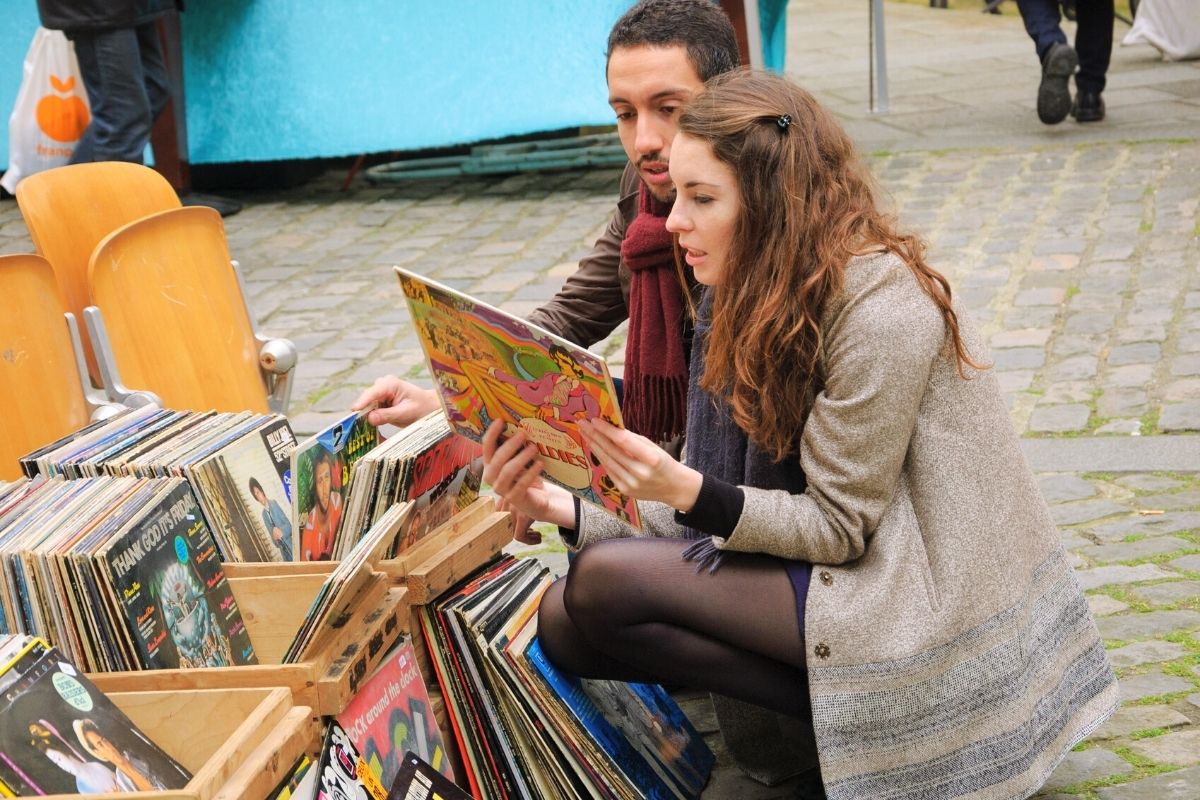 Looking for some unique keepsakes? Then head to the Paris Flea Market, a sprawling bazaar with every kind of treasure imaginable.
With almost 2,500 stores, it is the largest antique market on Earth, and has an appropriately impressive inventory; you can find anything from paintings and rare books to antique furniture and Chanel products among the many aisles.
This massive space is only open on the weekends, and it's well worth taking a tour or snagging a map to find your way around.
Get ready for an adventurous shopping experience, with a distinctly local twist!
55 – Domaine National du Palais-Royal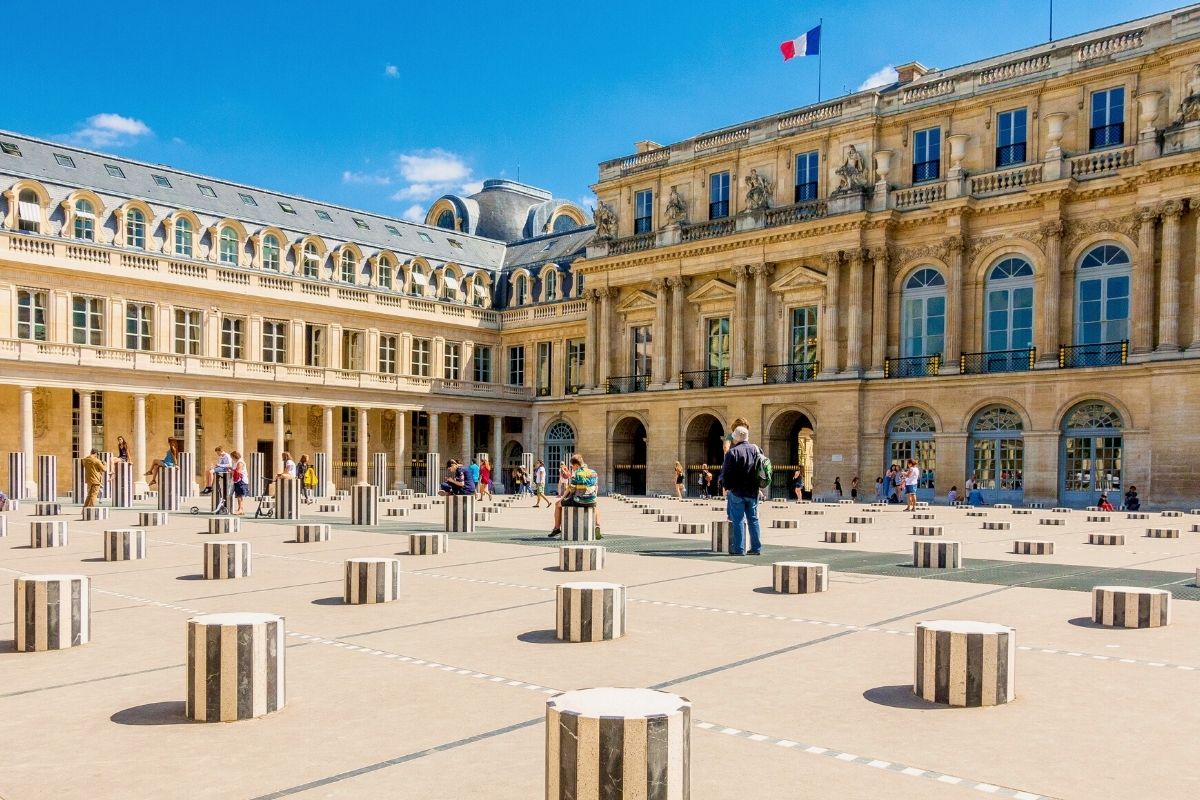 There are plenty of Paris attractions with wild histories, and Domaine National du Palais-Royal is no exception. This monumental space started out as a royal residence before turning into a hotbed of revolutionary action and, later, as something of a hedonist hotspot during the Bohemian era.
Today, it's the perfect place for a scenic stroll, with cultivated gardens and fountains perfectly complementing the beautiful building. Don't miss the Palais-Royal Garden, whose lovely scenery and shaded pathways will make you feel like you're strolling through a piece of the past.
Stroll between rows of red horse chestnuts and lime trees, admire the vivid hues of the roses and relax in front of the splendid fountain in the center of it all.
56 – Parc Asterix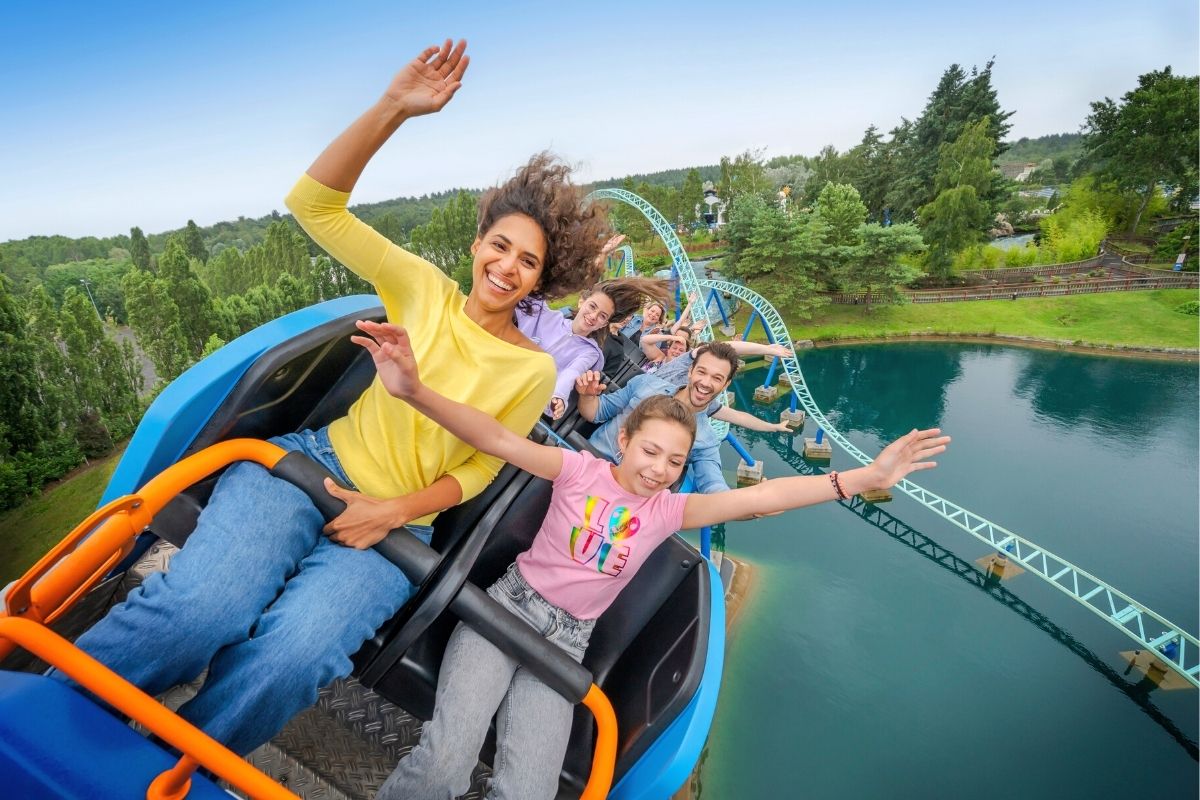 Disneyland is always fun, but it's not the only game in town. Parc Asterix, just 40 minutes outside of town, is one of the most fun things to do in Paris for families and thrill-lovers.
The park is themed around the beloved French comic book about adventurous Gaul warriors, and you can get in on all of the fun with 42 different attractions.
Scream your way through the dips and drops of Oziris, or ride a boat through the skies with La Galere. If you want some more family-friendly options, you can take a spin (literally!) on Les Chaudrons, or take a wacky ride through an ancient village on Les Espions de Cesar.
With its fun-loving, immersive atmosphere, this park will soon have you swept up in the stories of Asterix and his friends.
57 – Musée du quai Branly – Jacques Chirac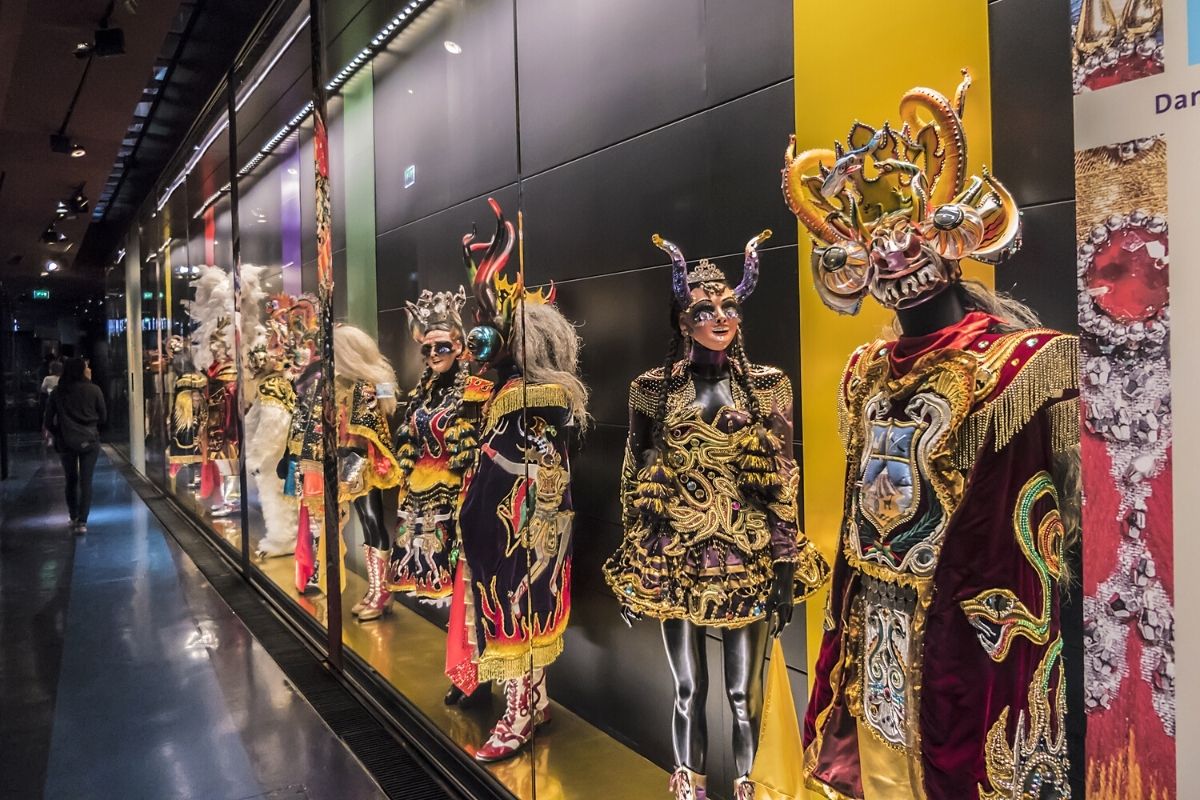 From the smallest microbes to towering religious icons, Musee du Quai Branly – Jacques Chirac is a spectacular showcase of the world around us.
Its impressive collections span the entire globe, with themed sections for different continents. Much of the focus is on the art and culture of these regions, with a strong anthropological component to the exhibitions.
As you explore, you'll see a dazzling display of galleries featuring selections from the museum's repository of 3,500 artifacts, including statues, ceremonial masks, and Neolithic objects.
Stop by and take a little trip around the planet – without leaving town!
58 – Grande Arche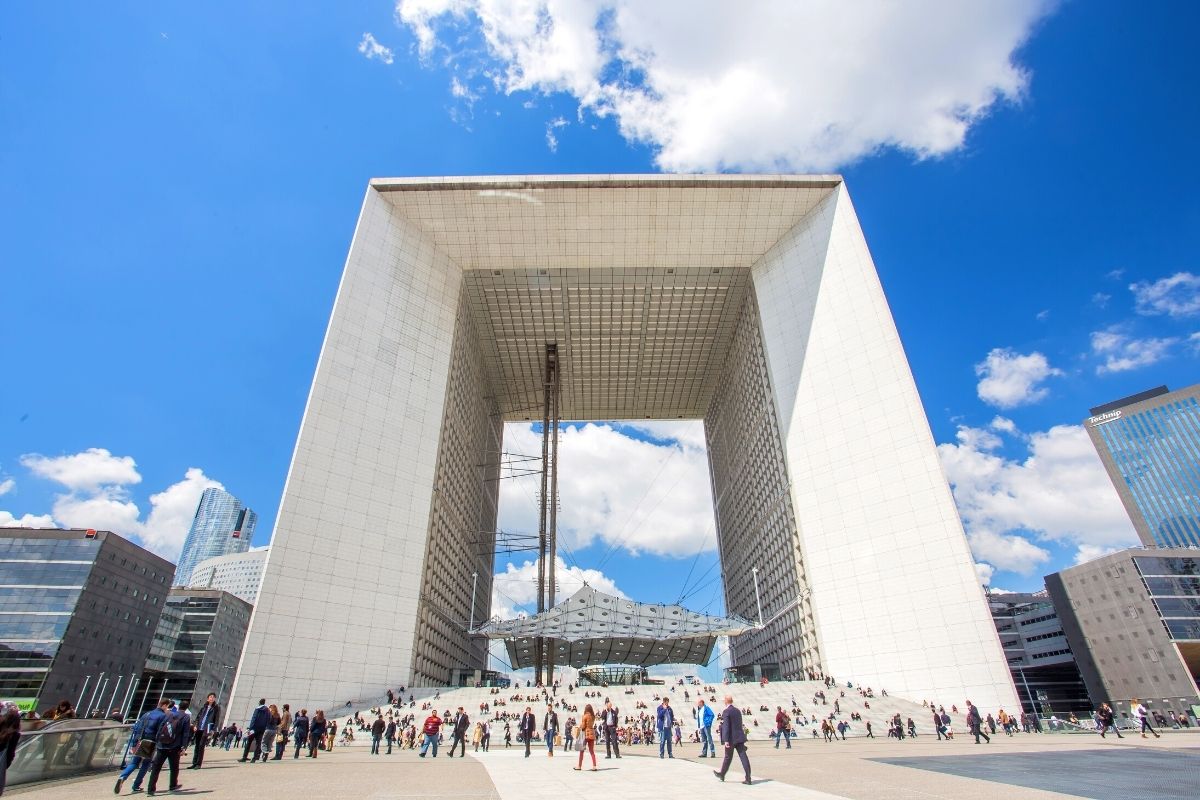 With jaw-dropping views and plenty of great diversions, Grande Arche is certainly among the renowned Paris attractions.
Glide 328 feet into the sky on the building's magnificent elevators, and exit to a spectacular panorama with the City of Lights laid out beneath you.
In good weather, you can soak up some rays on the beautiful marble steps, and take in the scenery at your leisure. Back on the ground, take some time to explore the massive outdoor art museum, which features almost 70 works by various artists.
59 – Palais Garnier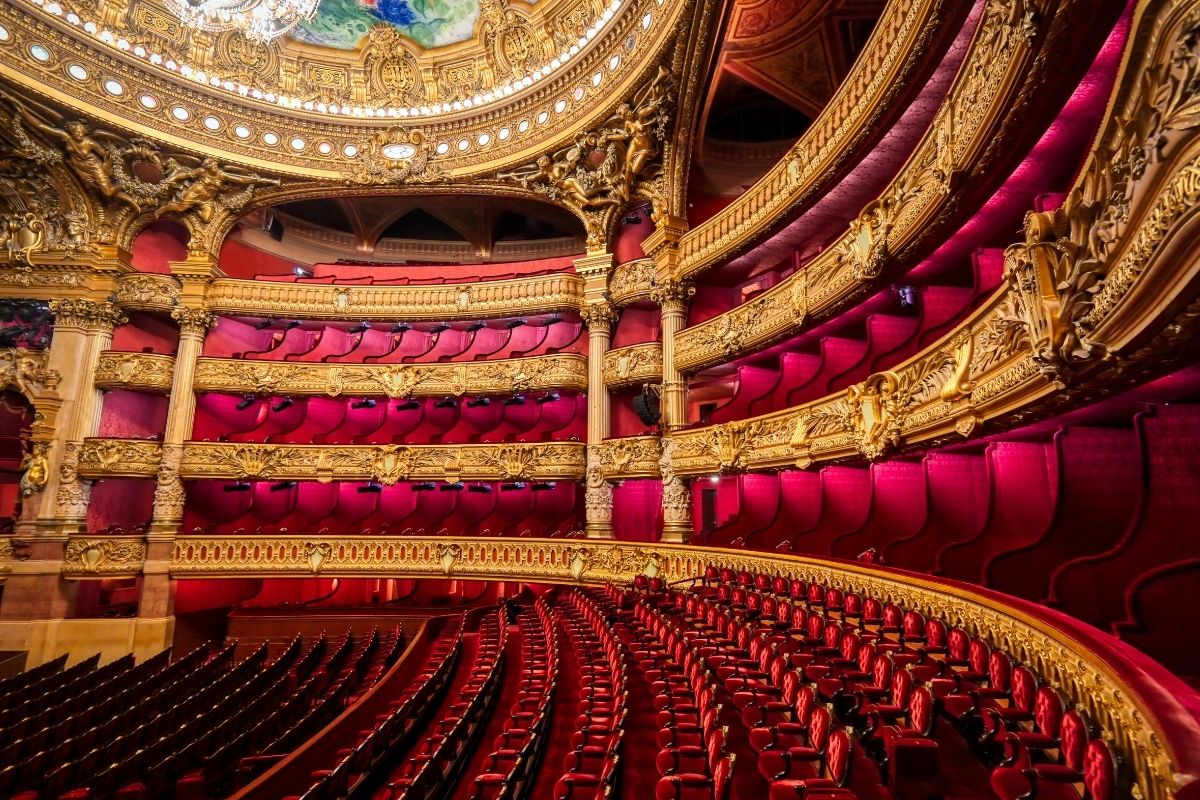 Gilded interiors, plush red seats, and the sounds of beautiful voices and delicate instruments floating through the air… you must be at Palais Garnier!
Since 1875, this ornate building has served as one of the finest opera houses in France. It also hosts other fine arts performances, including ballet and orchestral recitals.
Stop by to enjoy some of these renowned performances, or take a tour of the stunning building to learn more about its distinguished history – there are professionally guided and self-guided options.
It's the perfect soundtrack to accompany your magical vacation!
60 – La Coulée Verte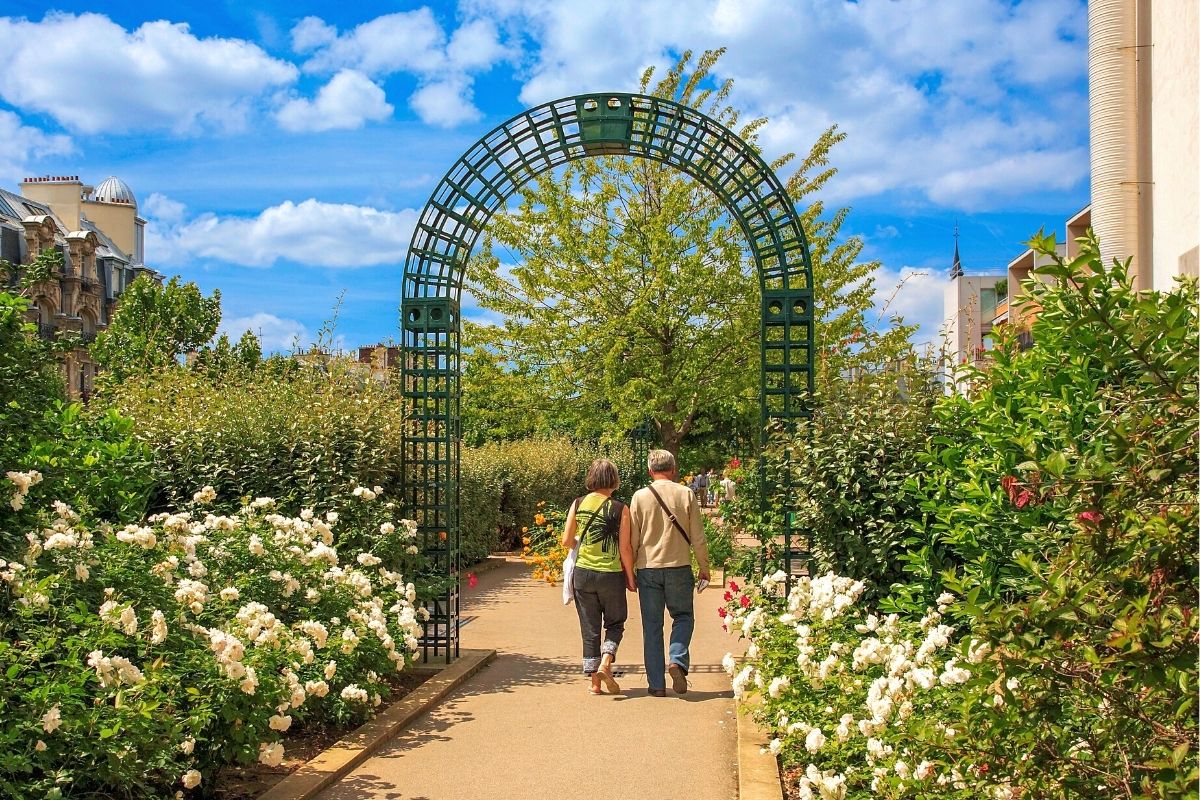 Amongst all the lively Paris attractions, it's well worth taking some time to unwind with a stroll through La Coulee Verte.
Set along a former railroad line, this lovely path is full of beautiful fruit and nut trees, elegant flower beds, and striking public art pieces, all with nature themes.
With its lovely green spaces and creative details, this beautiful park has a charm and character all its own.
61 – Panthéon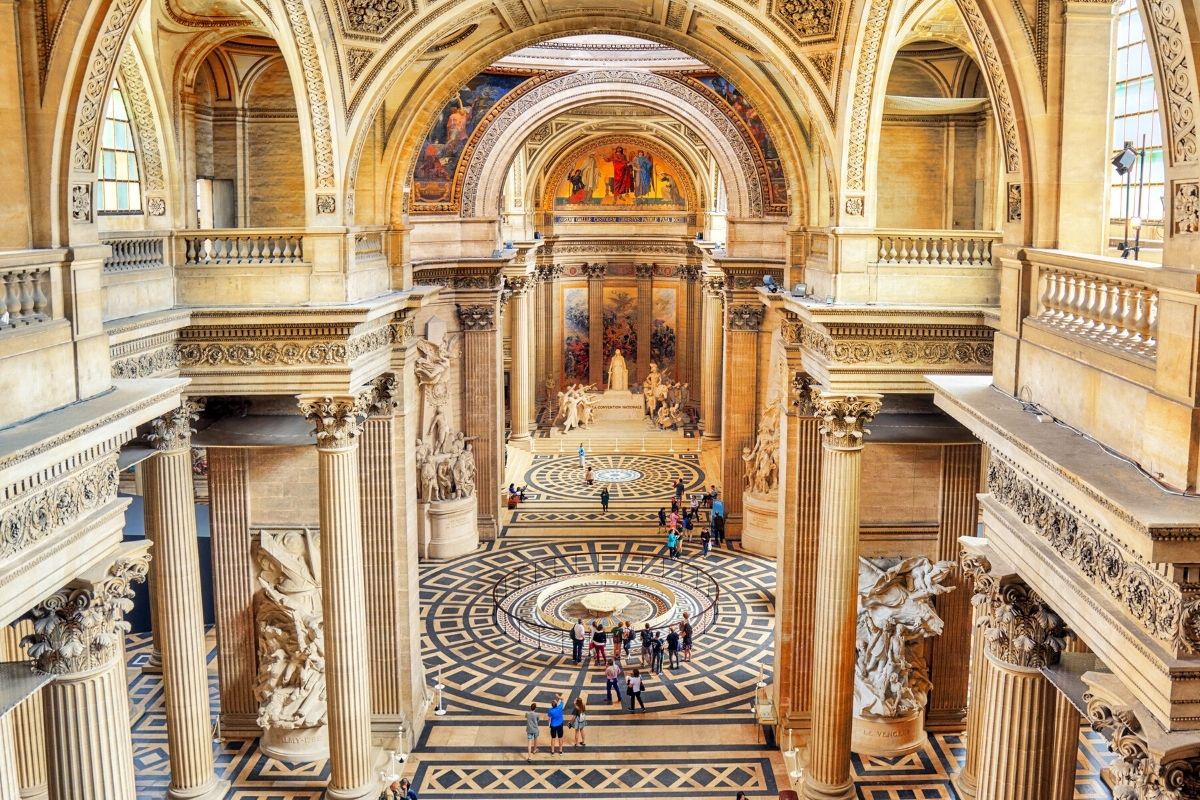 With its massive columns and stately appearance, the pantheon is hard to miss. It's also one of the most iconic places to visit in Paris – although, ironically, it's built in the Roman style.
The magnificent monument was originally built to emulate the designs of the Roman Empire, but it has become a distinctly French attraction, with its massive crypt serving as the final resting place for such notable figures as Marie Curie and Voltaire.
You can also check out Foucault's pendulum, an intriguing scientific instrument whose rhythmic movements help to demonstrate the Earth's rotation. And with equally impressive interiors, this massive building is well worth touring at length.
62 – Place Vendome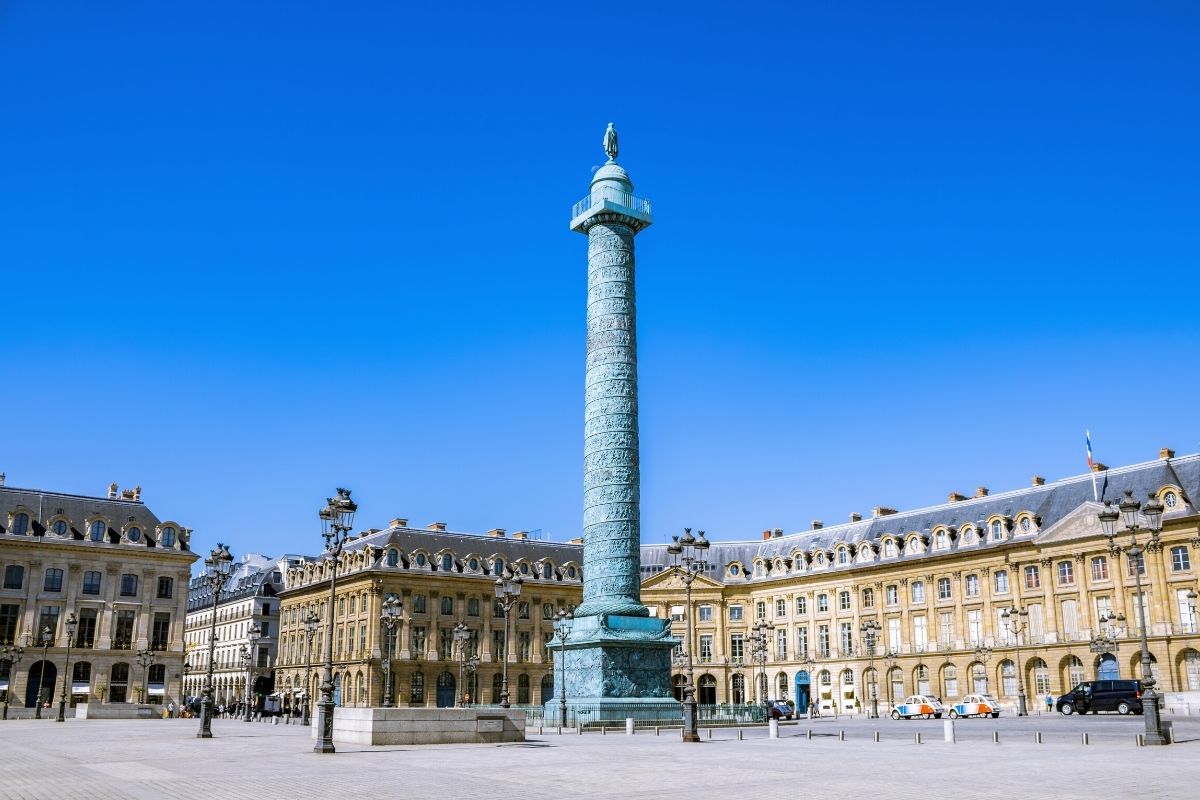 For a really dazzling tourist attraction, pop over to Place Vendome. This gorgeous octagonal square is the main forum for jewelry enthusiasts, with shops selling a spectacular collection of gemstones to admire.
It also boasts plenty of other decorations, including a towering bronze column commissioned by Napoleon that's made from 1,200 cannons! And if you really want to lean into the classiness, book a stay at the Ritz Paris, one of the most luxurious hotels in town.
With an on-site spa, ample patio space, and five different bars and eateries (including a beloved Sunday brunch option!), you'll be able to kick back in style in between all of your sightseeing.
63 – Musée Jacquemart-André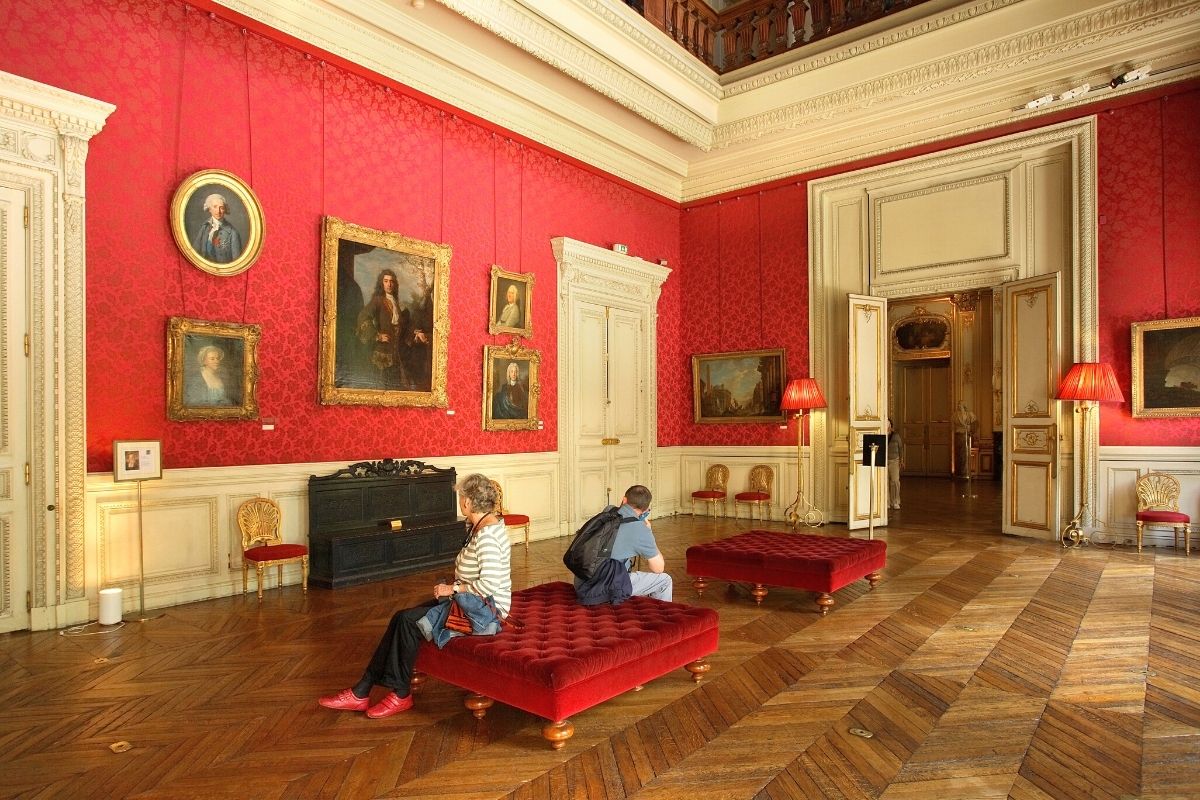 For a place that combines great art with gorgeous architecture, lose yourself in the wonders of Musee Jacquemart-Andre. This phenomenal private art collection is housed in a historic 19th-century residence, which was once the home of the aristocrat Edouard Andre.
The works housed here are a phenomenal display of the history of European art, with pieces by such masters as Rembrandt, Botticelli, and Boucher. This is the perfect showcase for some truly remarkable masterpieces!
64 – Moulin Rouge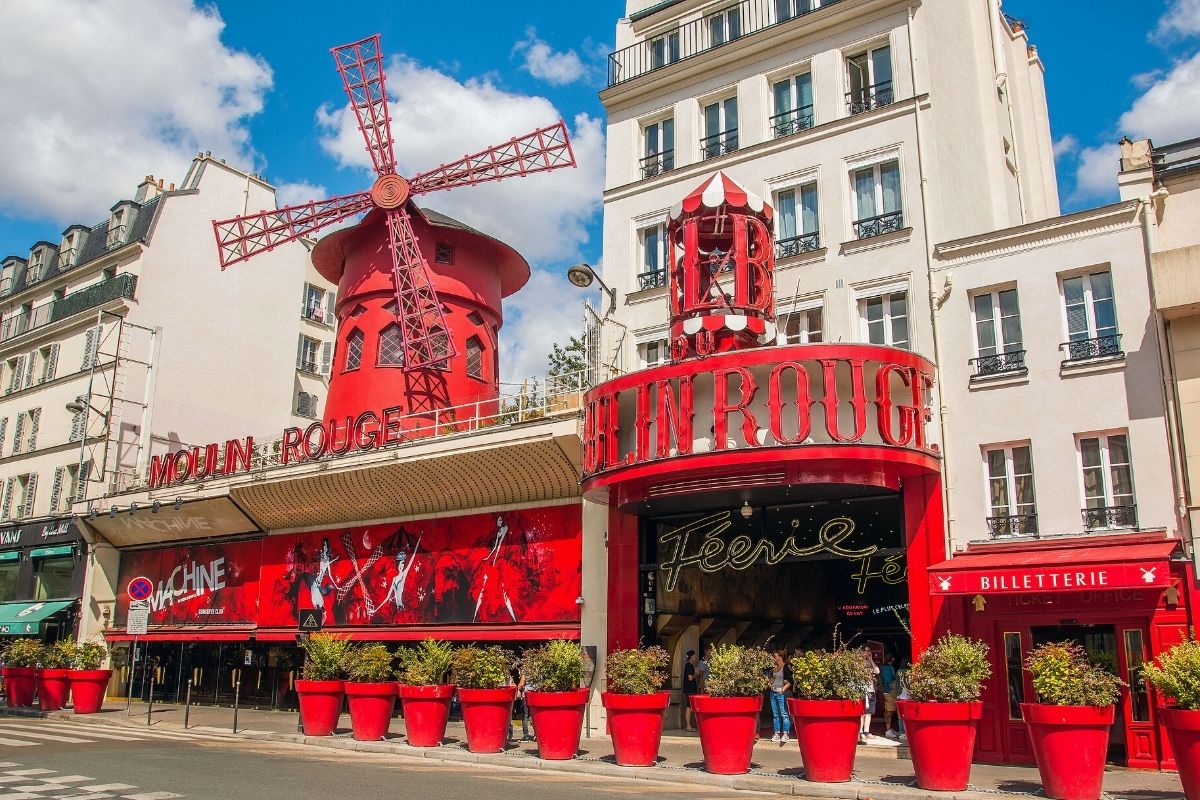 Whether you've seen the 2001 movie, love the history of show business, or just want to lose yourself in a lively performance, a trip to the Moulin Rouge is one of those fun things to do in Paris that you'll never forget!
This world-acclaimed club has been a fixture of the city's nightlife scene since 1889, and it's still maintained its charm after all of these years. It also features a pretty impressive set of shows that celebrate both the illustrious past of the club and the amazing talents that work there in the present day.
Make your way through Montmartre and keep an eye out for the famous windmill, then step inside for music, dancing, acrobatics, and of course, tons of jewelry and feathers adorning every outfit.
It's all part of the glitz and glamor that powers one of the most beloved performance spaces on the planet!
65 – Petit Palais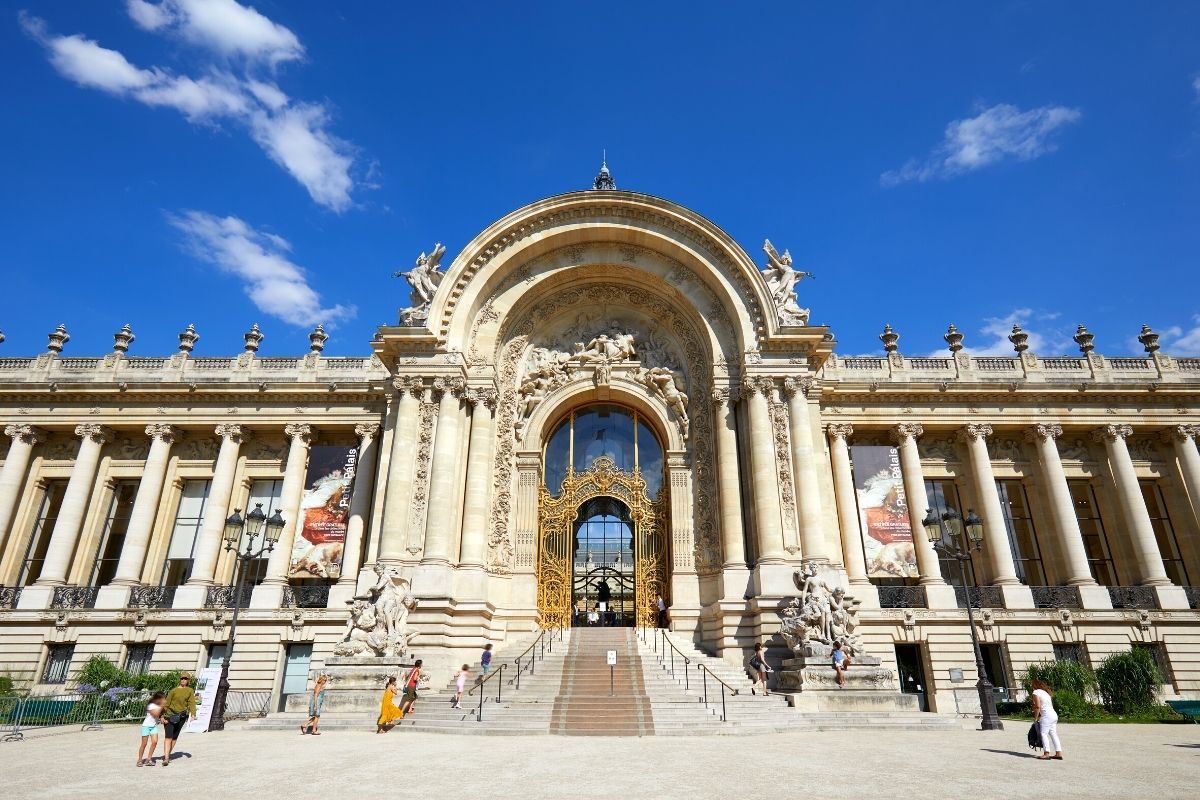 Despite its name, Petit Palais offers a huge array of art for visitors to enjoy. At this lovely museum, you can see everything from original Degas paintings to intricate organ pipe clocks.
There's also an impressive 182-seat auditorium, which frequently features live events.
With works ranging from the Ancient Greek and Roman eras to the Art Nouveau movements of the early 1900s, it just might be one of the nicest little art museums in town!
66 – Grand Palais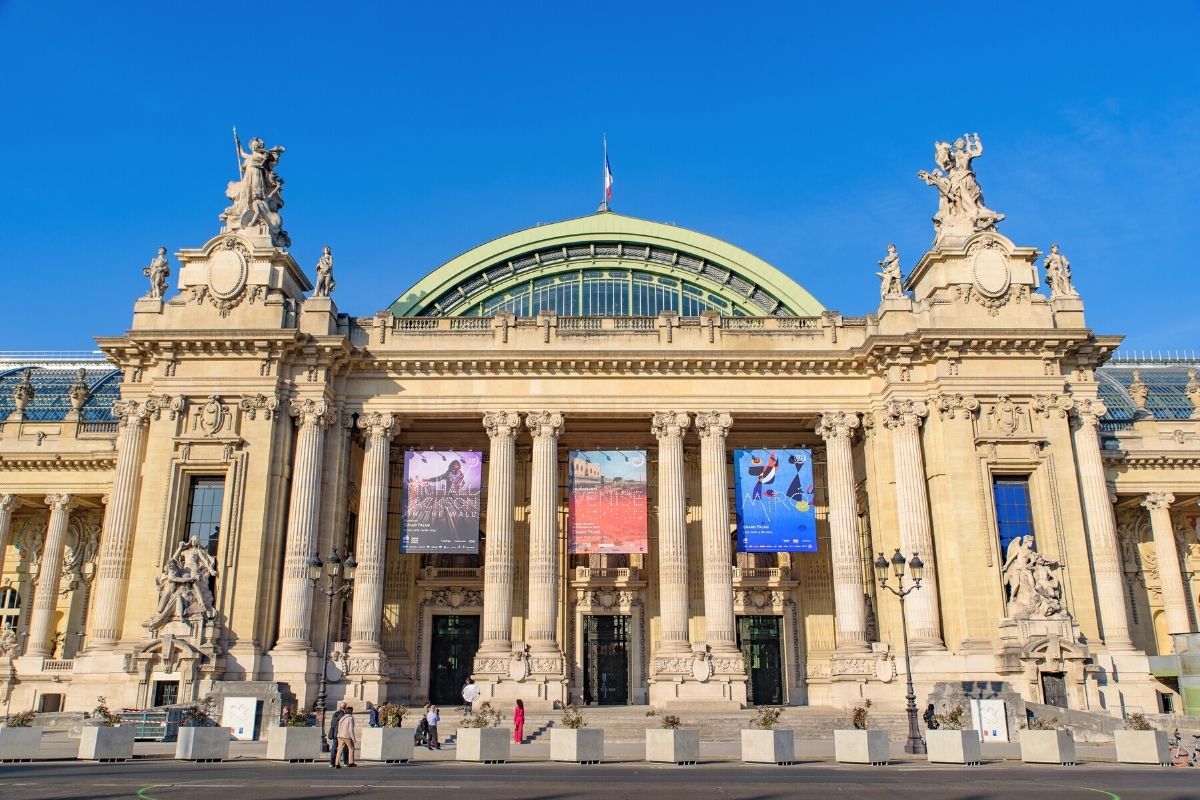 Just next door to its smaller counterpart, you'll find yourself awash in amazing sights at Grand Palais. This fantastic institution features thousands of works from every major artistic era, and a walk through the galleries reveals amazing masterpieces of every medium.
Browse through works by Renoir, Hopper, and other renowned artists, as well as marvelous pieces by less recognized figures. In addition to the galleries, the building also features a fabulous science museum, Palais de la Découverte.
Check out the interactive exhibits on diverse scientific disciplines from physics to biology, as well as the Pi room, where over 700 digits of the famous number are displayed around the walls.
Once you've had your fill of the museums, head over to the nave, a beautifully constructed event space topped by a distinctive glass dome, this spectacular complex is by far one of the finest Paris attractions for culture enthusiasts.
67 – Parc Montsouris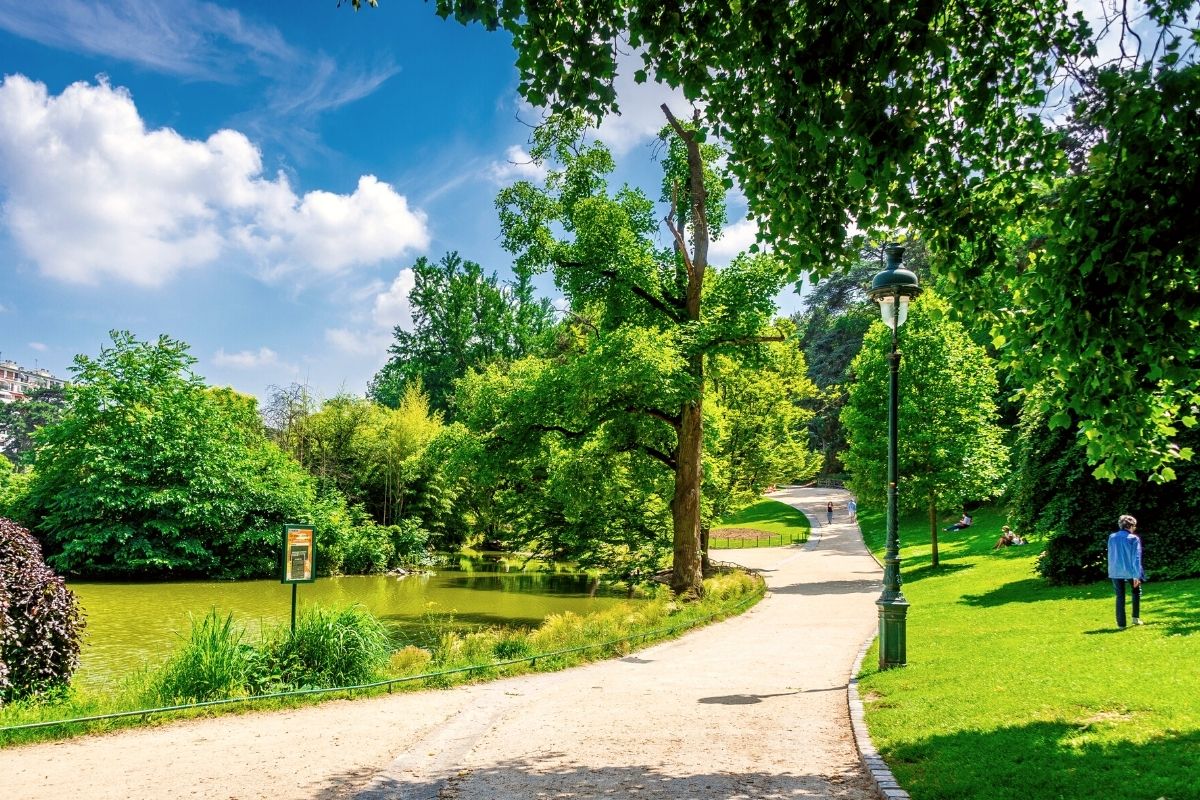 Even by the standards of the city's other excellent green spaces, Parc Montsouris stands out; its 38 acres are beloved sitting and strolling spots for locals and tourists alike.
Enjoy the lovely walking trails, admire the scenery around the lake, and chow down at the nearby cafe, Pavillon Montsouris. And if you're a science fan, keep an eye out for the observatory, which diligently tracks the city's weather patterns.
With a charming atmosphere and nice scenery, this is the perfect place to unwind in between sightseeing.
68 – Musée Picasso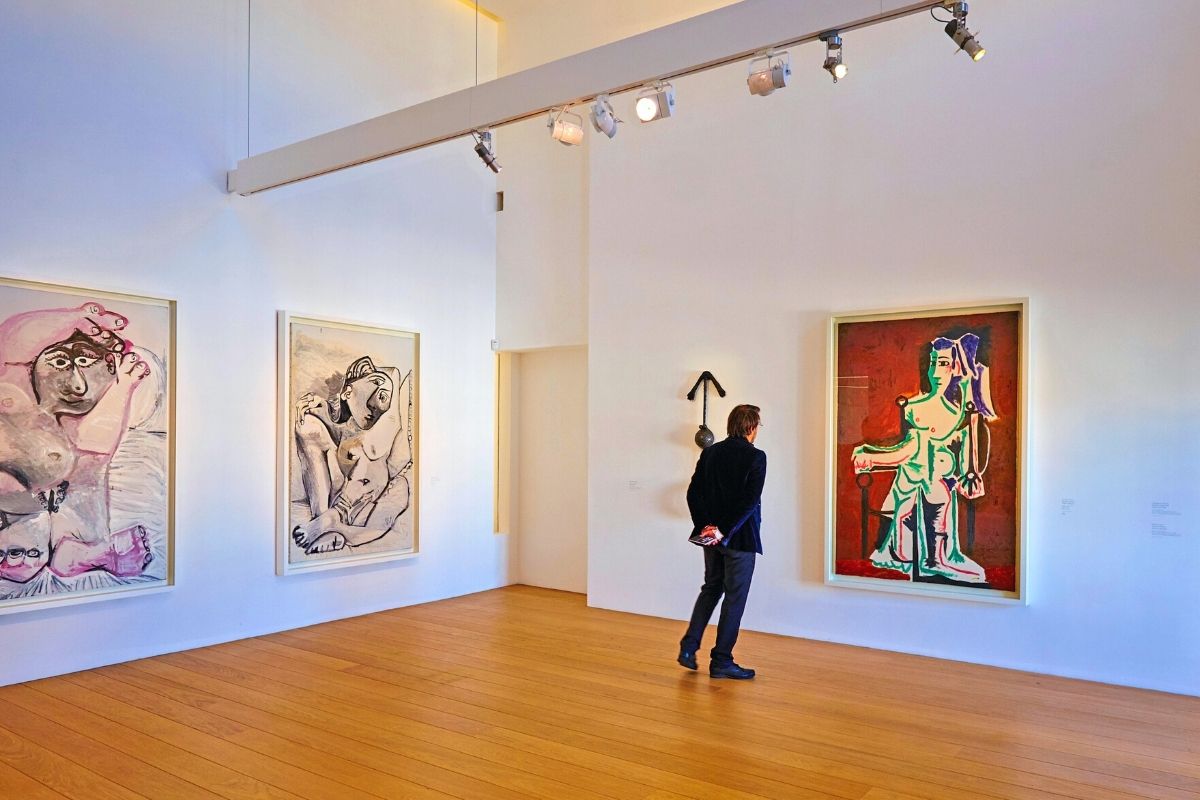 While Paris has plenty of talented homegrown artists, it has always been known as a creative hub for expats, and Pablo Picasso was probably among the most famous.
Learn about his long, productive life and amazing body of work at Musee Picasso, one of the best museums in Paris for art lovers. The exhibits reflect the breadth and depth of Picasso's work, with over 5,000 pieces from throughout his career on display.
There's also an extensive array of archival materials that reflect his growth as a creator and a man. It's a phenomenal tribute to one of the most famous creative minds of the 20th century.
69 – Aquarium de Paris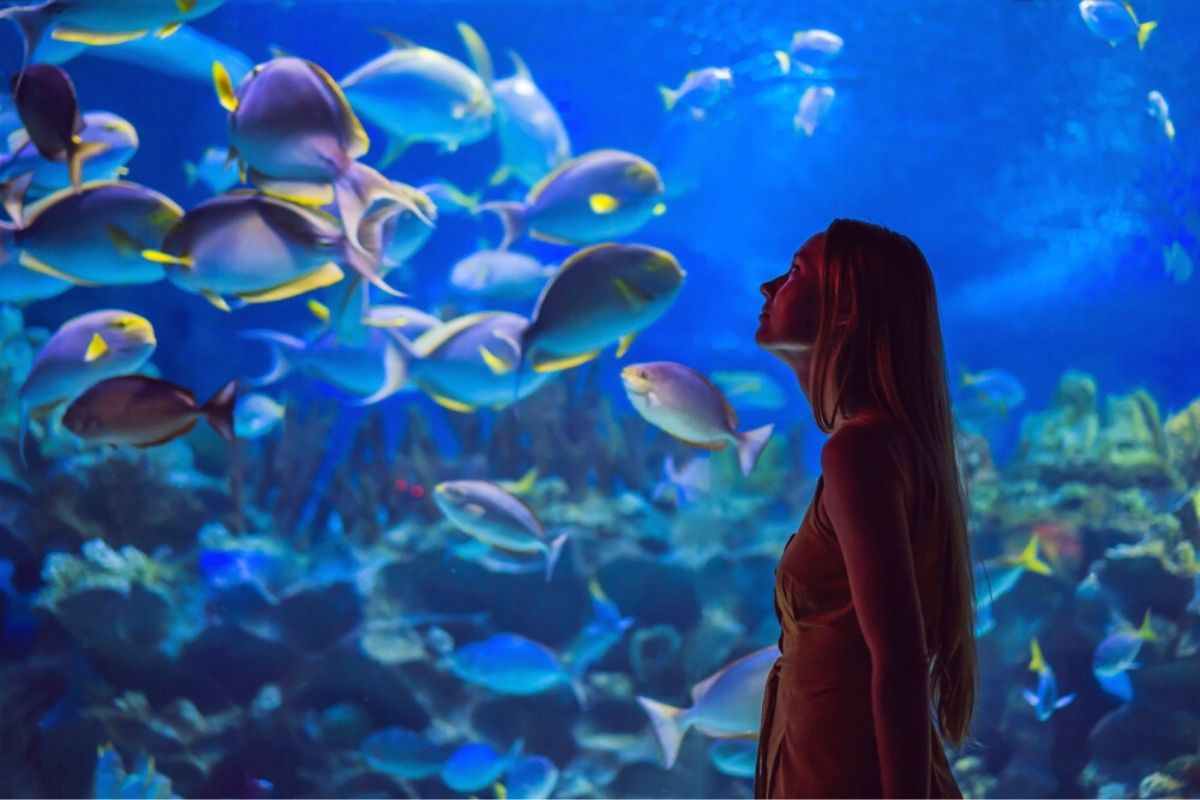 Looking for a family-friendly tourist attraction with a bit of a splashy side? It may be time for the wonders of Aquarium de Paris.
With more than 7,500 aquatic residents housed in a variety of recreated marine environments – from rivers and small seas to the world's great oceans -, this is one of the best tourist attractions for visitors of every age.
Be sure to check out the mermaid show while you're there, where talented swimmers don glittering fake tails and perform amazing underwater feats. It'll be a trip that you won't soon forget!
70 – Père Lachaise Cemetery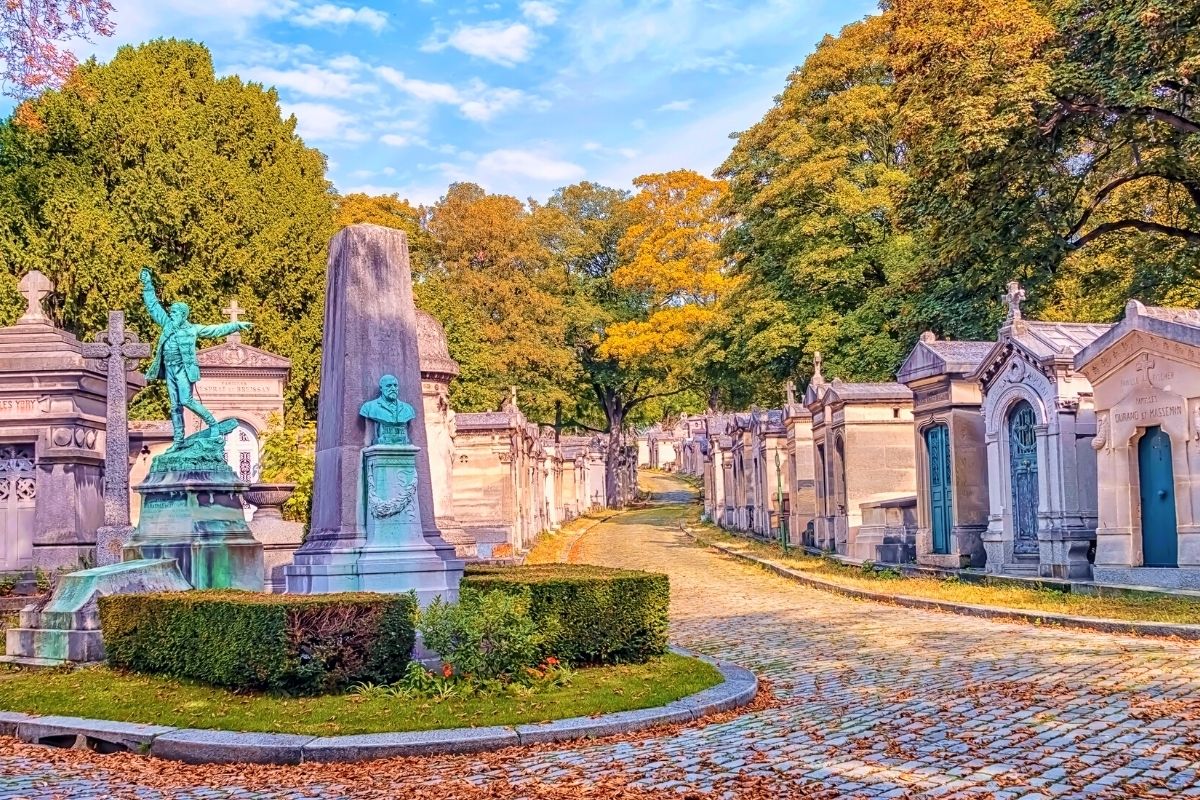 For some unusual celebrity sightings, head over to Pere Lachaise Cemetery. This 108 acre complex is the final resting place of some of the city's most famous personalities, including Chopin, Jim Morrison, and Gertrude Stein.
Your guided tour will include stops at all of the most renowned gravestones, as well as a nice walk through the quiet grounds. It's the perfect way to absorb some local history and pay your respects to some famous figures.
71 – Musée de la Vie romantique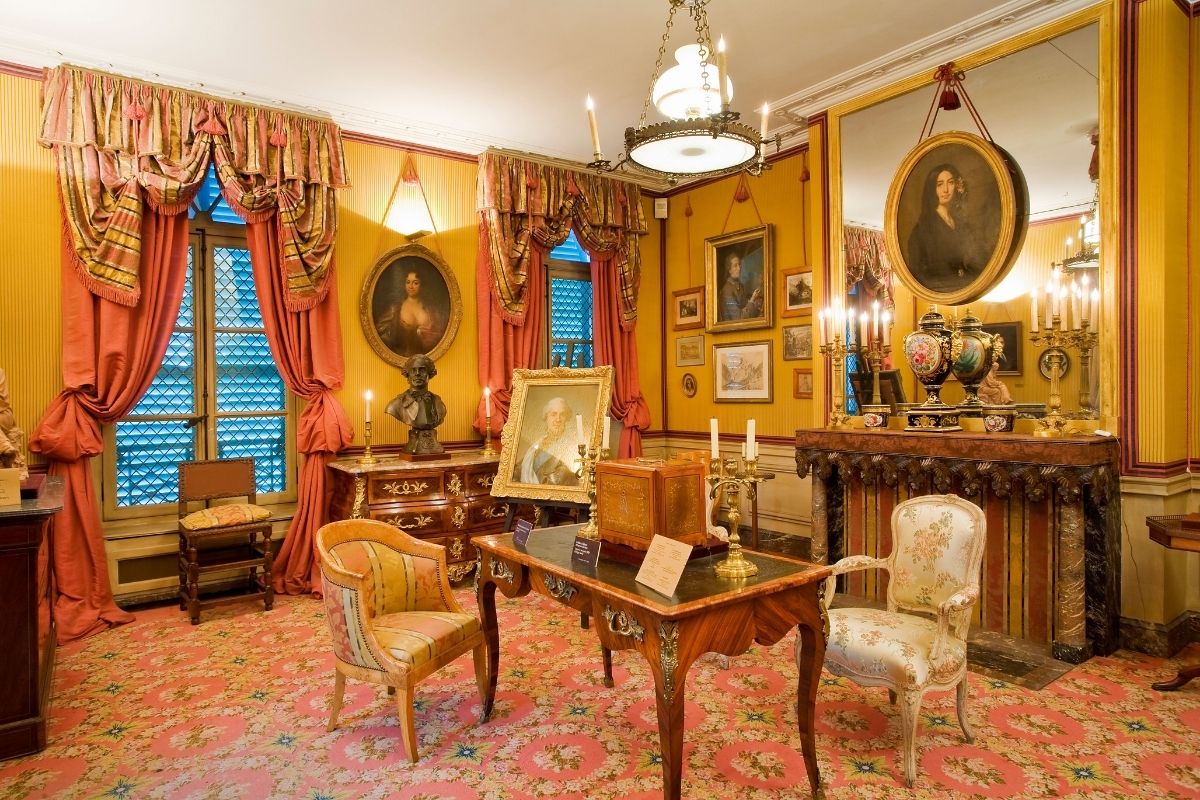 With its impressive collection of artworks, Musee de la Vie Romantique is one of the best museums in Paris for history buffs. The institution was originally the home of Ary Schaffer, a painter and member of the Romantic movement.
Today, it houses some remarkable portraits, sculptures, and paintings from the era, as well as a treasure trove of photos and letters that shed insight into the personal lives of their creators.
Stop by the Rose Bakery Tea Room after your visit for a quick snack or beverage, then take some time to enjoy the beautiful grounds.
72 – Louis Vuitton Foundation
The name "Louis Vuitton" is synonymous with style, but when you're making your way through all of the great Paris attractions, you'll also find it associated with great art!
The Louis Vuitton Foundation is a key player in the city's thriving contemporary art scene, with a massive showcase of national and international works.
The museum also focuses on public participation, with frequent conferences and speeches that encourage deeper participation with the works on display. And it's all housed in a spectacularly surreal building, designed by renowned architect Frank Gehry.
Don't miss this modern and elegant tribute to the art world!
73 – Arab World Institute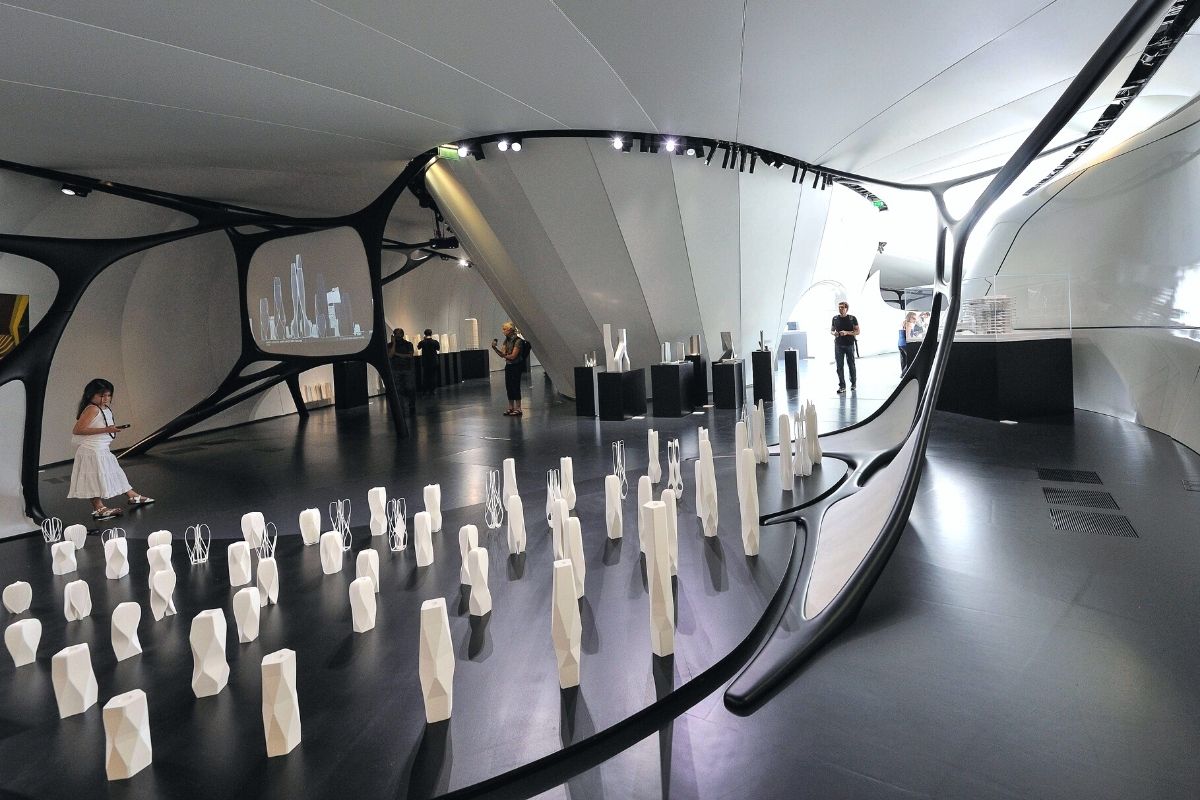 While Paris is the perfect place to soak up French culture, it also has plenty of great tourist attractions with a global sensibility. At the Arab World Institute, you can dive into the dynamic cultures of the Middle East with some top-notch programming.
Browse through Islamic art exhibitions, attend lectures and musical performances at the library, or check out some acclaimed Arabic language films at the theater.
There's tons of other programming at the site throughout the year, including academic debates and language lessons. This renowned civic institution is well worth spending a few hours of your trip, but it could easily absorb you for an entire day – or more!
74 – Rodin Museum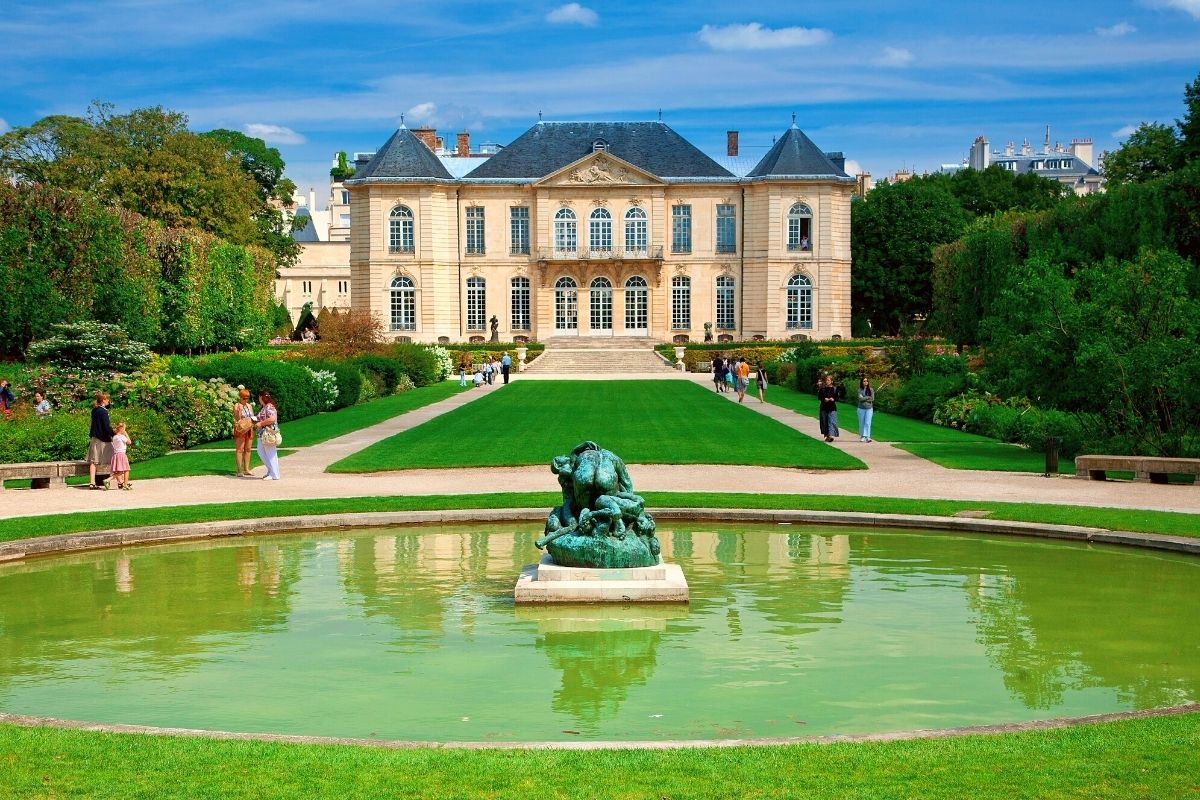 When you think of Auguste Rodin, you probably think of… well, the Thinker. And while you can see this iconic sculpture at the Rodin Museum, there are many other excellent exhibits to explore as well.
From conceptual sketches to small figurines to massive, fully formed finished works, the collections showcase the entire creative process of the renowned artist.
There are also several galleries that explore the nuances of his life, with all of its triumphs and challenges. With an innovative approach to depicting Rodin's life and work and remarkable displays to back it up, it's one of the best places to visit in Paris for art fans.
75 – Shakespeare & Company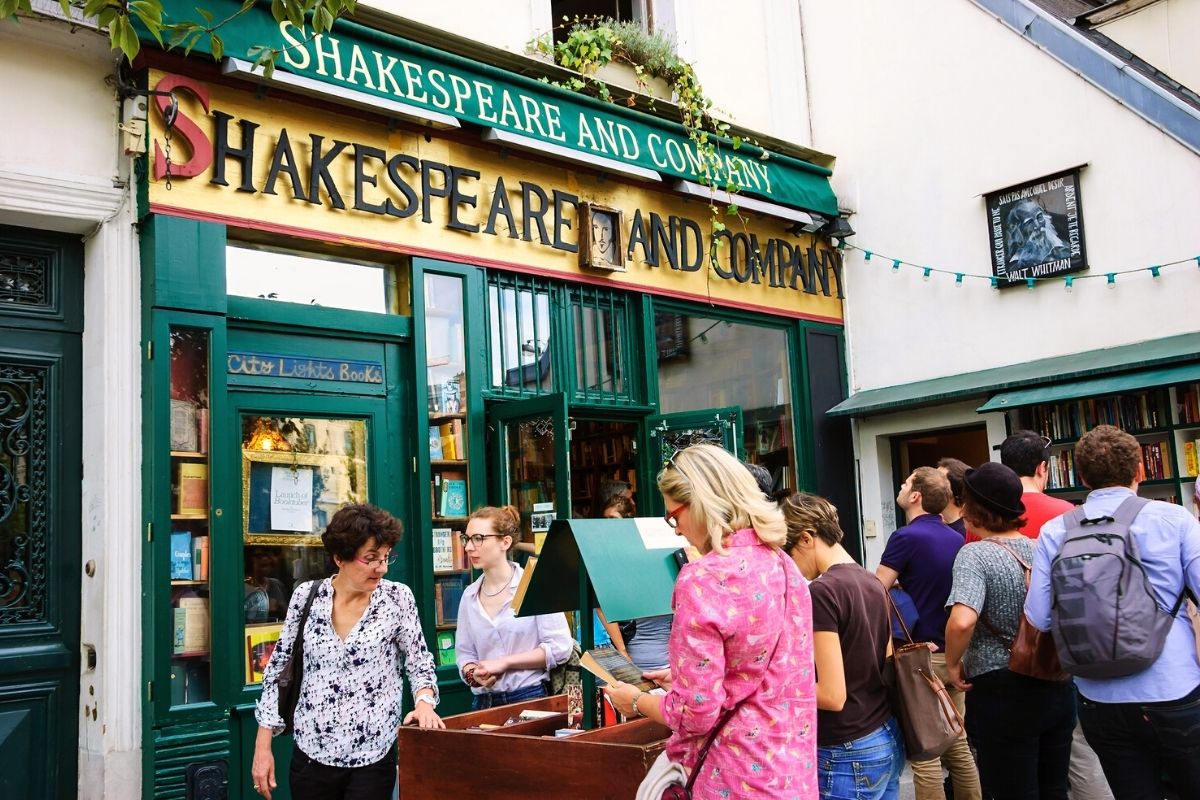 Readers will get joyfully lost in the stacks at Shakespeare & Company, a world-class bookstore with a past as vibrant as its selections.
The original shop was a bohemian stronghold in the 1920s, and the current version, which opened in 1951, has continued that tradition ever since, with hundreds of literary personalities frequenting it over the years.
Writers and readers can still find a home here, literally; you can sleep in the store in exchange for working some shifts at the counter and leaving a brief autobiography of yourself for posterity
But even if you just stop by to browse, you'll be surrounded by literature, history, and ideas, all in the midst of one of the great bohemian enclaves of the past century. Don't forget to pick up some good reading material on the way out!
76 – Parc des Buttes-Chaumont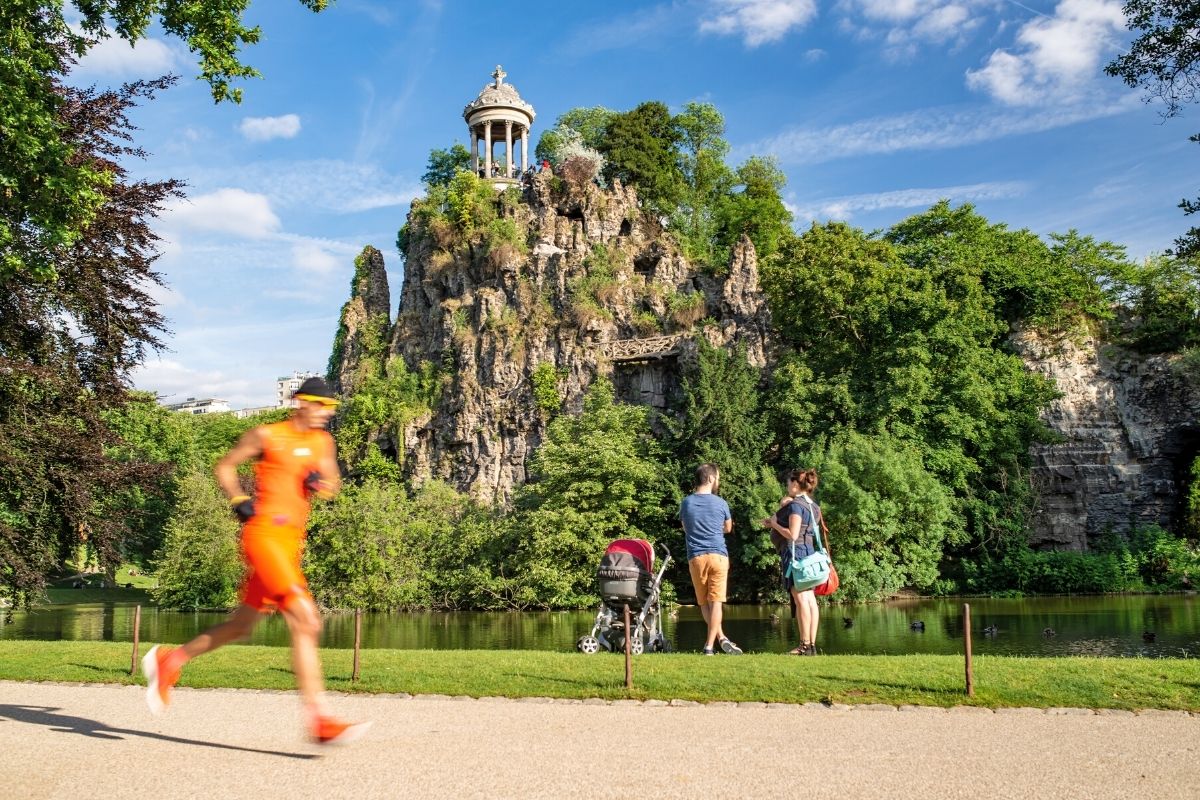 When you find yourself needing a little bit of downtime, head over to Parc des Buttes-Chaumont, which boasts adventurous terrain and beautiful views.
Visit scenic caves, walk along a suspended bridge, and climb some of the many hills for lovely scenery and stellar people-watching opportunities.
It's a lovely place for a relaxing interlude!
77 – Chocolate Museum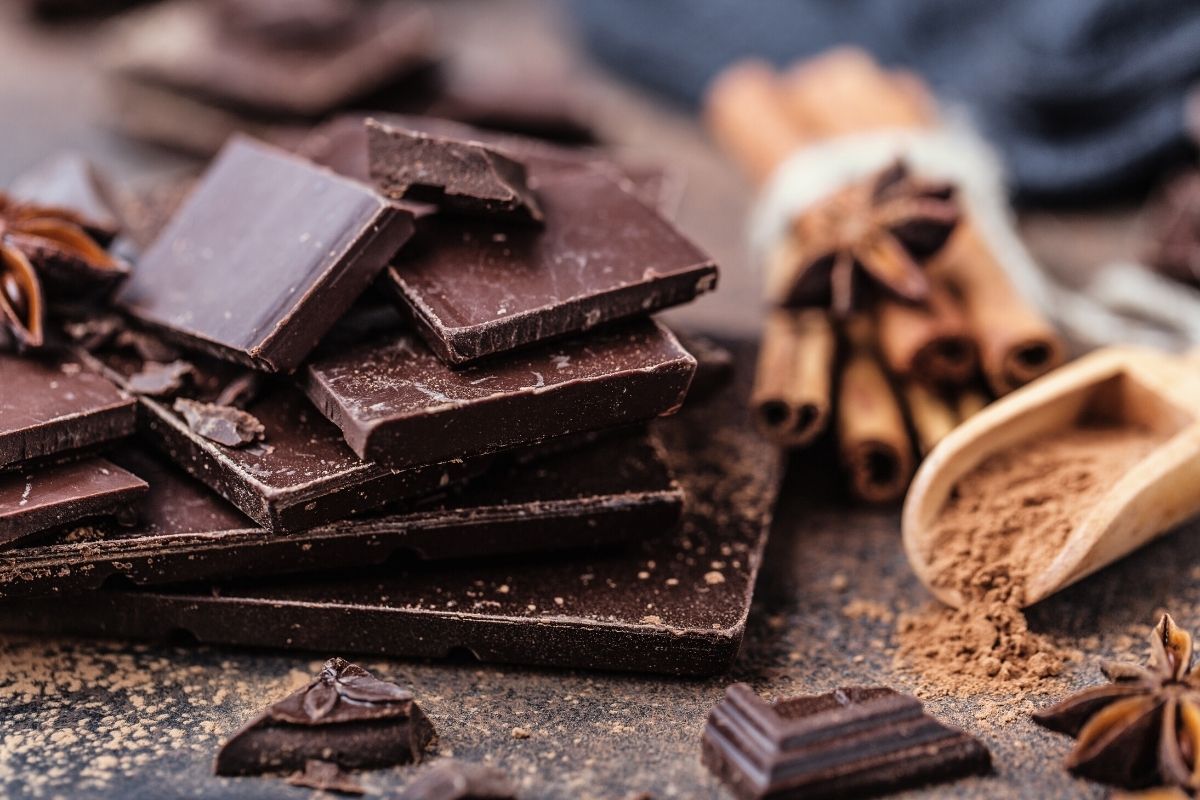 One of the more delicious Paris attractions is the Chocolate Museum, where you can indulge your inner Willy Wonka as you explore the story of this dynamic dessert.
It's one of those fun things to do in Paris that combines education and excitement with awesome interactive tours illustrating every stage of the sweet's strange and wonderful journey.
You can learn about thousands of years of chocolate-making history, watch modern-day artisans creating new treats, and, best of all, sample some products yourself!
As you make your way through the endless supplies of fine treats, you'll quickly understand why they have been beloved since the early days of the Aztec Empire. And they make for wonderful souvenirs – if you can avoid eating them before you get home, that is!
78 – Musée de l'Orangerie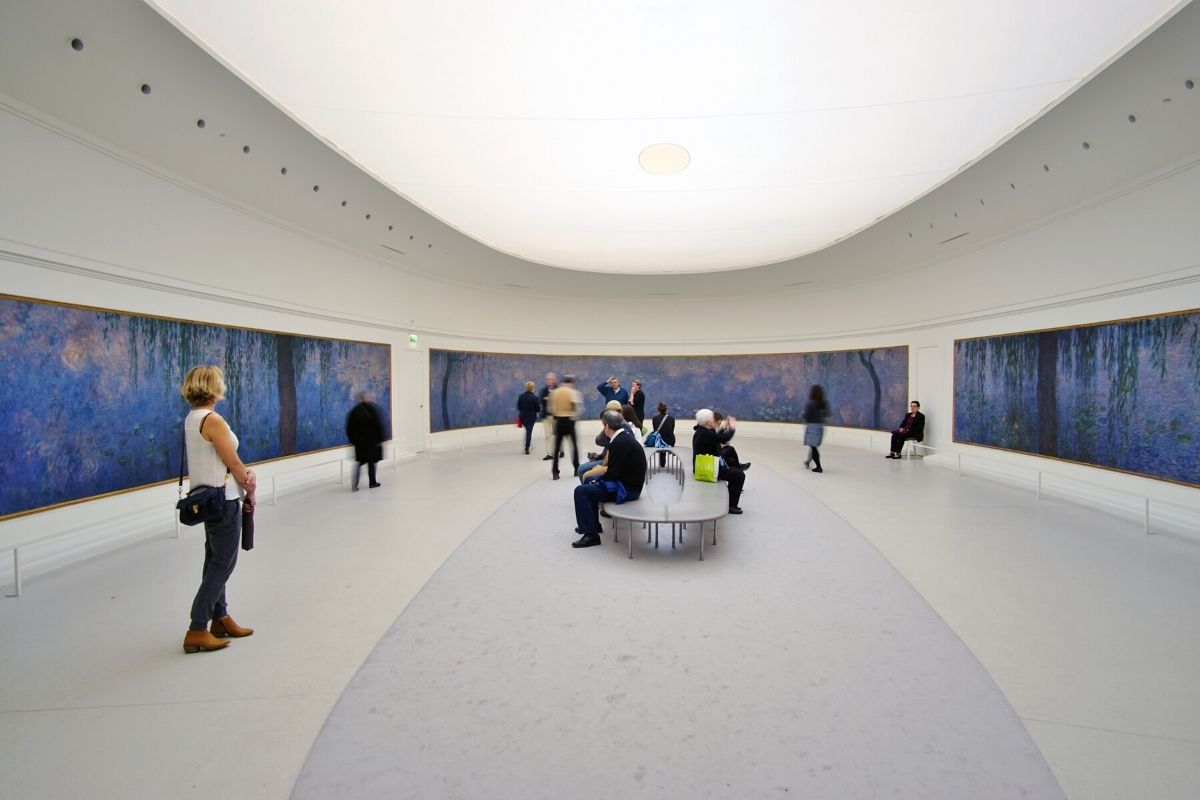 In a spacious, many-windowed building that once served as a shelter for orange trees, you'll find one of the world's most beloved paintings.
Musee de l'Orangerie has been in use since the 1850s, but its most famous tenants are undoubtedly the massive Water Lilies series, the iconic paintings created by the late Claude Monet.
You can still see these incredible Impressionist works on full display, as well as other works by acclaimed 19th and 20th-century artists like Picasso, Gaugin, Matisse, and Cezanne. It's a unique venue for some of the most popular works in French history and a worthwhile experience in its own right.
79 – Invalides Army Museum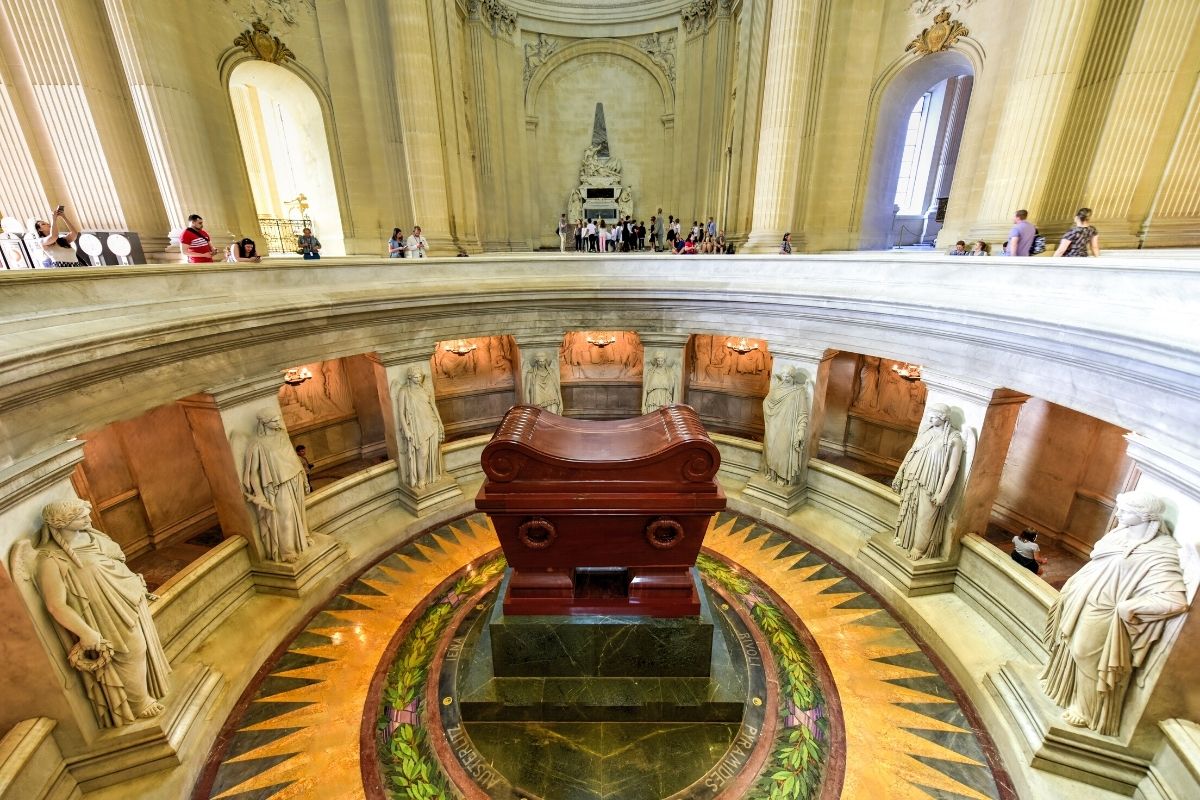 One of the best historical attractions in Paris, the Invalides Army Museum boasts a multi-century perspective on France's rich military history. Its collections range from the 13th to the 20th centuries, with artifacts ranging from traditional uniforms and weapons to tanks and suits of armor.
Be sure to stop by the tomb of Napoleon, which is housed inside the impressive dome that has also served as a royal church and as a hiding place for Allied soldiers during World War II.
With moving stories and thought-provoking exhibits, this renowned institution will help you understand the country on a deeper level.
80 – Pont Alexandre III
If you're looking for a scenic way to get between tourist attractions, you can't do much better than Pont Alexandre III.
Anchored by distinctive winged horse sculptures, this beautiful bridge was originally built for the 1900 Paris Exposition, and it has remained a beloved part of the city ever since.
It connects several of the most popular areas in town, such as the Invalides quarter and the Champs-Elysees; but with its striking views of the Seine and the Eiffel Tower, it also makes the perfect spot for a stroll.
81 – Carnavalet Museum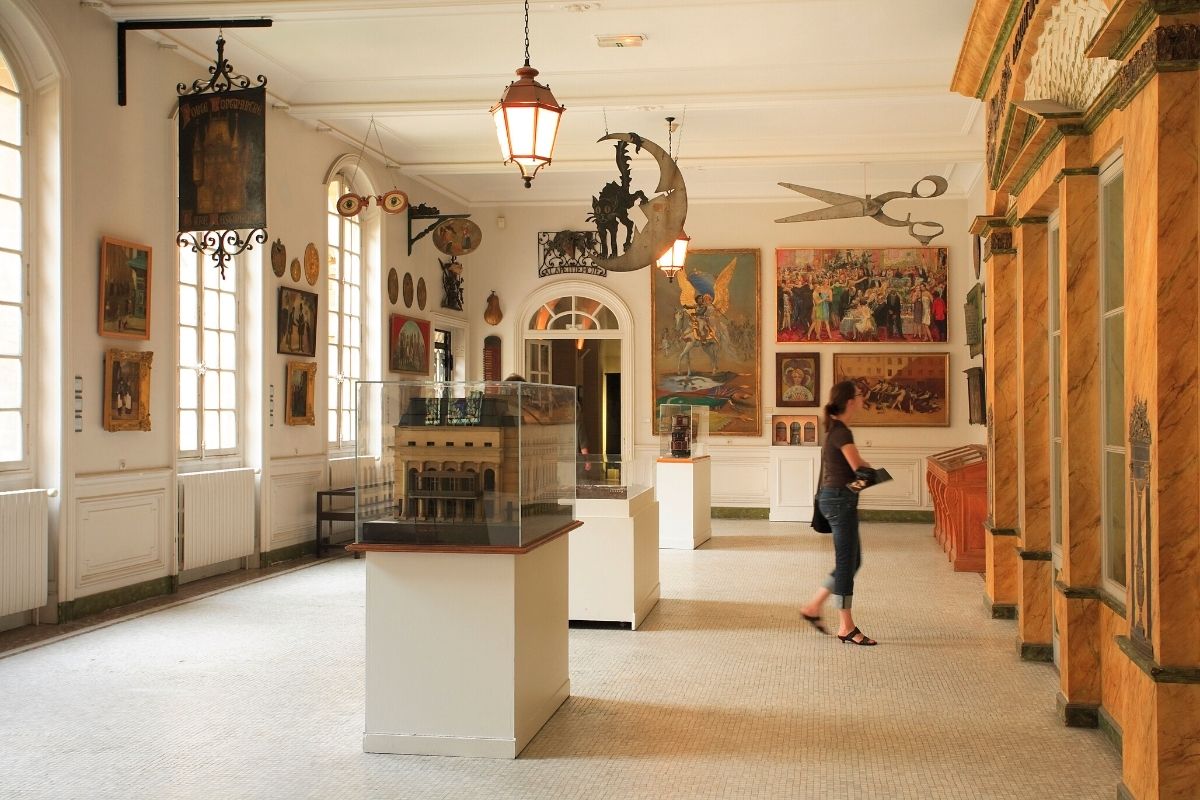 Another fascinating tourist attraction in the city is the Carnavalet Museum, which is the place to go for a good look at the city's complex past. The museum is a significant attraction in and of itself; in fact, it's the oldest one in town!
Since its opening in 1880, it has hosted thousands of exhibits and artifacts from centuries past, from prehistoric tools and Revolution-era art to historic photographs and signs from old businesses.
There's even a comprehensive exhibit on modern-day Paris, touching on topics such as global warming and the pandemic.
Once you're done inside, check out the unique exterior of the property; recent renovations have successfully blended newer architecture with bits and pieces of historic buildings from around the area.
You'll have a heck of a time at one of the best museums in Paris!
82 – Crazy Horse Paris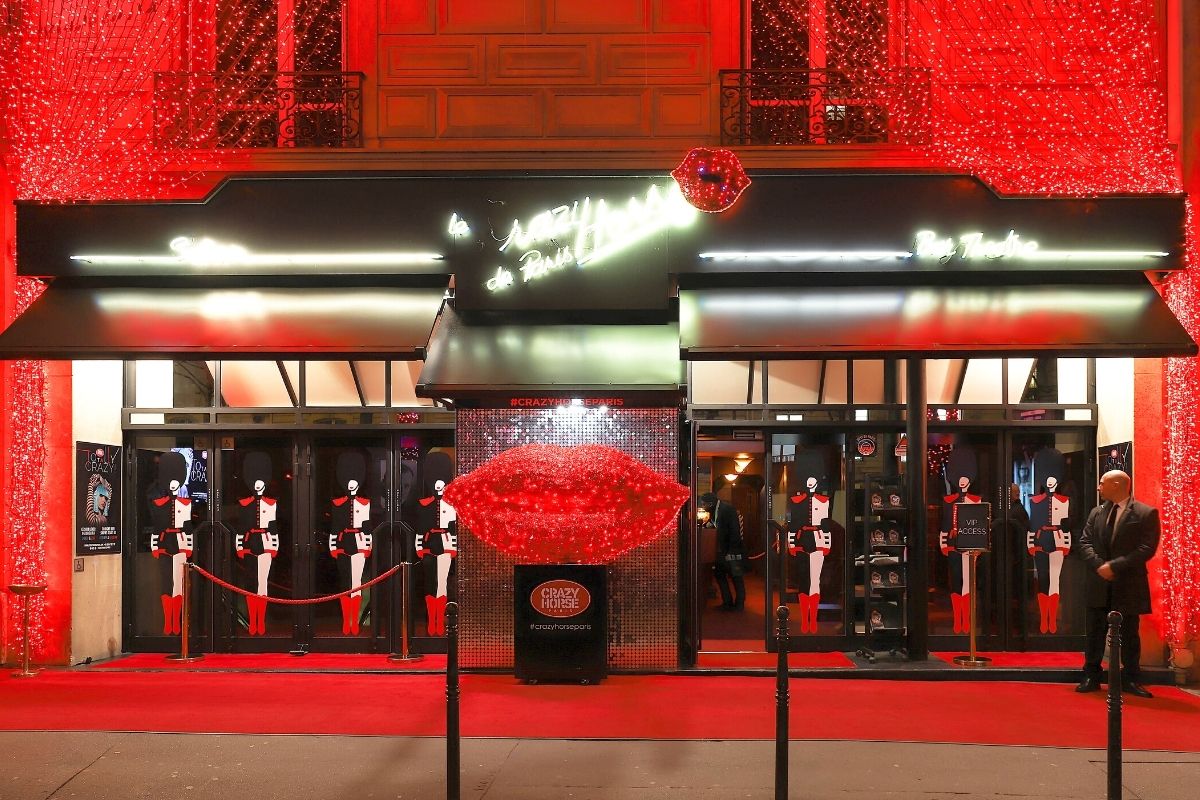 If the Moulin Rouge got you fired up for live performances, catch a show at Crazy Horse Paris! This wildly creative cabaret is one of the most unique attractions in Paris, and with an impressive array of acts, each show is an experience unto itself.
Book a seat and enjoy 90 minutes of high-energy, creative performances, which blend modern sensibilities with the traditions of an art form that has long found its home in the City of Light.
It's a memorable encounter with a classic Parisian artform.
83 – Paris Museum of Modern Art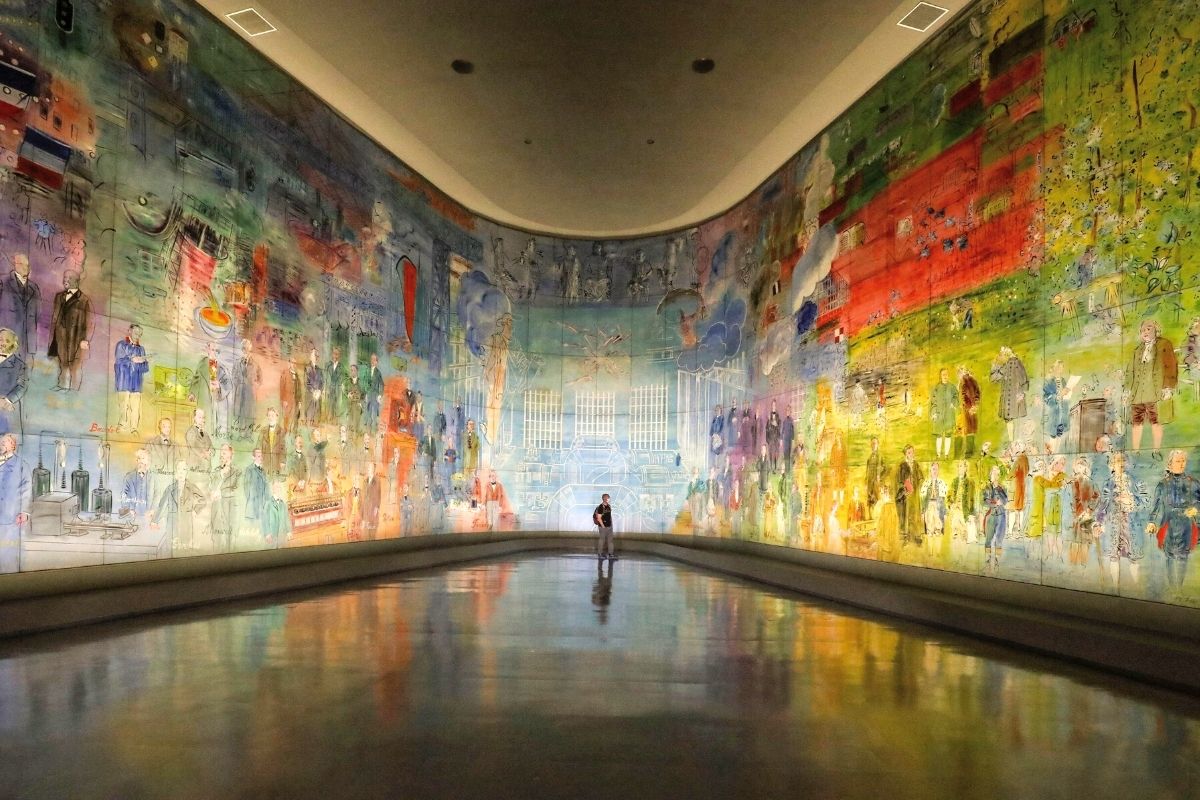 Lose yourself in vivid colors, abstract shapes, and amazing sensory experiences at the Paris Museum of Modern Art. With over 13,000 pieces to admire, it's the ideal destination for art-lovers and culture fans alike.
Check out works by such established talents as Boltanski, Derain, and Chagall, and plenty of new up-and-coming artists as well. And the building's pretty impressive as well: a palatial 1930s structure with classical statues decorating the grounds.
This dynamic tourist attraction is another excellent contribution to the city's artistic scene, and you never know what sort of cool new pieces you'll see when you visit!
84 – Musée National des Arts Asiatiques Guimet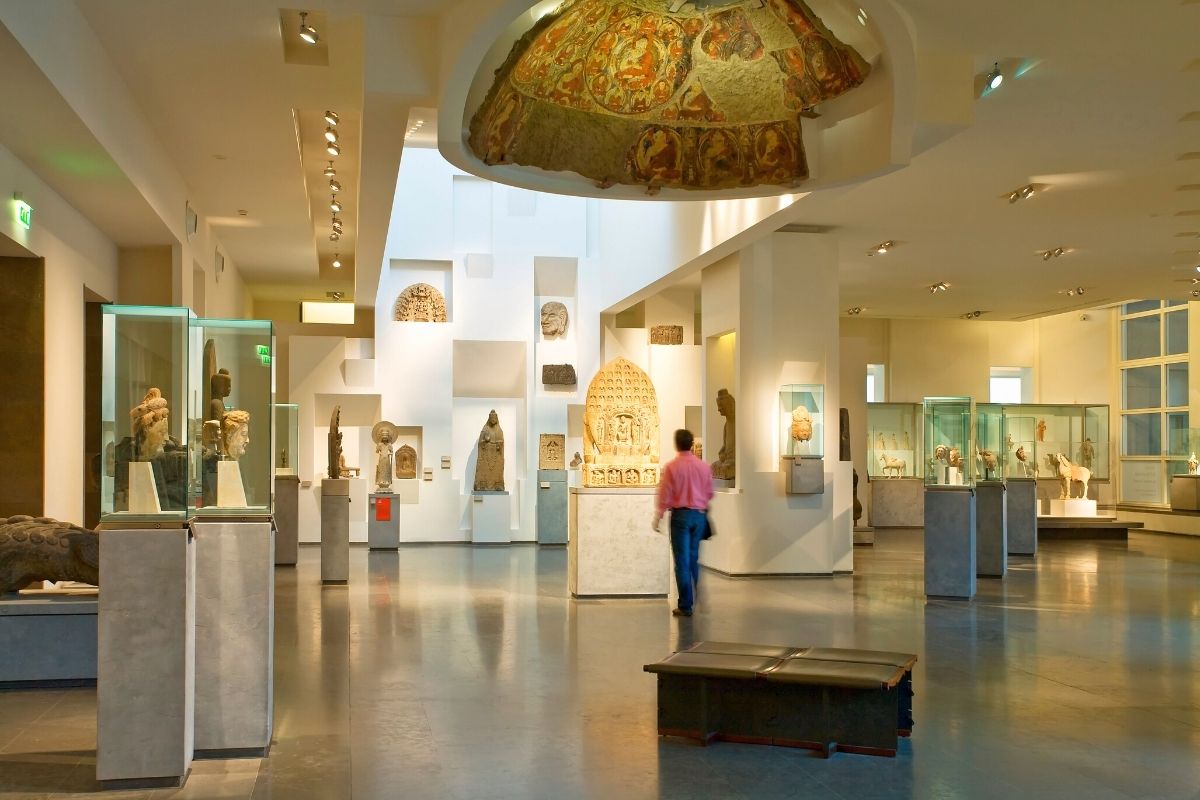 When you want a little break from the wonders of France, take a quick day trip to Asia – no passport required! Musée National des Arts Asiatiques Guimet has a staggering amount of items from all over the continent, with artworks spanning centuries of political and cultural history.
You can explore Japanese society, the Silk Road of Central Asia, the Hindu traditions of India, and beautiful gold objects from the Himalayas, all housed in one fantastic space.
There are also some excellent cultural programs for kids and adults alike, including guided tours, storytelling sessions, art workshops, and tea ceremonies. After a day spent here, you just might start thinking about booking some plane tickets!
85 – Hotel de Crillon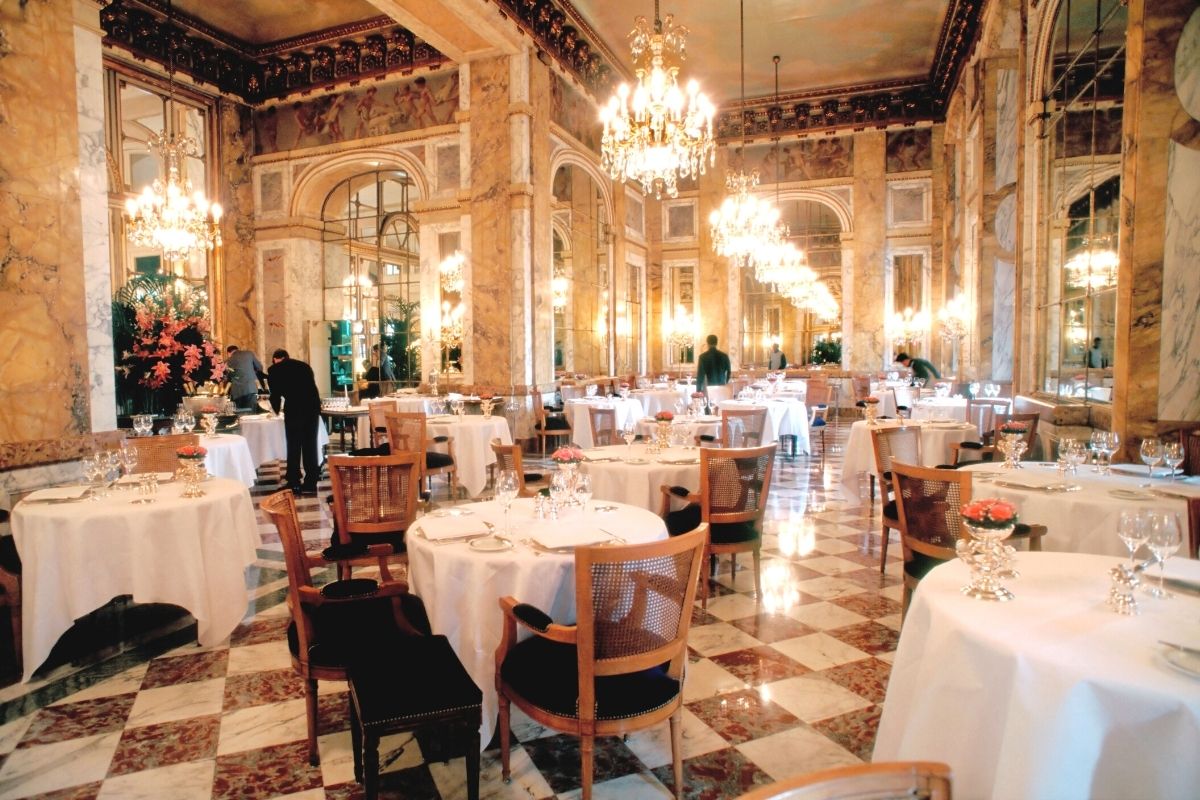 Sometimes, where you stay while traveling is just as important as the things you see, and that's definitely the case at Hotel de Crillon.
Located right in the heart of town, this five-star accommodation offers luxury from start to finish. Kick back in the lobby and admire the fantastic works of art, crafted by hundreds of France's best creative minds.
Enjoy luxurious meals and fine beverages at the five onsite restaurants and bars – and if the traditional cuisine leaves you inspired, you can even take a cooking class!
Unwind at the spa and sauna, or try the latest style at the acclaimed hair salon. Or make the rounds of the many other activities available, from floral arranging to cocktail making.
Enjoy getting spoiled rotten – the French way!
86 – Jardin d'Acclimatation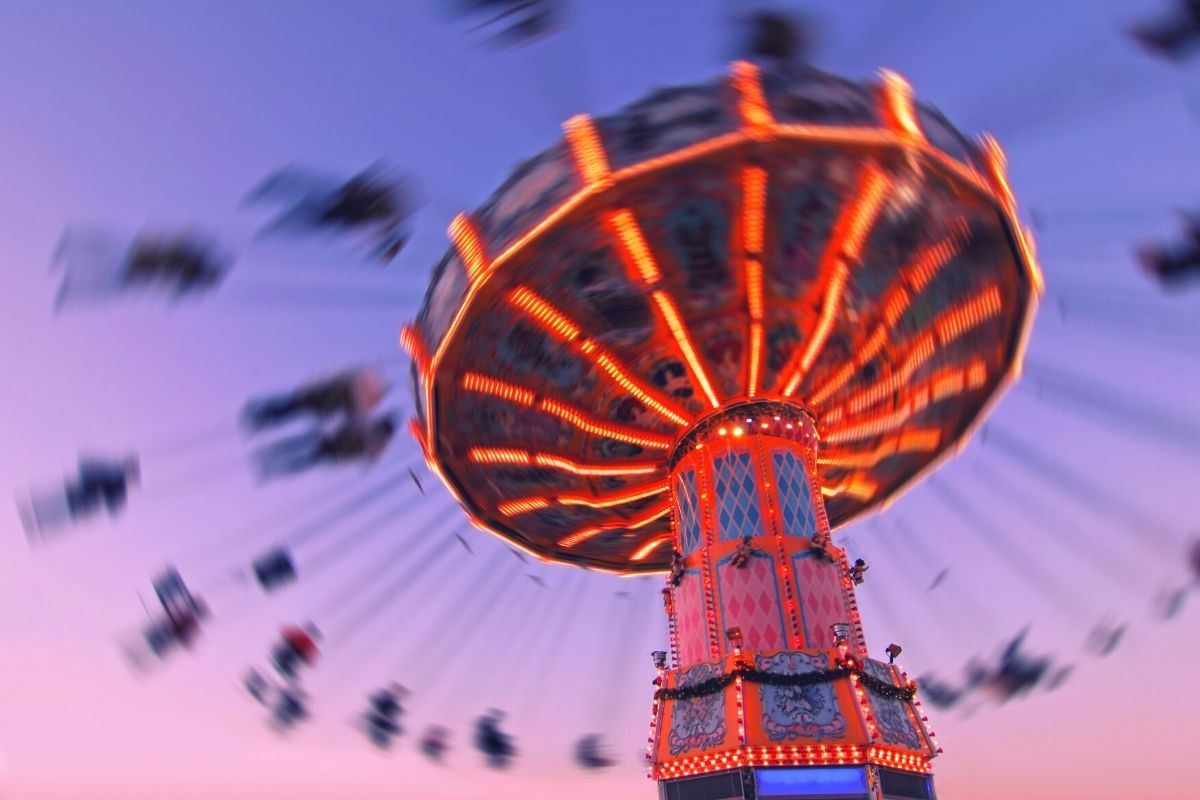 If you're looking for family-friendly Paris attractions, head over to the wild and wonderful world of Jardin d'Acclimatation.
This imaginative space has almost 50 awesome attractions to choose from, offering an eclectic mix of thrill rides, classic carnival games, and live theater.
Cruise around on the bumper cars or take the plunge on rollercoasters; let the kids unleash their imaginations in the forest-themed play areas, or get up close with nature in the gardens and petting zoo.
You can also try your luck at the shooting galleries, or enjoy the comedic stylings of a traditional puppet show. The fun just keeps on coming at this delightful park!
87 – Saint-Jacques Tower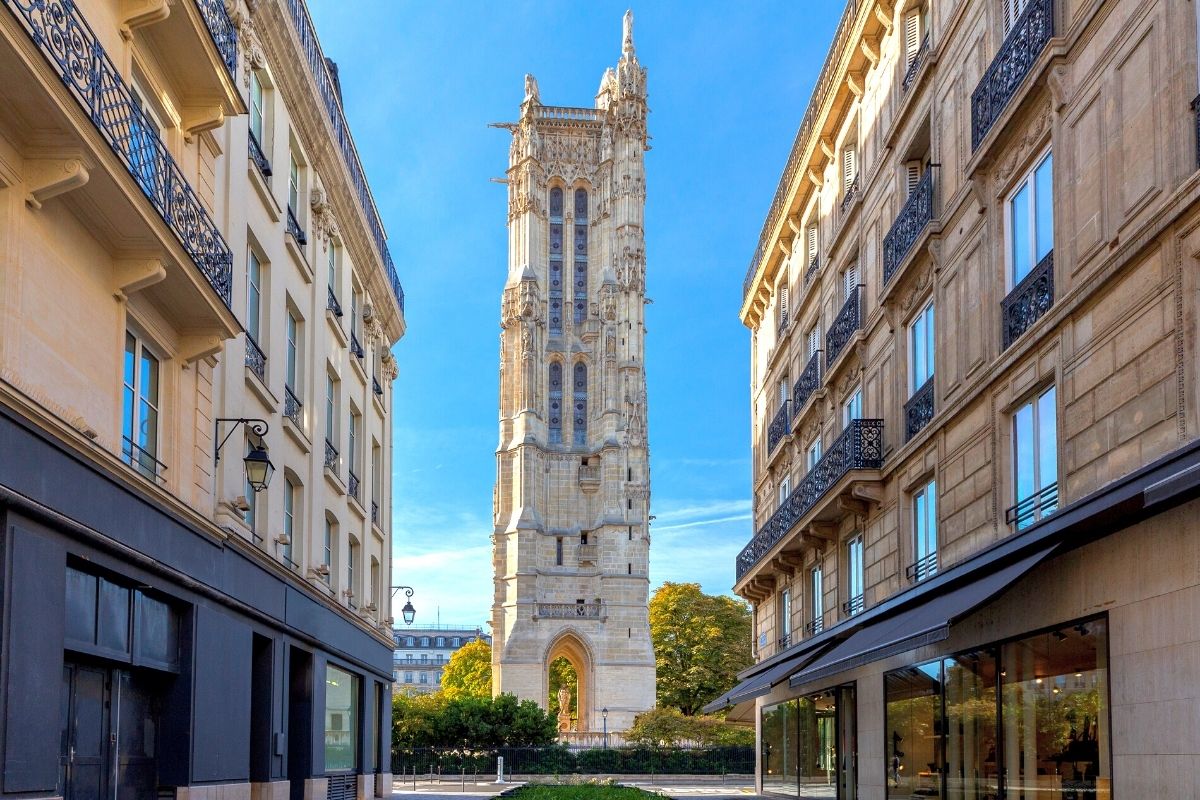 The architectural style of Saint-Jacques Tower has been described as "Gothic flamboyant," and it's easy to see why. From the ornate details on its walls to the majestic gargoyles on the roof, it's the epitome of style and excess that the movement was known for.
The tower has also served as a stop on the Santiago de Compostela pilgrimage, and Blaise Pascal used the area for many of his weather experiments.
Whether you take the guided tour of its fascinating interiors or simply admire the structure from the outside, you're sure to be enchanted by this 16th-century masterpiece.
88 – Air and Space Museum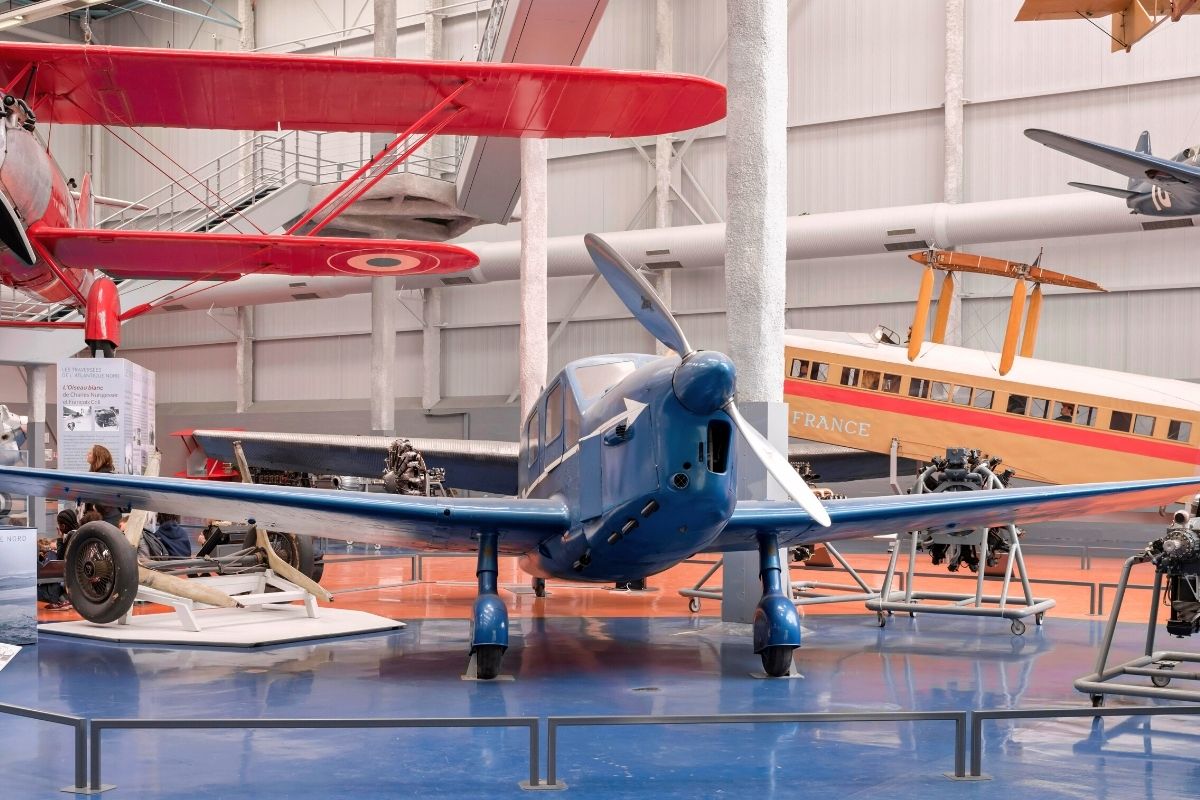 You may have used a plane to get to the city, but you probably didn't ride anything like the vehicles at the Air and Space Museum!
Just 3.5 miles from the city, this exciting institution houses some of the finest aircraft ever to frequent the skies, including a Concorde 001, early 20th century biplanes, and a Boeing 747.
There are plenty of other exhibits to explore as well, from up-close views of hot air balloon baskets to gorgeous photos from outer space. You can even stop by the planetarium to learn more about the universe and its nuances. And if you really love planes, be sure to book the Boarding Pass experience.
You'll be able to go inside four renowned aircraft – a Dakota, a Boeing, and two Concordes – and see how all the different parts work, while also learning all about the machines' uses in warfare and leisure.
It's definitely one of the coolest Paris attractions!
89 – Lido de Paris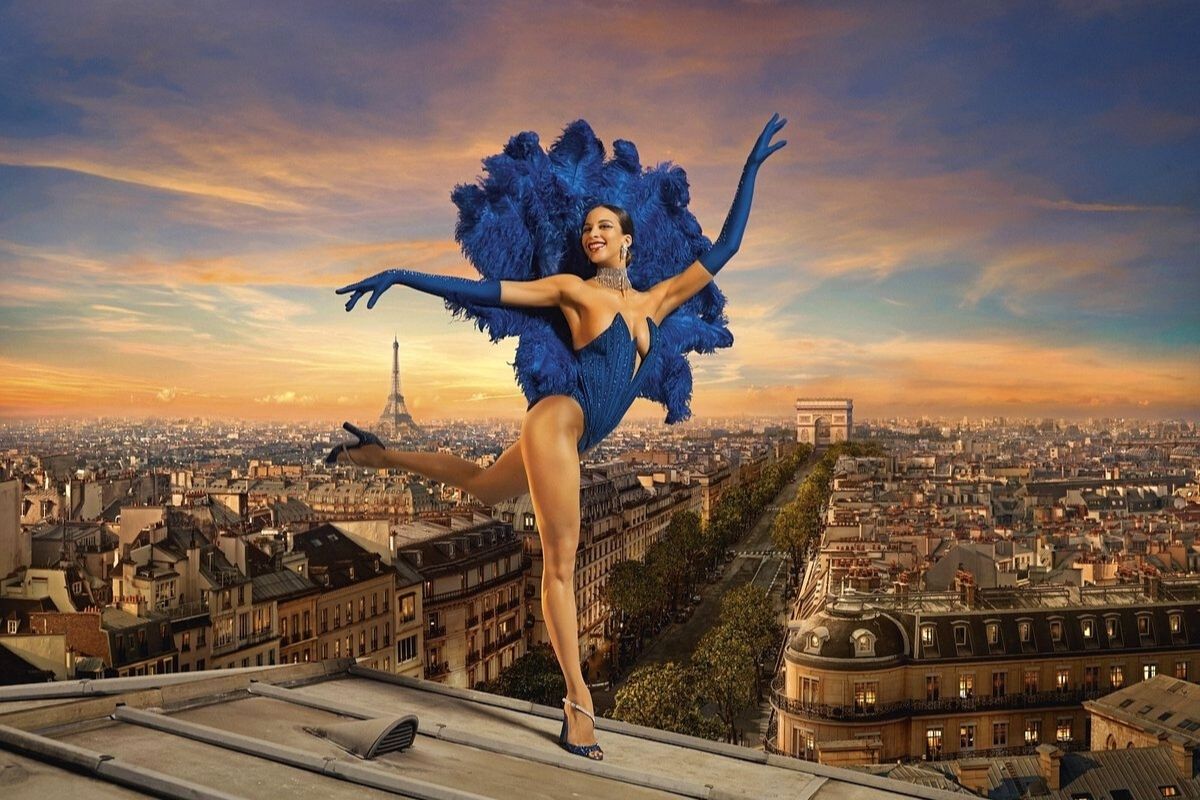 Lights. Feathers. Sequins. Songs. You must be front and center at Lido de Paris! One of the most iconic Paris attractions, this high-octane show pays tribute to the city's illustrious entertainment history.
With a lineup that includes dancers, acrobats, sword swallowers, and circus artists, it's an unforgettable show that highlights the very best aspects of cabaret traditions. And to top it all off, you get to enjoy a world-class French meal while you watch the show!
Enjoy a fantastic multi-course dining experience as you take in live performances that capture the decadent side of the city. Considering that this is the place where the dinner show was first invented, it only seems like a fitting place to celebrate!
Hot tip: Lido de Paris Show Tickets Price – All you Need to Know
Booking several Paris attractions?
With so many amazing tourist attractions in Paris, it's well worth purchasing a pass for multiple activities.
If you want to make sure to hit all of the best museums in Paris, consider booking the Paris Museum Pass. It includes access to over 50 cultural institutions, from the Louvre and the Musee du quai Branly to the Musee Picasso and the Arab World Institute.
There are 2-day, 4-day, and 6-day options, so you can pack your schedule with all the learning you can muster! And if you'd like to add even more attractions to your itinerary, splurge on the Paris Pass.
It includes all of the sites available through the museum pass, along with some wonderful and unique experiences, including wine tastings and river cruises.
It also includes a one-day ticket for a Hop-On, Hop-Off bus tour, which allows you to see some of the city's finest tourist attractions on your own schedule. (See more information below).
The Paris Pass also offers 2-day, 3-day, 4-day, or 6-day options, so you can customize your package for your ideal sightseeing style.
Visiting Paris on budget?
The City of Light is known for its stroll-worthy streets, so it's well worth trying some of the many amazing free walking tours in Paris.
With an enthusiastic guide at the helm, you can explore the popular roads and hidden treasures of this beloved metropolis. Stroll by some of the most iconic sites, from the Eiffel Tower and the Seine to Pont Neuf and the Arc de Triomphe.
And if you're interested in specific neighborhoods, you can check out the quiet side streets, rich bohemian legacy, and phenomenal views of Montmartre, or the towering monuments, bohemian bookshops, and intellectual vibes of the Latin Quarter.
Remember, your guides on these tours work for tips, so be sure to bring a bit of cash to reward a job well done!
Looking for the best Paris tours?
Whether you want thrills and chills, mellow rides, or unusual vehicles, there's a perfect excursion in store for you. This already amazing city gets even more enchanting and exciting after dark, so check out some of the awesome Paris night tours.
Catch a Moulin Rouge show after a stroll down rue des Pyramides and the Champs-Elysees, see the attractions of the Latin Quarter all lit up, get some Insta-worthy pictures on a photography tour, or enjoy a breathtaking fireworks show that illuminates the elegant features of Versailles.
There's even a Mysteries and Legends tour, which is filled with spine-tingling stories of the myths and spooky stories that have flourished in the city's hotspots. If you want to see a lot at your own pace, be sure to book one of the Paris hop on hop off bus tours.
There are three different companies operating in town, each offering a variety of routes that stop at some of the most popular quarters in the city. Choose a single-day or multi-day option, and head out for a scenic tour with audio commentary, stopping at your leisure to explore more places at length.
While the free tours are amazing, there are plenty of other walking tours in Paris that offer some amazing experiences at a fair price
You can see the other side of some beloved communities, or take an extensive private tour with a personal photographer, and have your memorable visit commemorated with an incredible series of pictures.
If you prefer to see the world on two wheels, you'll find some amazing bike tours in Paris.
Roll through the wooded pathways of Versailles, explore the underrated wonders of Marais and Saint Germain des Pres, or stop at some of the many lovely local cafes as you ride through the Latin Quarter.
It's a great way to get some exercise while seeing the city like a local! And if you want a really unique excursion, try some of the segway tours in Paris. These zippy, self-guided vehicles look like something out of a sci-fi movie, and with their relatively small size and versatility, they're a perfect way to get around town.
Cruise through the winding side streets, check out the hidden sides of popular neighborhoods, or see dozens of major attractions on a highlights tour. It's a weird, wonderful way to see parts of the city that regular vehicles can't access.
Final thoughts
For centuries, Paris has been a place of magic and intrigue for visitors. Its magnificent monuments astound and inspire, while its secret pathways and low-key charms will make you feel as though you're in your own hometown.
And as a renowned destination for arts and culture, there's always something new to explore, right alongside stunning monuments and buildings that pay tribute to the city's illustrious, complicated past.
There are so many tourist attractions in Paris that it would take ten lifetimes to see them all, but there's no better time to start than now!