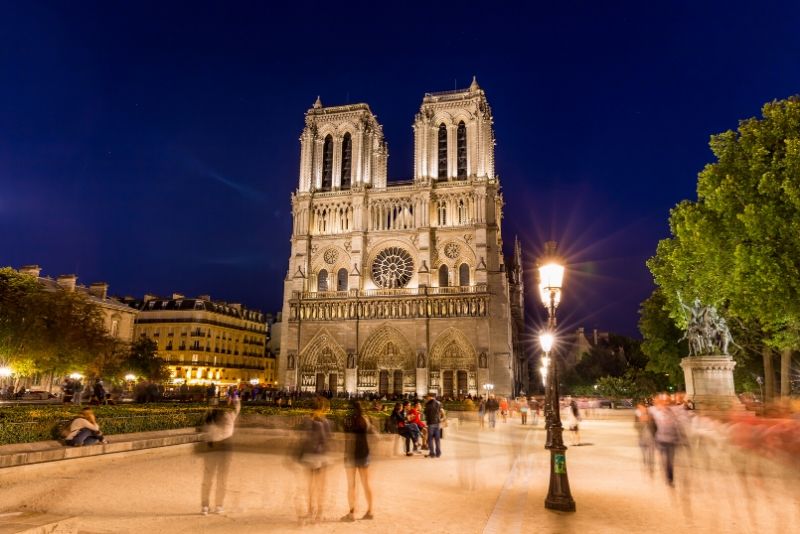 Paris night tours provide the opportunity to see famous monuments and more, illuminated in the night sky. The day might be done, but the evening is just as lively, and everything looks more enchanting in Paris at night.
With that in mind, we've put together a list of 17 Paris night tours that let you experience the wonders of France' capital after dark.
1 – Paris by Night: Skip the Line Guided Visit to the Eiffel Tower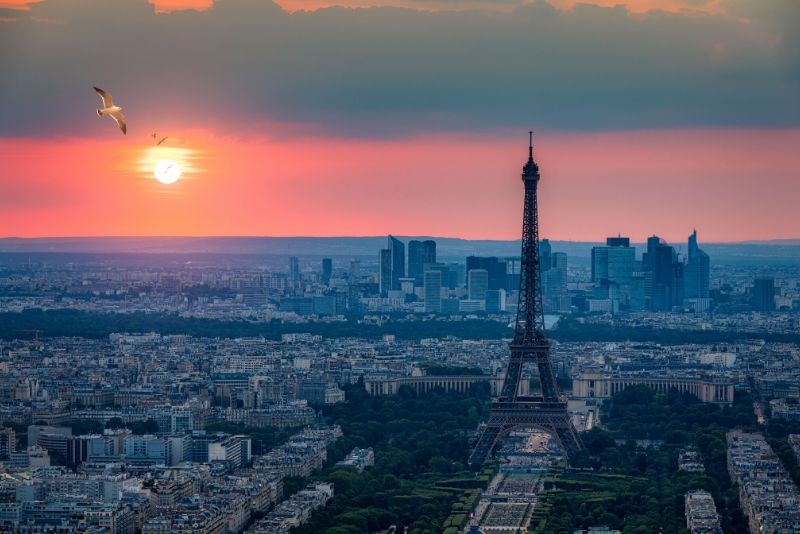 Watch the Eiffel Tower sparkle at night and soak up all of its charms while skipping the long lines.
This Paris by Night visit to the city's most famous attraction includes a tour guide who will point you in the direction of the best views on offer as you skip the queue and head to the second floor of the tower, which stands 376 feet above the ground.
2 – VIP Louvre Highlights & Wine Tasting Evening Tour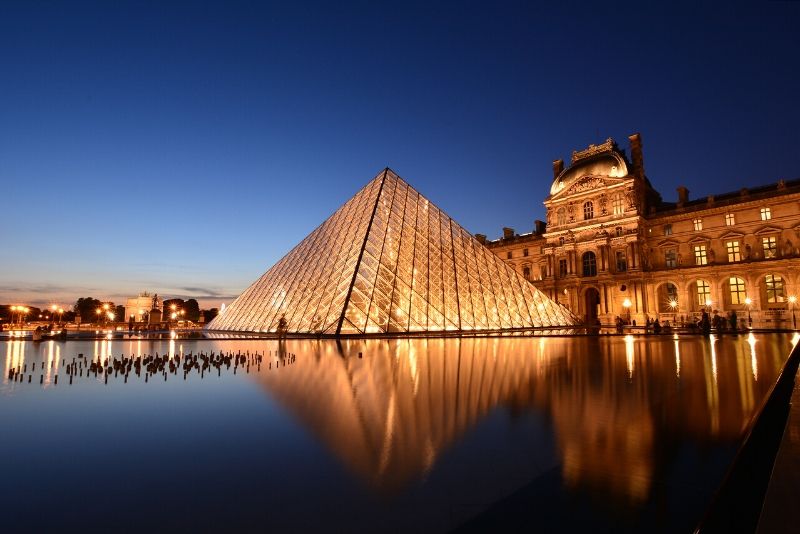 Experience the world's largest art museum at night with a VIP trip that also includes world-class wine tasting. Avoid the crowds and listen as a guide tells you all about the stories behind the most impressive art collection in history while you enjoy priority access.
Once you've of The Louvre has finished, head to a nearby wine establishment for some authentic wine tasting.
3 – Ghosts, Mysteries and Legends Night Walking Tour of Paris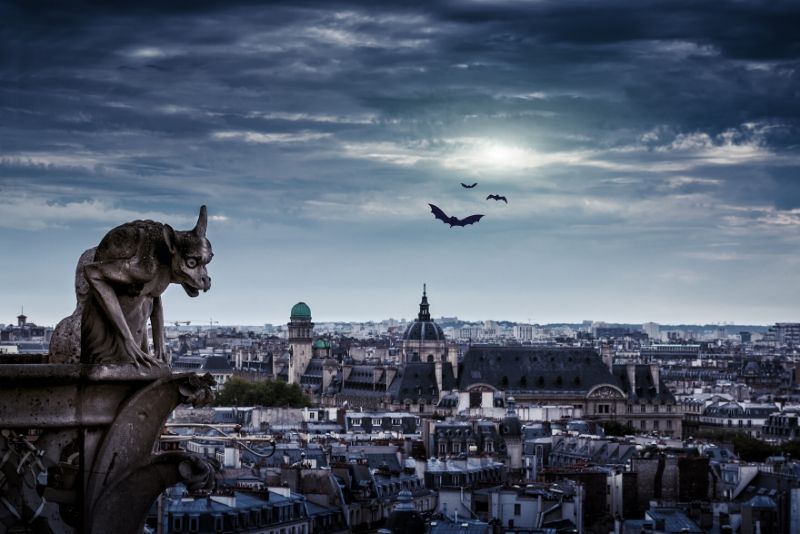 Paris is the city of love, but it has a darker side for you to discover with the Ghosts, Mysteries and Legends Night Walking Tour.
Find the most sinister spots in the city as a local guide takes you on a spooky tour that involves the Hotel de Concierge, where Marie Antoinette was once imprisoned, and the old Place du Greve, which is a location where many people were killed and tortured.
4 – Paris Night Bike Tour
Pedal through the city and visit the most famous landmarks in Paris with this night bike tour. Led by a guide, you will see top attractions such as The Louvre, Notre Dame, and even the iconic Berthillon ice cream shop.
The tour includes live commentary and lasts 4 hours as you pedal through France's capital at a leisurely pace, before finishing off with a glass of wine on a Seine River boat cruise.
5 – Private Night Tour of Paris in an Open Top 2CV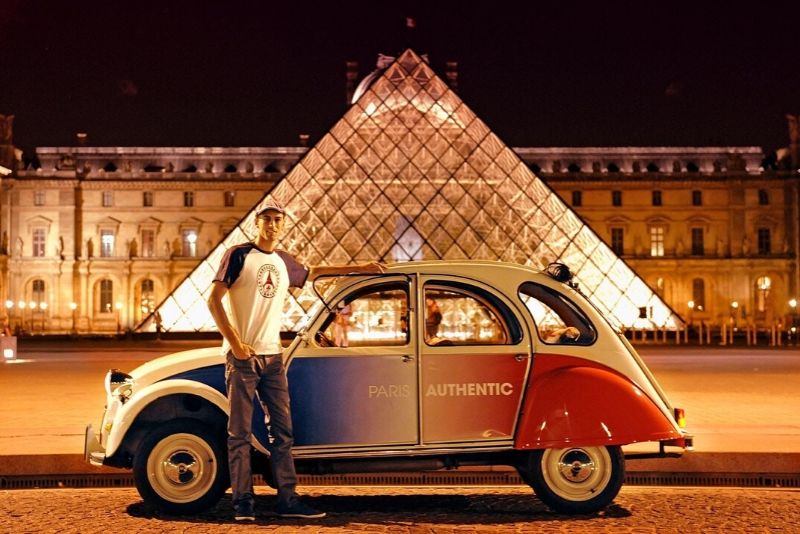 Discover the magic of Paris at night in an open-top 2CV with a 1-hour express ride.
Your driver will detail Paris' most famous landmarks as you whizz past the Eiffel Tower, Notre Dame, and the Arc de Triomphe, in what is one of the most fun and thrilling Paris night tours.
6 – Paris City Night Tour and Moulin Rouge Show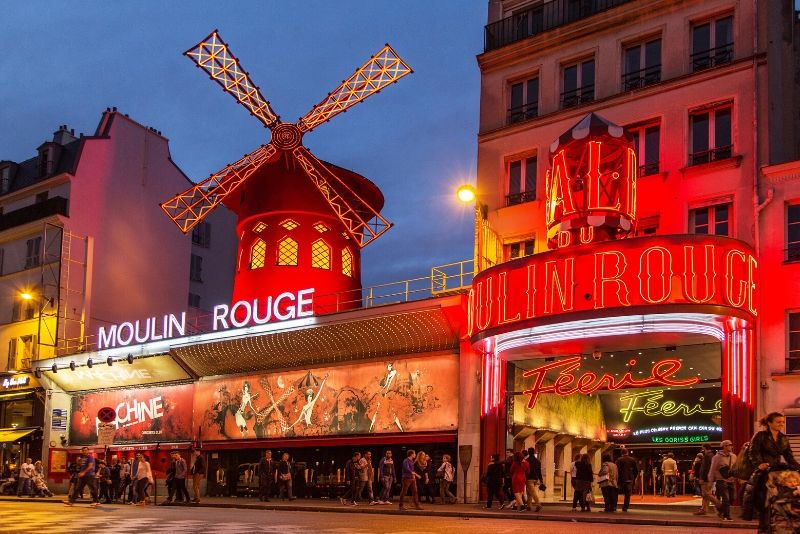 See Paris' monument-lined boulevards lit up in all their glory with this Paris City Night Tour that also includes a cheeky trip to a Moulin Rouge Show. The tour starts on rue des Pyramides, where you will embark on a journey that features Place Vendome, Place de la Concorde, Champs-Elysees, the Eiffel Tower and more.
Round the evening off with a show at the famous Moulin Rouge, and enjoy the world-famous cabaret.
7 – Big Bus Paris: Panoramic Night Bus Tour with Audio Guide
Known as the "city of lights", there isn't a better way to view Paris than when the sun goes down. The Big Bus tour offers panoramic views of Paris lit up against the night sky and includes landmarks such as Moulin Rouge, the Eiffel Tower, Notre Dame.
A live tour guide is on hand to tell you about the city, and there is also an audio guide available in 11 languages.
8 – La Marina Dinner Cruise, Eiffel Tower By Night, and Moulin Rouge Show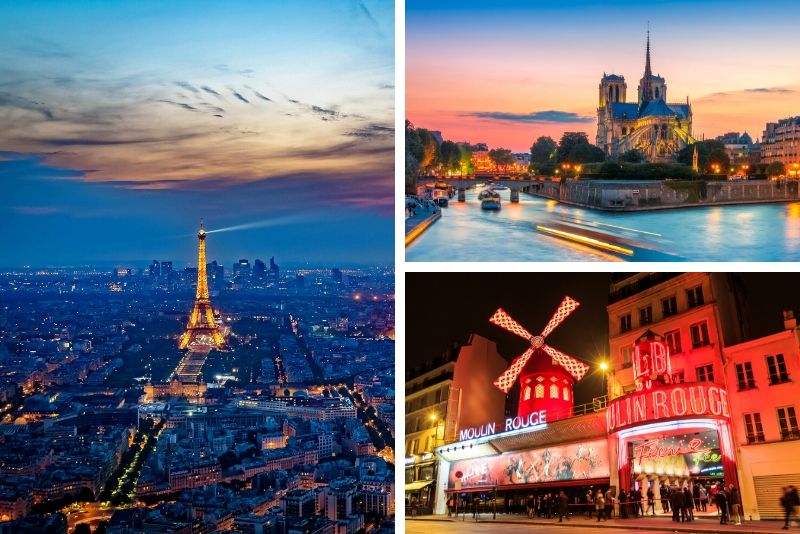 There are plenty of variations of Paris night tours, but why not combine many of them into one fun-filled experience?
The La Marina Dinner Cruise, Eiffel Tower By Night, and Moulin Rouge Show offers you the chance to witness grand views of the city from the second floor of the Eiffel Tower, experience cabaret at the Moulin Rouge, and see amazing views of Paris after sunset along the Seine River with a full course French meal.
9 – Paris Tour, Cruise and Eiffel Tower at Night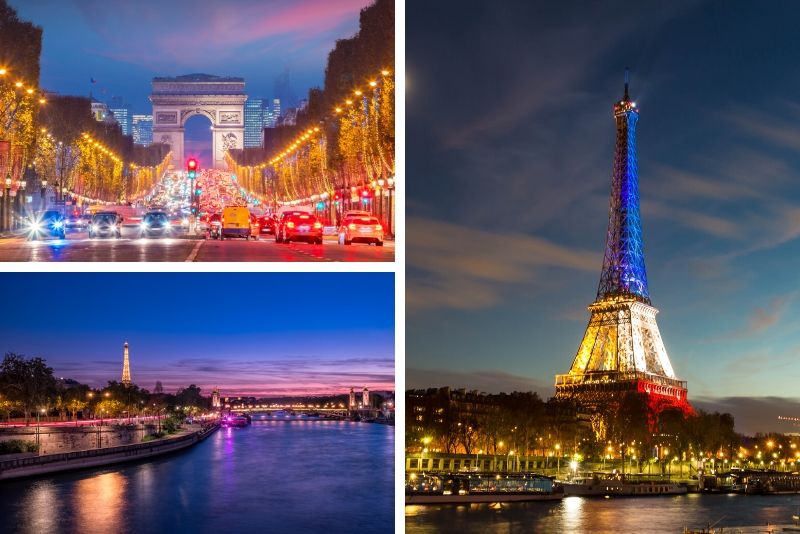 See Paris at night by foot, bus and boat. Start the evening off by walking with your guide to the Eiffel Tower, where you will see one of the world's most famous landmarks first hand.
Next, board the Bateaux Parisiens and sail along the Seine River and see the Musee d'Orsay and Notre Dame.
Finish things up by hopping on a panoramic coach and seeing more city landmarks such as the Arc de Triomphe, Place Vendome and la Madeleine.
10 – Paris Night Segway Small-Group Tour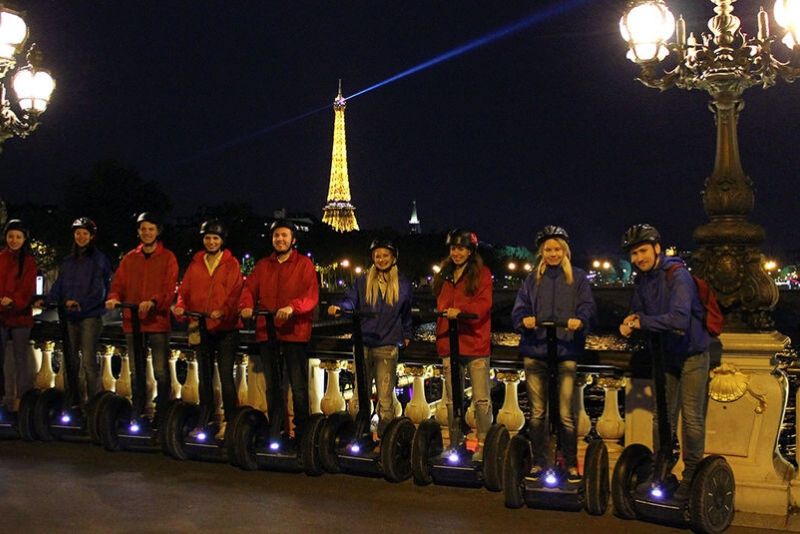 Take your Paris night tours' experience up a level and see the city known as Paname by the locals in style with a small-group segway tour. Glide through Paris over 2 hours and visit landmarks as the sun sets over this majestic city.
Highlights include the Eiffel Tower, Ecole Militaire, Les Invalides (Napoleon's Tomb) and Alexander III Bridge. The tour is led by a guide who will tell you all about the fascinating history of Paris and stop at the best spots for a chance to take some Instagrammable photos.
11 – Paris Latin Quarter Night Walking Tour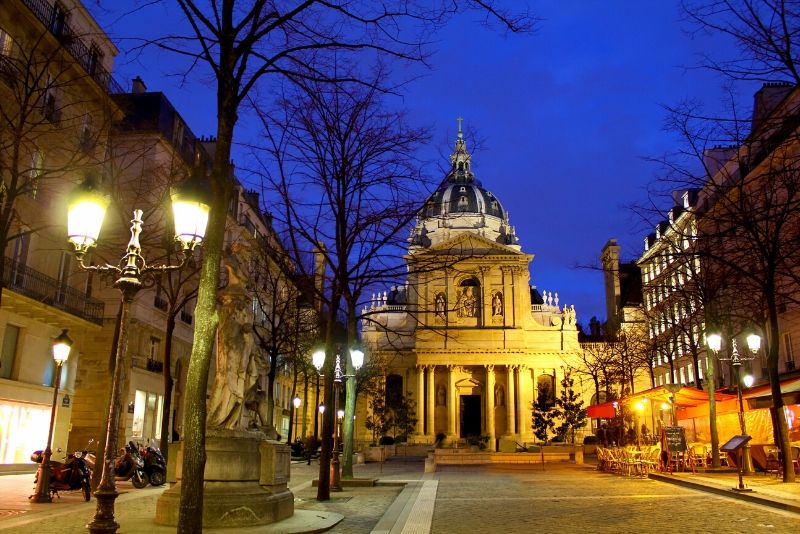 Wander Paris' famous Latin Quarter at night with a walking tour full of charm. The 2-hour tour covers the Left Bank and features a live guide who will detail the area's colourful, artistic history that involves figures like Jim Morrison and Ernest Hemingway.
Landmarks to look out for include centuries-old universities, historic cemeteries and iconic sites like Notre Dame Cathedral.
12 – Montmartre Poetic Photo Walk by Night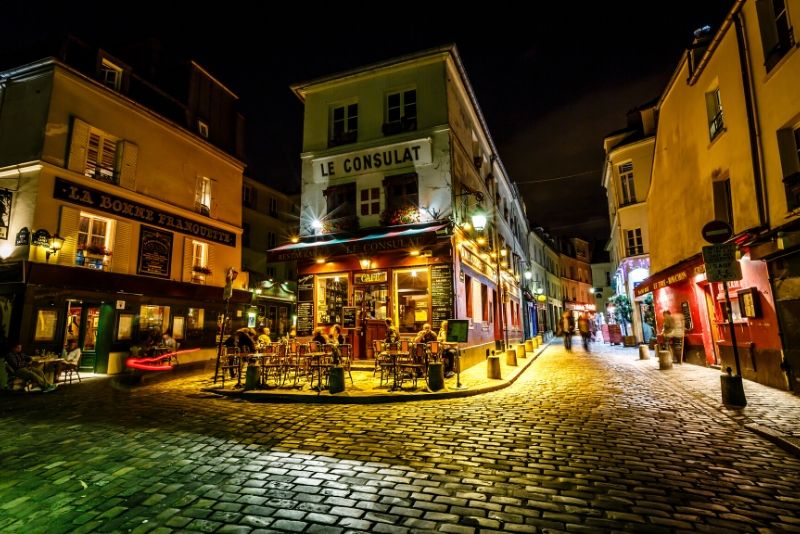 Discover the delights of Montmartre, one of Paris' most atmospheric neighbourhoods. See the beauty of Montmartre at night as you stroll around the area with a live tour guide, taking snaps of impressive landmarks.
The live guide is also a professional photographer who will point out the best sights for a shot while helping you improve your photography skills.
13 – Versailles Night Fountain Show and Fireworks from Paris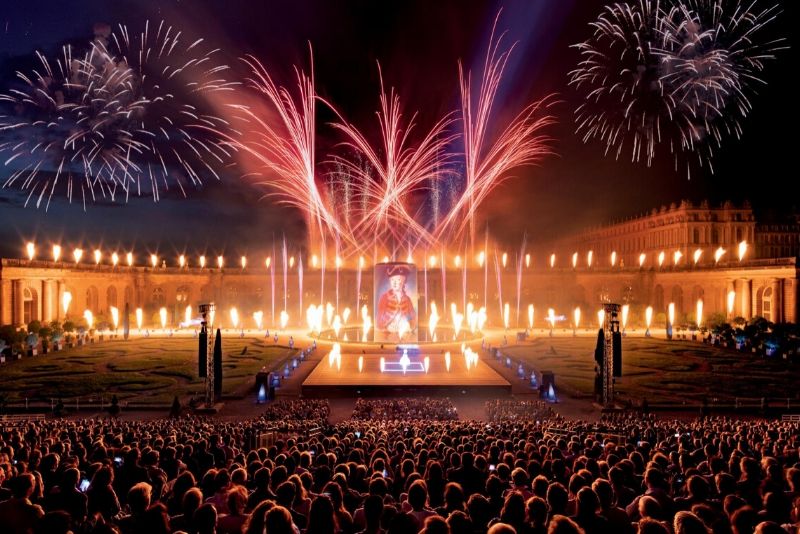 See the beauty of Versailles at night with a magical fireworks show and fountain display.
This 4-hour tour takes you to the gardens of Versailles, which are located behind the palace and features ornate fountains that dance with colourful lights as live Baroque music plays.
The tour ends with a fireworks display over the Grand Canal.
14 – Private Paris Photography Night Tour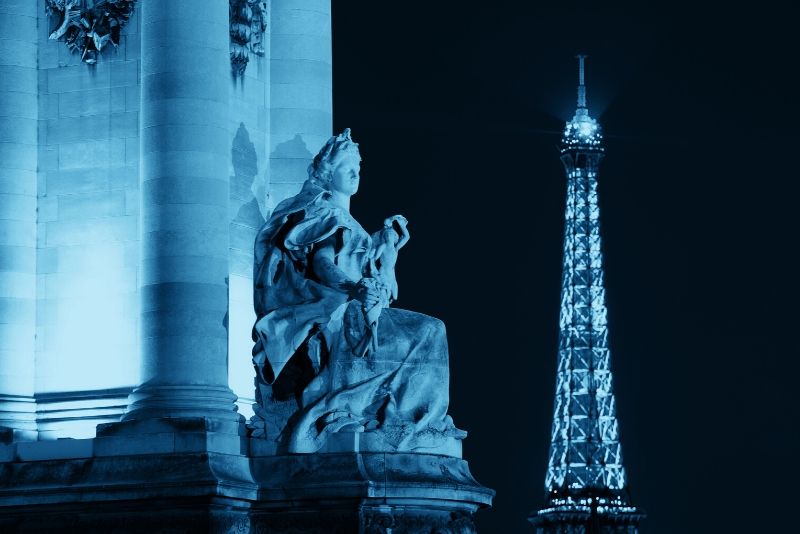 Paris is one of the most camera-friendly places in the world, which is why a private photography tour should be at the top of your Paris night tours list.
Explore the city after dark with a private, professional guide who will teach you to take great photos of the city after dark. Watch your Instagram likes increase with great photos of iconic landmarks.
15 – Private Paris by Night Vespa Tour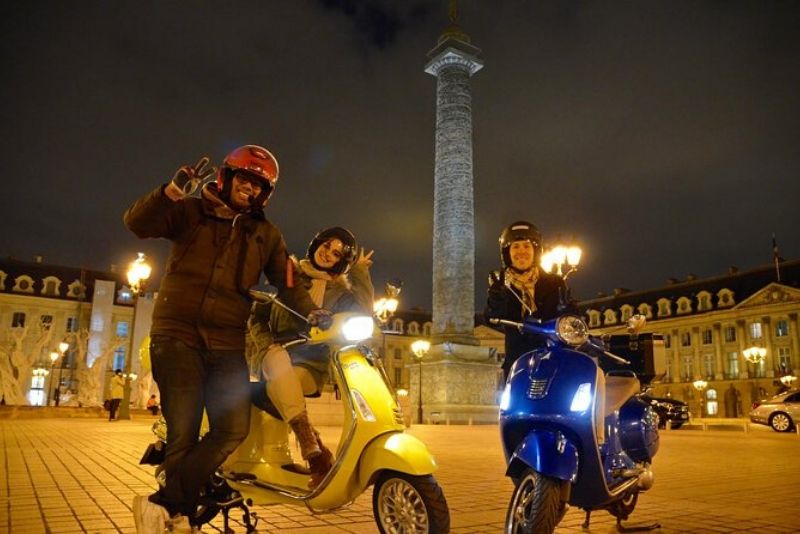 Zip around Paris at night on a Vespa and see the city lit up in all its glory. See landmarks like Notre Dame, Moulin Rouge and Arc de Triomphe as you fly through the city on a Vespa driven by your private tour guide.
These awesome motorcycles are ideal if you want a tour that's a bit different from the norm.
16 – Private Visit of Paris By Night: Romantic Tour on a Sidecar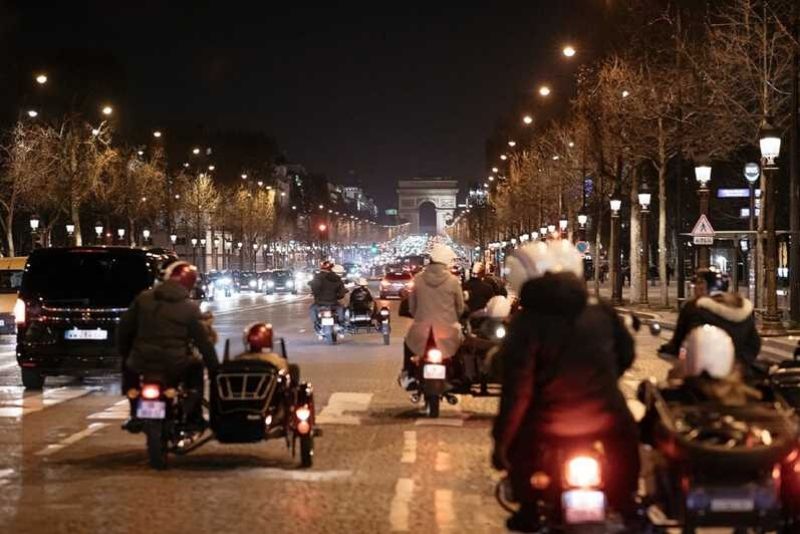 Are you looking for a Paris experience away from busy tour crowds? Then the Romantic Sidecar tour is just what you're after.
Your driver and guide will inform you about Paris with fun anecdotes as you see famous landmarks from a different perspective. The tour lasts 90 minutes and includes pick up from your hotel and includes a free glass of champagne.
17 – Bus Toque Restaurant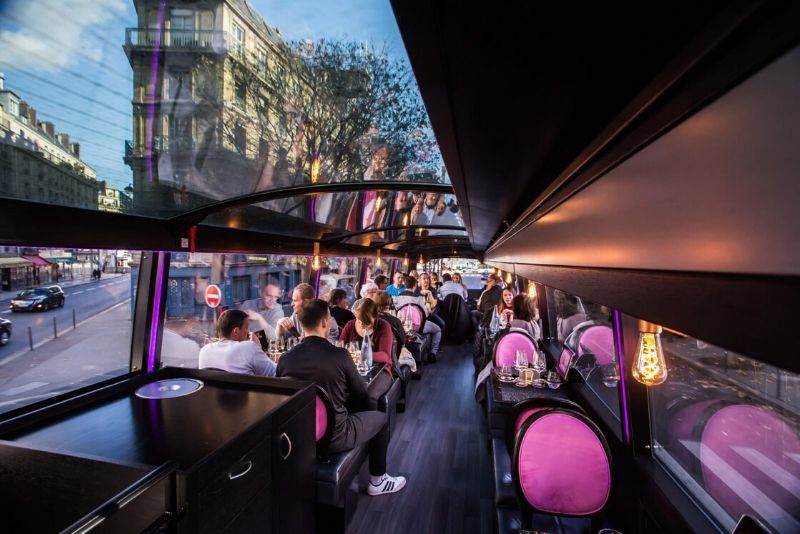 Dine on the go with the Bus Toque tour and see Paris as you sample fine French cuisine. This restaurant bus will satisfy your taste buds and your eyes as you see some of Paris' most iconic landmarks that include a whopping 96 points of interest.
There's also an audio and video tablet guide, which you can watch or listen to as you enjoy your delectable delights.