Looking how to book Catacombs Paris tickets? Read this comprehensive guide on everything you should know about how to book Catacombs Paris tickets, how much they cost, skip-the-line tickets and more.
How much do Catacombs Paris tickets cost?
There are two types of Catacombs Paris tickets:
On-the-door tickets;
Catacombs + Exhibition= *12-14€
Coupled tickets Catacombs of Paris + Archaeological Crypt= *14-17€
(*) Price valid on the spot
Online tickets;
Buy your ticket online to avoid waiting in the queue and benefit from an audio guide.
Adults: 29€ with audio guide.
Children:5€ without audio guide.
There are reduced prices for youth, young adults, large families and "Paris Pass Famille", school teachers and librarians… You can check on their official website for more information.
Are there any skip the line tickets?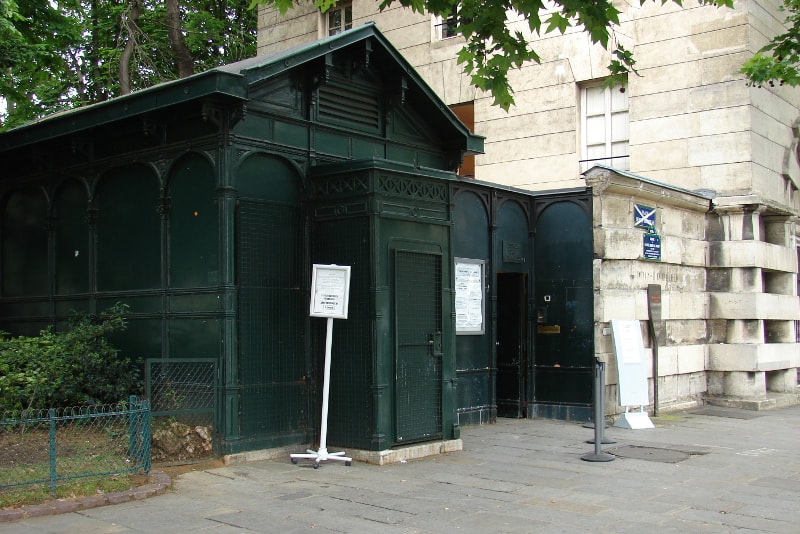 Only 200 people are allowed to get in the Catacombs at the same time, and the queues usually get very long. In this case, all you need is a skip-the-line ticket that will allow you to skip the queue and save up a lot of time.
You have 2 options to skip the line:
You can book skip the line tickets with many different providers at competitive prices (around 29€) or book a group guided tour (around 80€) depending on what you may want included. They are more expensive but you will be sure to enter and visit the catacombs.
Please note that the Paris Catacombs may be fully booked even weeks in advance, so I really recommend you to book online, the earliest the best.
How to book Catacombs Paris tickets?
You can book Catacombs Paris tickets directly on the official website or with an online travel agency: there are many different companies that sell tickets and guided tours.
Use TourScanner's search to compare tickets and prices, you may find a ticket that is best suited for you.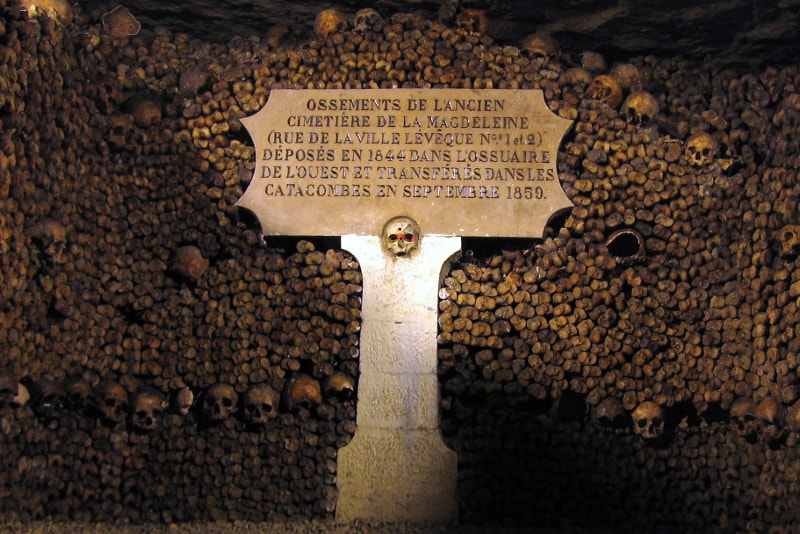 What will I see?
The tour of the catacombs is deep underground. The walking route is 2km long and you should count around 45 minutes to visit it.
You will first descend 130 steps down to the catacombs. Please note that there are no lifts so the tour is not suitable for those without full mobility.
Then you walk though the winding tunnels lined with collections of stacked bones and skulls. In the past the bones of the exhumed bodies were stacked neatly in several rooms creating kilometres of tunnels composed mainly of human remains.
How to get there?
It is very easy getting to the Paris catacombs.
The catacoombs are right next to the Denfert-Rochereau Metro station (lines 4 & 6) and RER B train station.
Check the map below for directions.
? Paris catacombs location map
Opening hours
The opening hours are from Tuesday till Sunday from 10am until 20.30pm
Last admission to enter the Catacombs is at 19.30pm.

Tips
The average temperature inside the Catacombs is around 15ºC so make sure you wear warm clothes.
Mornings are the least crowded although this can vary and remember the last slot to enter the Catacombs is at 19.30pm.
When you get out of the Catacombs after a 2-kilometre walk, you'll be in a different area. Don't panic, the nearest metro station is Mouton Duvernet.
Visiting the Catacombs takes around 45 minutes/1 hour to visit so please note that this might give a feeling of claustrophobia for people that don't like feeling underground or in narrow spaces.
For safety reasons, it is not allowed to enter the Catacombs with suitcases and luggage.
Most importantly, be respectful and do not touch or steal the bones!
We hope this was useful information about Catacombs Paris tickets. If you have any question please do not hesitate to comment below!