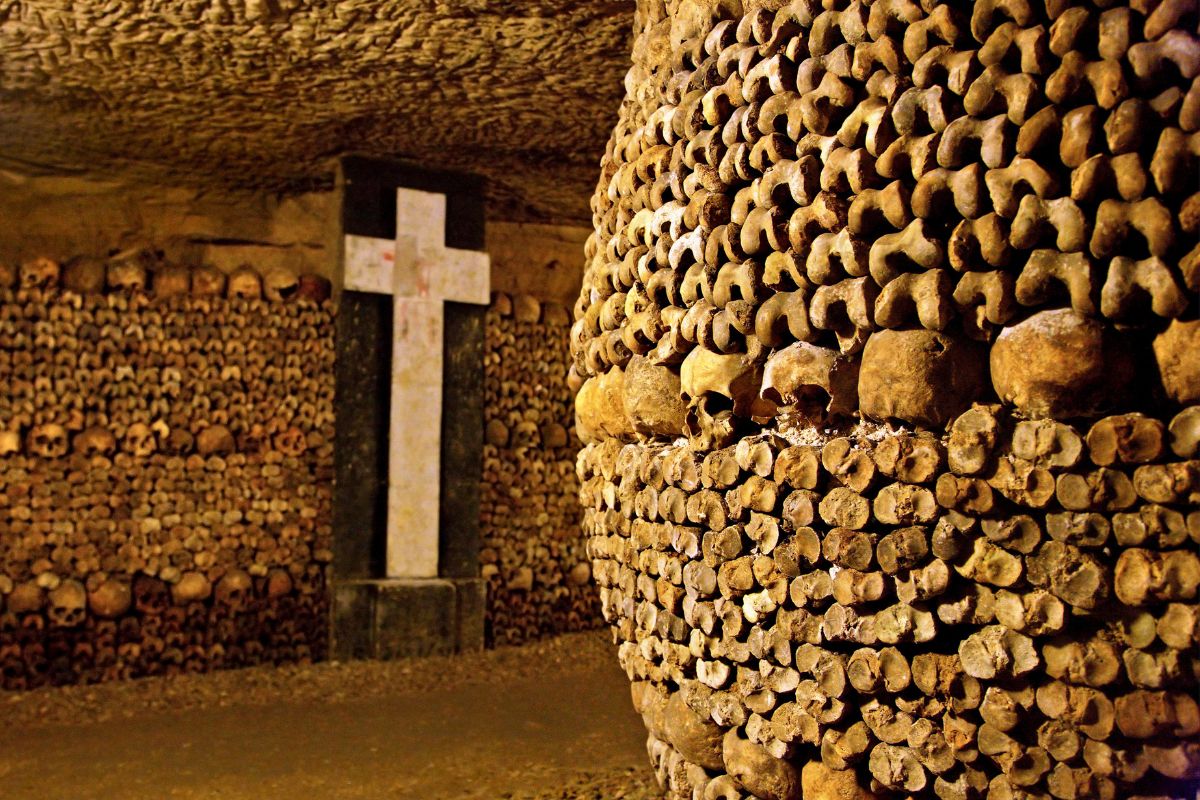 Are you looking to find out more information about Paris Catacombs tickets price?
Read this comprehensive guide on everything you should know about getting your Paris Catacombs tickets, including where to book them, how much they cost, how to get skip-the-line tickets and what to do if you need a last-minute ticket.
The Paris Catacombs are one of the city's most macabre attractions. Deep underground, you will find the remains of 6 million Parisians. This fascinating ossuary has intrigued locals and tourists alike for centuries.
Don't want to miss out? Check out our comprehensive guide to getting your Paris Catacombs tickets.
How much do Paris Catacombs tickets cost?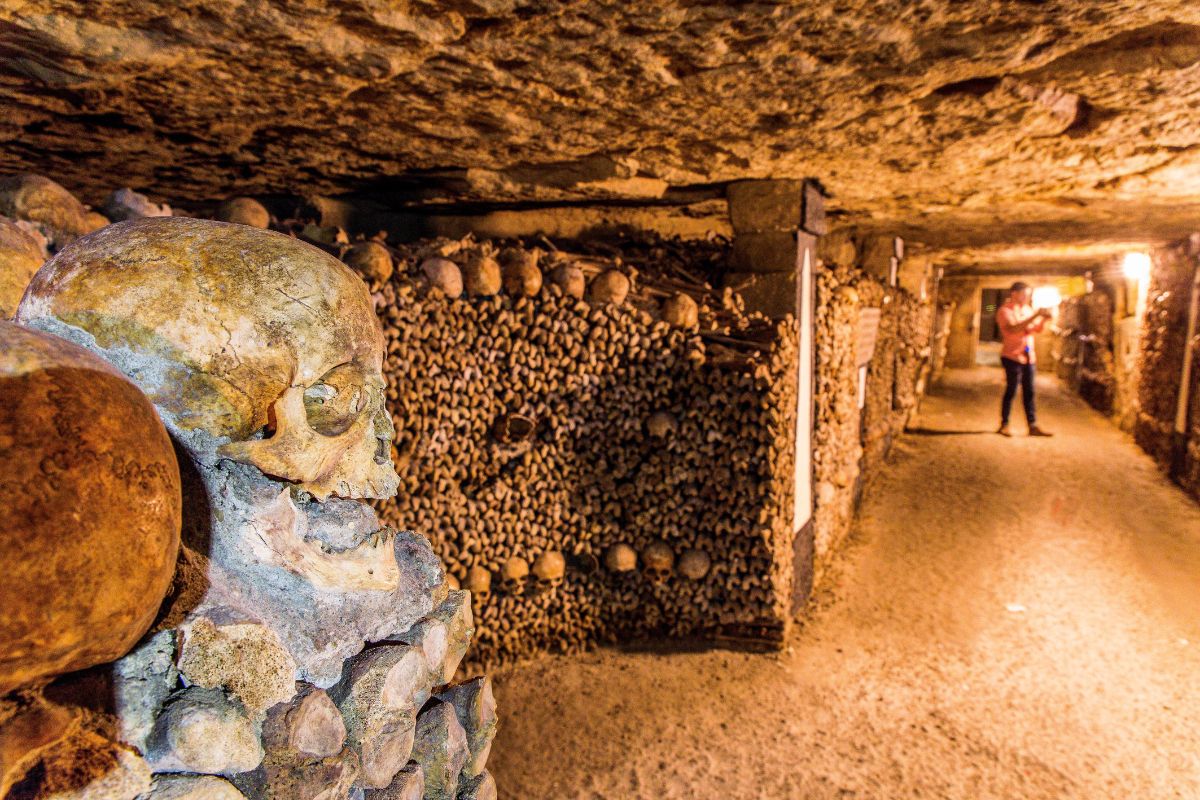 It's possible to book your tickets to the Paris Catacombs online in advance. You can also buy tickets on the same day online, but this is subject to availability.
It is no longer possible to buy tickets at the desk.
Advanced booking ticket
Adult: €29
Reduced rates: €23
Child (5-17 years old): €10
Child (0-5 years old): free
Last minute ticket (available online same day)
Adult: €18
Reduced rates: €16
Child (under 18): Free
Who is eligible for discounts?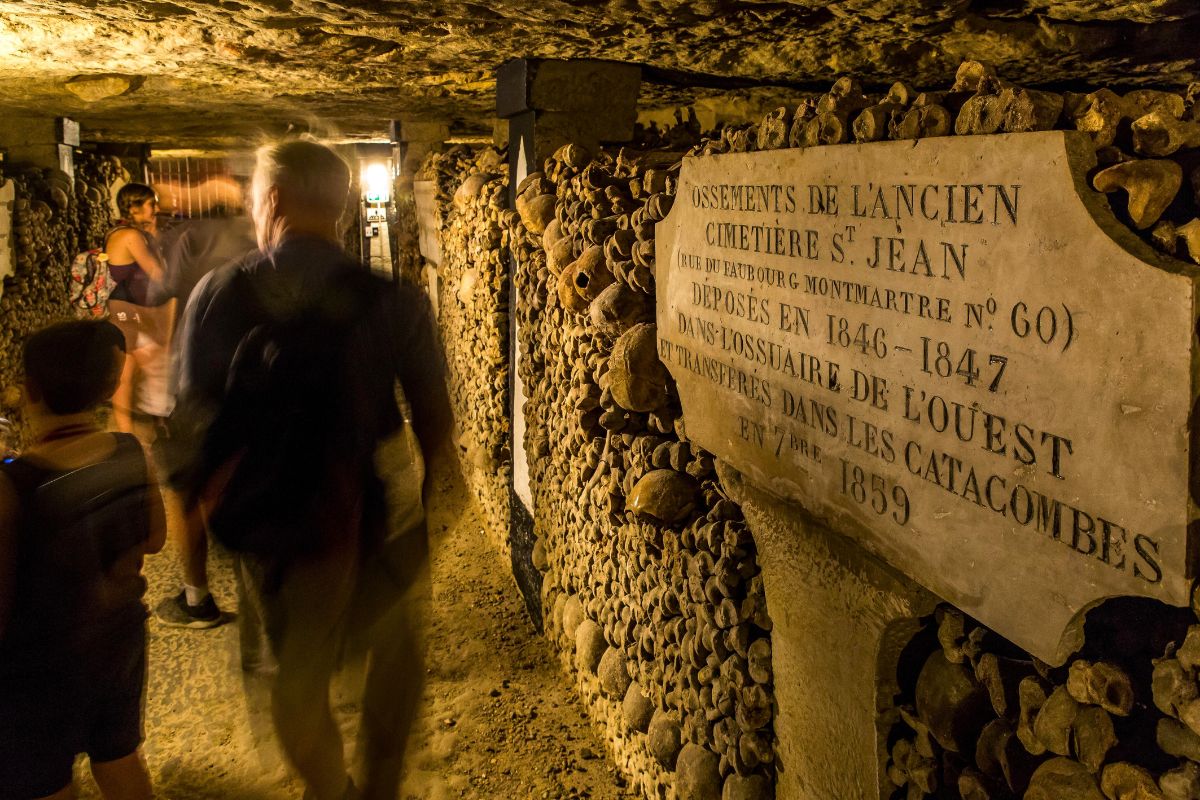 Reduced ticket prices are available for students, teachers, individuals between 18 and 26 years old, members of certain French societies and holders of specific passes. Check the official Paris Catacombs website for all of the relevant discounts.
In order to qualify for your discounted ticket, you will need to present your relevant ID or documents that prove your eligibility.
Can you visit the Paris Catacombs for free?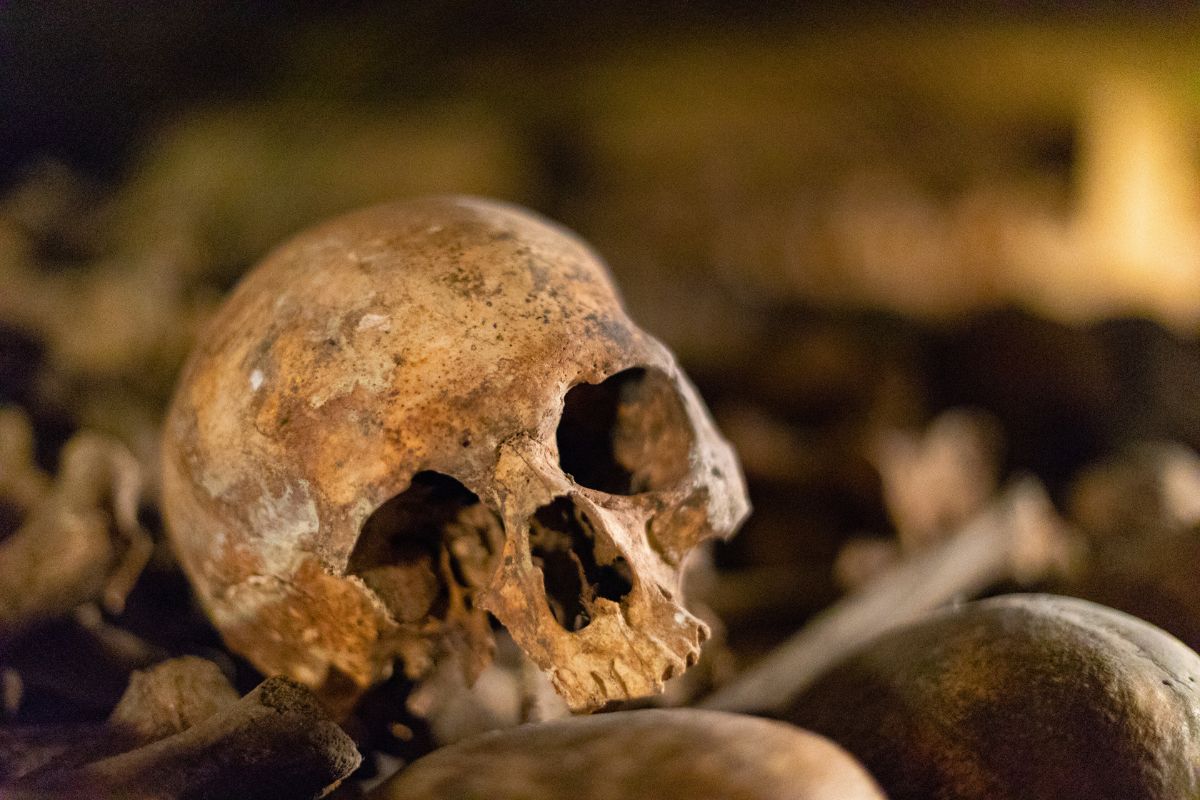 While it is not possible to visit the catacombs or any section of the catacombs for free, some people do qualify for free entry.
This includes: youth under the age of 18 (on the same day only), people with disabilities and their companion, job seekers and more.
Are there any skip-the-line tickets?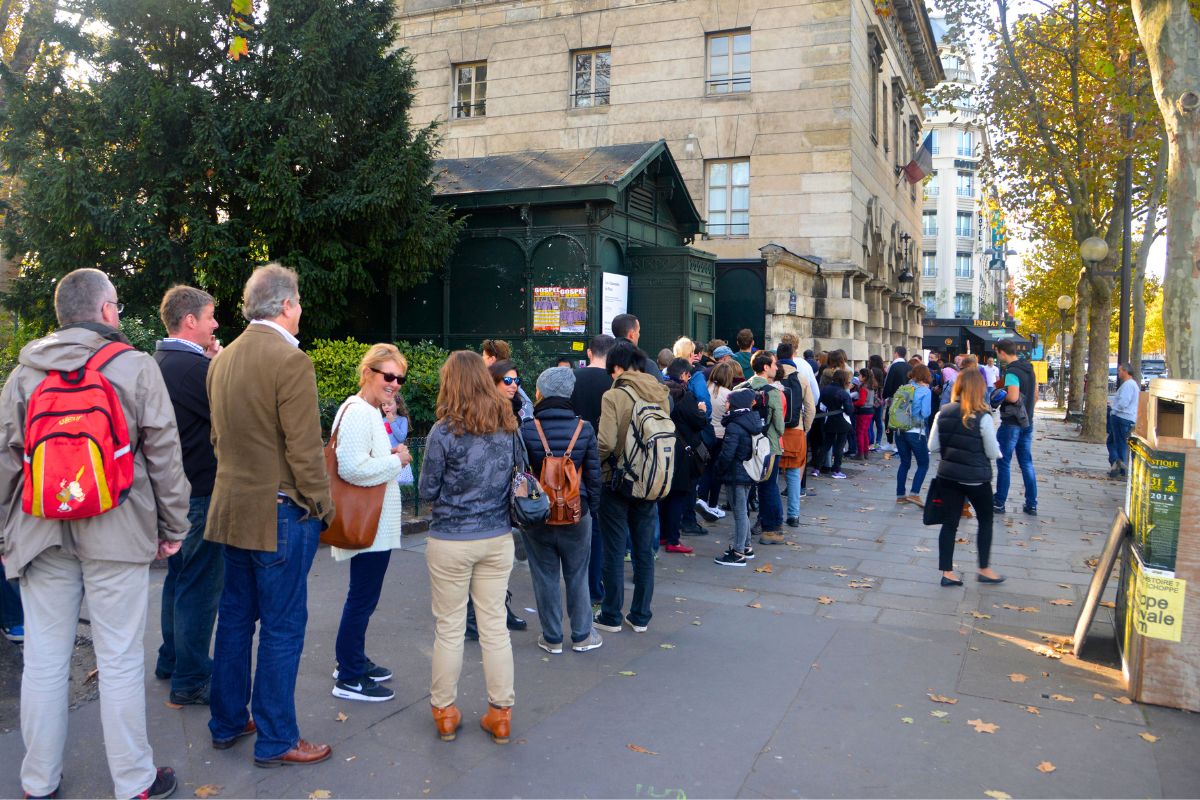 Only 200 people are allowed to enter the catacombs at the same time, and the queues to purchase tickets usually get very long. In this case, all you need is a skip-the-line ticket that will allow you to skip the queue and save up a lot of time.
You have 2 options to skip the line:
You can book skip-the-line tickets by booking your tickets through the Paris Catacombs website in advance. You can purchase your tickets up to 7 days in advance, and here you can choose what time slot you wish to visit the catacombs. This will allow to miss the queues and go straight to exploring the underground labyrinth at your desired time.
Alternatively, you can book a guided tour depending on what you may want to be included in the experience. Guided tours generally include the cost of your ticket and will also allow you to skip the line. Guided tours are more expensive, but you will be sure to enter and visit the catacombs.
Please note that the Paris Catacombs may be fully booked in advance, so we really recommend you to book online. The earlier, the better!
How to book Paris Catacombs tickets?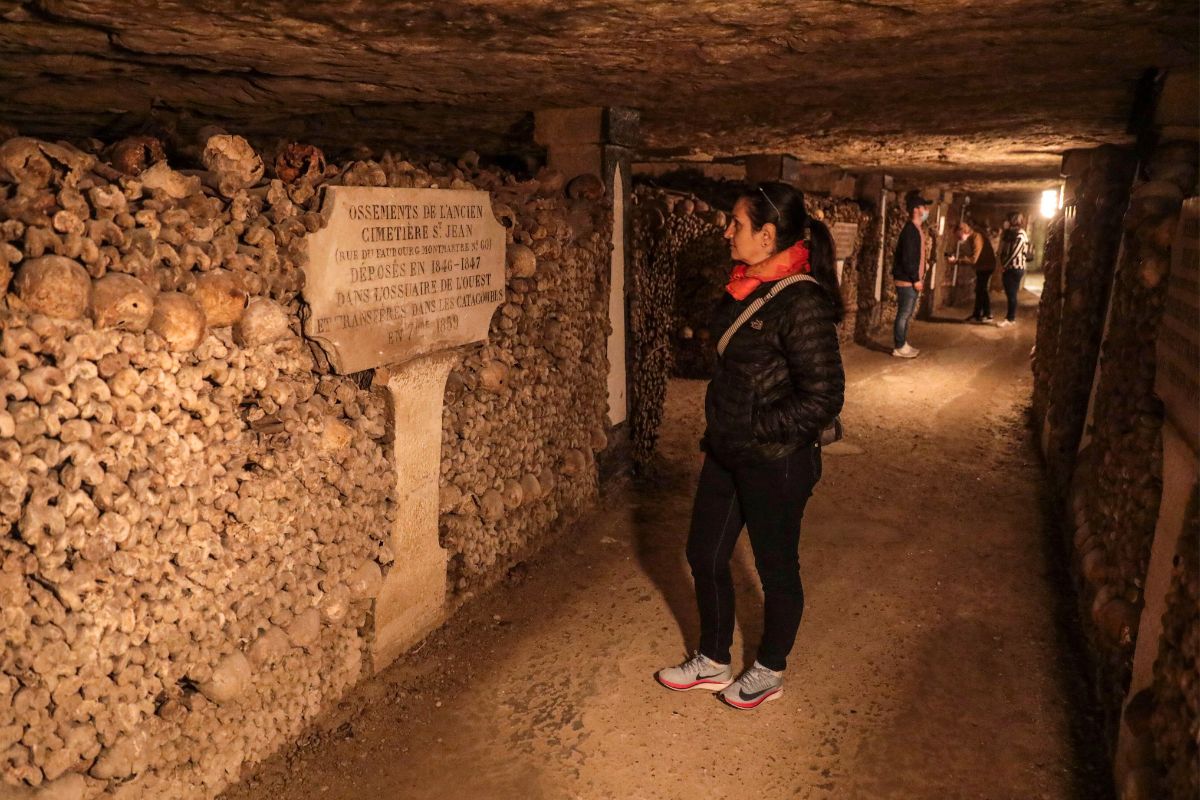 You can purchase Paris Catacombs ticket directly from the official website. If you book on the official website, you have the option of buying tickets up to 7 days in advance or for the same day. It is no longer possible to buy your admission tickets at the ticket office, as it is too crowded and the line to enter the catacombs is too long.
Alternatively, you can book your Paris Catacombs tickets through an online travel agency for deals or tours. Use TourScanner's search to compare tickets and prices, you may find a ticket that is best suited for you.
Where can you get a last-minute ticket to the Paris Catacombs?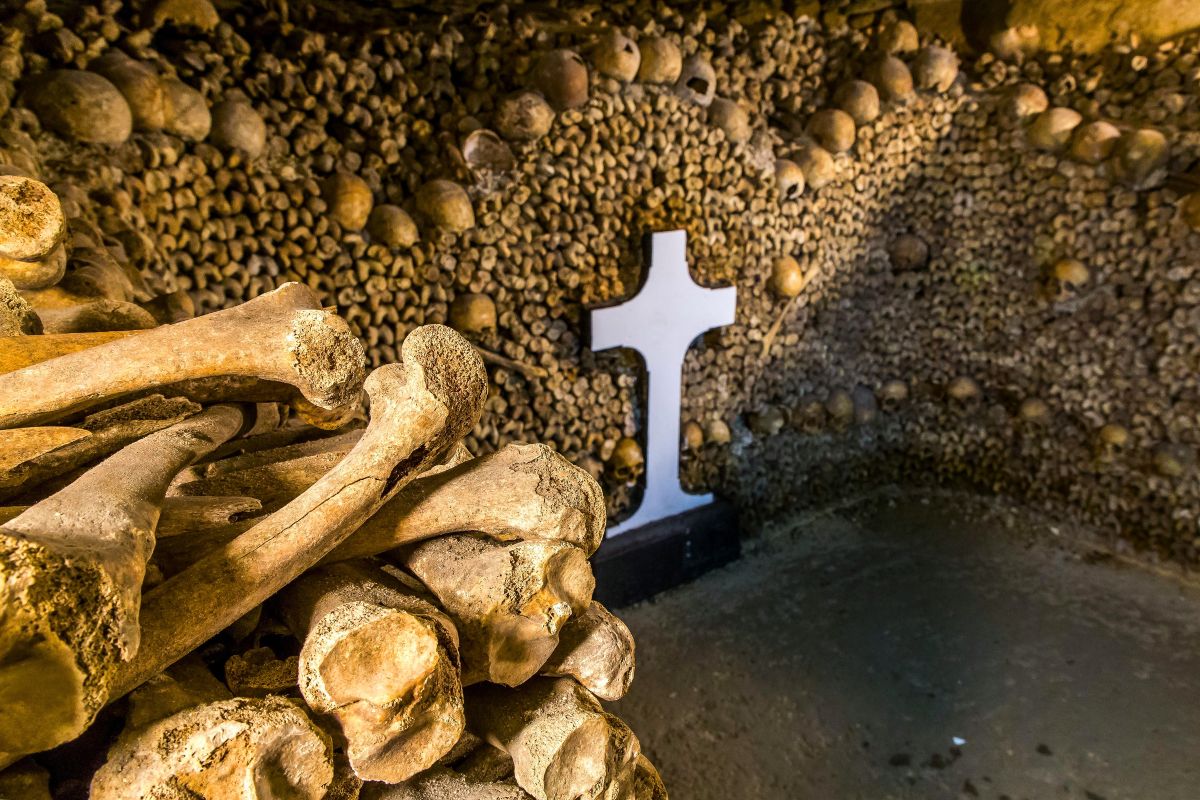 If you've decided late into your trip to go the catacombs, or you've simply forgotten to purchase your tickets, it is possible to purchase last-minute tickets.
The most direct way of doing this is by going to the official website. Here you can find tickets to purchase on the same day only, and at a lower price. However, these tickets are not always guaranteed and are subject to availability.
The next best option is to look at other reseller websites for available tickets. If you're still out of luck, look for guided tour options as these will include your entry. It may cost a bit more, but you'll get the added benefit of a tour guide!
Can you cancel or modify your Paris Catacombs tickets?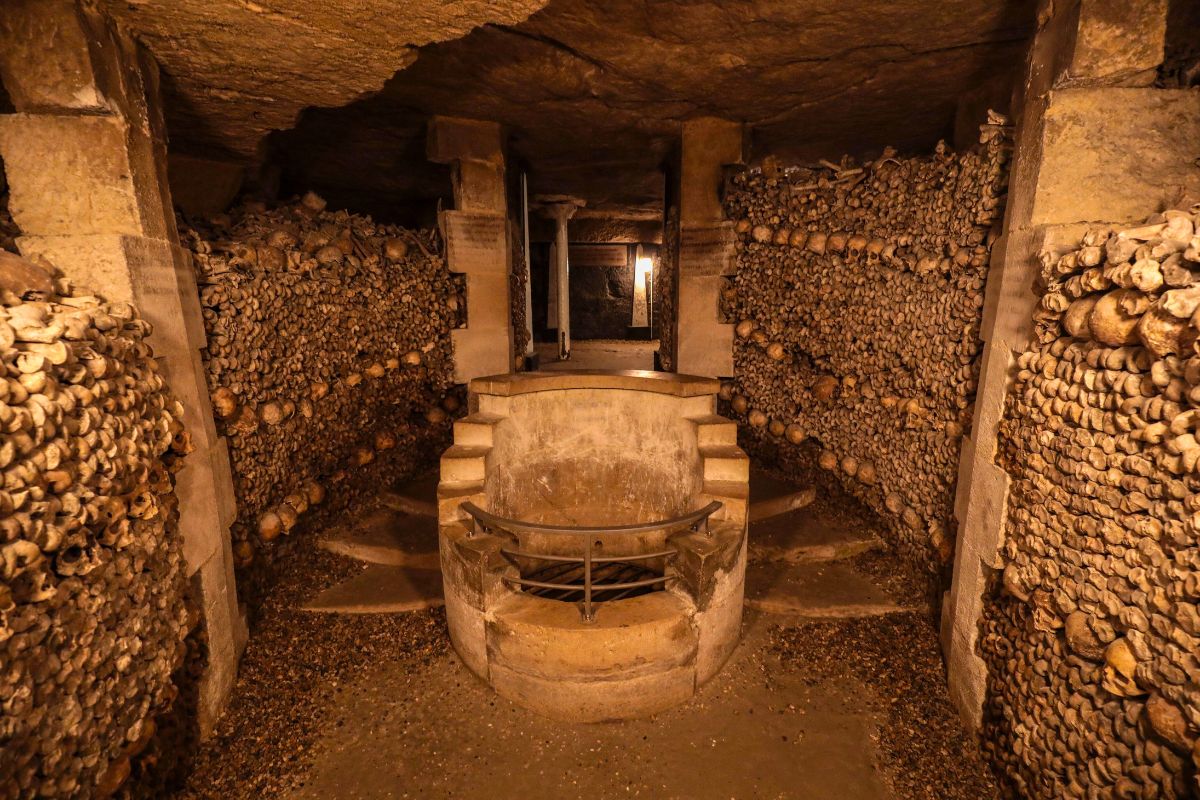 You cannot cancel or modify your Paris Catacombs tickets once you have purchased them. It's therefore paramount that you are certain of the date and time you are visiting.
If, however, you purchase a guided tour that includes your Paris Catacombs tickets, it may be possible to cancel your tickets within a certain time frame. Check with your relevant tour provider before purchasing your ticket to be sure of the conditions.
What is included in the Paris Catacombs ticket? What will you see?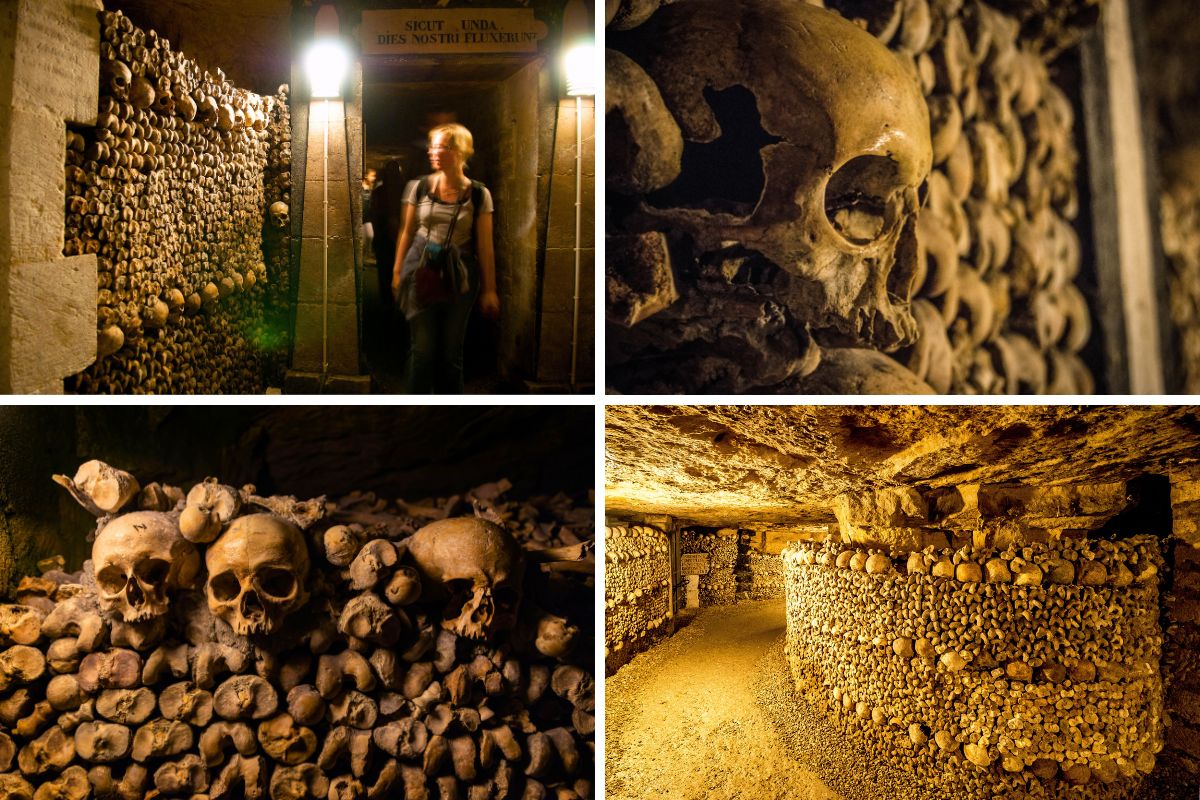 If you book you Paris Catacombs ticket in advance, you will not only gain access to the catacombs but an audioguide will be included.
The tour of the catacombs is deep underground. The walking route is approximately 1.5 kilometers long and you should count around 45 minutes to 1 hour to visit it.
It's important to note that the catacombs only form a small part of an expansive network of quarries that were previously mined for limestone since the 14th century. In the late 18th century, it was decided to move remains from Parisian cemeteries to these tunnels due to the health hazards they posed.
Subsequently, in 1809, the Paris Catacombs were opened to the public by appointment. Ever since, they have become an intriguing site for locals and tourists alike. The catacombs contain the remains of around 6 million Parisians which have been carefully arranged.
You will first descend 131 steps down to the catacombs. Please note that there are no lifts, so the tour is not suitable for those without full mobility.
Before you reach the catacombs themselves, you will walk through the tunnels of the old quarry. Discover the 'Copy of Paris', where you will see plaques with the former names of the streets located directly above, and the inscriptions engineers used to track the progress of the quarry.
Before entering the ossuary itself, take note of the sign above the door, which reads reading "Stop, this is death's empire!" The bones here were arranged Héricart de Thury, similar to how they would be in a medieval ossuary. You can also see signs indicating which cemeteries the remains are from, poems and religious texts.
From skulls arranged in the shape of a heart to a pillar covered in skulls and tibias, known as the "Barrel," the catacombs are a striking reflection on death.
Among the other significant features you will come across are the "de la Samaritaine" fountain, which actually functioned as a water well for quarry workers, and the Sepulchral Lamp, initially utilized by those same workers later served as a decorative point.
Additionally, signs alluding to the French Revolution can be found, as numerous bodies from the battles were temporarily placed in the Paris Catacombs during the fighting.
A distinct element of the Paris Catacombs, accessible largely solely through guided tours, involves the sculptures created by Décure. As a former quarry worker, Décure skillfully crafted detailed miniatures from the limestone rock. His sculptures reflect significant places from his life, including the prison where he was once held.
How to get there?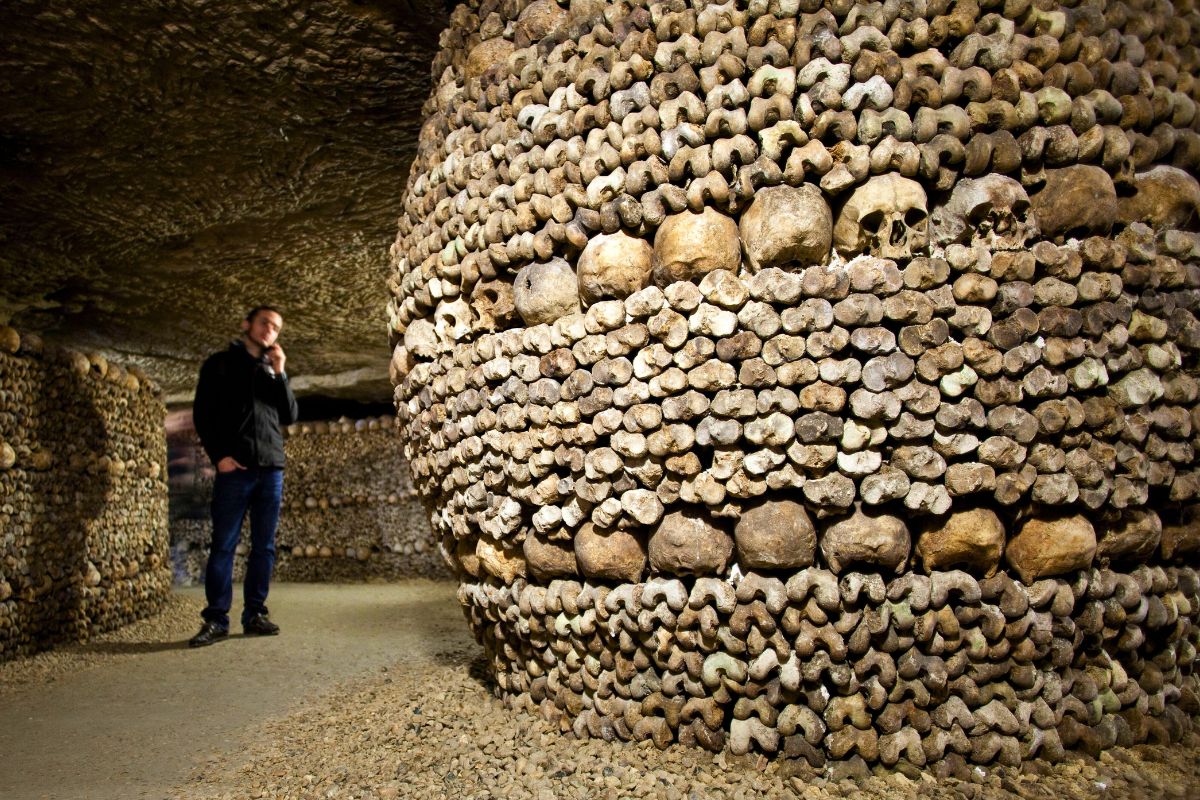 It is very easy getting to the Paris Catacombs as they are centrally located in the city. The entrance is at 1, Avenue du Colonel Henri Rol-Tanguy. You can reach the catacombs by car, metro, or bus.
If you are traveling by car, you can park at Boulevard Saint-Jacques. For those using the metro, the closest station is Denfert-Rochereau. You can also use the bus on the 38 or 68linese.
Check the map below for directions.
Opening hours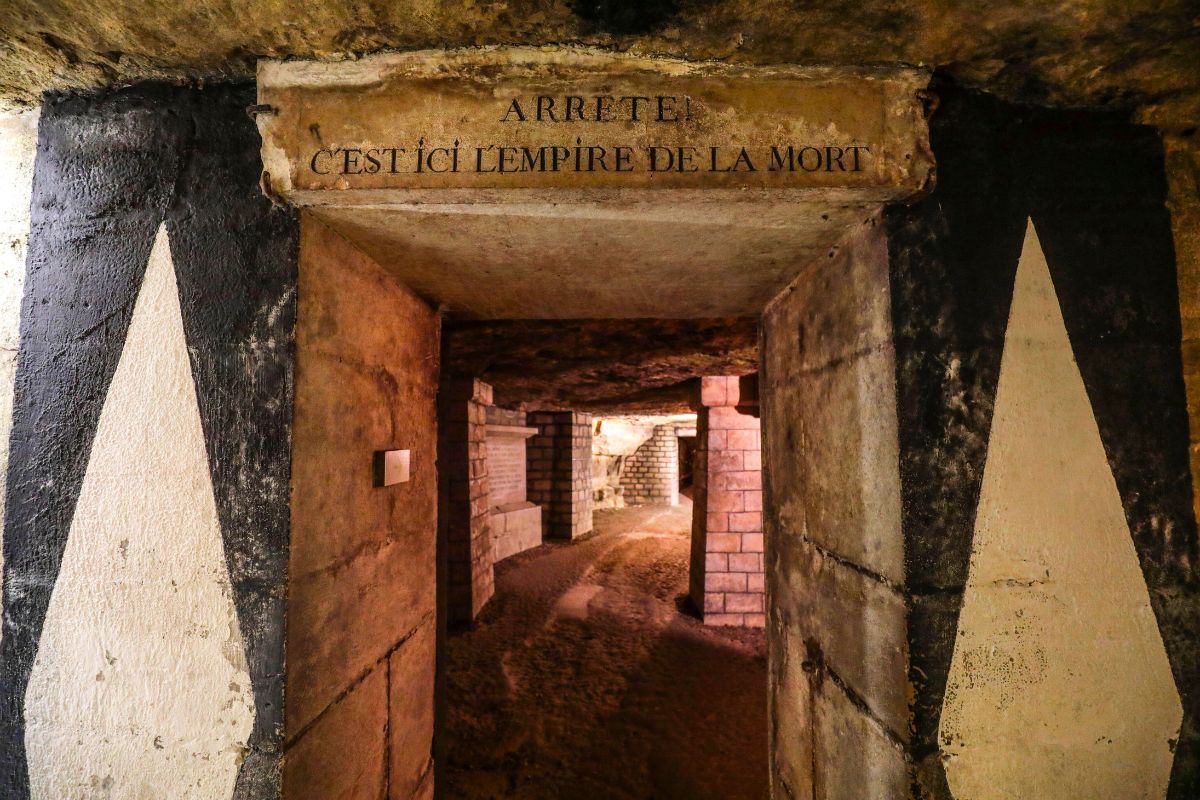 The Catacombs of Paris are open from Tuesday to Sunday from 9:45 AM to 8:30 PM. The last admission is at 7:30 PM.
The catacombs are closed Mondays, Jan. 1, May 1 and Dec. 25.
Avoid the crowd – When is the best time to visit the Paris Catacombs?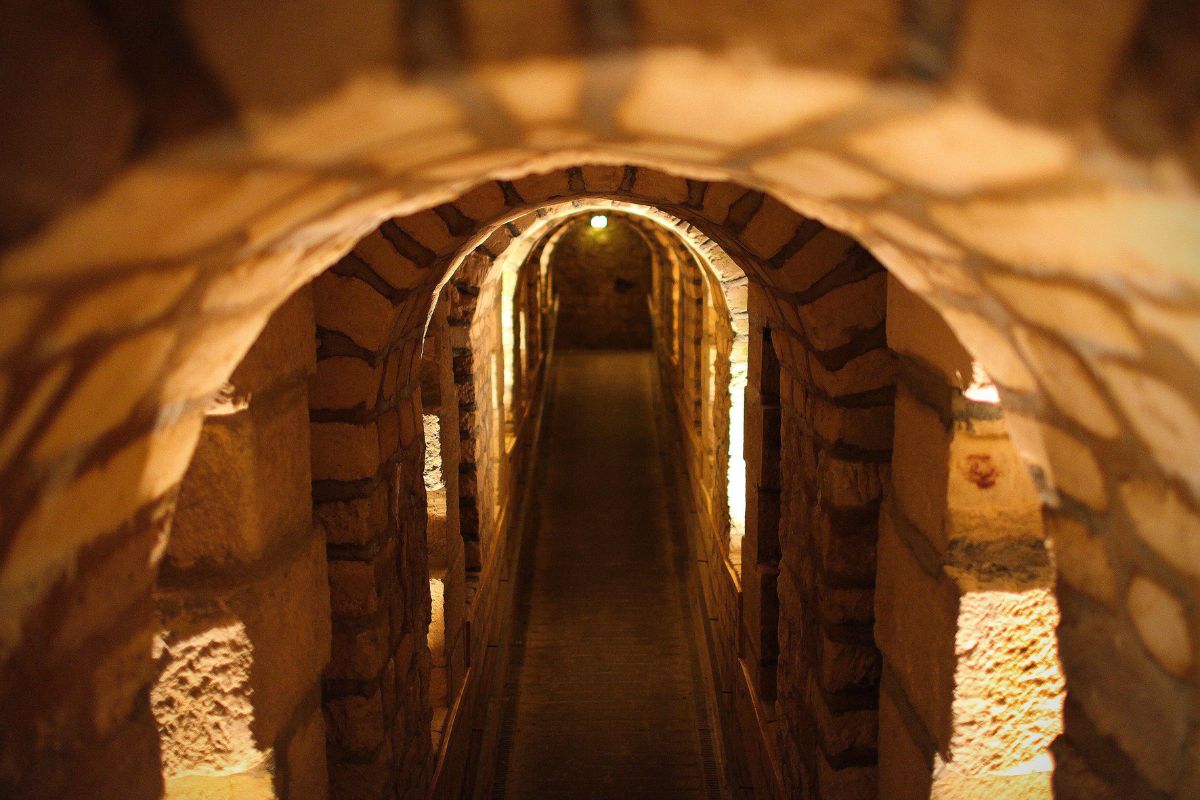 The Catacombs of Paris are unaffected by seasonal weather and can be visited all year round. However, we recommend that you avoid visiting during school holidays and weekends if possible, as it can get crowded.
We would also recommend visiting in the early morning or evening when there are fewer people.
Travel tips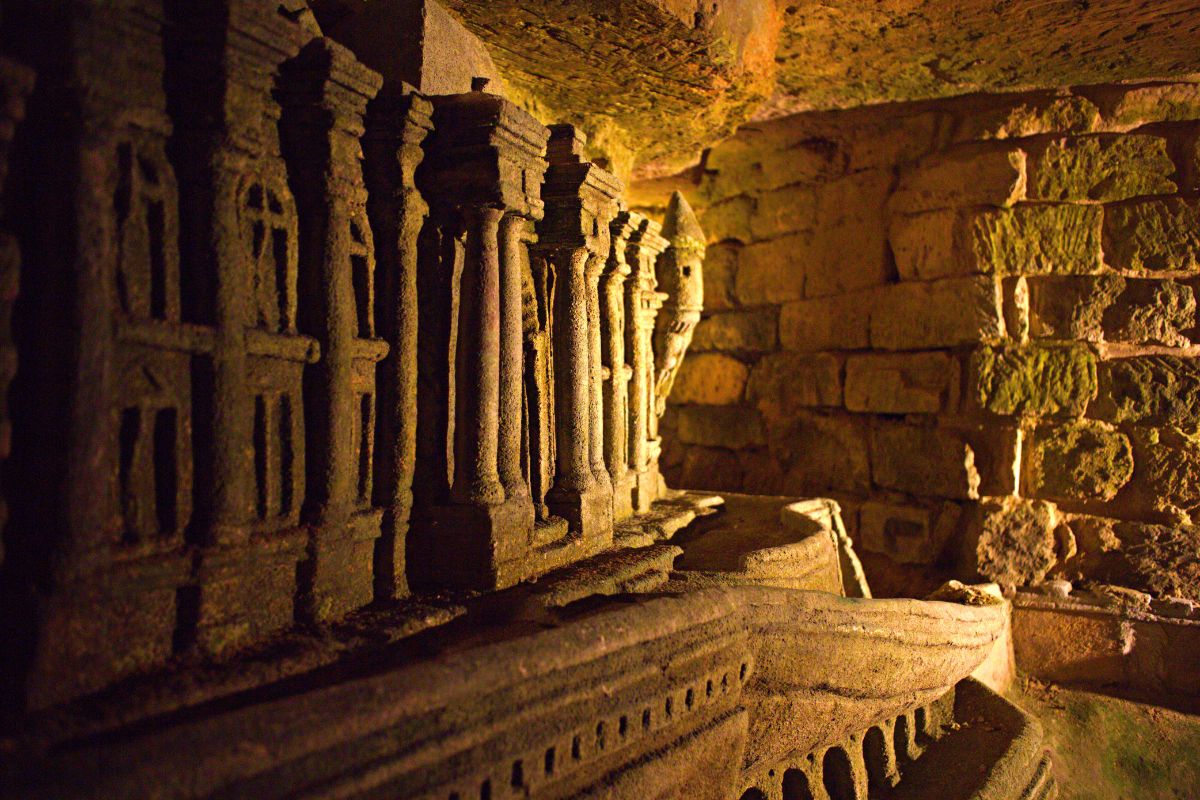 The average temperature inside the catacombs is around 14 degrees Celsius, so make sure you layer up. It's also known to get humid and slippery, so wear comfortable shoes.
When you get out of the Catacombs after a 2-kilometer walk, you'll be in a different area. Don't panic, the nearest metro station is Mouton Duvernet.
Visiting the Paris Catacombs is not recommended for people who are claustrophobic, people with cardiac or respiratory problems, or people who are sensitive to the content.
Most importantly, be respectful and do not touch or steal the bones!
We hope this was useful information about Catacombs Paris tickets. If you have any questions please do not hesitate to comment below!