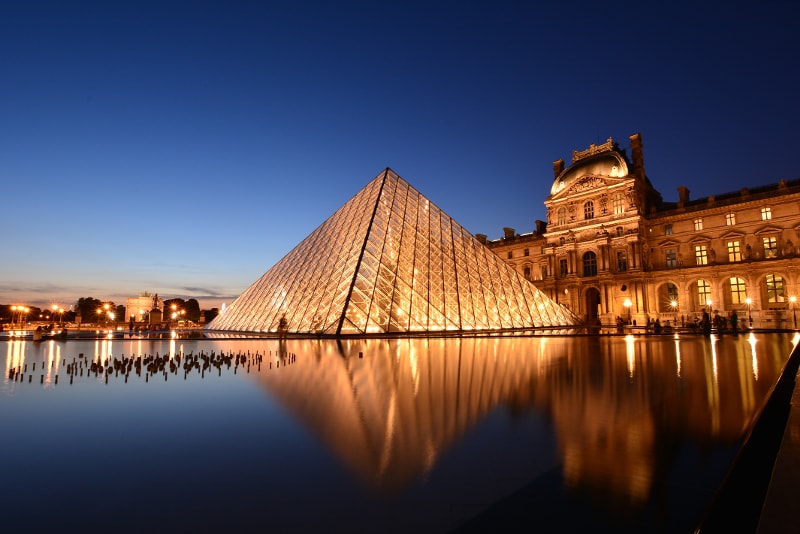 Wondering which of the many Louvre Museum Tours is right for you? On this page, you will find a comprehensive guide to Louvre Museum Tours, including: private tours, group tours, tours for kids, night tours, audioguided tours and more.
Are you ready to book your Louvre Museum Tour right now?
Don't feel like reading ahead? Click here to book your Louvre Museum tour.
Louvre museum tours – Is it worth taking a tour?
With more than 380,000 objects contained within its display cases and a whopping 35,000 works of art spread across its 652,000 square foot site, the Louvre museum is without a doubt one of the largest museums in the world.
It is so large in fact that it is impossible to see everything in one visit or even over several visits. If you wanted to see ever masterpiece and historical object on display in the Louvre, you would need to spend 100 full days within the museum. Even then, that would mean being in the Louvre for 24 hours straight and dedicating only 30 seconds to each object which would just be a crazy endeavour to attempt.
If you don't have that kind of time to abandon work and all other life priorities to spend 100 days in the Louvre (at least we can dream, right?), the best option is to take a tour, since dedicated tour guides can lead you to the most notable exhibition highlights in order to make the most of your time in the cultural heart of Paris.
Is booking a tour for the Louvre museum worth it?
Some people prefer to browse the Louvre and leisurely wander its halls at their own pace which is fine, however even if you opt to have a guide, the tour is conducted at a pleasant pace which simultaneously means not rushing from A to B and not overdoing it.
Hiring a guide for your tour of the Louvre offers a number of benefits.
It's super easy – There is no hassle involved in organising a tour. Your tickets will be bought and ready so all you need to do is show up on site, aka no waiting in line for ages in the long queue to enter.
You have better focus – Since there are literally hundreds of thousands of items contained within the Louvre, unless you're an art and history buff it would be difficult to know which collections and pieces are the most important and how best to concentrate your time.
You have help with questions – Perhaps you see something incredibly fascinating and you want to know more about the artist or the inspiration for the piece. With a guide, you have expert answers to all of your questions whereas if you're alone, you may find yourself googling or simply not knowing anything about what you are looking at.
You will see all the important exhibitions – Many people stroll into the Louvre, take an obligatory selfie in front of the Mona Lisa to show to friends and family they've "done it", browse aimlessly at the other exhibits for a while and then leave. You may even walk straight past important exhibitions and sculptures like the Venus de Milo because you don't know what it is! With a guide, you are sure that you are hitting all the most important spots, and after the tour you can wow your loved ones with your cultured art history knowledge.
It goes without saying, having a guide to visit the Louvre can make a big difference.
Louvre museum tours – Which one is right for you?
So, you have established that you would perhaps like to take a tour of the Louvre, but the tricky question now is, which tour is best for you? In short, this varies from person to person depending on their budget and specific interests.
If you are happy to just gain an insight into the Louvre and its main collections, the standard group or audio tours are fine. Alternatively, if you have a love for a particular artist or you want to spend longer in the museum, then you can arrange a bespoke private tour tailored to your interests.
Whatever specific option you choose, there are perks! All Louvre Museum tours include skip-the-line tickets (more time to stuff your face with French wine and cheese or marvel at the Eiffel Tower later on!) and the majority (excluding audio tours) include a licensed English-speaking tour guide that is super knowledgeable and passionate about the Louvre.
So, if you are still scratching your head about which tour option is the best for you personally, you can choose from:
Private tours – A bespoke, tailor made tour designed specifically to suit your interests. A private tour enables you to concentrate on particular collections or pieces (for example, maybe you are fascinated with Greek history and want to concentrate on the sculptures).
Group tours – The standard tour is often the best option for those on a budget that want to see the highlights and have someone to answer their questions without breaking the bank.
Express tours – A quick overview of the museum's highlights.
Audio guided tours – Audio guided tours are the perfect option for those wanting more information, yet equally wanting to explore independently and at their own pace.
Tours for kids & family – Tailor made tours designed to keep the little ones amused and captivated.
Early morning & evening tours – A great option for missing the crowds or fitting your trip around a jam packed schedule.
Theme guided tours – Guided tours that focus on a specific theme or topic for cultural buffs and art aficionados.
Louvre museum private tours
As with all Louvre museum tours offered, private tours mean that you skip the long line at the entrance and jump right into the cultured action. If you prefer to travel at your own pace, take in the sights slowly, and have a little independence without joining a group of other people that are hurrying from A to B or asking lots of questions, a private tour may be the best option for you.
For many, visiting the Louvre is a once in a lifetime opportunity and so it is worth ensuring that you leave Paris feeling like you got the most out of your experience and can look back on every aspect of your trip fondly. When taking a private tour, you have the expertise of the tour guide all to yourself and you can choose what you want to see or stop at as you move around the museum. For added convenience, it is also possible to organise a hotel pickup when taking a private tour. 
Louvre museum group tours

Arguably the "standard" and most popular option for visiting the Louvre is to take a group tour. For those interested in seeing the most important exhibitions on show at the museum and for a quick and insightful tour, a group option is a good choice.
Group sizes vary depending on the specific time of year and time of day that you decide to visit the Louvre, however the experience is made more intimate by the fact that each attendee is given headphones in order to clearly hear what the guide is saying. Typically, group tours run in small group sizes in order to ensure that the experience is somewhat intimate and that everyone in the group has the opportunity to speak with and ask questions of the guide as needed.
Louvre group tours are inexpensive and the best option for those travelling on a budget.
Louvre museum express tours
Perhaps you're not someone that is moved by art and history, but you want to visit the Louvre while you're in Paris (you can't miss one of the world's most important museums after all, can you?). Express tours offer you a quick whip around the most notable exhibits without spending too much time in the museum.  This is also a good option if you only have an hour or two to spare and need to catch a flight. With an express tour, you can see the most famous masterpieces such as the Mona Lisa or the Great Sphinx of Tanis.
Louvre museum audioguided tours
Louvre museum audio tours are the cheapest option and cost only 5 euros per person in addition to the audio guide rental. This type of tour is perfect for those who would like a little more information on the exhibits and artworks that they are seeing in front of them, without having to either pay for a tour or potentially be held up by other people. The only downside to this type of tour is that you still do not have someone to ask questions to and so you may still find yourself frantically googling for more information.
Kids & family Louvre museum tours
Any parent knows that travelling is as good of an education for children as sitting in the classroom, however sometimes it is difficult to maintain the little one's attention spans for extended periods. Tours focused on families make history more exciting and engaging for the little people in your life.
Avoid the crowd – Early morning & evening Louvre museum tours
Opening daily at 9am, the Louvre is also open until 9.45pm on certain days of the week. It's understandable that you may only have a short slot of time available to fit a Louvre tour into your Paris schedule and fortunately, flexible options for tour times allow you to schedule the trip around your preferences.
You can also opt for an evening tour. Most of the tours include also a wine tasting experience
Theme Louvre museum tours
Have a particular interest or favourite artist? Perhaps you would like to concentrate on art from a certain period or history from a specific country. It's possible to join a theme guided tour that concentrates on certain aspects of the Louvre's expansive collections. A lot of the themed tours offered are light hearted and offer a fresh and humorous twist on classic touring. For example, you can opt to participate in a comedic tour, a Da Vinci code tour, or even an art and wine tour. After all, the only thing that could be better than gazing up at the Mona Lisa, is gazing up at the Mona Lisa with an exquisite glass of chardonnay in hand.
Tips for booking guided tours of other attractions in Paris – combos
The Louvre is one of several notable attractions that you must visit during your time in Paris. If you are travelling in the French capital, it is more than likely that you also wish to see the Notre Dame, climb the steps of the Eiffel Tower, or marvel at the Versailles Palace while you are in town.
It actually works out cheaper to purchase a package deal that includes admission to another attraction (or several other attractions) when buying your ticket to the Louvre, rather than simply buying everything individually. This also saves time, since everything is booked and organised at once and you can focus the remainder of your trip on relaxing and enjoying Paris, rather than hurrying around buying tickets.
It should be noted that prices may change depending on seasonality and demand, and on occasions there may also be interesting deals on offer. As such, it is advisable to compare prices before booking.
Is there any free Louvre museum tours?
Unfortunately, there are no free guided tours of the Louvre. The audio guided tour, weighing in at 5 euros per person is the cheapest option available. Considering the information and experience you are getting, it is still pretty good value for money.
If you are travelling to Paris as a student, or there are students within your group, they can enjoy free admission by displaying their student cards. Alternatively, if you are on a very strict budget, all people (regardless of age, nationality, etc) can enter the Louvre for free on certain days of the month. These days are Bastille Day (14th July each year) and the first Sunday of the month from October to March. As you may expect, these days get incredibly crowded.
Cancel/modify your Louvre Museums Tour?
It is advisable to plan your Paris schedule thoroughly before booking a tour to make sure that the dates you intend to visit the Louvre are convenient. Some providers offer free modifications and cancellations whereas others do not. It is recommended to be sure of your dates before booking to avoid hassle, and check the small print of the provider you choose to ensure that this is a possibility.
Are any Louvre museum tours included in the Paris Pass?
The Paris Pass gives you access to the Louvre Museum and many other attractions an museums in Paris. It is one of the best choice if you want to visit several attractions and museums and you can considerably save some money. However, a guided tour of the Louvre is not included and it should be organized separately.
If you want to check all the details about the Paris pass, you can also check our specific article: Paris Pass – is it worth it?
If you have enjoyed our review, share it on social media! 🙂