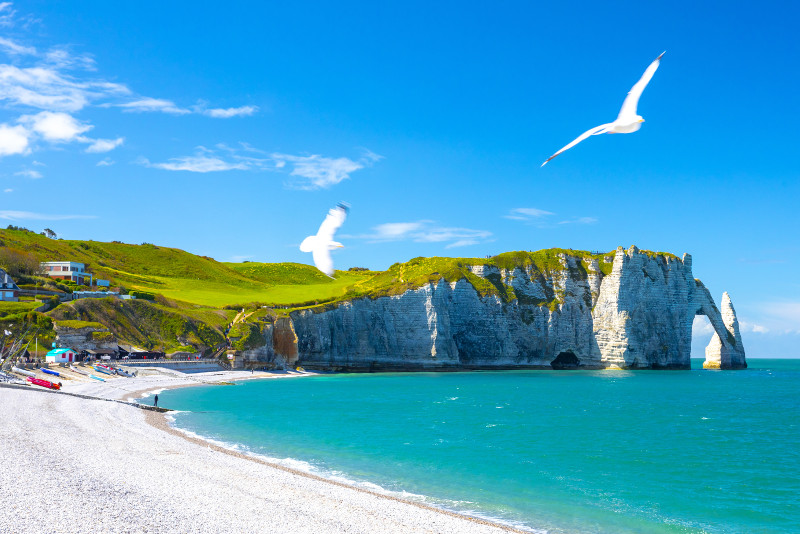 Wondering what are the best Normandy tours from Paris?
Just a few hours' transfer can whisk you from the shadow of the Eiffel Tower to amazing Normandy sights. And what sights they are! Think golden beaches steeped in dark 20th-century military history. Get ready for proud monuments to WWII heroes. Prepare for cobbled old towns peppered with half-timbered bistros and crowned by glorious Gothic spires.
Start planning for days of cliff walking, cider tasting, and visions of Monet, van Gogh, and the Bayeux Tapestry. All that and more is on offer from this medley of awesome Normandy tours.
1. Normandy D-Day Beaches Day Trip with American Cemetery and Lunch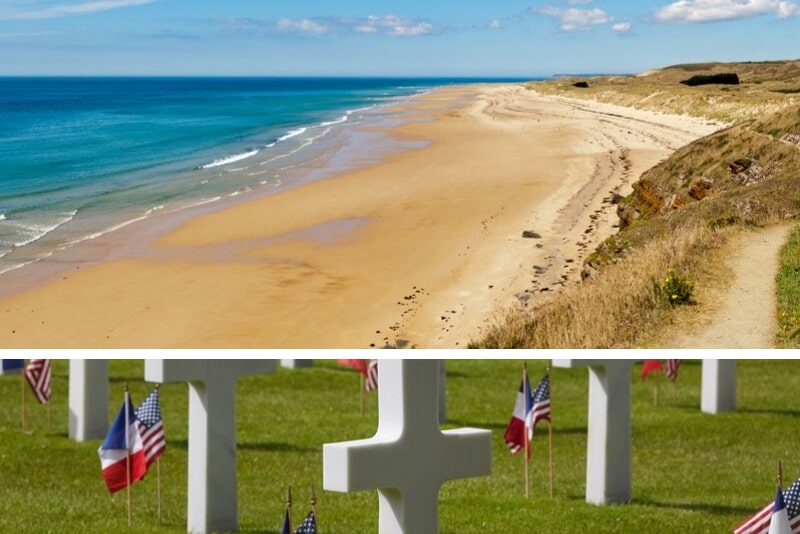 Focus your adventure to Normandy on the dark and tumultuous history of WWII with this guided tour of the region's infamous battlefields. The main pitstop will be the wide, wind-blasted sands of Omaha Beach. That was one of the main invasion points in the great D-Day landings of 1944, and today visitors can still see the remnants of hardy German bunkers cast in concrete on the headlands.
After that, you can wonder at the ingenious harbor constructed by Allied forces on the bay of Arromanches, and pay your respects at the moving Canadian Memorial of Juno Beach.
2. Mont Saint Michel Day Tour from Paris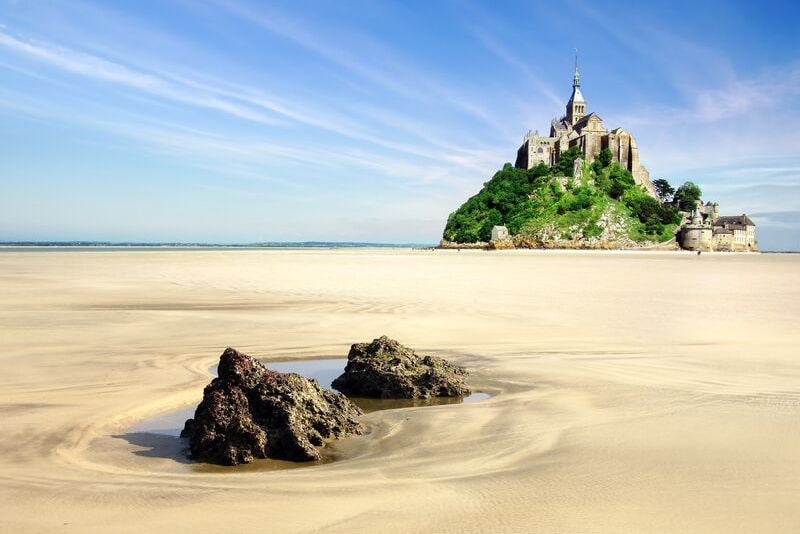 Prepare to be stunned the moment you first set eyes on Mont Saint Michel. One of the great treasures of Normandy – nay, all of France! – it crowns a tidal island in the English Channel like a grand, Gothic limpet. Once the home of a wandering Irish hermit, the spot later became a Breton bastion against Viking raiders, eventually growing into a sprawling monastic community and castle complex by the Hundred Years' War. These days, it's a UNESCO World Heritage Site, which you'll tour with an in-the-know history guide.
Afterwards, you'll have time to wonder at the stunning Norman coast, as visions of water-dappled bays and estuaries extend away to the horizon.
3. 2-Day Normandy, Saint Malo and Mont St Michel Tour from Paris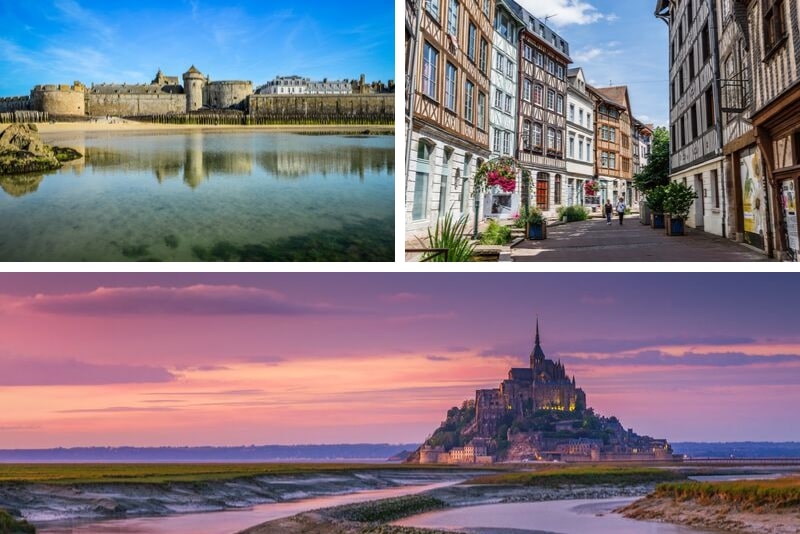 One moment you'll be lost between the cobblestone alleys and half-timbered taverns of medieval Rouen. The next, you're wandering the boat-bobbing quays of romantic Honfleur as the evening haze glows yellow across the honey-tinted townhouses there. Then, you'll gasp as the mighty turrets of Mont Saint Michel come into view on the English Channel. And you'll be enthralled by heroic tales of D-Day invaders on the beaches of Normandy.
All that and more fits into this two-day adventure through northern France. Accommodation is in the immersive fortress town of Caen and all meals are included.
4. Normandy D-Day Beaches: Day Trip from Paris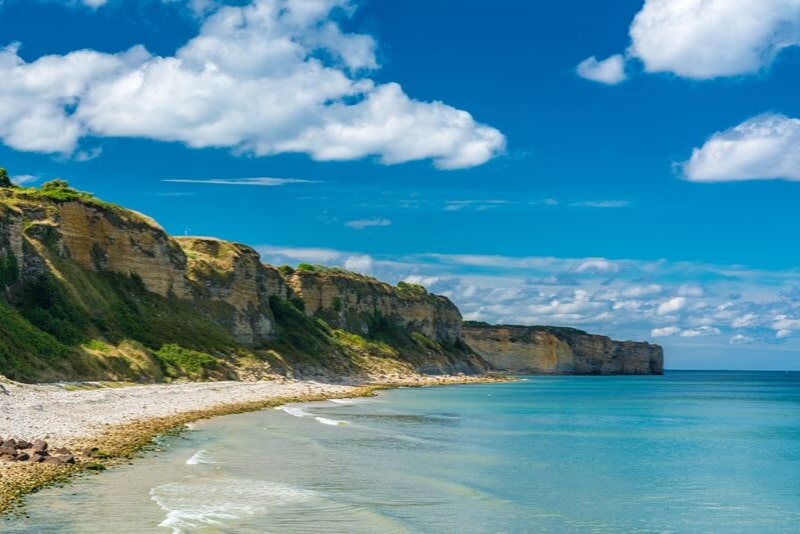 It might only last a day, but this whirlwind tour of Normandy's most profound war sites and battlefields leaves plenty of time for reflection. It starts with a stop at the Caen Memorial Museum, where you'll unravel the tumultuous tale of WWII and the heroic invasion of the beaches by the Allies.
After that, you move deeper into the region to stand at the infamous Pointe du Hoc, where Nazi bunkers once kept watch over the key D-Day landing spots of Omaha and Utah alike. From there, it's straight to the sprawling American Cemetery at Saint Laurent. That's got nearly 10,000 white headstones that stand as testimony to the sacrifices that were made by so many on the fateful days of June 1944.
5. Small-group WWI Somme Battlefields Day Trip from Paris with John Monash Centre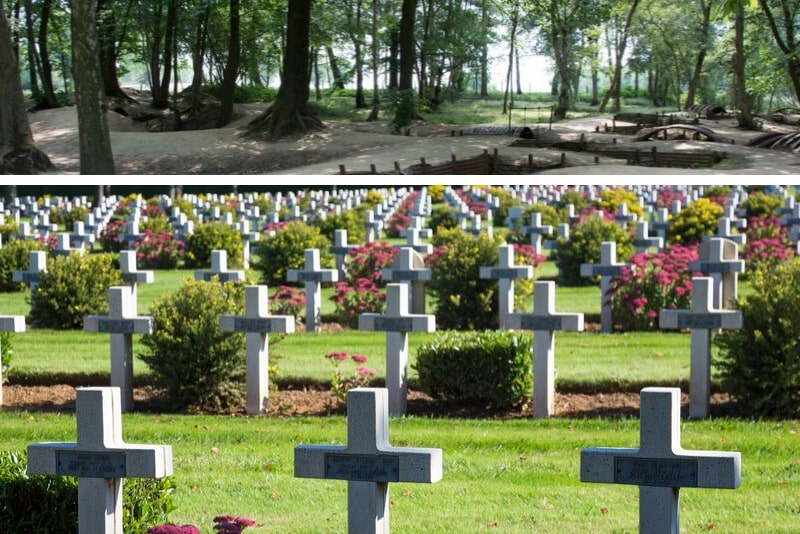 The focus switches from the landing sites of WWII to the bloodied battlefields of the Great War on this 11-hour excursion out of Paris. Instead of heading to the salt-washed coast, you head to the poppy-strewn meadows of the Somme, which means trading Normandy for the rural depths of the Hauts-de-France region. Once there, you'll get moments of meditation in the vast Delville Wood cemetery (home to more than 5,500 fallen soldiers).
You'll experience trench life in preserved dugouts at Beaumont-Hamel Newfoundland Memorial. And you'll get to explore the vast military history collections of the acclaimed Historial in Perrone.
6. Giverny & Monet's Garden by Train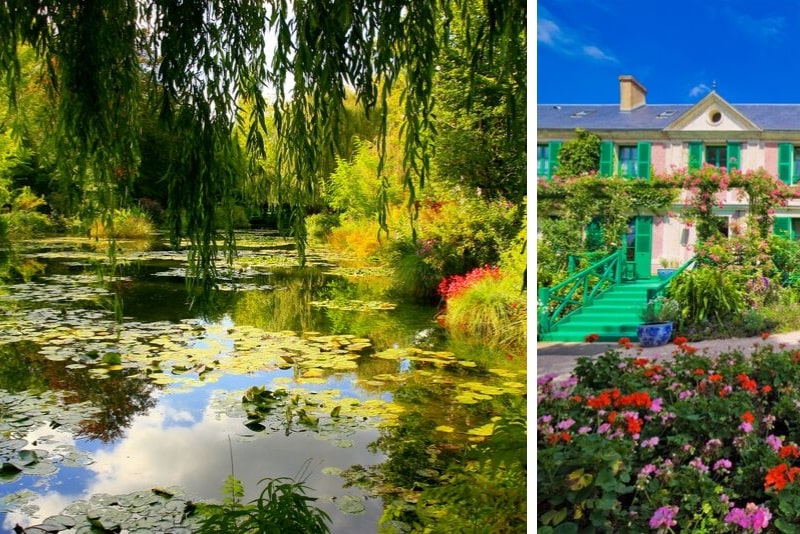 There's no more romantic a way to hit the old home and workshop of France's master lily painter than by train. Bag this package and you'll be sent pre-paid rail tickets that'll whisk you out of Paris and through the rolling farm fields of Normandy, where stone-faced longhouses pepper the cow meadows.
The locomotive drops you near the cute village of Giverny, ushering in an afternoon of plaintive wanderings in the Maison et Jardins de Claude Monet – the onetime stomping ground of the iconic Impressionist.
7. 3-Days Normandy, St Malo, Mont Saint Michel & Loire Castles with Wine Tasting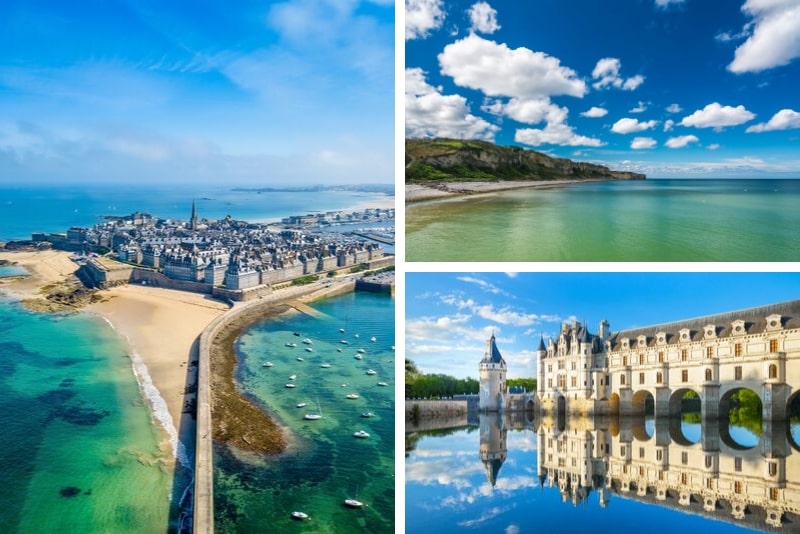 There's a real French odyssey on offer here. From the grand chateaux of the Loire Valley to the wave-bashed sands of Normandy's beaches, it's a trip that takes in some of the most iconic aspects of the Parisian hinterland. To kick things off, Rouen offers its crooked, half-timbered architecture and literary heritage.
Then heartstring-tugging Honfleur makes and appearance – it's where Boudin and Monet alike came for inspiration. From there, it's over to the amazing D-Day landing sites for glimpses of bunkers and cemeteries.
And then it's back south to castles close to Paris, and hard-earned tasting sessions in award-winning wineries.
8. Normandy and Brittany 2-Day Tour from Paris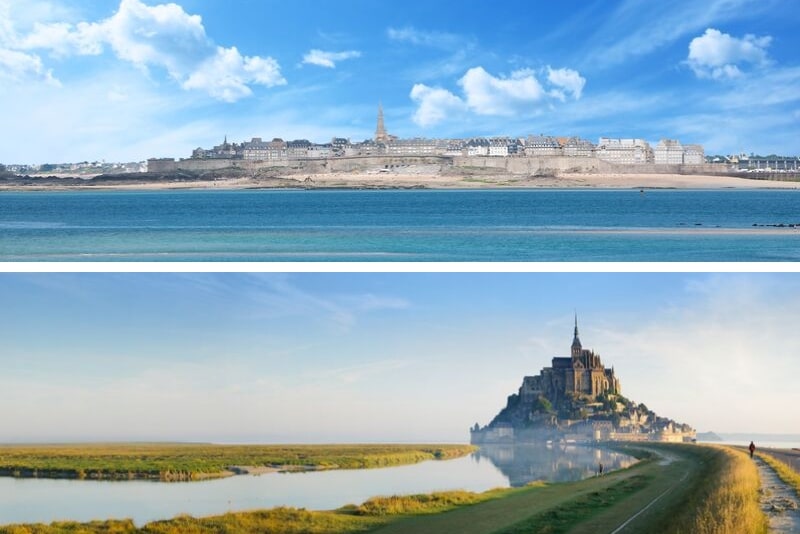 Check off two of northern France's most chart-topping regions in a single trip with this fly-in jaunt through both Normandy and Brittany. You'll leave Paris in its urban haze and feel the salt spray of the wild coast.
There are moments to get lost between the grey bulwarks of Saint-Malo, where pirates once glugged rum in the taverns. And you get to see the UNESCO site at Mont Saint-Michel to boot. Punctuating that are stops at historic beaches and wind-lashed cliff lookouts, not to mention accommodation in four-star hotels the whole way!
9. Private Day Tour to Normandy D-day beaches from Paris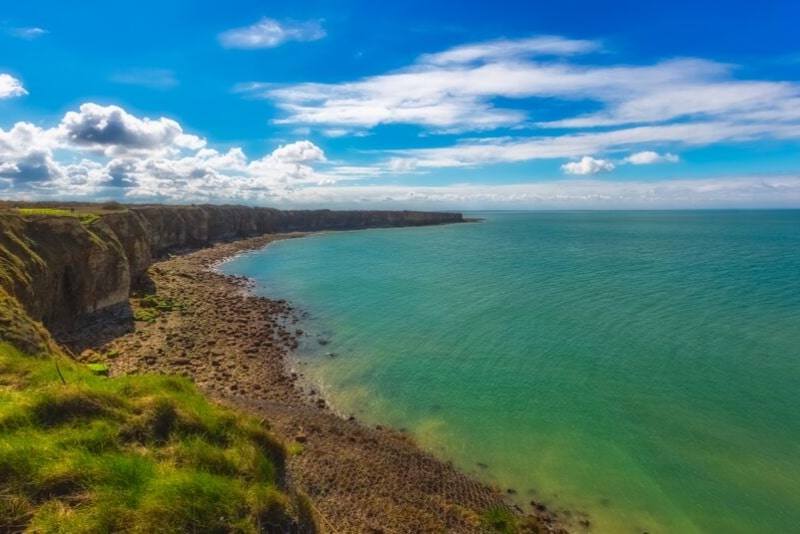 If you're heading Normandy way to really get a feel for the layer upon layer of military history that exists in the region, there's surely no substitute for having your own private guide. They can curate trips just like this one, which take you to well-known WWII memorials like the American Cemetery in Colleville-sur-Mer, but also out to more off-the-beaten-track places like the flashpoint crossing of Pegasus Bridge and the aging Nazi gun batteries at Longues-Sure-Mer.
Moreover, you'll get to ask any question you like, whenever you like. And the trip has direct pick up and drop off anywhere in the capital!
10. Auvers-sur-Oise & Giverny Small-Group Day Trip with Lunch from Paris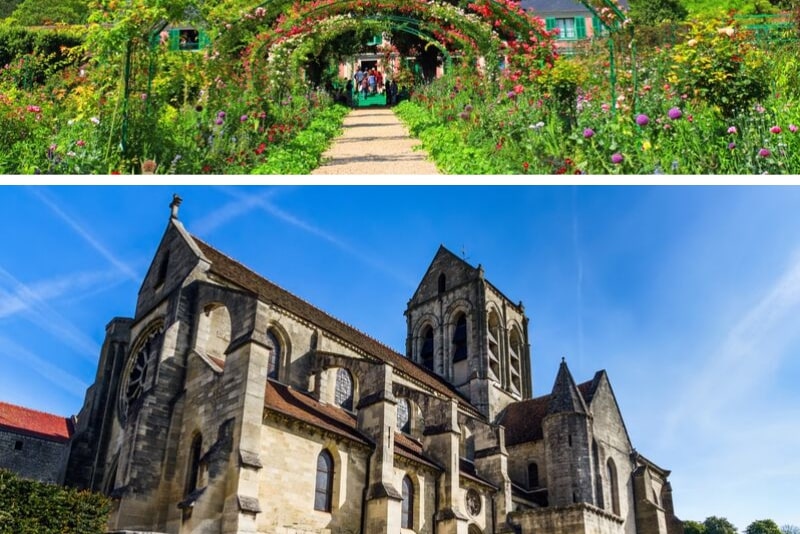 This small-group tour from Paris is all about chasing the brush strokes of two of Europe's greatest artists. First up is Claude Monet. His home awaits between the blooming flowerbeds, irises, and willow trees of handsome Giverny. You can tour that to learn all about what inspired him and the Impressionist movement as a whole.
Then comes Vincent van Gogh. His tumultuous life ended on the outskirts of Paris in Auvers-sur-Oise in 1890. The room where he passed in the Auberge Ravoux is still preserved to see.
11. Small-Group Mont Saint-Michel Day Trip with Abbey Entrance and Cider Tasting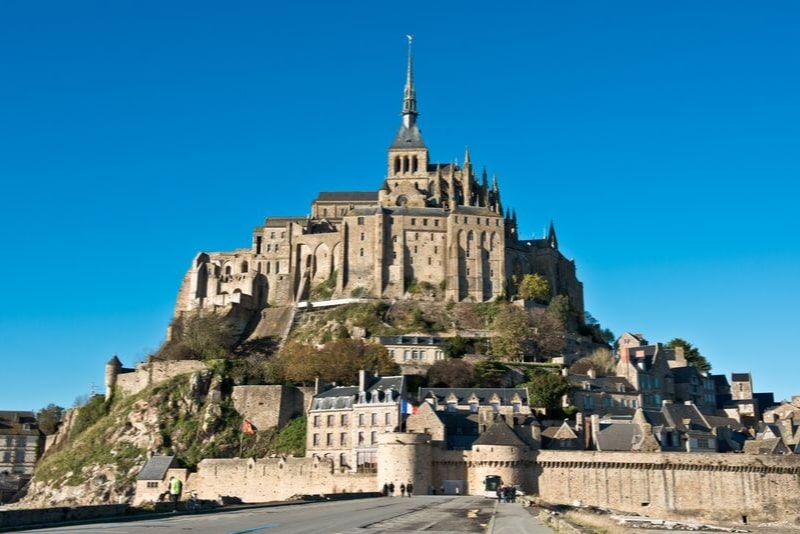 The mysteries and histories of the great Mont Saint Michel are the focus of this full-day outing from the French capital. As you drive north-west to the shores of Normandy where the UNESCO site awaits, its past will be narrated by a qualified guide.
You'll learn about how it went from a humble Irish hermitage to a powerful military outpost in just a matter of centuries. After arriving, you'll gain sought-after access to the main abbey, where you'll wander soaring Gothic interiors, shadowy cloisters, art-filled chapels, and more.
12. Normandy D-Day Landing Beaches Tour including Cider Tasting and Lunch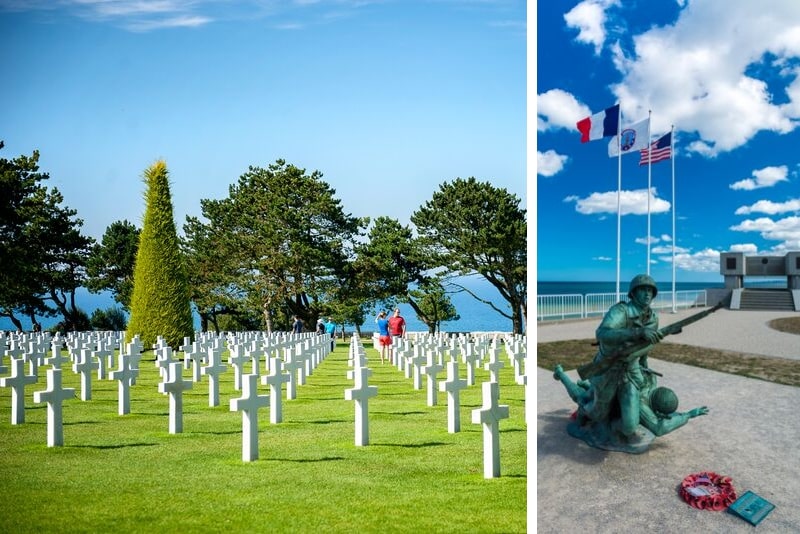 There are two distinct halves to this 14-hour run-around of Normandy. Come morning, you'll cruise north-west from the Eiffel Tower and straight to the coast of the English Channel. That's where you delve into WWII history. It's a jaunt that includes stops at the haunting remnants of German bunkers above Utah Beach – one of the D-Day landing grounds.
The afternoon is taken with visits to a vast military cemetery at Colleville-sur-Mer. Breaking the day up is a return to bucolic French backcountry. There, you'll taste Norman calvados brandies and glug cloudy ciders to get a feel for the rich culinary heritage of the region to boot.
13. From Paris: Full-Day Small Group Tour to Honfleur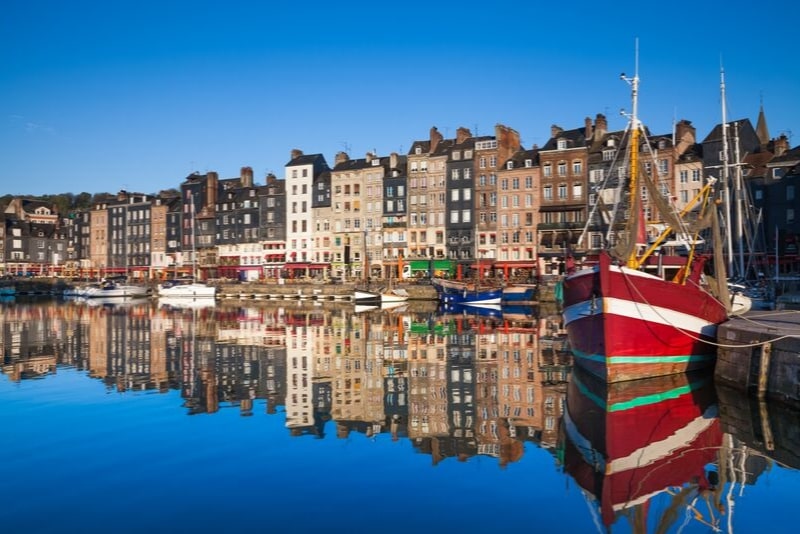 Honfleur is a town that rarely fails to beguile and enchant. Once the muse of Impressionist painters, it comes with a reflective ancient harbor – the Vieux Bassin – where higgledy-piggledy houses tower with their slate-clad façades above one another. Beyond that are boulevards laden with calvados cellars and cobbled alleys scented with the aromas of grilling fish. It really is pure Normandy.
You'll get to explore all that to your heart's content, and with a dedicated guide in tow, on this small-group tour of the so-called Côte Fleurie. And there are two more gorgeous seaside towns – Trouville and Deauville – thrown in for good measure.
14. Giverny and Monet's Garden Bike Tour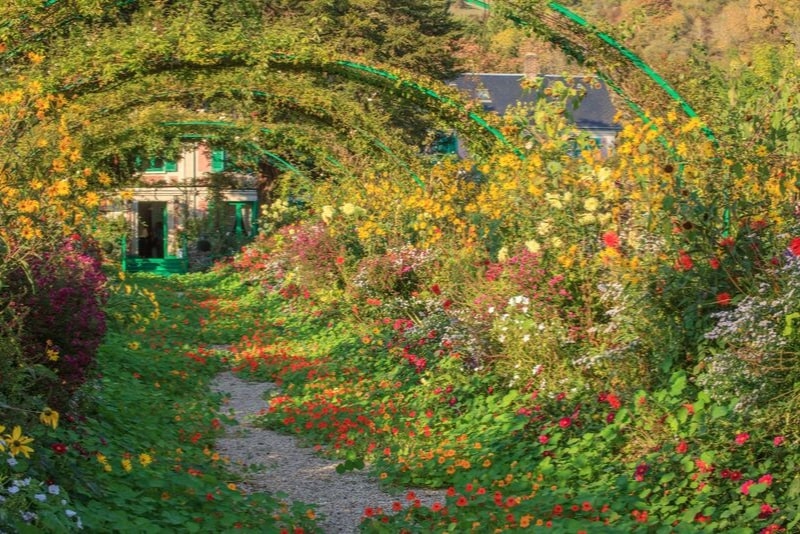 Leave behind the traffic-clogged lanes of the French capital for a taste of classic Norman countryside by trading air-conditioned minibuses for a vintage bike. You'll hop on your wheels in the town of Vernon. There's a short break to load the basket with pungent camembert cheeses and crispy baguettes for lunch later on. And then it's straight out to the banks of the snaking Seine River and their rolling cow fields and maize meadows.
You'll reach Giverny after only three miles on the tracks. It's the epicenter of all things Monet, with visions of the church where he's buried, the house where he lived, and the Hotel Baudy – a place where artists like Renior once came to tea.
15. 2- Days Mont Saint Michel, Loire Castles & Wine Tasting Tour from Paris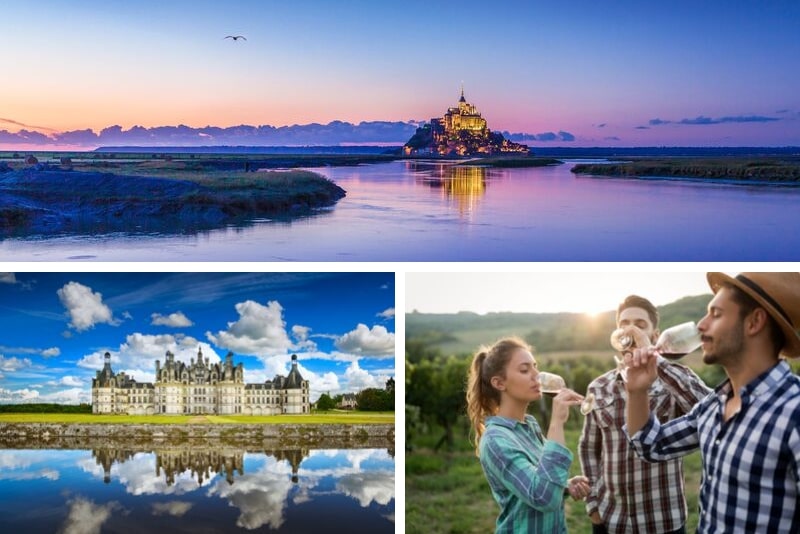 If you think you call pull yourself away from Montmartre and the Louvre for two full days, this expedition to the regions on the peripheries of Paris is one you certainly won't forget. It takes in a duo of France's most striking cultural wonders. Up north, in Normandy, the stage is set for the glorious spires and buttresses of UNESCO-tagged Mont Saint Michel, an ancient monastic castle that juts high above the English Channel.
Then it's onto another world heritage site: The Loire Valley. Romance flows as easily as the winding Loire River there. The hills are topped with medieval castles; the landscapes are speckled with proud chateaux. You'll taste wine and get to picnic in the country before returning to the big city.
16. Small-Group Normandy D-Day Beaches Day Trip with Omaha Beach, American Cemetery and Cider Tasting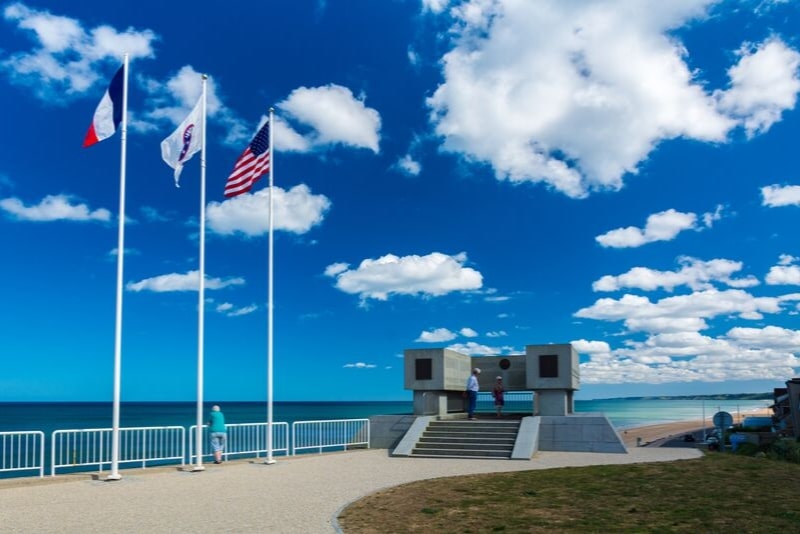 A small-group tour of the Normandy Beaches is a great way to trace the footsteps of D-Day heroes. With just eight people maximum in each group, there's plenty of time to ask questions and reflect on the poignant locations you'll encounter along the way. Stops include the Pointe du Hoc, where muscular concrete bunkers still keep watch over the 100-foot cliffs that were scaled by American rangers back in 1944.
You'll also get to pay your respects at the American Cemetery, and learn all about the landings in the informative Operation Overlord Museum.
17. Étretat and Le Havre Day Tour from Paris with Gourmet Lunch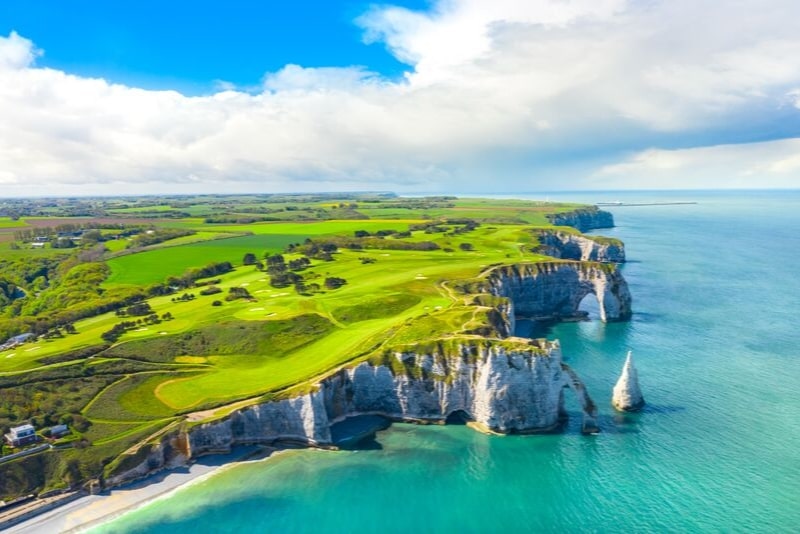 This day-long tour is your ticket to the wave-smashed white cliffs of Étretat. Considered one of the most dramatic sections of French coastline, these runs of shore are home to the carved Porte d'Aval stone bridge and soaring hoodoos that spike straight out of the English Channel.
But the amazements don't end there. Late morning jaunts through Étretat's own market mean chances to shop for calvados and cider and cheese. Then comes Le Havre, one of Normandy's most striking towns, where post-war modernism unfolds in countless concrete blocks and wide boulevards.
18. British Landing Beaches & Caen Discovery from Paris
Calling all aficionados of British military history – this guided tour focuses on the D-Day beaches of Gold and Sword. They were the landing points assigned to the Royal Navy and UK forces in 1944. Exploring them today makes it possible to see the hulking gun batteries at Longues-sur-Mer and the remains of the Mulberry harbor that was constructed by the allies in Arromanches.
Walking tours of the city of Caen – liberated by the British shortly after the landings – and the flashpoint crossing at Pegasus Bridge are also included before the return to Paris.
19. From Paris: Full-Day Small Group Trip To Rouen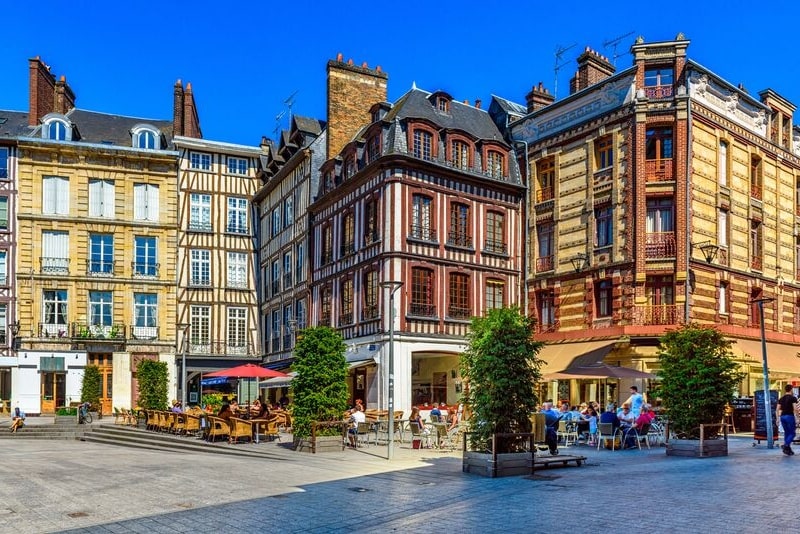 Straddling a bend on the Seine some 80 miles north-west of Paris, romantic Rouen is one of Normandy's great jewels. It's steeped in layers of culture and history. Look one way and you'll spy the filigreed spires of its grand Gothic cathedral. Look another and there are cozy calvados taverns mingling with Norman bistros in narrow alleys.
This tour opens up the region's capital and all its secrets. You'll have a dedicated guide the whole way, ready to spin tales of Monet, Victor Hugo, and Joan of Arc alike.
20. 4-Day Normandy, Saint-Malo, Mont Saint-Michel and Chateaux Country Tour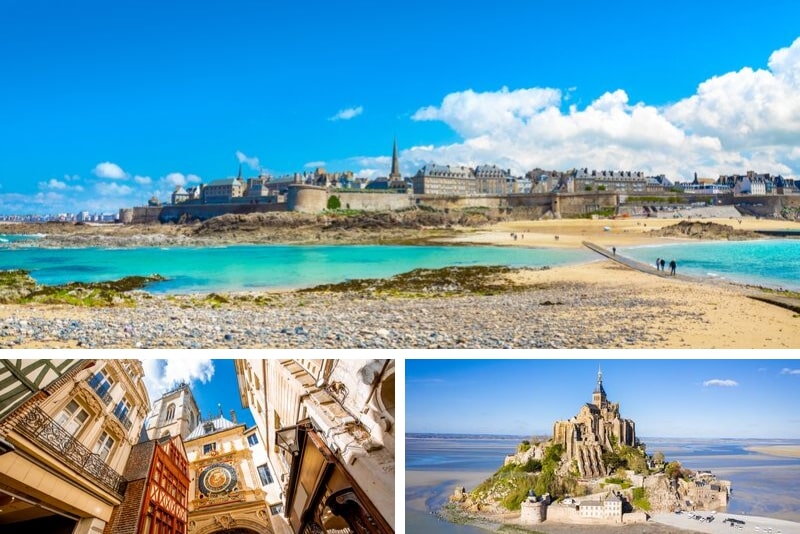 A real escape to the French country is offered by this four-day jaunt through the rural north. Covering three separate regions and countless towns, it's packed with enjoyments. Normandy gets things rolling. First up: The sobering monuments that stand above Omaha Beach, and glimpses of gorgeous Rouen.
The second day takes you over the bulwarks of the old corsair town of Saint-Malo, and then to the jaw-dropping island of Mont Saint Michel. From there, it's south, to the Loire Valley and the UNESCO-tagged castle-chateaux that offer wine and farm-to-table foods on the cusp of Paris.
21. D-Day Tour: Caen Memorial, Normandy Landing Beaches, St Laurent Cemetery, Arromanches – Hotel pick-up/drop-off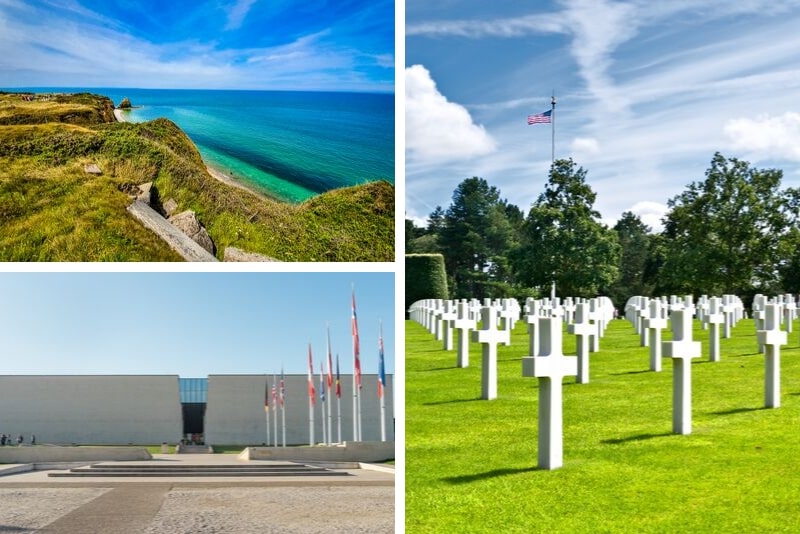 You'll be whisked straight from your hotel lobby in Paris to the beaches of Normandy on this return tour of the famous landing sites. The trip encompasses some of the most notable flashpoints in the invasions of Operation Overlord that helped to turn the tide of the war against the Nazis in 1944.
Gun batteries at Pointe du Hoc mingle with sobering visits to vast military graveyards. You'll see Juno Beach that was taken by Canadian forces, and Omaha Beach, where Allied casualties hit their highest number. In all, the tour lasts 15.5 hours. Pick up is at 6.30am.
22. From Paris: Small Group Day Trip to Rouen and Giverny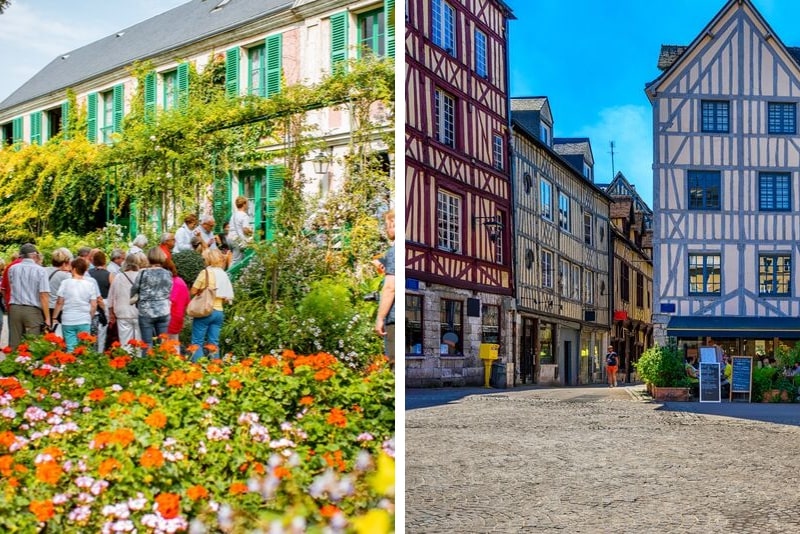 Looking for romance and culture rolled into one? This intimate small-group jaunt through the heart of Normandy could be just what you're searching for. It starts with explorations of gorgeous Rouen. An ancient town of stony lanes and half-timbered cottages, it's where Joan of Arc was burned at the stake way back in 1431.
From there, it's straight across to Giverny. That's the revered home of one Claude Monet. Visitors still get to see the quaint country church where he rests, along with the flower-strewn gardens that inspired many of his greatest paintings.
23. Honfleur, Deauville, and Trouville Day Tour in Côte Fleurie from Paris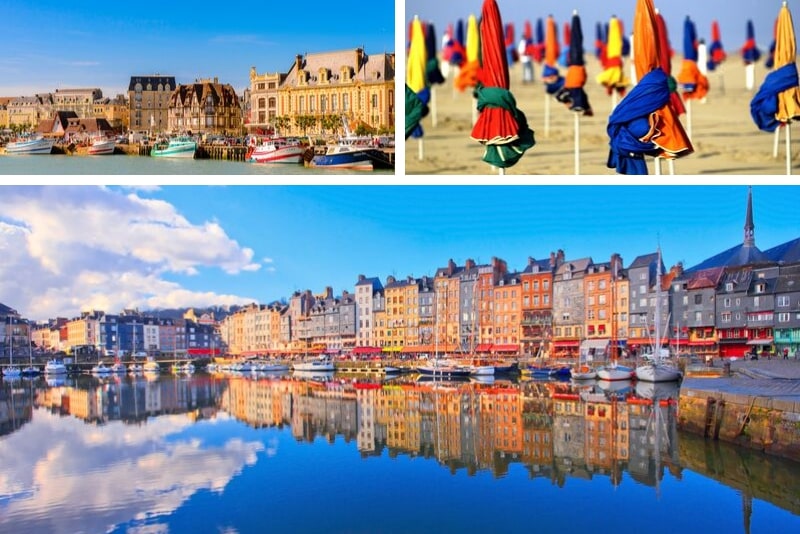 Welcome to the Côte Fleurie – the Flowery Coast. Named for the blooming beds of roses, irises, rhododendron, and tulips that sway in the grand gardens of the area's Belle Époque villas, the region is also famed as the artistic incubator of the Impressionist movement.
As you travel from uber-romantic Honfleur to the quaint fishing town of Trouville, you'll be able to unravel stories about figures like Claude Monet and Boudin. There's also a pitstop in Deauville, to see how the 1% live in their grand spa hotels on the English Channel.
24. Skip the Line: Giverny and Monet House Half-Day Trip from Paris
Lose yourself between the flower blooms, lily pads, and drooping willow boughs of gorgeous Giverny on this odyssey of art and culture. It's all about uncovering the life and works of Claude Monet, perhaps France's most acclaimed Impressionist painter.
You'll see the house where he lived and the oriental gardens that inspired some of his most moving and emotive canvasses. What's more, the ticket includes a queue jump, so you won't waste a minute in between.
25. Monet's Giverny & Versailles Palace Full-Day Trip from Paris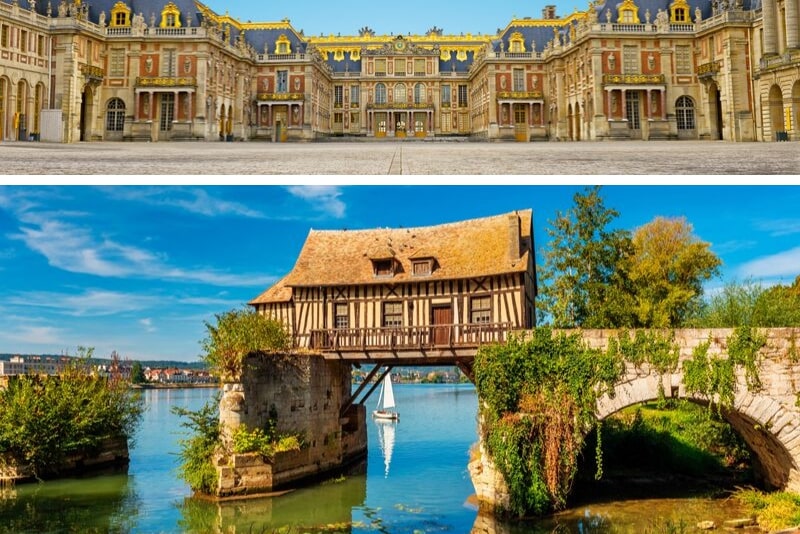 Fusing the dream-like artworks of Monet with the flamboyant palatial complexes of Versailles, this full-day tour takes in some of the undisputed highlights of the regions around the French capital. In all, the trip takes a whopping 10 hours. But that's certain to whiz by as you venture through rural Normandy to the flower-strewn village grounds of Giverny to trace the history of Impressionism.
Then, it's back south for a queue-jump ticket at Versailles, to finish the outing with visions of gold-plated court rooms and manicured royal gardens.
Didn't find the Normandy tour you were looking for? Check here our full list of Normandy tours from Paris.