Looking for the best day trips from Paris? Even Parisians need vacations. Here are some ideas for great days trip from Paris you can enjoy, no matter what you're into.
The Eiffel Tower, Loire Valley castles, Champagne, Normandy – France is well-recognized for many things. It's a beautiful country with a wide variety of landscapes; from stunning beaches to lush vineyards, forests, mountains. It is also renowned for having the best food and wine in the world, historical towns and many chateaux! Its history lends itself to beautiful castles, architecture and culture.
The only drawback is the fact that traveling in France is pretty expensive. Those traveling on a shoestring will find it hard but not impossible – we will mention some tips on how to save up money whilst travelling around. Make sure you go to France with a few extra Euros in your pocket so you can soak in all the food, wine, and beauty you see!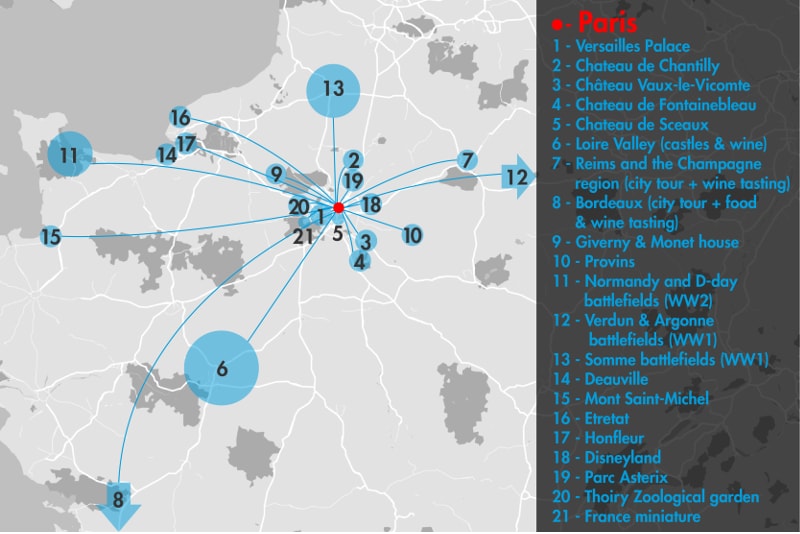 Cultural Day trips out of Paris – Palace & castles
1- Versailles Palace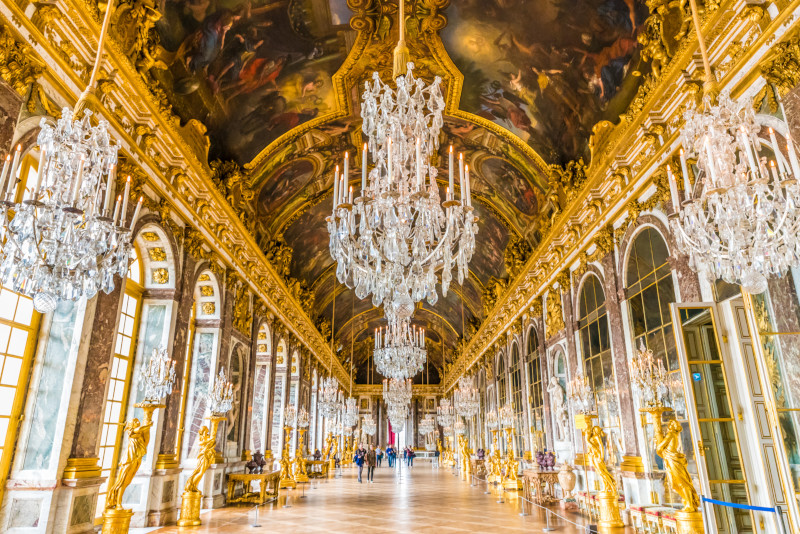 Situated on the western side of the city of Paris, a very important place for several historical events. Originally, the château was a hunting lodge built by Louis XII and nowadays it holds the Museum of France's history.
How to get there?
By train
The easiest way to get to Versailles palace from Paris is by train. There are three different railway stations in Versaille: Versailles Rive Droite, Versailles Rive Gauche and Versailles Chantiers. The closest station to the Palace is Versailles Rive Gauche, only 5 minutes on foot. The best idea would be to get the St Michel Nd RER C5 line from Paris to Versailles Rive Gauche, trains come every 15 minutes and it takes around 35 minutes to get there (4€-6€).
Or catching the Transilien L to Versailles Rive Droite can take you 33 minutes with the opportunity of seeing La Défense on the way there. The walk to the Versailles Palace takes 15 minutes and it's quite pleasant.
There is also another way by taking Transilien N to Versailles Chantiers from Paris Montparnasse which will get you there in 12 minutes but the walk is not very pleasant from the station. If you're travelling from Paris by RER, be aware that you have the right tickets covering zone 1-4.
By bus
Another alternative is to get a bus from Pont de Sevres, despite being far from the center it is easily reachable by metro. The journey takes 30 minutes and the price is very economical (2€). The only downfall is you would have to walk for 1 km to get to the Versailles Palace.
How to get Versailles tickets?
Read here our full review of Versailles tickets.
The easiest way to get to Versailles palace and avoid queues is to buy the tickets from the website, the initial price is quite expensive but it includes many features that may interest you. That is a return and metro ticket, an audio-guided tour of the Opera House and Chapel, the King's and Queen's State Apartments, the Coach Museum, the Dauphin's and the Mesdames' Apartments and all the exhibitions. Nevertheless, you can buy the tickets for each attraction there at the Palace if you just want to see something in particular or walk around the beautiful gardens. We also advise to compare the prices online on TourScanner as websites offer different prices.
Travel tips
Our advice is to go as early as possible to avoid long queues, visit the gardens first if the line is too long or book a skip-the-line ticket to avoid waiting! These types of tours have a duration of approximately 2 hours and they save up on a lot of time because you have pick-up and drop-off transportation provided, plus a thorough explanation of one of the most important buildings for France's history!
2- Chateau de Chantilly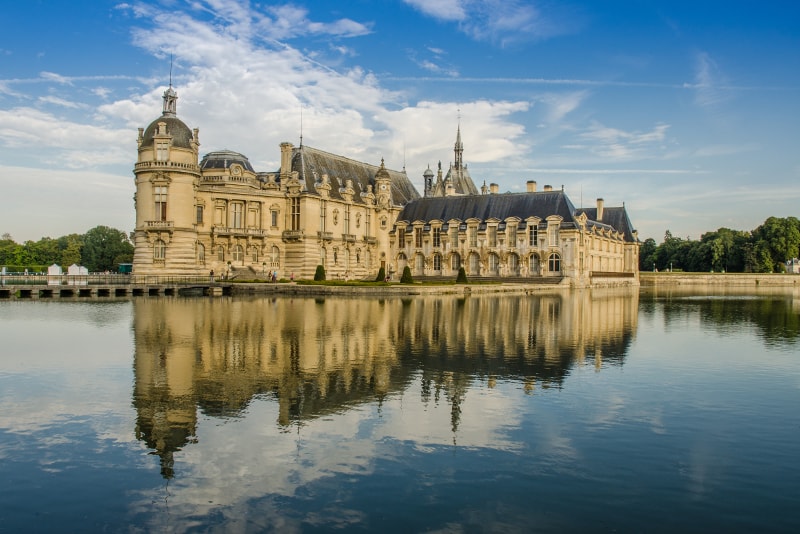 Positioned on the northern edge of Paris, the Chateau de Chantilly is a well-recognized French château. The Chateau de Chantilly houses the Musée Condé, it is one of the finest art galleries in France. If you are an art lover then this is a must visit as there are many exhibitions that are beautifully kept and the surroundings of the gardens are magnificent. The perfect place to lose yourself in peace and tranquility.
How to get there?
By train
Getting there is not exactly cheap, but the quickest way to get there is by taking the train from Paris Nord to Chantilly-Gouvieux that will take you 20 minutes approximately (11€-17€) and then bus line number 15 from Chantilly to Chantilly – Notre Dame (2€). Walk approximately for 5 minutes towards the Chateau de Chantilly from there.
Another option is to catch the train operated by SNCF from Paris Nord to Chantilly-Gouvieux, and walk for 30 minutes to reach your destination. Obviously these options aren't the best so it might be convenient to book an all-inclusive tour. The advantages of tours are sometimes very convenient if you want to travel comfortably and save up time.
3- Château Vaux-le-Vicomte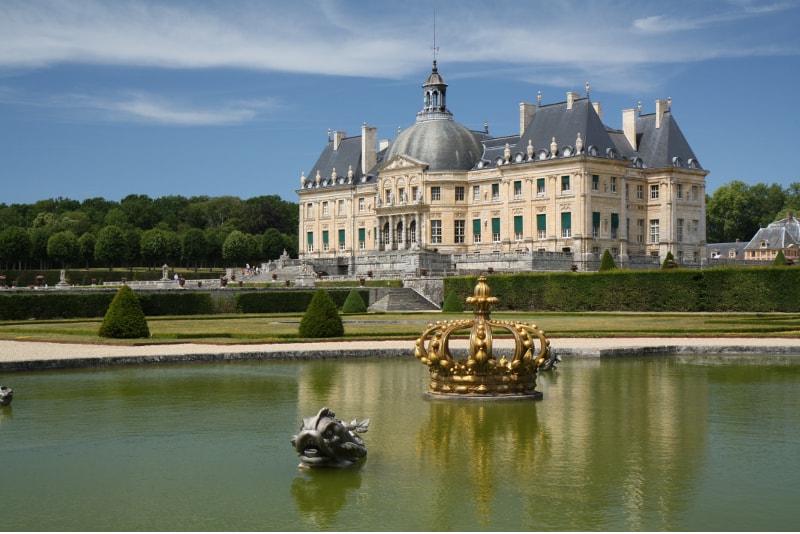 Visit another beautiful Chateau with its stunning architecture and surroundings which, in actual fact, inspired the Palace of Versailles. Vaux-le-Vicomte is one of the most impressive Chateau's, it's the least crowded and you will enjoy the history of this charming site.
How to get there?
By train
From Paris Gare de l'Est, take the direct train Line P in the direction to Provins. Get off at the Verneuil l'Etang train station, there you can find direct trains every hour that take 35 minutes approximately to get to Chateau Vaux-le-Vicomte. There is also a direct "chateaubus" shuttle departing from Verneuil l'Etang train station. This shuttle is in front of the train station exist. Unfortunately they only accept cash and this main of transport is not recommended for people with reduced mobility.
By car
If you rather go by car, take the A4 or A6 motorway and follow the signs to Troyes via the motorway A5. The motorway exit to the Chateau is exit number 15 signposted to Saint Germain Laxis. Free parking at the Chateau.
Travel tips
Advanced online booking is highly recommended due to limited tickets. In order to ensure your ticket, there are day trips from Paris to Château Vaux-le-Vicomte also available to see the Chateaux de Fontainebleau if you would prefer to fit in both on the same day!
4- Chateau de Fontainebleau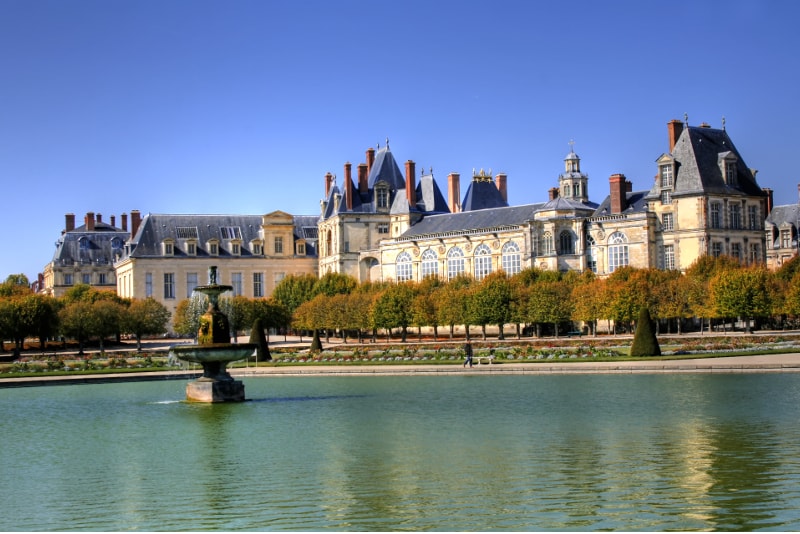 Another beautiful French château worth-visiting. Its interior is a perfect example of the French Renaissance style and its historical significance is well known after being the preferred residence of French kings for centuries.
How to get there?
To get to the Chateau de Fontainebleau it's advisable you first get to the historical town.
By train/bus
Get a train from Paris by Gare de Lyon and get a ticket to Fontainebleau Avon from a green machine which has the name of "Billet Ile-de-France". From the Gare de Fontainebleau Avon you can use the bus line number 1, operated by Veolia Transport to get to the Chateau (in 15 minutes). Watch out because buses stop at around eight in the evening.
By car
If you travel by car from Paris, follow the signs towards the south for Lyon and the A6. After driving for a while you will eventually see directions to Fontainebleau. Once in the town, you will see signs to the Château.
5- Chateau de Sceaux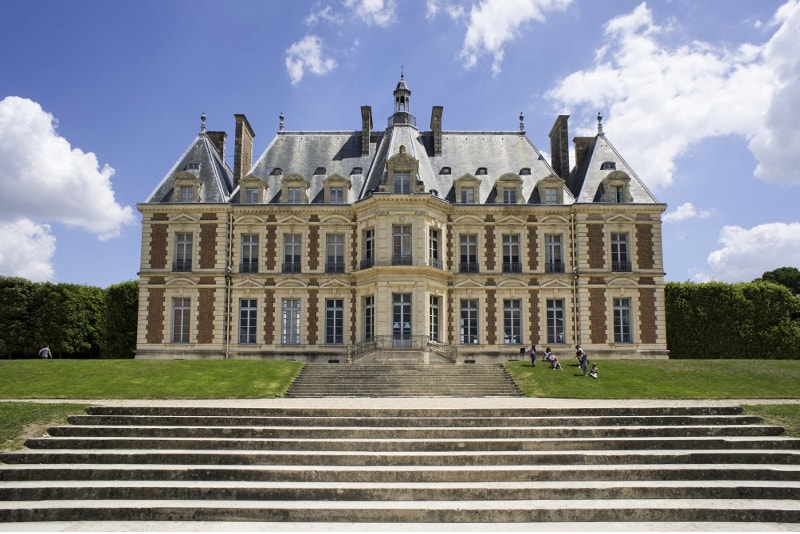 The Château de Sceaux is one of the least known castles in Paris yet so beautifully conserved. Its location is very convenient from Paris, just 30 minutes away. This can be an advantage if you want to get away without having to lose a whole day.
How to get there?
By train
The most convenient way of getting there is by taking RER B which takes you directly to Sceaux station which is just a 5 minute walk from the chateau.
By bus
Catch bus line 128 at Porte D'orleans-Metro for 2€ and get down at Fontenay-Houdan, then walk for 10 minutes towards Château de Sceaux.
By car
Going by car is the quickest option via D920 for 11 km, you would get there in 40 minutes.
Day trips out of Paris – Food & wine tours
6- Loire Valley
The Loire Valley is one of the major touristic destinations in the whole of France. It's known to be the "Garden of France" and noteworthy for its architectural heritage and historic towns such as Amboise, Montsoreau, Bloi, Chinon, Orléans, Saumur and Tours and in particular for its beautiful châteaux. The valley is also world-wide known for its wineries, many of which offer tours for wine tasting.
How to get there?
Getting to the Loire Valley is a two hour drive from Paris. You can also travel by train. It takes one hour with the TGV train departing from Paris Montparnasse (reachable by metro) and takes you to the village of Tours for 40-50€. We know this isn't the best price. However there are cheaper options for example trains operated by SNCF. It takes 2 hours and 20 minutes for around 30-45€. If you really want to save up, there is also a bus that takes 3 hours and a half but for 11-19€.
Travel tips
Traveling on public transport can generally be very time-consuming, that is why they offer many day trips from Paris to the Loire Valley to ensure you a better experience. They're always a good option, as they offer transportation, private tours with very good guide tours of the castles; they even offer the possibility of wine tasting tours which is always a new experience to try out, and much more.
We suggest you look on TourScanner at the many options you can choose from.
7- Reims and the Champagne region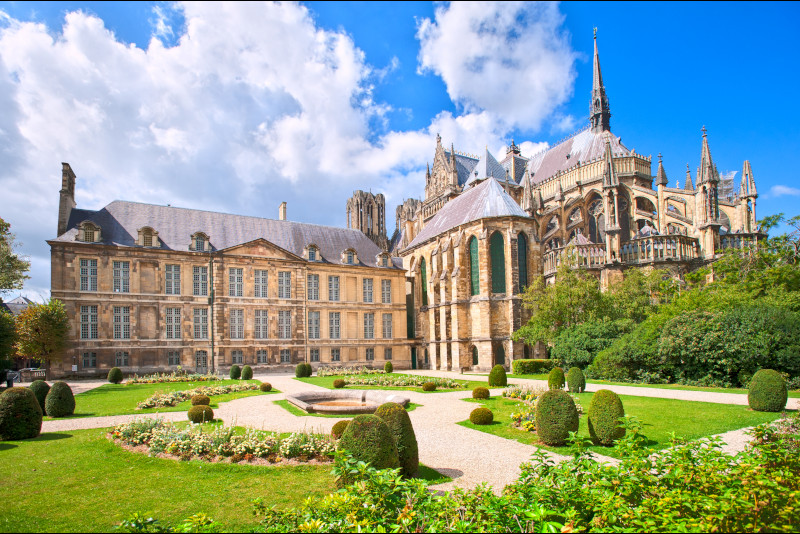 Reims, the home and main city of the Champagne area. It holds one of the most beautiful cathedrals from Middle Ages in Europe where almost all French Kings were crowned for about 1,000 years. The main thing to do in Reims is to experience the Champagne Tasting where you can learn how they make it, visit their magnificent vineyards and impressive heritage.
How to get there?
By train/bus
There is a high speed train line that connects Reims to Paris operated by TGV which takes you to the Champagne-Ardenne station, just outside the city. This station is connected to the central station by a bus and a local train. Although tickets are expensive, we advise one buys TGV tickets a few weeks in advance because you might find offers/cheaper prices.
Travel tips
Booking a day trip to visit Reims and the Champagne region sounds like a good idea, considering they offer transport from Paris to Reims with a full-day guided tour of the cellars where you can learn about the main steps for making their delicious Champagne, plus you get to try it! Not only this, you also get a guided tour of the beautiful town of Reims and its striking Cathedral, Notre-Dame the Reims. In all honesty, this day trip is worth your money considering travelling around France is not particularly cheap.
8- Bordeaux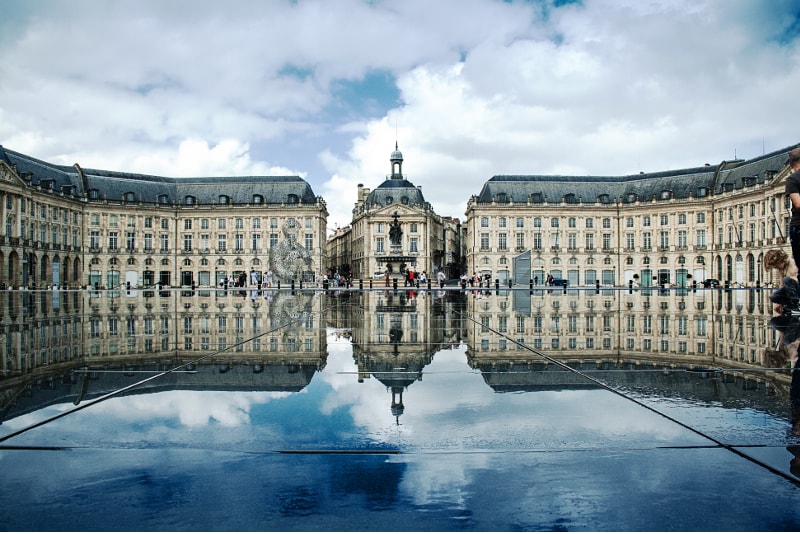 Bordeaux, renowned for its wine, also considered one of the best in the world.
How to get there?
By train/bus
Considering the long distance between Paris and Bordeaux, the trains operated by TGV can be very expensive (around 90-100€) but they get you there in 2 hours; driving there takes around 5 hours (582.5km) taking the A10 highway or N10. You can also find cheap buses around 17-50€, although expect an 8 hour journey.
Travel tips
Day trips from Paris to Bordeaux are also a good option, specially because you can go there on the high speed train. Tours include many activities like stopping to see Saint-Émilion on the way, a full tour of the town and a winery to get to know more about wine production in the region.
Day trips out of Paris – Picturesque Villages
9- Giverny & Monet house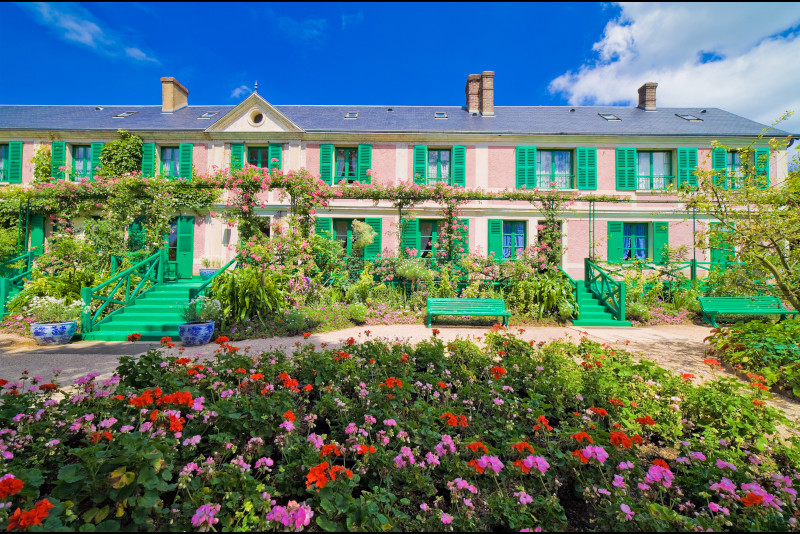 Giverny, just 80 km to the west of Paris, highly recognized for the rural retreat of the Impressionist painter Claude Monet. The village and surroundings were certainly part of the inspiration for his paintings.
How to get there?
By train/bus
To get to Giverny by public transport is quite tricky but not impossible. Take the train from Paris Gare St-Lazare to Vernon (45 minute drive) and then you can take a taxi, bus or bicycle to the Giverny. The bus service is time-linked with the train just so you can catch it and don't have to hang around waiting – so make sure you don't miss your chance!
By car
Getting there by car is pretty easy if you head towards the A13 from Paris to Bonnières, after that take D201 to Vernon, where you get spectacular views over the river Seine. Eventually you will find signs to Giverny.
Monet's House is a must-visit while in Giverny. Being there will make you understand how Claude Monet got his inspiration, a house filled with nature and colors. The tickets to visit the house can now be purchased online to avoid long queues. Or if you prefer, you can book a half-day trip to Giverny and combine it with a ticket to enter Monet's House. You'll be able to skip the line, enjoy the beautiful home and lush gardens of Claude Monet and you will be ensured with a thorough explanation of Claude Monet's life.
10- Provins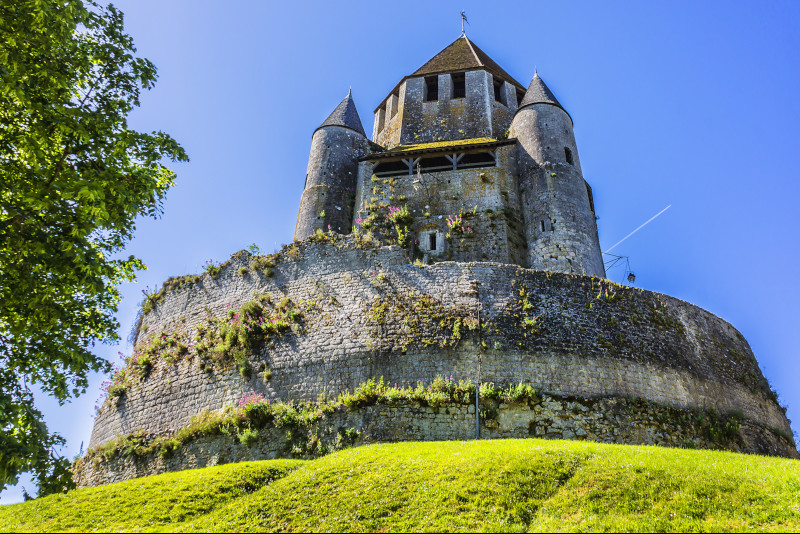 What to see?
This medieval town is a popular day trip from Paris. It's located in the region of Île-de-France.It's characteristic for its fortified centre within the walls, which has been declared a World Heritage Site by UNESCO. Visit the César Tower and its octagonal dungeon and discover medieval graffiti on the walls of the subterranean tunnels. There are many day trips from Paris to Provins due to its proximity. Y can enjoy a relaxing day, learn more about this ancient settlement and its Renaissance architecture.
How to get there?
By train
Getting to Provins from Paris is easily accessible. Trains leave from Paris-Gare de l'Est (connected by metro lines 4, 5, 7). The trains leave from platforms 13-22, usually the exact platform from which it departs from is shown on the screen 20 minutes before departure. The journey takes around 1 hour and 24 minutes.
On your return back to Paris, the train leaving from Provins is named "PIBU" and it leaves every hour. Make sure you get the correct zone because Provins is in fare zone 5. However, if you have a pass covering zone 1-5 then it's okay.
War history day trips from Paris – WW1 & WW2
11- Normandy and D-day battlefields (WW2)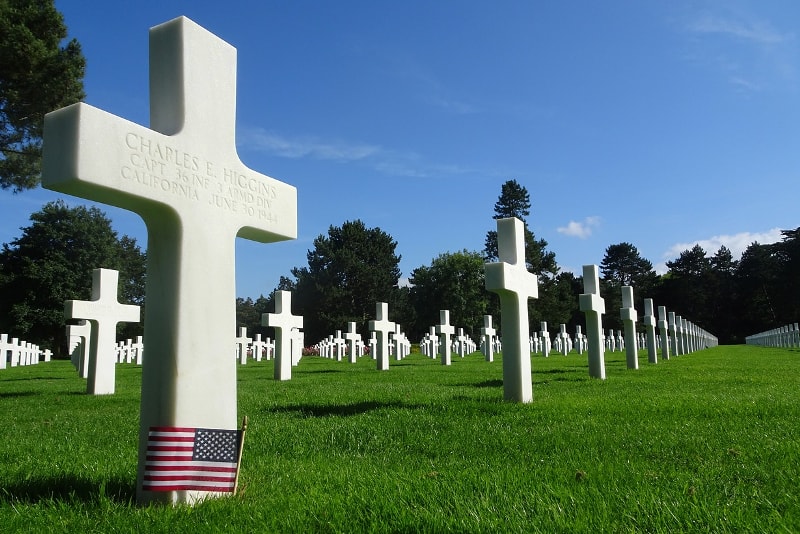 Famous for the D-Day Allied invasion on June 6, 1944, Normandy is a must if you are interested in history day trips.
How to get there?
By train/bus
Trains leave Paris from Gare Saint-Lazare to Le Havre but if you're looking for a cheaper bus, Ouibus is the one. Purchase your Ouibus in advance for 6-9€ – don't miss your chance!
By car
Getting there by car will take around the same time as catching the train or bus; from Paris take the A14 towards Rouen for 20km, then you can follow signs towards Le Havre and Caen. Explore Caen if you have the time!
Travel tips
For travelers coming from the south of the UK, you might find it easier and more convenient to use the ferry service that leaves from Portsmouth, Poole and Newhaven to Cherbourg, Le Havre and Dieppe. Or you can drive to Normandy along the Channel Tunnel.
What to see?
Discover the Alabaster Coast where you will be mesmerized by the white-chalk cliffs, nature and the many scenic villages scrolling along the coast. On the way you will find Quiberville and Varengeville with its old church perched high up on a rock. Find the ancient water mills in Veules les Roses, reach Fécamp and visit the Benedictine monastery, or walk along the beach to admire the renown chalky pinnacles and arches of Etretat.
Go on day trips in the most interesting parts of Normandy: fans of history will choose D-Day beaches, nature lovers will walk around la Cap de la Hague or for people who like to keep fit choose walking tours to Mont Saint Michel!
12- Verdun & Argonne battlefields (WW1)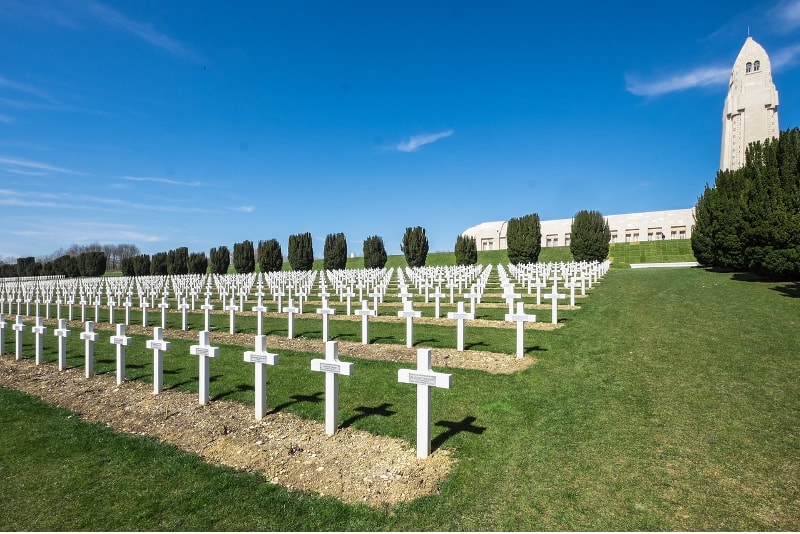 What to see?
Visit one of the longest and most hard battlefields in human history in Verdun during the World War I. Discover the Ossuary of Douaumon which contains the remains of more than 100,000 soldiers who died at the Battle of Verdun; visit Fort Douaumont which is one of the biggest and tallest defensive forts from back then. If you'd like to find out more, then Meuse-Argonne American Cemetery and Memorial is a must, you will be shocked as to how many soldiers were buried here as it is the largest US cemetery in Europe.
Travel tips
Of course, these two important battlefields help make history understood and come alive from the help of a knowledgeable guide who can tell you all the stories in detail. Getting to Verdun from Paris can be quite expensive and hard to get to. So perhaps consider looking at some day trips from Paris where you will have everything included.
13- Somme battlefields (WW1)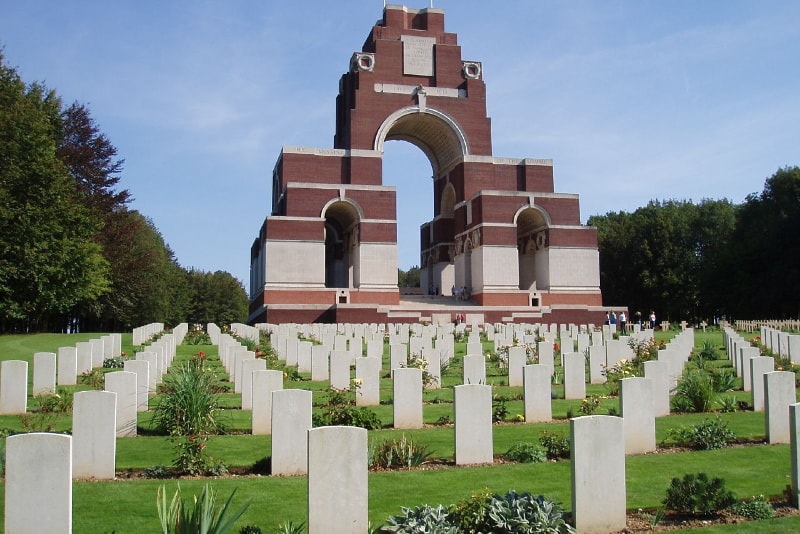 Walking through Somme battlefields will make you go back in time where you can pay respect to French and British military history. Going to these types of places where a lot has happened in the past deserves knowing in more detail. For this, booking a tour is always a good idea in order to get a full explanation of what exactly happened and also they take you to all the main points.
How to get there?
By bus/car
Getting to Amiens to visit Somme Battlefield can be expensive, but you can keep an eye on "raileurope" or "goeuro" which quite often offer cheap tickets.
By car you can get to Amiens via E401 towards the north in 2 hours approximately.
Seaside day trips out of Paris
14- Deauville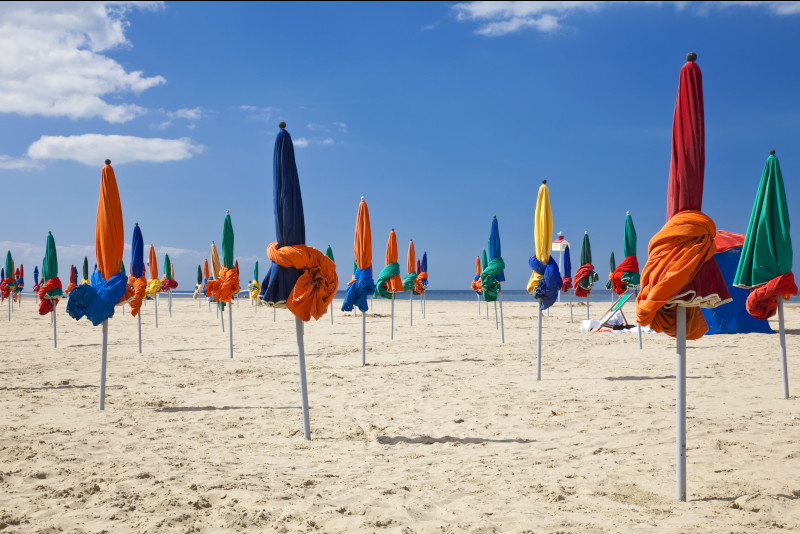 What to see?
Discover Deauville, a fashionable seaside resort in the Lower Normandy. The town of Deauville is famous for being the centre for horse breeding and racing, as well as hosting an American film festival every September. Explore the wide sandy beaches, walk around the promenade, visit the famous Casino if you are searching for some entertainment. Les Planches – a unique wooden promenade with cabins, each with an actor's name. If you are ready to splash out, Deauville has many exclusive shops, from Louis Vuiton, Ralph Lauren, etc. For cheaper shopping, go to the adjacent town of Trouville-sur-Mer.
How to get there?
By train/car
Get to Deauville by catching a train from Saint-Lazare station. The train's platform is not posted on the screen until 15-20 minutes before departure. So do not panic if you arrive early and can't see which platform it is. By car, you can take the A13, after that get on A132 at Pont-l'Evêque and head towards D677.
15- Mont Saint-Michel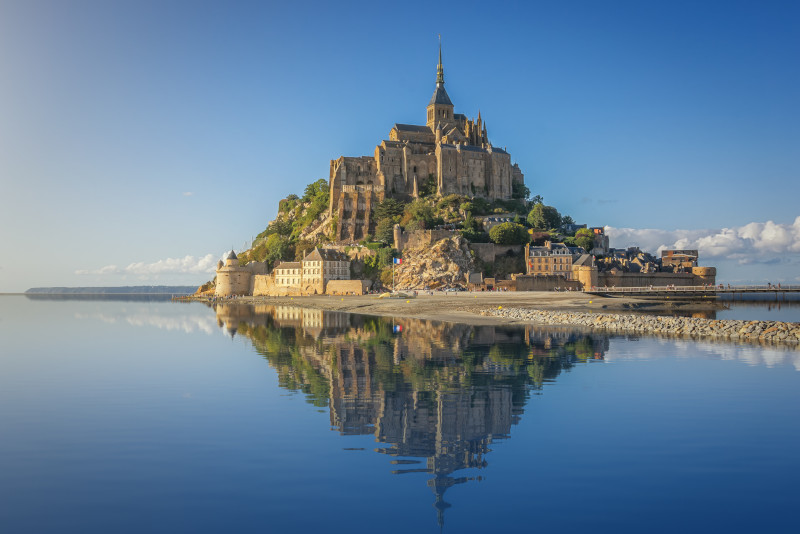 Mont Saint-Michel is a must-visit. Once you get there you will understand why it was declared a World Heritage site by UNESCO. The spectacular Norman Benedictine Abbey of St Michel won't go amiss, as it's situated on the peak of the rocky island, completely surrounded by its medieval town.
How to get there?
Driving is the cheapest and easiest way to get to Mont Saint Michel although it is warned that the queues for the car parks are often very long and expensive.
There are no direct train services between Paris and Mont Saint-Michel. However it is possible to go to Pontorson by train and then catch a bus to Mont St Michel. The best option is the TGV from Gare Montparnasse to Rennes, where a bus operated by Keolis Emeraude provides a 90 minute transfer to the island. The bus station is outside the Rennes train station. The bus costs 15€ one-way with a 25% discount for under 25 or older than 60 (free for children under 12).
Travel tips
During the summer, everywhere can be packed with tourists so make sure you pick the right time to go. The only way around the town is on foot and there are two gates into the walled city. The Porte de l'Avancée (packed with souvenir shops and tourists; and Porte Eschaugette which is less frequented.
No doubt you will have to visit the Abbey of Mont Saint Michel. The tickets can be purchased there, 9€ adult, 5€ for 18-25 year olds and free for under 18's. This is a very renowned touristic attraction so bear in mind that tickets can be limited and the place itself can be very packed with tourists.
Because of the steep steps up to the Abbey, people can sometimes struggle but there are plenty of gardens around Mont perfect for resting. The Abbey is open until midnight so consider visiting at this time to avoid crowds.
The island of Mont Saint Michel is surrounded by areas of deep mud and quicksand. People like to walk around. So if you decide to attempt this, prepare yourself to clean your shoes because it is extremely muddy. The tide there is one of the fastest tides to rise so please check the tide tables as they can be extremely dangerous. If you can, only attempt crossing with a guide that knows this information.
For more information about day trips from Paris to Mont Saint-Michel, compare tours and prices on TourScanner regarding tickets to the Abbey, walking tours along the tide, transportation, etc.
16- Étretat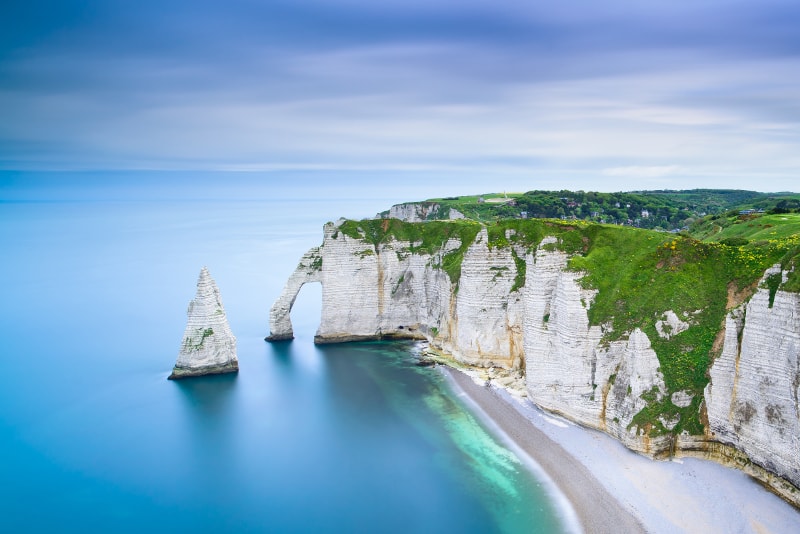 What to see?
The city nestled between the famous towering cliffs. The beautiful beaches of Étretat are composed by stones that have been smoothed by the strong waves and the town is set beyond the beach. You can walk from the town to the tops of the cliffs. Get spectacular view of the channel, the coastline and the cliffs.
How to get there?
It is considerately difficult to reach Étretat because there are no direct trains. There are trains that go to Le Havre and Fecamp though, both of which have buses that go a few times to Étretat. Check bus number 24 operated by Kéolis. The bus ride is 2€ per person and it takes about 45 minutes.
17- Honfleur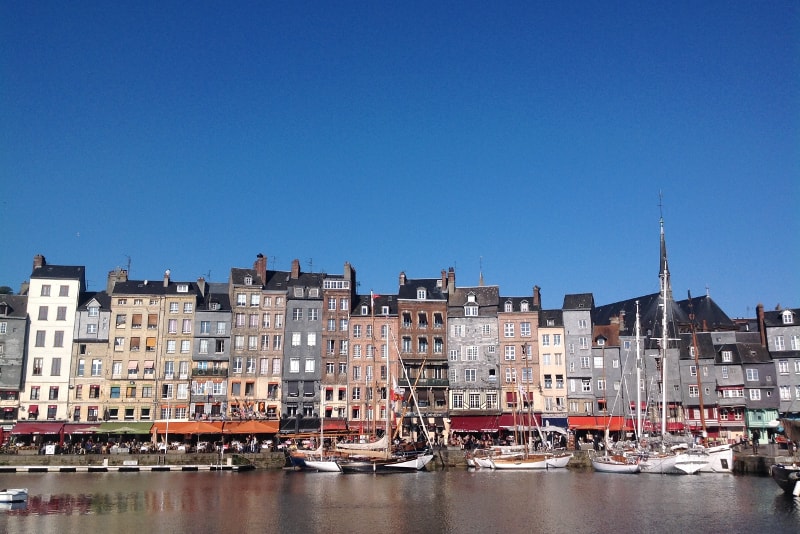 What to see?
A beautiful town surrounding a little harbor in Calvados, Lower Normandy. The town has still preserved its authenticity and traditional houses, churches and other interesting monuments. Le Vieux Bassin et la Lieutenance, the old harbor monopolized by restaurants; Clocher Sainte-Catherine (bell tower),  Musée Eugène Boudin, one of the forerunners of the Impressionist movement. Many more places to explore around Honfleur.
How to get there?
By car
Honfleur is 194 km west of Paris via the A13 and A29 along the toll road.
By bus
Flixbus company has a connection between Paris Pont de Levallois to Honfleur. It takes around 2 hours approximately (9-16€).
By train
Can take double the time, as you would have to get the train from Chatelet Les Halles (every 40 minutes) to Cergy Prefecture. From Cergy-Pontoise bus station to Honfleur (arriving in 2 hours and 25 minutes approximately).
Day trips out of Paris with kids
18- Disneyland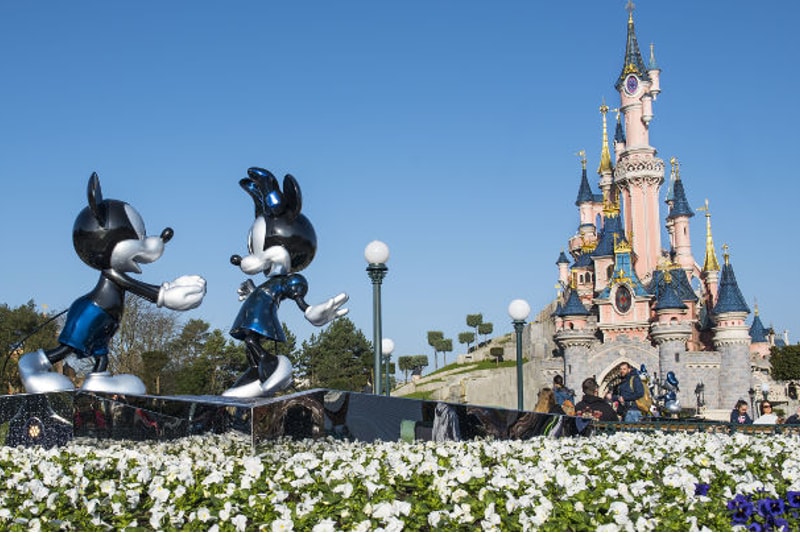 What to see?
Disneyland Paris consists of two parks: Disneyland Park and Walt Disney studios. You can purchase a day trip with a Disneyland Paris pass for just one theme park or two. Disneyland Paris is every child's favorite park where you can see all Disney's characters.
The other park is Walt Disney Studios, a new Disneyland Resort theme park. This one is better suited for older guests where you can discover more general information on movie making themes. If you only want to visit one place but you can't make your mind up, we recommend you visit Disneyland Paris Park, even if you don't have kids.
How to get there?
By car
If you're wondering how to get to Disneyland from Paris, getting there by car is a good option if you're staying in Paris. The directions to Disneyland along the highway are pretty clear and the road is decent. The only thing to bear in mind is to be ready to pay high fees for the use of the highway.
By train
The best option for getting to Disneyland Paris Park is by train, as it has its own railway station that takes you directly there. They run very frequently. Note that the official name of the station is "Marne-la-Vallee Chessy". Be aware that you get the train ticket with the correct zone (Disneyland Resort is in Zone 5). If you're planning on using a "Paris Visite Pass", make sure that you get "Zones 1-6". The train ticket from the centre of Paris to Disneyland costs around 9€ each way.
Visiting Disneyland Resort Paris is not exactly cheap. There are four types of tickets from which you can choose. The "1-day 1-park" ticket allows you to visit just one of the two parks for the whole day. There are three Park Hopper tickets which allow you to visit both parks on the same day, also available to see between 1 to 3 days. The 3rd day Park Hopper ticket is the most economical deal the ticket price per day is the cheapest option.
Travel tips
You can always book an all-inclusive ticket, this includes the entrance to Disneyland, one-way or roundtrip private transfers between the resort and the centre of Paris or even Charles de Gaulle and Orly airports. Or get 1 day ticket and visit both parks, and multiday tickets. There are many options to choose from, head over to TourScanner and check which option you prefer.
19- Parc Astérix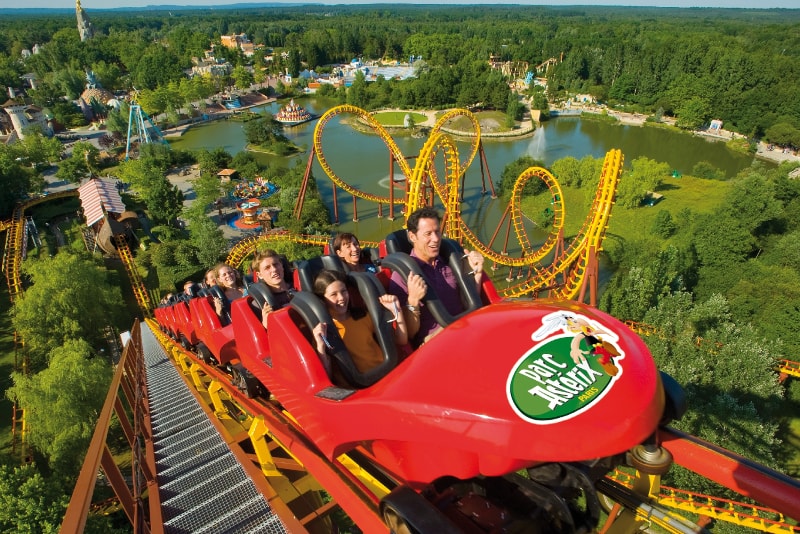 What to see?
Parc Astérix is another great option for a family – including parents! The park has 31 attractions and there are five different worlds to discover: Gaul, The Roman Empire, Greece, The Vikings and Travel Through time. Including a new Egyptian world, inspired by Caesar and Cleopatra. The park has much more to amuse you.
How to get there?
By car
Getting there by car is easy, take the A1 motorway towards Lille (35 km north of Paris), and take the direct exit for Parc Astérix between exits 7 and 8. The highway between Paris and Parc Astérix is free.
By train
If you rather go on public transport, there is a train from Chatelet Les Halles that goes to Aeroport Cdg. From there you can catch a bus from "Roissy Coach station CDG Airport" to Parc Astérix. If not, there is also a Flixbus that takes you to Plailly from Paris, from there walk 7 minutes to Parc Astérix or grab a taxi.
Travel tips
Also Parc Astérix offers different means of transport on their website if you'd like to book it directly with them.
There's always private transfers from which you can also book your ticket and you get the advantage of them taking you to Parc Astérix – and you don't have to stress about how getting there!
20- Thoiry Zoological garden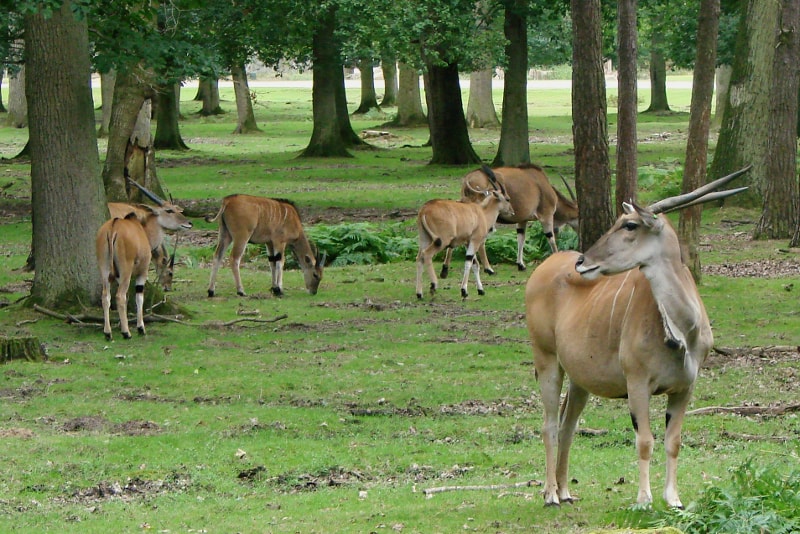 What to see?
Thoiry Safari Park gives you the chance to see 800 animals. The only issue is that you can only visit the safari park with your own vehicle.
How to get there?
From Gare du Nord take the metro line 4 to Montparnasse Bienvenue. Follow the signs to the station of Gare Montparnasse where you can take a train to Villiers-Neauphle-Pontchartrain from where you can catch bus number 78 to Thoiry.
21- France miniature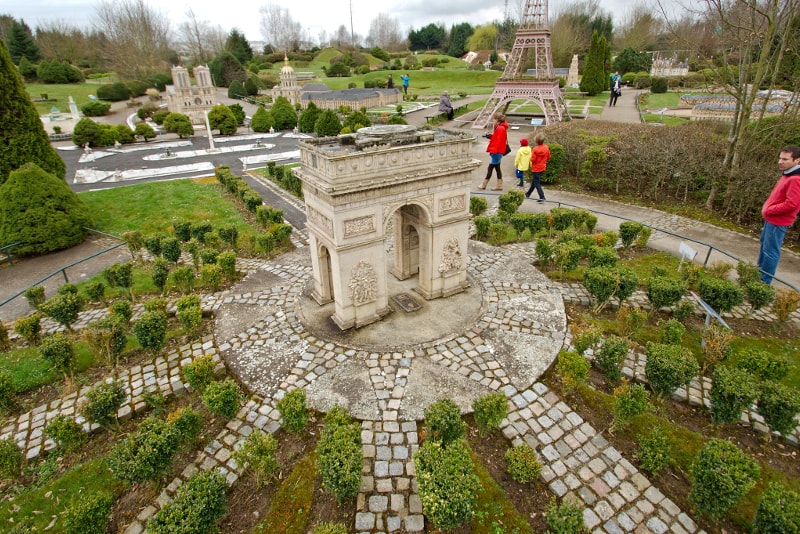 What to see?
France miniature is a miniature park tourist attraction in Élancourt, where you can see miniature models of many French landmarks and monuments from around the world in an outdoor park.
How to get there?
There is no direct transport to get there. You can catch a train from Gare Montparnasse in Paris to La Verriere, it takes 47 minutes and they run every 30 minutes. From there get a bus from La Verrière Gare to France Miniature. These buses run every 30 minutes and it takes 8 minutes to get there.
Travel tips
Seeing as though getting to Miniature France is not easy with public transport, consider looking at half day trips from Paris to Miniature France where you can take advantage of the transport.
Hope you enjoyed reading our selection of day trips from Paris.
What is your favorite one? Don't hesitate to share your favorite destinations and enjoy France.
Bon voyage 😉
Share it on Pinterest 🙂