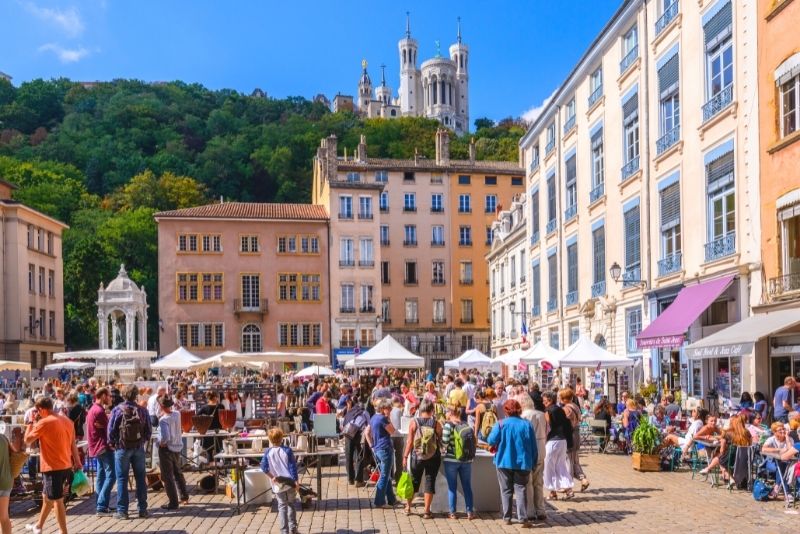 Originally the capital for the Gauls during the Roman Empire, Lyon has grown into a city that will provide anyone with plenty to do. The city is home to fine dining restaurants from world-famous chef Paul Bocuse, cinema museums from the pioneering Lumière brothers as well as ancient Roman theaters from as early as the year 19 AD.
This list of things to do in Lyon holds activities and destinations that will entertain history buffs, foodies and even vintage car enthusiasts. With so many stunning attractions and fun activities, read on to help make sure you're not walking past any hidden gems or historical landmarks win your next trip to Lyon.
1 – Explore the Lyon Cinema and Miniature Museum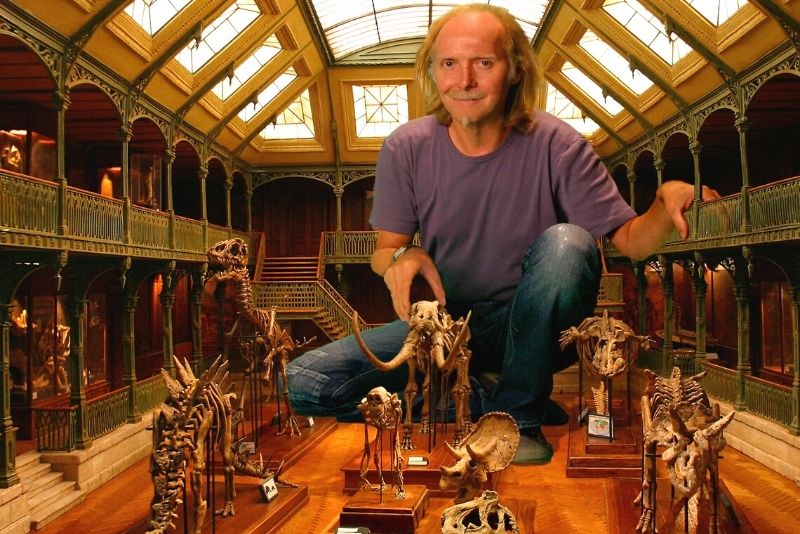 The Lyon Cinema and Miniature Museum is a must-see for movie buffs and cinema lovers. The halls contain props and costumes from over 200 films.
The admission will get you a backstage pass to see many items from famous productions such as Spiderman and Batman.
2 – Sit in the stalls of The Roman Theaters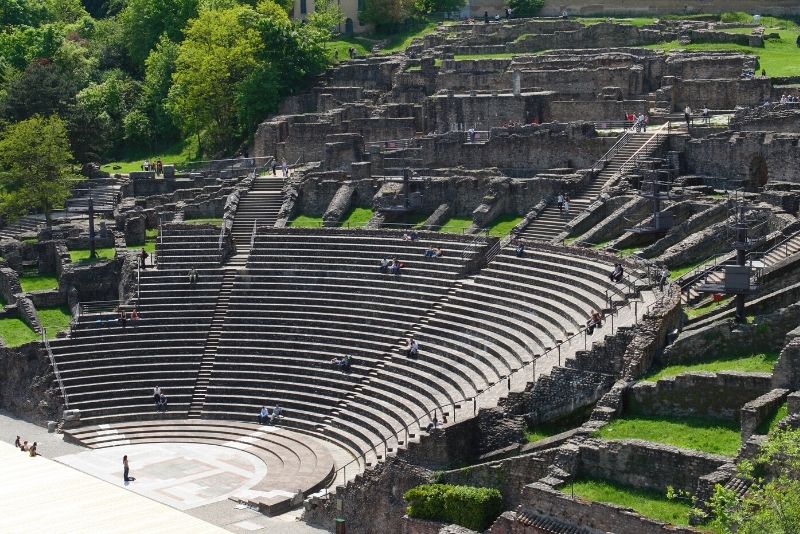 Lyon is home to two Roman Theaters, which are classic examples of the stone-tiered, outdoor theatres of the Roman Empire.
The Theatres were originally where orchestras and plays were performed, although now they are mostly an eerie tourist destination. However, the theatres still host the annual 'Nuits de Fourvière' — a music and arts festival — each summer.
3 – Head to the Gallo-Roman Museum of Lyon-Fourvière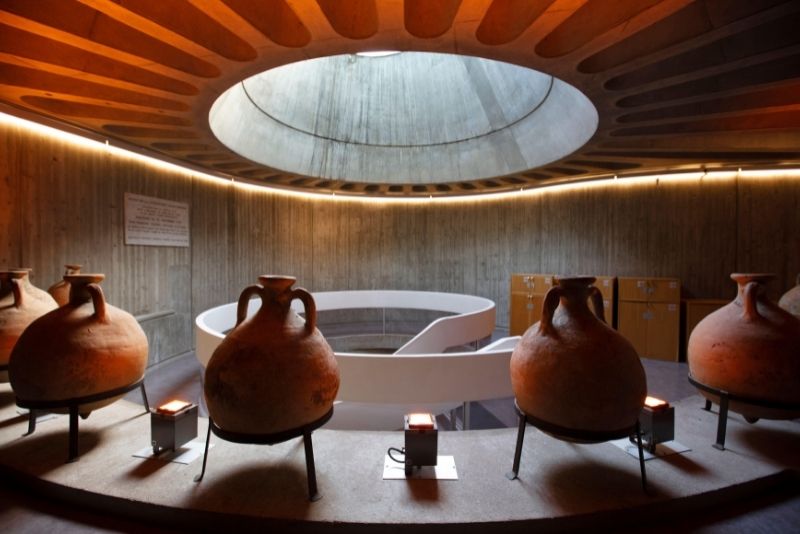 Lyon has a rich Roman history and the Museum of Lyon-Fourvière is where a lot of the artifacts of that history can be found.
The museum is built on the grounds of the ancient Roman town Lugdunum, which was founded in 43 BC. The collection includes some very unique items, such as a speech given in 48 AD by Emperor Claudius, written in bronze.
4 – Ride around Lyon on a bike tour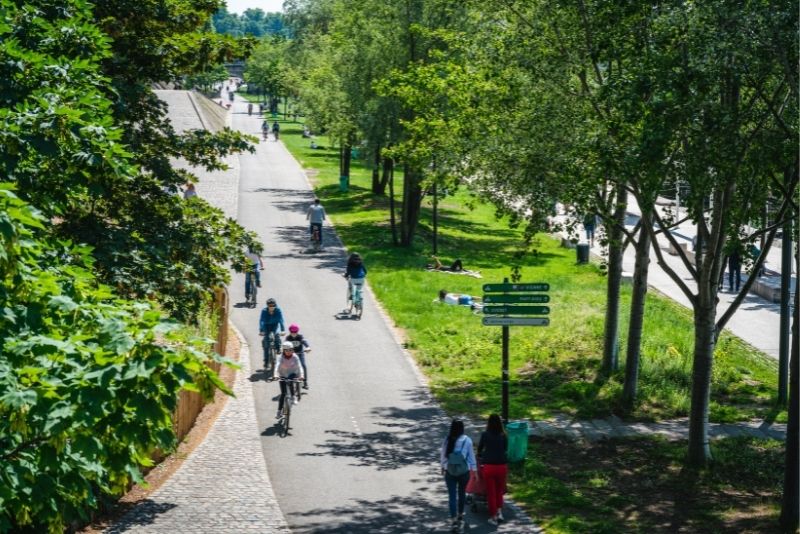 Lyon has a large concentration of notable sites and it can be hard to see them all and easy to miss them if you don't have a guide.
A guided bike tour of the city is a very fitting way to pack a lot in and also get insight from a knowledgeable local.
There's a two-hour tour that takes you around the UNESCO-listed historic center of Lyon on electric bikes, making it accessible to the young and old!
5 – Relax aboard a sightseeing cruise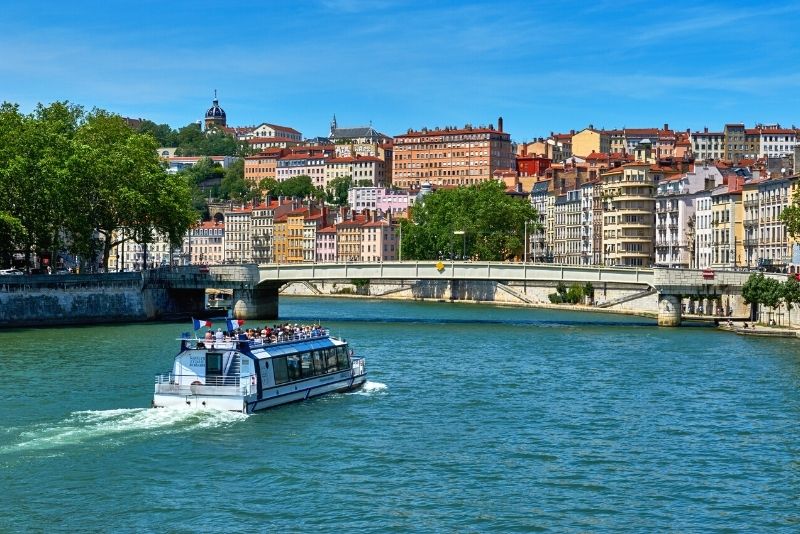 If you need a break from the busy city streets of Lyon, a cruise aboard the Hermès ship will give you the chance to see the sights from the water.
The 2.5-hour cruise has guided commentary while you indulge in a 3-course gourmet meal.
You can choose between lunch or dinner cruises so whether you want to soak up the sun or see the city skyline at night, there's plenty of options.
6 – Wander through Vieux Lyon District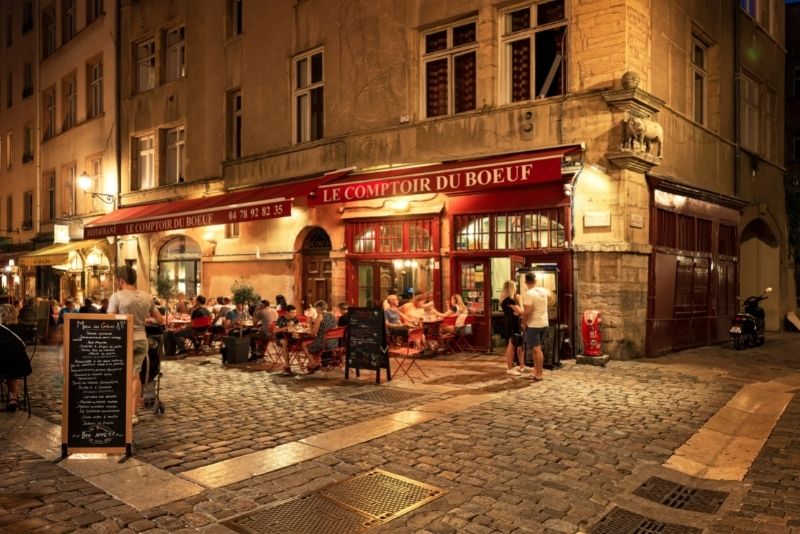 Starting your day with a 2-hour walking tour through Old Town in Lyon and you'll have ticked off more tourist sights than most before lunchtime.
On this tour, a knowledgeable guide takes you through all the significant spots around the city and even to some hidden spots that are hard to find on your own.
7 – Find the hidden Traboules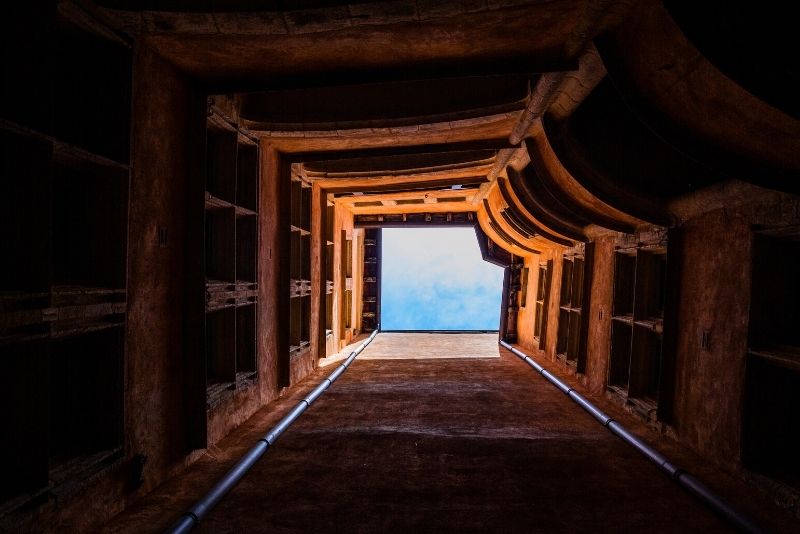 The Traboules are a hidden network of passageways that wind their way through buildings and courtyards around Lyon.
There are around 400 of these passageways around the city. With over 40 being open to the public.
Hunting down these secret tunnels is one of the essential things to do in Lyon for those who love exploring.
8 – Indulge at Les Halles de Lyon Paul Bocuse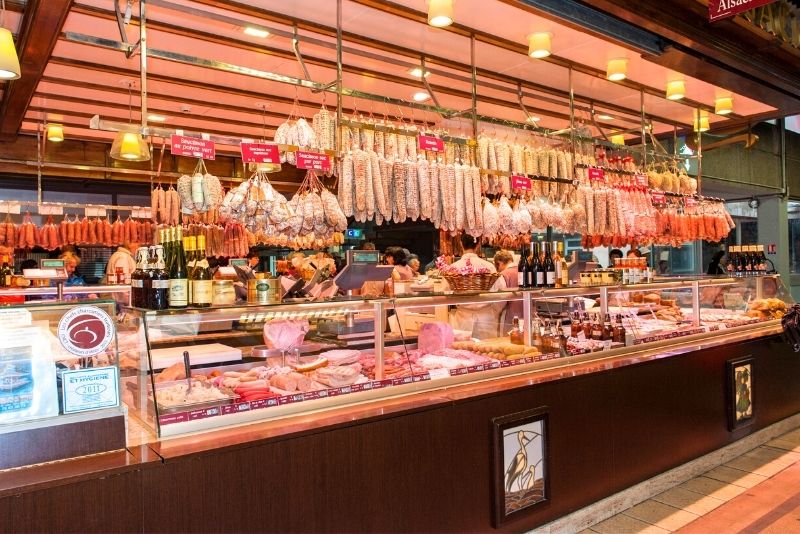 Lyon's first indoor market was built in 1859 and it went on to become Les Halles de Lyon Paul Bocuse, a market and hub of the culinary cultures of Lyon.
The market is open from 7 am to 7 pm and is the only stop that needs to be made for local meats, produces, wine and cheeses, as well as meals prepared by famous Lyon chefs.
9 – Spot the frescos on a street art tour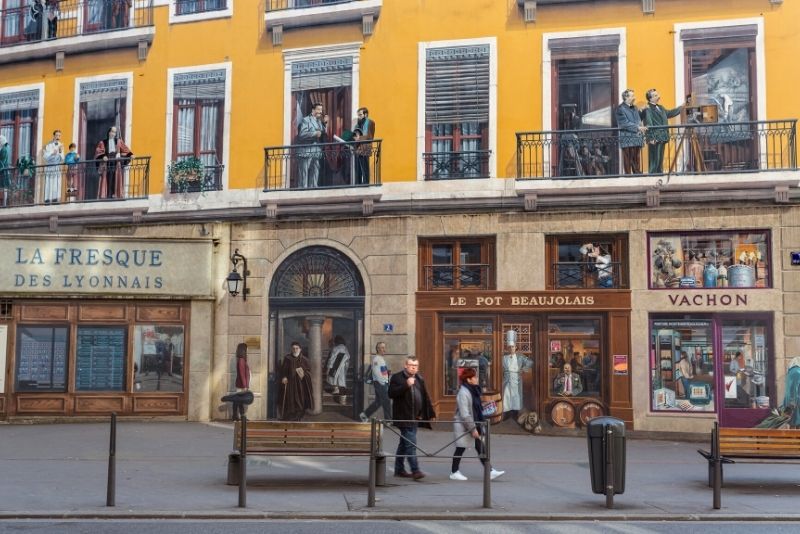 There are three short walks around Lyon that will take you past a large collection of outdoor art, murals and Frescos.
The works range from a tribute to Paul Bocuse that lights up night to the Bibliothèque de La Cité — a work that contains the words of several hundred local writers all over an urban wall.
10 – Grab a hop on hop off bus tour pass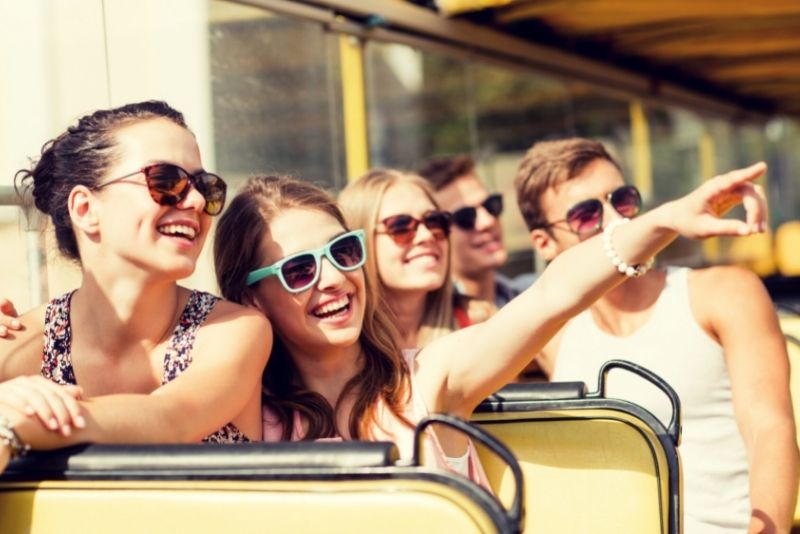 A hop-on-hop-off bus pass is a very budget-friendly way to get around Lyon and catch all the main sights.
The bus has 12 stops around the city including the Basilica de Notre Dame and de Fourvière and Place Bellecour. You're able to hop off at any stop, explore the area, then get on the next bus that comes past.
11 – Dive into the Aquarium of Lyon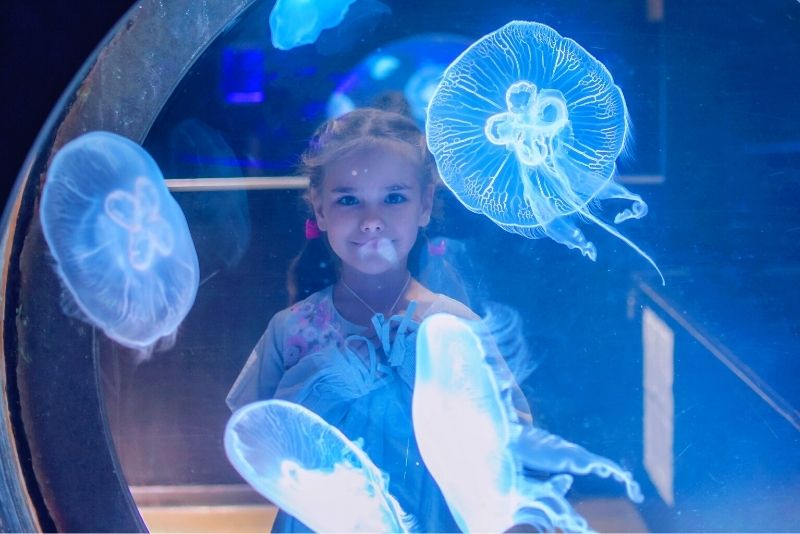 The Aquarium of Lyon has a huge variety of exhibits, from freshwater to saltwater, housing a diverse range of marine life.
Tickets are just 15 euros for adults and cheaper for those younger or still studying. Booking online will save you a few euros so if you're sold on seeing Lyon's biggest collection of aquatic animals, book ahead of your visit!
12 – Head out on a Beaujolais day trip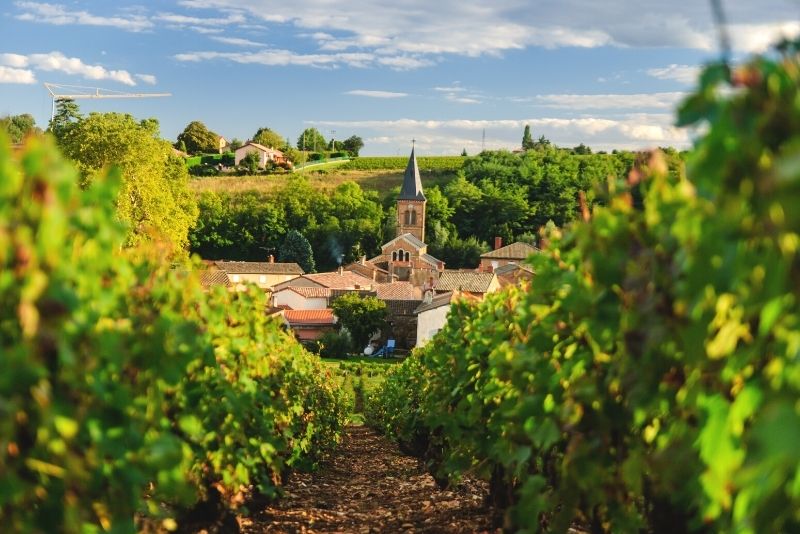 A scenic trip out from Lyon, visiting the wine-making Beaujolais region is a day well spent during your stay in Lyon.
On this tour, you get to sample three wines from a local vineyard along with a pastry, before visiting a 12th-century medieval village on your way back to Lyon.
13 – Visit the stunning Place Bellecour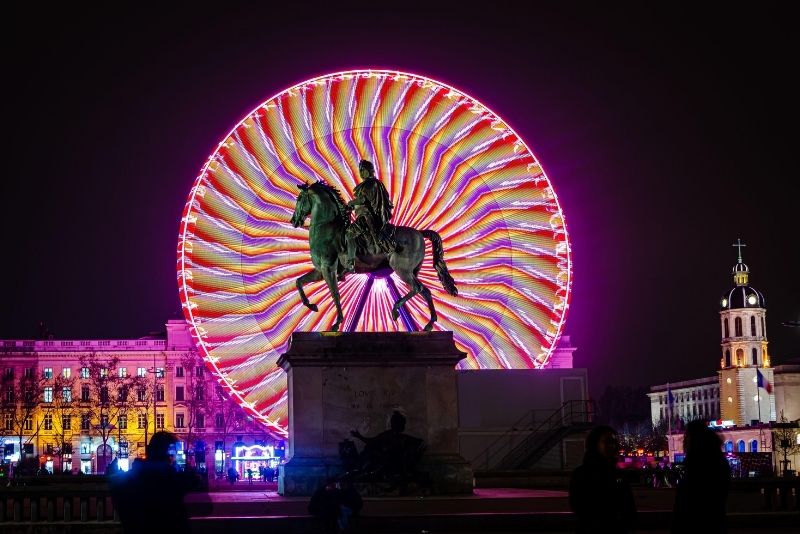 Place Bellecour is the largest pedestrian square in all of Europe. It has become the hub of activity in Lyon and is one of the busiest places to shop in the city.
The square is where all distances from Lyon are measured which is unsurprising given it is the starting point to many of the most important streets and walks you can do from Lyon.
14 – Stop by MAM – Musée des Arts de la Marionnette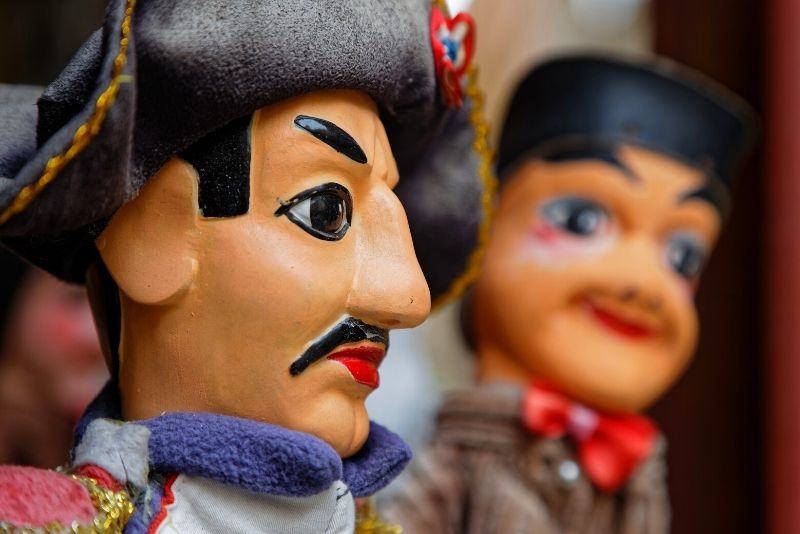 What used to be known as the Gadagne Hotel, built in the 1500s, is now a collection of 2 museums that hold countless artifacts from Lyon's history.
One of these museums is the Musée des Arts de la Marionnette which focuses on the artistic and creative side of Lyon. Here you can expect to find antiquated paintings and even collections of ancient puppets!
15 – Pay MHL – Musée d'Histoire de Lyon a visit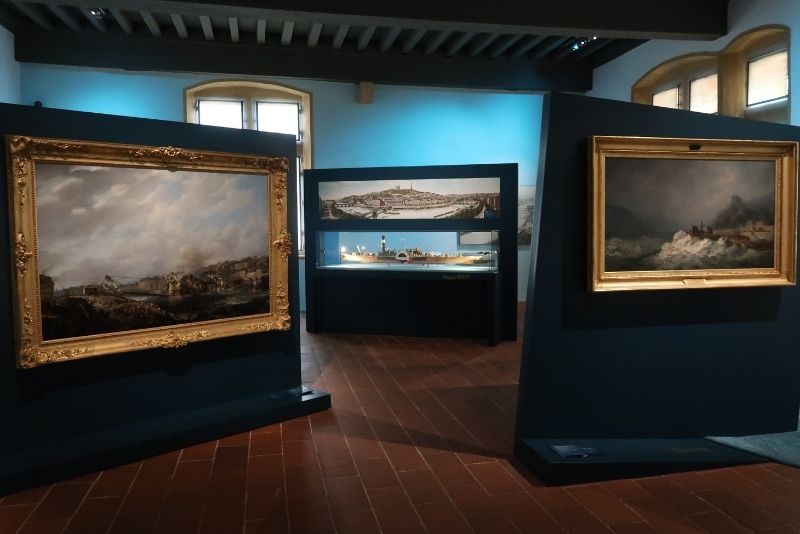 The other museum housed within the Gadagne building is the Musée d'Histoire de Lyon. This museum focuses more on cultural artifacts and historic items from Lyon.
If you visit this museum you'll see things such as medieval limestone sculptures to 16th century looms. The collections here document the many parts of Lyon's history and range all the way back to the Middle Ages!
16 – Chase thrills at Walibi Rhône-Alpes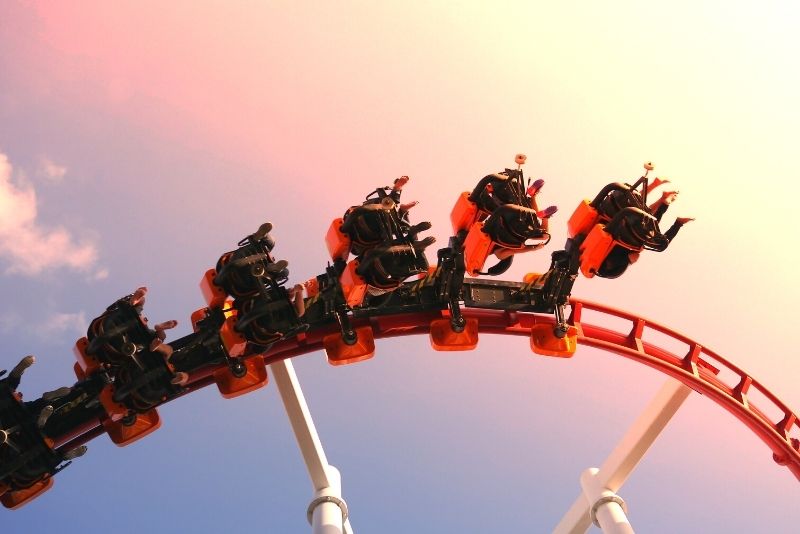 Walibi Rhône-Aples is one of the biggest amusement parks in Lyon.
There's a huge range of rides, suiting anyone from children all the way up to thrill-seeking adults. The park has wild rollercoasters, high diving boards, and everything in between.
Getting to the park is easy with shuttles running to and from the center of town!
17 – Cruise around on a segway tour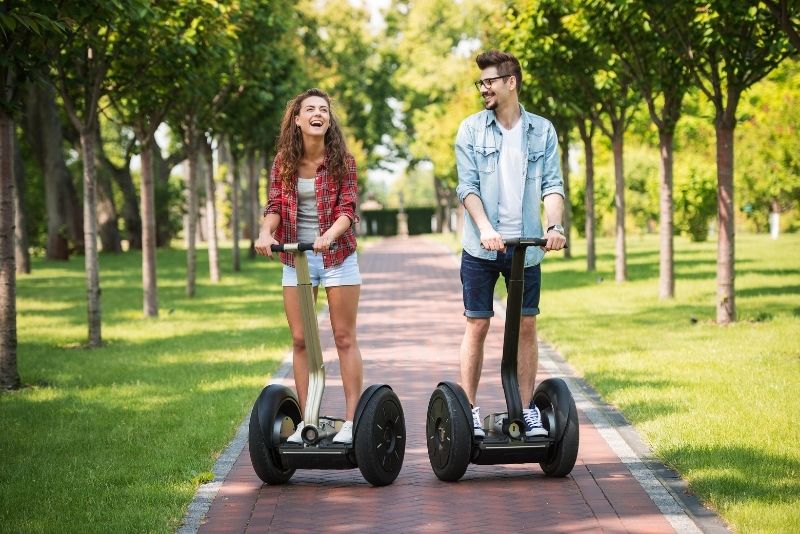 A segway tour is one of the most effortless ways to get around Lyon and see all the sights.
The tour includes a 15-minute training session so you feel comfortable before heading out for a 1.5-hour tour along the Rhône and Saône River.
18 – Step into Mini World Lyon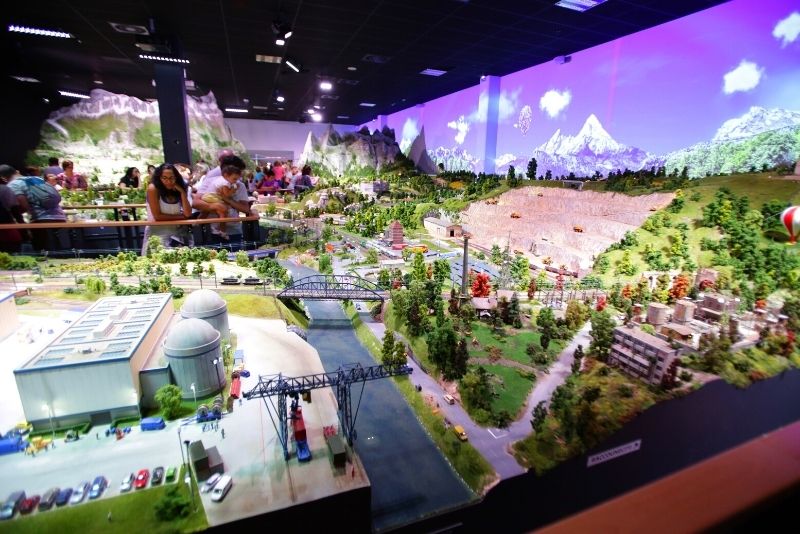 Mini World Lyon is a 3000 square meter animated miniature park. Inside you'll find miniature recreations of the city, mountain, and countryside landscapes. The exhibits took the creators over 70'000 hours to build.
The best times to visit are between noon and 2:30 pm when they are at their quietest, ensuring you get the best chance to see every detail.
19 – Immerse yourself in the Musée Lumière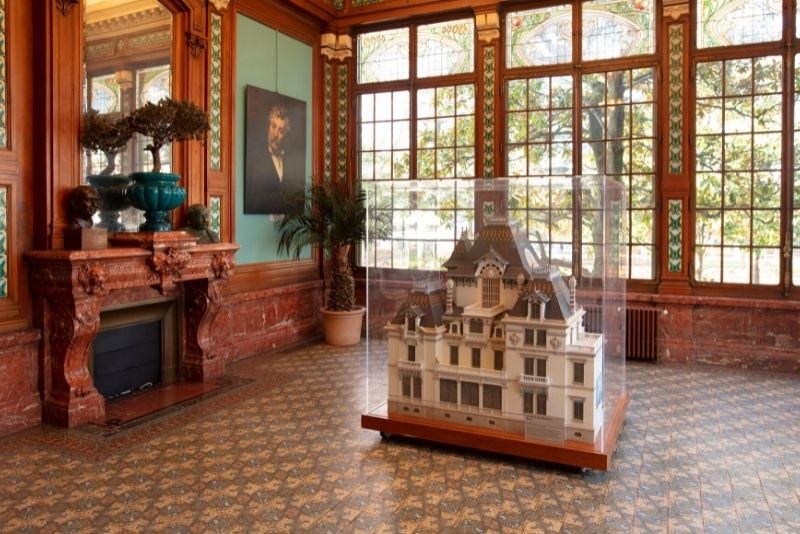 The Lumière Brothers are famous in the cinema world and the Musée Lumière provides a catalog of their achievements and creations.
Their inventions, such as the famous Cinematograph are all housed in the old family home in the Monplaisir District in Lyon, now known as the Musée Lumière.
20 – Escape to Rhone Valley on a wine tour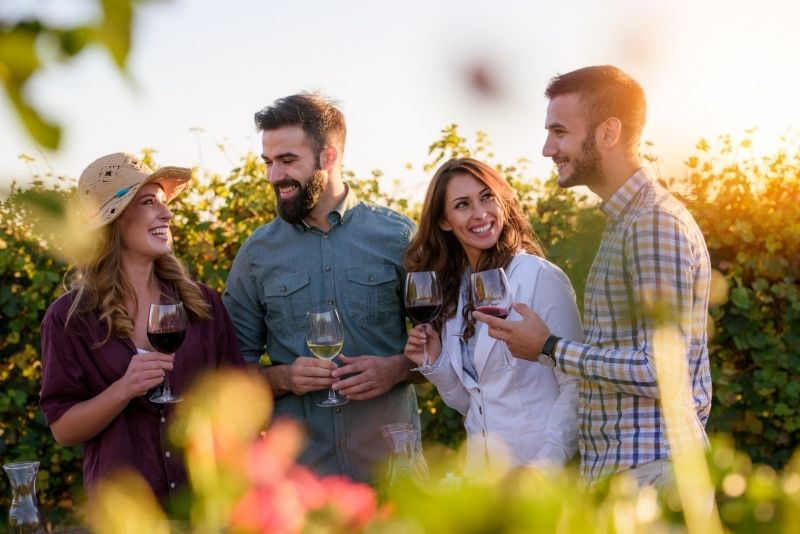 Rhone Valley is known for its wine and cheesemakers.
A four-hour day trip out to the area will take you to an authentic French farm where you can sample some Rigotte de Condrieu, a famous local goat's cheese.
You'll also get to sample multiple local wines before being taken back to Lyon just as the sun sets.
21 – Head to the Museum of Fine Arts of Lyon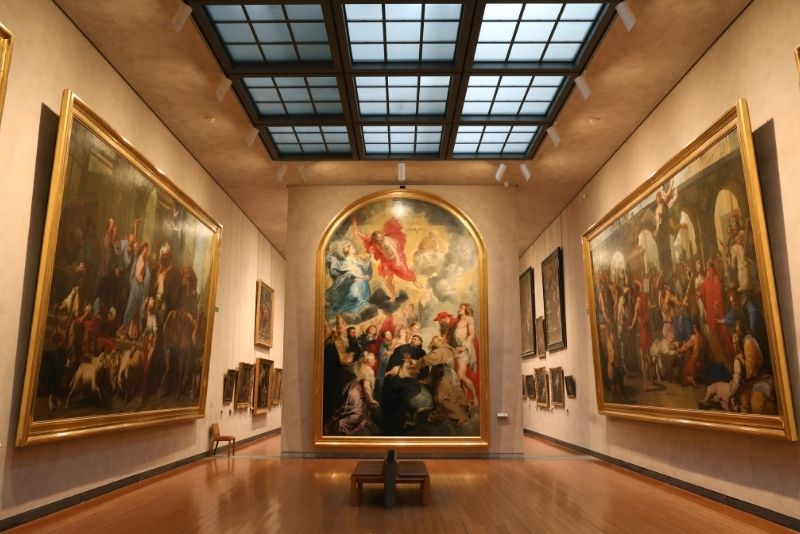 The Museum of Fine Arts of Lyon is a 7000 square meter gallery housed in a former 17th-century abbey.
The 70 rooms of the museum hold one of Europe's largest collections of art spanning a timeline as far back as ancient Egypt.
Spotting a Rembrandt at the Museum of Fine Arts is one of the quintessential things to do in Lyon.
22 – Delve into the Abode of Chaos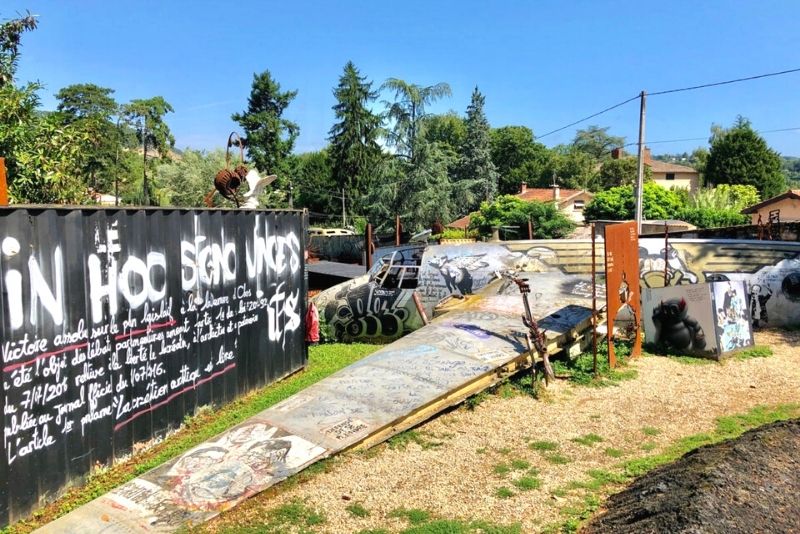 The Abode of Chaos is a free outdoor museum consisting largely of steel sculptures.
The near 2500 pieces of work display a chaotic and destructive expression of local artists with the local mayor describing it as 'dramatic, images of destruction.'
23 – Unwind in the Parc de la Tête d'Or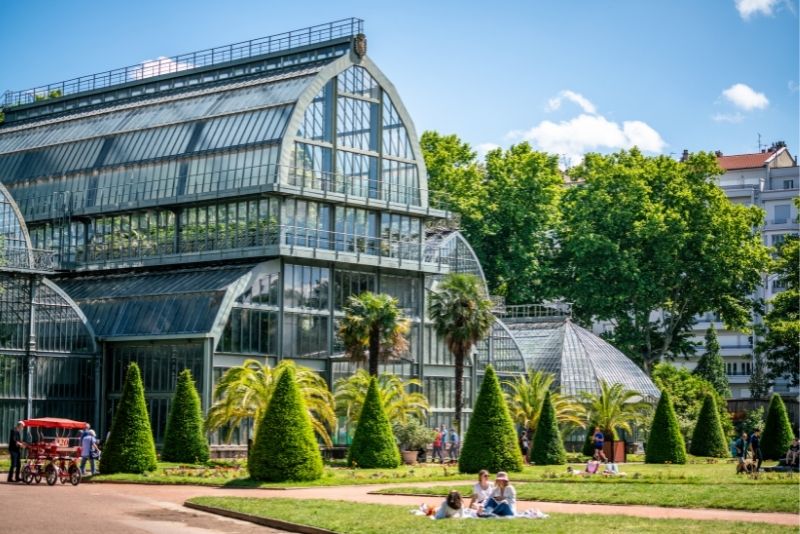 The Parc de la Tête d'Or is an 117 hectare park right in the urban centre of Lyon.
Within the park are the Lyon Botanical Gardens as well as lake, filled with paddle-boats during the summer months.
On top of the natural beauty, there are sporting facilities as well as a zoo with free admission.
24 – Reach the lookout at Fourvière Hill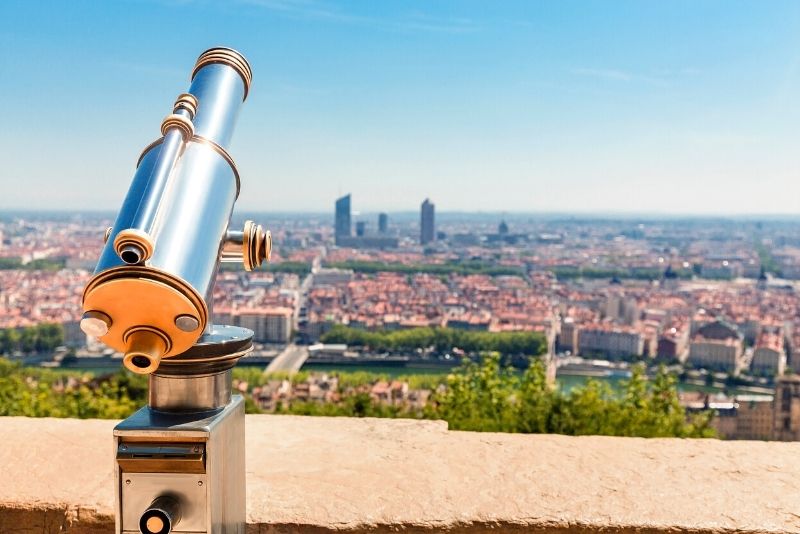 The top of Fourvière Hill is one of the most famous views in Lyon. On a clear day, you are able to see as far as Mont Blanc.
Once you're atop the hill, there's a small railway, known as a funicular, which runs down past gardens and monuments before ending at Saint-Just funicular station, which is a short ride from Vieux Lyon.
25 – Admire Basilique Notre Dame de Fourvière ceiling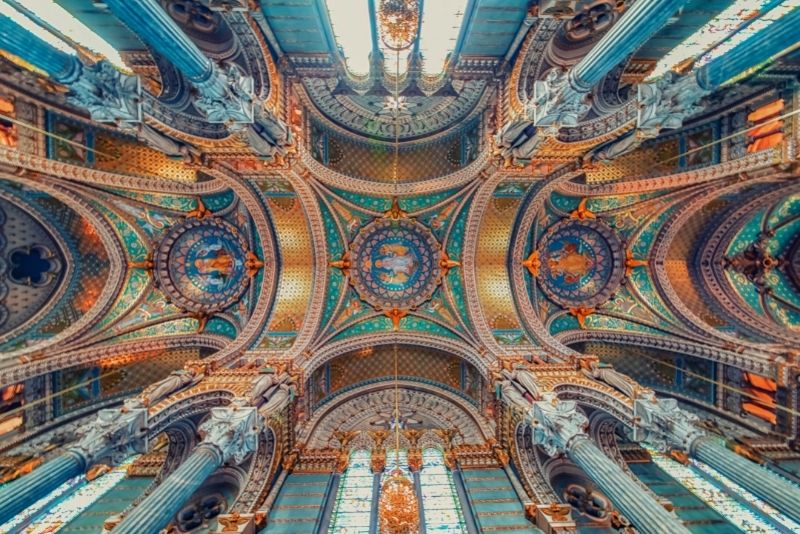 The aforementioned funicular also runs to Fourvière Basilica where you get another panoramic view of the city and surroundings.
Here you'll also find La Basilique Notre Dame de Fourvière, a minor basilica built in the 1800s.
Tying a wish onto the olive tree in the garden of the basilica is one of the definitive things to do in Lyon whilst you're in town.
26 – Step back in time at the Musée des Confluences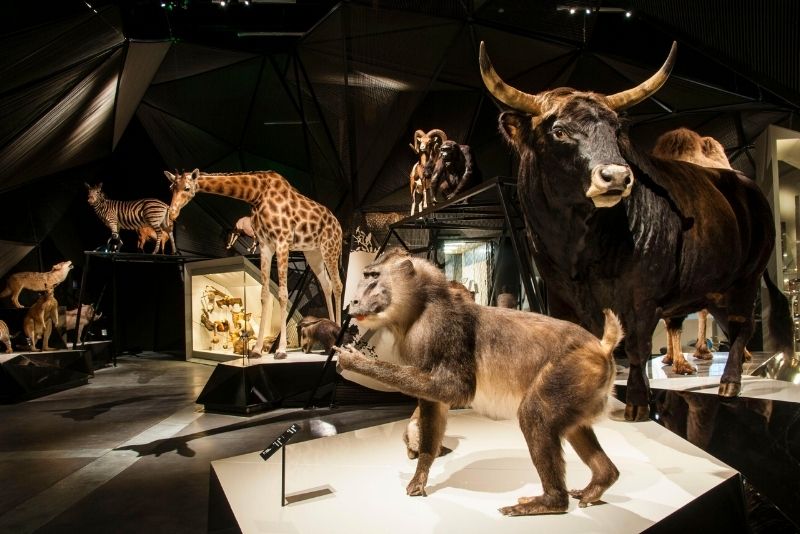 The Musée des Confluences is a collection of artifacts, skeletons and models of animal and human life.
At the museum, there's anything from Samurai armor to dinosaur bones. Heading here is an archaeology buff's dream, with pieces from all around the world that you can't find anywhere else.
27 – Stop by the Amphitheater of the Three Gauls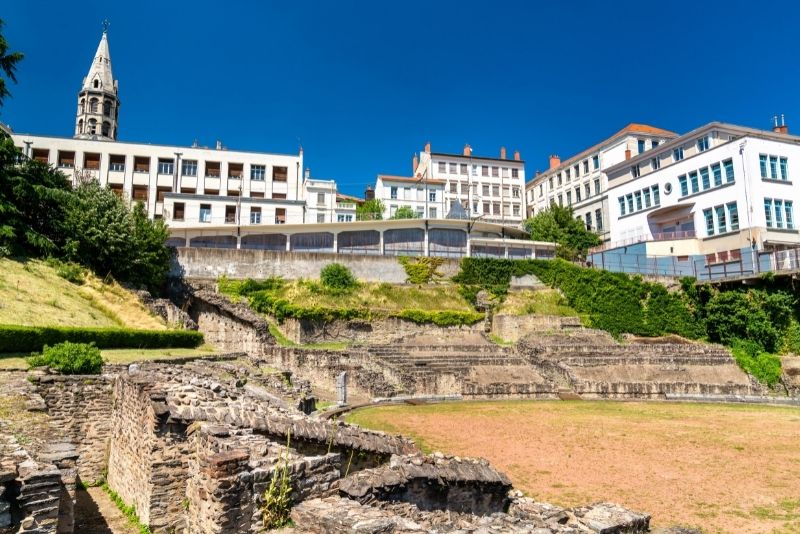 The Amphitheater of the Three Gauls is an old Roman structure dating all the way back to 19 AD.
It was known as a sanctuary and meeting place for all the surrounding Gallic tribes (of which the area now known as Lyon was the capital).
Getting there to soak up the ancient atmosphere is an easy walk from Old Lyon or a quick bus ride on the S6 or S12 routes.
28 – Relax at the Grand Parc Miribel Jonage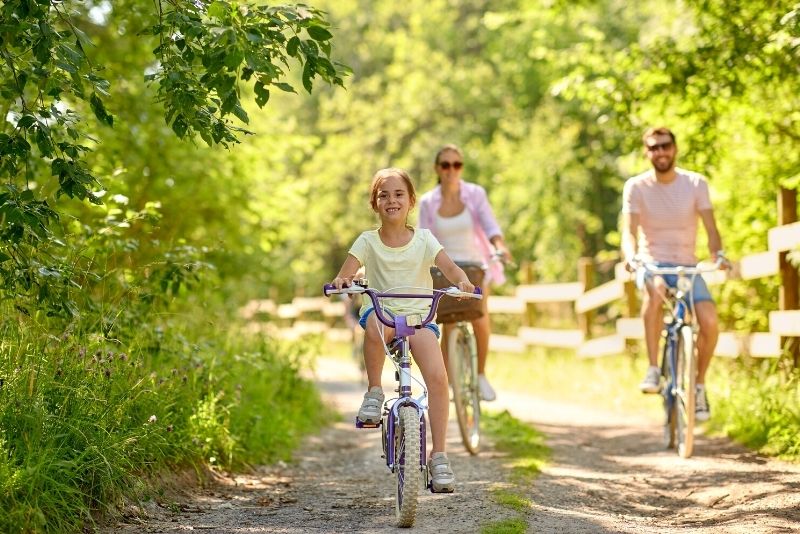 The Grand Parc Miribel Jonage is a 2200 hectare public park located on the outskirts of Lyon. It is a popular recreation location for locals with biking and running trails, and swimming during summer.
It is also a great spot for nature lovers with wildlife protection habitats where you can spot an array of local flora and fauna.
29 – Tour the famous Place des Terreaux
The Place des Terreaux is right in the heart of Lyon and is where several important landmarks can be found.
There's the 1889 Bartholdi Fountain — sculpted by the creator of the Statue of Liberty, there's the Museum of Fine Arts of Lyon and the Hôtel de Ville de Lyon — the town hall of Lyon and one of the biggest buildings in the city.
You can hop on a guided tour on a Tuk Tuk which will take you to all the key places in the Place de Terreaux, as well as all along the Saône's riverbank.
30 – Work up a sweat at Cimes Aventures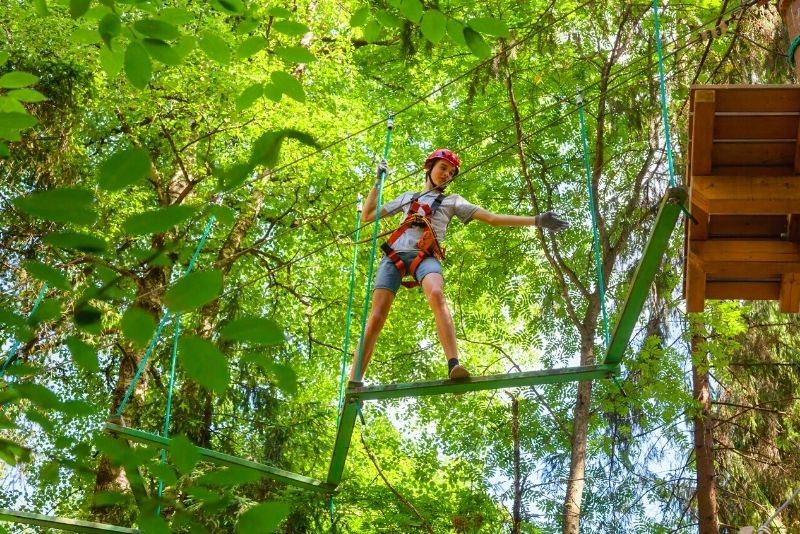 Cimes Aventures is an adventure park with a variety of rides that just about anyone could enjoy.
The park is divided into two courses — one for young and one for old — so you'll be able to find your level and have an adventure that is the right challenge for you.
There are zip lines, high ropes courses and challenging bridge walks, so you'll be sure to conquer a fear or two if you visit Cimes Aventures.
31 – Step into Cathédrale Saint-Jean-Baptiste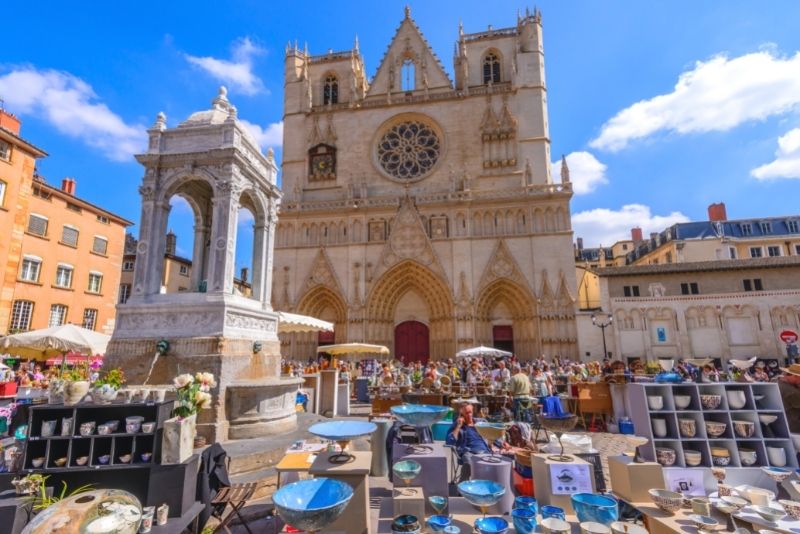 Cathédrale Saint-Jean-Baptiste is Lyon's main Roman Catholic Church, located right in the heart of Lyon.
It is a classic example of Gothic architecture, built all the way back in 1480. Paying this iconic structure a visit is one of the best things to do in Lyon for history buffs.
32 – Solve clues on a scavenger game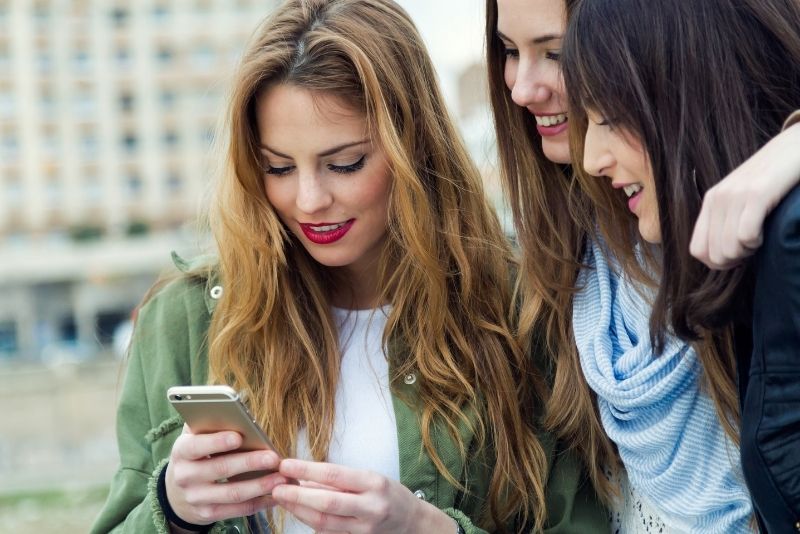 If you want to discover the darker side of Lyon, a scavenger hunt that takes you to all the haunted locations of the city is a great option.
With the freedom to start and stop the game whenever suits you, your mobile phone becomes your map.
You will solve clues and mysteries to uncover secret spots around town and learn all about the history of places such as Loyassse Cemetery and Fourviere Hill.
33 – Swing by La Maison des Canuts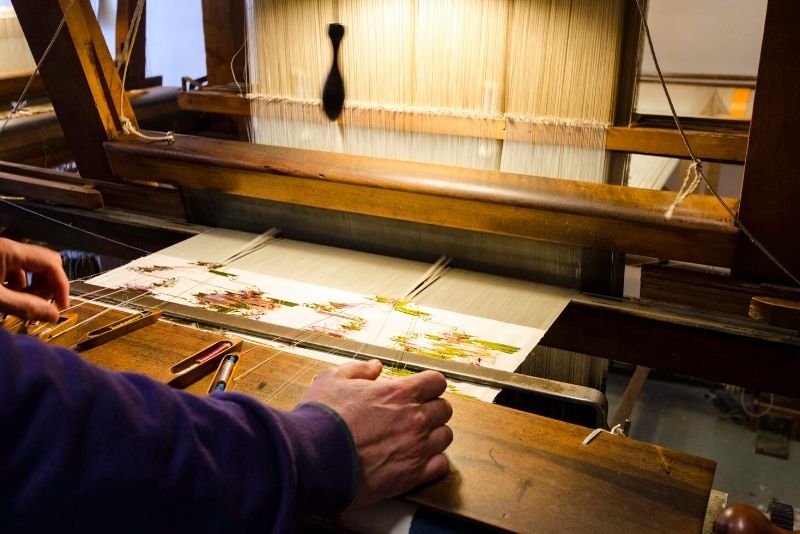 The men who originally made Lyon's famous silk —known as the Canuts — used to work out of a 19th-century building in the heart of the city.
The building has now become a museum of the history of silk-making in Lyon, as well as a currently functioning production facility.
There are three rooms of historic exhibitions as well as a workshop so you can get an insight into the process of silk-making over the years.
34 – Visit the animals at Lyon Zoo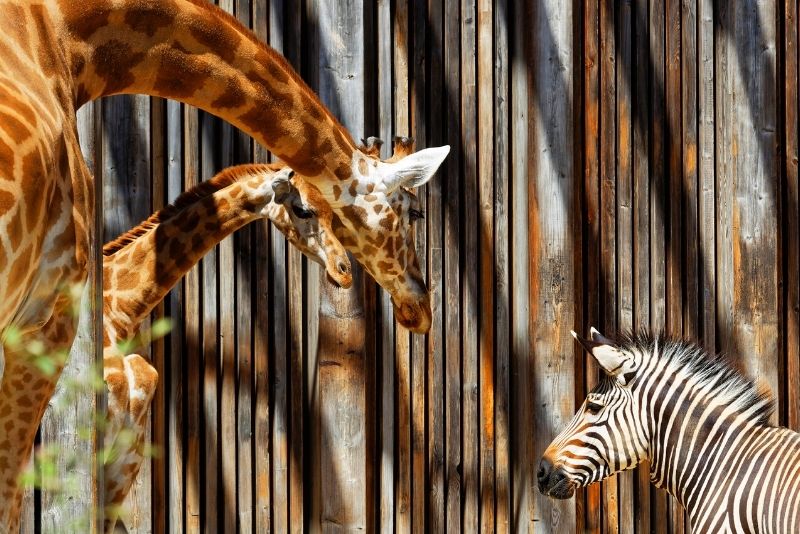 The Lyon Zoo is over 150 years old, making it one of the most historic zoos in France.
There is a huge variety of animals from native to foreign so whether you're a local or traveling from afar there will be something you haven't seen before.
The zoo also prides itself on its conservation practices that breed endangered populations so there's also bound to be an exotic species or two you've never laid your eyes on.
35 – Explore the Textile Arts and Decorative Arts Museum
The Textile Arts and Decorative Arts Museum in Lyon is a collection of artifacts from the fashion, music and gastronomic industries.
The exhibitions will teach you all about the history of textiles, trends in fine dining and everything in between.
36 – Free fall with a bungee jumping session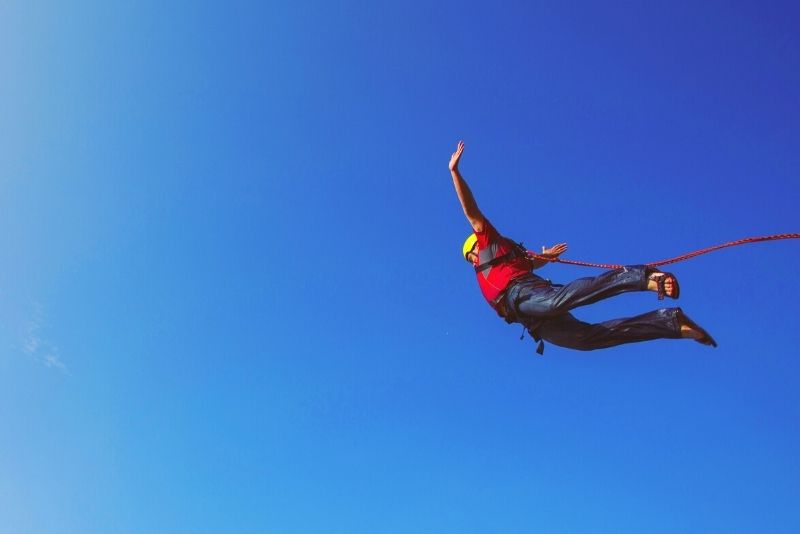 About a 45-minute drive from Lyon is a viaduct where there has been a bungee jumping school since 2011.
The jump is from a height of 65 meters, making it one of the most thrilling things to do in Lyon whilst you're in town.
37 – Indulge at The Presqu'île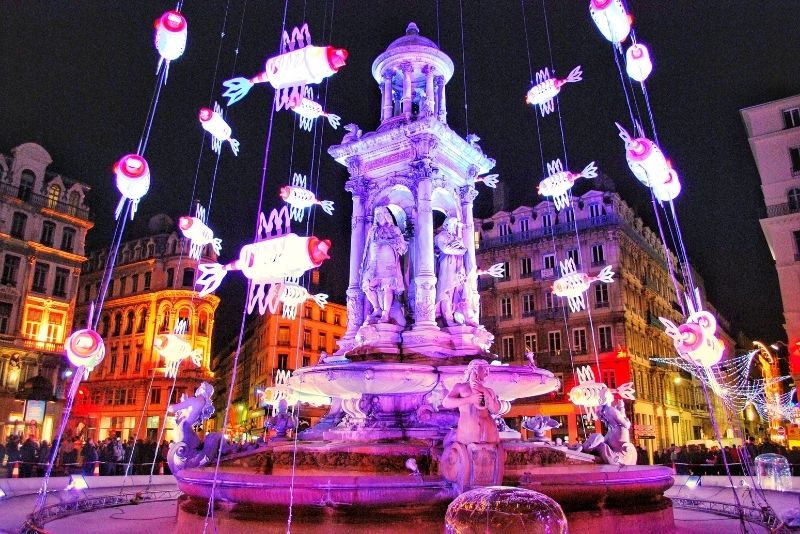 Situated between the Rhône and the Saône rivers, the Presqu'île is a famous Lyon District where you'll find a luxurious gathering of cafes, restaurants, and high-end shopping.
Not only a great place to indulge in some fine dining or enjoy a show at a theater, but it is also where you'll find a large amount of Lyon landmarks, including Lyon town hall, the Church of St. Nizierm, and the Fine Arts Museum.
38 – Climb the trees at Parc Family Aventure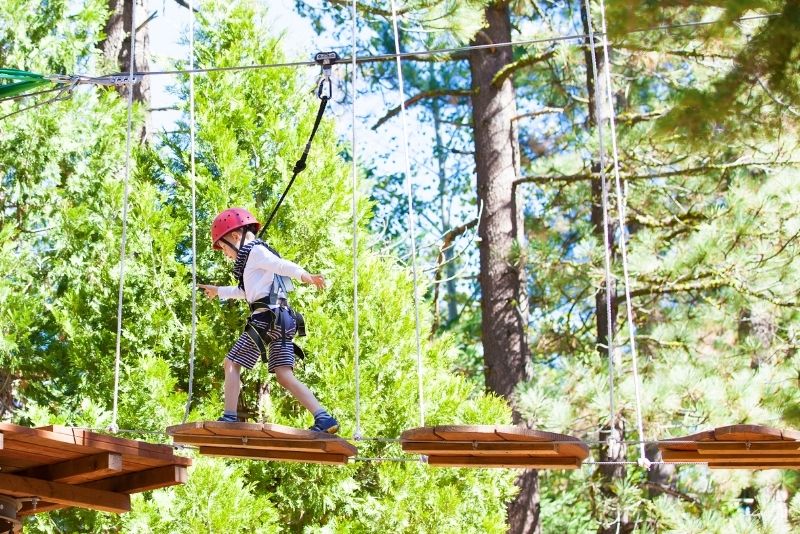 Parc Family Aventure is an adventure park aimed at all ages, located in the green surrounds of Auvergne.
The park is a scenic drive from Lyon and makes a great day trip for those traveling in a family group.
There are 14 different tree climbing courses tailored to all ages and physical abilities so everyone can have something to do!
39 – Test your puzzle skills with an escape room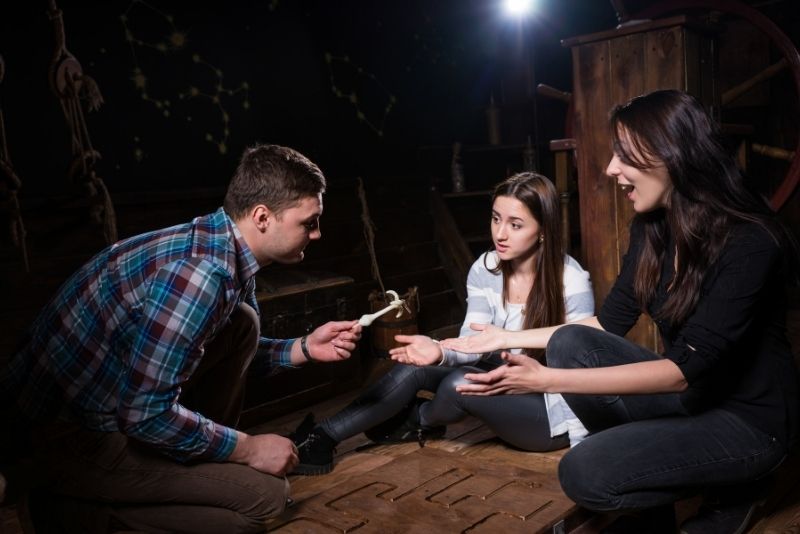 For those who love solving puzzles and mysteries, an escape room can be a great way to experience Lyon.
With an hour to solve the clues required to get out of the room, this is bound to bring together a group of fellow travelers and test everyone's lateral thinking!
40 – Catch a football game at Groupama Stadium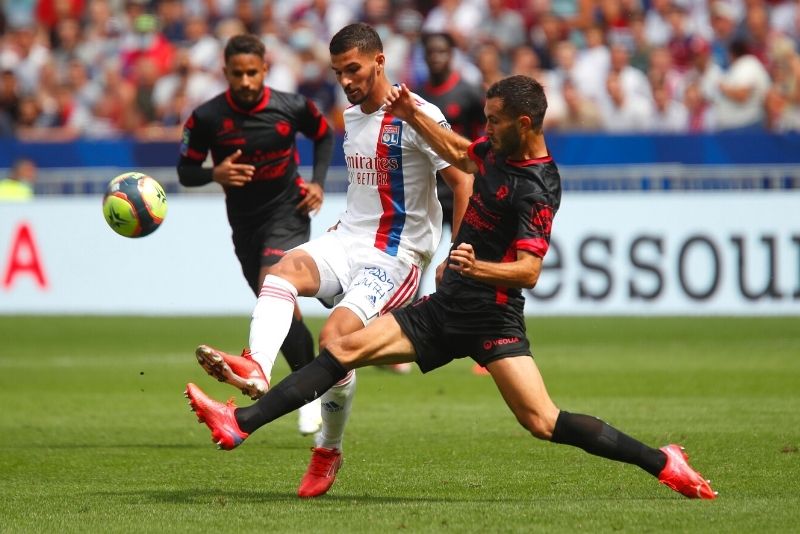 Groupama Stadium is the home of French professional football team Olympique Lyonnais.
The team plays in France's top division so catching a game here is one of the quintessential things to do in Lyon for sports fans.
41 – Head over to Museum of Contemporary Art of Lyon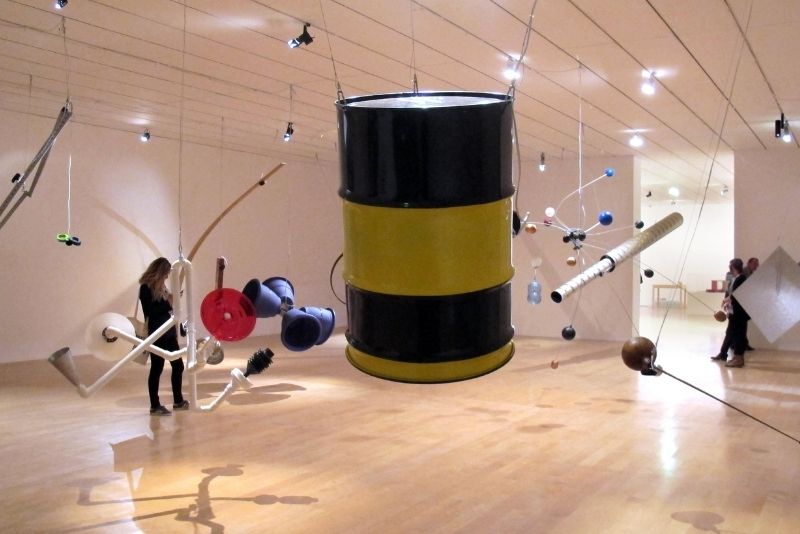 The Museum of Contemporary Art of Lyon is where you'll find a rotating collection of creative works from recent artists, with a focus on the works of locals.
The Museum is situated in a very picturesque location, right on the edge of the Parc de la Tête d'Or.
Head to the museum on a sunny day and reflect on all the pieces in the sunshine along the Rhône River.
42 – Discover the Resistance and Deportation History Centre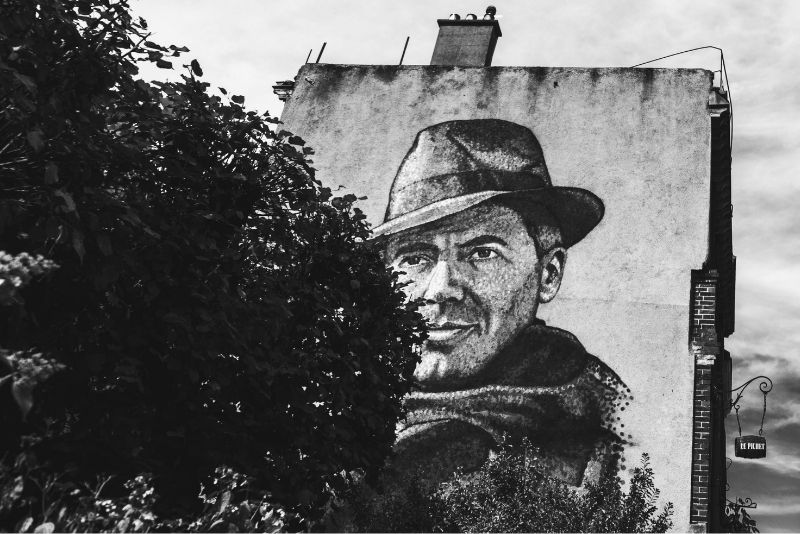 From exhibitions on health crisis' or the movements of the Jewish population of Lyon during the war, the Resistance and Deportation History Centre is a very unique place to visit.
History buffs will flourish as this museum holds a lot of rare and otherwise hard to find information about Lyon's significance during the Second World War and the Anti Fascist movements in the city.
43 – Soak up a show at Opera National de Lyon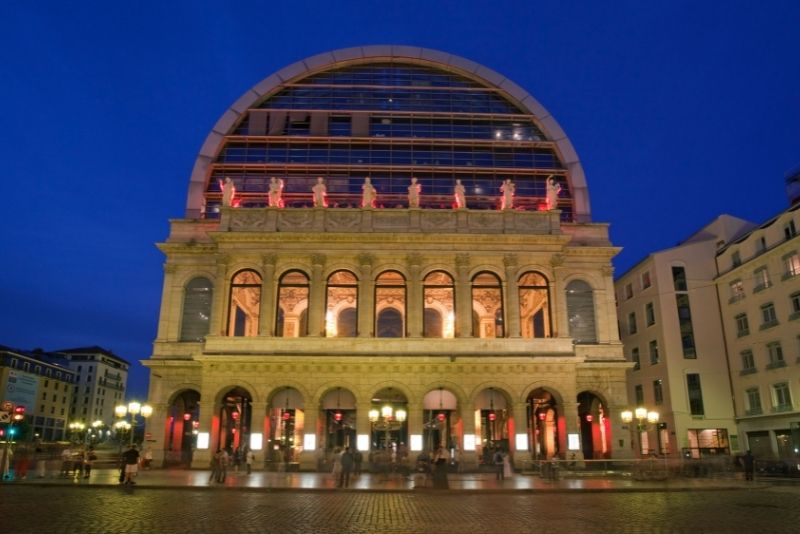 Opera National de Lyon is where you'll find all of the local orchestral and opera performances.
If you keep an eye out for heritage days at the opera house you can reserve a place on a free guided tour of the building, learning all about its history and development.
44 – Visit the fantastic Museum Jean Couty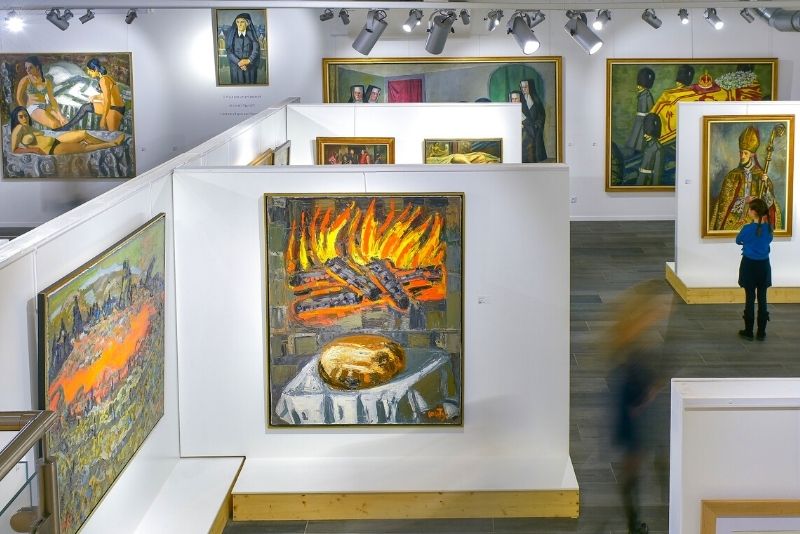 The Museum Jean Couty is a contemporary art museum originally dedicated to the work of Lyon local Jean Couty, who is well known for painting the cities landscape.
For just 10 euros, you will gain admission to the biggest collection of Jean Couty's paintings, the photographic works of contemporary artists along with other rotating exhibitions.
45 – Take in a play at Théâtre des Celestins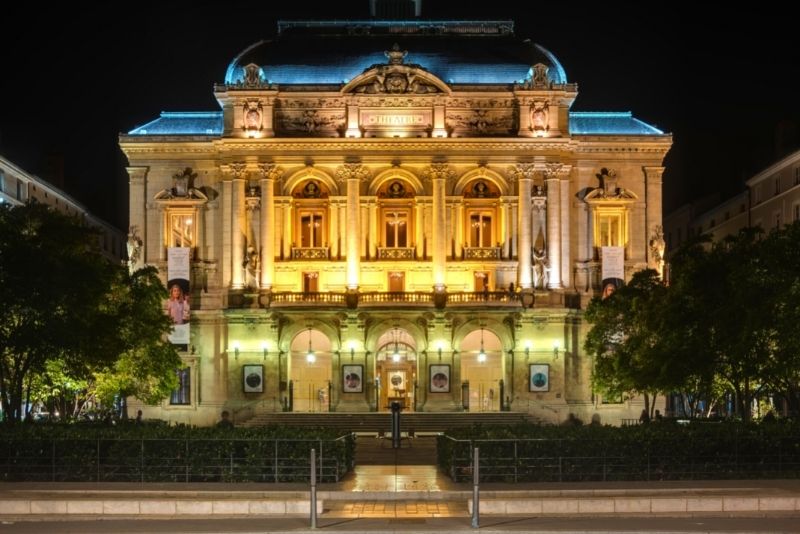 The Théâtre des Celestins was opened in 1792, originally as a small playhouse for dramas and vaudevilles. The site of the theatre was previously a convent so the surrounding architecture holds a lot of Lyon's history.
The Theatre is now one of the best places to see the theatrical works of Lyon playwrights, as well as big performances of famous pieces.
46 – Explore the Musée de l'Automobile Henri Malartre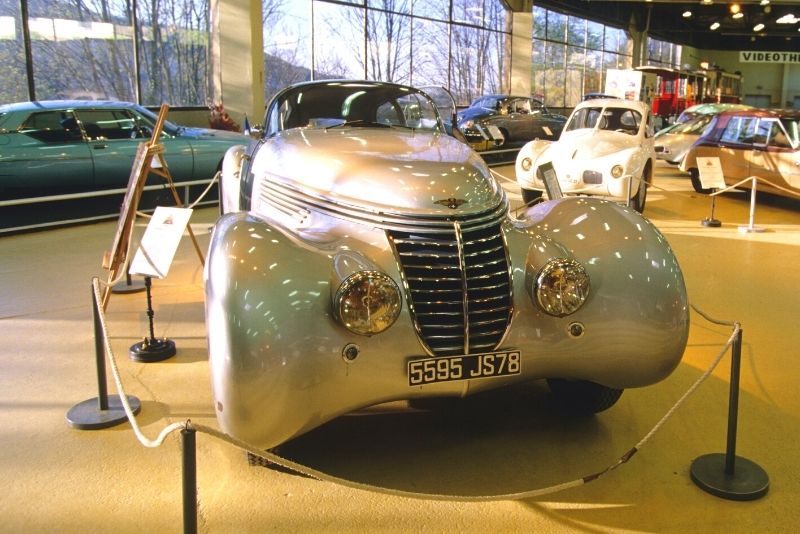 The Musée de l'Automobile Henri Malartre is a collection of cars and vehicles that display the development of the automobile in Lyon.
The museum is housed in a 12th-century castle and the collection is made up of Henri Malartre's acquisitions since the 1930s.
You'll find anything from early motor prototypes to vintage 1960's race cars and just about everything in between.
47 – Roam with the animals at Safari de Peaugres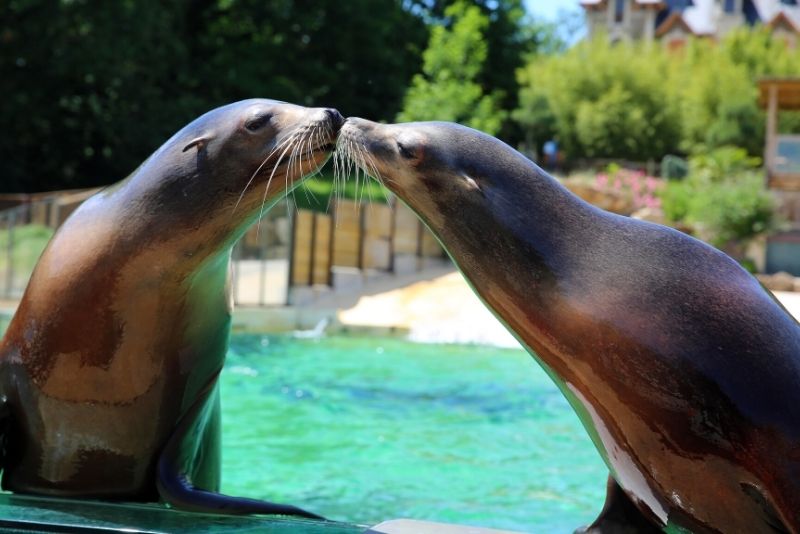 An hours drive out of Lyon will take you to the French commune of Peaugres where the open range Safari de Peaugres is located.
Here you can drive through open areas alongside the huge assortment of wildlife and get very up close and personal.
The safari is modeled off the harmonious ecosystem of a typical African village so you'll be able to see zebras and antelopes all happily living side by side.
48 – Pop into the Museum of Printing and Graphic Communication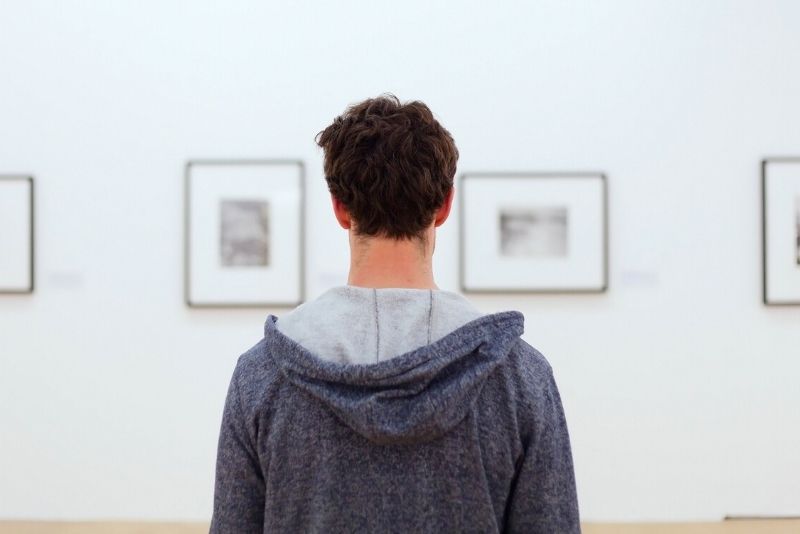 The Museum of Printing and Graphic Communication is a collection of all things printed and written down. The collection consists of things such as Gutenberg's 42 line bible to the daily paper.
On top of this you will also get to discover the history of the printing press and other technology used to make books, signs and posters over the years.
49 – Eat at a Michelin-starred restaurant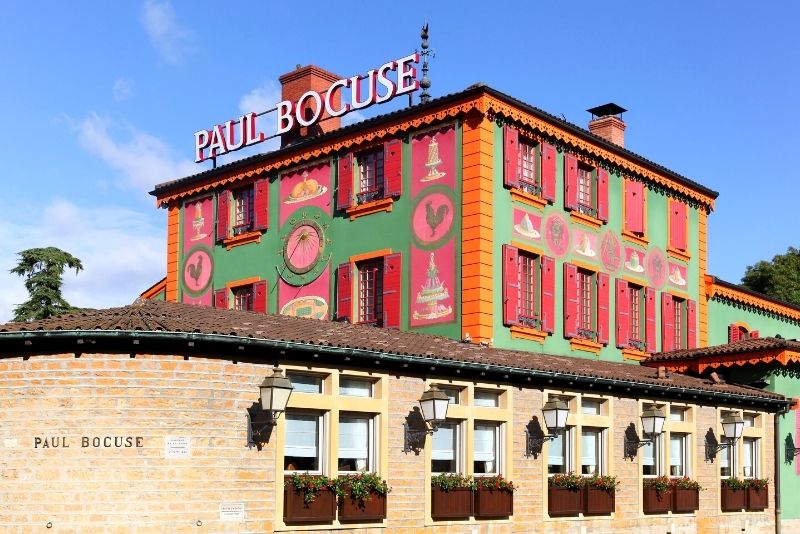 Lyon has no shortage of fine dining options for those who love to sample the best culinary delights a city has to offer. One of the most famous is restaurant Paul Bocuse, a double Michelin star restaurant in Collonges-au-Mont-d'Or, known for experimental takes on classic French cuisine.
Right in the heart of Lyon, there's even more with the experimental Takao Takano and the classic French Mère Brazier.
50 – Spend a night at Villa Florentine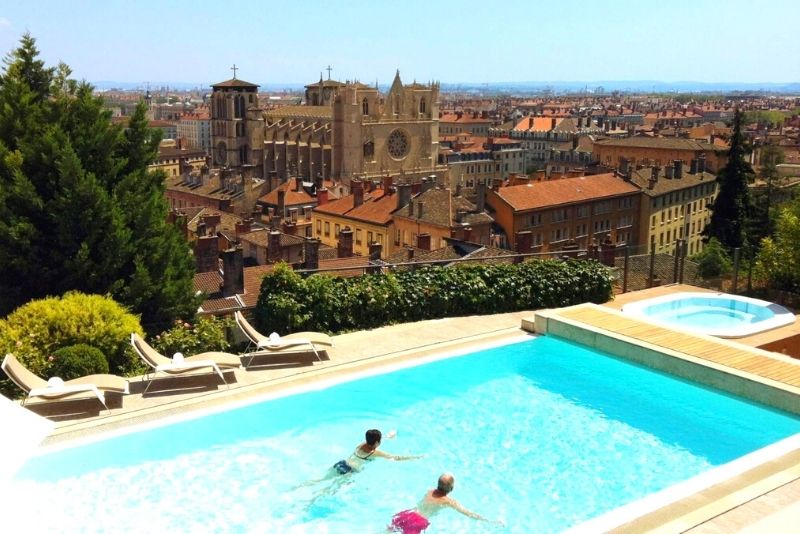 Villa Florentine is a luxury hotel that used to be a gothic-style convent. It's located right in the heart of Old Lyon so your room will offer panoramic views of the historic heart of Lyon.
Staying at this hotel, soaking in the spa and having dinner at one of the on-site fine dining restaurants is one of the perfect things to do in Lyon for those celebrating or on a romantic getaway.
Traveling on a budget?
The Lyon city card is a worthwhile investment, providing you with free access to public transport and access to various key places around town, including 23 museums.
There are also various free walking tours, offered in both English and French.
Hopefully, this list of things to do in Lyon will provide you with some inspiration for a trip to this unique city. If there are any others, feel free to drop them in the comments so everyone knows all the best places to stay and visit.
Planning a longer trip? Discover the best places to visit in France.
Happy travels!