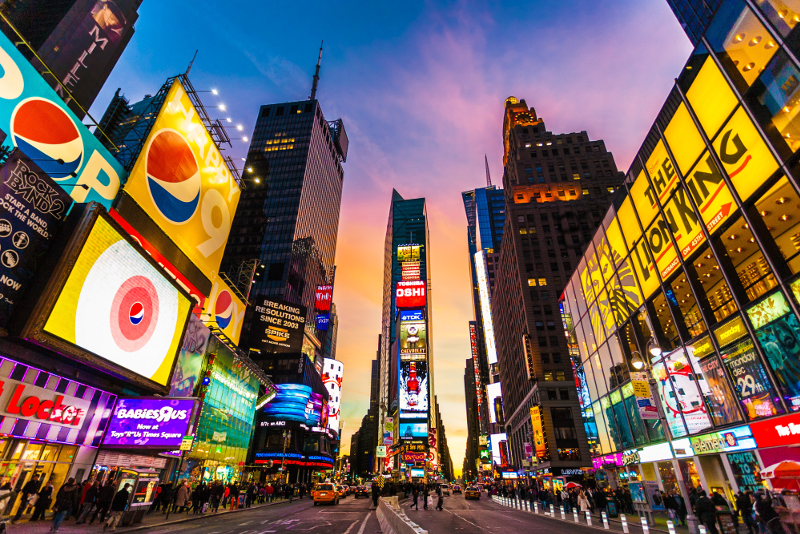 Aptly named The City That Never Sleeps, this skyscraper-filled, fast-paced metropolis is a source of cultural pride for locals and visitors alike — not to mention one of the most bucket-listed destinations on the planet.
Always buzzing with events, New York City offers an unparalleled array of activities and experiences for visitors of all ages, from checking off iconic landmarks like the Empire State Building and Brooklyn Bridge to wandering through historic areas like Harlem, Chinatown and Tribeca, this mega-city will always have something new and exciting to offer.
Spread across the five diverse, eclectic boroughs — Manhattan, Queens, Brooklyn, The Bronx and Staten Island — New York has something for everyone. Whether you're a culture enthusiast, an art lover (don't miss the Met and the MOMA) or a foodie fanatic (Little Italy awaits), the Big Apple will deliver an incredible sense of awe… every, single, time.
Throw in world-class museums, a-grade sporting events, old-school Coney Island, ghost tours, Broadway theaters and an array of rooftop bars, and you will soon discover why over 8.5 million people call this bustling city home.
So, without further ado, let's take a look at the top fun things to do in NYC!
1 – Try indoor skydiving at iFLY Westchester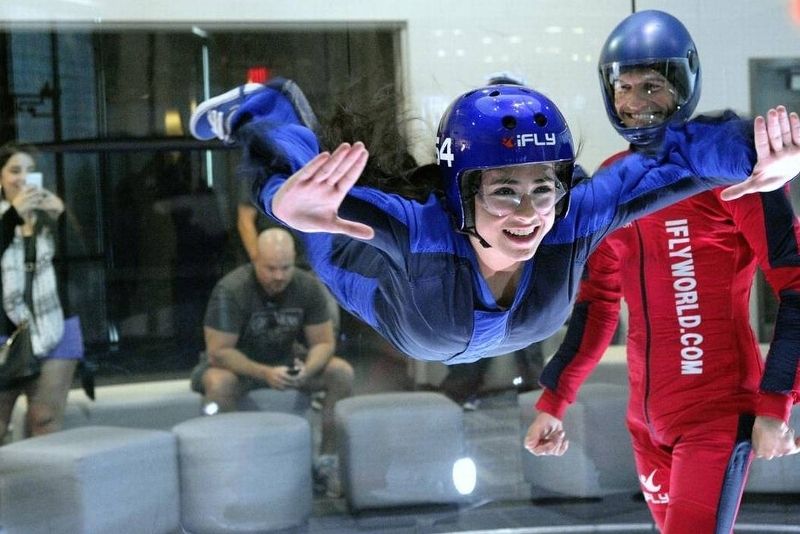 Experience the thrill of skydiving without any of the danger. iFly Westchester is a themed wind tunnel for indoor skydiving. So there is no jumping, no bad weather, no danger, just a jolly good time to spend with your friends or family!
2 – Fly on a helicopter and be stunned by the view of NYC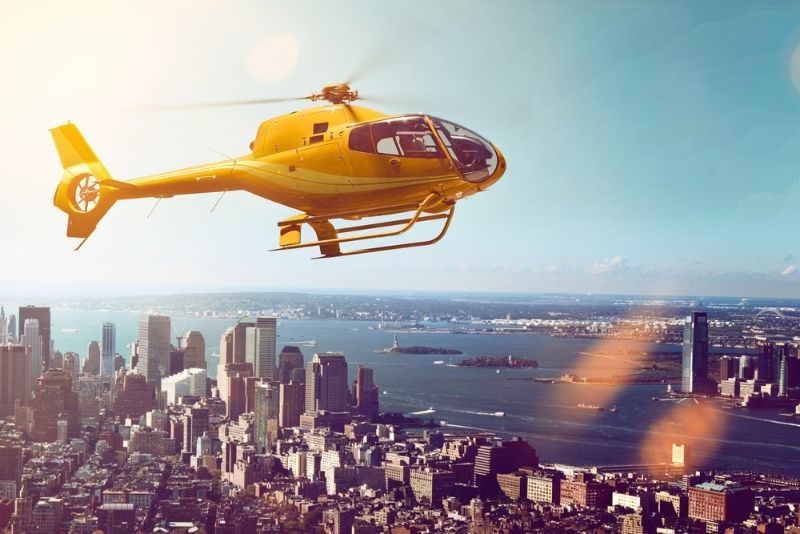 Tours by helicopters are one of the most famous and fun things to do in NYC, especially for first-time visitors. It is the most thrilling way to see NYC's top landmarks, the Hudson River and its bay. Soar high above the New York City skyline and enjoy the panorama.
See also: Helicopter Tours in New York City – Which One Is the Best?
3 – Explore the catacombs of the Basilica of St. Patrick's Old Cathedral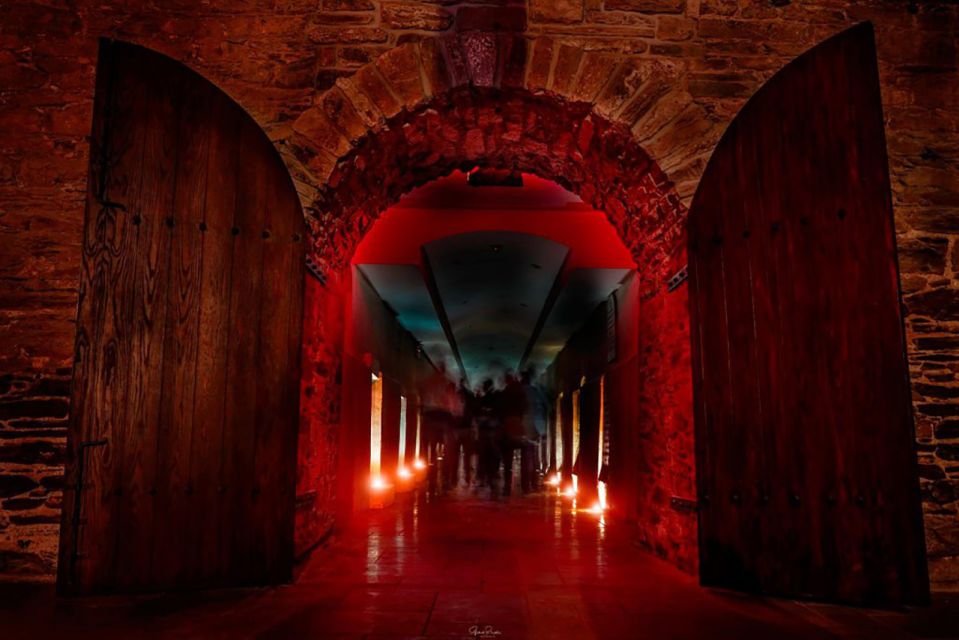 Ready for a spooky night? Go behind the scenes at the Basilica of St. Patrick's Old Cathedral. Get access to the off-limits and hidden areas of the Basilica grounds, and step into the only active catacombs in New York City.
4 – Take a spin on The Beast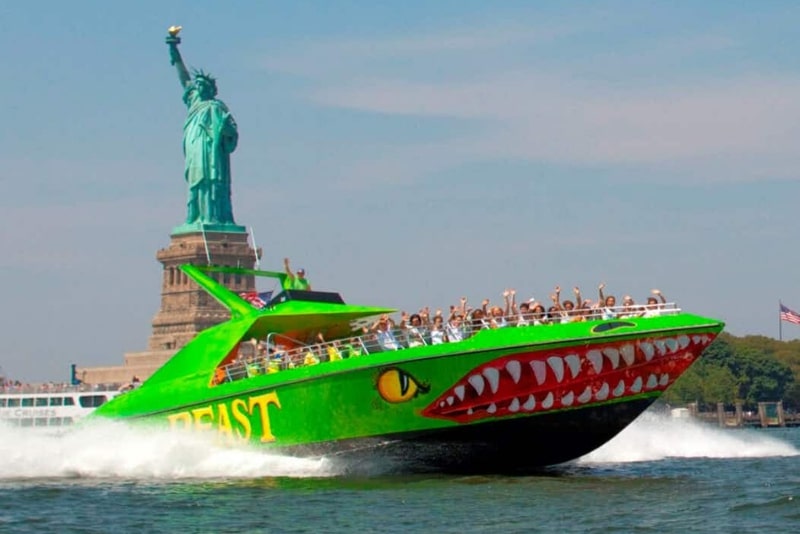 Hold on to your hats as you blast across New York Bay on the ride of your life. The Beast is a luxury jet boat and one of the fun things to do in NYC for adrenaline junkies.
Take in the panoramic sights of midtown and lower Manhattan and bounce along to live music on this watery roller coaster journey. Keep your cameras handy for the Statue of Liberty!
5 – Recover a priceless painting in 60 minutes or less!
Challenge your friends to solve an art heist in this escape room!
One of five available adventures at The Escape Game, The Heist will immerse you and your friends in a one-of-a-kind adventure, where you must steal back a priceless Monet painting before the art curator returns.
You'll have to work with your team to solve clues and overcome challenges in order to complete your mission.
You have 60 minutes max, so be quick! Can you escape in time?
6 – Watch a famous Broadway show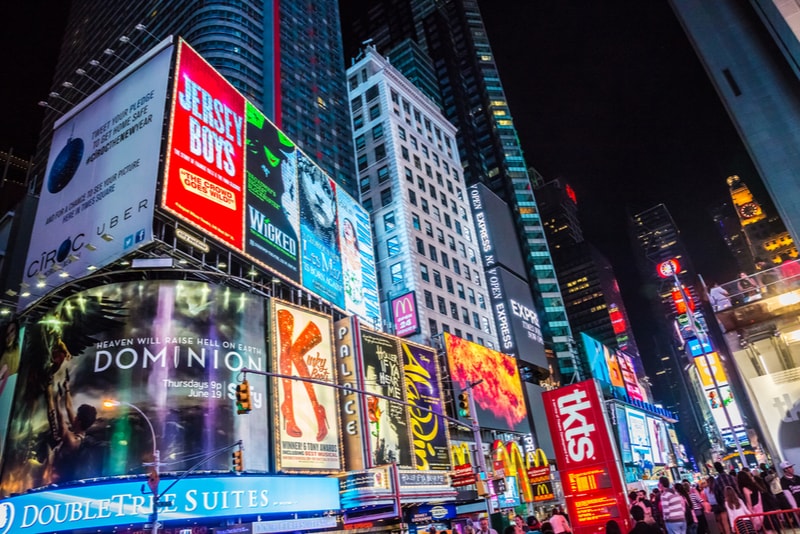 Broadway is the bright beating heart of NYC's performing arts scene. Watching a Broadway show is one of the most fun things to do in New York City at night, an guaranteed to be an experience like no other.
There is no better place in the world to watch famous worldwide musicals, such as The Lion King, Aladdin, The Phantom of the Opera, Wicked, The Book of Mormon, Hamilton, Chicago, and many more!
Hot tip: check out the best Broadway shows to see right now!
7 – Admire the spectacular view of Manhattan over the Hudson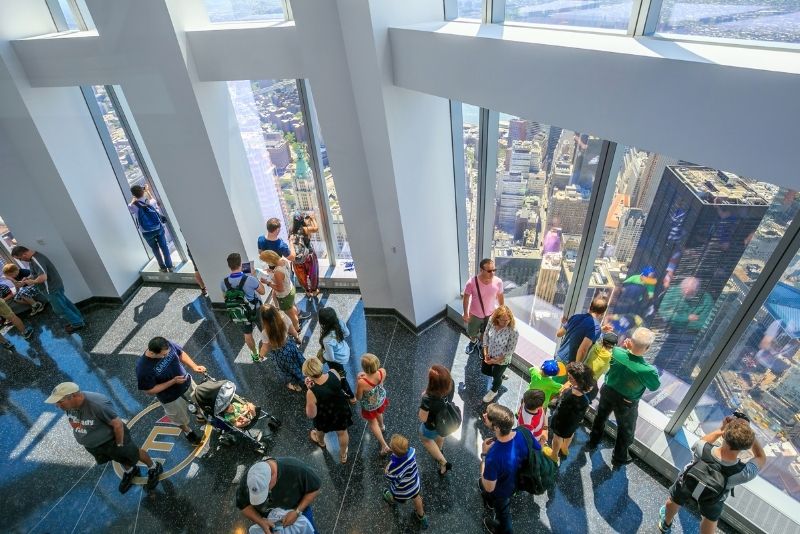 From street level, Manhattan is a bustling, vibrant city of towering skyscrapers, meandering paths and people in every direction. But from above, from one of the several jaw-dropping observation decks around the city, the Big Apple really shows off its majestic beauty.
But in a city literally packed to the brim with skyscrapers, which provides the best Insta-worthy views?
The observation deck of the One World Observatory – part of the 541-meter-tall Freedom Tower which stands on the site of the former World Trade Center – offers dramatic city views that turn magical at sundown. Located high upon the 100th, 101st, and 102nd floors, this observation deck devliers incredible views of Midtown and Lower Manhattan.
The 443-meter-tall Empire State Building is another great choice for a bird's eye view of the city. Located in Midtown, its observation deck stands on the 86th floor of this near-century-old building – an absolute must-see for first-time visitors to the Big Apple and a great spot to take in magnificent views over Central Park.
Thanks to its location in Lower Manhattan near the 9/11 Memorial, the One World Observatory also offers fantastic views of the Statue of Liberty, Ellis Island, and the harbor.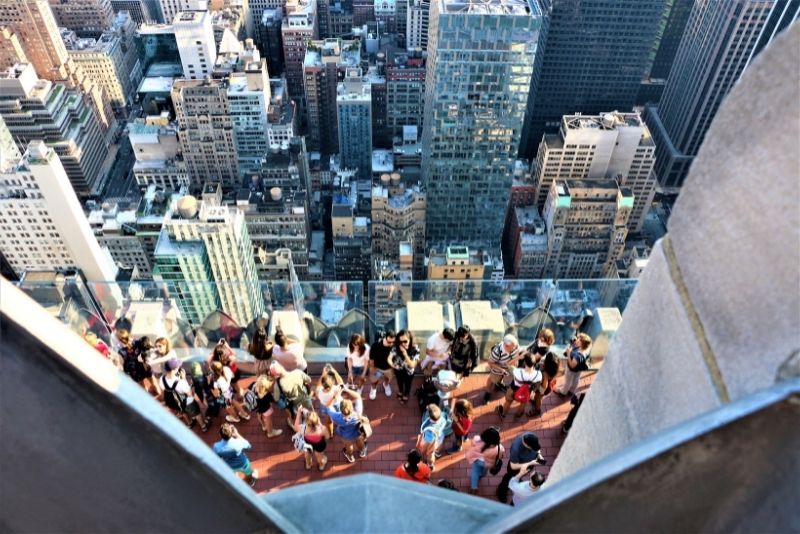 But if it's panoramic views OF the Empire State Building you're after, you can't beat Top of the Rock. Perched 70 floors above Rockefeller Plaza, the observation deck of this art deco-style skyscraper gives visitors an unobstructed view that extends for miles.
But there's more. Located over in Hudson Yards, Edge Observation Deck holds the title of the highest outdoor sky deck in the Western Hemisphere, towering in the open air at 345 meters and 100 stories high. Meanwhile, the ultra-modern SUMMIT One Vanderbilt, which opened in 2020, offers an immersive art-meets-technology experience to complement the impressive views of Midtown and Lower Manhatten from atop its tower.
No matter which observation deck you end up choosing, these unique perspectives of New York's iconic skyline will leave your camera roll full for days!
8 – Visit famous filming locations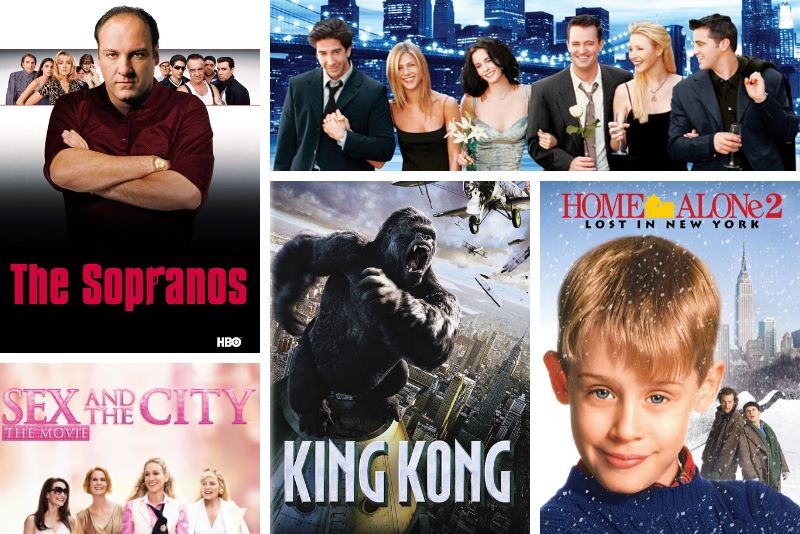 All the best movies and TV shows are filmed in New York, and this is your chance to visit some of the big screen sights.
Hop onboard a comfortable coach and cruise around Manhattan, stopping at iconic locations from Gossip Girl, Sex and the City and The Sopranos.
Relive the glory days outside the Friends apartment and pose beside the iconic Ghostbusters Fire station.
Hot tip: check out the best TV & movie locations tours in New York City
9 – Cheer for the Knicks at the Madison Square Garden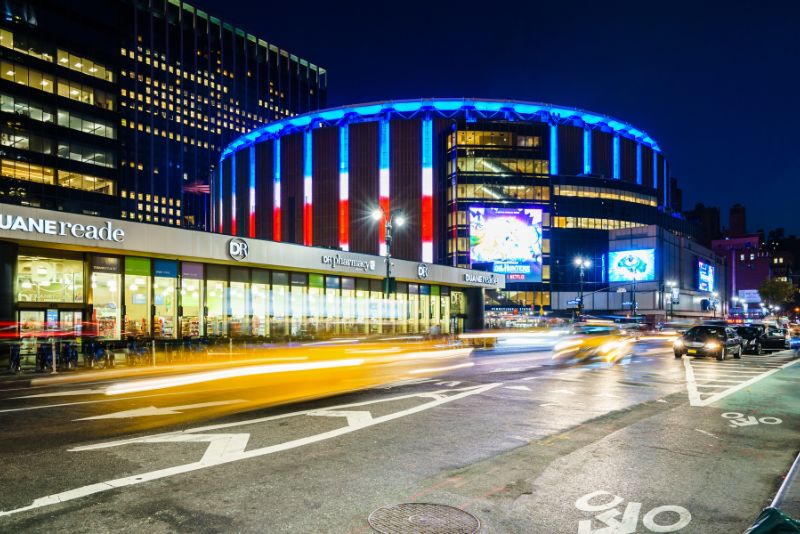 Sports fans, listen up. While some might associate the Big Apple with baseball (the Yankees), and hockey (the Rangers) and football (the Jets), its basketball heritage runs deepest – and a visit to the legendary Madison Square Garden will make that even clearer.
Here, you'll find the infamous New York Knicks — one of the NBA's original teams that have played in New York City since 1946 — gracing the court in one of the most iconic venues in modern sports and entertainment.
And when it's not game day or concert night, you can join an exclusive Madison Square Garden tour and explore the arena inside and out, checking out places like the locker rooms, the Garden's TV studio, and the court itself. Either way, when the stadium's packed with 20,000+ diehard fans, you'll see (and hear) why it's considered one of the best things to do in NYC for sports nuts.
10 – Balance your mind and body at Aire Ancient Baths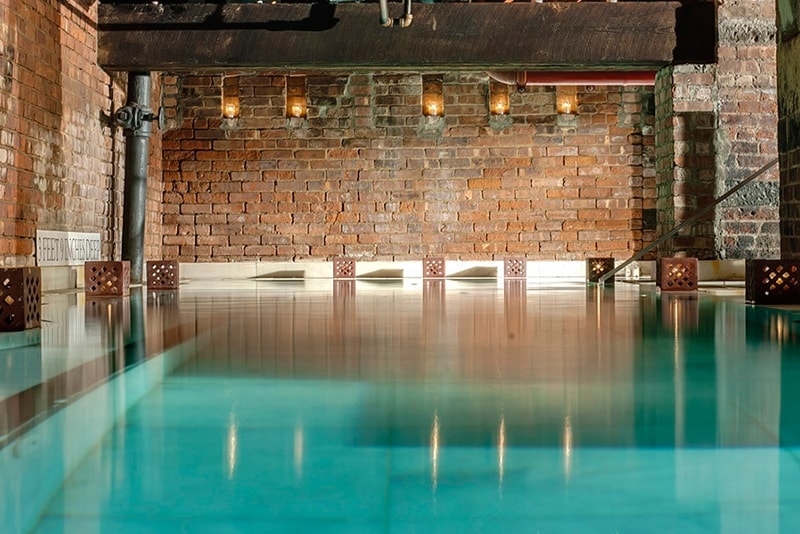 In an industrial building from 1808, the AIRE is an experience of sensations that runs through different thermal baths, massages as well as other experiences which you will find absolutely delightful!
11 – Unleash your inner Jedi at The Empire Strips Back!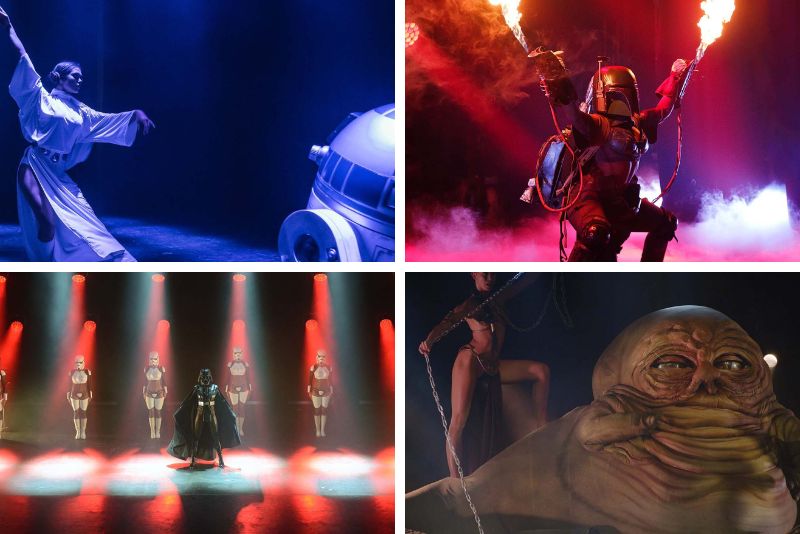 Get ready for an out-of-this-world burlesque show that will transport you to a galaxy far, far away! The Empire Strips Back combines the seduction of burlesque with the excitement of sci-fi, bringing your favorite Star Wars characters to life in a whole new way.
From sultry Stormtroopers to a tempting Boba Fett, this intergalactic journey will have you laughing and swooning in equal measure. Whether you're a devoted fan or just looking for a night of fun, don't miss this spicy twist on the beloved saga!
12 – Listen to unique concerts at candlelight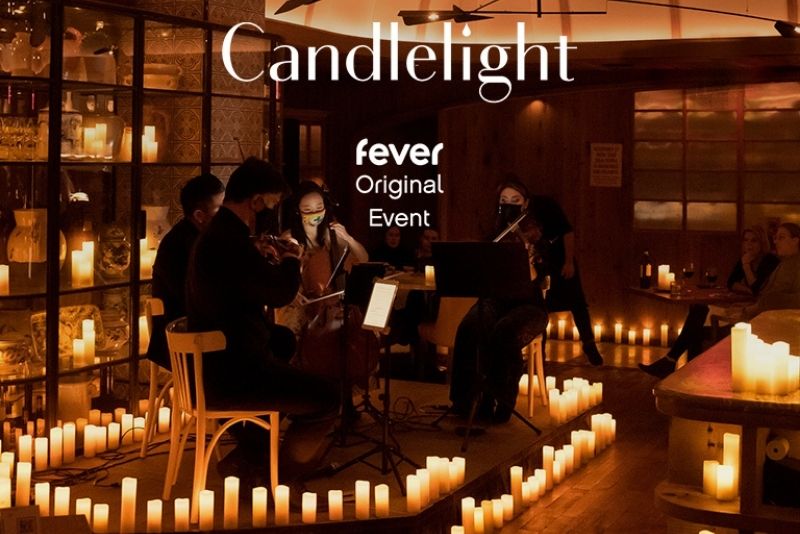 Enjoy music concerts in a unique candlelight atmosphere. Live the Vivaldi, the Queen or Jazz music notes while sipping a glass of wine or having dinner. Candlelight creates a magical atmosphere that will let you appreciate even more the fantastic concerts.
13 – Have fun in Central Park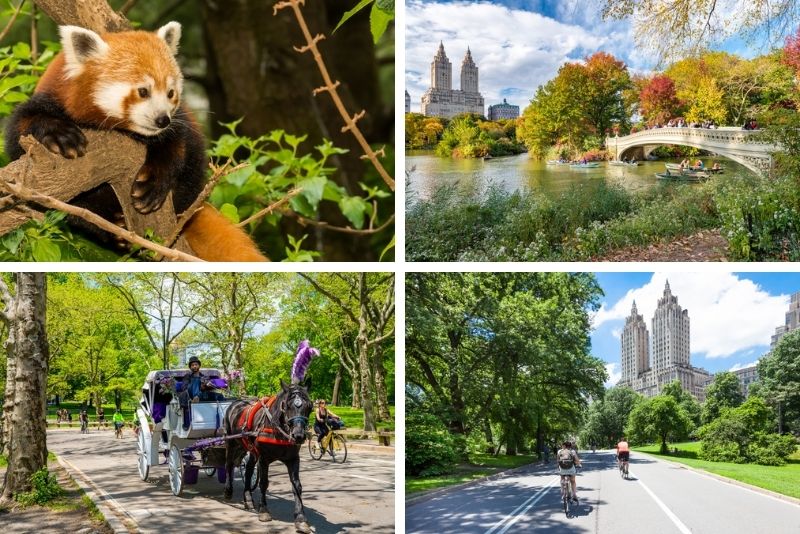 No visit to New York is complete without popping over to Central Park, the iconic green hub sitting pretty in the middle of Manhattan. The grounds are a great place for a picnic or horse-drawn carriage ride, and the wild inhabitants of Central Park Zoo are a favorite with families.
Feeling energetic? Then jump in the saddle for a guided bike tour around the park and nearby sights, or join one of the scooter tours which whisk through the park's winding paths and impressive bridges.
Throw in walking tours, moonlit ghost tours, and a plethora of food and drinks options, and you've got an unbeatable day out – no wonder the 843-acre park attracts over 40 million visitors every year and it's one of the best things to do in New York City with kids!
Don't forget to check out the iconic Bethesda Terrace too — stroll along the terrace's grand walkways, and admire its ornate arches and carvings that have been gracing the park since the 1860s.
And if you're up for some culture, pay a visit to The Metropolitan Museum of Art, located at the park's east side – where you can admire more than 5,000 years of history! With so much to do and do, it's clear that you'll never run out of things to do in Central Park.
14 – Visit the Statue of Liberty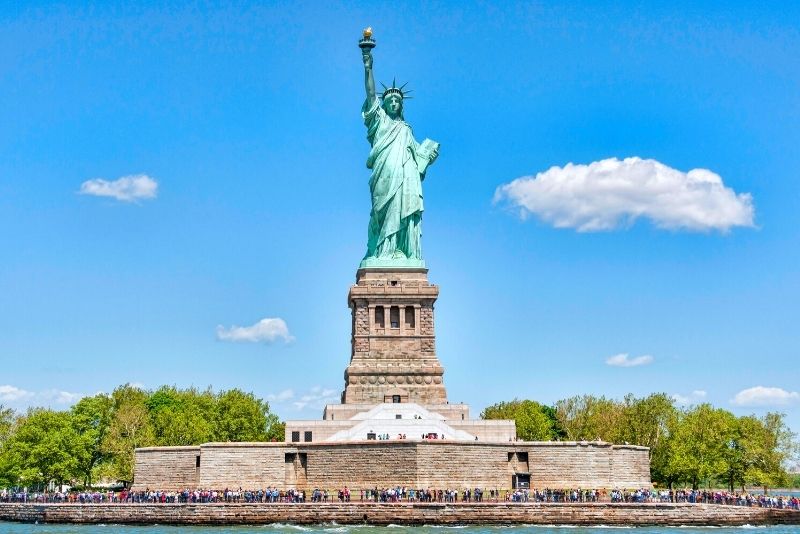 A must-see tourist attraction in New York City, a landmark as iconic as the city itself, The 305-foot-tall Statue of Liberty stands proudly on Liberty Island, a symbol of freedom and hope to the millions of immigrants who have come through New York harbor.
Go on a ferry tour around the Statue and explore its grounds, or take in spectacular views from The Crown or pedestal – it's one attraction you won't want to miss!
Most Lady Liberty tours are combined with Ellis Island and its museum. Here, you'll learn all about the fascinating history of immigration to the United States — a see first-hand how New York because a cultural melting pot.
Hot tip: if you're looking to save a few bucks, try to get your hands on some of the last-minute Statue of Liberty tickets.
15 – Time-travel to a night of romance and elegance at The Queen's Ball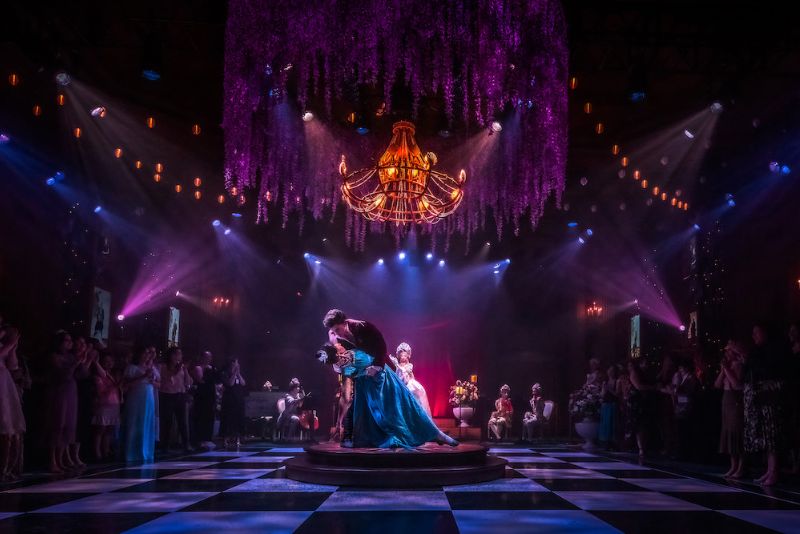 Immerse yourself in the opulent world of Bridgerton at The Queen's Ball. With period costumes, live music, and immersive experiences, you'll be transported back to the 19th century for an unforgettable night of romance and intrigue.
Learn the latest Regency dance steps, sip on Bridgerton-inspired cocktails, and witness a love story unfold before your eyes. Don't miss your chance to be part of this enchanting ball where the Queen herself is searching for her Diamond of the Evening.
Sponsored placement
Take your best selfie yet at FotoLab Studio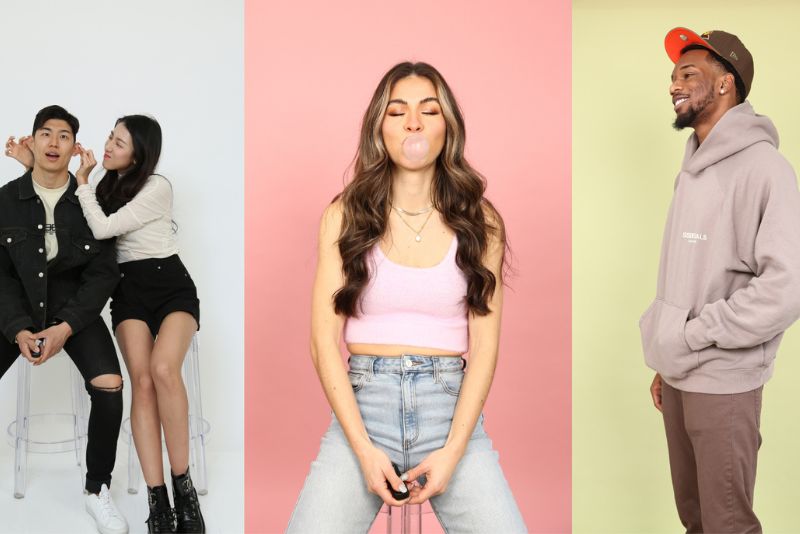 If you're looking to take the perfect selfie, look no further than FotoLab Studio!
FotoLab is New York City's first self-portrait studio, where you are both the photographer and the model.
Book yourself a 30-minute session in a private room set up with a professional camera, lighting and backdrop.
All you need to do is show up and press the clicker.
Bring along your friends, family, and even your pets to create unique self-portraits.
For just $80 a session, you can take unlimited pictures and leave with four stunning prints.
For a limited time, you can also receive all of your digital files for FREE.
This is a great way to memorialize your time in the city!
16 – Step inside the hilarious world of 'FRIENDS'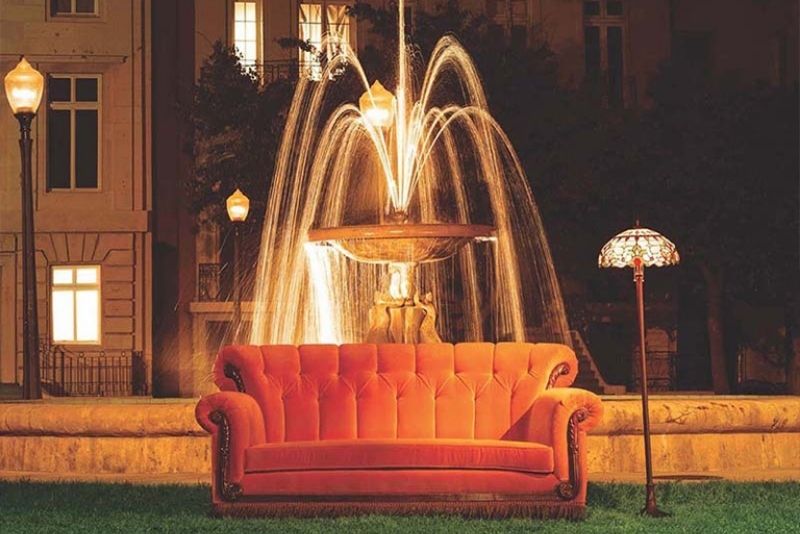 Discover the ultimate exhibition about the world of FRIENDS!
Experience being a part of the gang in this popular American television series, as you explore interactive displays in this two-floor venue in NYC.
Take a selfie on the iconic orange couch, sit at Monica and Rachel's kitchen table, and see dozens more props and costumes from this comedy show in the '90s.
Want to bring your crew and have the place all to yourself for a few minutes? Choose Private Access Tickets to come early in the morning before the schedule for general admissions.
If you are a passionate fan of FRIENDS, this is the exhibition for you!
17 – Embrace the outdoors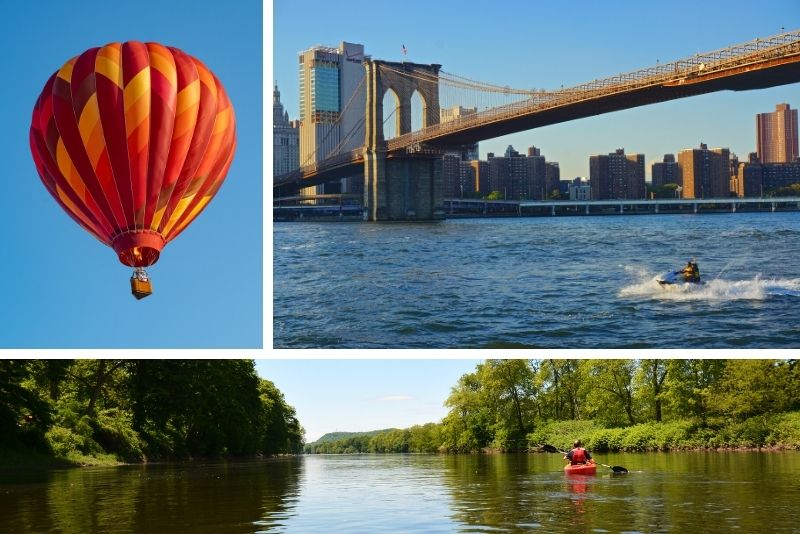 New York is a surprising hub for several outdoor experiences. For ultimate thrills, ride a jet ski along the Hudson River and see the city skyline from the water.
Outside town, you can take to the skies by hot air balloon for scenic New Jersey and Pennsylvania views. Or join a Sunday kayaking tour down the Delaware River – wine tasting and downtown transfers included!
18 – Experience the city from a unique vantage point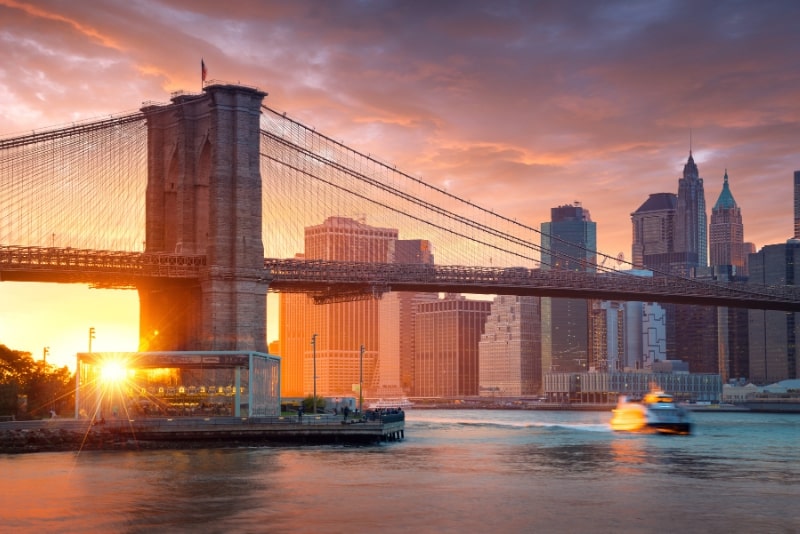 The waters of the Hudson River are not just perfect counterpoints to Manhattan's bustling streets but also offer stunning views of NYC's most famous landmarks. Boat tours take you sightseeing at remarkable points in American history, engineering, and architecture.
The Circle Line around Manhattan or the Harbor Lights Cruise are the most popular experiences on the water in New York City.
Read more info on our latest article about the best NYC boat tours.
19 – Wander around the Guggenheim Museum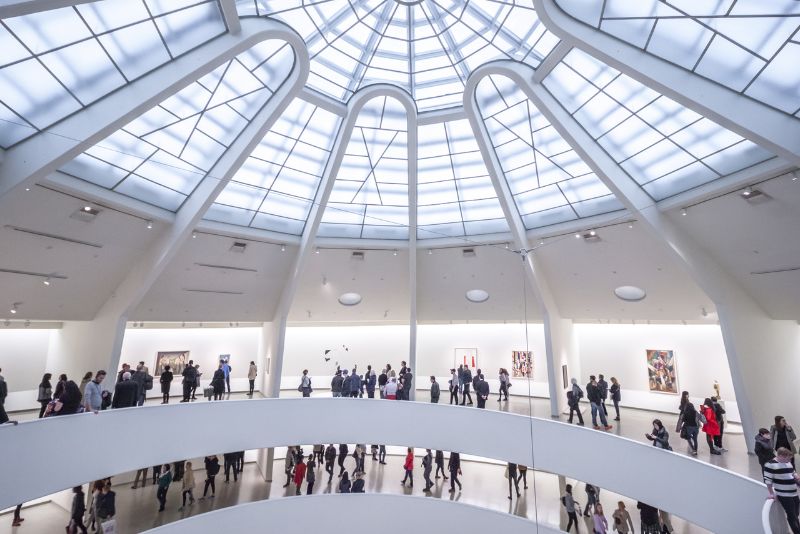 Tucked away in the Upper East Side, the Guggenheim Museum somehow still flies under the radar. While it may not be as immediately recognizable as the Metropolitan Museum of Art, the modernist building designed by Frank Lloyd Wright is a landmark in its own right – and well worth a visit.
Inside, you'll find a wealth of modern art — from iconic works by 20th-century masters like Picasso, Pollock and Kandinsky to more contemporary exhibitions such as 'Young Picasso in Paris' and 'Experimental Art in South Korea'.
With its rotating collections, unique architecture and vast variety of artowrk, it's considered a terrific rainy-day activity for art lovers and culture vultures alike.
20 – Watch New York's famous nightclub acts at Rose Room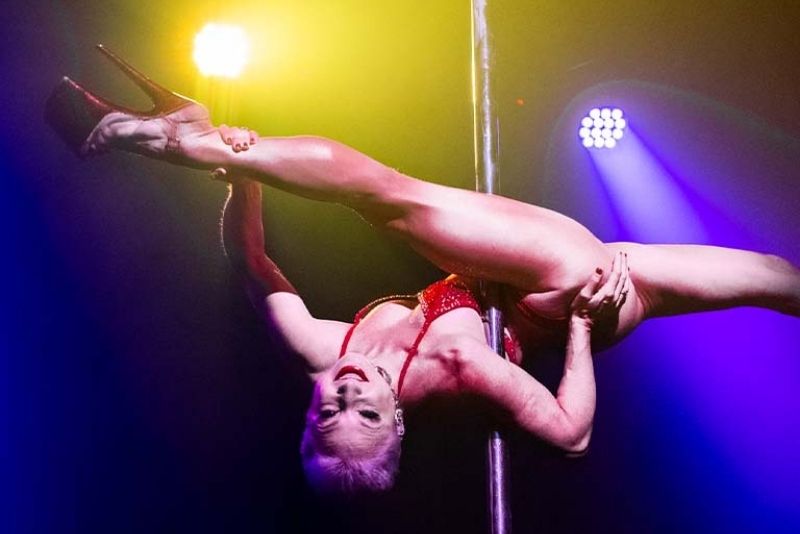 Featuring the city's underground circus scene and some of its best nightclubs acts such as Cirque Du Soleil and Broadway, the Rose Room at Triad Triangle is the right place to absorb New York's nightlife.
This circus and variety nightclub also serves award-winning cuisines from across the globe and premium cocktails, as you enjoy magic acts, burlesque and more.
21 – Meet a Tyrannosaurus Rex at the Museum of Natural History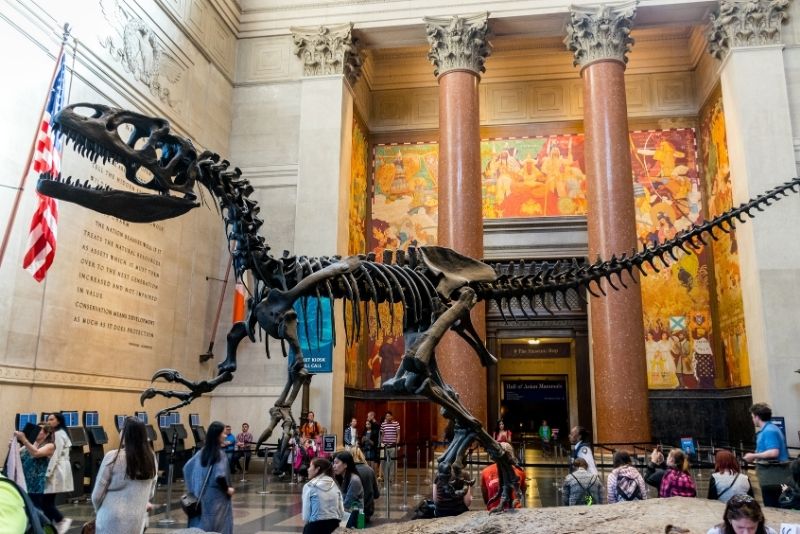 Come face to face with dinosaurs at the American Natural History Museum – one of the most fun things to do in NYC. See real Night at the Museum exhibits and size up to an enormous blue whale.
It is not often you can travel to the depths of the Pacific Ocean and visit far-off galaxies all in the same building!
22 – Find peace and quiet in the New York Botanical Garden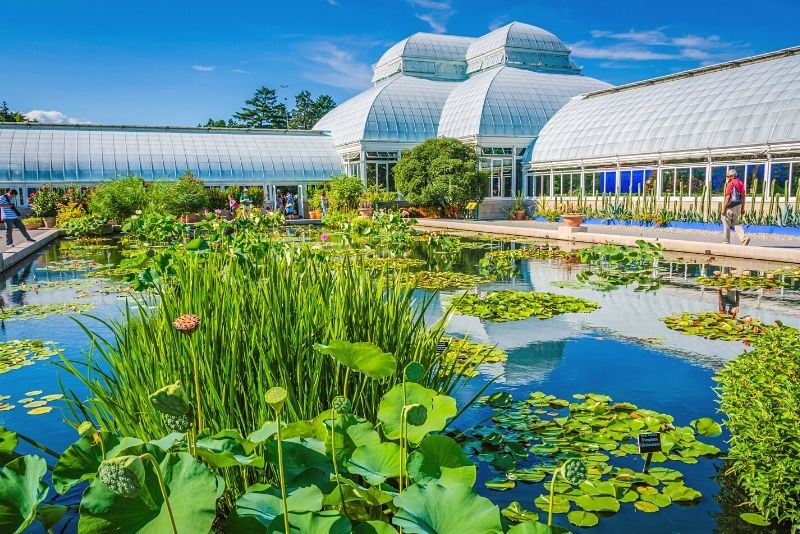 Hidden away up in Bronx Park, the New York Botanical Garden offers a welcomed change of pace from the hustle and bustle of downtown Manhattan.
With about 12,000 species of colorful flora and fauna on display, this 250-acre green space is paradise for nature lovers — with themed gardens (such as the Native Plant Garden and Conifer Arboretum), workshops, guided tours and special events seven days a week.
Stroll through the sprawling grounds and take in the beauty of its monuments and lesser-known areas too – from the Twin Lakes to the Blue Oak collection or Herb Gaden. The Enid A. Haupt Conservatory and the Tram Tour are both must-sees, while the Everett Children's Adventure Garden is justifiably popular for families.
If you're staying in Brooklyn, the 52-acre Brooklyn Botanic Garden hosts 12,000 species of its own – tucked away in the sprawling Prospect Park.
23 – Unleash your inner wizard at The Cauldron NYC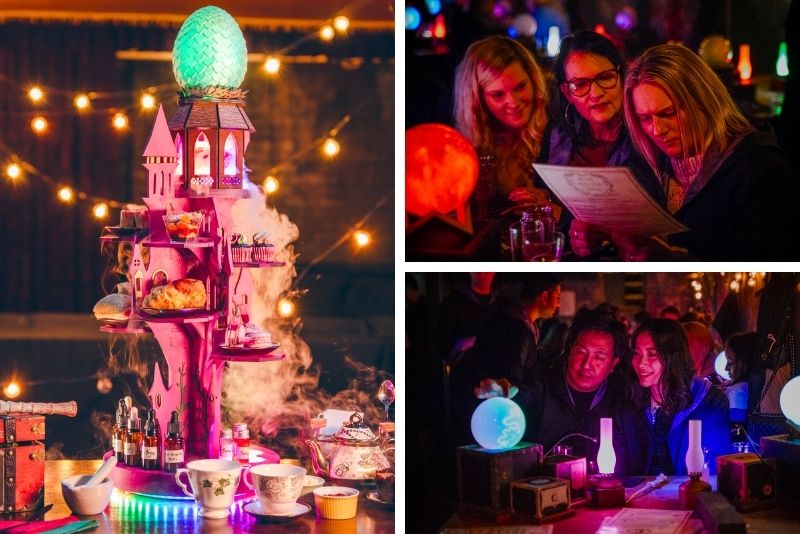 Are you ready for a spellbinding experience in NYC?
Join The Cauldron and unleash your inner wizard with Potion Making – an immersive cocktail class that'll take you back to your childhood dreams! Put on your cloak, grab your wand, and get ready for some molecular mixology!
Cast spells, interact with magical creatures and brew your own elixirs at a high-tech, magic wand-interactive work station. With a selection of different potions, each with unique properties and effects, there's something for every taste. Don't miss out on this enchanting experience!
24 – Have an unforgettable baseball experience at the NYC Yankee Stadium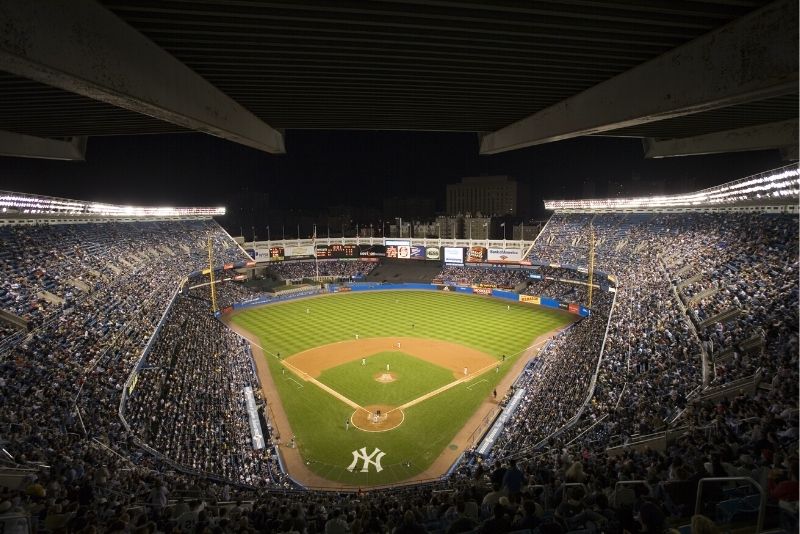 An emblematic baseball team, the NYC Yankees will show you the soul of the American sports culture as well as the enjoyment it creates all around it!
25 – See the roaring Niagara Falls on a day trip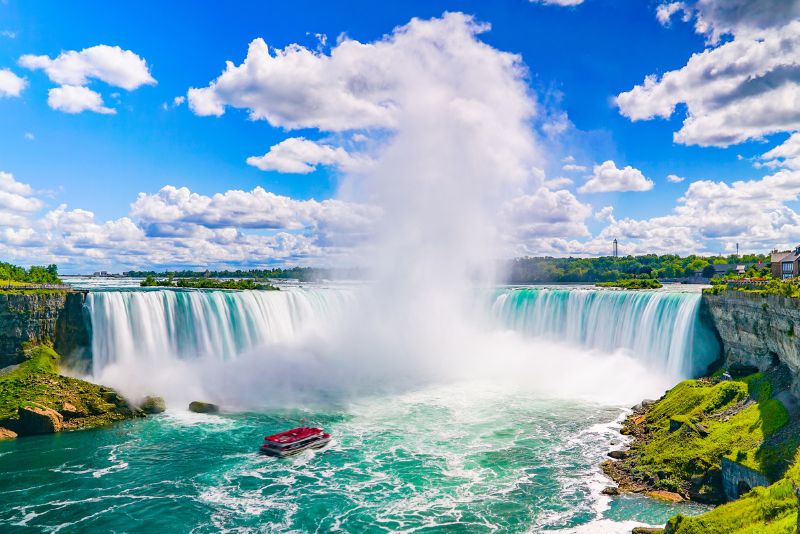 Where over six million cubic feet of water fall every minute, Niagara Falls is one of the most awe-inspiring natural wonders in North America.
Sitting on the international border between the United States and Canada, this thunderous beauty has evolved into much more than just a waterfall over the years — it's now an adventure playground and entertainment Mecca, home to all sorts of activities, museums, restaurants and attractions.
On a day trip to Niagara Falls, you'll get to experience a mixture of outdoor adventure and sightseeing — from taking an exhilarating journey on the Maid of the Mist boat cruise to exploring the fascinating nature trails along the Niagara River.
Hot tip; Make sure to check out our selection of the best things to  do in Niagara Falls.
Since it's located close to 7 hours drive away, you can either join a tour that flies you there in a helicopter/plane, or drive in a comfortable luxury coach (for a multi-day trip). Either way, don't leave this marvel off of your list of things to do in the Big Apple.
26 – Hit the rink and join the Roller Wave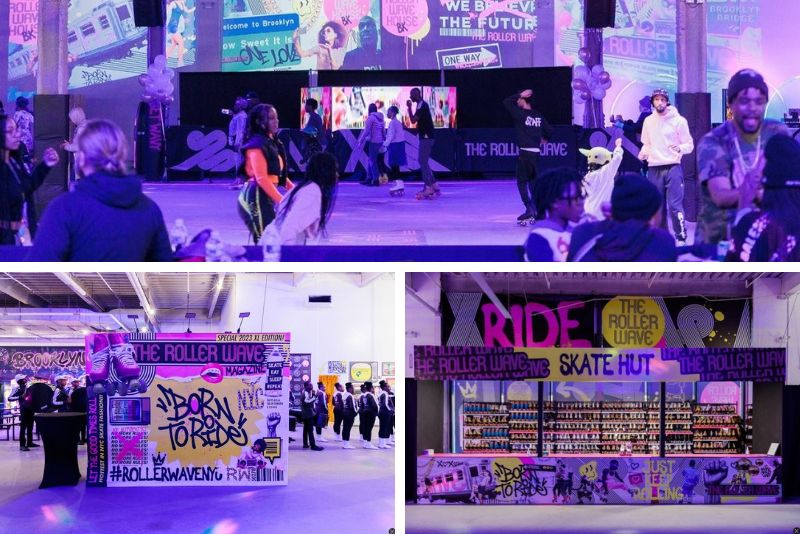 Roller skating is not just something out of the 1980s disco scene — it's as cool, fun and expressive as ever!
Lace up your skates, hit the rink and join The Roller Wave in Brooklyn for an invigorating time out.
If you're new to the sport, you can even sign up for classes and find your balance before spinning circles around your friends.
27 – Take a hop-on hop-off bus tour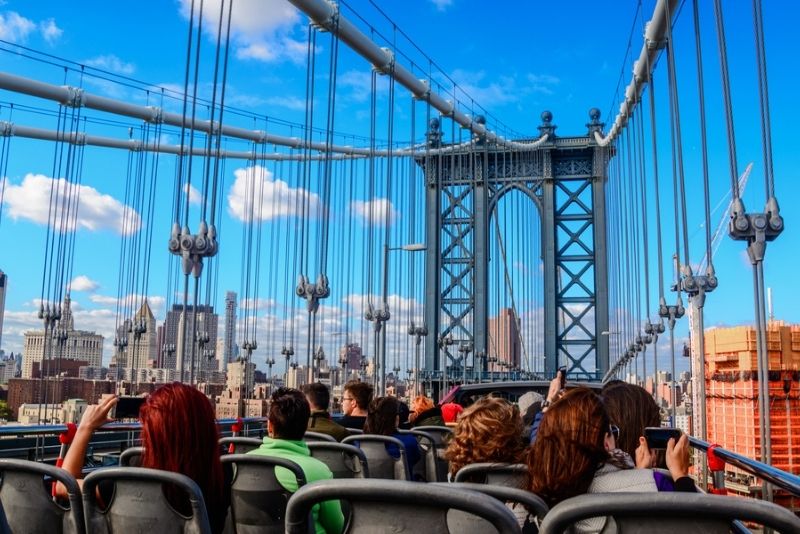 See the city on your own terms on a fun hop-on hop-off bus tour around New York. You can choose when and where to get off, giving you the time you need at your favorite sights.
Visiting iconic locations like Central Park, Brooklyn Bridge and the Empire State Building has never been so easy. For the best views choose seats on the top deck.
See also: Hop on Hop off NYC Bus Tours – Which One is Best?
28 – Explore outstanding photographs in immersive exhibitions at Fotografiska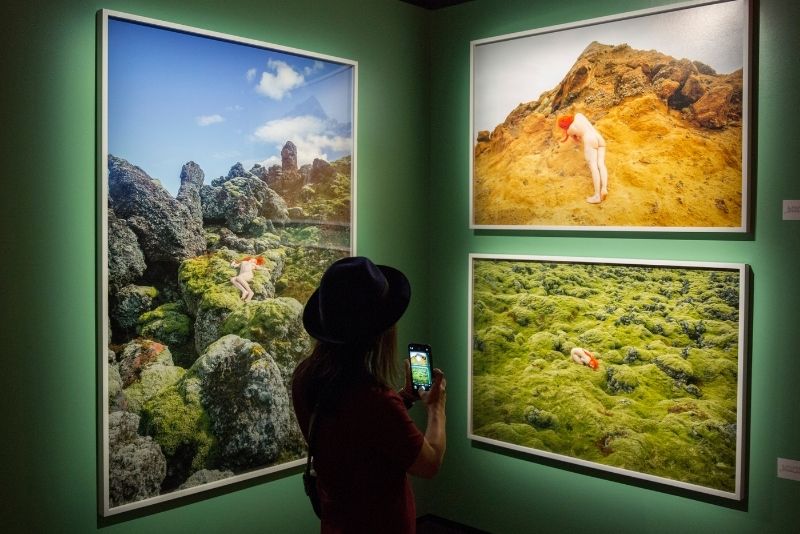 Discover photography from a new perspective in this unique museum and gallery space.
New York's groundbreaking photography museum, Fotografiska showcases eclectic captivating exhibits, featuring some of the most interesting contemporary artists and photographers.
It houses three floors of galleries, displaying everything from landscapes and intimate portraits to documentary exhibits and abstract works.
After the immersive gallery experience with expertly curated collections, check out the museum's cafe and bar for delightful meals and drinks.
See also: Best museums in New York City
29 – Stroll along the High line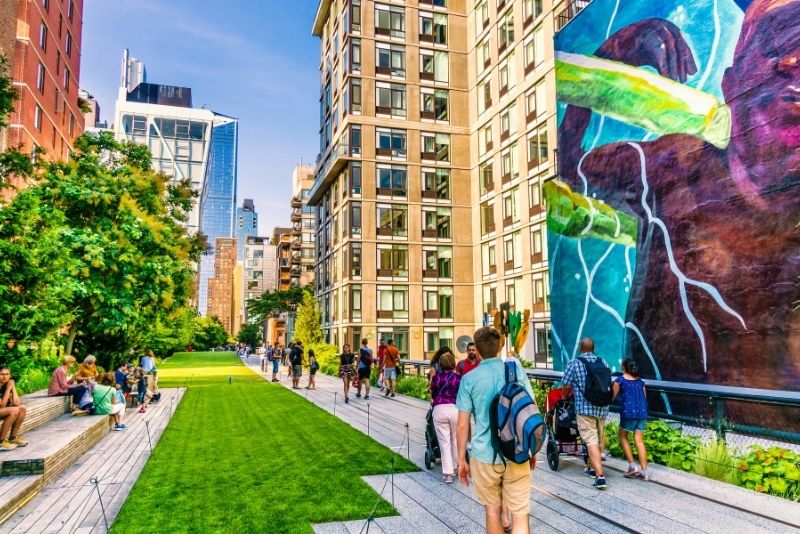 Stretching all the way from the Chelsea Market in the Meatpacking District to The Vessel in Hudson Yards, the High Line is a 1.45-mile elevated walkway built on abandoned railway tracks.
While once a hub for industry, the urban park is now a popular destination for locals and tourists alike – an oasis of green that stands out in Manhattan's concrete jungle.
Best of all, it's totally free to wander the pathway, which is lined with carefully curated gardens and installations. On sunny days, it's a great spot to people-watch or just relax on one of its benches; come dusk, you'll get some of the most breathtaking views of the NYC skyline.
30 – Visit the Intrepid Sea, Air and Space Museum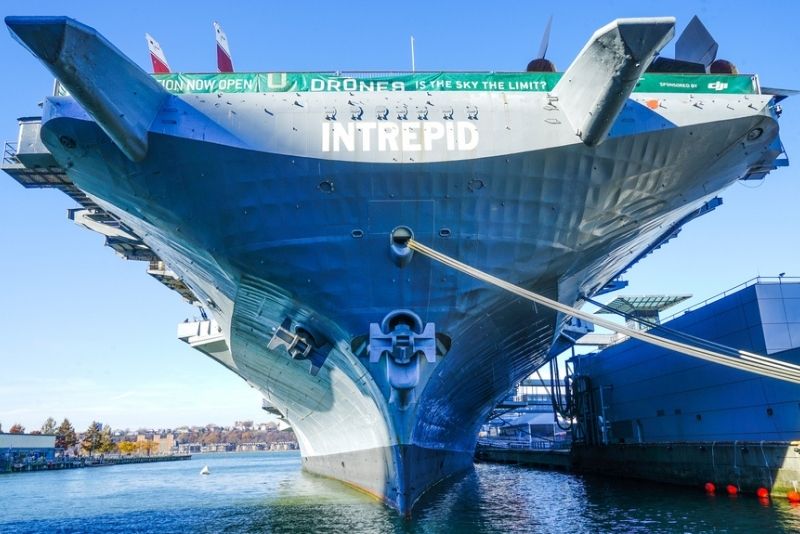 Have you ever been on a submarine? You can do just that at this museum, which proudly charts America's military and maritime history from Word War II to the space race.
Explore the Space Shuttle Pavilion and be amazed at original artifacts from the Marine Corps and NASA. There is an aircraft carrier and a supersonic reconnaissance plane to check out too.
31 – Hone your secret agent skills at Spyscape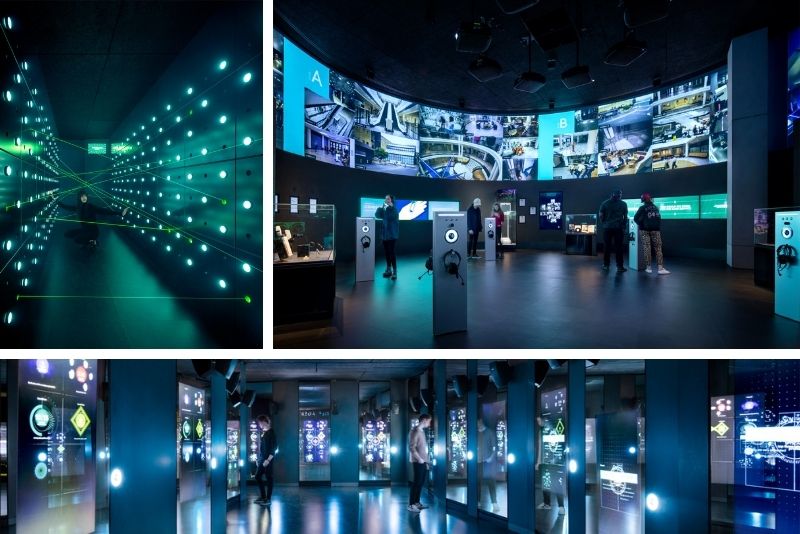 Channel your inner supersleuth and dive into the mysterious world of spies at this interactive museum. 007 fans love the James Bond exhibition which includes one of the original cars.
Uncover the truth about codebreaking and discover real-life gadgets used out in the field. You will be tasked with several Skyscape challenges, so get ready to crack clues and tackle laser rooms.
32 – See genuine works of the mysterious street artist Banksy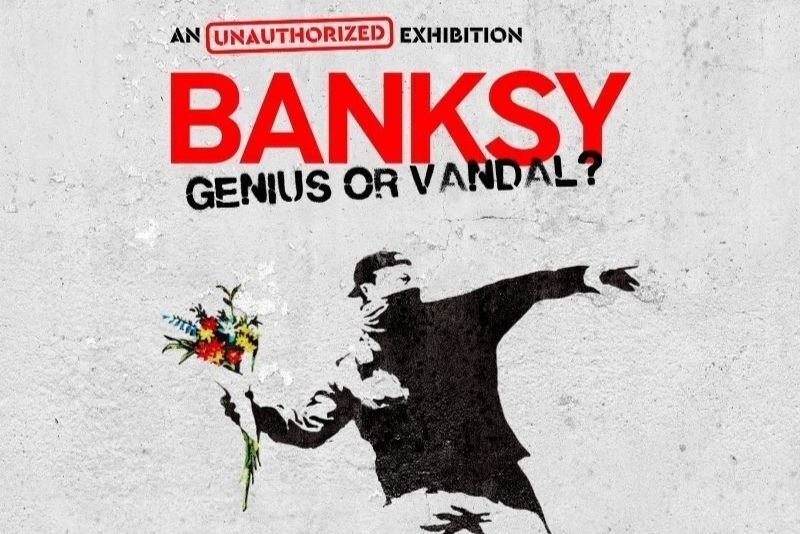 Delve into Banksy's masterpieces with the brand new exhibition, Building Castles in the Sky, showcasing a private collection of verified pieces of this brilliant and enigmatic artist.
Considered one of the most valuable artists these days, the opportunity to view over 100 of his original works is one of the greatest things to do in New York City for art lovers.
But what truly makes this exhibition different from any other in the world, is the deep examination of Banksy's masterpieces from a semantic framework. Covering themes from war and capitalism to freedom, discover the artist's references and the inspiration behind each artwork.
33 – Marvel at the chaos of Times Square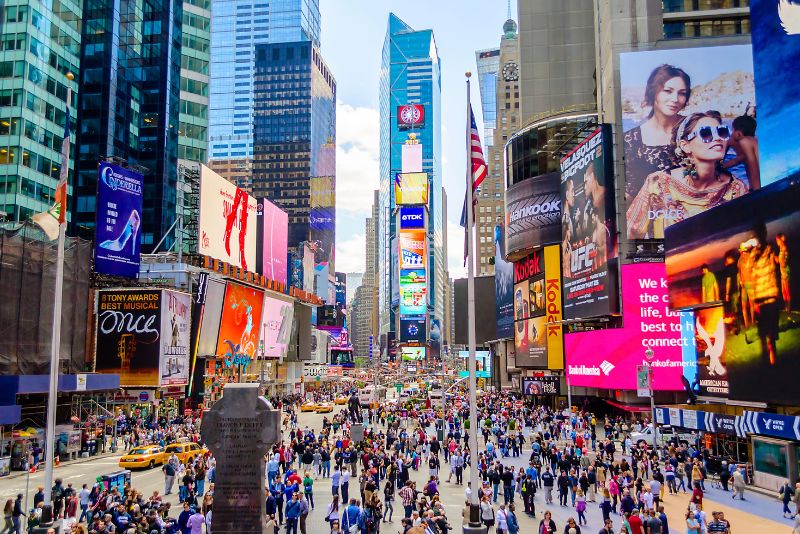 The epicenter of Manhattan, Times Square is a must-see for any first-time visitor. From the Naked Cowboy to international tourists taking selfies to the flashing neon lights of Broadway, this iconic intersection attracts millions of visitors from all corners of the globe.
With so many things to do in Times Square, you can spend an entire day within a 5-block radius and still barely scratch the surface. Take in some of the area's biggest attractions such as Madame Tussauds wax museum and Ripley's Believe It or Not; marvel at the towering billboards and colorful street performers.
Then, grab a bite to eat at one of the area's many restaurants, catch a Broadway show, or head up to the roof of the iconic Marriott Marquis for some stunning views of Midtown.
34 – Meet your heroes at Madame Tussauds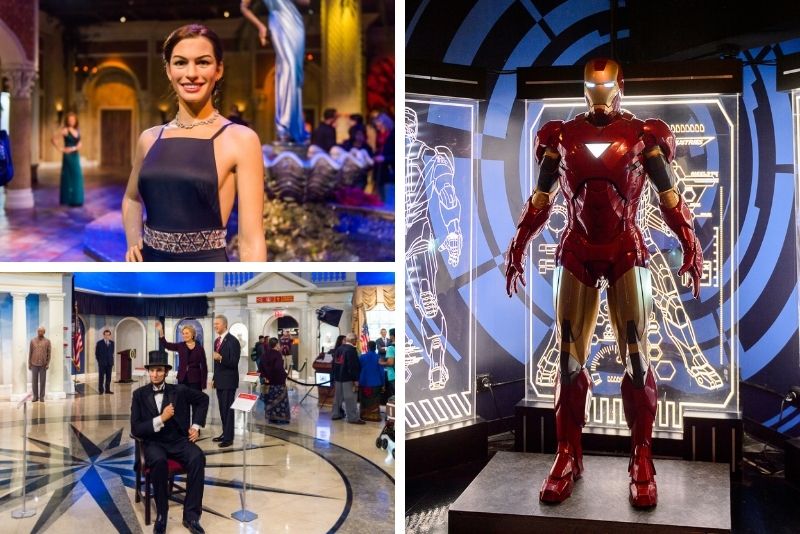 Rub shoulders with the Hulk and snap photos with George Washington as you explore this mind-boggling waxwork world. Nowhere else would politicians and popstars stand side by side with Spiderman and the Kardashians.
Stroll down the runway at fashion week and take center stage in a Broadway show – just all in a day's work at Madame Tussauds.
35 – Take the first virtual reality journey through Earth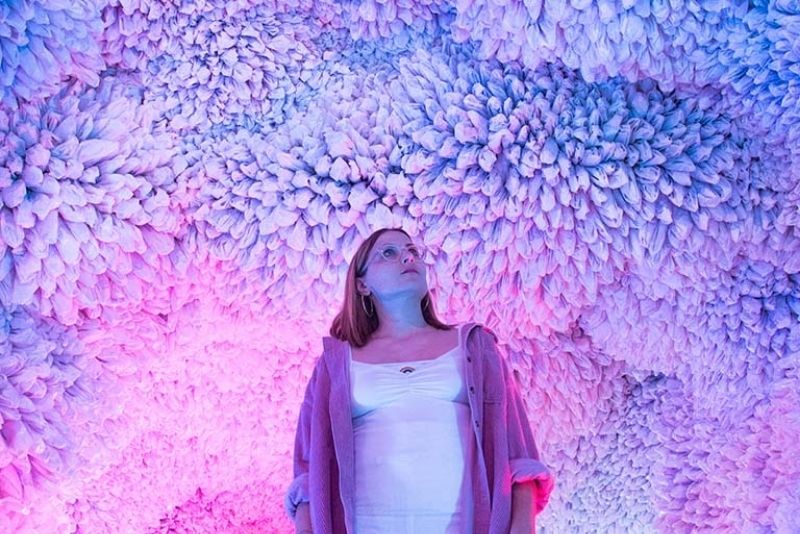 Learn more about this globe we call home and how our small actions can affect its future in the first multi-sensory and augmented reality journey through Earth.
With AR, VR, project mapping and interactive art installations, Arcadia Earth will take you on a journey to see the world from your own perspective.
36 – Encounter residents of the marine kingdom
For one of the most fun things to do in NYC, head to the famous New York Aquarium on Coney Island and come face to face with sea lions, sharks, and even a giant octopus. Or let your imagination run wild at the Lost City of Atlantis-themed Long Island Aquarium.
37 – Head to Greenwich Village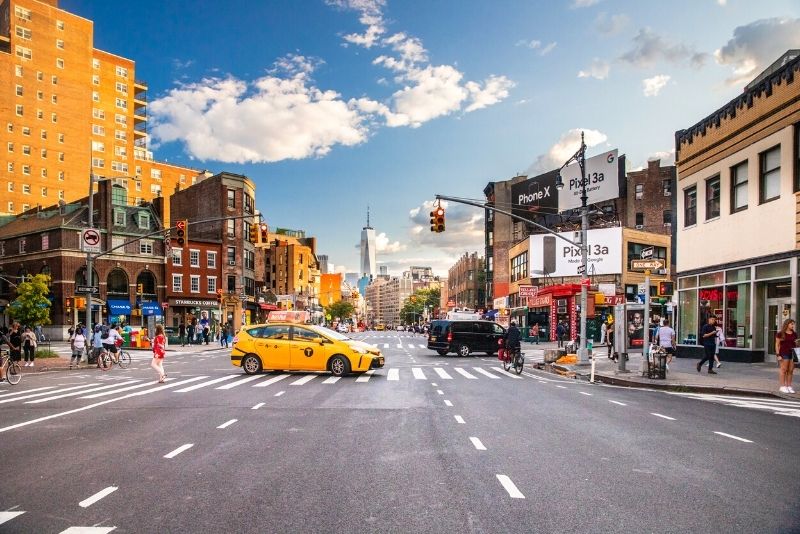 Foodies, this one is for you. Sandwiched in between the West Village and SoHo lies the vibrant neighborhood of Greenwich Village – littered with cobblestone streets, historic brownstones and cozy cafes.
For a true taste of NLC-style dining, take a food tour and get an insider's perspective on local eateries — from classic pizzerias to hidden speakeasies.
As you make your way to a handful of the most famous eateries (such as Minetta Tavern, Olio e Più and Don Angie), as well as hidden bars and hole-in-the-wall pizza joints, you'll learn all about the history of the neighborhood and its culinary scene.
Food aside, don't forget to visit Washington Square Park – a hangout for local NYU students and a hotbed for street performers.
38 – Admire international art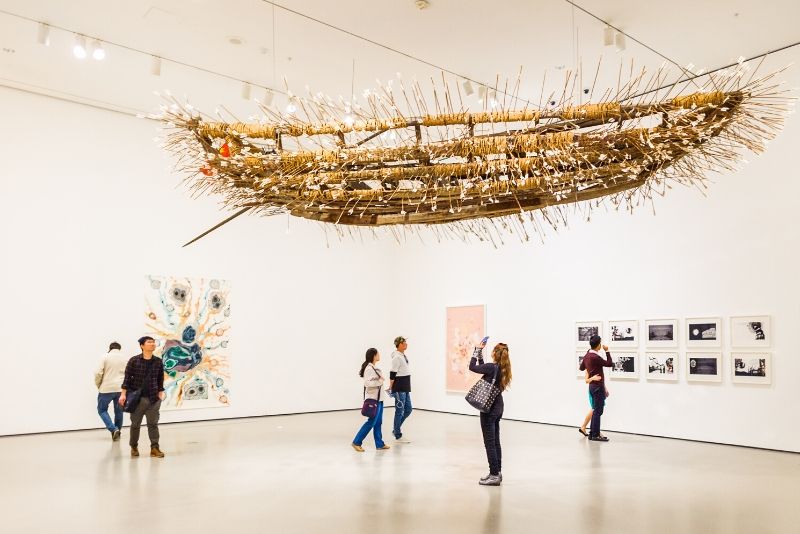 Enjoy a journey around the world at some of the top art museums in New York. The Metropolitan Museum of Art is the biggest in the country, with everything from Rembrandt paintings to an ancient Roman bedroom excavated after the eruption of Vesuvius.
For something more contemporary, head to the Museum of Modern Art or the Guggenheim, and to learn about American art, choose the Whitney Museum.
39 – Journey to The Hamptons for a day trip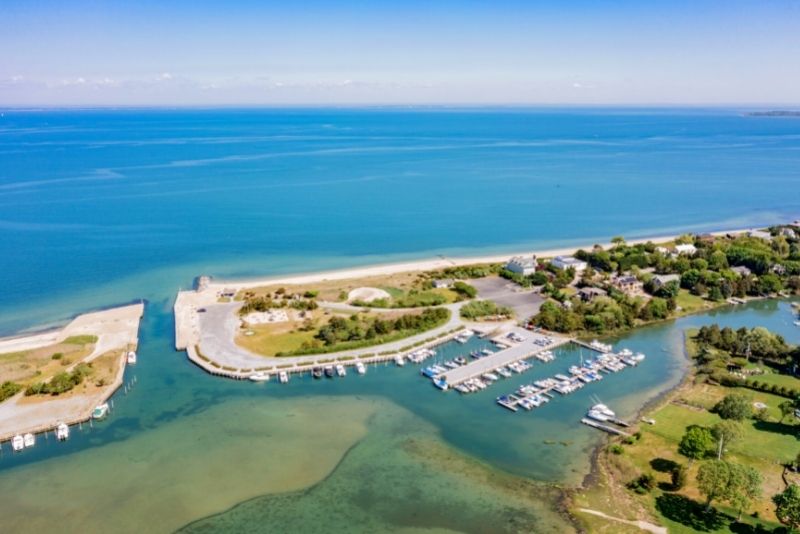 In need of a slow-paced escape from the city? Pack your bags and take a day trip out to the Hamptons, New York's favorite seaside getaway. From quaint boutique-lined streets and rolling vineyards in Riverhead to golden sand beaches in The Peconics, a visit to this region is one of the best things to do in Long Island, with something for everyone.
On a guided tour of the Hamptons, you'll get to visit small historic towns like Southampton and Sag Harbor, sample local wines in the numerous wineries, take a boat cruise on Peconic Bay, or explore picturesque nature trails. You can even shop 'til you drop in one of the outlet malls that dot the region, like the Tanger Outlets in Riverhead.
40 – Join a scavenger hunt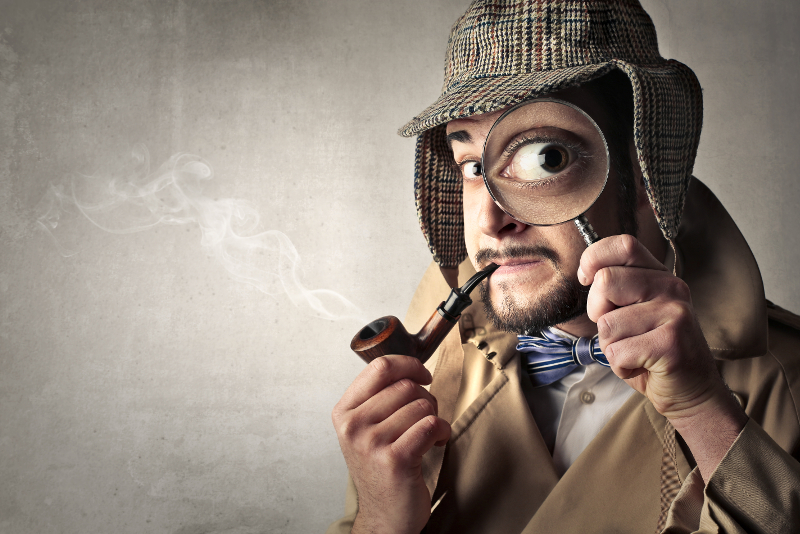 Explore a whole new side of New York City during a scavenger hunt. Visit many of the iconic landmarks and have fun with your friends. Find the best Scavenger Hunts!
41 – Cycle over Brooklyn Bridge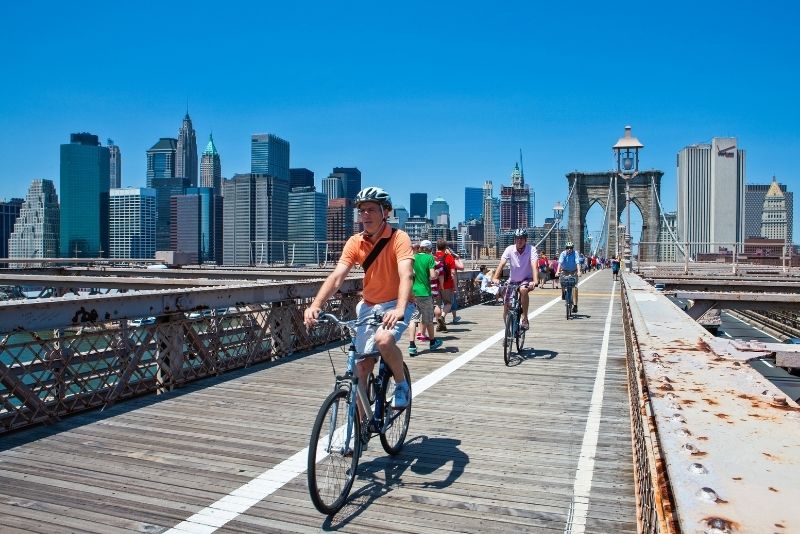 Pedal across New York's most famous bridge and take in views of skyscrapers across the East River on a fun bike tour.
Connecting the vibrant borough of Brooklyn with Manhattan Island, the bridge is one of the best places to visit in New York City and offers an epic way to see the sights.
See if you can spot movie filming locations in Brooklyn Bridge Park and marvel at the engineering of the world's first steel-wire suspension bridge.
42 – Support the Giants at the MetLife Stadium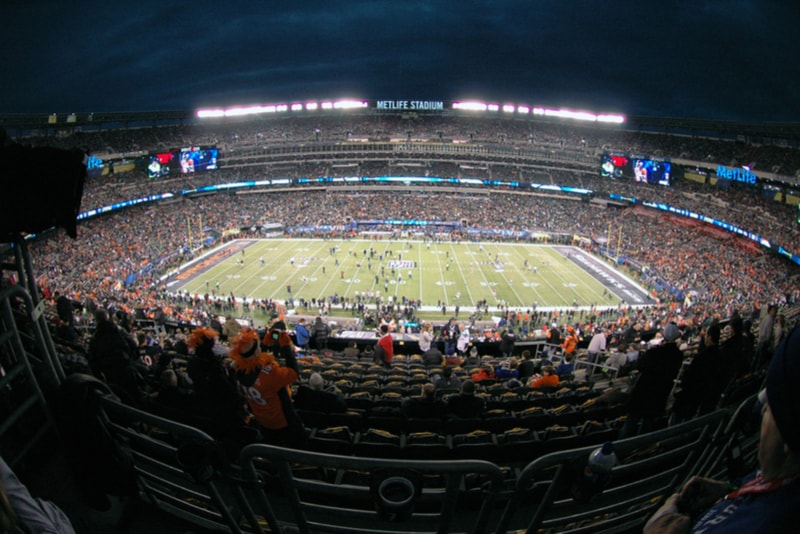 If you'd rather experience an American football game, head to the MetLife Stadium – home to the New York Jets and New York Football Giants.
Located in East Rutherford (New Jersey), you will be amazed by the size of the stadium, 82,500 seats.
43 – Uncover new visual perspectives of NYC in a futuristic exhibition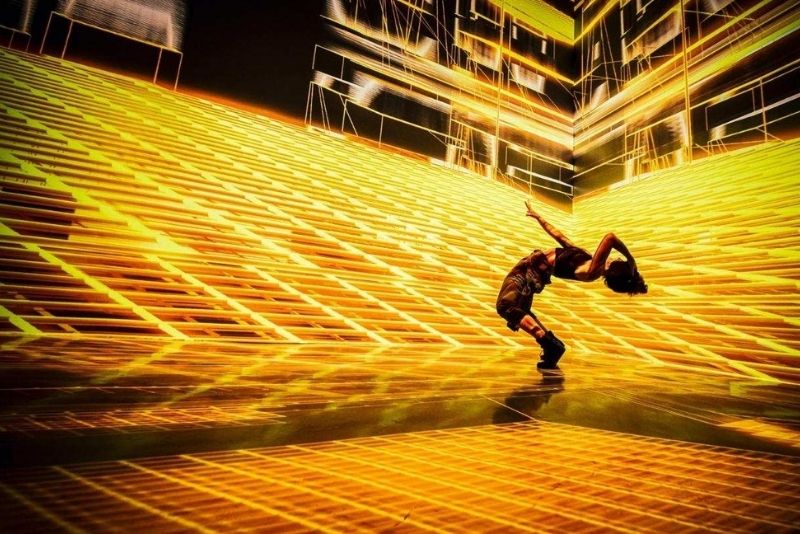 Visit an alternative museum to experience art and technology in a new immersive way. ARTECHOUSE is a futuristic museum with exhibitions covering the relation between art and science and the role of the individual observer.
The ongoing exhibition, Machine Hallucination: NYC, aims to unveil how our perception of this ever-changing iconic city can be altered through new forms of visual representation.
44 – Hunt ghosts at the Ghostbusters Firehouse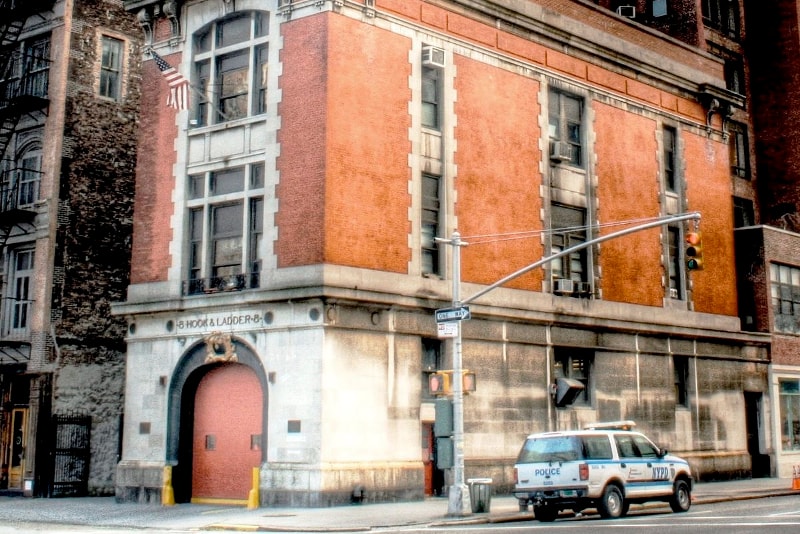 Are you a fan of the mythic Ghostbusters saga? You may want to check out the Ghostbusters' HQ then. Hook and Ladder 8, the building used for the exterior shots, is a working firehouse that has been around for more than a century.
The firehouse is located at 14 North Moore Street at its intersection with Varick Street in the Tribeca neighborhood of Manhattan.
45 – Satisfy your cravings at the Museum of Ice Cream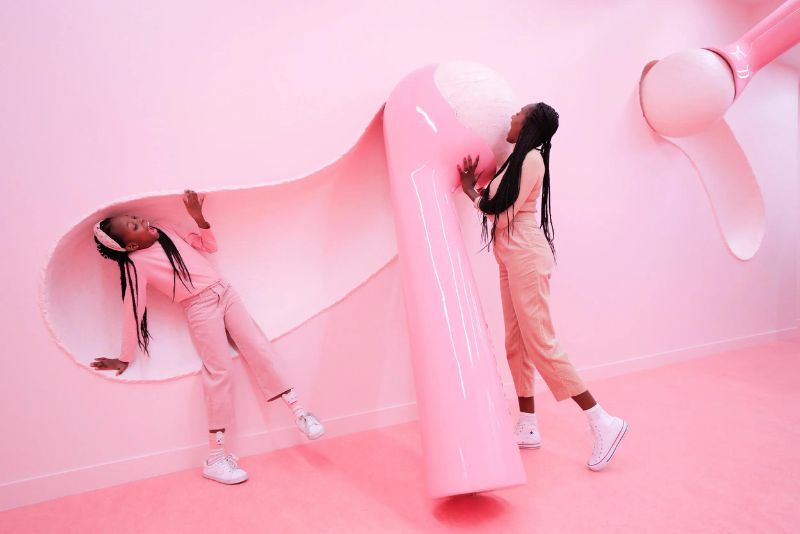 A sweet tooth's paradise, the Museum of Ice Cream in New York City is a funky, interactive and highly Instagrammable experience designed for the whole family.
From an immersive sprinkle pool to the flying pink ice cream subway train — not to mention unlimited ice cream — this museum is about as delicious as a museum can get.
All up, the SOHO museum has 13 magical installations, each more photo-worthy than the last. You can sample the flavors of their signature soft serve, then make your own dream cone before day' end.
46 – Watch a movie on a Manhattan rooftop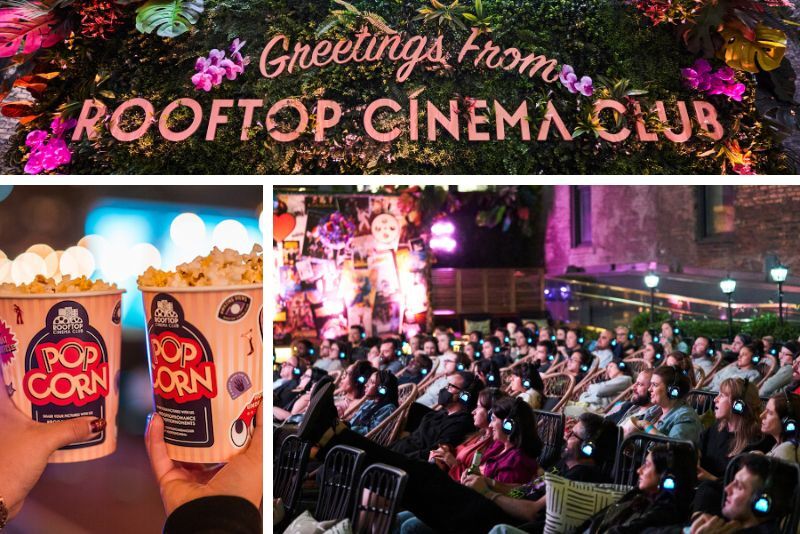 For a movie experience unlike any other, head to the Rooftop Cinema Club! Located atop Skylawn Embassy Suites, this outdoor theater has a large LED screen, cozy chairs and personal headsets.
Even better, you can sip on drinks and snack on food from the hotel bar, all while watching your film of choice set against the Manhattan skyline.
47 – Tour contrasting neighborhoods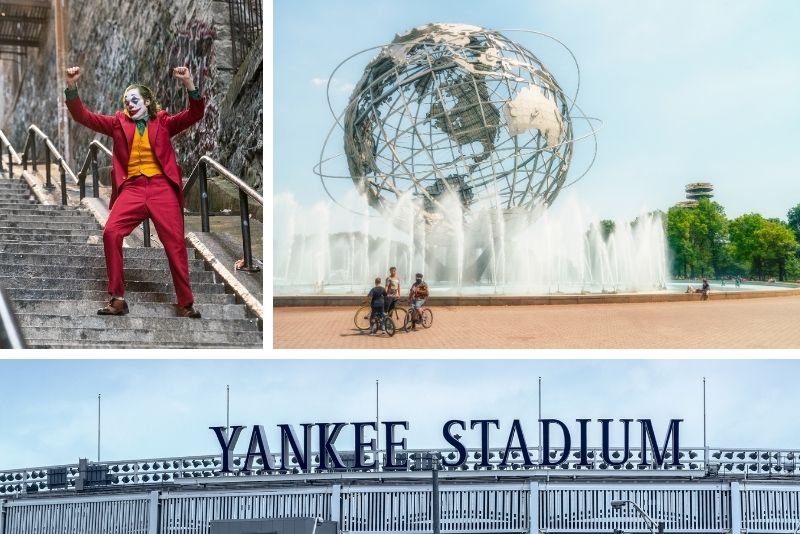 The best way to get to know the real New York is to visit some of its diverse districts. The Bronx is a gritty yet trendy place, with powerful street art and a thriving cross-cultural heart.
Check out the Yankee Stadium and stop at the "Joker Steps" for photos.
Continue to up-and-coming Queens and visit Flushing Meadows Corona Park – home of tennis championships and the Unisphere globe.
48 – Laugh out loud at the iconic Comedy Cellar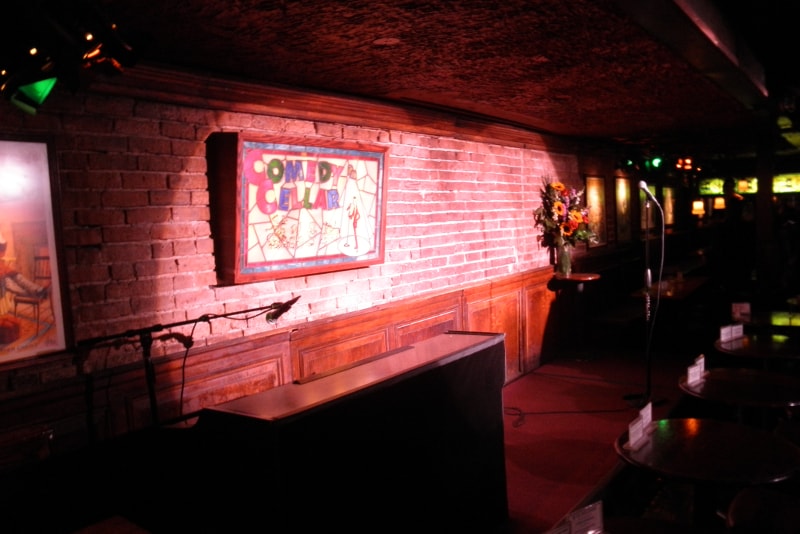 Founded in 1982, the Comedy Cellar is a comedy club situated in Manhattan (in the heart of Greenwich Village) where many top New York comedians perform.
Discover the greatest stand-up comedians (and underground talents) and have a great night
49 – Discover Harlem and attend a gospel mass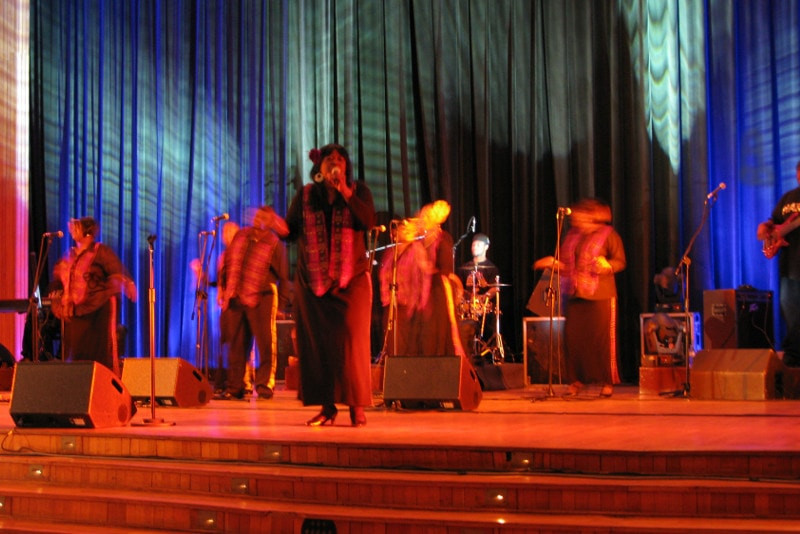 Harlem is a neighborhood in which religious life is very strong, especially in the black community.
Gospel masses and the energetic singing of its choirs have become famous worldwide.
50 – Watch hilarious Drunk Shakespeare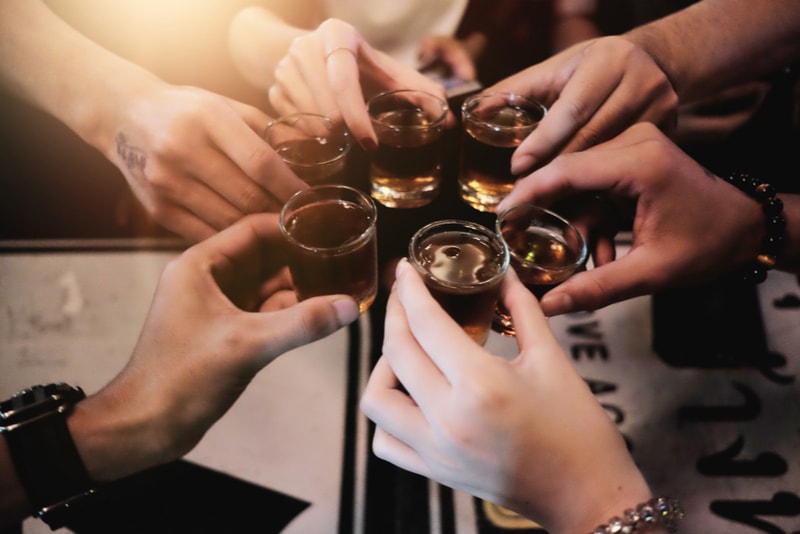 A New York Times critic's pick, Drunk Shakespeare brings comedy central's 'drunk history' to the stage. Join five professional New York actors, one of whom has had at least 5 shots of whiskey.
51 – See who's playing at the Barclays Center
Regularly hosting some of the biggest names in entertainment, catching a show or a game at the Barclays Center is one of the best things to do in Brooklyn, at one of the most iconic sports and performing venues in New York City.
Any time you're here, you can expect to find a variety of events — from basketball games featuring the Brooklyn Nets to concerts by legends like Jay-Z and Justin Bieber.
Simply check the event schedule for the latest line-up and buy your tickets online. The Center is also a stone's throw from the Atlantic Terminal Mall – with its great range of restaurants and shops, it's an excellent way to kill time before the show starts.
52 – Try the legendary Di Fara Pizza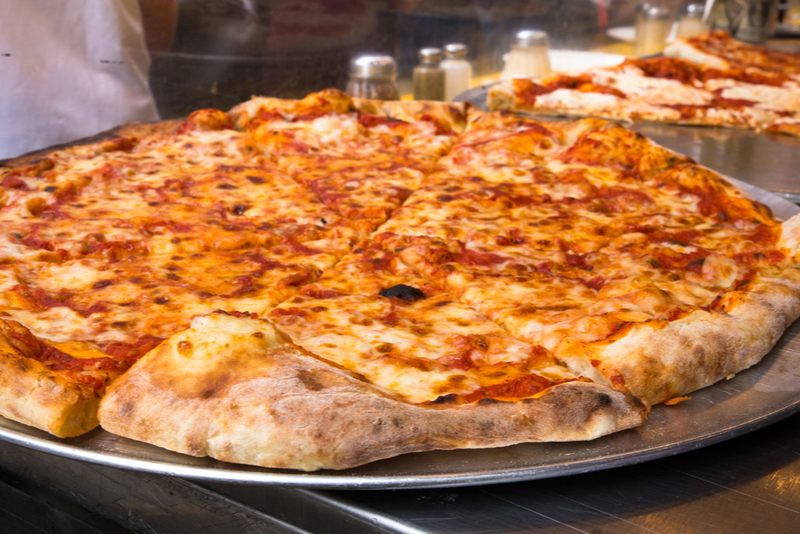 Are you looking for an experience that excites your taste buds? Di Fara is a typical family-owned and operated pizzeria and regarded as one of the best pizzerias in New York City.
?1424 Ave J Brooklyn, NY 11230
53 – Taste the best burgers at J.G Melons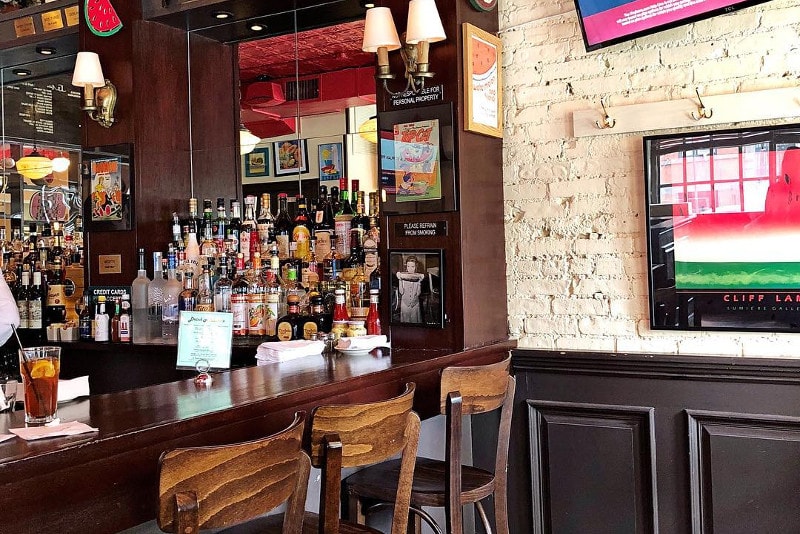 A great burger is a beautiful thing, as simple as it is delicious.
Established in 1972, the J.G Melons firm was called a few times the best burger in the city by famous frequenters — such as the restaurateur Danny Meyer.
It's even called the "best burger" in the world by previous NYC Mayor Michael Bloomberg.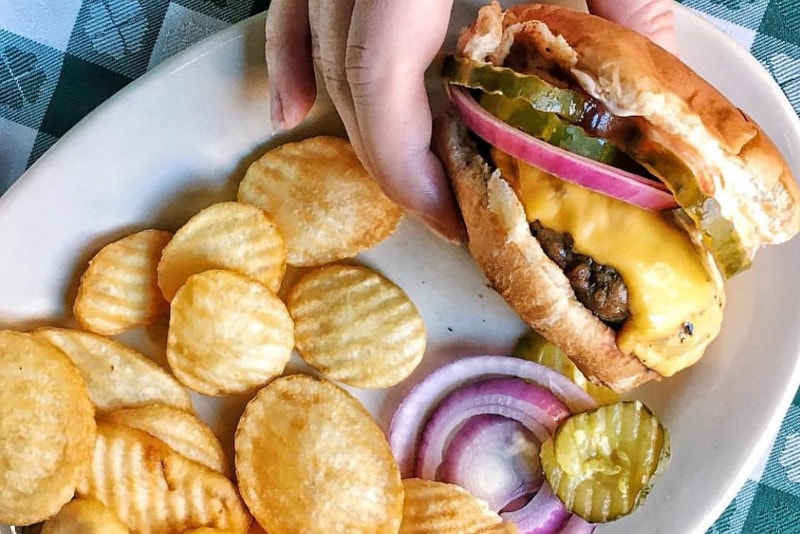 54 – Taste the best steak in the US at Peter Luger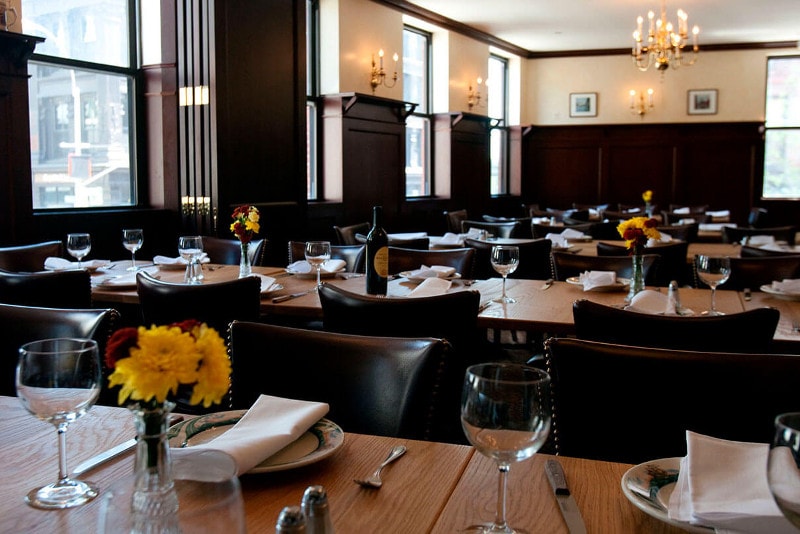 Peter Luger's Steakhouse, located in Brooklyn, serves one of the most delicious and iconic slabs of meat that you can get anywhere on the planet.
If you are a meat addict and visiting NYC for the first time, this is a must-try.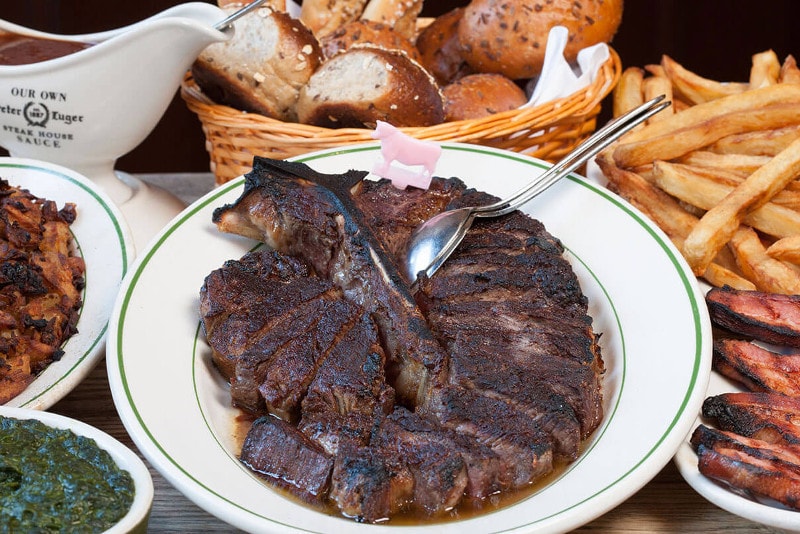 178 Broadway, Brooklyn, NY 11211
55 – Enjoy the famous pastrami at Katz Delicatessen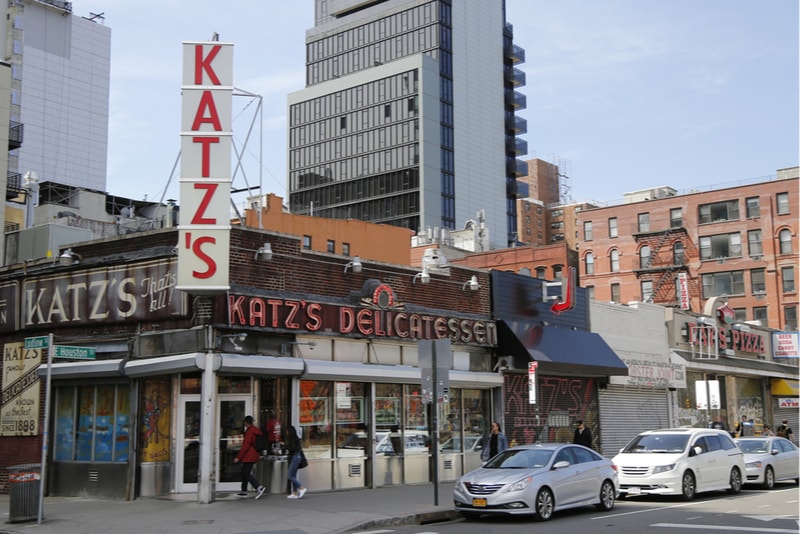 Katz's Delicatessen is a kosher-style delicatessen located on the Lower East Side in Manhattan. Established in 1888, this is arguably the best place in the city for a pastrami sandwich.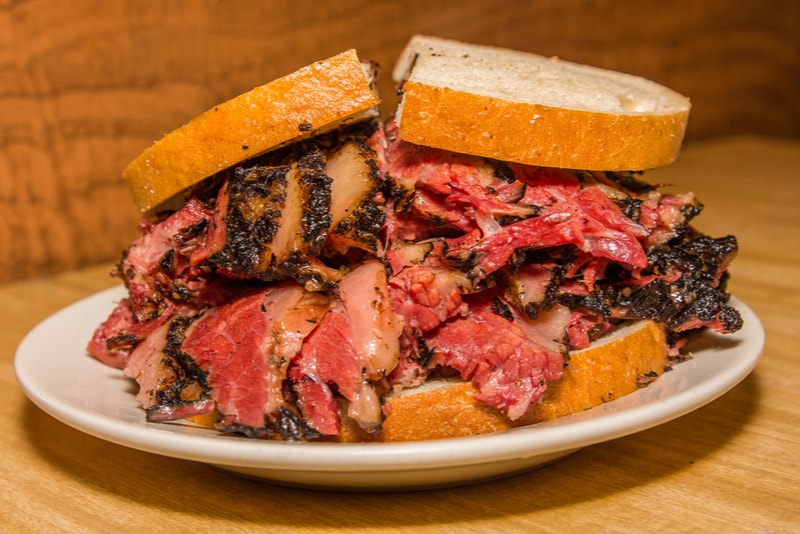 205 E Houston St, New York, NY 10002
56 – Explore Manhattan's Chinatown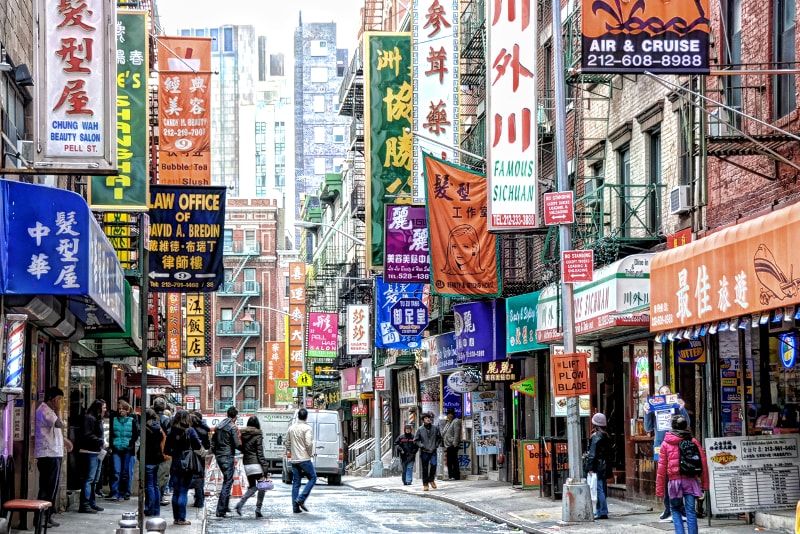 Located in lower Manhattan, Chinatown district is a highly populated neighborhood that draws foodies and tourists to its numerous Asian restaurants and unusual attractions from karaoke bars to cute shops.
Chinatown is also a true New York story, the American Dream in action. The are many cheap walking tours that guide you to Chinatown, Soho and Little Italy.
57 – Go backstage at Radio City Music Hall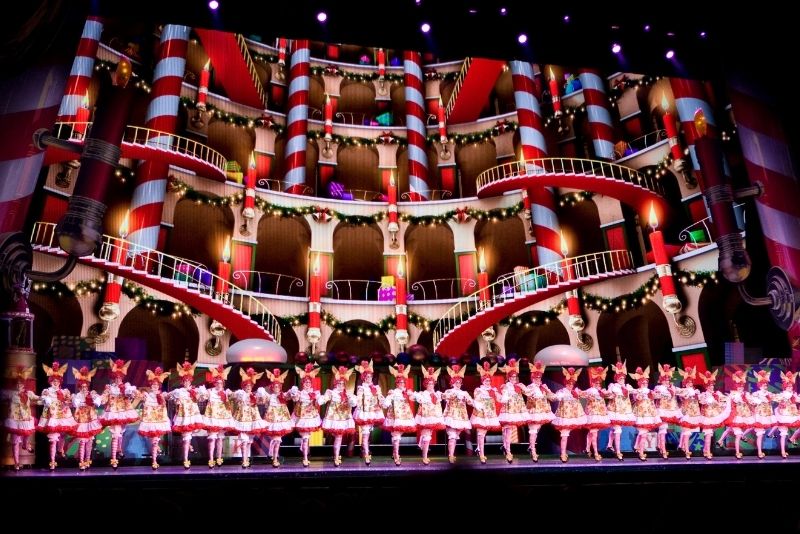 Arguably the United States' most iconic performance venue, Radio City Music Hall has been dazzling crowds since 1932.
As the largest indoor theatre in the world (the auditorium measures 160 feet from back to stage), it's no surprise that this 1936 Art Deco masterpiece is steeped in decades of show-business history — from legendary performances by the likes of Judy Garland to modern shows like 'The Rockettes Christmas Spectacular'.
Today, Big Apple visitors can tour backstage and learn all about the building's architecture and stage mechanics; see photos of past performers; wander through the foyer and the historic Lounge; and even mingle with the beloved Rockette dancers.
By tour's end of your Radio City Music Hall stage tour, you'll see why this place has been dubbed "The Showplace of the Nation".
58 – Experience the best speakeasy bars in NYC
Although the Prohibition era is over, this doesn't mean you can't enjoy the thrill of secret bars with hidden entrances. If you're looking for a truly unique night out in New York City, check out those 2 speakeasy bars and have fun!
Live in Marie Antoinette's quarters in Le Boudoir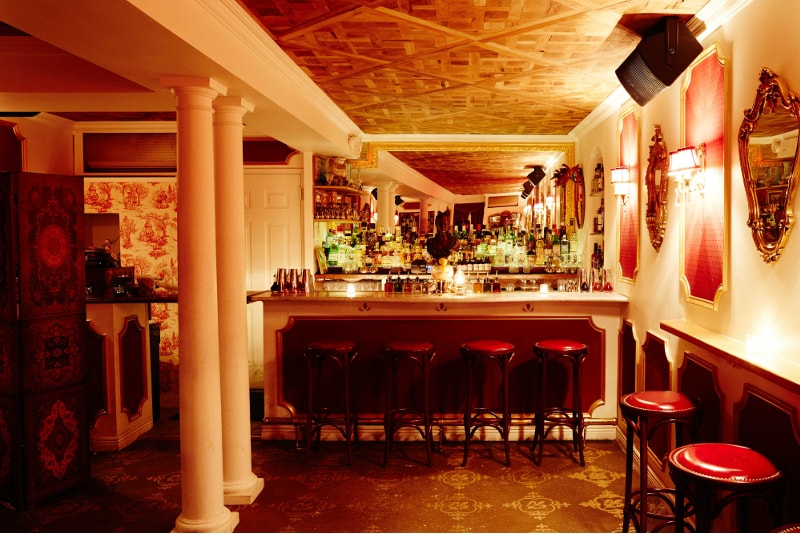 Created by the owner of "Chez Moi" Le Boudoir is a Marie Antoinette-themed bar. To get in, you will need to find the hidden door at 135 Atlantic Avenue near Henry Street.
Drink a unique cocktail at Attaboy bar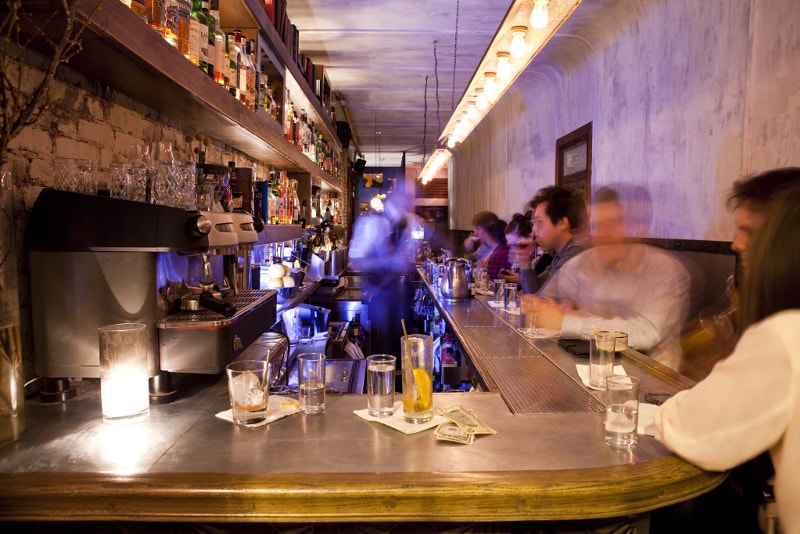 Attaboy bar is an intimate, semi-hidden craft cocktail bar located on the Lower East Side. The cocktails range from familiar standards to unique creations that are among the city's best.
To get in you'll have to ring the buzzer at 134 Eldridge St (look for a window marked with M&H Tailors and Alterations) and pray they have space for you.
59 – Watch & listen to the New York Philharmonic Orchestra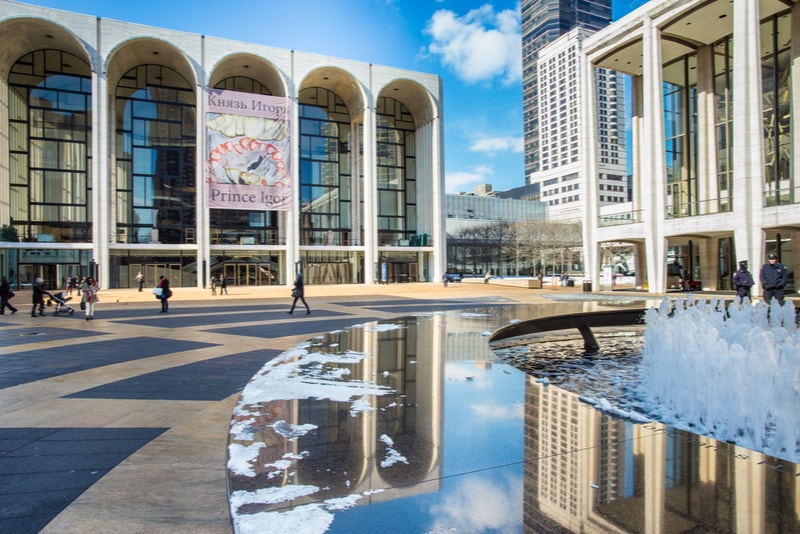 Founded in 1842, the New York Philharmonic is by far the oldest symphony orchestra in the United States and one of the oldest in the world.
It plays a leading cultural role in New York City, the United States, and the world.
60 – Finish your night at Brooklyn Mirage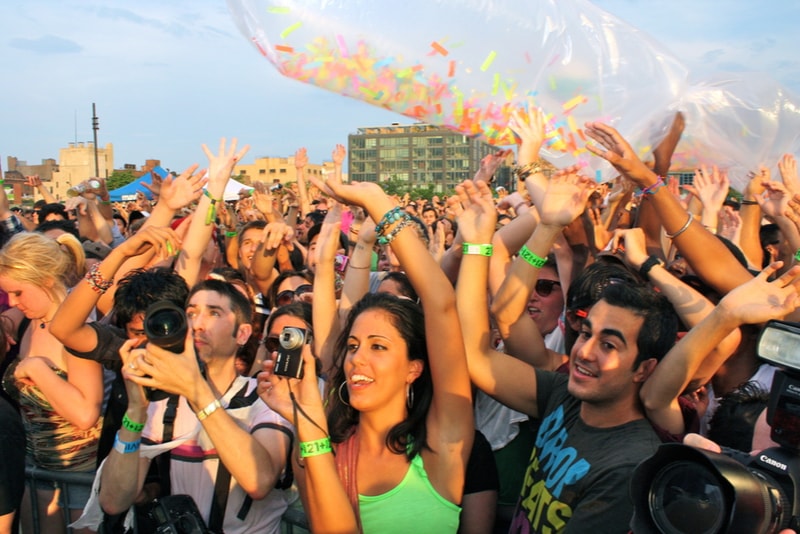 After partying till sunrise at Output club, why would you have to stop the party? Join the other party adepts at Brooklyn Mirage at the Avant Gardner — a huge complex decked with thousands of plants!
The Brooklyn Mirage owns a KV2 Audio System designed to keep your senses sharp!
140 Stewart Ave, Brooklyn, NY 11237
61 – Find Wafels & Dinges' Waffle truck and enjoy sublime waffles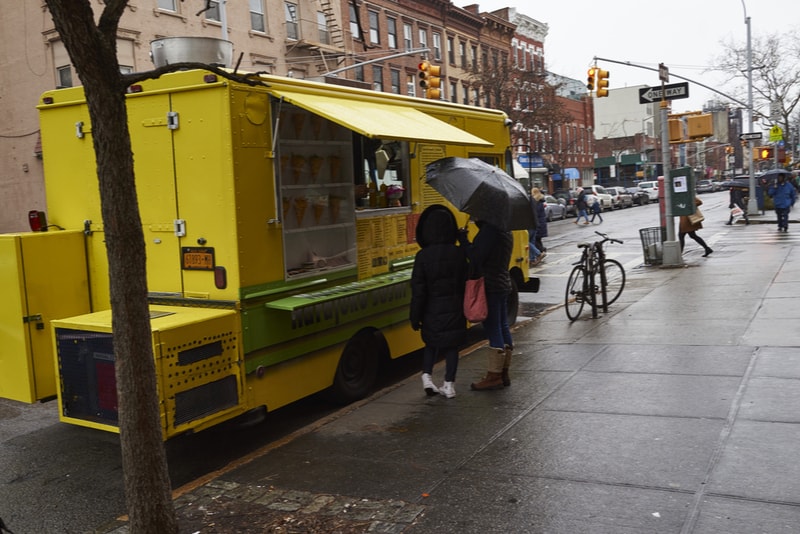 "All the world is a wafel, and all of us are merely Dinges."
Wafels & Dinges rules over the food truck scene in New York. This canary-yellow food truck travels around the city, dispensing ethereal waffles and rich toppings.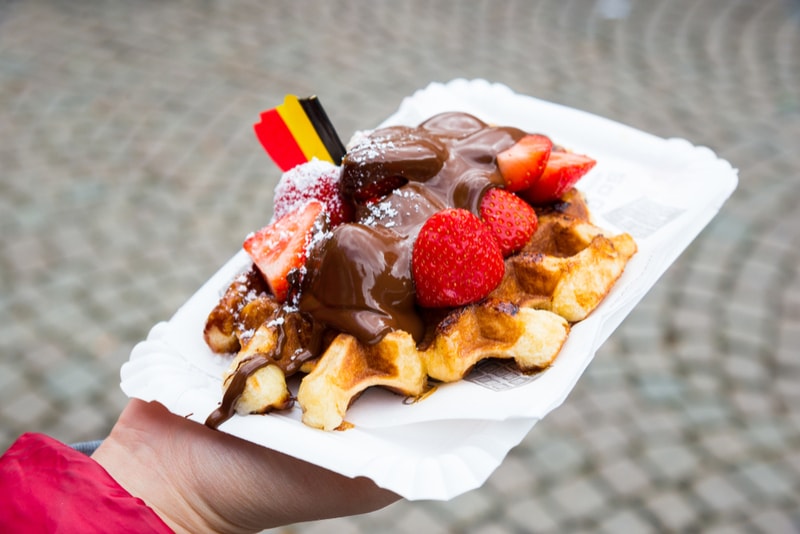 62 – Get a tattoo at Bang Bang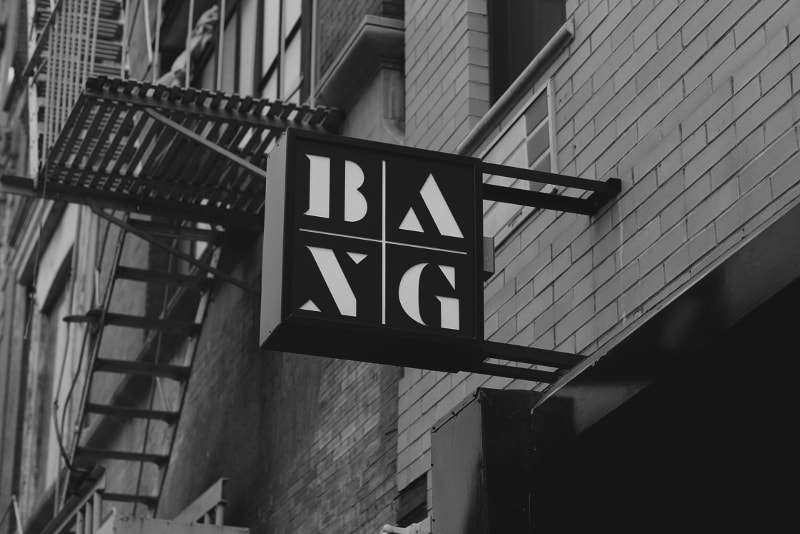 Located in NYC on the lower East Side, Keith "Bang Bang" McCurdy is considered one of the most successful tattoo artists in the industry.
Many superstars such as Rihanna, Cara Delevingne, and Justin Bieber have all been tattooed by him.
63 – Go shopping at the Woodbury Common Premium Outlets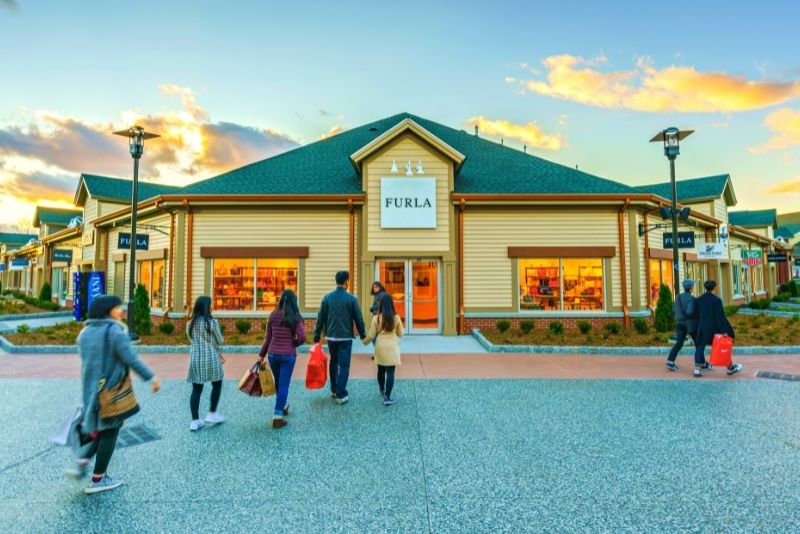 Shopaholics, listen up. Located about an hour north of Manhattan, the Woodbury Common Premium Outlets boasts over 220 stores with big discounts (up to 65% off) on designer brands such as Michael Kors, Coach, Nike and more – it's every bargain hunter's paradise.
To get the most out of your shopping spree, hop on a guided tour. Not only will you have roundtrip transport from the city included, but you'll also get an overview of the outlets so you can plan ahead and make sure to hit up all the places (and deals) you want.
Hot tip: if traveling with a group, consider the lavish limousine shopping tours!
64 – Get your music fix at the mythic Cotton Club in Harlem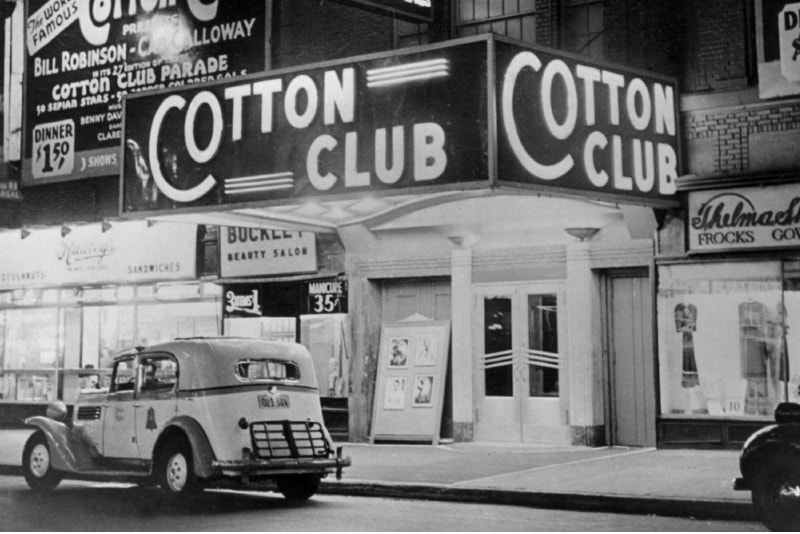 Cotton Club is a legendary nightspot in the Harlem district and one of the most famous jazz venues in the city, delivering some of the greatest music legends of the Jazz Age such as Duke Ellington or Louis Armstrong among many others.
Read more about the best New York City night tours
65 – Visit the Museum of Sex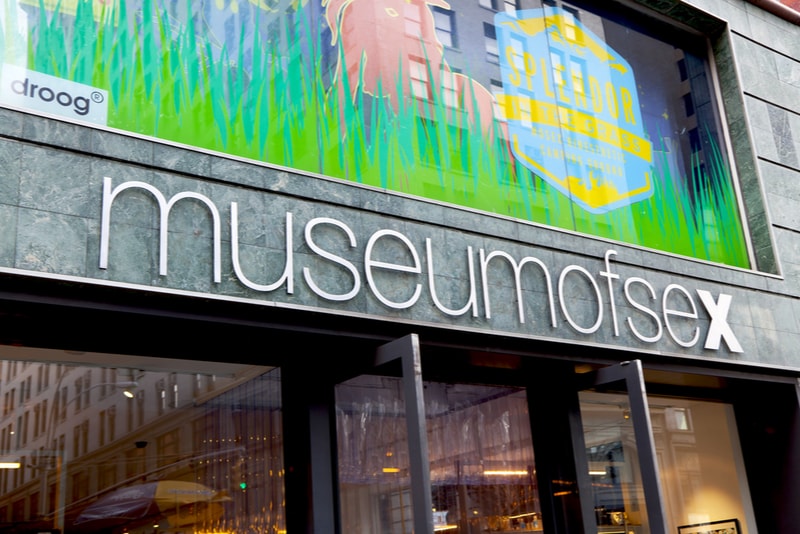 The Museum of Sex, also known as MoSex, has showcased fascinating exhibitions exploring the art, science, and the study of human sexuality. It's probably the most stimulating museum in New York! 🙂
66 – Admire street art in Bushwick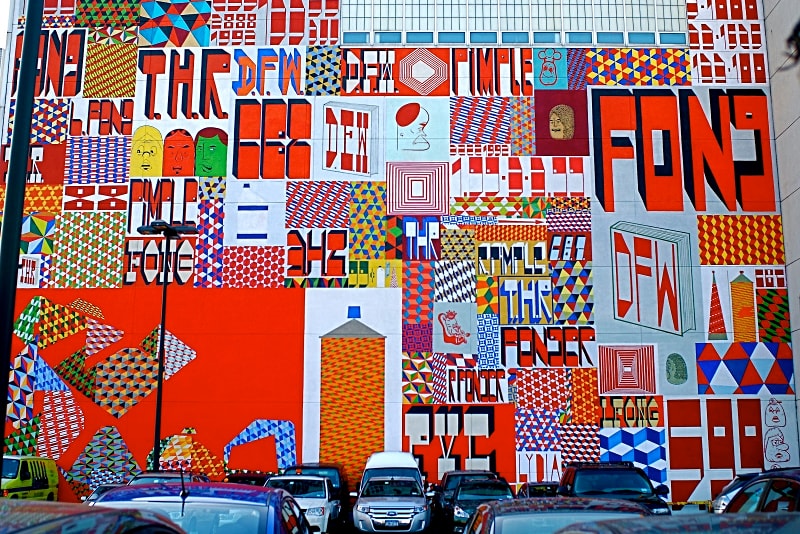 New York City is a mecca for graffiti and street art, making it a very attractive playground for artists from around the world. Bushwick is a working-class district on the north side of Brooklyn where you admire amazing street art.
Check how Barry McGee made this mural in Brooklyn. Watch Barry McGee's Brooklyn Mural from Jason Schmidt on Vimeo. Discover NYC's street art scene with a walking tour starting from 20$.
67 – Go on an NYC architecture tour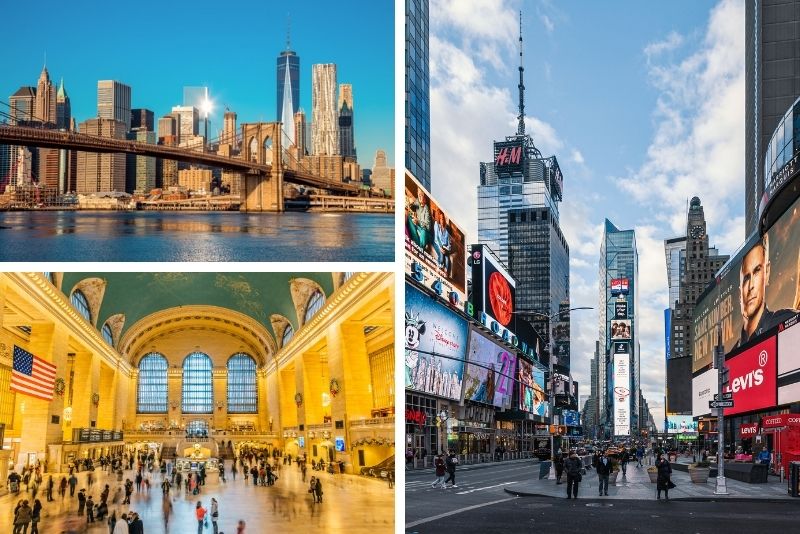 The architecture in New York is truly something to write home about, with everything from designer skyscrapers to historic landmarks waiting to be discovered.
Your camera will be working hard as you visit sights like Grand Central Station, Times Square, and the Chrysler Building. Watch as the light enhances your perspective and listen as the guide shares insider secrets about this beguiling city.
68 – Walk through Little Italy and Soho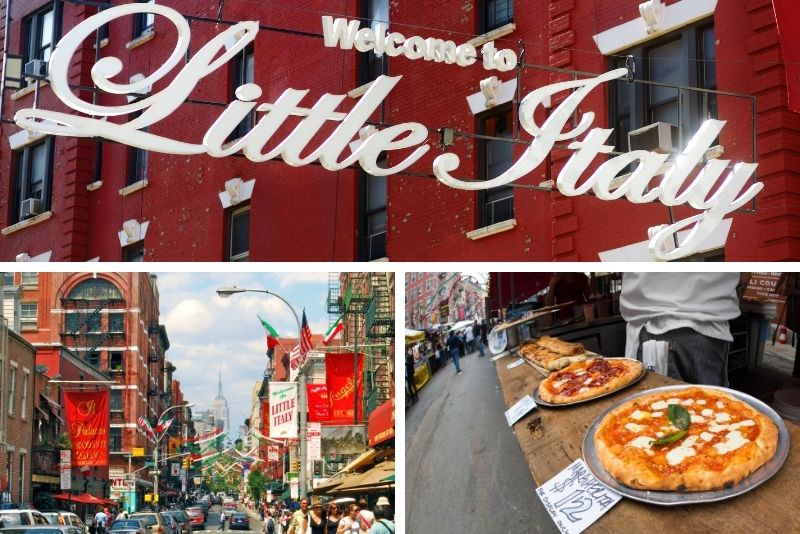 Head to Soho and Little Italy on a relaxed walking tour for a dose of authentic New York life. Keep an eye out for celebrities as you stroll past cast-iron buildings in fashionable Soho, and hear stories of immigrants and gangs in Little Italy.
You will visit iconic sights like Spring Street, Mulberry Street, and Columbus Park on this journey through history.
69 – Visit the Museum of the Moving Image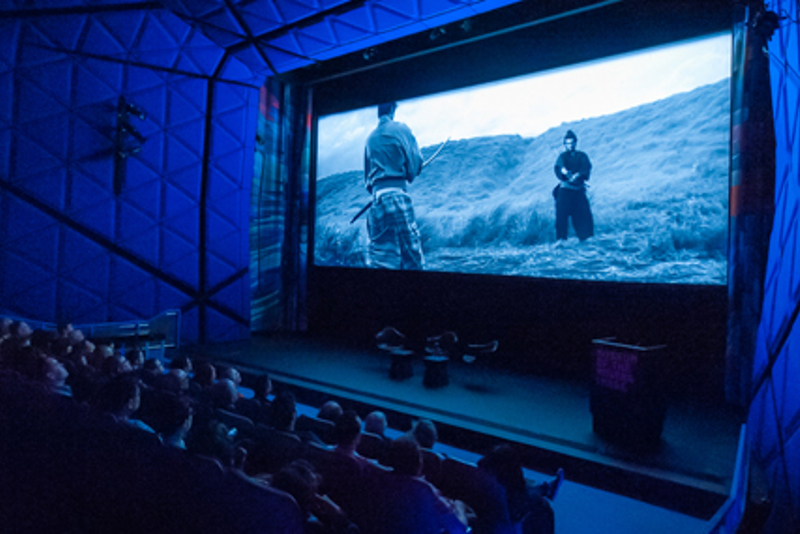 The Museum of the Moving Image is a media museum located in Astoria, Queens in a former building of the historic Astoria Studios.
It houses a comprehensive collection dedicated to educating the public about the art, history, technique, and technology of film, television, and digital media.
70 – Get a little wild on a pub crawl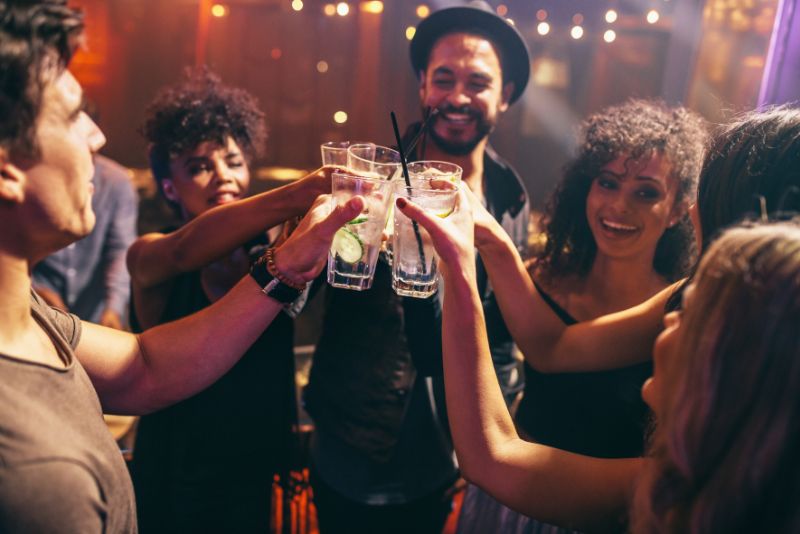 Looking to let your hair down? With literally thousands of bars and pubs scattered across the five boroughs, New York City is a great place to let loose. And if you're looking for an epic night out on the town, there's no better way than with a pub crawl.
Whether you're hopping down historic Stone street in the Financial District, joining a literary pub crawl in Greenwich Village or Times Square, a prohibition-themed excursion in Hell's Kitchen, or visiting some of the best bars in Williamsburg, Brooklyn and beyond – a pub crawl is one of the best ways to explore New York City's vibrant nightlife and meet fellow thirsty travelers along the way.
With knowledgeable guides leading the way, you'll get to sample craft beers and cocktails, learn about NYC's nightlife culture, and most importantly – have a whole lot of fun.
How to get to NYC?
New York City has three major airports within its limits — JFK, LaGuardia and Newark, plus a host of smaller ones in the surrounding metropolitan area. Various airlines offer flights to these airports from most cities around the world, making it easy for visitors to get here.
For the most hassle-free arrival experience, book an airport transfer in advance. You'll get picked up from the airport and taken directly to your destination.
If you'd rather take public transportation, then Amtrak is your best bet – trains arrive daily at Pennsylvania Station from nearby cities like Washington, Boston and Montreal, to name a few.
Where to stay in NYC?
When it comes to accommodation, The Big Apple has something to suit all budgets. If you're looking for luxury and a central location, then Manhattan is your best bet. The affluent Upper East Side is home to some of the city's most iconic 5-star hotels, such as the Ritz Carlton and The Plaza.
If you're on a tight budget, then head to Brooklyn or Queens where you'll find many reasonably priced Airbnbs and hostels. For something in between, look out for mid-range chain hotels like Hampton Inn & Suites and Holiday Inn Express. Alternatively, consider renting an apartment in one of NYC's vibrant neighborhoods; Williamsburg, Bushwick and Harlem are all great options.
Need more suggestions? In Times Square, the W New York is a great pick for travelers who want to be close to all the action. In Lower Manhattan, the Conrad Hotel Downtown is a modern and stylish hotel for those seeking Hudson River views. Meanwhile, Hotel Chelsea is the ideal spot for art and culture enthusiasts.
And that's just the tip of the iceberg. No matter where you choose to stay, you'll have plenty of options and find a place that suits your needs. Just make sure to book in advance — hotels fill up quickly!
Visiting NYC on a budget?
If you're pinching pennies, there are several tips to help you explore New York City without breaking the bank. Consider opting for public transport – the subway system is extensive, direct, and often much cheaper than taking a taxi. Additionally, take advantage of free attractions like Central Park and Brooklyn Bridge Park to have fun without spending a dime.
Make sure to join a few of the free walking tours in NYC, as they are a great way to see the sights and get your bearings. And don't forget to take advantage of NYC city passes like the Explorer Pass and the Sightseeing Flex Pass – these can save you up to 50% on admission fees at many popular attractions.
Not sure which one to choose? We've written up a New York City Passes price comparison cheat sheet to help you out.
Where to go next?
From New York, you can easily explore the rest of the Northeastern U.S., with many exciting destination possibilities. Head south to Philadelphia, Baltimore and Washington DC., or head north to Boston, Maine and Montreal.
Philadelphia is famous for its historical sites like the Liberty Bell and Independence Hall, while Baltimore is known for its unique culture and lively Inner Harbor. Meanwhile, Washington DC offers endless attractions from iconic monuments to world-class museums.
Heading northbound? Boston is a great spot for foodies; between New England clam chowder, craft beer and seafood dishes, there's something to suit all tastes. Plus, the city is home to many excellent universities and a rich history, with landmarks like The Freedom Trail and Boston Common.
No matter which route you take, you'll be sure to find plenty of fun experiences around the Northeast!
While these cities might need at least a couple of days to see properly, there's no shortage of noteworthy day trips from New York City either. From The Hamptons to New York's Hudson Valley to Atlantic City, you'll find a host of interesting sites and attractions, all within easy reach.
Final thoughts
Well, that's a wrap! From Broadway to the Brooklyn Bridge and everywhere in between, the list of things to do in New York City is longer than anywhere else.
Whether you're visiting for business or pleasure, there's something to suit every taste in this amazing part of the world.
So, what are you waiting for? Start planning your trip today and see why NYC is considered the city of all cities.