Housed in a futuristic designer building in the Meatpacking District, this trendy art hub is enormous, with over 50,000 feet of exhibition space. Featuring some of the most inspiring works by 20th- and 21st-century American artists, the Whitney Museum feels more like a gallery than a museum.
Here's all you need to know about purchasing your Whitney Museum tickets and what you'll see during your visit.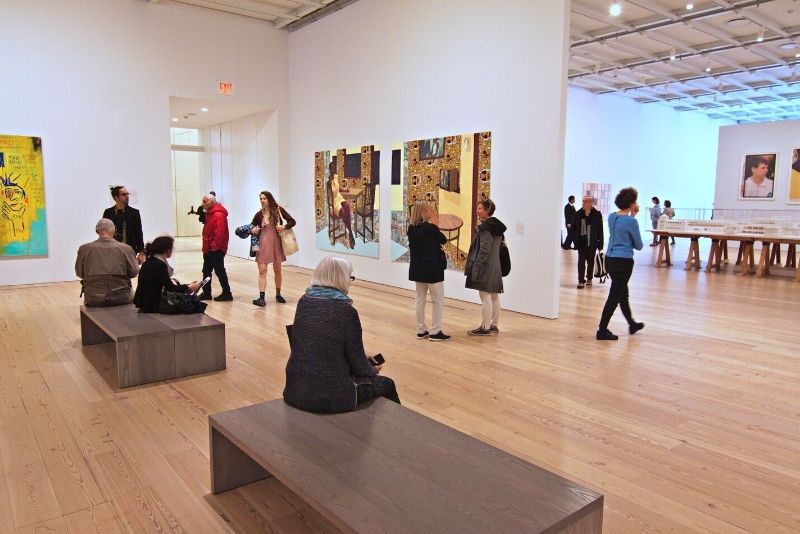 How much do Whitney Museum tickets cost?
The Whitney Museum tickets price for general admission includes entry into the permanent collections, as well as some of the temporary exhibitions.
Adult: $25
Senior (65+ years): $18
Student: $18
Visitors with disabilities: $18
Children (18 years and under): Free
Who is eligible for discounts?
Students, seniors and visitors with disabilities are entitled to a $7 discount on the Whitney Museum entrance fee. Valid ID may need to be shown at the ticket office.
There is a pay-what-you-wish program that runs on Fridays between 7 PM - 10 PM. This is when you can just donate what you think the visit is worth to you.
Should you book Whitney Museum tickets in advance?
Definitely. This is one of New York's hottest art attractions and tickets can sell out, especially during peak periods.
Another reason to reserve your Whitney Museum tickets in advance is that, by searching online, you'll be able to sniff out the cheapest deals for your chosen dates.
What will you see inside the Whitney Museum?
First things first, the building — it's just as incredible as the art inside. Designed by Renzo Piano, the glass façade and lofty internal spaces make it feel a little out of this world, in a good way. It's certainly a fitting showcase for the 23,000 works of art that call it home.
Permanent Collection
Thousands of contemporary American artists are represented here in the permanent collection at the Whitney Museum. Famous ones like Andy Warhol, Jean-Michel Basquiat and Alexander Calder are featured heavily. There's everything from paintings and sculpture to photography and even films to discover.
Don't miss the David Hammons "Day's End" statement piece outside the walls, or the modernist war-themed creations by Marsden Hartley. There are classics by Edward Hopper too, including the famous "A Woman in the Sun."
Temporary Exhibits
During your Whitney Museum visit, you'll have the chance to poke your head into some of the temporary exhibitions on display. These change frequently and are often themed, so check the museum schedule to see what is on during your vacation.
There are also various events and films throughout the year, including the Whitney Biennial which is the longest-running survey of American art.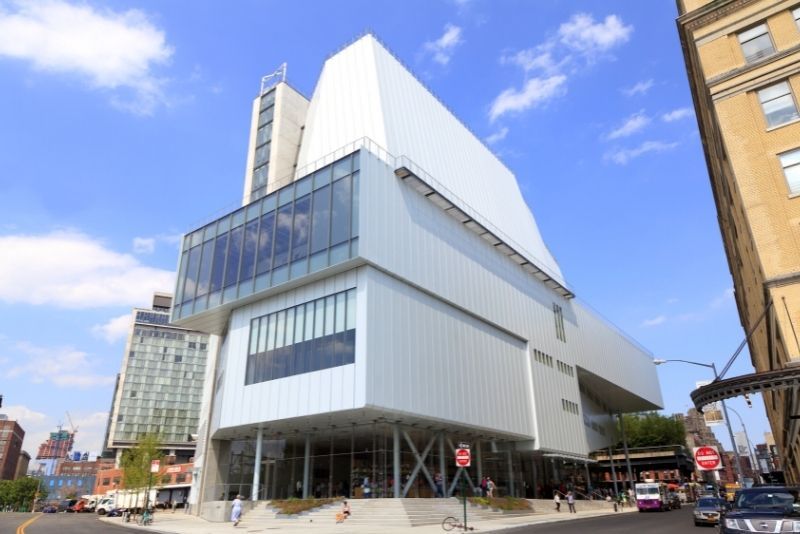 How to get to the Whitney Museum?
The Whitney Museum is tucked away on Gansevoort Street in the Meatpacking District of Manhattan, just steps away from the Hudson River Greenway.
There are bus and subway stops nearby, as well as street parking if you are traveling by car.
When is the best time to visit the Whitney Museum?
The Whitney Museum is often not as busy as places like the Guggenheim and the Met, but to ensure you avoid the peak rush, come at opening time. Weekdays are usually quieter than weekends.
Whitney Museum entry times are as follows:
Monday, Wednesday and Thursday: 10:30 AM - 6 PM
Friday: 10:30 AM - 10 PM
Saturday and Sunday: 11 AM - 6 PM
Tuesday: Closed
The last entry is 45 minutes before closing time.
Which other museums can be visited in New York City?
Travel tips
Non-flash photography is permitted inside the galleries, but you can't use tripods or selfie sticks.
Make sure you book your Whitney Museum tickets well ahead of your visit, as time slots do sell out.
There is a locker room where you can check in luggage and coats, while smaller bags can be carried around with you.
Food and drink are not allowed in the museum, but there is a café and bar if you fancy a bite to eat during your visit.
Don't forget your ID if you need it for your discounted entry.