The Guggenheim in New York is one of the most famous museums in the world, thanks to both its inspiring art collection and the statement Frank Lloyd Wright building design.
If you're into contemporary art and want to tick off one of America's great institutions, then get your hands on some Guggenheim Museum tickets. Discover everything from works by European master painters to wood sculptures from sub-Saharan Africa and plenty more.
How much do Guggenheim Museum tickets cost?
The standard Guggenheim Museum tickets price for non-members is as follows:
Adult (12+ years): $25
Senior (65+ years): $18
Student: $18
US Military: $20
Disabled visitors: $18
Child (under 12 years): Free
Tickets include admission to all current exhibitions and an audio tour which can be used via the free digital guide app. You will need to take your own headphones.
Check out the NYC attractions passes: the Guggenheim Museum entrance fee is also included on the New York City Pass and the New York Explorer Pass.
Who is eligible for discounts?
A discounted Guggenheim Museum rate is available for some visitors – ID may be required on entry.
Seniors, students and visitors with disabilities receive a $7 discount, while caregivers can enter for free. Meanwhile, if you are a member of the US Military, you will enjoy a $5 discount on standard Guggenheim Museum ticket prices.
Is it possible to visit the Guggenheim Museum for free?
While Guggenheim Museum tickets are not free of charge, there is a pay-what-you-wish scheme operating on Saturdays between 6 PM and 8 PM. You do still need to reserve tickets in advance, and the suggested donation is $10 per person.
Should you book Guggenheim Museum tickets in advance?
It's always a good idea to purchase your Guggenheim Museum tickets ahead of your visit. Doing this means, you can choose your entry time, giving you peace of mind when it comes to planning the rest of your day.
If you have a New York City Pass or Explorer Pass, you do not need to make a reservation.
What will you see inside the Guggenheim Museum?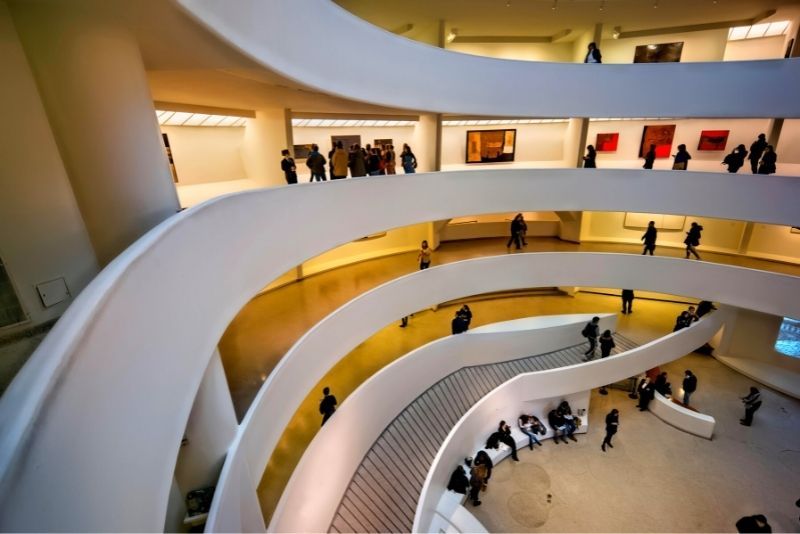 Exhibitions and collections
Home to over 1,700 pieces of art by more than 600 individuals, the Guggenheim Museum is a treasure trove of creative talent. Here, you discover paintings by masters like Cézanne, Gaugin and Van Gogh, alongside motorized floral sculptures and even gunpowder paper art from China.
Among the most famous pieces in the Guggenheim Collection are "Spanish Dance" by Degas and "Woman Ironing" by Picasso. To say you've seen those paintings in person is quite something!
There are changing exhibitions throughout the year that are included in your Guggenheim Museum tickets. They give contemporary artists the chance to showcase their work, and often feature up-and-coming names.
Favorite displays have incorporated photography collections that explore the nature of human identity and aural experiences that teach you to think outside the box.
Frank Lloyd Wright architecture
While the collections inside the Guggenheim Museum should take center stage, the building itself is a marvel of creativity. Designed by renowned architect Frank Lloyd Wright, the striking cylindrical museum was built as a "temple of the spirit."
Space, light and flowing lines are the key themes of this modernist monument, which some say steals the limelight from the art itself!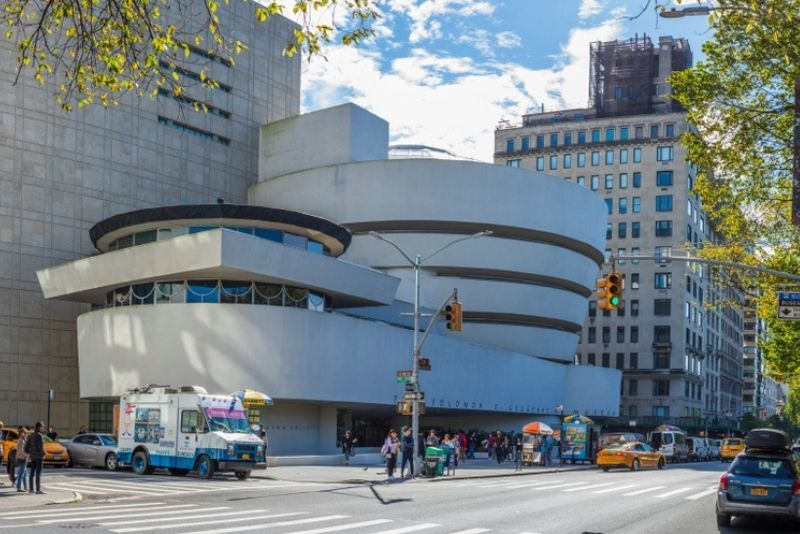 How to get to the Guggenheim Museum?
You'll find the Guggenheim Museum on Fifth Avenue, between 88th and 89th  Streets.
Those traveling by subway should use lines 4, 5 or 6, while anyone journeying by bus can hop on the M1, M2, M3 or M4 on Madison or Fifth Avenue. Some street parking is available too.
When is the best time to visit the Guggenheim Museum?
Guggenheim Museum entry is between 11 AM and 6 PM, Sunday to Monday, and Wednesday to Friday. The museum shuts a little later at 8 PM on Saturdays.
On Tuesdays and some public holidays, the museum is closed.
To dodge the crowds, time your Guggenheim Museum visit for a weekday morning or during the late afternoon.
Which other museums can be visited in New York City?
After you've had your fill in the Guggenheim Museum, New York still has plenty more gems up her sleeve.
Travel tips
Try and book your Guggenheim Museum tickets in good time as popular slots can sell out.
Don't forget to take your ID if required for a discounted ticket.
Download the digital visitor guide to help you navigate around the exhibitions and collections — the place is vast so this will save heaps of time!
Once inside the museum, you are welcome to stay as long as you want, until it closes.
Large bags are not permitted inside the building, so leave these at your hotel.
You can take photos unless otherwise stated in the individual galleries.