To cope with the mass influx of European immigrants in the 1890s, a special processing center was set up on Ellis Island. Over the following six decades, more than 12 million people entered America by way of this tiny island, and today you can explore the museum and learn about this remarkable chapter in history.
Ellis Island tickets include a ferry ride, and most give you the option of visiting the Statue of Liberty too.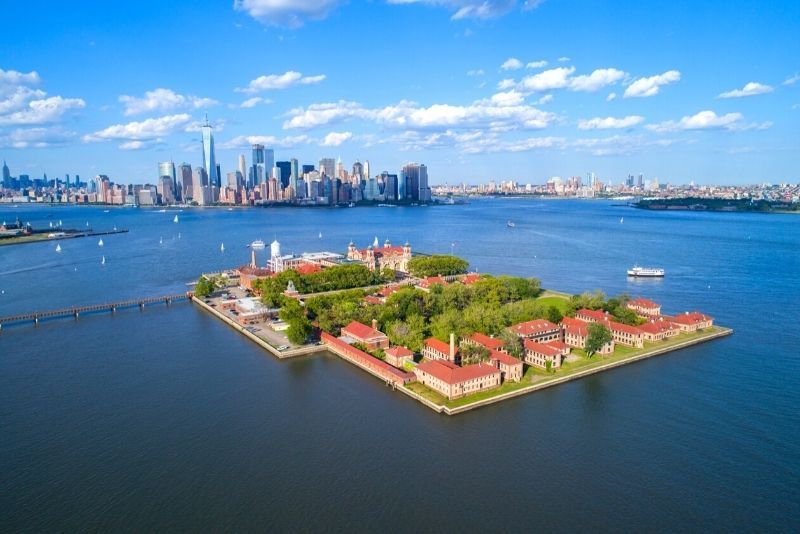 How much do Ellis Island tickets cost?
While there is no Ellis Island entrance fee, you do need to purchase a ferry ticket to be able to reach this popular landmark. The boats are operated by Statue Cruises and include an Ellis Island ticket which allows you to explore at leisure.
Ellis Island & Liberty Island entry
Departing by ferry from either Liberty State Park or Battery Park
Adult (13 - 61 years): $24
Senior (62+ years): $18
Child (4 - 12 years): $12
Infant (3 years and under): free
Round-trip boat transfers are included in the Ellis Island rate, as well as access to the Statue of Liberty Museum and the Ellis Island National Museum of Immigration. Audio tours are also provided on each island.
Ellis Island & Liberty Island tickets with Statue of Liberty access
If you would like to include access to the Pedestal Reserve or the Crown Reserve at the Statue of Liberty, prices start at:
Adult (13 - 61 years): $24.30
Senior (62+ years): $18.30
Child (4 - 12 years): $12.30
Infant (3 years and under): free
Who is eligible for discounts?
There is a $6 discount available for senior visitors aged 62 years and above. You may be required to present your ID before boarding the ferry.
What are the best Ellis Island tours?
Whether you want to join a group tour, explore at your own pace or hire a private guide, Ellis Island is sure to be one of your favorite attractions in New York.
Small group tours: These popular Ellis Island tours are a great way to keep costs down while benefiting from an expert local guide.
Private tours: If you prefer a bit of exclusivity but would still like a tour guide, then private excursions are the way forward.
Combo tours: Combination tickets help you save money while visiting several attractions over the course of a day or two.
Early access tours: Beat the crowds and enjoy an intimate morning excursion on Ellis Island and at the Statue of Liberty.
Skip-the-line tours: Bag the best seats and beat the long queues with priority boarding on the ferry.
Sunset tours: Take a sunset cruise around Ellis Island and Liberty Island, and see the city skyline glowing as day turns to dusk.
Go solo: For those who are more comfortable traveling independently, it's possible to visit Ellis Island without a tour. Handy audio guides are available on both islands.
Are there any combined tickets or tours including Ellis Island and other attractions?
Combination tours are a cost-effective way of seeing multiple sights during your New York vacation. You'll be able to visit a greater number of attractions in a short period of time while saving money too.
Ellis Island tickets and Statue of Liberty entry: Discover these twin symbols of hope and freedom in New York Harbor, and tick a major icon off your list.
Ellis Island visit with Statue of Liberty and Battery Park tour: Enjoy a guided tour of Manhattan's historic Battery Park before boarding the ferry to the islands.
Ellis Island entry plus Liberty Island and 9/11 Memorial Pools tour: Explore Ellis and Liberty Islands then visit Ground Zero to see the 9/11 Memorial and the waterfall pools.
Is it possible to visit Ellis Island for free?
Ellis Island entry is technically free, but it can only be accessed by public ferry, for which you must purchase tickets.
Should you book Ellis Island tickets in advance?
Along with the Statue of Liberty, Ellis Island is one of the most popular visitor attractions in New York. Since the island can only be visited by boat, slots are limited so be sure to book your Ellis Island tickets in good time.
Reserving in advance also gives you access to skip-the-line tickets for visiting the Statue of Liberty.
What will you see on Ellis Island?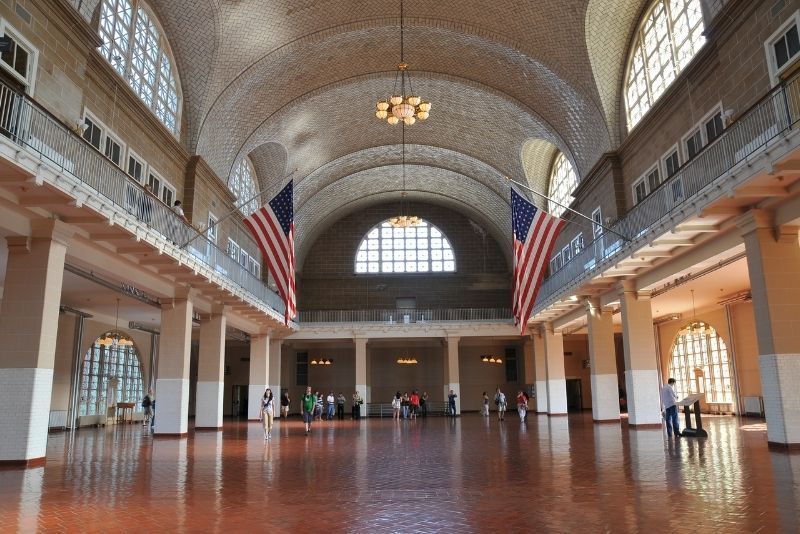 National Museum of Immigration
The central building of the immigration complex is now a museum, which is the main reason for a visit to Ellis Island. This living monument stands as a testament to those who entered America to begin their new lives. Most people processed at Ellis Island were third-class passengers from trans-Atlantic steamships and were usually referred to as "steerage."
See collections of photographs, artifacts and documents that chart these remarkable personal journeys, and the infectious hope the immigrants had for a brighter future.
Don't miss the Great Hall, luggage room and sleeping quarters, and get a feel for the process that culminated in admission to America. There are interactive displays and audio guides to shed further light on this evocative moment of history.
Statue of Liberty
Ellis Island tickets often also include entry to the Statue of Liberty, as the two islands are located a short distance from one another.
Once on Liberty Island, you can discover the famous statue up close, either exploring the pedestal or climbing up to the crown for some breathtaking views.
How to get to Ellis Island?
Ellis Island is in New York Harbor, just a stone's throw away from Liberty Island. The only way to reach the islands is on one of the Statue Cruises ferries from either Battery Park or Liberty State Park.
When is the best time to visit Ellis Island?
The most popular time of year for an Ellis Island visit is summer, so plan well ahead if you're coming at this time.
Avoid weekends if you can, as these can be crowded, and aim for a morning departure when the islands tend to be a little quieter.
Which other museums can be visited in New York?
New York Museums are among the best on the planet, so make sure you leave time to visit a few during your trip.
Travel tips
Reserve your Ellis Island tickets well in advance, as spaces are limited and do sell out.
If you are traveling independently, allow up to four hours to visit both islands and their museums.
New York City Pass holders can save 42% on standard Reserve tickets.
Arrive 30 minutes before the ferry departs for security screening.
Food and beverages are available to purchase on both islands, or you can take a picnic if you prefer.