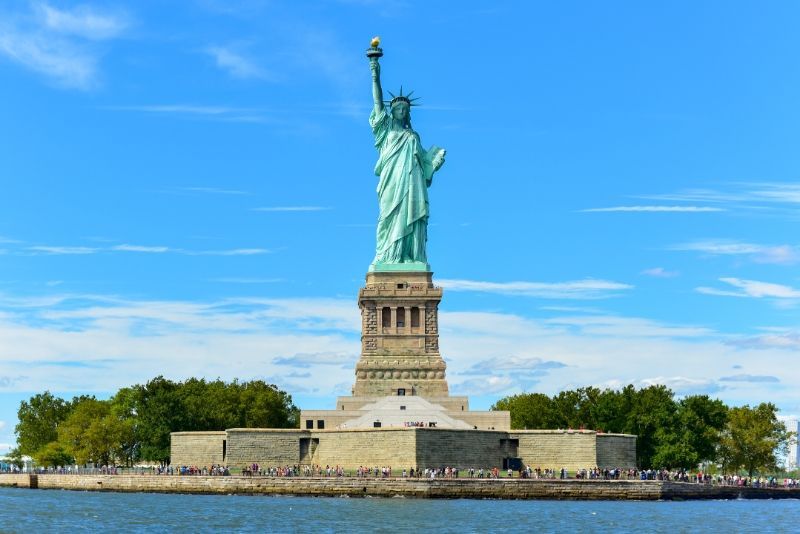 One of the most quintessential NYC tours takes in the Statue of Liberty and Ellis Island. If it's your first time in the city, this excursion is an absolute must! First up is a ride on the ferry which gives you a scenic approach to the statue, followed by a guided visit around Liberty Island.
Then you'll move on to historical Ellis Island at the mouth of the Hudson River. This was the entry point for millions of immigrants arriving in America between 1892 and 1954. You can visit the museum where photographs and manifests bring the story to life.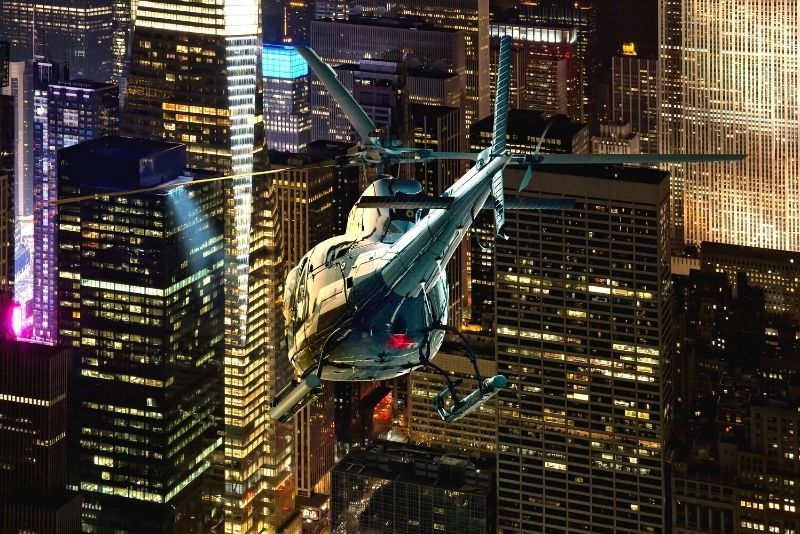 Take New York City tours to new heights as you hover over the iconic streets in a helicopter. This is a great way to get your bearings and make plans for exploring the sights on foot once you're back down on the ground.
You'll have front row seats to the world's most dazzling skyline while flying over places like Central Park, the Chrysler Building, and New York Harbor. Keep your camera handy - you're going to need it! Guided commentary from the pilot will ensure you know exactly what you're looking at, during flights that last 15 - 30 minutes.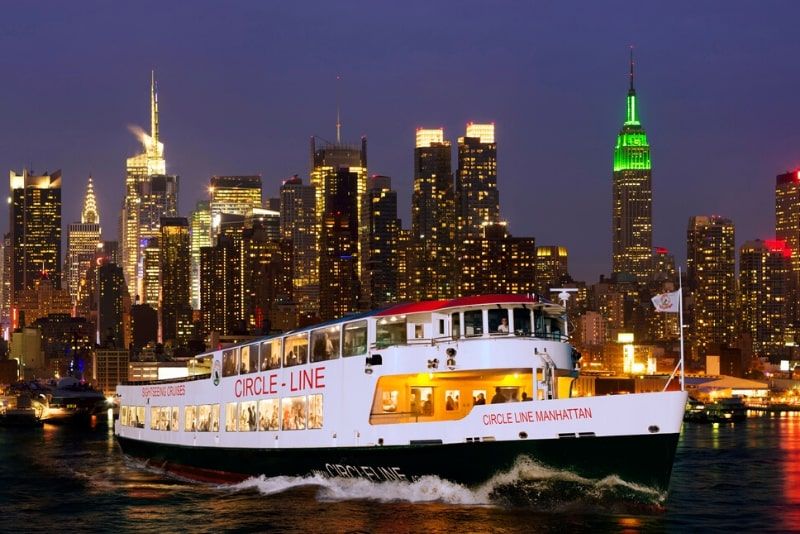 See the illuminated skyline on these NYC tours around the harbor. Sunset cruises are a romantic way to take in the sights of Lower Manhattan from the water, especially when they come with cocktails and beers from the onboard bar.
Day trips are available too, taking you up close to some of the city's major attractions. The boats pass within 100 feet of the Statue of Liberty, as well as sailing beneath the Brooklyn Bridge for unrivaled views. There will be live narration throughout the New York boat tour, to give insights into the cityscape unfolding before your eyes.
Observation Decks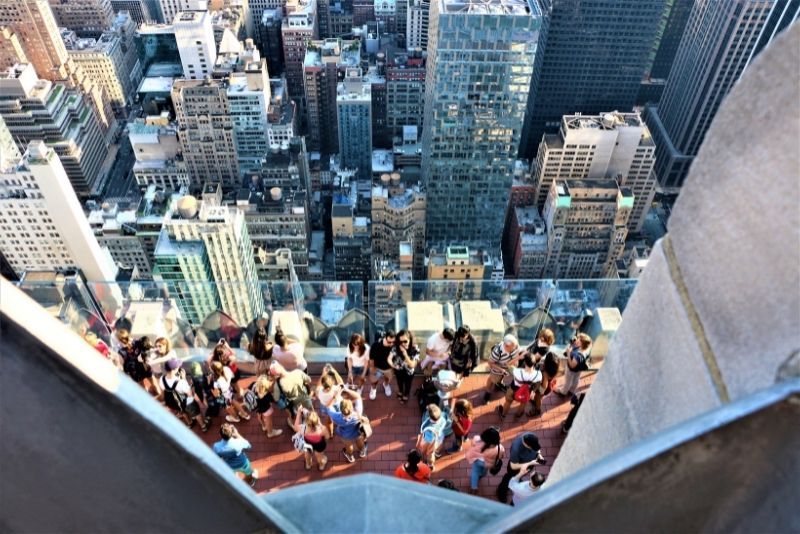 To appreciate the enormity of New York, you need to head upwards. Luckily, there are plenty of prime spots with observation decks that treat you to some show-stopping panoramas of the city.
Many New York City tours take in the Top of the Rock, which overlooks Central Park from the Rockefeller Center roof. The One World Observatory is another hit, with 360-degree views of the skyscraper forest. Other favorites include the Empire State Building and the Edge, which has a glass floor for added drama. Want to see them all? Then save money by purchasing a New York City pass.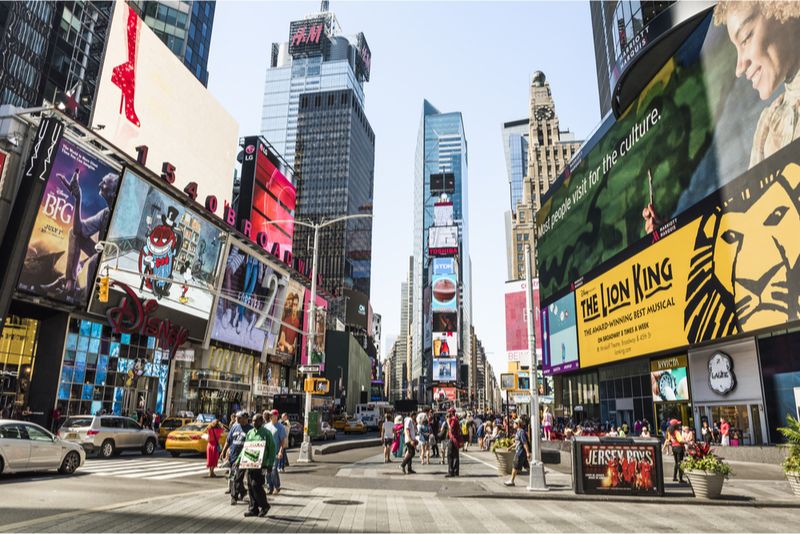 If you like a bit of song and dance, you can't go wrong with a Broadway show. Famed throughout the world as the home of star-studded musicals and theatrical performances, Broadway offers the best night out you could wish for.
Whether you're settling in for long-running favorites like The Lion King and Hamilton or trying out a new production such as Moulin Rouge, you're in for a treat. If singing isn't your thing, then there's comedy, plays, and even wizardry on offer. Just make sure you buy your Broadway show tickets well in advance, as places sell out fast.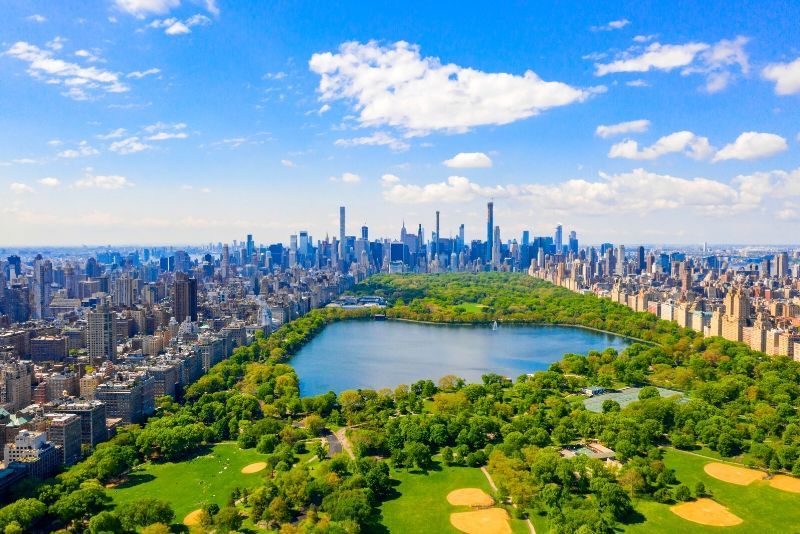 You can't visit New York without stopping by Central Park, probably the most famous urban green space in the world. Once you've taken a stroll along the trails and visited some of the well-known movie locations, it's time to explore a little deeper on one of the popular NYC tours.
Guided bike tours and horse-drawn carriage rides are a fun way of getting around, after all, it's a lot bigger than you might realize at first! Meanwhile, families will enjoy visiting the Central Park Zoo, where you can meet everything from Asian snow leopards to Californian sea lions.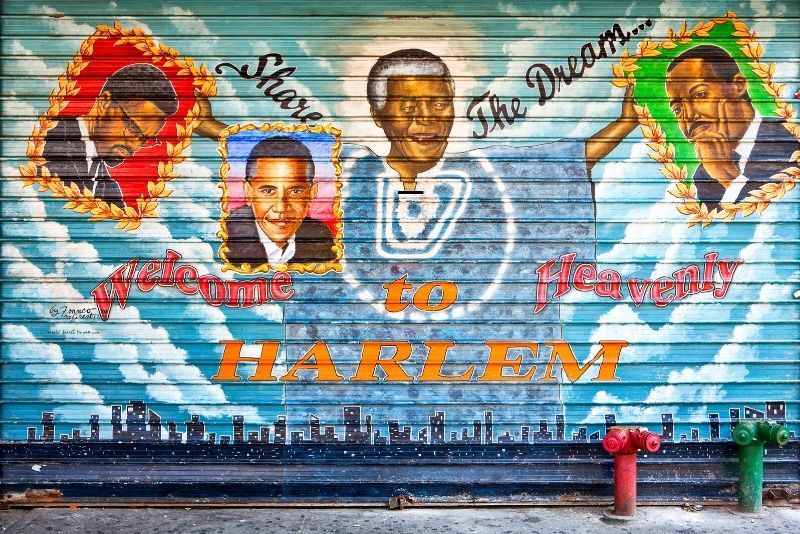 Feel shivers down your spine as you listen to some soulful gospel singing in the heart of Harlem. You can join local church families for worship at a Sunday service, as well as touring the historic neighborhood.
Gospel singing is characterized by group participation and powerful harmonies, both of which are guaranteed to put you in a happy mood. This is a rare chance to take part in a community service and meet the people who call Harlem home. Afterward, you'll pass famous sights like the Morningside Heights, Columbia University, and Sugar Hill during a spin around the district.
Art Museum Tours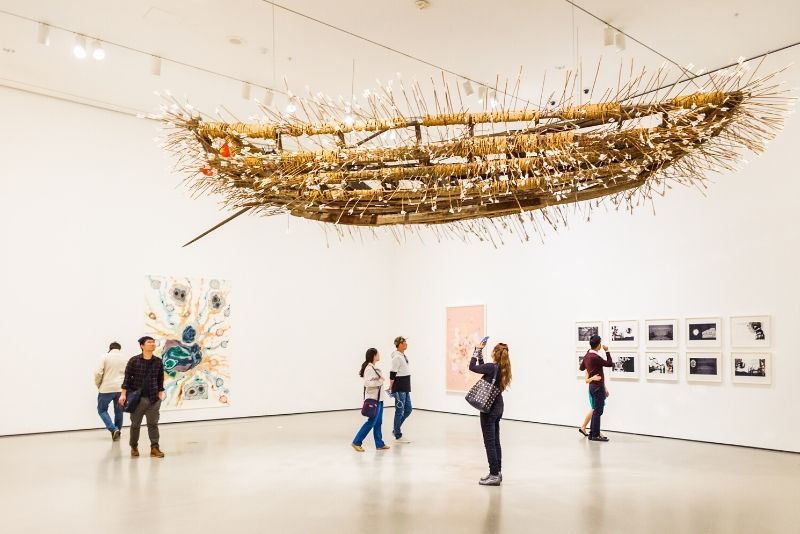 When it comes to museums, New York has no equal. You could spend a month here and still have a few more to tick off your list. Don't miss the Museum of Modern Art (MOMA), which houses 200,000 contemporary works from creators like Van Gogh, Andy Warhol, and Jasper Johns.
The Metropolitan Museum of Art will get your heart racing, with temples from ancient Egypt and funerary poles from Papua New Guinea on display. Tours in NYC also stop by the Guggenheim to admire the architecture of Frank Lloyd Wright, and the Whitney Museum to view modern American art.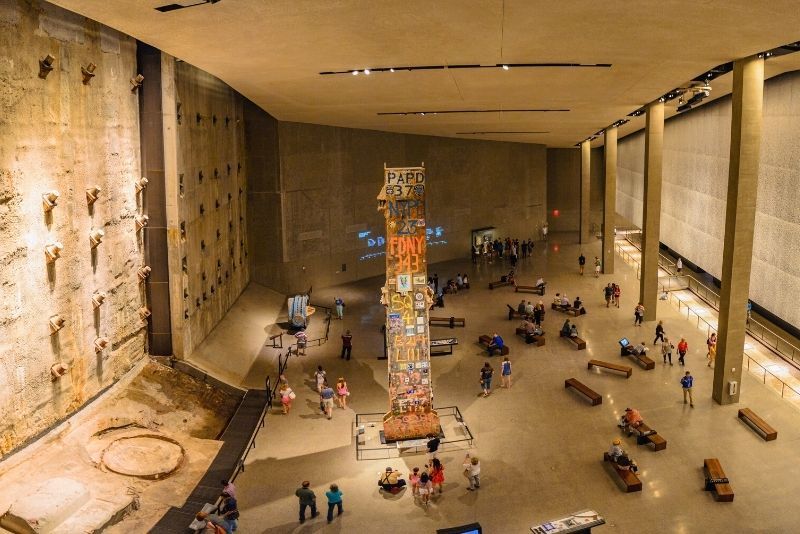 Among the most poignant New York City tours is the one that visits the 9/11 Memorial and Museum. Today, the site of the deadliest terrorist attack in America has been tastefully developed to honor the victims of the 2001 atrocity, and it's a real privilege to spend time here in quiet contemplation.
You can walk around Ground Zero and hear the stories of those who were here on that fateful day. It's a bit of a tear-jerker, but it feels right to pay your respects to the casualties and the heroes who will forever be remembered here.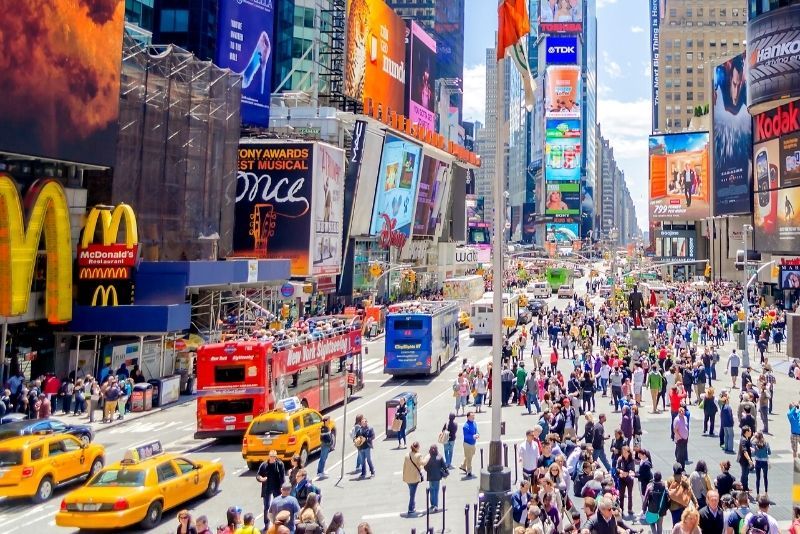 If you want to see a lot in a short space of time, then these NYC tours are just the ticket. Hop-on hop-off bus excursions mean you can alight wherever you fancy, stopping at the attractions that most interest you.
Make sure you bag a seat on the top deck for open-top sightseeing and take in the Manhattan views as you cruise through the streets. Whether you want to wander around Wall Street to see the Stock Exchange or are keen to explore the foodie side of Chinatown, these tours take the hassle out of transport and navigation.
Planning your visit in New York City
About New York City
Affectionately known as the Big Apple, New York is one of the most famous destinations in the world. The city that never sleeps is an urban playground for local and international visitors who come here for a slice of the action.
By day you'll be exploring iconic attractions from the movies, strolling around art galleries, and delving into the past on fun NYC tours. When night falls it's time for fine dining and jazz clubs, under the watchful eye of illuminated skyscrapers that dominate the skyline. It's a trendy city, where architecture, entertainment, and culture combine to offer an unforgettable stay.
Good to know before arriving
If it's your first visit to New York, it's a good idea to base yourself centrally so you have easy access to the top sights. Midtown Manhattan is a popular choice, closely followed by the Upper East Side for luxury and Brooklyn for character. Opt for a hotel in Queens if you're on a budget!
The best way to get around the city is to walk or take the subway, as road traffic means taxis and buses are usually pretty slow. New York City tours often take the hassle out of transport logistics so plan your sightseeing accordingly.
Places and experiences that cannot be missed
There are several distinct boroughs to explore on NYC tours. In Manhattan, you'll discover famous places like Times Square and the Empire State Building, while leafy Greenwich Village and arty Soho are popular destinations for culture vultures. Swing by Little Italy to walk in the footsteps of gangsters before devouring slices of authentic cheesy pizza.
Meanwhile, in Brooklyn, there's the famous Brooklyn Bridge which you can walk across for free to enjoy some of the best views in the city. Other experiences that come without a price tag include Coney Island beach and tours of the iconic New York Public Library.