The mysterious underwater kingdom at the New York Aquarium welcomes you into its watery embrace as you step into the realm of sharks and starfish. See if you can spy the giant octopus hiding in his lair and watch as sea lions show off their skills.
Want to get your hands on some New York Aquarium tickets? Here's all you need to know about planning your visit.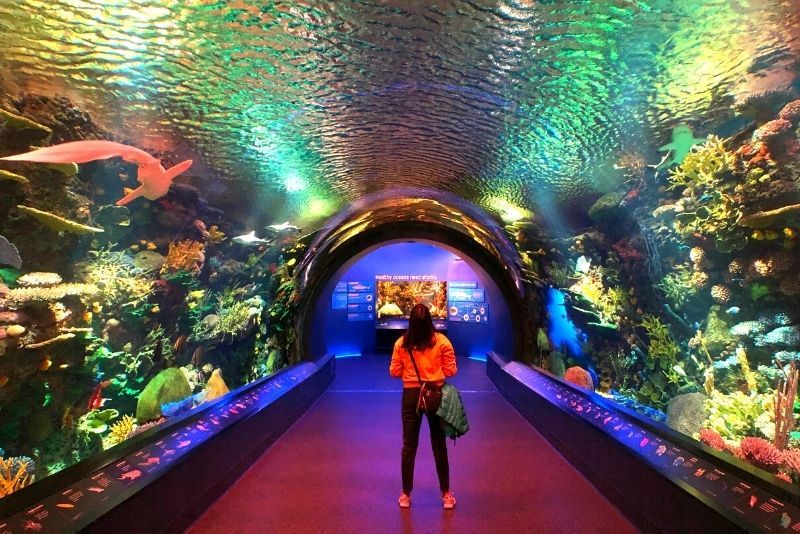 How much do New York Aquarium tickets cost?
The New York Aquarium tickets price varies according to the day of the week you wish to visit. It's cheaper to come between Monday and Friday, so time your trip accordingly if you can.
Monday - Friday
Adult (13+ years): $26.95
Senior (65+ years): $24.95
Child (3 - 12 years): $22.95
Infant (2 years and under): Free
Saturday - Sunday
Adult (13+ years): $29.95
Senior (65+ years): $26.95
Child (3 - 12 years): $24.95
Infant (2 years and under): Free
Access to all the marine exhibits is included in the New York Aquarium entrance fee.
Who is eligible for discounts?
Veterans and active US military members are eligible for a free New York Aquarium ticket on production of valid ID. Up to three of their guests can enjoy 50% off entry rates too.
Is it possible to visit New York Aquarium for free?
Yes! If you come on a Wednesday after 3 PM, your New York Aquarium entry will be free.
You will need to book an advance timed ticket, which will be available to reserve from the Monday before at 3 PM. You will not be able to get in without one of these tickets as places are limited.
Should you book New York Aquarium tickets in advance?
Definitely! Booking your New York Aquarium tickets before you arrive is advisable if you want to secure your chosen time slot and date. It's a popular place and tickets can sell out.
By purchasing tickets online you can search for the cheapest offers too!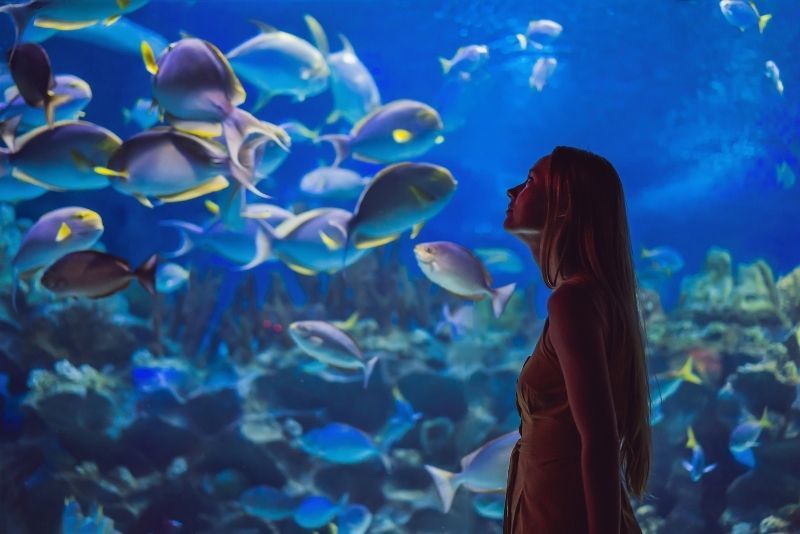 What will you see inside the New York Aquarium?
Exhibits
Your New York Aquarium tickets include entry to all the marine exhibits, taking you on an ocean journey in the footsteps of explorer Jacques Cousteau. Marvel at moon jellies and zombie worms in the Spineless deep-sea tank and try not to shudder as Japanese spider crabs brandish their giant claws.
Over in the Ocean Wonders exhibit, an underwater tunnel takes you within a hair's breadth of fearsome sharks and majestic rays. Sea turtles and butterfly fish can also be spotted swimming around the reef.
Younger visitors love exploring the Playquarium center, which boasts a touch pool and interactive games for fun and learning.
Experiences
The Aquatheater is one of the most popular attractions, where sea lions take center stage. You'll see them interacting with their trainers, as well as being fed their favorite food - fish! The Aquatheater experience will probably be the most memorable part of your New York Aquarium visit.
Close-up encounters with reef sharks and sea otters at feeding time are a great way to observe how these special creatures bond and play.
There's also a 4D theater featuring ocean-themed films with heaps of sensory effects to make you feel like you're part of the action.
How to get to the New York Aquarium?
The New York Aquarium is appropriately located on Surf Avenue, in Brooklyn, just off Coney Island Beach. It's next door to Luna Park so why not make a day of it and visit both?
There is a parking lot at the aquarium, which can be accessed from the western approach on Surf Avenue. It's open from 10 AM - 5 PM daily and costs $18 for up to three hours.
Alternatively, take the F or Q subway train or the B36 bus to West 8th Street on Coney Island.
When is the best time to visit the New York Aquarium?
New York Aquarium entry times are as follows:
April - May, and September - October: 10 AM - 5 PM (5.30 PM at weekends)
June: 10 AM - 6 PM
July - August: 10 AM - 6 PM (8 PM at weekends)
November - March: 10 AM - 4.30 PM
For a quieter visit, try and come during the morning soon after opening time or later in the afternoon. Weekdays tend to be less crowded than weekends.
Which other theme parks can be visited in New York City?
Travel tips
Make sure you book your New York Aquarium tickets ahead of your visit to avoid missing out on the best time slots.
Your ticket will have a specified entry time, but once inside you can stay as long as you wish.
Snacks, drinks, and quick-serve lunch items can be purchased onsite if you are feeling peckish during your visit.
There are no lockers at the New York Aquarium so remember to leave any big bags at your hotel.
Don't forget to bring your ID if you are entitled to a military discount.