Initiate your communion with the exhilarating landscapes on an emblematic journey on Amish Country day trip from New York City. For a wholesome tour, hop onto the traditional Amish buggies and enjoy the ride as you get the authentic glimpse of the country's simplicity.
Take a scoop of their traditional eateries and dive right into the customary markets of the Amish where you can find ingrown delicious jams, heavenly ice cream, and genuine leather goods. Take back a piece of the Amish culture back home, like homemade comfort food and chocolates, from these gorgeous streets.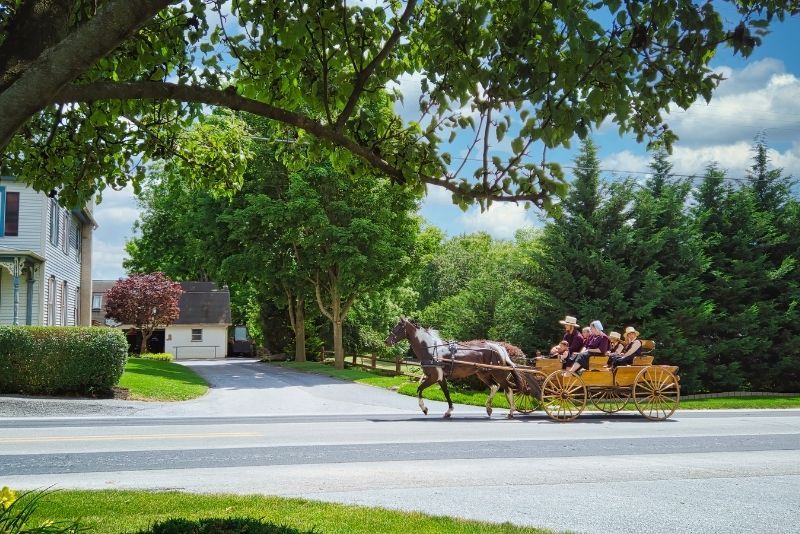 Let your eyes soak in the beauty of the far-stretching budding farmland where all the magic happens, and revel in the tranquillity the countryside has to proffer you on a silver platter. Tour the Landis Valley Village & Farm Museum to explore and interpret Pennsylvania's centuries-old plain lifestyle which goes way back.
How to get to Amish Country from New York City?
The cost of your Amish Country day trip from New York City does depend on the method of travel:
By car: Count close to a three-hour drive from NYC to Lancaster County. The biggest disadvantage of traveling by car is getting through NYC traffic on your own.
By bus: The reason Amish Country bus tours are so popular is that transportation gets included in the cost. It allows you not to have to worry about getting behind the wheel, appreciate the sights, and mingle with fellow passengers.
By train: Another option is to take a direct train from New York City to Lancaster County. Trains are another effective method of public transportation. The only drawback is you'll need to coordinate a way to get around Amish Country after departing from the train.
How long does it take to get from New York City to Amish Country?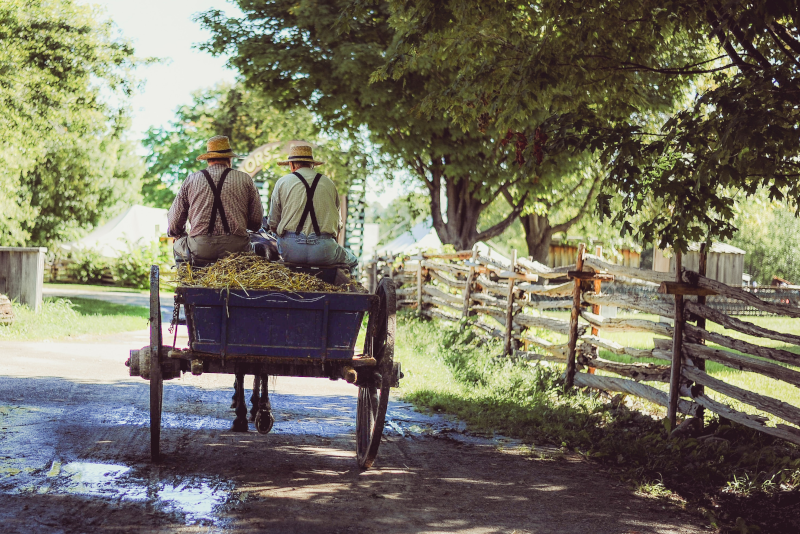 There are a couple of options for reaching Lancaster County (the oldest Amish settlement in the country) from New York City. The more popular route takes you through Philadelphia and is a little under three hours depending on traffic.
The other option is not as direct yet avoids the traffic of Philadelphia. Taking I-78 through Allentown is a more rural route and might add another half hour of drive time, but at least you'll avoid another big city after leaving NYC.
How much does an Amish Country tour from New York cost?
There are several types of tours available.
Full-Day Tours
An Amish Country day trip from New York City is plausible with an early start from NYC. Day trips generally take you to Lancaster County – the original home of Amish Country – in a single day. It's the most effective way to see Amish Country with prices that average US$ 150 for tours.
Combined Tours
Combined tours that include Amish Country from New York City offer stops at places like Philadelphia and Washington, D.C. Philadelphia is the most obvious stop as it is on the direct path to Lancaster County. Meanwhile, places like Washington, D.C. require a detour yet are worth exploring if you have the time. Combined single-day tours average US$ 200.
Philadelphia: Philadelphia is another historic city on your way to Amish Country. The city is one of the most important cities to America, especially during its founding as a country. Celebrate the rich history of Philadelphia by visiting several iconic landmarks and museums.
Washington D.C.: The nation's capital is worth visiting during your day trip to Amish Country. The capital features a plethora of famous landmarks like the U.S. Capitol, White House, Lincoln Memorial, and Washington Monument.
When is the best time to visit Amish Country?
It depends on who you ask, but most will tell you either spring or summer. Since the Amish are notorious for their agriculture, it makes the most sense to visit when the countryside is blooming with crops.
The spring offers cooler temperatures and fewer people. It is also difficult to match the beauty of late spring when various crops begin to produce a yield. The summer months provide a larger variety of produce and products to sample. The weather is also warmer, but you'll deal with more tourists.
What are the best things to see and do in Amish Country?
Your Amish Country day trip from New York City offers several exciting possibilities:
Sightseeing
Enjoy the sights as you leave New York City for rural Pennsylvania. Along the way you can stop at other major cities in the area like Philadelphia and Washington, D.C. Rural Pennsylvania is a start contrast from urban NYC. Thus, it's the ideal getaway for a day.
Museums
The rich culture and traditions of the Amish are evident in many different museums throughout the area. If you don't book a guided tour of the area, you might as well stop by one of the museums to learn more about Amish history and ways of life.
The Amish way of life is supported partly through tourism. "City-slickers" like to visit Amish Country to buy homemade and organic products like jams and baked goods. A variety of Amish restaurants also cater to tourists. Therefore, make sure you reserve some money in your wallet during your day trip.
Guided Tours
The best way to get fully immersed in the culture of the Amish is through a guided tour. The method of travel allows you to experience unique tours like riding in Amish buggy rides as you venture through farming and ranching fields.
Travel Tips
Respect the culture of the Amish. Keep in mind that you are visiting a unique part of the country where its inhabitants follow different rules and traditions than your average place in America. Make sure you do some basic research on Amish etiquette before traveling to places like Lancaster County.
Watch your speeds when traveling in Amish Country. If you are taking your vehicle, avoid speeding in Lancaster County. The area is still full of horse buggies and other forms of travel that can't keep up with automobiles. Exercise extra caution when traveling at dawn or dusk.
Ask questions, but don't offend. Remember that the Amish are just like other types of people. It is okay to ask questions about their heritage, culture, or religion. But make sure you do so without offending them. Also, don't just stare or take photos of people or property that you would otherwise ask for permission anywhere else.