Take to the skies above the Big Apple and soar among the skyscrapers, as the Hudson River shimmers far below. Helicopter tours in New York are the ultimate way to experience the city, with flights above famous neighborhoods giving you a unique glimpse into urban life.
You'll snap photos of the major skyline landmarks, and some tours even remove the doors for those seeking an extra adrenaline rush.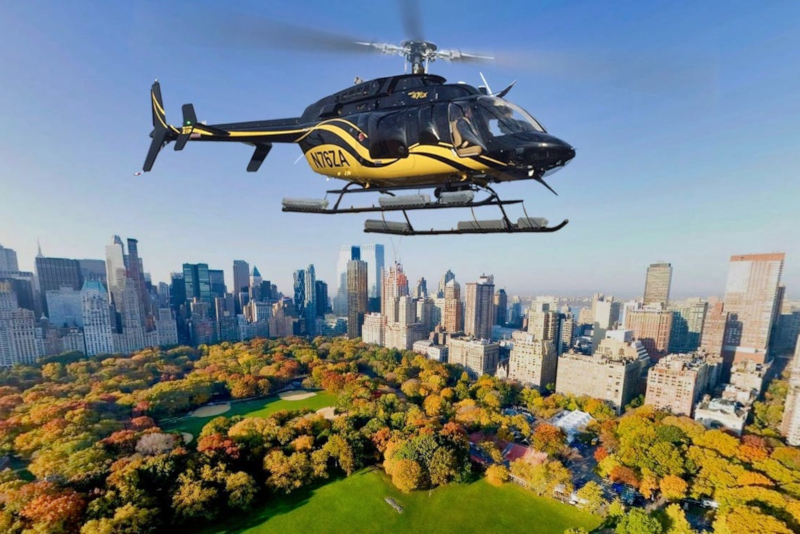 What are the best helicopter tours in New York City?
Most New York helicopter flights are a shared experience, with around six passengers enjoying the ride. Private flights are available for those looking for a truly exclusive experience.
Manhattan highlights helicopter tour
One of the most popular helicopter flights in New York whisks you off on an adventure over Manhattan Island. After a short briefing, you'll take off from the Manhattan Heliport and enjoy aerial sightseeing around landmarks like Central Park, Brooklyn Bridge and the Empire State Building.
Floor-to-ceiling windows make for perfect panoramic viewing. You'll also be able to spot the One World Observatory and the Chrysler Building so keep those cameras handy.
The icing on the cake is a fly past of Ellis Island and the Statue of Liberty, with New York Harbor providing the perfect backdrop. Your pilot will provide live commentary throughout, so you won't miss a thing. Greenwich Village and the World Trade Center are also on the cards.
After a thrilling scenic flight, you'll be returned to the heliport.
Grand Island helicopter flight
These helicopter tours in New York City also depart from the Downtown Manhattan Heliport. After a flyover of the Big Apple's most iconic neighborhood, the trip wings its way over to Coney Island where you'll see the famous beach and amusement park.
Hovering over the eye-catching Verranzo double-decker suspension bridge is another perk on this tour, with views of Staten Island and Brooklyn thrown in for good measure.
Doors-off helicopter ride
Take your adventure to the next level with a doors-off helicopter flight over New York. Without the doors, you'll feel much closer to all the main sights, making this a truly exhilarating experience.
Admire the Manhattan skyline from your lofty perch and feel like you're in the movies as the wind ruffles your hair while you circle the Statue of Liberty. This tour shows you the best of Manhattan, including major attractions like Governor's Island and Brooklyn Bridge.
The jumping-off point is over in South Kearny across the River in New Jersey, so remember to factor a bit of travel time into your schedule.
City lights helicopter night tour
There's nothing quite like New York at night and seeing it twinkling in the darkness from above is super special. This night-time flight takes a similar route to the Manhattan day tour, but focuses on the sights that come to life after dark.
Gaze down at Times Square in all its brightly lit splendor and check out the Rockefeller Center and George Washington Bridge from your comfy seat. Of course, the most iconic illuminated landmark has to be the Statue of Liberty, which poses as the centerpiece of your tour.
Pilot experience – fly your own helicopter
Want to do more than just admire the views? Then take the controls yourself and learn how to pilot a Robinson R44 helicopter! These private experiences take place in Westchester County just outside New York, giving beginner pilots the space to practice their newly learned techniques. The views of the New York and Connecticut coastline are spectacular, and you'll even get to see the city itself in the distance.
You'll have 30 minutes of instruction and a safety briefing on the ground, before lifting off for half an hour of aerial training. By the end of your session, you'll be performing simple maneuvers under the watchful eye of the professional instructor.
Take a friend along and impress them with your flying skills. No experience is required, but wannabe pilots must be at least 14 years old. Anyone under 18 must be accompanied by an adult.
How much do helicopter tours in New York City cost?
All New York helicopter flights are priced according to the destination, flight length, and type of tour. Prices are for shared excursions unless otherwise stated.
New York helicopter rides over Manhattan start at $155 for 12 minutes and $194 for a 20-minute flight. Hotel pickups are not included. If you want luxury transfers provided, it will cost $516.
The Grand Island helicopter flight over Coney Island is $355 for 30 minutes in the air. Transfers are not included.
For doors-off helicopter tours in New York City, expect to pay $378 for a 16-minute aerial adventure.
Night-time skyline flights cost $244 per person for 25 minutes in the helicopter.
The pilot experience is priced at $504 and includes half an hour of actual flying time. One-to-one tuition is provided.
Private sightseeing flights start at $1,183 for up to six passengers and include VIP transfers from Manhattan hotels.
What is included in a helicopter tour in New York City?
New York helicopter trips all include a professional pilot, as well as noise-canceling headphones and live commentary.
Pickups are not usually provided unless you opt for a luxury transfer, but all departure points can be accessed by public transport.
Some tours do not include the heliport or terminal fees, which are usually about $35 and payable at the airport. Check your joining instructions to see whether this charge is covered in the tour price.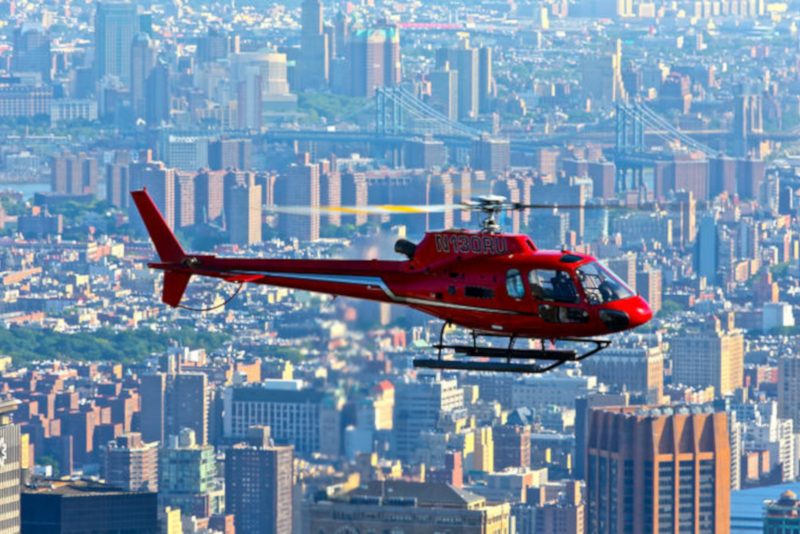 Where do helicopter tours in New York City start?
Helicopter tours in New York City depart from different locations, depending on which flights you choose. Manhattan excursions often start at the Downtown Heliport which is on Pier 6 between South Street Seaport and the Governor's Island Ferry.
The doors-off helicopter rides take off from the South Kearny Heliport across the river in New Jersey.
For the pilot experience, you will need to make your way to Westchester Airport in White Plains just outside New York City. This is easily accessible by public transport on the Metro-North rail from Grand Central Station.
How long do helicopter tours in New York City last?
Most New York helicopter experiences last an hour or two, including time on the ground for briefing. The flights themselves tend to be between 15 and 40 minutes depending on the tour you have booked.
When is the best time for a helicopter tour in New York City?
New York helicopter excursions operate throughout the day, so just pick a time that fits into your schedule. For photography, the light is best during early mornings and late afternoons.
If you want to see New York illuminated at night, choose an evening city lights tour. These usually depart between 7 PM and 9 PM.
It's a good idea to book Helicopter rides in New York towards the beginning of your stay to give a little leeway in case of postponement due to bad weather.
Are children allowed on a helicopter tour in New York?
Yes. Each operator has its own policy, and many allow infants on board if they sit on the lap of an adult.
However, some providers don't permit children under the age of 5 on helicopter flights over New York. If you are traveling as a family with young children, make sure you check with the operator before booking.
What happens in case of bad weather?
New York helicopter tours only operate during good weather, so, if conditions are poor, then your flight will be postponed. Try and book your experience towards the start of your trip just in case!
Most companies offer refunds if you are unable to reschedule your excursion, but do check the terms and conditions when booking.
Travel tips
You will be asked to arrive up to an hour and 15 minutes before your flight to allow time for safety briefings and bag checks.
Make sure your camera batteries are fully charged, as you're going to need them!
For safety, each operator has a passenger weight limit, which is usually around 300 pounds.
Lockers are often available for storing personal belongings at the heliport.