Central Park is any New Yorker's front garden and arguably one of the most famous urban parks in the world. Its rolling green grounds serve as a haven for cyclists, athletes, daydreamers, strollers, musicians, and celebrities to name a few.
The best way to discover all of the captivating points of interest this enchanting park has to offer is through a Central Park tour and guided visit. Be prepared for adventure and have your camera ready for the bundles of photo opportunities that await.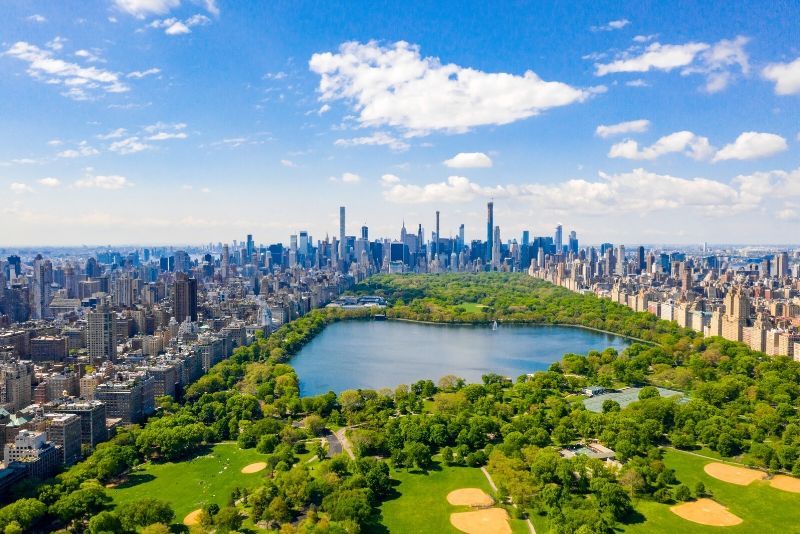 You will find below all you need to know about Central Park, one of the most popular destinations for sightseeing tours in New York City.
Where is Central Park located?
You'll find Central Park in the heart of New York City, sandwiched between the Upper West and Upper East Sides of Manhattan and a stone's throw away from Trump's tower.
Getting to Central Park via public transportation is easy and a popular mode of travel among tourists and locals alike. It would take around 45 minutes on the subway from JFK airport.
What are the best things to do in Central Park?
Manhattan's most emblematic green space is home to many entertainments that could keep you amused for days. The 843 acres of various meadows, lawns, walking trails, and preserved European-style gardens are just some of the alluring sites you can expect to dive into on your tour and guided visit to Central Park.
Here are some of the highlights you shouldn't miss:
Central Park horse carriage ride
For a romantic and magical experience, what better way to explore Central Park than a carriage ride? You can escape the commotion of the city and see some of the park's top attractions, including the Wollman Rink, the pond, and the beautiful Strawberry fields.
Your friendly guide will provide you with blankets during the winter months, so you can wrap up and stay cozy during your journey.
Hollywood famous locations
A favorite set for Hollywood films, visit the Gapstow Bridge, which has been featured in "Cruel Intentions", "Listen to your heart", and a "Weekend at Bernie's", among others. Designed by Jacob Wrey Mould in 1874, it was later replaced due to wear and tear in 1898. Today, the bridge is a simple stone structure that provides stellar vistas of the city, the Plaza hotel, and other facades.
Another notable Hollywood film location you can see during your trip is the Central Park Carousel, which features in the TV series "The Punisher" and is designated as a scenic landmark by the New York City Landmarks Preservation Commission. It's also one of the largest merry-go-rounds in the U.S.
Take some snaps on the Bow Bridge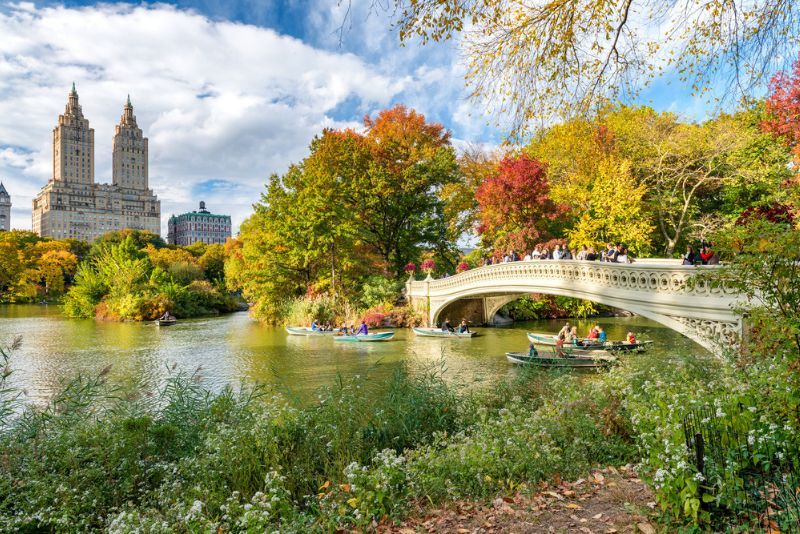 Built in 1862, Bow Bridge is one of the most photographed landmarks in Central Park. It offers a picturesque location for a romantic stroll, to stop and enjoy the moment, and is a popular place for wedding proposals. The graceful arch-shaped bridge offers great views of the city from above, as New York City's imposing buildings reflect on the rippling water below.
Stroll around Shakespeare Garden
This leafy, four-ace space will make you feel like you stepped right into the English countryside. The enchanting and intricate garden is embellished with trees, shrubs, blooming flowers, and herbs that are mentioned in William Shakespeare's poems and plays. On some walking tours in Central Park, you'll be able to admire the flora and other impressive landmarks at the site, most notably the Romeo and Juliet statue.
What are the best tours to visit Central Park?
When it comes to tours and guided visits to Central Park, the options are endless. Sports enthusiasts will be in their element with the adrenaline-filled tours on offer, while history buffs will love learning all about the fascinating past of one of the Big Apple's most iconic destinations.
Guided bike tour in Central Park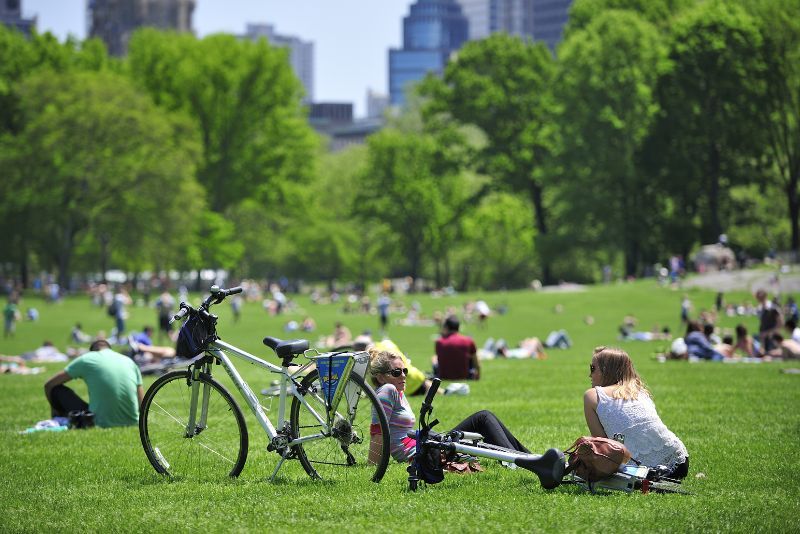 Organized bike tours in Central Park are one of the most entertaining ways to discover Central Park's top sites. Central Park offers multiple bike paths that are a hit among New Yorkers, so you'll feel like a true local on this tour. As you cruise along the picturesque green spaces, your knowledgeable English-speaking guide will reveal why the Big Apple's most popular park is one of the most filmed locations in the world.
Hell's Kitchen food tour and Central Park stroll
This Hell's Kitchen food tour and Central Park stroll is ideal for visitors looking to combine two of New York City's top experiences in one. You'll get a taste of some of the capital's most multicultural flavors including Middle Eastern, Latin, and Cajun cuisine, before enjoying a spot of sightseeing in Central Park.
Your local guide will tell you the secrets and history of Central park as you visit some of the more off-the-beaten-track sections of the park. This is a small group experience limited to eight people so visitors can enjoy a more tailored and intimate experience.
Guided walking tour in Central Park
This is one of the most popular tours to take in Central Park. You'll be exploring the park with a knowledgeable guide who will narrate stories of the crucial role Central Park has played in the culture of New York City, and explain how the park has evolved over the years. Expect plenty of photo opportunities during your stroll as you make stopovers at Central Park's most interesting sights.
Guided pedicab tour in Central Park
To enjoy Central Park from a different perspective, choose a guided pedicab tour. You'll enjoy a narrated journey in style with a knowledgeable guide who will tell you fascinating tales of New York's most prized green jewel. You'll pass interesting landmarks including the Strawberry fields, Bow Bridge, and Bethesda fountain, among others.
What are the prices of Central park tours?
Guided bike tours in Central park start at US$45 per person and include an immersive cycling tour of the park accompanied by an expert guide, with plenty of chances to make pit stops at the park's top sights along the way.
The Hell's Kitchen food tour and Central park stroll costs US$135 per person for a four-hour tour. This includes two sightseeing tours, food tastings, a local guide, and refreshments.
The guided walking tour in Central park starts at US$25 per person for a tour that typically lasts around two hours. This includes a knowledgeable guide and a narrated walk around the park.
Guided pedicab tours in Central park start at US$50 per person and come with a friendly guide and drop-off at a central meeting point.
Where do Central Park tours start?
Central Park tours and guided visits begin at a range of meeting points in the park depending on what tour you choose. Horse carriage rides start at West Drive at 7th Avenue. Most walking tours begin on either 5th or 6th Avenue inside the park.
The Hell's Kitchen food tour and Central park stroll begins at Gyu-Kaku located between 8th and 9th Avenues in Central Park.
When is the best time to visit Central Park?
Each season of the year offers a different and memorable experience in Central Park. While the summer is a popular time of the year to visit thanks to its balmy temperatures, autumn is a particularly special time of the year in Central Park as the autumnal leaves promise beautiful photo opportunities.
If this is your first time visiting New York City then it's best to book your tour at the beginning of your trip as this tour offers a fantastic introduction to the Big Apple.
Travel tips
If you choose to visit the park during the cooler months, make sure to wrap up in warm layers.
Wear tight-fitting clothing if you are embarking on a bike tour and comfortable footwear for strolling around the park.
Don't forget your camera – you'll want to snap away the many iconic sights to your heart's content on the tour.