Exploring the Big Apple on two wheels is the ultimate way to take in the city's iconic sights. Whether you fancy meandering around Central Park or pedaling over Brooklyn Bridge, bike tours in New York City show you a different side to America's favorite metropolis.
Once you've ticked off the major landmarks, head out to Long Island for a dose of countryside, vineyards and farm visits included.
What are the best bike tours in New York City?
There are enough bike excursions in New York to try a different one every day of your vacation. Yet if you only have the time or inclination for one, these are the best of the bunch.
Most are small group tours, while private and self-guided options are also available.
Central Park Highlights bike tour
Discover one of the most iconic neighborhoods in New York on a Central Park bike tour. Wheeling through this famous green space, you'll tick off major landmarks and see the park from a unique perspective. This bike trip in New York City is very popular so make sure you book well in advance.
You'll meet your guide near the edge of the park, and after a quick briefing, it's time to explore. Highlights include Strawberry Fields and the John Lennon Imagine Mosaic, as well as the Jacqueline Kennedy Onassis Reservoir and Belvedere Castle. Pose for selfies beside the beautiful Bethesda Fountain and smell the roses in the English-style country garden, which is dedicated to the playwright William Shakespeare.
The route also takes you past renowned Big Apple attractions like the Metropolitan Museum of Art, as well as filming locations for TV shows like "Sex and the City" and "Friends." There will be plenty of stops for photos during the excursion, and you'll finish the tour back where you started.
Heart of Manhattan and Brooklyn Bridge bike tour
These New York bike tours begin in Manhattan and take you through two of the city's diverse neighborhoods. The route is around 12 miles, taken at a steady pace so you can soak up the ambiance.
You'll pedal across the Williamsburg Bridge to Brooklyn Heights which boasts incredible skyline views over the water. Then it's time to ride along the Hudson River to Brooklyn Bridge, stopping to take photos of Lower Manhattan, the Statue of Liberty, Ellis Island and the Empire State Building.
Cycling over Brooklyn Bridge is one of life's moments, and with a dedicated bike lane, you won't need to worry about vehicular traffic. Of all the experiences you'll enjoy on New York bike excursions, this is the one you don't want to miss.
Back in downtown Manhattan, you will discover the financial district, as well as hotspots like Battery Park, South Street Seaport and Wall Street.
Mattituck farm and wine country bike tour
If you want to escape the city bustle and explore Long Island, then these New York bike rides are just the ticket. You'll have to make your own way to the jumping-off point in Mattituck, but then it's two wheels all the way!
Your guide will take you on a countryside journey, stopping to explore the rural farms and sun-blushed vineyards of the North Fork peninsula. Highlights include winery visits and olive oil tastings, and there will be plenty of time to chill at the beach when you need a breather.
Pick up some snacks at one of the charming farm stalls that pepper the route and pose for pictures, while the professional photographer captures these precious moments. Some of these New York bike excursions also include a fruit orchard tour, so you won't be going hungry during your adventures!
How much do bike tours in New York City cost?
Small-group New York City bike trips that take in Central Park start at $42 for two hours. This includes all cycling gear and a guide.
The Brooklyn Bridge cycle excursions are priced from $41 per person. These are small-group experiences with a guide and bike equipment provided.
The Mattituck cycling tour on the North Fork costs $115 for a 5.5-hour guided group trip. Oil and vinegar tastings plus professional photos are included. Transport to the Mattituck starting point is at your own expense.
Private full-day tours are $827 for up to six riders, or $70 per person for a two-hour jaunt. You will have your own exclusive guide, and itineraries can often be tailored to your interests.
Self-guided bike tours in New York City start at just $9 per hour, so this is a great way to save money and remain independent while seeing the sights. You will be provided with bike rental, helmet and a map.
What is included in a bike tour in New York City?
Most cycle tours in New York City include bike and helmet hire, as well as a guide, map, basket and bike lock. Electric bikes are often available to help you up the hills, so do check with the provider when booking if this is important to you. Some tours also provide water.
Pickups are generally not included, so you'll have to make your own way to the starting point.
On the Mattituck bike tours, oil and vinegar tastings are included, plus a professional photographer guide.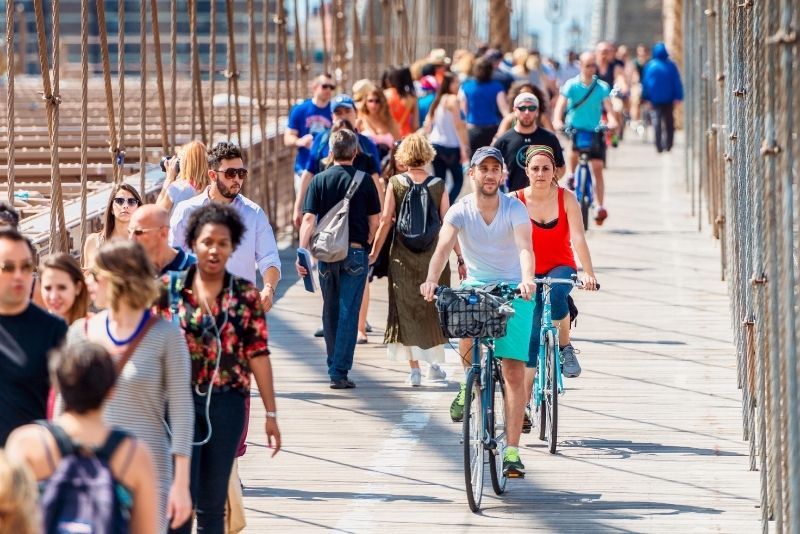 Where do bike tours in New York City start?
Bike tours in New York City begin at different locations depending on which neighborhood you're going to be exploring.
Central Park cycle trips tend to kick off from one of the streets on the edge of the park, with 5th and 6th Avenues being popular spots.
The Manhattan and Brooklyn tours usually start at the Jacob Wrey Mould Fountain in City Hall Park or on 6th Avenue.
Finally, for the wine and farm cycling adventure, you will need to make your own way to Mattituck on North Fork. You can take a direct bus if you don't want to drive.
How long do bike tours in New York City last?
Most bike trips in New York City last around two hours, which is plenty of time to take in some of the major sights.
Some tours can last a full day, but with lots of sightseeing and lunch stops so you won't be spending the whole time in the saddle.
When is the best time for a bike tour in New York City?
New York City cycling tours operate throughout the day, so you can just pick a time that fits in with your schedule. If you want a quieter experience, opt for a morning excursion during the week.
Guided bike rides are a great way to get your bearings, so booking one at the start of your stay is always a good idea. That way you can scout out the sights and make a note of the places you fancy revisiting on foot later.
Travel tips
Bike tours in New York City are super popular, so make sure you book in advance to secure a place on your chosen trip.
Wear comfortable clothing that will allow you to move freely, as well as flat-soled shoes to help pump those pedals.
Most tours provide a bike basket so you can carry your belongings, but a small backpack or cross-body bag is advisable for storing your valuables.
Check if your operator provides water, and if not, make sure to take some — it's easy to get dehydrated while cycling in the sun!