Characterized by long sandy beaches and idyllic summer days, The Hamptons is a hotspot for affluent New Yorkers looking to escape the city grind. The charming towns and quaint villages offer curious visitors a wealth of experiences, from sightseeing to shopping.
A day trip to The Hamptons from New York City is a fun way to explore the wider area away from the crowds. Read on to find out more.
How to get to The Hamptons from New York City?
The Hamptons is a collection of coastal settlements on Long Island's South Fork. The area can easily be visited on a day tour from New York City.
From New York City to The Hamptons by car
Locals often enjoy a day trip from New York to The Hamptons by car, and you can too. It takes a couple of hours to cover the 90-mile stretch on the I-495, or slightly longer on the more scenic NY-27 route.
From New York City to The Hamptons by bus
You can reach The Hamptons by bus if you don't mind a journey that lasts 2.5 hours. There are hourly departures throughout the city during summer and booking ahead is advised to guarantee a seat.
Guided tour to The Hamptons from New York City
Cut out the hassle of public transport and self-drive with a guided day tour to the Hamptons from New York City.
You will be driven to some of the best sightseeing locations, with free time in each, before being returned to the city.
What is the typical itinerary of a day tour to The Hamptons from New York City?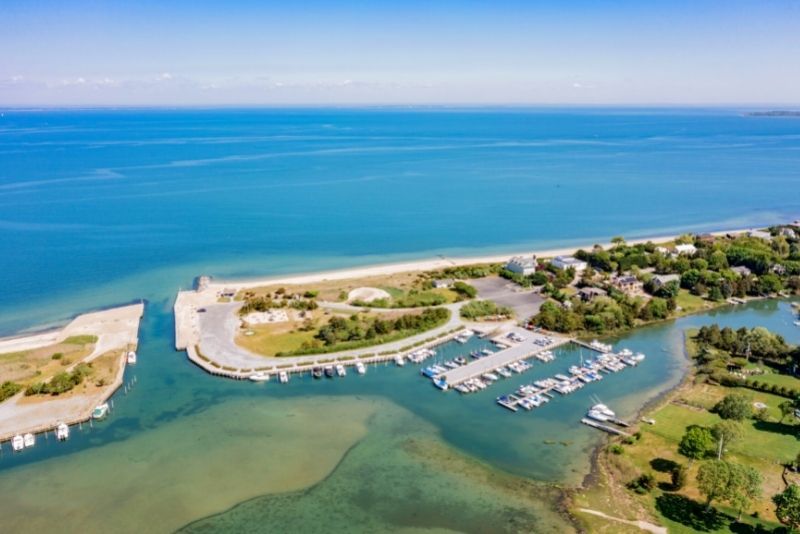 Most day trips to The Hamptons start with a pick-up from a pre-agreed meeting point in the city. Some tours offer hotel transfers too, so check the details carefully for clarification. Travel is by minivan or bus.
The journey to The Hamptons from New York will take around two hours – enjoy the rolling landscape views along the way.
You will stop at several coastal settlements during the day, with free time to explore each. Several tours also include visits to vineyards for wine tasting and trips to outlet stores for some retail therapy.
The driver will then return you to New York in time for dinner.
What kind of tours are available to go to The Hamptons?
There are several types of day trips to The Hamptons from New York City. Choose from shared tours and private excursions, with helicopter rides as an added bonus for the ultimate experience.
Guided day tour to The Hamptons from New York City
Small-group guided visits to The Hamptons are a fun and cost-effective way to explore. You will be sharing the transport, which is usually a 15-seat minivan or bus, but when you arrive at each destination, your time is your own.
Tours last a full day, with pick-ups from a designated meeting point in New York City.
Private tour to The Hamptons from New York City
Travel in style as you explore The Hamptons in the comfort of your own air-conditioned vehicle. Door-to-door transport is provided for a VIP experience.
You will have a personal driver-guide who can tailor your day tour to The Hamptons from New York according to your preferences.
Day trip to The Hamptons by helicopter from New York City
Up the luxury on your jaunt to The Hamptons with a round-trip private helicopter charter.
Be the envy of your friends as you arrive in celebrity fashion after a 45-minute flight. The shorter journey time gives you more time for sightseeing on the ground.
As a bonus, you'll be treated to a quick skyline tour of New York City on the return flight.
Private shuttle transfer from New York City to The Hamptons
For a stripped-back day trip to The Hamptons from New York, book a shuttle transfer and enjoy independent exploration time at your destination.
You'll be traveling to a location of your choosing in a sleek black car with your professional, suited driver. Hotel pick-ups are included to make your day run smoothly.
How much does a tour to The Hamptons from New York City cost?
Expect to pay $169 per person for a place on a shared day trip from New York to The Hamptons. This includes a tour guide, wine tasting, and outlet coupons.
Private excursions are $899 for up to six passengers, with hotel pick-ups, a guide, and a luxury vehicle provided.
For a helicopter day tour to The Hamptons from New York City, prices start at $5,800 for two passengers. This is just for the flight so ground transport is at an additional cost. Flights that include a gourmet beach picnic cost $11,900.
Private shuttle transfers from New York City to The Hamptons are $495 for three guests.
What will you see and do in The Hamptons?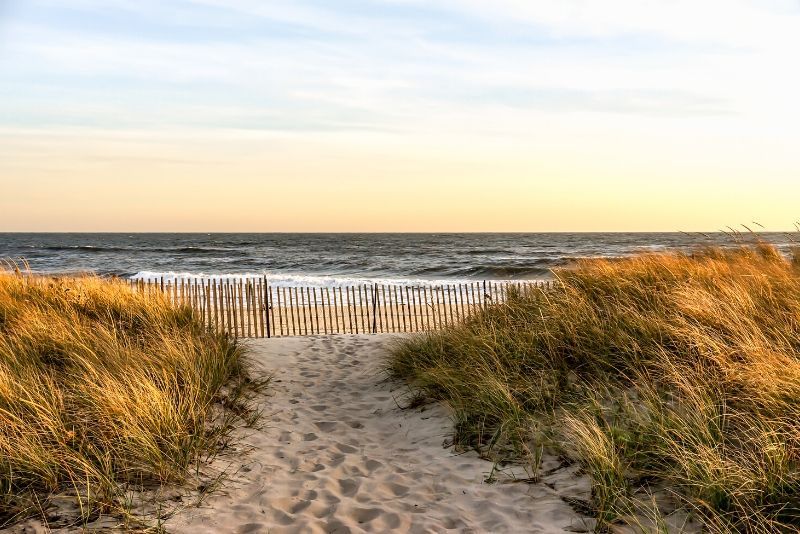 Cooper's Beach
This is one of the best beaches in The Hamptons and is often rated among the top sandy swathes in the United States! With a backdrop of mansions and nature, it's the place to go for that traditional Long Island beach vibe.
Despite its fame, Cooper's Beach remains quiet, offering moments of solitude for those who want to leave their footprints in the sand.
Coastal settlements
You'll visit affluent towns and charming seaside villages during your day trip from New York City to The Hamptons. Popular stops include the 300-year-old Sag Harbor which boasts a quaint historic center and a marina where flashy yachts bob around on the water.
Southampton is a trendy town, home to celebrities like Paris Hilton and David Letterman. The picturesque streets are lined with cute cafes and boutique stores, and there's plenty of historic appeal too. Stop at the Duck Walk Vineyard for wine tasting while you're there.
At the tip of Long Island, Montauk village is another highlight. Here you'll discover wild beaches, pounding Atlantic surf, and the famous lighthouse. It's a great spot for fresh seafood lunches too.
Historic windmills
During the 18th century, wind power was the main source of energy here, which is why several mills were built along the peninsula. You will see some of the historic wooden windmills as you drive along the coast.
Bag some bargains at one of the famous retail outlets in The Hamptons. Riverhead's Tanger Outlets is a favorite, with 132 brand name designer stores to discover.
When is the best time to visit The Hamptons?
To avoid the crowds, it's best to visit The Hamptons before Memorial Day or after the summer season has ended. Spring and fall are good times to explore, while the weather is still relatively mild, and the beaches are quieter.
It does get rather cold during winter, so this isn't the best time to come if the beach is your priority.
Travel tips
Reserve places for your day trip to The Hamptons from New York City ahead of your vacation as tours do sell out in peak season.
Take a wrap or lightweight jacket as there can be a bit of a sea breeze, even in summer.
Pack sunscreen and sunglasses to keep you protected from that strong midday sun.
Charge your camera batteries the night before so you're ready to snap away when you arrive.
Lunch is not usually included on day tours to The Hamptons but there are plenty of cafes and restaurants to enjoy while you are there.