Is there anything more romantic than the clip-clop of horse hooves trotting around Central Park, one of the most prized movie locations in the world? If you've ever wanted to feel like a film star, horse-drawn carriage tours in New York City are the way to go.
Sit back and relax as your chariot whisks you off past some of the Big Apple's top sights, with plenty of photo opportunities along the way.
What are the best horse-drawn carriage tours in New York City?
Most experiences take place in Central Park, as this is the ideal location for a sedate urban meander away from the traffic. Here are the main tours up for grabs:
Central Park horse-drawn carriage tour
Central Park is the place to go for the best horse-drawn carriage tours in New York City. After meeting your new equine companions and their driver at the edge of the park, it's time to climb aboard and get ready for seeing the sights in style.
You can journey as a group of friends or join other like-minded travelers waiting for a ride. There are usually four spaces in each carriage.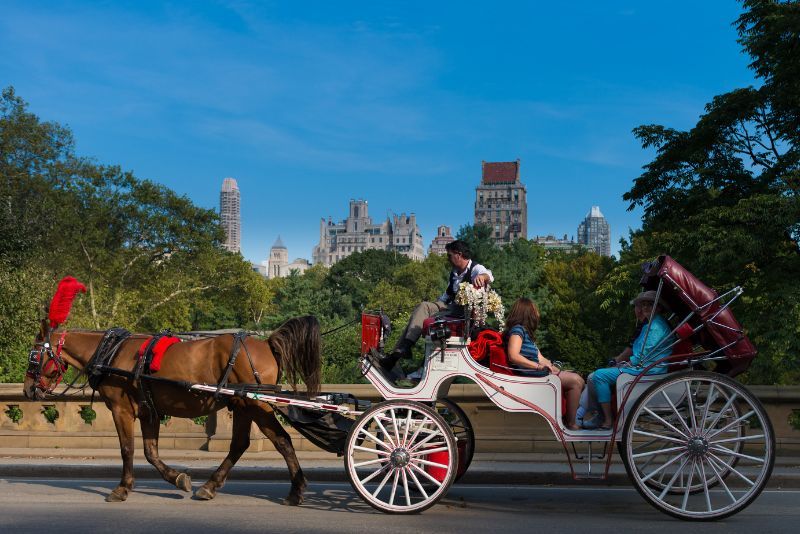 As your trusty steeds walk on, pulling you gently behind them, you can settle in and soak up the almost Victorian vibe. The carriage will travel on a loop around the park, passing historic landmarks and stopping at Bethesda Fountain for a closer look.
Highlights include Strawberry Fields, the John Lennon Imagine mosaic and the famous Angel of Waters sculpture. You'll also pass by the Dairy, where the youngsters of the city used to come for fresh milk.
The excursion finishes on a high by circling the fountain at Cherry Hill, following in the footsteps of wealthy 19th-century visitors who used the promenade to show off their opulent carriages.
After swinging by the Tavern on the Green and several eye-catching statues, your driver will return to the meeting point, so you can continue your adventures on foot.
Both daytime and evening New York horse-drawn carriage rides are available.
Central Park and Times Square carriage ride
If you want to venture beyond Central Park, this is the tour for you. These trips tend to take place in the evening so you can see all the sparkling city lights.
The adventure begins with a short ride around Central Park, ticking off some of the major sights. Then it continues along the iconic 5th Avenue towards the Rockefeller area.
Next up is Times Square, where you'll experience the festive atmosphere that descends as soon as dusk falls. Witnessing the energy, the bustle, and the illuminations of this cosmopolitan city is even sweeter from inside a glamorous carriage.
This is a great park-city combination tour, showing the best of both worlds without the hassle of having to walk, or navigate yourself!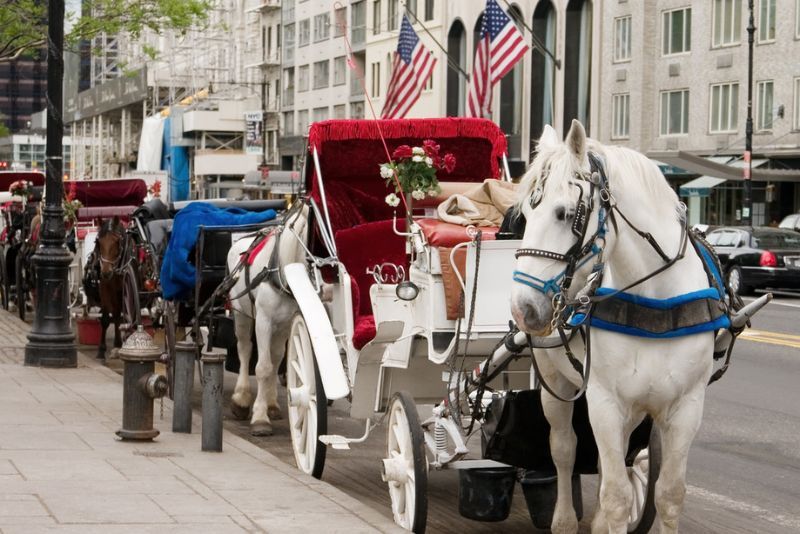 VIP horse carriage ride
For a more exclusive experience, choose a VIP New York horse carriage ride. You'll have the trip all to yourself, and if you take along three friends, the cost is very affordable.
This is the ultimate way to sightsee in New York, with comfortable seats in a lavishly decorated carriage making you feel like royalty.
Spend around 50 minutes riding through Central Park, with the driver giving live narration throughout the trip. All the major sights are included, as well as two scheduled photo stops at Bethesda Fountain and Cherry Hill.
Your tour finishes back where it started.
Christmas Lights horse-drawn carriage tour
If you're visiting in December, there is no better way to celebrate the festive season than with a carriage ride to see the dazzling Christmas lights.
The route is similar to the tours above, taking in Central Park, 5th Avenue, and the Rockefeller Center, which is home to one of the best Christmas light displays in the city.
The icing on the cake is seeing the splendid Christmas Tree at the Rockefeller Center decked out in all its glory.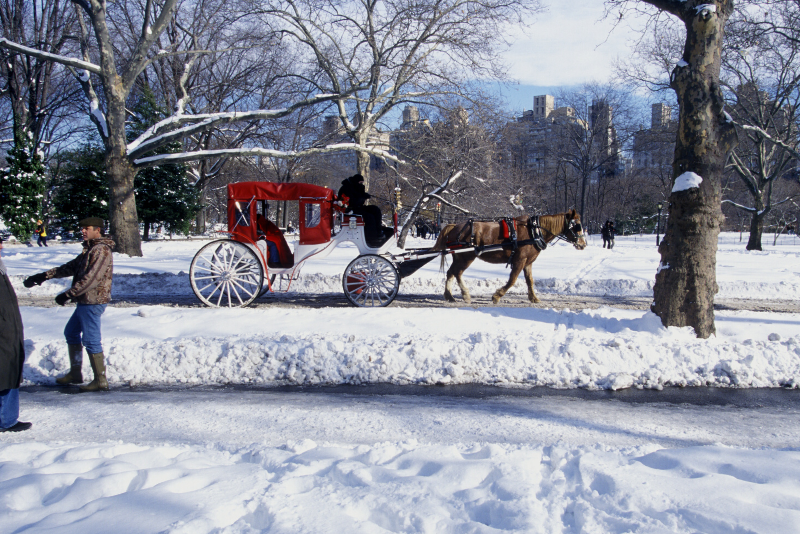 How much do horse-drawn carriage tours in New York City cost?
New York horse carriage tours are priced according to the length of the ride, and the locations visited.
45-minute horse-drawn carriage rides in New York that focus on Central Park start at $120 for four passengers. For a 20-minute trip, expect to pay $109 for a carriage.
The tours of Central Park, 5th Avenue, and Times Square cost $260 for a group of four.
For a private VIP horse carriage tour of Central Park, it costs $135 for four passengers.
Christmas horse-drawn carriage tours around Central Park and the Rockefeller Center are priced at $200 for four people. Blankets are included in the ticket.
What is included in a horse-drawn carriage tour in New York City?
All horse-drawn carriage tours in New York include a professional driver who is an expert at handling the animals. A couple of photo stops are normally offered along the way, and blankets are available on the chillier winter days.
Hotel pick-ups are not provided, so you will need to make your own way to the starting point.
Where do horse-drawn carriage tours in New York City start?
All horse carriage rides in New York begin in Central Square, so the starting point is easy to find. Just head to the corner of 59th Street and 6th Avenue in Central Park South and you'll see the carriages waiting beside the José Julián Martí Statue.
Your tour will finish in the same place it started.
How long do horse-drawn carriage tours in New York City last?
You can see a lot in a short space of time when the horse is doing all the hard work, so most rides last around 45 minutes.
If you're tight on time, choose a 20-minute New York horse-drawn carriage tour for some whistle-stop sightseeing around Central Park.
When is the best time for a horse-drawn carriage tour in New York City?
Horse-drawn carriage tours in New York City run all day, with most providers offering time slots between 10 AM and 11.30 PM. For a quieter experience, book a morning or late afternoon ride during the week.
New York is even more romantic at night, so for an extra sprinkling of fairy dust, opt for an evening tour and see the city illuminated against the dark sky.
What happens in case of bad weather?
If the heavens open and weather conditions are poor, then your horse-drawn carriage ride will be postponed. Operators will reschedule your tour for another day or give you a full refund.
We recommend organizing the trip at the start of your stay so there is time to try again when the weather is behaving itself.
Travel tips
Horse-drawn carriage tours in New York City are popular so make sure you book in advance to avoid missing out.
Take warm clothing outside of summer as it can sometimes be breezy in the open-air carriages. Blankets are often provided.
Photo stops are included on the tour so remember to take your camera.
Four people can usually fit into a carriage, so this is a fun outing for families as well as couples.