When visiting the buzzing metropolitan of New York City, there is a long list of exciting attractions and iconic landmarks that you could visit during your stay—so much so that creating an itinerary can often be overwhelming.
Located in the Financial District of Lower Manhattan, the World Trade Center is best known for the tragedy of 9/11. Since then, the area has been reconstructed and is now a flourishing mixed-use neighborhood.
Today, World Trade Center tours in New York City provide insight into the events of September 11, 2001. As you explore the area with a professional guide, you'll learn more about the heroes who risked their lives, as well as insightful facts that you may not have heard before.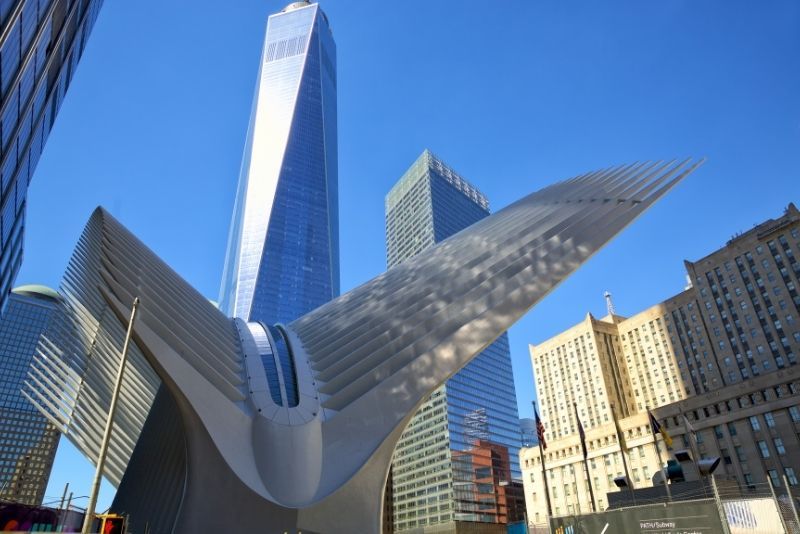 Here's all you need to know about the World Trade Center, one of the most striking attractions in New York City.
What are the best World Trade Center tours in New York City?
World Trade Center and Ground Zero walking tour
Join this small-group walking tour, limited to a maximum of 25 participants, that shows you around the main 9/11-related landmarks of Lower Manhattan—including Ground Zero, the 9/11 Memorial Plaza, One World Trade Center and the Oculus among others.
Your knowledgeable guide will lead the way and provide you with information and stories about the day that shook the world, some of which you may not have heard before. One of the best things about this walking tour is that a portion of the proceeds go to a non-profit organization.
Extra large visuals are used to add extra value and impact to the tour, ensuring that you walk away from the excursion with a better understanding of the area and its past events than you did before.
World Trade Center Tour with 9/11 Museum & Observatory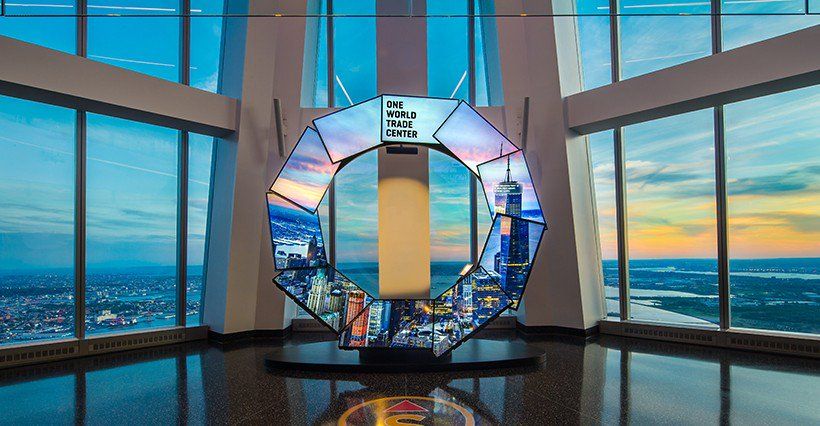 Visit the One World Observatory, which offers unbeatable views of Lower Manhattan and enjoy skip-the-line tickets for the 9/11 Memorial Museum when you choose this fully comprehensive half-day NYC walking tour.
As the tour is limited to 15 participants per excursion, you'll have plenty of opportunities to chat with your guide and ask them questions. You'll learn more about the events of 9/11 and the reconstruction of the area that took place after 2001.
This tour ensures that you don't miss a thing, and is perfect for those who are interested in the events of 9/11 and want to make the most of their time in Lower Manhattan.
World Trade Center photographic tour
In addition to being an area of historical importance, the World Trade Center also offers a plethora of photographic opportunities. By joining a photographic World Trade Center tour, you get to learn more about this important location while taking incredible photos.
The tour is led by a talented local photographer who is eager to show you around and provide you with useful tips and tricks. Discover parts of Lower Manhattan that you may not have even heard about before and get top-quality photos of iconic local landmarks.
This tour is limited to just 6 participants, allowing you to receive personal instruction from the tour guide and providing you with the opportunity to expand your architectural photography skills in one of New York City's most picturesque neighborhoods.
Wall Street walking tour through the World Trade Center
Wall Street and the World Trade Center have a fascinating past when it comes to finance and politics. Learn more about the integral role that this area has played in the world's economy over the years.
Your knowledgeable guide will provide you with fast, memorable facts as you make your way through the iconic suburb of Lower Manhattan. You'll discuss financial crises, the tragedy of 9/11 and a few innovators within the industry.
This is the perfect excursion for those interested in finance, politics and history.
Which places are visited?
The World Trade Center in New York City is a vibrant mixed-use neighborhood that is filled with exciting things to see and do.
While each World Trade Center tour is slightly different, many of them visit the same places, including the World Trade Center Memorial Complex and other nearby attractions, such as Battery Park City, the Oculus, Brookfield Place and many others.
Only a few World Trade Center tours in New York City take you to the 9/11 Memorial Museum and the One World Observatory, as tickets to these attractions are usually quite expensive. In some cases, you'll simply view the museum from the outside in passing.
How much do World Trade Center tours in New York City cost?
Basic World Trade Center tours typically cost around US$35 per person for a 2-hour experience that visits all the major 9/11-related monuments. Wall Street walking tours that take place in the World Trade Center area cost around US$40 per person.
More comprehensive World Trade Center tours, which last 5 hours and include tickets to the One World Observatory and 9/11 Museum, cost US$130 per person for this half-day experience.
Photographic tours of the World Trade Center cost roughly US$125 per person and are led by a professional photographer, who provides you with tips and advice along the way.
What is included?
When you book a World Trade Center tour in New York City, all the entry fees to the places you'll visit during the excursion are included in the cost of the tour.
Lunch, drinks and other personal expenses are not typically included, so be sure to bring some extra spending money along with you. Gratuities are not included in the cost of your tour, but are welcomed and appreciated, so feel free to tip your guide.
Where does it start?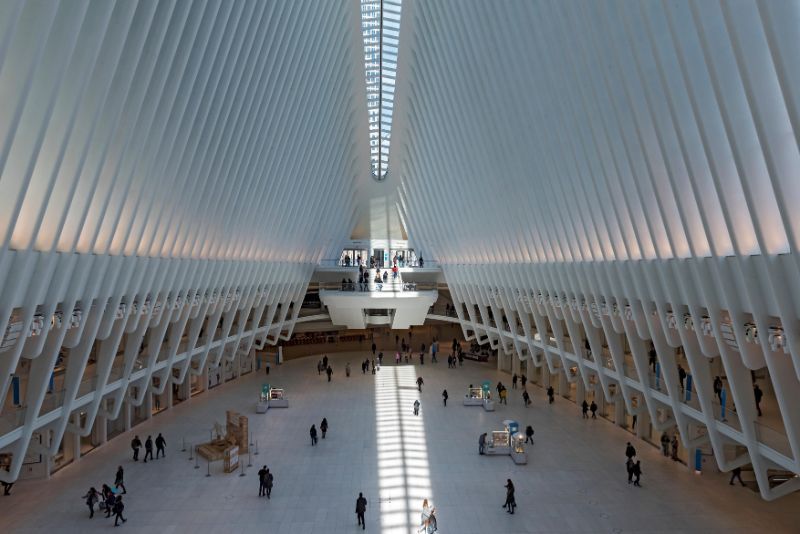 World Trade Center tours in New York City typically begin at easy-to-find locations near the former trade center, including the Starbucks at the 9/11 Memorial Monument, Museum of the American Indian and Silverstein Family Park.
Certain tour operators may offer a hotel pickup service, usually for an additional cost.
How long does it last?
The typical duration of a World Trade Center tour in New York City is 2 to 2.5 hours. With that being said, a more in-depth World Trade Center excursion, lasting 5 hours, is also available for those looking for a more comprehensive experience.
Is it wheelchair friendly?
All World Trade Center tours in New York City are designed to be wheelchair-friendly. Whether you choose a photographic tour or a walking tour, you can rest assured that all locations on the tour's itinerary will be wheelchair-accessible.
When is the best time for a World Trade Center tour in New York City?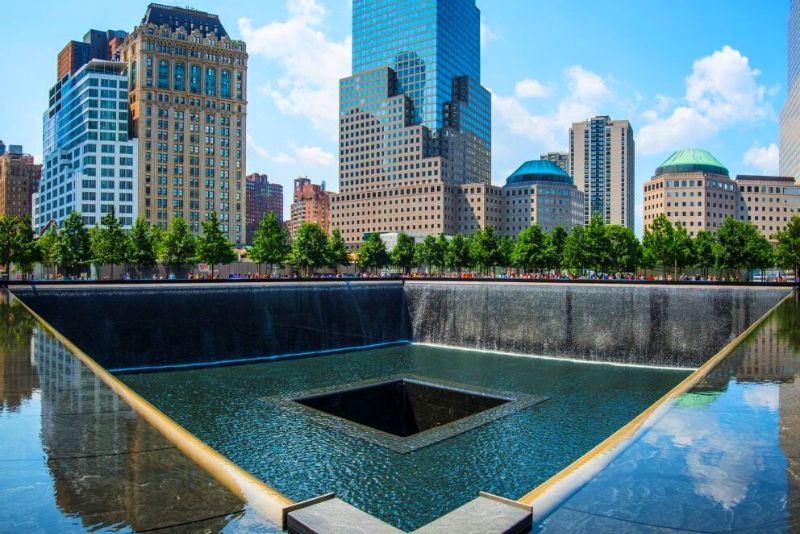 The best time to tour the World Trade Center in New York City is during weekday mornings, ideally soon after it opens. This time tends to be less crowded, providing a more intimate experience. The One World Observatory offers stunning views any time of day, with sunset providing particularly breathtaking cityscapes.
If you plan on exploring more of the city's iconic landmarks, consider visiting NYC during spring or fall, when the weather is generally milder.
Travel tips
To avoid long lines and to ensure you get the desired time slot, especially for the One World Observatory, buy your tickets online in advance.
The World Trade Center has security checks, so be prepared. Avoid bringing large bags or any prohibited items to expedite the process.
There is a lot to see at the World Trade Center and you'll likely be doing a lot of walking, so wear comfortable shoes.
Given the heavy traffic and expensive parking, it's easier to use public transport. It is relatively straightforward to reach the World Trade Center by subway and bus.