Famously used as the backdrop for the movie "Night at the Museum," this New York icon is a must-see for nature lovers and budding explorers. Discover everything from dinosaurs to dung beetles, and learn about the evolution of our incredible planet along the way.
You can find out about the different Museum of Natural History tickets available below, so you can plan your day.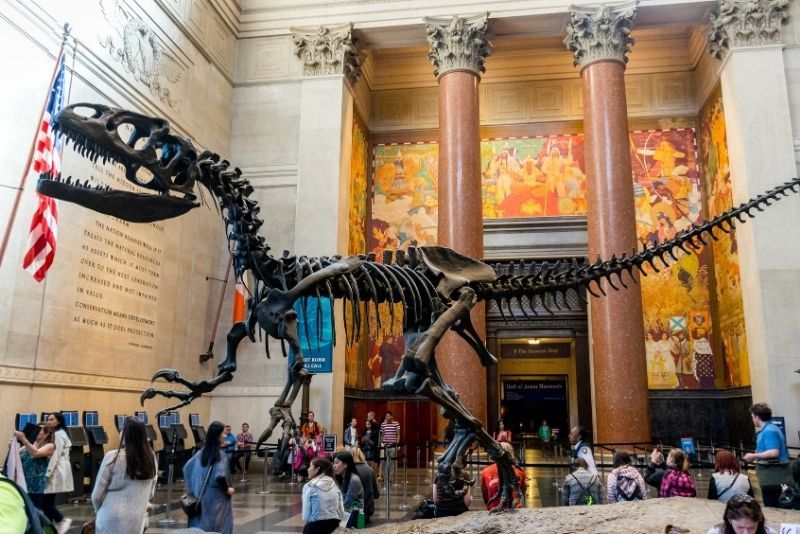 How much do Museum of Natural History tickets cost?
You have several options when it comes to Museum of Natural History entry, depending on whether you want to visit the special exhibitions.
General Admission
The standard Museum of Natural History entrance fee includes admission to the permanent collection halls only.
Adult: $23
Senior (60+ years): $18
Student: $18
Child (3 - 12 years): $13
Infant (under 3 years): Free
General Admission + 1
If you want to visit one of the special exhibitions, choose this option. This Museum of Natural History rate includes entry to a single exhibition or film, as well as the main galleries.
Adult: $28
Senior (60+ years): $22.50
Student: $22.50
Child (3 - 12 years): $16.50
Infant (under 3 years): Free
General Admission + All
For access to all special exhibitions, films and the permanent collection, the Museum of Natural History tickets price is as follows:
Adult: $33
Senior (60+ years): $27
Student: $27
Child (3 - 12 years): $20
Infant (under 3 years): Free
Who is eligible for discounts?
Seniors and students receive a discount of $5 for standard entry.
A pay-what-you-wish scheme is in operation for residents of New York, New Jersey and Connecticut. This only applies to general admission tickets.
Museum of Natural History entry fees are waived for members of the military and one guest. Caregivers and Cool Culture Pass holders can also enter for free.
The New York City Pass includes general admission to the museum, as well as plenty of other attractions across the city.
What are the best Museum of Natural History tours?
Taking a Museum of Natural History guided tour really helps you make the most of your visit. An expert local guide will accompany you and show you all the highlights, as well as a few hidden gems you'd have probably missed if you were by yourself.
Group tours: Shared with like-minded visitors, these Museum of Natural History tours are easy-going and informative. Group sizes are kept small so you can move freely through the galleries.
Private tours: The ultimate way to visit the American Museum of Natural History is on a private tour with your own exclusive guide. Visits can be tailored to your interests to ensure that you visit all the sections that particularly appeal. This is a good option for families with young children, as the guide will take you to all the most engaging exhibits.
Combo tours: To see a lot in a short space of time, these combination tours tick all the boxes. You can explore the options below.
Are there any combined tickets or tours including the Museum of Natural History and other attractions?
If you're only in New York City for a day or two, booking a combination tour can save you both time and money when it comes to sightseeing. This way you can visit multiple attractions without it costing an arm and a leg.
Museum of Natural History tickets plus Met Museum entry: Meet the dinosaurs in the Natural History Museum, then head to the Metropolitan Museum of Art to admire contemporary masterpieces.
Is it possible to visit the Museum of Natural History for free?
Yes. If you visit the museum during the last hour of opening between 4:30 PM - 5:30 PM, then you can enter for free.
Should you book Museum of Natural History tickets in advance?
Absolutely! It's always advisable to book your Museum of Natural History tickets well ahead of your visit because the best time slots can sell out. By doing this, you can search for the cheapest deals online and choose a time and date that fits into your schedule.
Skip the line tickets can also be purchased for those who don't fancy queueing.
What will you see inside the Museum of Natural History?
Founded in 1869, the New York Museum of Natural History is one of the world's top institutions for scientific research. There are 45 permanent exhibition halls, as well as several temporary displays. Entry to the main collection areas is included in your Museum of Natural History ticket.
Here are some of the things to look out for.
Permanent Collections
Have you ever met a Titanosaur or stood in the shadow of a blue whale? Discover these intriguing creatures and a whole menagerie of nature's icons, as well as some rather unusual specimens you may never have heard of. Dimetrodon anyone?
Yet it's not all about the animals. There's also a cast of an Easter Island moai (stone statues of human figures), a hall filled with rubies and sapphires, and even a meteorite to admire.
Hayden Planetarium Space Show
This state-of-the-art theater takes you on a journey through the solar system, traveling through space and time to discover new galaxies. You'll leave a little starry-eyed after exploring this astronomical universe.
Special Exhibitions
There are several special exhibitions throughout the year. These are constantly changing, so check the website for the latest details. The themes are varied, with everything from sharks and migratory birds to diamonds and space featuring as central subjects.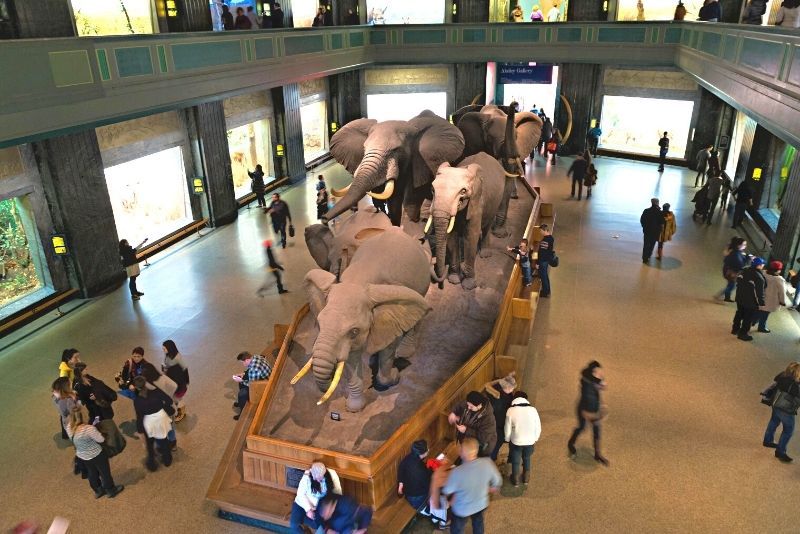 How to get to the Museum of Natural History?
The Museum of Natural History enjoys an enviable location in the heart of Manhattan. Entry is from Central Park West on 79th Street.
There is a subway station nearby at 81st Street, which is served by the B and C lines. The M79 bus also stops right outside the museum.
Parking is available onsite if you are traveling by car. This costs $29 for up to two hours.
When is the best time to visit the Museum of Natural History?
Come during the week for a quieter experience and try to time your Museum of Natural History visit for early morning or late afternoon to avoid the rush. It's one of the most popular attractions in the city and does get busy at peak times.
The museum is open Wednesday to Sunday from 10 AM - 5:30 PM.
Which other museums can be visited in New York City?
Travel tips
For timed ticket entry, visitors are asked to arrive within 30 minutes of their allocated slot.
Book your Museum of Natural History tickets online, so you can compare prices and search for the best deals.
Photography is allowed inside the museum, but filming and selfie sticks are not.
Download the free Explorer App for maps, directions and information about the exhibits.
Don't forget your ID if you are eligible for a discounted ticket.
Wear comfortable footwear, as you'll cover quite a distance walking around all the galleries.