Affectionately known as MoMA, the New York Museum of Modern Art is a feast for the eyes. This influential collection challenges the mind and shines a spotlight on contemporary creativity. Your Museum of Modern Art tickets give you access to the vast galleries of paintings, sculptures and designs gathered from around the world.
Highlights include Monet's "Water Lilies" and Van Gogh's "Starry Night" with performance art and film stills adding a modern edge to the exhibitions.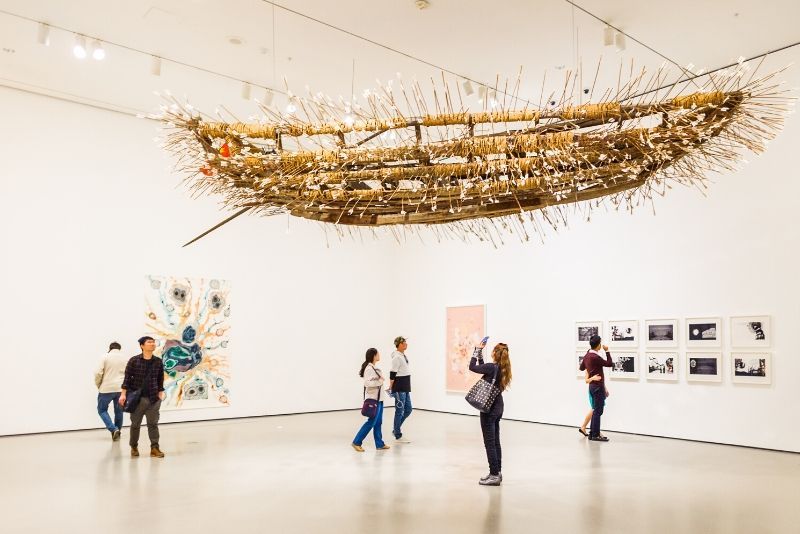 How much do Museum of Modern Art tickets cost?
Visiting the MoMA is a fun way to spend a few hours in New York and won't break the bank. There are two facilities you can explore, the main museum in Manhattan, and the smaller site in Queens.
Manhattan MoMA site
The Museum of Modern Art tickets price for the main building is split into different categories:
Adult: $25
Senior (65+ years): $18
Visitors with disabilities: $18
Student: $14
Child (16 years and under): Free
Access to all the galleries and special exhibitions is included in the Museum of Modern Art rate. Entry to events and film screenings is available for an additional fee, which varies according to what's on.
Queens PS1 site
For entry to the Museum of Modern Art branch in Queens, admission is as follows:
Adult: $10
Senior (65+ years): $5
Student: $5
Child (16 years and under): Free
These Museum of Modern Art tickets include entry to all the galleries and special exhibitions in this building.
Who is eligible for discounts?
Senior visitors and those with disabilities receive a $7 discount on the standard Museum of Modern Art entrance fee. Caregivers accompanying a disabled visitor can enter for free. Meanwhile, full-time students are eligible for a discount of $11 with valid ID.
Check out the NYC attractions passes. Holders of the New York City Pass, the Go City New York Pass and the New York Pass also receive discounted entry to the museum.
What are the best Museum of Modern Art tours?
To help you make the most of your visit, taking a Museum of Modern Art guided tour is a fun and informative way to experience this New York institution. There are a couple of different types of tours available.
Private tours: These exclusive Museum of Modern Art tours can be tailored to your interests to make sure you visit the collections that most appeal to you. This is a particularly good option for families who want to keep younger children entertained and engaged. Fast-track tickets are often included so you can skip the line and avoid the queues. Private tours generally last a couple of hours.
Combo tours: Taking a combination tour is the perfect way to see a lot even though time may be tight. Check out the different options below.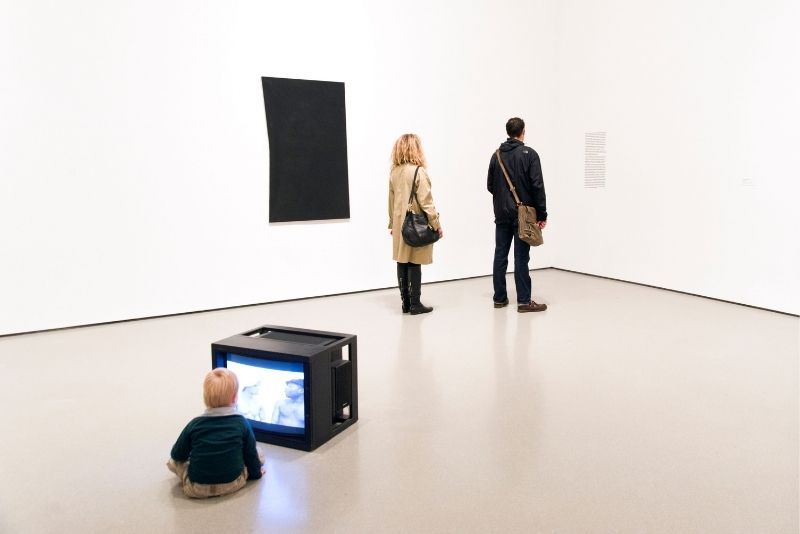 Are there any combined tickets or tours including the Museum of Modern Art and other attractions?
Want to see as much of New York as you can in a short space of time? Buying a combination ticket is a great way to pack in the sights while saving money too, particularly if you only have a couple of days in the city.
Is it possible to visit the Museum of Modern Art for free?
Residents of New York City can enjoy complimentary Museum of Modern Art entry on the first Friday evening of each month between 4 PM - 8 PM.
Children under 16 years and active members of the military and their families can also enter for free.
Should you book Museum of Modern Art tickets in advance?
If you want guaranteed entry at the time of your choosing, then yes, booking your Museum of Modern Art tickets in advance is essential.
By reserving ahead, you will be able to select your preferred time slot to avoid the crowds and get ahead of the game before tickets sell out.
What will you see inside the Museum of Modern Art?
The Museum of Modern Art in New York boasts one of the best collections of contemporary art in the world. Home to masterpieces by the likes of Pablo Picasso, Paul Cézanne and Henri Rousseau, the museum is a must for art lovers of all ages.
Your Museum of Modern Art ticket gives you access to over 150,000 works, so it can feel overwhelming knowing which ones to see. The collections have been categorized by age, to help you find your way to the pieces you particularly want to visit. You'll find the older art towards the top of the building.
Here are some of the unmissable highlights in each gallery:
1880s - 1940s gallery: This floor features well-known artists like Frida Kahlo, Salvador Dali and Gustav Klimt. If you only see two paintings in the museum, make sure they are Van Gogh's famous "Starry Night" and Monet's iconic "Water Lilies."
1940s - 1970s gallery: Here you'll discover everything from action paintings by Jackson Pollock to pop art by Roy Lichtenstein, and abstract creations by Henri Matisse.
1970s onwards gallery: This is where you'll find the more modern pieces, including the "Pink Panther" sculpture by Jeff Koons.
Over in Queens, the MoMA PS1 site is home to experimental contemporary art and work by emerging artists.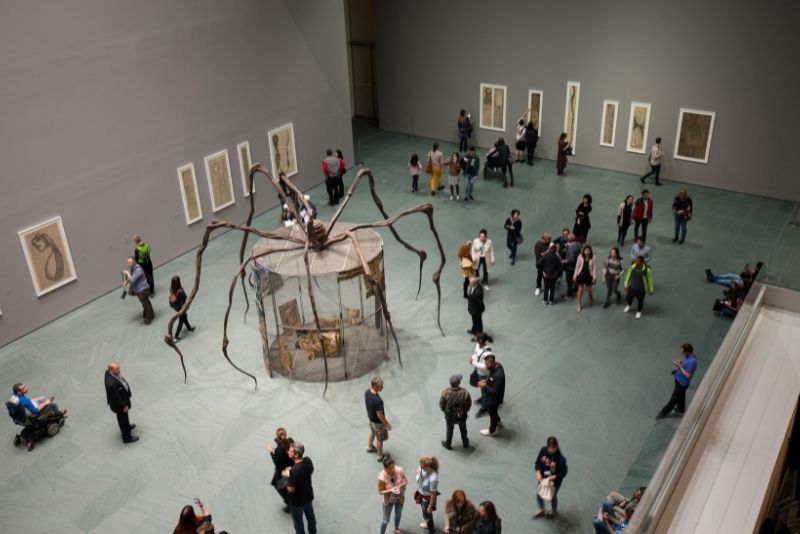 How to get to the Museum of Modern Art?
Located on 53rd street between 5th and 6th Avenues in Midtown Manhattan, the main Museum of Modern Art is easy to reach. The closest subway station is on 5th Avenue. Just use lines E or M, and it's then a 5-minute walk to the museum. The M1 - M5 buses also stop nearby on 5th Avenue.
There is a second, smaller venue in Long Island City, Queens. This is located on 33rd Street and can be accessed using the No. 7 local train.
When is the best time to visit the Museum of Modern Art?
You can enjoy a Museum of Modern Art visit every day of the week. Opening times are 10:30 AM - 5:30 PM on Sunday - Friday, with a later closing time of 7 PM on Saturdays.
To escape the rush (it's a popular place!), try and get there at opening time, or come in the early evening. Weekdays are usually quieter than weekends too.
Note that Monday mornings between 10:30 AM - 1 PM are for members only.
Which other museums can be visited in New York City?
Travel tips
Download the digital map from the MoMA website to help you navigate around the collections — it's a huge building!
Book your Museum of Modern Art tickets online in advance for the best deals and to bag the top time slots.
You can take non-flash photos for personal use, but tripods and selfie sticks are not permitted in the galleries.
Don't forget to bring your ID card if it's required for discounted ticket validation.
There are special programs and events throughout the year, so check the schedule to see what's on during your visit.