Soho and Little Italy are some of New York's most iconic neighborhoods, where high-end boutiques, enthralling pop-up shops, Italian specialties, and vibrant splashes of street art await.
A multi-cultural vibe is a buzzword for these neighborhoods, where local creatives and migrants of Italian descent merge to call these districts home. The best way to discover Little Italy is through its food, which is world-famous for its delicious pasta dishes.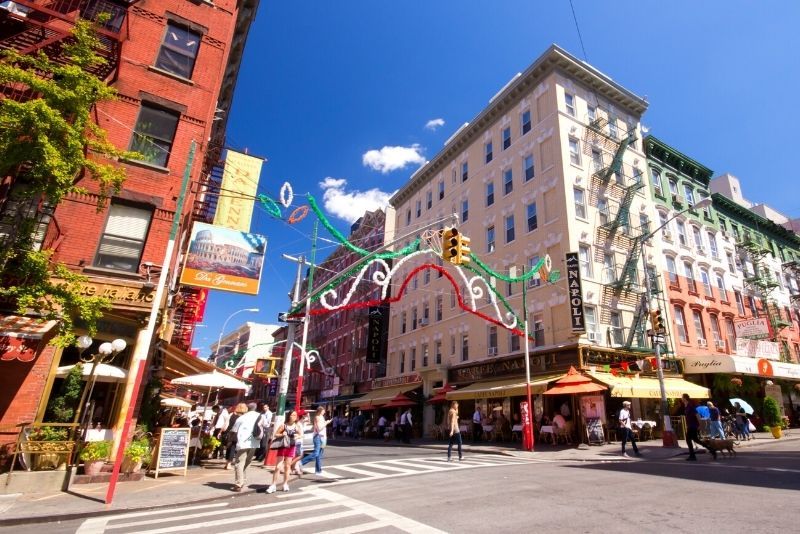 Shopping and thriving bars are also kings in these districts so make sure to stick around after your Soho and Little Italy tour, one of the best places for sightseeing in New York.
Where are Soho and Little Italy located?
You'll find Soho and Little Italy in the heart of Lower Manhattan in New York City, bordering Chinatown to the south.
It's easy to get to Soho and Little Italy from anywhere in New York City via public transportation. For reference, Soho is just a 5-minute drive from Washington Square park, whereas Little Italy is around an 11-minute drive from the park.
The best way to experience Soho and Little Italy is with a knowledgeable, local guide who will tell you the secrets of these multi-cultural districts, as well as show you hidden gems that often fall under the tourist radar.
What are the best things to do in Soho and Little Italy?
Home to a large, blossoming Italian community, a visit to Little Italy will make you feel like you've stepped straight into Europe. Upmarket Soho on the other hand is famed for being home to a pool of local artists who have created a classy, fashionable ambiance that visitors love experiencing.
Here are some highlights you shouldn't miss while in town:
Grab a souvenir in Soho
Soho is one of New York's most eclectic shopping jaunts, offering everything from designer stores to unique, trendy boutiques to bargain shops and stores just for kids.
If you plan your tour on the weekend, you'll find vendors on Prince Street and West Broadway tooting a number of interesting items, including art books, jewelry, paintings, and much more.
Sample the Italian food in Little Italy
Forget the one-dollar New Yorker pizza slice, Little Italy is where to go for authentic Italian-American flavors. The food scene in this district is world-famous, where you can expect to savor delicious pizzas, prosciutto, massive stuffed sandwiches, pastries, and cheeses.
You can also learn about this vibrant neighborhood's rich culture and history on a food tour in Little Italy.
Visit some famous Hollywood film locations
On a number of guided tours, you'll be able to experience the real personality of Soho and Little Italy as you visit destinations where some of the world's most famous Hollywood movies were filmed.
In Soho, you can marvel at the film set of Ghostbusters, whereas in Little Italy you can step into the Godfather and Donnie Brasco as you discover this district's rich Italian heritage.
Watch the locals play xinagui in Chinatown
Xinagui, otherwise known as Chinese chess, is one of the most popular board games in China and a favorite pass time for locals of Chinatown – it's fun to watch as the players challenge their opponents.
On a visit to the district, you're bound to see its inhabitants practice their xinagui skills at Colombus park, which is a popular social hangout spot for New Yorkers.
What are the best tours to take in Soho and Little Italy?
The majority of tours in Soho and Little Italy center on sightseeing, food, and culture. With so much to see and do in these districts, you'll want to return again and again. Food lovers will love tasting all of the diverse culinary delicacies on offer, while culture fans will enjoy learning all about the rich heritage of these eclectic neighborhoods.
Chinatown and Little Italy food fest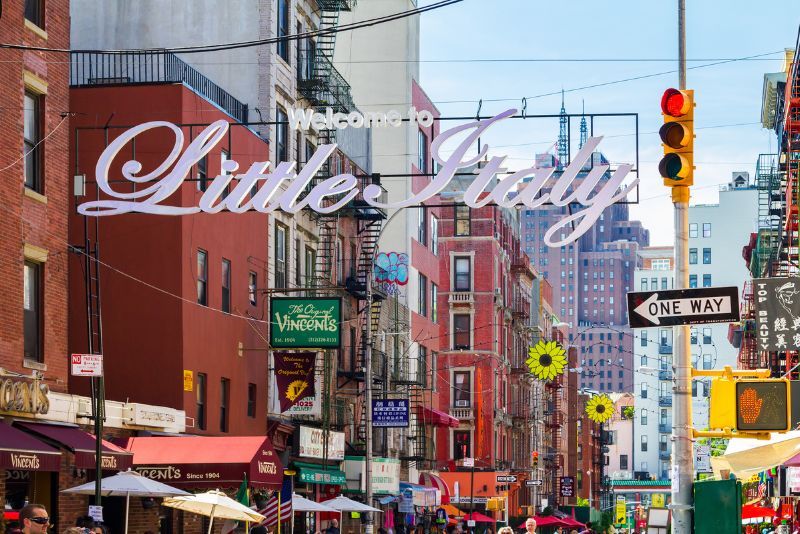 This three-hour organized tour offers the perfect introduction to Chinatown and Little Italy through the districts' traditional food. You can expect to venture off the beaten track as you explore hidden jaunts that only the locals know about.
Try to embark on this experience with an empty stomach - tasty, homemade mozzarella and dim sum are just some of the delicacies you'll try on your visit.
Soho, Little Italy, and Chinatown guided walk
If you fancy immersing yourself in some sightseeing of Soho, Little Italy, and Chinatown then this is the walking tour for you.
Your knowledgeable guide will tell you tales of how New York City became the melting pot of cultures it is today as you visit and admire popular architectural sights and touristic jaunts, including "hole-in-the-wall" favorites and trendy shops. Tours of this nature are also available in French.
Tribeca and Soho music and arts guided walking tour
Wander along the cobblestone streets of these hip neighborhoods for an immersive tour of the area's music and arts scene.
Your expert local guide will show you sites that are often overlooked by most tourists and tell you tales about the district's rich musical and arts culture. You'll visit the most photographed street in New York, as well as the famous Ghostbusters headquarters, among others.
Private tour of Soho, Little Italy and Chinatown
Want to explore some of New York's most multi-cultural enclaves with your own personal guide and gain an in-depth understanding of each district's history, culture, and landmarks? Then a private tour of Soho, Little Italy and Chinatown is the way to go.
Your knowledgeable guide will share anecdotes about each neighborhood, and you'll have the chance to try some of the local cuisines at your own expense.
What are the prices of Soho and Little Italy tours?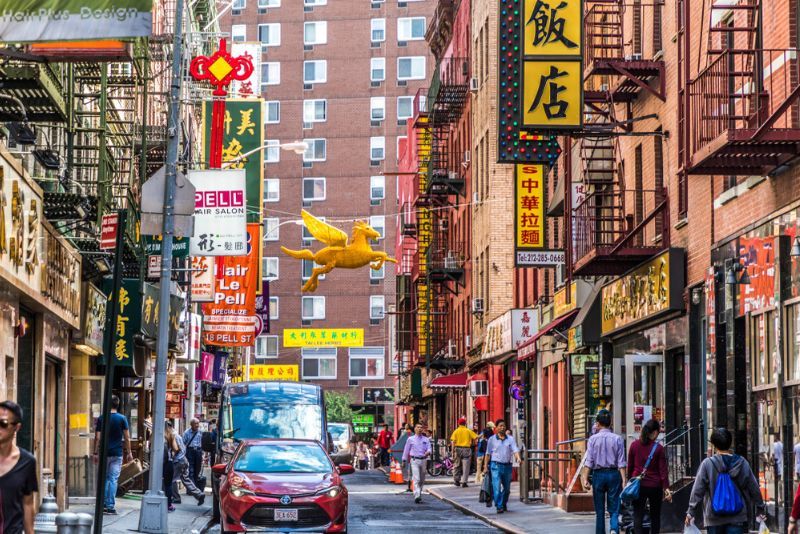 The prices for Soho and Little Italy vary depending on the type of excursion you choose and the duration of your tour.
The Chinatown and Little Italy food fest costs US$125 per person, and food tasting and an expert guide are included.
Soho, Little Italy, and Chinatown guided walking tours start at around US$35 per person and include a 2-hour walking tour and a knowledgeable local guide.
The Tribeca and Soho music and arts guided walking tour costs US$30 per person and comes with a local guide and an assortment of information about each site on the itinerary.
Private tours of Soho, Little Italy and Chinatown start at US$85 per person for around a 2-hour tour and include a private guided tour and the opportunity for food tastings at an added price.
Where do Soho and Little Italy tours start?
Soho and Little Italy guided tours usually begin at a central meeting point in Lower Manhattan. Many tours begin at Duarte Square. However, a number of tours also start on 6th Avenue. It's best to check the specific tour you have booked beforehand.
When is the best time to visit Soho and Little Italy?
Soho and Little Italy are popular destinations to visit year-round, however, if you want to escape some of the peak season crowds then it's best to book a tour during the spring and autumn seasons. At these times of the year is also when the weather is typically fair and pleasant.
Travel tips
Make sure to wear comfortable shoes for strolling along the area's cobblestone streets.
Bring some cash with you for souvenir shopping and food tastings.
If you choose to visit Soho and Little Italy during the summer months, wearing sunscreen and a hat are recommended.