The legendary borough of Chinatown is known for its lip-smacking food and undeniable energy, but it has decades of tumultuous history preceding its modern-day "hip" allure. Immigrants settled in the dangerous streets of Downtown Manhattan, trying to start new lives during the industrialization of America.
Through the years, the neighborhood has gone from strength to strength and held on to its traditional roots. Tens of thousands of Chinese people still live in Manhattan's Chinatown where they work to keep their culture alive and thriving. Here are a few ways to  experience the bustling nature of Chinatown for yourself.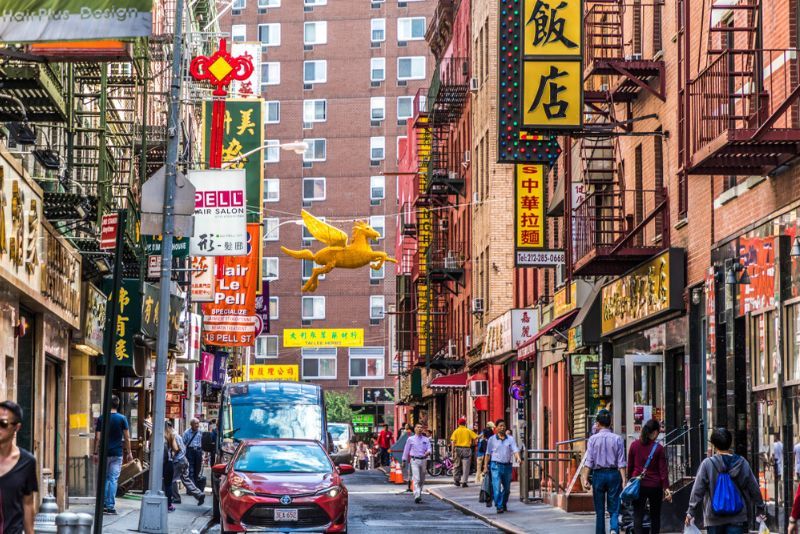 You will find below all you need to know about Chinatown, one of the best destinations for sightseeing tours in New York City.
Where is Chinatown located?
You will find the largest concentration of Chinese people in the western hemisphere on the island of Manhattan. Chinatown is part of Lower Manhattan and is bordered by Little Italy, Tribeca, the Civic Center and the Lower East Side.
Grand street station is the best subway station for Chinatown, and you can get there on the B and D trains. Several city buses  also pass through the neighborhood, with the M9, M15, and M103 routes being the most popular. You can also reach Chinatown from Brooklyn if you cross the Manhattan Bridge or walk a few blocks from the exit of the Brooklyn Bridge.
What are the best things to do in Chinatown?
Eat your way through Chinatown
Indulging in Chinese cuisine is one of the biggest reasons people flock to Chinatown. Whether you want to slurp up some hand-pulled noodles or eat your bodyweight in dim sum, Chinatown is the place for culinary celebration.
Restaurants serving crispy Peking duck or spicy Szechuan dishes spill out onto the streets, and visitors can also experiment with other Asian foods. Pho from Vietnam, Nasi Lemak from Malaysia, Ramen from Japan, Chinatown has it all! Top it all off with a scoop from the Chinatown Ice Cream Factory, and you have a winning menu.
Visit the Mahayana Buddhist temple
Pay a visit to the oldest Buddhist temple on America's east coast. The temple is open all week, and on weekends you will find thousands of Buddhists worshipping at the temple. You can admire the massive 16-foot golden Buddha statue, which also happens to be the largest one in the city.
Inside you will also see elaborate printing works that depict the life of Buddha, and there are many spaces where visitors can pay tribute to their deceased relatives.
Stroll Down Doyer Street
This street has quite a grim reputation and is also known as The Bloody Angle. It is only around 200 yards long but this L-shaped alley is one of the bloodiest in American history. More than a century ago, it was the site of ongoing gang violence and turf wars, but today it is a far cry from its violent past.
Stroll down Doyer Street and learn about the intriguing history of the neighborhood. The street is increasingly photogenic, with charming angles and a vibrant atmosphere. In the summer, it is a pedestrian street, and visitors can walk around the once bloody corner to now be met with some of the most popular eateries in the neighborhood.
What are the best tours to visit Chinatown?
Chinatown, Little Italy and SoHo walking tour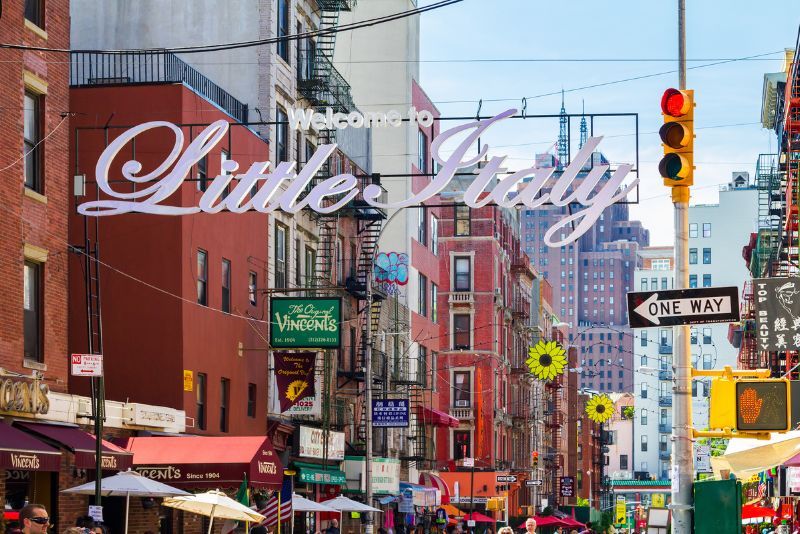 A walking tour of Chinatown, Little Italy and SoHo will take you on a journey through three of New York's most beloved neighborhoods. From trendy streets to traditional eateries, these neighboring boroughs are a must-see on any New York visit. SoHo is known for its upscale feel and cast-iron buildings creating a classic Big Apple façade.
From there, you will venture into traditional neighborhoods with large immigrant populations. Hear stories about how these diasporas came to be and see how cultures across the globe have curated these unique and beloved corners of the city.
Chinatown and Little Italy food tour
Food tour is the main attraction of Chinatown and Little Italy, so why not combine that with a fascinating walking tour? Venture into the streets of both these boroughs and learn about the intriguing history that has unfolded here over the centuries.
Along the way, you will savor various delicious traditional treats like dumplings, cheese, cakes and pizza. Your expert local guide can take you to all the hidden treasures, including scenic photography spots and restaurants that have been operating for more than a century.
Chinatown photography safari
Get behind the lens and capture the sights and colors of Chinatown. Venture into the street art with a professional photographer and guide to capture the vibrant essence of the area.
You will see hawkers with mountains of fruit, gritty graffiti, immigrant-era building, street musicians, and remnants of the industrialization of New York. These elements are all gold to street photographers and you will enjoy a masterclass on capturing these features.
What are the prices of Chinatown tours?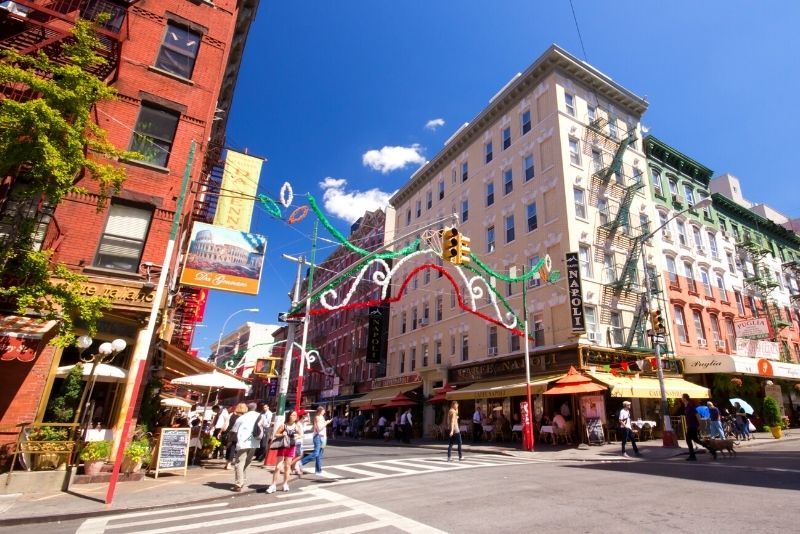 Walking tours of Chinatown include visits to Little Italy and SoHo. These tours run between US$40 and US$50 per person, with more expensive tours having smaller group sizes. Private tours of Chinatown and surrounding areas are around US$80.
A food tour of Chinatown and Little Italy costs around US$70 and includes a selection of delectable snacks and dishes along the way. The more expensive food tour of Chinatown is US$125 per person, but it also includes alcoholic beverages, which most other tours do not.
You can also book a private group food tour for US$250, and up to 10 people can join the group rate does not include the price of food.
A photo safari in Chinatown costs US$140 per person, and the groups are very small. You will have the help of a professional photographer at your side, showing you the ropes of street photography.
Where do Chinatown tours start?
Most of the SoHo, Chinatown, Little Italy combo tours start from Spring Street Park in SoHo. Some also start in Duarte Park, while a select few start in random locations like East Houston Street and Kimlau park.
One food tour of Chinatown leaves from the African Burial Ground National Monument on the edge of the neighborhood, while others leave from Mulberry Street and Baxter Street in the heart of Little Italy. The food tours all start in different places according to the dishes they offer.
Photo safaris of Chinatown start from Straus Square on the corner of East Broadway and Rutgers Street.
When is the best time to visit China Town?
Chinatown is a vibrant area all day, and you can't go wrong with a daytime tour. After 6 PM. some of the more traditional places close, so try and visit during the daytime. Avoid Sundays, as it's a regular schedule for their waste disposal, and it can be unsightly.
Travel tips
Come hungry if you are doing a food tour of Chinatown. You will want to feast on everything that comes your way.
Have your camera ready because this is an ultra-photogenic neighborhood with many interesting corners.
Wear comfortable shoes because there is lots of walking involved between neighborhoods.