When you want a break from fast-paced city sightseeing, wander down to the New York Botanical Garden and breathe. There are 50 different collections to explore, where thousands of plants will welcome you with the loving embrace of mother nature.
Your New York Botanical Garden tickets are your passport to this living museum, where blossom scents the air and alfresco picnics are the order of the day.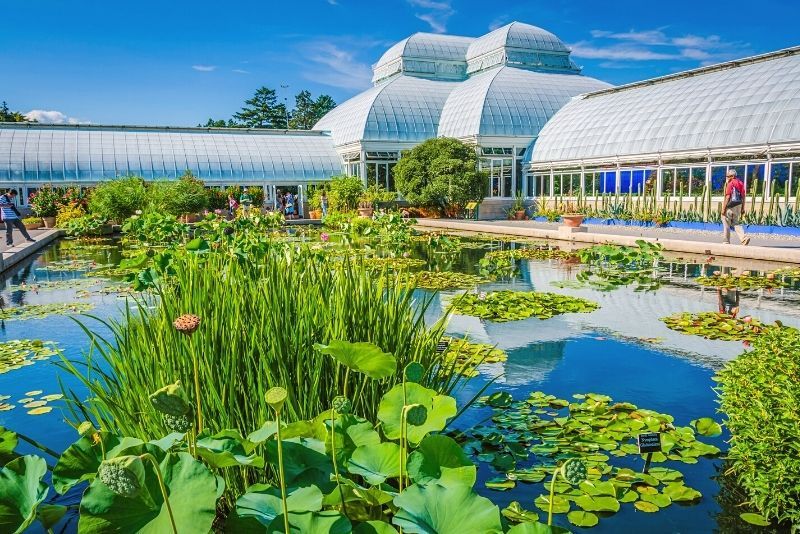 How much do New York Botanical Garden tickets cost?
The New York Botanical Garden tickets system is quite simple. Day visitors just need to purchase an All-Garden Pass.
All-Garden Pass
Adults: $30
Seniors (65+ years): $28
Students: $28
Children (2 - 12 years): $15
Infants (under 2 years): free
This New York Botanical Garden tickets price includes daytime access to the exhibitions, outdoor collections and the Orchid Show in season.
Orchid Evenings
Special Orchid Evenings are held on selected dates during March and April each year.
If you want to enjoy a day time visit before the event, you also need to pay the standard New York Botanical Garden entrance fee on top of the Orchid Evening tickets.
Who is eligible for discounts?
A $2 discount on the New York Botanical Garden rate is offered to senior visitors and students on the presentation of valid ID.
Members and New York residents also receive special discounts on the Orchid Evenings, as well as free or reduced day access to the gardens.
Should you book New York Botanical Garden tickets in advance?
New York Botanical Garden tickets do sell out, particularly during spring and summer, so don't linger too long over your booking. If you want to visit on a particular day, it's best to reserve your place in advance for peace of mind so you know you have something to look forward to.
What will you see inside the New York Botanical Garden?
The Gardens
You could spend hours strolling around the 250 landscaped acres here at the New York Botanical Garden. Tickets include entry to prized collections such as the colorful Azalea Garden and the Conifer Arboretum where the smell of pines will transport you to the boreal forests of Alaska.
Other highlights include the Native Plant Garden where local ferns, grasses and wildflowers put on a pretty display. See if you can spot the chipmunks and squirrels jumping about the undergrowth.
Tram Tour
The Garden Tram Tour, which is included in the All-Garden Pass, gives a great overview of the grounds and their history. You can hop on and off at any of the nine stops on the circuit for a closer inspection.
Orchid Show
If you time your New York Botanical Garden visit between the end of February and the beginning of April, you can take in the annual orchid show. Special evening events are also available.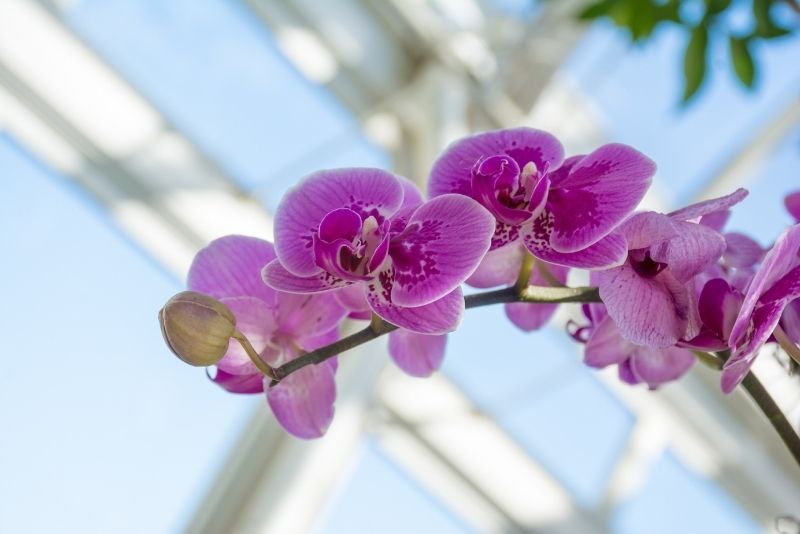 Summer Concert Series
Each summer, a program of outdoor concerts is staged here, with a beautiful garden backdrop. Sit out on the Conservatory Lawn, either on a picnic blanket or deck chair, and listen to the gentle hum of bees harmonizing with some evening jazz.
How to get to the New York Botanical Garden?
Located on Southern Boulevard in the Bronx, New York Botanical Garden is easy to reach on public transport. Your best option is to jump on the Metro-North Harlem line from Grand Central Terminal and get off at the Botanical Garden Station. The gardens themselves are just across the street.
Parking is available onsite for those traveling by car and costs $15 per vehicle during the week, and $20 at weekends.
When is the best time to visit the New York Botanical Garden?
Time your New York Botanical Garden entry for either the morning or late afternoon to avoid the crowds, although the site is so vast it never feels too busy. Come during spring or summer to see the blooms at their best.
The gardens are open all year round from 10 AM - 6 PM on Tuesday to Sunday. The site is closed on Mondays except on public holidays.
Which other attractions can be visited in New York City?
Travel tips
Many of the garden attractions are located outdoors so make sure you check the forecast and dress for the weather.
Remember to pick up a garden map at the entry gate so you can plan your day.
To help preserve this living museum, stick to the paths, and don't feed the wildlife.
If you want to bring a picnic, the place to enjoy it is on Daffodil Hill.
Allow at least three hours for your visit or longer if you're an aspiring horticulturist.
Search online for the best New York Botanical Garden ticket deals and book ahead to avoid disappointment.