Infinitely more than just a busy intersection in Midtown Manhattan, world-famous Times Square has long been an iconic tourist magnet, acting as the vibrant epicenter of New York City by connecting historic theaters with street performers, rooftop bars, flagship department stores and so much more, all tucked away under the bright lights of the nation's most famous billboards.
From ice skating beneath the twinkling night sky at the Rockefeller Center to sitting front row at Broadway shows like Wicked or The Lion King, soaking in the view from the One Times Square skyscraper, or scoring a free Late Show audience ticket, there's no shortage of fun to be had in the so-called Crossroads of the World.
So whether you're on your way to the theater to catch a tap show or are looking for a drool-worthy restaurant to grab a meal – or both! – you'll be spoiled for choice when it comes to choosing between the different things to do in Times Square.
Keep in mind: while, technically, Times Square encompasses 42nd to 47th Streets, from Broadway to Seventh Avenue, there are plenty more noteworthy things to do in the immediate vicinity which we've added to the list for your reading pleasure.
1 – Make your billboard debut in Times Square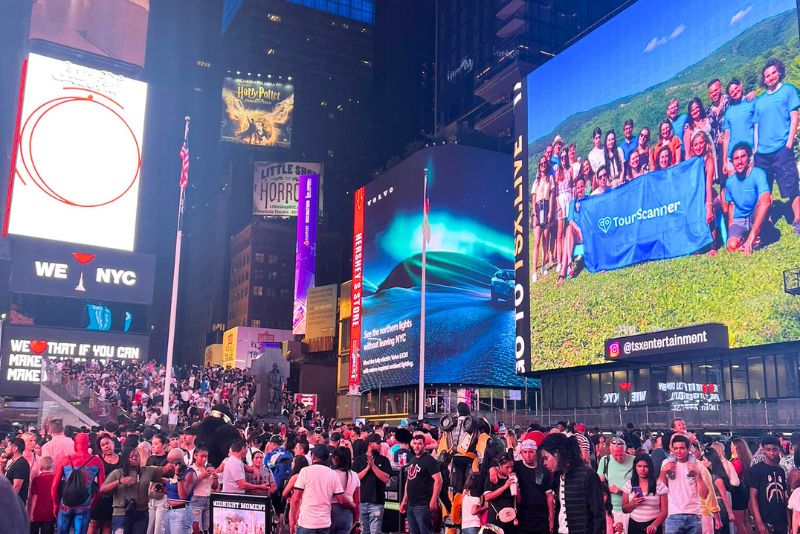 Ever fancied seeing yourself on a colossal screen amidst the bustling heart of Times Square?
Make it a reality with TSX. For a mere $40, beam your photo or a fun video across TSX's massive screen for 15 memorable seconds. It's not just about the personal thrill, you can share this unique moment with friends and family through TSX's live stream.
It's a fun way to leave your mark in the iconic landscape of Times Square, even if momentarily.
2 – Hug your favorite cartoon character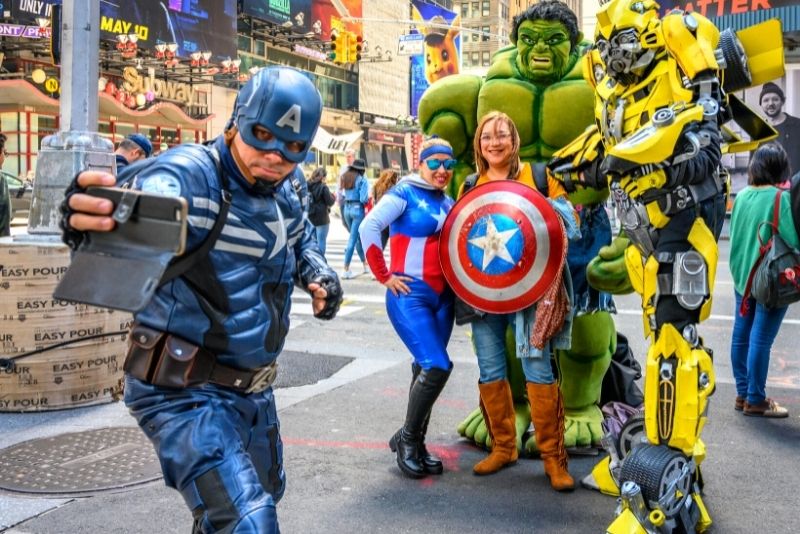 While rather cliche and certainly a little cheesy, snapping a photo with one of your favorite cartoon characters — whether it be Elmo, Winnie the Pooh, Elsa, Batman, Oscar the Grouch, Buzz Lightyear, or a human version of the Statue of Liberty — is quintessential Times Square.
Keep in mind that, behind the mask, these people are still street performers so will expect a tip or donation in exchange for the photo — be sure to negotiate ahead of time so that you're not hit with a curveball.
3 – Step into a chocolate oasis at M&M's World New York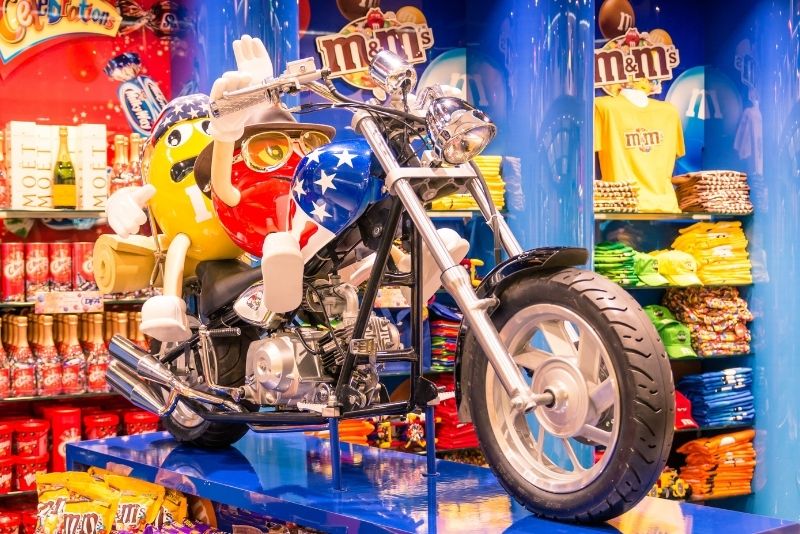 Any chocoholics out there? Head to M&M's World New York — a candy lover's paradise and one of the top things to do in Times Square.
Spilling over with every type of sweet imaginable, it stocks everything from traditional full-size bags for sharing (or not) right through to novelty chocolate gifts and quirky accessories like mugs and key rings.
For the really committed fans, you can even design your very own M&M's; a whimsical and sure-to-be-cherished souvenir for the loved ones back home (so long as you don't eat them in the meantime).
4 – See at least one award-winning Broadway show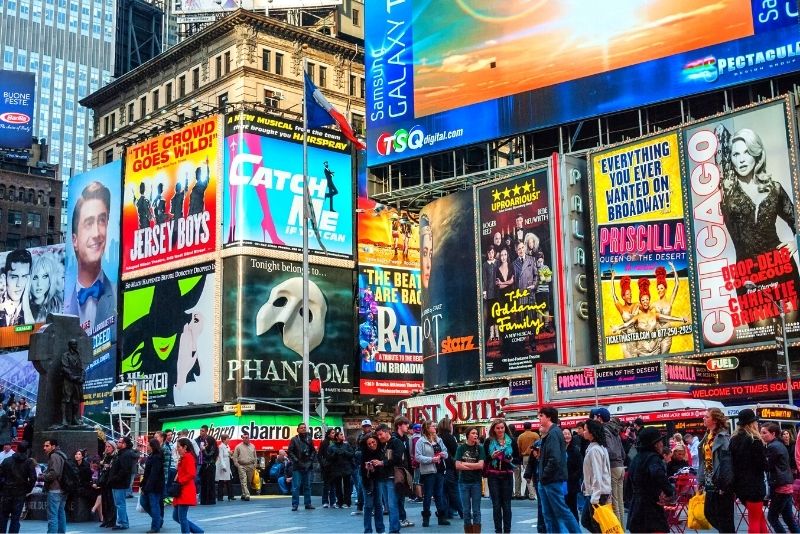 Broadway is as synonymous with New York as the Empire State Building and yellow cabs.
Whether you're into loud musicals, magic shows, or even a psychological thriller — it can be found on Broadway (and Off-Broadway too).
The Lion King will transport you into the savannah, its spectacular costumes the reason it's been a Broadway mainstay for decades; Phantom of the Opera is the longest-running show on Broadway; Wicked, also a long-standing favorite of theatergoers, follows the story of The Wizard of Oz's "wicked witch"; Chicago the Musical centers around corruption in 1920s Chicago; and Aladdin is Disney fandom and magic at its finest.
Throw in The Book of Mormon, a crude and side-splitting show from the South Park creators; Jersey Boys, the story of Frankie Valli and the Four Seasons; and Matilda Matilda, Roald Dahl's classic tale brought to life which was nominated for the 2013 Tony Award for Best Musical, and you have a whole lot of entertainment options.
Hot tip: if you're on a budget and don't mind too much what show you'll be seeing, there are two clever ways to score cheap tickets. Enter the lottery, or visit the TKTS booth for last-minute on-the-day tickets!
Looking for some inspiration? Check our our list of the best Broadway shows and musicals playing now.
5 – Sample New York's iconic foods at City Kitchen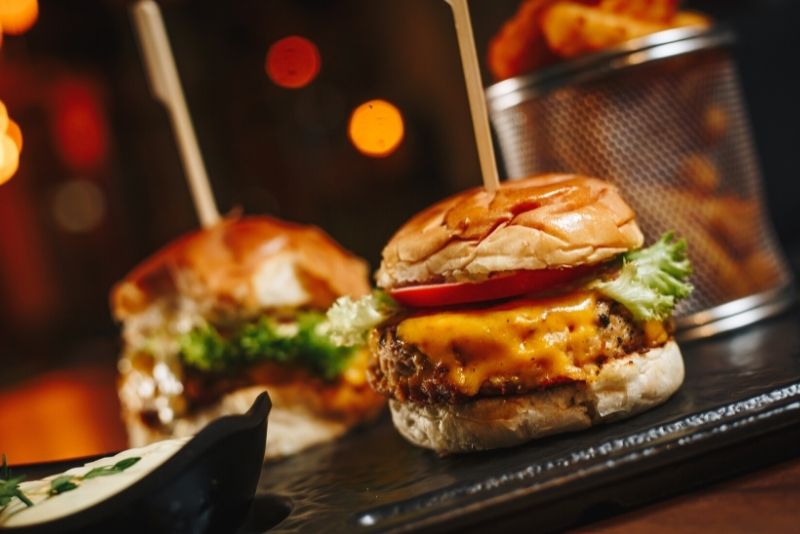 Tucked away in the Row Hotel in the heart of Times Square, City Kitchen is a gastronomic paradise — a food hall teeming with delicious, diverse food options.
A culinary crossroads of cultures with dishes from all around the world on offer — think lobster rolls, doughnuts, overflowing tacos, Indian street snacks, and more — City Kitchen invites NYC's most authentic and hyped local food concepts from all five boroughs and unites them in the epicenter of Manhattan.
For foodies looking to get a sample size of all the metropolis has to offer, it's one of the unmissable things to do in Times Square.
6 – Check off the main attractions with a bus tour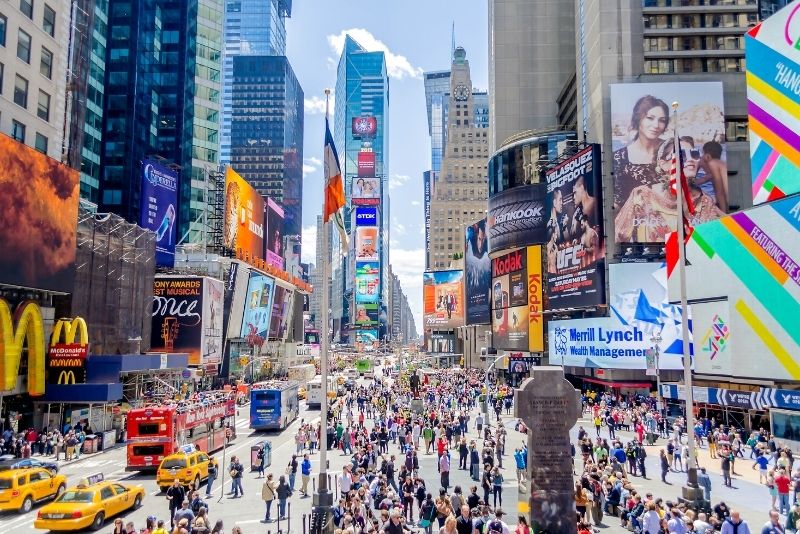 Hop-on and hop-off double-decker bus tours provide an excellent introduction to New York City — letting travelers explore the loop around Midtown Manhattan (and beyond, depending on the chosen option) at their own pace.
With stops at the likes of the Empire State Building, Times Square, the Rockefeller Center, and more — you can get a feel for all things NYC in one fell swoop.
Tickets include commentary from an expert tour guide/driver on what makes each attraction so special, and also double as a means to get around town!
Big red hop-on-hop-off busses aside, a theater-centric crave sweeping NYC is The Ride. Part tour, part live performance, guests board on a bus whose seats face outwards toward the streets, not forwards. Through a combination of choreographed actors, musicians strumming along on their instruments, and acrobats strutting their stuff, travelers are brought up close and personal with NYC's most iconic sites as the streets of the Big Apple are transformed into a stage!
Read our NYC hop-on hop-off bus tours comparison guide.
7 – Wet your whistle at The Rum House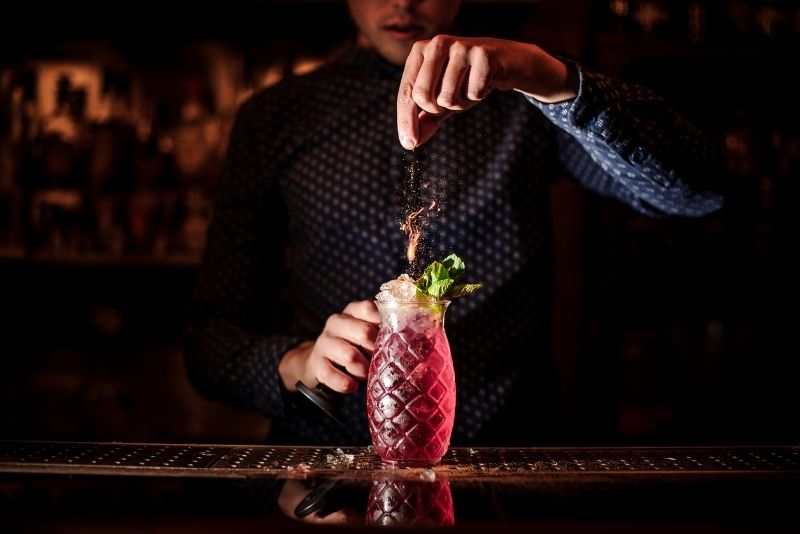 Don't mind the odd tipple? Head to The Rum House for a real taste of old-school NYC — and some seriously good drinking.
Step inside its location at the bottom of the Edison Hotel and things get cozy and charming real quick: snug booths complement the swanky, candlelit rooms, where one of the city's most renowned rum collections line the back bar.
To top off the enviable atmosphere, live music and entertainment — from jazz bands to sultry singers — perform nightly (with occasional matinee sessions too).
8 – Race against the clock at The Escape Game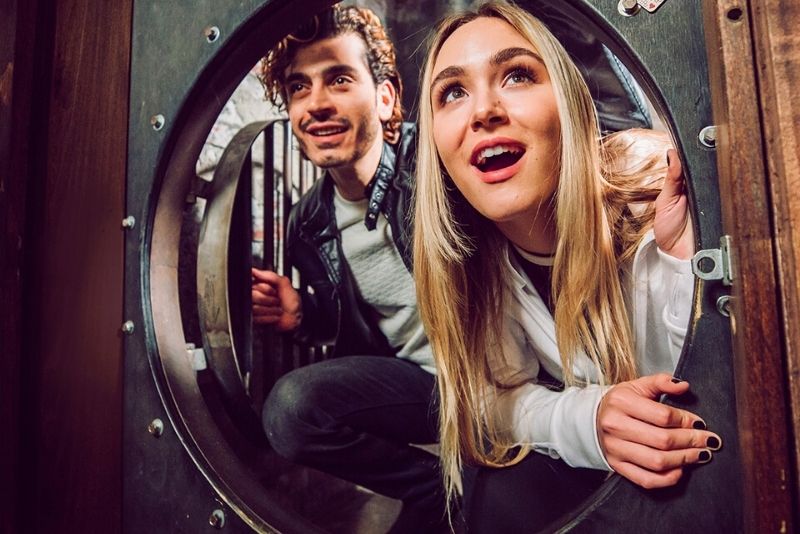 Any budding Sherlock Holmes out there? The Escape Game is a unique and immersive themed adventure that will test your wits to the very end.
Offering a range of themed experiences that will require problem-solving, teamwork, and out-of-the-box thinking — like Gold Rush, Prison Break, Special Ops, and Art Heist, just to name a few — it's designed for small groups of friends or family members who are looking for an unforgettable experience in which you're locked inside a room with one way out.
So, think you've got what it takes to make it out before the clock strikes zero? Prove it. Bragging rights await.
9 – Catch an evening show at the LoL Times Square Comedy Club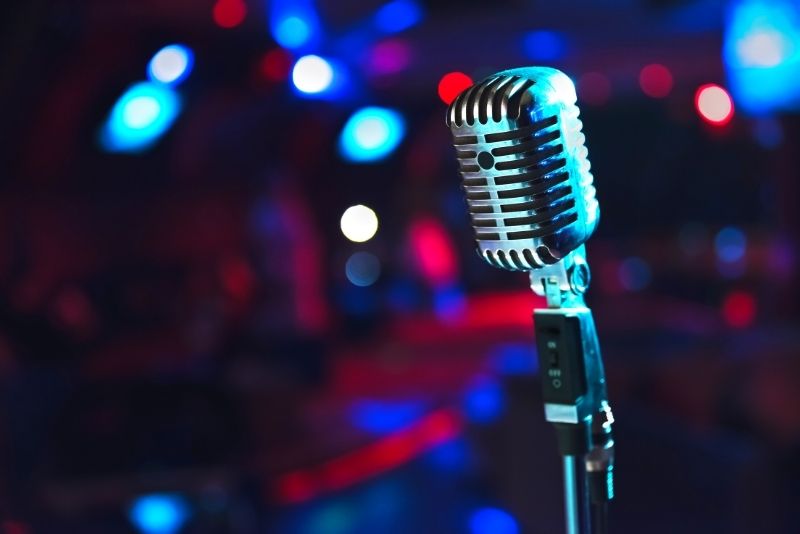 If you're looking for something to make you laugh out loud and the ideal date night spot before hitting the down proper, head over to the aptly-named LoL Times Square Comedy Club on 7th Ave and 47th Street.
Just a stone's throw from M&M's World, it features some of the city's top stand-up talent performing every night of the week with start times to suit your schedule (typically at 7 pm, 8:15 pm, and 9:30 pm).
Visitor beware: if you sit in the front row, you may very well become the center of attention!
10 – Join the audience for The Daily Show With Trevor Noah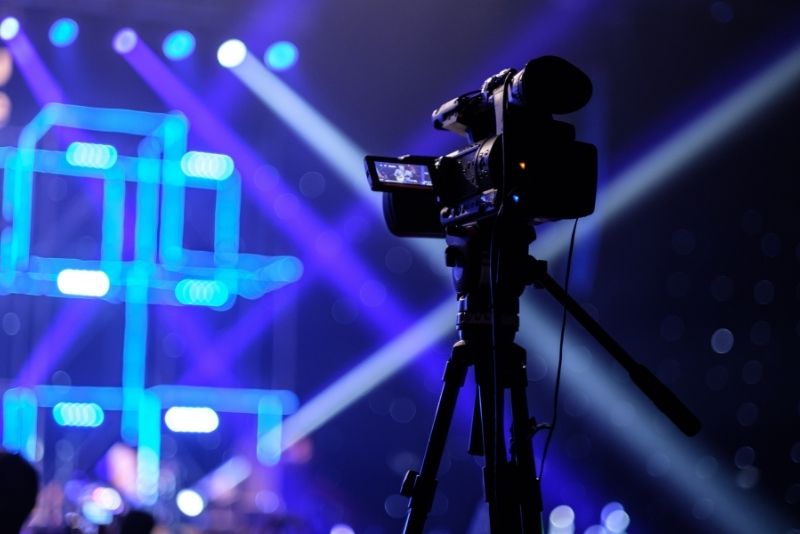 Get your daily (!) laugh in with the guys and gals at The Daily Show With Trevor Noah.
As well as offering some of the country's most cutting-edge satire, it also welcomes some of America's most talented comedians and celebrities as guests, while providing an informative (albeit quirky) take on current affairs — perfect for keeping up to date with all things USA.
While tickets are free, they're hotly contested, so make sure to reserve your spot well in advance by lining up at the theater (instructions can be found on the show's website).
11 – Explore the Upside-Down at the Stranger Things Store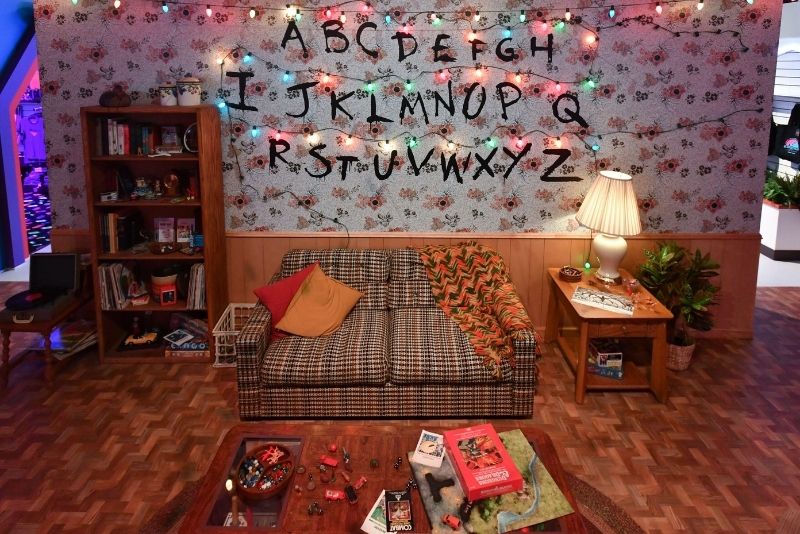 Prepare to have your mind blown by the incredible creativity and imagination on show at the Stranger Things Store, an interactive store stoked with '80s vibes and dedicated to all things related to Netflix's hit TV series.
Located on the corner of 7th Avenue and 42nd Street, right next door to the subway entrance, it features everything from the show's iconic merch to neon-lit arcade games, Demogorgons emerging from the wall, action figures, and a host of take-home souvenirs.
12 – Attend a service at the Times Square Church
A famous non-denominational church disguised as a sprawling theater (it is in the theater district, after all), Times Square Church on West 51st Street gives visitors the chance to experience Manhattan's religious side in what is one of one the most captivatingly unique religious buildings going round.
In addition to the typical services (held on Sundays at 10 am & 1 pm and Tuesdays at 7 pm), the Church also welcomes regular guest speakers and musical performers, and offers a range of educational schools and workshops.
13 – Check out the Line Friends Store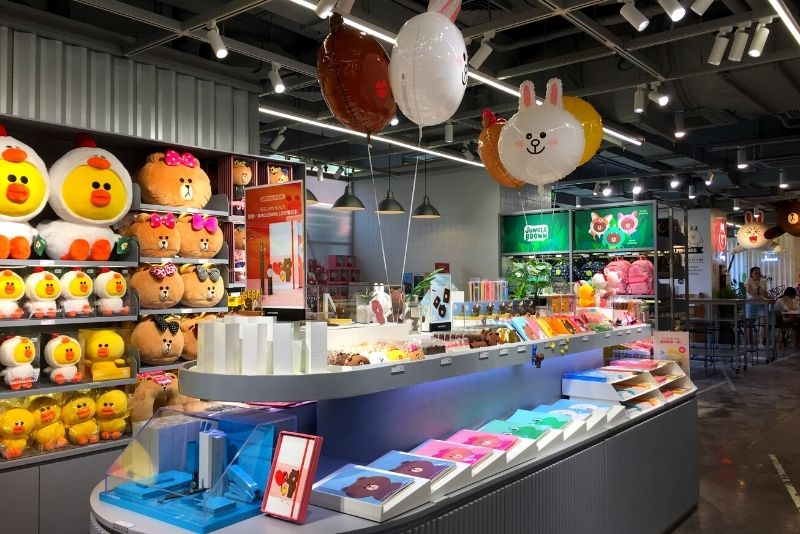 A series of animated characters who've rocketed to international fame in recent years, Line Friends is a South Korean-based company that's become one of the biggest names in modern pop culture.
At their recently-opened Times Square locale, you can get all your favorite characters in plush toy form, explore character-themed spaces, get to know the show's four founding characters: Cony, Brown, Moon, and James, and attend occasional events and promotions.
A must-visit for anyone traveling with kids in tow.
14 – See what's on at the historic Town Hall theater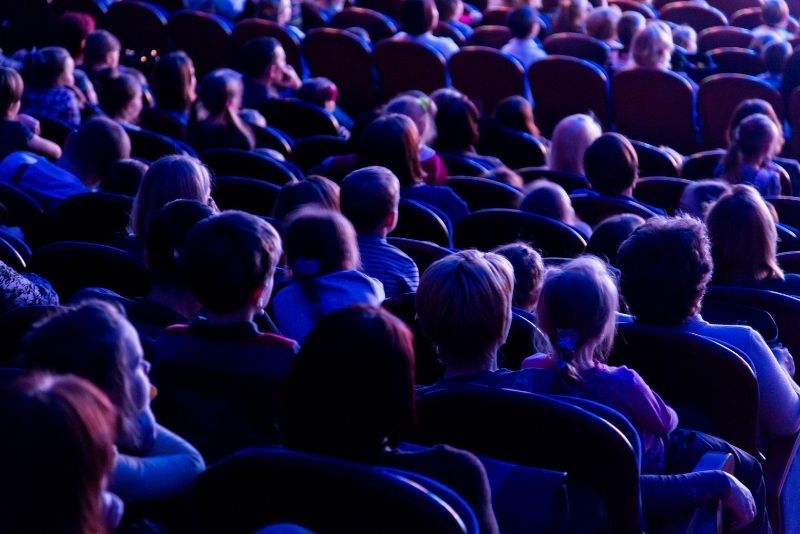 With the perfect location to boot, The Town Hall is a top-notch 1500-seat theater that's hosted some of America's most impressive musicians and performers down through its longstanding tenure of over 100 years (it turned exactly 100 in 2021).
Currently offering everything from live music events (check out its calendar for upcoming artists) right up to Broadway productions and comedy nights, it's also an ideal spot for appreciating the city's diverse culture and nightlife.
15 – Laugh your socks off at Carolines on Broadway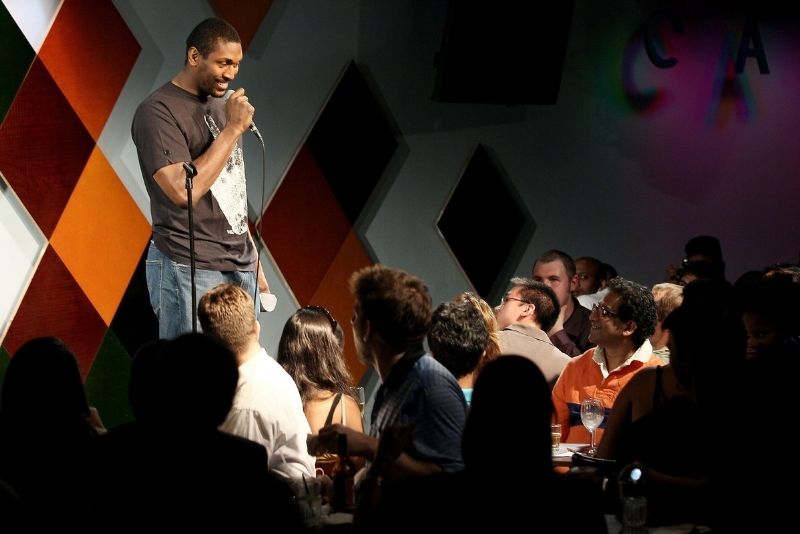 One of New York's premier comedy venues, tucked underground in the heart of Times Square, Carolines on Broadway presents a night filled with laughs to suit all tastes and humor levels.
Comedy fans can expect anything from breakout artists dishing out insightful political jabs and current affairs-inspired gags, to touring big-shot comedians who regularly sell out the venue, and no shortage of food and wine to bring it all together.
16 – Soar over Times Square with a helicopter tour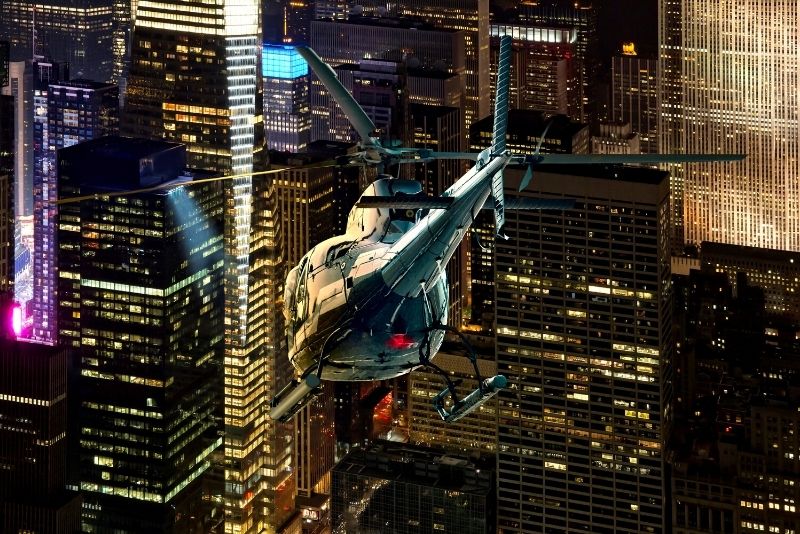 It's no secret that Manhattan boasts America's most enviable skyline, so why not take to the air instead of trekking around on foot?
With a friendly and knowledgeable pilot pointing out all the main New York City tourist attractions below — from Times Square to Central Park, the Hudson River, and East River — the views, thrills, and luxury experience are superior to almost any other activity.
Simply choose your duration (starting at 15 minutes, going anywhere up to an hour), location, and budget to create your dream flight!
Read our New York City helicopter tours comparison guide.
17 – Eat, drink and play at Dave & Buster's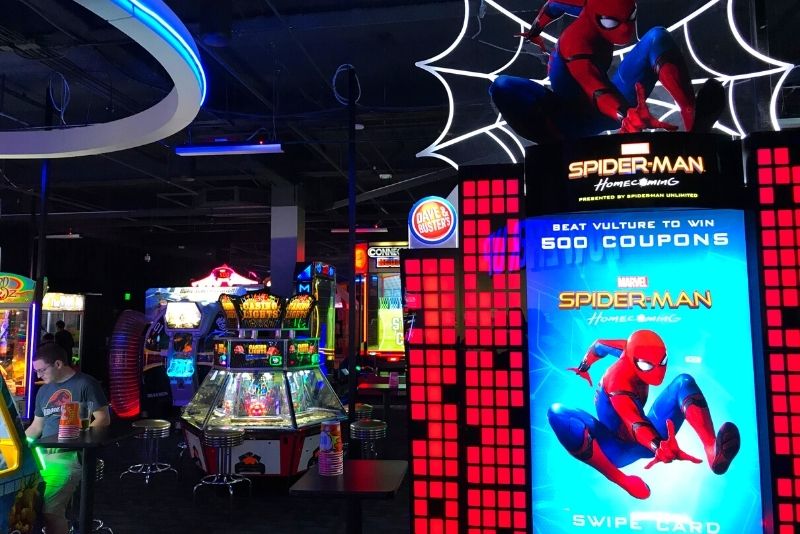 A widely-known bar and restaurant that doubles as an arcade, Dave & Buster's is the perfect place to eat, drink, play games (and try to win a few tickets to cash in for some sweet prizes), catch some live sports and unwind with friends.
The menu offers everything from classic pub grub like burgers and wings to ribs, steaks, and fish 'n' chips — not to mention the 20+ free-flowing ice-cold beers on tap.
18 – Turn some pages at Midtown Comics Times Square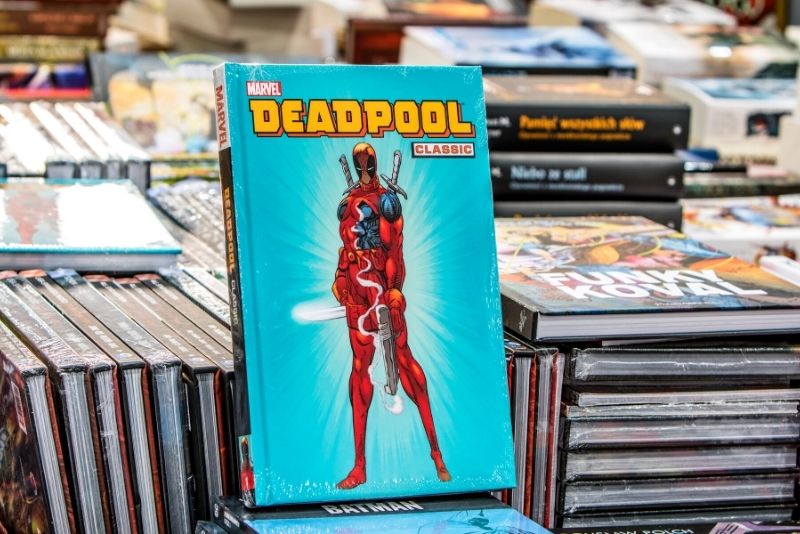 New York's most popular comic shop — and, arguably, one of the nation's premier destinations for all things graphic novels — Midtown Comics is a massive three-story establishment packed floor to ceiling with comics and merch related to some of your favorite superheroes and pop culture figures.
Featuring everything from new releases to vintage collectibles; prints and posters; anime merch from Dragon Ball Z to Sailor Moon, toys for kids of all ages, graphic novels galore (including a huge section dedicated to Marvel and DC), and stacks of action figures and collectibles to take home, it's one of the essential things to do in Times Square for comic fans.
19 – Check out a unique performance of Drunk Shakespeare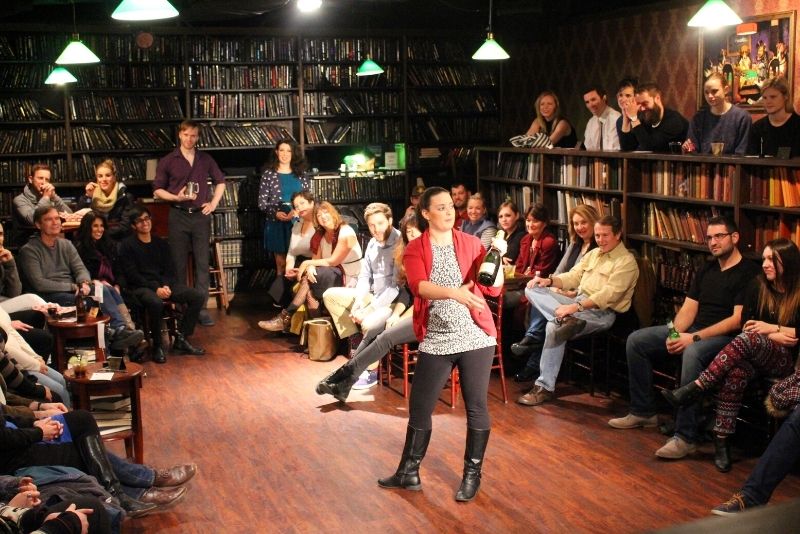 Dishing up a saucy take on Shakespeare's classics script with a cocktail menu to boot, Drunk Shakespeare is 90 minutes of laughter and history twirled into one.
Differentiating itself from the typical plays, this iconic show gets one professional actor to down 5 shots of whiskey before attempting to perform in a Shakespearean play — as you can imagine, it's chaotic, rowdy, and a whole lot of fun.
20 – Sit in the audience for the Tonight Show with Jimmy Fallon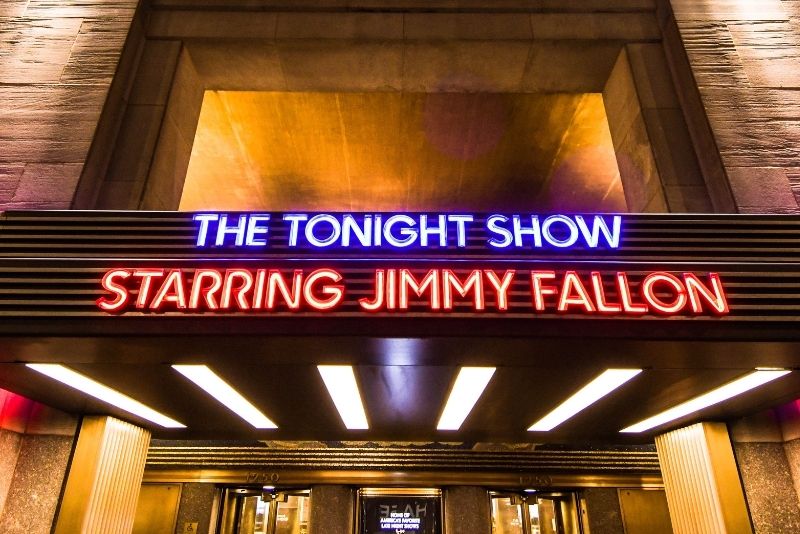 One of the world's most popular late-night talk shows, The Tonight Show with Jimmy Fallon is a New York institution that has been running for almost 60 years (Jimmy Fallon took the reigns back in 2014) regularly sees dozens and dozens of people brace the cold to line up for free audience tickets.
The show covers absolutely everything from politics to pop culture, and boasts some major celebrity guests who stop by each week on their promotional tours — including everyone from Taylor Swift to Robert De Niro and Lady Gaga, just to name a few.
21 – Grab a bite to eat at Los Tacos No.1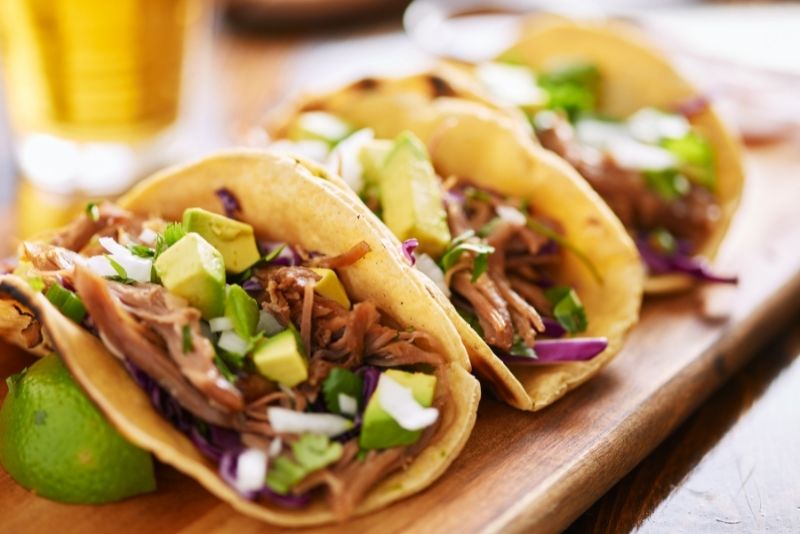 Serving up some of the city's most popular Mexican fare, the Los Tacos No. 1  menu features a wide range of tacos and burritos filled with everything from asada to pollo, and carnitas to chorizo — all covered in fresh sauces and salsas that will have your taste buds tingling for more.
Sitting amongst the hustle and bustle of Times Square, it's the perfect and quick alternative to the run-of-the-mill hot dog carts.
22 – Order some cheesecake at Junior's Restaurant & Bakery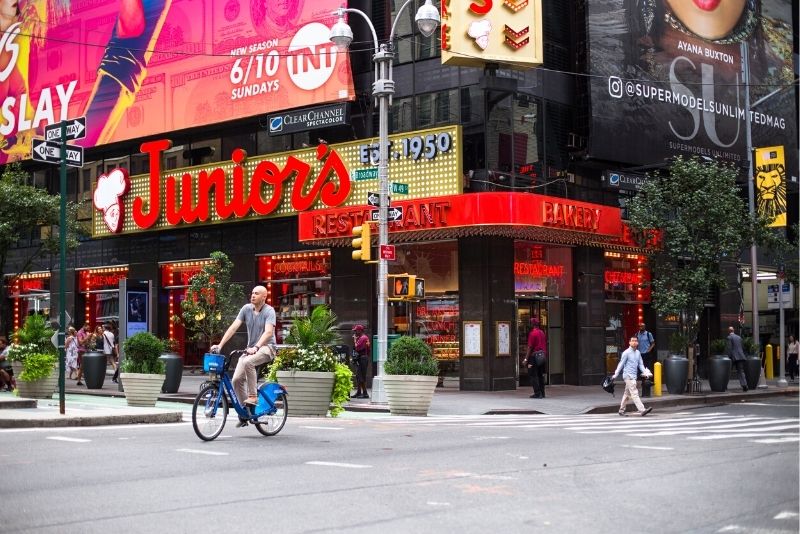 Grab a huge slice of cheesecake and chill out at this classic New York City diner, where the menu is filled with everything from bagels to burgers, soups and sandwiches (and, of course, towering slices of authentic New York Cheesecake, red velvet cake, and a whole lot more bakes goodies).
If you happen to be venturing outside of Manhattan for a day, there's another location in Brooklyn on Flatbush Avenue that's been thriving since the 1950s.
23 – Enjoy the view from the Top of the Rock observation deck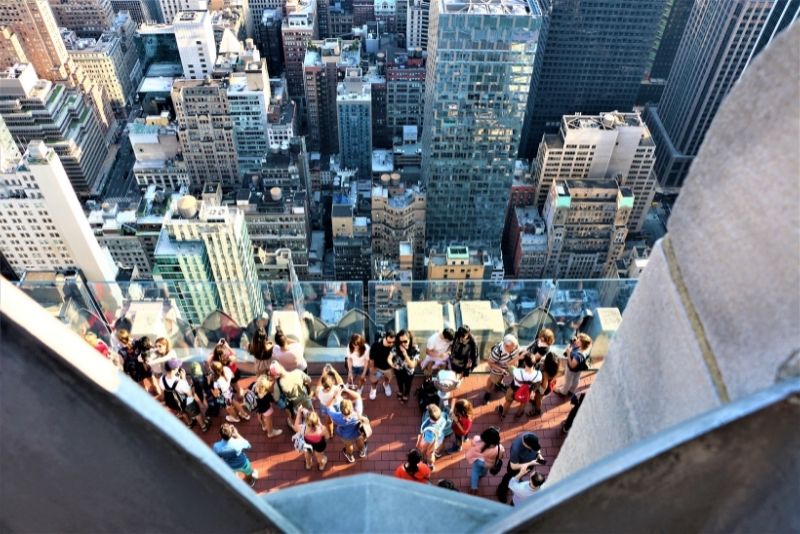 A short stroll from the bright lights of Times Square, the Rockefeller Center is a gleaming art deco complex that's been gracing New York City with its presence since 1933.
Its main event and biggest tourist draw, The Top of the Rock observation deck offers some truly awe-inspiring panoramic views out over Central Park and into Harlem in one direction and Mid and Downtown Manhatten (with a killer view of the Empire State Buildings) in the other — all from 70 floors and 853 feet up in the air.
And if you're feeling brave, you can walk outside onto the glass-floored observation deck and feel like a bird as you take in those views.
Read more about Top of the Rock tickets price.
24 – Meet your favorite celebrities at Madame Tussauds!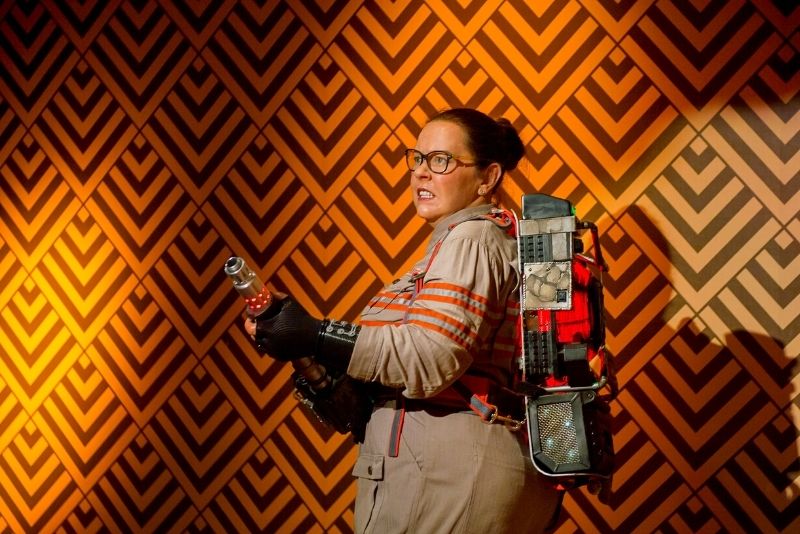 Another great choice for those traveling with kids, Madame Tussauds is a world-renowned waxwork museum that boasts well over 100 intricately crafted models of some of the biggest and best names in Hollywood, sports, music, politics, and beyond — from Leonardo DiCaprio to Johnny Depp and Barack Obama, the list goes on.
With plenty of opportunities to pose for Instagram-worthy shots that are sure to (at least temporarily) fool your followers, it's a popular and
See also: Best museums in New York City
25 – Join a Radio City stage door tour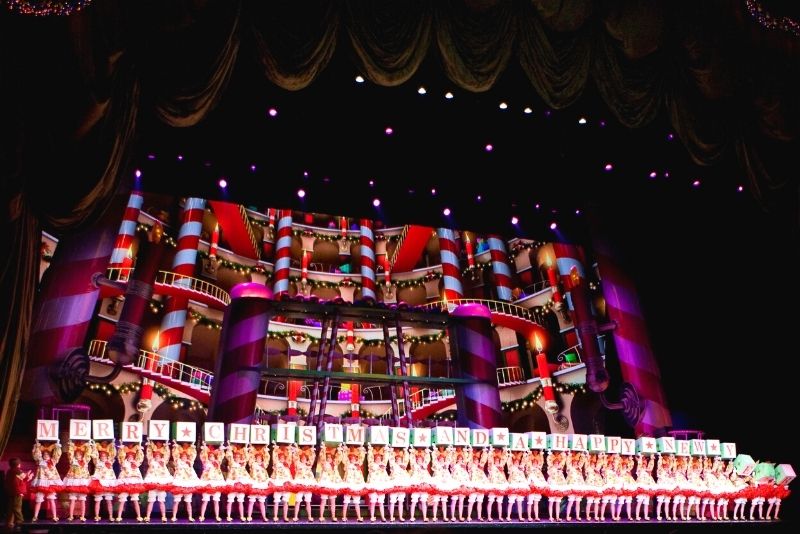 For those who have a love of the theatrical, an absolute must is to hit up one of the Radio City stage door tours — a behind-the-scenes look at one of America's ultimate live entertainment venues that has been welcoming all-star performers and esteemed guests since opening 1932.
On the stage, the calendar includes mainstream events like the MTV Music Awards and Grammys, as well as all kinds of famous one-off performers and the infamous Rockettes (try to snag a ticket if you're traveling during the holiday period.
On the Stage Door tour, however, you'll be granted exclusive access to meet a Rockette in person,  see the celebrity guest book up close, and learn all about the history and details of the renowned art deco building.
As the home of the legendary Rockettes, if your travel dates line up, see if you can score a ticket to the world-famous Christmas Spectacular!
26 – Visit the iconic Hard Rock Cafe for lunch or dinner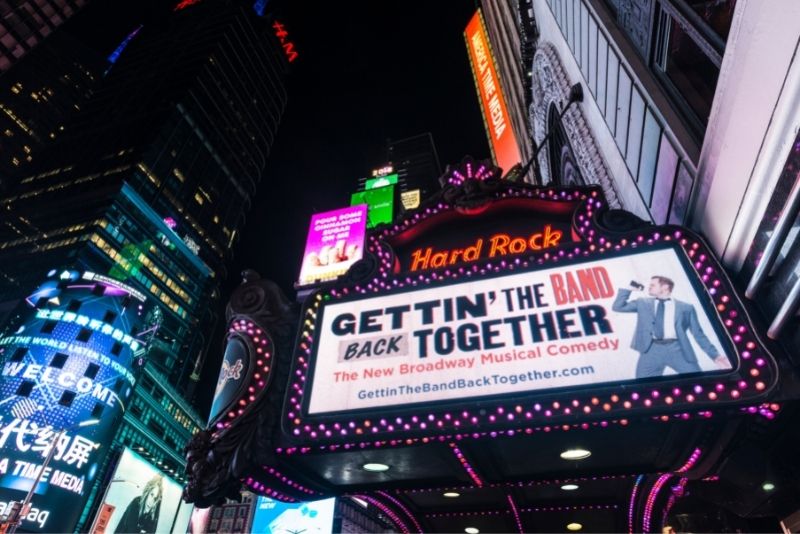 Grab a burger and an ice-cold beer as you take in the sights of Times Square at the legendary Hard Rock Cafe.
With walls lined with noteworthy memorabilia and regular live music (rock, of course) it's one of those quintessential American spots that everyone should visit, no matter how many times you've been before in other cities.
27 – Take a break at Bryant Park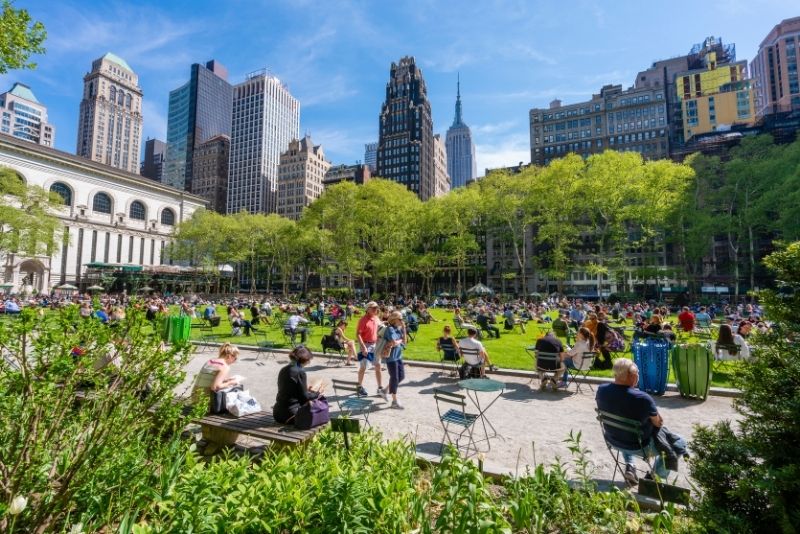 A wintertime favorite for locals and visitors alike, Bryant Park Ice Rink is the perfect spot to grab some hot cocoa or peppermint tea while you take in stunning views of New York City at night and skate around on the open-aired rink.
Of course, it's just as fun in the summertime, with free movies on the lawn, regular live entertainment, and no shortage of food and drink options to keep you well-fueled.
In what is undeniably a concrete jungle, this small yet mighty slice of greenery just a 5-10 minute walk from the giant Times Square billboards always delivers a welcomed breath of fresh air.
28 – Grab some sporting apparel at the Lids Store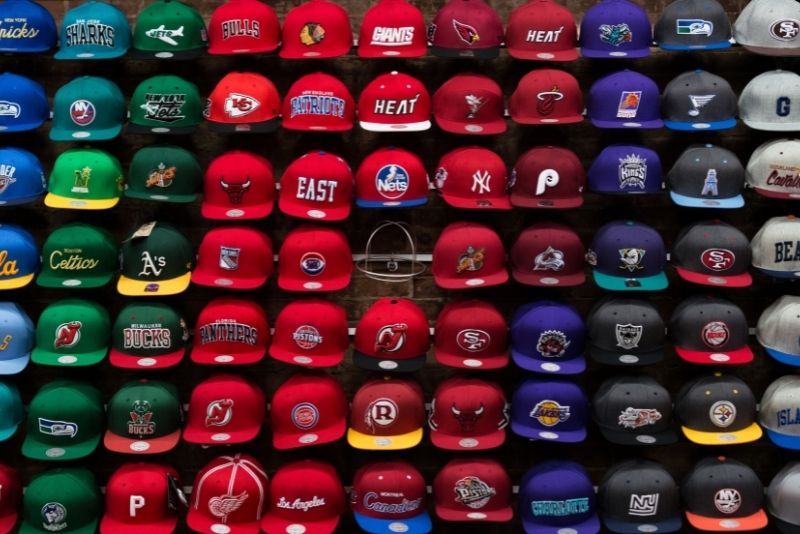 Something for the sports fanatics, head to Lids Store where you can grab all your favorite MLB or NFL hats and apparel.
With a variety of options from all the most popular teams across America, this is your one-stop-shop for fans who want to represent their favorite players and sports — and a perfect spot to grab some last-minute merch if you're planning on checking out the New York Rangers or Islanders (hockey), Knicks (basketball), or Mets or Yankees (Baseball), or Jets (football).
29 – Catch a show at the Broadway Comedy Club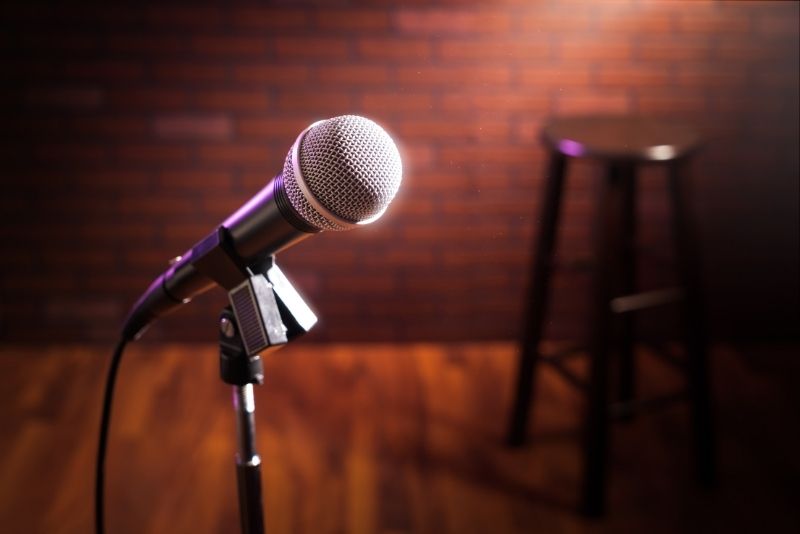 For an evening of laughter, check out one of the two showrooms at the infamous Broadway Comedy Club where a debaucherous night of fun and entertainment awaits!
With award-winning comedians in residence each week, and a range of day and night showtimes to suit your schedule, it's the perfect spot to catch a show and let loose before heading back out into Times Square.
Hot tip: to avoid missing a seat, make sure to book your tickets in advance – it's often cheaper this way too.
30 – Find your perfect fit at the Steve Madden store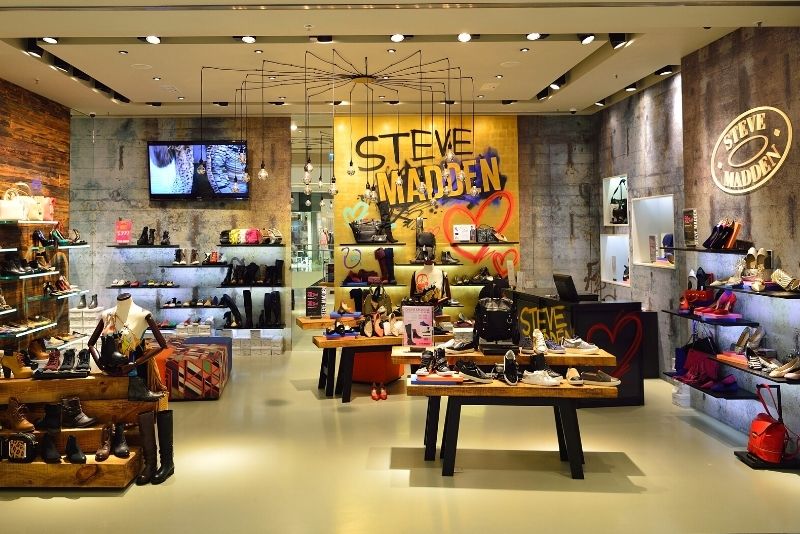 Hunting for a fresh pair of shoes after all that typical Manhattan walking? Sitting right next to the famous Macy's, Steve Madden's 2000-square-foot showroom is a one-stop shop for all your shoe needs.
With classic styles and new releases every season, this brand has been keeping feet coolly comfortable since its humble beginnings in 1990 as a small store just outside of the city – now operating hundreds of retail stores in over 80 countries worldwide!
31 – See the latest blockbuster at the cinema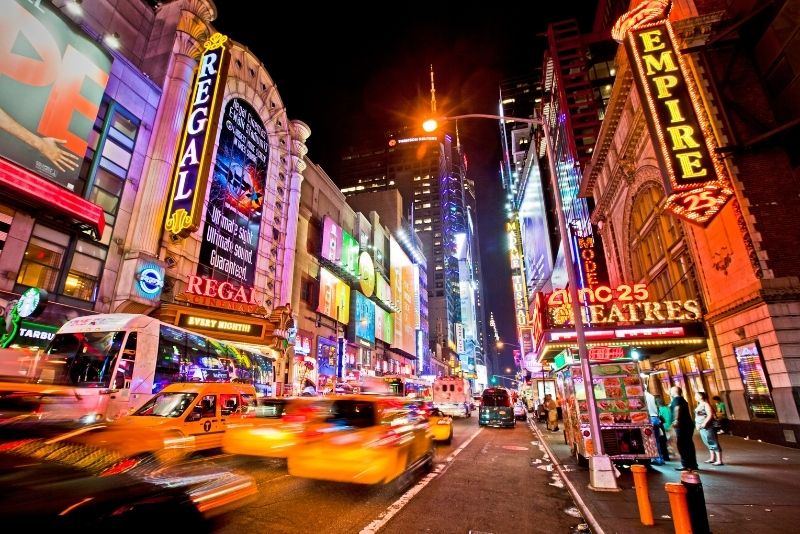 A solid option for any rainy or snowy day, why not grab a bucket of popcorn and catch a movie at one of the two local theaters (both Regal Theatres or AMC Empire Theatre 25) that are conveniently located right on Broadway.
With all your favorite films, new releases and cheap prices mid-week to get you in the door, it's an affordable way to escape into another world for a couple of hours!
See also: Check out the best indoor activities in New York City.
32 – Dine at The Olive Garden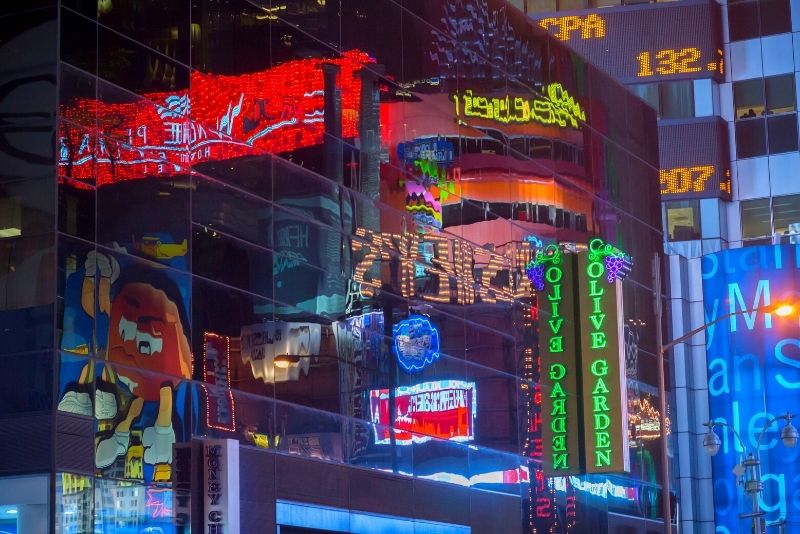 A classic spot for Italian food lovers, the Olive Garden — which sits as central as any Times Square restaurant can sit — is a terrific option to grab some pasta and a glass of wine (or three) before hitting up a Broadway show or comedy night.
Food and drinks aside, this particular, massive, three-story franchise is famous for one thing above all else: its unbeatable view which overlooks the hustle and bustle of Times Square.
33 – Wander around the magical Disney Store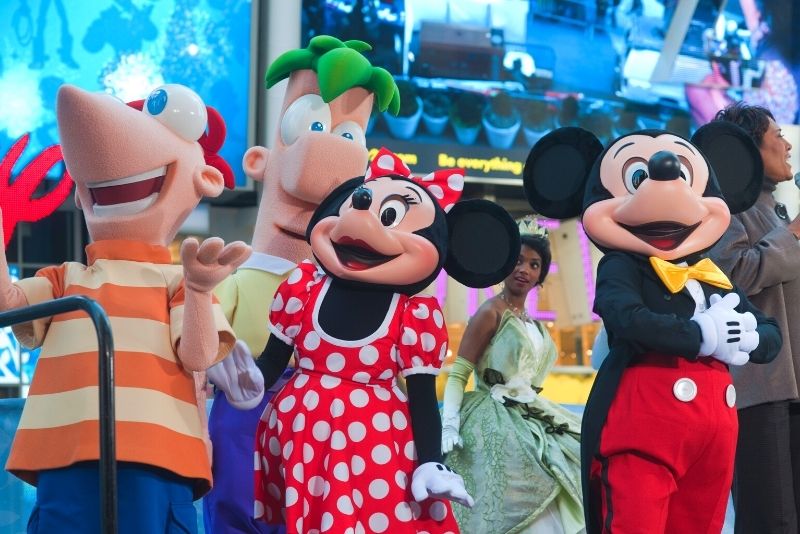 Traveling with kids in tow? Or simply a big kid at heart? You can't go wrong with the Disney Store which is located right in Times Square.
If you're looking for all things Mickey, Minnie Mouse, and Donald Duck — not to mention Frozen, Moana, and Toy Story (yes, we know, it's technically Pixar) and plenty more of your favorite characters – this store has it all!
And if you're looking for an equally memorable souvenir to take back home, what better option than a plush toy or sweater?
Read more: Best Family Things to Do in New York City with Kids
34 – Sit in the crowd for The Late Show with Stephen Colbert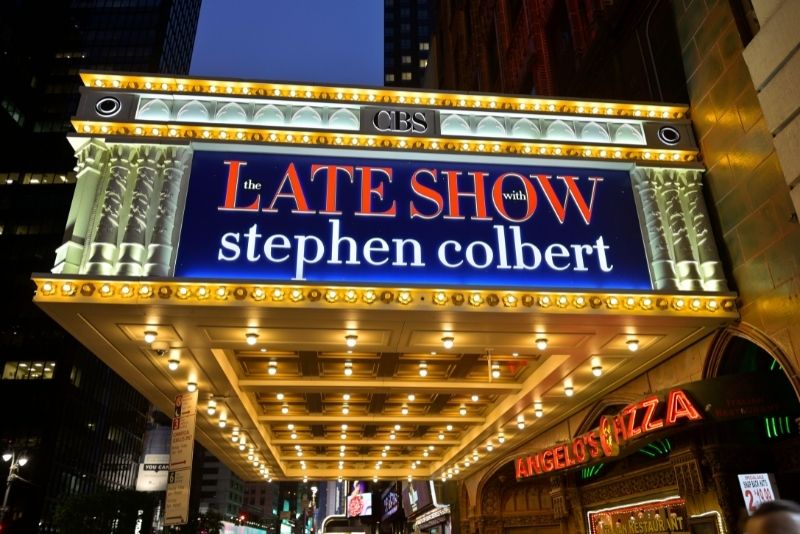 As we mentioned before — and as you've probably realized by now with the likes of Trevor Noah and Jimmy Fallon already mentioned — there is no shortage of late-night TV show entertainment options in Midtown!
For those looking to catch some laughs after a long day, The Late Show with Stephen Colbert runs five evenings per week (Monday through Friday) on CBS — and if you're lucky and patient enough, you can score tickets to sit in the audience for free (check the website for specific instructions).
With celebrities such as Will Smith, Charlize Theron, Sean Penn, and Bradley Cooper already making appearances (and that's just the tip of the iceberg) you can be sure of a night filled with entertainment!
35 – Have a sweet time at Hershey's Chocolate World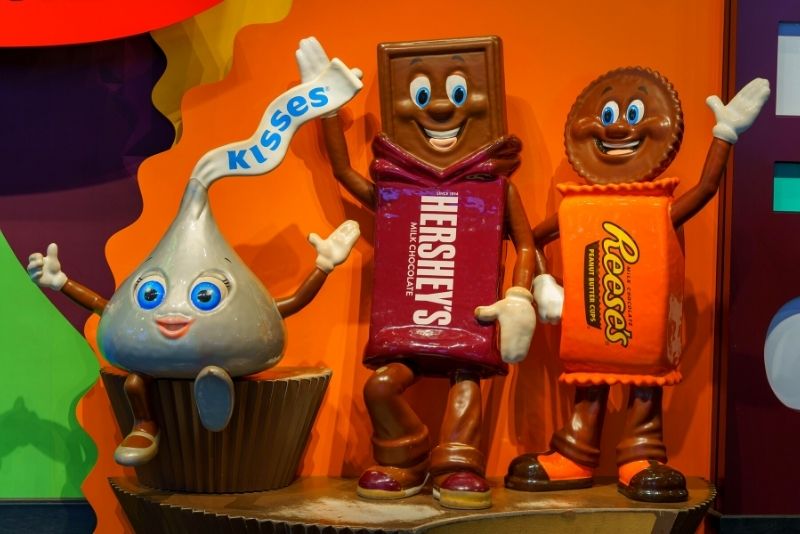 A non-negotiable for any chocolate nut (in addition to M&M's world mentioned in #7), Hersey's Chocolate World is a sweet destination for anyone with a craving.
Featuring free samples, interactive games, and the chance to watch your chocolate being made before your eyes – this store at Times Square invites you to grab yourself some milk or dark chocolate deliciousness!
And with the chance to buy your own personalized chocolate bars, this is one sweet treat that you won't want to miss.
36 – Learn to dance (drink in hand) at Swing 46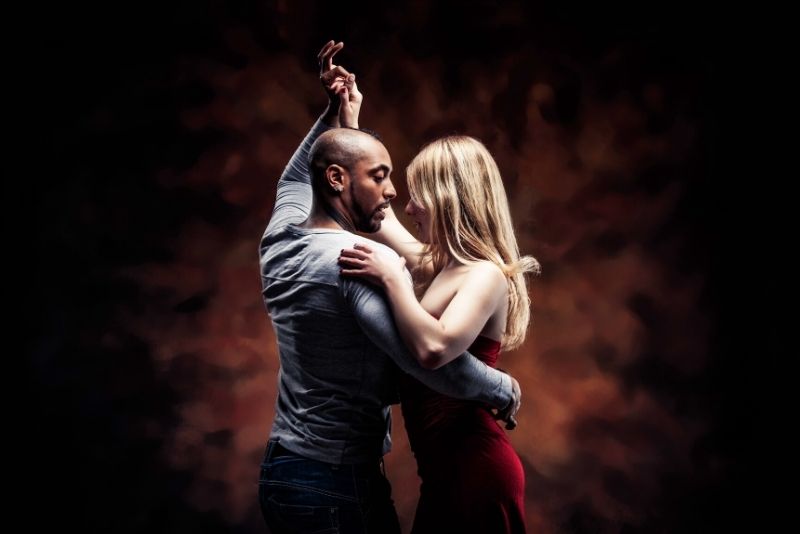 Where jazz meets cocktails, Swing 46 is an awesome option for those looking to combine a bit of culture and movement with a hand-crafted drink.
Located on W 46th Street near 9th Avenue, just around the corner from Times Square proper, this speakeasy-style bar is inspired by old-school New York – and brings you back in time through live music, rustic decor, a chic atmosphere, and free dancing lessons to boot!
If cocktails aren't your thing, there's still a sizeable menu full of modern takes on traditional American fare, prepared using only the freshest ingredients.
37 – Buy some souvenirs at Grand Slam New York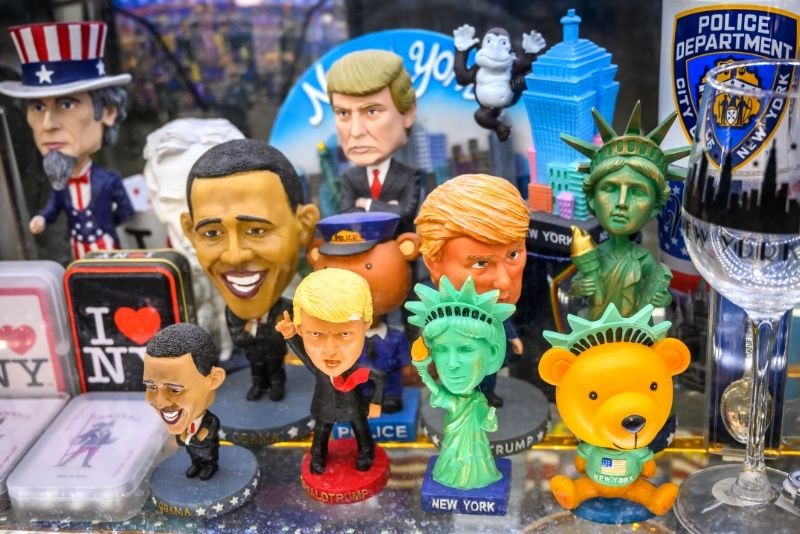 While Manhattan certainly boasts no shortage of typical souvenir shops, Grand Slam is one of the bigger ones, dishing up every piece of memorabilia you could imagine.
From the classic I-Heart-NY T-shirts to coffee mugs, magnets, and keychains with (hopefully) your name on it, plus shot glasses, clothes with cheesy taglines, and snowglobes aplenty – this store has enough to get everyone in the family the souvenir they didn't know they needed.
38 – Double your denim collection at the Levi's Store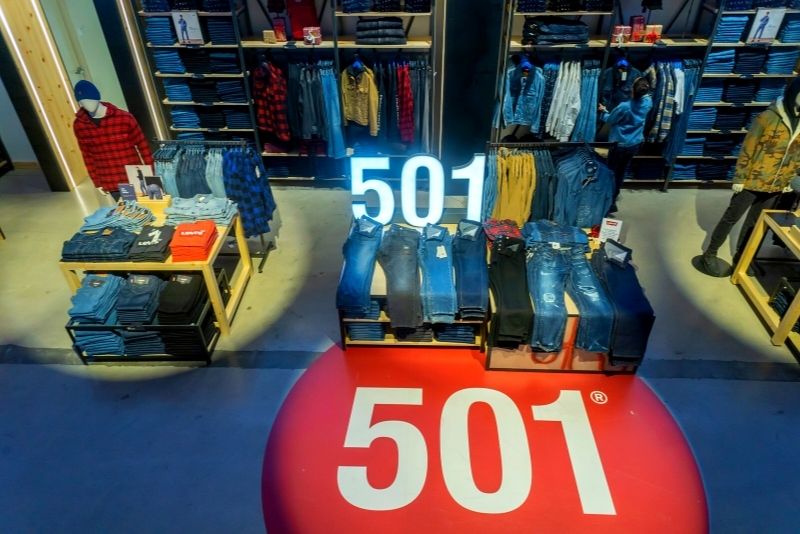 Leaving with a one-of-a-kind souvenir that's both functional and fashionable? Look no further than the Levi's store – your destination for all things denim.
Located right on Broadway, this spacious shop is filled to the brim with jeans (and jean jackets, and all the other classic Levi's gear), of every cut and wash you could possibly imagine — plus a host of customization options for something authentically NYC.
Covering a whopping 16,902, this joint is officially the largest Levi's store on the planet, and, unlike most retailers, is open some nights till 1am!
39 – Feel the vibe at Don't Tell Mama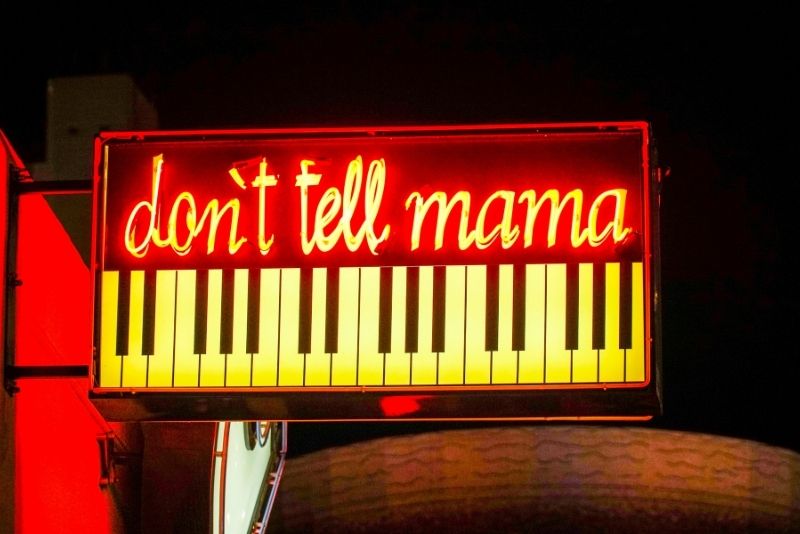 For a colorful hand-crafted cocktail with a side of spectacular singing, don't miss out on Don't Tell Mama – one of Manhattan's famous cabaret dives that welcomes some of the city's most talented piano players and jazz performers.
You'll often find the bartenders breaking into song while simultaneously tending bar — so if you're a theater fan, add this underappreciated bar to the top of our list of things to do in Times Square!
40 – Support the kids at The New Victory Theater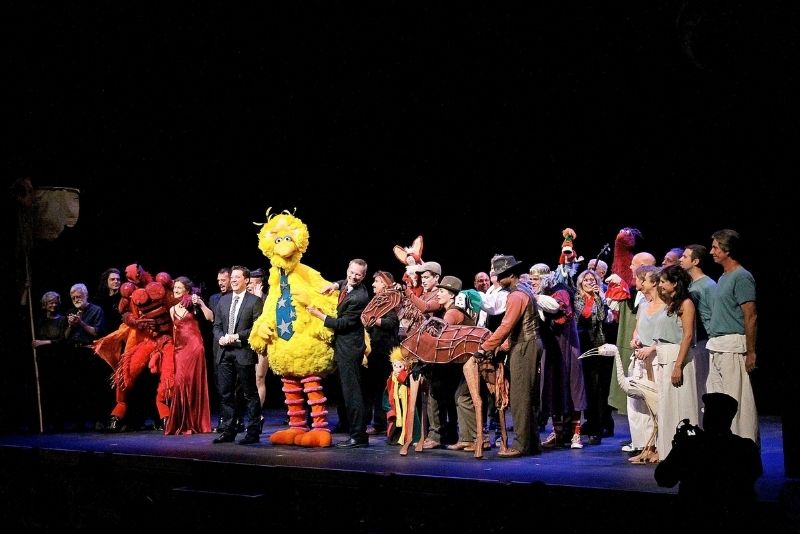 With an expansive and eclectic program of shows exclusively tailored to kids and students (put on for their families and classmates), this is one Off-Broadway performance venue that locals can't recommend enough.
From original works by various theater schools to innovative fresh takes on classics like Beauty and the Beast, A Midsummer Night's Dream, and more, it's not only a wonderful show, but also a budget-friendly way to support up-and-coming NYC talent.
41 – Get a unique caricature of yourself from a street artist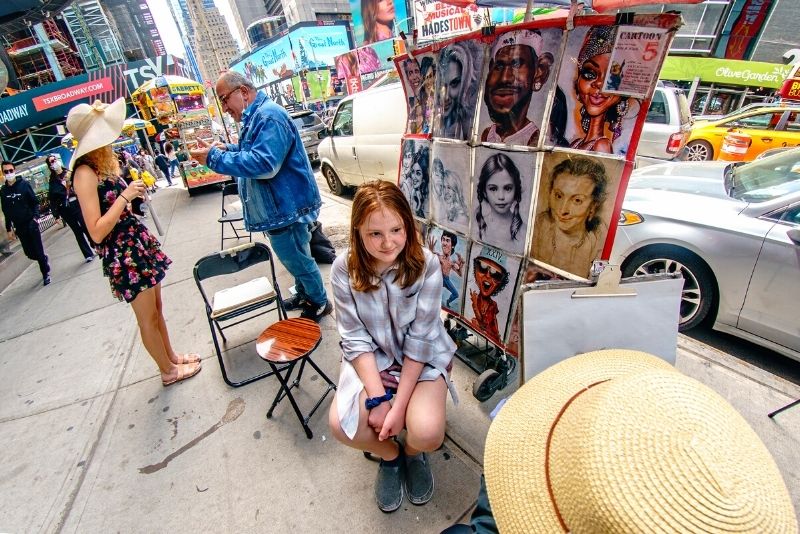 Cheesy? Maybe a little. Quintessential New York City? You better believe it.
These artists are dotted all over the city, but especially near Times Square and along 57th Street.
So whether you're trying to keep track of your family members amongst the swarms of people or want a memento from your time in New York City, this is one activity that will leave you with memories (and photos) that you can't find in a souvenir store.
Hot tip: some artists are open to negotiation when it comes to price.
42 – Skate around the iconic Rockefeller Center rink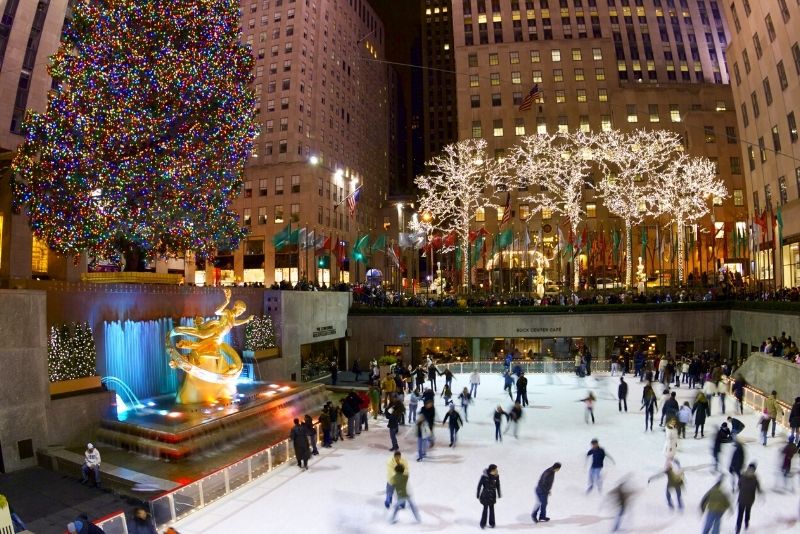 When winter rolls around, the city's most famous ice skating rink becomes one of its most beloved attractions, drawing in tourists and locals alike in droves.
Whether you're a diehard skater or just looking for a romantic activity to do on vacation  (or in your home city) with your better half, a romantic skate under the stars, the lights of this historic rink, and the iconic Christmas tree is a must-try experience.
To warm up afterward, end the night with a hot chocolate or mulled wine at one of the Rockefeller Center's many eateries.
43 – Get your culture dose at the Museum of Modern Art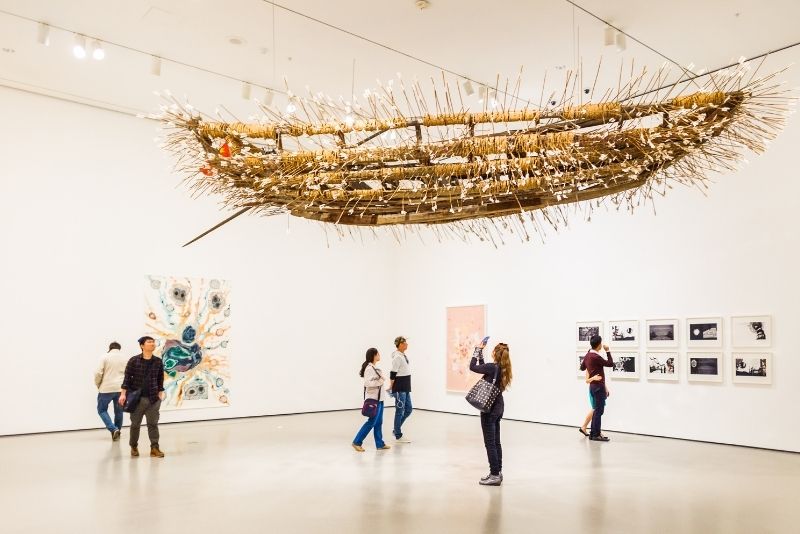 An easy walk from Times Square, the MOMA is a staple Manhattan attraction whose fascinating collection has grown dramatically over the years, now totaling almost 200,000 pieces.
Spread throughout multiple floors you'll find an array of thought-provoking films, paintings, sculptures, and more, with each new exhibition offering a fresh perspective on our world and beyond.
Hot tip: if you're traveling on a budget, you can score free entry most Friday nights!
44 – Customize a jersey at the Pelé Soccer store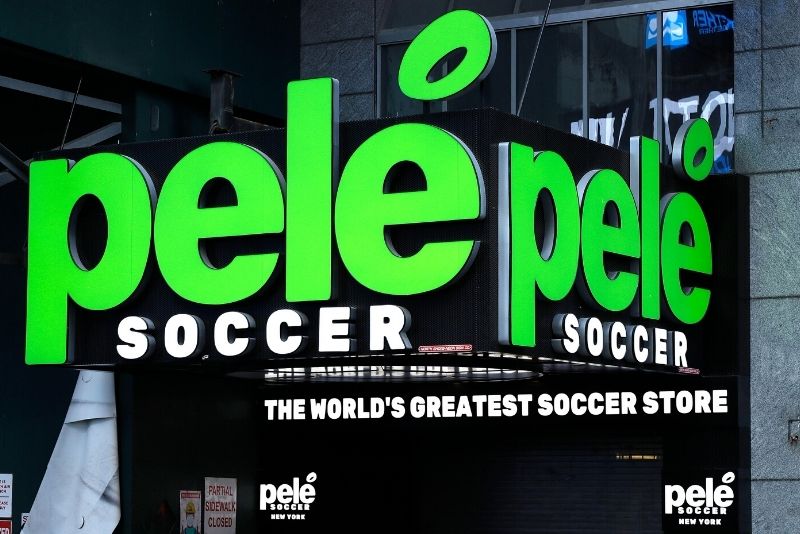 If you're a fan of the beautiful game, don't miss out on this trip down memory lane at the Pelé Soccer flagship store. Located on Broadway in the heart of the action, this superstore houses all the cleats, jerseys, and soccer gear you could imagine, with a particular focus on the city's very own New York FC.
Plus, with an enormous LED screen, you can keep an eye on live matches while you browse the expansive shop floor.
45 – See who's performing at Sony Hall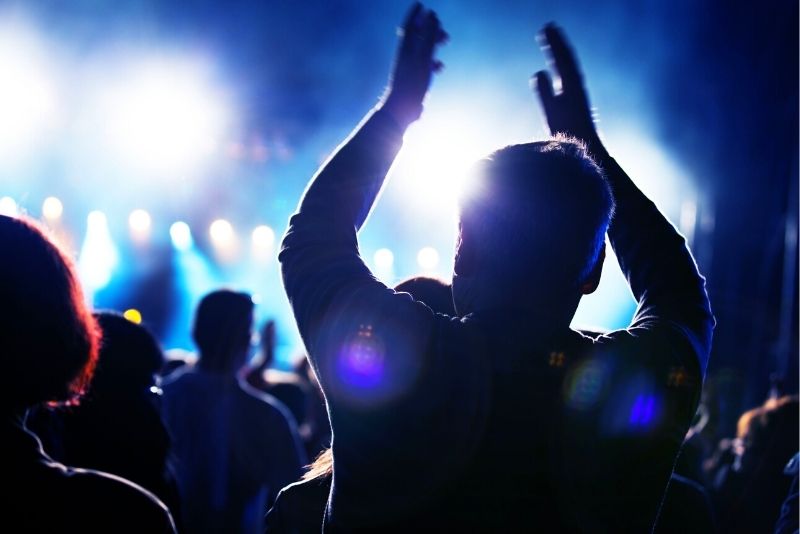 A modern addition to Manhattan's lineup of theatres and music venues, Sony Hall has already staked its claim as one of the city's premier live performance destinations.
Its state-of-the-art acoustics and diverse lineup of concerts, comedy nights, drag shows, and tribute shows (and more) make it a must-visit for music lovers who prefer to avoid the sky-high ticket prices and big crowds of Madison Square Gardens.
Check the website for upcoming shows and to score tickets at a reasonable price.
46 – Get a little buzzed at a rooftop bar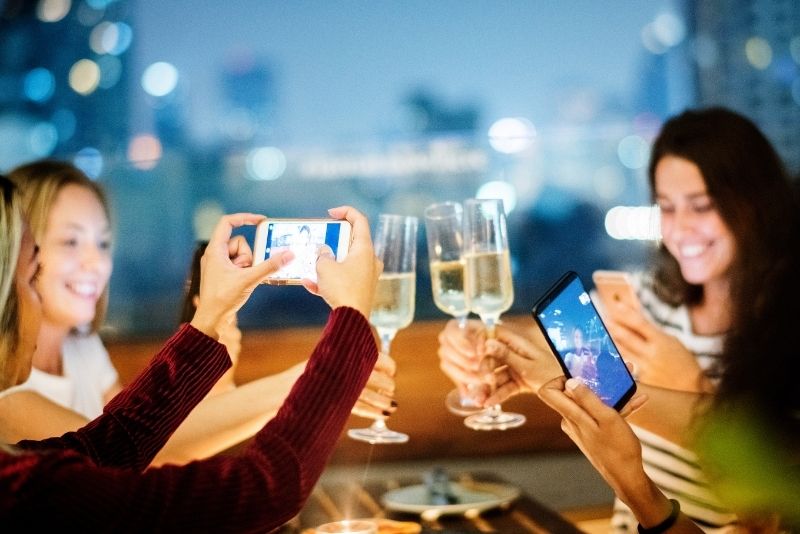 With countless foreboding skyscrapers dotting the cityscape, it's no surprise that the area around Times Square dishes up some killer rooftop bars where you can unwind, drink in hand, after a long day of seeing the city.
A strong contender for the area's most popular, Bar 54 is perched (as you might guess) 54 floors above the madness in the Hyatt Centric Times Square, with crafted cocktails and a large wine list to suit all tastes.
If it's opulence you're after, head to the five-star Knickerbocker Hotel, where its signature St. Cloud rooftop bar oozes style and suave, serving up fine wines, craft beers, and champagne.
Over at the Fairfield Inn & Suites (by Marriott Times Square), you'll find both stylish indoor lounges and open-air terraces at the Sky Room, with live DJ sets that offer top-notch views of the Manhattan skyline.
Still thirsty? The Haven Rooftop at the Sanctuary Hotel is a ninth-level rooftop patio that puts you amongst the action rather than above it, while the 30th-floor Skylark rooftop (open only during the week) offers a comfortable, upscale air.
47 – Immerse yourself in the Midnight Moment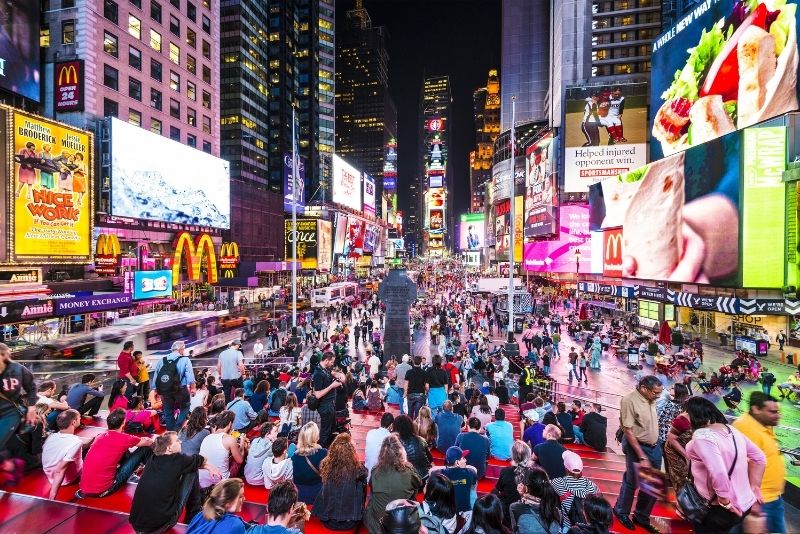 A little-known feature of Times Square that continually impresses anyone who finds themselves in the right place at the right time, the Midnight Moment is a synchronized billboard art show that takes over Times Square every night in the three minutes leading up to midnight.
Having been active since 2012, surprisingly, Midnight Moment wields the coveted title of being both the world's largest and longest-running digital art exhibition – so why not check it out?
48 – Pamper yourself in 5-star luxury at the Knickerbocker Hotel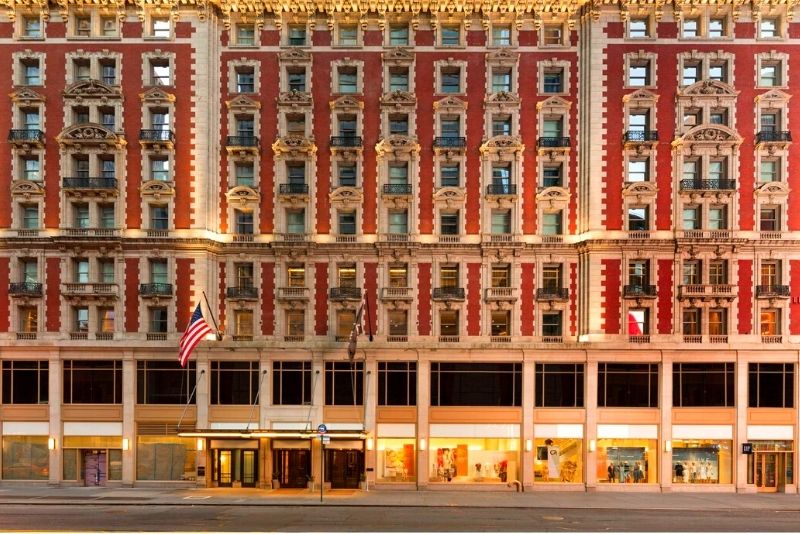 Need a place to stay? The Knickerbocker hotel is known for its high-end service and amenities, with a great central location in Times Square. While certainly not the most affordable of all NYC hotels, with its spectacular vistas overlooking the epicenter of the borough between Broadway and Bryant Park, and a range of luxury suites to choose from, it's a frontrunner option for anyone focused on status, style, and sophistication.
Other hotels worth checking out include the Luma, Margaritaville Resort (perfect for thirsty travelers), W Hotel, and the selection of hotels that feature rooftop bars and restaurants: the Fairfield Inn & Suites, Hyatt Centric Times Square, and the Sanctuary Hotel.
Alternatively, if you prefer to stay in a different, quieter area of the city and walk or commute to Times Square, consider the Ritz-Carlton, Dream Downtown, or the Millennium Hilton New York One UN Plaza.
How to get the best bang for your buck:
The Big Apple – from Times Square to Downtown and the surrounding boroughs – is certainly not averse to visitors, as we all know. To accommodate the millions of snap-happy tourists who make the journey every year, a host of notable attractions and businesses — like major museums, landmarks, boat trips, observation decks, and bus tours — have joined forces to offer New York City tourist passes.
Depending on your duration of stay and what exactly you'd like to see, there's almost certainly a budget-friendly tourists ticket to fit your needs.
Read our New York City attractions pass price comparison guide.
Ditch the subway; consider a pre-arranged transfer
New York's subway system is iconic — iconic for being incredibly difficult to navigate. So why struggle to get around the Big Apple after hopping off a plane?
Rather than look like an obvious out-of-towner, consider a pre-organized airport transfer to save the stress of getting to and from your hotel. Plus, seeing the city through the window of a luxurious SUV en route to your accommodating is an enviable thing to do in and of itself!
Final thoughts
Well, that's a wrap! We hope you've loved our diverse list of fun, quirky, and lesser-known things to do in Times Square, Manhattan, New York. Need more inspiration on your trip? There's plenty to do in Manhattan beyond Times Square, as well as Brooklyn and Long Island.
Want to add something to the list? Feel free to leave a comment below. And, of course, enjoy your trip!