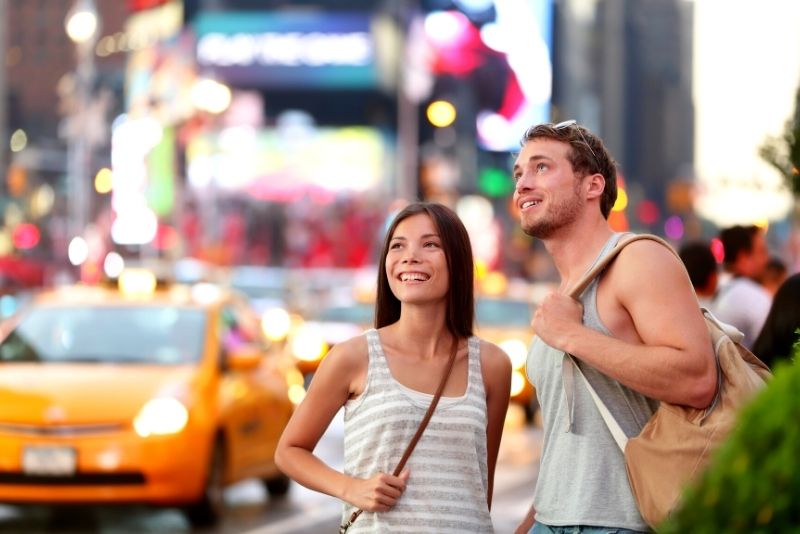 They say All roads lead to Rome — clearly, they were taking the wrong roads, because, in this modern era, all roads lead to the magnificent multicultural melting pot that is New York City; the skyscraping concrete jungle and the behemoth of a tourist magnet that is the infamous the Big Apple.
Beckoning tens of millions of travelers year after year, this dense, diverse, and dearly beloved metropolis is overflowing with excitement, delivering entertainment of all kinds around every corner — you could live in the Big Apple for a decade and still only uncover a sliver of its magic.
But if you're only going to visit for a few days, how on Earth are you supposed to know which attractions to prioritize? Fear not, intrepid traveler! We've got your back with our list of the 99 best tourist attractions in New York City.
From top-notch museums like The Metropolitan Museum of Art and the American Museum of Natural History, to awe-inspiring architecture including the Empire State Building and Grand Central Terminal, to world-famous green spaces like Central Park and Bryant Park, there's something for everyone in this city that never sleeps (and really doesn't stop moving either).
So what are you waiting for? Start planning your NYC adventure today!
1 – Statue of Liberty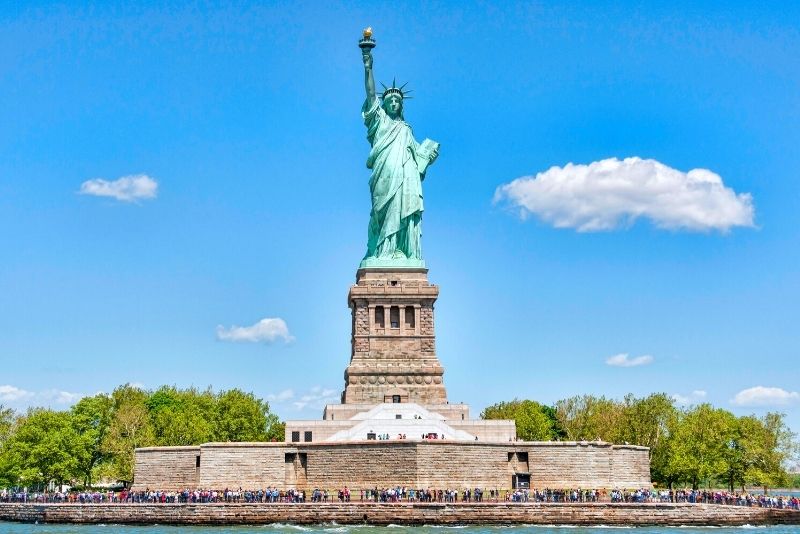 There's no denying that the Statue of Liberty is one of the most iconic and photographed landmarks in all of New York City, so it would be a sin to leave without paying this UNESCO World Heritage Site a visit.
Acting as a symbol of freedom and democracy ever since she was first unveiled in 1886 as a gift from the people of France to the United States, this neoclassical beauty towers 151 feet from toe to torch, or over 300 feet high if you include its base — and while it can certainly be appreciated from the water on one of the many boat tours in the area, to stand in her shadow, admire her crown, and climb the statue itself delivers another spectacular perspective.
Ferries to Liberty Island (where Lady Liberty stands) run regularly from both Battery Park and Liberty State Park in Jersey City, so there's no excuse to exclude this beauty from your list! And, if you're looking to save a few bucks, the Staten Island ferry runs around the clock from Downtown Manhattan, providing postcard-worthy (and totally free) views of both Lady Liberty and the lower skyline.
See also: Statue of Liberty Last Minute Tickets – It's not Sold out!
2 – Metropolitan Museum of Art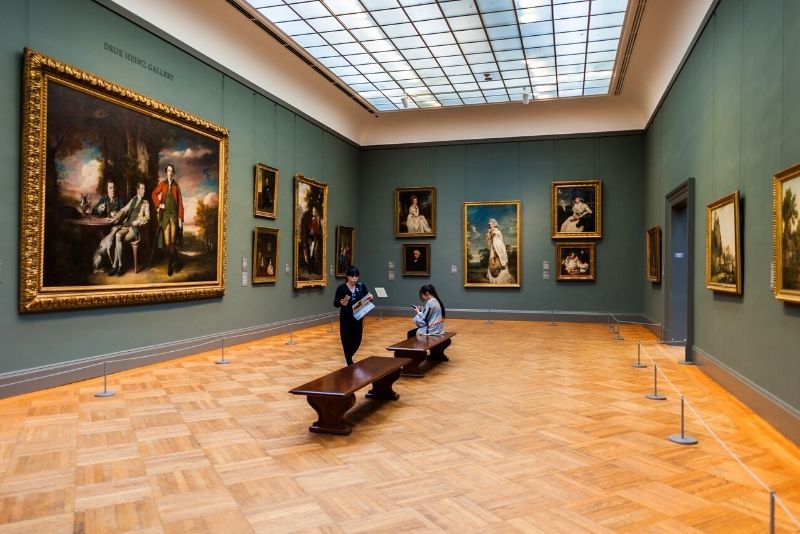 Looking for the best museums in New York City? Arguably the world's most renowned museum (although the Louvre would certainly throw its hat in the ring), the Met is a New York icon and one of the "must-dos" on any first-time trip to NYC.
Housing over two million pieces of art from around the world, this vast museum in Central Park has everything from Egyptian hieroglyphics to European masterpieces by Picasso, Monet, Van Gogh and more — not to mention its famous sculptures like The Winged Victory of Samothrace (aka Nike), who, despite being headless, stands guard at the top of a grand staircase.
It goes without saying that an afternoon exploring such a place could easily be turned into days as you wander through countless halls filled with centuries' worth of artwork, so if you want to really get your money's worth it's best to take a guided tour.
The Met is open from Sunday to Thursday from nine in the morning until five at night (note: except for Wednesday), and on Friday and Saturday from nine in the morning until nine at night if you're on the hunt for an evening of culture — so there's plenty of time to squeeze it into your itinerary!
See also: Fun things to do in New York City at night
3 – Rockefeller Center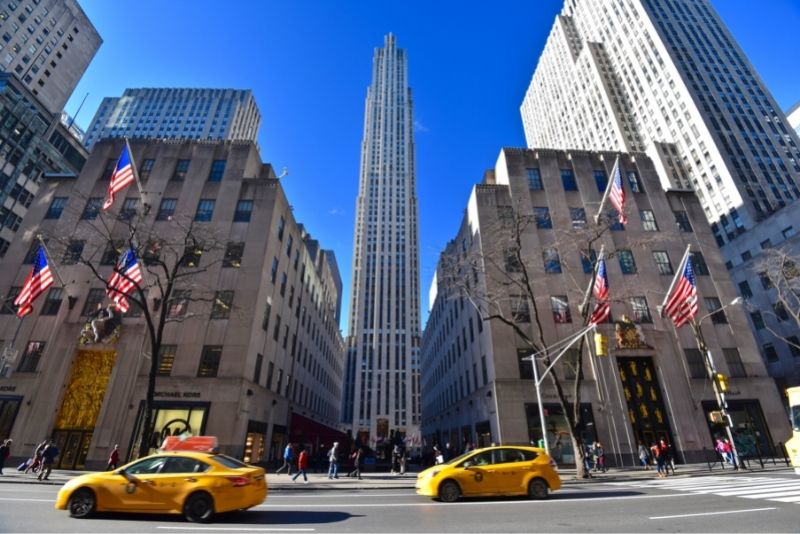 A Midtown beacon of entertainment, shopping, and tourists that takes up an entire city block, Rockefeller Center is one of the most famous landmarks in all of New York City and a must on any first-time trip to the Big Apple.
Built between 1930 and 1940, this iconic destination is a hub of activity year-round and is one of the most popular places in New York City to snap a selfie — especially around Christmas time when their famous ice rink opens up for skaters and thousands flock into town for some holiday magic under the infamous giant tree!
However, even if you don't make it during the winter months (or can't stand that freezing NYC wind chill) there's still plenty to do at Rockefeller Center!
With multiple works of art dotted throughout its grounds such as Prometheus outside 30 Rock, plus killer views from the Top of the Rock observation deck, plenty of entertainment and souvenirs at the Radio City Music Hal or NBC studios (see if you can snag a ticket to a live show!) and world-class shopping, this grandiose Art Deco complex has a slice of every pie.
4 – Central Park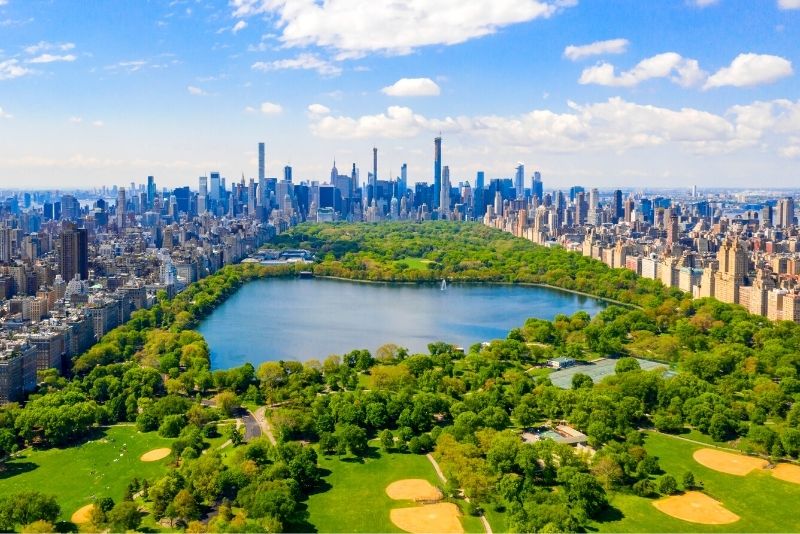 A green oasis smack-dab in the heart of the concrete jungle, Central Park is one of the most famous public parks in the world and an undeniable New York City staple.
Created in 1857, this massive park stretches from Midtown all the way up to Harlem and covers more than 800 acres (or around twice the size of London's Hyde Park) — meaning there's plenty of room to wander, explore, and relax amongst nature without ever having to leave Manhattan.
Walking trails and expansive lawns aside, you'll be spoiled for choice for things to do in Central Park: the area is home to a variety of different attractions such as The Metropolitan Museum of Art at its eastern edge or the Museum of Natural History on its western edge (both unmissable Manhattan museums), Alice in Wonderland statue near 72nd street, Belvedere Castle on Vista Rock, the Shakespeare Garden, the cute-as-a-button snapping turtles in turtle lake, the vintage Carousel, Strawberry Fields (a memorial to John Lennon) and more — not to mention countless food carts, sports fields, street performers, and horse-drawn carriages.
There's no doubt about it: Central Park is a New York City icon that should be on every visitor's itinerary! With so much to see, the classic way to explore is by bike! Rent your own and discover the park at your own pace or join a guided tour if you'd prefer someone else do the navigating.
5 – Grand Central Terminal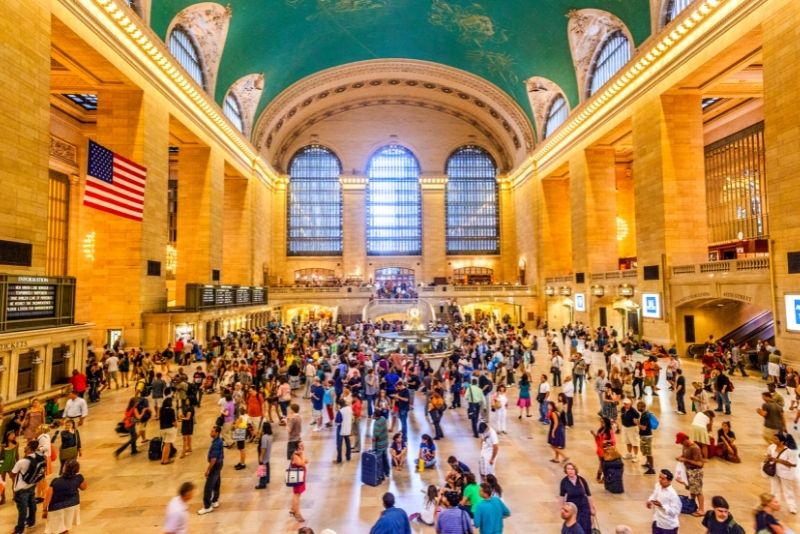 Made famous through an endless list of cinematic appearances over the decades, Grand Central Terminal is a train station that's just as much of an attraction as it is a functional transportation hub.
Completed in 1913, this beaux-arts beauty dominates Midtown Manhattan and has been a crossroads for millions upon millions of New York City locals and tourists alike, housing 44 platforms – more than any other station in the world.
Besides its impressive size and architecture, not to mention the astronomical mural which dons the cavernous main concourse roof, Grand Central is also home to a vast array of shops, restaurants, and bars – perfect for grabbing a bite or taking a break from all the sightseeing. And if you're feeling up for it, be sure to check out the whispering gallery on the lower level!
6 – Helicopter Tours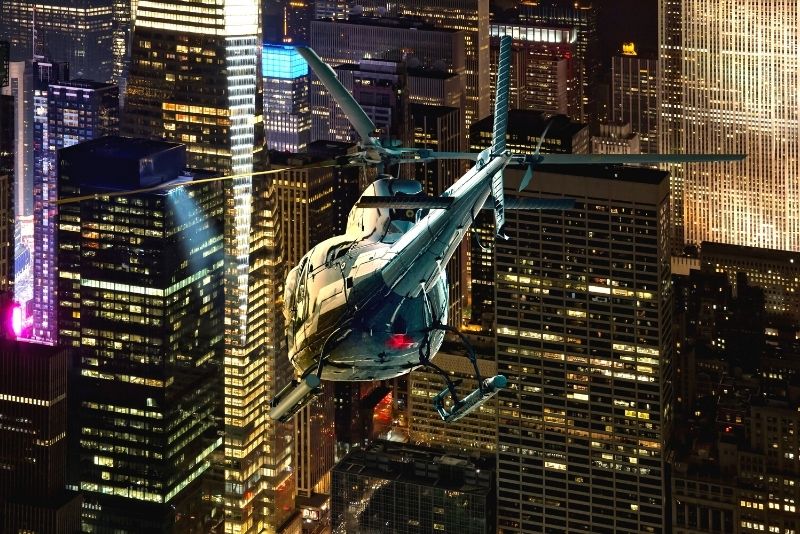 Ready to snap that jealousy-evoking Instagram shot? There's no better way to do it than with a helicopter tour of New York City — where unrivaled bird's eye views await.
Usually departing from the Downtown Manhattan Heliport (although there are a few spots around the Big Apple, so you can typically find something close to where you're staying), you'll soar above some of the city's top sights including Central Park, the Empire State Building, the Brooklyn Bridge, One World Trade Center, and so much more, soaking in stunning views of Ellis Island and Lady Liberty herself along the way.
Ideal for couples looking for a slice of romance, thrillseekers looking for some sky-high magic, or anyone who simply wants a new way to explore the city, helicopter tours of New York City are certainly an experience to remember.
Craving more altitude still? You'll find flight lessons and aerial photography tours available as well!
See also: Helicopter Tours in New York City – Which One Is the Best?
7 – Top of the Rock Observation Deck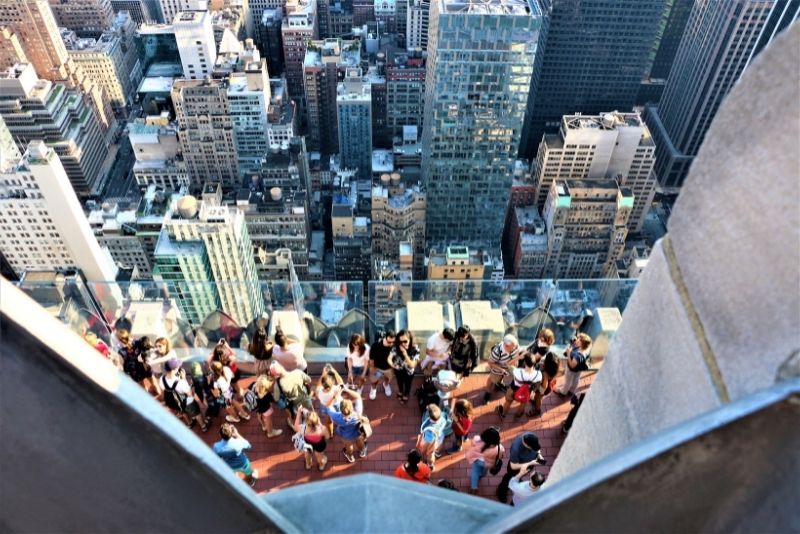 As the world's most famous skyline, it's only natural that New York City would have a few observation decks where visitors can marvel at its majesty from up high. And, of course, one of the most popular is Top of the Rock.
Offering unparalleled 360-degree views from the 70th floor of 30 Rockefeller Plaza (an official New York City landmark also known as the GE Building), this Midtown attraction offers unobstructed vistas spanning Central Park to the north, Times Square and the Hudson River to the west, and the Empire State Building and beyond to the south — no matter which direction you look, stellar panoramas await.
Hot tip: try to arrive about an hour before sunset when the city begins to twinkle and enjoy a cocktail at Bar SixtyFive while you watch as day turns magically to night.
See also: Top of the Rock Tickets Price – Everything you Need to Know
8 – Brooklyn Bridge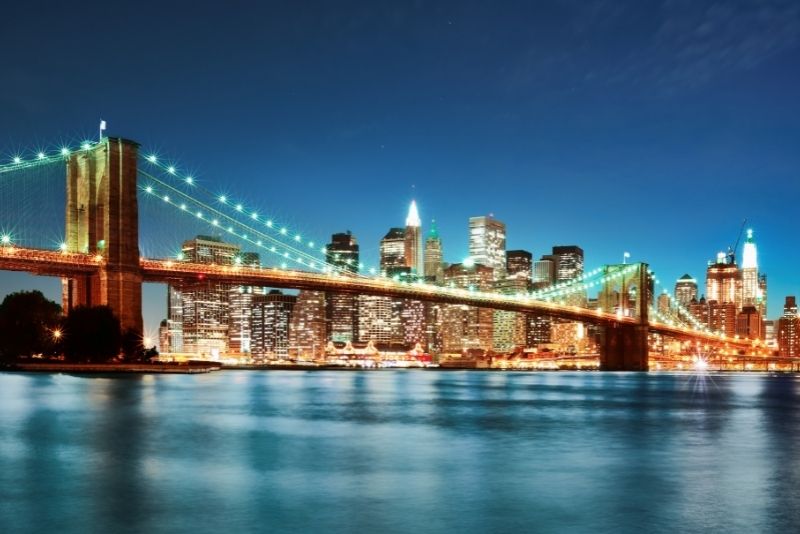 Historic, iconic, and a tourist magnet for decades, the Brooklyn Bridge has long been considered one of the best tourist attractions in New York City.
Stretching over a mile above the East River and connecting Manhattan with Brooklyn, this 1883-built suspension bridge was originally designed to improve transportation between the two boroughs — which it continues to do in spades today.
However, its true value lies not so much in its role as a connector but rather for what it represents: an architectural masterpiece and a feat of 19th-century engineering that took close to 15 years to build, using 15,000 miles' worth of wire.
Today, pedestrians and cyclists can follow the same path taken by thousands upon thousands of commuters each day on their way across, with a host of history and architecture-themed tours for anyone looking to learn a little more about the postcard-worthy landmark.
See also: Best things to do in Brooklyn
9 – Escape room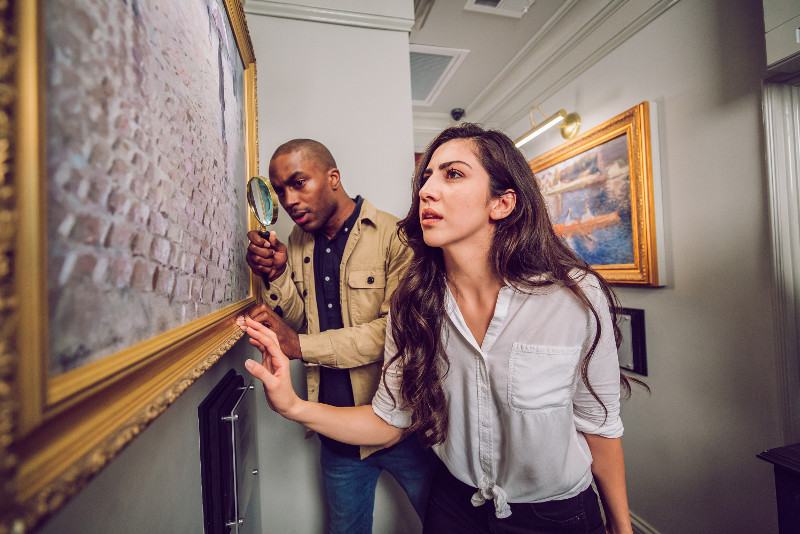 Any budding detectives out there? If you consider yourself a problem-solver, a code-cracker, and a bit of a next-generation Sherlock Holmes, then put your money where your mouth is and test your wit in one of New York's immersive, thought-provoking, always-exciting escape games!
With locations scattered all over the city (make sure to check The Escape Game), you're never too far from a room where you and your friends (or complete strangers) can put your lateral thinking skills to the test. Race against the clock to find clues, solve puzzles, and break out of the room before time runs out!
Choose from themes like prison breaks, art heists, a gold rush, detective missions, or even go for a horror-themed game if you're looking to add a little fright into the mix. Either way, there's no doubt about it: escape games in New York City are always fun!
10 – Museum of the Moving Image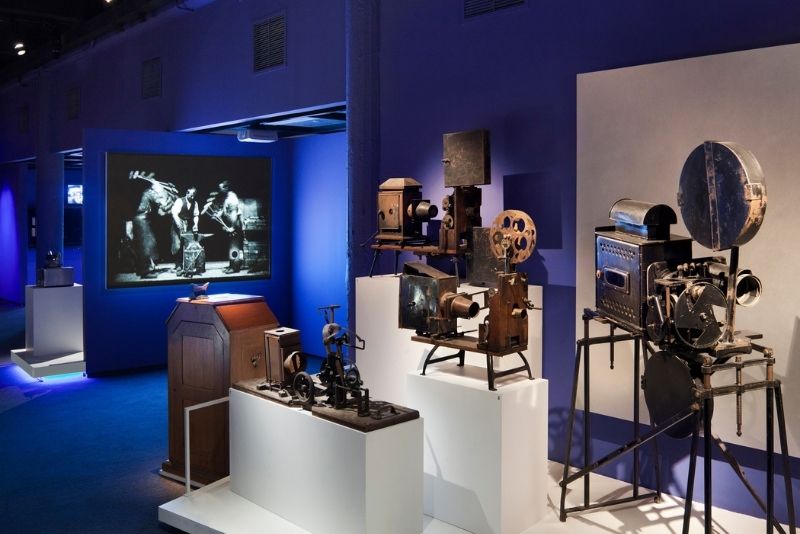 Tucked away off the beaten track in Queens, the Museum of the Moving Image is a true gem that celebrates all things film, TV and digital media — with an impressive collection of artifacts including everything from historic cameras to costumes worn by your favorite on-screen characters, plus props used in famous films and fascinating insights into the art of animation.
Besides the "Behind the Screen" exhibition, which showcases over 1,400 rare and unusual historical artifacts on its own, the museum also hosts regular screenings showcasing classic movies and newer releases (with a focus on independent films) at its own theater inside (included with museum admission); while traveling exhibits focused on special filmmakers, techniques, or themes ensure that no two visits are the same. A must for any movie buff!
11 – Guggenheim Museum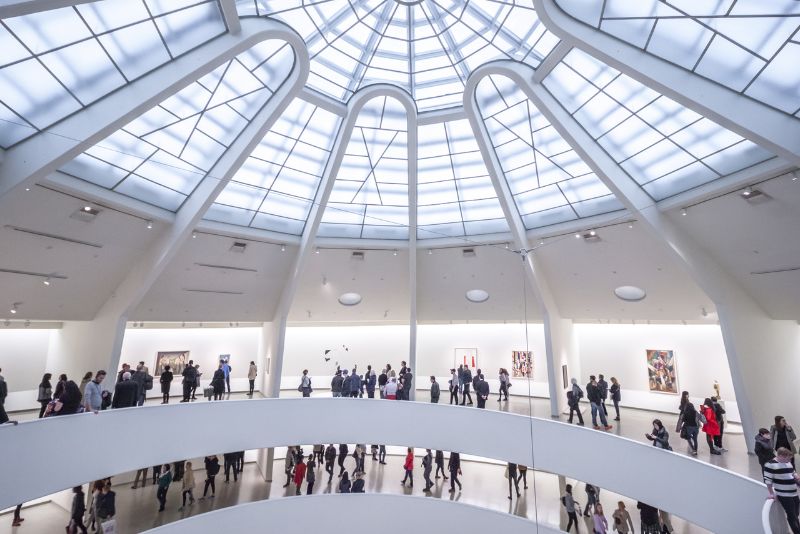 Despite often being overlooked in favor of the Met and the MoMA, the Solomon R. Guggenheim Museum remains an art-lover's heaven on earth, with a reputation that extends far beyond the five boroughs.
Designed by Frank Lloyd Wright and completed in 1959, and now considered a UNESCO World Heritage Site, this cylindrical building was intended to house a permanent collection of Impressionist, Post-Impressionist, early Modern, and contemporary art from around the world.
And today it does exactly that, showcasing a wide variety of works by renowned names like Monet, Van Gogh, Manet, and Magritte, to name but a few,
What's more, its spiraling ramp has become as much a part of the museum's identity as the art on display within, making it an attraction in and of itself for visitors who want to take their time browsing through the galleries.
12 – Museum of Modern Art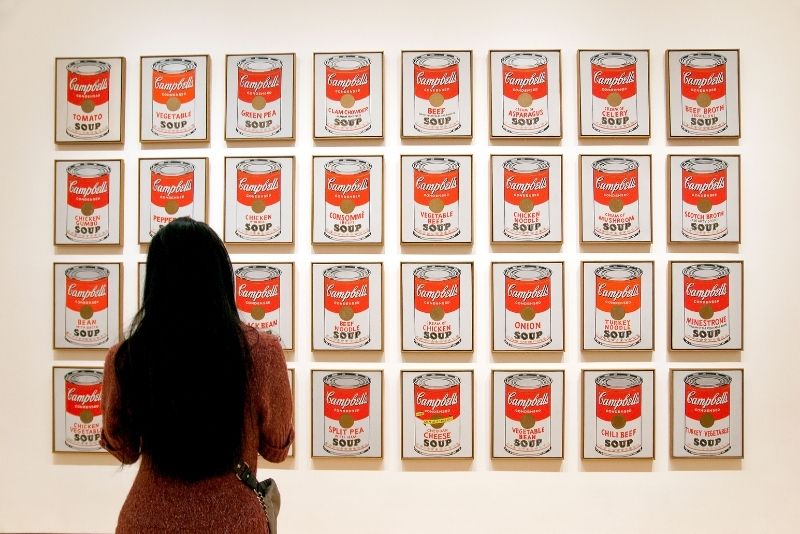 Guaranteed to delight, pose questions, and challenge your notions of art, the Museum of Modern Art (MoMA) has long held a reputation as a quintessential Manhattan destination for any culture vulture.
Boasting a permanent collection of close to 200,000 pieces from all around the world — one which has improved year after year since its founding back in 1929 — this Midtown museum is home to Claude Monet's Water Lilies series, Vincent van Gogh's The Starry Night and Pablo Picasso's Les Demoiselles d'Avignon — plus works by Salvador Dalì, Frida Kahlo, Roy Lichtenstein, and pretty much every other major contemporary artist you could think of (and then some).
Throw in a sleuth of sculptures, film, photography, over 28,000 works specific to architecture and design items, and regular events throughout the year, and it becomes easy to see why the MoMA is considered one of the best tourist attractions in New York City.
To help you navigate this art behemoth, they offer a range of docent-led tours as well as a MoMA Audio Guide — an app that lets you listen to artists, curators, and conservators discuss various pieces in the collection.
13 – Madison Square Garden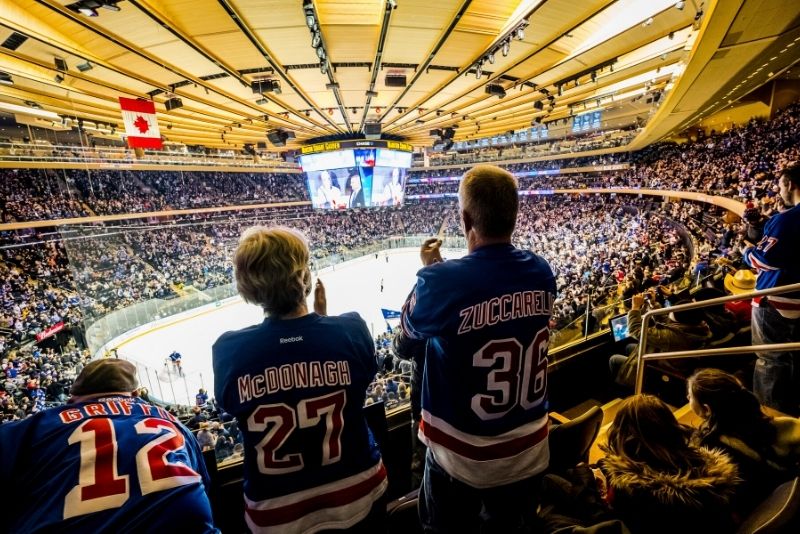 Never shy of a roaring and electric atmosphere, Madison Square Garden is New York City's premier sports and entertainment venue.
And no, it doesn't matter if you're not a fan of the NBA's Knicks or the NHL's Rangers – this arena is worth visiting for its sheer size, scale, and architectural magnificence alone.
Perched atop Pennsylvania Station (which makes for easy access) MSG has been drawing in basketball fans keen to see the NBA franchise in action ever since opening day, as well as hockey-lovers looking to get up close with their favorite NHL stars on ice.
It also hosts plenty of other sporting events throughout the year too – from boxing matches to UFC bouts and wrestling tournaments; while concerts by some of music's biggest names have become a staple at this iconic venue for decades.
Wanna take a look behind the scenes? Tours of this historic venue offer visitors a look at everything from the locker rooms and press areas to private suites and even the hallowed ground where rock gods like The Beatles, Led Zeppelin, and Elton John have performed over the years.
See also: Best things to do in Manhattan
14 – Museum of Natural History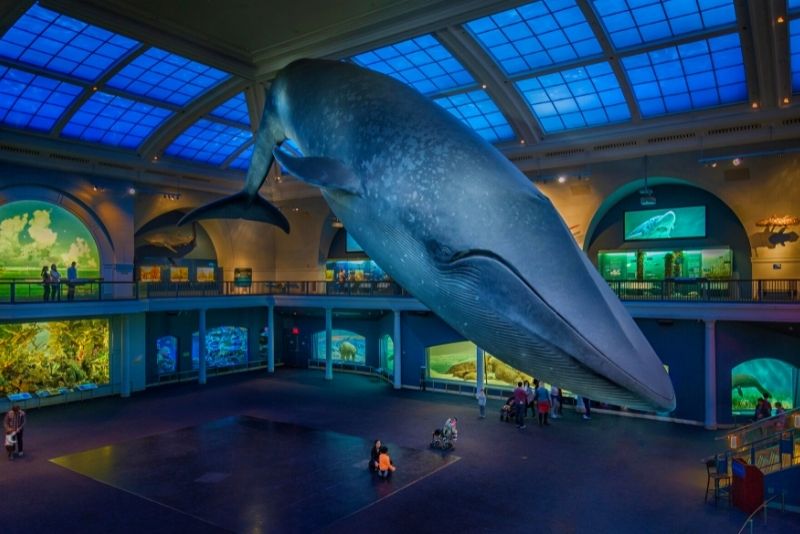 Showcasing everything from prehistoric dinosaur skeletons to rare gems and stones, New York City's Museum of Natural History is a haven for all those with an interest in biology, geology, anthropology, and the fascinating realities of the world around us.
Open since 1874, this museum holds one of the largest natural history collections on the planet – housing more than 34 million specimens ranging from insects to minerals, dinosaur skeletons, ancient rocks that date back billions of years, and a vast collection of plant specimens.
This sprawling complex in Theodore Roosevelt Park (adjacent to the western edge of Central Park) also features a range of educational displays dedicated to topics like biodiversity, climate change, ocean life, evolution, microbiology and more; not forgetting its incredible 40-foot-wide, 66-foot-high IMAX screen that makes you feel like you're in the thick of the action!
15 – Chelsea Market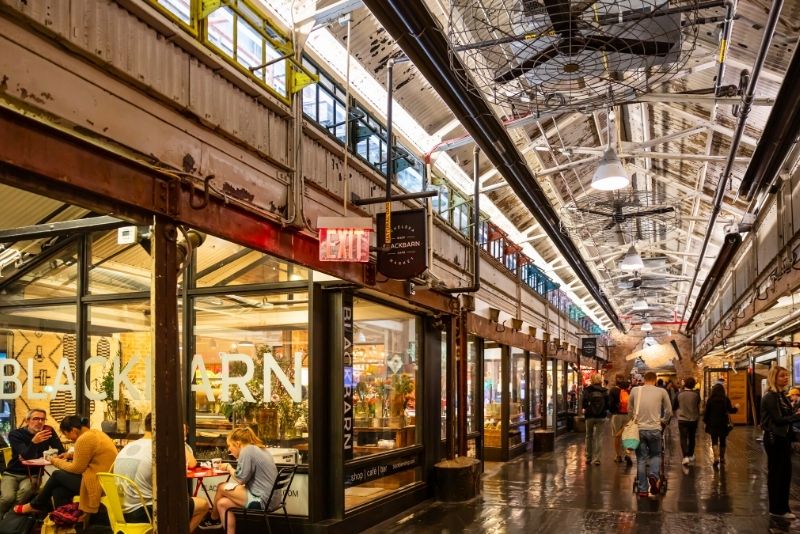 If you're in the mood for some gourmet eats after all that sightseeing, Chelsea Market is a must-visit. Located in the Meatpacking District (fittingly), this indoor food hall offers everything from artisanal cheese and chocolate shops to award-winning restaurants, drool-worthy tacos, as well as trendy boutiques and a few galleries on the side.
The Market has been around since 1997, but it only really hit its stride in recent years; nowadays, it's one of the most popular tourist destinations in New York City and a stone's throw from both the High Line and the East River.
Come hungry and be prepared to sample everything!
16 – High Line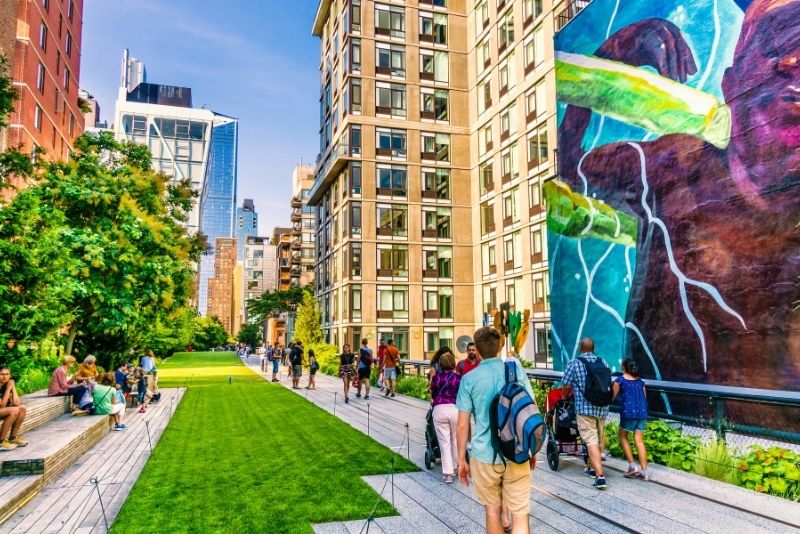 Fast becoming an NYC staple since opening in 2009, the gentrified High Line is a public park built on an elevated section of a long-abandoned railway spur called the West Side Line.
Stretching about a mile and a half over 30 blocks and welcoming around eight million visitors every year, this popular elevated promenade winds its way along the lower west side between Hudson Yards and the northern edge of Chelsea (stopping off at the Chelsea Market), offering unparalleled views of Manhattan's glittering skyline along the way!
Enviable views and peaceful stroll aside, a creative array of artwork combining sculptures and murals, as well as plenty of food carts throughout the area provide a buzzing yet peaceful atmosphere.
Hot tip: after stretching the legs, grab a seat at The Standard High Line's rooftop bar for a killer view and killer handcrafted cocktail to boot.
17 – Whitney Museum of American Art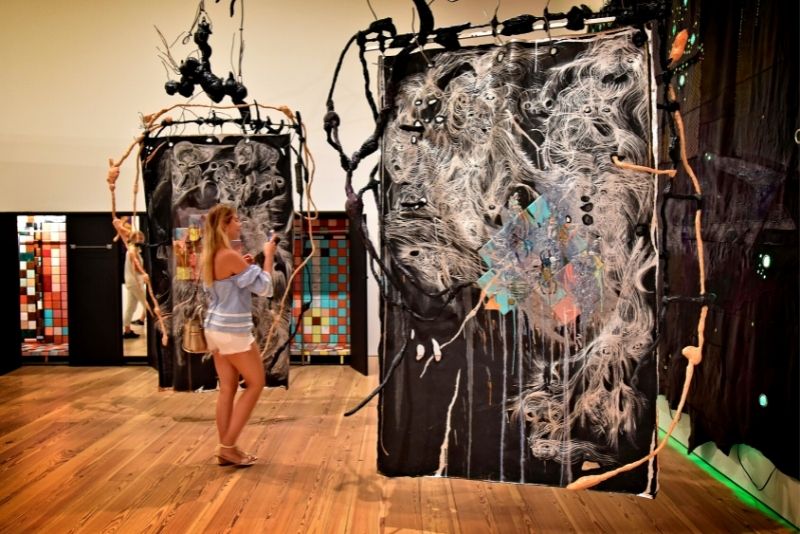 One of New York City's finest museums dedicated to American art, the Whitney Museum is a must for anyone interested in 19th and 20th-century American works – especially those by living artists.
Among the broad 23,000-piece collections, crowd-favorite highlights include paintings, drawings, prints and sculptures that date back all the way to 1900; collections ranging from pre-eminent figures such as Edward Hopper and George Luks through to pop-culture icons like Andy Warhol; as well as a range of changing special exhibitions throughout the year that ensure that no two visits are the same!
Tucked away on the shores of the Hudson River in the Meatpacking District, this imposing modern building is a sight to behold in its own right, with a ground-floor restaurant and a top-floor bar delivering top-notch views of the West Village and beyond.
18 – Times Square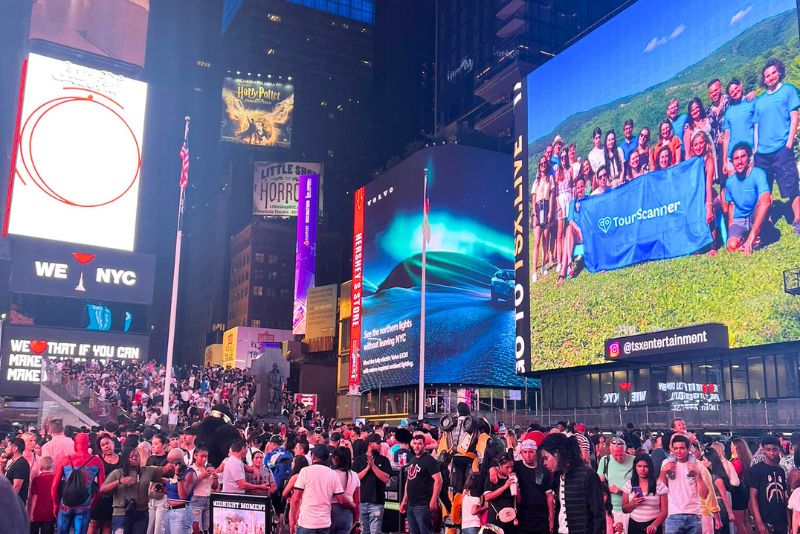 Dubbed The Center of the Universe by many New Yorkers, Times Square is a bustling cacophony of bright lights, costumed characters, foot traffic and curious tourists that's as chaotic and colorful as it is iconic.
Located in Midtown Manhattan at the junction of Broadway, Seventh Avenue and 42nd Street, this awe-inspiring spectacle might be cliché, but it remains one of the best tourist attractions in New York City and certainly one for the bucket list.
As a hub for art, entertainment and commerce (and the location of New York City's annual New Year's Eve Ball Drop), Times Square has been labeled The Crossroads of the World by many over time; with its high concentration of neon signs, billboards and advertisements offering plenty of photo opportunities along every step.
Grab a ticket for a Broadway show, pop into one of the souvenir shops, satisfy your sweet tooth at M&M's World, find the Naked Cowboy, and be sure to take a selfie atop the famous red steps.
Hot tip: Yo wish to elevate your NYC adventure? Grab a moment under the spotlight by getting your picture or video featured on a massive billboard, just like we did at TourScanner. Platforms like TSX liveboard facilitate this unique experience, ensuring your 15 seconds of fame amidst the incessant buzz.
See also: fun things to do in Times Square
19 – New York Aquarium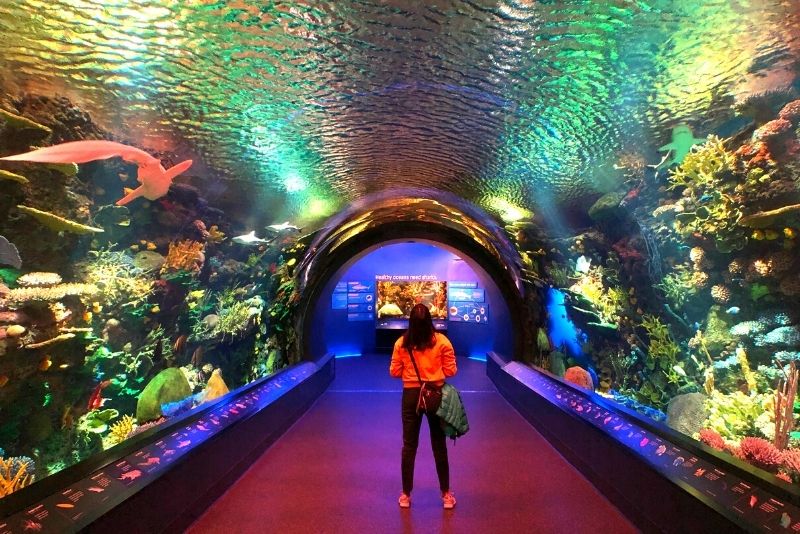 A family-favorite attraction and one of the oldest continually operating aquariums in America, this Coney Island landmark has been entertaining curious visitors since it first opened its doors way back in 1896 (however, was housed in Battery Park until the 1950s before finding its new home) with over 10,000 colorful fish and ocean-dwellers on display.
Situated on 14 acres of land on the boardwalk fronting the Atlantic Ocean, guests can marvel at more than 300 species of marine animals spread over dozens of exhibits, showcasing everything from sea otters to sharks, starfish, and stingrays!
An undeniable highlight, the Spineless exhibit showcases the weirdest and most wonderful slippery sea-dwellers (think Pacific octopus, moon jellies, and zombie worms), while the hands-on sea lion trainer shows at the Aquatheater and 4D-movie theatre provided educational entertainment for kids and adults alike!
20 – Fifth Avenue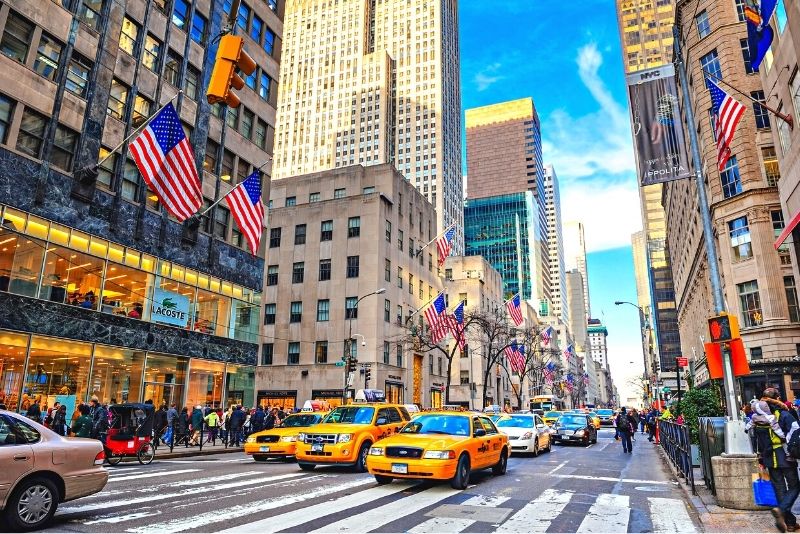 Credit card at the ready, folks!
When it comes to high-end shopping in New York City (with a potential dose of celebrity-spotting too), the best place to go is Fifth Avenue where you'll be spoilt for choice when it comes to luxury department stores and designer boutiques; with flagship locations of Saks Fifth Avenue, Tiffany, and Bergdorf Goodman drawing a constant crowd, while coveted brands like Chanel, Cartier, Hermes, Prada, D&G, Gucci, Louis Vuitton and more await.
Those looking for an off-the-rack bargain can also head over to H&M's largest Manhattan location on Fifth Avenue and 48th Street (with more than 57,000 square feet spanning five floors), or pop into Lululemon, Barnes & Noble, Adidas, the NBA Store, Uniqlo and more along the way!
While shopping is the main event, the strip also houses the 19th-century Neo-gothic St. Patrick's Cathedral (opposite the impressive ATLAS statue) as well as the main location of the New York Public Library (at 5th and 42nd).
21 – 9-11 Memorial & Museum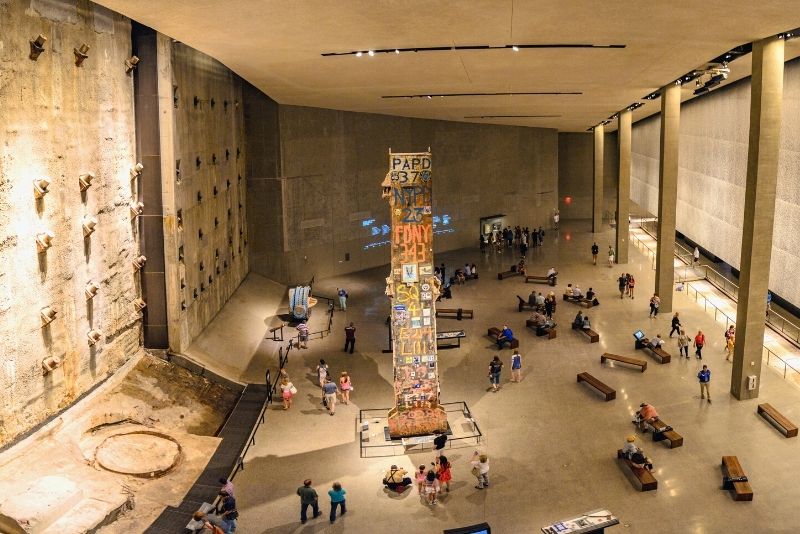 Sobering and powerful, and brilliantly designed to be profoundly moving, the September 11 Memorial & Museum is an eye-opening and riveting destination that, despite its potential to evoke sadness, is essential on any New York visit.
Located at the site of the former World Trade Center twin towers, which were destroyed during the attacks on September 11, 2001, this museum tells the story not only of that fateful day and its lead-up, but also of its aftermath and the fight to rebuild, and how it has shaped both America and the world.
An infinite in-ground waterfall in the open air, the memorial pays tribute to those who lost their lives in the attacks with two massive reflecting pools set within the footprints of where the towers once stood; while inside, poignant exhibits tell stories of heroism and heartbreak from survivors, first responders and others affected by that history-shaping day.
See also: 9/11 Memorial & Museum Tickets Price – All you Should Know
22 – One World Observatory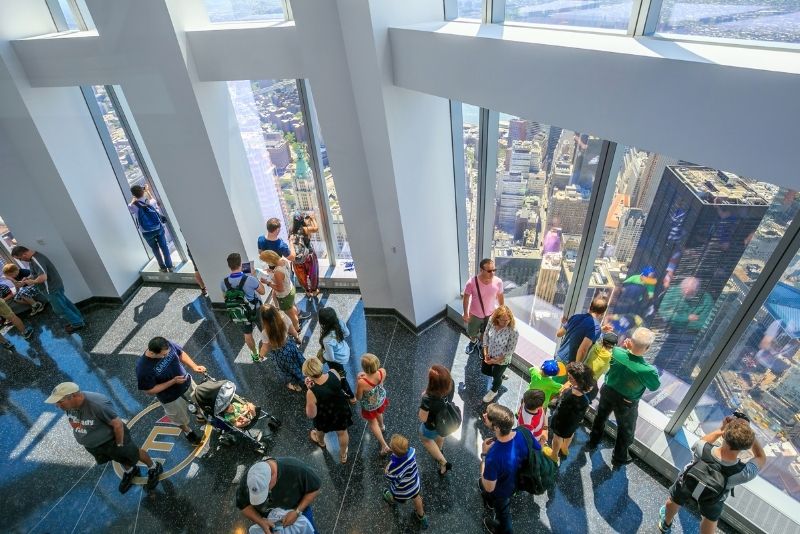 Located on the 100th, 101st, and 102nd floors of One World Trade Center (the tallest building in the Western Hemisphere), this extraordinary observation deck stands an impressive 386 meters above street level and gives visitors unparalleled views of New York City's glittering skyline.
Reached via its own dedicated elevator, known as Sky Pods, guests are whisked up to the observatory with a video-enhanced journey through space and time that shows what NYC looked like throughout the decades!
The experience continues once you arrive at the top with three floors packed full of interactive exhibits for all ages; including stories about how the building was constructed during one of America's darkest hours (with many poignant tributes included); along with cutting edge technology, floor-to-ceiling windows, and One Dine — an upscale eaterie known for its sophistical meals with a view to match.
See also: One World Observatory Tickets Price – All you Need to Know
23 – Broadway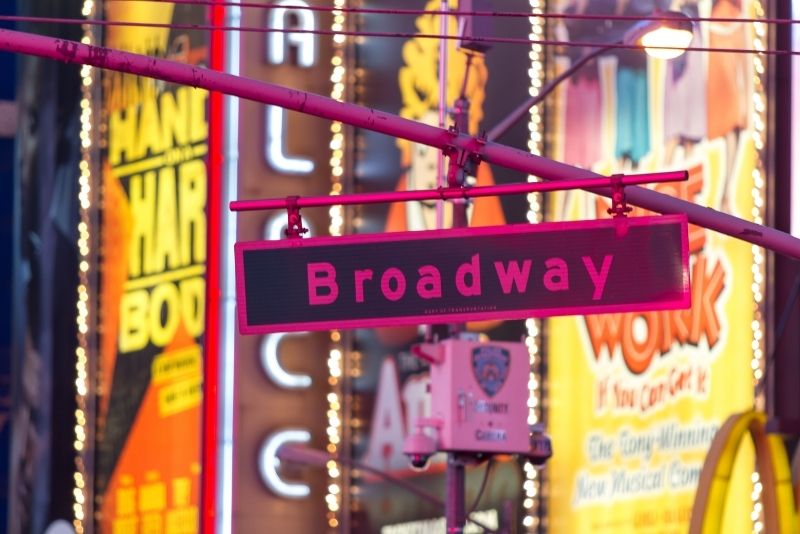 Offering a spectacular night out on the town for visitors of all ages and interests (and let's not forget matinees too), Broadway's reputation precedes it as a melting pot of performance arts and culture smack-bang in the heart of Times Square.
With a variety of world-famous titles to choose from — The Lion King, The Book of Mormon, The Phantom of the Opera, Chicago, Matilda, Aladdin, Avenue Q, Newsical the Musical, and Kinky Boots, just to name a sliver — you'll never run out of fascinating choices full of the city's best on-stage talent.
Hot tip: check out the red stairs in Times Square to find the TKTS booth — if you're lucky, you'll find iconic shows at 50% off at the last minute.
Read more: Best Broadway shows and musicals to see right now!
24 – Empire State Building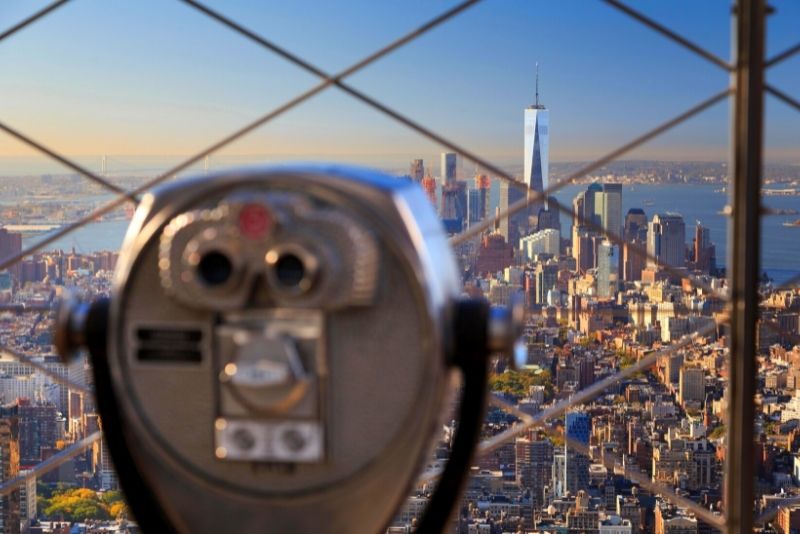 Imposing itself over Midtown Manhattan since 1931, the Empire State Building has been drawing in visitors and tourists like moths to a flame ever since it first lit up the New York City skyline.
Standing at an impressive 102 stories high (not including the antenna), this Art Deco stunner was the world's tallest building for more than four decades following its completion and remains one of the most popular attractions in town.
Not only is it possible to visit the tower's open-air 86th-floor observation deck on most days of the year, but you can head even higher to the Top Deck on the 102nd floor, where floor-to-ceiling windows provide views that stretch for over 80 miles on a clear day, and then learn a few things at the selection of fascinating on-site historic exhibits!
Hot tip: while a visit to the ESB's observation deck is quintessential, if you want to get the building itself in the backdrop of your photos, consider going to Top of the ROck, SUMMIT One Vanderbilt, or the Edge at 30 Hudson Yards.
See also: Empire State Building Tickets Price – Everything you Should Know
25 – Luna Park in Coney Island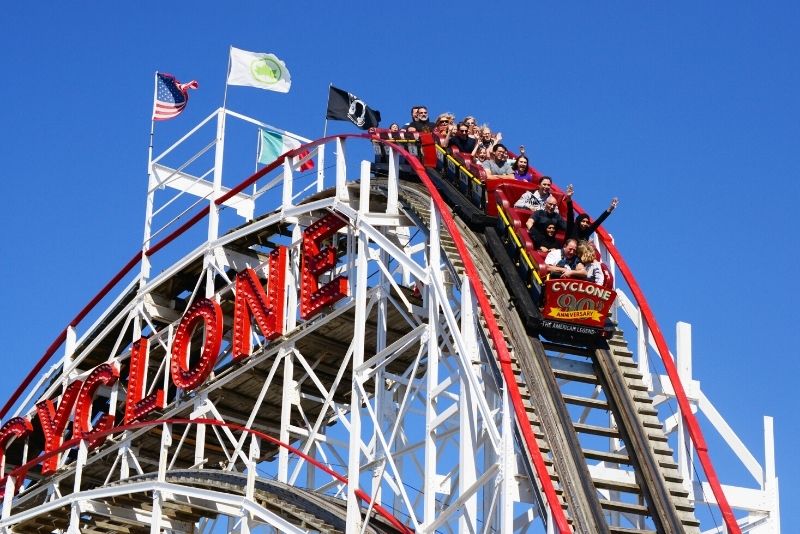 A longstanding attraction straddling the Atlantic coast, Coney Island has welcomed sun- and thrill-seeking locals and visitors since the 1800s, and today is home to Luna Park (an amusement park) which offers more than 40 rides and attractions like bumper cars, roller coasters (don't miss the Cyclone), and the heart-pumping Sling Shot catapult!
Free to enter for visitors of all ages (just pay for whichever rides you jump on!), Luna Park is open seasonally from April to October each year, with a bounty of Midway games, carnie eats, and souvenir stores to boot.
26 – Flatiron Building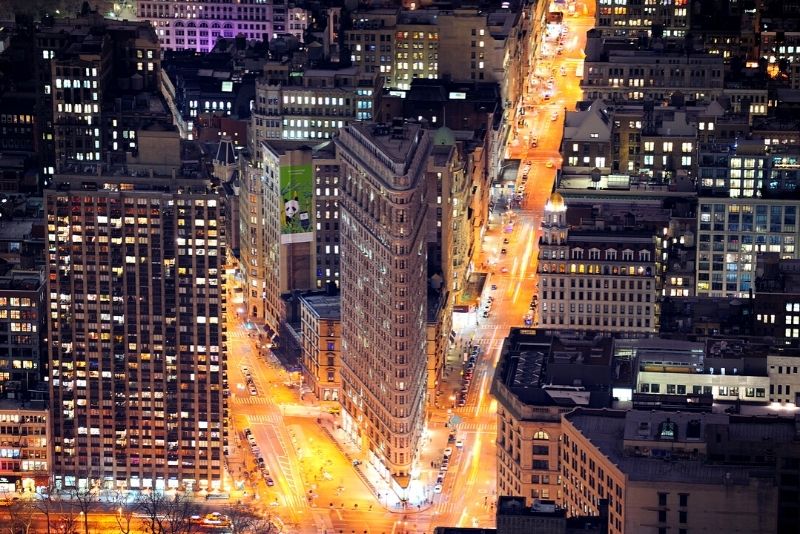 Emblematic of the Gilded Age in New York City, the 285-foot-tall Flatiron Building was one of the first skyscrapers to be built in Manhattan and still remains an iconic sight on the city's skyline more than a century later.
Designed by Chicago architect Daniel Burnham and completed in 1902, this triangular 22-story structure gets its name from its distinctive shape that resembles — well, a flat iron.
Aside from admiring it from afar or snapping photos of its gorgeous Beaux-Arts facade, you can also go inside for free (just head to the ground floor) and explore exhibits about the building's history and construction; plus there are often pop-up art installations taking place throughout the area!
27 – World Trade Center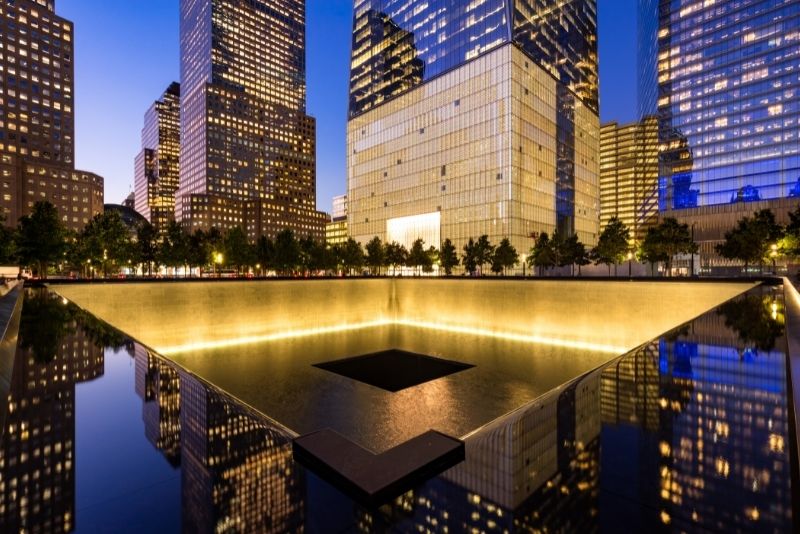 While most associate the World Trade Center with being the site of the 9-11 memorial and the symbol of resurgence that is the skyline-defining Freedom Tower, this Lower Manhattan complex actually houses a plethora of attractions — from retail to dining and entertainment, once you've ticked off the sobering memorial, there's plenty more to see in the area.
You'll find over 1.5 million square feet of shopping space throughout the complex, as well as the architecturally marvelous Transportation Hub — nicknamed the Oculus — that attracts photographers from near and far. Throw in ample green spaces (check out the Battery Park Esplanade), a sleuth of restaurants.
Looking for a hotel in the area? Any of the Four Seasons, Andaz 5th Avenue, and Ritz Carlton are modern, elegant, and a stone's throw from Lower Manhattan's main attractions.
28 – Chrysler Building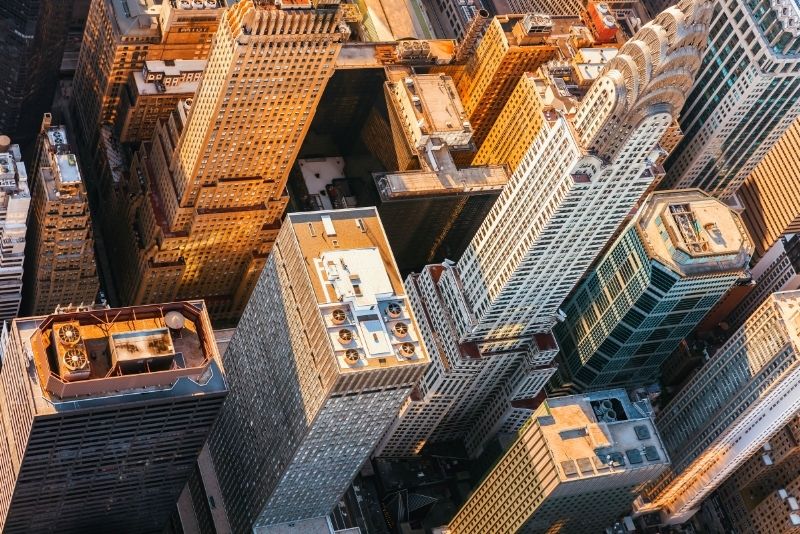 Before the Empire State Building stole its thunder, the Chrysler Building was the tallest in the world (a title it held for just 11 months). Still, since being completed in 1930, this Art Deco masterpiece has remained one of New York City's most beloved skyscrapers, appearing in many a film and on many a postcard!
You can admire it from all around Midtown Manhattan, but to dive deep into its history, a locally-led walking tour comes highly recommended.
Besides learning all about its unique art deco design and the iconic gargoyles perched atop, and the man behind it, you'll also learn tons of other interesting (and surprising) facts about Midtown!
29 – St. Patrick's Cathedral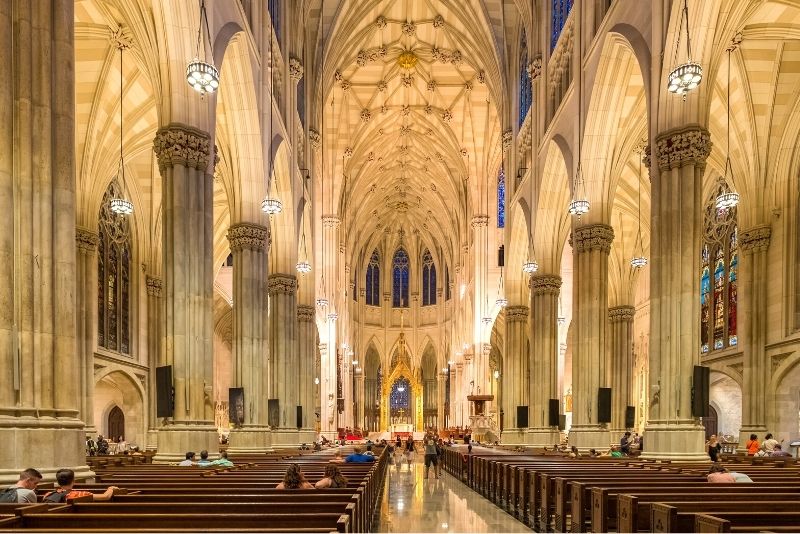 In the heart of Fifth Avenue's hustle and bustle, right across the street from Rockefeller Center, you'll find St. Patrick's Cathedral — the largest decorated Neo-Gothic Catholic cathedral in North America and one of New York City's most historic landmarks.
While it is a functioning parish, this iconic Roman Catholic church welcomes visitors around the clock for guided tours and self-guided visits around its interior to admire the stained glass windows, statues, and impressive organ (the largest in New York City).
Dating back to 1878, the Gothic Revival structure is also the final resting place of the past nine Archbishops, so if you're into history and religion, it's a quintessential stop.
30 – Queens Museum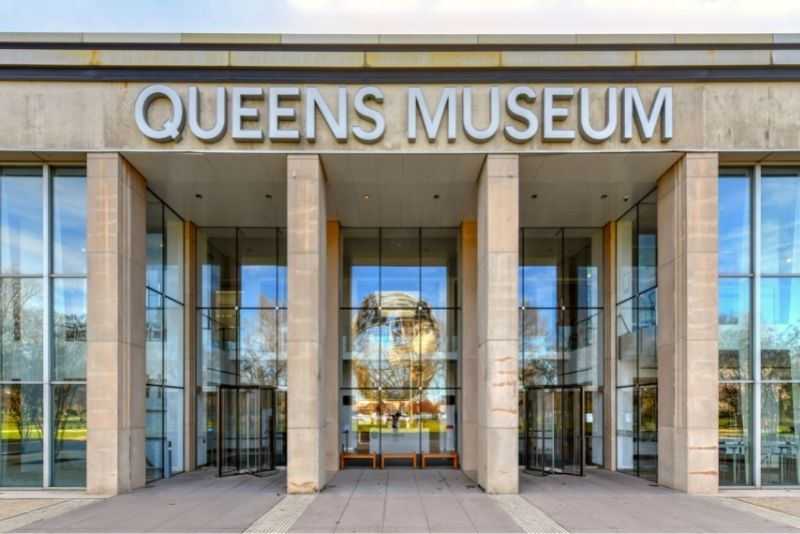 While not as popular as its Manhattan counterparts, the Queens Museum is a gem of the city, and well worth visiting if you have time to spare.
As the only remaining structure from New York City's 1939 World's Fair site (the New York City Building), the Museum itself is a marvelous historical attraction; since opening its collection to the public in 1972, it has since then has been offering visitors an insightful glimpse into Queens' history, unpacking its diverse communities, its artists through 20th-century works, and providing a wider look at the stories of New York City.
The highlight? The "Panorama of the City of New York" — an expansive 1:1200 scale model of all five boroughs (including every single structure) that covers nearly 10 thousand feet!
Found in Flushing Meadows, the Museum is around the corner from the 11-acre Queens Zoo, kid-friendly Fantast Fores Amusement Park, New York Hall Of Science, and the ever-peaceful Garden of Meditation — it's easy to spend an entire day strolling around the area.
31 – Sightseeing cruise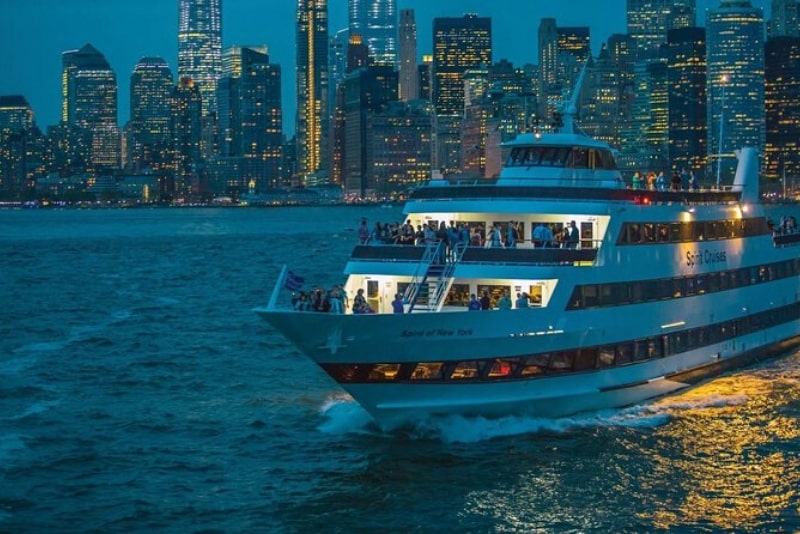 If you're short on time and don't think you'll be able to tick off all the top New York City attractions while in town, taking a cruise around Manhattan is one of the best ways to see as many highlights as possible.
A 90-minute ride (or sometimes a little longer, depending on your tour of choice) will take you past most of NYC's iconic landmarks — from Ellis Island and the Statue of Liberty to Governors Island and Chelsea Piers!
Along with your tour guide, learn about Brooklyn Bridge's history (the longest suspension bridge in North America!), admire One World Trade Center up close, spot Lady Liberty, and be treated to fun facts along the way that even locals won't know!
With a sleuth of tours available — private charters, party boats, dinner cruises, history-themed excursions, speedboat adventures, and romantic sails, to name a few — there's something to suit every budget and interest!
See also: NYC Boat Tours – Which one Is Best?
32 – New York Botanical Garden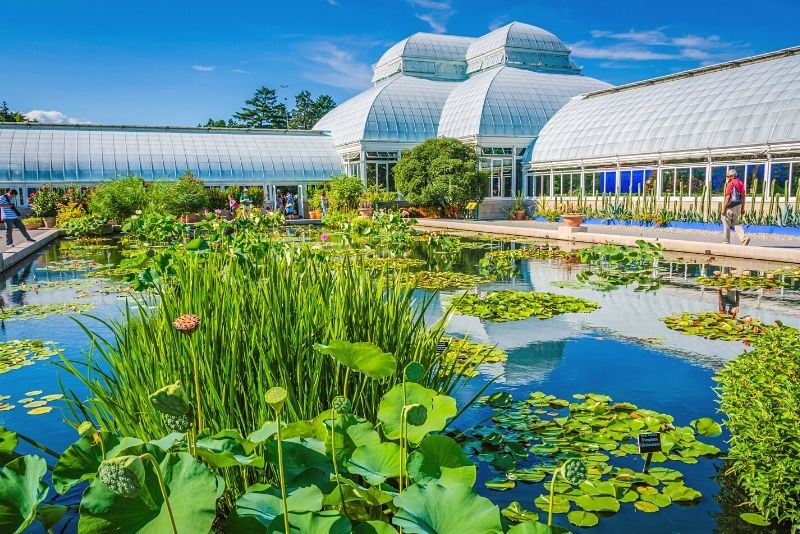 A welcomed breath of fresh air in the heart of this otherwise chaotic metropolis, New York City's Botanical Garden is an award-winning botanic wonderland that boasts some 250 acres of unspoiled natural beauty.
Located in The Bronx next to the infamous Bronx Zoo and a short metro ride from Midtown Manhattan, these verdant gardens are home to a plethora of rare and exotic plants and flowers – with no less than one million living plants covering 12,000 species from all over the planet.
As such, it's not hard to see why sightseers flock here time and time again seeking solace during those long summer afternoons; nor is it difficult to understand why photographers love snapping away at this colorful and truly enchanting haven!
For something different, don't miss the rock garden, and be sure to check the calendar to check out the rotating special events.
33 – Museum at Eldridge Street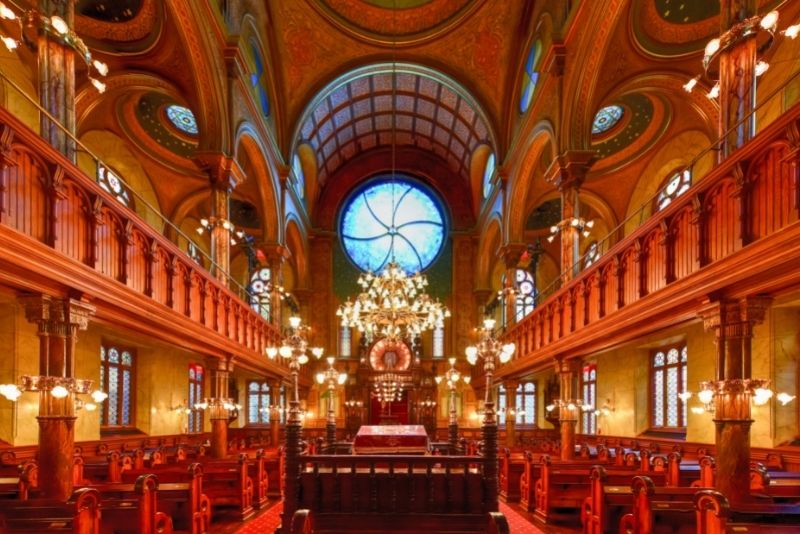 Located in Manhattan's Lower East Side in Chinatown, the Museum at Eldridge Street is a perfect stop if you're looking to learn more about New York City's 19th-century Jewish community.
The museum was built over 100 years ago (in 1887) as the first synagogue of Eastern European Jews on the lower east side and has since been restored to its original glory; today, it welcomes visitors with exciting exhibitions (including artists' depictions of NYC), educational videos, tours that explore its fascinating history, and absolutely stunning stained glass windows and decorations.
While there's never a poor time to visit this underrated attraction, if you're looking to save a few bucks, Mondays are 'Pay As You Wish'.
34 – Central Park Zoo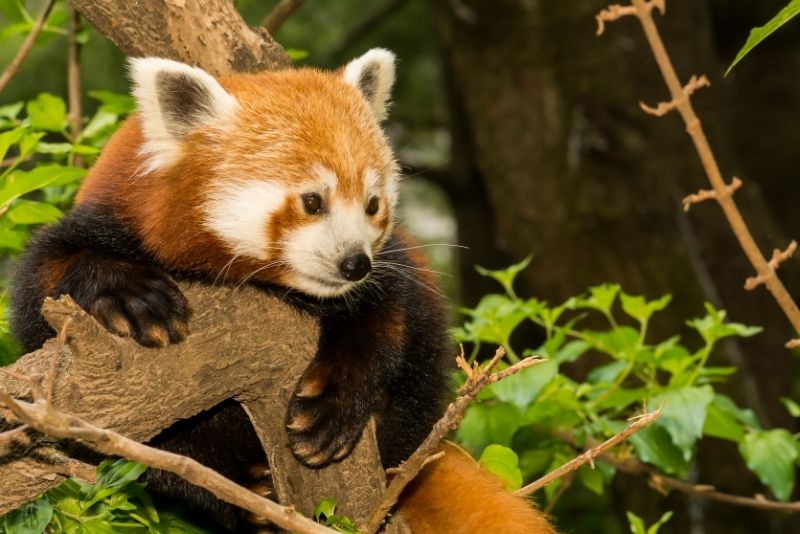 Lions, tigers and bears, oh my!
There are over 130 species of animals at New York City's Central Park Zoo — located in the southeast corner of America's most famous green space.
Come for a family-friendly day out and spend quality time together exploring this urban zoo; from snow leopards to sea lions, sloths and red pandas (an adorable highlight!), you'll meet an array of fascinating creatures here.
And you'll learn a thing or two as well; the Wildlife Conservation Society runs regular educational programs that leave kids and adults alike delighted and full of stories to tell.
The best part? The zoo is small enough that it can easily be explored within a few hours, and is right in the thick of the action, an easy walk to both the Great Lawn and Strawberry Fields.
35 – The Frick Collection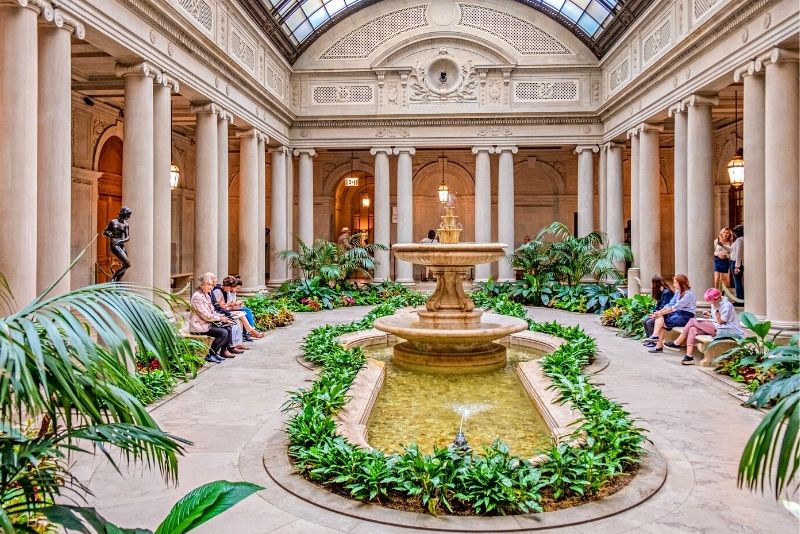 If you're a fan of classical European art, The Frick Collection is an absolute must-visit when in New York City.
This museum, located on the Upper East Side not too far from Central Park on East 70th Street, houses one of the world's most impressive private collections of paintings, sculpture, furniture, and decorative European arts from the Renaissance to the early twentieth century.
Take your time browsing through works by masters such as Rembrandt, Titian, Vermeer, Gainsborough, and El Greco in this intimate setting; all the while admiring the sprawling mansion on whose walls they sit — a piece of art in its own right.
36 – Intrepid Sea, Air & Space Museum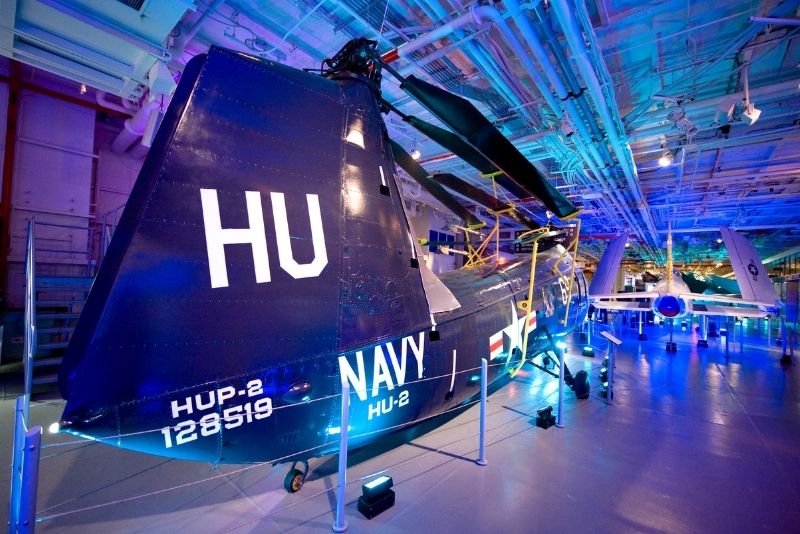 Aviation and space enthusiasts, this one's for you!
Over at Pier 86 in Hell's Kitchen, the Intrepid Sea, Air & Space Museum is one of the best tourist attractions in New York City, and for good reason; it's home to an impressive collection of military vehicles spanning aircraft, spacecraft, boats, and submarines!
In addition to its exhibitions (which include a guided tour of the USS Intrepid), the museum also offers interactive activities for kids and adults alike, movie screenings under the stars on its flight deck (weather permitting), as well as artifacts that provide a unique look into the world of the Army, Navy, Marine Corps, and NASA (don't miss the Enterprise shuttle!).
Discounted tickets can often be found online; just make sure you allow yourself enough time to explore everything this top NYC attraction has to offer.
37 – Radio City Music Hall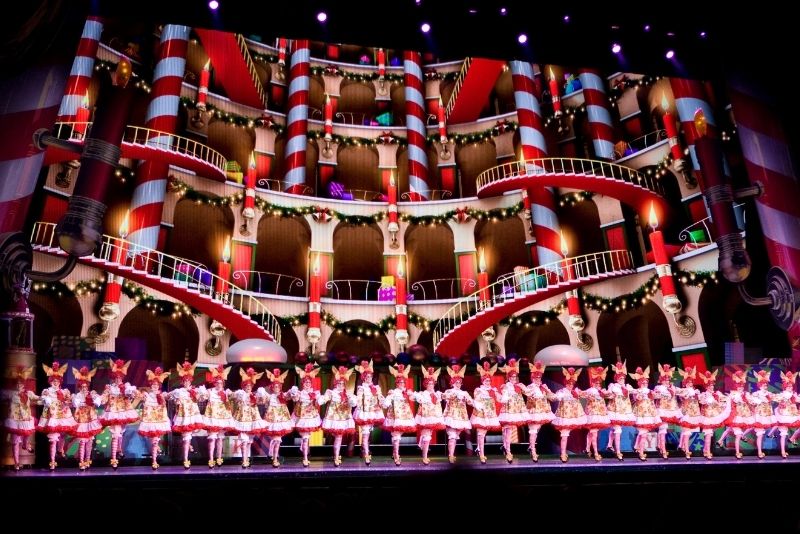 Bearing the coveted (and longstanding) title of being the largest indoor theatre in the world, Radio City Music Hall is an iconic New York attraction, and justifiably dubbed the Showplace of the Nation.
Throughout the year, all-star names in music, comedy, and performance art grace its stage. But if you're not lucky enough to attend a live performance here, that doesn't mean you can't experience this legendary space; tours are available daily and provide visitors with a glimpse into the theatre's architecture (it was built in 1932), as well as its history and role in shaping America's culture today.
And if it happens to be Christmas time? The Rockettes' annual Christmas Spectacular show will leave crowds of all ages mesmerized!
38 – AKC Museum of the Dog
Dogs are a huge part of the New York City culture; from dog-friendly apartments and businesses to special events, this city loves its canines!
If you're a pet parent or simply love animals — particularly our four-legged friends — make sure not to miss the AKC (American Kennel Club) Museum of the Dog in Midtown Manhattan.
Right around the corner from the Chrysler Building, this small but charming attraction houses over 700 canine paintings and sculptures by a variety of artists, as well as sections devoted to dogs on the silver screen, presidents' dogs, war dogs, and
From noble hunting hounds to loyal lapdogs, and a special focus on deep in Mastiffs, Bulldogs, Great Danes, and German Shepherds, there's something for everyone here.
39 – Staten Island Children's Museum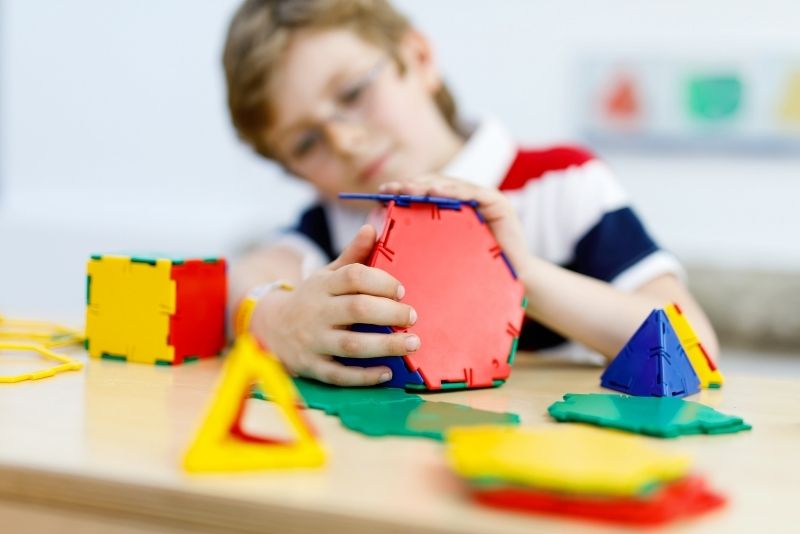 Looking for things to do in NYC with kids? Offering a nice change of pace from the hustle and bustle of Manhattan, a trip to Staten Island is definitely worth it for at least one attraction: the Staten Island Children's Museum!
This interactive museum caters specifically to kids (ages 0-12) and encourages hands-on learning through play. With exhibits on everything from transportation and science to history, insects, ships, giant board games, and even a "Become a Firefighter" zone complete with a working fire pole, there's plenty here to keep youngsters entertained for hours on end.
As a little bonus, regardless of whether your drive across the Verrazano-Narrows Bridge or hop on a ferry ride over, the views of New York Harbor and Manhattan are sure to be spectacular.
40 – Edge Observation Deck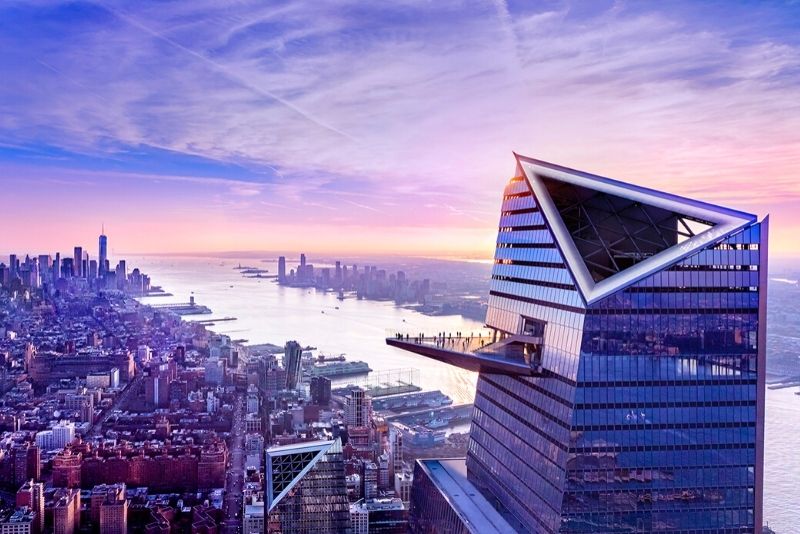 Delivering an unmatched open-air thrill as the highest outdoor skydeck in the Western Hemisphere (as of 2022), the Edge Observation Deck at Hudson Yards is among New York City's top modern tourists magnets, dishing up views of the Empire State Building on one side and the shimmer Hudson on the other.
Standing 100 stories above street level — about 1,100 feet high — and with 360-degree views of the Big Apple, visitors can enjoy a unique perspective of the city in every direction — including underneath them! (Yes, there are glass floor panels in parts of this deck.)
While you're in the area, check out the futuristic honeycomb-like structure that is the Vessel, a climbable sculpture with 154 interconnecting flights of stairs that offers a bird's-eye view from the top.
41 – National Lighthouse Museum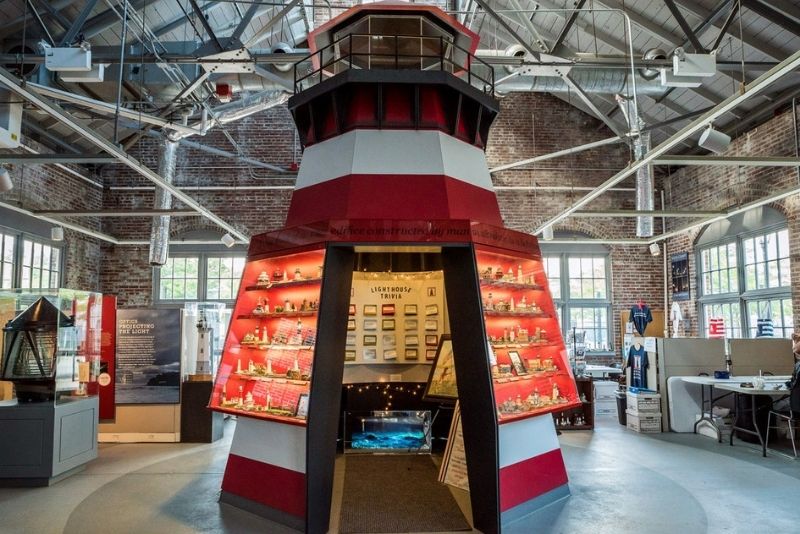 Located on Staten Island (the least populated of New York City's five boroughs), the National Lighthouse Museum is a fun spot for history buffs, as well as anyone who wants to learn more about lighthouses and their role in maritime safety with an emphasis on local examples.
Featuring exhibits that focus on both past and present lighthouse technology — along with an impressive collection of artifacts, photos, models, paintings, rare books, and documents — this museum also hosts special events throughout the year such as are exhibitions, festivals, and boat tours galore!
It's about a five-minute walk from the Staten Island Ferry Terminal, making it an easy addition to break up the free sightseeing ride from Lower Manhattan.
42 – LEGOLAND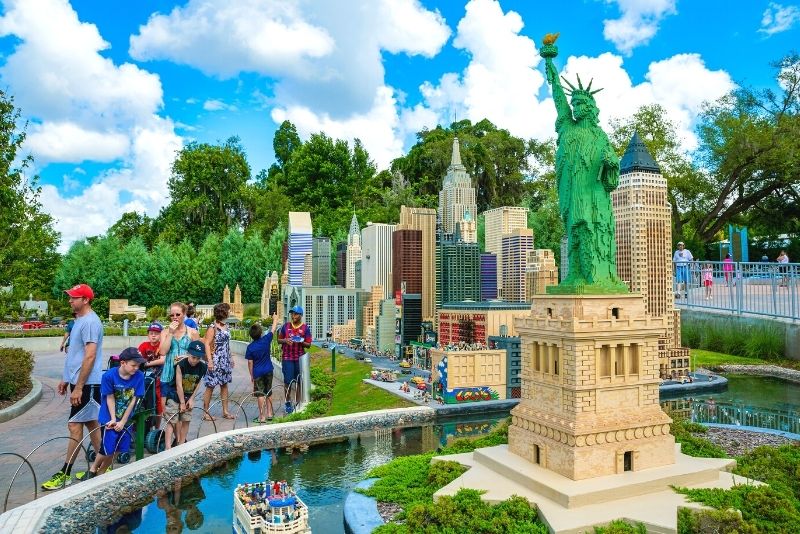 Adored by both kids and adults, LEGOLAND is a theme park chain with locations in Europe, Asia, North America, and Dubai that are devoted to the iconic interlocking plastic bricks.
Not to be confused with the NYC flagship attraction, its Discovery Center — located in the Rockefeller Center and which offers visitors a chance to explore creative building zones, shop unique builds, and admire miniature Lego-made landmarks — the sprawling Legoland theme park over in the town of Goshen is perfect for families hunting for a fun day trip!
Just 60 miles northwest of New York City, this beloved park features both indoor and outdoor attractions, rides for all ages (particularly those 2-12), a Lego-themed hotel, a water park, interactive live entertainment shows, friendly costumed characters, as well as a stack of whimsically themed eateries. With so much to see and do, an entire day is definitely needed.
43 – National Museum of the American Indian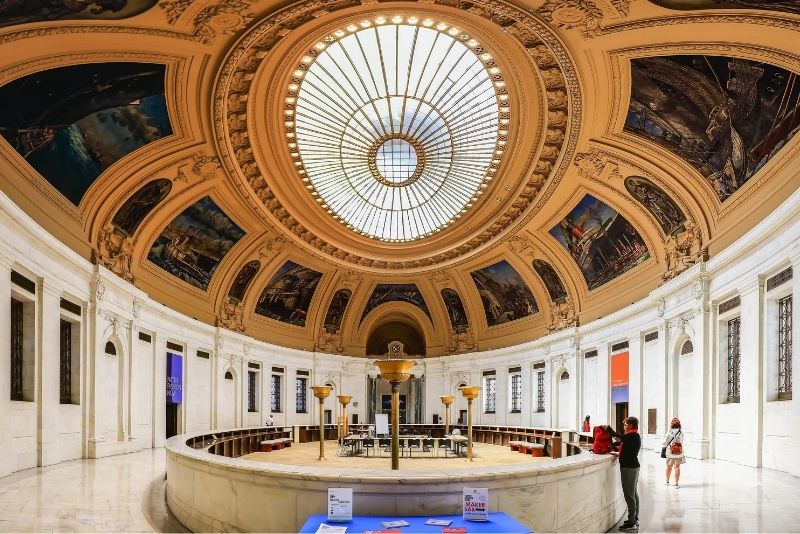 Eye-opening, educational, and providing an alternative cultural activity from the plethora of art museums around the city, the Smithsonian-affiliated National Museum of the American Indian is a fantastic place to learn about the indigenous people from all over North, South, and Central America.
Located on the first two floors of the gorgeous Alexander Hamilton U.S. Custom House (a classical Beaux-Arts beauty that faces Bowling Green Park in Lower Manhattan), this insightful museum details how, among others, Native Americans have lived for thousands of years through in-depth exhibitions, as well as film screenings and live performances throughout the year — including traditional dance shows.
It's free to enter and open every day of the week, making it one of the best tourist attractions in New York City for those looking for something a little different.
44 – Fotografiska New York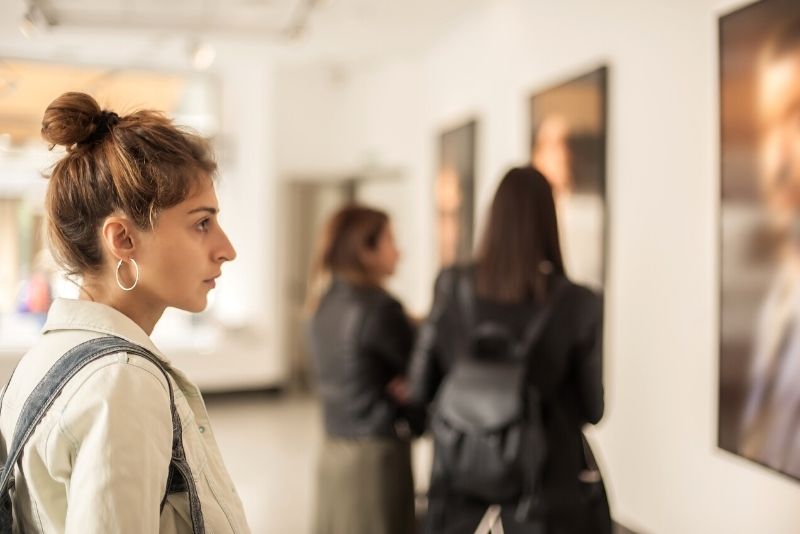 A relative newcomer to the city's art scene as a sister of the popular Swedish photography house in Stockholm, Fotografiska New York is fast gaining traction as a notable landmark, becoming more and more popular every year since making its debut in the Meatpacking District back in 2010.
Boasting an impressive program of rotating exhibitions (featuring both emerging and established photographers), as well as talks, screenings, workshops, and portfolio reviews for aspiring shutterbugs, this cutting-edge space is definitely worth penciling into your itinerary if you're at all interested in the medium. Housed inside a 19th-century chapel, even the building is a work of art — and, on that note, don't miss the moody and historic Chapel Bar!
Hot tip: Photobugs, considering opting for the 1-hour private guided tour, where knowledgeable and passionate Fotografiska staff will take you behind the scenes and deliver tidbits usually missed by the general public.
45 – New York Public Library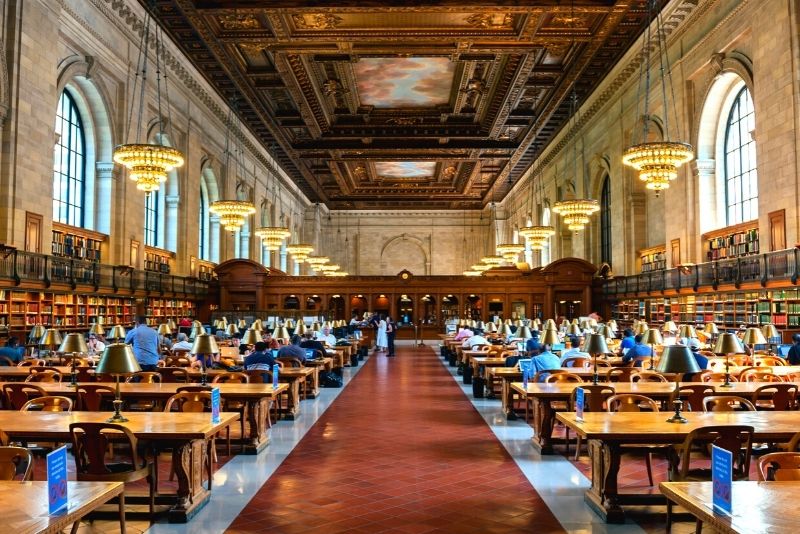 Unequivocally one of the most famous libraries in the world, the New York Public Library is a phenomenal research institution whose own story dates back to way back in 1895.
A cathedral of learning, with millions upon millions of books, manuscripts, and other items on its shelves, the flagship Beaux-Arts building on Fifth Avenue is one of the most opulent sights in Manhattan. (In fact, it's so beautiful that it was used as a location for movies such as The Devil Wears Prada and Ghostbusters.)
Aside from housing an impressive collection of knowledge dating back centuries, the library is also open to visitors who want to admire its architecture and take a breather in its many reading rooms — perfect for when you need to escape the bustling city streets outside.
While the Stephen A. Schwarzman Building steals the thunder, all in all, you'll find over 90 locations scattered around the Bronx, Manhattan, and Staten Island.
46 – Staten Island Zoo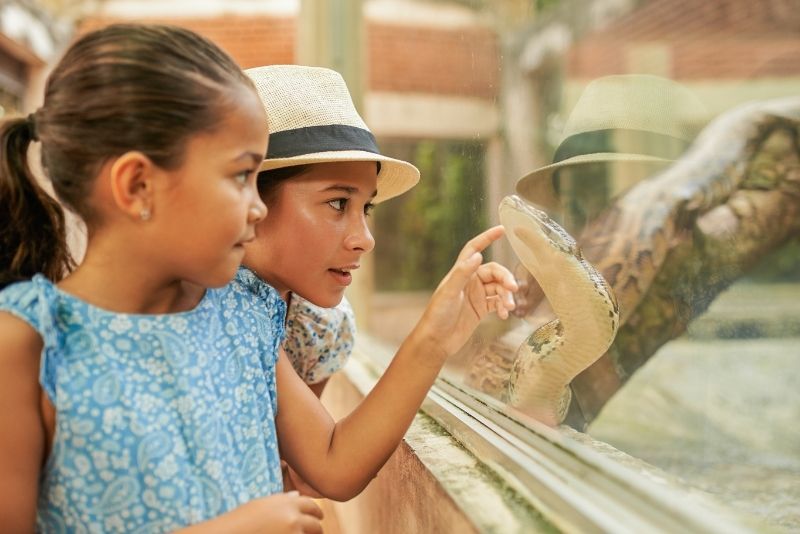 A surefire hit for galavanting families, the Staten Island Zoo is a small and unassuming urban zoo that's home to an impressive range of animals from all over the world, with a reptile exhibit that takes the cake.
A favorite spot for locals thanks to the smaller crowds compared to its more famous counterparts, this attraction offers up-close encounters with critters such as kangaroos, leopards, ostriches, goats, honey bees, and more at prices that won't break the bank — making it ideal if you have kids in tow.
Hot tip: for those pinching pennies, admission is FREE after 2 pm on Wednesdays.
47 – Wall Street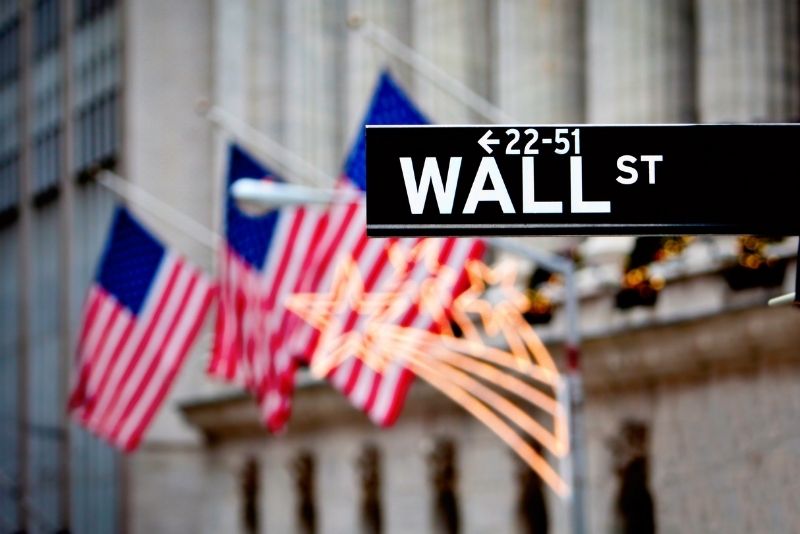 Chaotic, crowded, loud and unmissable: Wall Street is one of the most iconic streets in all of New York City, and it's no wonder that tourists flock here by the thousands.
Made famous (in part) by its eponymous stock exchange, this narrow thoroughfare cuts through the heart of Lower Manhattan and is flanked on either side by some of the city's most impressive skyscrapers.
While you may not be able to get up close and personal with the bankers and traders working inside, a wander down Wall Street offers an unrivaled glimpse into the New York Stock Exchange, the other arms of NYC's financial district, and a chance to snap some photos next to the Charging Bull statue.
With so much history associated with the area, a guided tour with a financially-savvy local (or a foodie tour, if you're into that too) comes highly recommended.
48 – Queens County Farm Museum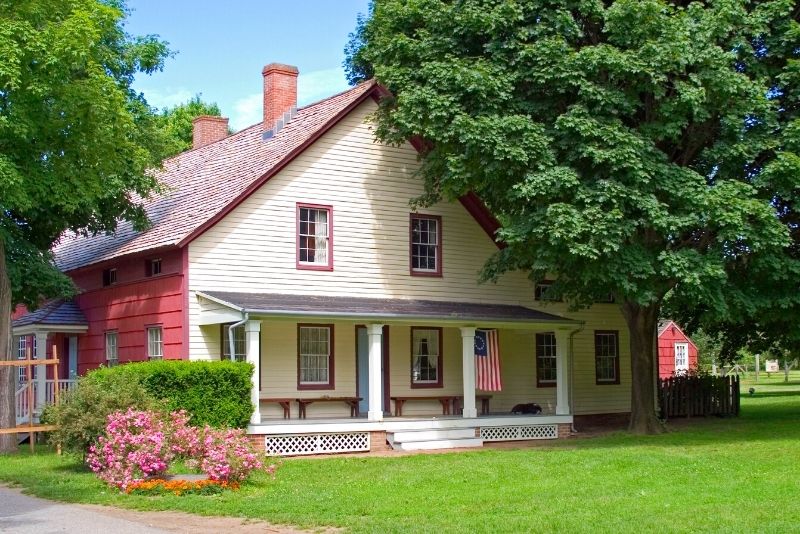 If you want to get out of the city and explore a little bit of rural America, look no further than the Queens County Farm Museum — an underrated attraction that is both peaceful, educational, and, as one of America's longest operating farms, historic.
Located in Floral Park, this museum is home to 47 acres of farmland, complete with a petting zoo, tractor rides, and an ice cream parlor to satisfy any sweet tooth.
What's more, it's the only working farm left in all of New York City (the others have been mostly turned into housing developments), making it a unique spot to visit for those looking for a taste of old-school Americana.
49 – The Paley Center For Media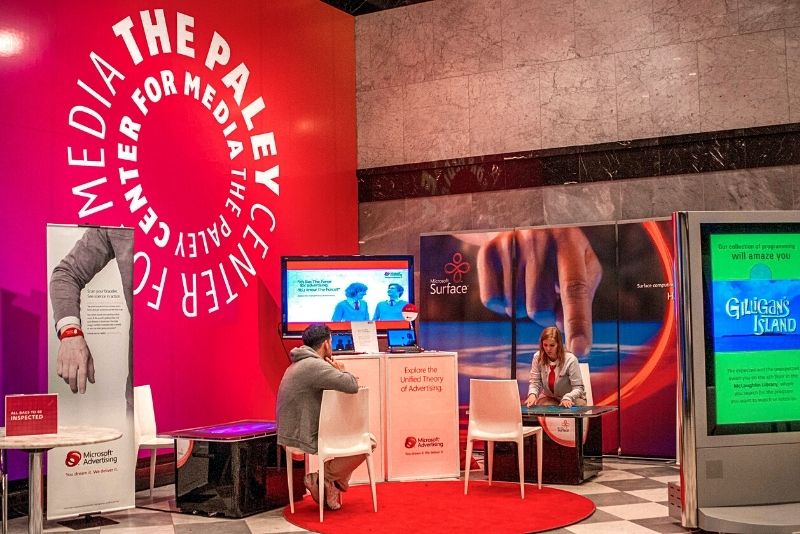 Hidden in the shadows of the MoMA in Midtown Manhattan, the Paley Center for Media is a must-visit haven for cinephiles and TV nerds.
Open to visitors of all ages, this free attraction boasts an impressive collection of television shows and movies from across the decades, with over 160,000 showings on hand at any time — just browse the catalog and take your pick!
With exhibits that dive into the Internet, mobile video, and podcasting to boot, it's the perfect place to take shelter from the rain or escape New York's often sweltering heat; sit back in one of its cushy armchairs and enjoy screenings that span everything from Hollywood classics like The Wizard Of Oz to interviews with famous comedians, or the latest binge-worthy TV hit.
50 – Yankee Stadium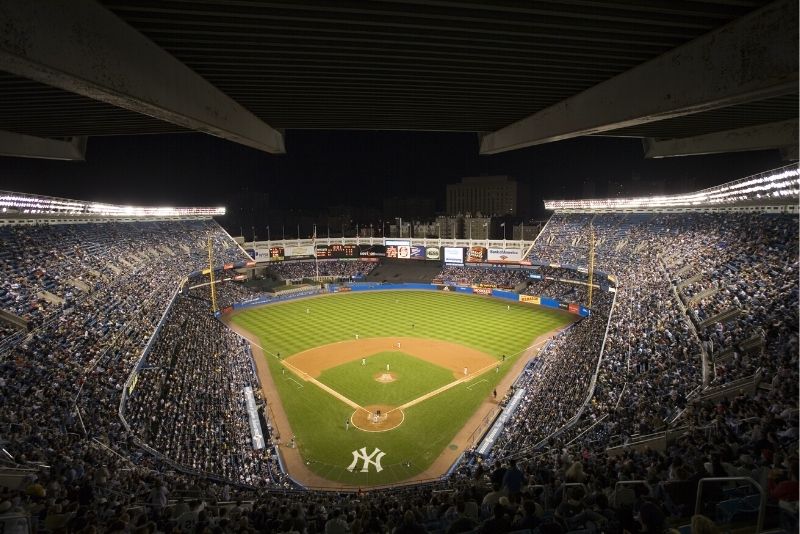 No trip to New York City is complete without a visit to Yankee Stadium, one of the most revered sporting venues in America.
Home to the nation's (arguably) most successful sports franchise, a tour of this stadium offers an inside look at both the Yankees' illustrious history and their current roster of players, with all kinds of memorabilia on display at the free-access (with a home game ticket) museum — items like Lou Gehrig's jersey, Joe DiMaggio's bat, and Babe Ruth's 1927 World Series Ring.
History buffs, make sure to take a quick stroll through Monument Park, whose statues pay homage to some of the Yankees' most famous bygone heroes. And, of course, sports fans, grab a ticket to a roaring and energetic home game for a wonderful day in the bleachers.
51 – Brooklyn Children's Museum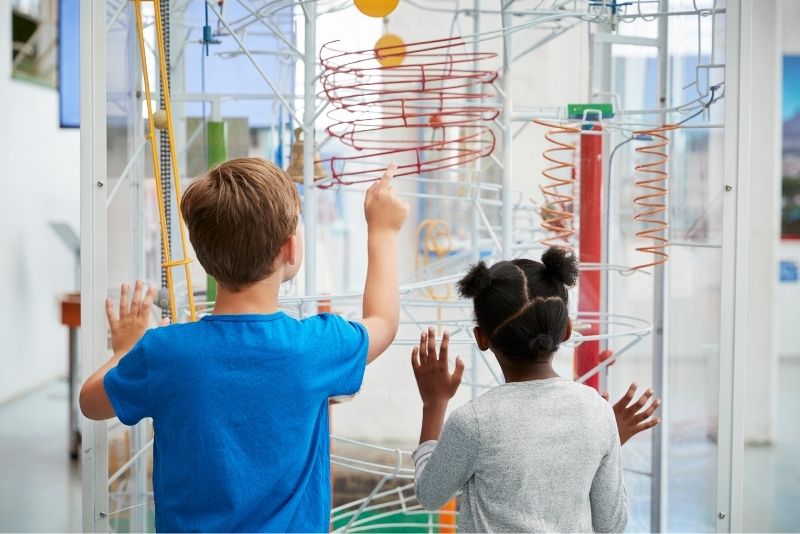 A hidden gem tucked away in a primarily residential area, the Brooklyn Children's Museum is officially New York City's largest cultural institution designed especially for youngsters, which makes it an absolute must-visit for visitors with kids in town.
Boasting interactive exhibits on everything from outer space to nature and the human body, this museum is designed to inspire curiosity and teach our next generations about world cultures, history, careers, and so much more.
In addition to its permanent collection, the Brooklyn Children's Museum also offers rotating exhibits, an ice skating rink in the wintertime, and festival programs that are both fun and educational!
52 – Ellis Island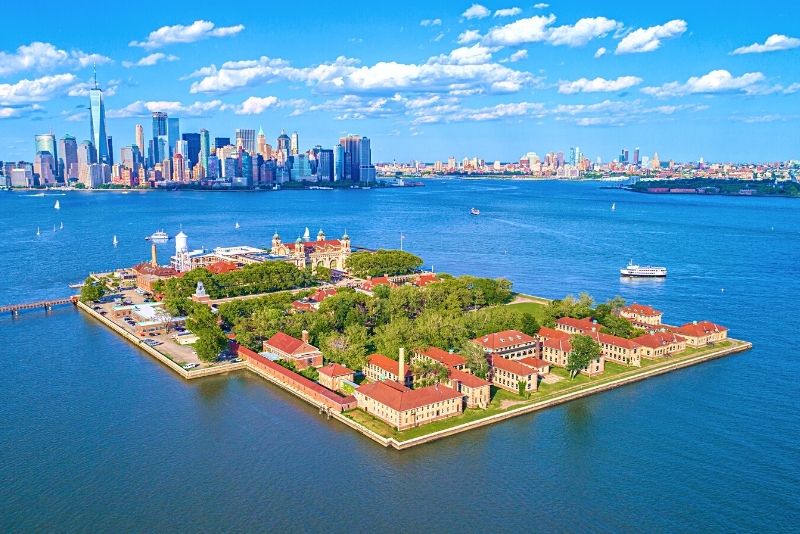 While often confused with Liberty Island (the slice of land on which Lady Liberty actually sits), Ellis Island is steeped in even more historical significance as the gateway for over 12 million immigrants who entered America through its doors from 1892 to 1954 in search of a new life.
Now a part of the Statue of Liberty National Monument, this island is open to visitors daily and offers an in-depth look into the immigration process that shaped New York City and America into what it is today.
What's more, Ellis Island is also home to a museum whose exhibits tell the stories of some of these immigrants, giving faces and voices to those who were once just names on a page.
53 – MoMA PS1
Over in Queens' Long Island City, the MoMA PS1 is one of the most impressive contemporary art museums in New York, dedicated exclusively to showing off works that'll provoke thought and spur creativity.
Housed in a former public school building, the modernized attraction displays over 200,000 of the world's most Ingenuitive contemporary pieces, from paintings and sculptures to videos and installations, with a focus on works from the late 1800s to the modern day.
With installations from names like Ai Weiwei and James Turrell, and paintings from Francis Bacon and Sol LeWitt sculptures, not to mention a strong photography collection from talented Americans like Diane Arbus and Cindy Sherman, the range and diversity of the art here is astounding.
What's more, the MoMA PS1 also doubles as an educational center, offering classes and workshops for both children and adults throughout the year!
See also: Fun things to do in Long Island
54 – Lincoln Center for the Performing Arts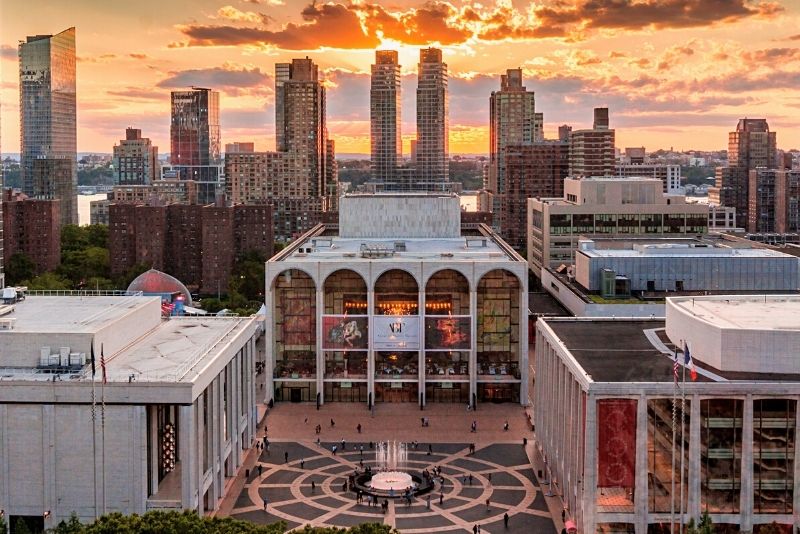 Founded in the late 1950s, Lincoln Center for the Performing Arts is one of New York City's most impressive cultural institutions, housing a total of a dozen performing arts companies and close to 30 indoor and outdoor venues, serving as home to world-renowned arts organizations like The Metropolitan Opera, The New York Philharmonic Orchestra, esteemed Juilliard School of Music and so many more.
Today, this expansive complex offers everything from ballet (from none other than the acclaimed New York City Ballet) to film, opera, musicals and guest speaks throughout its iconic plaza, making it an easy place to spend an evening soaking up NYC culture on the Upper West Side.
So check the calendar, grab your better half, dress to the nines, and say hello to a splendid evening of bourgeoisie entertainment.
55 – Apollo Theater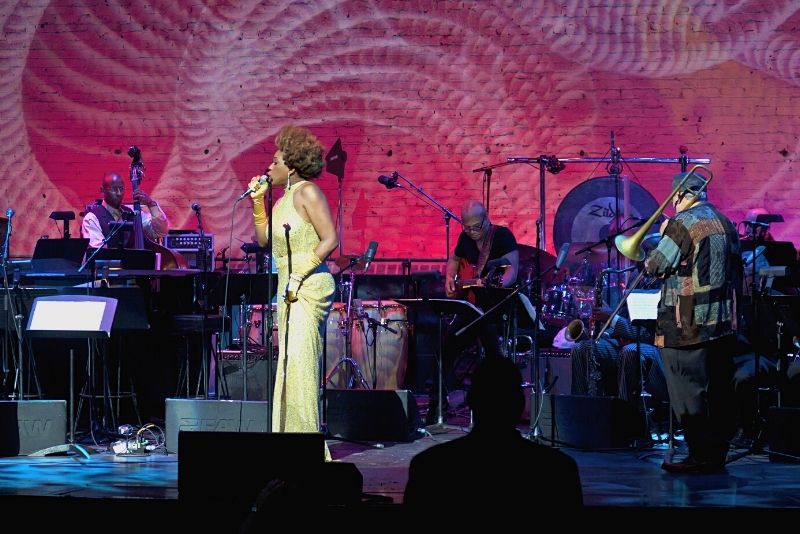 One of the most famous theaters in all of America, Harlem's Apollo Theater is a longstanding symbol of African-American talent, has been the stomping ground for many a famous name over the decades — the careers of Jimi Hendrix, Ella Fitzgerald, Diana Ross and Aretha Franklin were propelled by this stage, to name but a few.
Calling itself the "intersection of artistry and activism", the 1500-seat theater puts on a mix of revues, concerts, dance performances and comedy shows throughout the year, with an emphasis on showcasing new and upcoming talent through its famous Amateur Night contests, where next-generation musicians compete for the chance to perform on stage.
Boasting a history and legacy matched by few venues in the country, a night at the Apollo Theater for a play, comedy act, R&B show, or hip-hop performance — or a guided tour that dives into its transition from whites-only theatre to iconic music venue — is always an occasion to remember.
56 – Museum of Jewish Heritage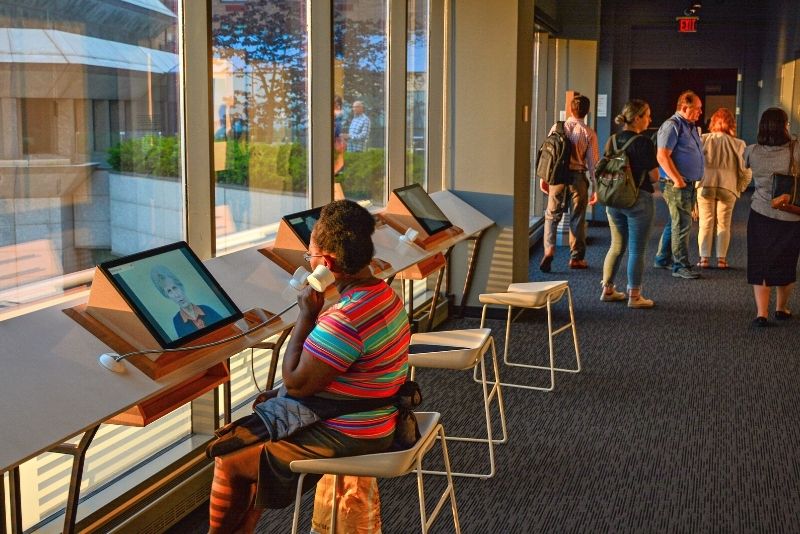 One for the history buffs, the Museum of Jewish Heritage is a powerful and emotional institution that acts as a living memorial to the Holocaust, telling the story of 20th century Jews from all over the world.
From roots in Eastern Europe to migration across America and beyond during World War II, as well as a moving and sobering look at the unspeakable tragedy that was the persecution of Jews — the Holocaust — this museum invites visitors to learn, reflect, and pay respect to both the triumphs and tragedies of Jewish history through exhibitions, tours, and programs, with a range of educational workshops that ensure we never forget.
Local tip: After browsing what is the third-largest Holocaust museum in the world, make your way up to the second floor for the LOX cafe, where scrumptious traditional Jewish dishes are complemented by excellent views over Lower Manhattan's Battery Park and the Hudson River. If you're traveling on a budget, admission is free on Thursdays between 4 and 8 pm.
57 – New York Catacombs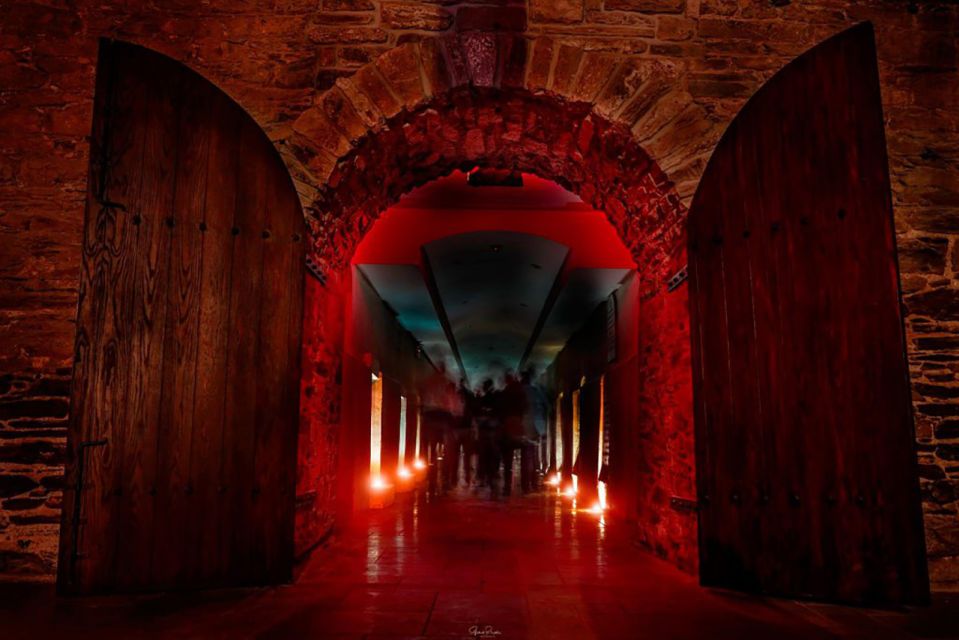 Coming as a surprise to many first-time visitors, the Catacombs at St. Patrick's Old Cathedral is a hidden gem that lies below the 150-year-old church and functions as an underground crypt housing dozens of notable New Yorkers' tombs.
The eerie, candlelit space is open for guided tours only, with tickets available on a first-come-first-serve basis that take you on a subterranean journey to no less than 35 family crypts home to former respected bishops and priests, and 5 protected clerical vaults.
The tour lasts around 90 minutes, providing a fascinating insight into a usually overlooked aspect of the Big Apple.
58 – Snug Harbor Cultural Center & Botanical Garden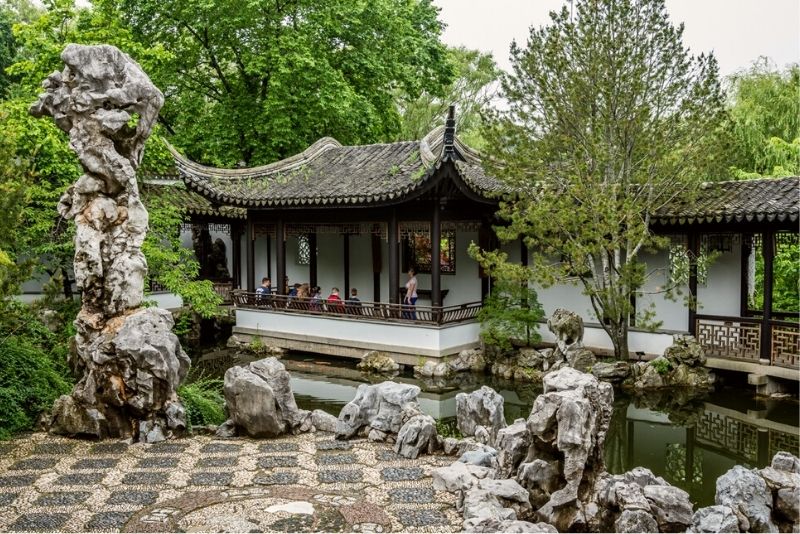 Serene and secluded on Staten Island, away from the big smoke, the Snug Harbor Cultural Center & Botanical Garden is an urban oasis that's home to 83 acres of lush and colorful gardens, a host of museums, dozens of buildings (some restored from the 1800s) including a Japanese teahouse, and much more.
What originally began as a retirement home for sailors in the mid-1800s has since blossomed into a distinguished Smithsonian Affiliate and one of the city's most unique cultural destinations, with something on offer for everyone regardless of age or interest.
The center hosts regular exhibitions by local and international artists in its rotating galleries, puts on plays and dance performances in its theaters, and runs educational programs for kids and adults alike; while the botanical gardens are the perfect place to relax among blooming flowers, towering trees, tranquil ponds, and top-notch harbor views.
For anyone on the hunt for a spot of learning, don't miss the Noble Maritime Collection and Staten Island Museum, while families, make a beeline for the Staten Island Children's Museum — all on-site at Snug Harbor.
59 – Roosevelt Island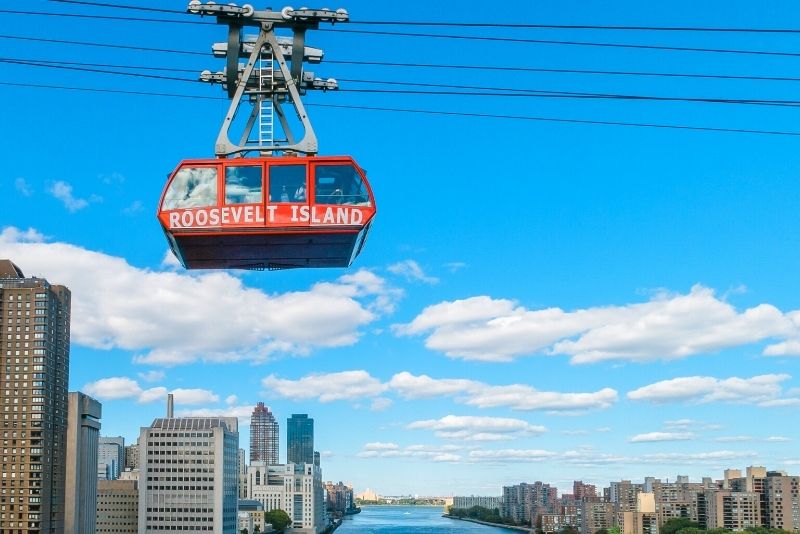 Sandwiched in between Manhattan and Queens, Roosevelt Island is one of New York's lesser-known neighborhoods — but definitely not to be missed.
The two-mile-long island was once a place for the sick, poor, and unproductive members of society — the outcasts — who had nowhere else to live in the 1800s (such, the land houses an almshouse, a penitentiary, and a then-called lunatic asylum), before being transformed into a residential community with high rise apartment buildings and lush green spaces.
It may still sit off most tourists' radars today, but this narrow strip of land packs plenty of punch when it comes to sightseeing attractions: walk along Main Street for unforgettable views over Manhattan; learn about its history at the Smallpox ruins; visit the island's 50-foot-high lighthouse; make a stop at the Octagon Tower and Franklin D. Roosevelt Four Freedoms Park, or take a ride on its quaint aerial tramway for spectacular skyline views.
60 – El Museo del Barrio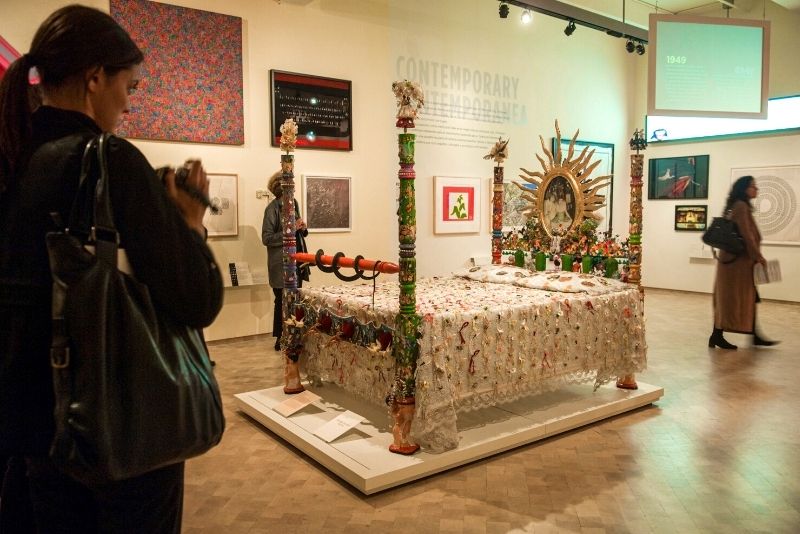 One of the best tourist attractions in New York City for anyone fascinated by Latin culture and history, El Museo del Barrio is a community-based museum located in the heart of East Harlem bordering Central Park.
The museum celebrates and showcases the art, music, dance, food, and fashion of Latin America and the Caribbean with rotating exhibitions, artist talks, films screenings (including bilingual contemporary Latin American films), concerts, and more.
If you're looking to work on your Spanish, the Museo hosts a welcoming Spanish-language book club, and if you're looking to dive deep into history, more than 6000 artifacts explore the last 800 years of Puerto Rican and Latin development.
61 – Chinatown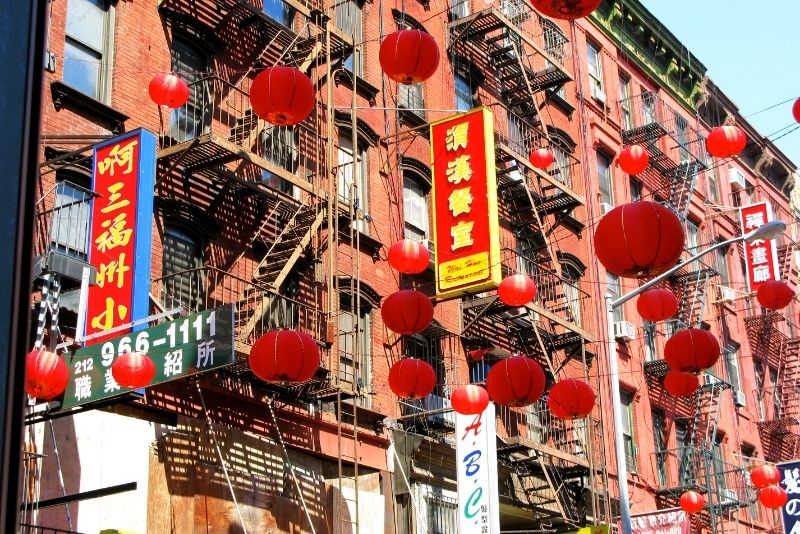 Foodies and culture vultures, get excited! Chinatown acts as a magnet for tourists looking to explore a unique pocket — just one of many — and get a taste of the vibrant multiculturalism of the concrete jungle.
This fast-paced neighborhood is home to some of the most delicious (and affordable) food in town, as well as an impressive array of stores selling all sorts of trinkets, souvenirs, and knick-knacks.
Take a wander through the streets and explore all that Chinatown has to offer; you'll find yourself surrounded by colorful temples, pagodas, and archways, bustling marketplaces, aromatic restaurants, and locals who are more than happy to show you around.
With so much to see, and so many hidden gems known only by the locals, a guided walking tour comes highly recommended.
62 – International Center of Photography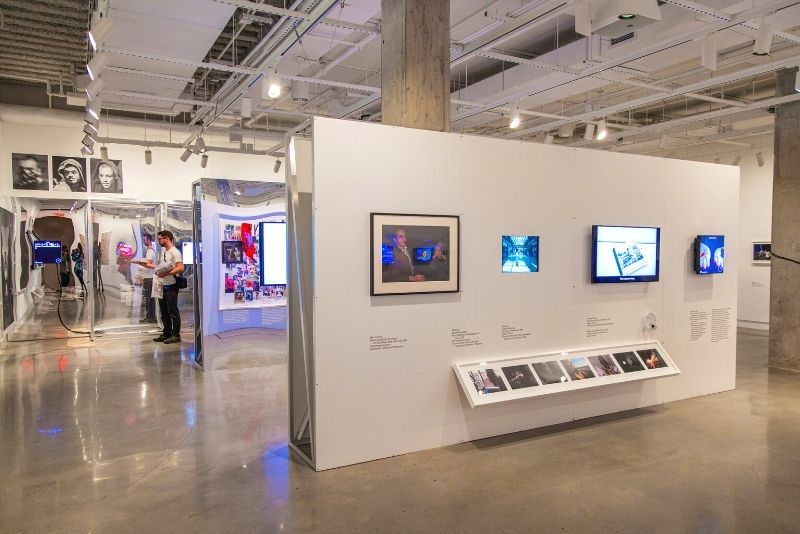 A quintessential shutterbug stop on any NYC tour, the International Center of Photography (ICP), founded in 1974, is dedicated to conveying and increasing understanding of the power of photography — and, as both a school and a museum, it draws photographers like moths to a flame.
The museum's permanent collection contains more than 200,000 images from noted photographers such as Lewis W Hine, Ansel Adams and Dorothea Lange — just a sliver of the 3,000 photographers who have been on display throughout the years.
With fascinating exhibits that rotate regularly, no two trips are the same; and if you're looking to hone your craft and snap a few shots yourself, what better place to learn than the world's leading institution dedicated to photography and visual culture?
63 – Brooklyn Botanic Garden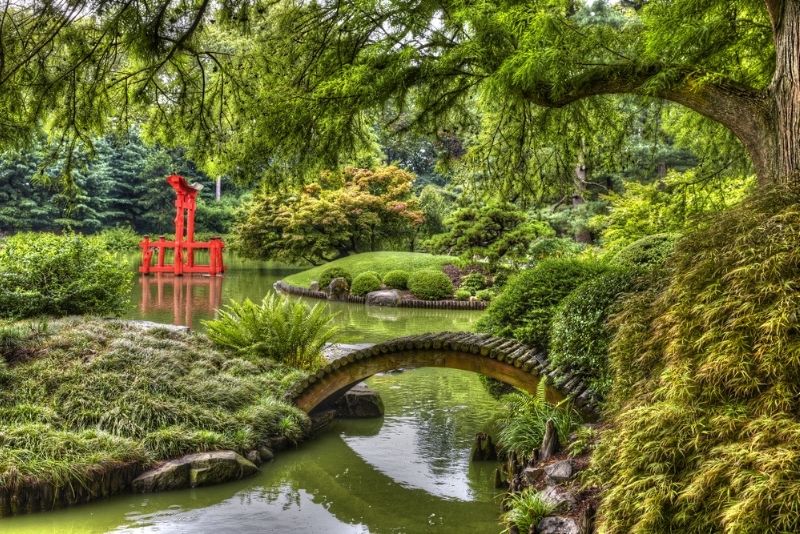 Overflowing with color and natural beauty all year round, the Brooklyn Botanic Garden is a 52-acre oasis on the edge of Brooklyn sprawling Prospect Park that's home to more than 14,000 types of plants that dabble in all kinds of climates, near and far.
The garden has something for everyone, including an impressive Japanese garden with waterfalls and tea houses, rose gardens, a children's garden with interactive exhibits, a herb garden, absolutely stunning cherry blossoms, plenty of space to meander and contemplate in between.
With at least one or two events every week, plus educational programs for adults (i.e. how not to kill your house plant), there's always something new to explore at this urban paradise; so pack your camera and spend an afternoon wandering through some of the most diverse flora on offer in New York City!
64 – The Skyscraper Museum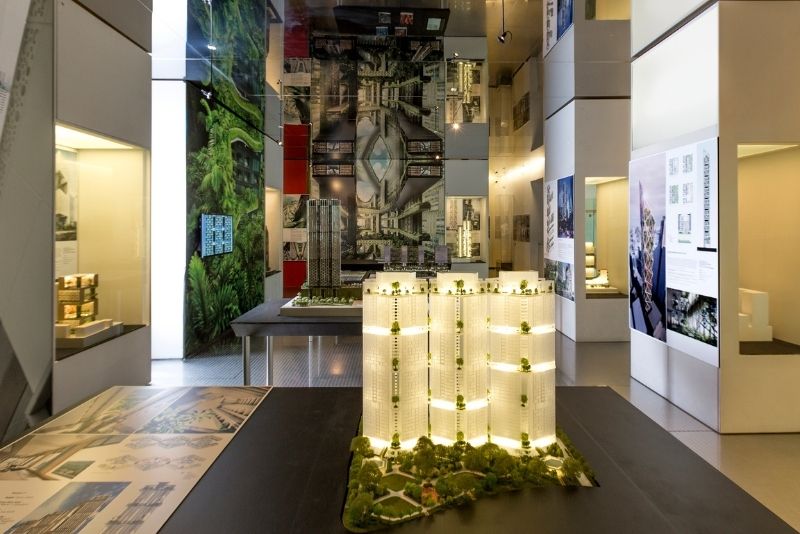 Fitting for a city that's nearly as vertical as it is wide; if you've ever wondered what goes into making a skyscraper (or just how tall they can really get), The Skyscraper Museum is the place to be.
This small but mighty museum, founded in 1996, is dedicated to exploring the development of high-rise architecture and engineering in the Big Apple, with both permanent installations that look at design, construction sites, real estate investments, and well as exhibits that rotate every few months.
From the original World Trade Center and Empire State Building to some of the newest and most impressive buildings in the city (Central Park Tower, for one), this museum has it all; plus, if you're looking for a unique souvenir to show off to the folks back home, there's even a gift shop selling scale models of famous skyscrapers from around the globe.
65 – Brookfield Place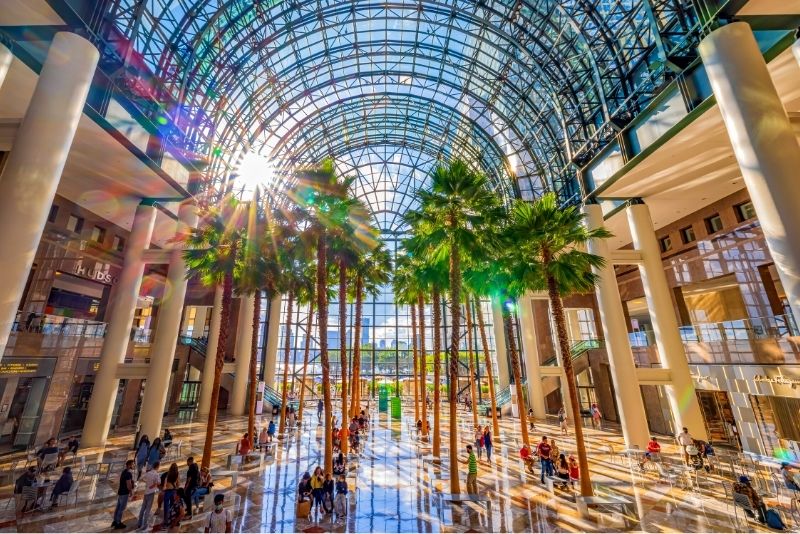 The bustling intersection of shopping dining and sightseeing, architecturally impressive Brookfield Place, located in Battery Park around the corner from the World Trade Center and 9-11 Memorial, is a high-end mall, office complex, and cultural center all rolled into one, topped off with great views of New Jersey and the Statue of Liberty over the Hudson.
With everything from Gucci to Louis Vuitton and Peleton (plus a sleuth of eateries where you can dive into delectable American or European fare), Brookfield Place is a shopper's paradise; but it's also home to some great art galleries and performance venues, making it a must-visit for those who appreciate both high fashion and high culture.
66 – The Woolworth Building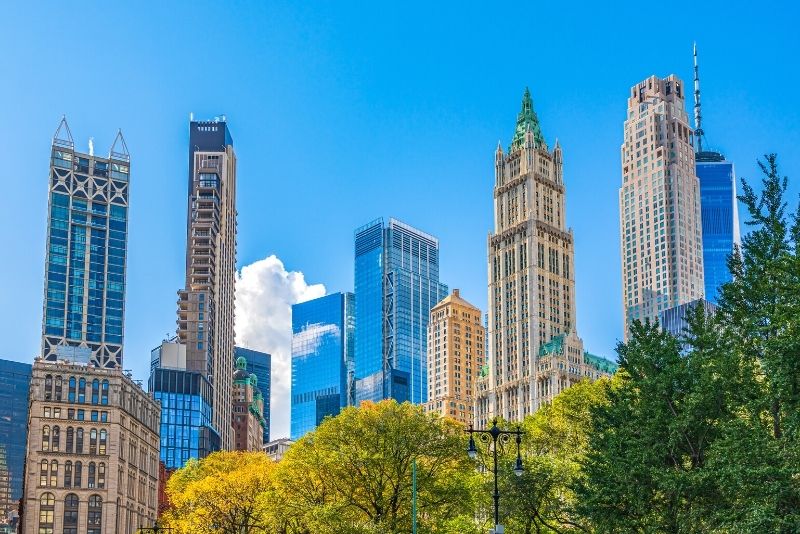 Having held the title of the world's tallest building between 1913 and 1930, the Woolworth Building is an architectural marvel that's often forgotten in favor of its newer, taller, shinier counterparts.
However, towering above the city's bustling Financial District, this formerly-dubbed "cathedral of commerce" remains one of the best tourist attractions in NYC.
A common spot on architecture-themed adventures of the area — whether that be a walking tour, boat cruise, or photography tour — this 792-foot Tribeca tower makes for a quick and notable stop.
67 – The Met Cloisters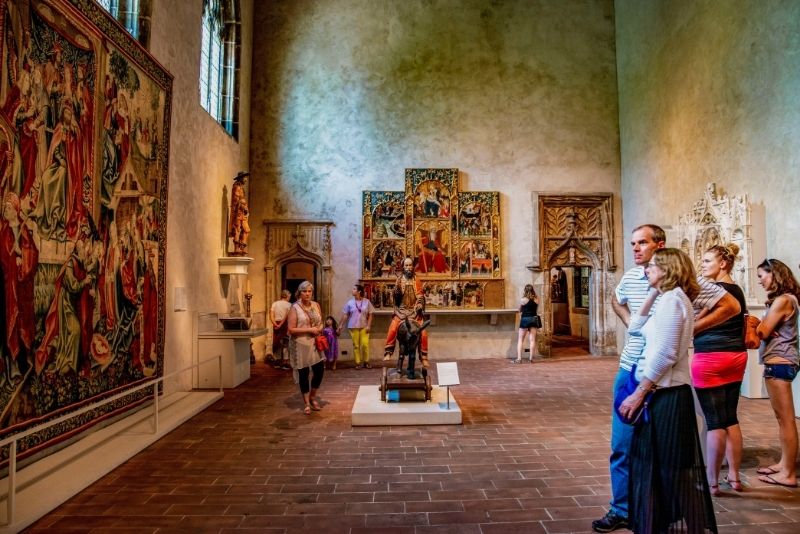 With dozens of museums all over New York City, including the massive Metropolitan Museum of Art on Fifth Avenue, there's no shortage of great art to take in around town; but for those who want something a little different from your typical museum visit might be pleasantly surprised by The Cloisters.
Located uptown at Fort Tryon Park (known for its stunning views of the Hudson), this branch of The Met is dedicated entirely to medieval architecture and artifacts from Europe (and the only one in America to do so), focusing largely on Romanesque and Gothic eras, with sculptures, paintings, tapestries and more that take visitors on a journey back through the ages.
Feeling like an odd mashup between old-world Europe and modern-day Central Park, the Cloisters are best explored with the 2-hour audio guide.
68 – South Street Seaport Museum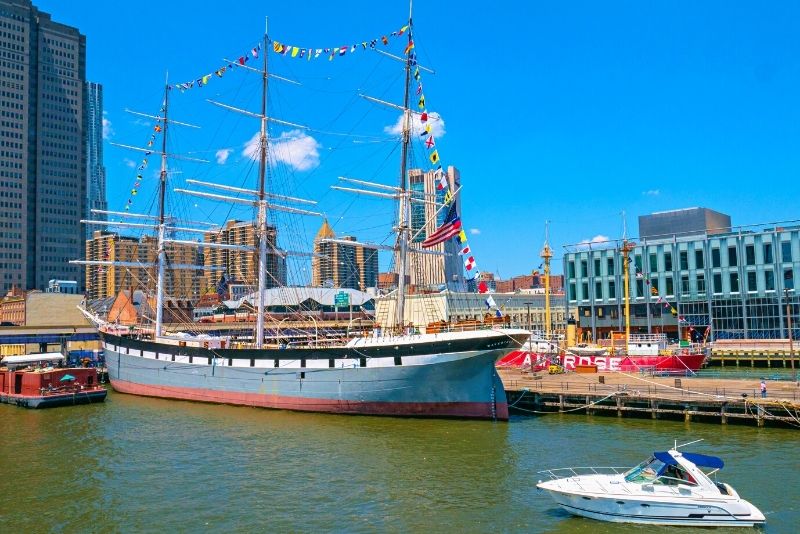 A historic gem in the Financial District (which features some of the city's oldest architecture), the South Street Seaport Museum is dedicated to preserving and showcasing the fascinating maritime history of New York City.
Taking up an old-school block of waterfront architecture, this unique museum complex is made up of a fleet of historic ships (including the 1885 schooner Pioneer; the 1907 lightship Ambrose, and 1930 tugboat W.O. Decker), as well as several galleries that take you on a journey through New York's past – from its beginnings as New Amsterdam to its future as one of the most modern cities in America.
Hot tip: get into the maritime spirit by taking a harbor cruise before exploring the plethora of notable restaurants and bars nearby.
69 – Fort Totten Park

Located in Queens on the north shore of Long Island, Fort Toten Park is a smaller park, but one that draws crowds for its rich history — alongside the preserved Civil War fortress are epic views over The Bronx and Manhattan.
A former strategic military location that dates back over 160 years, Fort Totten is now a popular destination for kayaking, swimming in the onsite pool, sunbathing, and just enjoying the beautiful sights of New York City.
Start your journey at the visitors' center to learn all about the park's history, or, for those who enjoy guided treks, consider joining one of the informative and enjoyable ranger-led tours that dive into the fortress as well as the surrounding wildlife.
70 – SPYSCAPE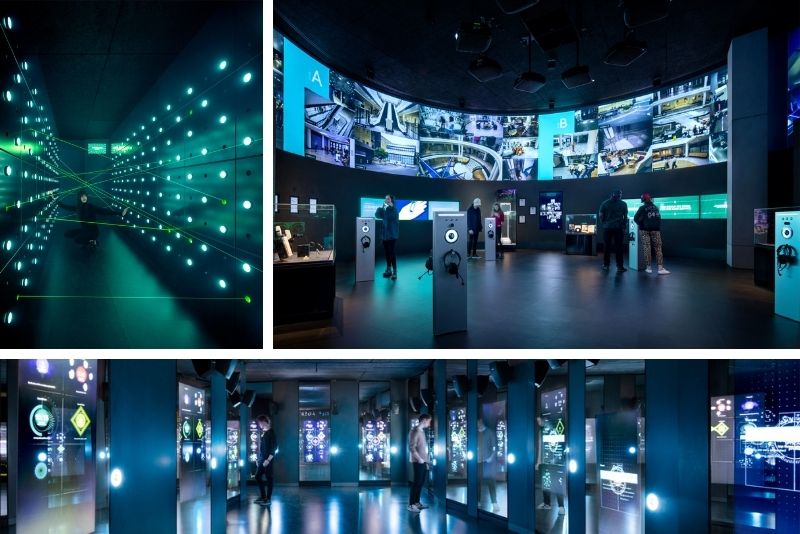 Feel like dabbling in a little… espionage? One of the coolest museums in New York City, the new SPYSCAPE is a spy-themed playground that's equal parts fun and educational.
From interactive mazes to clever quizzes, this exciting museum puts you into the shoes of a real secret agent for an immersive adventure that's totally unlike anything else around town (we promise).
Spread across seven different experience zones, future agents can admire the latest in intelligence and spy technology, experience the magic of artificial intelligence first-hand, and even browse a dedicated 007 James Bond exhibit!
71 – Deno's Wonder Wheel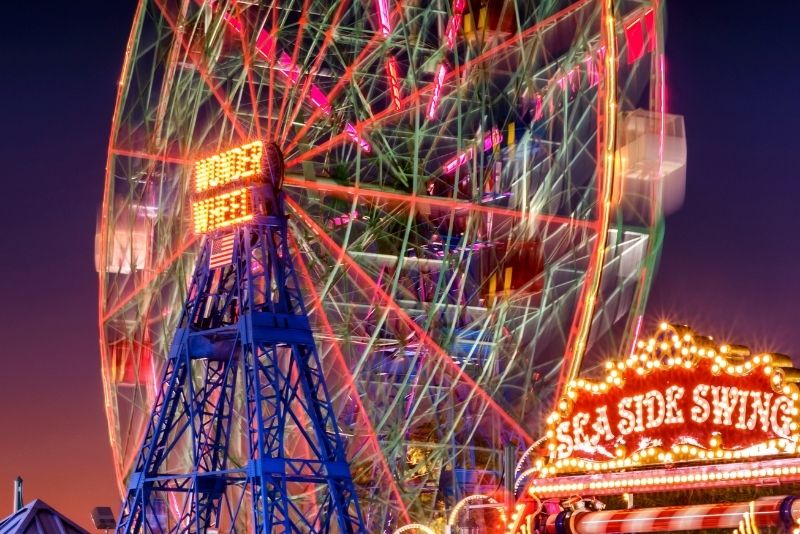 Having put smiles on faces for decades, Deno's Wonder Wheel is a classic New York City attraction that's been dazzling the masses on Coney Island since the roaring '20s.
As officially the oldest continuous operating ride at Coney Island, the Ferris wheel rises 150 feet above sea level and offers some of the best views in town from its swinging and stationary cars.
However, it's not all about the Wheel; the amusement park actually boasts nearly two-dozen thrilling rides, including the Phoenix roller coaster, a sleuth of kiddie rides, the Spook-A-Rama haunted house, and an immersive VR experience called Stop the Zombies.
Throw in all the classic carnie arcade games plus an old fashion Sweet Shoppe and Nathan's Famous Hot Dogs, and you've got yourself one heck of an afternoon on the cards.
See more: Cheap things to do in NYC
72 – Bryant Park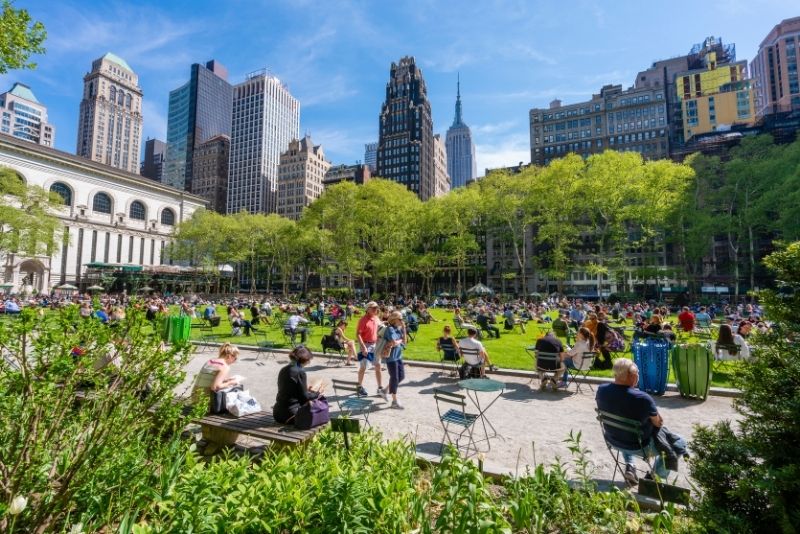 A rare slice of greenery in the heart of skyscraper-city, Midtown, Bryant Park is a beloved public park that's perfect for a relaxing break during your busy day.
The 42nd Street park features lush gardens, plenty of benches and shady spots to take a load off, energetic street performers, as well as free WiFi and regular events like summer movie nights, fitness classes, live concerts, art installations, and a whole lot more.
Dubbed Manhattan's Town Square, the park remains a buzzing meeting point no matter the time of year — in the colder months, don the skates for a few laps on the ice rink and browse the seasonal Christmas markets, mulled wine in hand!
73 – The Vessel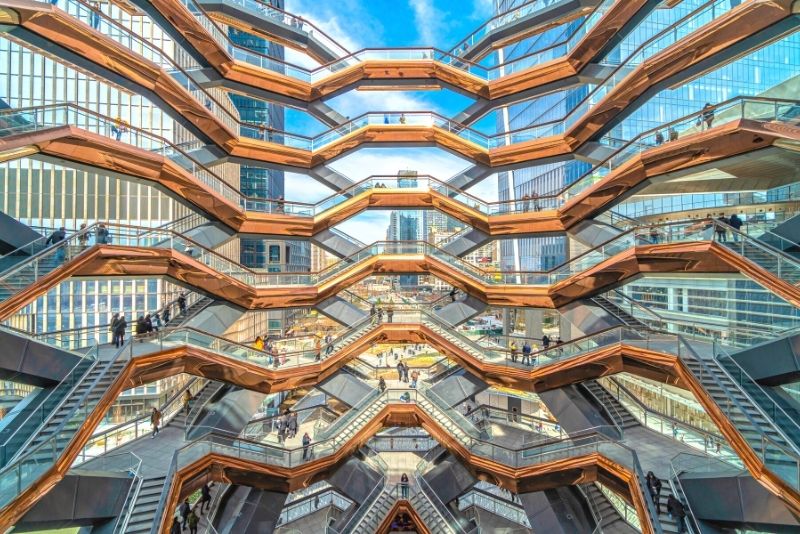 Sticking out in the Hudson Yards skyline like a sore thumb, the Vessel is a new, edgy, and heavily photographed attraction that's already become one of New York City's most iconic landmarks in just the few short years it's been standing.
Created by renowned British architect Thomas Heatherwick, the honeycomb structure is comprised of 154 interlocking flights of stairs (Harry Potter vibes, anyone) — 1776 steps in total — and offers incredible views over The Big Apple as well as nearby attractions like Hudson Yards itself, The High Line and the Chelsea Piers.
Looking to save a few bucks? Set an early alarm and arrive within the first hour of operation for free entry ($10 at other times).
74 – Madame Tussauds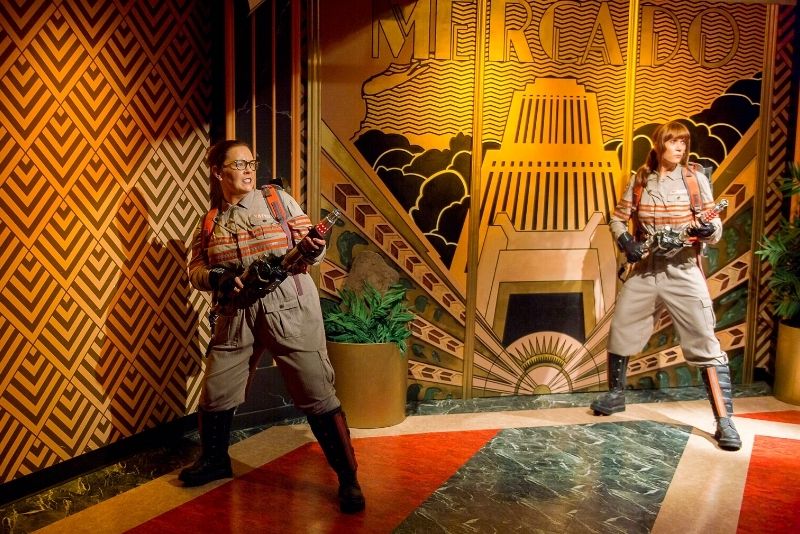 The closest thing to meeting your favorite celebrities, Madame Tussauds is a waxy hubbub of Hollywood A-listers, iconic musicians, historical figures, political figures, and quintessential New York faces, all under one roof.
The wax museum is the perfect choice for a rainy day in New York City and remains one of the most popular things to do in Times Square, with over 200 lifelike figures on show, plus interactive experiences like Marvel Superheroes and Star Wars.
With plenty of scenes set up for selfies, you'll be tricking your friends and raking in the likes in no time!
75 – SUMMIT One Vanderbilt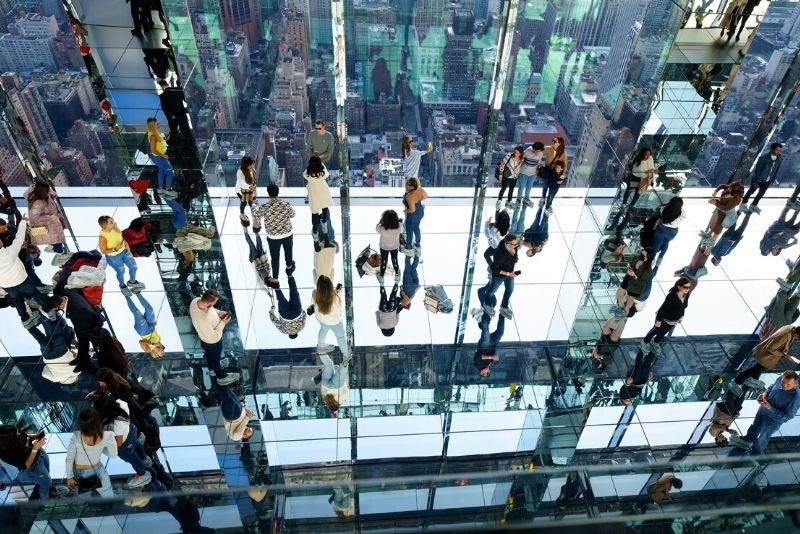 A fresh addition to the glorious Manhattan skyline, the super-sleek SUMMIT One Vanderbilt is quick staking its claim as one of the best tourist attractions in New York City — while a formidable observation deck, this cultural experience tucked away atop the 73rd floor offers so much more than a great view.
Full of deliberately placed glass and mirrors throughout the area, SUMMIT delivers a magical and immersive artistic experience through its three 'grammable sections: Air, Transcendence, and Affinity.
At a whopping height of 1,301 feet (or roughly equivalent to the Empire State Building), the new tower is easy to spot from miles around and offers unparalleled 360-degree views over all five boroughs, as well as Jersey City and beyond on a clear day.
For true thrill-seekers, the Ascent elevator — looking like something out of a Roald Dahl book — juts out from the building and climbs even higher! And after coming back down to Earth, drinks and creative dishes await at Après.
76 – Governors Island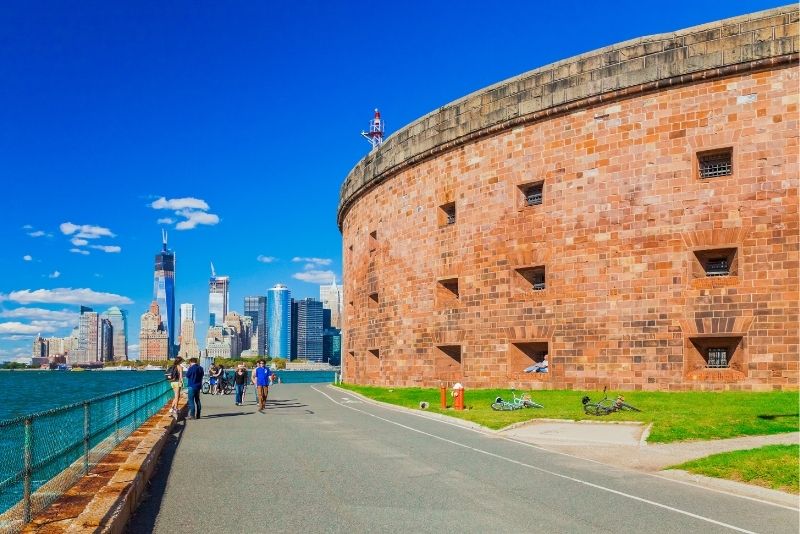 A short ferry ride from Lower Manhattan and Brooklyn Bridge Park, Governors Island is a car-free haven that's perfect for summertime ambles.
The 172-acre island offers plenty to discover, with acres of lush green parkland as well as historic mansions and buildings transformed into art galleries, museums, and cultural spaces. Chill out in Hammock Grove, snap some colorful pics at the lavender fields, or take a guided tour of the island on the weekends to learn more about its military history1
It's also home to some of New York City's best events including music festivals, artistic workshops, lawn parties and DJ nights — check the calendar to see what's coming up — plus the Governors Island Winter Village in Colonels Row with an ice rink to boot.
77 – Macy's Herald Square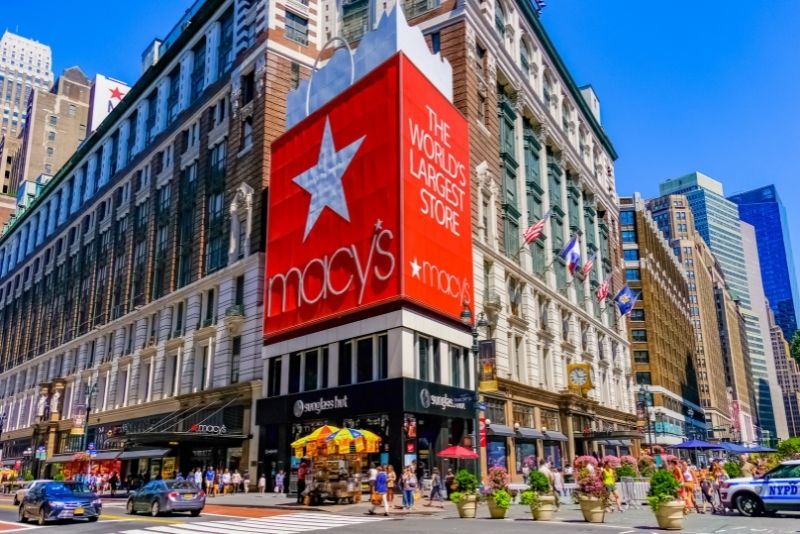 From the iconic Thanksgiving Parade to the Miracle on 34th Street, Macy's is as much a part of New York City culture as bagels and pizza slices.
So, it should come as no surprise that this historic department store — which has been around since 1902 — still holds some magic for visitors today.
Macy's Herald Square is actually one of the city's most popular tourist attractions in its own right; walk through the doors and you'll be met with massive murals depicting scenes from NYC life and history, along with plenty of opportunities to revel in Americana and pimp out your wardrobe.
If you're more about its movie magic than its fresh fashion, consider joining an NYC movie tour to check out how Macy's has featured in famous films and TV sets from the likes Broad City, Home Alone, Girl Meets World, Thoroughly Modern Millie, Miracle on 34th St, and a whole lot more!
78 – Jane's Carousel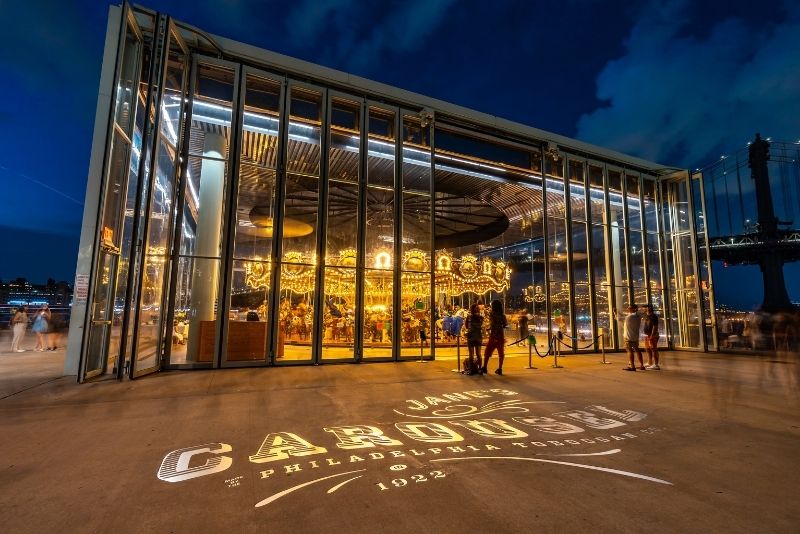 Now, remarkably, over 100 years old, this whimsical, old-timey family attraction — which now sits in the heart of DUMBO's Brooklyn Bridge Park after originally being housed in Ohio — has been delighting kids and adults alike since 1922.
Jane's Carousel is a true New York City gem, and it's easy to see why it was once dubbed the "most beautiful carousel in the world". It features 48 exquisitely carved horses and chariots as well as an impressive glass enclosure which, despite being intended for its protection from the elements, makes the attraction even more unique.
Take a spin on the beloved Jane's Carousel for just $2 per ride, or enjoy the views of the Brooklyn Bridge and Manhattan skyline from the surrounding boardwalk — either way, you're guaranteed a good time!
79 – Carnegie Hall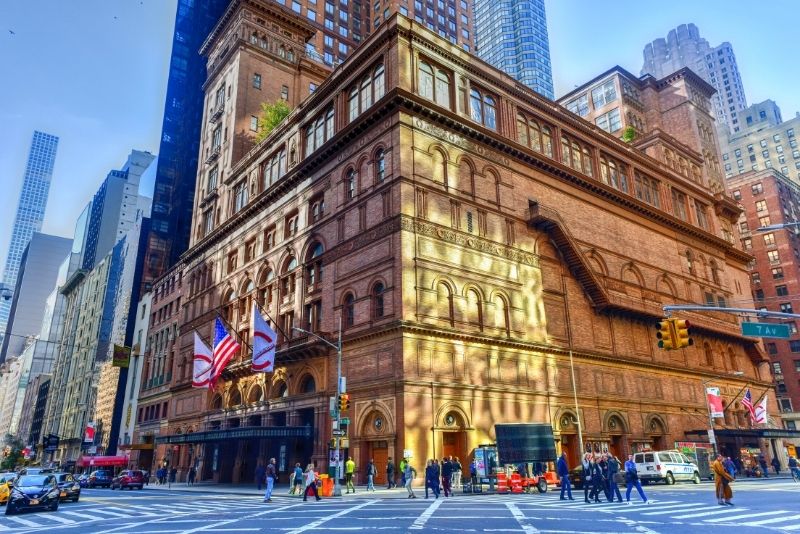 With a glowing reputation as a top venue for classical music and jazz (notwithstanding some rock and pop here or there too), Carnegie Hall is one of the world's most prestigious concert halls.
Originally built in 1891, this iconic institution has hosted performances by some of the biggest names in show business including Judy Garland, Ella Fitzgerald, Louis Armstrong, Pink Floyd, as well as more contemporary artists such as Beyonce and a wide selection of world-renowned orchestras.
Today it continues to present over 200 concerts each season with countless performances every year from critically-acclaimed musicians and superstars alike. While tickets are needed to be (usually) booked well in advance, if you're strolling by on a whim, check out the free Rose Museum or book a guided tour of the national historic landmark a couple of days prior.
80 – West Village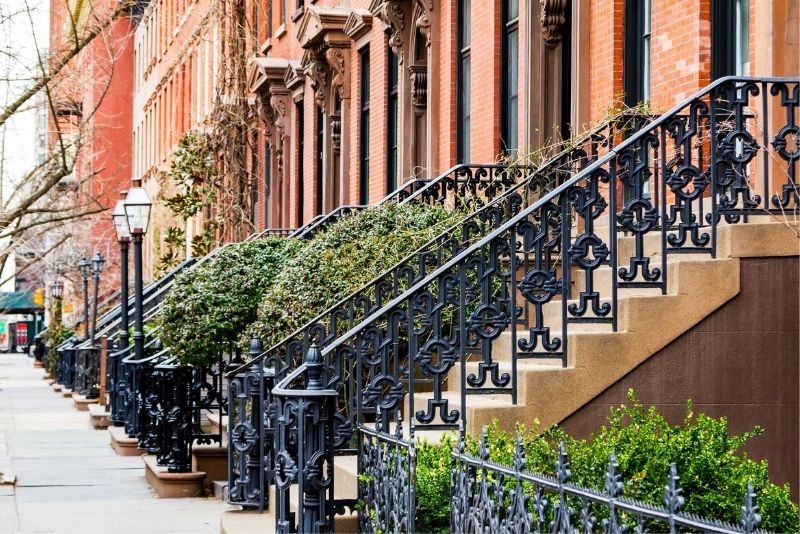 Buzzing with art galleries, trendy restaurants, and independent boutiques, the West Village is one of the most charming and picturesque neighborhoods in all of New York City.
Formerly a bohemian enclave for artists and writers (and still home to many creative types), this west-of-Broadway district that winds along the Hudson River has retained much of its old-world feel with narrow streets, intimate brownstones, and an eclectic mix of businesses ideal for a spot of window shopping (or actual shopping).
Take a leisurely stroll through the West Village while people-watching or popping into some stores you might not find anywhere else in the city; and, to learn a thing o two about the area's vibrant history and diverse culture, consider joining one of the many locally-led walking tours.
Hot tip: Check out our list of the best walking tours in NYC you shouldn't miss.
81 – Staten Island Museum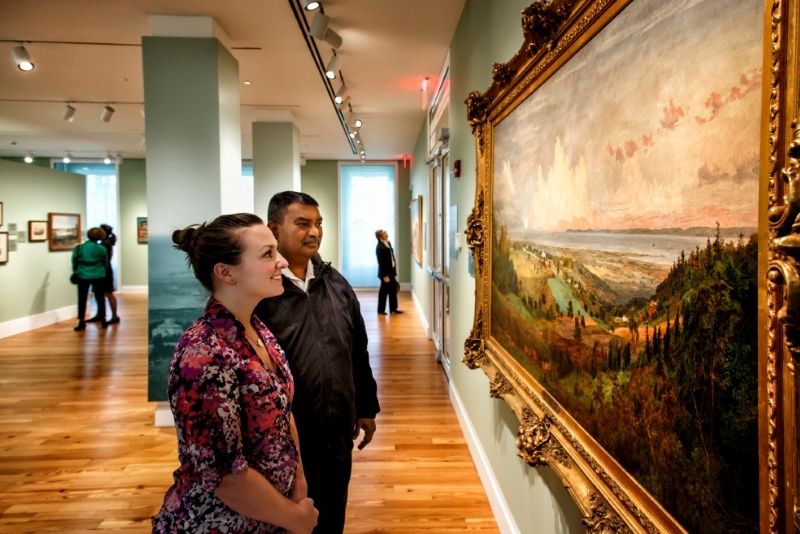 This small but mighty institution in the borough's Snug Harbor Cultural Center has a wide variety of permanent and rotating exhibits on everything from natural history and archaeology to technology, local art and culture, and NYC-specific history.
The Staten Island Museum is perfect for a rainy day activity or something different to do on your next trip out to the oft-forgotten borough. And, believe it or not, that extensive variety of artifacts and exhibits makes it the only remaining general-interest museum in New York City!
Plus, admission is free (although the suggested price is $8 for adults — still ver affordable) so you can explore at your leisure without worrying about the budget. Check out their website for current exhibitions and upcoming events!
82 – Williamsburg Bridge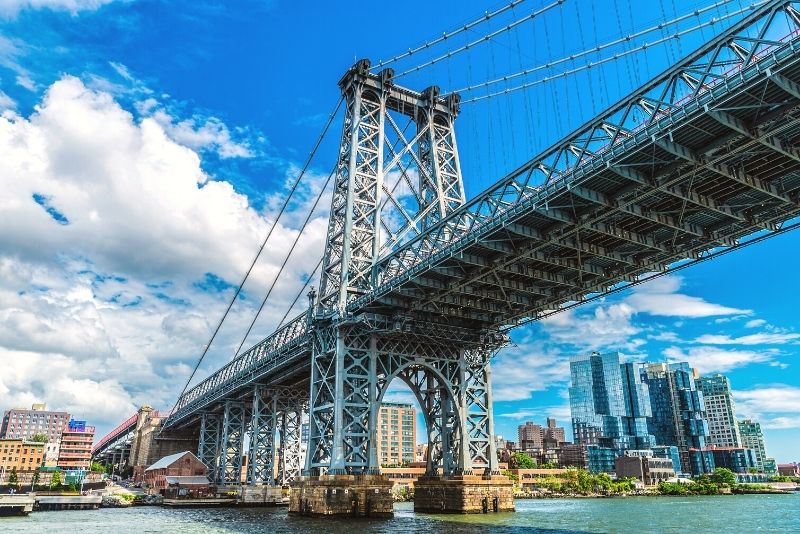 Typically overlooked in favor of its parallel-running neighbor, the Brooklyn Bridge, the Williamsburg Bridge is nonetheless a must-see when touring New York City.
Completed in 1903, this imposing landmark connecting Brooklyn to the Lower East Side of Manhattan was the world's longest steel suspension bridge for 20 years after construction, stretching 1.38 miles (2227 meters) from end to end.
It offers absolutely stunning views of both boroughs as well as Lady Liberty and Ellis Island — and of the Brooklyn Bridge too; another reason to stroll along this one in lieu! — making it perfect for an afternoon walk or bike ride.
Bonus: Since you're technically in two different neighborhoods when crossing the bridge, you can easily explore each one separately before or after your journey!
83 – Museum of the City of New York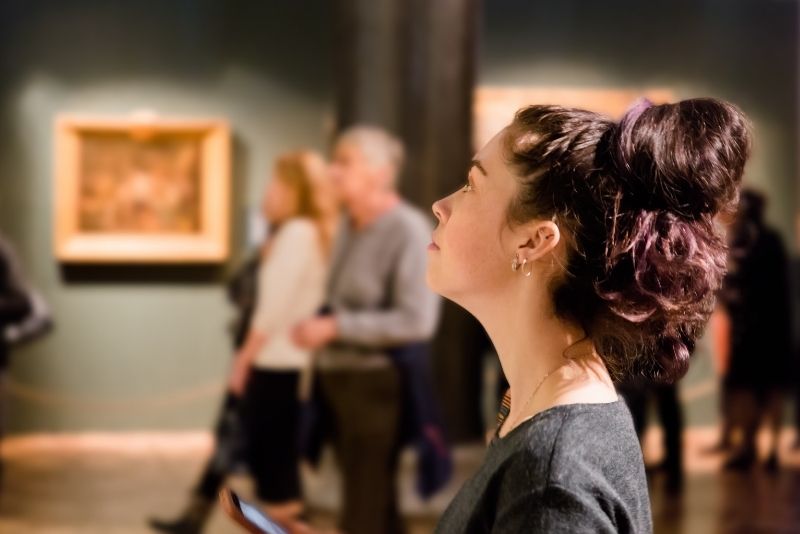 Heavily underrated but full of interesting exhibits nonetheless (with over 750,000 items to boot including outfits worn at George Washington's inaugural ball), the Museum of the City of New York is, expectedly, a must-see for anyone interested in the Big Apple's history and culture.
Located in Manhattan's Upper East Side straddling the edge of Central Park, this 5-story museum traces the city's development from its humble beginnings as a tiny Dutch trading post all the way to its current status as one of the most iconic and influential metropolises in the world.
And, with rotating temporary exhibitions on topics ranging from Broadway to fashion to architecture to social movements, as well as a fifth floor dedicated to the Rockefeller rooms (recreations of several famous Robber Barons' houses), you can easily whisk away a few hours here!
84 – Woodbury Common Premium Outlets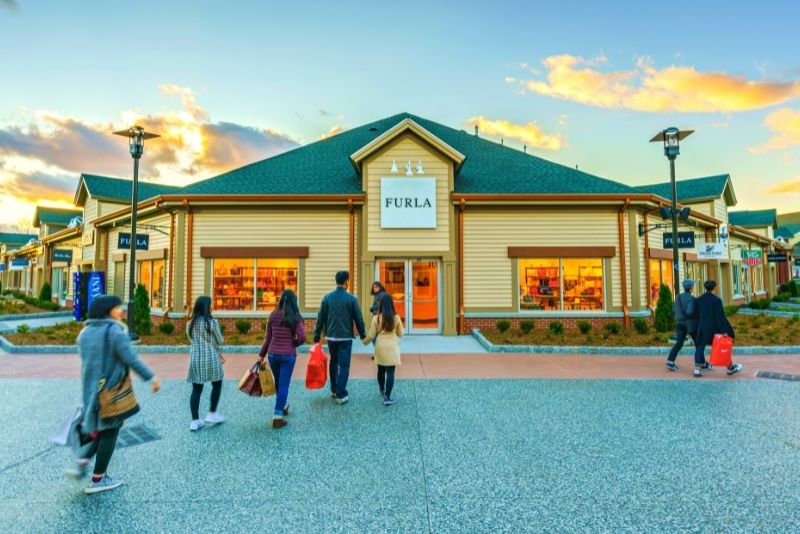 Craving a touch of retail therapy? An hour north of the city lies the shopalohilc's paradise that is the Woodbury Common Premium Outlets, one of New York's largest shopping malls.
With close to 250 designer and brand-name stores to choose from — including your favorite luxury labels like Gucci, Prada, Burberry, Armani, Balenciaga, Jimmy Choo and more at prices up to 65% off retail value! — you can easily spend a full day here hunting for deals on everything from clothing and accessories to beauty products and homewares.
For those looking to max out the credit card without worrying about going to and from, there are a few pre-bookable tours that not only include transport from Mantahhatn's Port Authority, but also a free discount coupon book!
85 – The Battery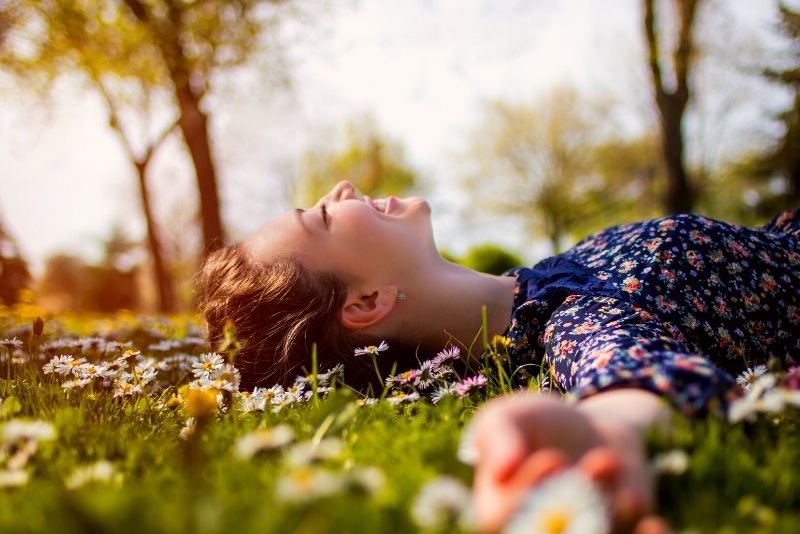 A lovely place to soak in the fresh air and waterfront views on any sunny day, The Battery is a local-favorite 23-acre public park located at the southern tip of Manhattan that regularly draws attention for its spectacular scenery and perspective of the Statue of Liberty and Jersey across the Hudson.
Steeped in history, these days it's known for its wide variety of well-manicured green spaces, picturesque promenades, art installations, the kid-friendly Playscape and ShowBox amphitheater (home to regular improv performances), and monuments and memorials honoring soldiers, explorers, and immigrants; all in all, it's perfect for a quick visit when wandering through Lower Manhattan.
And don't forget to snap some pictures while you're there; the Instagram opportunities are endless!
86 – Castle Clinton National Monument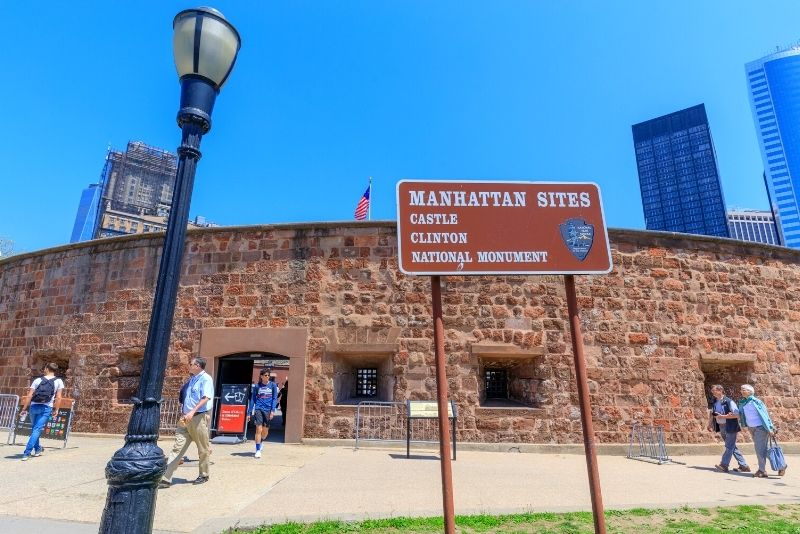 An undisputed highlight of the Battery that deserves its only special mention, Castle Clinton is a historic fort built to protect New York Habor in the War of 1812 ' but that's just the start of its fascinating timeline.
Originally intended as a military outpost with 8-foot-thick walls, this National Historic Landmarks sports history as diverse as New York itself; after its fortification, it became an opera house (1840-1855) before being converted into an immigrant landing depot (1855-1890) and an aquarium thereafter until 1941!
Today, the incredible monument continues to serve the public by housing ticketing booths for those visiting Ellis Island and Liberty Island (the Statue of Liberty), offering guided history-themed tours, and a small exhibit on the American immigration experience.
87 – Metropolitan Opera House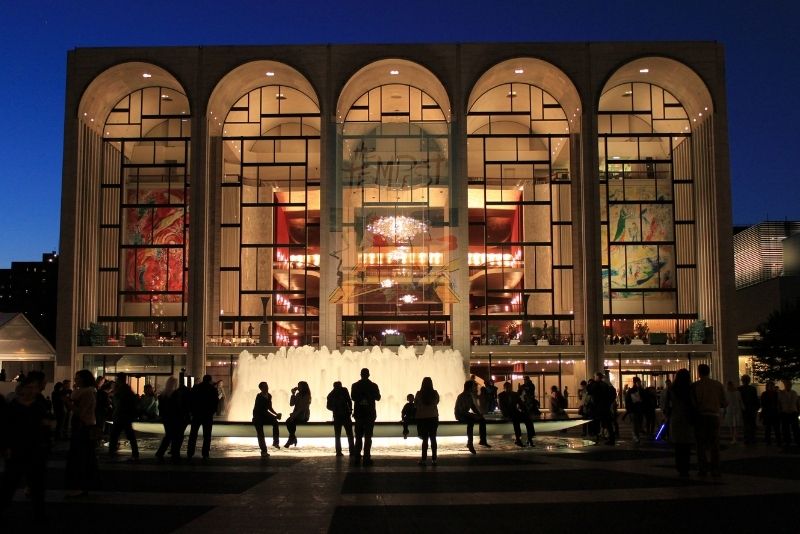 A world-renowned opera house located on the Upper West Side of Manhattan as part of the coveted Lincoln Center, the Metropolitan Opera stands proud as one of the most prestigious performing arts institutions in the United States.
Featuring a season that runs from September to June and showcasing over 200 performances of dozens and dozens of different operas (plus ballets and concerts), this iconic theater has been around since 1883 and has seen some of the greatest names in classical music grace its stage, including Luciano Pavarotti, Andrea Bocelli, Renée Fleming, Anna Netrebko and more.
If you love opera (or even if you're just curious about it!), then a visit to see an event at this legendary institution is an absolute must!
Hot tip: Even if you're not catching a show, there are plenty of opportunities to grab a magical Manhattan souvenir photo. Typically, early in the day when shows aren't on, the lobby remains open to the public, meaning that guests can meander up the grand staircase, admire the shimmering crystal chandeliers, or step out onto the balcony that overlooks the bustling Lincoln Center Plaza.
88 – Bronx Zoo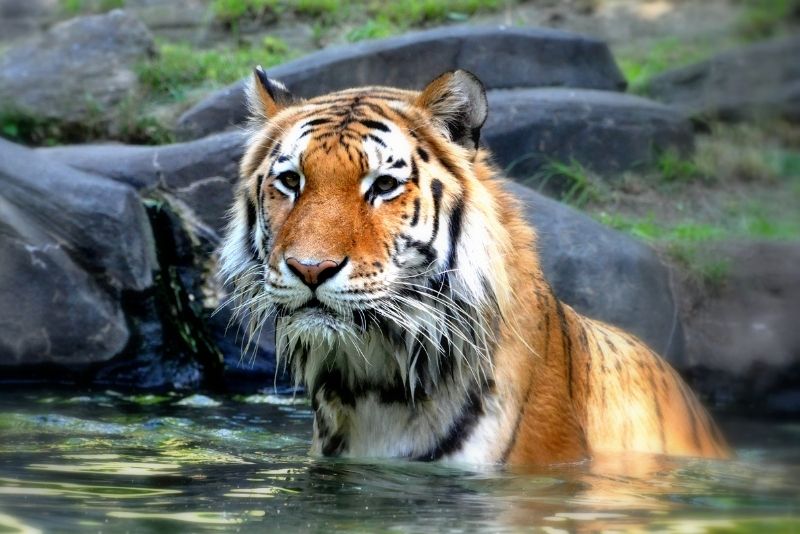 Easily one of the best tourist attractions in New York City for local and visiting families, the Bronx Zoo is the largest metropolitan zoo in North America, home to over 4000 animals representing more than 650 species from around the world.
Welcoming animal-loving visitors since the late 1800s, this 265-acre zoo not only offers an amazing variety of animal exhibits (including a World of Reptiles and Himalayan Highlands sections), but also interactive experiences like nature treks, sea lion and penguin feedings, and the educational Zoo Shuttle, there's truly something for everyone here!
Plus, if you're looking to get your little ones excited about conservation (or just want them to have some wild fun!), they offer a wide range of educational programs that cater to different age groups too.
89 – Children's Museum Of Manhattan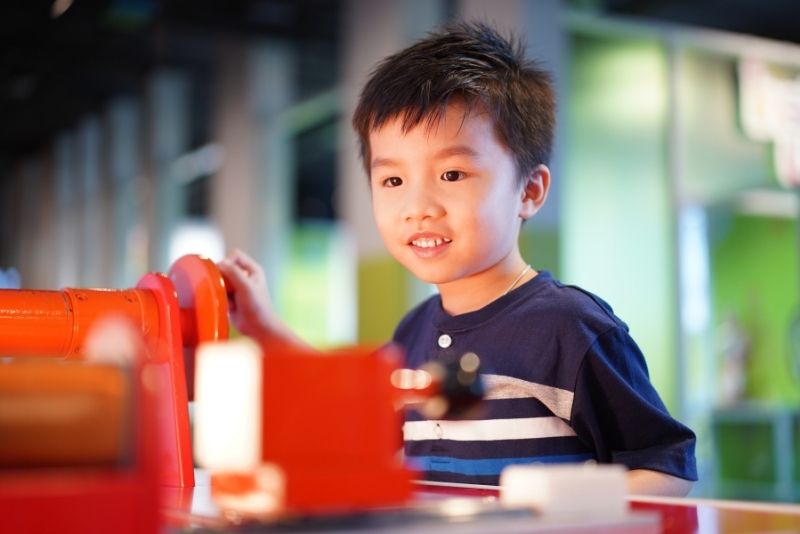 Designed to inspire curiosity about this big wide world of ours, the Children's Museum of Manhattan (CMOM) is a magical place for NYC families — while targetted at youngsters six and under, parents and grandparents tend to love the playful hands-on exhibits too.
Featuring five floors packed with interactive elements that make learning about different cultures, art, history, and science fun, this is an attraction where kids can let off at least 2-3 hours of steam.
Located on West 83rd Street in Upper Manhattan – just a few minutes walk from Central Park – the CMOM also offers classes and workshops (like Gross Biology!) that are sure to spark plenty of intrigue.
90 – United Nations Headquarters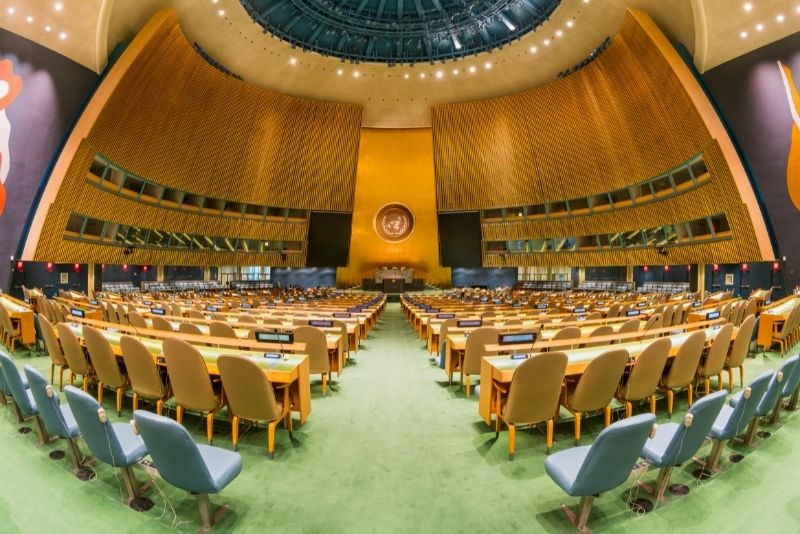 A symbol of unity that looks over the East River, the UN Headquarters offers in-person guided tours of its flagship building, giving visitors a chance to learn about the work of this important international organization, checking out the art and architecture along the way.
Tours run around an hour long and make a few stops inside the General Assembly and Dag Hammarskjöld libraries, and, if you're lucky, observe the Security Council in session.
Tours aside, you can get lost in the UN Bookshop, send a postcard with a UN stamp, or browse the educational exhibits about peace, human rights, and activism (open Monday to Friday 9-5).
91 – Fraunces Tavern Museum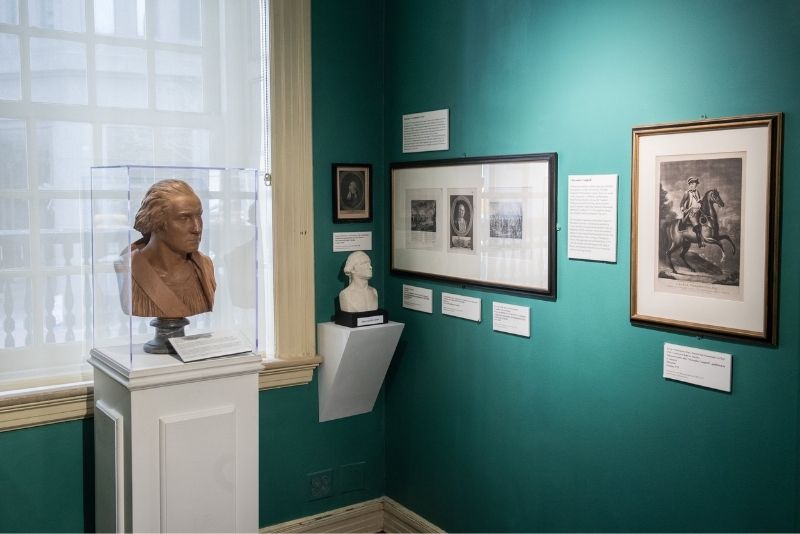 Once a roaring watering hole during the revolutionary war — yep, meaning that this historic landmark dates back to the late 1700s — the Fraunces Tavern Museum is where none other than George Washington gave a moving farewell speech to his officers, which has since been transformed into a lovingly restored tavern and museum that tells the story of early America.
Tucked away in the Financial District in Lower Manhattan, this small but significant museum is home to a range of exhibitions that explore the revolution, the War of 1812, and more – not to mention the world's biggest John Ward Dunsmore paintings collection.
Housing both permanent and temporary exhibits, guided tours from history buffs come highly recommended.
92 – Soho & Little Italy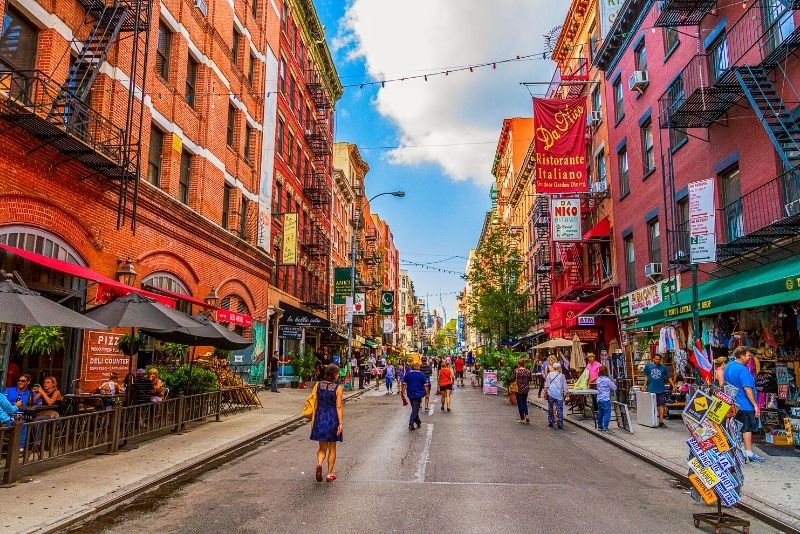 Two iconic NYC neighborhoods make up the Lower Manhattan area of Soho and Little Italy, a place that's brimming with fine art galleries (including some very famous ones), quaint cobblestone streets, an abundance of world-class boutiques frequented by the who's-who of NYC, and, of course, a sleuth of lip-smacking pizza joints.
While this part of town is best known for its high-end fashion stores (think Prada, Dolce & Gabbana) and historic restaurants (don't miss Lombardi's, Margherita NYC, and, if you're still hungry, Il Piccolo Buffalo), it also has plenty of lowbrow entertainment to keep visitors occupied too — from indie movie houses to secret speakeasies!
93 – New Museum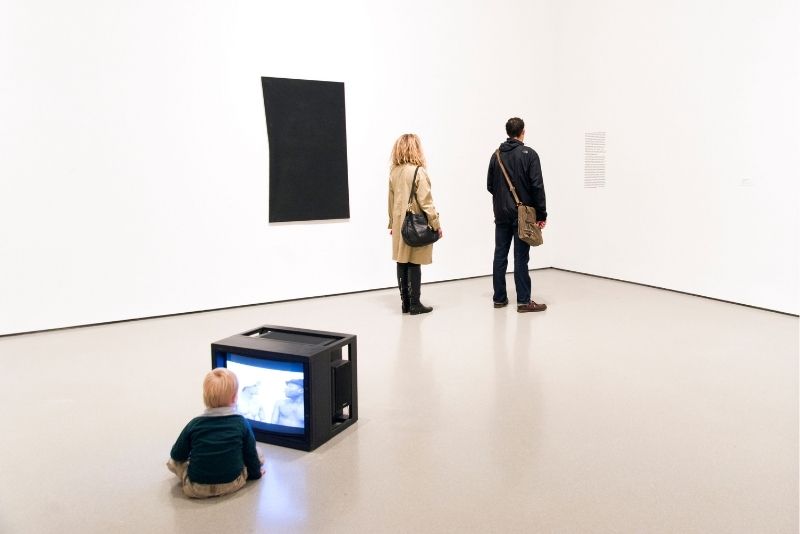 Full of over 6,000 contemporary artworks from over 800 artists, in a cutting-edge 7-story building that personifies what lies inside, the New Museum regularly flies under the tourist radar but delivers a fascinating and thought-provoking insight into the world of modern art.
Besides what's on offer in the main rooms — largely focusing on lesser-known creators – there's also a searchable database of over 3,700 artists, guided tours, and an audio tour if you prefer to wander at your own pace.
Hot tip: if your schedule lines up, visit from 7pm to 9pm on a Thursday for pay-what-you-wish admission! newmuseum.org
94 – Museum of Chinese in America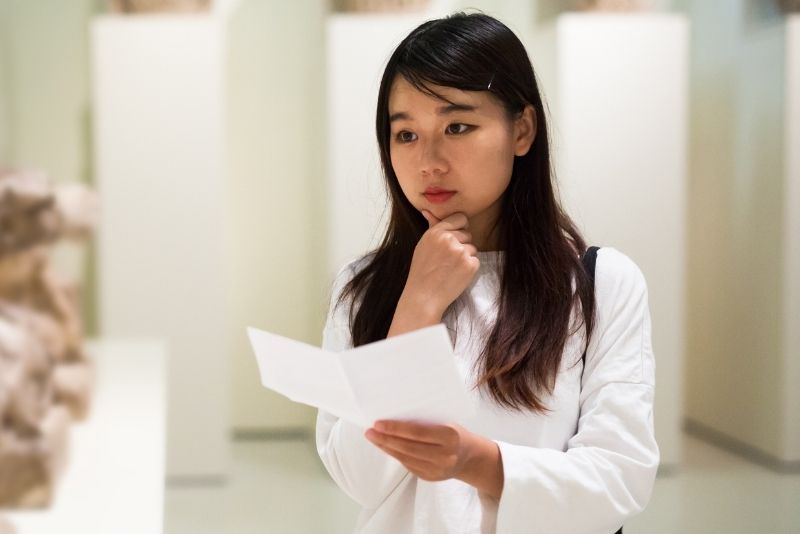 A nice combination of art and history, the modestly-sized Museum of Chinese in America (MOCA) aims to preserve the rich Chinese traditions and history, telling the story of the Chinese people who immigrated to New York and helped build the now-thriving Chinese American community.
Located in downtown Manhattan, the museum offers guided tours of its permanent exhibition and seasonal exhibits — where you'll find over 65,000 artifacts spanning photographs, textiles and clothing — as well as a range of family-friendly hands-on activities and workshops.
Of course, located a stone's throw from the sleuth of Chinatown restaurants, a visit is best backed up with a plate of delicious steamed dumplings.
95 – LoL Comedy Lounge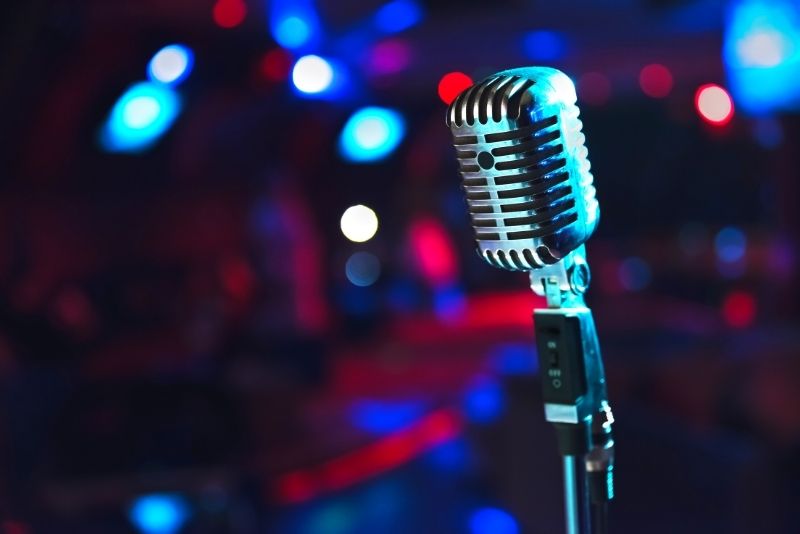 Sure to have you in stitches, the LoL Comedy Lounge is a laugh-out-loud comedy club that's home to some of New York City's funniest and most talented comedians.
Located in Midtown Manhattan in the heart of Times Square, this modern venue is where you'll find an eclectic mix of established acts and up-and-comers doing what they do best — serving up side-splitting jokes on a silver platter.
Keep in mind: tickets to the nightly shows are usually very affordable but there's often a two-drink minimum attached (helps to ease the nerves anyway).
96 – New York Historical Society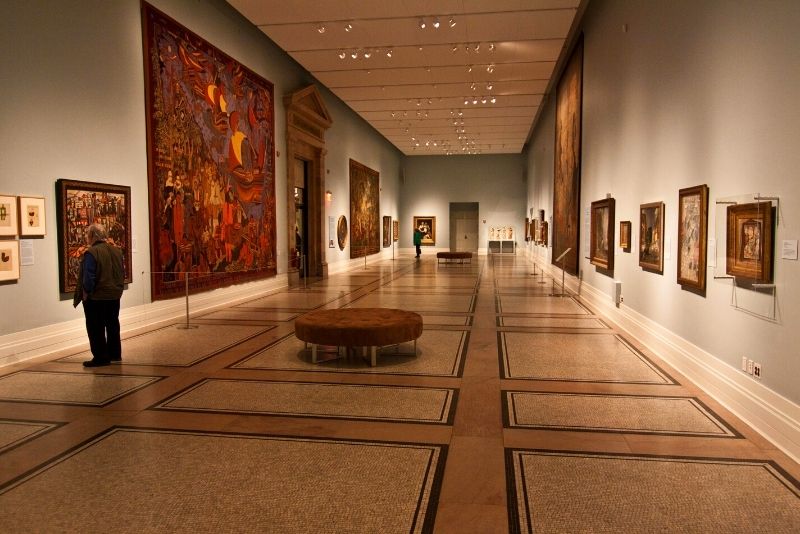 A quintessential New York City museum on the western flank of Central Park, the New York Historical Society is all about chronicling (and celebrating) the city's rich and varied history.
From its origins right up to the present day, no stone is left unturned in this comprehensive museum — with exhibitions spanning 400 years of history on everything from fashion and sport to politics and civil rights, with plenty of art, sculpture and miniatures on show too.
There are also regularly scheduled guided tours (the docent-led kind are highly recommended), as well as occasional events ideal for the history buff looking to take their experience to the next level.
97 – The Cathedral Church of St. John the Divine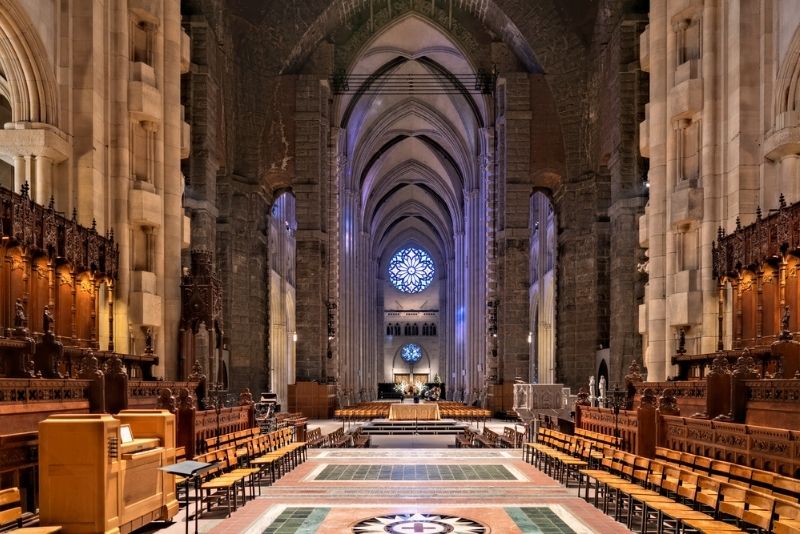 Famous not only for being enormous — sitting in the top 5 of the world's largest cathedrals as of 2022 — but also for being unfinished for over 120 years (and therefore aesthetically uneven) the Cathedral Church of St. John the Divine is an underrated architectural and religious landmark that's well worth a visit.
Listed as a National Historic Landmark, this Episcopal cathedral is home to some stunning stained glass windows, intricate carvings and sculptures, and two grand pipe organs, with an expansive interior that makes any visitor feel humbled and small.
Besides being a venue for concert musical performances, it also offers guided tours, houses art exhibitions, and welcomes literary fans to the American Poets Corner.
98 – Wave Hill Public Garden & Cultural Center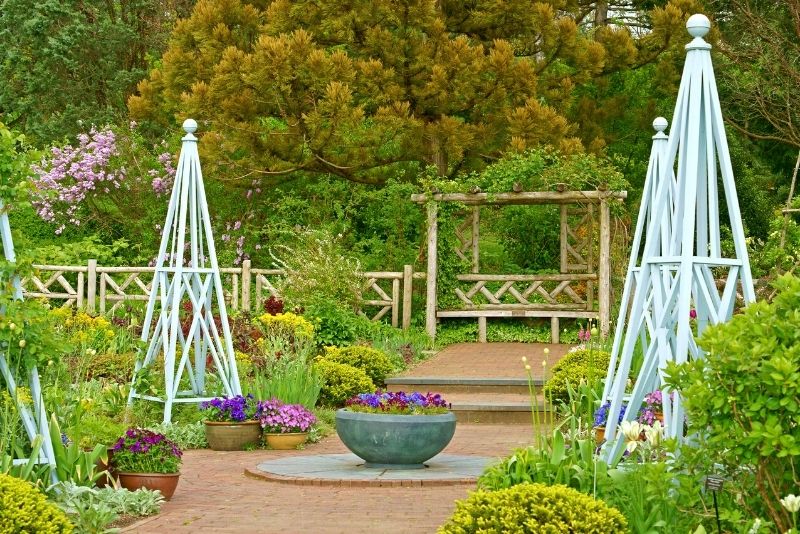 Delivering fresh air, bold colors, and a sense of history all rolled into one, Wave Hill's 28-acre public garden and cultural center is the perfect place to escape from the city's madness.
Located in New York City's Riverdale neighborhood in the Bronx, this scenic park features beautiful gardens where you can enjoy a picnic by the picturesque Hudson Palisades (don't forget your camera).
The grounds also encompass a heritage greenhouse complex, with an art gallery that hosts regular exhibitions in the focal point itself: the neo-Georgian stone mansion.
99 – New York Hall Of Science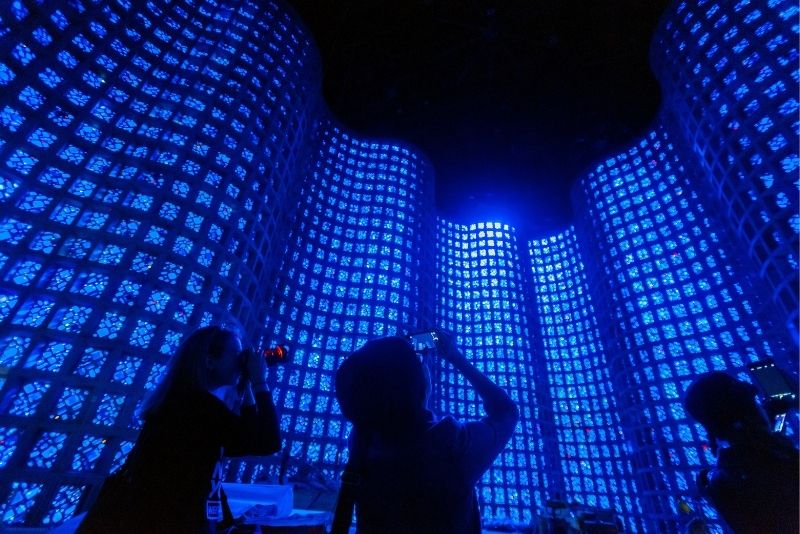 A place to don the lab coat and dive into the wacky and wonderful world of science, the New York Hall Of Science is a hands-on museum that's perfect for inquisitive minds of all ages.
Boasting over 450 exhibits (most of which can be touched and played with), made all the more enjoyable by the nation's largest outdoor science playground, this Queens museum will take you on an interactive journey through physics, chemistry, biology, math and more — from learning about the human body to building your own robots.
Sitting over in Flushing Meadows Corona Park, it's also conveniently located near a few other top NYC attractions (namely the Unisphere, Queens Zoo, Queens Museum of Art and Citi Field), making for a full day of sightseeing.
Save hundreds with the NYC attractions passes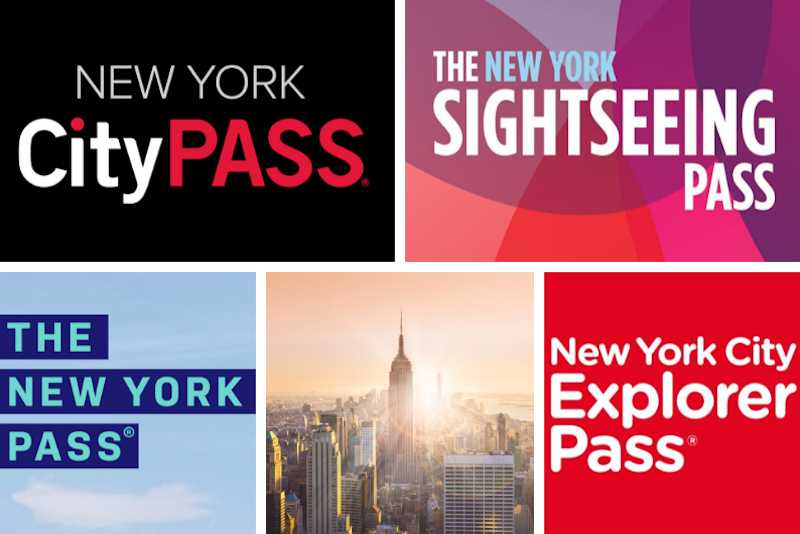 Planning to hop around a handful of the concrete jungle's finest attractions? With millions of tourists making the trip to the Big Apple year after year, local attractions have joined forces and partnered with tour companies to offer discounted passes for a number of the city's top sights — known as New York City attractions passes.
These handy tickets — choose between the CityPass, New York Explorer Pass®, Sightseeing FLEX pass, Go City, or Freestyle Pass depending on your trip's duration and budget — allow you to save up to 50% on some of the best tourist attractions in NYC, whether that be taking in a panoramic view from Top Of The Rock, browsing the Met, seeing Lady Liberty up close, or exploring Central Park by bike!
See also: New York City Attractions Pass Price Comparison Guide
Final thoughts
Thanks for checking out our collection of the best tourist attractions in New York City! If you have anything you'd like to add to the list, feel free to leave a comment below.
Bon voyage!