The food in Washington DC is exquisite, it's rich in history, and it's home to some of the finest national parks and museums in the world. The White House and the Pentagon both stand ready waiting to be toured, as do a number of other high-profile domiciles in the area…and some of them are famously haunted!
There are so many amazing things to do in Washington DC that to do it all in one visit would be simply impossible. Here's just a selection!
1 – Bone up on history at the Library of Congress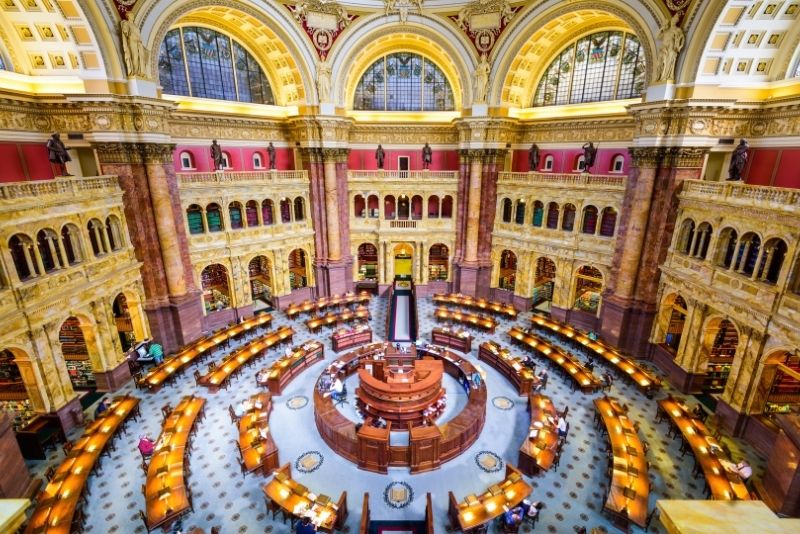 There's no better way to indulge in American politics than with a private tour of the Library of Congress, Capitol Hill, and the Supreme Court.
Take a leisurely stroll through the library's main reading room as you discuss all things politics past, present, and future, and check famous artifacts and landmarks like the Gutenburg Bible and the Thomas Jefferson Library off of your bucket list.
2 – Check out all the monuments and memorials on Capitol Hill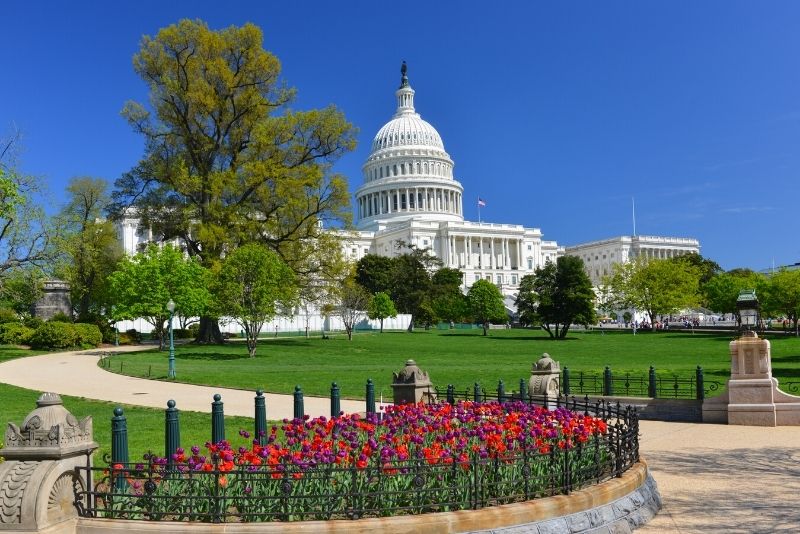 If you're a fan of American history and you're looking for things to do in Washington DC, then you'll want to visit Capitol Hill ASAP to see the Washington Monument and the Lincoln Memorial.
Visit the Supreme Court and take a tour of the places where bills and ideas are debated into law.
The picturesque National Mall is the perfect spot to snap some vacation memories!
3 – Pay tribute to the 300,000 fallen heroes buried at the Arlington Cemetery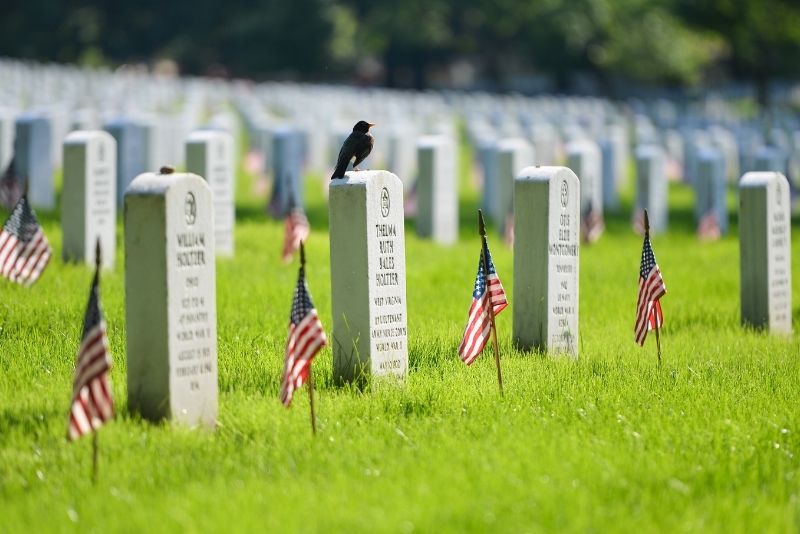 The Arlington National Cemetary is one of the most famous cemeteries in all of the United States, and a visit here gives you the opportunity to pay respects to more than 300,000 of the military's fallen heroes.
Both public and private tours are guided by passionate experts, and sites include the Tomb of the Unknowns, Memorials to the Columbia and the Challenger space shuttles, and the gravesite of President John F. Kennedy himself.
4 – Visit the home of Robert E. Lee, Arlington House Memorial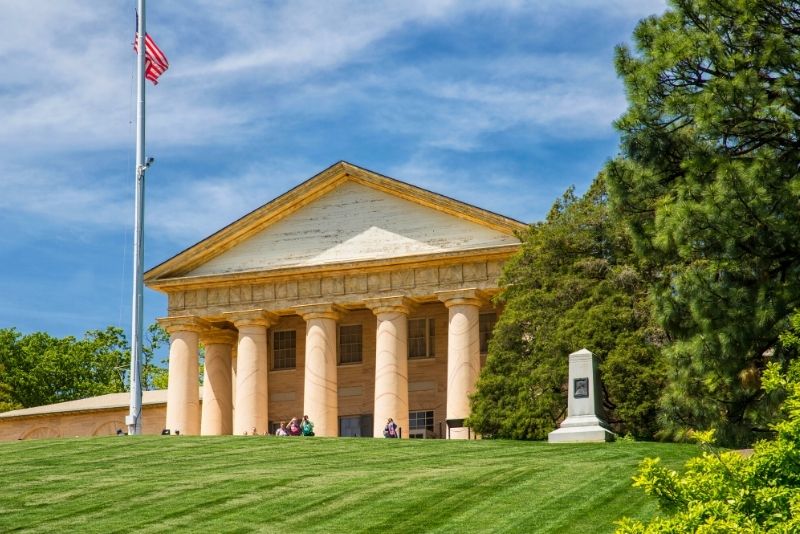 Considered to be one of the most brilliant military tacticians of the Civil War, Robert E. Lee is memorialized at his old family home, Arlington House.
The exhibits tell the story of the Lee and Custis families that lived here but also of the generations of enslaved people who lived and labored at the house and its grounds.
The story of Lee and his allegiance to his Virginia homeland is complicated. The Arlington House memorial takes a wide look into the whole story and uncovers the truth about this revered general and his complex legacy.
5 – Spend a day walking through the National Mall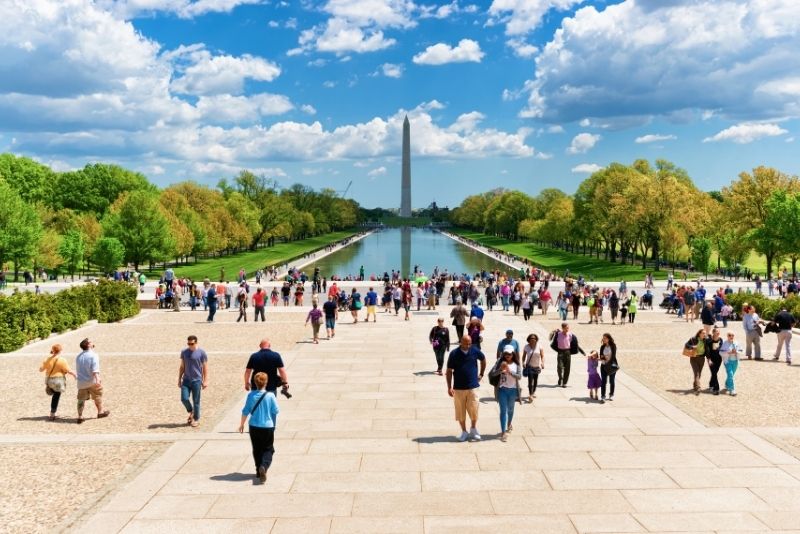 Be it by night or by day, there are more than 10 iconic tour stops waiting to be seen on a guided tour of the National Mall. Learn the fascinating history behind the Smithsonian museums and Potomac River, and check out memorials to Lincoln, FDR, and MLK.
There are both public and private options available, and some packages even offer pick up from your accommodation. Not to mention, these tours are amenable to all budgets!
6 – Hop on a bus or trolley tour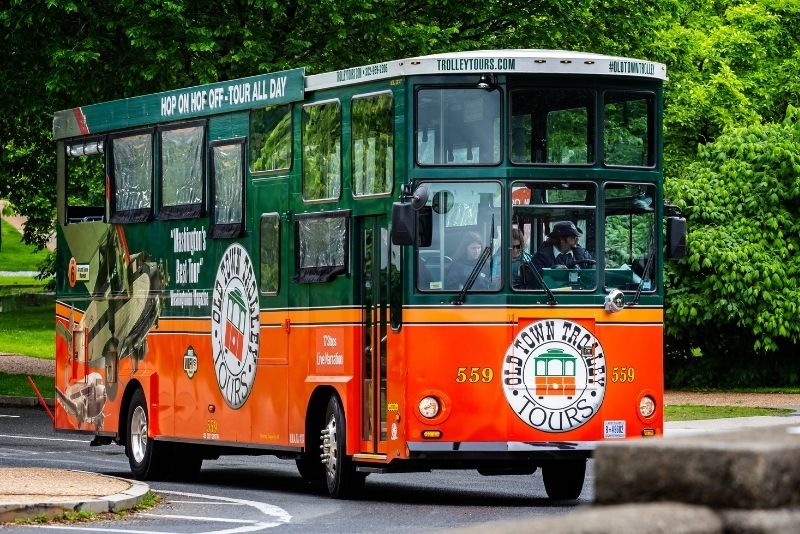 There are few things more magical than a moonlight tour of some of DC's most famous historical monuments (all fully illuminated) by open-air trolley, and few better things to do in Washington DC in general.
There are also tours available during the day! And best of all, there are multiple spots available to hop on one of these guided and narrated tours at your convenience!
7 – Take a magical nighttime tour of the DC monuments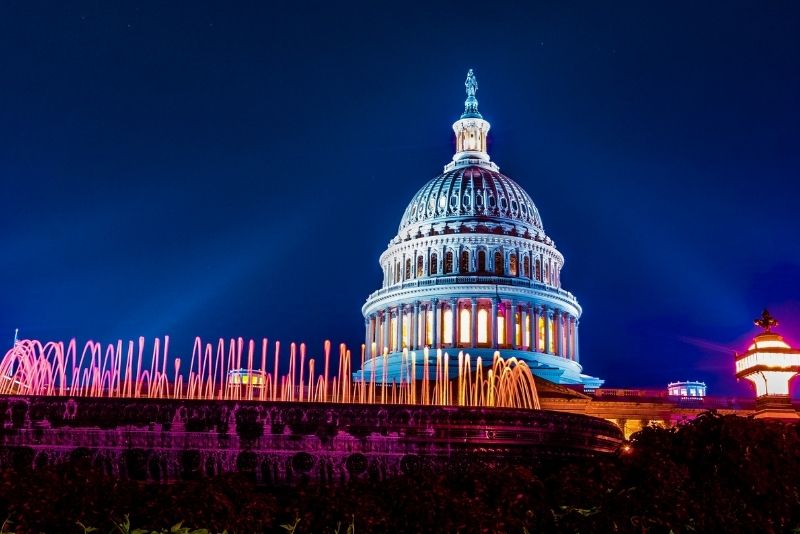 There are plenty of iconic historical monuments to check out during the day in DC, but landmarks like the Lincoln Memorial, the Washington Monument, and the White House look even more impressive illuminated at night.
Whether it be by bus, electric car, or bike, you'll come away from one of these tours with a lot more knowledge about American history and some gorgeous photos to show off to your friends.
8 – Learn about all the ghosts of Georgetown, and try the delicious food while you're there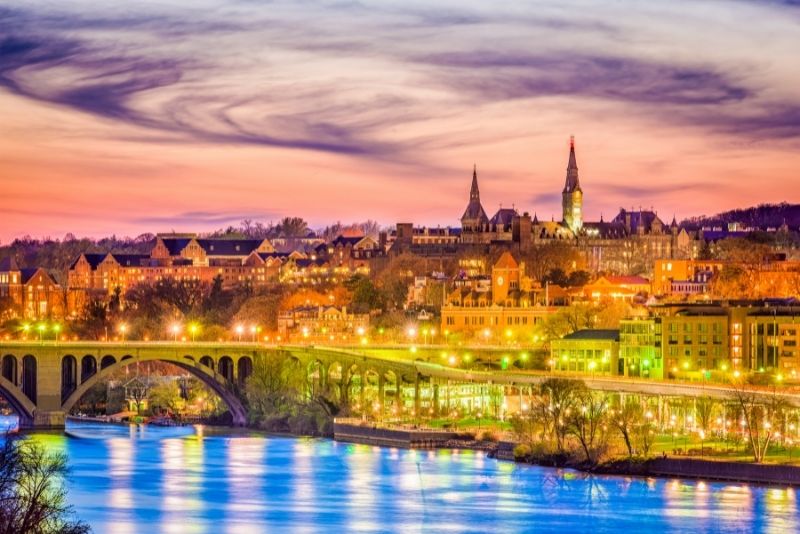 If America is known for one thing around the world, it's the decadent food culture. Georgetown in DC is one of the best neighborhoods in the country to experience this rich food culture firsthand.
Of course, Americana isn't just about food, it's also about history, architecture, and ghost stories! This gem of a town has a rich supply of all of the above, and the local experts are more than happy to show you everything you need to see.
9 – Take a segway tour around the city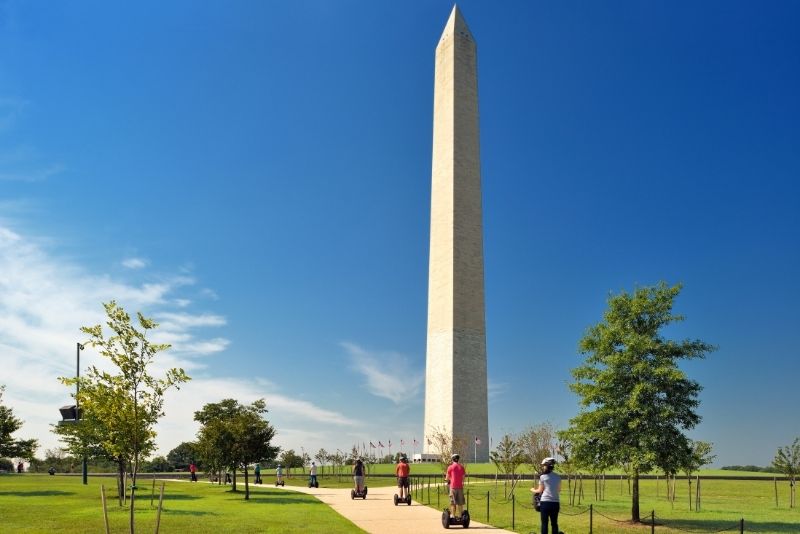 Let's face it, there's a lot to see in America's capital, and walking from site to site can quickly tire you out. That's not a problem on a segway tour of the city! Plus, you'll be able to see double the attractions you would normally be able to see on a walking tour, including the White House, The Lincoln Memorial, and the FBI building.
Don't forget to snap a few photos along the way!
10 – Regale yourself with history in Old Town Alexandria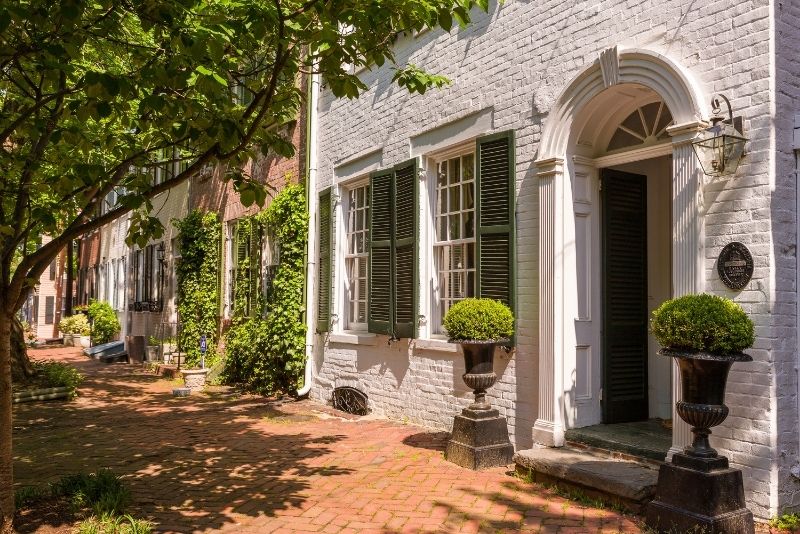 The rich history of Old Town Alexandria dates all the way back to the founding fathers. Located here is Mt Vernon, one of America's most beloved plantations which was owned by none other than George Washington himself. It's even been restored to look just as it did when he was still alive.
Regale yourself with American history as told and reenacted by local experts and actors.
11 – Work against the clock with your friends in an escape room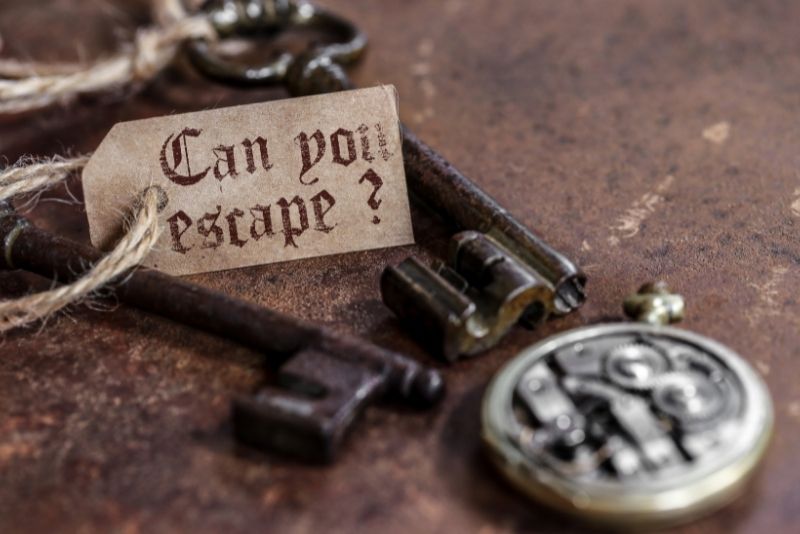 Escape rooms are guaranteed to be a fun time in any city. If you love solving puzzles, then spend some time in a locked room with your friends and family as you work against the clock to find as many clues as possible and solve the mysteries laid out before you.
Or, if you're looking for something a little more primal, why not try the Smash Room? Forget all your problems in a safe environment as you release tension by smashing everything you see. It's therapeutic!
12 – See George Washington's final resting place at Mount Vernon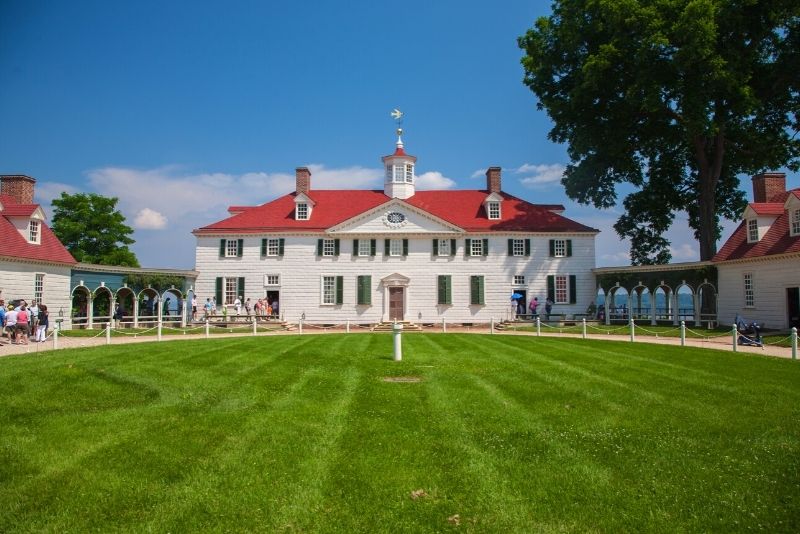 Mount Vernon is famous for being one of America's oldest and most beloved plantations. It was owned by George and Martha Washington, and they are buried right near the mansion that is maintained to look exactly as it did back then.
The experience at this gorgeous piece of Americana is so immersive that there are even actors on-hand to make sure it's as authentic as possible.
13 – Learn what life was like for a Civil War soldier at the Gettysburg Battlefield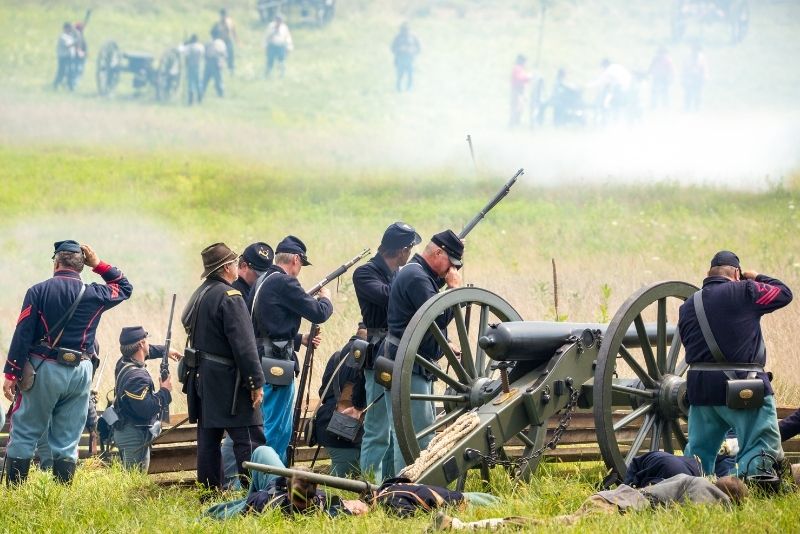 The Battle of Gettysburg changed the course of American history, and for history buffs looking to get acquainted with the most famous Civil War locations, this major landmark is a must see.
Live one day as a soldier in the Civil War and take in a one of a kind 360-degree painting of the infamous battle, then get transported right back to Washington at the end of the day!
14 – Grab brunch on a sightseeing cruise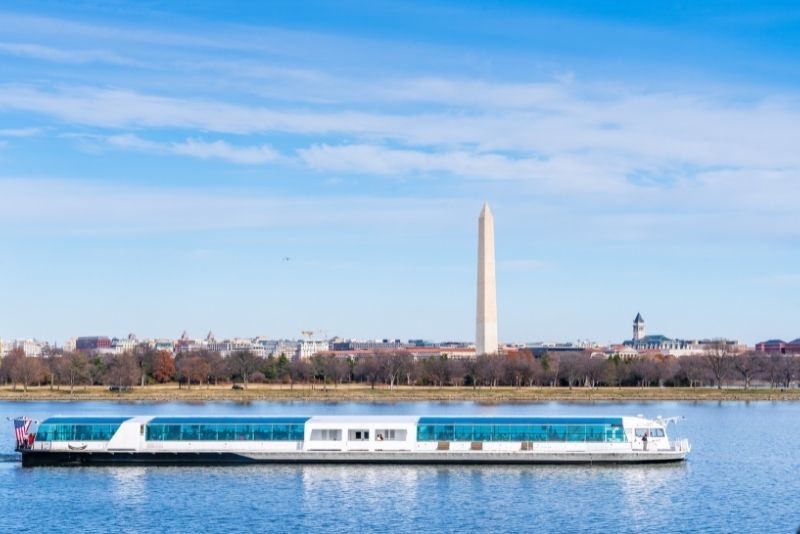 There are so many ways to take in the numerous historical sites around Washington, and one of the most pleasurable has to be by taking a sightseeing day cruise on the Potomac River.
Whether it be during a sunlit brunch cruise or a moonlit dinner cruise, there are definitely worse ways to see the White House, Admiral's Row, and so many more!
15 – Stay in shape while you take a bike tour around DC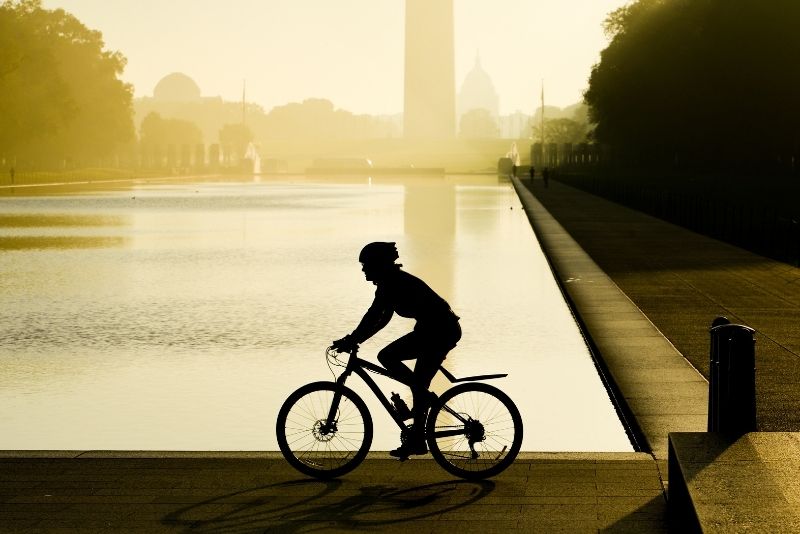 Of all the ways to take a tour around the United States capital, few will help you stay in shape like taking a ride on a bike customized to your specifications.
Get up close and personal with historical landmarks like the Lincoln Memorial and the Washington Monument, all while learning the incredible stories behind them from expert local guides.
16 – See Washington DC from 10,000 feet in the air when you go skydiving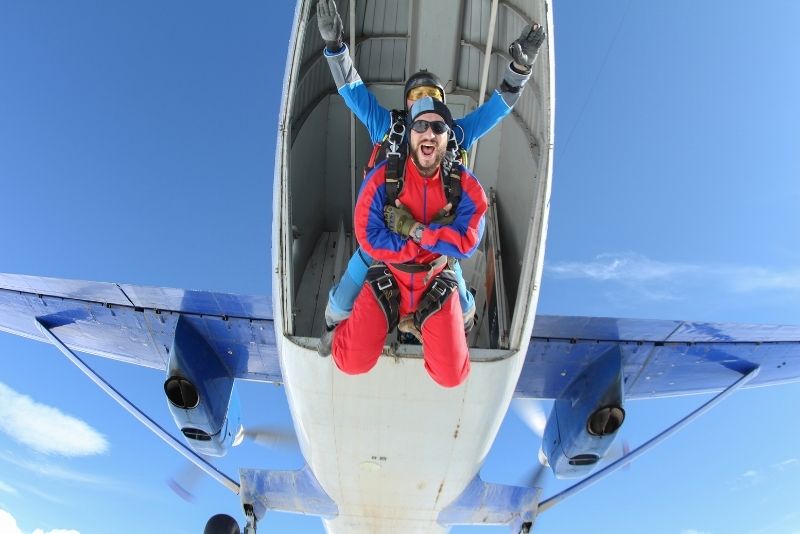 Another great way to see the capital is on the way down from a 10,000-foot jump. You'll also get a great view of the scenic Chesapeake bay.
All that's required is a 30-minute training course prior to taking a heart-pounding 60-second free fall. Then, Once the parachute opens, it's a gentle 5-7 minute trip to the ground.
17 – See how indoor skydiving is just as exhilarating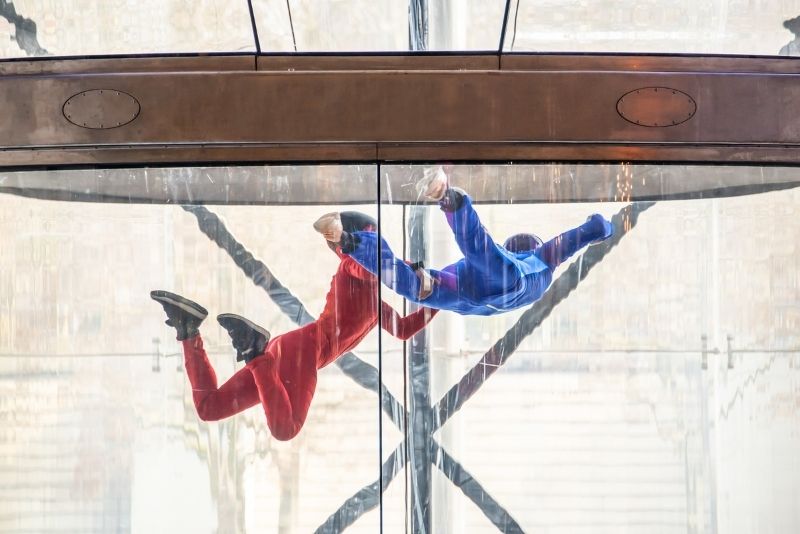 As of just recently, DC is now home to an indoor skydiving facility in addition to the outdoor option! They offer an experience that uses wall-to-wall wind tunnels to simulate an 11,000-foot drop.
The activity comes complete with personal instructor and flight gear, plus a nifty certificate upon completion.
18 – See the 36,000 artifacts at the National Museum of African American History and Culture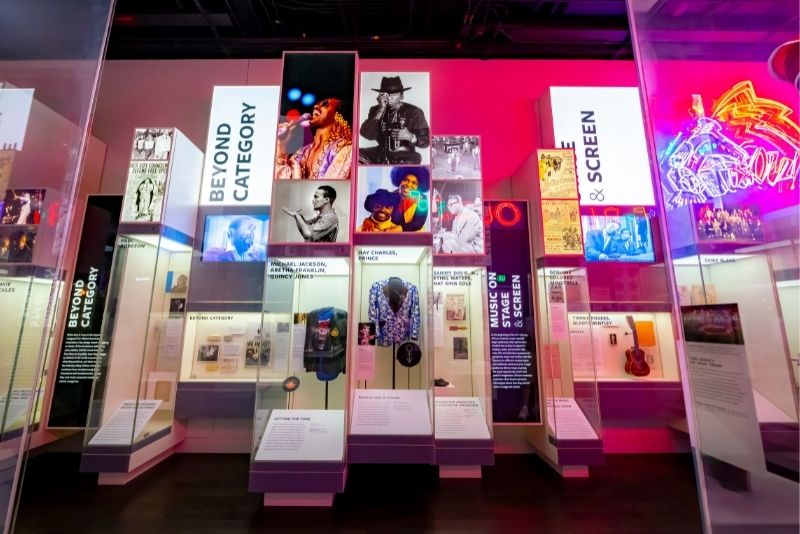 Established by the United States Congress in 2003, the NMAAHC is the only museum in the entire country dedicated to the documentation of African American history and culture, and it finally opened as an official extension of the Smithsonian in 2016.
It currently houses over 36,000 artifacts.
19 – Learn about our place in nature at the Smithsonian National Museum of Natural History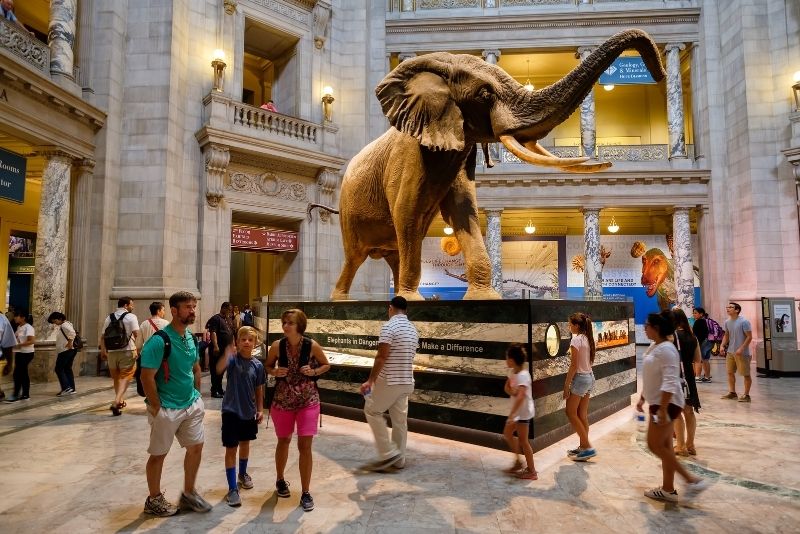 The team at the Smithsonian National Museum of Natural History has one mission: to understand nature and how humanity relates to it. At any given time, the museum offers exhibits dedicated to ecology, geology, paleontology, anthropology, and of course, butterflies.
If you'd like a preview, the museum also offers virtual tours through its website.
20 – See masterpieces from the world's greatest artists at the National Gallery of Art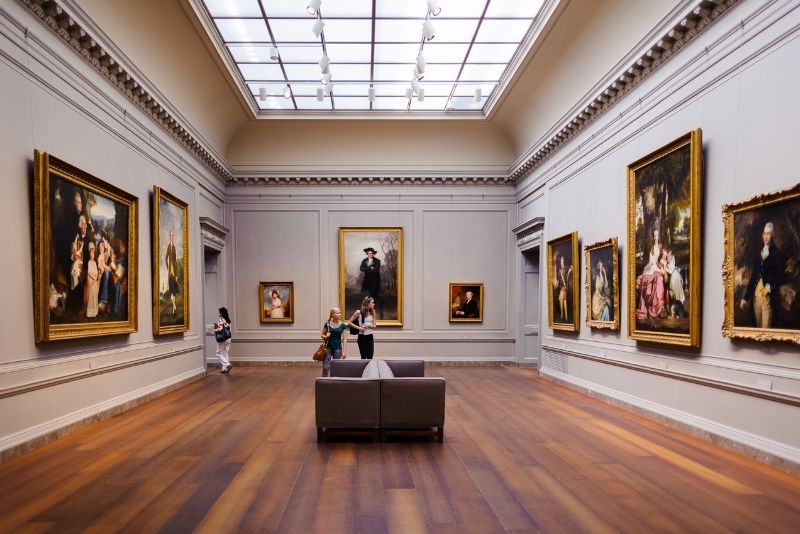 Considered as one of the best museums in Washington DC, the DC National Art Gallery is so vast and full of unique pieces of art that you'll probably want to go back more than once, especially if you want to make sure to catch as many masterpieces as possible from Renaissance artists, French Impressionists, and of course, legendary American painters.
A few out of many highlights include da Vinci's Ginevra de' Benci and Van Gogh's Self Portrait.
21 – Visit the world's most famous wax museum, Madame Tussauds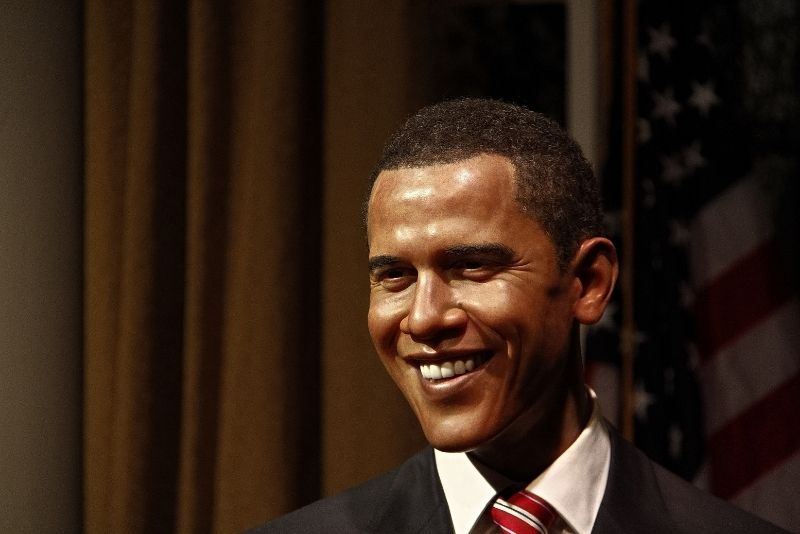 Madame Tussauds wax museum needs absolutely no introduction.
Who doesn't want to have their picture taken with at least of the last two Presidents of the United States? These, plus countless other figures, await at this world-famous tourist attraction.
It's also free for children 3 and under, which makes it the perfect activity for families traveling with young kids.
See also: best tourist attractions in Washington DC.
22 – Get acquainted with DC's best food on a food tour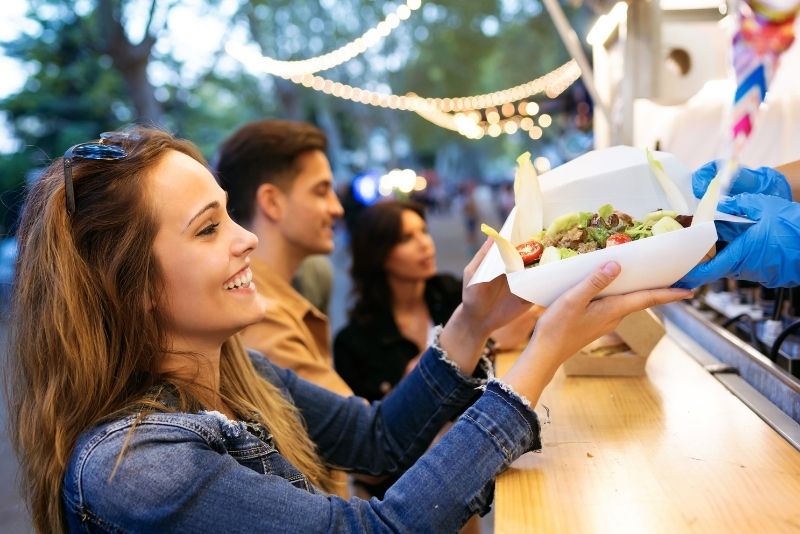 DC is famous for a lot of things, most of them having to do with history and politics. What a lot of people tend to overlook is how rich the area's food culture is, especially in the neighborhood of Georgetown, but not exclusively.
A food tour is one of the best things to do in Washington DC. Find world-class pizza, cheese, chili, and more as you learn the fascinating history behind this incredibly varied gastronomic hub.
23 – Tour the delights of Virginia Wine Country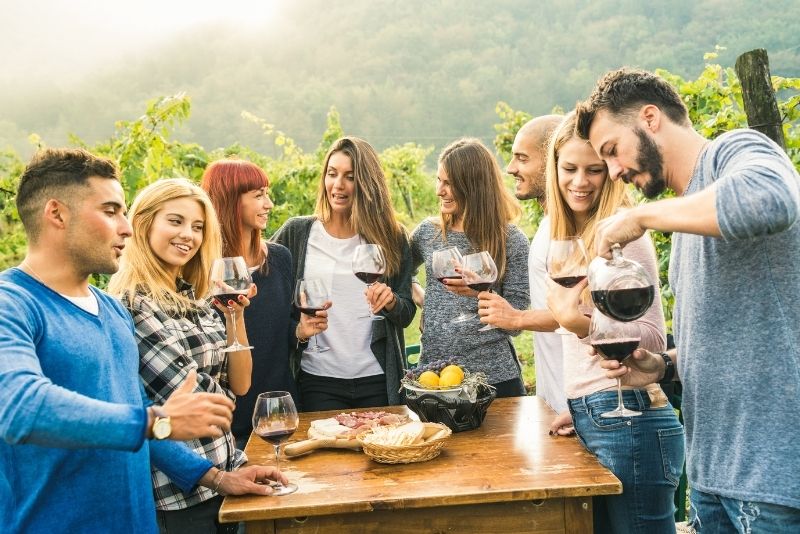 Speaking of gastronomic pleasures, it doesn't get more pleasurable than wine and cheese in the nation's capital. Throw in a delicious local beer for good measure, and you've got all the makings for a great tour of the wineries in Virginia Wine Country.
Obviously, these activities are 21+.
24 – Take a relaxing spa day while you're visiting DC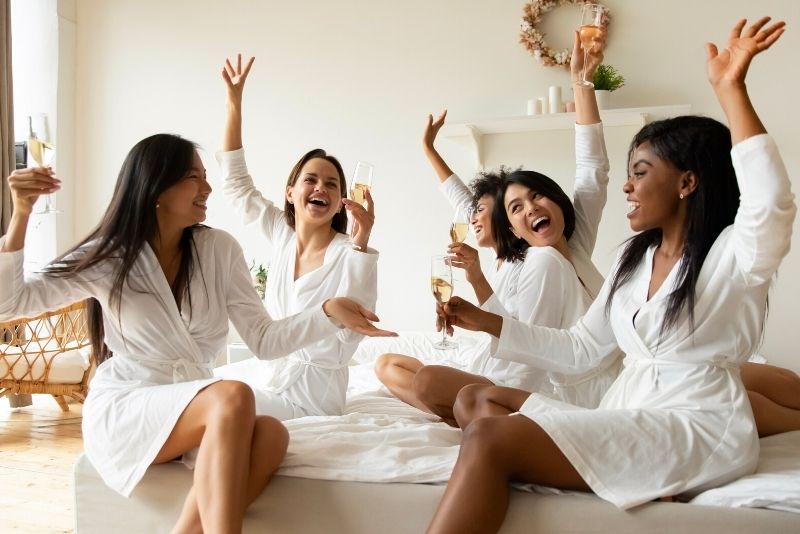 No matter where you plan on taking a vacation, a spa day is never a bad idea. Spas in DC have all the trappings of those in any other city to relax tense muscles, reduce anxiety, and treat your skin like royalty.
Couples or singles packages are available at a white variety of prices, and activities include massages, facials, the works.
25 – Learn something at the Museum of the Bible, whether you're religious or not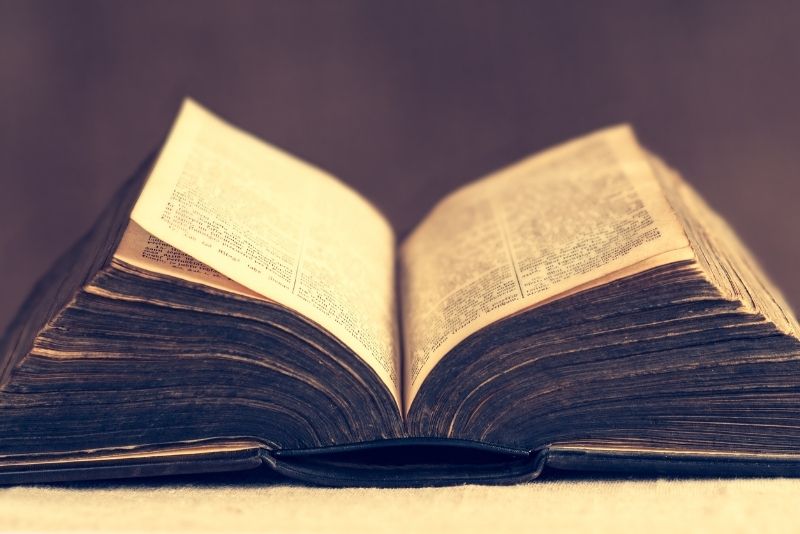 The Museum of the Bible is an immersive visual and auditory experience that is unlike any other museum dedicated to the study of religion.
You'll learn how this one book has impacted music, literature, fashion, and culture as well as get to see other priceless treasures from the Vatican.
Whether you're a religious person or not, this is guaranteed to be one far out experience.
26 – Learn what life is like for a real spy at the International Spy Museum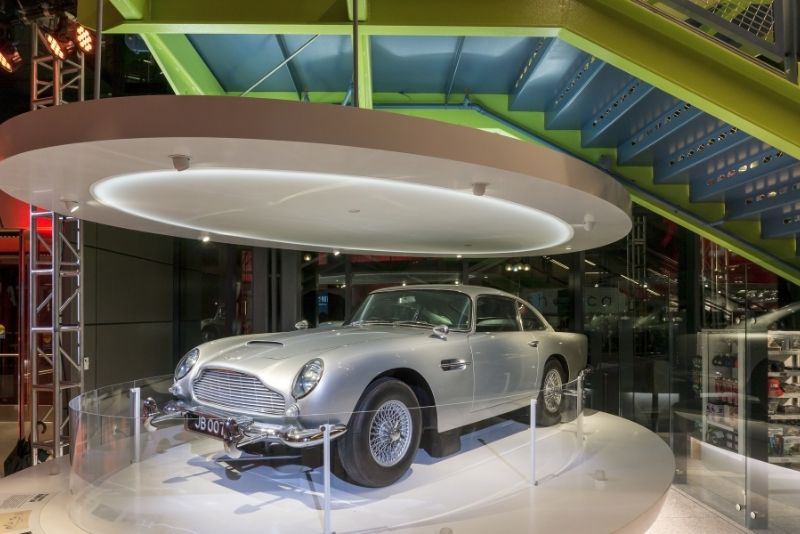 Is the Pink Panther theme playing in your head yet?
The International Spy Museum has everything you could ever possibly want to know about the real men and women who made James Bond and Mission Impossible, er, possible.
Learn all about the fascinating (and sometimes embarrassing) history of the CIA, MI6, and what really goes on between the world's superpowers.
What's been declassified, anyway.
27 – Visit the famous ARTECHOUSE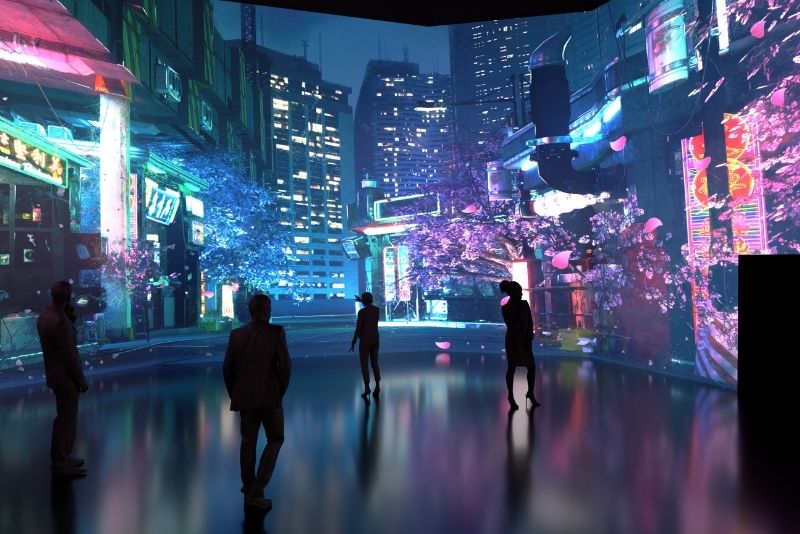 The DC ARTECHOUSE is a modern art gallery experience that comes for all of your senses. Cameras aren't allowed for this one, as it is meant to be experienced whole-heartedly in the moment.
At the time of writing, the featured exhibition is a trip through a cyberpunk landscape complete with market, alleyways, and abandoned rooftop.
If you've ever wanted to spend a day living in a Blade Runner fantasy world, here's your chance.
28 – Snap a couple of pictures at the Washington Monument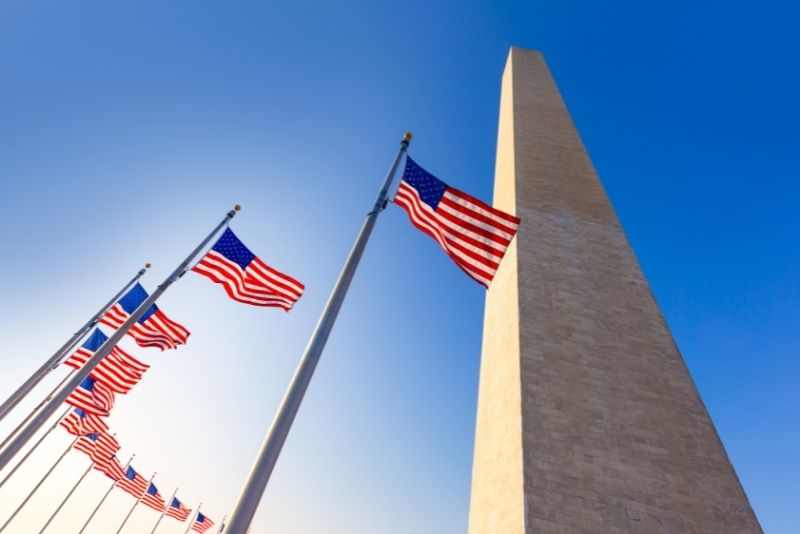 The Washington Monument may look like a simple giant obelisk, but it's so much more than that.
It's a meeting spot, a photo opportunity, and it's surrounded by other historical monuments as well as the scenic Potomac Canal.
A day tour through the gorgeous, history-soaked capital with the Washington Monument as the centerpiece is the perfect way to introduce yourself to DC.
29 – Pay respects to those who gave their lives in at the U.S. Navy Memorial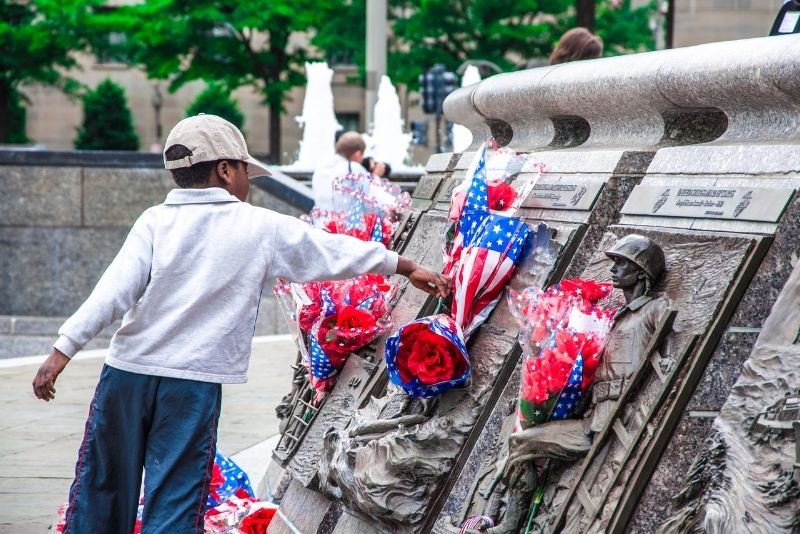 The men of the U.S. navy have been fighting and laying down their lives for hundreds of years, and this memorial showcases that rich history and even gives people the chance to get involved in a number of ways, both virtually and in person.
You can follow their newsletter through their website if you're curious to know more.
30 – Take a day trip down into the 64 acres of the Luray Caverns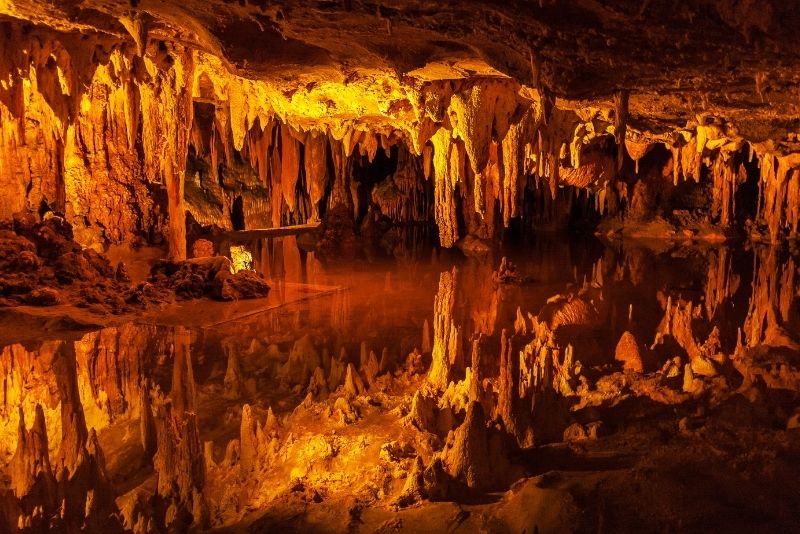 Another ideal spot for history buffs as well as nature fans, there are over 64 acres of caves and waterfalls to explore deep within the Luray Caverns of Shenandoah Moutains.
As far as day trips go, there are tonnes of activities available including visiting the Luray Valley Museum, Toy Town Junction, and a still-working Mercedes dating all the way back to 1897.
31 – Relive Lincoln's final hours on a Lincoln Assassination Walking Tour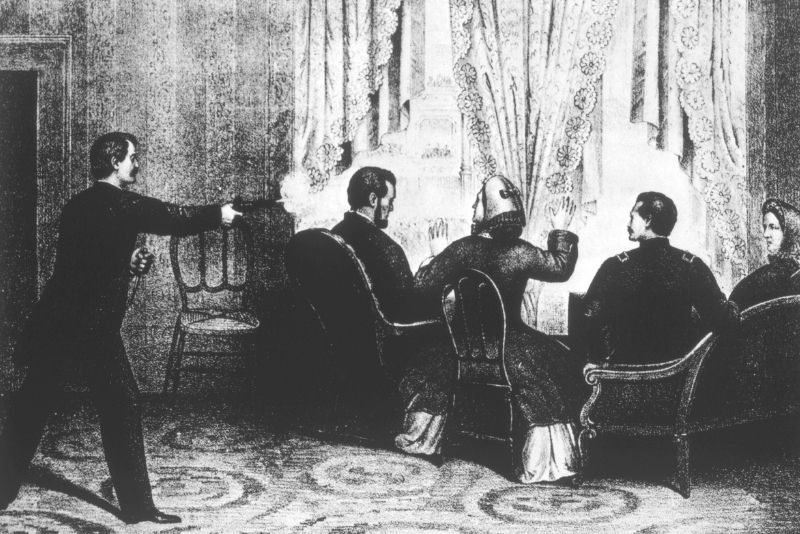 For history fans with more morose sensibilities, some walking tours around DC offer a trip through the President Lincoln's final day, complete with a final stop at the infamous Ford Theater where he was fatally shot.
The tour also includes looks at old photographs from that time period that will help set the mood. Intrigue and mystery await!
32 – Learn pottery at The Clay Cafe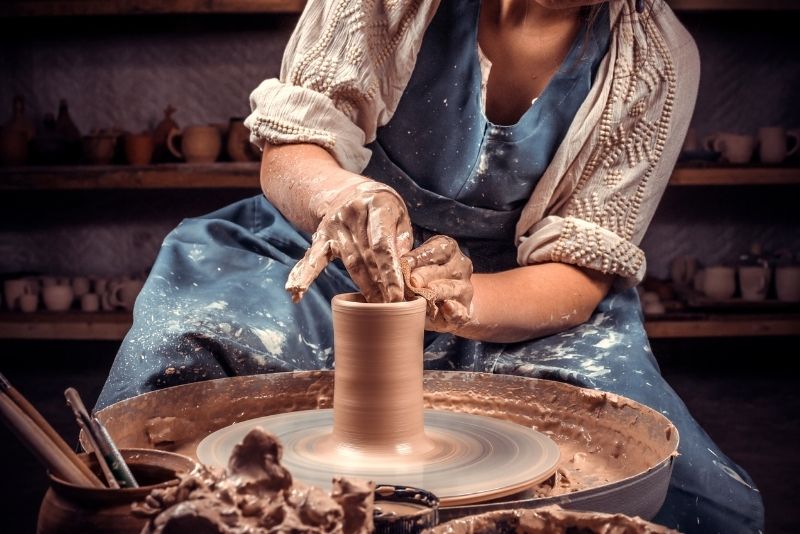 DC may have once had a less than stellar reputation, but today it's actually gotten pretty bourgeois.
So much so that it currently houses an adorable little pottery studio called The Clay Cafe.
They offer classes for one or two people at a time, and compared to other pottery classes they cost practically nothing.
33 – Take a boat tour of the National Harbor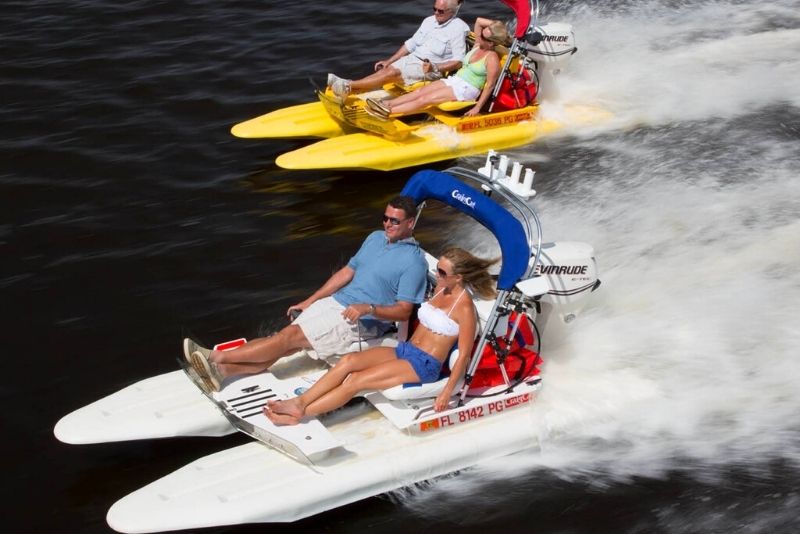 The Potomac River in DC is as scenic a body of water as they come and it offers an excellent view of some of Washington's most important landmarks including National Harbor, Jones Point Lighthouse, Mount Vernon, Fort Washington, and Little Hunting Creek.
Take a self-guided boat tour past all of these locations and more, and enjoy the additional benefit of the local wildlife, which includes bald eagles. It doesn't get much more U.S.A. than that!
34 – Get down and spooky on a haunted ghost tour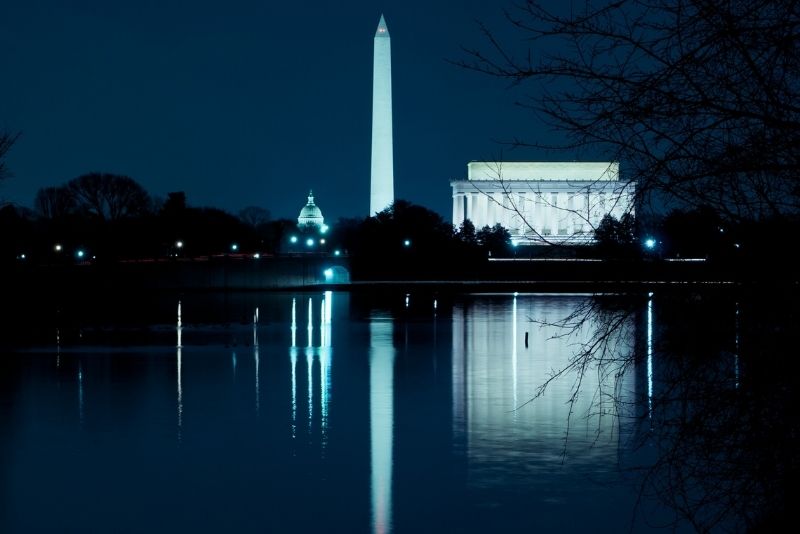 With centuries of history beneath its streets and sidewalks, it should come as no surprise that Washington DC is home to scores of spooky hauntings (allegedly).
Tales of intrigue, deception, and murder most foul will keep you at rapt attention, right up until something invisible knocks over the table next to you and makes you jump.
This is one of the spookier things to do in Washington DC, so calm your nerves with a local brew at one of the city's many pubs after you're done!
35 – Tour the White House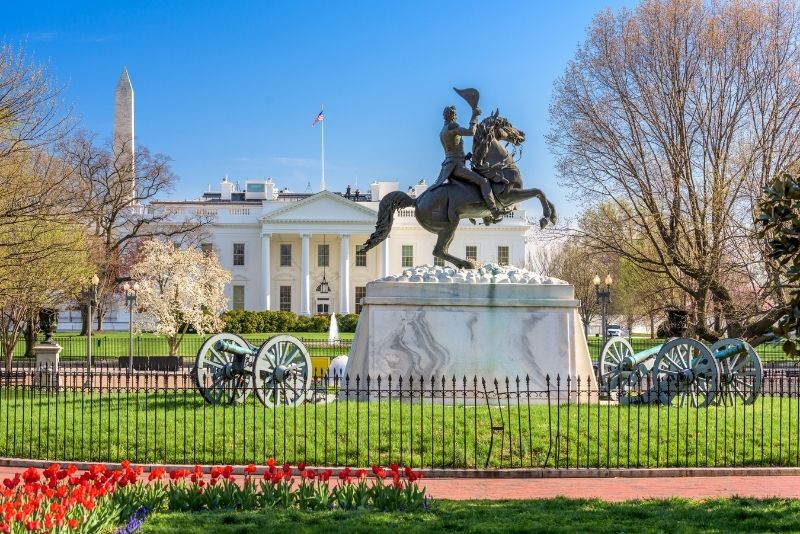 The White House has housed some of the most notorious figures in the history of the world, whether for good or for ill.
It is possible to score a tour, but because it's still such an important location, guided tours are highly coveted, so be prepared to start the booking process well in advance.
Like, months.
It won't cost you anything to tour the White House, but security is high and tours are subject to cancellation at no notice for just about any reason.
36 – Learn about the holocaust so that it never happens again at the United States Holocaust Memorial Museum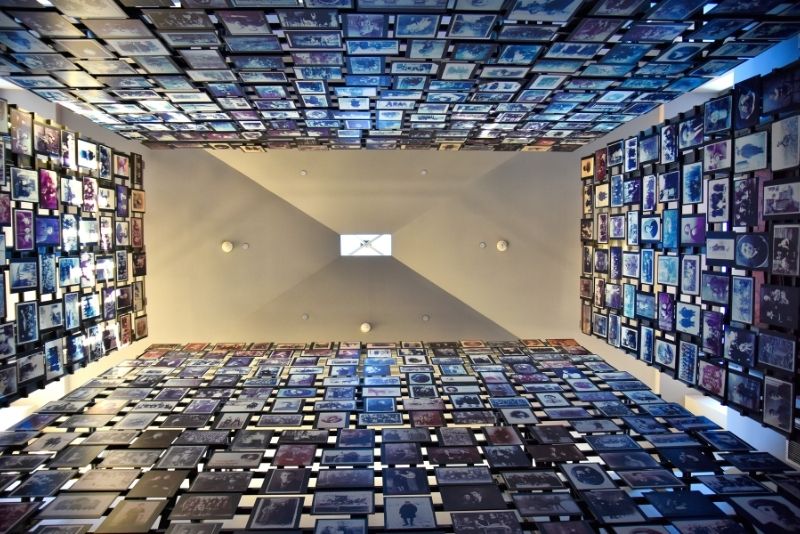 The best way to prevent one of the worst moments in human history from ever happening again is but learning about it.
The Holocaust Memorial Museum in DC displays photos, films, and artifacts, as well as offering academic research and resources to get involved.
There are also ways to connect with survivors and days of remembrance are offered to pay respect to the dead.
37 – See the 58,318 names on the Vietnam Veterans Memorial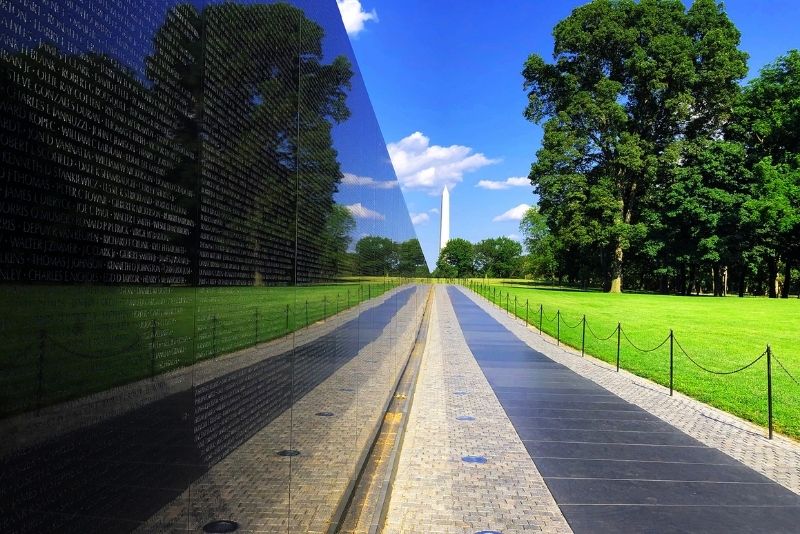 There are 58,318 names etched into the black granite walls of the Vietnam Veterans Memorial, every one of them belonging to an American soldier who lost his/her life in the devastating Vietnam War.
It's as awe-inspiring as it is tragic.
The memorial is one of several historical monuments that make up the National Mall, and while it may be one of the sadder ones, it's definitely not one that should be missed by even the most casual of tourists.
38 – Learn about the real war behind M*A*S*H at the Korean War Veterans Memorial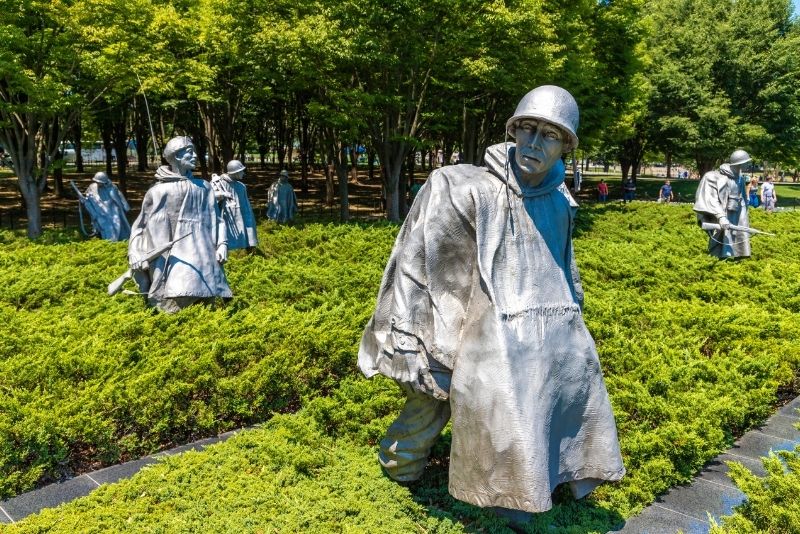 Ever watch M*A*S*H? The show may have served as an allegory for the Vietnam War, but it famously took place during the Korean War.
Also part of the collection of monuments and memorials that make up the National Mall, this gorgeous and somber memorial, which includes the Pool of Remembrance, is a tribute to the soldiers who fell during the real Korean War.
39 – See history's most influential figures immortalized at the National Portrait Gallery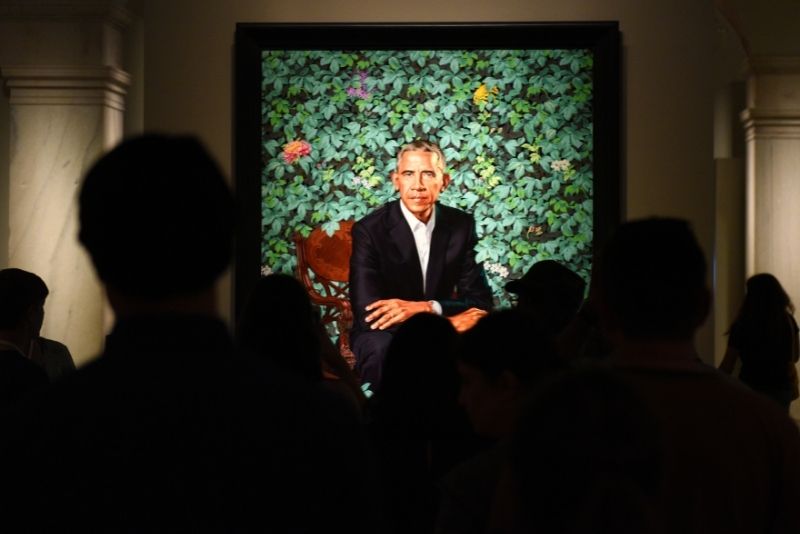 Artists, politicians, scientists, inventors, activists, and performers – at the National Portrait Gallery in DC, those faces that helped shape the face of America are on full display.
With over a dozen exhibits highlighting everything from unique photographs of Presidents at work to exquisite paintings of the supreme court justices, the gallery is now fully open both online and in person.
Check out their calendar of special events for additional learning opportunities and activities for the whole family.
40 – Catch a play in the same theater where Lincoln saw his final one at Ford's Theatre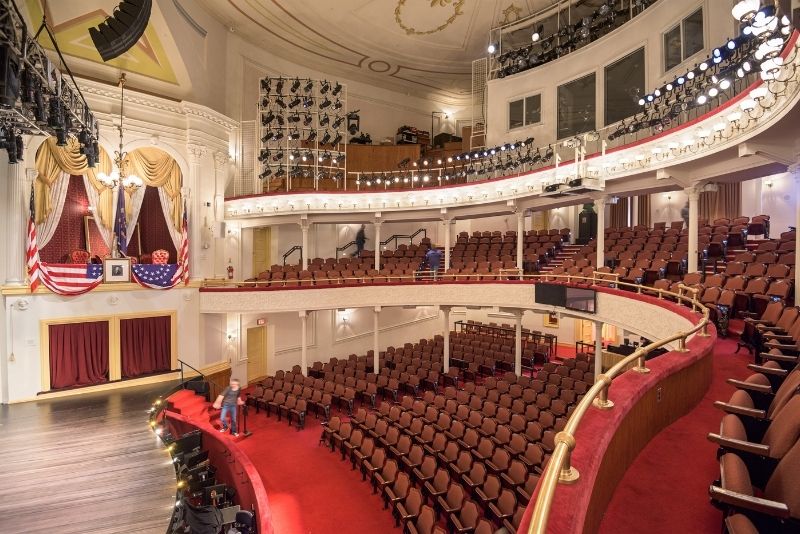 The theater where President Lincoln saw his final play is still open for business.
It still looks pretty much the same as it did on the night of his assassination, and the actual booth where it happened is completely closed off to outsiders in order to keep it preserved.
Ford's Theatre offers educational tours and presentations about its history as well as full performances of classic plays like "A Christmas Carol" and "The Mountaintop."
41 – Take a moment to reflect at the National World War II Memorial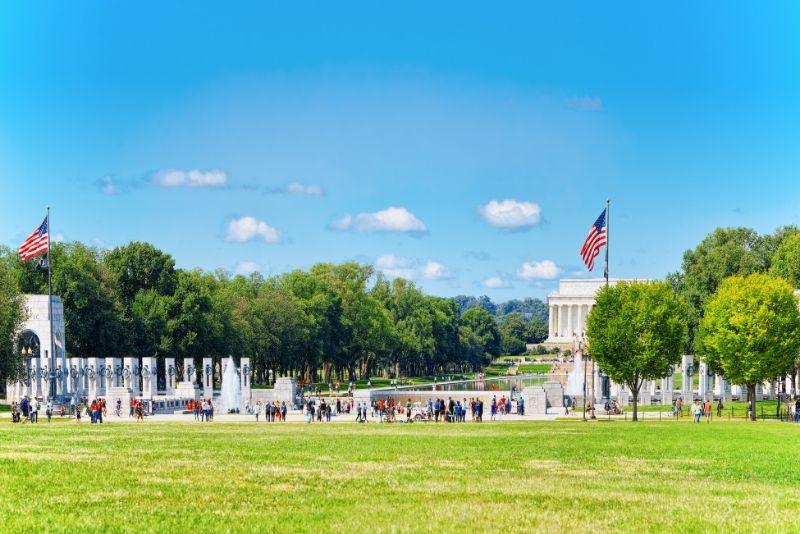 The National World War II Memorial is yet another of the memorials and monuments that make up the National Mall.
Like the others, it's a solemn reminder of the horrors of war, a tribute to those soldiers who fought for peace, and a great photo opportunity.
There are often unique events that take place around the National Mall, so make sure to check their event calendar if you're planning a visit!
42 – Check out the Washington National Cathedral, the 6th largest Gothic cathedral in the world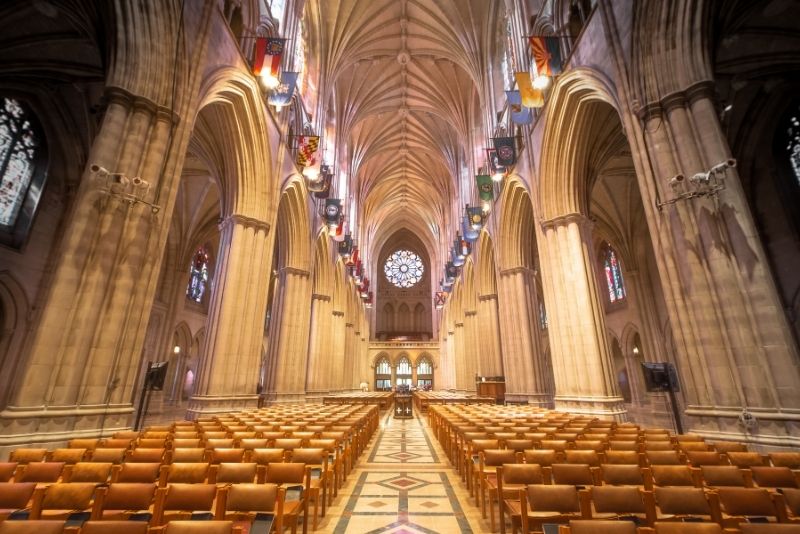 The Washington National Cathedral is the sixth-largest Gothic cathedral in the world!
Its conception and design date all the way back to George Washington, and its gorgeous architecture is an ongoing labor of love designed to make you look to the sky and consider all that is above.
Countless world leaders and people of influence have walked through the halls of this cathedral, and it houses memorials to some of history's most important figures.
43 – Stop and sketch some plants at the United States Botanic Garden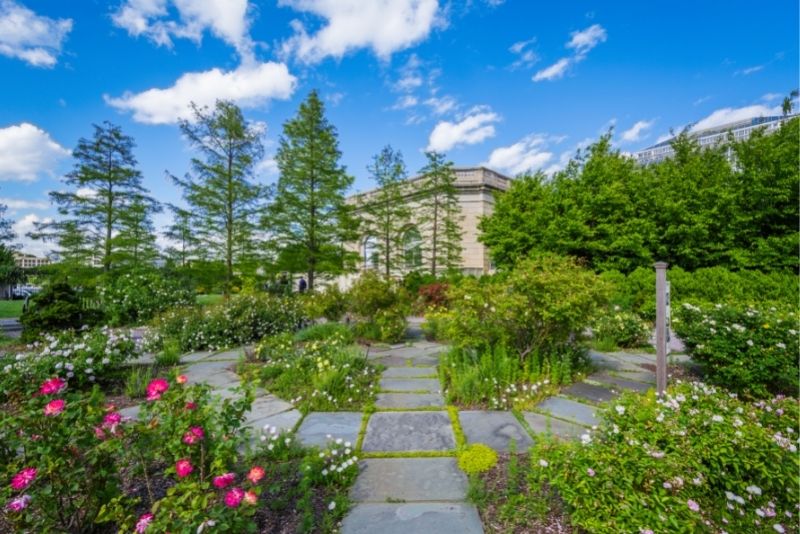 Another national treasure born out of the mind of President George Washington, the U.S. Botanic Garden is dedicated to spreading knowledge about cultivating, conserving, and sustaining plant life.
While commercial photography is strictly forbidden within its walls, visitors are encouraged to take photos for themselves, and it is well worth it, as the gorgeous plant exhibits found within are second to none.
Sketching is also welcome, and there are tables and chairs available for extended enjoyment.
44 – See the beautiful cherry blossom trees that surround the Thomas Jefferson Memorial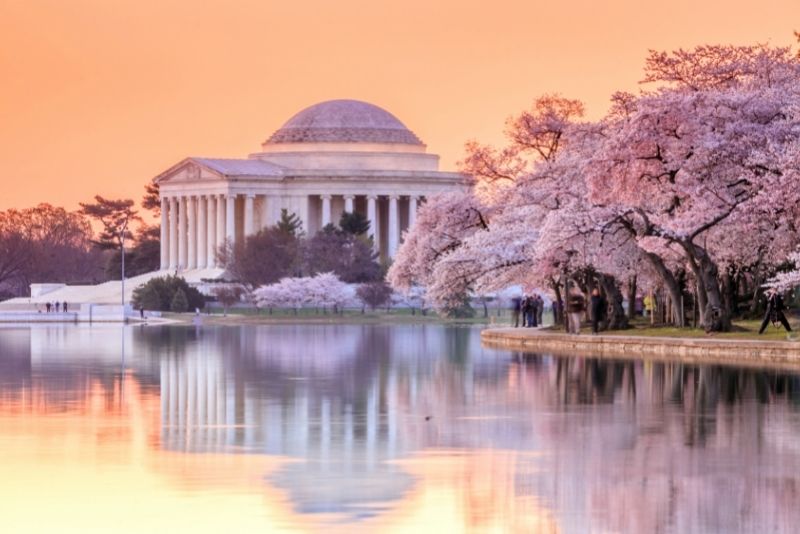 Thomas Jefferson is one of the most important people in American history and, arguably, the face of democracy as we know it.
His memorial is surrounded by gorgeous cherry blossom trees, which were a gift from Japan all the way back in 1912.
Spring is the optimal time to visit the memorial as the cherry blossoms are in full bloom and there are few sights more breathtaking.
45 – Tour the beautifully preserved mansion and gardens of the Hillwood Estate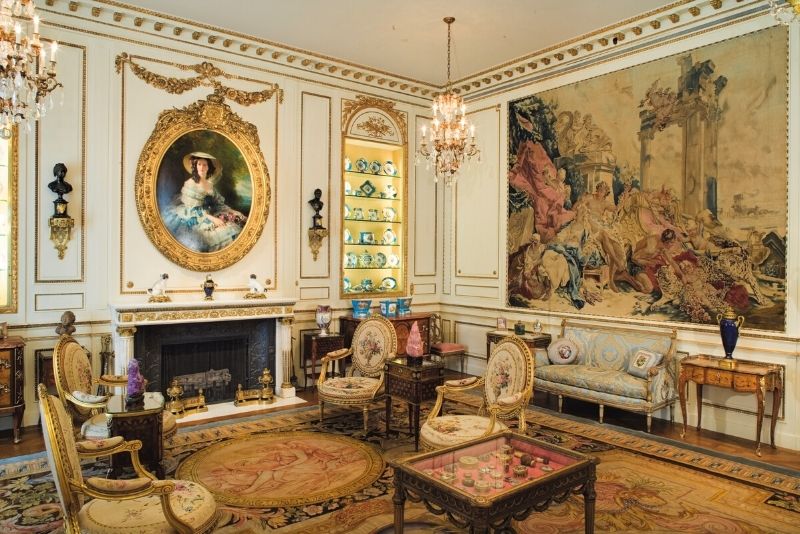 Famous socialite Marjorie Merriweather Post purchased the Hillwood Estate in 1955 and it quickly became one of the hottest spots for the country's wealthy.
A philanthropist by nature, Marjorie decided to dedicate her life to transforming the estate into a museum that would carry on her passion for educating others about world culture.
The mansion and gardens are beautifully preserved, and the estate continues to support the Salvation Army, the Red Cross, and numerous other notable causes.
46 – Visit the immense Basilica of the National Shrine of the Immaculate Conception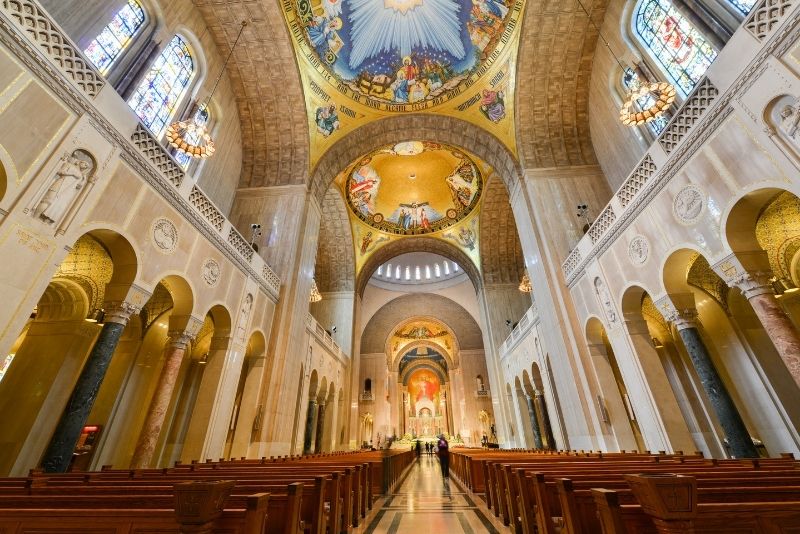 Calling it the Basilica of the National Shrine of the Immaculate Conception can be a bit of a mouthful, so it's a good thing the largest Catholic church in the United States is also affectionately referred to as America's Catholic Church.
At more than 77,500 square feet, the basilica also houses the world's largest collection of contemporary ecclesiastical art.
If you're a fan of record breaking architecture that also happens to be breathtaking and holy, America's Catholic Church is a must see.
47 – Pay respects to one of history's greatest men at the Martin Luther King, Jr. Memorial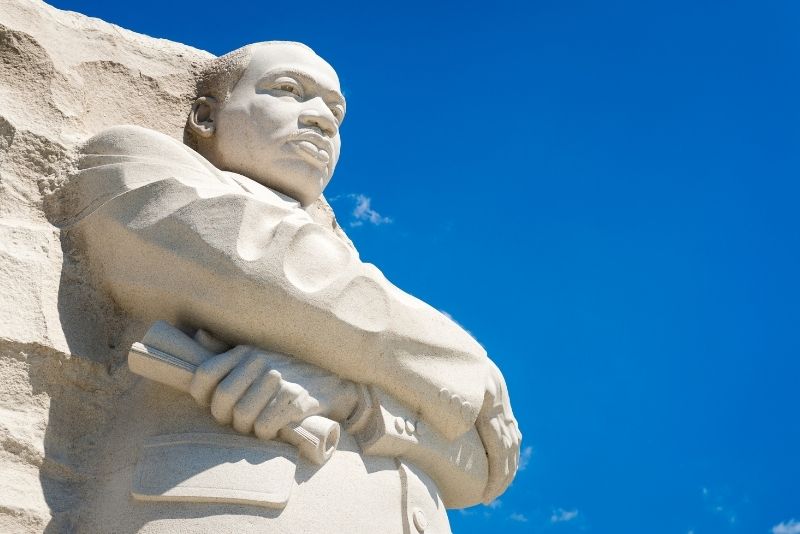 Civil rights leader Martin Luther King, Jr. is yet another revered historical figure who is forever memorialized within the National mall of the United States capital.
Like all the other memorials, this gorgeous stone carving is available to see 24/7, free of charge.
Don't forget to snap some pictures!
48 – Learn about the fascinating history of aviation at the Smithsonian National Museum of Air & Space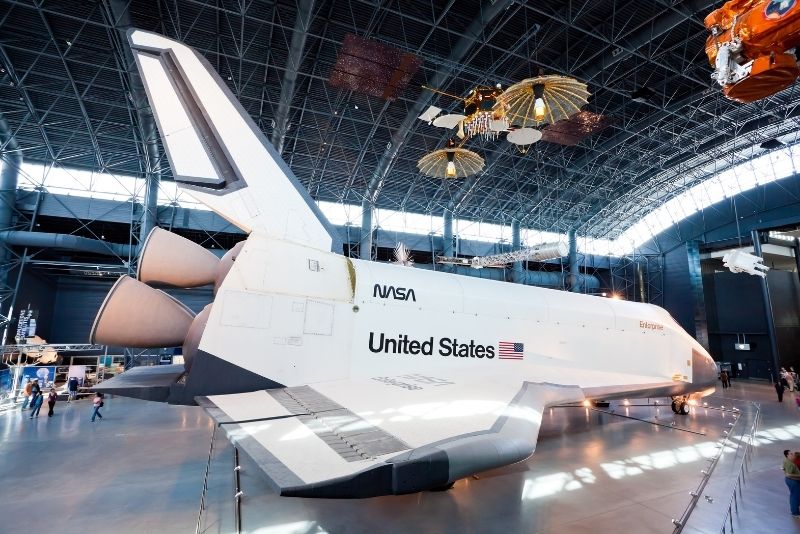 If you're a fan of aviation and engineering, then you must check out the Smithsonian National Museum of Air & Space.
At any given time there are countless fascinating exhibitions on display ranging from WWII German bombers all the way to the invention of the balloon.
If you'd like to get a taste of what the museum is like, they virtual activities through their website.
49 – See the most complete collection of American art in the world at the Smithsonian American Art Museum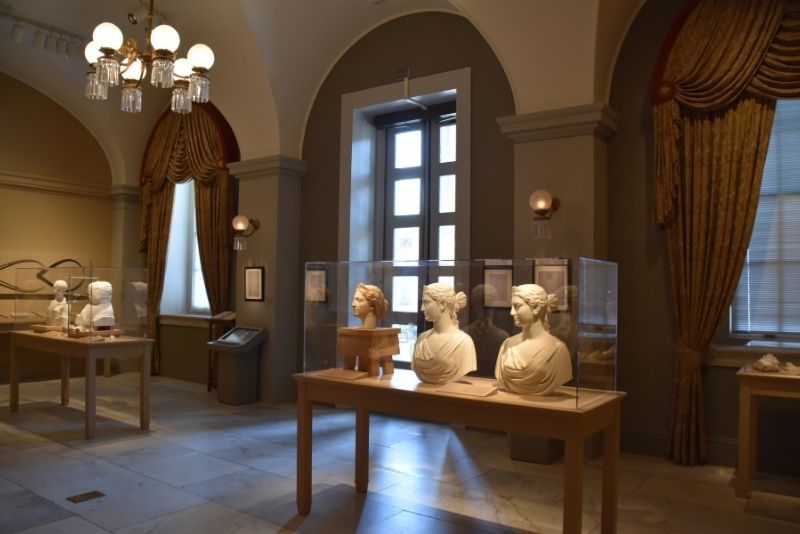 The Smithsonian American Art Museum is exclusively dedicated to showcasing and preserving work done by American artists.
From naturalists like Alexander von Humboldt to 1960s Chicano activists and everything in between, experience the history of America like never before.
The museum also offers kid and family-friendly activities to make sure everyone who visits has the best possible experience.
americanart.si.edu
50 – Check out the contemporary art at the Hirshhorn Museum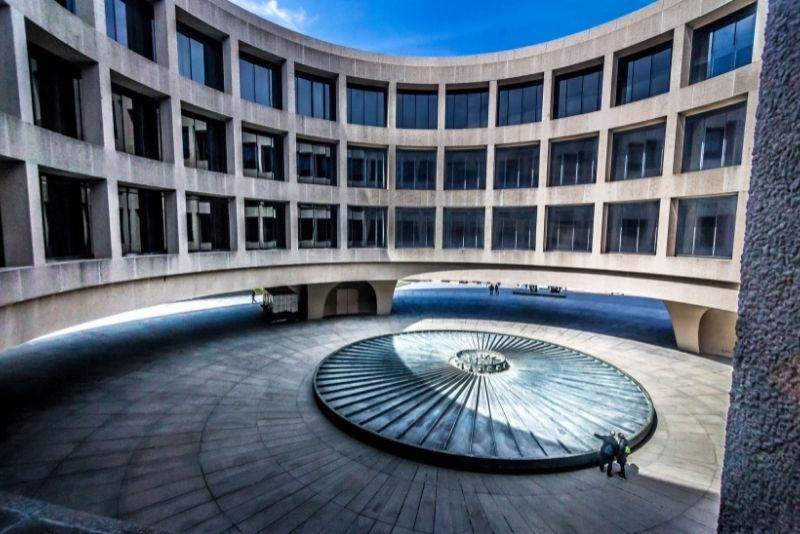 For almost fifty years, the Hirshhorn Museum has served as a primary hotspot for American contemporary art.
It's one of the many landmarks that make up the National Mall, and it's completely free to visit.
The breathtaking sculpture garden is one of a kind, and there's almost always something new on display inside.
51 – See exotic animals from all over the world at the National Zoological Park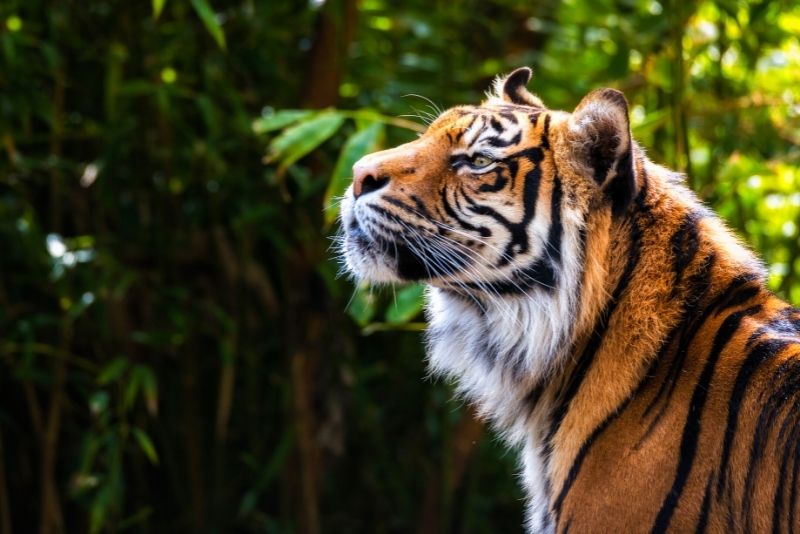 The National Zoological Park is yet another attraction in DC that's completely free of charge.
It houses more than 2,700 individual animals! Exotic lizards, gorgeous birds, beasts of all shapes and sizes, you name it, you'll find it here.
The fully fleshed-out animal habitats within the zoo's impressive 163 acres were designed with conservation in mind and the team here is dedicated to making sure the species housed here continue to thrive.
52 – Find out just what the star-spangled banner really means at the National Museum of American History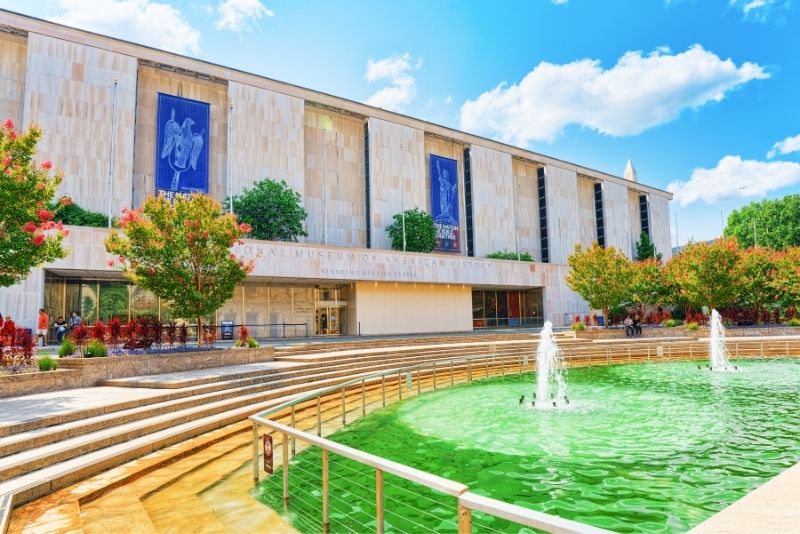 Have you ever wondered where exactly the star-spangled banner came from, or what it even is? Or what about how it was that Baseball became America's favorite pastime?
The answers to these questions and so many more await you within the halls of the National Museum of American History.
53 – Pay respects to who called America home first at the National Museum of the American Indian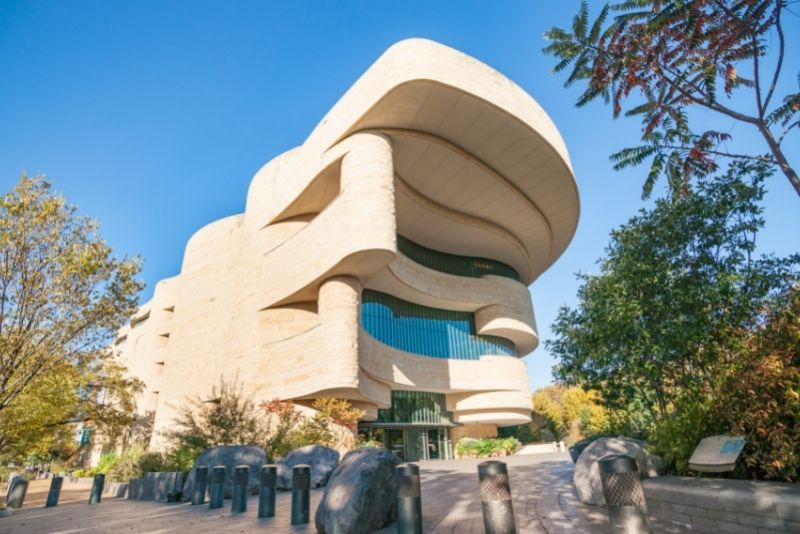 Long before America was ever known as the land of the free, it was truly free, occupied by the natives who called it home.
This extension of the Smithsonian museum complex is dedicated to preserving and carrying on the legacy of the natives whose land was taken from them.
Like many of the other attractions in DC, the National Museum of the American Indian is free to enter, though passes are timed and must be reserved in advance.
54 – Learn about the man who led the USA through the dark at the Franklin Delano Roosevelt Memorial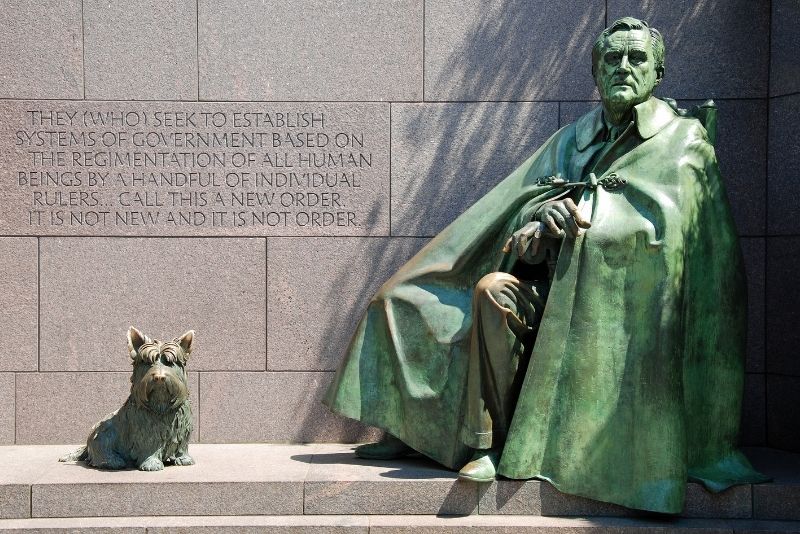 As the man in charge of the United States all throughout the Great Depression as well as World War II, FDR was one of the country's most consequential presidents.
So, obviously, there's a memorial dedicated to his memory in the National Mall.
From his wheelchair to his new deal programs which helped usher America out of one of its darkest periods, every facet of Roosevelt's life is forever captured on display here.
55 – Check out the latest in contemporary decorative art at the Renwick Gallery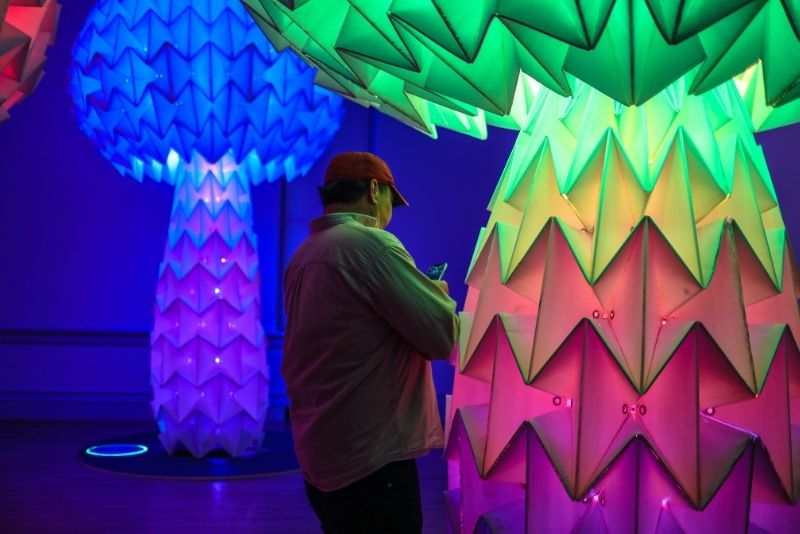 Yet another branch of the Smithsonian museum complex, the Renwick Art Gallery is dedicated to displaying contemporary and decorative art.
It's free and offers activities for the entire family, though it does have a limited capacity, so passes need to be booked in advance.
The Renwick Gallery is part of the larger American Art Museum.
56 – Immerse yourself in America's favorite pastime at Nationals Park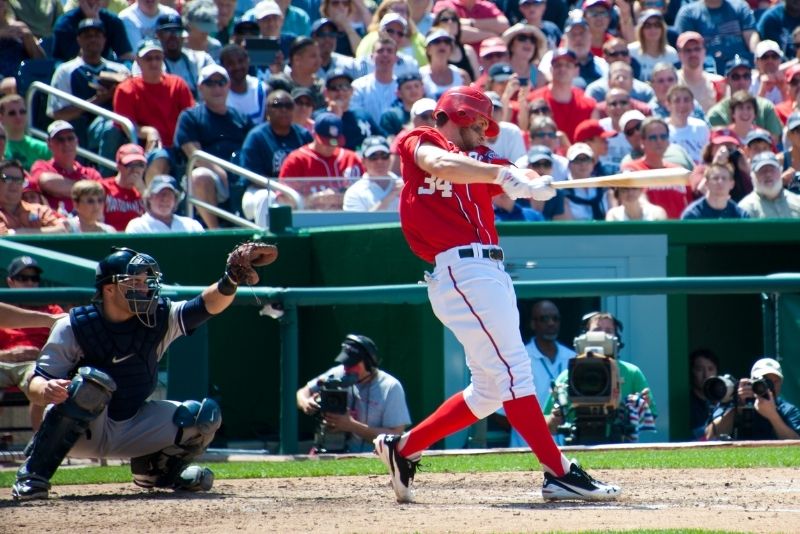 Nationals Park is the official home of the Washington Nationals, Washington's Major League Baseball team.
Going to see a ball game in the U.S. capital is probably one of the most American things a person can do, and there aren't many better places to do it; Nationals Park was completed in 2008, making it relatively new compared to other stadiums around the country, and it was the first one to be LEED green certified.
57 – See JFK's beautiful legacy at the John F. Kennedy Center for the Performing Arts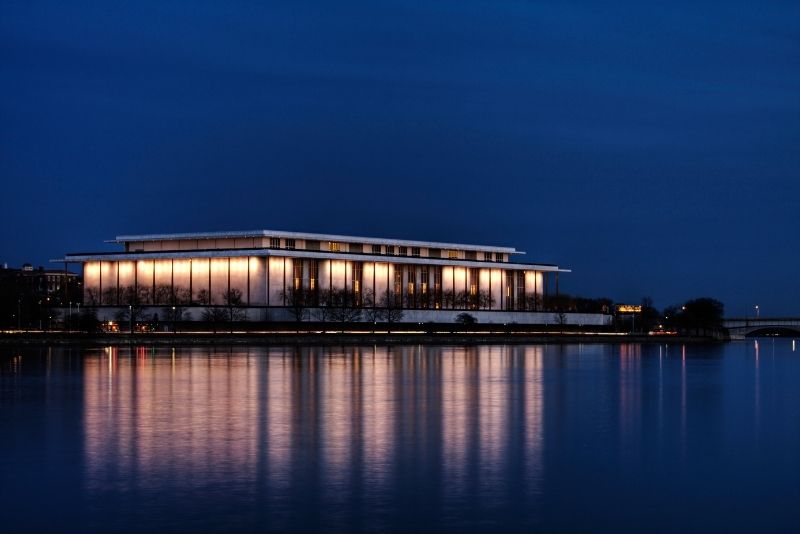 The John F. Kennedy Center for the Performing Arts is one of the premier entertainment venues in the country.
Baptized a mere two months after the President's assassination, the center is dedicated to showcasing the very best in classical and contemporary music, opera, drama, and dance, and it rarely disappoints.
From symphony orchestras to world-famous comedians and everything in between, there's always something good on!
58 – Get an in-depth look into how the National Geographic Museum team operates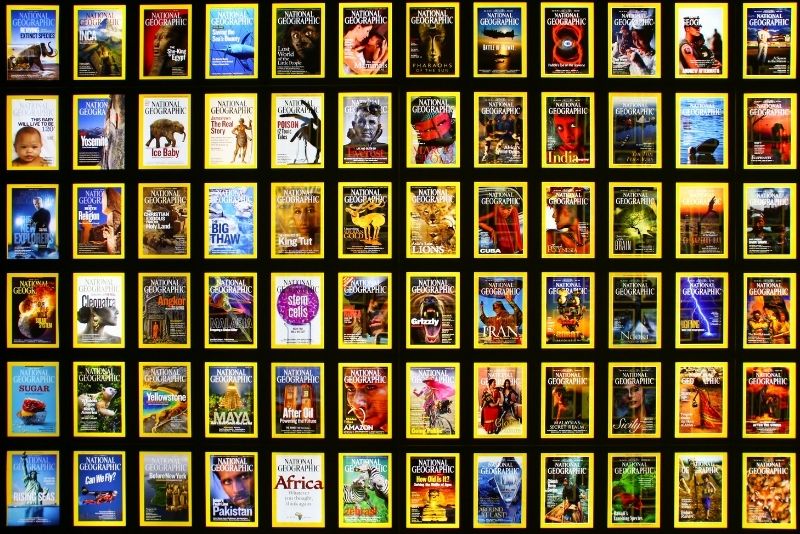 The name "National Geographic" is synonymous with natural exploration at this point, and anyone looking for an in-depth glimpse into how the National Geographic Society operates should consider taking a trip to their headquarters in DC.
The museum hosts a rotating selection of exhibitions all year round, each one dedicated to the very best conservationists, photographers, and scientists.
A deeper understanding of the natural world awaits!
59 – See the headquarters of one of the worlds largest museum complexes when you visit The Smithsonian Castle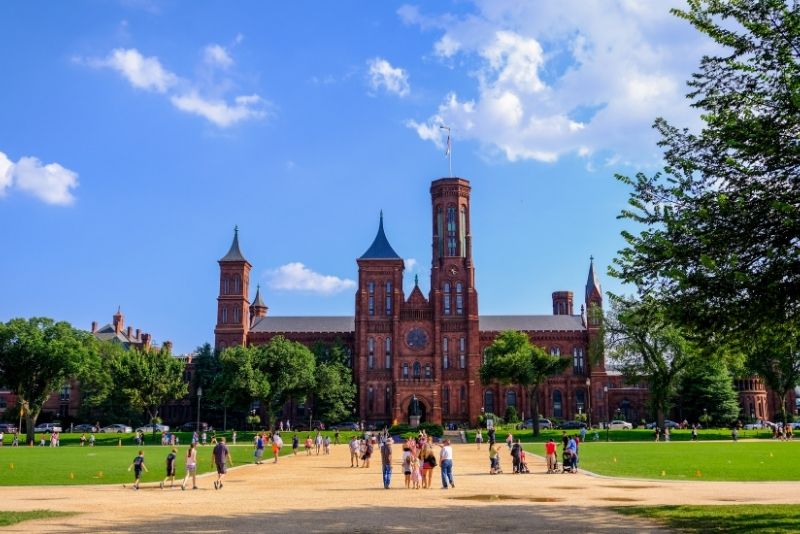 The Smithsonian boasts a large number of collaborating museums dedicated to a wide variety of subjects, but the Smithsonian Castle is their headquarters and a great starting point for anyone looking to explore their halls.
The castle itself, built in 1855, is an architectural marvel. Within its walls, you'll find a selection of the very best exhibits from across the other Smithsonian museums.
They also offer specialty dining options!
60 – Stop by the Smithsonian's National Postal Museum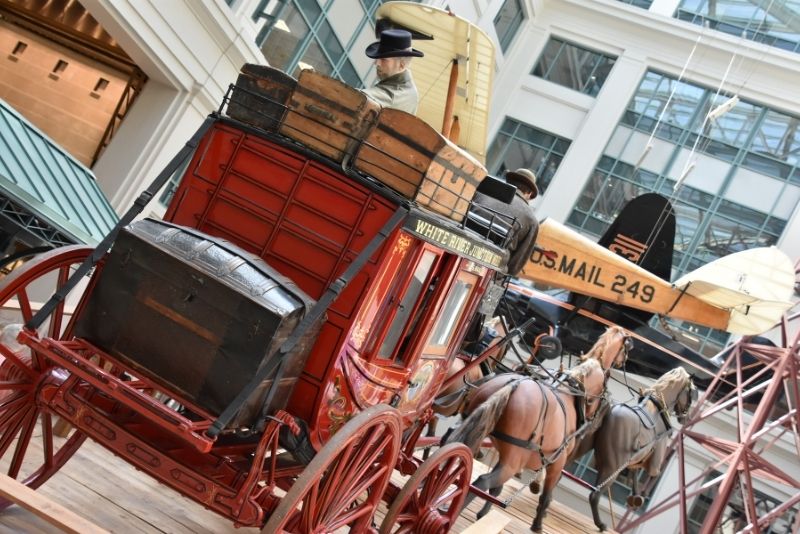 Yet another museum in Washington DC that's completely free of charge, this extension of the Smithsonian boasts over 100,000 square feet, 35,000 of which are dedicated to exhibitions space, while another 6,000 are covered by a gigantic research library.
The National Postal Museum is actually housed in the building that served as the Washington post office for over 50 years!
They host all kinds of activities, including self-guided tours and wine & design evenings.
61 – Check out the 6,000 pieces of modern art in The Phillips Collection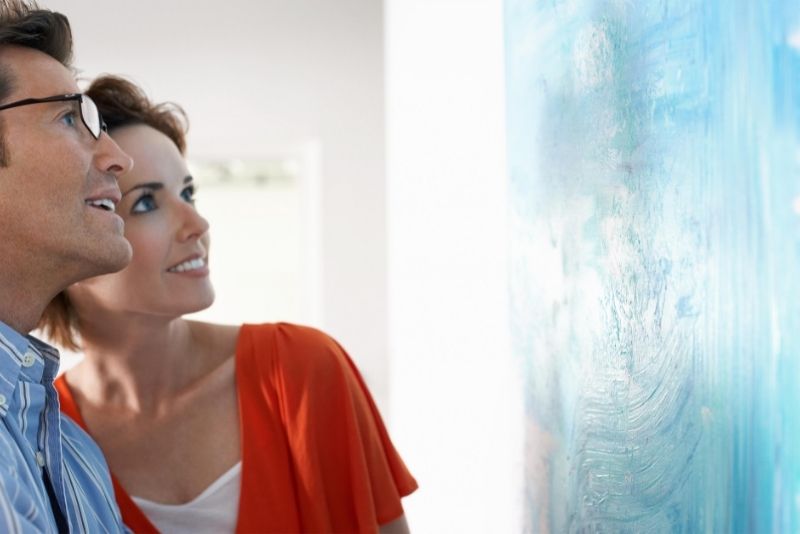 In 1921, art collector and philanthropist Phillip Duncan founded America's first modern and contemporary art museum.
It's still there today, and is currently home to almost 6,000 unique pieces of modern art.
Not only is there a consistent rotation of exhibitions and special events, but the museum can also be rented out as a hall for weddings, dances, fundraisers, and other major events.
62 – Watch the Washington Wizards play at the Capital One Arena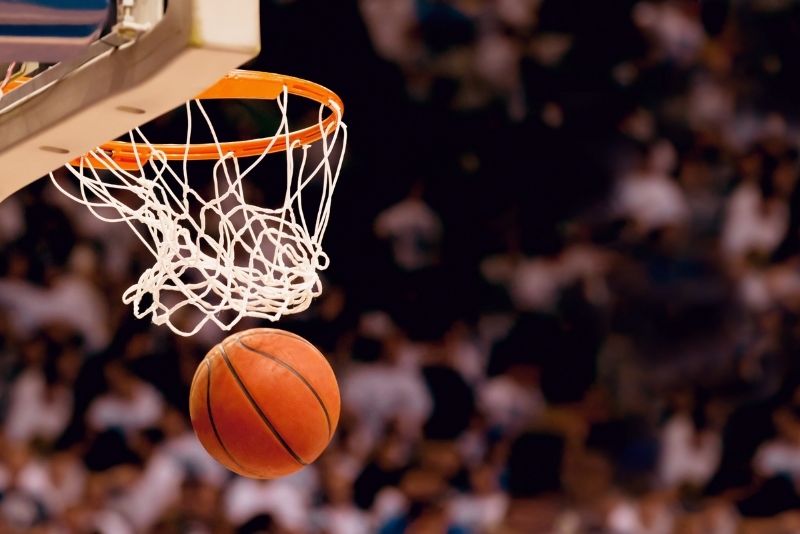 There's always something awesome going on at the Capital One Arena: NBA and NHL games, and also spectacular concerts.
At the time of writing, the front page of the events calendar boasts no less than The Eagles, Harry Styles, and Marc Anthony. That's just an example of the types of events you'll find advertised here year round!
63 – Find the freshest produce and ingredients at the Eastern Market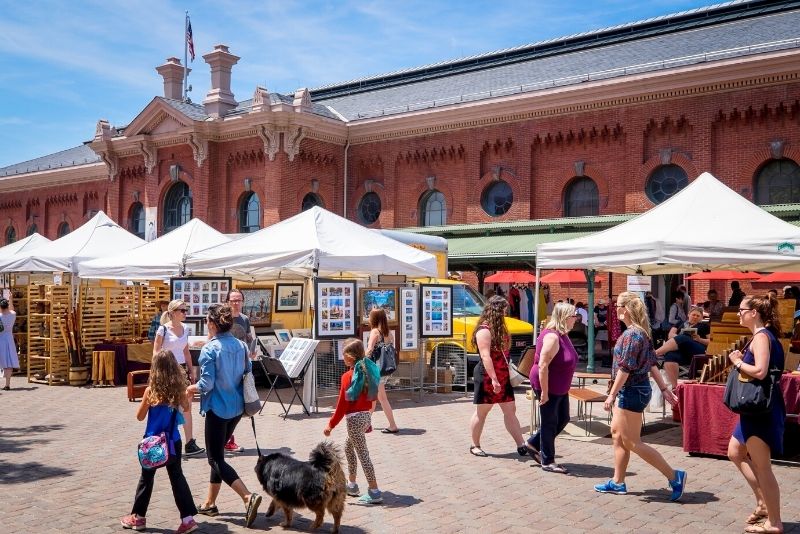 If you have a taste for farm-fresh products, you need to check out DC's Eastern Market in the Capitol Hill neighborhood.
The vendors here offer everything from fresh food to hand-made arts and crafts.
The Eastern Market also regularly puts on local gatherings and events.
64 – Walk through curated gardens from all over the world at the United States National Arboretum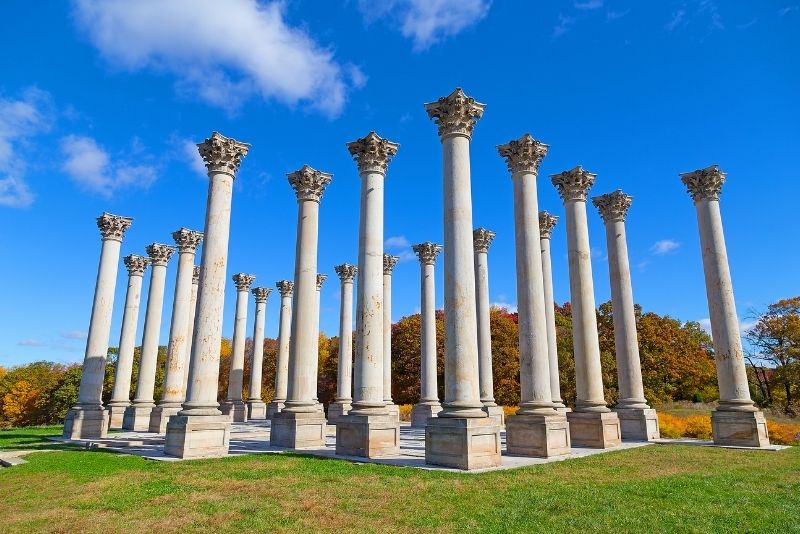 The United States National Arboretum houses dozens of unique, curated gardens from all over the world.
Gorgeous Asian flowers, exotic firs and spruces, you name it, they've got it.
The arboretum is open from 8 am to 5 pm on weekdays and is free to visit. Make sure to check out the event calendar on their website for special events!
65 – See unique objects dating back thousands of years at the National Museum of Asian Art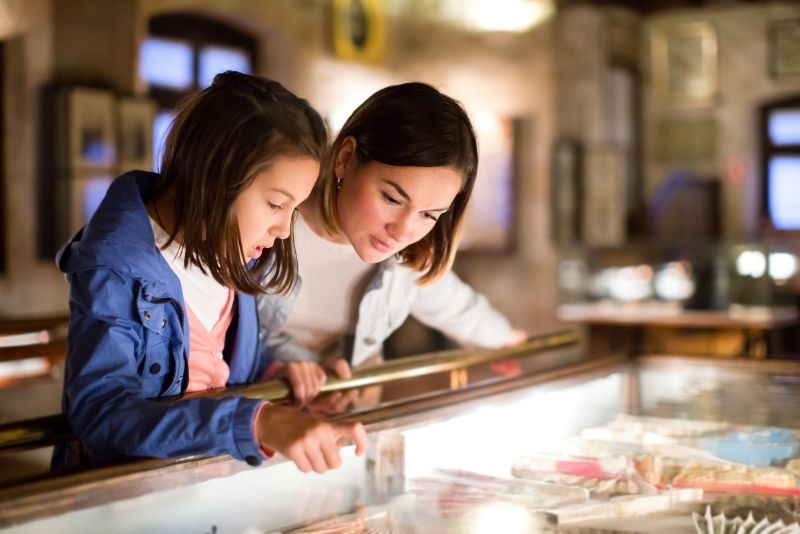 The National Museum of Asian Art is actually two Smithsonian museums that have been merged into one; the Freer Gallery of Art and the Arthur M. Sackler Gallery.
Together, they house more than 40,000 unique objects from the orient dating all the way back to the neolithic period.
What's really cool is that this museum goes out of its way to provide equal access to all visitors including those with mobility impairments, those who require service animals, and those with developmental disorders. Make sure to check out their website for more info.
66 – Behold the gorgeous Rock Creek Park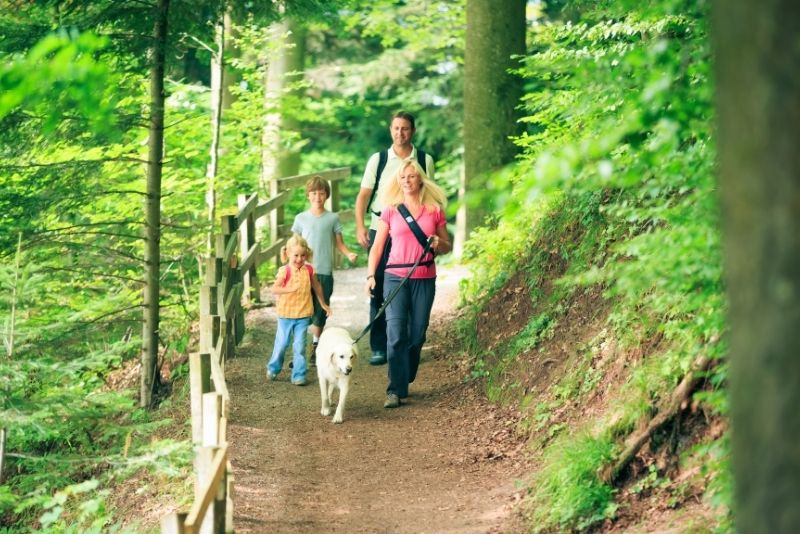 Rock Creek Park is one of Washington's most scenic national parks. It's home to the Peirce Mill which, at 200 years old, is Washington's only remaining gristmill.
Though some areas of the park will remain closed to the public until at least 2022, they are open for the most part and continue to host a wide variety of activities for all age groups.
67 – Come during springtime and check out the National Cherry Blossom Festival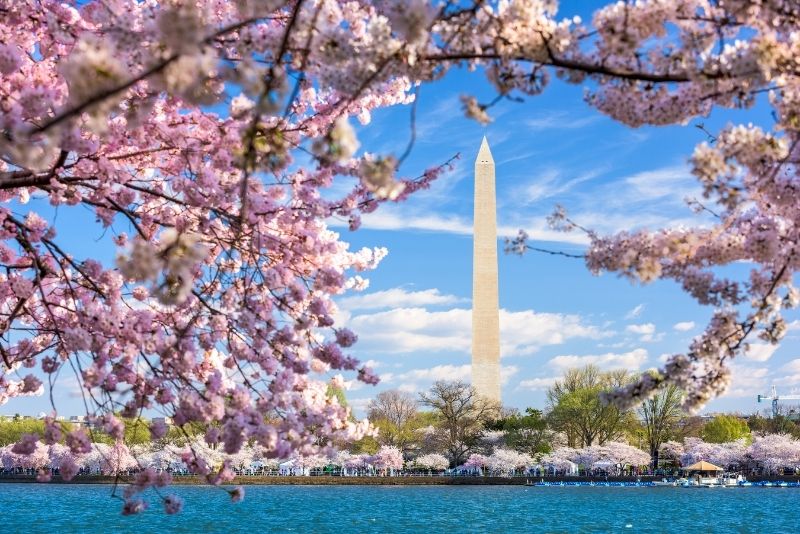 Every spring, between the months of March and April, the cherry blossoms in DC bloom and create one of the most beautiful natural sights this side of the Pacific Ocean. The cherry blossoms were a gift from Japan in the early 1900s.
The festival that comes along with the yearly natural occurrence is one for the books and includes street art, food, parades, and so much more.
This spring festival is one of the very best things to do in Washington DC.
68 – See where John Quincy Adams went to live after his presidency in Meridian Hill Park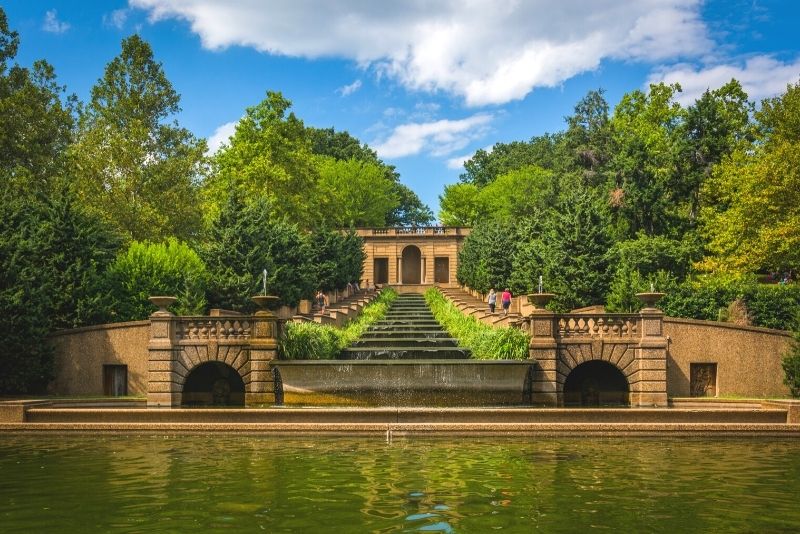 The fountains in Meridian Hill Park are truly a sight to behold. Atop the hill sits the mansion where John Quincy Adams moved after his presidency, repurposed numerous times over the years, bringing it to its current state as a public walkthrough attraction.
Much of park is currently closed for renovations until 2022, but the parts that remain open are still worth a visit.
69 – Find everything you're looking for and more at DC's Union Market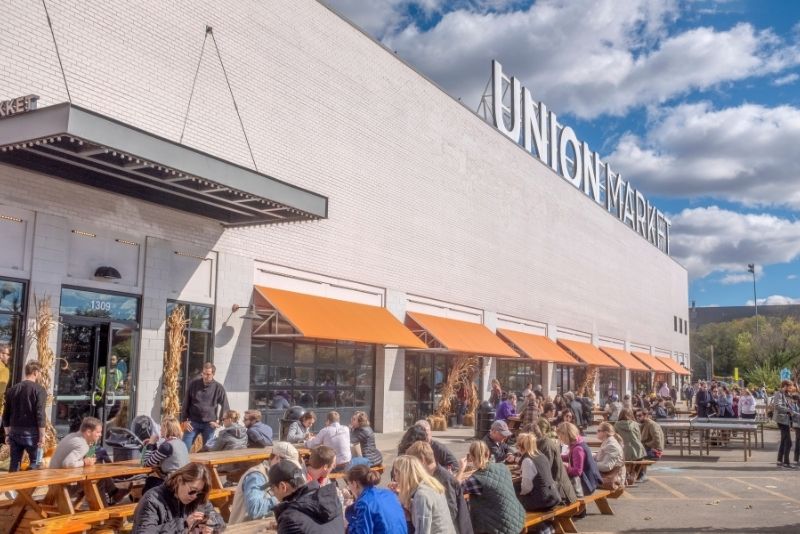 DC's Union Market is home to dozens of specialty shops tailored to just about any need, but it's so much more than that.
It also plays host to daily concerts, exercise classes, art exhibitions, and has a full host of venues ready for dinner parties, weddings, business gatherings, etc.
Don't forget to check out the Union Market rooftop, which is one of DC's premier spots for socializing in a relaxed environment.
70 – Brave the tough vetting process and take a walking tour of The Pentagon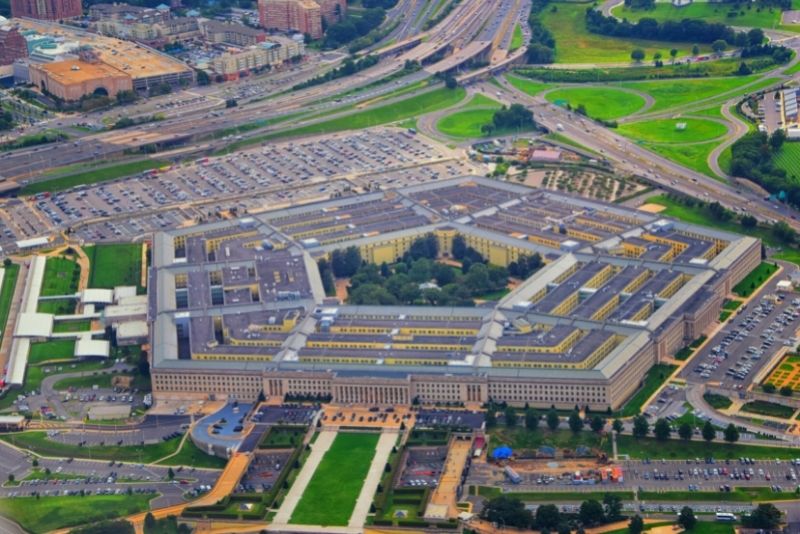 The Pentagon is extremely strict about how they handle their tour bookings, and they only offer them during very specific time windows, but they still manage to bring in over 106,000 people annually, and they even offer self-guided tours.
See where some of the most important – and most difficult – decisions in history have been made as you stroll past the office of the Secretary of Defense and a number of military displays.
71 – Stop in for a bite at one of DC's numerous fancy eateries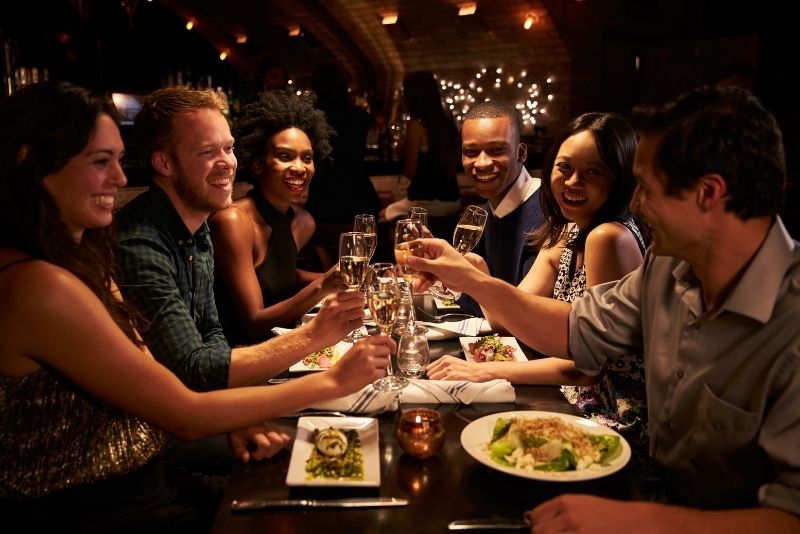 Washington DC is famous for a lot of things, but the city's food culture cannot be overlooked.
You could spend weeks here and still not manage to stop at every mouthwatering restaurant.
Some varied highlights include the Old Ebbitt Grill, Rose's Luxury, Le Diplomate, Ben's Chili Bowl, and Compass Rose.
72 – Join in on a scavenger hunt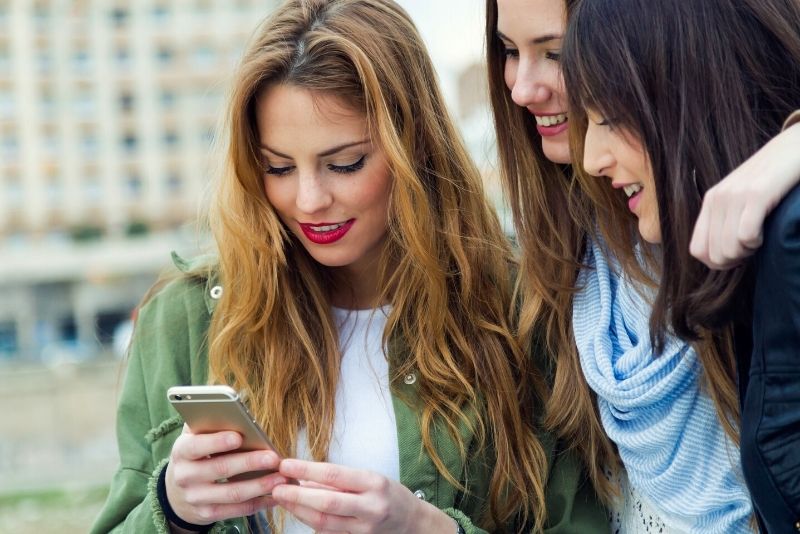 Sure, you could go to DC and take in the gorgeous historical monuments of the capital during a traditional site-seeing tour…Or you could embark on an exciting scavenger hunt that will not only take you through the historical sites, but also classic film locations and local hot spots.
Test your mystery-solving skills on dozens of puzzles and games. And don't worry about availability, you book your own start time!
73 – Catch a show at the 9:30 Club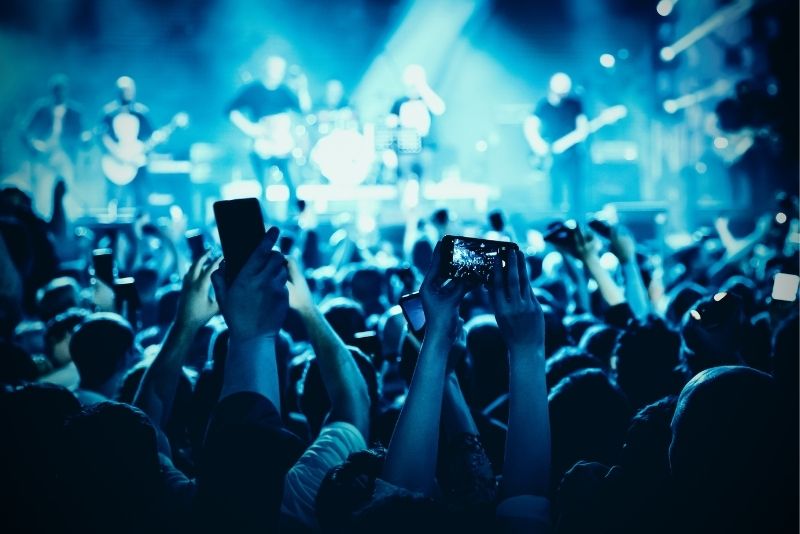 For over 40 years, DC's 9:30 Club has played host to some of the most legendary musical acts of all time, including The Red Hot Chili Peppers, Nirvana, and Tony Bennett himself.
Both Rolling Stone and Billboard have named it the #1 nightclub in the world.
Make sure to check the event calendar often if you're planning a visit, as tickets sell out fast and often!
We hope you have enjoyed our selection of things to do in Washington DC. Please comment below if you wish to recommend other places to visit.
Happy travels!