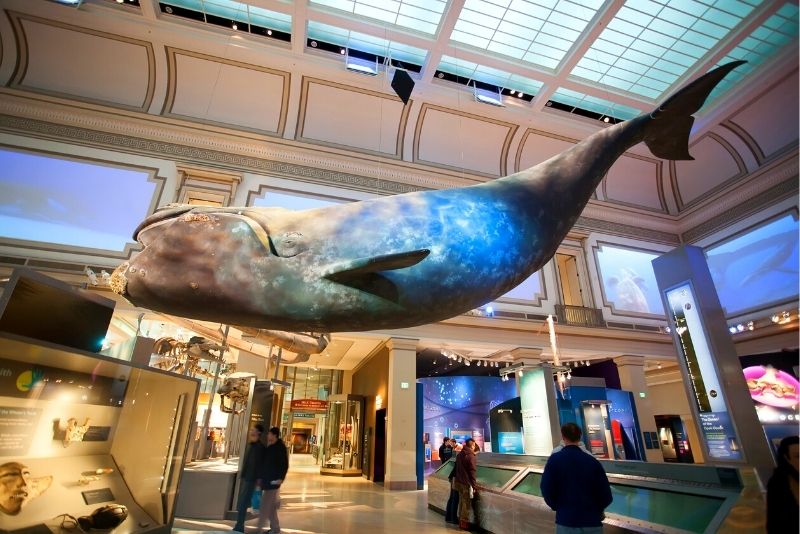 As the nation's capital, Washington DC has played host to dozens of pivotal moments in United States history. While the declaration of Independence wasn't signed there (that momentous occasion went down in Philadelphia, the original U.S. capital), it has always been the home of the Library of Congress, along with well over a dozen museums run by the world-famous Smithsonian Institution.
DC also has a vibrant arts community, and some of the most unique contemporary art installations in the world, along with a healthy dose of paintings by the likes of da Vinci and Monet hanging in the National Gallery of Art.
All this to say that if you're someone who loves history as much as you love art and culture, then Washington DC is one city you absolutely must visit at least once. We've compiled a list of the best museums in Washington DC to make sure you get the most out of your trip to the U.S. capital.
Just in case you're planning a day trip outside the city while you're visiting, we've also included a few museums from areas just outside of Washington that are perfect for any tourist's itinerary.
1 – Smithsonian National Museum of American History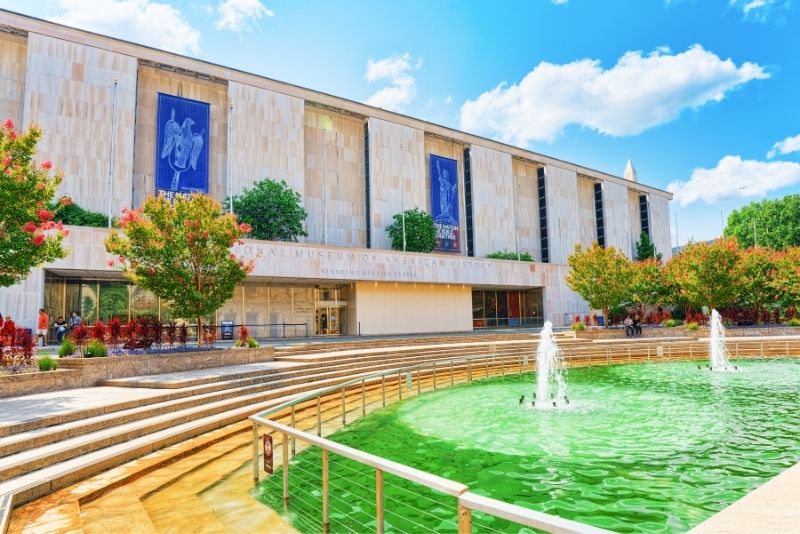 Have you ever wondered how baseball became America's pass time, or why the U.S. version of football is so different from the far less armored European version? And just when did it become legal to make wallets out of the American flag?
All of these questions and so many more are answered by the permanent exhibits at the Smithsonian National Museum of American History. As the name implies, they cover all things to do with the history of the U.S., including native cultures and the lgbtq+ community.
They even have the very first star-spangled banner flag on full display.
2 – Smithsonian's National Postal Museum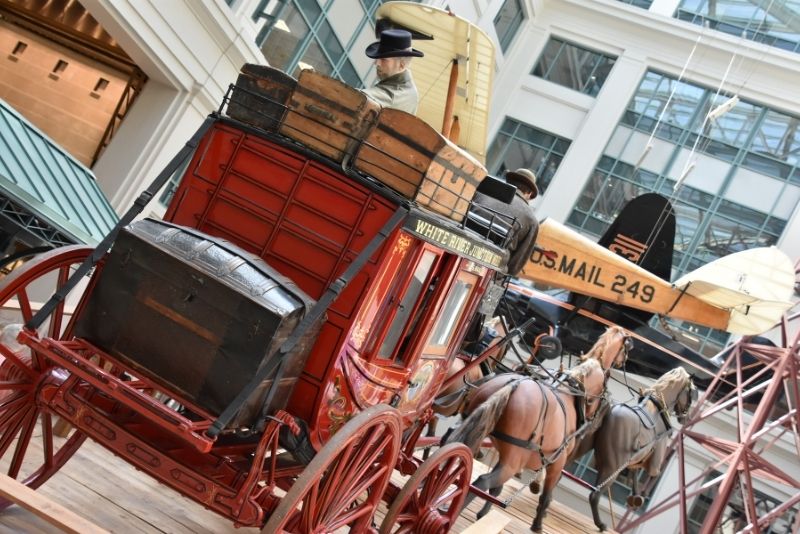 Postal service history may not seem like the most exciting subject to you, but consider the fact that there are still millions of people who collect stamps in the U.S. alone, and some stamps still sell for millions of dollars.
There are lots of stamps on display at the National Postal Museum in Washington, and they're anything but boring. Take a tour of the William H. Gross stamp gallery, the largest in the entire world, and you'll see what all the fuss is about.
Stamps aren't the only pieces of postal service history you'll find within the museum's walls, with every other aspect of USPS's more than a century in action on full display. They offer a huge variety of tour options, including self-guided ones, and they're all absolutely free.
3 – National Museum of the American Indian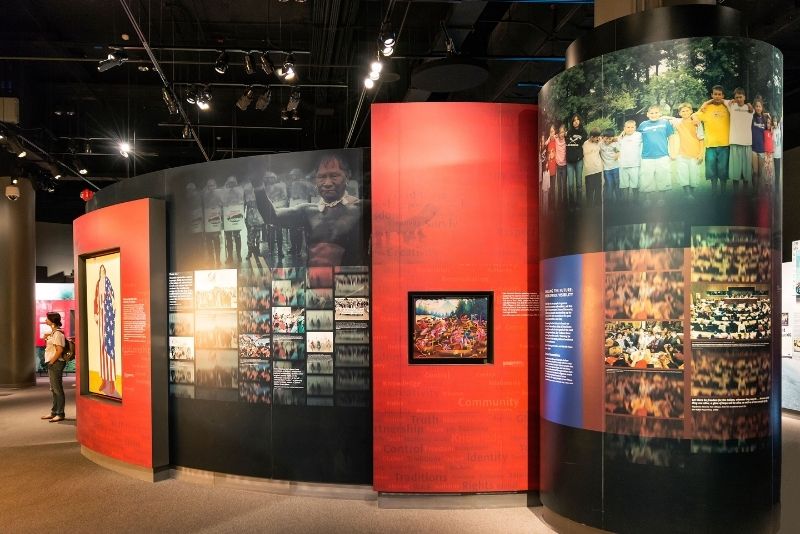 You'll actually need to travel to two locations to get the full experience for the National Museum of the American Indian – one in Washington, the other in New York. That said, there's plenty to see if you only have time for one of them.
They don't have many permanent exhibits, always making sure to have engaging new art and education installations to inform about the latest knowledge in indigenous culture and studies.
You'll be able to try real Native American cuisine from different cultures and tribes at the Mitsitam Cafe, and the gift shop always has great music, books, textiles, jewelry, and textiles from native artists and artisans. Anything purchased from the shop is sure to make a great souvenir or gift for someone special back home.
Make sure you stop by and check out the National Native American Veterans Memorial, honoring those Native Americans who fought and gave their lives in service of the United States military.
4 – Smithsonian National Museum of African American History and Culture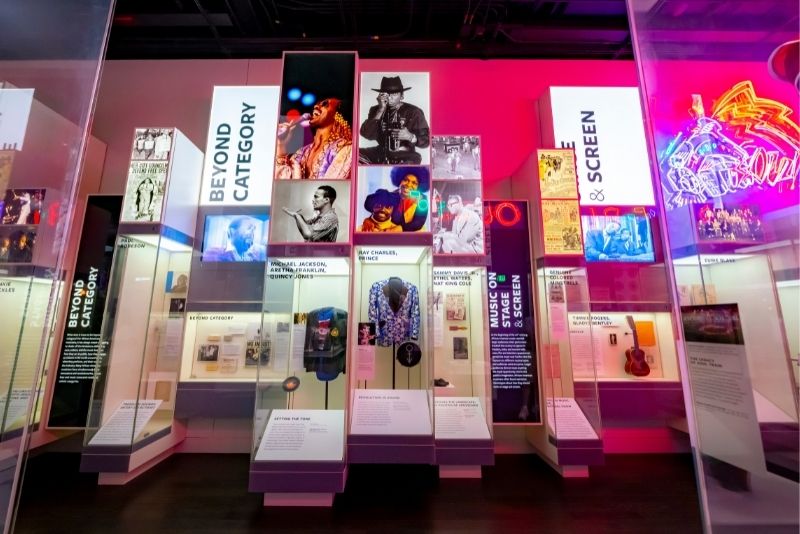 The National Museum of African American History and Culture doesn't pull any punches when showcasing the full history of black people in the United States. They offer a stark look at what life was like for early slaves, and the rough transition to freedom.
They also have exhibits displaying the full breadth of black contributions to American society with medicine, cuisine, art, music, and science. Over 40,000 unique items are housed in the museum including relics from prominent black leaders and influencers like James Baldwin and Pauli Murray.
Like all other Smithsonian facilities, the entrance to the museum is free. They also host regular events around the year and host a number of community programs.
5 – United States Holocaust Memorial Museum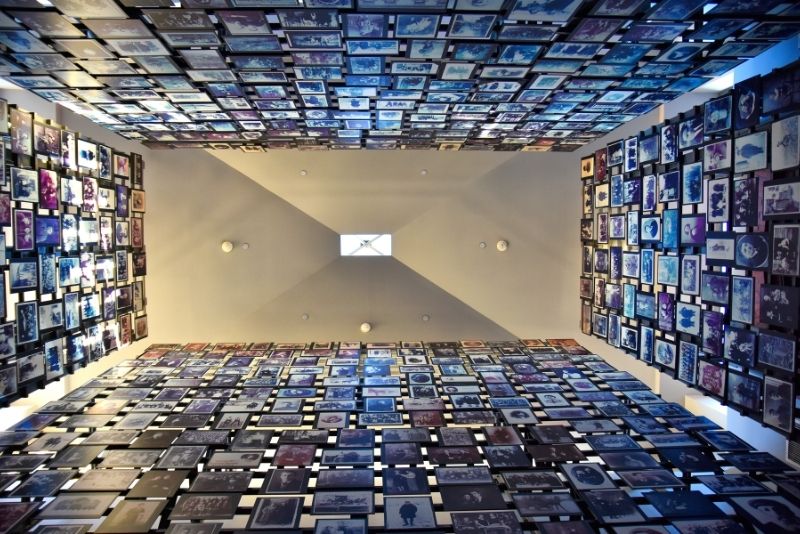 It's so vital to make sure people really understand how the holocaust happened and how it could have been avoided so that something similar never happens again. The Holocaust Memorial Museum in Washington is dedicated to doing just that, as well as making sure those millions who lost their lives are never forgotten.
Their exhibits illustrate everything that lead up to the Holocaust and the fallout from it all over the world. Recorded and written testimonials from victims and survivors, as well as witnesses from American and other countries who saw the atrocities firsthand, and photographic evidence and relics from inside the camps, help to vividly illustrate this unspeakable historical moment.
6 – Smithsonian National Air and Space Museum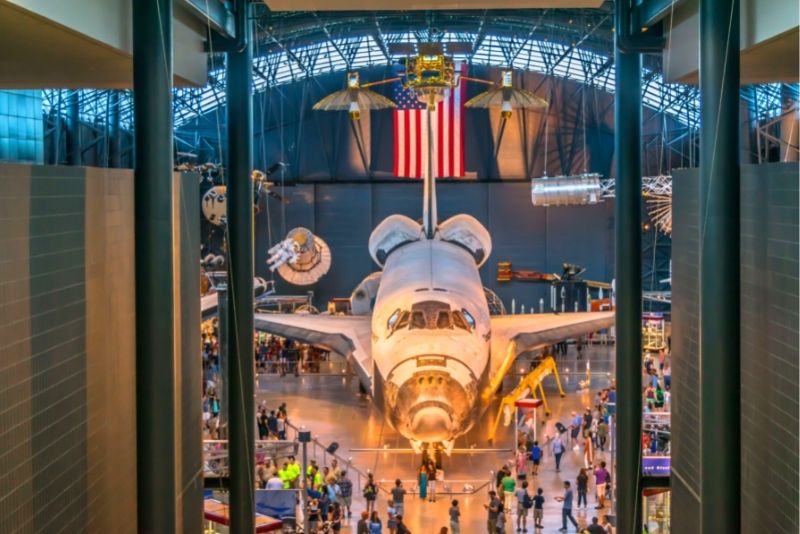 Yet another in the Smithsonian Institution's vast collection of museum facilities in Washington, you'll find the collective sum of humankind's current knowledge about air and space travel at the National Air and Space Museum.
What could possibly have happened to Amelia Earhart? What was it really like inside those early American air and spacecrafts? Just how close are we to landing on another planet? Exhibits dedicated to answering these questions and so many more are on regular rotation.
Classic planes like the Spirit of St. Louis, Neil Armstrong's spacesuit, aerial cameras, preserved iconic aerobatic planes, it's truly an aviation fanatic's dream.
Read more: 100 Best museums in the World.
7 – Van Gogh: The Immersive Experience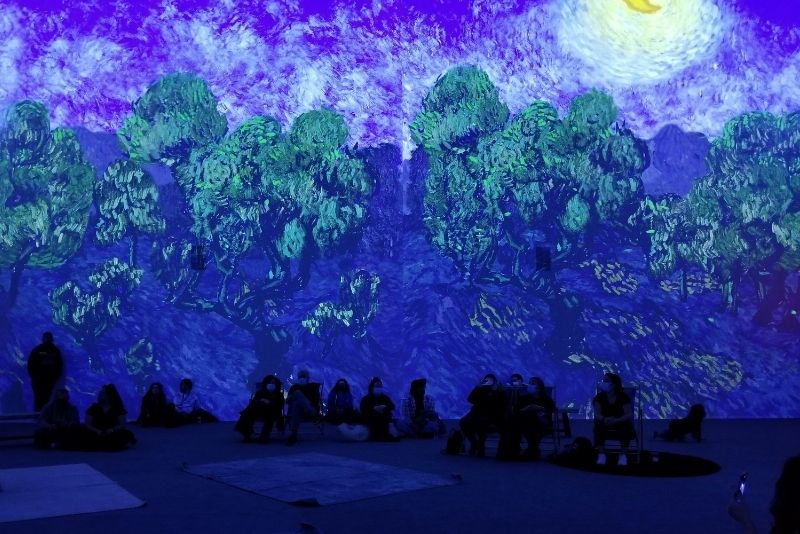 Sure, you could go to a regular old museum, look at the visionary works of Van Gogh on display for a few moments, and then move on with your day. But you could also take part in a fully immersive 10-minute storytelling experience that take you through the life and struggles of the artist himself, with gorgeous videos and state-of-the-art lights and sounds.
Live inside Van Gogh's art in a 20,000 square foot light and sound extravaganza showcasing incredible paintings like Vincent's Bedroom at Arles and Starry Night Over The Rhone River.
8 – Hillwood Estate, Museum & Gardens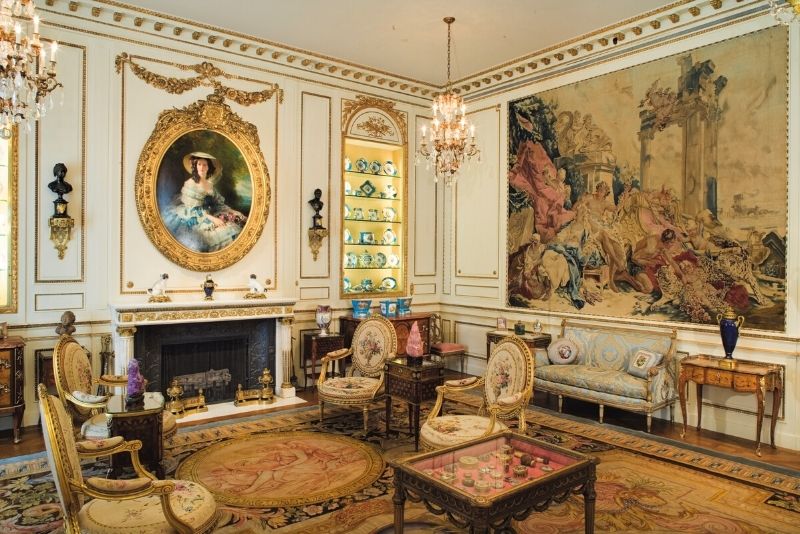 Philanthropist, socialite, and businesswoman Marjorie Merriweather Post wanted above all to share her wealth and knowledge with as many people as possible.
By the time she was finished renovating the Hillwood Estate, it had 36 full rooms, and, along with all of her Earthly possessions, she decided that this would be her contribution to future generations; a museum that would forever showcase her life along with the lives of all those who lived in the early 20th century.
As if the mansion and all of its contents weren't impressive enough, the Hillwood Gardens contain plant collections from Japan, France, and other places around the world, donated exclusively. There's also a vintage 9-hole putting green to check out.
9 – Smithsonian National Museum of African Art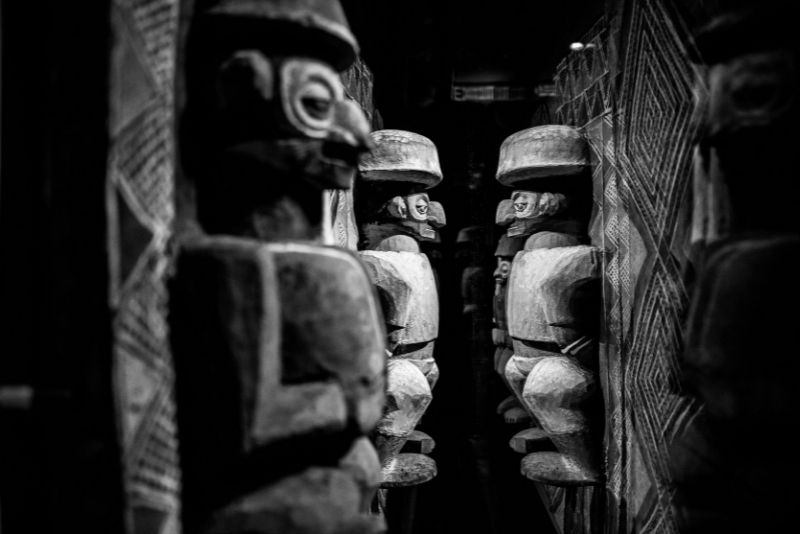 The Smithsonian Institute doesn't only deal with American arts and culture, they also maintain museum facilities dedicated to learning about different creators from around the world. Case in point is the National Museum of African Art.
They have over 12,000 paintings, sculptures that include tribal masks and figurines, costumes, and even pieces of furniture from influential African artists and visionaries from throughout the continent's vast and storied history.
The permanent collection also includes the Eliot Elisofon Photographic Archives and the Warren M. Robbins Library, which between them hold well over 600,000 books, journals, photographs, and other archival materials, making this facility the world's leading library for African art history.
10 – National Archives Museum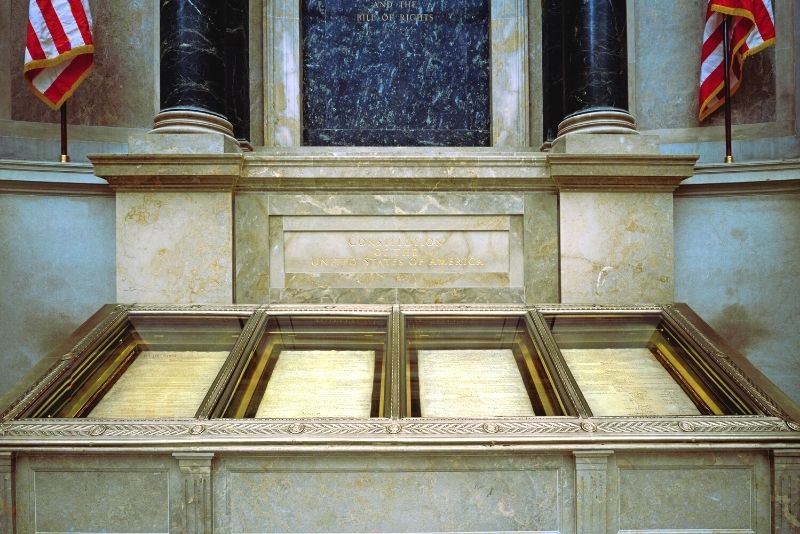 701 Constitution Avenue is the address of the National Archives building, where thousands of the country's most important documents are cared for and maintained. On display among these vital pieces of paper are the Declaration of Independence, the Bill of Rights, and the United States Constitution, all with the original signatures of the founding fathers.
History nuts will be happy to know that the National Archives are open and free to the public, although photography is not allowed, because the fragile documents have faded over the years and exposure to too much light could make the historic text inked on them disappear forever.
11 – National Museum of Women in the Arts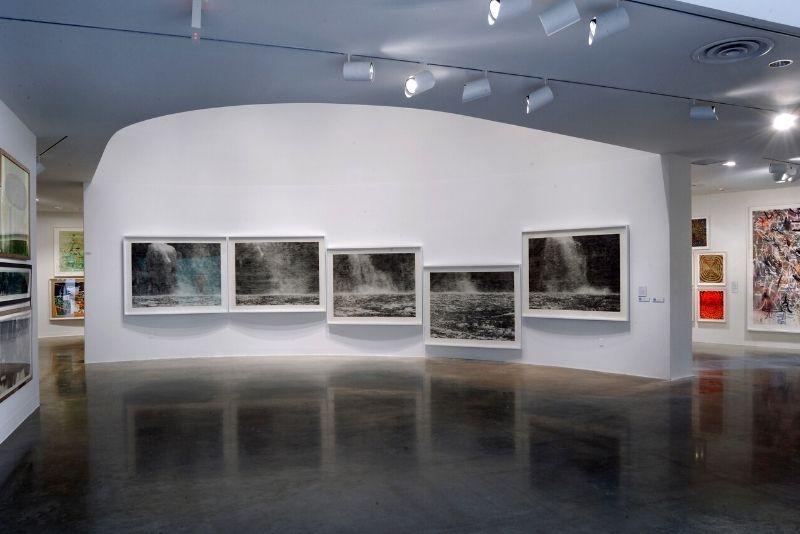 It's probably sad to say that the National Museum of Women in the Arts in Washington D.C. is the only museum on the entire planet dedicated solely to showcasing female artists and creators from throughout history, but here we are.
Having only opened its doors in 1981, it certainly isn't the oldest museum in Washington, but it's certainly become one of the most well-known, with numerous press outlets praising the quality of the exhibits on display.
If you'd like to preview the museum's exhibitions, you can check out their "See For Yourself" card collections. Each card highlights an example of an artist or a unique piece of art from the museum, along with a small bit of text explaining it.
12 – Belmont-Paul Women's Equality National Monument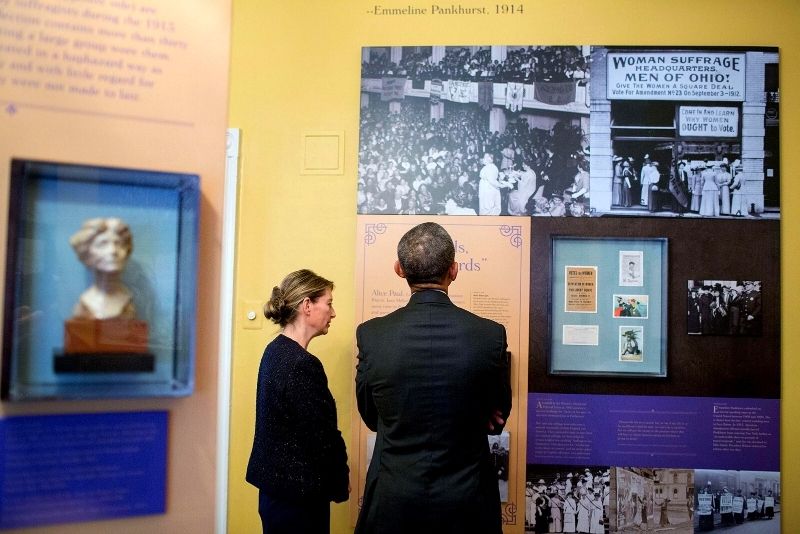 The original home of the National Woman's Party lives on today as the Belmont-Paul Women's Equality National Monument. From within the historic walls of this building, suffragists Alice Paul and Alva Belmont worked with countless others in the fight for women's rights.
Despite its obvious historic merit, and the basic fact that it's also the oldest house still standing in the Capitol Hill neighborhood, it wasn't until 2016 that it was designated as a national monument by President Barack Obama.
13 – National Gallery of Art & Sculpture Garden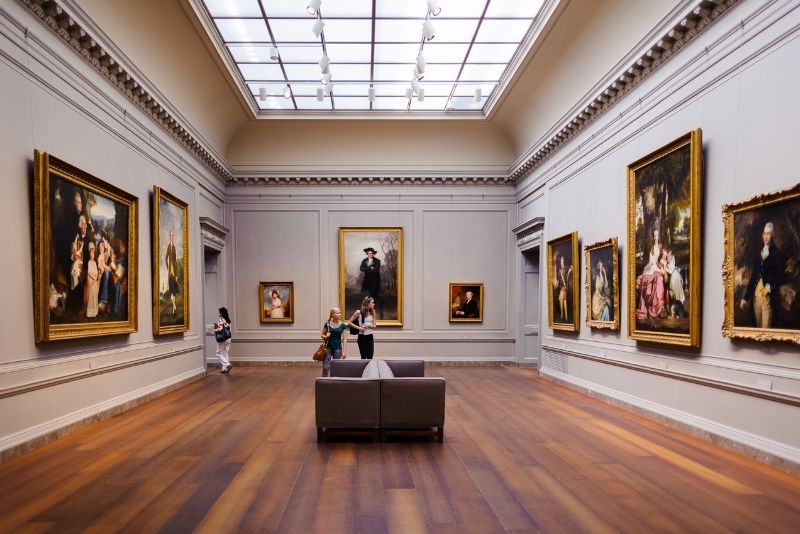 Just what exactly does it mean to be an American? Illustrated throughout the paintings at the National Gallery of Art is the true identity of the nation. The museum was conceived by art collector and philanthropist Andrew Mellon, partly as a labor of love and partly as a tax write-off. It doesn't get much more American than that!
Some of the iconic pieces of art hanging in the gallery include da Vinci's Ginevra de'Benci, Jan van Eyck's Annunciation, Rogier van der Weyden's Portrait of a Lady, and Judith Leyster's Self Portrait.
For a long time, the National Gallery of Art was made up of only two sections: the West Building, which houses the original gallery, and the East Building, added in the '70s. In 1999, a third section was built in the form of a 6.1-acre Sculpture Garden.
14 – Freer Gallery of Art (National Museums of Asian Art)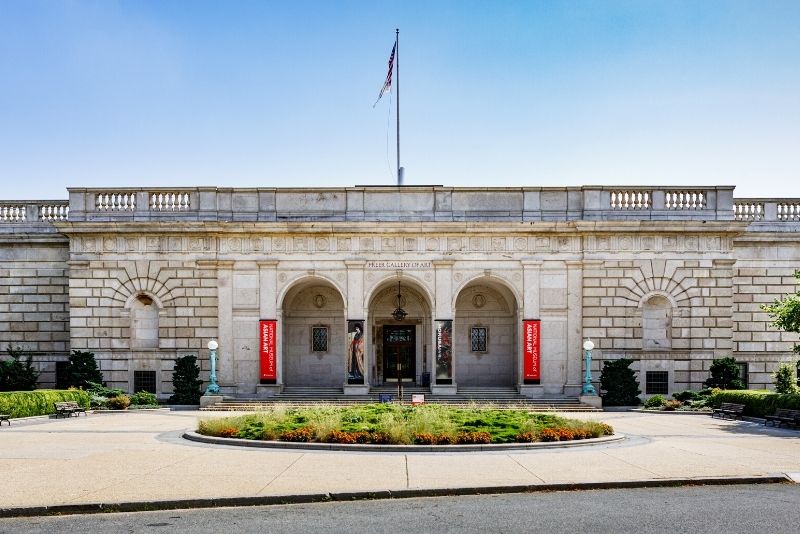 The Smithsonian Institution continues to deliver with another top-of-the-line museum, this one dedicated specifically to Asian Art. While it may look very similar to the National Portrait Gallery, its contents couldn't be more different.
Over 45,000 unique art objects from Japan, Korea, China, and the Islamic world are collected at the Freer Gallery. Some of the objects date back thousands of years to the Neolithic period.
The gallery contains the Freer and Sackler Library, a state-of-the-art facility dedicated to collecting, researching, and preserving rare books and volumes about Asian art.
The Freer Gallery is conveniently located in the National Mall, along with numerous other poplar Washington DC tourist attractions.
15 – National Geographic Museum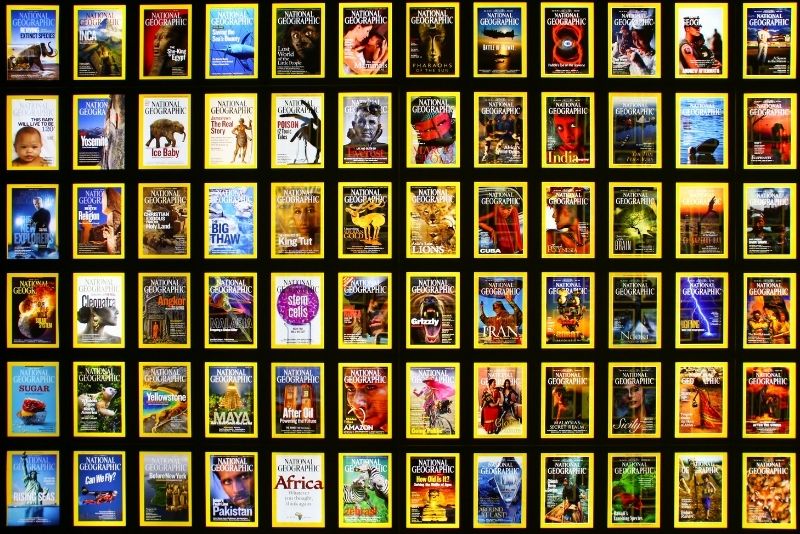 For over a century, the National Geographic Society has provided the western world with unique glimpses into other parts of the world through award-winning photographs, studies, and research expeditions.
The fruits of all of those various labors are on full display at The National Geographic Museum, one of the best museums in Washington DC. Experience the peak of Everest as if you were really there, and hear first-hand stories from the scientists about exciting forays into the wilderness.
The museum is not for profit, and though it isn't free to visit, all proceeds go directly to funding current research and expeditions.
16 – Renwick Gallery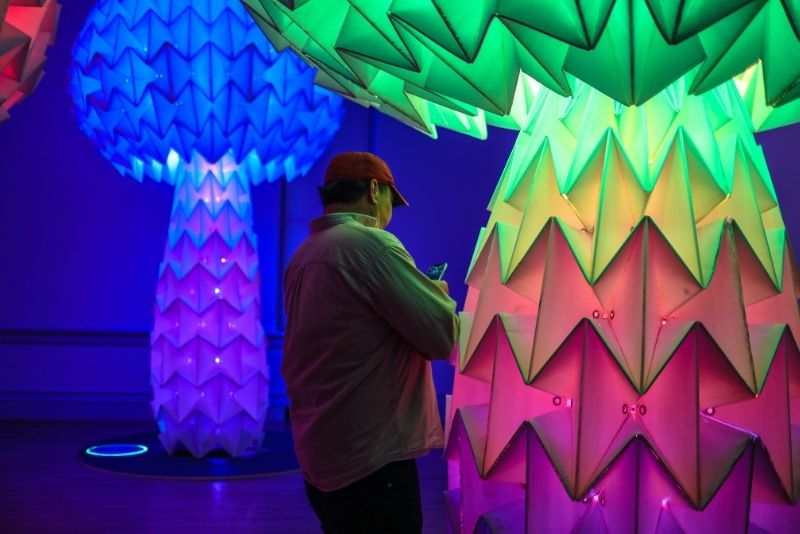 This branch of the Smithsonian American Art Museum focuses exclusively on decorative art, which encompasses a lot more than it may sound like. The sheer scope of the museum's exhibits covers everything from photography to video game memorabilia.
The Renwick Gallery was actually the city's first art museum, completed in 1861. During the Civil War, union soldiers would often use the building to store their uniforms.
17 – International Spy Museum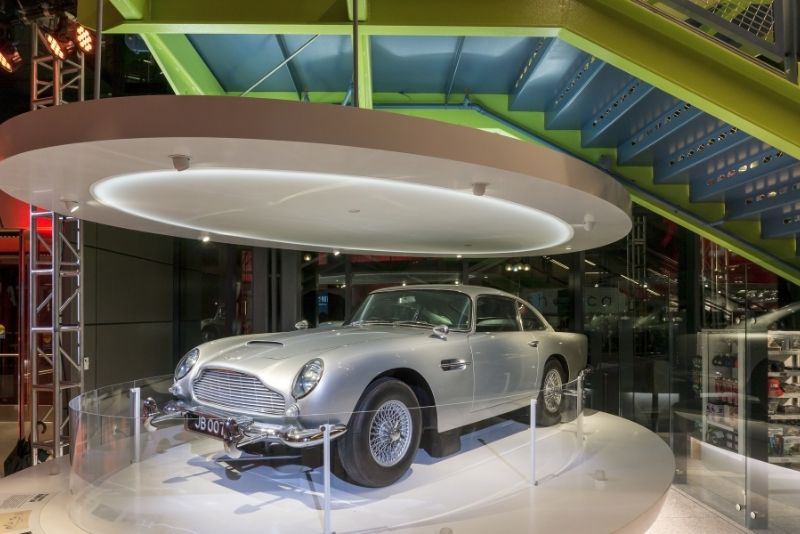 When you enter the International Spy Museum in Washington DC, you'll be given a cover identity that you'll have to keep track of. You'll then have to solve 17 different puzzles as you make your way throughout the museum's exhibits, all through fully-realized digital and physical interactives. These activities will range from crawling through air vents to spying on other museum attendees.
Of course, you could also opt not to do this and just walk through the Spy Museum's two floors normally. There's plenty of fun to be had in examining the truly wild array of spy gadgets and other memorabilia in the facility's permanent collection. That includes cool items from spy books and movies, like an Aston Martin DB5 driven by none other than James Bond. Additional fun gadgets and trinkets are available for purchase at the gift shop.
The International Spy Museum is one of the best in Washington for anyone interested in a truly hands-on experience in espionage.
18 – United States Botanic Garden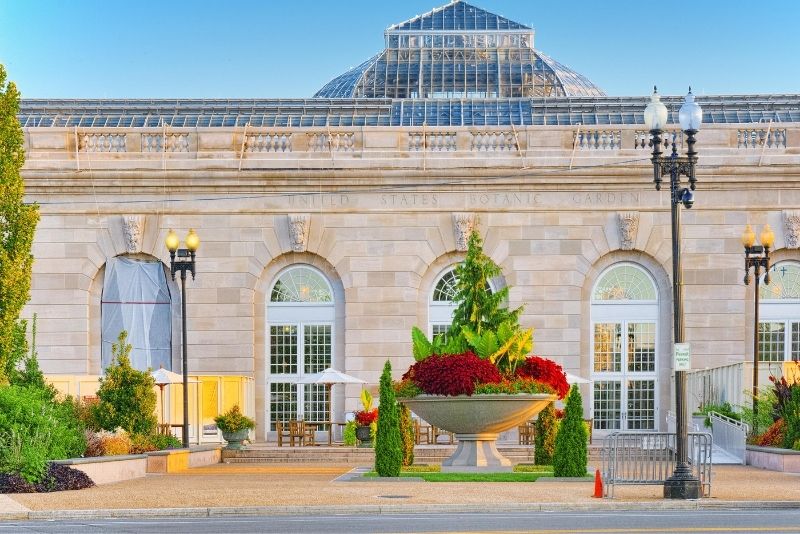 Self-described as a living plant museum, the United States Botanic Gardens is one of the best museums in Washington because it gathers flowers, trees, bushes, and vines from everywhere on Earth, even the most remote locations.
The garden is free to access, and it's a popular spot for painting, photography meditating, or even just to come and take a walk with a little peace and tranquility.
The United States Botanic Garden is open from 7:30 am to 5 pm every day except for Christmas Day.
19 – Dumbarton Oaks Museum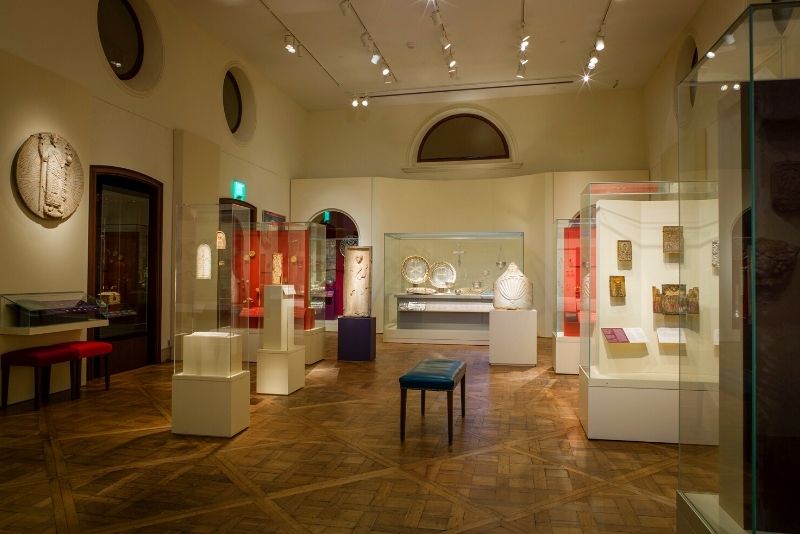 Before being transformed into a museum, the historic Dumbarton Oaks estate was owned by U.S. diplomat and art collector Robert Woods Bliss and his wife Mildred. Bliss was introduced to art collecting at a young age by friends of the family, and it became one of his great passions in life.
The pair eventually left the full estate and garden along with all its contents to Harvard University for continued study and research.
The collection inside the museum is quite extensive and includes curious items from the Byzantine era as well as ancient artifacts taken directly from the ruins of Mesoamerica.
20 – U.S. Navy Museum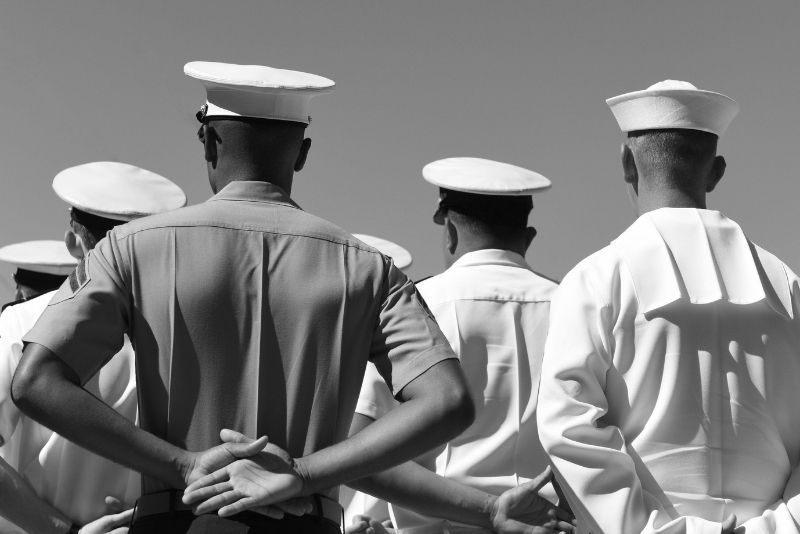 A collection of old cannons from U.S. war vessels are on display directly outside of the Navy Museum, before you even enter the building. That's just an illustration of the kind of artifacts you'll find on display.
Everything from authentic submarine batteries to memorials dedicated to sea-faring heroes fill the permanent exhibitions.
Worthy of a special mention is the Cold War Gallery, which focuses on displaying artifacts and history about covert submarine operations in Vietnam and Korea during the Cold War Era.
The museum is located within the Washington Navy Yard and is 100% free to access, although a valid piece of photo ID is required to enter.
21 – Museum of the Bible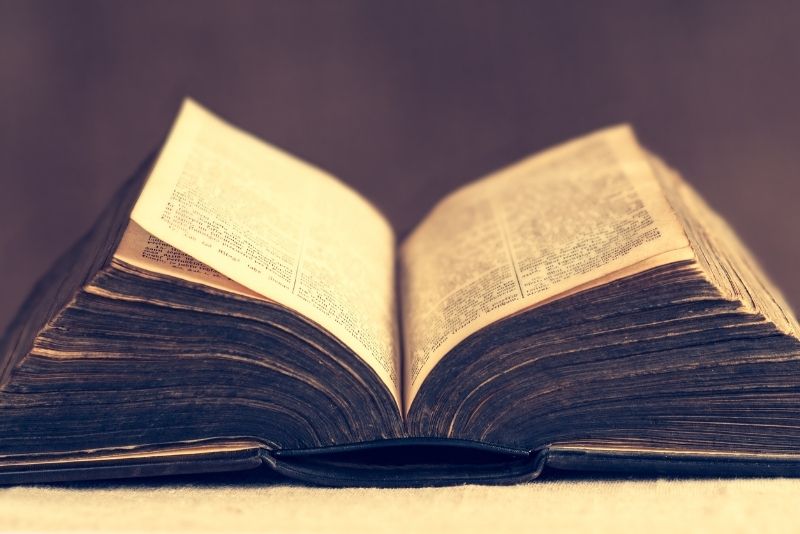 To say that the Bible has had a huge impact on the world would be a huge understatement.
The first book to ever be mass printed in Europe has a long and storied history, and the Museum of the Bible studies every iteration of the famous religious text, including its Jewish roots from over 4,000 years ago.
The museum also features a number of fine eateries, including one called Manna which serves exclusively Kosher cuisine.
22 – The George Washington Masonic National Memorial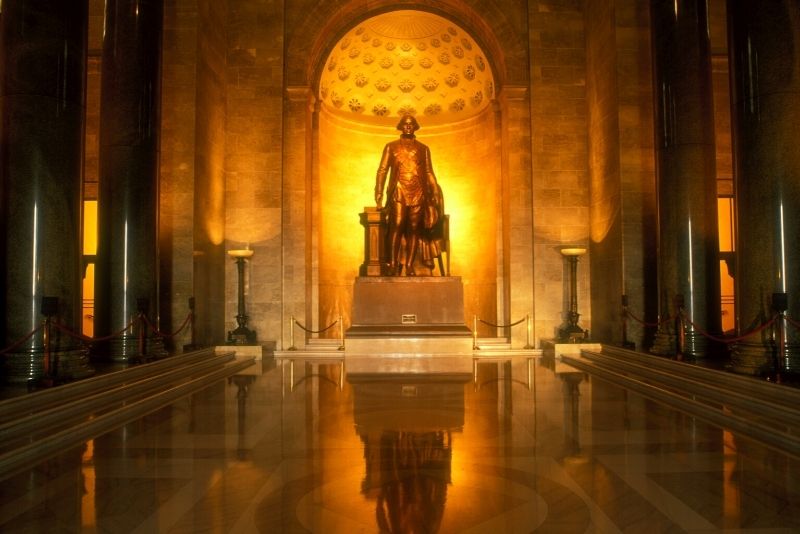 Conspiracy theorists may or may not be disappointed when they visit the George Washington Masonic National Memorial.
There's definitely lots to see in the little cubby holes around the installation, and the large statue of George Washington himself is particularly impressive. And while there certainly is a fair amount of masonic imagery hidden around the place (the tower itself is 333 feet tall, 3 being an important number to free masons), snoopers aren't likely to find many earth-shattering secrets.
Still, if you like a little bit of mystery and intrigue with your art history, this is one memorial you'll definitely want to check out.
The George Washington Masonic National Memorial is located in Alexandria, just outside of DC. The design is actually based on the ancient Lighthouse of Alexandria. There's a fact to impress your friends with!
23 – Anacostia Community Museum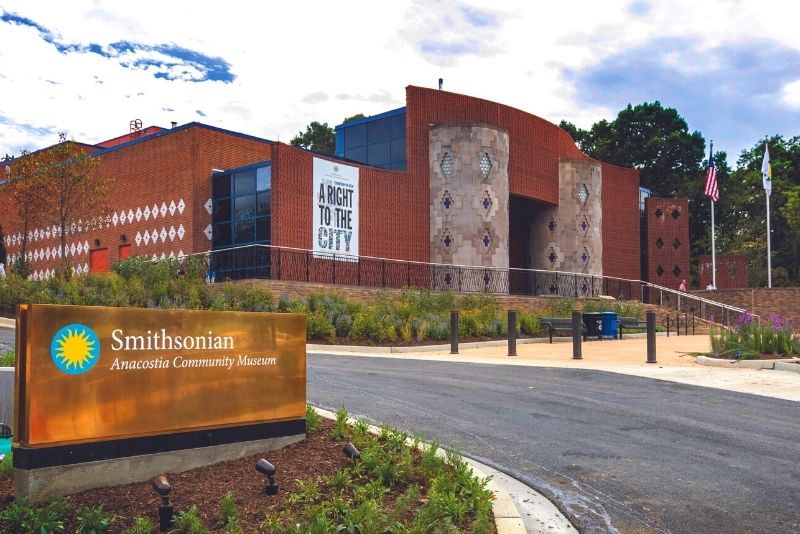 This museum is unique among Smithsonian facilities, and indeed among museums in general, because it showcases how neighborhoods and communities are affected by social, economic, and environmental changes.
The Anacostia Community Museum has no permanent exhibitions, preferring to display only one exhibition at a time. These might range anywhere from a focus on unequal food systems to bridging the gap between Washington DC and Panama.
It's always worth repeating that every Smithsonian Institution Museum is absolutely free to access. Outside of its one exhibition at a time strategy, the museum does host regular events which often include very prominent guest speakers.
24 – National Museum of Health and Medicine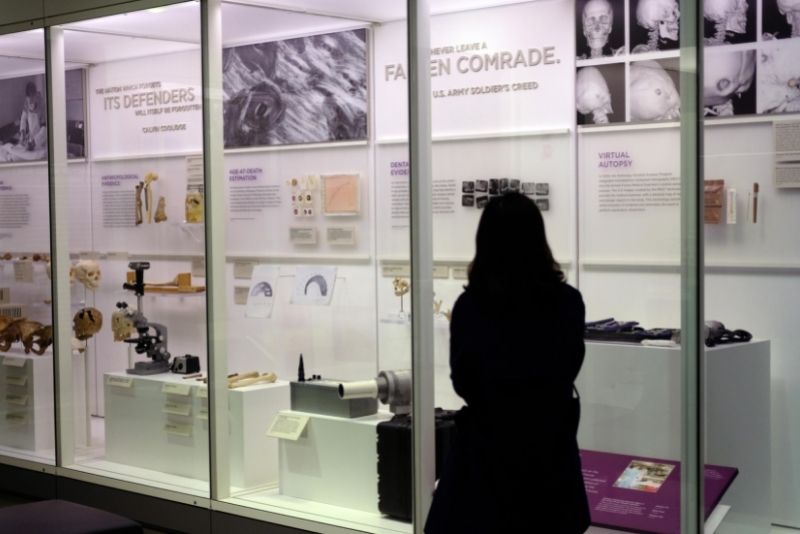 The exhibits at the National Museum of Health and Medicine are truly fascinating, especially to those with a particular interest in war history, but it's definitely not for the faint of heart. Both human and animal remains, as well as all kinds of wild medical utensils, are on full display within these walls.
It actually used to be a military medical museum, created after the civil war in order to showcase the types of extreme medical procedures that often have to be undertaken in wartime.
The museum's collections are separated as follows:
Historical: The oldest item in these collections is a microscope which dates back to the year 1660. Much of what you'll find here are items from major wars like the Civil War or World War 1.
Anatomical: Here's where those with a weak stomach really ought to be careful. The stuff in here pretty much ranges from slimey to gooey – although it is absolutely vital to the advancement of research in the fields of forensic medicine, anthropology, pathology, paleopathology, and military medicine.
Neuroanatomical: In laymen's terms, this collection deals with everything that is the brain. Normal, pathological, and comparative specimens are stored here.
Human Developmental Anatomy Center: This collection contains the largest archives of human and comparative developmental material in the entire United States.
Otis Historical Archives: This wing of the museum, which can only be visited by appointment, is where all of the institutional records are kept.
25 – Heurich House Museum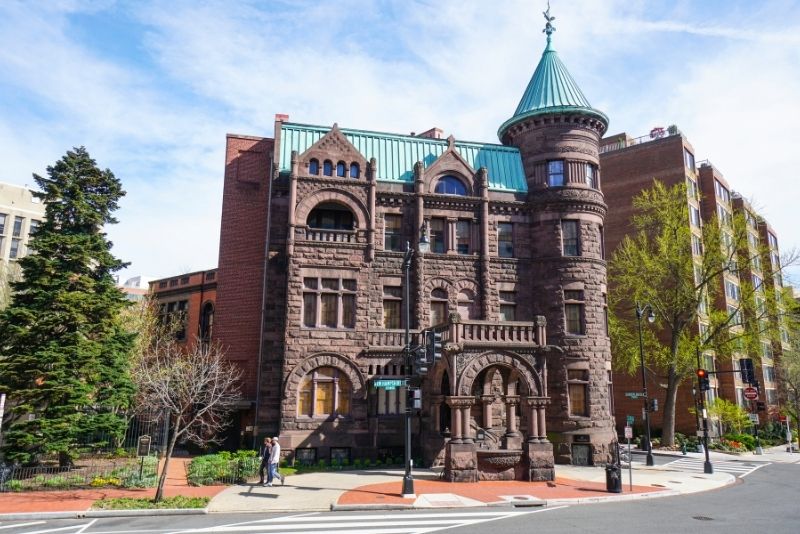 Unlike many other structures built at the same time, the Heurich House was made out of concrete and metal, making it the first fireproof residence in Washington DC.
It was also one of the first places in the area to be built with electric hookups already installed, even before electricity was widely available.
The house still contains all of the belongings of the original owner, German-American brewmaster Christian Heurich and his family. That includes beautiful, fully restored 1901 Steinway Model C Piano, which is today used to host performances by professional musicians.
26 – Smithsonian American Art Museum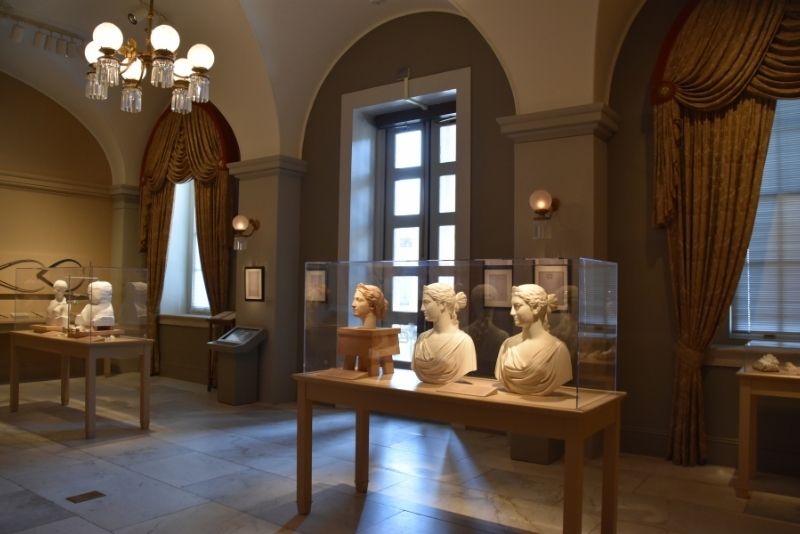 If you're going to visit one American art museum in your life, it might as well be the Smithsonian Institute's. This massive art museum, which also manages the Renwick Gallery of decorative art mentioned earlier in this list, has a complicated history and a collection that is absolutely second to none.
It's one of the most visited museums in the entire country, and showcases work from more than 7,000 individual artists and painters, along with maintaining a gigantic archive of art research documents.
Part of that collection is spread out into the recently renovated Old Patent Building, which also contains DC's National Portrait Gallery.
27 – National Children's Museum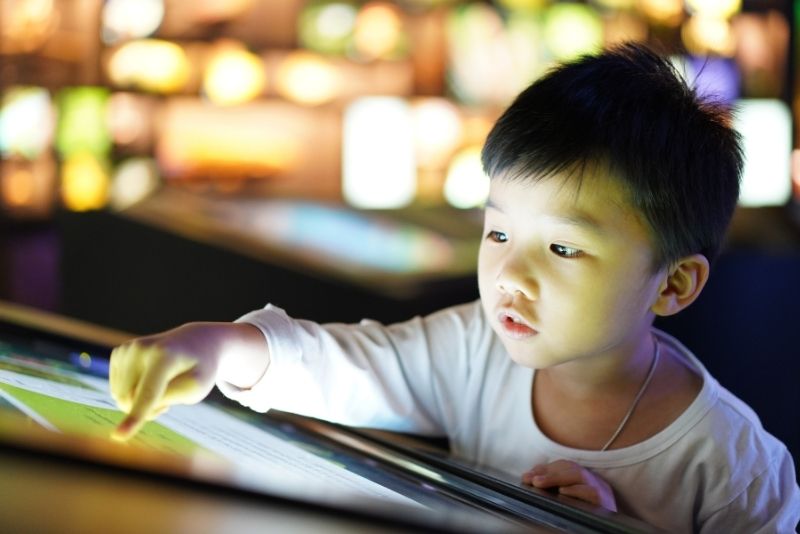 Here's one for the kids. The National Children's Museum is like one giant play park full of ways for kids to interact, engage, and learn. Through toy installations, games, and multimedia setups, kids will learn about engineering, data science, building motor skills, aviation, and so much more.
Adults are encouraged to follow along with their kids through the experience and, thankfully, all of the exhibits are engaging enough that mom and dad can have just as much fun as the kids are having.
28 – The Kreeger Museum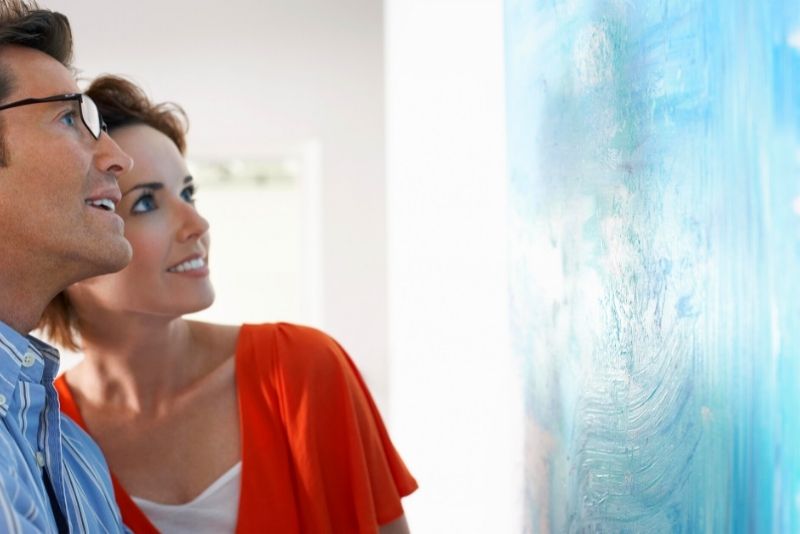 Here's yet another luxury home of a wealthy philanthropist that was turned into a museum after they were finished with it.
The twist is that the Kreeger Museum (the original home of David Lloyd Kreeger and his wife Carmen) is a little more modern than many of the others of its ilk in Washington DC because it was originally built in the 1960s.
The art within is also more overwhelmingly more contemporary than many other in many of DC's other museums, mostly including works no older than the year 1850. The impressionists are extremely well represented, so much so that it's possible to trace a complete timeline of Pablo Picasso's career through his seminal works on display at the Kreeger.
29 – Library of Congress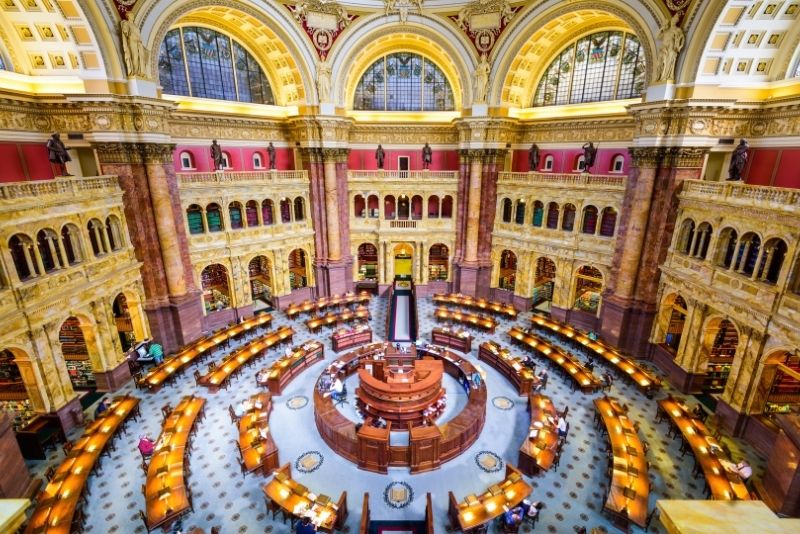 Not to take anything away from your local library, but the Library of Congress has a collection that is truly second to none.
After the library's full contents were destroyed in the War of 1812, Thomas Jefferson offered up his own personal library as a replacement. Those 6,487 tomes are still there today, along with countless other priceless books and documents from the nation's storied past.
War maps, city plans, records from prominent musicians, and recordings of iconic speeches and testimonials are also included within the gorgeous walls of the Library of Congress, making it one of the best museums in Washington DC.
30 – Torpedo Factory Art Center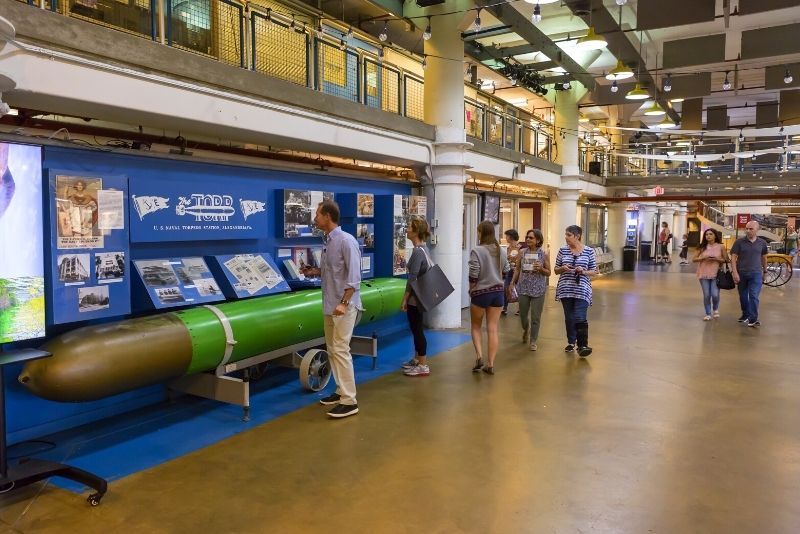 The Torpedo Factory is less a museum and more a gigantic artist commune. It's the largest collection of open art studios under one roof in the United States.
Photographers, painters, jewelers, and metal workers all share the 82 studios and 7 galleries to make and present their art. There's something here for every taste. There are also art schools and workshops, and the facility hosts regular special events.
On the third floor of the Torpedo Factory, you'll find the Alexandria Archaeology Museum. The museum's collection includes recently unearthed 18th-century maritime vessels from the city's waterfront, as well as artifacts found at prehistoric sites, civil war sites, and other key locations around Washington.
31 – The Phillips Collection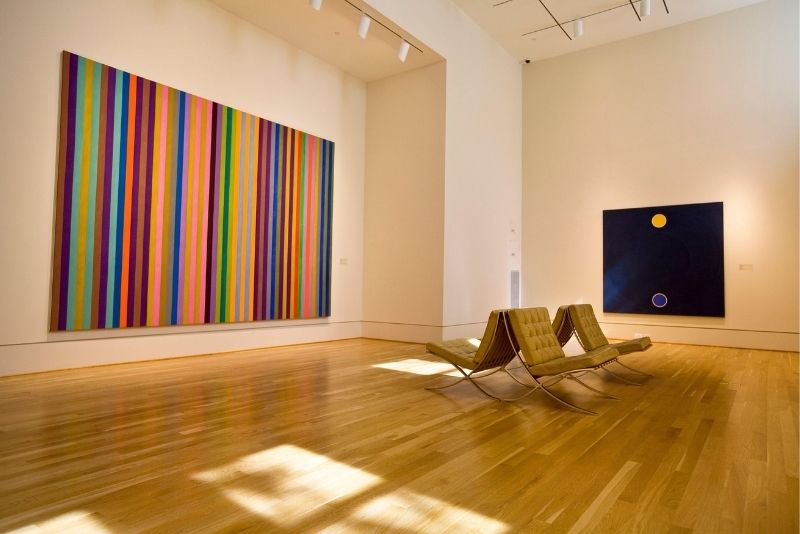 You guessed it, the Phillips Collection museum was originally the home of a wealthy philanthropist and art collector who decided to leave all of the wonderful pieces of art he had gathered throughout his life to the public.
Duncan Phillips had a passion for modern art, and was one of the people responsible for bringing such artistic sensibilities to his countrymen in the United States. He founded the museum in 1921, and even after his death in 1966 the Phillips Collection has continued to procure rare and noteworthy pieces of modern art from around the world to put on display.
Admission is free for anyone 18 years and under, making it a great itinerary option for anyone traveling with a family, or for groups of students traveling together.
32 – The George Washington University Museum and The Textile Museum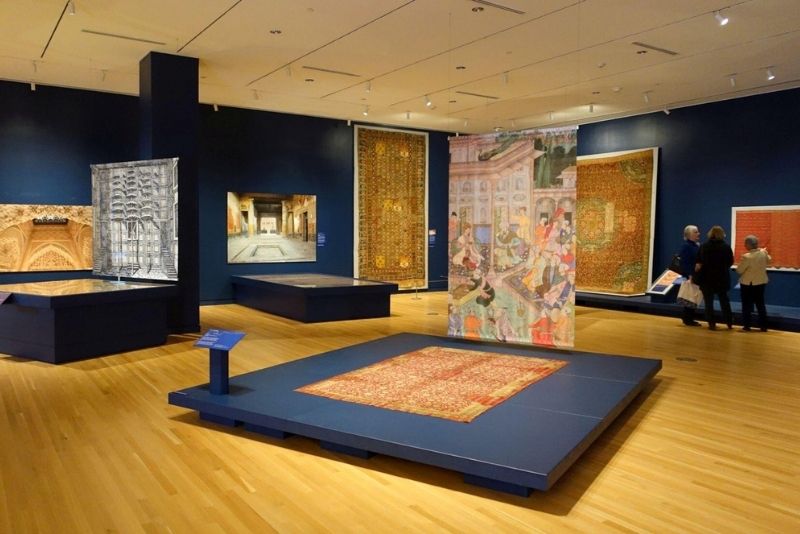 The Textile Museum moved to the Foggy Bottom Campus of George Washington University in 2015, and it got a big, fancy new building in the process. The school's goal with this move to integrate the museum's priceless contents with its own museum studies program, as an indispensable resource to both the students and the faculty.
The textile collections on display date back thousands of years and hail from every continent. For example, much of museum founder George Hewitt Myers' early collection focused on 17th century Mamluk rugs from Egypt and 17th-century Caucasian dragon carpets.
The full range of collections includes rugs and textiles from the Islamic world, East, South and Southeast Asian textiles, African textiles, Indigenous American textiles, and contemporary textile art.
33 – Art Museum of the Americas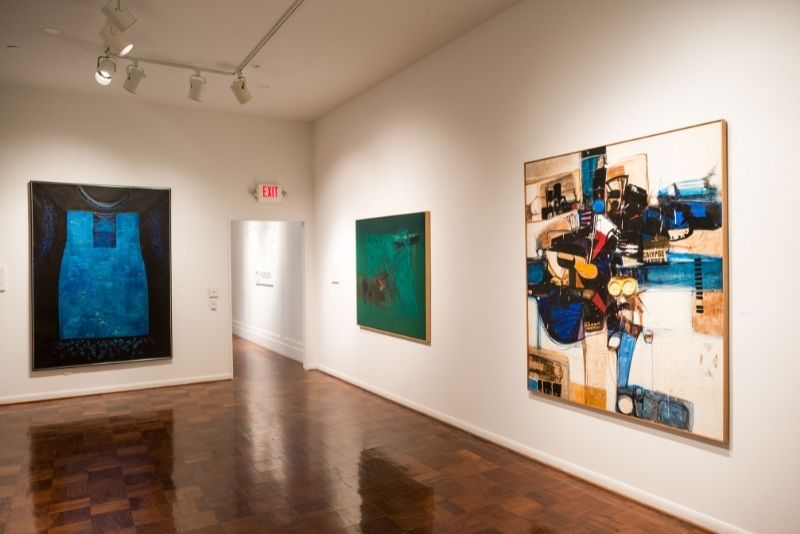 The Art Museum of the Americas has been called Washington DC's best-kept secret more than once, and for good reason. The purpose of the museum is to showcase Latin American and Caribbean art, making it a bit of an outlier.
In 1949, the first piece of art was donated to what would eventually become the museum's collection. That piece of art was Return of the Fair, an oil on canvas painting by Brazilian artist Candido Portinari. Almost thirty years later, the museum made its grand opening with just over 250 pieces of art on display within its walls.
The current collection includes over 2,000 prints, photographs, paintings, and other forms or artistic expression from all of the Americas as well as other parts of the world.
The Art Museum of the Americas is free to visit and open to the public every single day of the year. They also have regular events and programs centered around music, film, education, and social impact.
34 –  National Museum of the Marine Corps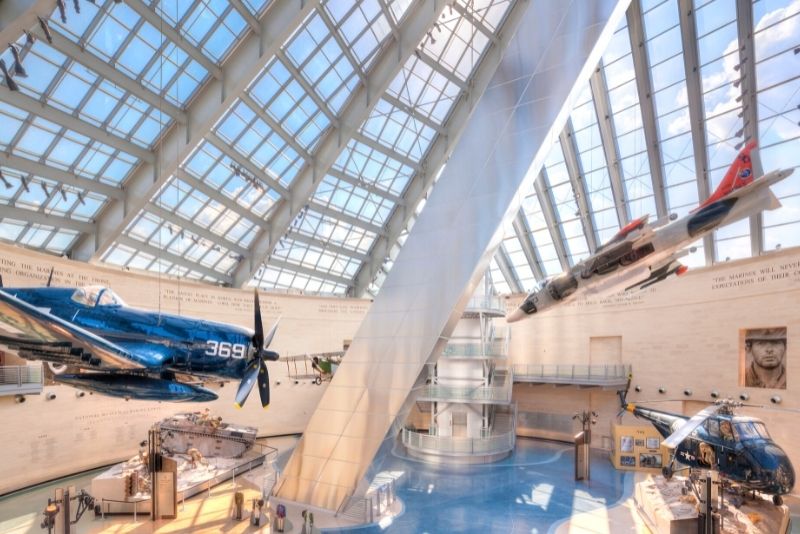 Never let it be said that there's a shortage of free museums around Washington DC (even though this one is technically located just outside of Washington, in Quantico, Virginia). The outside grounds of the National Museum of the Marine Corps are absolutely stunning, and include a memorial park walk before you even enter.
If you've ever wondered what a day in the life of a U.S. marine is like, this museum will walk through every step of the storied outfit, through every chapter of its history. From the uniforms to the daily drills to famous and critical combat operations, the full walk-through will take you anywhere between 2 to 4 hours, but its well worth it to come away with a full picture of what these soldiers go through.
The museum is structured as a 360-degree environment, meaning that more or less everywhere you turn, there's a different piece of the puzzle to check out. This includes a laser simulated rifle range where guests can practice their aim!
If you're hungry, or if you'd fancy a pint after checking out the museum's exhibits, you can stop in at Tun Tavern and grab yourself a novelty pint glass while you're there.
35 – National Museum of the United States Army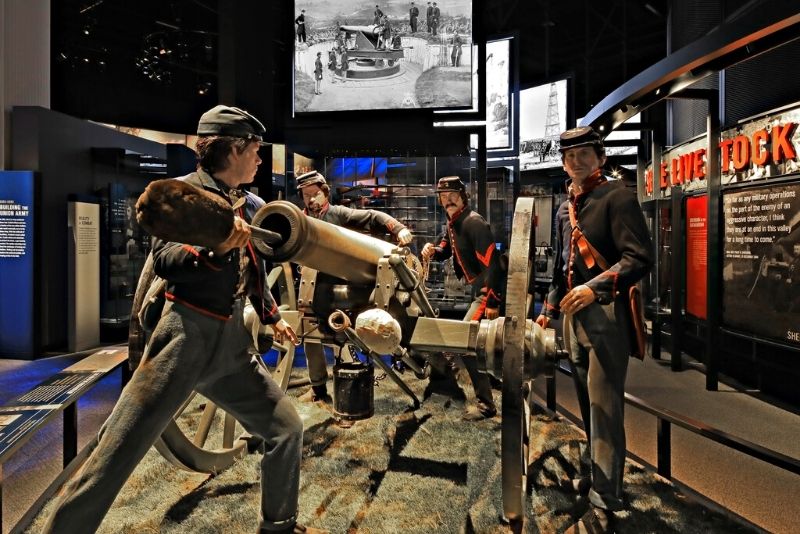 "Every Soldier Has A Story."
That's both the title of a biography about World War II veteran Clarence R. Hobbs and a quote from National Museum of the United States Army director Tammy E. Call. It also seems to function as the museum's primary mission statement, which should give you a pretty good idea of the types of subjects the museum's exhibits cover.
Stories from every major American military operation are told here, including those that aren't often discussed in popular media, like the experience of Japanese American Nisei soldiers during the second world war.
The museum's Army Theater goes a step further by showing exclusive film presentations on a specialized 360-degree screen. The museum is also surrounded by a gorgeous memorial garden, Warrior's Plaza, and Warrior's Field.
36 – National Portrait Gallery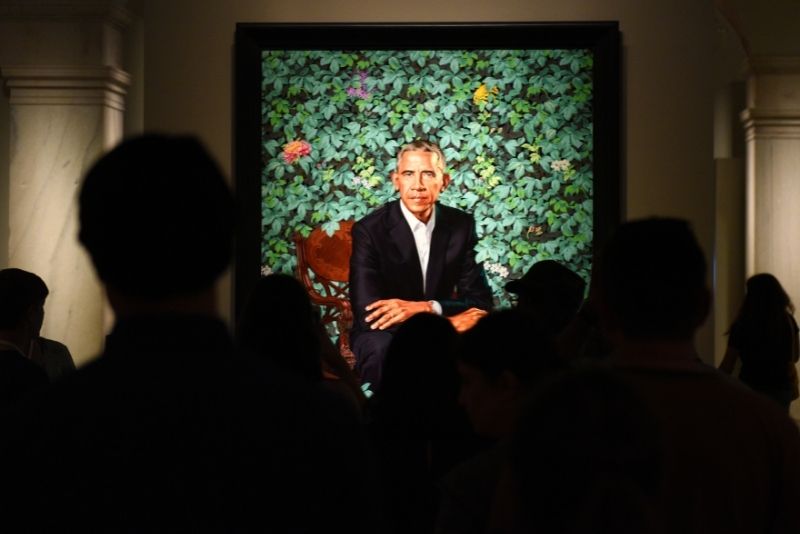 Every single United States president, be he loved or be he loathed, receives the honor of having his portrait hung in the United States National Portrait Gallery for the rest of time. For that reason alone, the National Portrait Gallery is one of the best museums in Washington DC.
U.S. Presidents aren't the only famous figures represented throughout the gallery. Famous athletes, musicians, film stars, and yes, even criminals, are included. Nobody notable from the previous century is left out.
If you're looking for a nosh while perusing this fine collection of portraits, the Courtyard Cafe offers a wide selection of baked goods, sandwiches, soups, organic salads, and more.
The National Portrait Gallery also shares a building with the Smithsonian American Art Museum in DC's Old Patent Building. Like all other Smithsonian Institution museums, both are free to the public.
37 – Smithsonian Natural History Museum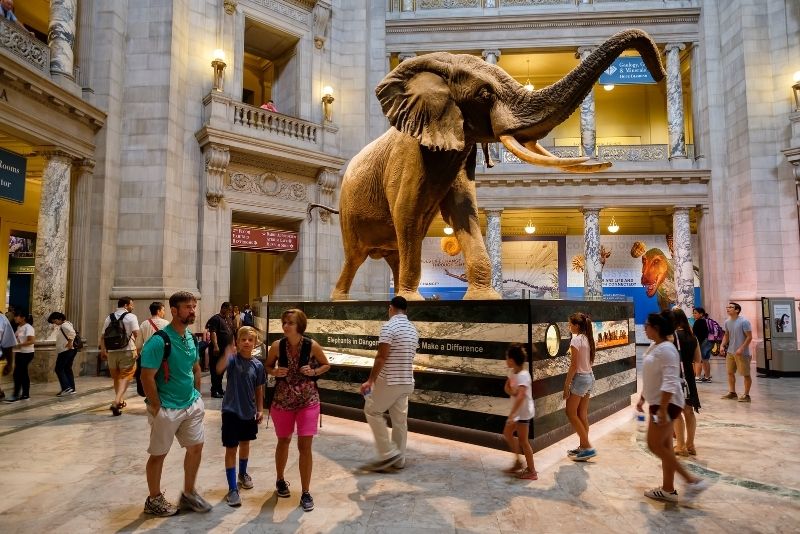 Located in the DC's National Mall alongside quite a few other notable museums and attractions, you'll definitely want to check out the Smithsonian Natural History Museum if you're interested in evolutionary science.
There are a vast amount of exhibits on display at this museum and trying to see them all in one day would be absolutely impossible, but no matter which exhibits you make it to, you're guaranteed to have an awesome experience, and come away from it a little bit smarter.
On the museum's first floor, you'll be treated to vast displays of ancient life from beneath the ocean as well as the huge animals that used to walk the surface of the earth. See real dinosaur fossils and witness human evolution first hand from Australopithecus all the way to our current Cro-Magnon selves.
The second floor is dedicated to natural history of a much smaller variety; insects, viruses, the human genome, minerals, plants, and more are the focus of these large rooms.
Just as free as any other Smithsonian Institution outlet, the National Museum of Natural History is open all year long, with the exception of Christmas Day.
38 – Hirshhorn Museum and Sculpture Garden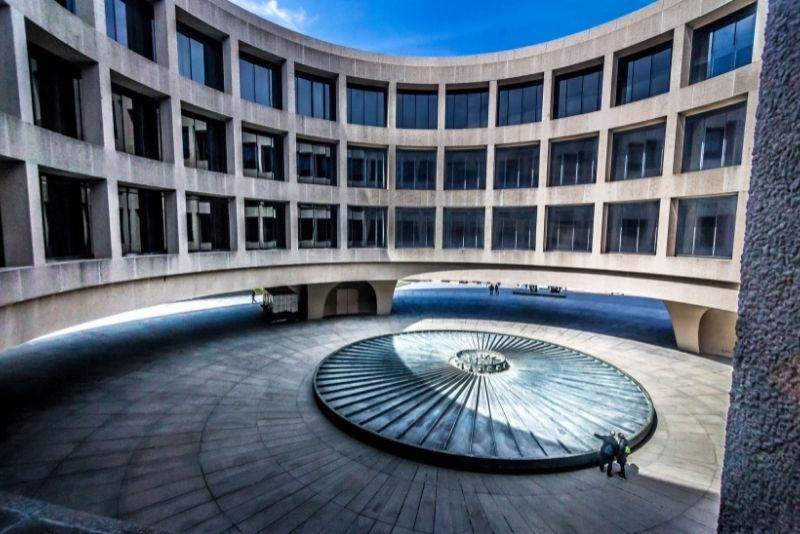 Here's your next stop in Washington DC's National Mall. The Hirshhorn Museum might hold the country's most complete collection of modern and contemporary art from the post-World War II period.
Founder Joseph H. Hirshhorn had a discerning eye for art, being quoted as saying "if you have to look at a picture a dozen times before you make up your mind, there's something wrong with you or the picture." His exclusive collection formed the basis of what would become the museum today.
The sculpture garden outside the Hirshhorn Museum features a number of sculptures from notable artists like Auguste Rodin, David Smith, Alexander Calder, Jean-Robert Ipoustéguy, and Jeff Koons.
One very notable installation in the sculpture garden is Yoko Ono's Wish Tree For Washington DC, where visitors are invited to make a wish upon a scrap of paper and tie the paper to the tree, thus symbolically returning the piece of paper to its roots. (Get it? Roots?)
39 – White House Visitor Center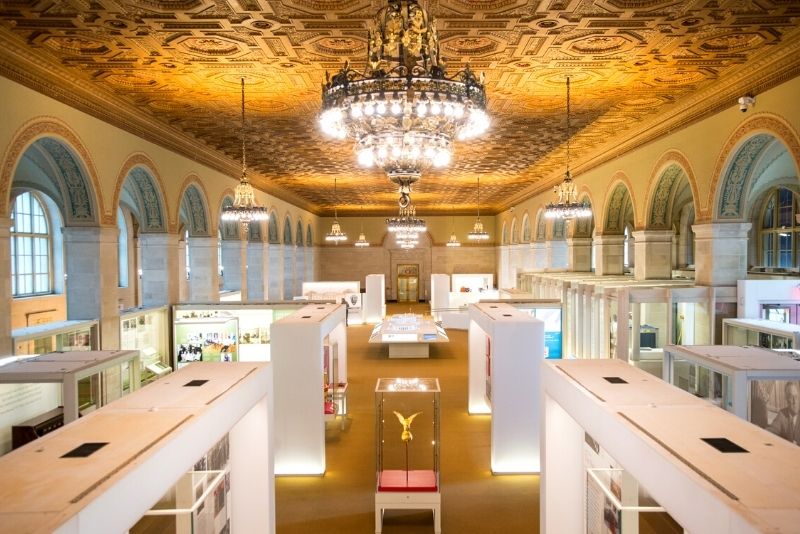 For anyone who's even remotely curious about what day-to-day life is like for the President of the United States, the White House Visitor Center is one of the best museums to visit in Washington DC. And it's totally free to check out.
They have dozens of interactive exhibits, including a virtual guided tour of the rest of the President's base of operations.
A stop at the White House Visitor Center wouldn't be complete without a viewing of the exclusive 14-minute film, "White House: Reflections From Within."
If you're planning on visiting in the Spring and bringing your kids with you, you may just get the chance to take part in the historic White House Easter Egg Roll event, which takes place every year dating back all the way to 1835.
40 – National Building Museum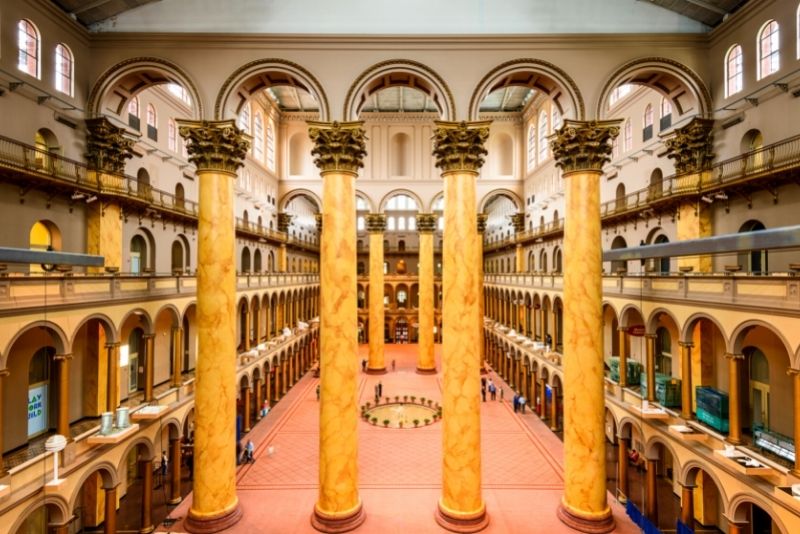 Design and architecture shape our perspectives in so many more ways than we realize. For more than 40 years, the National Building Museum in Washington DC has worked to showcase the fundamentals of the building arts and how modern societies our structured.
Access to the full museum requires the purchase of a ticket, but there are areas that can be freely enjoyed by the public.
The visitor center, aside from its eye-catching architecture, always features a sampling of items taken from current exhibitions, designed to be engaging and informative. The museum shop is also free to access, featuring a huge selection of books, toys, home decor items, clothes, and more from top-of-the-line designers.
The Gun Violence Memorial Project, which is made up of four each built using 700 glass bricks, is also free to access. Dedicated to the people who tragically lose their lives to gun violence each year in the United States, a large collection of personal items and stories from victims are on display.
---
We hope you've enjoyed learning about the best museums in Washington DC.
If you're planning on checking out one of these museums, or if you've been to one or more of them and want to share your thoughts, let us know in the comments.
As always, stay safe and happy travels!