Gettysburg is secured in the history books as the spot where the Battle of Gettysburg took place in 1863. Part of the larger American Civil War, which shook the United States for almost 4 years, this battle is often referred to as the turning point of the war and was the bloodiest of all conflicts during this time span.
Day trips to Gettysburg from Washington, D.C. enable you to brush up on your knowledge about the American Civil War through a variety of monuments, museums and movies, all located on the battlefield itself.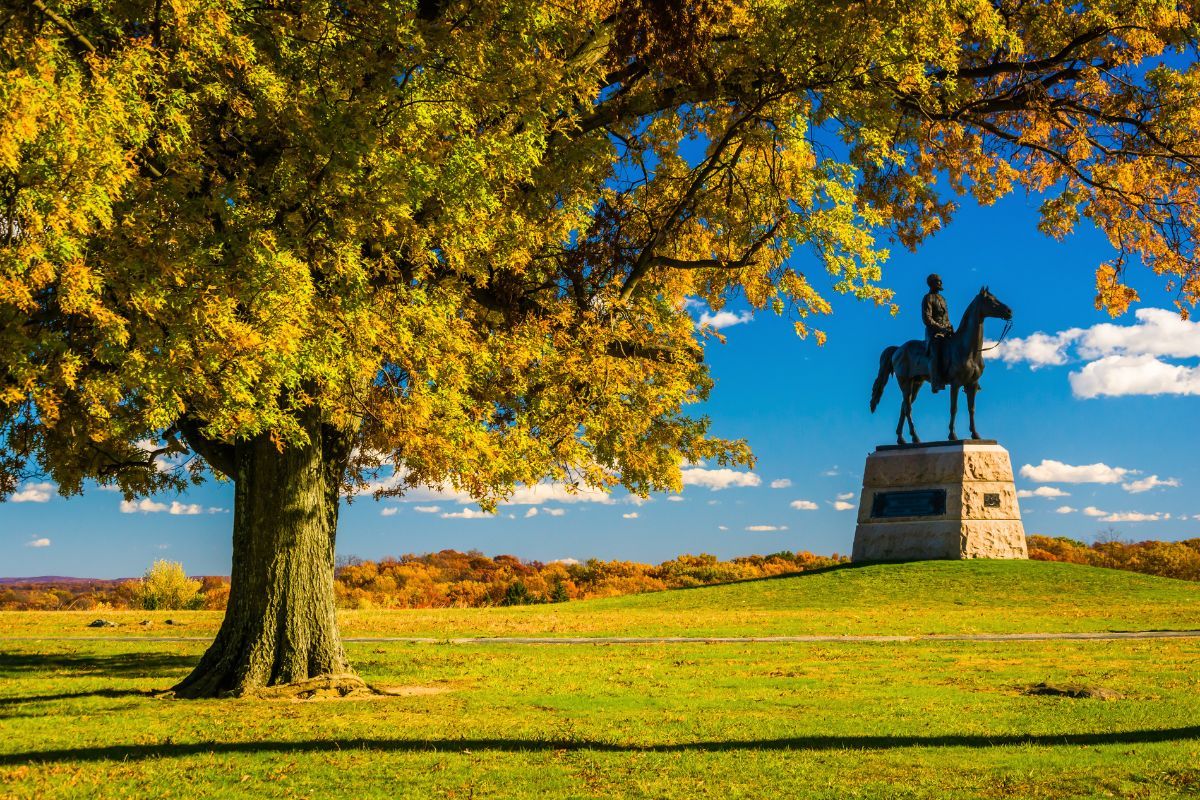 Here's all you need to know about Gettysburg, one of the most exciting day trips from Washington, D.C.
How to get to Gettysburg from Washington, D.C.?
Gettysburg is located in Central Pennsylvania, approximately 130 kilometers north of Washington, D.C.
From Washington, D.C. to Gettysburg by car
The journey to Gettysburg by car takes approximately 1.5 hours and begins by heading north out of Washington, D.C. along the I-270. As you enter Pennsylvania, you'll merge onto the US-15 N and you'll take the PA-97 exit to reach Gettysburg.
Guided tour to Gettysburg from Washington, D.C.
The jaunt to Gettysburg via public transportation is tricky and involves several changes, which is why you should instead consider booking an organized day trip. These guided excursions to Gettysburg allow you to relax by letting someone else take care of the transportation details for you.
You may meet your guide at a predetermined central location in the city, such as a well-known street, or, in some cases, you may benefit from a convenient hotel pickup service. These day trips usually last between 8 and 9 hours, and often begin early, around 7 AM.
What is the typical itinerary?
Each Gettysburg day trip features its own unique itinerary. However, you'll usually begin your excursion by meeting your guide at either your hotel or a predetermined spot in Washington, D.C., and enjoy a relaxing drive into Pennsylvania.
You'll visit the Gettysburg National Military Park first, which is home to more than 43,000 relics from the American Civil War. Alongside its museum and visitor center, you may have the opportunity to tour the park's perimeters, which was the location of the Battle of Gettysburg, as well as its memorials, and monuments.
You'll be guided through each landmark by a professional guide on your Gettysburg day tour, which will allow you to gain much more insightful knowledge about the history of the U.S. than you would if visiting alone.
Once you've explored the site, you'll return to Washington, D.C. where you can spend the rest of the day relaxing or sightseeing.
What kinds of tours are available to go to Gettysburg?
You can choose from a couple of different options when it comes to booking a Gettysburg day trip, depending on your own personal travel style.
Guided tours to Gettysburg from Washington, D.C.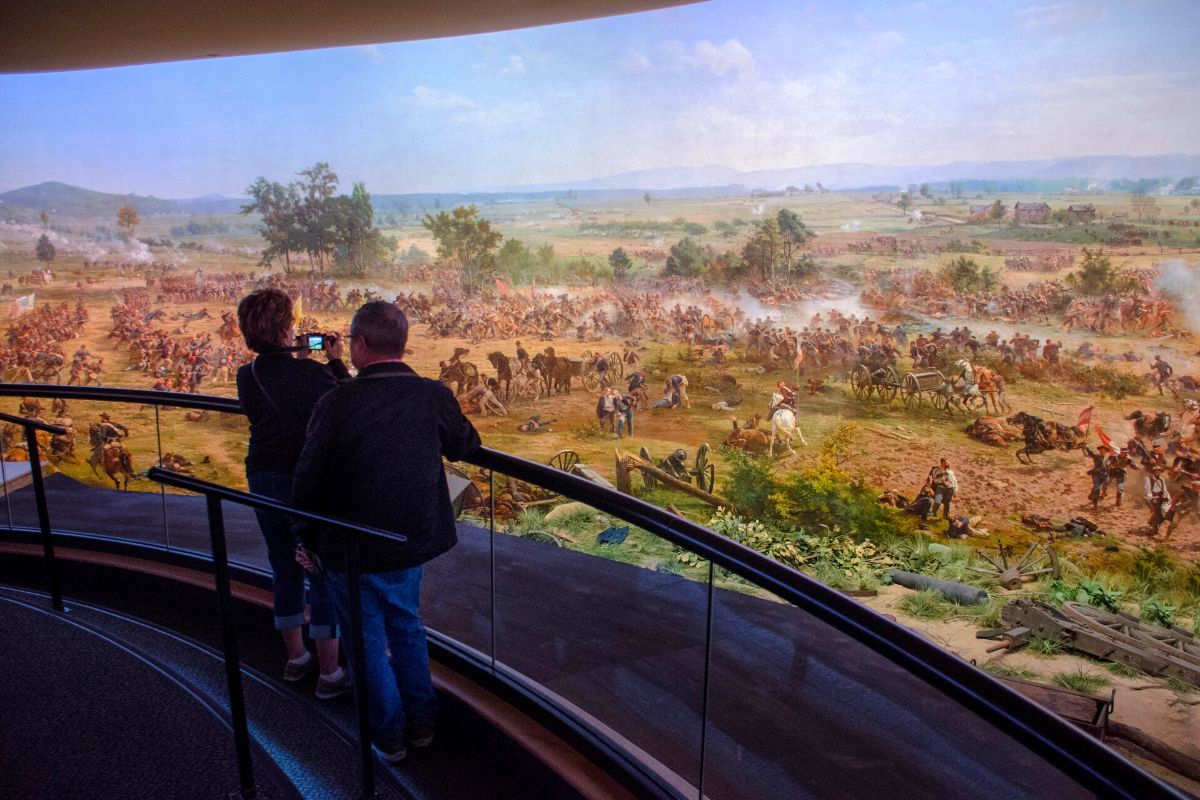 You'll begin this Gettysburg day tour by visiting the town's National Military Park. Here, you'll find a museum and visitor center, which is overflowing with fascinating artifacts relating to the Battle of Gettysburg that took place in July 1863.
You'll have the opportunity to watch a gripping documentary about the town's colorful history and you can also see the Gettysburg Cyclorama, created by French artist, Paul Philippoteaux, approximately 20 years after the battle.
Before you return to Washington, you'll explore Downtown Gettysburg where you'll find artisanal boutiques, lively cafes and a square dedicated to Abraham Lincoln.
Private tour to Gettysburg from Washington, D.C.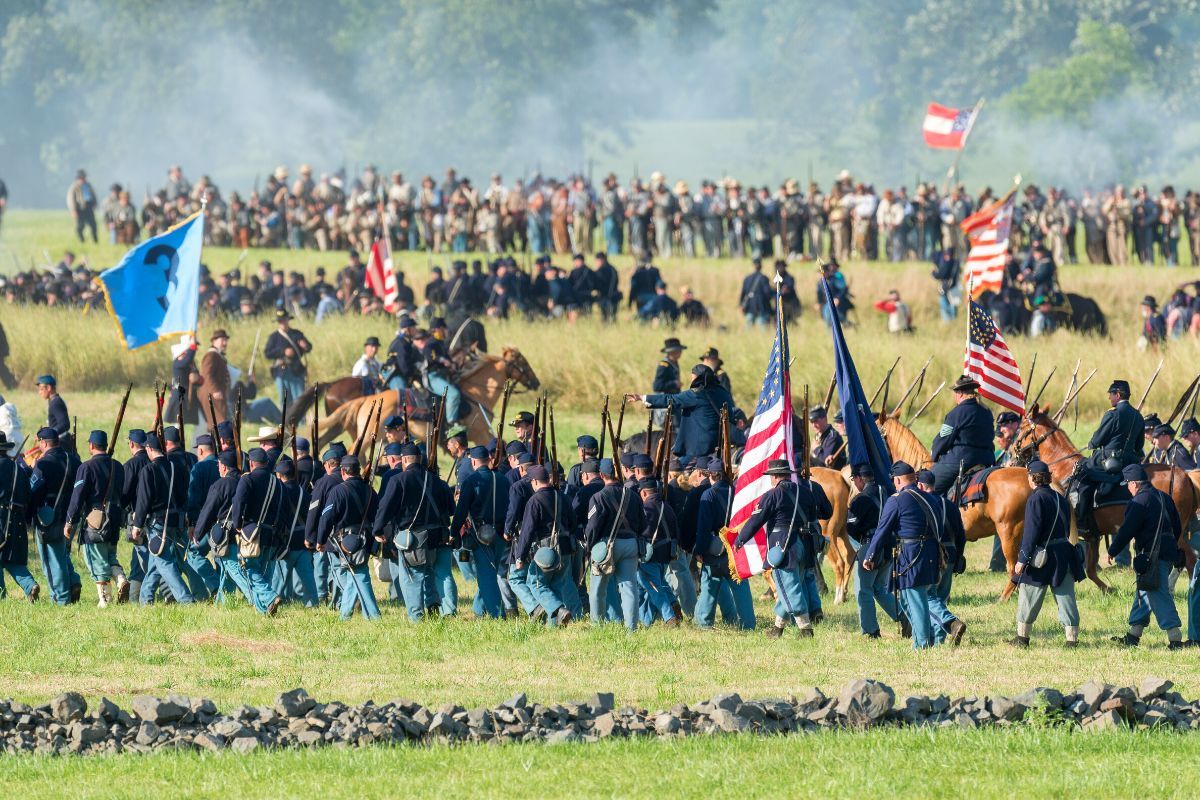 If you're seeking greater personalization than a group tour provides, why not consider booking a private day trip to Gettysburg?
Your experience will be much more seamless and you'll benefit from the added comfort of riding in a luxury vehicle. You'll also gain the full attention of your own dedicated guide, with whom you can discuss the history of Gettysburg's famous battle and ask any questions that spring to mind.
Alongside the Gettysburg National Military Park Museum and Visitor Center, you'll also visit the site of the battle that took place in the town more than 150 years ago. The Eternal Light Peace Memorial is another stop on this Gettysburg day tour where you can pay your respects to the more than 7,000 lives that were lost during the 3-day battle.
Throughout the course of the day, you'll hop between more than 15 locations, delving deep into the history behind the American Civil War.
How much does a day trip to Gettysburg from Washington, D.C. cost?
You'll pay approximately US$260 per person for a day trip to Gettysburg. This price includes admission fees, as well as round-trip transportation and the services of a driver guide. You'll be part of a large group capped at 55 guests.
If you opt for a private Gettysburg day tour, you'll pay US$2,100 for a group of up to 12 individuals. With the maximum party size, you'll each pay less than US$180.
What will you see and do?
Gettysburg National Military Park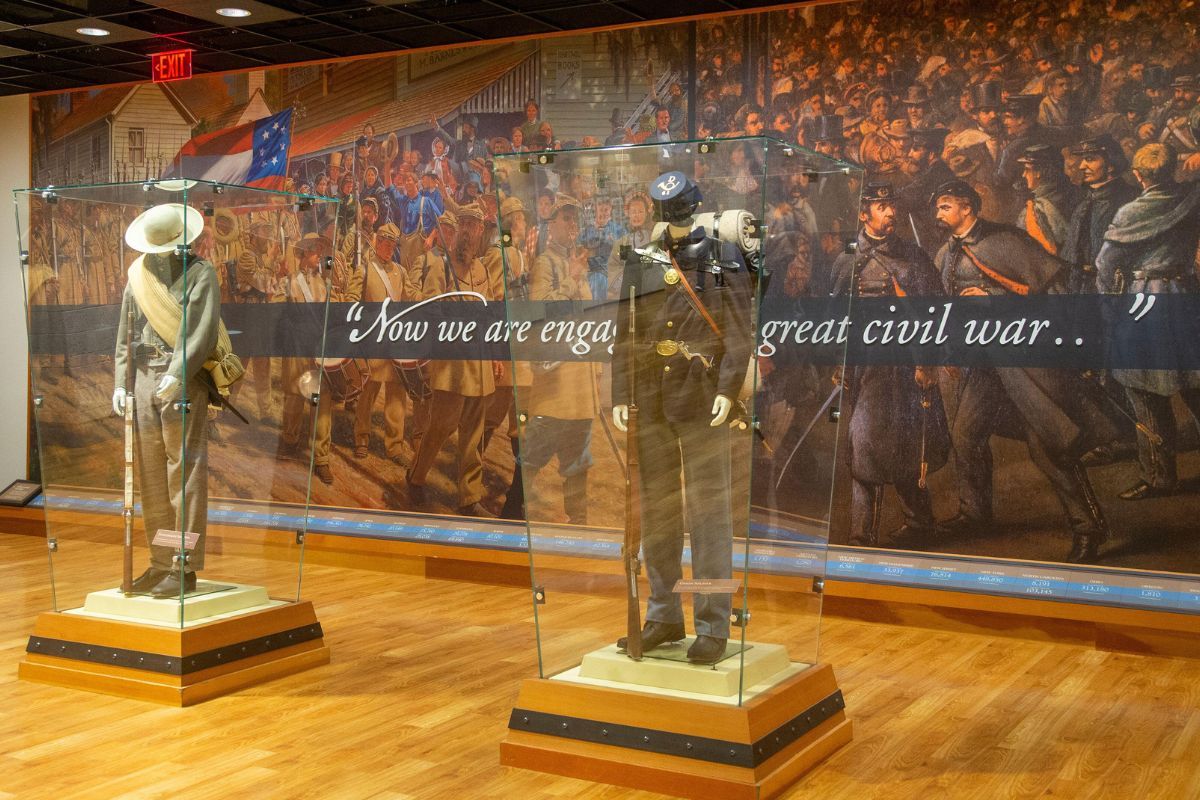 The Gettysburg National Military Park is a popular site for history buffs, attracting more than 700,000 visitors each year. It serves as a reminder of the Gettysburg Battle, at which 160,000 troops fought in an effort to end the Civil War that ended up lasting for almost 2 more years.
The battle was an invasion of Pennsylvania by the Confederate forces, whose aim was to continue and expand upon the slave trading industry throughout the U.S.
However, Union soldiers rallied to protect this state and were victorious in their efforts. The Union party was led by Abraham Lincoln and led by abolitionists who wished to put an end to slavery, and treat all African Americans as equals.
The park's main attraction is the onsite museum and visitor center, which aims to educate tourists on the events of the 19th-century battle through a myriad of multimedia exhibits. A short film called "A New Birth of Freedom" teaches tourists about the Battle of Gettysburg, and features narration from the African American actor, Morgan Freeman, who has won two Golden Globe awards, as well as a host of other trophies throughout his lifetime.
One of the most renowned relics inside this venue is the Gettysburg Cyclorama, which measures more than 110 meters long and weighs over 12 tons.
Alongside the museum and visitor center, you can also see the Gettysburg National Cemetary, where more than 3,500 Union soldiers were laid to rest, and which served as the location of Abraham Lincoln's powerful Gettysburg Address approximately 5 months after the battle, in the throes of the American Civil War, as well as a handful of monuments.
These include several state memorials, as well as those dedicated to significant figures in the battle, such as Union Brigadier General Francis C. Barlow.
When is the best time to visit Gettysburg?
The best time to explore Gettysburg National Military Park in Pennsylvania are late spring (May and June) and early autumn (September and October).
During these periods, you'll enjoy agreeable weather, reduced crowds, and the added beauty of changing foliage, enhancing your visit to this historic battlefield and its associated sites.
What other day trips can you do from Washington D.C.?
Travel tips
Plan your visit in advance and make a research about the park's attractions. The battlefield is extensive, so having a strategy will help you make the most of your time.
Start at the Visitor Center to watch the introductory film and view the museum exhibits. This will provide valuable context for your visit.
Consider taking a guided tour with a licensed battlefield guide. They offer in-depth knowledge and can take you to key points of interest.
Be respectful and follow park regulations, including staying on designated paths and not climbing on monuments. Remember that Gettysburg is a solemn place.
Wear comfortable walking shoes, bring water, and be prepared for changing conditions, especially if you plan to spend the day exploring the battlefield.